Haven't you ever dreamt of drifting on the sea!!!! Like everyone else,it was my dream too. But now it is an experience for me.I fulfilled this dream on April 15 2016 by a trip to Lakshadweep.
While we were planning for a trip we thought either ice or water should be our next destination.After so many jumbles and tangles we came to a conclusion of opting water as our destination .Hence we started to dream about the LAND OF CORALS, Lakshadweep. For shortening our bucket list we choose cruise for our backpack and all our enquiries ended up in a 5 day package offered by SPORTS.....
ABOUT THE LAND OF CORALS
Before going to details of trip there are lots to know about this union territory which is situated 440 km away from Kerala in the Arabian sea.During post independence time Lakshadweep was a part of Madras province.In 1956 it was declared as an union territory.There are around 10 inhabited islands in this coral reef. Lakshadweep comes under the jurisdiction of high court of Eranakulam.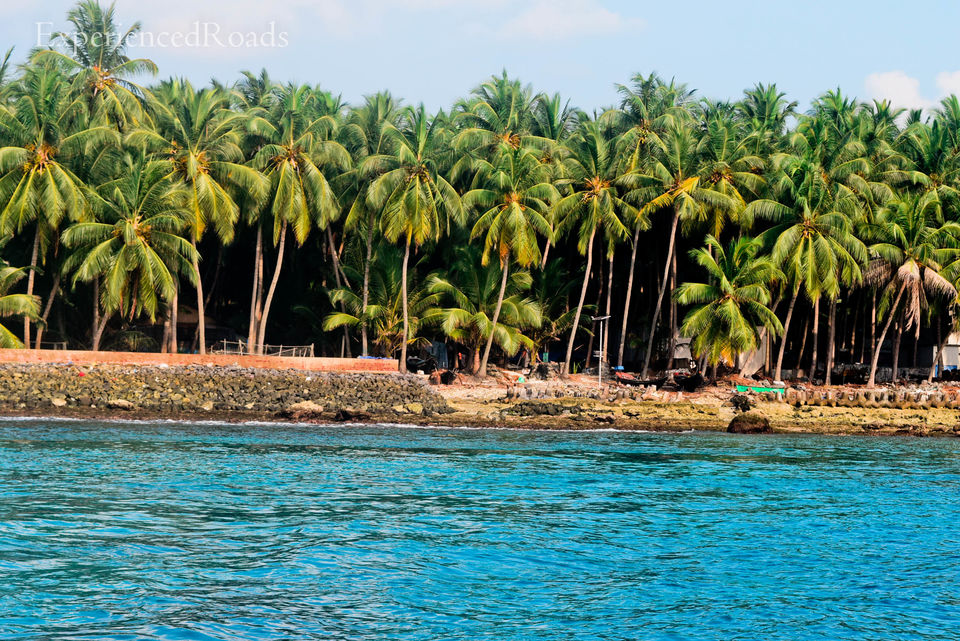 Some interesting things in this alluring land really made me curious about this place.There is no theaters in these islands which do have a population of 70,000 people.Each island inhabitants are supposed to get permission to enter another island.Being a girl the most interesting thing I felt in the island is the concept of guys giving dowry to get married and they are supposed to stay at girls house thereafter.
ABOUT OUR TRIP TO LAKSHADWEEP
We choose SPORTS 5 day package which costs 25000/- per head.As part of package,it was informed that we will have island visits to any three of the islands and certain water sports in each island.The costs includes cruise journey ,food and certain water sports.Scuba diving is to be additionally paid which is around Rs.2000/-.
For any queries you can go through the website: http://www.lakshadweeptourism.com/ The best time for this trip is between September to April as during monsoon the behavior of sea is totally unpredictable.
Once the amount is paid we were given confirmation which is to be submitted on the day of our boarding.As part of preparation, all googling windows on Lakshadweep trip suggested an important thing -Tan cream.Thank God I didn't think to miss the fun for the tan I may get which is curable within a month.Whatever please make sure you take a tan cream of SPF75+ for any beach trips.
Thus the most awaited day had come .On April 15 we reached Lakshadweep wharf in Willingdon island which was informed as our starting point.After bit paper works we went to boarding section where we had our security clearance.No kind of liquor is allowed within the island.Once the security clearance is completed then we were shifted to port.By noon we were in ship. M V Kavarthi was the ship for our voyage.It was my first experience being on a ships deck. It is often told that the wonderful view from deck is a psychological medicine for seasickness.Initially we felt a lot giddy because all the objects in the ship was wavering along the wave's movement,then we felt quite relieved or may we got used to the sway made by the sea .After we were over the sickness,a part of Christopher Columbus in me decided to explore the ship from one end to another.The cruise workers were always ready for any help which made us even more comfortable. The rooms were very cosy and comfortable.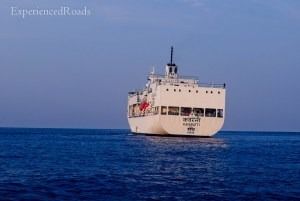 Our first destination was Kavaratti,the capital city of Lakshadweep. During all the island visit,our ship was allowed only till the starting of lagoons from there we were taken in small boats to main land.It is a different experience to be in a drift boat for those like me who have rarely been in mid sea. We were hosted with welcome drinks and we were also given the schedules of the days.In each island one kind of water sports is provided as a part of the package.At Kavaratti, glass boat trips was provided were we can see sea turtle,corals and other stuffs,and this facility was provided in free. Later we were off for scuba diving.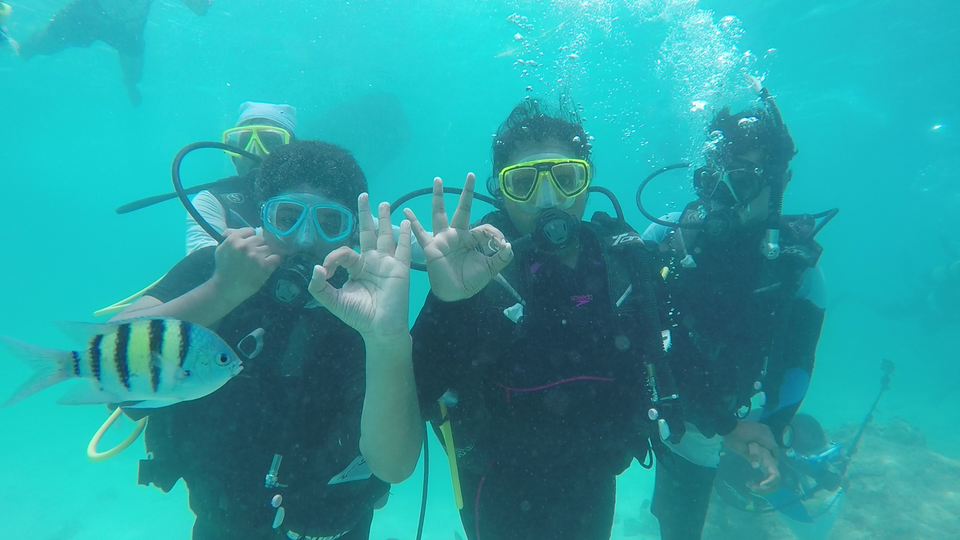 It is incomparable moment of my life.Deep down the sea where I could only hear my own heartbeat beating very fast(may be because of curiosity or excitement) and various shaded fishes playing around me is something beyond words.The experience was magical ,I felt that I was in the most peaceful place on earth. Each person will be accompanied by a guide ,so there was nothing to panic.The guides are totally alert and there are always out for help even before we recognize that we are in trouble.I say this with so much confidence as I experienced the same????.Scuba diving video which was taken by our guides:
It is better to wind up the water games before lunch taking into account of our energy level because the heat is so intense that you feel so exhausted. We finished our scuba diving by noon we went for the museum visit.Roads here may remind you of early 19's,and it would hardly take 2 hrs to visit one end to another of island on a stretch.Very few houses have compound wall,this shows their trust and faithfulness to each other.From the natives, we came to know the prison at kavaratti is closed from a very long time.This trust and innocence has added one more title to this beautiful place"LAND WITH NO THIEF'S".
As we were bit late the SPORTS authorities asked us to hurry up for our return to main ship.While kavaratti was moving away from our sight,we realized that we have added a new color in to our memory book.After reaching back, the first thing was to get freshened up and later having dinner we went to best place of the ship which is none other than the,ship's deck.It is totally a different feeling to watch sky from ships deck. That sky will surely bring out the Lata Mageshkar in you.
Over night ,our ship sailed towards Kalpenni. The place that we visited each day made me feel that 'this is the best place ever' .I still don't know which place is more beautiful but all I know is Kalpenni too is portrayed by the best artist.The most amazing thing I felt there was tides resketching the frame.We visited a shore once we reached Kalpenni. After doing our snorkeling while we were returning to the ship,the shore wasn't as same as before,it was all covered with water.
Since my hubby wanted to do scuba for long time,I got an additional privilege of doing my snorkeling in the scuba area.As part of the package snorkeling was free for us within Kalpenni. There you can see sea turtles ,corals and many other amazing sea life. The next part of the agenda was to visit the coconut factory which will remind us the cottage industries in our state. After our hectic day we came back to the ship.
I guess these kind of journey will help you to make more friends since you won't be interrupted by calls,Facebook,Twitter and so on. BSNL is the only dependable mobile network available these islands. All these days my hubby and me made the visits to ship deck as a daily routine.All those days we hope for seeing the sunrise from the deck,but our laziness and tiredness was more than our desire hence we could be only satisfied with the morning sky.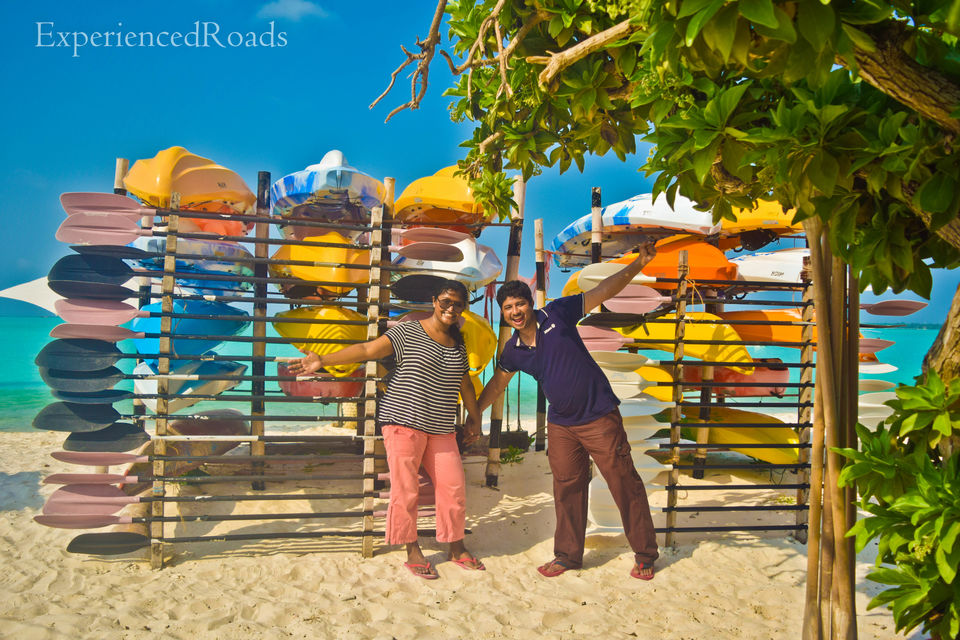 On last day ,we visited the Minicoy Island that i felt that had the most captivating beauty among all other islands .The spellbound beauty even made us to forget of taking the photographs.You can find 2-3 km of lagoon around the island. Don't doubt that I am exaggerating the digits.Instead of getting bothered by the sun, we decided to have fun with sun by drifting in the sea.We also had a wonderful experience doing kayaking. Minicoy is supposed to be the corner-most boundary of India. Comparing with other two islands the beauty of this island is outstanding.Since being close to Maldives they have adopted many things from them.When Malayalam is the common language across all other islands Minicoy holds there own language Mahal which seems to be a customized version of Malayalam.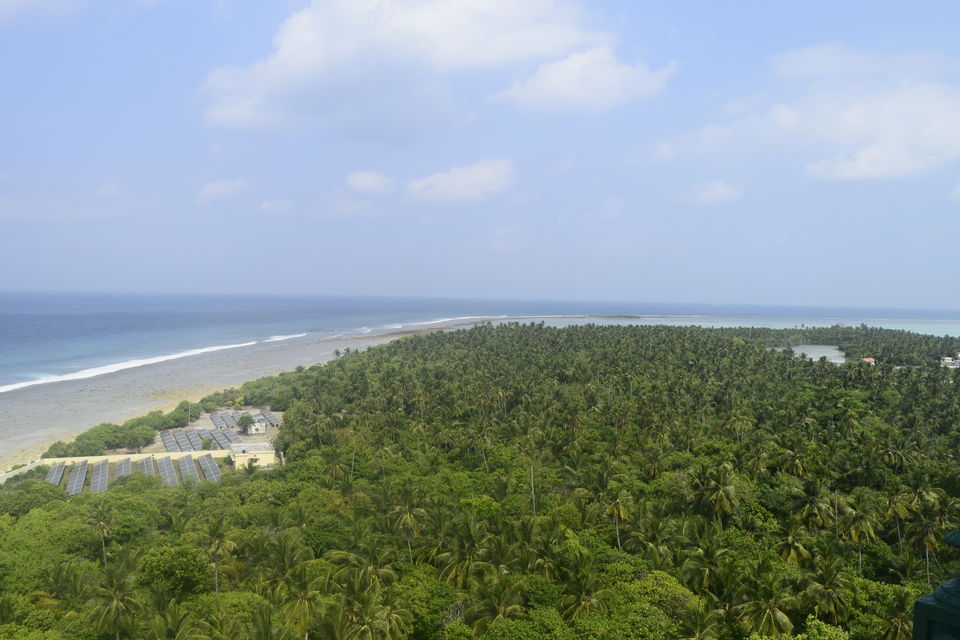 Minicoy contributes a major share of the revenue of Lakshadweep as it posses one of the tallest light houses in the nearby sea route. Even though my fear of heights initially restricted me to climb this light house ,our fellow travelers just convinced me .The construction of the light house is so wonderful that climbing up the 300 steps is so worthy.The time went so fast ,as if the time was given a jet pack during our trip.All I can say what I experienced was beyond words and I assure you too will have the same experience if you are going to try for the same.If you are planning to go as family rather than choosing travel agents I would prefer the SPORTS package because we can have a relaxed trip and reduction from the official formalities.