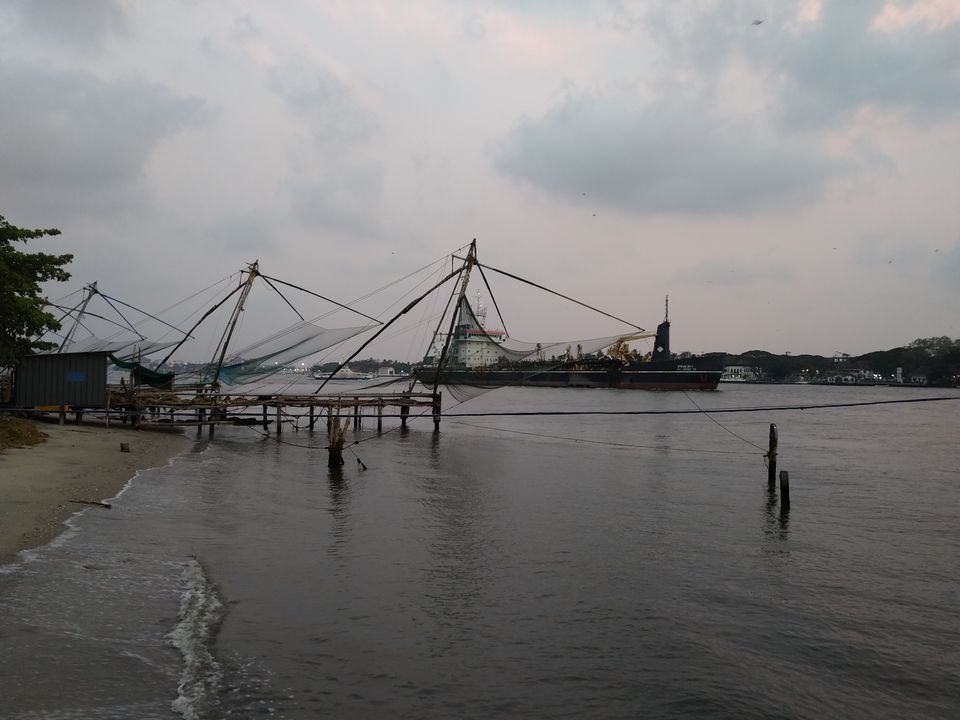 So, yes, we arrived at Kochi International Airport. A destination and a trip, me and my husband both were looking forward to, for more than a year now (especially after visiting Lakshadweep last year, for which one is supposed to board a flight or a cruise via Kochi). Our flight was pretty long and boring from Delhi. Nevertheless, the moment we landed at the newly refurbished Kochi airport (after the flood of August 2018) by afternoon, our moods got rejuvenated. We hired an uber for Rs. 888 to Fort Kochi, where we had booked an OYO hotel named ' House of Yesudas' at Princess Street. The airport is outside the main city and we covered a distance of 44km in almost 1 hour and 10 minutes to reach our hotel (meanwhile getting a quick glimpse of the city). Since, this was mid-March, the weather was hot and humid. After freshening up at the hotel, we headed out in the local streets for lunch on foot. Our first food destination (by chance) was a restaurant named 'The Bench-Restrobar'. This place is very easy to locate, a chilled-out place to hang out with your friends and yes, the food was delicious! (We ordered beef steak and pasta aglio e olio) The interiors of the restaurant was neatly done with the structural elements of the roof intertwined with the branches of a live creeper, which was quite attractive and unique for us (since we both are architects). Total cost of food for two was Rs. 903. The staff were polite and friendly. You could get some coupons for Kerala ayurvedic massage too from this place.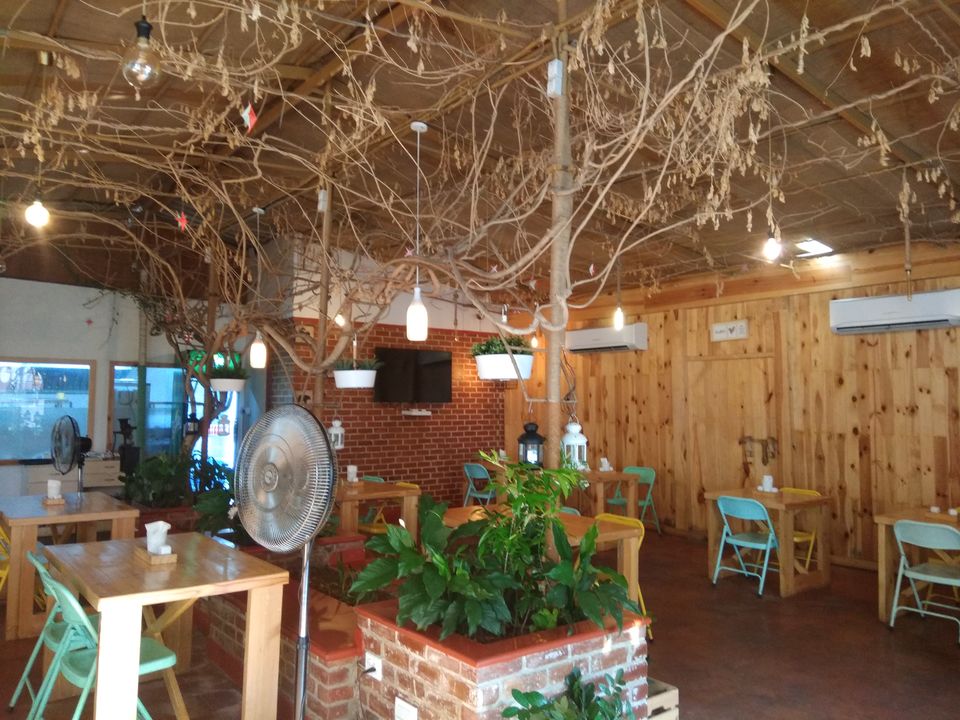 Next, we slept like logs. Yes, one suggestion, do not take red-eye connecting flights to Kochi- it is very tiresome. We woke up around 6:30 PM and decided to hire a scooty. The best part of 'House of Yesudas' is its location. Everything you need, from a good place to eat, rent a scooter or buy some basic stuffs (like forgotten toothbrush, shampoo, etc.), you can access all by walking. So, we rented an Activa by submitting my original Adhaar Card (for Indians only) and showing my driver's license, for Rs. 600 (for one and a half day). Petrol for full tank cost Rs. 200 at the pump, so overall Rs. 800. We rode nearby in the evening after sunset, just to have a feel of Fort Kochi. The place had resemblance with the aura of Auroville (Pondicherry) in Tamil Nadu. We ended our day with a candle light dinner at a beautifully located 'Fort House Kochi' hotel and restaurant. This is one of the best budget place for having dinner in Kochi. The (romantic) setting is a long jetty like platform at the edge of the waterline with tables lined along the railing. There is a terracotta elephant statue situated at the end of the jetty, which quite interestingly adds a drama to the place. The food was delicious and very fresh (We ordered Kochi styled beef fry with parotta & appam). The staff is extremely polite and you will definitely leave with a smile. The food for two cost Rs. 767.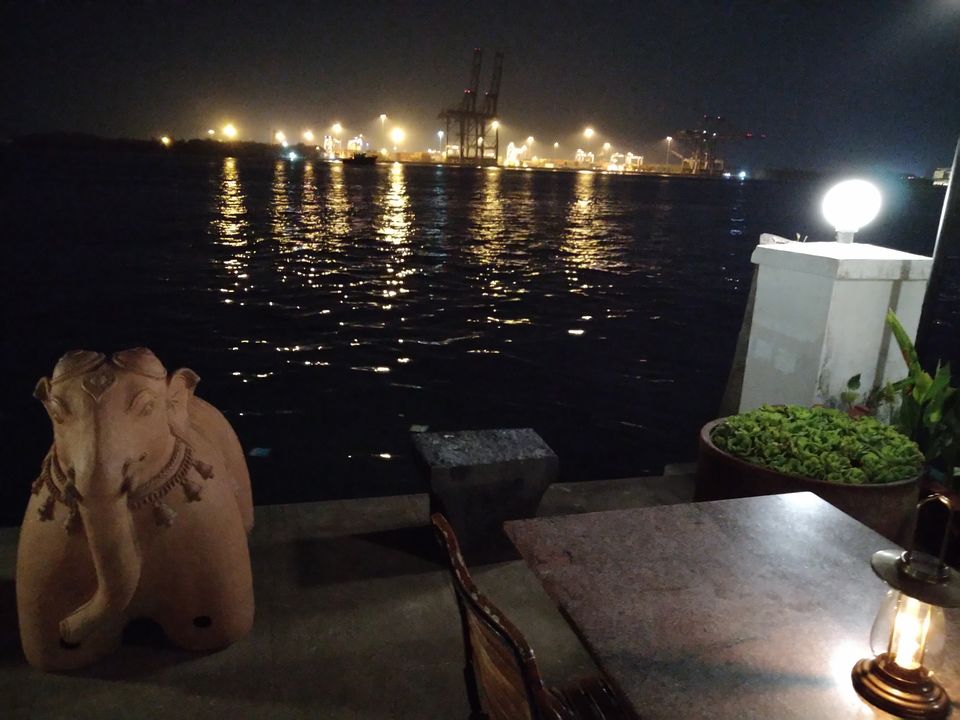 The day to explore the famous "Kochi-Muziris Biennale- 2018". It is an international exhibition of contemporary art that is held once in every two years in Kochi for a period of around four months (12th Dec 2018 to 29th March 2019). This year's theme was 'Possibilities of a non-alienated life' curated by Anita Dube, spread across almost 10 destinations at Fort Kochi. We had a quick breakfast of Idli and Sambhar at hotel Ceylon for Rs. 110 in the city and then we headed straight to 'Aspinwall House'- to purchase the Biennale ticket and start our explorations. One ticket is for Rs. 100 and you can start your journey from the same place as well. So, once you enter the Aspinwall house exhibition area, you might get confused. But don't worry, all you need to do is keep on walking till you are able to find the stalls selling some of the Biennale's souvenirs. There, you can get a map of the entire exhibition places along with their floor plans. The map is at a nominal cost of Rs. 10 (as a donation) and is pretty self-explanatory (especially for people like us who love reading maps). But hey! How can you move on just by picking up the map. Atleast we couldn't. We purchased few Biennale souvenirs like a T-Shirt and Chekutty dolls (Rs. 25 each) for our friends (Chekutty dolls are an upcycle product made from Chendamangalam handloom sarees that were destroyed during the Kerala Floods – so they are kind of a mascot of emerging Kerala). We spent a total of Rs. 810 on these small souvenirs.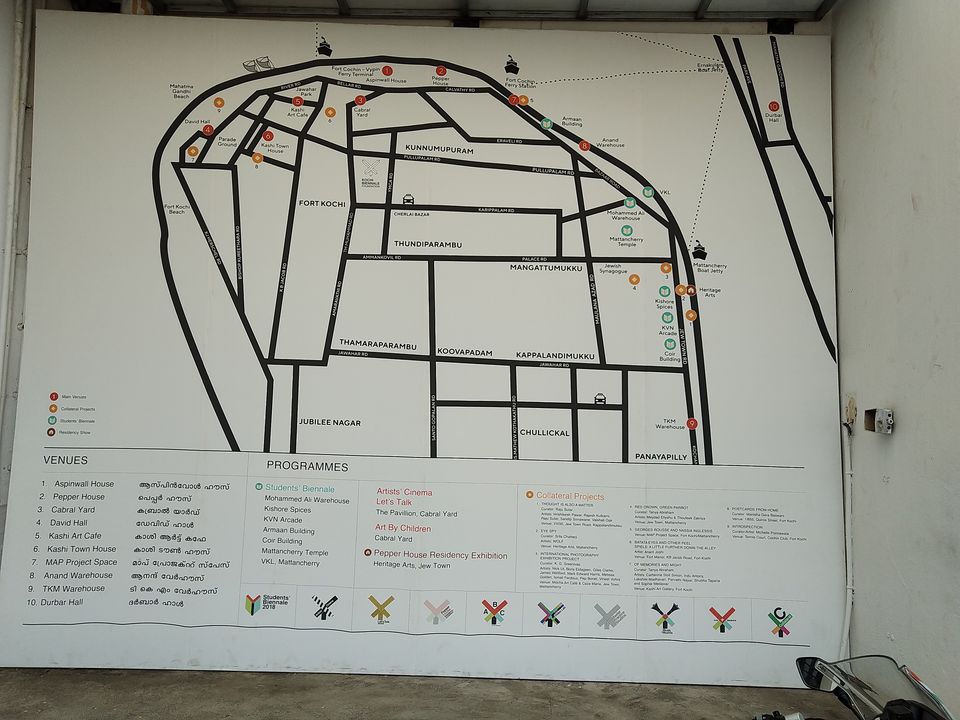 We headed further, going from one artist's exhibition to the other at the Aspinwall House itself. We realized; this is the biggest venue size-wise as compared to the other nine for art display. After spending close to one and a half hour here, we moved to the next venue 'Pepper House'. This place had a small café on the ground floor, but due to shortage of time, we skipped the eating and continued with our exhibition hopping. The place was quite unique and very well-preserved. It's a must recommendation even for those visiting Fort Kochi when there is no Biennale happening around. There was a small souvenir shop here too, but was pretty expensive as compared to the previous one. By this time, we were really hungry and therefore reached the fifth venue (skipping the third and the fourth for post-lunch session) 'Kashi Art Café'. As you can understand by the name, it has one art exhibition gallery and then a long cozy space for a good lunch. We found one corner and had our hearty meal with beautiful background music. It was a lovely experience. The overall meal cost Rs. 870, which was a little expensive (beef steak and veg cheese grilled sandwich plus two lemonade). Nevertheless, this place and the food both receives a huge thumbs up. Next, we visited 'Cabral Yard'; 'David Hall' and 'Kashi Town House'; each of which offered us a very different experience of art and the architecture behind its displays. Being a visitor to a number of art galleries and museums in London, I could say, the level of the Biennale was at par with international standards. Therefore, it should be a must visit for every art-loving Indian traveller to include this in their bucket list. We couldn't go to the tenth venue at 'Durbar Hall' due its location across the water and time-constraint. (If you are going to attend Biennale for the first time, it is recommended to keep switching from main venues to student Biennale as well, since many people liked them better than the main venue exhibitions).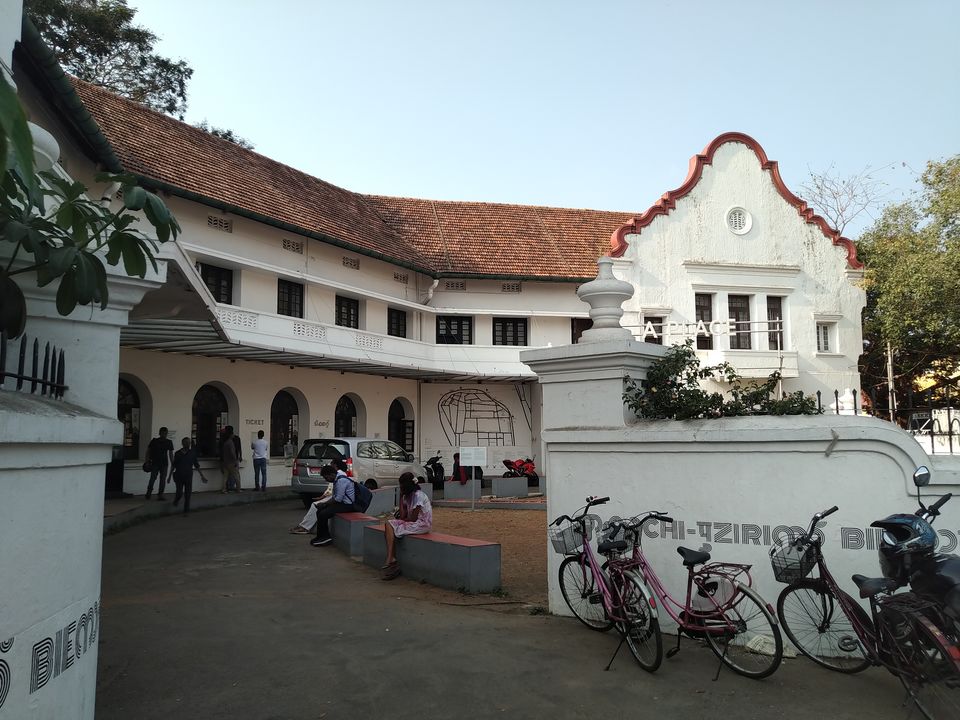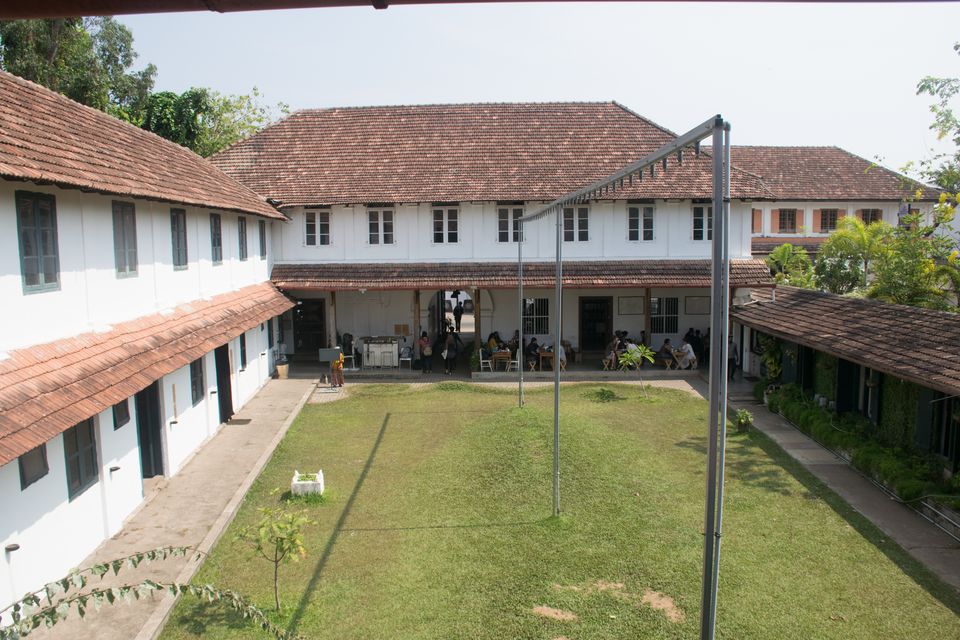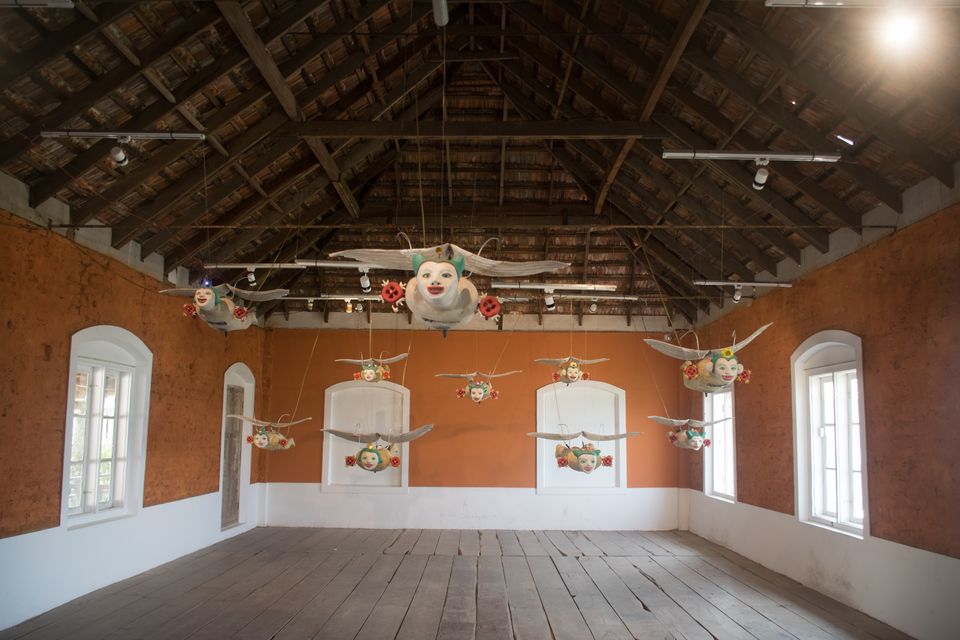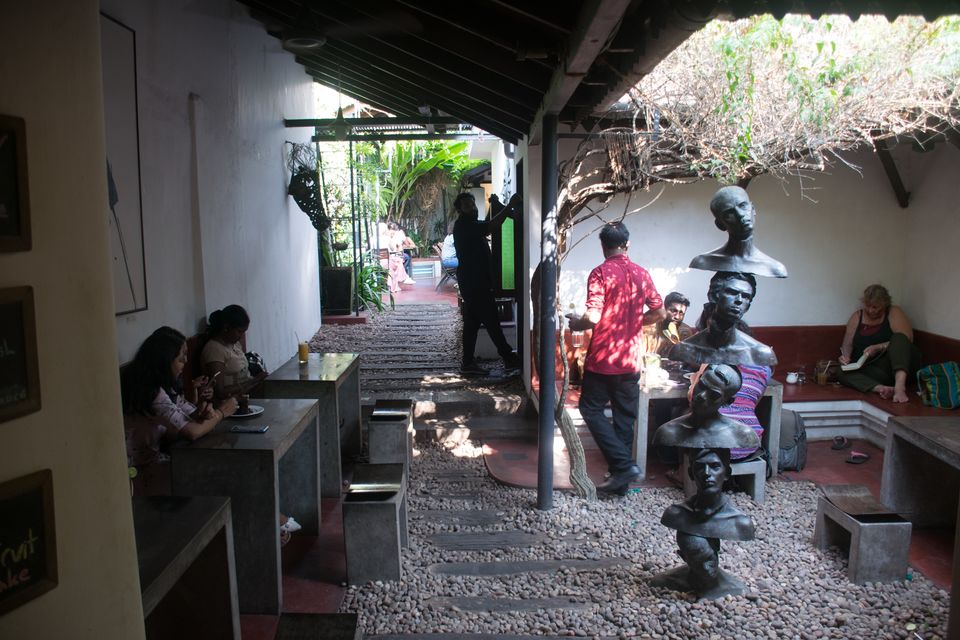 By the evening, we decided to switch from visiting the main venues of the Biennale and start exploring the local spots of Fort Kochi. We tried reaching 'Paradesi Synagogue' in time, but just missed it out by few minutes. So, we started walking along the Jewish street nearby. This place is quite interesting with its vibrant colors and products on sale for the visitors. We bought Kerala spices from a shop on the street for Rs. 460 (black pepper, cinnamon and nutmace are the specialty of Kerala) and two fridge magnets for Rs. 160. Next, before going back to the hotel for dinner, we made a point to click scenic pictures of Chinese fishing nets at Fort Vypin at sunset. This place was across Vembanad lake and to reach Fort Vypin, there are two options. Option one is to go by road, cross two bridges and cover approximately 14-15 kms. Option 2, which ultimately, we took was an interesting one, to take a barge, which will take you there in less time and will cost Rs. 3 per person and Rs 7 per two-wheeler (fare of only the rider included). It was a very different experience for me ever in India. Such a local transport option was very cool as well as saving time and money efficiently.
While roaming around Fort Vypin, one realizes how in Kerala, all the religions (Hinduism, Christianity and Islam) gel with each other. We saw a couple of children playing cricket on one of the secluded areas of the beach. We clicked few photos and had a peaceful time watching the sun set on 'God's Own Country'. Later we chose the 'Old Fort Harbour' hotel at Tower Road for a delightful dinner listening to live Malayali instrumental music by the pool. It's a heritage boutique hotel built around 300 years ago in Dutch style of architecture with hints of Portuguese influences. The food cost Rs.1938 (along with a pint of beer), which was one of the most expensive food we had here at Fort Kochi. So, until and unless you are looking for some classy place and do not have any budgetary issue, you can try having food here.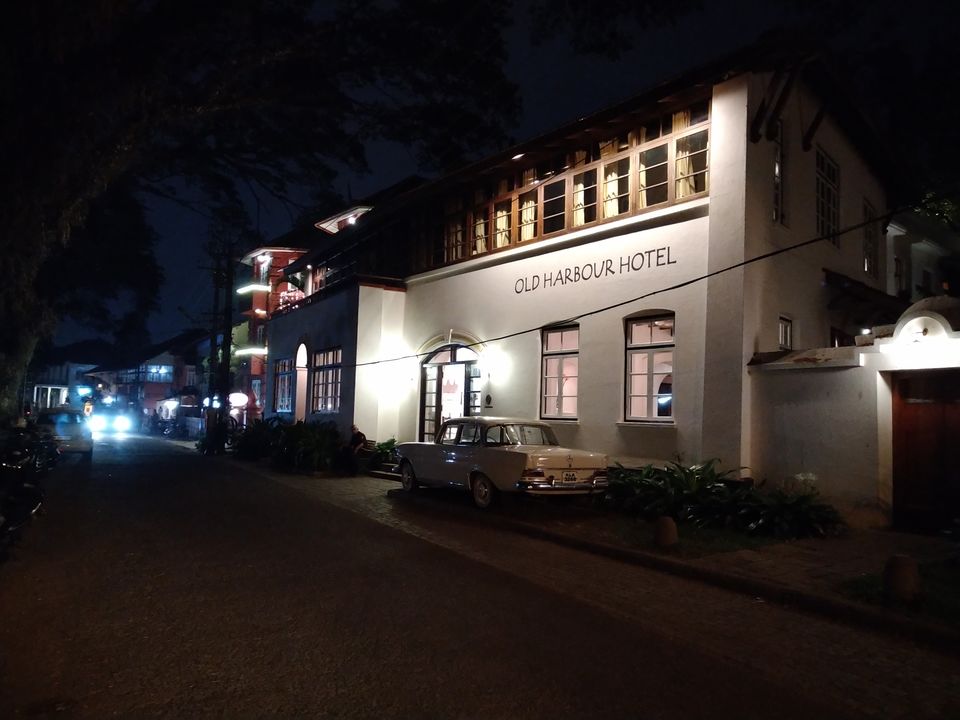 The next morning, we had a quick breakfast at the 'Bread World' on Princess Street. Their food was good (total cost Rs.373). Ultimately, we got our food packed, since we were getting late to catch our train to our next city: Alleppey or Alappuzha. We hired an Uber that cost around Rs. 208 to the Ernakulam railway station. This was our first experience of any railway station in Kerala. Let me tell you one amazing observation, all the railway stations in Kerala, whether big or small, are so clean and highly maintained. Since, Kerala is a linear state, the trains follow the North-South route. So even if the digital signage is not working at any platform, you can look for a board that will say the direction of the last terminal and the coach number from the position of the engine. So, it is pretty easy to locate your coach here as compared to most other cities in India. There is plenty of seating spaces and people have fairly good civic sense. We even realized it later that we could have taken our breakfast from the platform than depending on the pricey restaurant at Fort Kochi. Nevertheless, the train arrived and the seats inside the coach were mostly empty. This is because Alleppey is around 57 kms or one hour and 21 minutes by drive. So, many people prefer driving or taking a bus to Alleppey. Since, we were new to the place, we already had our train booked.
On arriving at Alleppey station, one can see that Kerala follows strict rules for taxi and auto drivers. You cannot book a taxi or auto by yourself; you need to get out of the station, stand in line and book a taxi or auto from the official pre-paid stand by paying Rs. 1 as service charge at the window and the rest to the taxi driver depending upon the distance. Yes, it was surprising to see honest taxi and auto drivers in India. Here our stay was booked at a heritage hotel called OYO 'Green Aura Resort'. It was close to the station and an auto ride cost Rs. 101. The cottages provided by this resort are well designed and equipped with every comfort possible. It is situated near the center of the city. We had our lunch at the hotel's cafeteria, which cost Rs. 250. After taking a quick nap, we took an auto for Rs. 70 to the Alleppey beach.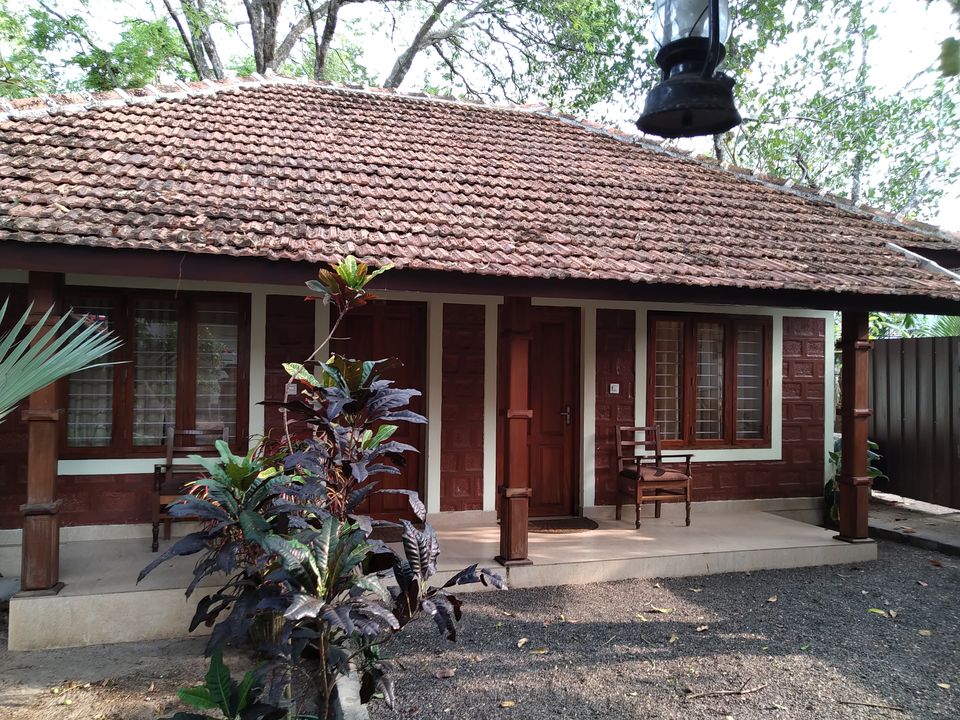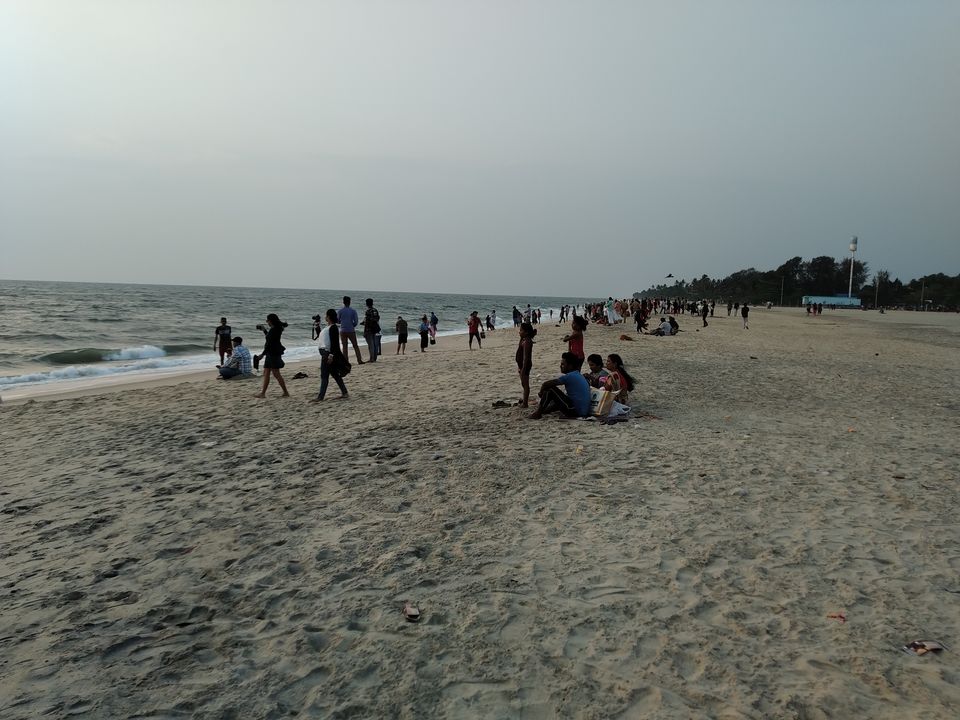 This beach had a very calm and relaxing environment. The people of Alleppey are lucky to have such a beautiful and clean public space beside the back waters which are mainly for tourists. It is an advice for everyone visiting this city, to once visit the beach in the evening to get an introduction to the city life of the its people. We found all sorts of groups from family to youngsters and elderly couple taking a brisk walk at the beach or sitting idly, just watching the sea waves making patterns on the sand. There was also a small pre-wedding photoshoot happening near the shore without disturbing other activities of the people. School children were playing, running and enjoying themselves while having candies and ice-creams. It was a perfect spot for rejuvenating ourselves from the heat and travel of the day. After clicking few pictures, we were hungry. We headed to the nearest 'Indian Coffee House', which was right across the road to the beach. This place never disappoints anyone travelling anywhere across the country, both in terms of quality of food and the pricing (our snacks cost Rs. 101).
Afterwards we decided to take a walk around the city to discover more of Alleppey beyond its back waters. We took the inner roads away from the beach road covering almost 10-12 kms. The only thing that bothered us was the lack of proper street lights. Otherwise our walk was comfortable, clean and peaceful. For dinner, we chose the famous 'Halais Restaurant'. This place has a 4.5 rating on TripAdvisor and is the 2017-18 winner of the certificate of excellence award. The beef fry we ordered was delicious and stunningly presented. With this, we called it a day.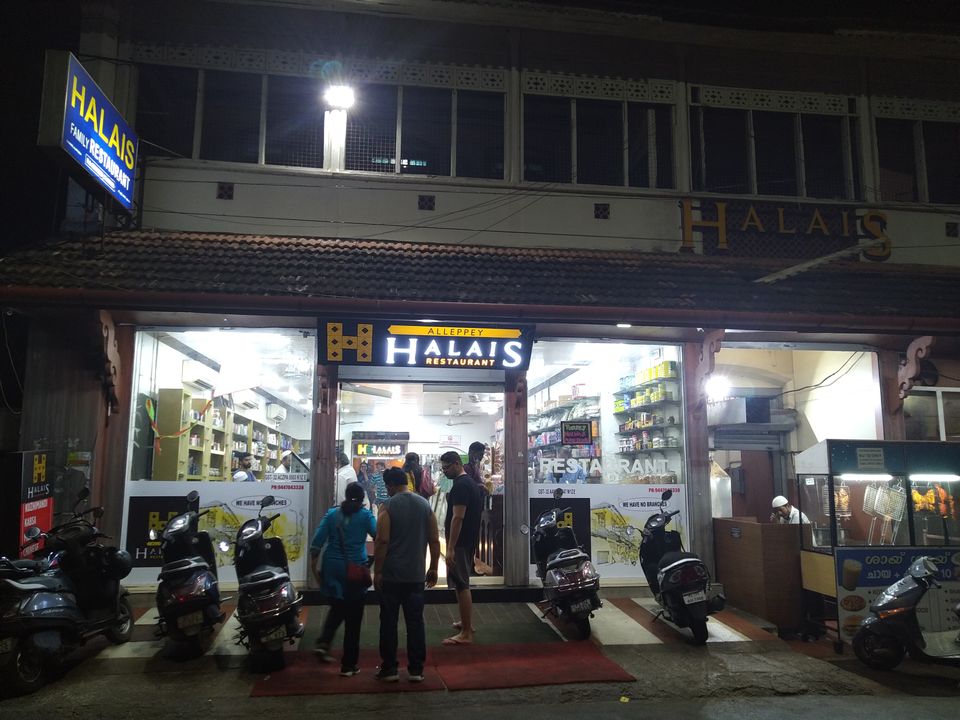 So, this is the day we finally explored the beautiful back waters of Alleppey. The day started with us having south Indian breakfast at 'Hotel Aryaas' which is just 5 minutes' drive from our resort. The food was authentic and economic (Rs. 185 for two people). Next, our auto driver took us to the spot for starting our boat ride. Since, we were on a budget trip, we rented a boat from our resort for four hours, that cost Rs. 2400 than going for a night stay in a boathouse, for which one needs to shell out 7k and onwards per night. This was a mid-sized boat with a seating capacity of 8-10 people. It was perfect for budget travelers like us. The boat ride starts from a very small water channel and slowly opens up towards the larger waterways and lakes. It was a heavenly experience especially for someone like me coming from a state like Rajasthan. One can see the picturesque green coconut trees lines along the backwater channels, huge houseboats and a serene atmosphere. This is the place which most of us see in the various advertisements of Kerala tourism. Our boat in-charge who was a polite and friendly young Malayali fellow informed us that this view especially becomes more attractive during monsoon season. The ride typically stops twice for tourists to have some snacks and drinks in between. One can enjoy different flavours of fruit juice, potatoes snacks, chips, ice-cream and small commercial items for shopping as well in these stoppages. We also observed the daily life of the people living along the back waters. There is an entire village with each house having their own boat, one hospital having a mini boat ambulance, few daily product shops, church, school and workers rowing construction materials on their boats to their site. One can also rent a smaller kayak that goes along the smaller water channels, but only when the weather is pleasant (especially in winters and not in March). The other cheap way is to opt for the local ferry system that carry passengers up and down the canal and rivers throughout the day. The ferry schedule is available on Kerala government's State water transport Department (SWTD) website.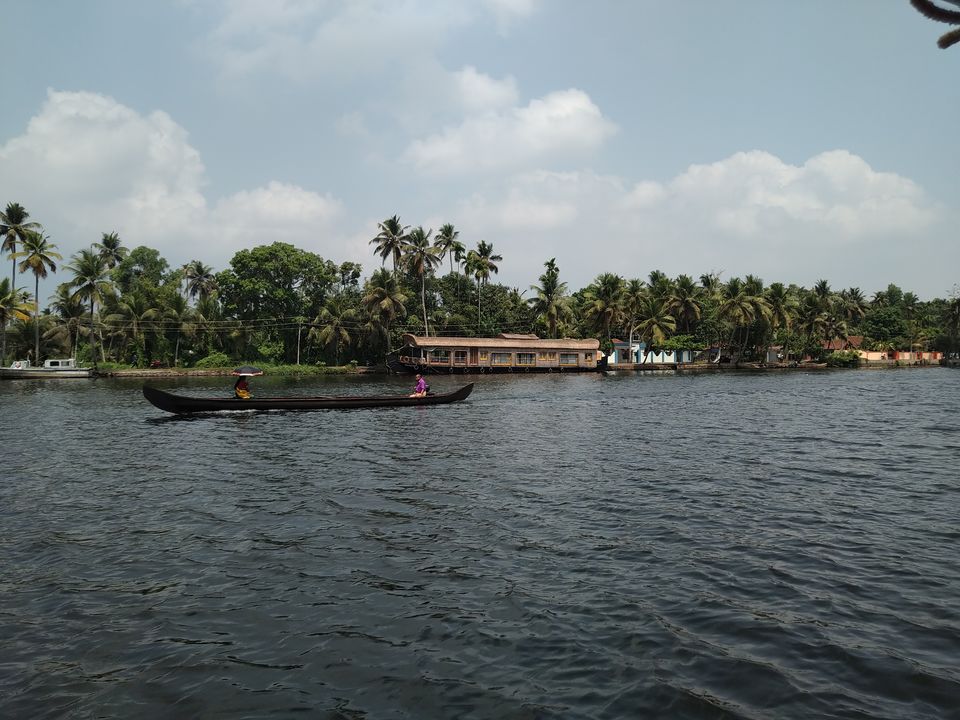 Overall, it was an experience of a lifetime which has marked an everlasting impression on both of us. The back-water explorations are totally worth your time and money. Please do not play loud music on the boats while taking the ride, since it might disturb the fellow passengers and spoil the serenity of the environment.
Our boat ride ended at around 1pm, from where we walked and had our lunch at 'Thaff Delicacy Restaurant'. It is yet another quite famous food point which is rated as the second-best restaurant at Alleppey. The moment we entered the restaurant, it was full and had to wait 15 minutes for our turn. The waiters at the restaurant were the most polite and quick at service people. We noticed this place is quite popular among the daily office goers as well, with many of them ordering a special thali. We ordered roasted Karimeen and fried prawn, which was no doubt heavenly delicious. This is the best place for sea food items at Alleppey. The entire meal for two cost Rs. 655.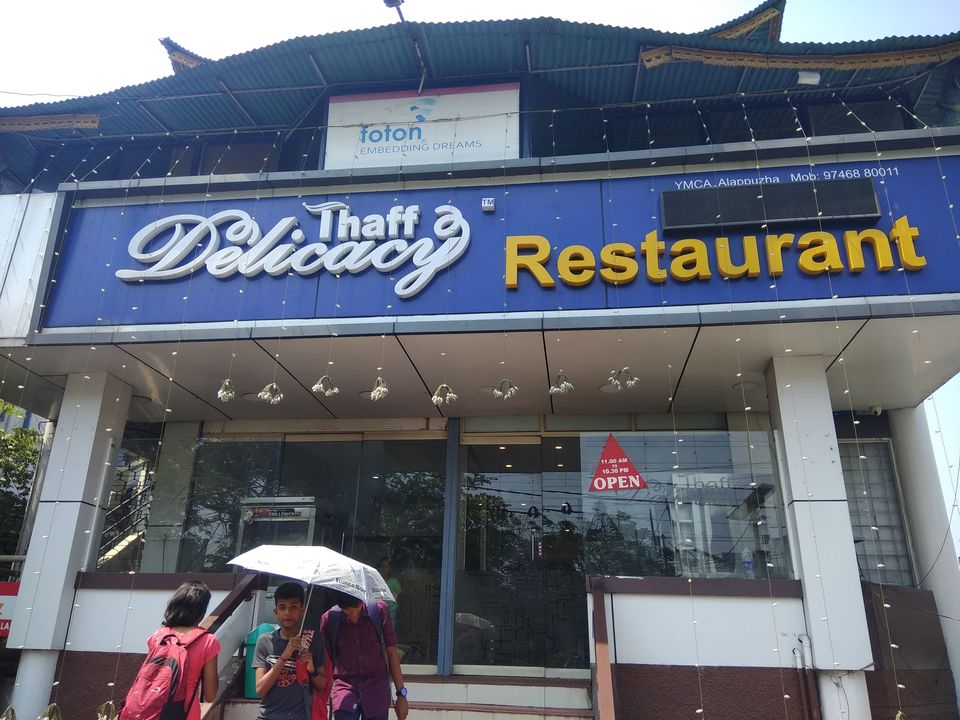 The evening was spent exploring the main Mullakel market of the city and purchasing few souvenirs like the kerala lamp (Rs. 360) and one formal traditional dress set worn by Malayali men at the weddings, which included a mundu and a silk shirt (Rs. 1677). Mundu is a cotton or silk garment worn around the waist by men and has a unique draping style. It is perfect for a hot and humid weather of this state.
Next, we said goodbye to the city to catch our late night train to our last destination: Kanhangad in the Kasaragod district of north Kerala.
The train took 8 hours and we reached Kanhangad at around 6:30 am. Our hotel was nearby, for which the auto ride cost Rs 50. The hotel (Sooryavamshi Residency) situated near a highway opposite LV temple was a new one and didn't have their restaurant started yet. So, we walked along the highway and had our breakfast at a nearby café called 'Capsico Friends' for Rs. 80. Kanhangad is small but a major city within Kasargod District nearly 79 km from Mangalore in Karnataka. It is a coastal town with many tourist destinations like Hosdurg Fort, Bekal Fort, Pallikkara beach park and Kottancheri hills. But our main purpose of visiting this city was to attend one of our dear friend's wedding, so we explored a very little of the city. For example, we took an auto to the nearest India Coffee House for lunch (lunch cost Rs. 135) and then purchased some tapioca chips from nearby stores. In the evening we attended the groom's pre-wedding traditional feast at his residence. Comparatively, Malayali wedding rituals are short, simple and quite interesting. One day before the wedding, the bride and the groom visit the temple followed by a traditional feast served to all the guests in their respective residences. Women mostly prefer beautiful Kerala sarees and men can mostly be seen in their cotton mundus and shirt. It's a small and private affair where the elders and well-wishers bless the couple for their journey ahead.
The wedding day is finally here. Malayali weddings as I have mentioned earlier are unlike any North Indian weddings and compulsorily happen in the morning. This one was in a 1000-seater capacity auditorium. On the main day, women are mostly in their finest silk Kerala sarees along with garland worn as hair ornament and men are in their best silk Mundus and silk shirt. The groom enters to the beats of live traditional music accompanied by his male family members. Contrasting to North Indian grooms, a Malayali groom does not wear any headset and is more simply dressed for the ceremony. Groom's entry was followed by the bride's entry along with her bridesmaids who directly steps on the main stage. The bride was wearing a two-piece Kerala silk saree along with gold ornaments, fresh jasmine flower garland and other gold ornaments in hair. This was followed by prayers by the bride, after which the groom also comes up on the stage to sit beside the bride. The groom tied a mangalsutra known as "thaali" in Malayalam round the bride's neck. The couple then exchanged garlands and this ritual was followed by kanyadaan conducted by the bride's father, who places her hand over the groom's hand. This signifies that he has now handed his daughter over to the groom. The couple then circled the mandap (which is on the stage itself) thrice and the groom then applied vermillion on the bride's forehead at the parting of her hair. The couple then seeks blessing from the parents. Later, the rest of guests who were waiting patiently on their seats in the auditorium start making queue for their turn to give gifts, blessings and get themselves clicked with the newlyweds. Basically, the entire wedding ceremony took around 20-30 minutes only.
At the same time, a lavish feast was happening below the auditorium, in the ground floor for the guests. This was a pure vegetarian meal served on a banana leaf. It was pure bliss to experience such a systematic and beautiful traditional Malayali ceremony.
In the end, with heavy heart and a promise to come back again to 'God's own country', we ended our trip. We packed our luggage back at the hotel and headed straight to the railway station in order to catch our train for Mangalore. Mangalore is the nearest city to Kanhangad to have a domestic airport terminal.
Overall, Kerala has made a lasting impression in our hearts and we sincerely hope to see this happy state again.
Frequent Searches Leading To This Page:-
Kerala holiday packages, cheap tour packages of kerala, backwater packages of kerala, honeymoon package of kerala, holiday packages of kerala