To treat myself on behalf of my birthday and to welcome the new year, I planned to go on a trip. Initially, I had Goa in my mind, later I thought Goa would be overcrowded during new year time. I wanted a similar place so I chose Varkala. I could have done night journey which would be easier for me but I preferred day journey to experience southern coastal line.Due to last minute, I could book a 2S ticket. Traveling time Mangaluru to Varkala is 12 hrs. Indian railway standard time I reached one and a half an hr late to the destination. Though it's tiresome from Mangaluru to Varkala trust me it was worth it. Beautiful backwaters of Kerala is a treat for eyes.
For the first time, i traveled alone to another state During my journey people were so helpful to me as they came to know that I don't know Malayalam, I started getting attention;) from my co-passengers ha ha. During my journey, I spoke to two school teachers they shared their experiences about teaching school kids. At Thrissur railway station a lady got into train sat in front of me. She asked me that whether anybody is sitting beside me. I could understand Malayalam but I told her in sign language some one is there beside me. She started yelling at me in a funny way that you should learn Malayalam being in Kerala, I have paid my ticket blah blah blah. Luckily who was sitting beside came for my rescue telling her that it was a reservation coach.
After some time I interacted with a mom and daughter, they were really kind to me They offered me food initially I had denied taking from them, after a very long interaction again they offered vattayappam happily I took from them. Vattayappam is an authentic Kerala dish, steamed rice cake made up of rice powder, coconut, jaggery and some dry fruits which were very tasty, without hesitating I asked one more piece of them.They accompanied till Allepy. While passing through Ernakulam it was around 6.15 pm, the sun was above to set, the orange shade was dispersed all over the backwaters and colorful fishing boats on it.

After 3 long hrs from Ernakulam train reached Varkala, my energy was also drained out by that time. My Friend had already reached Varkala from Kanyakumari. So as per plan, we had booked a resort near Kappil Beach as it was available on our dates. I wanted to stay at the Cliff, but din wanted to take any risk so we booked M.R beach resort and cottages.
The resort was good basic facilities were available, few steps away from the beach and Kappil Lake.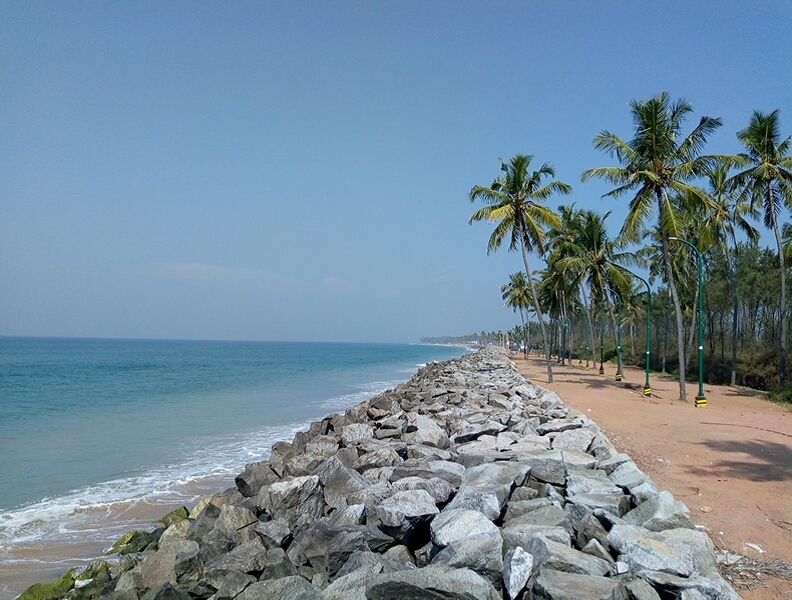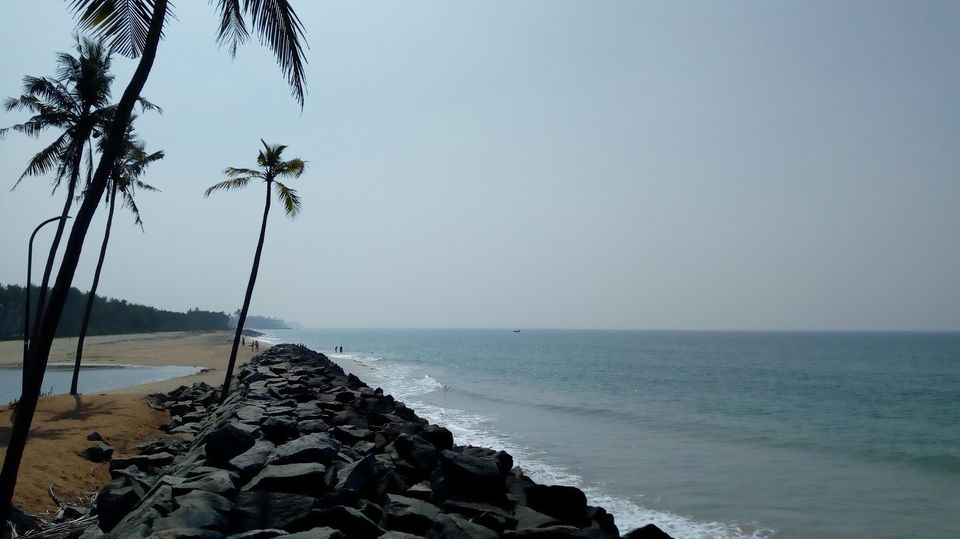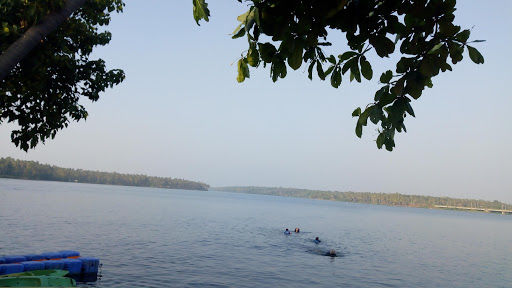 This is the place where the beach is at one side and backwater is at another side separated by a road. Backwater is nothing but Kappil lake has clear water, and it is very wide. Various types of Watersports available at Lake organised by Priyadarshini Adventure Sports Club( sorry if I am wrong, I am not able to recall the name) They have Kayak for INR 400 for 30 min for single person, Banana ride, bumper ride, sea water rafting, boating, paddle boating etc at affordable price.
We hired a two-wheeler and went cliff for dinner. Lot many cafes are there at Cliff. We had our food at Darjeeling Cafe. We visited this cafe after reading many reviews over the net. This cafe offers cocktails, drinks, and food. But it didn't meet my expectation. Oh yes, I am a vegetarian. So the food was ok kind for me. A variety of Seafood was available, in the evening almost every cafe display fish, crab, prawn, shell etc where you can choose yours.
Day 2 North cliff, Papanasam beach, Janardhana Swamy Temple
We left to cliff around 11.00 a.m. Breakfast at Clafouti restaurant. Fruit pancake was really good with an awesome ginger milk tea ( I know weird combination). After breakfast, we left to Temple and Papanasam beach. Janardhana Swamy Temple is an old temple for Lord Janardhana. Climbed many steps to see the god. Non-Hindus are not permitted to enter the temple. Papansam beach also called Varkala beach is just few min from the temple where they do pooja for ancestors at the sea shore and it was crowded when we visited so did not spend time there. Found few veg cafes and hotels near Papanasam beach. Paragliding is available at North cliff, where you can fly from North cliff to South cliff i.e papanasam beach @ INR 3500 for about 30 min.
Again we went back to North cliff for lunch.View from Clafouti Restaurant then shopping at the cliff, spent an evening at Cliff which was a blissful evening and explored Varkala town. We went in search of some authentic Kerala food, we could not find any. Vegetarians try Suprabatha Hotel in the town Cashew fried rice, Veg biryani, beside hotel, randomly we chose black forest cake at Aisha bakery which was freshly prepared which was yummy,
Travel Tips
>Solo travelers stay at North Cliff if you like people around you, want to meet like-minded people, for delicious food, shopping etc.
>If you want to peace, experience serenity of beach then Kappil beach is the place stay around Kappil.