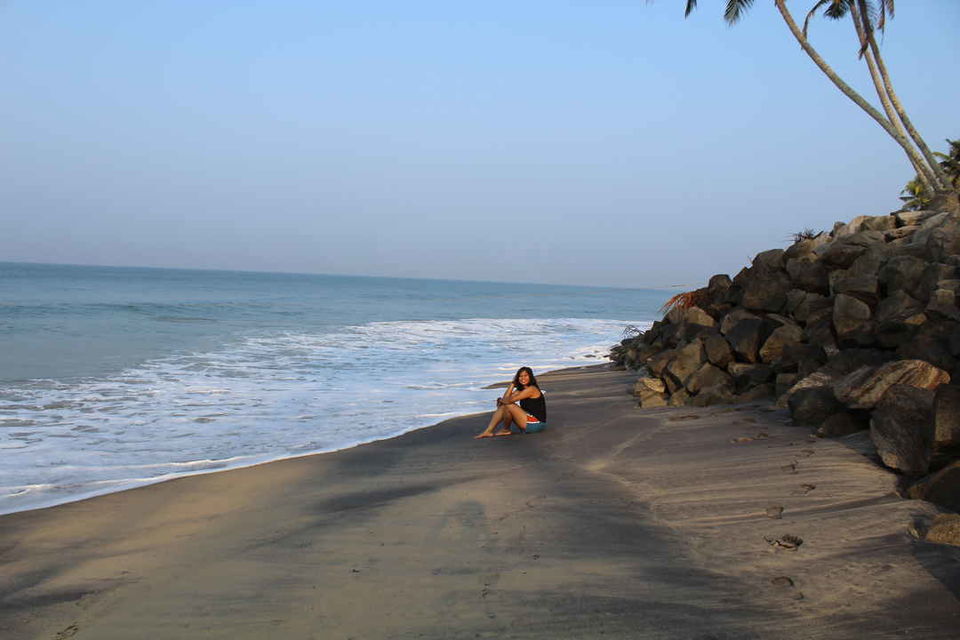 Varkala has been on my travel list ever since I heard about it in 2016. It's a small beach town in God's own country Kerala, famous for its scenic cliff beaches that can give any foreign location a run for their money. If you are tired of the over-tourism in Goa and would like a calm, stress-free beach vacation, Varkala is the place for you. Mind you, this town also has religious significance as many people come here on pilgrimage, so don't expect to have parties beyond 11 PM. If you stay in Karnataka/Tamil Nadu, you can plan a standalone trip to this place. If you are coming from far off, I would suggest you take some extra days off and visit other places in Kerala also (Alleppy, Munnar, Wayanad, Shree Padmanabhaswamy temple etc). Since I am from Bangalore and had not travelled anywhere from the past 2 years thanks to the virus, I planned a leisurely 4 day, 3 night trip to Varkala (although 2 days, 2 nights are enough). Growing threats of Omicron were making me reconsider my decision but since I was fully vaccinated and prepared to adhere to all necessary covid protocols, there was nothing that could stop me!
The article contains information about (1) Beaches (2) Temples (3) Restaurants (4) Other nearby attractions (5) Misc.
General outline: Varkala is located about 40 km from the state capital Thiruvananthapuram and can be reached by car, flight and train. It has a stretch of beaches from North Cliff to South cliff, and each beach has its unique features. Varkala helipad (4 km from railway station) on the North cliff is like the landmark of this place, overlooking the sea and offering a great view of the sunset 200 m above the beach. You can choose to stay on various sea viewing properties on either north or south cliff. Right next to the helipad is a bevy of sea facing cafes which are great for candlelight dinners or light snacking or simply watching the sunset with a mug of beer.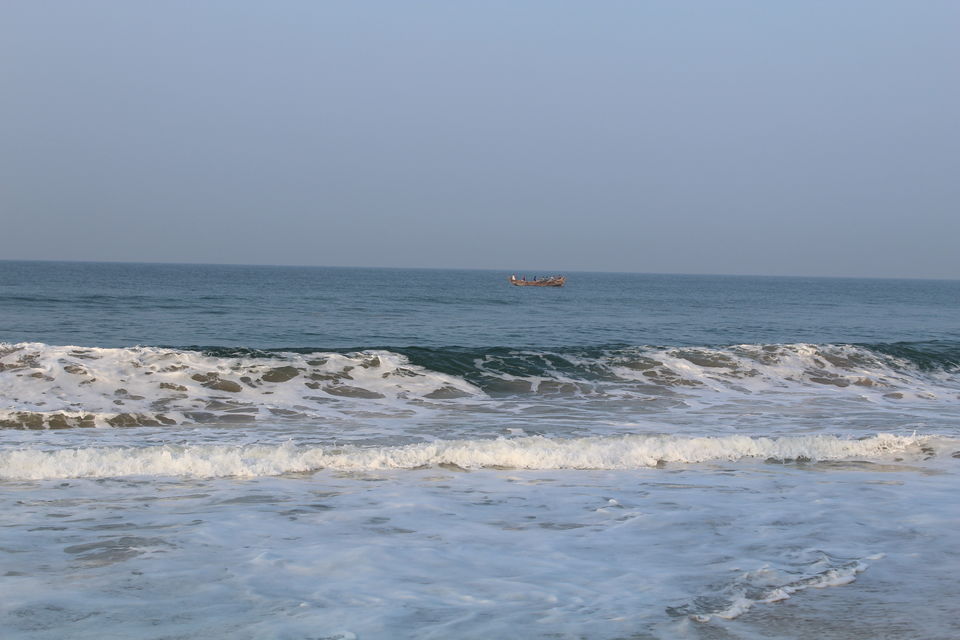 Best time to visit: Nov to Feb. Even in Dec, the sun is blazing hot from 12-3 PM, try to chill indoors
Clothing: Modest clothing recommended at temples, roads and Papanasam beach, can wear swimsuits at south beach and black beach
Vibe: The locals were very cooperative and helpful. English/Malayalam languages work perfectly ok. Cheap hostels to 5 star resorts, all kinds of accommodation are available to suit all pockets. Totally safe for solo female travellers.
Short description of the beaches
All beaches are within 3-8 km of helipad, so you can go to multiple beaches in one trip. All beaches are well marked on sign boards in the area for easy navigation.
1. Papanasam Beach/Varkala beach: This is the stretch of beach that connects to the temple and is considered a holy beach. Taking a dip in this water is said to wash away your sins, hence the name. It can be accessed through steep stairs at the north cliff restaurant side or a downhill road to the left of the helipad. This beach is famous amongst the local folks and nearby college students. This place is crowded with fisherfolks early in the morning. Water is a little dirty due to visarjan of flowers, coconuts etc.
2. Black beach: Many articles have referred to this beach as a "secret beach" but if everyone knows the secret then it's no longer a secret!! Nevertheless, it's a short 500 m stretch about 1.5 km north of Varkala beach with sand that is literally black in colour. The waves have eroded away the rocks that line the beach and these broken rock particles give the sand its black tinge. It is relatively less crowded and very picturesque. Go before 7:30 AM to get those perfect photographs. It is perfect for swimming, boating and surfing. The coast guard is constantly on the lookout, so you are safe too! There is also an aquarium en route, but it is only amusing for little children.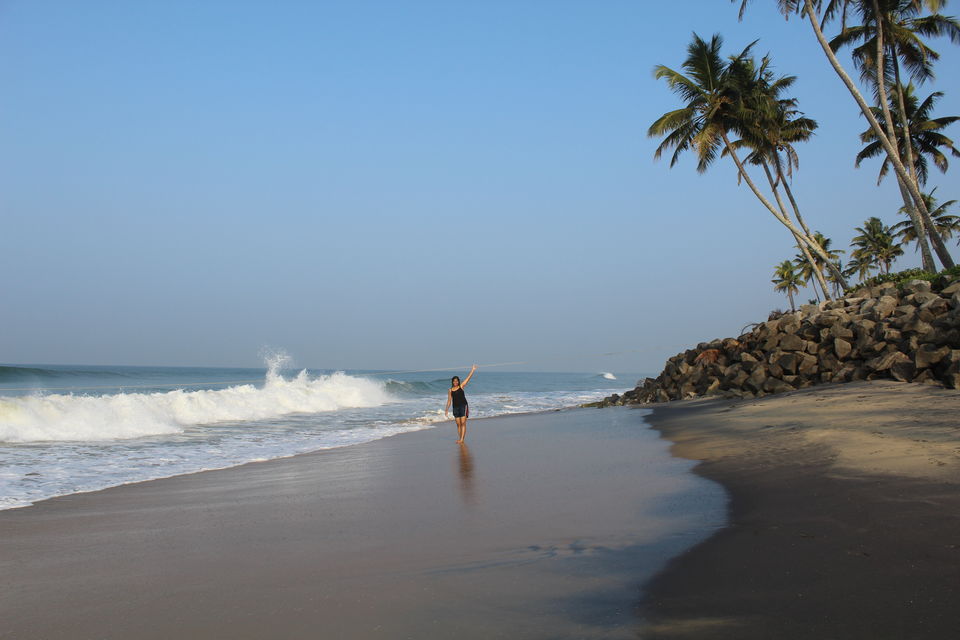 3. Odayam beach: It's a beautiful rock beach with a narrow opening to enter the ocean. The waves can get violent during high tides so be careful as falling on rocks could be very dangerous.
4. Edava beach: It is a continuation of rock beach from odayam where rocks are surprisingly of a different texture compared to the rest of Varkala. It comes with a scenic 2 km walking path on the cliff from where you can see a lot of fishing vessels in the distance. There is a steep man made carved path which you can use to descent down to the ocean for a very isolated private beach experience.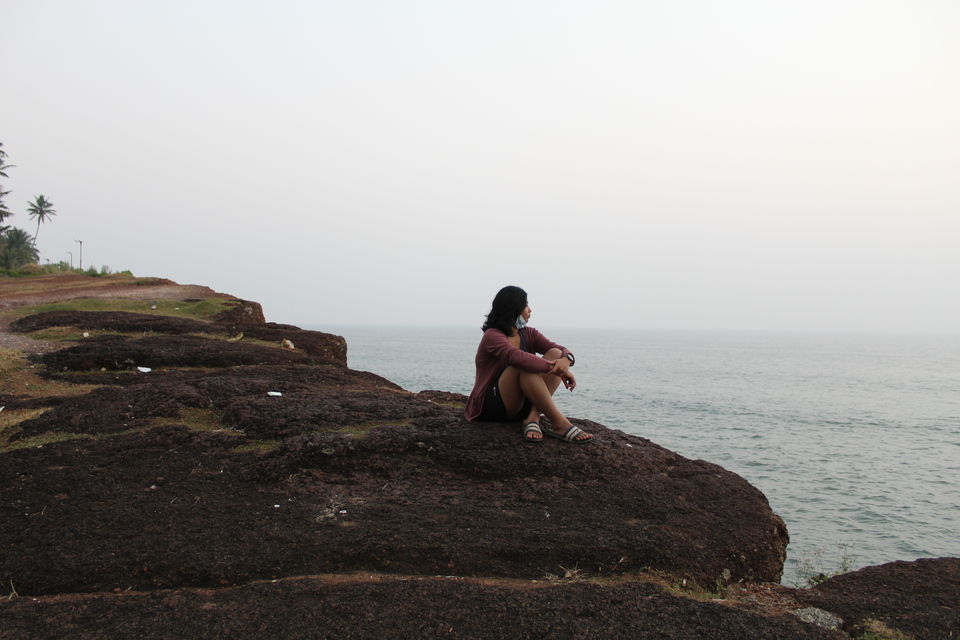 5. Kappil beach and lake: This place is 8 km from helipad where the lake and ocean are separated by a road. The lakeside is very calming and perfect for couples. The ocean side was similar to Mumbai's Marine Drive, where there are too many tourists and fast food shops. This was personally my least favourite beach.
6. South cliff beach: It is the less crowded and cleaner cousin of Varkala beach located 4 km to the south. It is a newer formation compared to the north so the sand is coarser and the ocean is slightly less turbulent. You can enjoy a serene sunset bathing in the sea or try paragliding. You can also enjoy a great view from Cliff stories hotel viewpoint.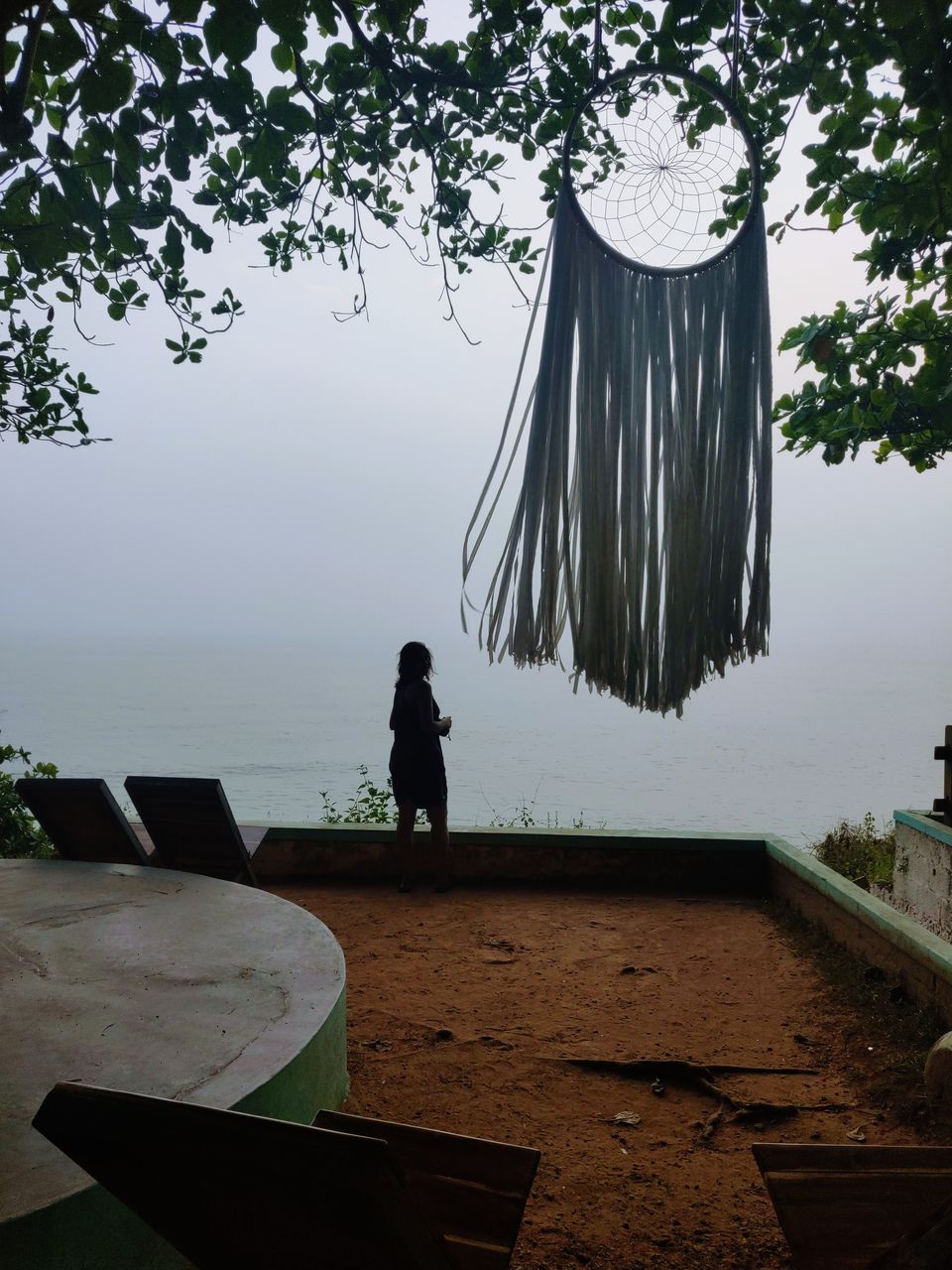 Religious Places
Varkala is a famous south Indian pilgrimage spot, is replete with many temples with Janardana Swamy Temple and Sivagiri Mutt being the most popular. There was a very elaborate elephant procession when I visited, not sure if was some function or a regular ritual. You may go here for a slice of our cultural heritage especially if you have elderly people travelling with you. Foreigners might not be allowed inside the temple premises, please confirm before visiting.
Cafes and restaurants
Varkala has a plethora of beautiful sea facing cafes and you are sure to find something to your liking no matter what your palette preference. Every restaurant displays "catch of the day" right outside their building where you can see the fresh seafood brought in just after sunset. So try to taste most of the seafood during dinner. Some restaurants shown on google maps are closed due to the pandemic. Confirm before going. Also, the roads get very isolated by 10:30 PM. I would recommend you not use the inner roads after 11 PM especially if you are travelling on cycles or scooters for safety reasons. All cafes sell alcohol but due to license issues, they write it as "pop" in the bill.
Good experience: InDa Café (bacon pancake, cut fruit), Cafe del Mar (cardamom milkshake), Little Tibet (Pinacolada, momos), God's own country (crab items), ABBA's café (calamari fry), Bait and hook (snacks)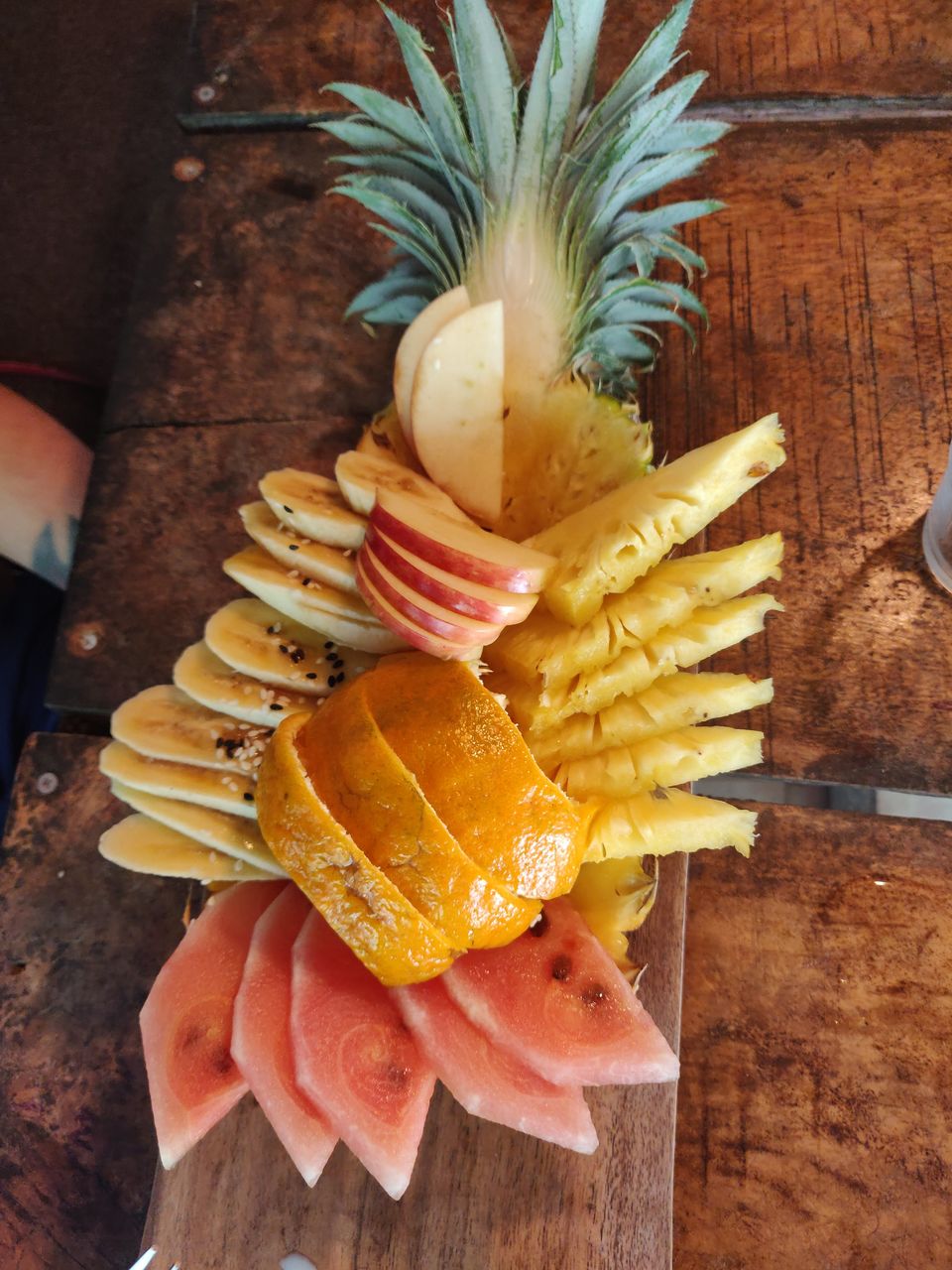 Underwhelming: Darjeeling café, Coffee temple, Babufarm restaurant, Sun Rise cafe
Places a little far off
If you get bored of beach hopping and beer sipping, worry not coz there are plenty more places to see within a 50 km radius of this town where you can easily spend 4-6 hrs. Munroe Island (50 km) is a spectacular cluster of small islands in the backwaters inhabited mostly by fisherfolk, where you can have a relaxed boating/canoeing experience amidst serene green waters. Jatayu Earth's Centre (33 km) is a newly build architectural marvel based on Indian mythological tale of Ramayana where a massive replica of Jatayu (eagle) is perched on top of a hill. A ropeway carries you to the hill top, providing an ariel view of the entire sculpture. There is a museum and a park also but they were closed when I visited. Golden Island (Ponnumthuruthu Island; 10 km) houses a temple of Siva Parvathi and is a blessing for all bird watchers. You can also go boating around the temple. Anjengo fort (15 km) is a quaint old fort that was East India Company's first permanent post on the Malabar Coast. It has a well-maintained garden and the climb onto the top of the lighthouse is a must for photography enthusiasts. Visit this place only if it falls in between your transit, or else it is passable.
Miscellaneous Information and contacts:
1. E-pass: Way before travelling, we had to get a visit permit generated from https://covid19jagratha.kerala.nic.in/home/shortVisit so that our travel details get recorded on their database, probably for contact tracing. As of Dec 2021, this was compulsory for all tourists coming from outside Kerala.
2. Train: I boarded the Kanyakumari Express (16526) at Bangalore at 8 PM and reached Varkala Sivagiri (Station code: VAK) at 11:30 AM. Right outside the station, you can find autos that take Rs 100-130 to drop you off at the hotel. One unique thing about Varkala is that not a single person tried to overcharge me for anything, so there was no need for me to bargain anywhere (except a little at the souvenir shops). The area around the station is the main town where you can find all necessities like ATMs, hospitals, medical stores etc. You won't get scooters for hire on this side, search near the helipad area.
3. ATM: You can find "One India" microATMs everywhere, even at the cliff ice cream shop. They swipe your debit card like a regular transaction and give you that cash, without any extra charge on Indian currency. Canara bank, federal bank, axis bank ATMs are there in the town.
4. Hotel + Scooter: I stayed at the Varkala Marine Palace. A huge sea-facing property built in traditional Kerala wooden architectural style right on the Papanasam beach, 500 m from the North cliff. They have an attached restaurant and room service facility. Had a comfortable stay here for about Rs 2500 per night for a super deluxe premium room. They offer discounts on booking directly through whatsapp instead of going through any third party website. (Ph: 8714226409; 8675728052) They arranged a well maintained two wheeler for me at a charge of Rs 400/day. Carry one helmet from home if possible. The nearest petrol pump is Indian oil near railway crossing, 3 km from helipad. Varkala is easy to navigate and explore on a two wheeler compared to a taxi/auto due to narrow roads.
4. COVID Test: 72 hr RTPCR negative report is currently compulsory if you are travelling out of Kerala to anywhere in India. Devi scans and laboratories is ICMR certified and located on the temple road. (Ph: 8281317523/7909175066) Give your swab before 10 AM so that you can get the report via email and whatsapp by 6 PM on the same day. Charge is Rs 500/sample. Some hotels even have door to door sample collection facility, so you can ask your manager.
5. Printouts: Nowadays they are asking for hard copy of covid test report and other documents at the airport. If you need printouts, a shop called Varkala communications is right on temple road. You can email/whatsapp them your docs and collect them later also (8714314656; varkalacommunications@gmail.com) However, I did see printing kiosks at the airport itself, so carrying a soft copy of documents should not be a problem. Must carry your real ID proof though, e-copy is not accepted.
6. From Varkala to Airport: You can take a train from VAK railway station to TRV from where the airport is 5 km away. Or from your hotel to airport direct drop, it's Rs 1200 in auto and Rs 1600 in car. (Try bargaining) The road is very scenic and takes 1.5 hr to reach the airport. In case you need a driver, contact Mr Asokan at 9846564684 (Etios, AC)
If you are reading this article, do consider this a sign from the universe to plan a trip to this beautiful place.
BE SAFE & have a lovely time!!