Sai and I were in Punalur (Kerala) for a friend's wedding in August 2016. Varkala was just an hour's drive from Punalur, and it had been on my list for quite some time now. With a bit of complications around taking leaves in office, we decided to make it to Varkala for one day.
We set out from Punalur early morning in a hired taxi. The one hour odd exhilarating drive through the numerous rubber and spices plantations and beautiful coconut trees lined roads upped our spirits. Our resort, Clafouti Beach Resort, was on the North Cliff, a popular place lined with multiple resorts and shacks.
I was already in love with the place as we checked in to our resort. From our room, we could see the sea even lying down on the bed. It had rained the day before, and the weather was pleasant and breezy. The clouds-dotted sky and the vast, clear sea were presenting a scene right out of a painting. Standing on the cliff, the panoramic view sure made my heart skip a beat.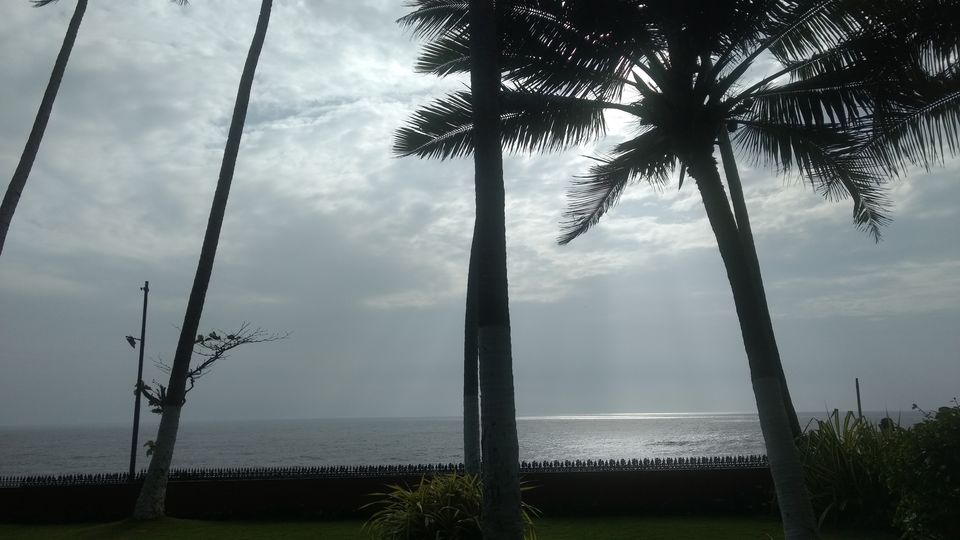 After quickly freshening up in our room, we set out to make the best of the 8 hours in our hands. Our resort had a cosy shack overlooking the sea. Famished that we were, we ordered for a huge breakfast of sandwiches, pancakes, omelettes and juices. We were surprised by the food bill amount, it was half of what you would pay in popular touristy beaches like Goa or Kovalam.
It being an off-season, we could see very few tourists, mostly foreigners. Few shops selling local handicrafts, colorful clothes and ornaments were open and the vendors smiled graciously as we passed by. Where the cliff ends, a crude stairway goes down to the beach. We climbed down the cliff and were soon treading on the soft, black sand. With the weather playing at our side, we lay down on the sand and soaked in the soft sunlight for an hour. Big waves lashing against the cliffs made for a mesmerizing sight.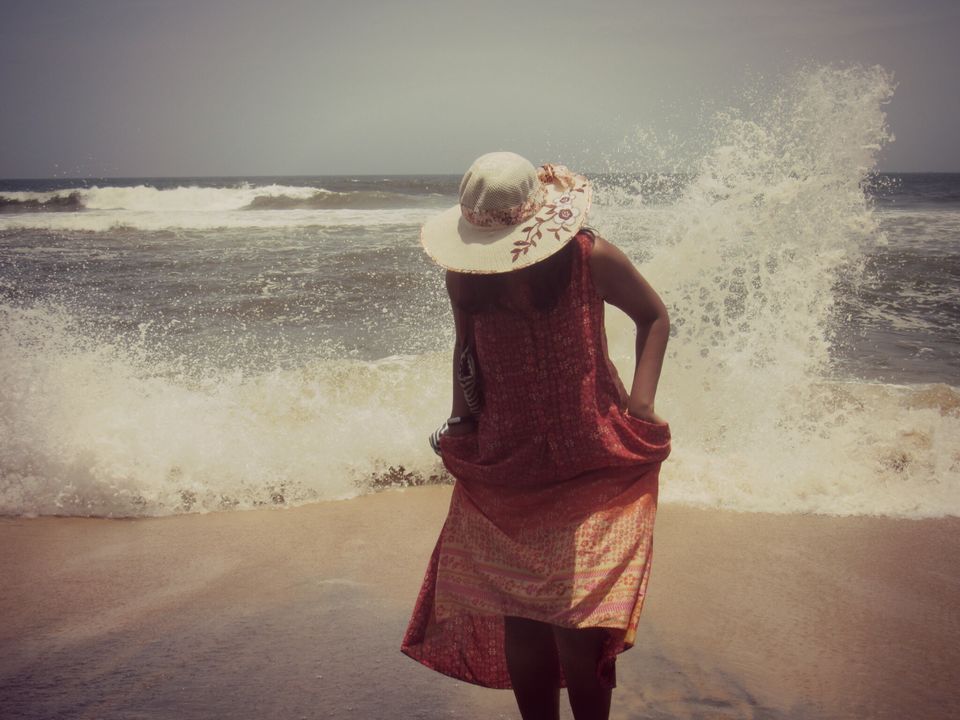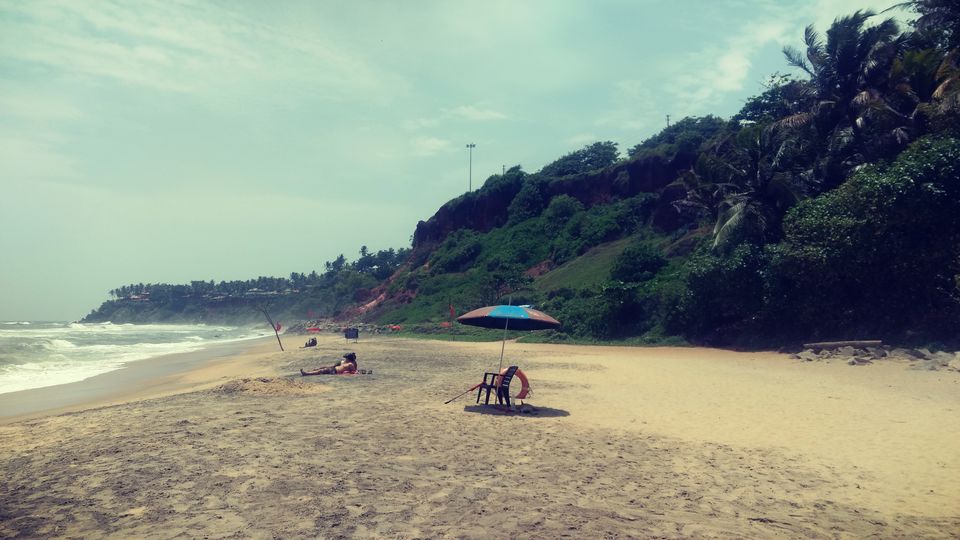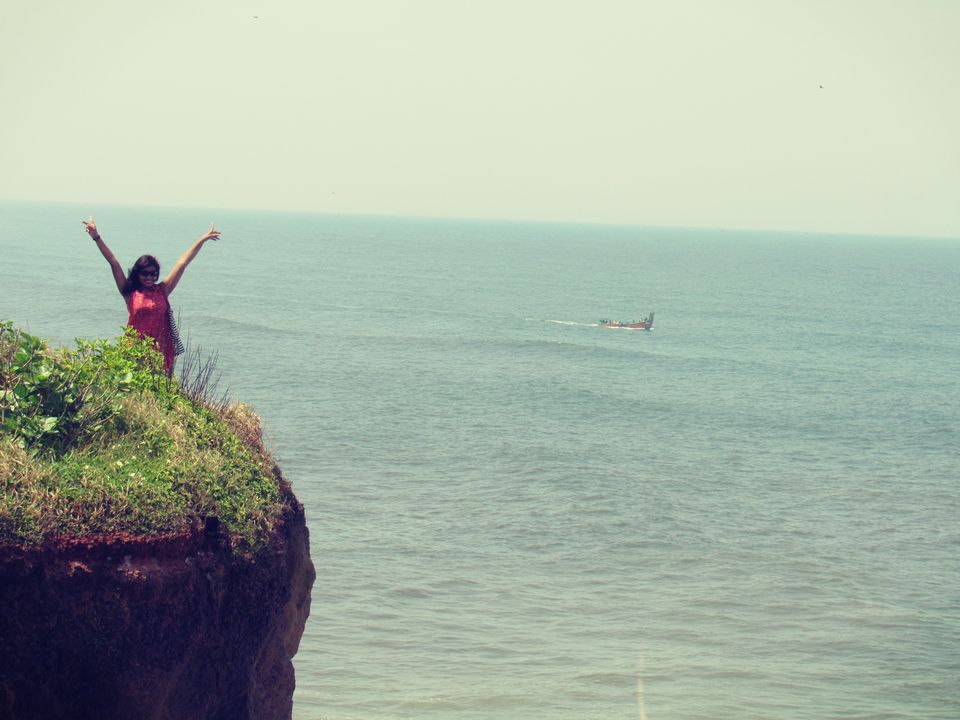 Hungry for lunch, we came up and made our way to a shack. Surprisingly, we could see alcohol being sold in the place, although most of Kerala tourist places have stopped selling alcohol in local places. We again ordered food like kings and by the time we were done, we were unable to get up. So, we lazed around for some more time in the shack.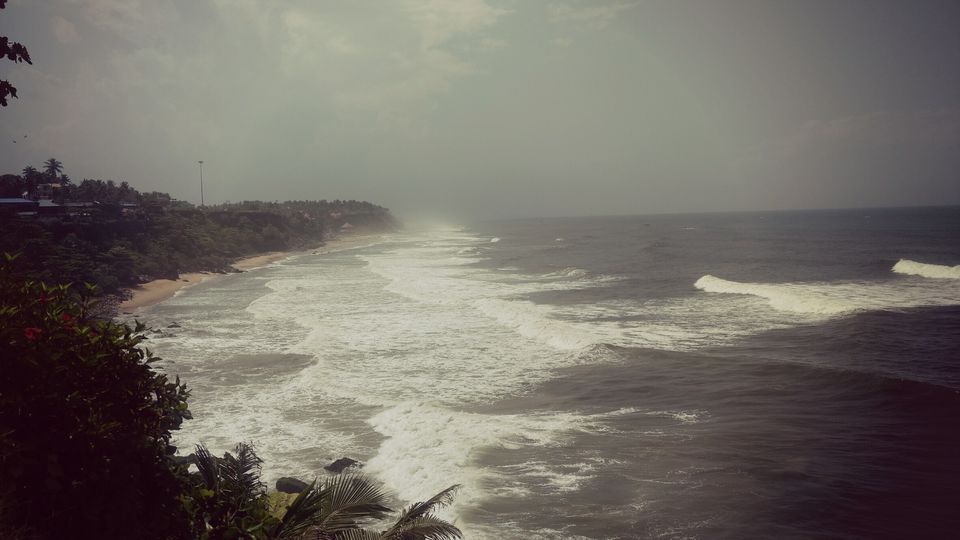 Back in our hotel room, we sat in our balcony, regretting that we had to leave so soon. The red sun setting into the sea made for a beautiful moment. We sat there holding hands and promising to ourselves that we would be back soon.
All you need to know to plan a trip to Varkala
How to get there? The nearest airport is 40 kms away in Trivandrum. Varkala is well connected by bus, cabs and trains from Trivandrum and other major cities. If you are travelling from Bangalore, you have a direct train to Varakala railway station daily. You can book your train in advance through irctc.co.in. Station code of Varkala is VAK.
Where to stay? There are multiple stay options in the form of homestays and resorts in the town. However, if you are looking to make the best out of your stay, stay on North Cliff. It is the place to be.
What to do? Start your morning with some yoga and meditation. Varkala has developed itself as a yoga and therapeutic centre and many visitors who come here stay for days to practice yoga and meditation. During the day, you can do some beach hopping on nearby Kappil beach, Thiruvambandi beach and Papansam beach, or just laze around with a book in one of the shacks on the cliff. You can go for a dip in the sea or go check out the Anjengo Fort. You can visit the Sivagiri mutt and Janardhanaswamy temple. Catch the sunset from the cliff, it will surely blow away your mind. Indulge yourself in a spa. Varkala is not a party place. If you are expecting a busy nightlife of North Goa, it is not the place for you.
Where to eat? The North Cliff provides myriad eating options. Most of the shacks offer Continental and Indian cuisine, with some specifically offering Kerala cuisine. Try out the fresh catch of the day and the good variety in sea food. We tried Clafouti restaurant and God's own country kitchen, and liked both of them.
How to move around locally? You can rent a bike or a car to move around locally. Autos and taxis are easily available too.
This post was originally published on 'Travel with Swagatika'