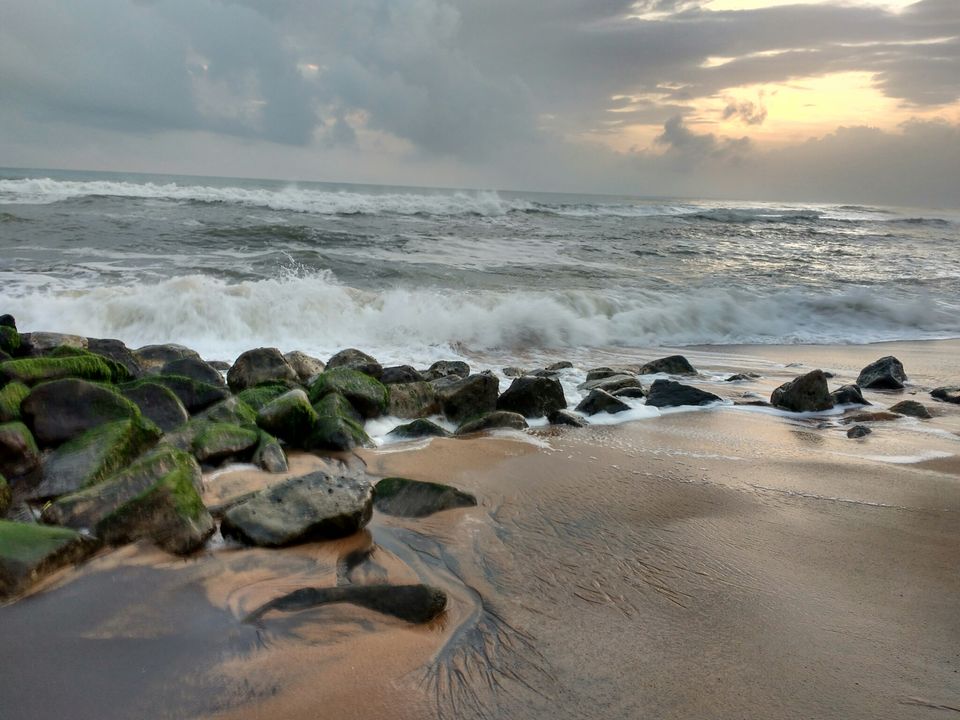 Varkala is a small town on the beautiful Malabar coast around 90 minutes' drive from Trivandrum. The drive is beautiful with greeery all around. Our resort was a little away from the main Varkala/ Papanasam beach & not in the main cliff. However, this beach was absolutely beautiful. Our resort directly opened on to the Odayam Beach. At night, we slept listening to the roaring waves. Palm Tree Heritage Resort on Odayam Beach is ideal for laid back beach lovers like us. Varkala doesn't have much touristy spots & that makes exploring the nearby places very interesting. We visited the Aquarium near the cliff & found it very well managed & friendly staff took us around showing us around showing the rich marine life. The Aquarium had sprawling lawns with a panoramic view of the tree lined shore. Our favourite haunt for lunch was the Clafouti Restaurant & Coffee Temple on the cliff. We gorged on some amazing sea food pizza,Tuna, Crabs & Banana Fritters with Custard for Dessert. One must try the crepes & Cappuccino at Coffee Temple. Varkala Helipad is another beautiful place with great views. Further below from the Helipad is the main beach which was rather crowded & we spent little time there. Around Varkala the Kappil beach,Kappil Lake was quite mesmerising for someone who was first seeing backwaters. We spent quite some time doing nothing but photographing the rocky shores. We had a day trip on the backwaters of Paravoor. Being lesser publicised compared to Allepey/Kumarakom, houseboat charges were less. We gave the night stay in houseboat a miss as our friends had a two year old baby who was already restless in the boat after a couple of hours. However, that turned out to be good as we could capture some amazing sunset shots on the beach. We couldn't enjoy the famous Kerala Ayurvedic SPA as the SPA at our resort was closed. Would love to come back second time for the Spa. Not mention the wonderful sea food ????. According to me Kerala is best visited during monsoons. The greenery soothes your eyes. Our Monsoon break at God'a own country didn't burn a hole in our pocket.

AI return flights from Bangalore to Trivandrum - Rs. 3800 per person
Prepaid taxi from Airport to Varkala - 1700 one way
Resort 4,000 per night..was a little expensive compared to the facilities they have. One can find good resorts on the cliff at a lesser price.
Local commute - auto Rs.100 per trip for 4 people.

Varkala... would love to come back again..