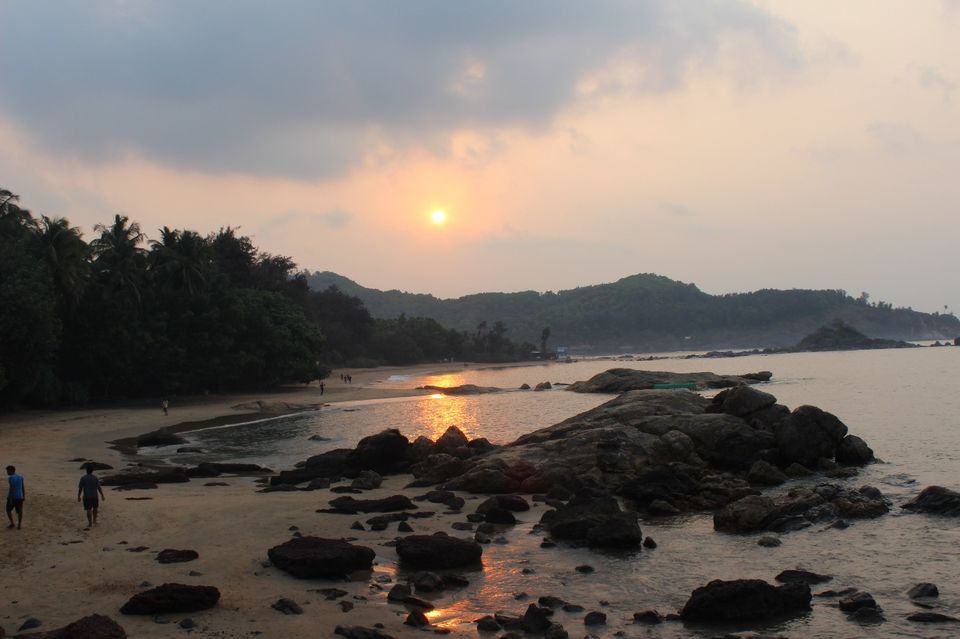 With the summer at its peak along with mixed reviews from those people who have been to Gokarna, we were expecting a monumental let down even before we started our journey. Having done an Airbnb booking and reluctant to pay the cancellation fee, we decided not to change the plan which turned out to be one of the best travel experience that I had in life.
The Planning
Combining the Easter holidays, we had a long weekend in the month of March and myself along with five of my colleagues started planning for a perfect getaway. A road trip was all that we had in mind but the destination has to be finalized. A hill station will be less attractive due to the hot climate prevailing in the month of March and hence opted for a beach side destination. All of us have been to Goa, in fact several times and we were looking for a destination which is less crowded yet we can laze around and enjoy the unadulterated beach sides. The search ended up in Gokarna and within a couple of days we booked a sea facing facility.
The Day
We started from Trivandrum by around 03:00 PM all set to cover the 850+ km by road. All of us were experienced drivers and planned to rotate our turn at the wheels every 4 hours. Roads at Kerala are usually crowded, especially in evenings and the case was not different the same day. It was a herculean task to cross Ernakulam and after driving for around 7 hours, our next plan was to have dinner. We halted at Angamali, a city well known for its pork dishes and after enquiring with the auto drivers, stopped in front of Hotel Bee Bees. We ordered pork roast, chapathi, pathiri and paratta. One plate of pork roast costs only INR 80 which is reasonable considering the quantity and taste.
Finally Go...Go...Gokarna……
We continued with the overnight drive and reached Gokarna by 11:00 AM the next day. There is a common misconception that Gokarna is a holy town and you won't get to see wine shops there, the latter is totally wrong and the guy whom we met at Kumta told that alcohol is easily available at Gokarna.
We had booked our room at Shantidham cafe, which is located near to Om Beach. The drive to Om Beach is a good experience where we need to negotiate curves through undulating terrains. The drive offers a scenic view of the Kudle Beach which is on the right side of OM Beach.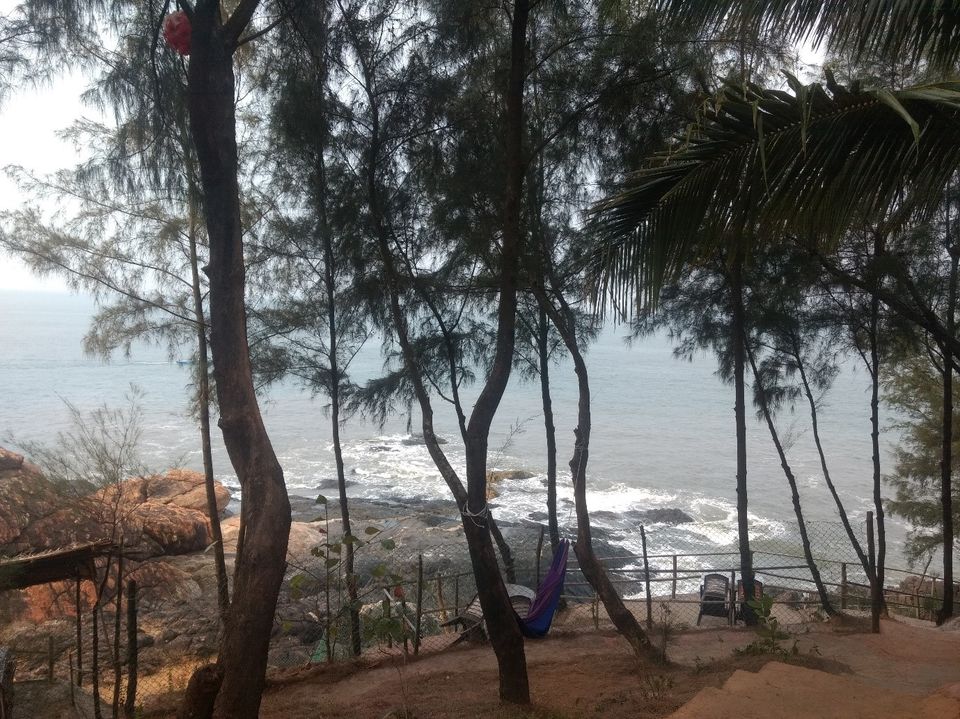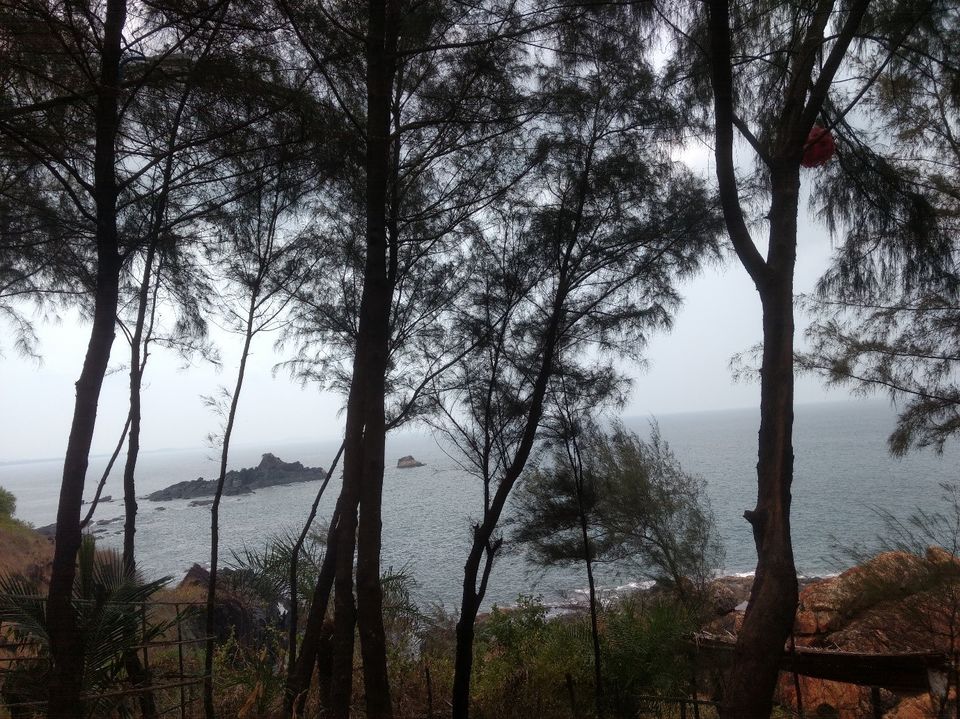 Shanthidam cafe is a great place and worth every penny you pay. The property is located amidst a pine plantation which slopes towards the sea and the cottages are constructed in such a way that you won't feel the immense heat inside. The restaurant lounge offers a wide view of the sea and there are walkways which leads further down the cliff where you can get a spectacular view of the ocean.
Gokarna Beach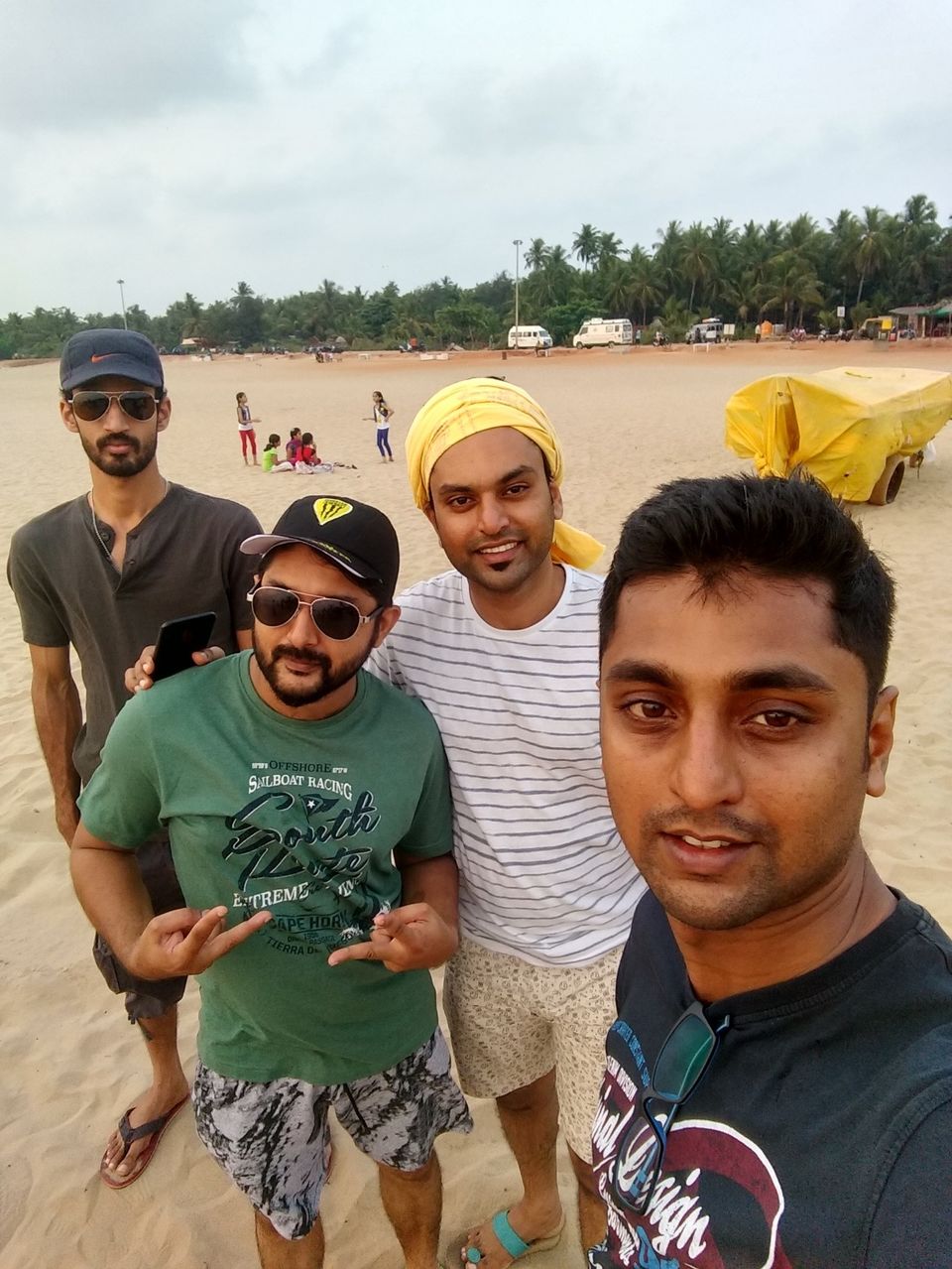 Gokarna beach is the most crowded beach and in close proximity to Mahabaleshwar temple. The crowd here are mostly pilgrims visiting the beach after the temple visit. The way to Gokarna beach is through an Agrahara or Agraharam as we Keralites call it (A lane with houses on both sides with a temple of Shiva on the extreme end and mostly inhabited by Brahmins). Never in my life have I walked through an Agraharam that opens its way into the sea. The street is perfect for shopping and bargaining plays a key role here. Local dishes are available in plenty which are cheap with no compromise on taste. There are lot of stray dogs and cows which are harmless. The local crowd have their own business to cater to and won't interfere with yours.
Trekking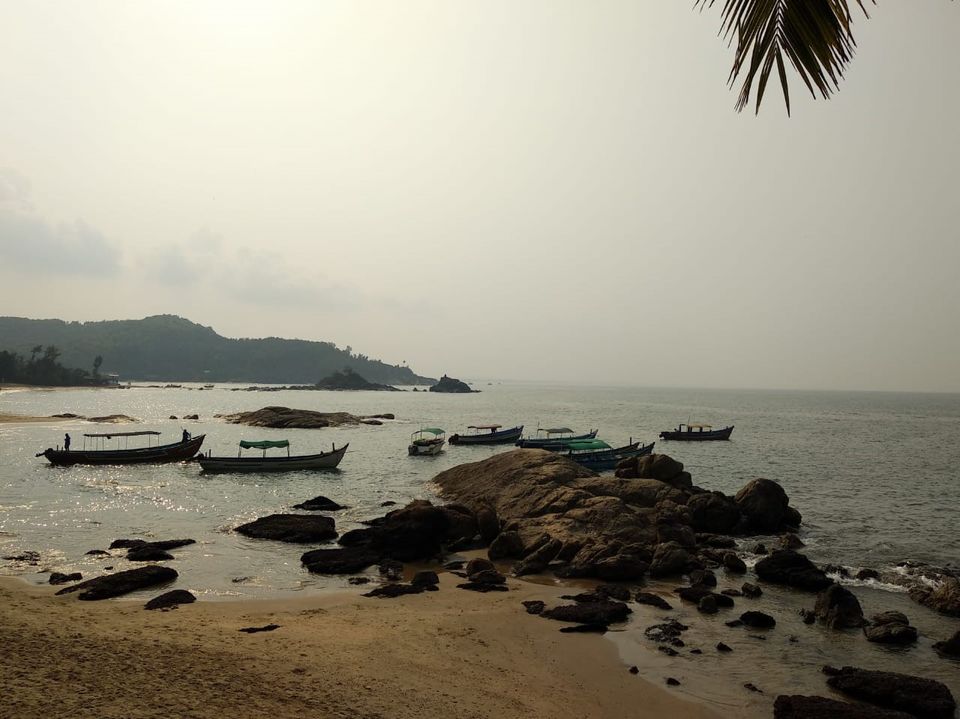 Since our accommodation was near to OM Beach, we had two choices, either head to the right and cover Kudle beach or trek towards left and visit Half Moon and Paradise Beach. We opted to trek towards left and cover Halfmoon and Paradise beach. Having seen a potential opportunity, couple of ferrymen approached us with their service for INR 300 per head. When you are at Gokarna, bargain like a pro and you will get things done way cheaper than what you would have imagined. In our case, finally the ferrymen agreed on INR 120 per head for a trip to Paradise beach.
The ride took 15 mins and on reaching Paradise Beach, we felt like we were at some private beach. There were some foreigners practising Yoga and taking sun bath, apart from them, the beach was completely isolated. The water was warm and after spending around 30 mins in water we decided that it was time to move on to the next destination, the Half Moon beach as the scorching sun was not showing any mercy on us. Half Moon beach lies between Paradise and OM Beach and the trekking is a bit tough considering the rocky terrain and narrow walkways. You will get to see a lot of breath taking views of the ocean on the way and a nice camera along with some photography skills can capture a couple of good shots.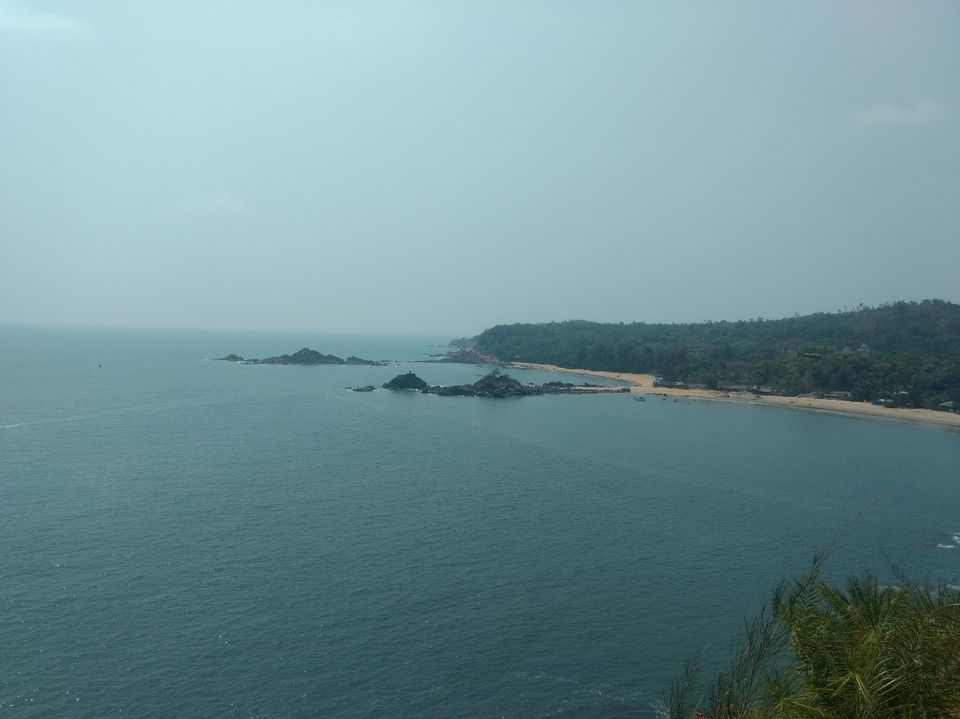 The rugged terrain obviously had some impact on us and were literally dog tired on reaching the Half Moon beach. We took shelter on an abandoned hut around which we can spot a true hippie culture which was evident from the drawings on the wall.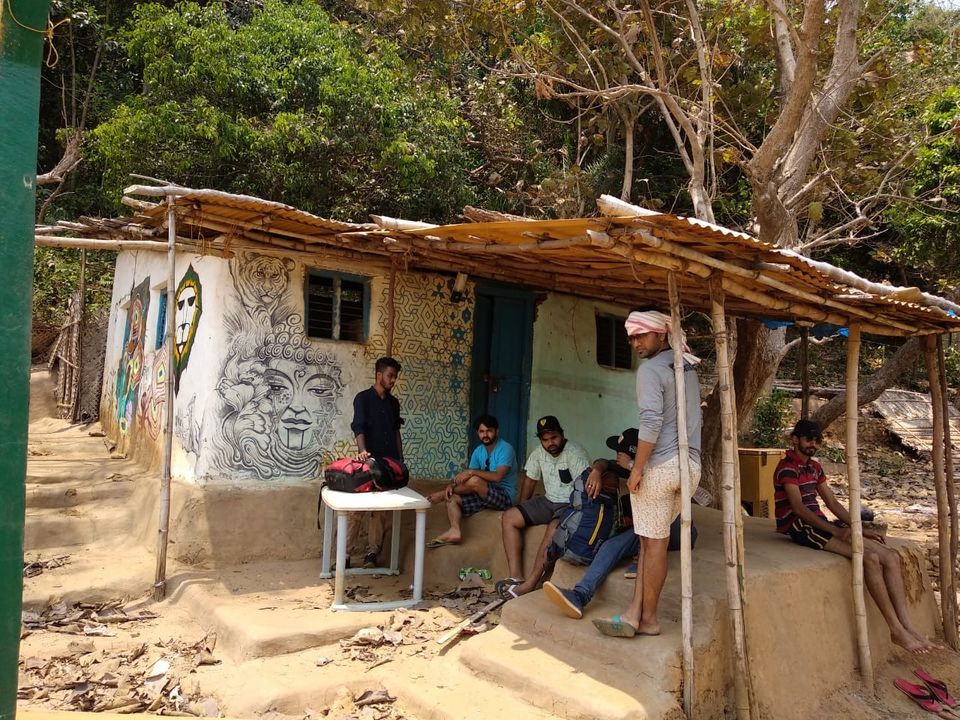 After resting for around an hour, we started trekking back to OM Beach. The terrain is no different from what we have covered which later gave way to a dense cover of trees and at this point, the trekking path splits into two. You can either take the path adjacent to the cliff or trek through the forest to reach OM Beach. Namaste café is a must try on your visit to Gokarna. They serve excellent food and if lucky you can get hold of a sea facing table.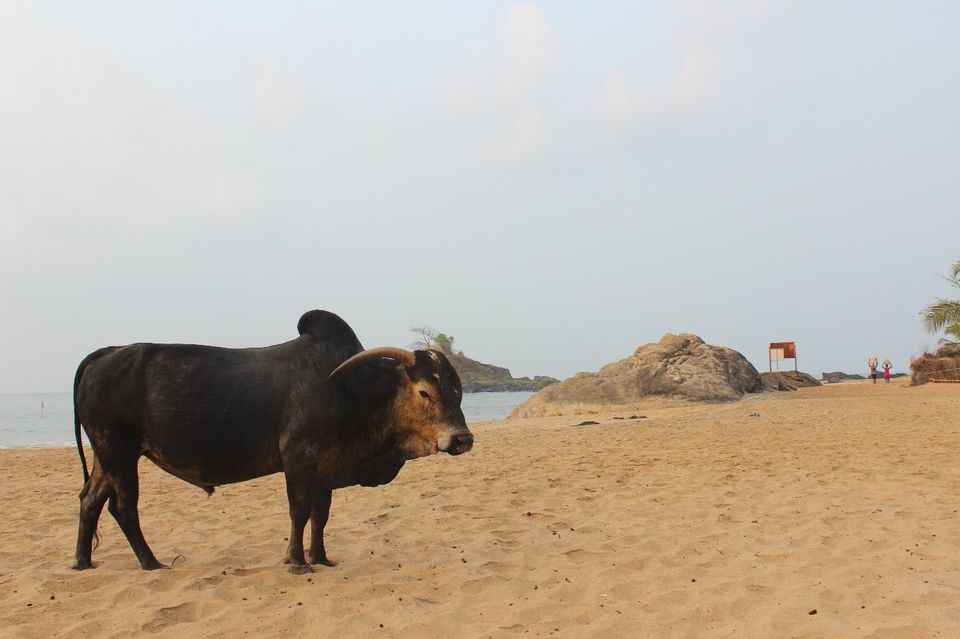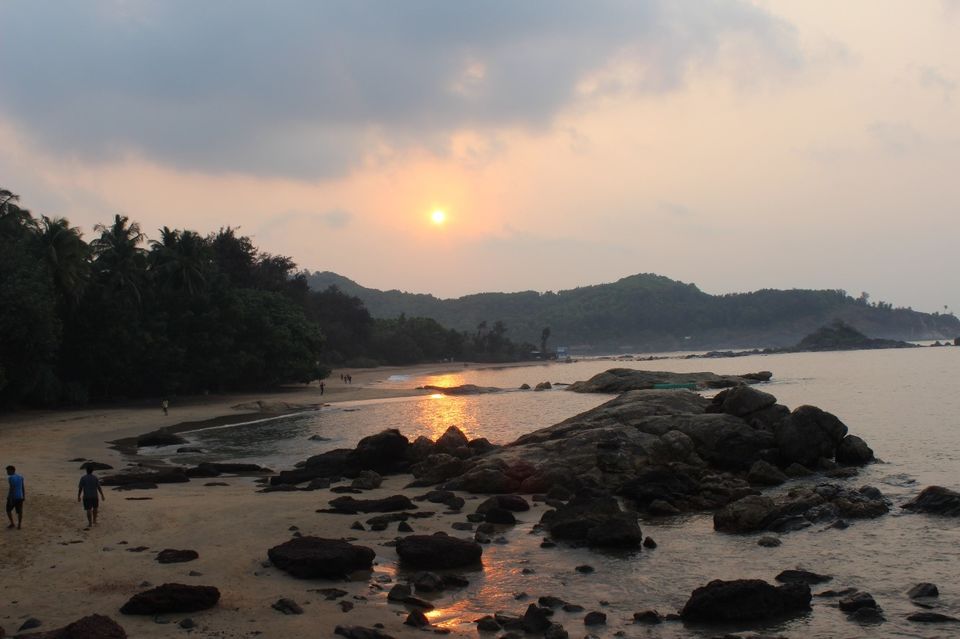 Travel tips:
 Nearest railway station is the Gokarna Road which is not a major station and most of the trains won't stop here. Kumta is the main station near to Gokarna from where public and private transportations are available
 Always carry sunscreen lotion with you as the sun wont spare you during hot climate
 Mosquito repellent is a must as you will be prone to mosquito attack wherever you go apart from the trekking paths
 Things are damn cheap here and one must learn the art of smart bargaining to make use of the same
 Shantidham cafe offers a nice stay at a reasonable cost
 Before going to Mahabaleshwar temple, try to have a sneak peek into its history else you will be confused and simply starring into the wall searching for the shrine
http://thegadabout86.blogspot.com/2018/07/laid-back-and-unspoiled-gokarna-with.html