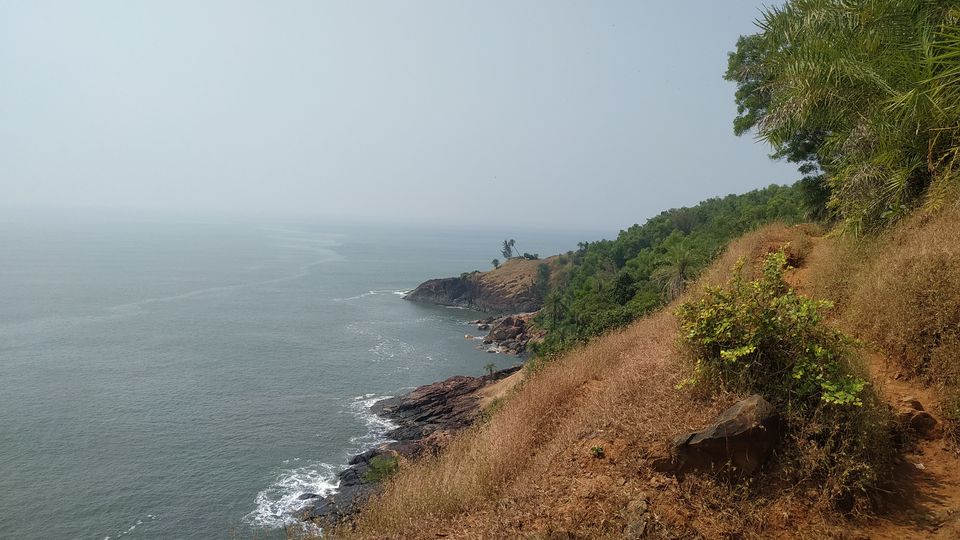 Welcome to Gokarna Road!!
I decided to go on a solo trip to Gokarna and tourist attractions nearby in November. I chose weekdays for travel and boarded the train (SBC - Karwar, 06585) from Yesvantpur station at around 7 pm on a Monday. The train reached Gokarna station at around 7 am. The railway station has sufficient facilities to freshen up.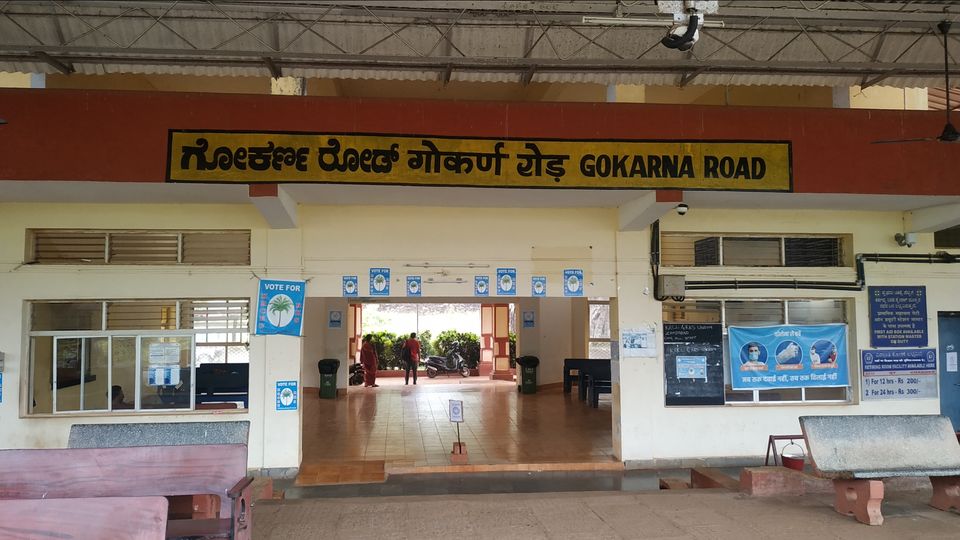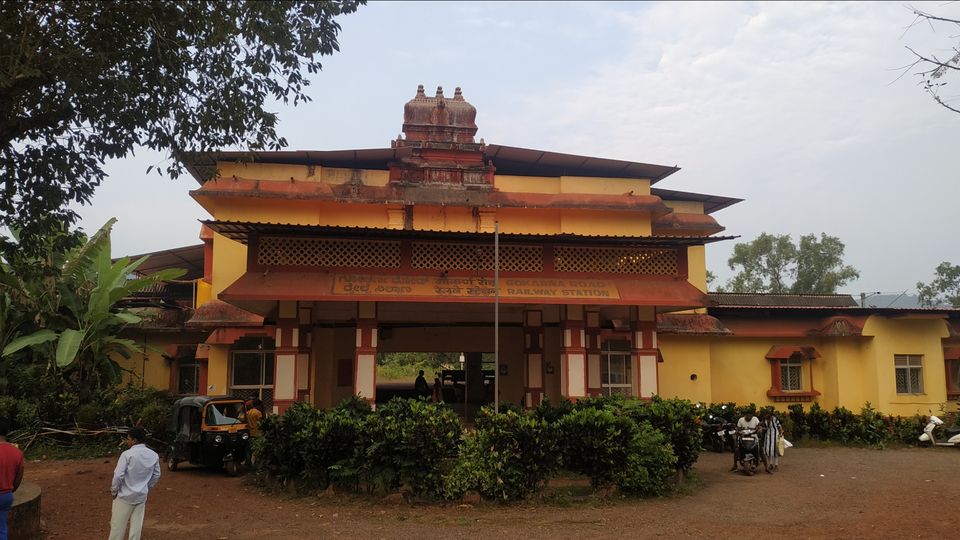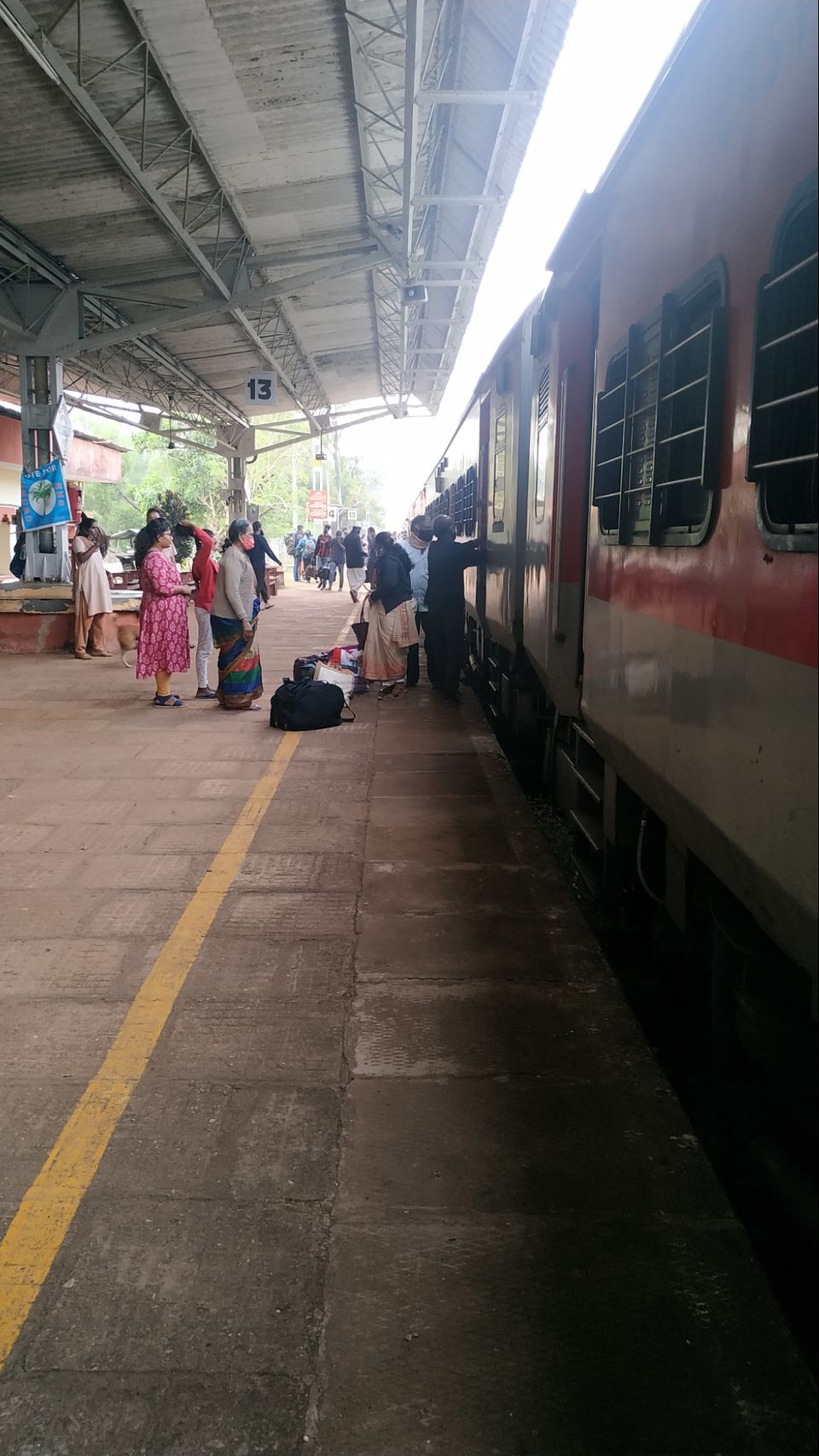 You will find autoricshaws outside the station. I decided to take a bus instead. The main road is at a distance of around 900m from the railway station. It is a straight way. No confusions! 😀 You will have to cross the road if you are heading towards Gokarna side. The bus stop looks like this: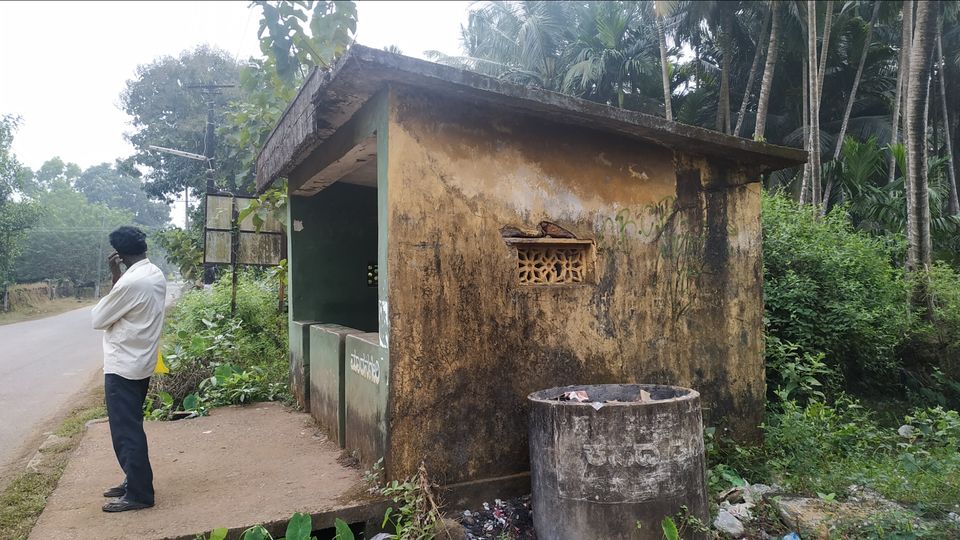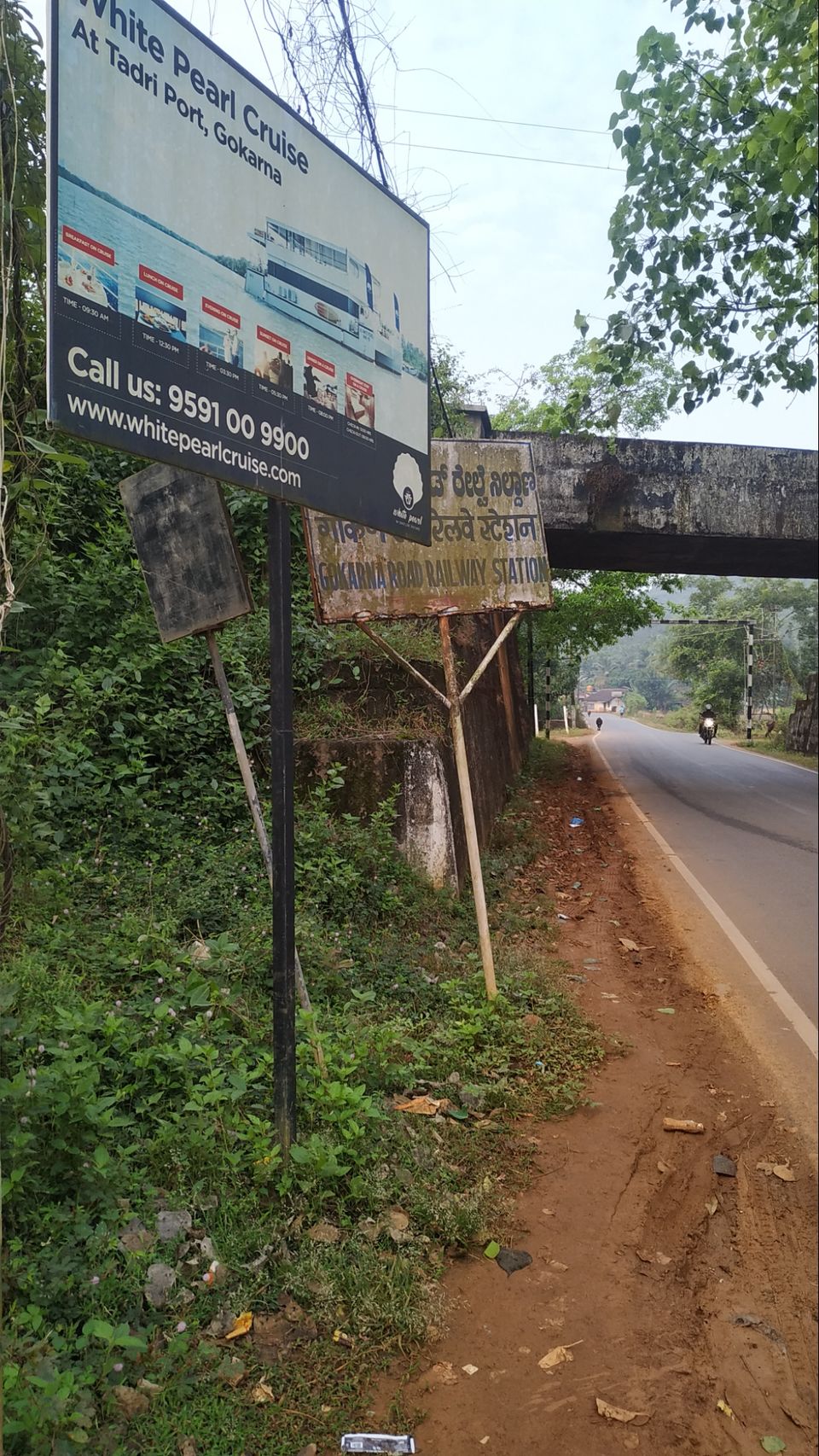 Catch a bus from here and you will reach Gokarna bus stand which is at a distance of around 9 km. The bus fare was Rs. 17. Solo travellers and people with light luggage better take a bus instead of an autoricshaw. I got down at Gokarna main bus stand and had my breakfast from a nearby restaurant. I had booked my dormitory for the night at a resort near Kudle beach. So my plan was to trek to Kudle and Gokarna beach and reach there by evening. You may start the trek from Kudle / Gokarna beach too and reach Paradise beach. Paradise beach is accessible only by boat or trek. In my case the trek route was :
Belekan beach-> Paradise beach -> Half moon beach-> Om beach -> Kudle beach-> Gokarna main beach
I took an autoricshaw to Belekan beach which is at a distance of around 7 km from Gokarna bus stand. The way to Belekan beach was scenic but soon the roads narrowed down.
1. Belekan beach:
I reached Belekan beach at 9 am. It is a small, calm and clean beach. The trail to paradise beach is visible beyond the rocks. You will have to cross a small stream and follow the trail. There are a few shops here. The trail to Paradise beach is well marked initially. I started the trek at around 9.15 am.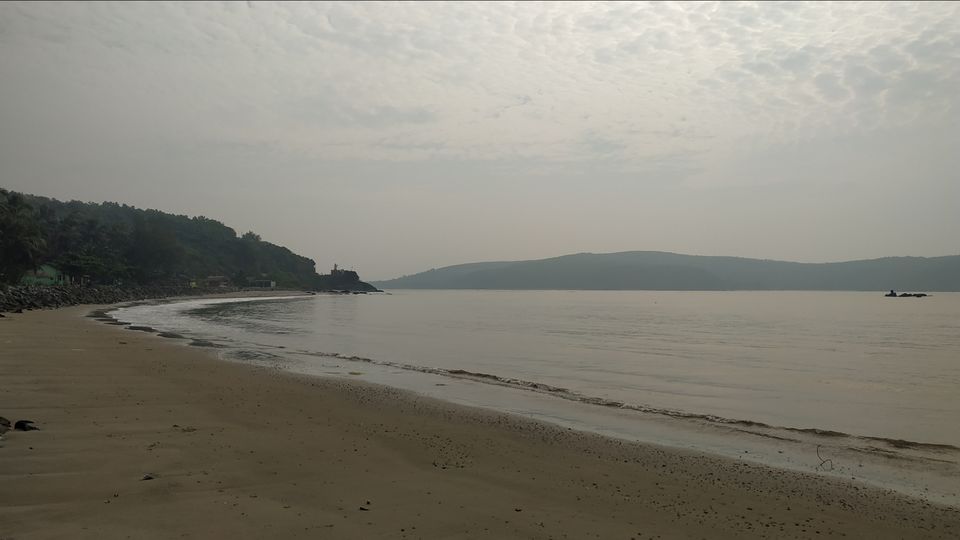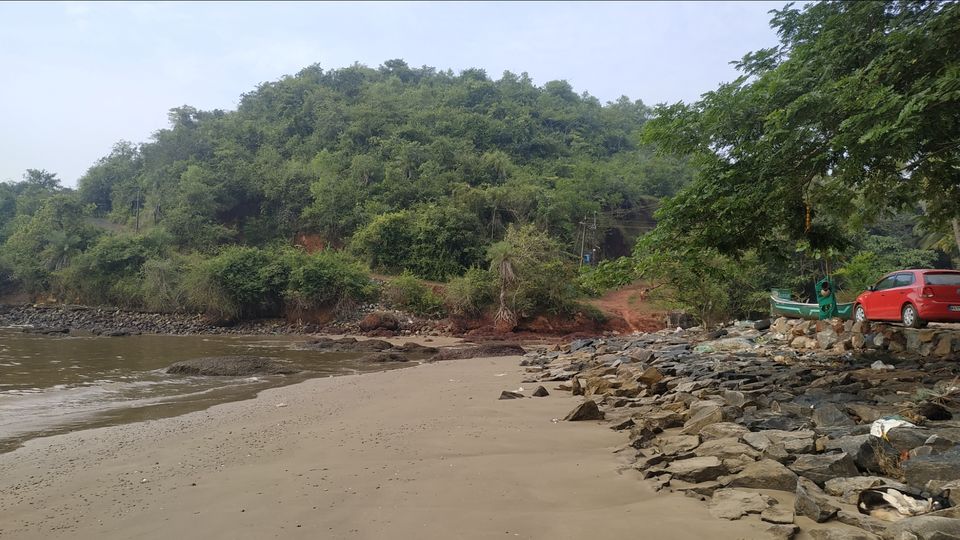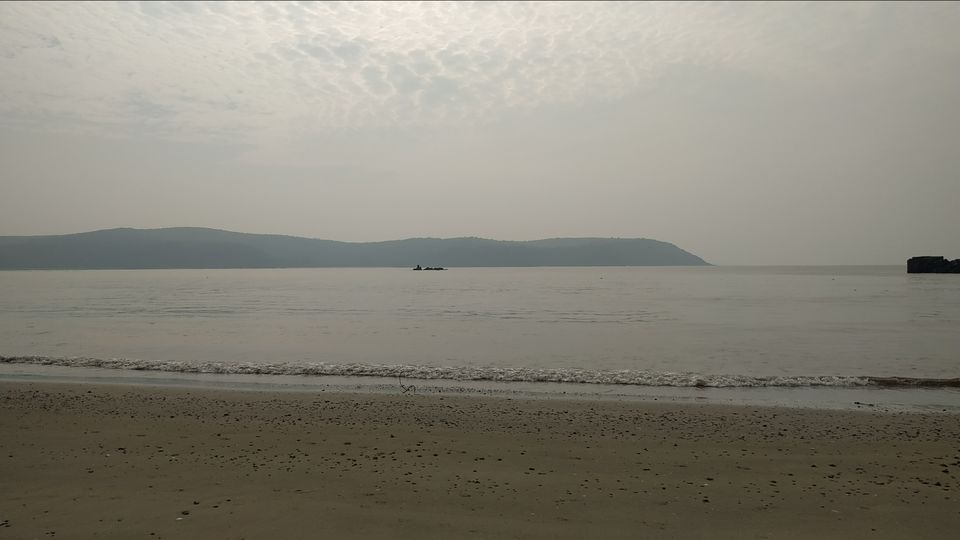 Belekan to Paradise:
The area is secluded and you are all alone if you are a solo traveller. The trails are barely visible at certain areas or covered with bushes. You have to literally push aside the plants on the sides at certain locations. Certain routes are blocked and lost my way a couple of times☹️. I was so relieved when I saw direct sunlight. Soon I found a steep, narrow downward trail. I literally sat down and climbed down. The view of Paradise beach from here was breathtaking 😍.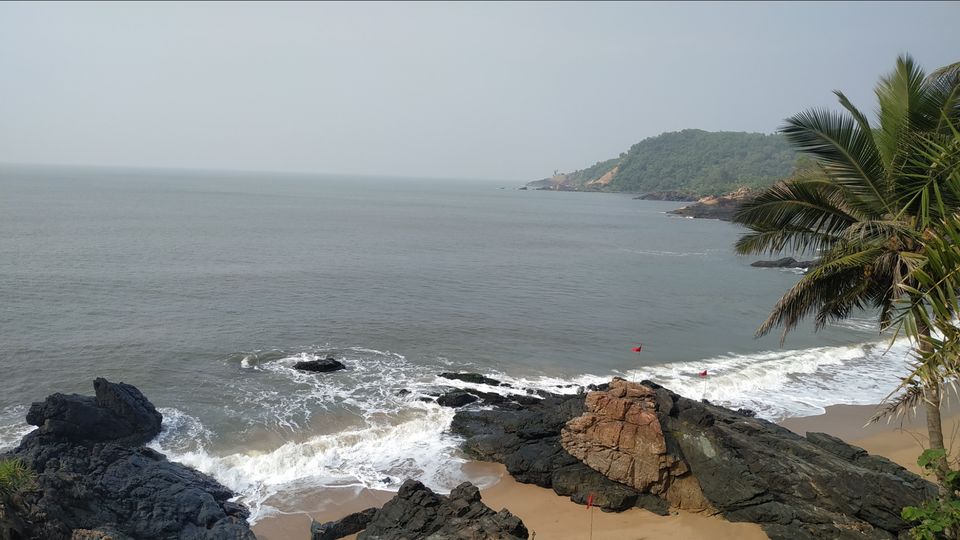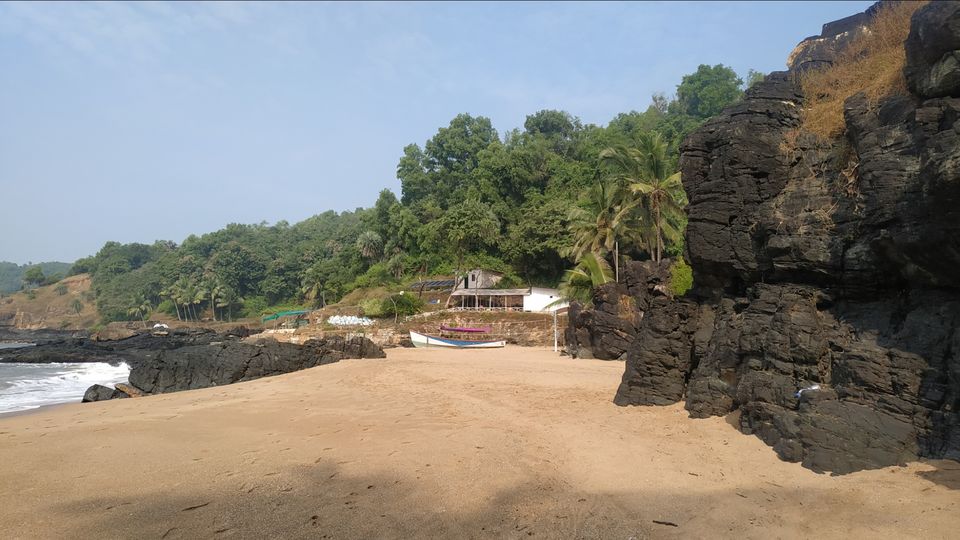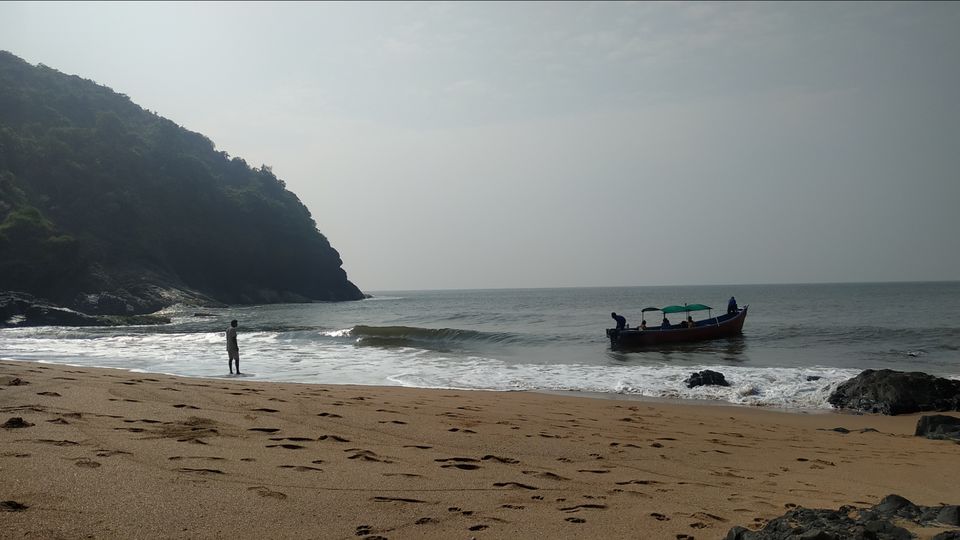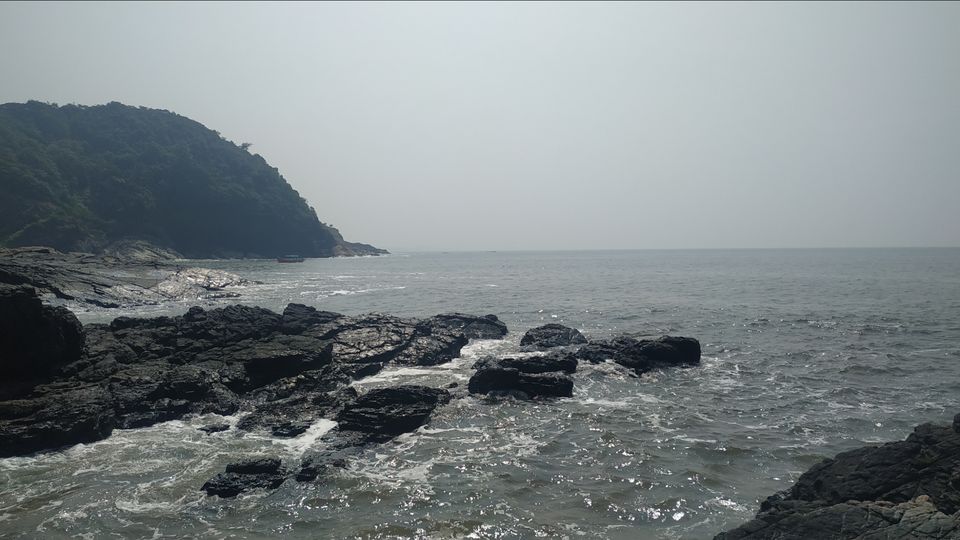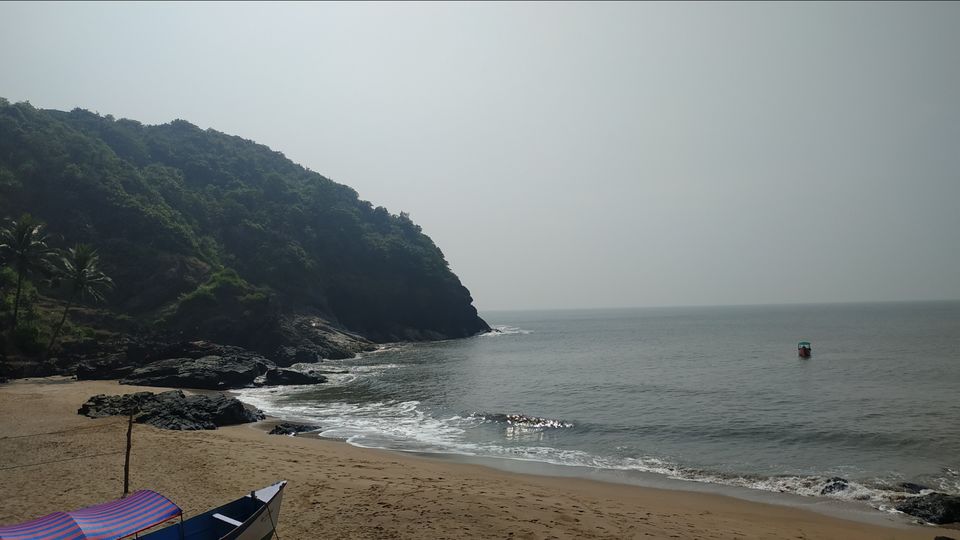 Paradise beach is an isolated beach with very few people. It is accessible via boats. When I reached there at around 9.40 am, I could see only a single shop. There were no tourists then. Soon I saw a boat dropping a family there. You can play volleyball here if you have a group with you. There are also some adventure activities and tents for camping. I spent some time(almost an hour) in the shade and relaxed. One of the local men warmed me that swimming was not allowed here.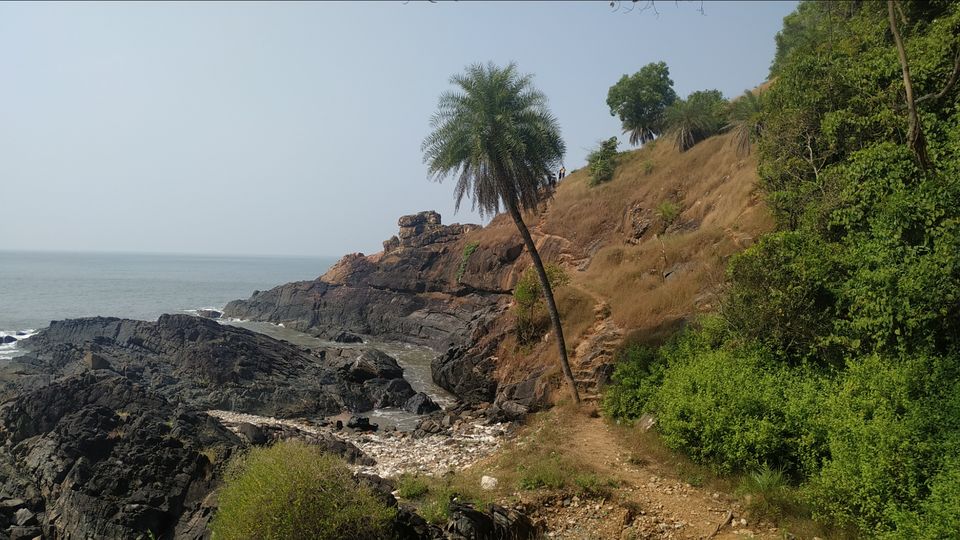 Paradise beach to Half moon beach Trek:
Started the trek at around 10.50 am. I saw some people who were coming towards paradise beach from the opposite side( starting the trek from Kudle beach). The route initially is pretty difficult to negotiate. You will have to climb over a steep rocky trail on the edge of the sea. This should be the most scary phase of this trek route. I sat down and literally crawled with my backpack. The way to half moon beach was well marked with no room for confusion. You will see some spectacular views on the way. On the way there are plenty of rocks to negotiate but these doesn't look treacherous.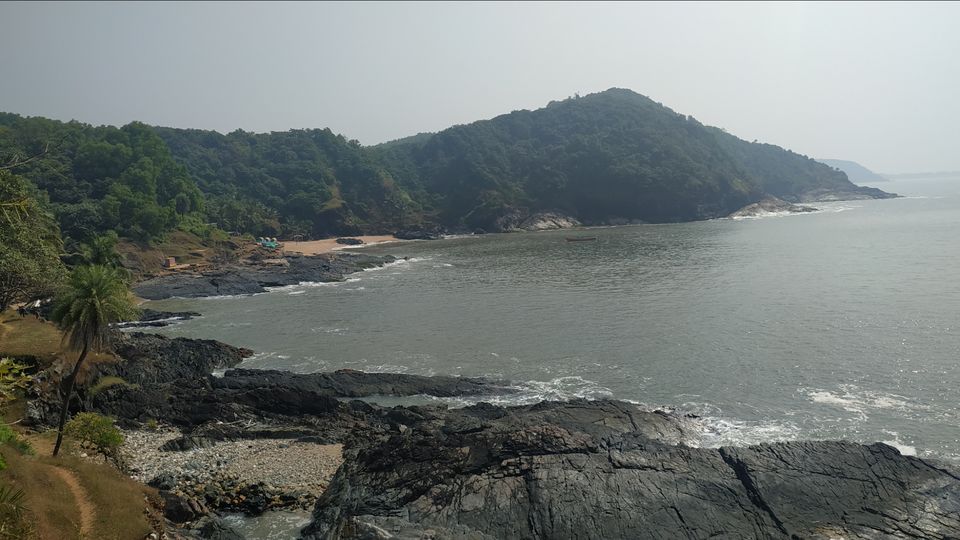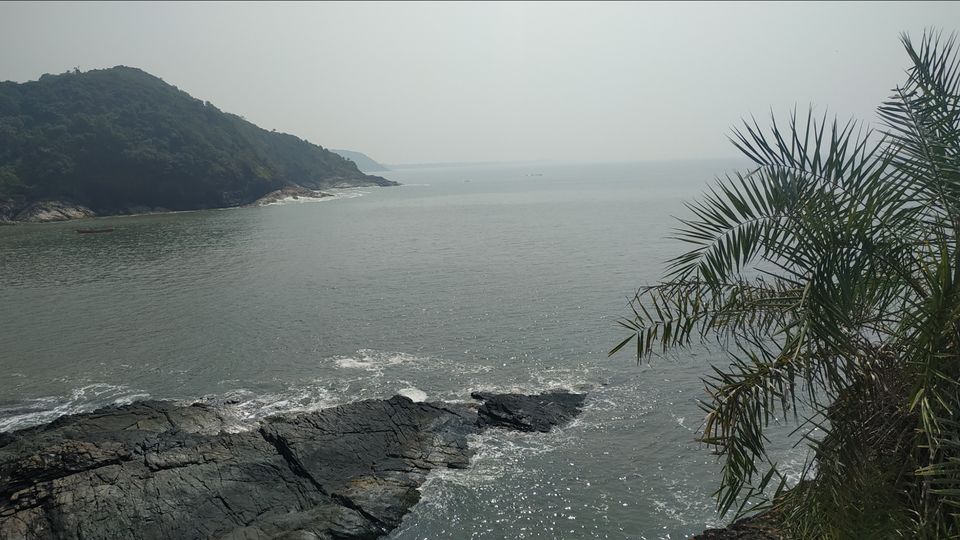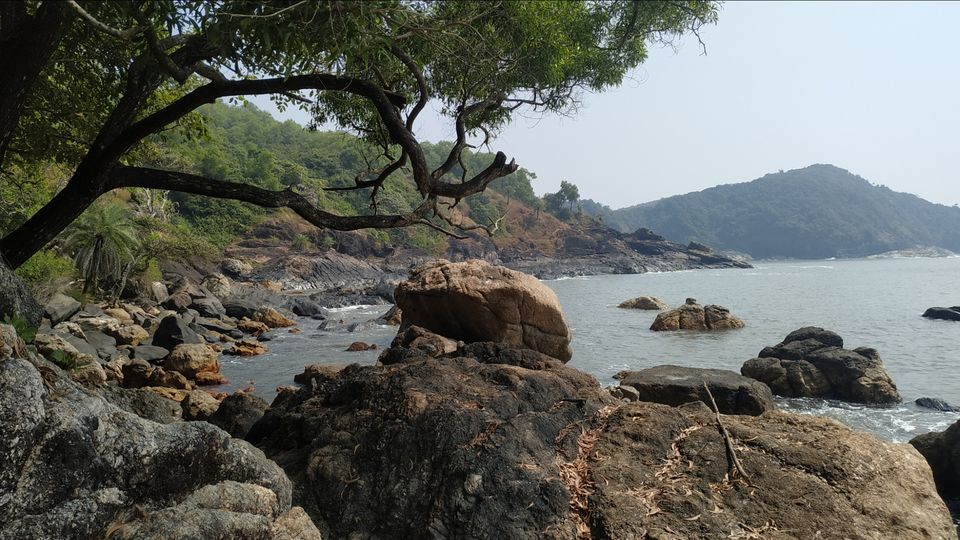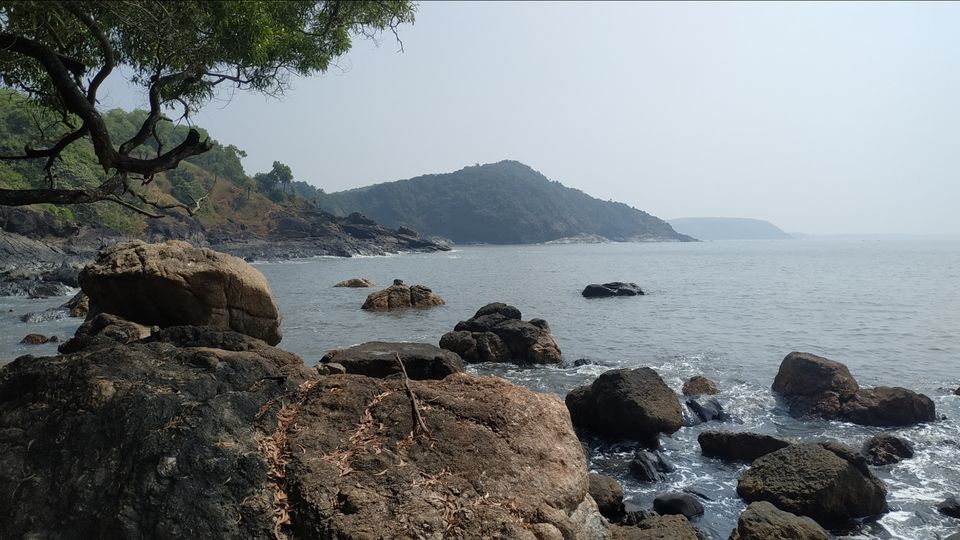 3. Half Moon Beach:
Reached the beach at around 11.15 am. Half moon beach was totally empty when I reached there. I didn't find any shops open there. But I had a chat with a local person who showed me the trail to Om beach. This beach looked just normal. Nothing much to do around here.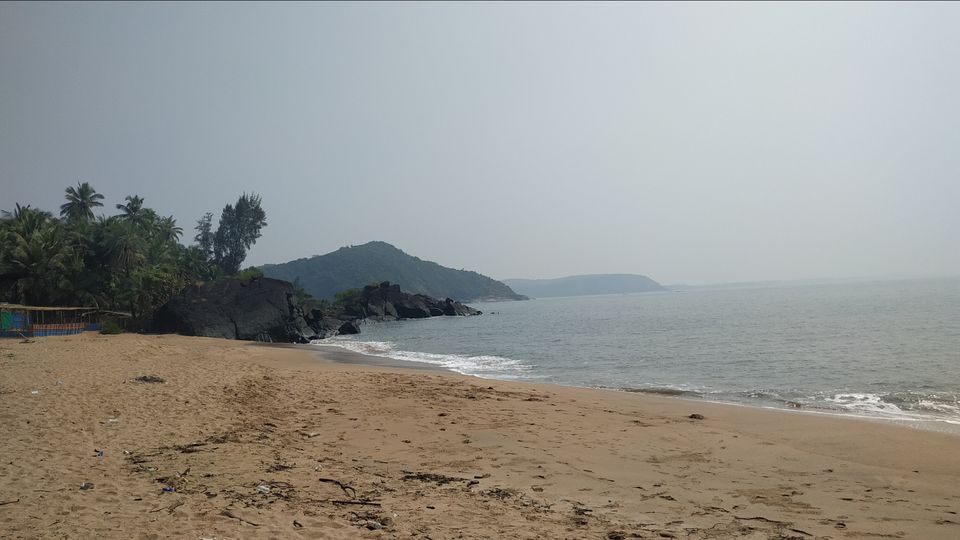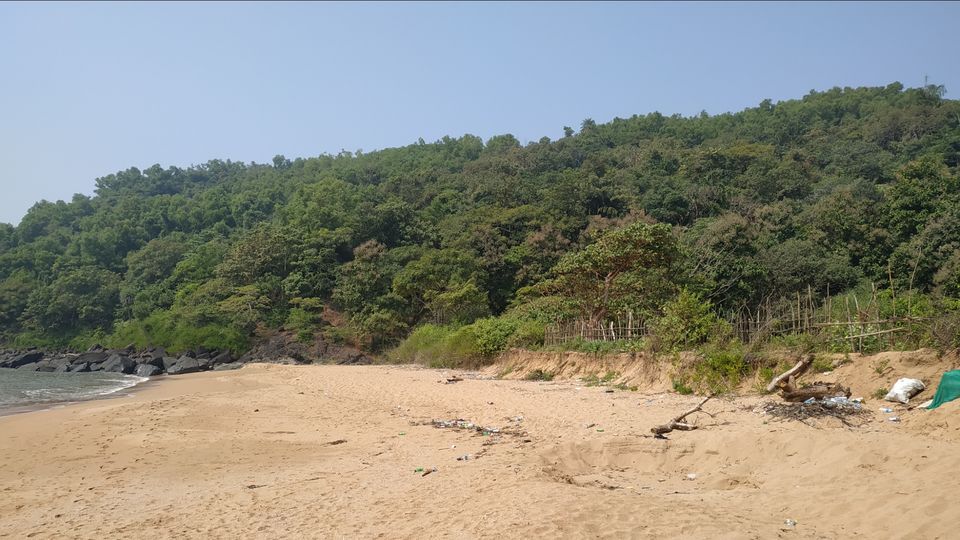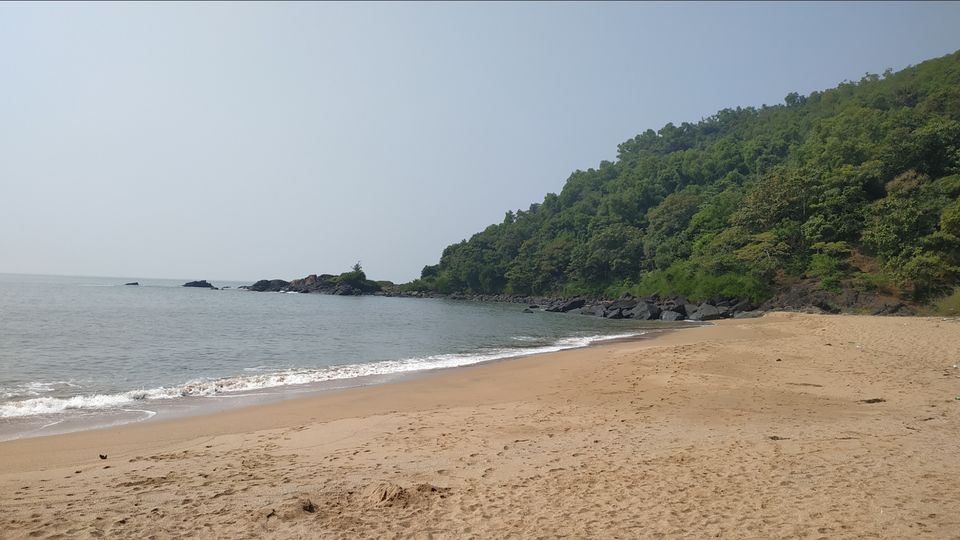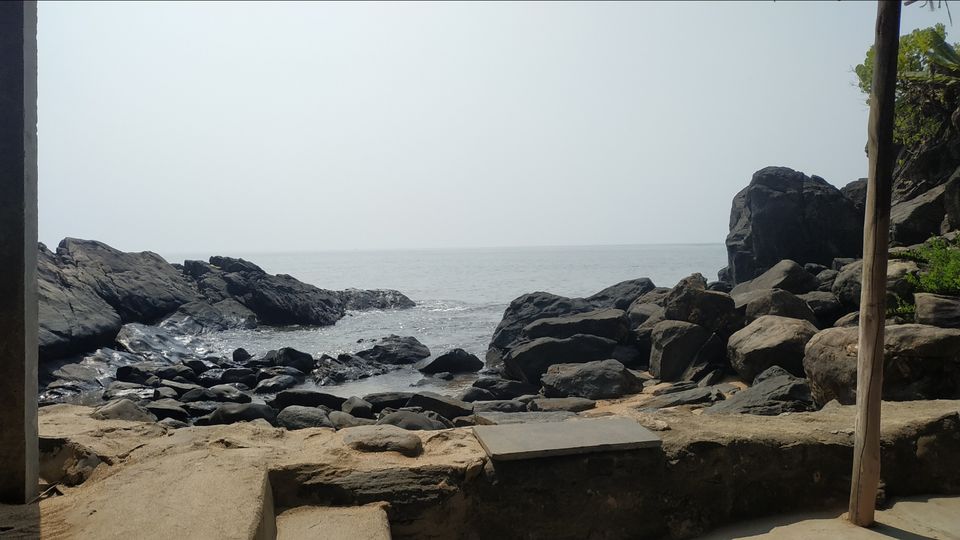 Half moon beach to Om beach trek( spectacular views await you😍😍) :
This route was initially through the forests but soon the trail through the edge of the cliff began. And the views were stunning. I sat down for sometime and watched the sea from the cliff with the cool refreshing breeze. It was the most amazing experience of this trek. Do not rush to finish the trek. Spend maximum time here enjoying the open sea view from the cliff.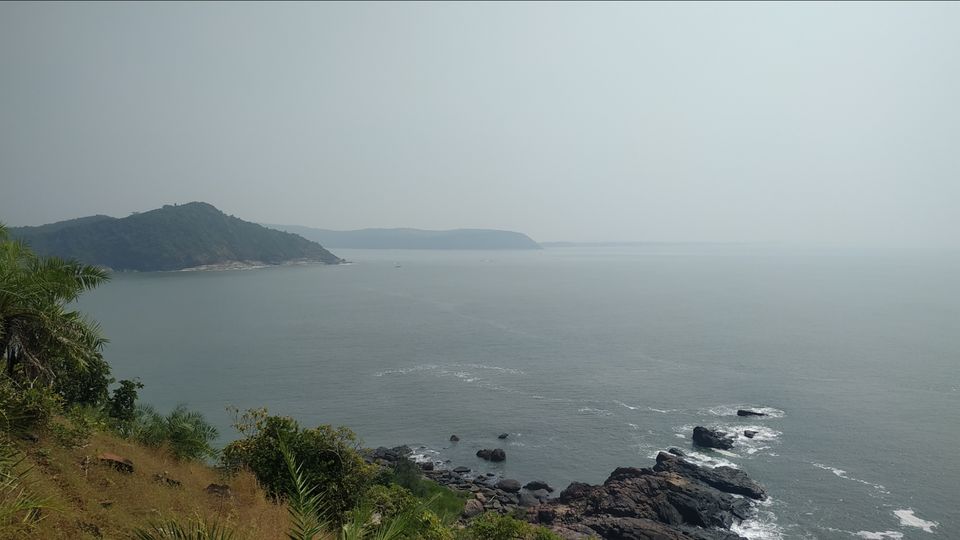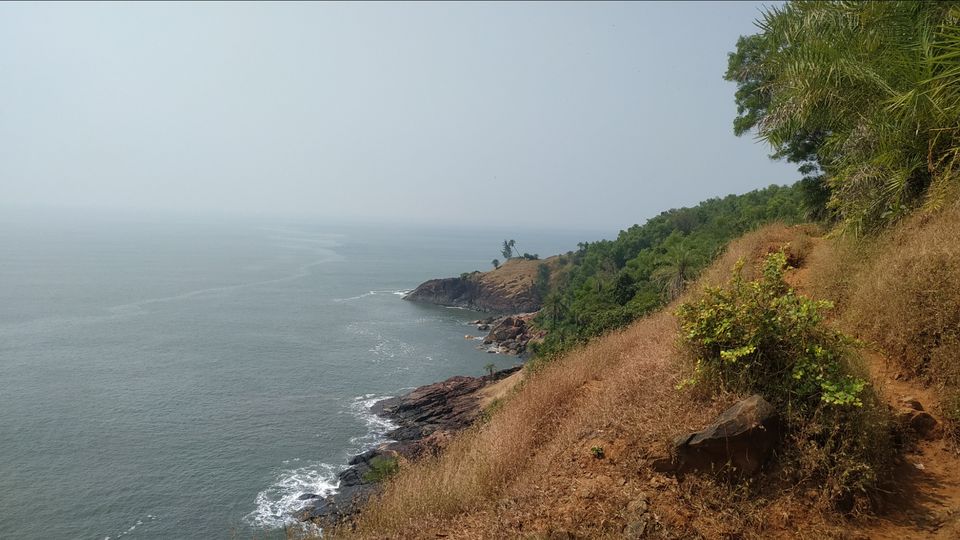 4. Om beach:
I reached Om beach at around 11.45 am. As per my perspective, this is the most beautiful beach among the ones in the trek route. You will never have enough!!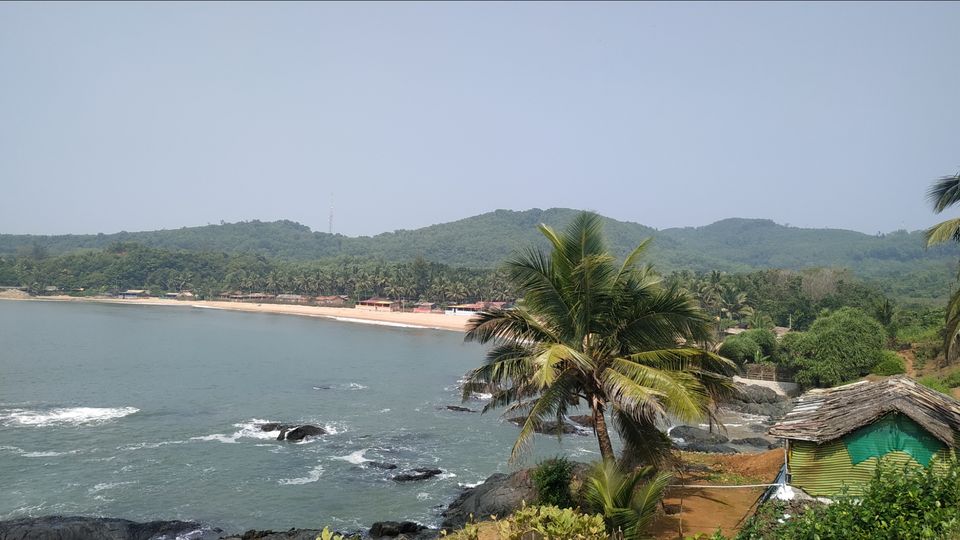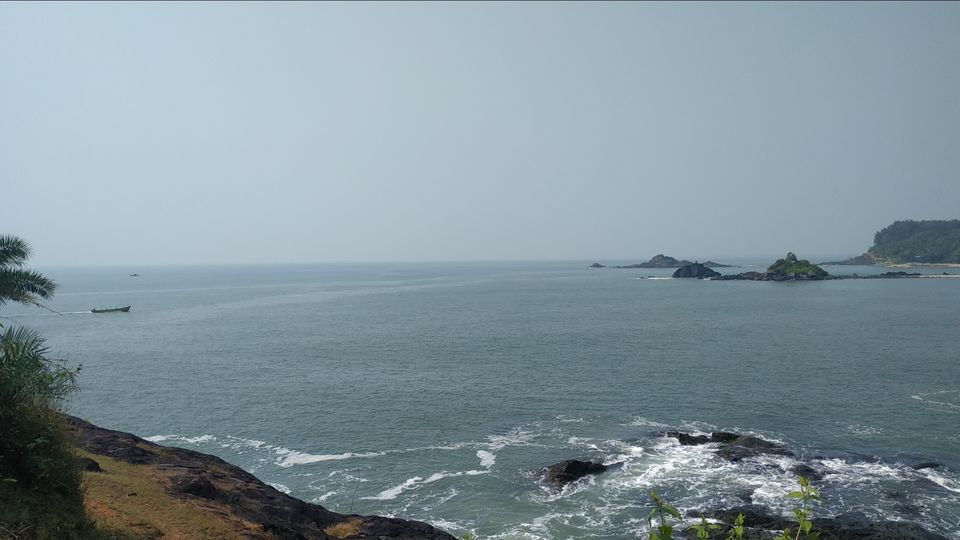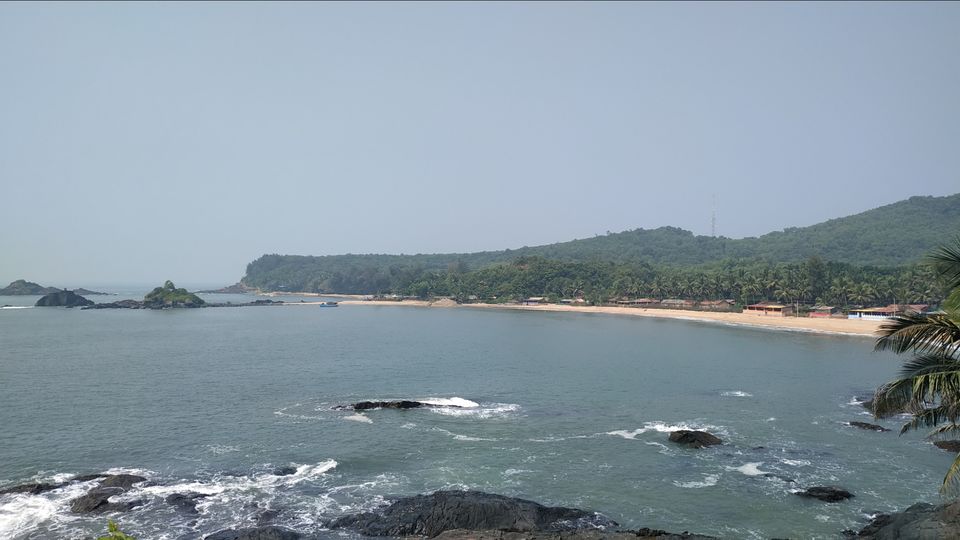 The beach is long and perfect for swimming. I went to a cafe there and had my lunch, spending enough time relaxing there. The place was quiet as it was the noon time of a weekday. At around 1.15 pm, I changed to swimwear and walked into the waters. There are watch guards for your safety. The middle region of the beach has plenty of rocks extending which gives the beach the characteristic shape( 3 or Om) .There are plenty of boats here which will take you to other beaches via the sea.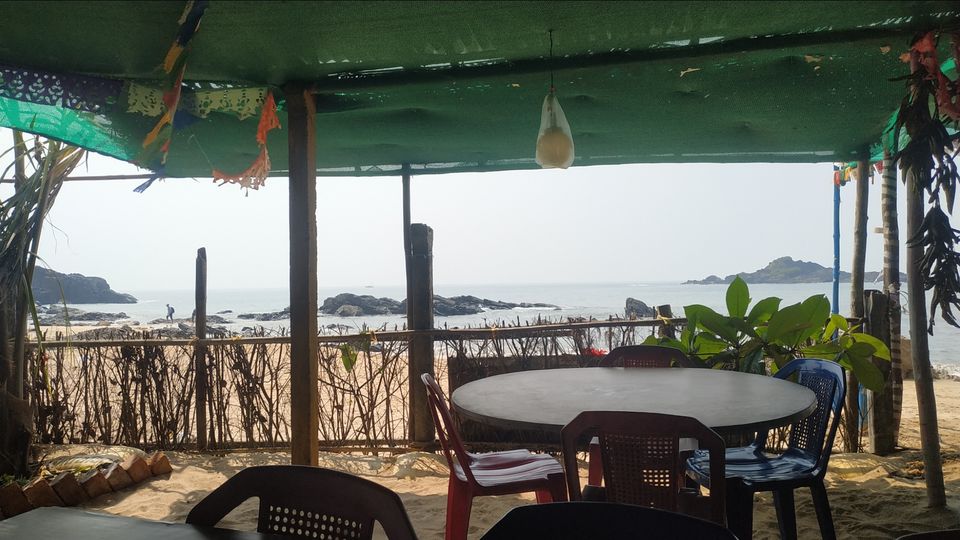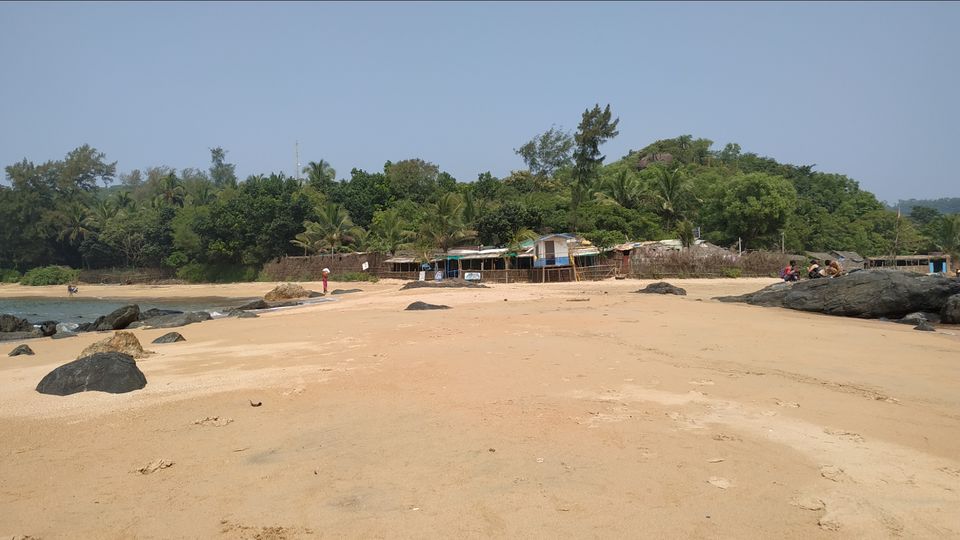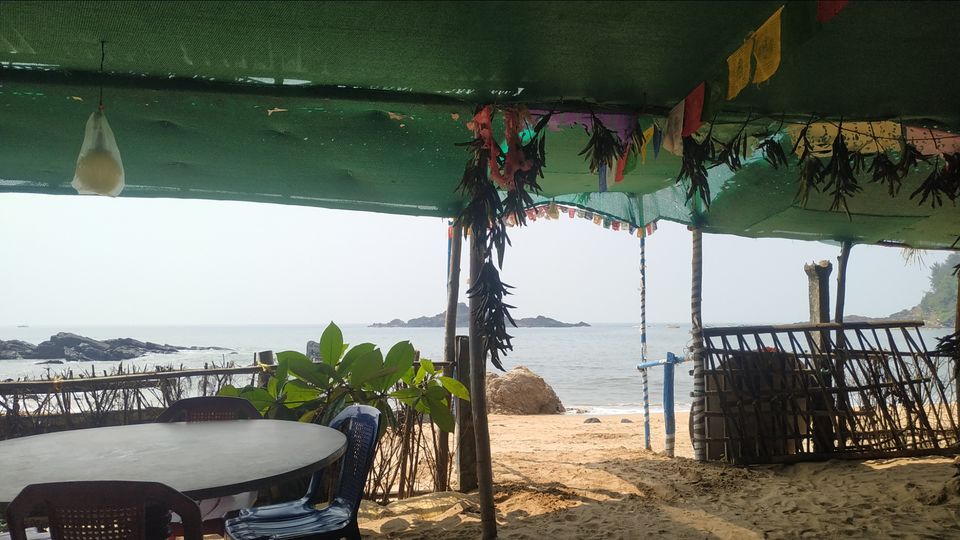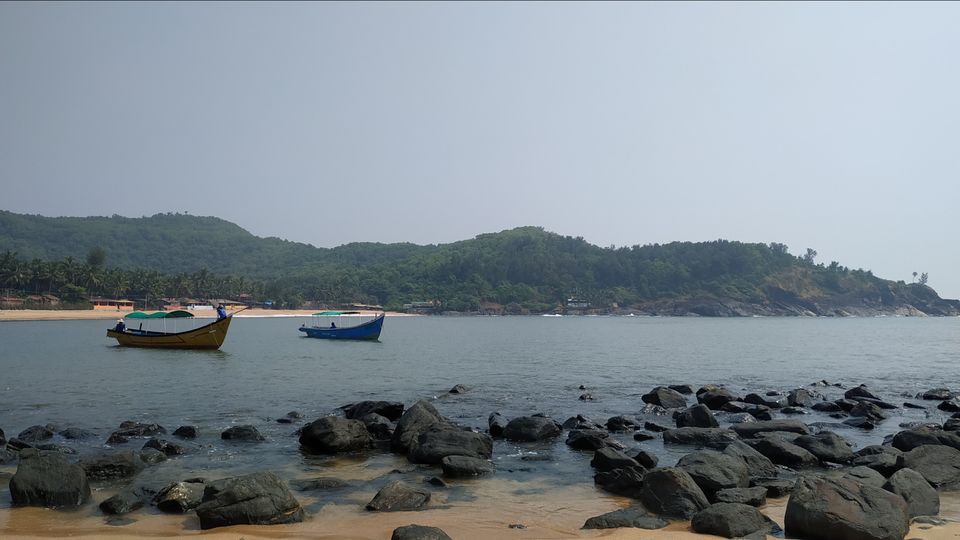 After spending enough time swimming, I walked to the other end of Om beach which led to Kudle beach. What I observed was that the end towards Kudle beach was comparatively more crowded( Namaste cafe is located here). There are adventure activities which are mostly active during the evenings. There is a stretch of shade where people sit, eat and relax. At the end you will find steps which will take you to the entrance road. There you will find autorickshaws and shops. You can reach Kudle beach by trekking too.
Om beach to Kudle beach trek:
From Om beach side there is a narrow route for trekkers which takes to a small flat hill top. Then the trek is mainly through an open area with some bushes. On the way you will find white markings showing the route( the directions are meant for people coming from kudle side). The trails leads to a road. Cross the road and go down through some steps and you will reach Kudle beach.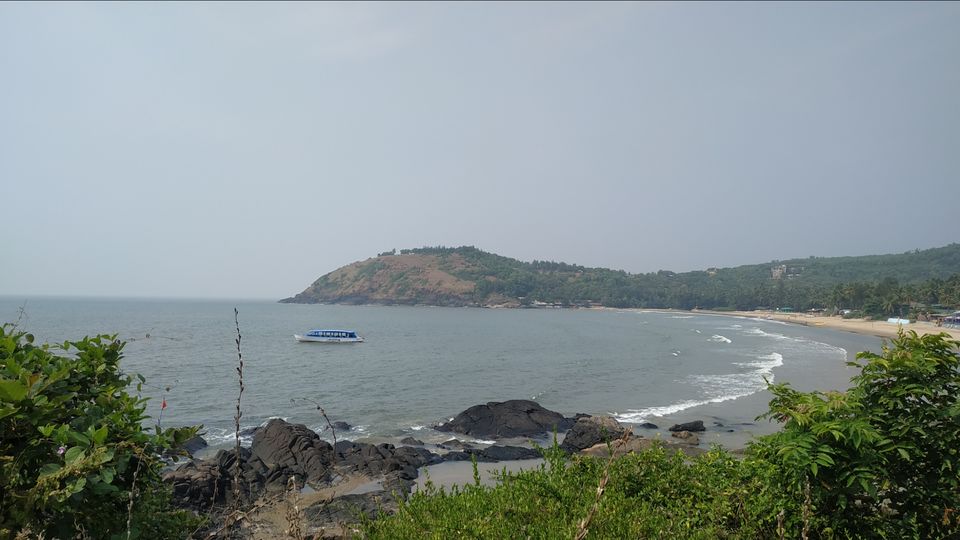 5. Kudle beach:
Reached Kudle beach at around 2.20 pm. This beach didn't look clean(atleast the entrance was a dumpyard). The beach is somewhat long with plenty of shops, resorts and restaurants facing it. There are a lot of hotels and resorts nearby( beach facing ones) . You will beach facing eateries which are active most of the time.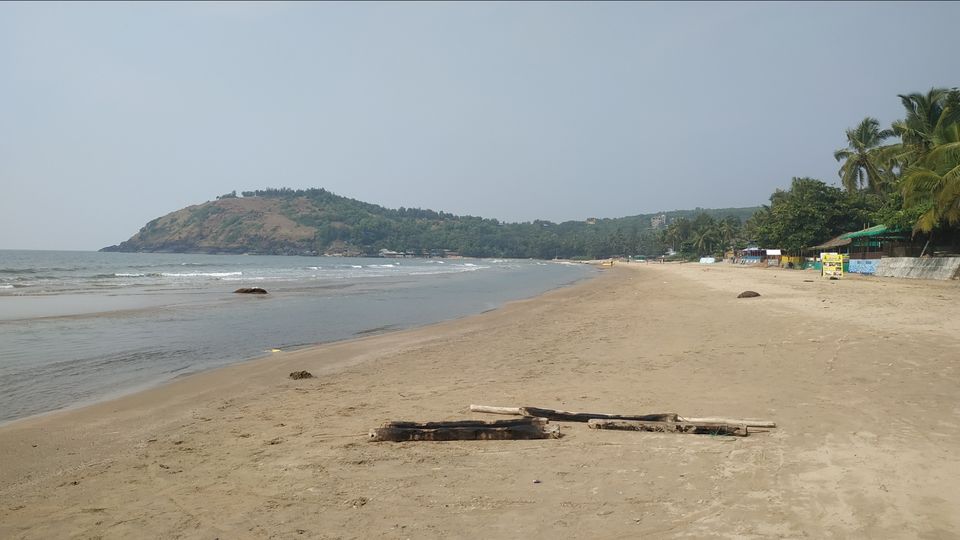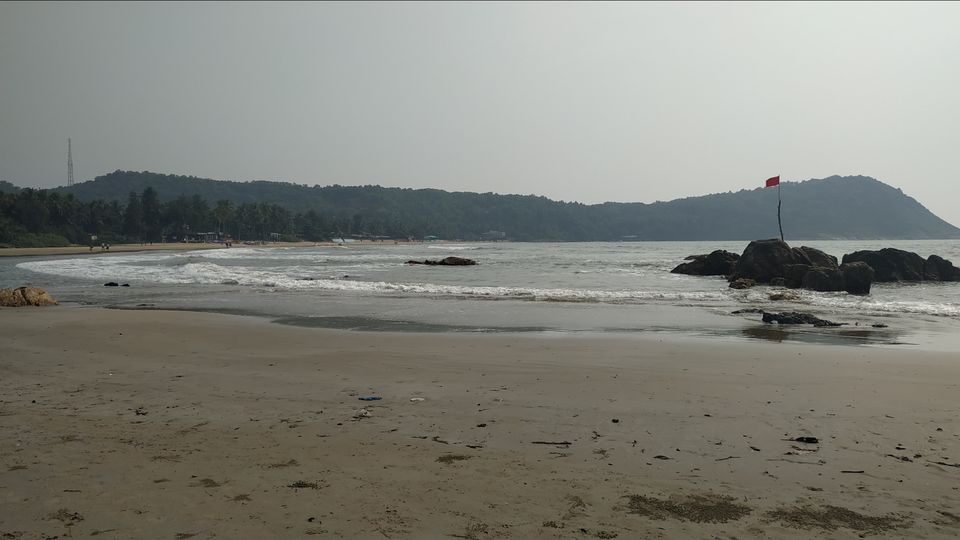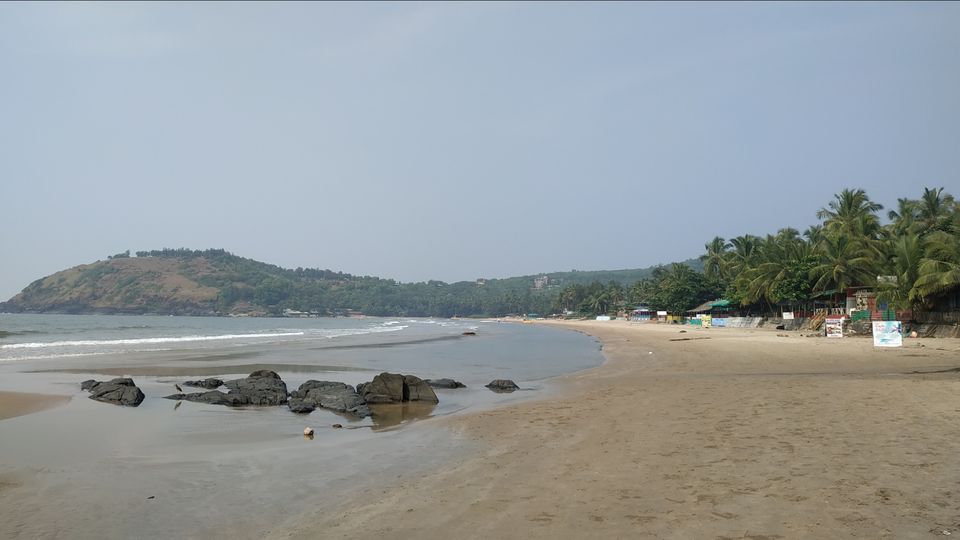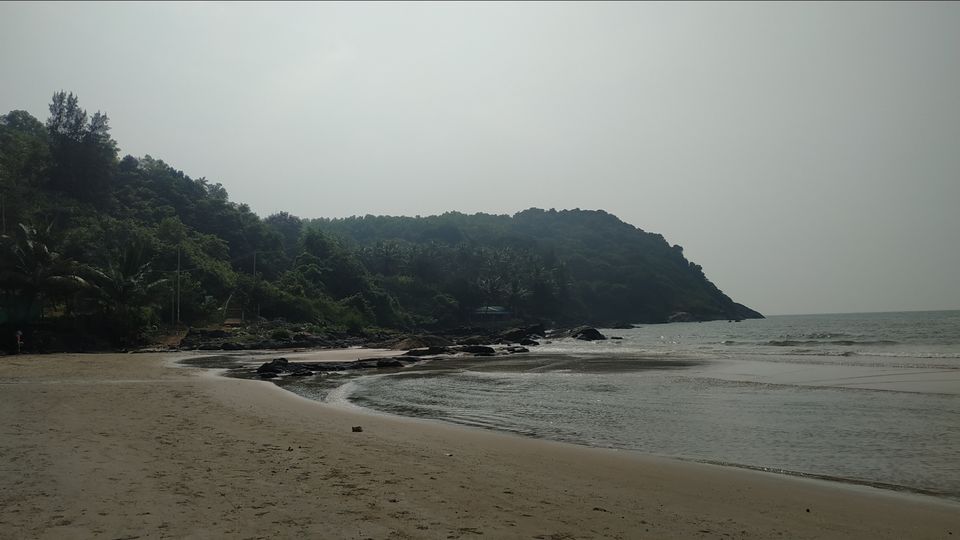 Kudle beach to Gokarna main beach trek route:
The route mainly comprises of the main road to Gokarna town from Kudle( around 2 km) . On the way there are lots of private properties where entry is restricted. There are sunset view points on the cliff( check whether entry is allowed). Gokarna town near the beach is packed with shops.
6. Gokarna main beach
Reached the main beach at around 3 pm after the long walk. The beach is frequented by pilgrims and touristers. The entry regions are crowded and packed with shops and vehicles. But as we walk towards the other end, it feels calm and isolated. The beach is not very clean. This was the final destination of my trek. I relaxed for some time in a waiting shed. But I didn't want to spend the sunset time here and decided to return back to my favorite Om beach.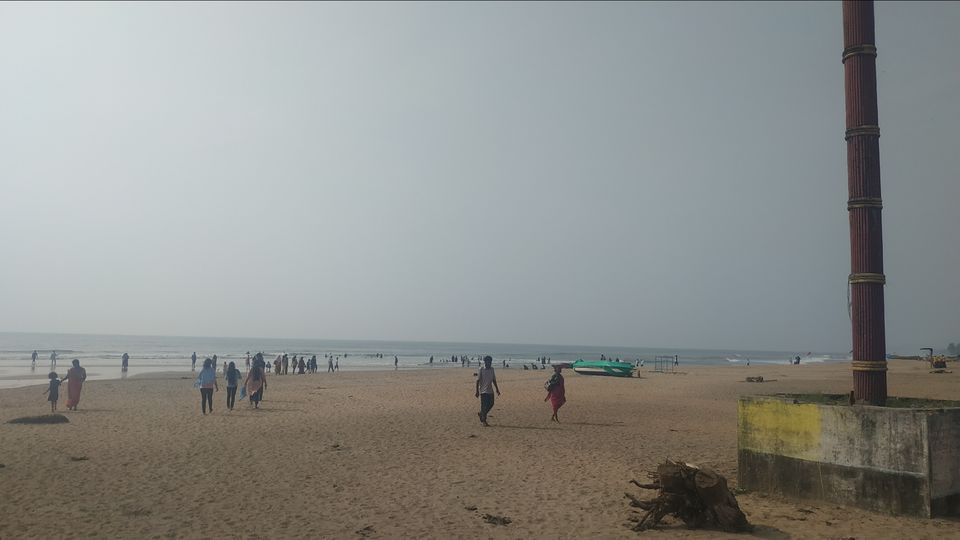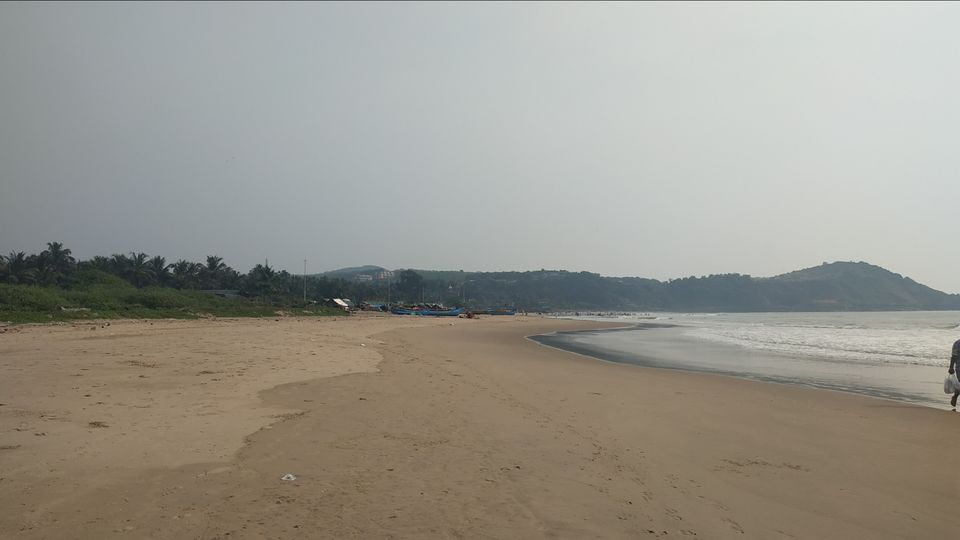 Return to Om beach and sunset 🌅:
I hired an autoricshaw from Gokarna main beach and reached Om beach. Here I spent the rest of the evening swimming and relaxing. It was crowded in the evening. Joyous time of the day! You can choose to see sunset from Kudle/ Om/ Gokarna. I chose Om beach.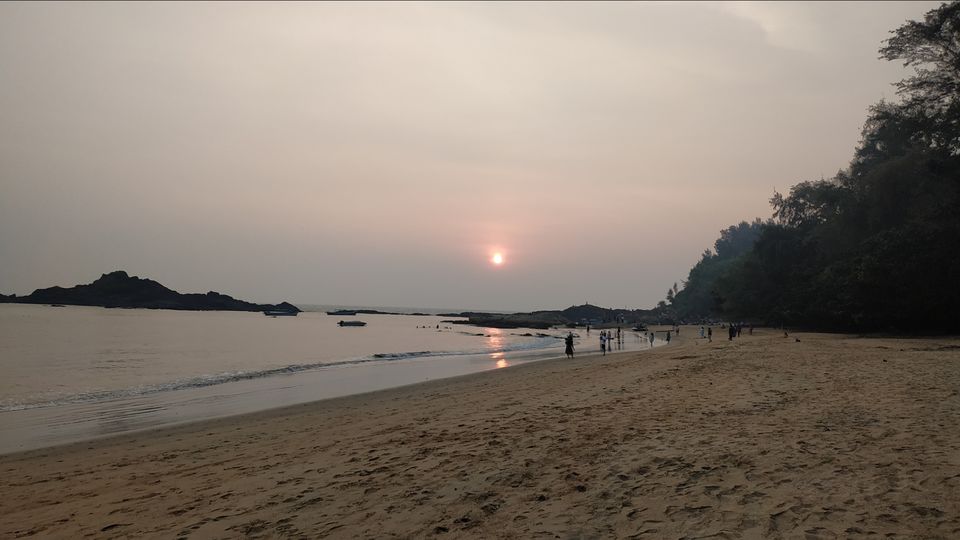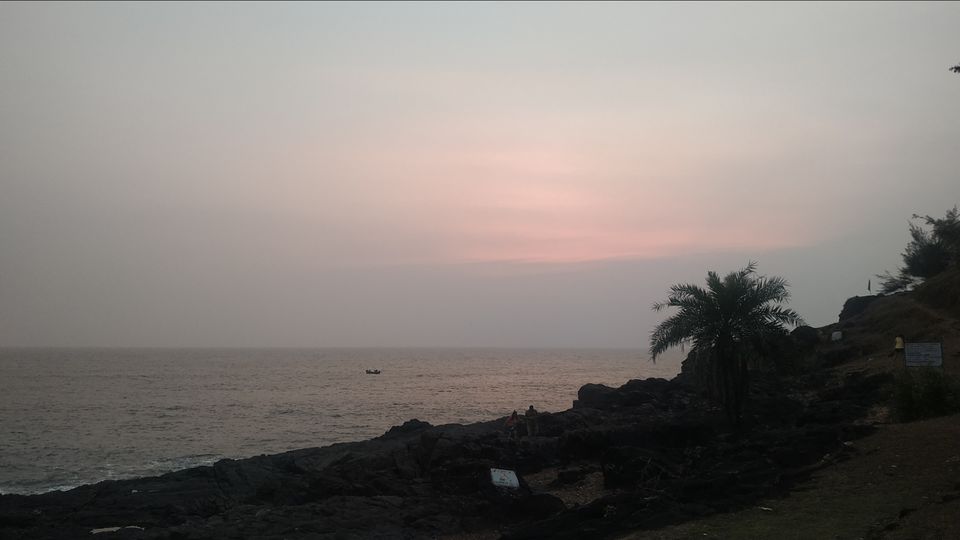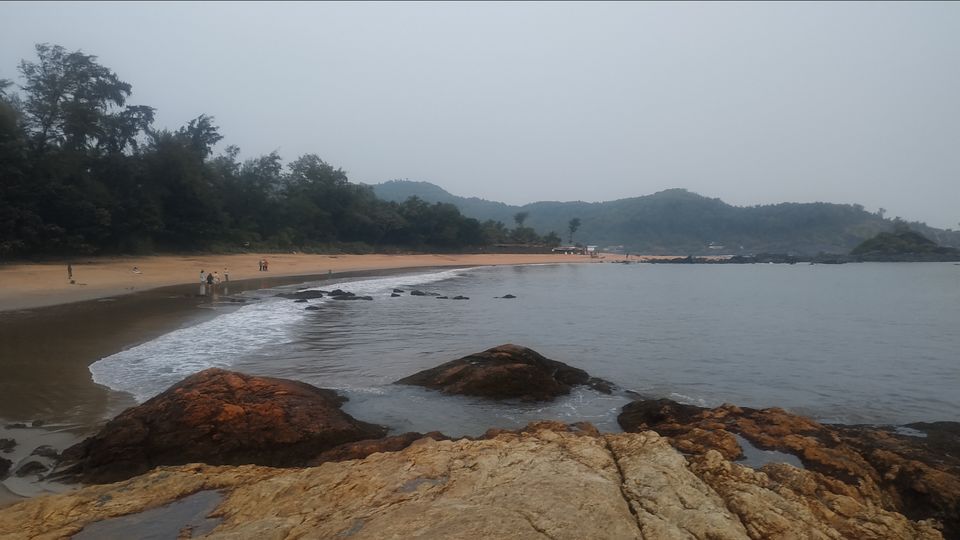 The trek route is what makes your time at Gokarna special and adventurous. Otherwise there are ferries which take you around the beaches. For budget travellers trekking is the best option. Yet another way to explore Gokarna is by renting a two- wheeler. There are plenty of rentals near Gokarna town( cost varies according to the season). The weather was awesome during my stay here.
Cherish every second of your Gokarna trek!The coastal paradise is calling you! 😍😍