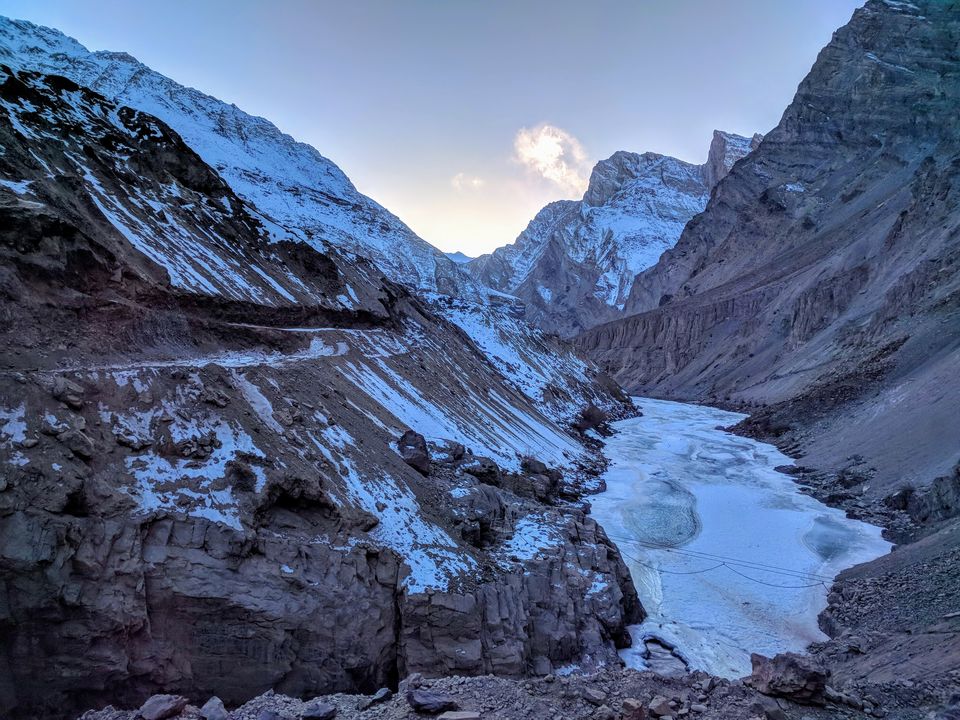 It's already been a year that I had been to this fantastic Trek. Well, it was my first Trek. I had booked for Jan, 24th since the trek opens around the third week its a time when snow fall is not that heavy and helps to make the Zanskar river more sturdy and frozen.
I was doing quite a bit research for the trek, like weather, things to carry, and the temperature falls, workouts, I also stalked many pages on Instagram, people who had been to the trek already, asking about their experience! Well, it's a human tendency we surf around and get knowledge and prepare ourselves towards it and get more excited. Which my friend's mates later suggested stop surfing so much about it because somewhere it kills your excitement. So after my experience, I would also recommend you don't browse much about the trek go for it without researching much because Chadar is an unpredictable and frozen river and texture of it is incredible when you experience it by yourself.
Firstly temperature fall is going to be very low like -22 degree I would suggest at least be two days before you start your trek for acclimatization in Leh. So you can get used to the weather.
Also in winter, Leh is usually closed. There is some restaurant which will be open and provide you amazing Momos and soup (yum..!)
Secondly, you will have to buy a Gumboot which is a must! I would suggest to buy it from Leh market it is cheaper only 200 rs
Also Month before your trek try working out mostly cardio.
The thing to wear!
While on my trekking days! I carried a huge amount of Cloths. Because through my research I learned these many clothes would be necessary, later on, my bag was so heavy that I was not able to trek with it, so I have to give it to the porter (which cost me 500Rs per day) because as you start I didn't want to take the burden on my back but to just enjoy my trek throughout.
So I would suggest you don't carry much of cloths. As I researched, I was told carry Two pairs of pant, one Waterproof pant, two pairs of Shirt, two pairs of a fleece jacket, and two pairs of thermal wear. What I would suggest is DON'T CARRY TWO PAIR. It will be so cold you won't be able to change.
Listing down things to wear in the layer from head to toe
For Top
• Very First layer one pair of Thermal shirt
• Next layer would be you thick Fleece shirt
• Third layer one fleece jacket
• Last will be your waterproof and windproof jacket with a hood (waterproof and windproof is a must)
For bottom
• One Layer of thermal pant
• Second layer Quick dry pant from decathlon
• The last layer would be waterproof pant
• Two pairs of inner garments
For head
• One layer of woolen headgear which covers your ears
• BALACLAVA to cover your nose and Head
• UV protection glasses
For hand
• One woolen gloves
• And waterproof gloves
And Feet
• One layer of thin sock
• A woolen sock which you can buy in Leh
• And gumboots
Keep your backpack light don't carry much cloth than above mentioned Carry some dry fruits and medicine for headaches or painkiller or spray also some wet tissues and two rolls of issues, if you going in group 1 would be sufficient
This is it! That's all you need! Don't stress yourself on any other stuff. Because like any other trek chadar trek is unpredictable. Each batch gets a different trail.
Just make up your Mind, and you will be Fine !!!
I hope this helped you. I wish you a fantastic and safe trip!