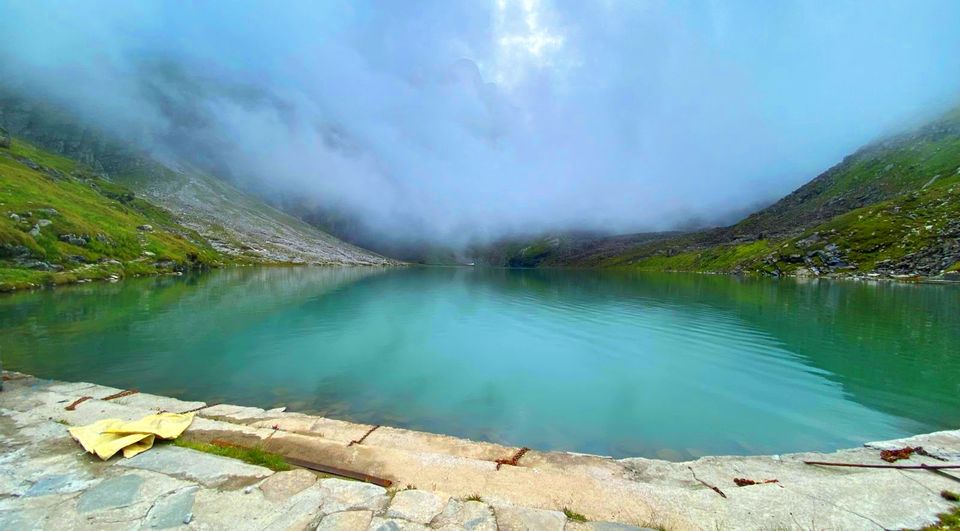 Hemkund Sahib, formally known as Gurudwara Shri Hemkund Sahib Ji, is highly-revered pilgrimage site for the Sikh community. It is believed that Guru Gobind Singh ji, the tenth guru of the Sikhs, spent 10 years in meditation here .It is also known as world highest Gurudwara. It is located in Chamoli district, Uttarakhand, India.
Stepping into the Hemkund trek is a moderate steep trek.The Hemkund Sahib trek km is 6 km which is the most difficult part of the whole Hemkund Sahib Yatra. The atmospheric pressure and less oxygen at 15000 ft make it harder.As Hemkund Sahib trek is quite demanding, therefore tourists should be physically and mentally fit for the trek. I would suggest to start your hemkund sahib Trek early in the morning around 5am , this is totally personal opinion. Because in the early morning you will get less queue . Somewhere the trekking trail seemed to be 70° steep. After the glacier there are two paths to reach Hemkund Sahib. One is through climbing 1182 steps (about a km) and the other is a relatively straight path of about 2 kms. The stairs option will take less time, but it's little bit difficult due the steep stairs.
Once you reach Hemkund Sahib and visit gurudwara you must try the tea and hot khichdi from langar. Apart from the religious place hemkund is famous for Blue poppy flower and sacred Brahma Kamal .
Best time to go for Hemkund Sahib Trek is in summers (May – June) and Post Monsoon (September – mid October). In May and June, the weather becomes tolerable and the snow also melts, thus making it a bit easier to do the trek.
Things To Carry for Hemkund Sahib Trek
Warm shirt/ light microfleece pullover/ full sleeve T-shirt, Thermal innerwear.
Water-resistant trekking pants.
Windproof/ water-resistant jacket.
Thick Fleece/ Full-sleeve woolen sweater.
Raincoat/poncho
I hope I gave you some useful information, which may help you. If you want to follow me on instagram here is my ID @living_fossils_
You can also ask me questions regarding this trek.