Chadar is one of the most exhilarating and wild treks in the entire world. River Zanskar that lies frozen amidst the Himalayan valley has some breathtaking views to offer as a motivation to do this trek. Spread in around 100 km stretch, it demands exceptional mental and physical fitness of the trekkers, as they face walking at high altitude (11,500 ft) with 25% less oxygen in freezing temperatures.
What is Chadar?
Chadar quite literally can be termed as a blanket. It is a phenomenon where the Zanskar river that flows in the Ladakh region of India, freezes and forms a layer of thick ice. As the river comes in the solid state, it becomes possible to for commuters to walk on the river.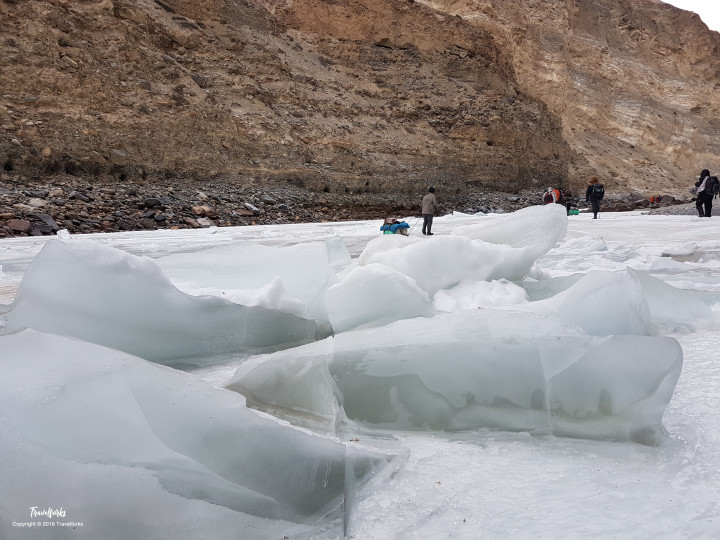 Earlier, the locals used this path in winters for their commute, which has now been converted into a trek.
Itinerary
The trek basically starts at Leh. But if you are coming from outside Leh you will be needing one entire day in Leh to acclimatize.
On this day, you will start from Leh and drive till Chilling. Its a 3 hours drive. After reaching chilling you will have to trek for around 2 - 2.5 kms and then you will be camping at Bakula.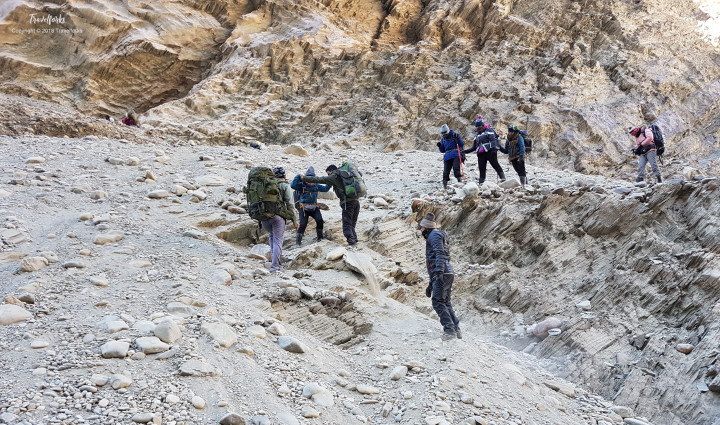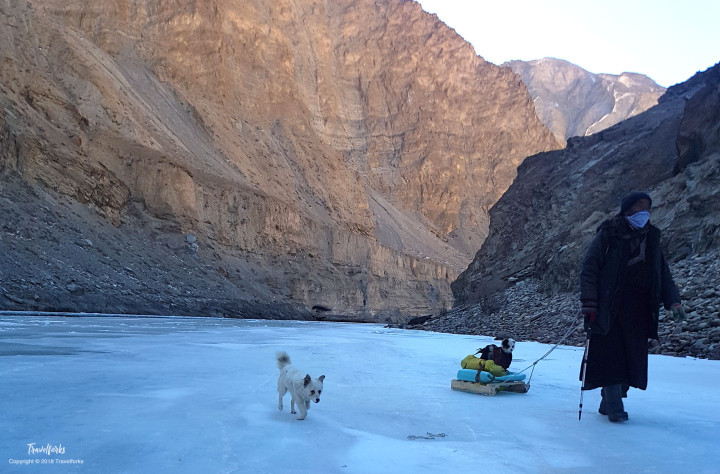 Day 3:
The proper trek starts now. You'll be walking for about 7 -8 kms from Bakula to Tsomo this day. Camps will be set up at Tsomo.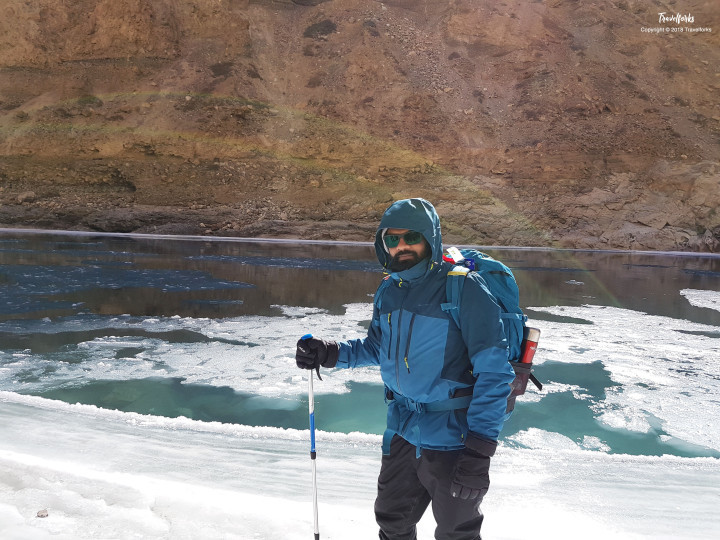 Day 4:
Trek from Tsomo to Tibb. Around 6 hrs of walking. Camp at Tibb.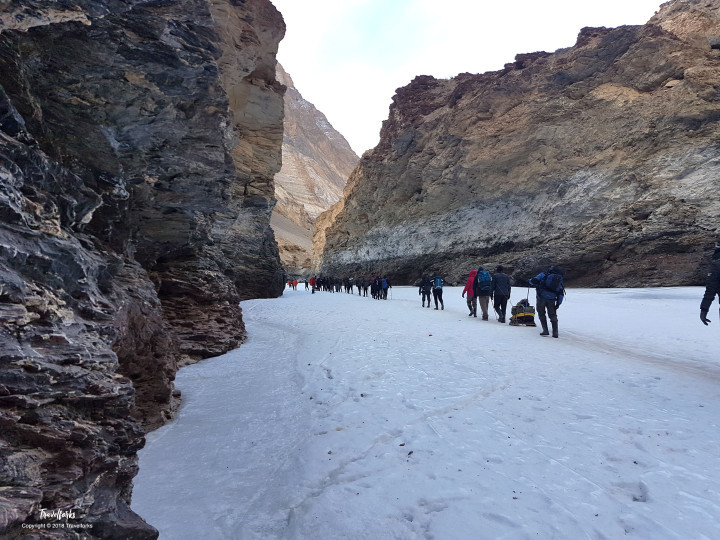 Day 5:
Trek from Tibb to Nerak (13 Kms approx). You will get to see the frozen waterfall here. This will also be the last point of your trek. There is a beautiful village at the top of the waterfall, which you can visit too if you have the energy left!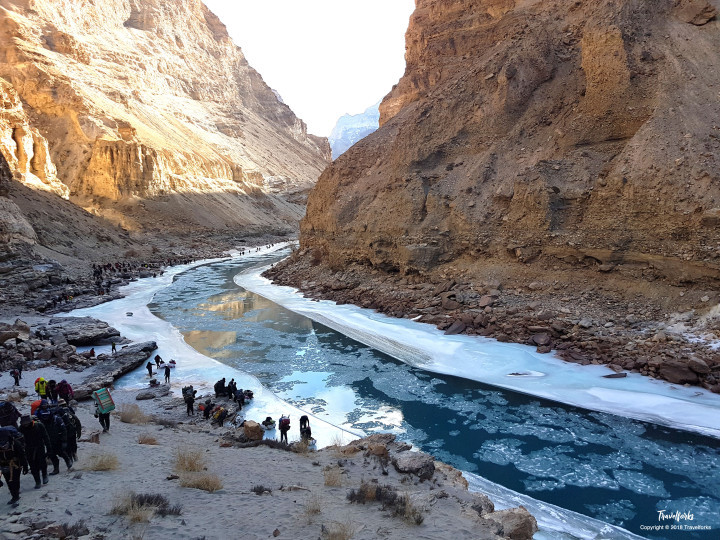 Day 6:
You start the return journey from Nerak to Tibb. Camp at Tibb.
This day is the longest walk of all days (approximately 19 Kms). You will be walking fro m Tibb to Bakula skipping Tsomo in between. Camp at Bakula.
Its the last day of your trek, from Bakula to Chilling and then you will be ported to Leh in a Bus.
This will be the hardest day, bidding goodbyes to new friends.
Why is this trek so special?
There are many factors that make this trek so special. The trail, walking on ice, surviving in freezing temperatures, the people, and the breathtaking views. It was really special because of the entire experience of meeting new people, greeting unknown people with utmost gratitude, living in the lap of nature and self-survival. I guarantee that Chadar will give you memories to cherish for a lifetime. You will miss everything about it once you're back!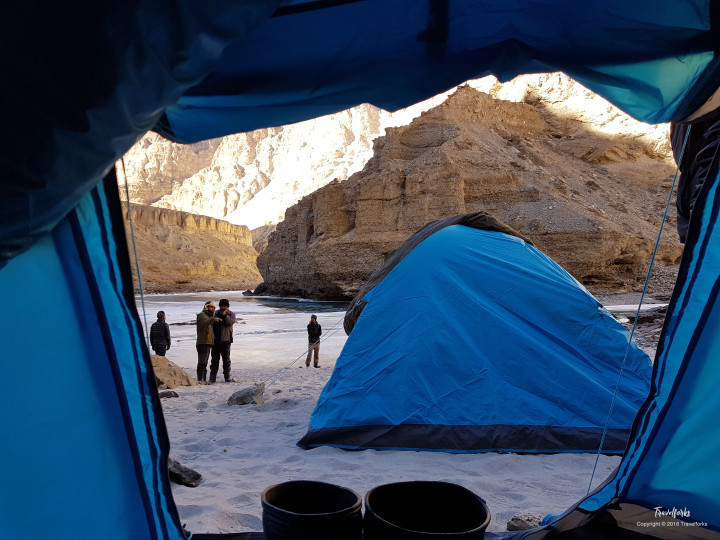 The GOODs & BADs
On the GOOD side
1. Amazing views
2. Playful ice
3. New Pals
4. Digital detox
5. The experience of learning new things
6. Getting steaming hot food while you halt during the trek
On the BAD side
1. It will push your limits both mentally and physically
2. Slightly expensive if you need to buy everything from scratch (only shopping for the trek might burn a hole of 25K+ in your pocket).
3. Monotonous views. The views are out of the world no doubt but mostly they remain the same throughout the trek.
4. No comfort or leisure. If you are planning Chadar for a holiday, think again!
5. Freezing or minus temperatures do sound exciting but might get really hard to bear.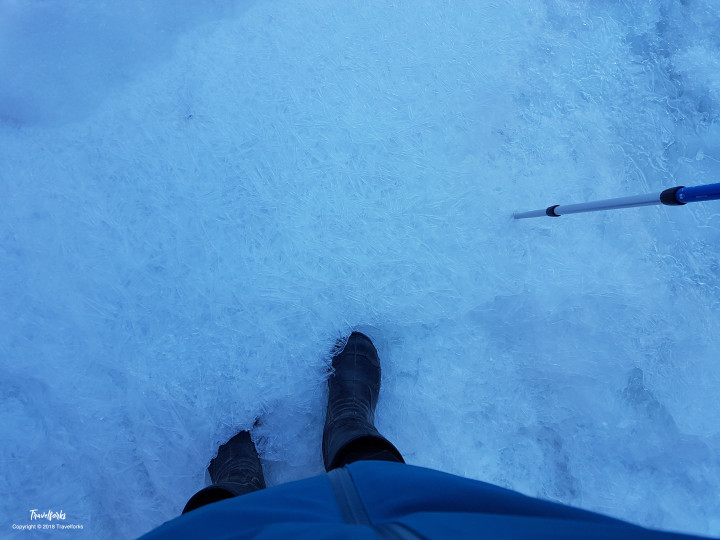 Best time to go
Mid-January to mid-February is the best time to go as the chadar is mostly in a good condition then. However, there is no guarantee and the shape of chadar keeps changing every day depending on the sunlight.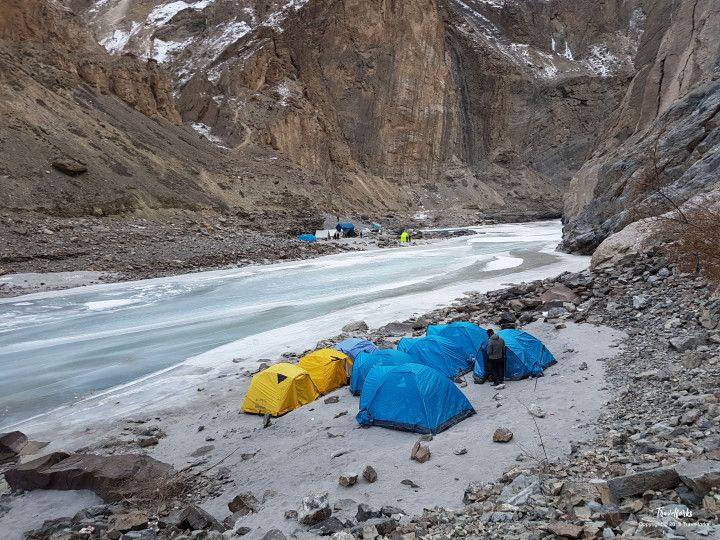 How to choose your Trekking Group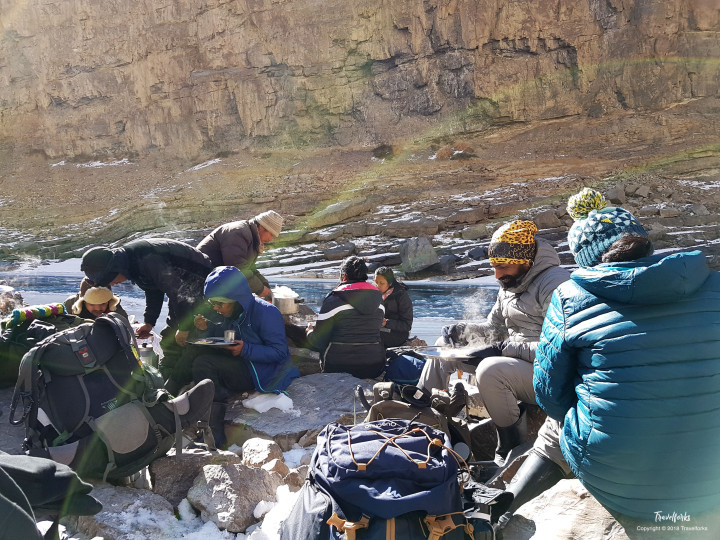 It is always a wise decision to go with an experienced group. There are many groups that do Chadar including local trekkers and adventure groups. While choosing your trek group, keep in mind that the group should be small so that the trek lead can take care of everyone individually. The trek leader should be experienced to handle medical emergencies. The equipment provided should be A grade, you cannot compromise on the equipment at such low temperatures.
I personally went with Bikat Adventures and had an amazing experience with the trek leaders and the porters, the best part about Bikat is that they take only 15 people in a group which is small and manageable.
Weather
Temperatures will be around -9 to -15 degrees in the day and can drop to -25 to -35 degrees in the night. The weather being cloudy is not good at chadar as it means no sunlight while you walk and it might also hinder the formation of Chadar the next day.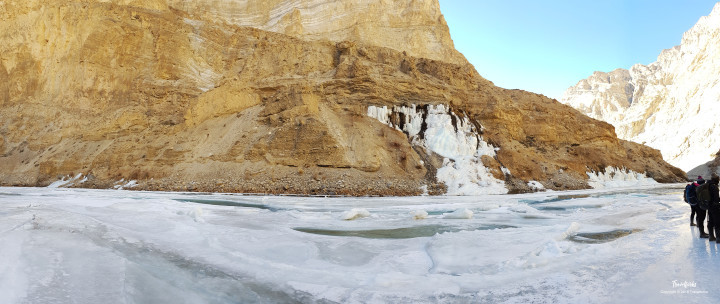 What to pack
Two sets of thermals (full-sleeved upper and lower) Two full sleeve T-shirts Two fleece jackets One goose feather down jacket One raincoat or a poncho (in case it rains) 4-6 sets of undergarments At least 6 pairs of woolen socks (you can also buy 2 extra pairs of yak wool socks for the night at Leh market) * The socks will get wet while you walk so keeping extra pairs is always helpful. Wearing wet socks for long period might be harmful to health. One fleece lower One quick-drying pant One waterproof pant Gumboots (you can skip carrying trekking shoes on the trek as you won't require them much + the weight will be reduced) Head cap (should cover ears). Leh market has plenty of good caps. Good quality waterproof gloves (Wearing 2 pairs of gloves recommended)
Miscellaneous
Quick dry hand towel Thermal flask (Milton works great) SPF 50+ sunscreen Moisturizer UV protective sunglasses (Don't carry contact lenses) Tissue roll Hot water bag (you will find it very handy while in your tent) Hand sanitizer Antifungal powder (for sweaty feet) At Least 20000 MAH of power bank (as you might need to charge your camera or phone) Spare plastic bags to keep your used clothes Trekking pole (will help you to maintain grip on ice) Dry fruits & snack bars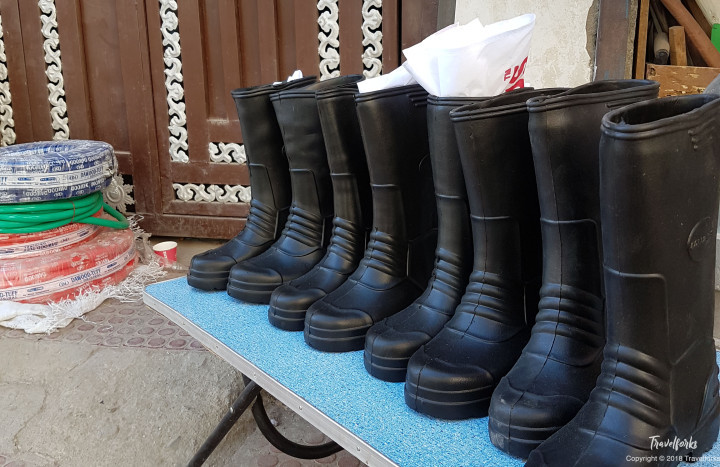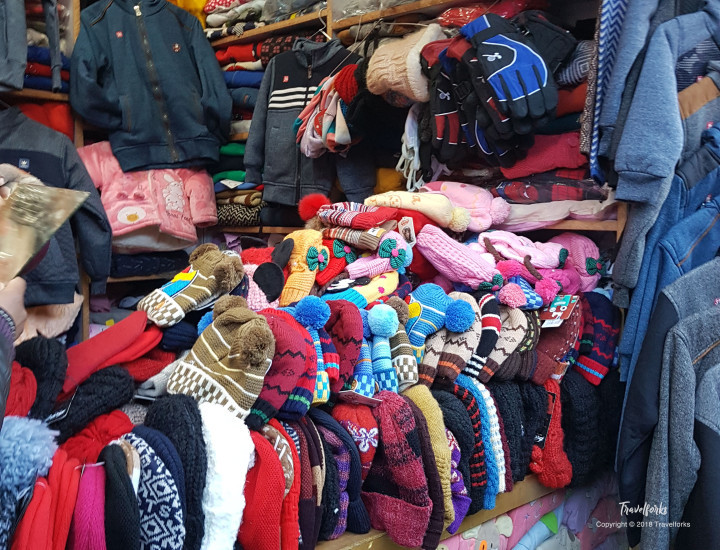 How to Acclimatize
The best way to acclimatize your body is to gradually ascend to higher altitudes, maybe take the road from Manali to Leh. However, for most of us, it is not possible considering the number of days we have in hand. So the alternate method is to roam around in Leh and keep the body active, try not to sleep in the day. If you don't cover your ears and hands, it will help you acclimatize faster. Don't forget to sip a lot of water as it will keep you hydrated and maintain the oxygen levels in your body.
How to beat the cold
The best way is to dress up in layers. Wear an extra layer of thermals, maybe half sleeves, to be more comfortable. Any kind of action generates heat, so keep your body moving. The temperatures will drop drastically at night, they might go as low as -35 degrees Celsius. Wear adequate clothing inside your sleeping bag and also make sure that the sleeping bag is closed properly so it stays warm. You can also use hot water bag inside the sleeping bag for extra warmth.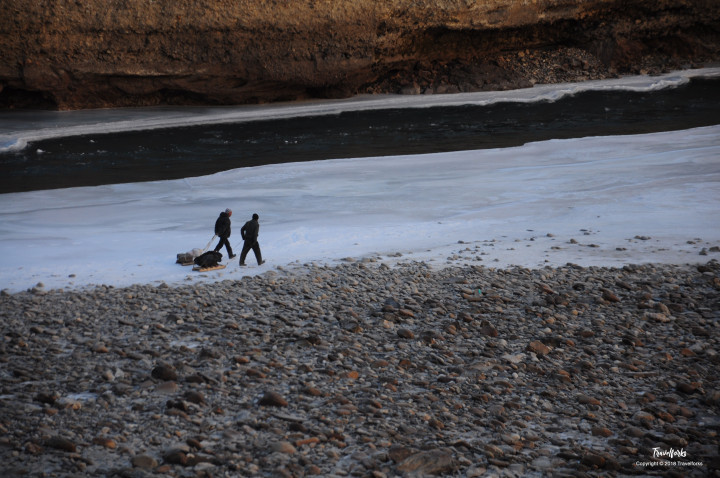 Friends and stories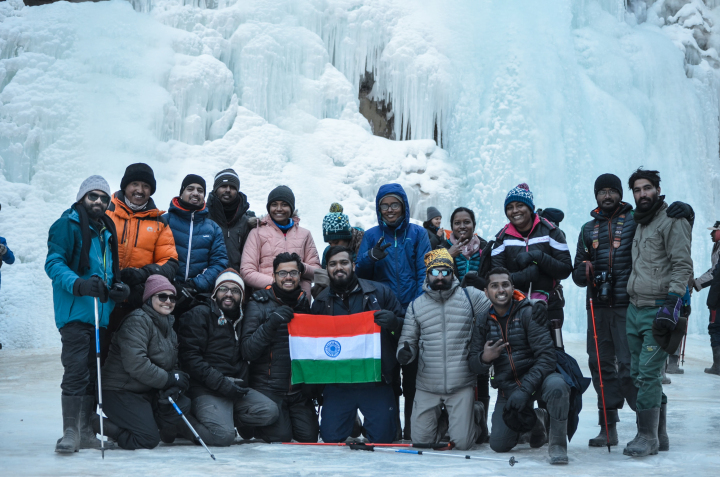 Having said all of that, Chadar is a great experience to have. You will meet strangers who will become your family for 7 days. You will experience a lot, share a lot create a lot of memories and come back with a lot of stories to tell.
If you have already done this trek, do share your stories in the comments section below. Stay warm.
Orignal blog here
For more stories follow us on Instagram