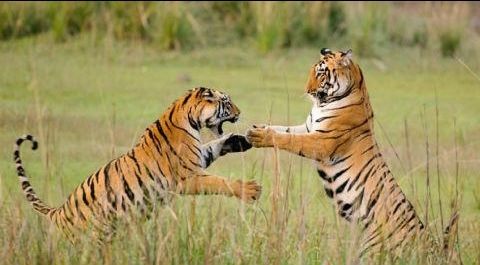 Started in the morning at 5, Bandhavgarh National park was our road trip. Fighting the heavy traffic of the town we somehow manage to take the highway.
After driving for 60-70km the beautiful baghelkhand ranges started which accompanied us till our destination.
100km drive made us a bit tired so we decided to take a short quick break. Another 15 min we tried to find a place to eat and surprisingly we crossed the Bansagar Dam. Near the entrance we saw a hotel, not so crowded and very airy.
We enjoyed delicious poha and some soft drinks, and started our further journey. Another 2 hour drive and we were at our resort in Bandhavgarh.
THE NATURE HERITAGE RESORT.
We enjoyed our lunch and started our forest safari at 3.30 in the noon. June's summer are very hot in north and mid India, we suffered that. Still, the safari experience healed that summer's heat. Bandhavgarh national park has got 3 entry gates, divided as different zones. The best one is the Tala zone, you can even explore a fort in its area but it's hard to get the tickets because maximum is pre booked. We explored through Khitauli zone.
After 2 hours of safari we got to back to our resort, had drinks at night and enjoyed the time.
Something what we realised in this trip was, the time we came for safari was not correct. Best time to enjoy safari in the bandhavgarh national park is October when the park reopens after monsoons closure or the months of February and March just after the winters. These seasons are better as animals are more active and playful.
Then next morning we left for home and again took a stop at the Bansagar Dam. This time to explore the dam.
This dam is built over sone river of Ganges basin. It has a huge reservoir giving benefit to a lot of villages.
Nearby Bandhavgarh, Madhya Pradesh have many more national parks like Kanha and Satupura National Parks.
That's all for today.
Further blogs coming soon.
If you have any suggestions or want me to write any specific blog for you, write in the comment section below or write an email to me.
Email – medha.sharma88@yahoo.com
Always in your support .
The vacation girl.
IG — https://instagram.com/download/?r=8464560769
Facebook-https://www.facebook.com/vloggervacationgirl/
Youtube—https://www.youtube.com/channel/UCGIJF0CA-CsOE2eV9VDlSww