Established in 1955, Kanha National Park, one of the prominent tiger reserves in India, is surrounded with the mighty Maikal hills of Satpura. The National park, supposed to be the largest in central India, boasts of rich flora and fauna, besides successful conservation efforts of the country in the spectrum of biodiversity and ecology. The park divided into four zones- Kanha, Kisli, Sarhi, and Mukki is spread between Mandla and Balaghat districts of Madhya Pradesh, with Khatiya and Mukki entrances in the two districts, respectively. Kanha out of the four is a premium zone, as notified.
Flora
The forest cover largely comprises moist deciduous, and dry deciduous forests. Teak, Sal, Mahua, Kusum and Sandalwood, along with dry deciduous trees like Tendu and Palash, with bamboo in abundance is the typical flora of this region. A spectacular sight during early summer is when Teak skeletons emerge from within patches of tall Sal trees, and the gorgeous Palash paints the crown of this jungle with its bright orange florets, aptly described as 'Flame of the Forest'. Semul or cotton tree flowers are also common during summer, and the drive towards Kanha is ethereal with earthy shades of green, autumn brown and orange, emanating from above agriculture fields. Fluorescent green paddy fields are a feast to the eyes during monsoon, albeit the national park is shut from July until mid October because of rains, and also owing to the mating season, a reason cited by locals.
Vermillion and Ghost trees are other significant varieties to find in the jungle. One is lucky to photograph the exceptional 'Sindoor' tree in the jungle which has little red flowers, from which vermillion is extracted, in nearby villages. 'Kullu' or Ghost tree found usually on the foothills of Satpura ranges, appears fluorescent white, and is rather spooky, when spotted in the dead of the night, and towards evening and morning safaris. The tree however has a bark layered with shades of pink, white and brown, and is quite a beauty, thriving in these forests. (See picture)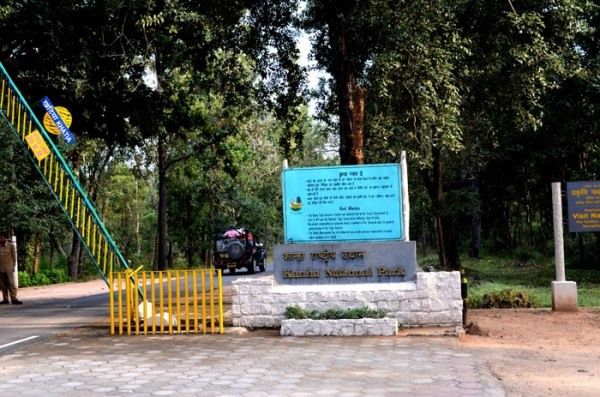 Fauna
Prominent creatures of the wild taking refuge in the jungle are the Bengal Tiger, Bison, Langur, Barasingha or the famous swamp deer, spotted deer, pea fowls, pea hens, Chital and Gaur. Eagle, Indian peacocks, and different species of owl are common to Kanha. A common sight during summer is that of deer feeding on fallen Mahua flowers- bright yellow in color popular for their sweet, intoxicating aroma and flavour. Termite mounds, important for ecological balance of the jungle, are also found in plenty.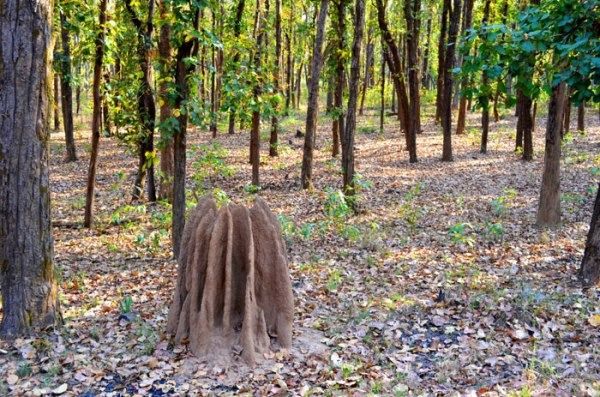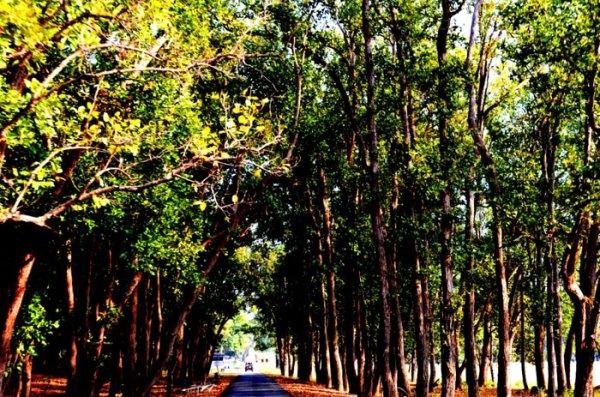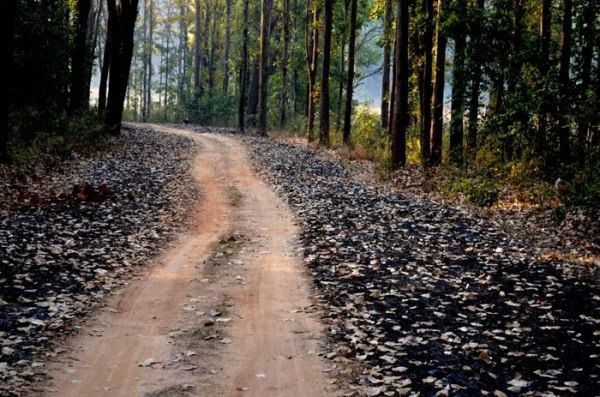 Tourism
Madhya Pradesh Tourism has several facilities at Khatiya and Mukki gates, in addition to sprawling private luxury and budget hotels. Tiger safaris are organized early morning and afternoons, bookings for which could be made online, or at the park entrances. A forest guide, and a driver accompany, enthusiasts on vintage jeeps. They offer valuable inputs on the history of the park, rules to be adhered to inside the park, unique vegetation, along with tracing 'alarm calls', pug marks, movement of deer/langur, and specific birds, while building suspense about the big cat's proximate movements. Experience says, the propensity to cite the tiger is higher during summer months, as these creatures tread down in search of water, taking refuge near scattered water sources, across Kanha's grasslands and plains.
The park also houses 'Shravan Tal' which is evocative of mythological references, as narrated by locals. Incidentally, 'Shravan Tal' is associated with the legendary tale of the doting son 'Shravan Kumar'. According to locals, in popular mythology, this is the location where Shravan went to fetch water for his parents, and was killed by King Dashratha, who confused him for a deer, instead. The jungle has inspired evolution of fiction, too with locals citing Rudyard Kipling's 'Jungle Book' and Mogli stories, emanating from the Kanha-Pench corridor.
Ecological Conservation
The government through the National Tiger Conservation Authority, under the aegis of Wildlife Protection Act of 1972, (amended in 2006), with landmark initiatives such as 'Project Tiger', aims to protect the tiger population of the country.
Additionally, Kanha has its own achievements in the sphere of protecting wildlife and conserving environment. An important effort noted in the mainstream is that of protecting the 'Barasingha' population. Also, because of the strict rules and guidelines for tourists, and penalties on flouting these rules, the park authorities have successfully managed to minimize disturbances in the natural habitat of tigers.
Efforts promoting eco-tourism such as screening of short documentary movies for tourists within hotel premises (at a significant distance from the park's buffer areas), ban on cell phones inside the park (as the signals disrupt ecosystems of birds and mammals) are regularly undertaken to create awareness on tiger protection. Waste management, instituting environment friendly infrastructure, effective garbage disposal methods, tree plantation, and rain water harvesting are some eco-friendly and responsible practices, hotels in the vicinity of the park, undertake.
Private players and NGOs have also forayed into 'environment conservation' space under their sustainability endeavours. Recently, Vodafone India announced a massive tree plantation drive in collaboration with Grow-Trees.com (official partner of UNEP's 'Billion Tree' campaign in India) in the Kanha-Pench corridor. It is worthwhile to take note of the successful efforts of Grow-Trees.com with grassroots organizations such as, Foundation for Ecological Security (FES), in the Kanha-Pench corridor. Such initiatives are excellent 'Public Private Community Partnership' case studies, promoting sustainable development with environment protection, as the central objective. Aircel- NDTV-WWF 'Save Our Tigers' campaign is also a successful example of 'Communications for Development' focused on tiger protection and environment conservation.
Kanha's 'Kaladirgha'- One stop shop for handicrafts
Located at Khatiya gate of the park, 'Aranya Ka Kaldirgha' – a souvenir and handicrafts outlet, boasts of art and craft works from all over Madhya Pradesh and Chattisgarh, made by self help groups and artisans. Colorful bamboo artefacts from Mandla and Seoni, Maheshwari and Chanderi prints, wall hangings, Bagh printed wallets/folders, terracotta works and clay artefacts from Chattarpur, Dhokra metal art from Orccha and Bastar are available for promotion and sale.
When to visit?
The park is connected to Jabalpur and Nagpur by air, rail, and road. Ideal time to visit is between mid October through May. It is important to keep in mind that because of excess rainfall received by Kanha's monsoon forests, and mating season of the wild cats around the same time, the park is shut from July until mid-October. More information about National Parks in Madhya Pradesh, and tiger safari bookings could be accessed at- http://www.mponline.gov.in/.
For more details visit:- http://www.kanhanationalpark.com/