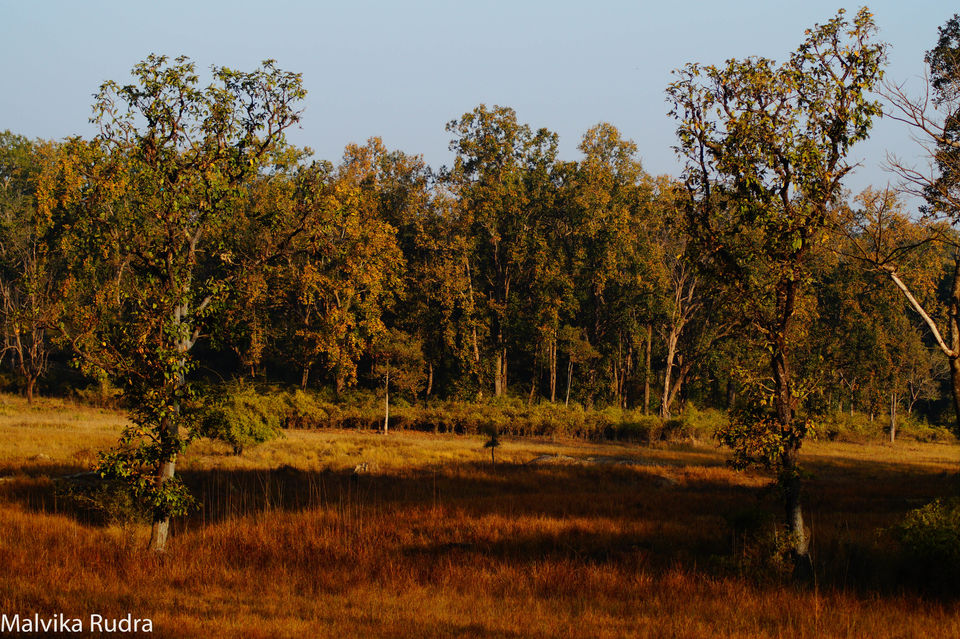 One of the first Tiger Reserves to work for Project Tiger, Kanha was made a Tiger Reserve in 1973. Nestled in the Maikal range, it is the largest park of Central India and falls in the districts of Mandla and Balaghat.

Sprawling across an area of 2059.7 sq km it comprises of 940 sq km core, 1009 sq km buffer zone and 110.79 sq km of Kanha and neighboring Phen Sanctuary.

History at a Glance

It is commonly believed that Kanha got its name from the texture of the soil found there, which is locally called Kanhar. With the introduction of The Jungle Book in 1894 the breathtaking landscapes of Kanha and Pench hailed to popularity. The natural landscape and highland beauty of Kanha has been appreciated worldwide making it one of the prime wildlife destinations.

Accessibility

By Air: Jabalpur is the nearest airport to Kanha at a distance of 170 km from Kanha and traveling time is 3.5 hours.
Second best option is Raipur airport. Distance to be covered by road from Raipur to Kanha is 225 km and traveling time is 4.5 hours.
Another way is to take a flight till Nagpur. Distance to be covered by road from Nagpur to Kanha is 270 km and traveling time is 5.5 hours. Kanha Earth Lodge provides with reliable cab services from the airport till the lodge.
By Rail: Jabalpur is the most convenient rail head to visit Kanha. Distance to be covered by road from Jabalpur railway station to Kanha is 170 km and traveling time is 3.5 hours.
Gondia another rail head is convenient for the people travelling from Mumbai and Kolkata. Distance to be covered by road from Gondia to Kanha is 120 km and travelling time is 3 hours. Kanha Earth Lodge provides with reliable cab services from the railway station till the lodge.
M.P. Sampark Kranti is the most suitable train to reach Jabalpur from Delhi. Details could be checked and bookings can be done on www.irctc.co.in and www.indianrail.gov.in.
By Road: Kanha National Park is well-connected by road with Jabalpur 170 Km, Khajuraho 445 Km, Nagpur 270 Km, Mukki 25 Km, and Raipur 219 Km. NH12 from Jabalpur to Mandla will take you to Kisli gate. Mukki gate is accessible from Nagpur via Gondia, Balaghat and Baihar. Bus and cab services are available.
Tickets can be booked on individual airline sites or from www.cleartrip.com or www.makemytrip.com
Best Season to Visit the Park

Kanha National Park like all the other parks of Madhya Pradesh remains open for visitors from the month of October till the month of June. Each season has its own delight. Visiting in the month of October will get you some beautiful sightings of the jungle and wildlife. You get the treat of enjoying nature at its best since post monsoon the park becomes more beautiful and dense with lush greenery. Also it is a good time to indulge into birding.
During winters, sightings are good and it is an appropriate time for all the birders to visit the park since numerous migratory birds inhabit the park during winters.
Though summer is hot but it has its own charm. For hard core tiger lovers it is one of the most appropriate times to visit the park. The frequency of animal sighting becomes higher during summer. Different wildlife can be sighted near the ponds where they come to quench their thirst.
Accommodation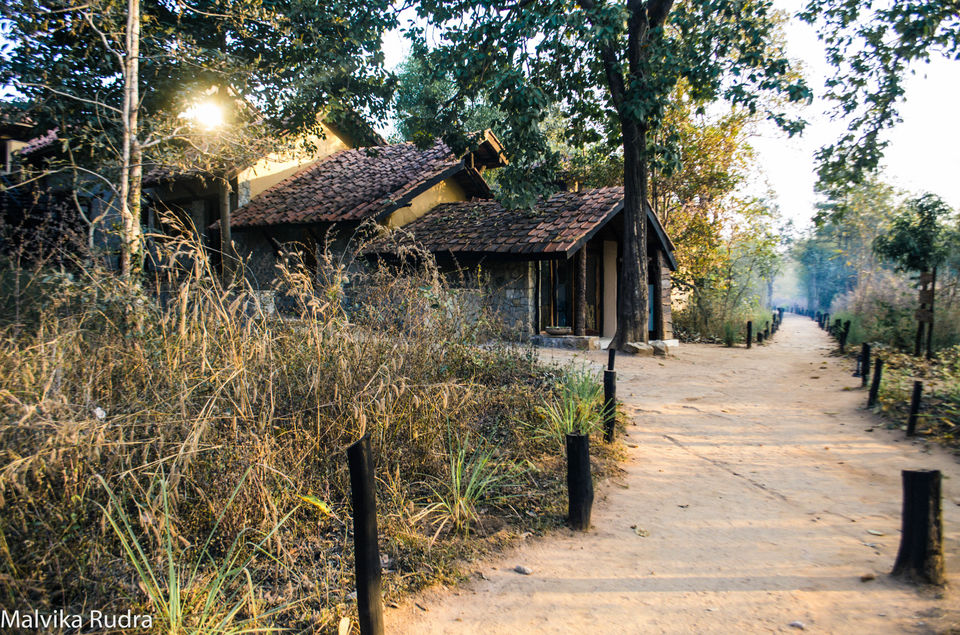 Coveting luxury and closeness to nature at the same time? Kanha Earth Lodge is the answer to the question. Spread in sixteen acres of natural forest it is a beautiful Lodge that has been awarded many times for its eco-friendly architecture.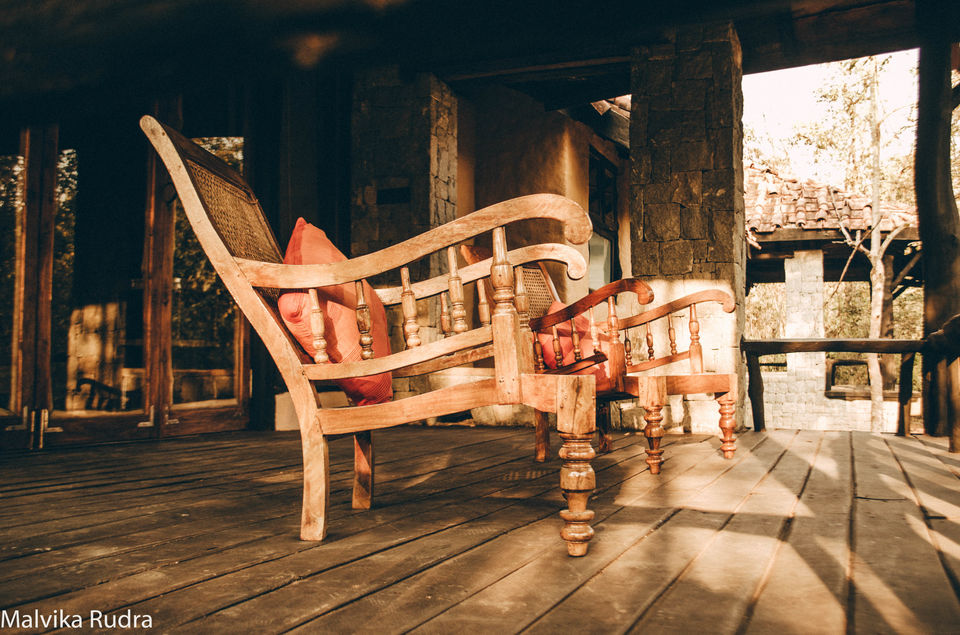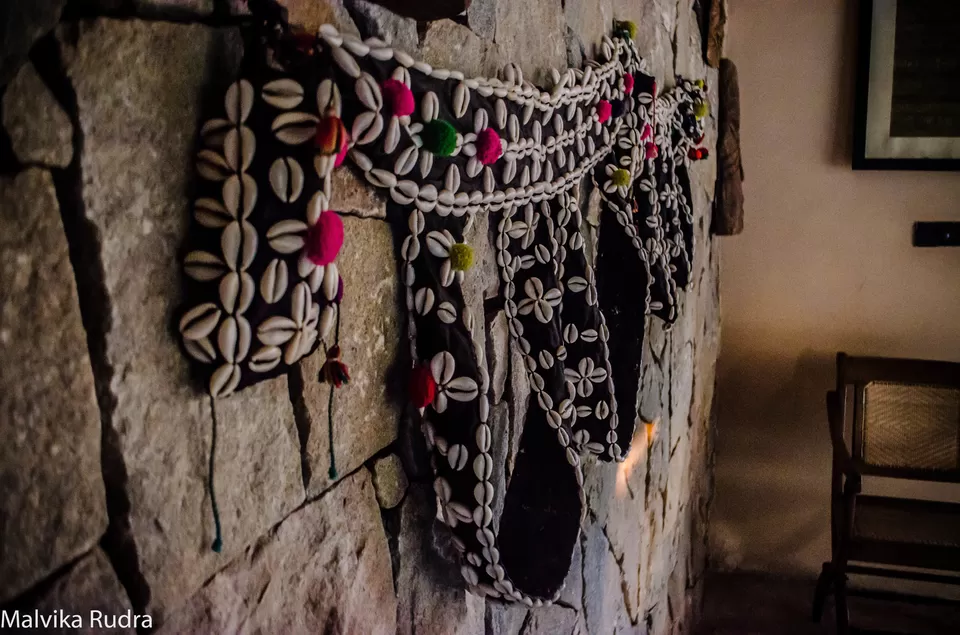 It is situated just 30 minutes from the Kisli park gate, rendering the lodge close enough to the park yet at the same time far away from the clut of hotels ensuring a true wilderness experience for the guests. The lodge has a craft shop, swimming pool and a beautiful organic garden where you can go for an early morning stroll.
What are the other activities organized at Kanha Earth Lodge?
Cycling, Jeep Safari, Birding Walk, Tribal Village Visits, Crafts Workshop, Nature Walk are some of the other activities arranged by the lodge in and around it. Apart from it, the Kanha Earth Lodge also organizes for special Bush Dinners where the guests can enjoy food under the sky. Local tribal dances are also organized on special occasions for the entertainment of guests.
The Adventure of Wildlife Safari
Kanha like other major National Parks of Central India remains open from 16th October to 30th June. The timings might vary slightly depending upon the season.
Safari tickets can be booked online through the website: mponline.gov.in. You can also book the tickets through the resort in which you are going to stay. The entry tickets can also be collected from the booking window at the entrance gate of the National Park. Additional expenses such as booking charges, park rates, guide fees etc are termed under the additional expenses other than the entry tickets.
Trespassing different routes is not allowed. Like all the other parks of M.P., Kanha allows a total number of six people in a jeep, out of which four are tourists and the other two are the guide and the driver who are mandatory.
There are four zones in Kanha namely, Kisli, Kanha, Mukki, and Sarhi. Mukki is more easily accessible from Nagpur while Sarhi is more easily approached from Jabalpur. Passing through the jungle on a safari and reaching out at the other corner of the jungle to have breakfast in wilderness will bring your fantasy world to life.
What other activities can you do once you are in Kanha?
A Walk to Kanha Museum: A beautiful museum which holds valuable work of natural history of Kanha.
Nature Walk: Although Safari remains the prime attraction of the jungle, Nature Trails are for those who wish to explore nature closely on foot and for those who find joy in every little wonder of the jungle. Accompanied by a trained naturalist this is an amazing way to know about flora, butterflies, insects, birds and small mammals that come across your walk.
Jungle Fascination in Kanha National Park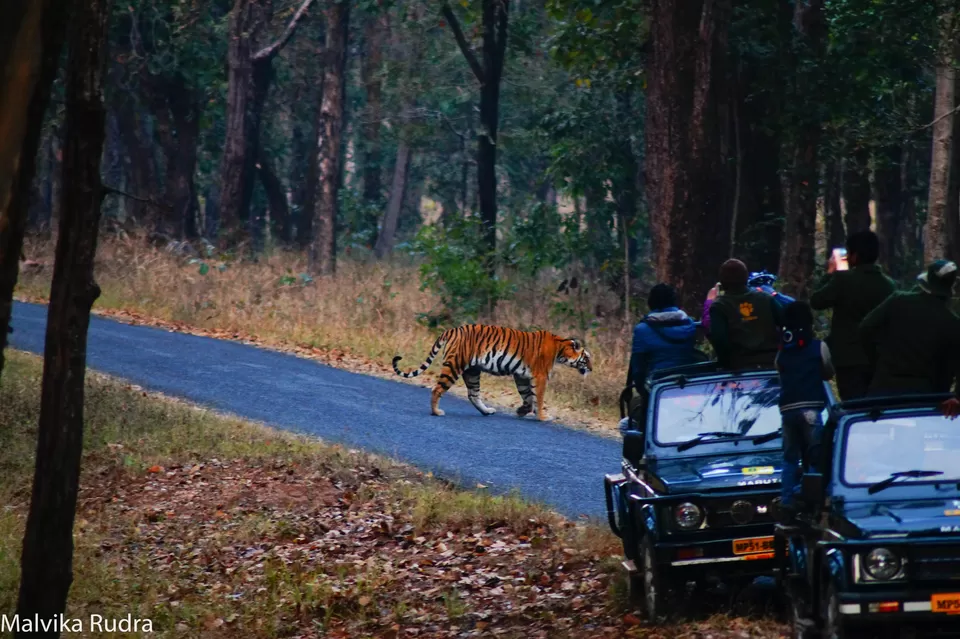 Mammals: Tiger, Leopard, Sloth Bear, Chital, Barking Deer, Gaur, Indian Jackal, Chousingha, Jungle Cat, Sambar, Langur are some of the mammals that inhabit the park. Hard-ground Barasingha, the state animal of Madhya Pradesh is found only in Kanha National Park in India.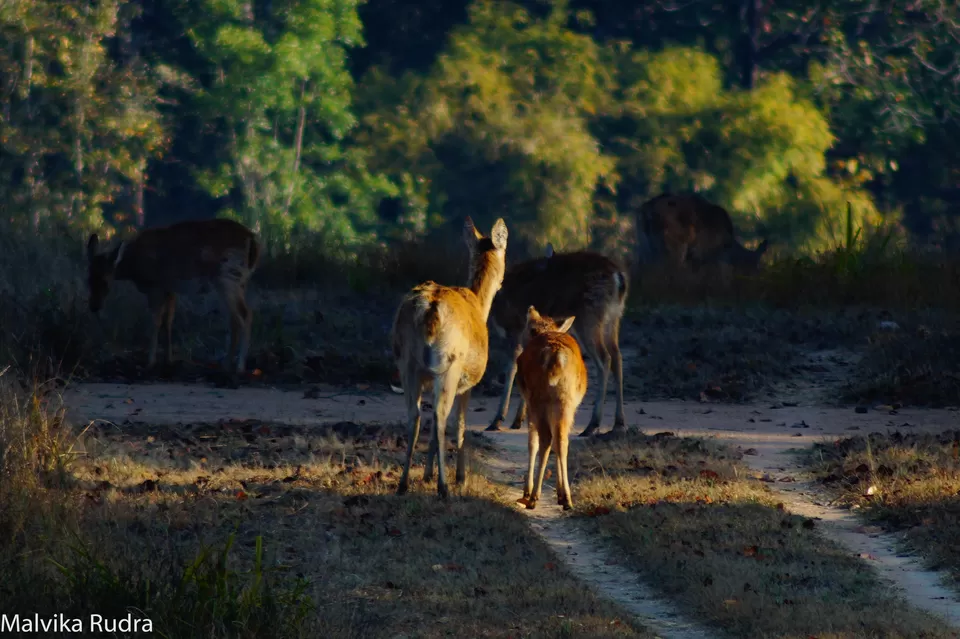 Hard-ground Barasingha also known as the "Gem of Kanha", slim and bushy-tailed Dholes or Indian Wild Dogs are also found in Kanha. Moreover, beautiful Blackbucks can also be seen in Kanha which are recently reintroduced in the park.
Birds: Kanha is home to around 300 species of birds both resident and migratory birds such as Indian Roller, Indian Grey Hornbill, Cattle Egrets, Bee-eaters, Drongos, Black Ibis, Common Teal, Crested Serpent Eagle, Indian Paradise Flycatcher, Peafowl, White-eyed Buzzard, Kingfishers, Jungle Owlet, Lesser Adjutant Stork, Lesser Whistling Teal, Steppe Eagle, Little Grebes and many more.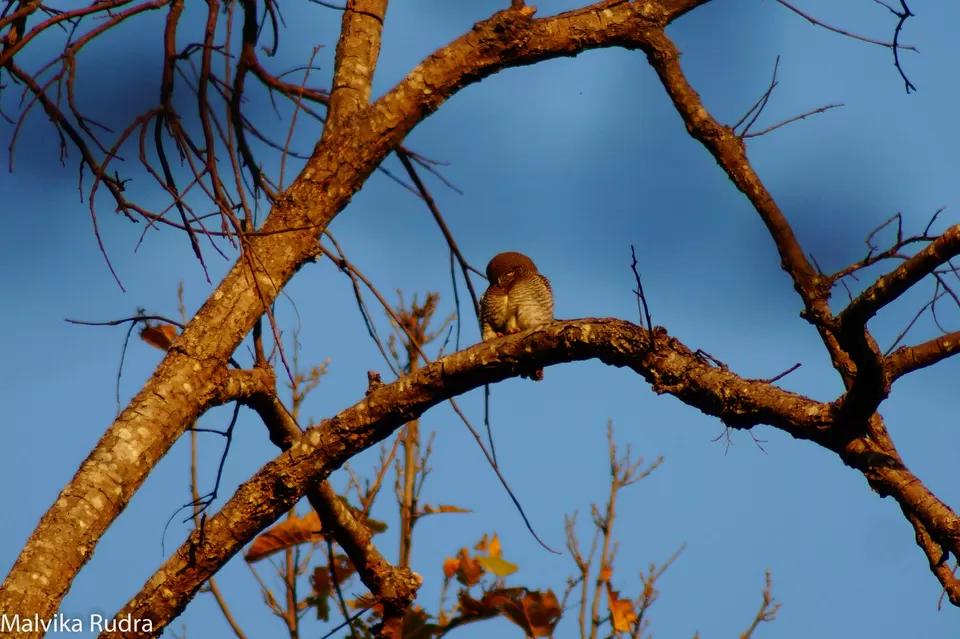 Apart from these, birds of prey like Osprey and Black Baja are also found in the park. Shravantal is a small water body inside the park where chances of sighting birds are quite favourable.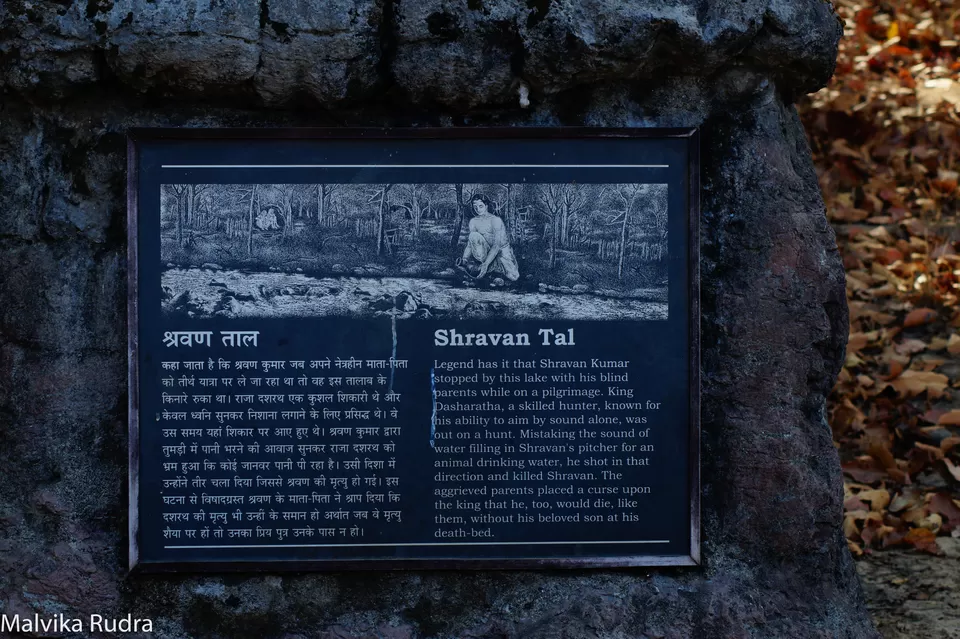 Reptiles: Python, Indian Krait, Russell's viper, Indian Monitor, Common Rat Snake, Common Skink, and Indian Garden Lizard are some of the common reptiles that reside in the park.
Flora: The forest cover inside the park is largely tropical moist deciduous type. Kanha boasts over 200 species of flowering plants and the major flora can be discovered here are Sal, Saja, Lendia, Dhawa, Tendu, Palash, Mahua, and Bamboo. Kanha also inhabits Kulu or Ghost Tree and Sendhoor Tree or Vermillion Tree out of which vermillion is made.
Nearby Places to Visit
Bandhavgarh National Park – Located 250 Km from Kanha, Bandhavgarh is also known as the Tiger land of Madhya Pradesh.King
Accommodation - Snuggle yourselves in cozy Tree houses of Tree House Hideaway that would take you back to your childhood memories of making tree houses or you can stay in King's Lodge and enjoy spectacular opulence of the Lodge.
Activities – Jeep Safari, Elephant Joy Ride, and Visit Baghel Museum
Pench National Park – Located 357 Km from Kanha, Pench is known as The Land of Mowgli.
Accommodation – Pench Tree Lodge
Activities – Jeep Safari, Visit Ram Temple, Kohka Lake and nearby markets.
Jabalpur – Known as the Marble City, Jabalpur is famous for its cultural and political history.
Where to go – Dhuandhar Falls, Chausath Yogini Temple, Balancing Rock, Dumna Nature Reserve
Some Essential Tips
• Bookings should be done 120 days in advance since the park tickets are limited.
• It is mandatory to carry ID cards for safaris. The ID needs to be the same as the one with which you booked your safari.
• Carry binoculars, camera and a bird book to identify birds to make your trip more fruitful.
• Wear comfortable walking shoes. Do check your shoes every time before wearing them to avoid scorpions and other creatures.
• Carry proper woolens in winters and an effective sunscreen in summers.
• Carry Hats/Caps and personal medicines (if any)
• Wear muted forest colours like earthy greens or beiges and avoid perfumes and deodorants. Whites & any bright colours should be avoided.
• Afternoon shift of Jeep Safari remain close for visitors on Every Wednesday.
• You can visit travel sites like IRCTC and Cleartrip for all railway and flight related information. To check information regarding bus schedules visit mptransport.org