A month in Spiti, and I had visited almost all the places that were of even slight interest, except Dhankar. It was Sunday, and I was heading back to Manali on Wednesday. I had two days, and was bent upon visiting the Dhankar lake and Monastery. There was no direct bus to Dhankar; I had to get off the Tabo bus mid-way and hike up a mountain. Nawang, the chef at the cafe I worked at assured me that it wouldn't take longer than 45 minutes, and it was less than 2 kms. 2 kms seemed absolutely doable, and given that I had acclimatised well, I was elated at being able to finally do some form of trekking in the valley. So, I caught the 7 am bus to Tabo along with a friend who was headed to Shimla, and was asked to get off at a very random place by the driver, who showed me a narrow path up the mountain that led upto Dhankar.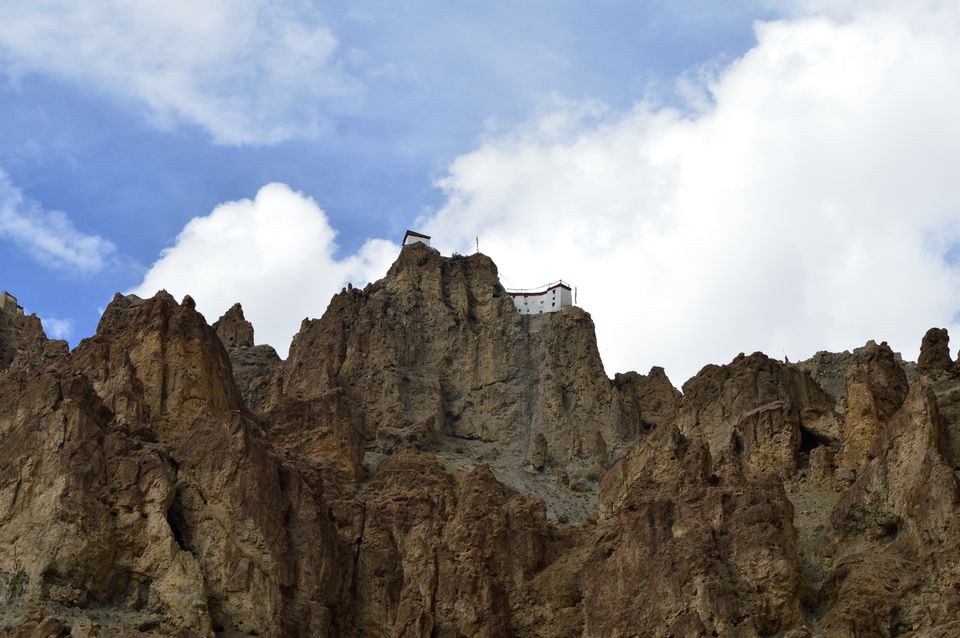 Another man got off with me, who was also heading to Dhankar. In hindsight, that was the best thing that happened to me that day; there was absolutely no way I would have figured out the way up by myself. Fifteen minutes in, I realised that my shoes were particularly useless for walking in that terrain. The mountains are purely made up of loose soil and sand, with no vegetation to hold it together. The weak grip of my shoes made every step seem like a tryst with death; I was walking along a narrow path on the edge of the mountain with a 100 feet cliff side drop. I had to be a hundred percent alert every moment, and judge every step I was about to take; I could not even let myself feel scared. It was exhausting, both mentally and physically. The man who had gotten off with me happily raced along the path, with nothing more that paragon slippers on; it was quite a wonder. I soon lost sight of him, and did not think much of it until my path branched into two - there was no way of knowing which one to take as the village was on the other side of the mountain and I could not even see it. Not a soul was in sight, and it was so easy to get lost in the mountains. I was too exhausted to even walk back - climbing down is much much harder in that terrain and I did not think I would survive it. Exhausted and scared, I was almost in tears when I suddenly heard someone shouting, and looked up. That man was waving to me from above the mountain, and pointed towards the right direction. I cannot explain in words what I felt at that moment. It was some form of major relief that I would live and not die in the valleys of Spiti. With renewed energy, I walked up to find a changed terrain - it was completely rocky and felt like a cake walk compared to the earlier one.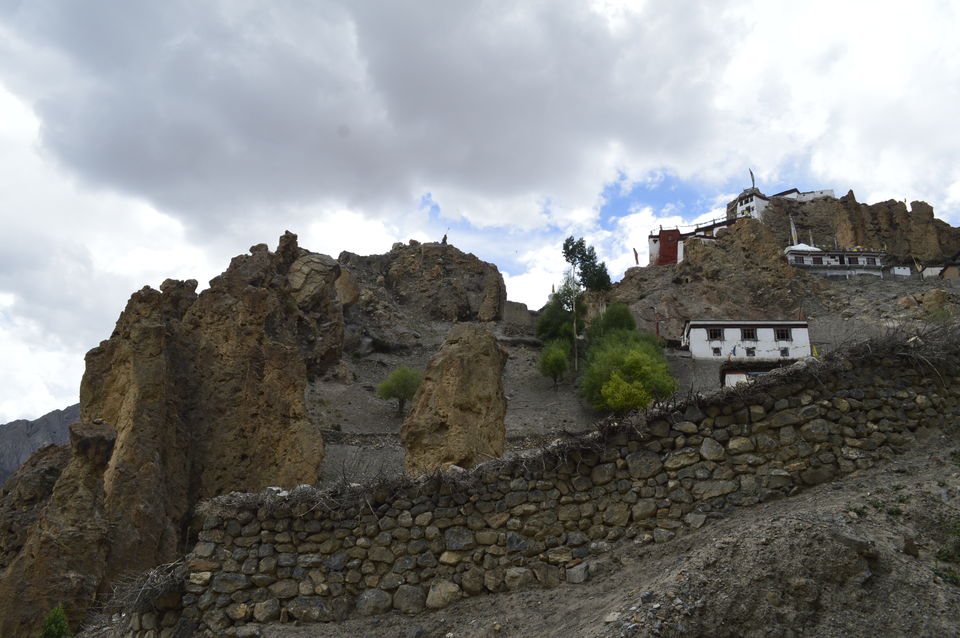 I ambled along another narrow path after this and finally entered the village. Surprisingly, it had been only a little over an hour since I had alighted from the bus, although it felt like a lifetime.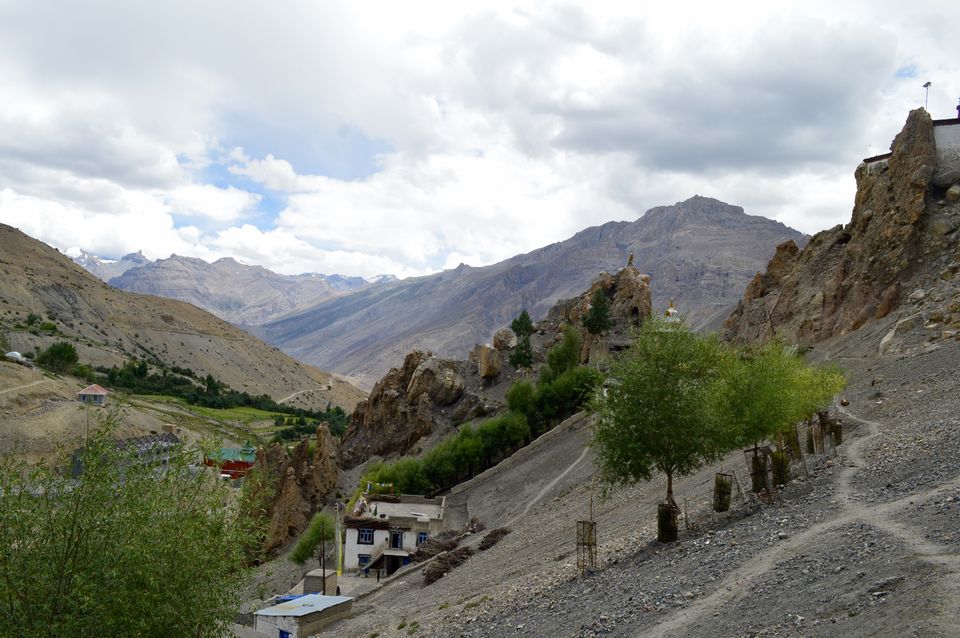 Even within the village, I had to walk along narrow sandy tortuous paths to find a homestay. I just collapsed on the bed, and got out after a short while to find some lunch. I was quite famished by this time, and wolfed down the plate of Chowmien, washed it down with a bottle of water and set off towards the monastery. As soon as I reached the entrance, I found a monk locking up the main entrance and leaving. Devastated, I literally begged him to open it for the shortest time, which he finally did after a lot of hesitation.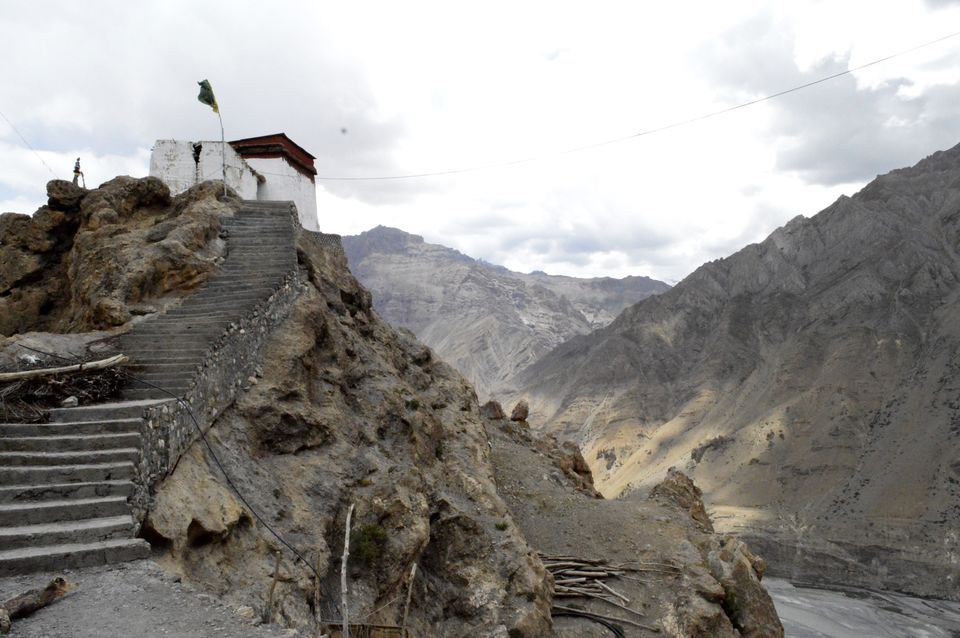 The monastery is the oldest after Tabo, and Dhanker used to be the capital of Spiti a long long time ago. The monastery consisted of many small rooms and the view from above them was absolutely stunning. After whiling away some time round the place, I figured I had no energy left to trek upto the lake, which would take another 2 hours. Not wanting to spend the night there by myself, I found a few locals who were going to walk down to the main road on the same path I had taken. I probably would not have dared to go down that route by myself. With them though, I felt really safe and they ensured I was alright every second of the next hour. Upon reaching the main road, I treated myself to a dairy milk for having made it, and hitchhiked back to Kaza. The next time though, I promise myself to trek upto the lake.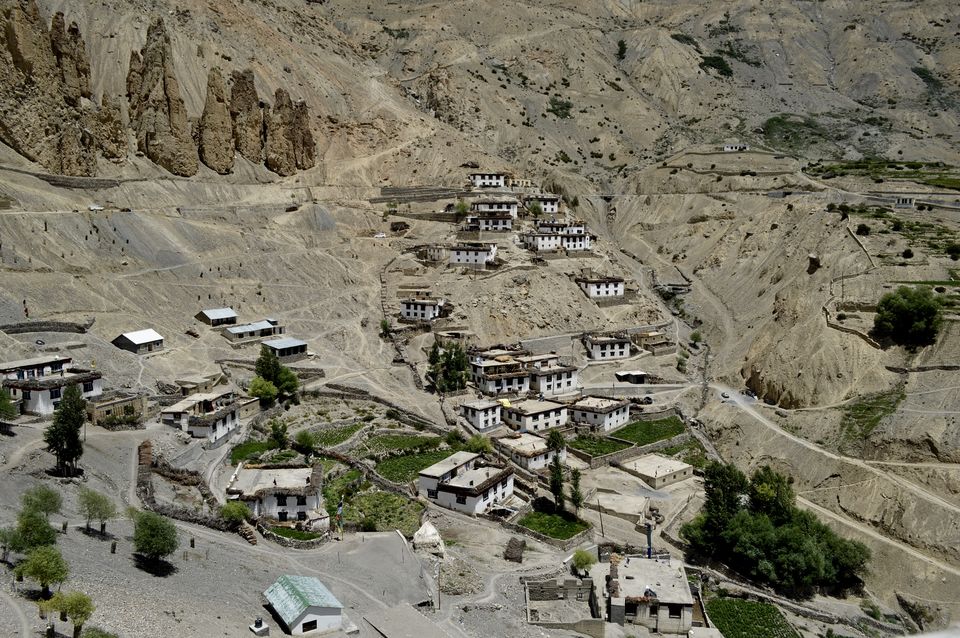 Note: I would advice any solo traveller to walk along the main road to Dhankar, although it is 8 kms long and avoid this rugged path. With a group though, this is definitely a worthy adventure.