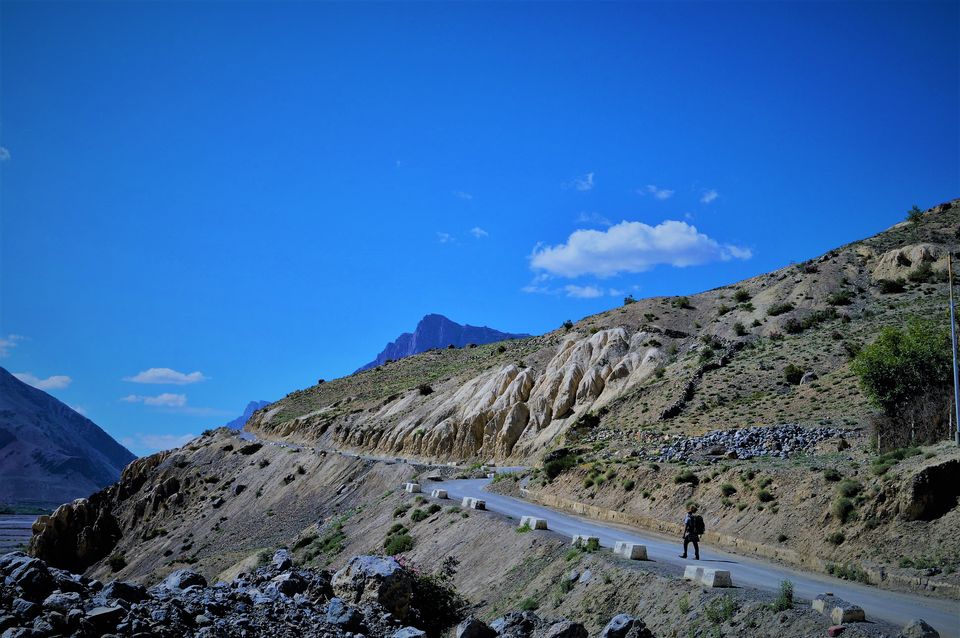 We have been itching to go on this journey since months now, and the wonderful images by those who have made this trip only made us more excited. So when Prasenjit,my senior suggested that we make the trip now, instead of again switching to the planning, wishing and itching mode, I readily agreed.
The three of us - me,Santu and Prasenjit decided to go the budget way and use local public transport to backpack across Kinaur and Spiti. After considering acclimatization, accessibility and the routes we decided to take the Shimla - Kinnaur - Spiti - Manali route.
Prior bookings - from HRTC website

1. HRTC non-ac bus from Delhi to Sangla.

2. HRTC volvo-ac bus from Manali to Delhi.

The trip details and itinerary is as follows:
Day 1 : Last night in a city
Reach Delhi. We arrived early in Delhi, spent some time at Gurudwara Bangla Sahib, did sewa there and then boarded the bus to Sangla at 11 pm
Day 2 : A long bus journey to test the body's durability
We reached Shimla bus stand at 6 am. After getting fresh we got ready for the long long journey to Sangla. It was a 12 hour onward ride in a now crowded bus. The bus glided it's way through the narrow serpentine roads of Kinnaur. There are some very sharp turns and the bus almost rammed into an oncoming bus twice. The cool-headed driver's expertise saw us through all of the challenges :)
We reached Sangla at 5:30 pm and got accommodation in a guest house(Baspa Guest House) near the bridge. The 18+ hours of travel had shook our bones and we straight away dozed off to sleep.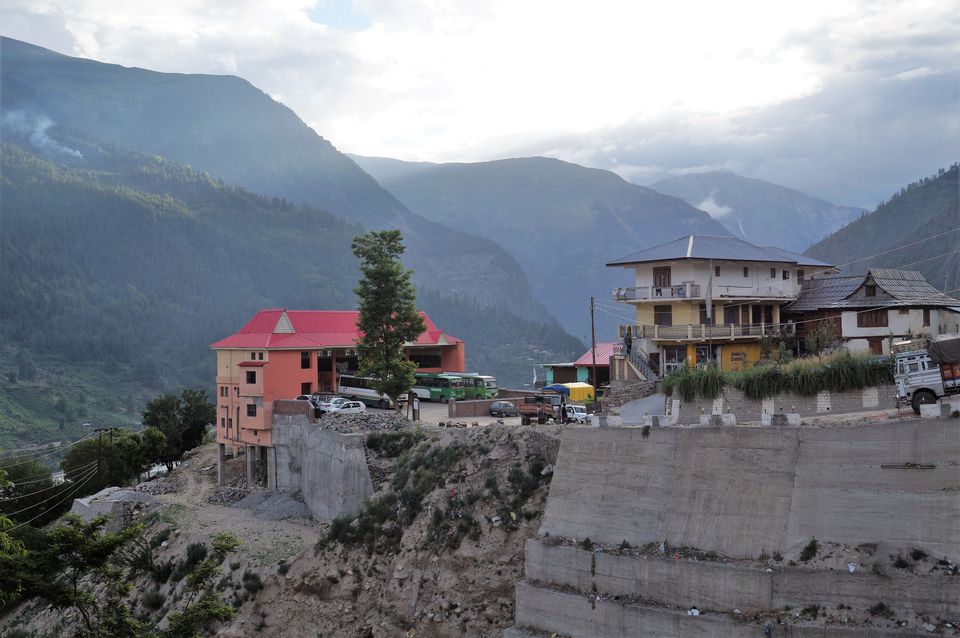 Day 3 : A great hike
We walked upto Kamru, at the Badrinath temple there we got to see the locals preparing for a festival in which they will bring Badrinath ji to Kamakhya Devi temple which is at the top of the hill. The Kamakhya Devi temple and Kamru fort are in the same complex there.
Then we hiked up to Bering Nag temple which has a beautiful complex and offers amazing views of the valley.
We then took a bus to the perennially beautiful Chitkul. This is said to be the last Indian village before the Indo-Tibetan check post. We hiked 3-4 kms to the checkpost and it was one of the most beautiful hikes of my life with the river Baspa flowing along the deserted road. With no one disturb our thoughts we hiked up till the checkpost and enjoyed a great chat with some soldiers there.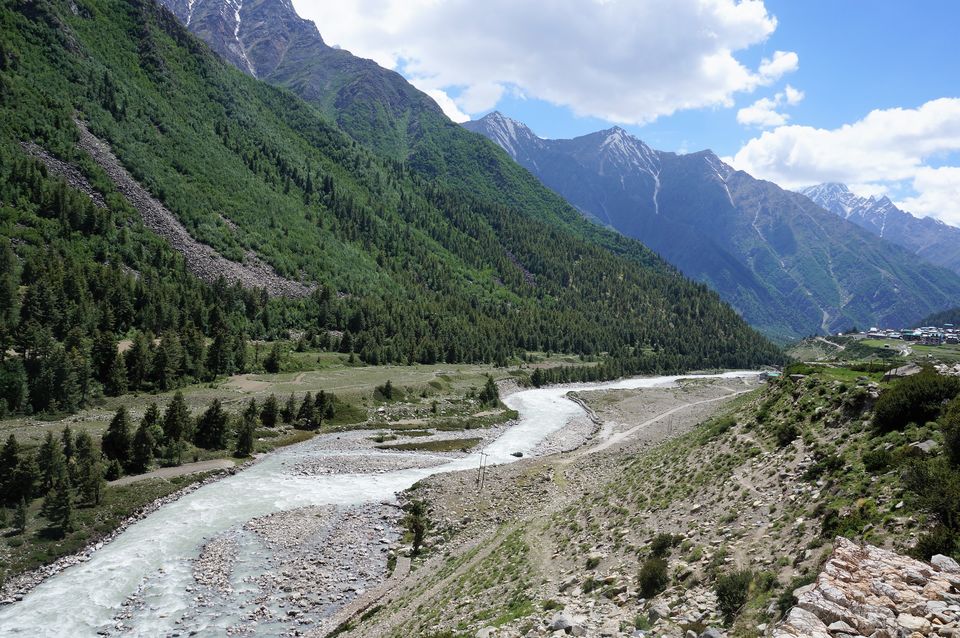 Day 4: Mystical and refreshing
We took the morning bus from Sangla to Reckong Peo or just "Peo" as referred by the locals. It takes around 2 hours to reach Peo. And took a hotel(Hotel Panchaaras) in Peo bazaar near the taxi stand. We went to the ever enchanting Kalpa in a "maxi" bus from Peo.
Kalpa offers mystic views of snow capped Kinnaur-Kailash peaks and it is just mind blowingly beautiful. Kalpa is a quant litle town and you may just sit idle there or explore the Monastery and temples therein.
We could have taken a bus back to Kalpa but came back to Peo hiking down the beautiful 9 km road. Night stay at Peo.
Day 5: Long day yet again (two villages)
Our next destination was Nako(upper Kinnaur). Now there are only two buses from Peo towards Nako (one ends at kaza , the other at Tabo). To get a seat in the first bus which leaves at 7 am you have to reach Peo bus stand before 6 am and book tickets in the 7 am bus. We were lucky enough to get one seat for the three of us , which we intended on using in sharing basis :)
After reaching Nako at around noon, we had our lunch and went in the village, we visited the beautifully at peace Nako Lake and then spent some time idling around at the monastery. The monastery apart from being splendid offers tremendous views of the barren multi-colored mountains. We wished to see the evening flock of birds at the lake but had to leave to catch the bus to Tabo, which leaves Nako at around 3 pm.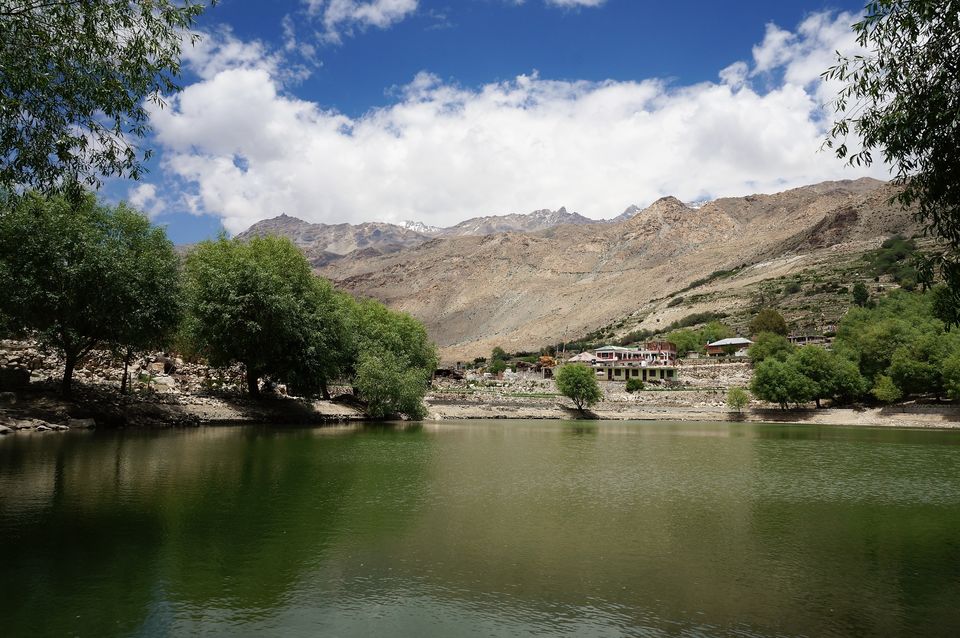 We reached Tabo village at around 5:30 pm. This place is something else entirely and my favorite. This is the land of the lamas, the land of peace , the first village in Spiti valley for us.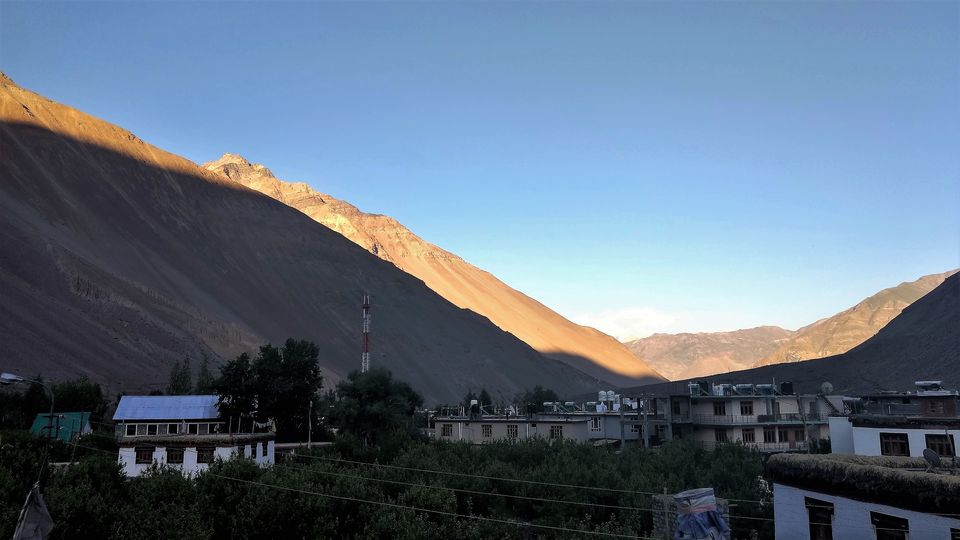 We visited Tabo Monastery(estd. 996 AD) - the oldest continuously operating Buddhist monastery in the world. The monks there are very friendly and shared some great stories. They said that this place has been here for hundreds of years and you should spend some time here. Who knows what you might find while introspecting in this holy land. You might have heard of the "Ajanta and Ellora caves", well this is called the Ajanta of the Himalayas as there many precious paintings, artifacts and sculptures dating back thousands of years. It is said that great Buddhist scholars brought them here to save them from invaders. There was a sweet American lady scholar who gave us a tour of the artifacts and helped in understanding the deeper significance in them.
Day 6: A tiring walk and a thrilling ride

I got up quickly to visit the meditation caves overlooking Tabo village. It is a short 20 minute walk from the village and you can see the entire village from the top there. I entered the caves and felt a little strange in there, maybe cause i went there alone or maybe for some other reason ;)
Our next stop was the Dhankar village. Getting there is tricky, you may take a bus(towards Kaza) to Schilling or Dhankar gate. Dhankar village is 9 kilometres from the gate. There are no buses to the village.
We hitched a ride till Schiling and then decided to start walking towards Dhankar while keeping our eyes and ears open for any vehicles going to Dhankar.
After walking for 3 kilometers and having asked countless cars(all of whom refused to give us a lift), we heard the sweet sound of a roaring tractor coming up. We requested the driver for a lift and he agreed. This was the ride of our lifetimes as we sat and enjoyed the amazing views while steadily going up towards Dhankar in the tractor.
Dhankar village has a unique architecture and almost all the houses are identical. From a distance they look like food boxes arranged on shelves in the kitchen. The walk had tired us down and we decided to call off for the day.
Day 7: A taste of high altitude and greenery
We visited Dhankar Monastery which is designed like a fort to overlook the vast valley. The grand confluence of Pin river and Spiti river is visible from the monastery. This confluence appears like a giant two headed snake waiting to rise up it's fangs to the fort. This monastery is again beautiful and smells of the glory of yesteryears. Few monks actually live there now as they have shifted base to the new monastery which is on the diagonally opposite end of the village from here.
Close to the Monastery is the fort , which is even higher. This was the seat of the erstwhile rulers of Spiti, before the capital was shifted to Kaza. There are plenty of rooms and ladders and the whole of Dhankar and the roads coming in and out of the village are visible from here.
One of us decided to visit Dhankar Lake, which is 4150 meters above sea level and an hour's hike from the village. This resembles an oasis in the desert and is a chief source of water for the village.
The thing about spiti valley is that it is a huge area of barren mountains but you will always find greenery around all the human settlements. and that sight of lush greenery amidst the yellow and brown of spiti is a sight to behold.
Our next destination was the famous Mudh village(pronounced moo-dh ) in Pin valley. This can be reached using the bus which leaves Kaza at 4 pm. You have to reach a place called Uttarku from Dhankar before 4:30 to take that bus. We hired a car to spend more time at Mudh.
On the way to Mudh, we saw snowy peaks, desolate roads and traffic and a lot of organic traffic :

After reaching Mudh , we saw ice beds over river streams, crossed river streams and hiked up to the meadows from where the the treks for Bhaba pass and Pin-Parvati pass treks start.This place is serene and after two days of desert , all this green was a pleasant sight for sore eyes.
Day 8 : A small day
The sunrise at Mudh is beautiful, it seemed like a riot of colors with the red of dawn combining with the green, yellow and indigo of flowers. We took the 6 am bus which leaves for Kaza from Mudh.
We reached Kaza at a time when vehicles from Manali where not able to cross Rohtang pass to reach spiti for the last 2-3 days because of heavy streams and potholes. Because of fuel shortage we could not get a ride that day and had no choice but to laze around.
Day 9 : 5 Villages, one after the another
Key, Kibber, Hikkim, Langza and Komik are five villages that we intended to visit from Kaza. For convenience's sake we booked a cab to cover these. We also got in touch with Shashank, a fellow traveler and shared the cab costs with him.
Key - The magnificent Key Monastery , whose iconic pictures are the brand image of Spiti valley. Snow covered Ki, dry Ki, any ki is so majestic that it is a must visit place. The monastery is huge and they also have rooms where you can stay. The vast plains of Spiti river visible from here tells you about the magnitude and scale of god's creation.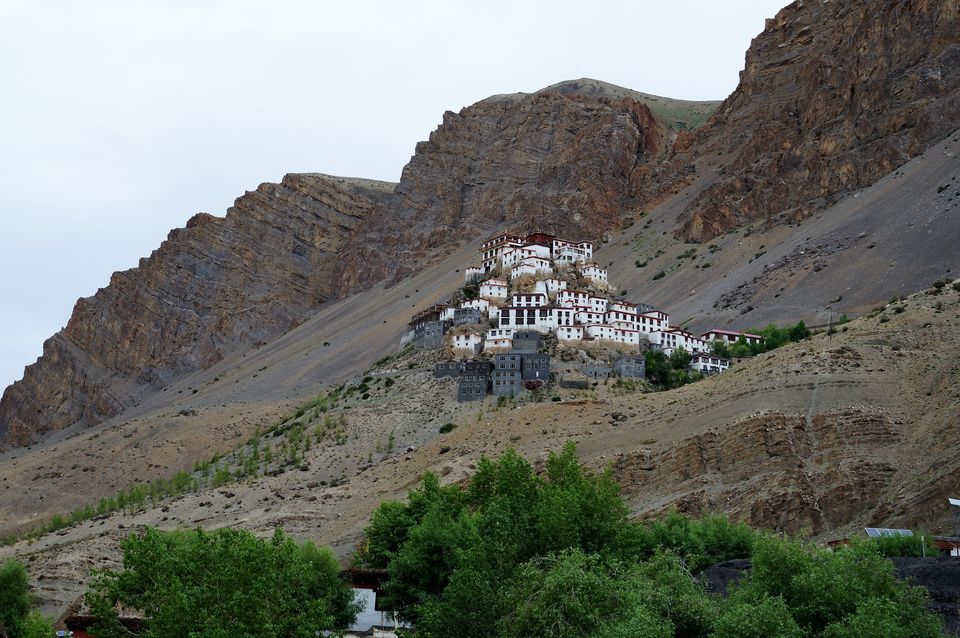 Kibber - A unique village where the old houses are made of stone and not of cement or the other usual stuff.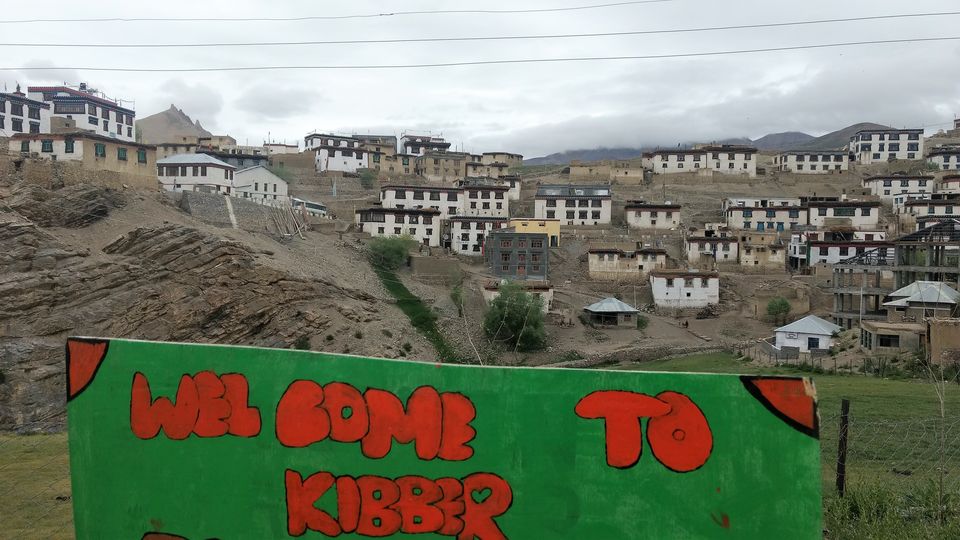 Langza - This place is high and this place is beautifully spiritual. There is a huge statue of Gautam Buddha here perched right in the middle of the village. The statues always overlook from a hill, seeing, observing and protecting everything down there.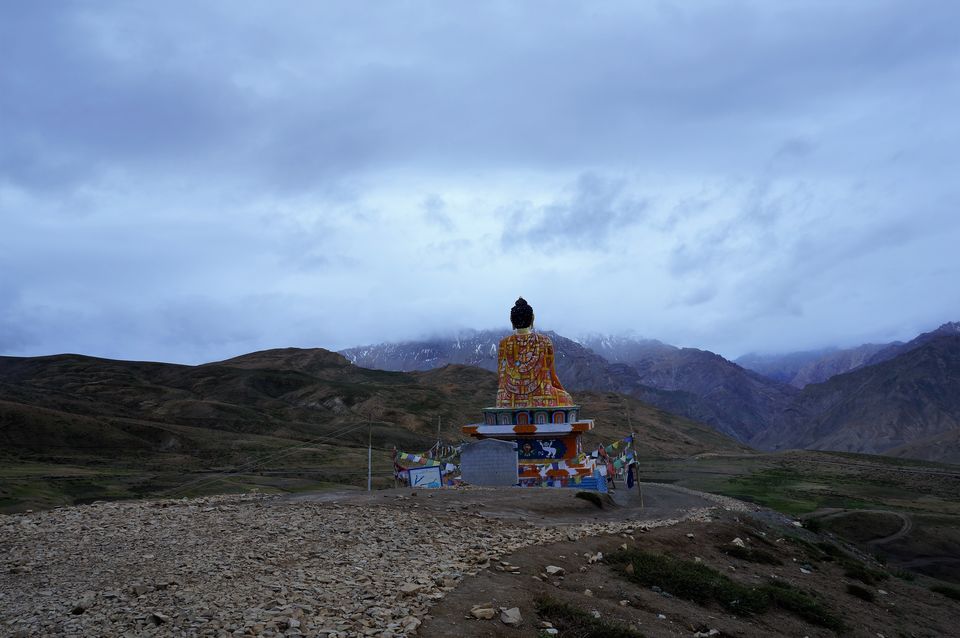 Hikkim - They boast of having the world's highest regular Post-Office and forests full of pre-historic fossils. The children there go down to the forests and collect fossils - to play with and to sell to travelers like myself. I bought one from a little girl which looks like from a shell-based animal. We also sent postcards from here to our homes, let us see when they arrive.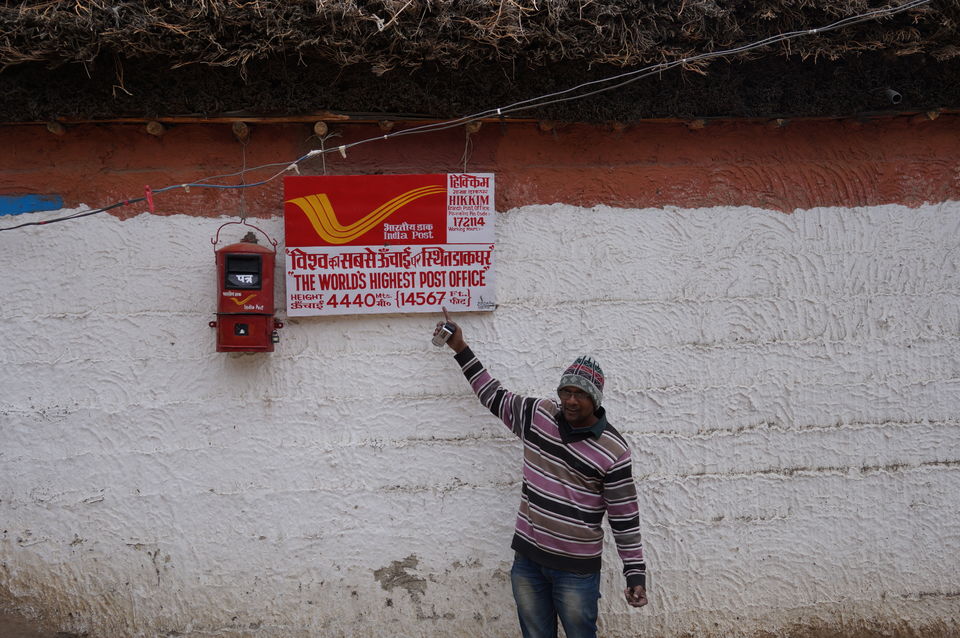 Komik - The highest village connected with a motorable road, has a snow leopard hanging on the door of the monastery. This is height of our trip, literally. We chatted with a very friendly monk there who has been there for years now.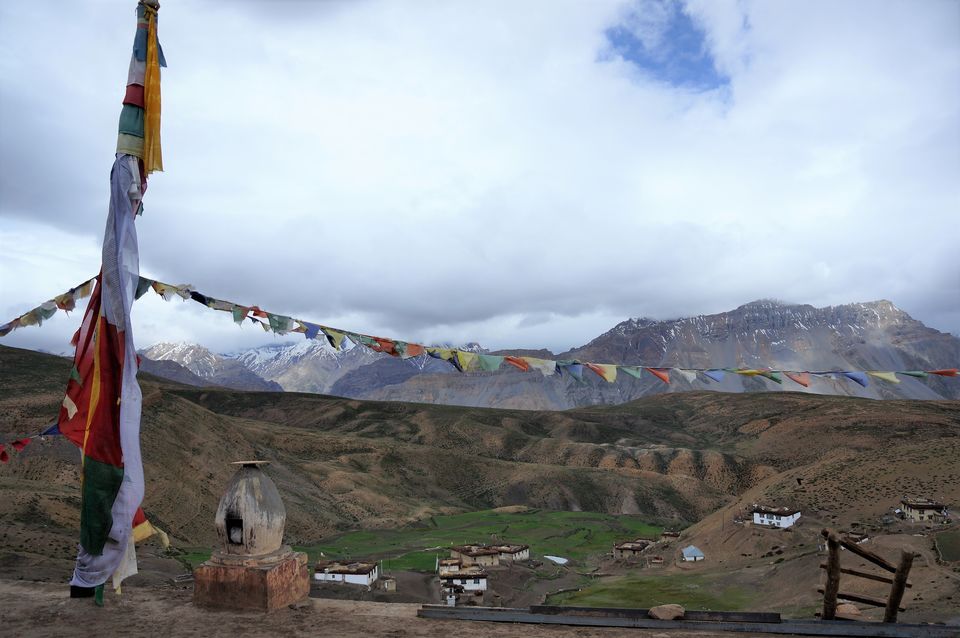 We sadly missed Gue village , which has the mummy of a Buddhist monk. Do not miss this, when you are there.
Day 10 : A dangerous road; A pristine Lake
Last night after coming back from the villages we were in a fix. To stay at Chandrataal or not. It was cloudy , the cost of staying was high as we were on a budget. Here is the rundown:
Option 1 : Take the morning 4 am bus to Manali. Get down at Kunzum pass and walk down for an hour from there to Chandrataal. Night stay there. Next morning somehow reach Battal (14 kms) before 10 am from Chandrataal to take the 4 am bus.
Option 2 : Hire a taxi which will drop you at Kunzum pass and walk down to Chandrataal. Next morning somehow reach Battal (14 kms) before 10 am to take a car waiting for you there. Unlike the first option, you will not have to carry the full luggage as the taxi union will take care of that and will escort your luggage.
Option 3 : Hire a taxi to accompany you to Chandrataal. The taxi will stay overnight. Next morning take the taxi to Manali.
Option 4: Hire a taxi which will take you to Chandrataal, stay there for an hour and then leave for Manali.
We went for Option 4 and booked Mr. Prem ji's tempo traveller alongwith 8 other travellers (from Israel, USA and Chennai).
The road from kaza to the lake is bumpy, potholed and deserted. You will witness barren, unforgiving, rough terrain with no one around, just the occasional passing of a vehicle or two. These are the kinds of roads that seem daunting and it seemed like it was challenging the drivers to take them on.
We started at 5:30 am to reach Kunzum pass top at 11 am while taking a break at Losar(last village in Spiti and before the border). After praying at Kunzum mata temple for a safe journey ahead we went towards Chandrataal(Moon lake). The roads didn't become any better however the anticipation of Chandrataal was enough to ignore the bumps on the journey.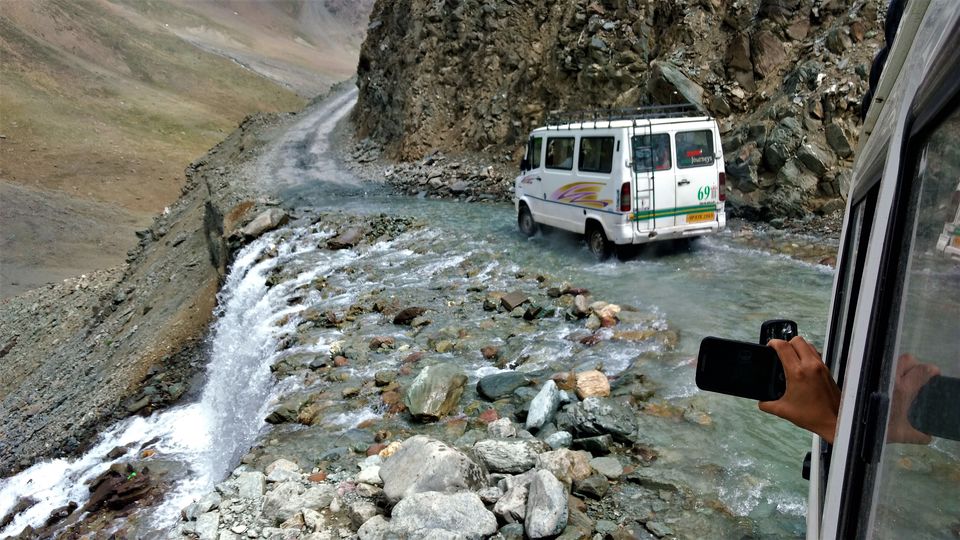 An hour or so later we reached the lake and it was pristine, winds were blowing across, the sky cloudy and the waters a deep hue of blue. One should always walk around the lake as long one can, to see it's crescent shape. This was an amazingly beautiful experience for us.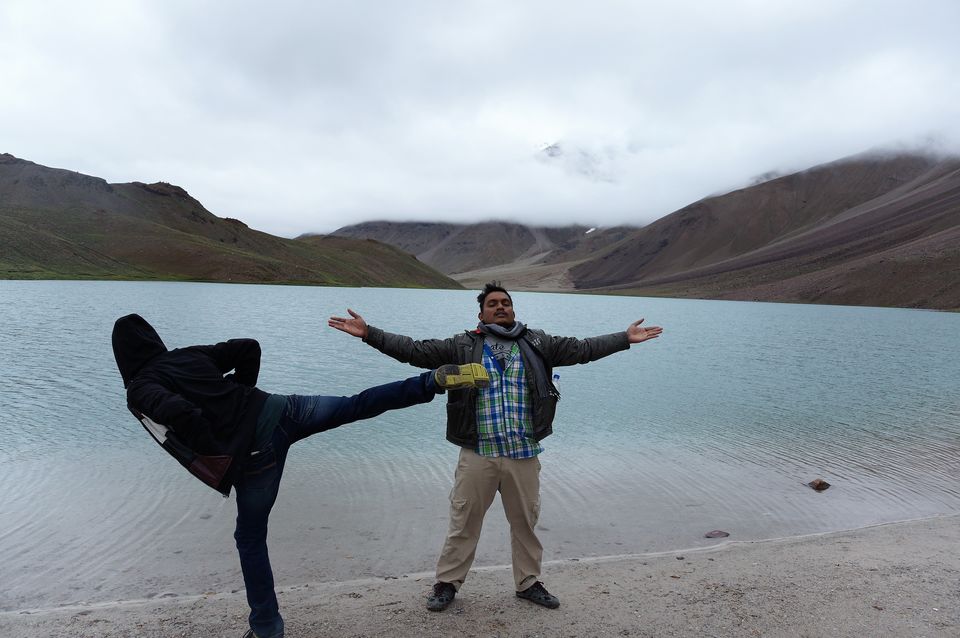 With the sights of Chandrataal forever etched in our memories, we left for Manali. I'll surely do an overnight stay at the lake next time. There were many streams or "nallahs" on the road to Rohtang pass and the ride got scary a few times. The streams conspired with the potholes to slow us down. It was a long long journey with the passengers constantly bumping into each other. We had to stop at a few places because of jams and managed to reach Manali by 7 pm.
Day 11 : Manali , the old love
We have been to Manali last year around the same time so decided to laze around before boarding the 8 pm bus to Delhi. We ate at a bengali restaurant, gorged on fruit barfi and even watched a movie there at Picadilly movie hall.
And so we completed the trip and my bucket list got updated :)
All questions are welcome here :)