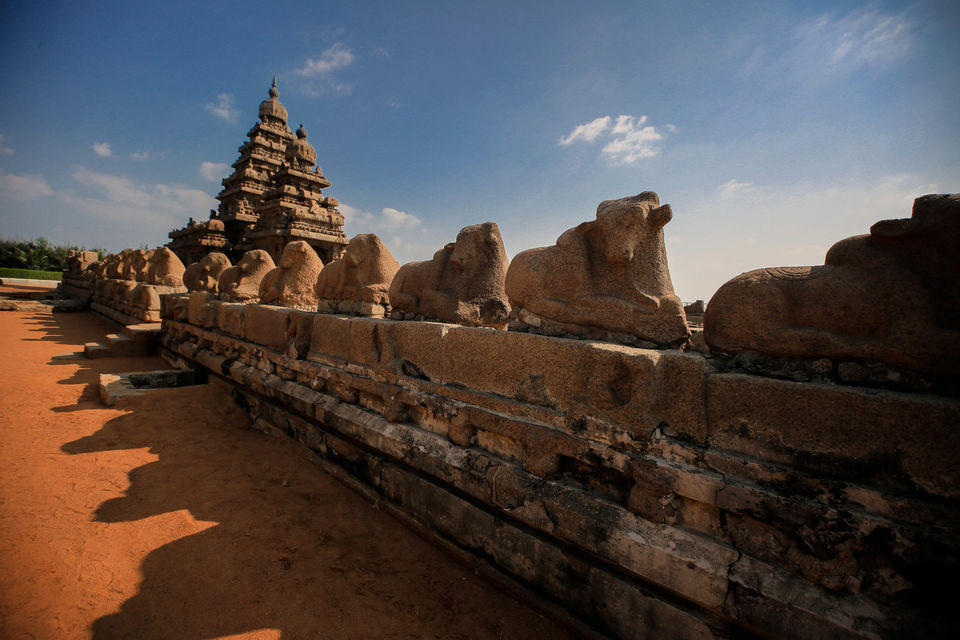 This post was originally posted on my travel blog Commoner's Causeway. Visit the blog for more travel stories, guides, and tips.
South India is filled – and I mean in an overstuffed-taco kinda way – with erstwhile royal and temple towns (boy, do I love over-stuffed tacos). Really, every two towns or cities apart, you'll find a hamlet or a village that has a deep-rooted history, its main attraction being a phenomenal temple complex or a palace, or both. No surprises there, since India was quite a wealthy and prosperous country in the days of old.
That brings me to a small sea-facing town in Tamil Nadu, which is around 50 kilometres/31 miles, or a two-hour bus journey from Chennai. This town, Mahabalipuram, has a fascinating history, and alluring architecture to back up said history.
There are two legends about how the town got its name. Numero uno – the town and its surrounding areas were ruled by King Mahabali, after who the town was named. The second one tells us that the Pallava king Narasimhavarman I was known for his battle prowess, and was bestowed the name Mammala, meaning great wrestler. This little port-town is therefore also referred to as Mamallapuram. Today, it is home to some of the most awe-inspiring UNESCO World Heritage sites.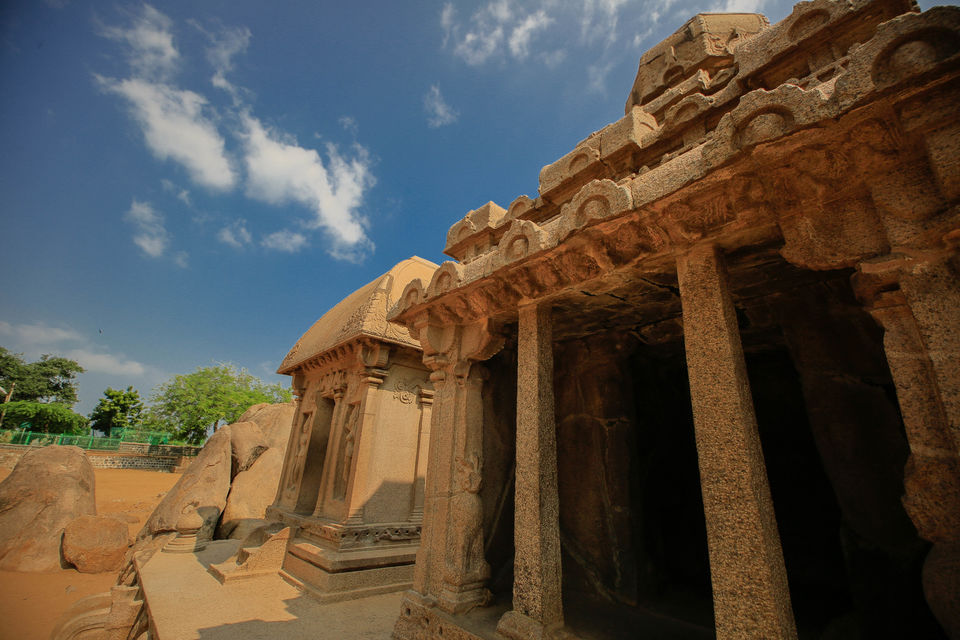 Getting to Mahabalipuram
It's quite easy to get to Mahabalipuram via road. There are regular buses that ply from-and-to Chennai. You can also drive to this beach-town; it makes for a scenic journey, with the ocean on one side.
If you're travelling to or from Pondicherry, Mahabalipuram makes for a great stop-over.
Climate, and best times to visit
Mahabalipuram is a beach town, so expect salty air, humidity, and sweltering summery-heat in the winter months even. I visited this lovely coastal town in December, and boy was I on the verge of melting!
The ideal time to visit is between the relatively cooler months of October to February. Do not expect to get a breather from the harsh sun and humidity even then, unless you venture out early in the day, or at dusk and after.
I've got a few hours in Mahabalipuram. What can I do?
It is so easy to lose track of time in Mahabalipuram, mostly because this town has some forty-odd structures and temples you can visit! Nevertheless, here are some things you can do when you're on a time crunch.
Visit the Pancha Rathas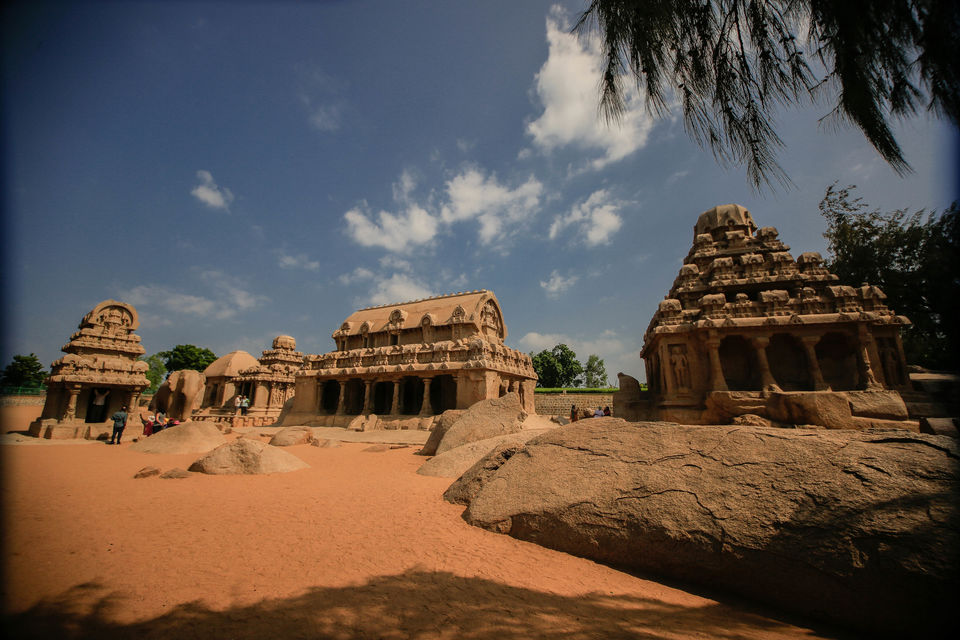 The Pancha Rathas (Sanskrit for Five Chariots) are 7th-century temples, located at the southern end of Mahabalipuram, and were buried in sand until they were excavated by the British some two-hundred years ago. Carved from monoliths, each structure is dedicated to a Hindu god, and is named after the Pandavas and their wife, Draupadi. A UNESCO World Heritage Site, y'all!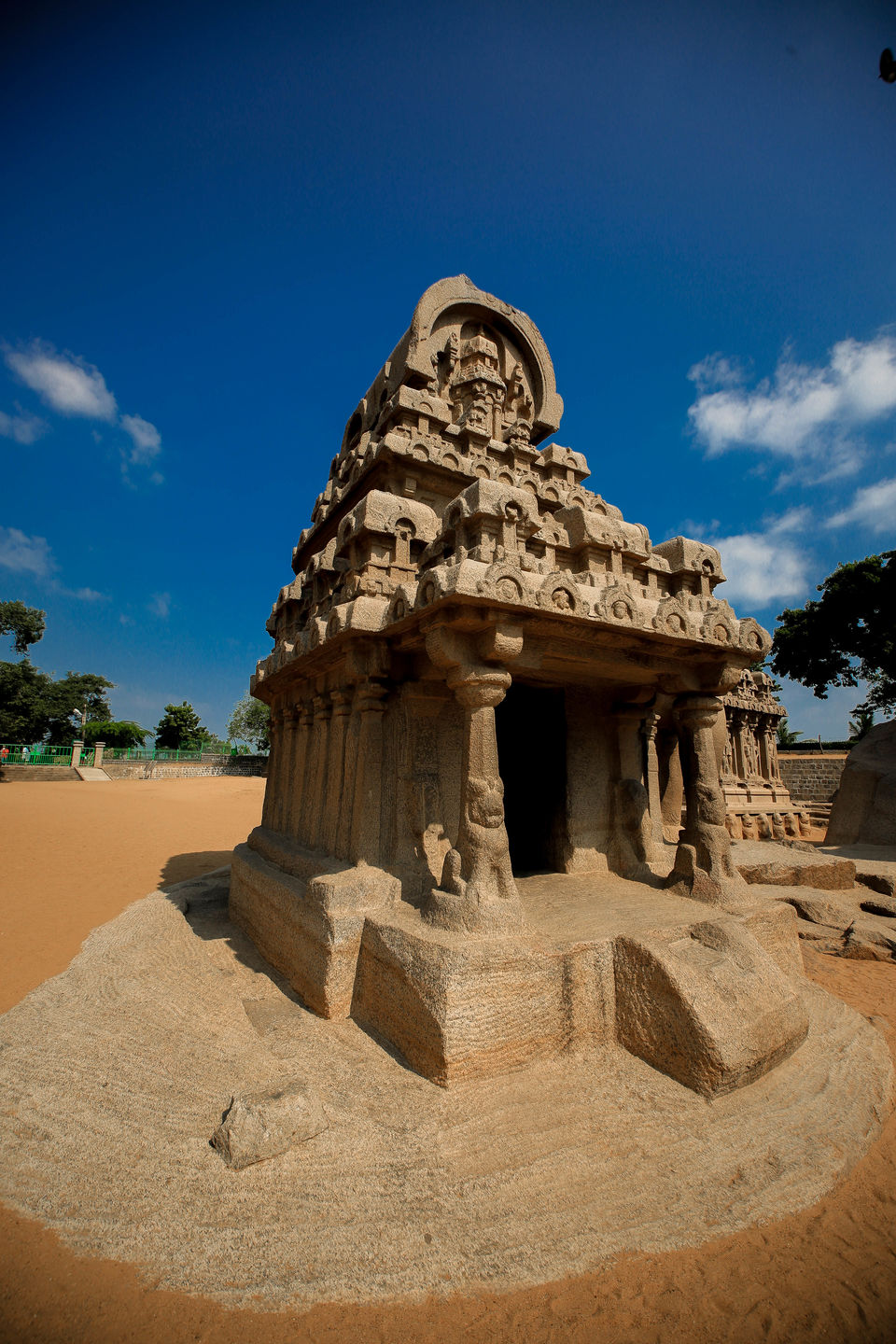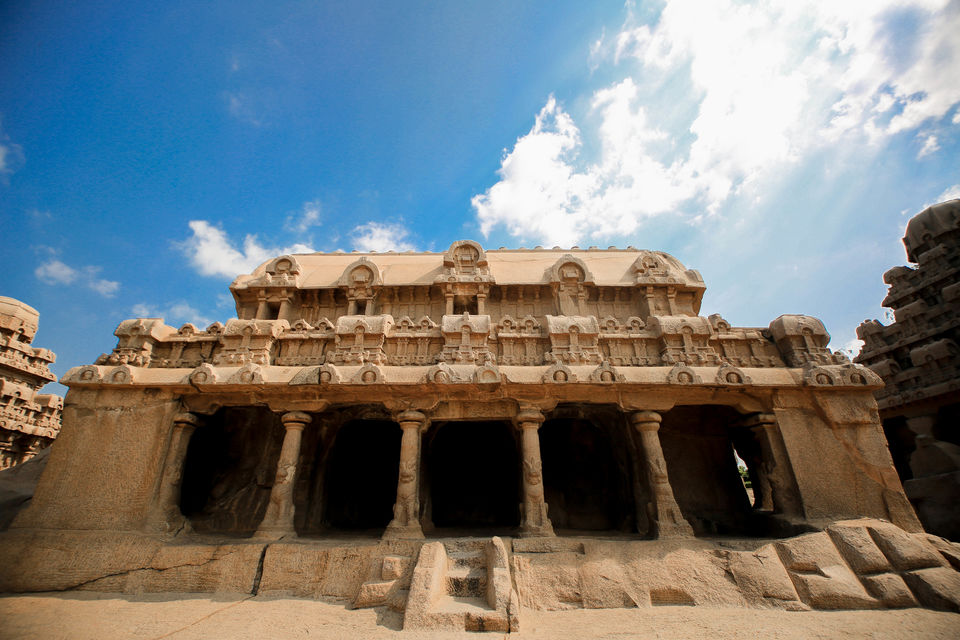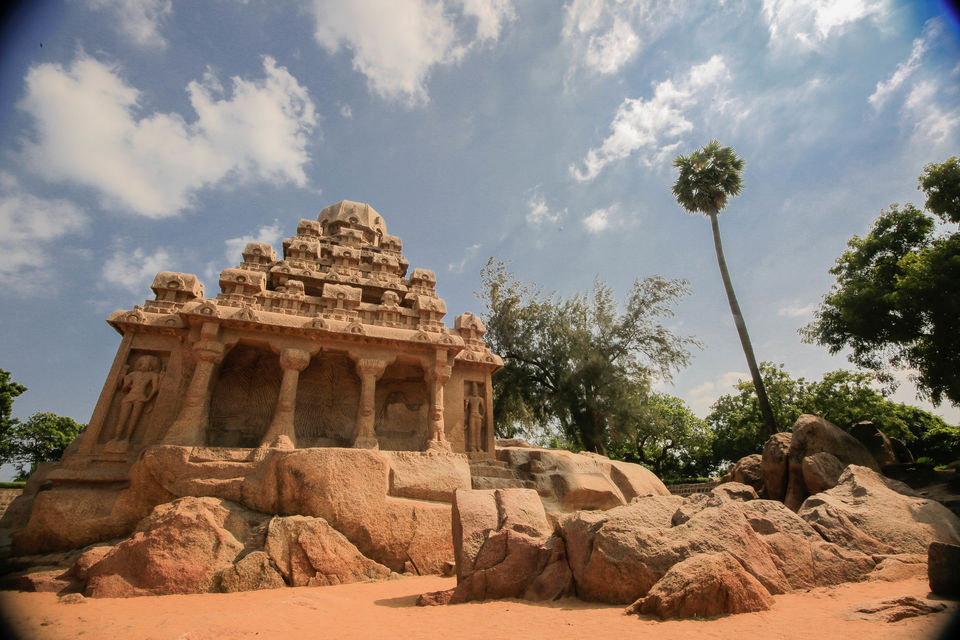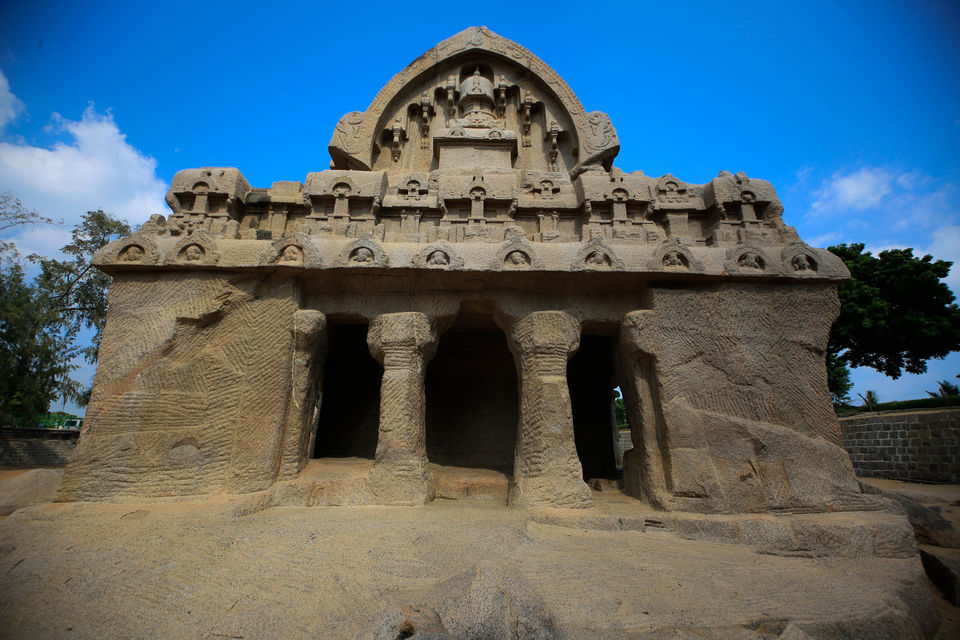 Named hence as it overlooks the shore of the Bay of Bengal, the Shore Temple rises powerfully upwards and outwards in full Pallava glory, with elegant Dravidian-style carvings and sculptures featured across the temple structure.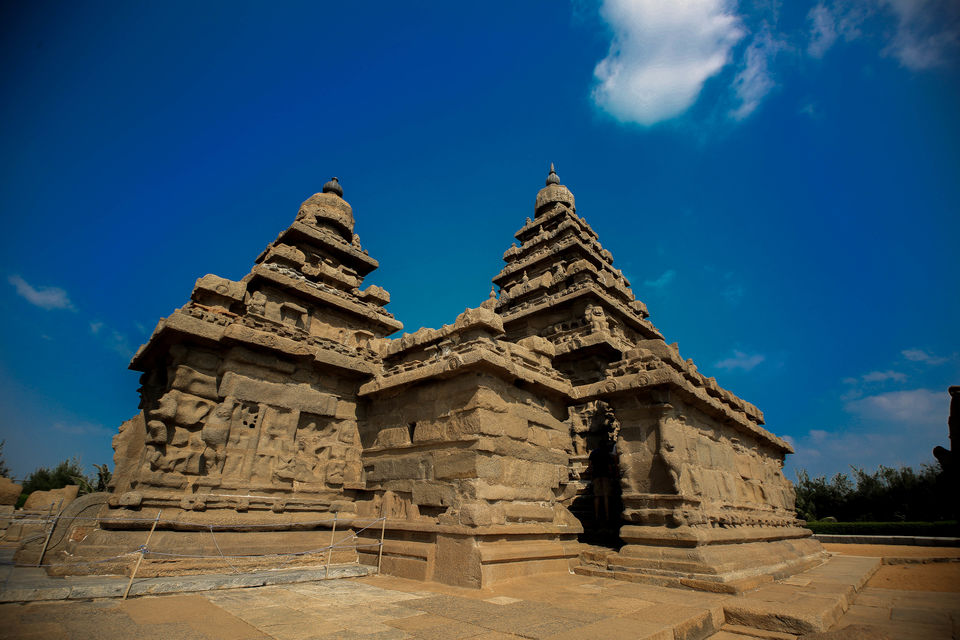 Contrary to popular belief, the Shore Temple is not a single structure, but a group of three temples built on a single platform. Of these, two are shrines to Shiva, the third is a shrine to Vishnu. Make sure to check out the casuarina trees planted along the temple's sides by the Archaeological Survey of India to protect the temple from the rough sea.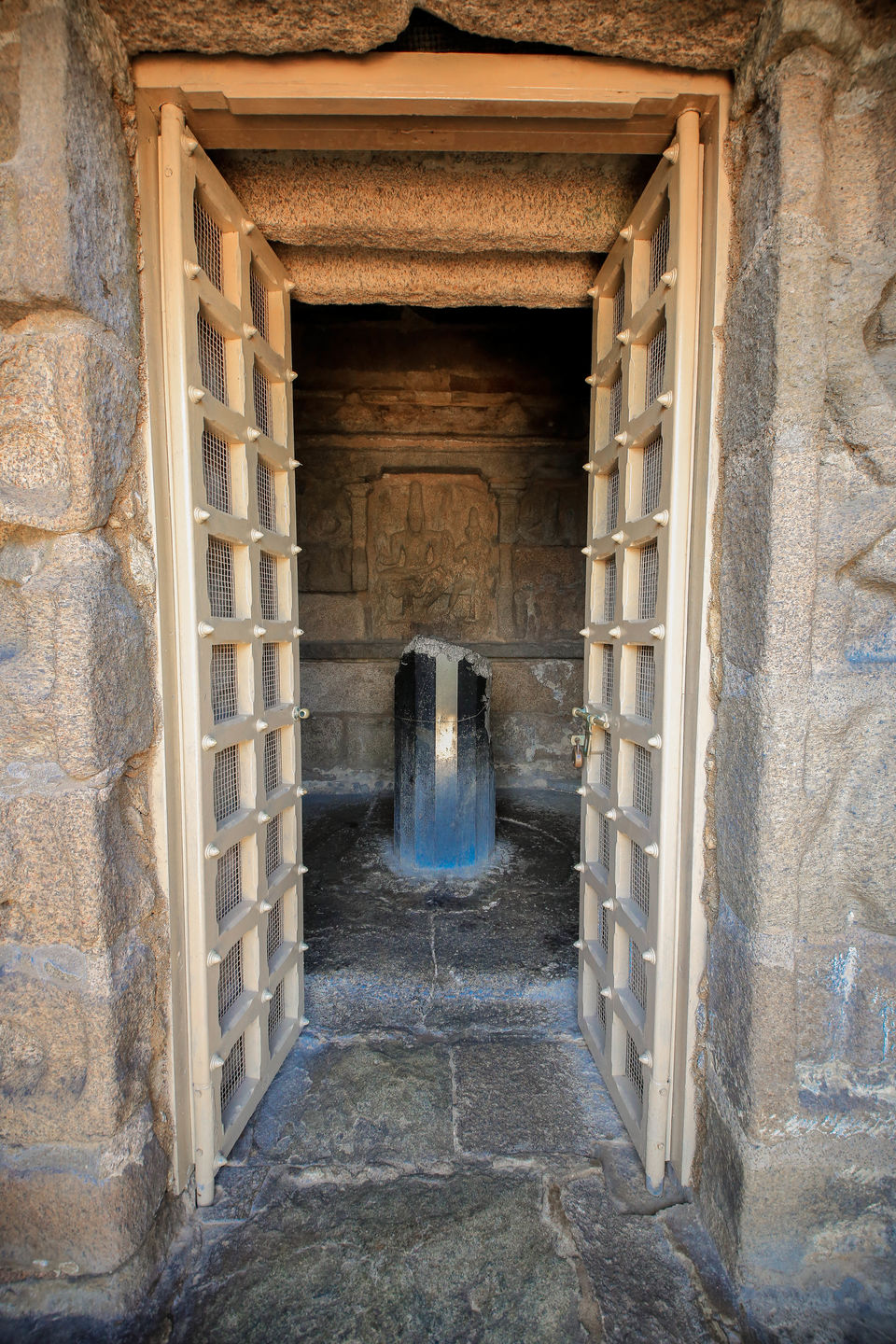 Fun fact – European travelers to India mention that the Shore Temple was a part of the Seven Pagodas, meaning seven such temples were in existence, and six are now submerged in the sea. So that's two mini-Atlantis in South India alone!
Another fun fact – since Mahabalipuram functioned as a port for the Pallava kingdom, the Shore Temple possibly acted as a landmark for the navigation of ships.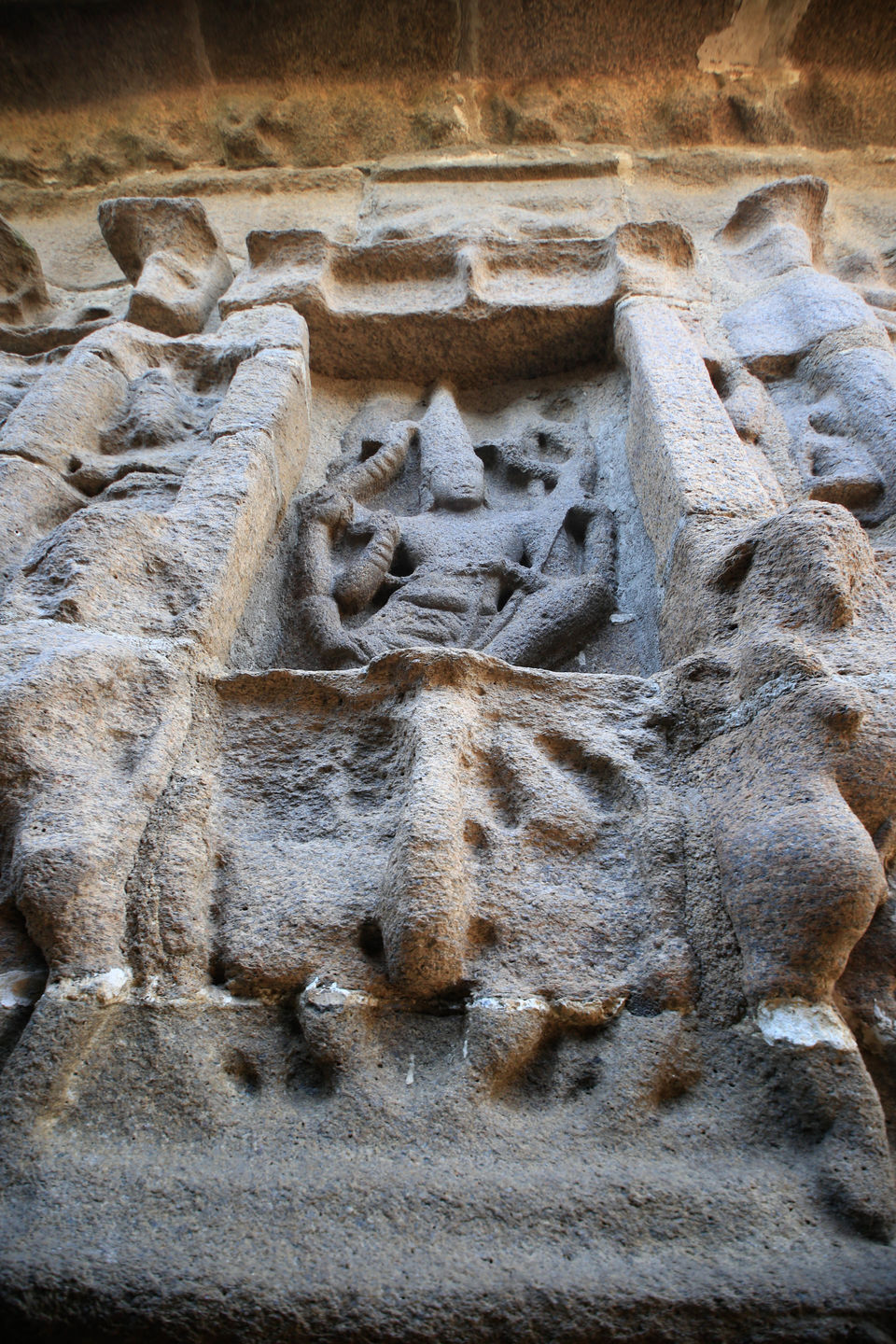 Shop local souvenirs
En-route the UNESCO World Heritage sites are streets lined with little shops and ateliers, where the locals make and sell souvenirs of shell, beads, wood and other indigenous material. They make for memorable keepsakes, and buying from locals supports their economy which is still recovering from the 2004 tsunami.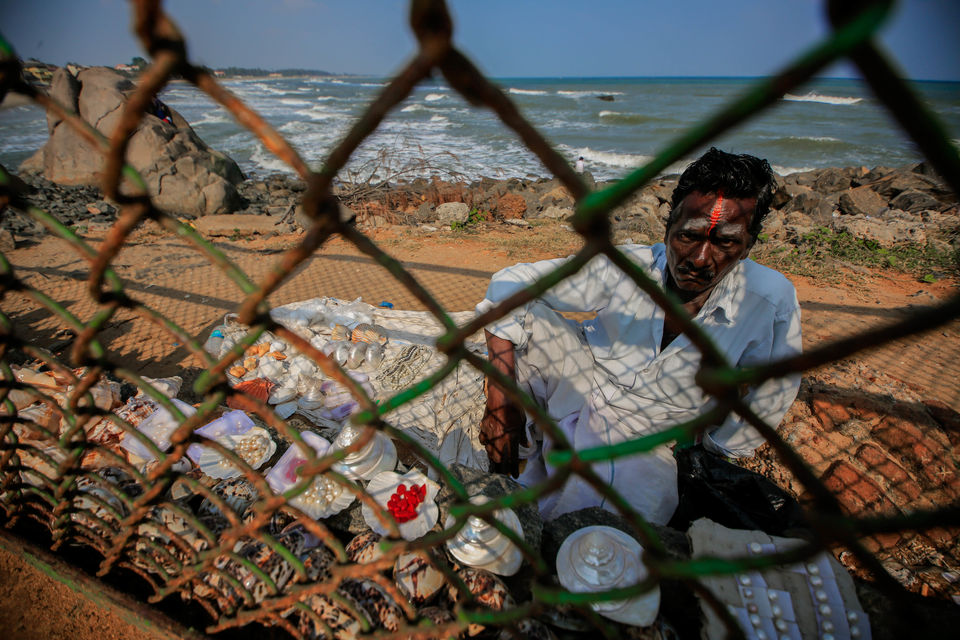 Unleash your inner Indiana Jones, look for the submerged temples
Those six shore temples that are supposedly under the sea? You can take a catamaran ride to look for them!
Moments before the 2004 tsunami struck the Indian Ocean, the water receded Mahabalipuram's coast by nearly half a kilometer. Those who saw this from the beach recall seeing a long, straight row of large rocks emerge from the water. When the tsunami was over, several artifacts revealed themselves on the shores. So, who is to say that you won't stumble upon something ancient and prized?
How about some good ol' surfing?
Let's be honest, nothing beats surfing when you're at the beach. Check out surf schools on the main beach, and ride with the waves for a bit, eh?
More time on your hands?
So many places to be, so many things to do!
How about a bicycle tour of the UNESCO World Heritage sites, if walking tours aren't up your alley? Or maybe just relax by the beach and watch the sun set, or check out the lighthouse to catch a bird's-eye view of the whole town? Better yet, why not check out Krishna's Butterball, a huge monolithic rock that has somehow managed to stay balanced on a slope and hasn't moved in over a thousand years? If you ask me, my favorite thing to do is to find a restaurant, ask for the local beer that's only sold in Mahabalipuram, and sip my time away. 🙂
Just some things to keep in mind
These handy tips are, well, handy!
- Entry fee to the Pancha Rathas and Shore Temple is INR 10 for Indians, and US$ 5 for foreign nationals. Children under the age of fifteen get in for free, possibly for historic karma-points. Admission to the surrounding monuments is free. Sale of entry tickets closes at 5:30 pm IST.
- Still photography is allowed at no extra charge, INR 25 is charged for videos.
- The sites are open seven days a week, and timings for all sites are 6 a.m. to 6 p.m.
- Avoid the sites between 1 PM and 4 PM IST; the sun is at its highest and harshest then. Since sunrise and sunset add exponentially to the beauty of the sites, try visiting at dawn or dusk for best views.
- Do not forget to carry a good sunblock with UVA and UVB protection. You can also pop a container of aloe gel in your bag, for some post-sun TLC.
- Carry an umbrella, or a wide-brimmed hat, and sunglasses. Remember that in beach towns, the sun isn't always a friend, even in winter.
- Wear light-colored and loose clothes. To avoid a tan and sunburns, wear clothes that cover – it's tempting to wear shorts and sleeveless shirts, but think of your skin! I wore a cotton tank top and layered it with a light scarf, and a pair of cotton harem pants.
- While Mahabalipuram locals get tourists in a melange of outfits by the truckload, it's best to wear clothes that do not shock them too much. Be a Roman while in Rome.
- Wear comfortable sandals/flip-flops if you intend to walk around, as many sites are located in sandy areas. These should work even if you take a bicycle to cover the area.
- Carry a few bottles of water; bring out your reusable bottles and fill them up at your hotel, you eco-conscious hero, you!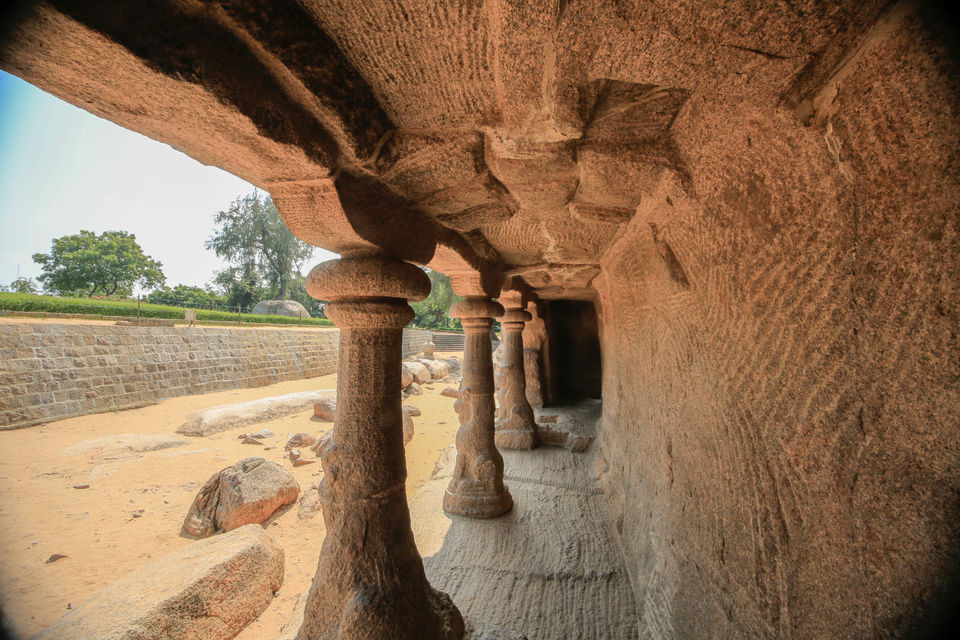 Whether you're in Mahabalipuram for a few hours, or a few days, a little planning goes a long way. If you're in South India, or are just stopping by, Mahabalipuram will make a wonderful addition to your itinerary, especially if you crave that rush that history and legends bring.