Recently I had the opportunity to visit one of the foremost destinations on the list of undiscovered and breathtaking waterfalls in the Western Ghats. The Devkund Falls is a place that keeps the monsoon walking on air.
It was a casual evening and I was scrolling through my Facebook timeline when I stumbled upon a post of a lovely waterfall. On clicking the link I found out that this waterfall has been recently discovered by some trekkers who were en route to explore this patch of breathtaking wilderness. The sudden plan that followed led me to an unforgettable experience in the middle of this wilderness.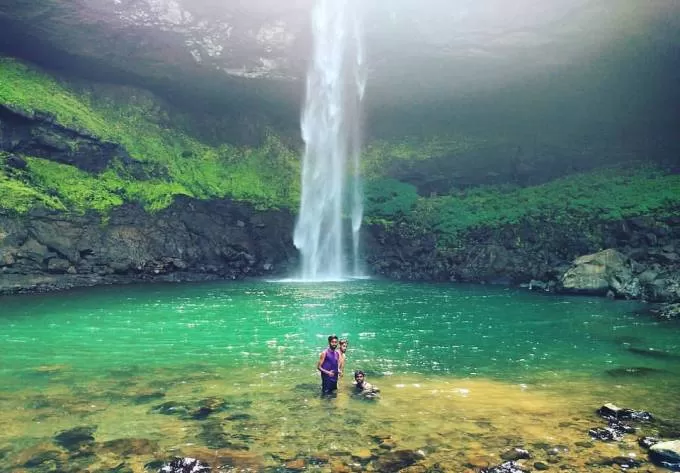 Pic credit - Akshay Parakkal.
So I began my research. I looked up the Devkund Falls on the Google map and started planning out my route to reach this paradise. It was unbelievable. I began my journey to Pune with a lot of expectations lingering at the back of my mind. It was about a 100 km drive from Pune city. What I wasn't aware of was the fact that it takes about two hours of trekking to reach the waterfall. It is a remote place near a village known as Bhira. There are quite a few local guides available who charge about 300INR to help you find your way as you trek this untrailed path.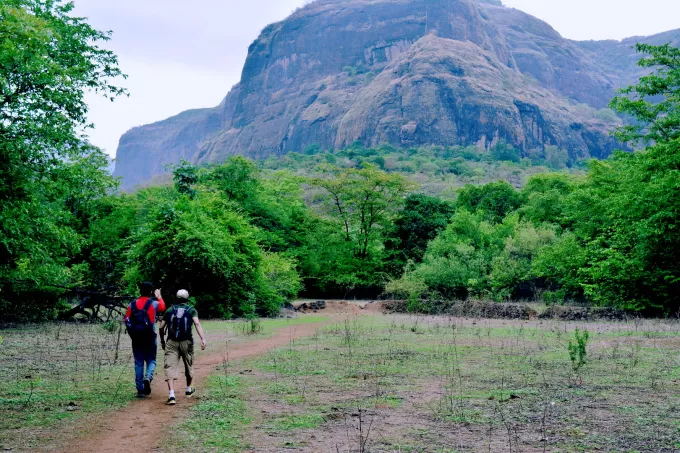 However, we were fortunate enough to find a group of trekkers who were pretty confident about finding the waterfall themselves. We finished the trek in 75 minutes although it requires almost 2 hours if you make stops along the way. As the way is through a dense jungle, it is wise to take a local guide to avoid getting lost in the jungle and to avoid wasting time trying to find your way back.
Your search for a secluded and serene ambiance ends at the charming Devkund Falls Trek. The trek is accompanied by an inevitable adrenaline rush of exploring the uncharted trails and challenging all the hurdles that lie on the way.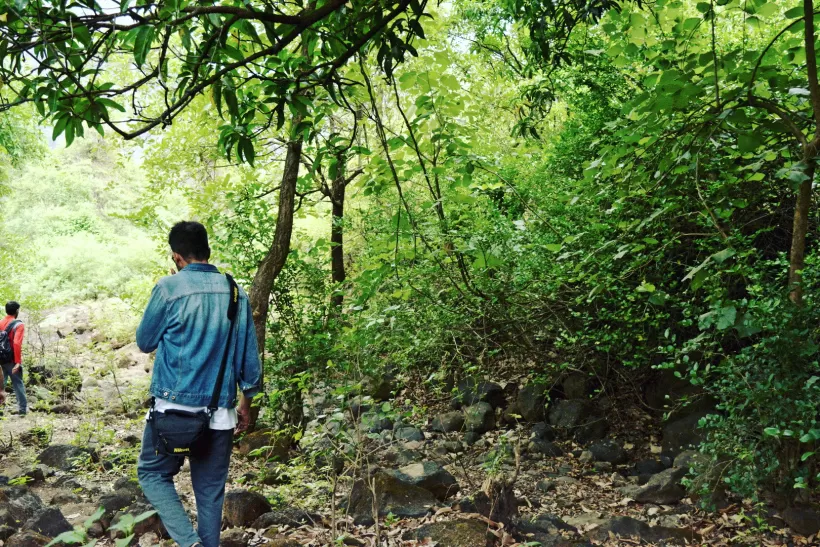 Here's a tiny confession: it was my first trekking session after my school days and so the first mistake I made was to wear my all-time favorite converse shoes which were not in the least an ideal pair for this purpose. Here are a few tit-bits that I learned along the way and which are sure to help you if you too are a first-time trekker:
Wear comfortable hiking shoes.
Carry enough water bottles so that you don't dehydrate yourself along the way.
Carry enough chocolate bars.
Carry a piece of chalk/Crayon to leave signs on the rocks on your way up.
Carry a Swiss knife; can come handy.
Carry a waterproof backpack; rain cannot be predicted.
An extra pair of clothes.
Wear socks or just wrap up a plastic around your feet due to possibilities of leeches sticking to your skin during the monsoon.
Carry a First Aid Kit.
By the time we reached the waterfall, we were drenched in sweat and out of breath. As you would expect, it did not take us a second thought before we were splashing in the water. I was bewitched by the waterfall.
The trekkers that we had accompanied brought food which they offered to share with us. This was enough to rejuvenate us and pump our spirits up to trek our way back with the same enthusiasm.
The return trek followed a different route. Almost halfway through the trek, we saw a Leviathan and pristine lake and it did not even take me a moment before I decided to take my chances and cross the lake. The fortunate thing was that monsoon had only started and the water was just waist-deep. Once I started waking, I felt my feet sink into the mud at places. So to be careful I placed my feet wherever I found a patch of grass. The nearer I was getting to the other side of the lake, the easier it was getting to muster the courage for making it across the lake without any mishaps. The best thing is that I did get some pretty splendid shots with my DSLR.
This stretch of land was surreal and spellbinding. It was in no way less than the Amazon Valley or any of the beautiful islands of Bali. Right there I decided to write a blog about it as the title already began taking form in my mind. I cannot agree more when I say that this was the best road trip of the year so far. My first trekking experience has led me to believe that I am ready to go for my next trekking adventure to Coorg (Kodagu). Needless to say, I am hopping with excitement.
PS- Please avoid going in the monsoon season because this terrain is prone to flash flood topography and government has also banned for a couple of months.
Safety comes first, Adventures can always wait!
Follow my travel related stories on Instagram SamTravelogue