Can you imagine a starry night with million stars over your head and chilly wind flowing all around... I know its all picturesque imagination is only can be seen in some movie or on some discovery / Natgeo channel. Sorry to say but you're either dumb or boring person if you don't have any idea about milkyway.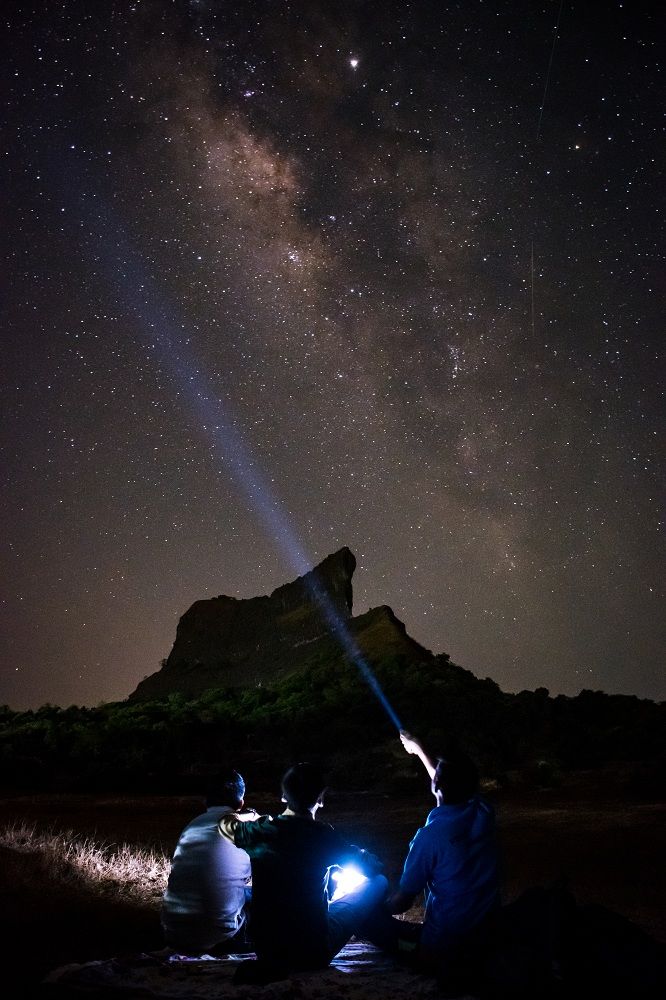 After a year long wait of desire to capture the amazing milkyway galaxy and star trail. A lot of brain storming and discussion we decided to go to one remote village named Tail Baila, which is just 40 km from lonavala and 98 km from pune. The milkyway can be seen in india in the month of march mid to September. But due to monsoon june to september is not a good time to see milkyway except himalaya. Finally we choose date 4th of may, it was new moon day so we can able to see more stars than usual. We reached our destination Tail baila around 8.30pm and did dinner in low light at home stay available in village. Then we walked towards big plateau near by village. The big natural wall of hill fort was next to us as amazing background. Usually milkyway can be best seen after 12 or 1 at night. We were been busy in clicking pictures from 11 at night. Each photograph was looking like whole universe is came to say Hi to us. It was perfect night to do astro photography. After some time we noticed the milkyway is rising in east south direction and that big walls of fort made our frame so lit.
The view of milkyway we seen through naked eyes. We were stunned by the views of galaxy and millions of glittering stars over our head. Our minds wander through the cloud of light that makes up the Milky Way and its long, luminous trail. As the minutes pass, our eyes distinguish a growing number of stars and galaxies, when they're not distracted by the flash of a shooting star. It is a really unforgettable experience that I got in my life.
How to track milkyway :-
Use SKYVIEW app on mobile phone. Search "milkyway" on search bar in app. It will direct you to the exact direction and position of milkyway.
How to click milkyway :-
After tracking milkyway all you need is to set your tripod in correct position of milkyway and turn on the DSLR. First thing to do one DSLR is to set the focus. To capture sharp images of stars and milkyway, you must focus them correctly then only results will be worth. So first do focus on any brightest star or moon or any light at long distance. While focusing on star or any light do not change the focal length of lens. After that star setting manual settings required, ISO 1600 to 3200 max, Shutter speed 20-25 sec otherwise trails of stars will be observed in frame, F or Aperture should as low as possible to get maximum light inside the lens.