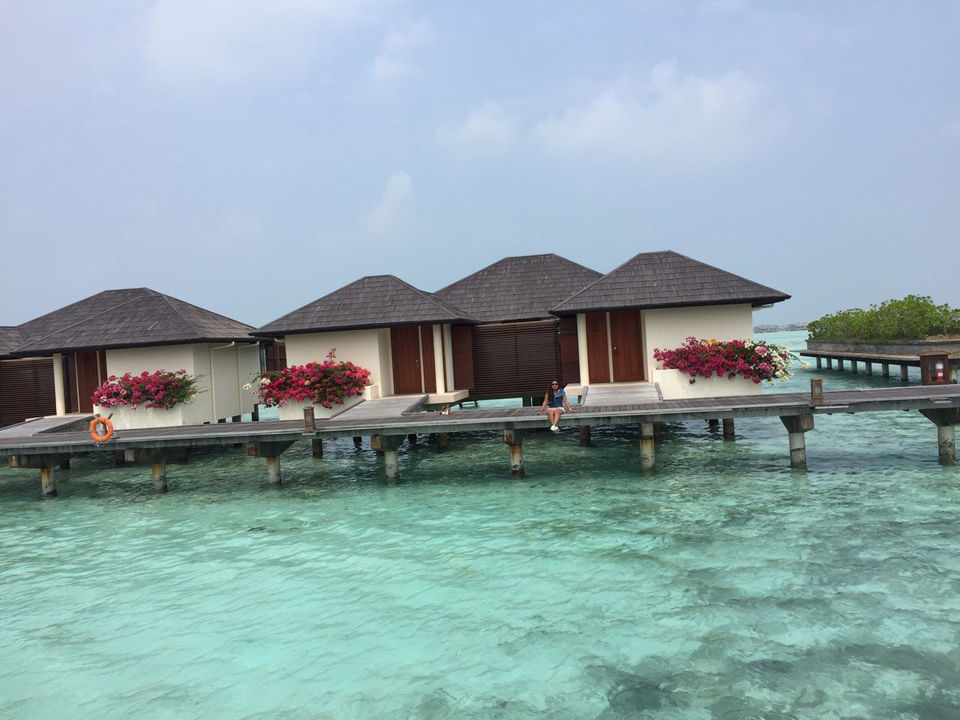 We explored many destinations on our honeymoon, that included Greece, Europe, Bali etc.
Post going through few articles and pictures on Maldives, we finalized "Maldives", not just for our love for beaches but also the mind-blowing experience of staying in a water villa. Staying in a Water villa was on my bucket list. So that's what we decided we would do.
After our travel to Maldives, I have been getting many questions and travel planning queries about Maldives. So here is the detailed guide for all those couples who enjoy luxury travels and wish to explore Maldives on a budget.
Most of us believe that travelling to and in Maldives is an exorbitant affair, surely staying in a water villa will cost a bomb; to add to that are the transfers and not to forget the water activities.
To emulate how we enjoyed our stay without busting our bank accounts here is the guide to travel on budget to Maldives.
The Maldives is an archipelago of 1,192 coral islands grouped into 26 coral atolls. The islands have pristine white beaches and swaying palm trees surrounded by crystalline lagoons of varying shades of blue. The shallow lagoons of the Maldives known globally are perfect for snorkeling. Marine life such as turtles, manta rays and other sea creatures are also known to be spotted at special corners of the sea in the Maldives. Maldives is a Muslim Country and hence liquor is prohibited. However, it is available at the private resorts.
We were in Maldives for 4 nights 5 days booking a tour to Maldives is simple - Freeze your dates, book your flights and stay and your done. You don't need a travel agent/guide to book your Maldives Trip, do it yourself and you will save on unnecessary overheads.. here's how we did it!!
Travel from Mumbai to Maldives :
• Booked Srilankan Airlines ; Mumbai to Male (1 stop flight at Colombo) through skyscanner.com - we took a early morning flight @ 03.10 from Mumbai Airport and landed at Male at 08.15 it's a 5h 35 mins flight. Tickets were around Rs.25,000/- (point to note is our travel was in Jan 2018.) Return Journey: Male to Mumbai (stop at Colombo), we took evening Flight @ 20.45 and reached Mumbai @ 02.10.
• Indian Nationals visiting Maldives as a tourist do not require any pre-arrival visa. The Maldives government issues a visa on arrival to nationals of all countries which is a valid for a period of 30 days. So that is sorted for you.
Keep these documents ready:
1. Passport should not expire for at least 6 months from the date of the travel.
2. Visitor should have an air ticket to fly out of Maldives.
3. Visitor should have enough money for the duration of his or her stay in the country.
4. Visitor should have proof of his or her stay in the country.
• After completing the Immigration and Visa Formalities; walk towards your hotel counter; All the resorts in Maldives have their counters on the airport to help the passengers in transfer from Airport to the island.
P.s; Only way to travel to your island is through sea plane and ferry/speedboat, the onward journey is booked by the resort and price of same are included in your booking fare (ensure you have this fact checked while booking.) The cost would be approximately 10-12k per couple onwards and back. Once you locate your resort counter, the staff will help you transfer from airport to the resort.
Our speedboat journey was extra ordinary, we started taking photographs of the amazing shades of blue the sky and the water offered our poor deprived city eyes. And of course the bumpy ride made for some amazing videos too. The 30-minute ride was preamble to what was awaiting us on the island.
Stay at Maldives:
Our stay was booked at "Paradise Island Resort & Spa" ; Initially we had thought on booking the entire stay in the water villa, however as I said it costs a bomb so we booked 3 nights in "Superior Beach Villa" and 1 Night in "Ocean Water Villa with Jacuzzi" ; Trust me you will not regret the split in stay.
Staying in both the villas will offer you different experiences. We had great view from our Beach Villa; After we settled in, only thought in our mind was to relax for next 4 days, we spent hours looking at the water and watching sunset over drinks. The place is magical, it will make you fall more in love.
We had included Half Board (includes breakfast and dinner) Meal plan in our booking; there are options on booking full board meal plan, however we decided to go for half board and explore other restaurants in the resort for Lunch. They are very specific when it comes to timings, make sure you're on time for the buffet, it is paradise for non-vegetarians, vegetarians need not worry as the resort has a great section for Indian Veg Food too. The Food is delicious, and they also offer a candlelight dinner experience.
Buffet will be at the main restaurant "Bageecha" during your stay in Beach Villa and "The Lagoon" during the water villa, The Lagoon has a quiet different dinning experience; do not miss the sea food barbeque counter. Other Dining choices include the Italian Ristorante al Tramonto, of local and international fame; Seafood restaurant Farumathi; Athiri Bar. Hulhangu Bar and Dhaavani Coffee Shop offer beverages and food 24-hour.
"Hulhangu bar" was our favorite we spent all our evening at Hulhangu watching the sunset, also you will get an opportunity to feed the stingrays at around 7.00 pm.
The Resort organizes different events and parties in the evening; in case your pocket allows you and if it is of your interest you can explore those options at additional cost.
Stay @ paradise island in "superior beach" for 2 nights with half board will cost around Rs.40-45k for 2 nights and @ "Water villa" will be around Rs.45k-50k per night half meal plan.
Water Activities;
You need not worry about the activities, once you reach your resort list of activities will be handed over to you and you can choose what you would like to experience.
We opted only for "Dolphin Cruise" and "Scuba Diving", do not forget to carry your "Snorkeling Kit"(you can also rent the same at the hotel).The shallow lagoons are perfect for snorkeling
Tips for Scuba Diving :
Try and book Scuba Diving on the same day or very next day of your visit, as you cannot perform the same 24 hours before your flight. We had opted for Scuba with Pictures and video it costed around 12k per person.
The instructor will give you complete information and once they are done with the instructions they can sound intimidating and scare you, worry not, it's all perfectly safe.
We got in our diving gear and into the water, the instructor will teach you 3 basic steps and will give you some time to adjust yourself in the water. While learning those steps and staying for too long to adjust I panicked and did not continue with it and of course the money went down the drain.
Sage advice – Suggest you not panic, stay calm only thing to learn before diving is basic breathing, just relax and you will be able do it, it is a breathtaking experience of your life, the corals are beautiful.
P.S : To overcome my fear of water; I did Scuba diving at "Tarkarli" and only thing I did was staying calm and breathe. I regret is not completing the activity at Maldives.
Currency:
The Maldivian Rufiyaa is the currency of Maldives. Although as a tourist you really do not need to take the local currency. The best currency to take to the Maldives is either the Euro or the Dollar. I would suggest carry limited currency as all the hotels will allow and prefer you to pay by card.
I hope this will this article will be of help to you to plan your trip. "Happy Travelling"
Liked the Article; do not forget to follow on Instagram to know more about my travel journey and travelling tips.
Instagram handle: https://www.instagram.com/yamini_globetrotter/