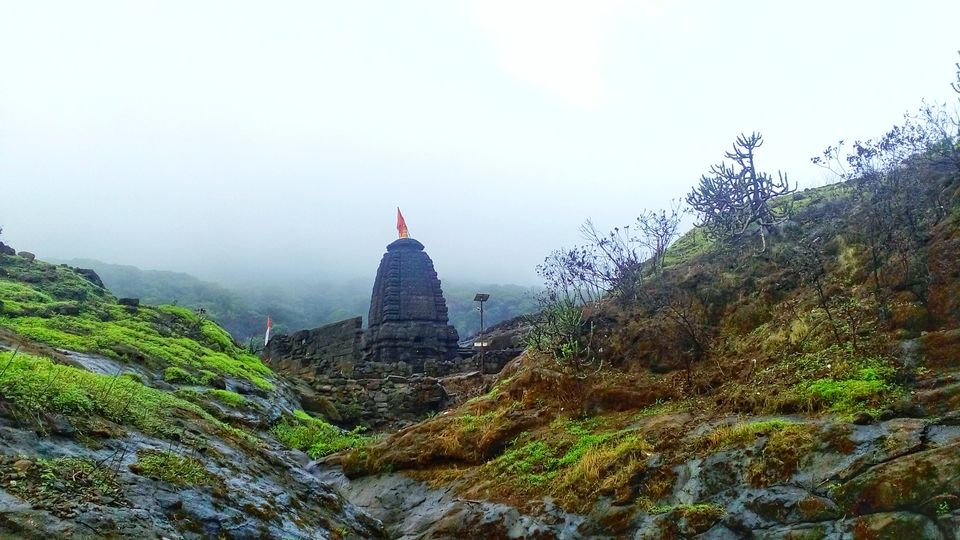 Harishchandragad, a mountain in Sahyadri range of western Ghats hosts many ancient caves and temples along-with remains of a hillfort. Harishchandragad peak is quite popular among trekking enthusiasts to have a spectacular experience of hiking through jaw-dropping landscapes.
How to reach Harishchandragad
Multiple trekking routes can take you to the peak with varying difficulty level. The one I chose was close to Pune and moderately difficult to climb taking nearly 4 hours to hike up. Khireshwar was the base village for this route located close to Malshej Ghats. A drive from Pune to Khireshwar takes almost 4 hours and passes through scenic landscapes and meadows. Details of other routes are provided at end of the article.
Best time for Harishchandragad Trek
Though Monsoon is best time to witness nature at its best in this journey but it makes the trekking even more difficult due to presence of numerous water streams gushing down your pathways. Hence, it's recommended to go on this trail either during beginning of Monsoon or in winters, so as you'll be able to enjoy traversing through fog amid lush green forest without any risks. Summer will be quite hot hiking through withered forest and dry waterfalls.
Where to stay during Harishchandragad Trek
You can choose to stay either at Khireshwar or in the camps and caves at the Harishchandragad top, I chose the latter one. You can carry your own tents and pitch it anywhere on top or can simply lay your beddings in any of the natural caves. Again, I chose the latter one ;) People usually prefer to stay overnight at Harishchandragad hence you'll find many local villagers organizing camps and preparing food.
Let's Begin this Trail
I started around 8'o clock from Pune and was at Khireshwar village at noon. It was a bright sunny day throughout the drive, but at Khireshwar it felt like a different weather altogether. Clouds were sprouting up the mountains surrounding Khireshwar in foothills. You can park your vehicles at the Local's home and buy lunch and snacks as a gratitude. These humble local villagers provide on-demand food and stay option for people coming to Harishchandragad. In the meantime, nearby Nageshwar temple dating back to medieval period can be explored. Here Lord Mahadev is worshipped as prime local deity.
Soon I was ready to embark this journey, which starts from a narrow trail alongside a water stream at the end of Khireshwar. It's recommended to go via this route accompanying someone who knows the path as the trail passes through dense forests with little or no punctuation marks. With unavailability of GPS and Mobile Networks, finding the right path might become tedious task. Especially when it's going to dusk, you might not want to be stuck in middle of forest. After initial hiccups in identifying the right trail, I was able to figure out the way to lead towards Harishchandragad.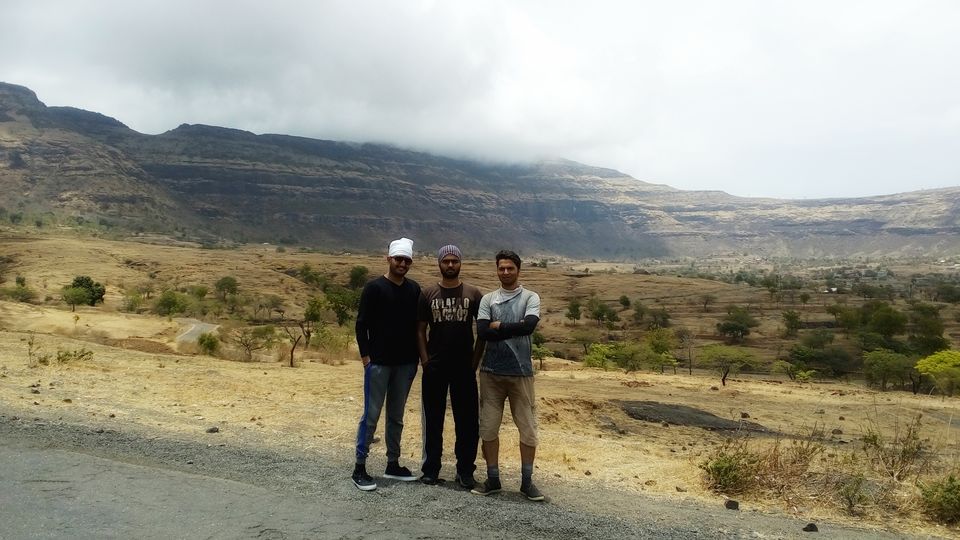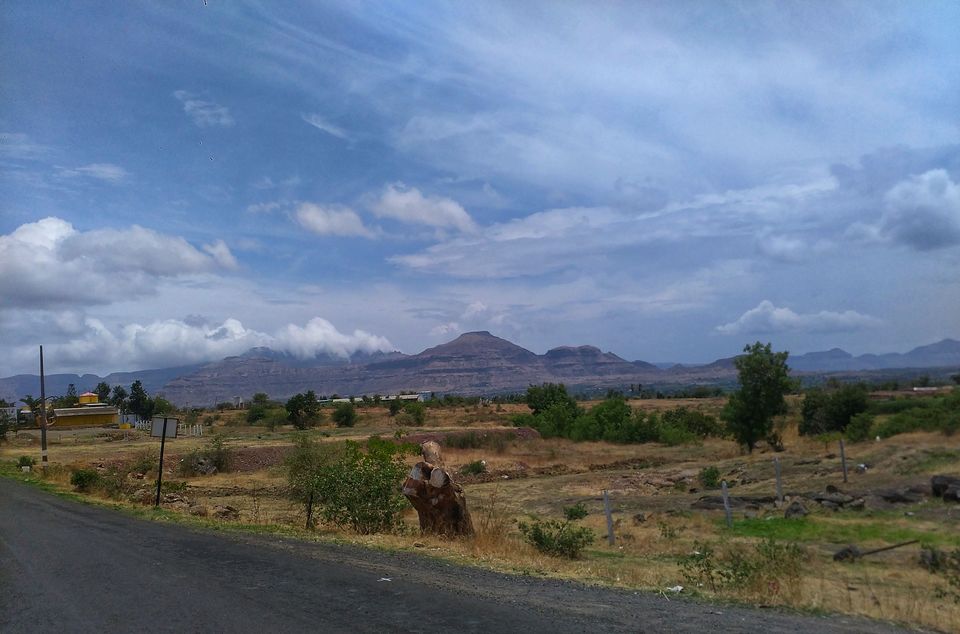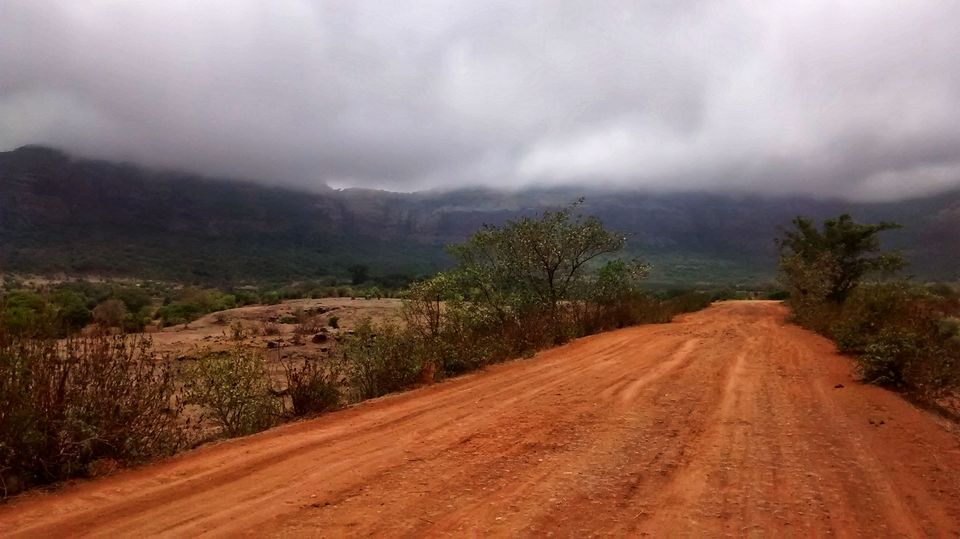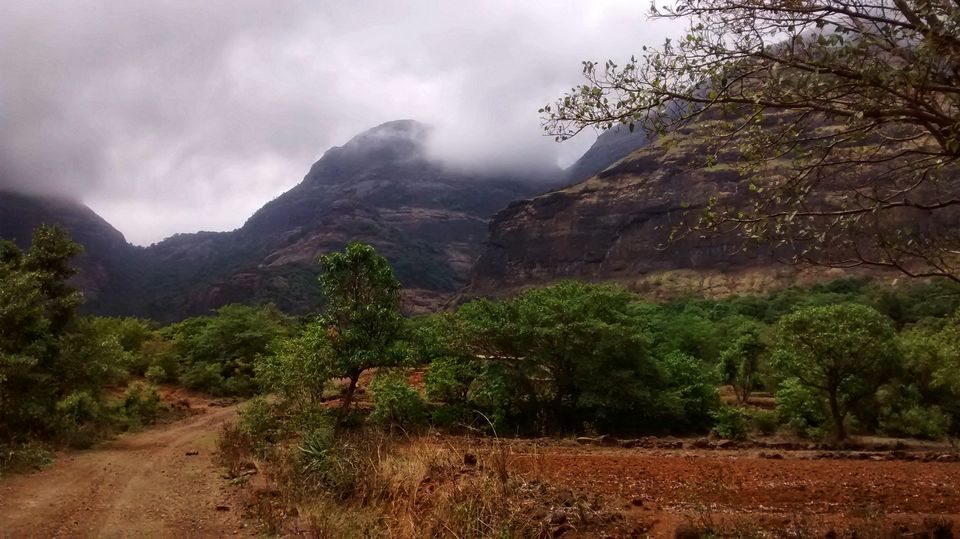 On your way, intermittently you'll encounter some arrow marks painted on stones which roughly points to the direction leading to top. At some places, you may also find people selling refreshment drinks like Lemon water can also help you guide through the way.
After hiking for nearly an hour, you'll get to see the notorious Tolar khind. It's the most challenging part of the trek requiring lot of patience and caution. Iron railings in dilapidated conditions barely provide any support to climb up. Slowly I ascended Tolar Khind only to that realize I was in sea of clouds rolling down the valley. Little did I know it was beginning to cross seven more hills to reach the ultimate destination.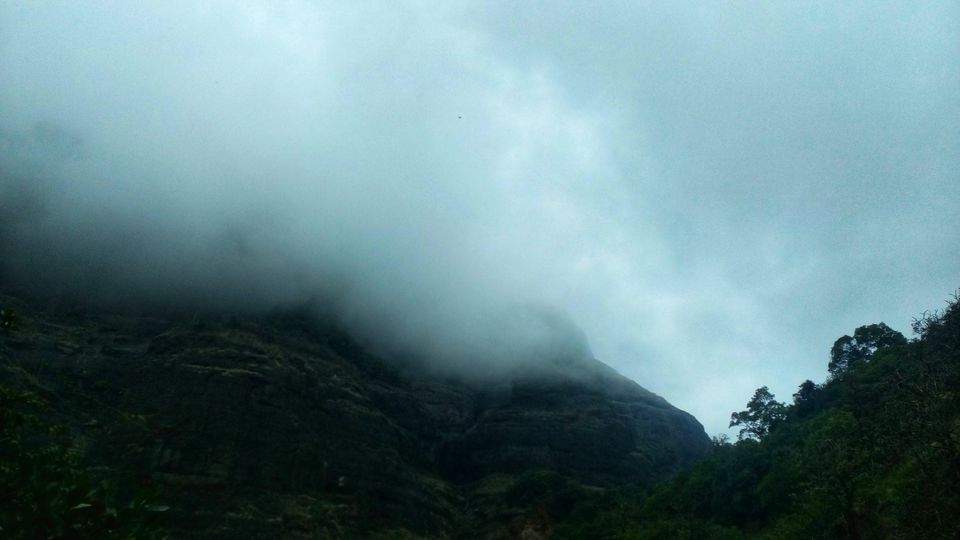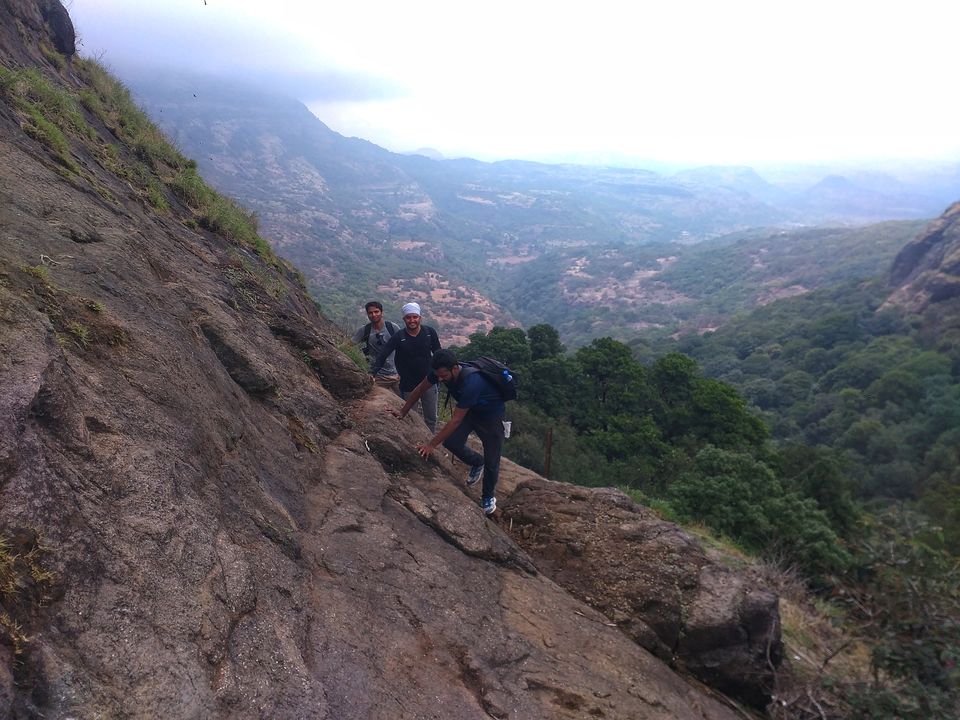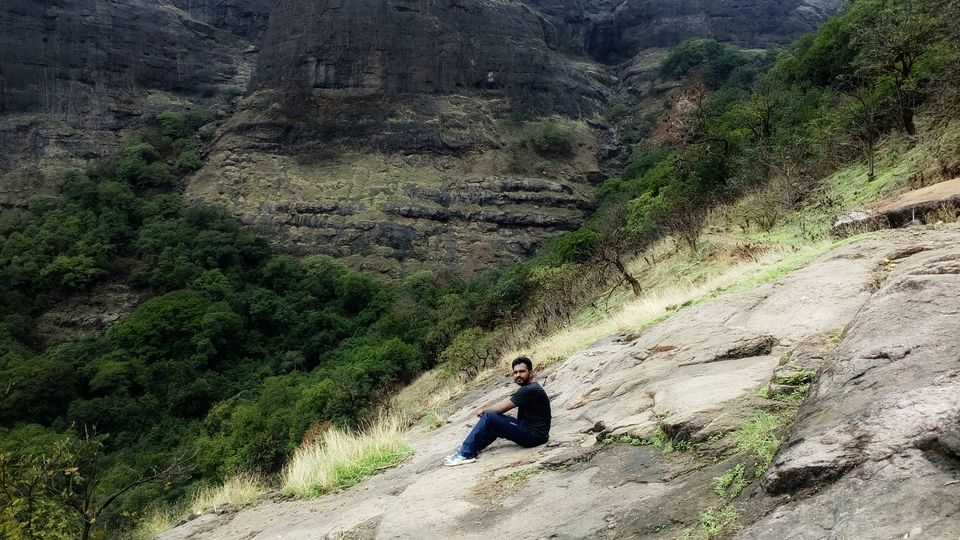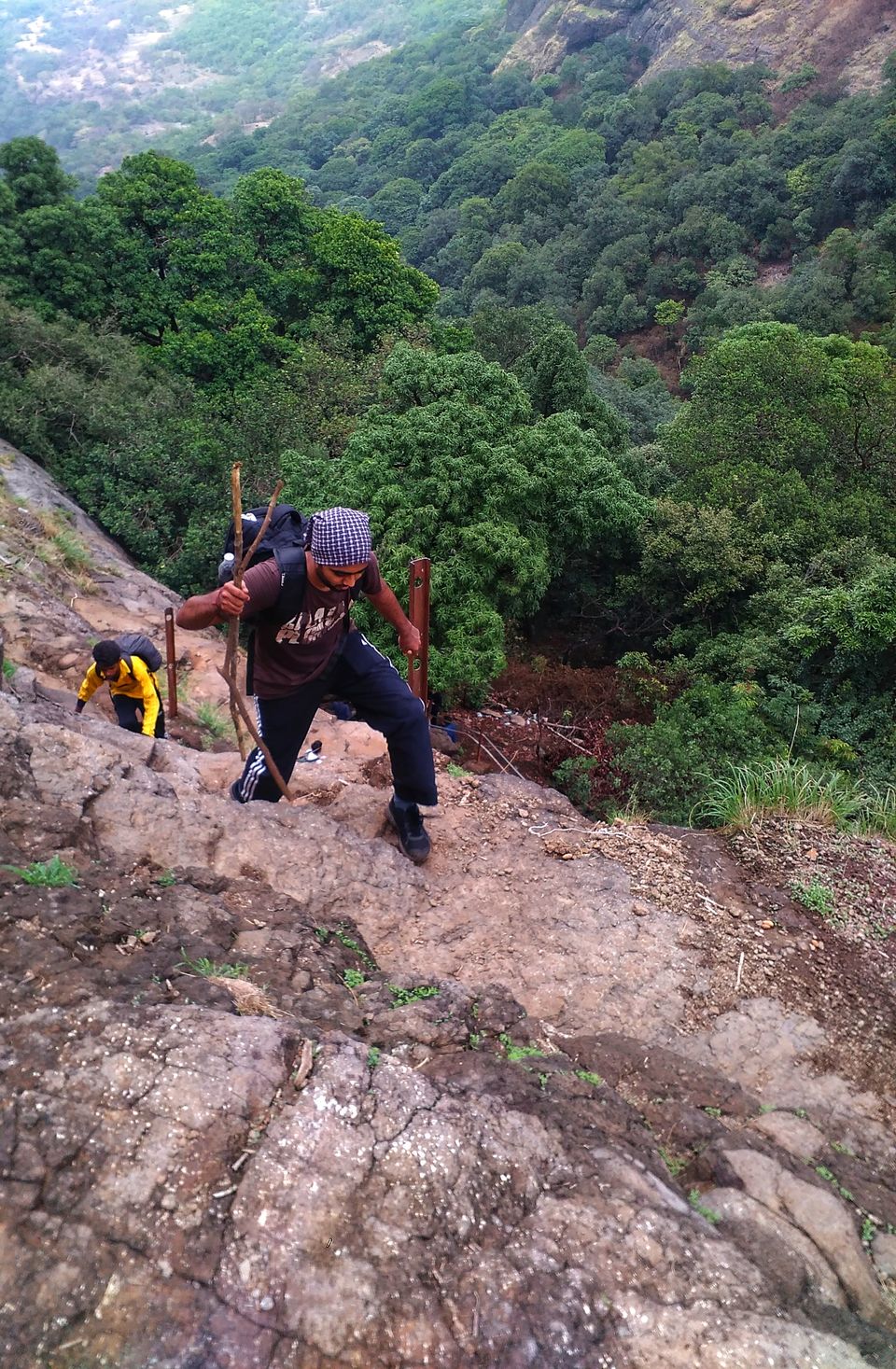 Upon climbing Tolar Khind, you'll find yourself at a plateau offering spectacular views and two different trails to follow. The straight one goes via Balekilla (citadel) through very dense forest reaching directly to seventh hill taking nearly 1-1.5 hrs. While the trail from the right traverses through six hills but less dense woods and taking nearly 2-3 hrs. Considering the weather condition and approaching nightfall, I decided to go with second track.
it was relatively easy hike rewarding with amazing scenery and diverse Flora. It started to drizzle soon making it harder to trudge on. Now rest of the hike was in fog and I felt like the climb went on forever until I was beckoned by a welcoming Local for hot tea and snacks in his shack.
As I stepped out of that little shack, a sudden gust of wind blew the fog, presenting a clear view of the Harishchandragad temple. A little further up the trail was temple of Harishchandreshwar, a manifestation of Lord Shiva.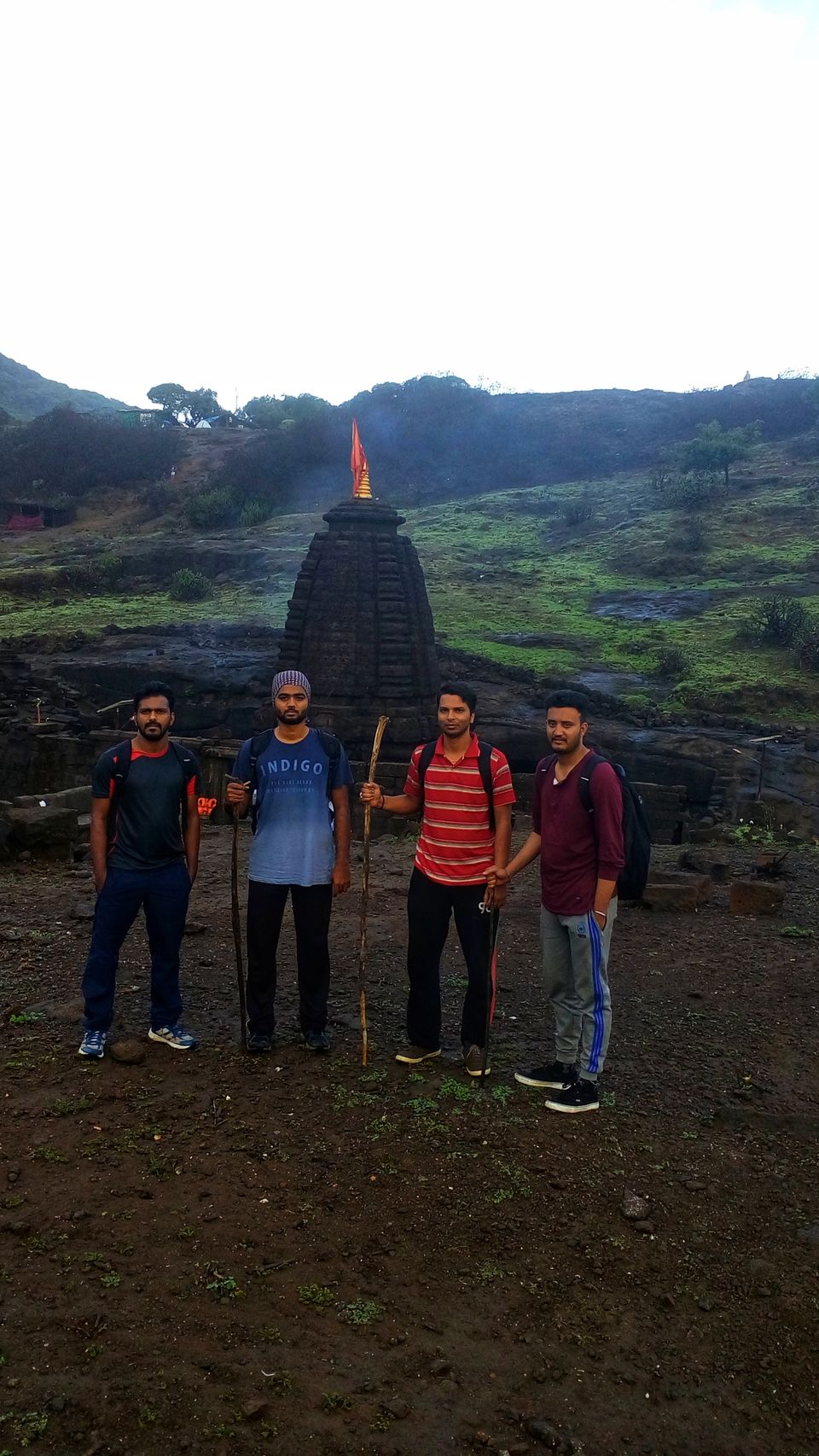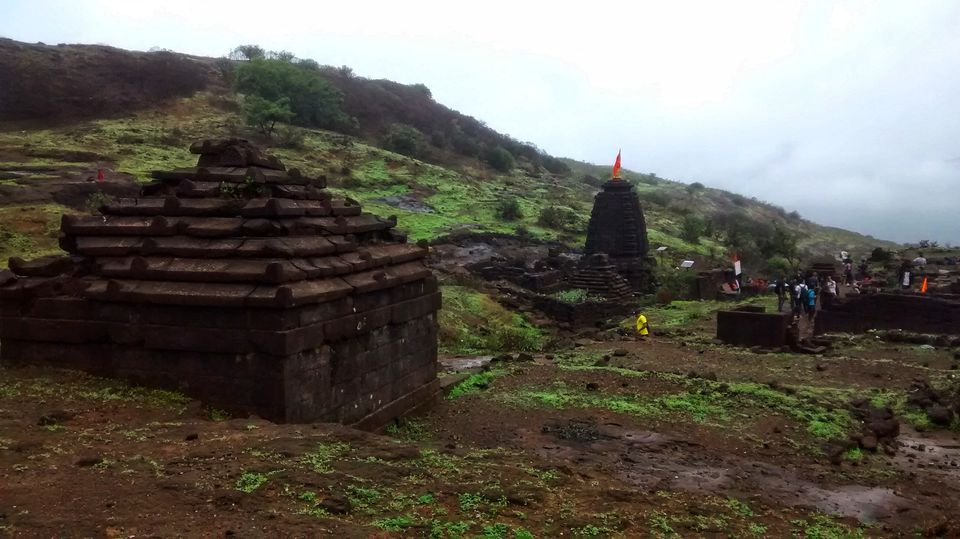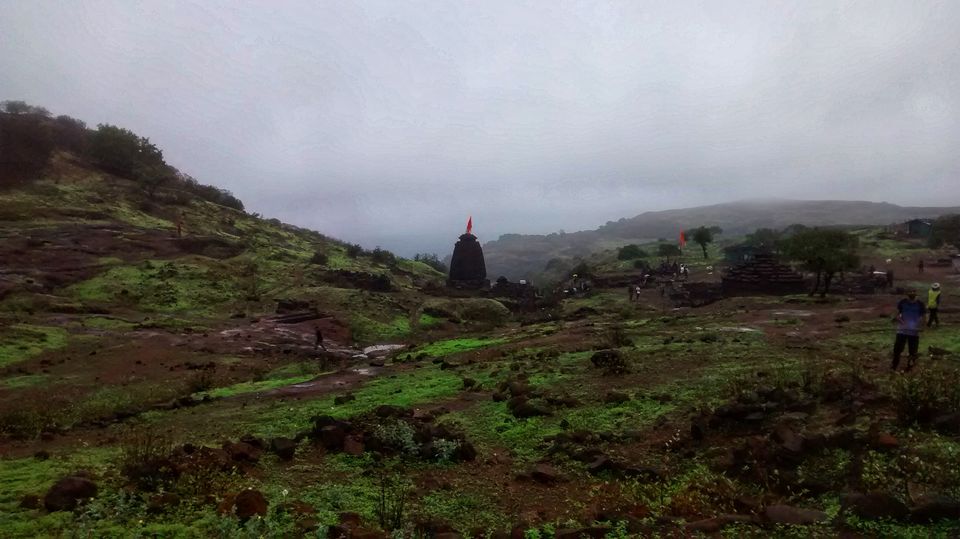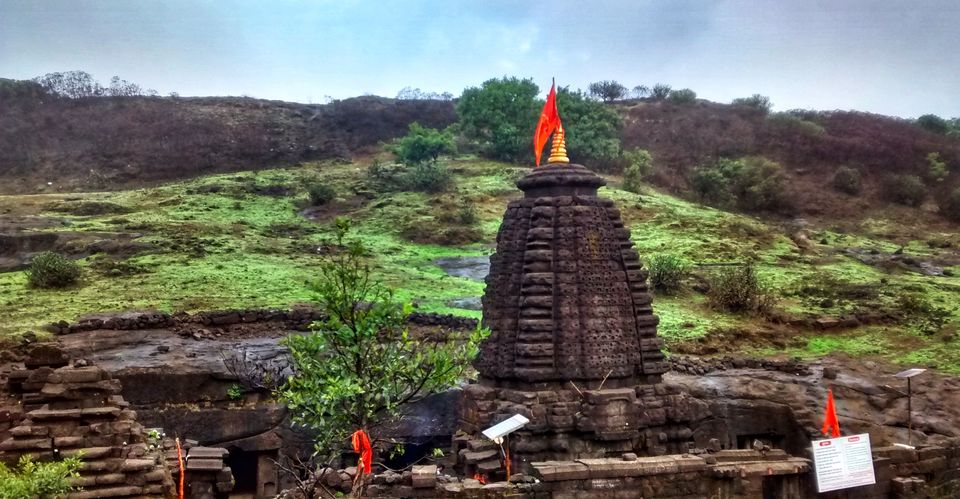 With an origin dated back to 6th CE, Harishchandragad is among the most ancient hillforts in Maharashtra with numerous reference in mythological scriptures such as Matsyapurana, Agnipurana and Skandapurana.
You can spend some time to discover the temple and surrounding area including holy Saptatirtha Pushkarni lake. Umpteen carved idols of Lord Vishnu and Shiva are interspersed in many caves and temples adjoining the Saptatirtha lake. A few steps away is another temple called Kashitirtha prevailing monolithic carvings and marvellous sculptures.
With increasing density of raindrops and fog, it was becoming harder to roam around and hence I started looking for an unengaged cave. But it wasn't a great timing as all the caves and even tents were already occupied. Nevertheless, I found a small cave, spacious enough to sleep comfortably for the night. It was truly a mesmerizing experience to sleep in an ancient cave with spurting waterfall at the entrance without any electricity or mobile networks.
Next morning dawned bright and sunny with great views of Kalsubai Mountain, the highest peak in Maharashtra. Take this opportunity to explore the popular Kedareshwar cave, on a slight right of Harishchandreshwar temple. It is home to a colossus Shiva Linga amidst waist-deep icy cold water pond. To reach Kedareshwar cave, you'd need to cross a water stream, which is believed as origin of Mangalganga river. During Monsoons, due it it's extreme flow, it becomes little difficult to cross the same.
As per legends, this Shiva Linga roofed under a huge rock, which is supported by 4 pillars, each denote a Yuga or Era. Now since 3 of those pillars are shattered, raze to the 4th lone survivor will bring destruction marking the end of Era.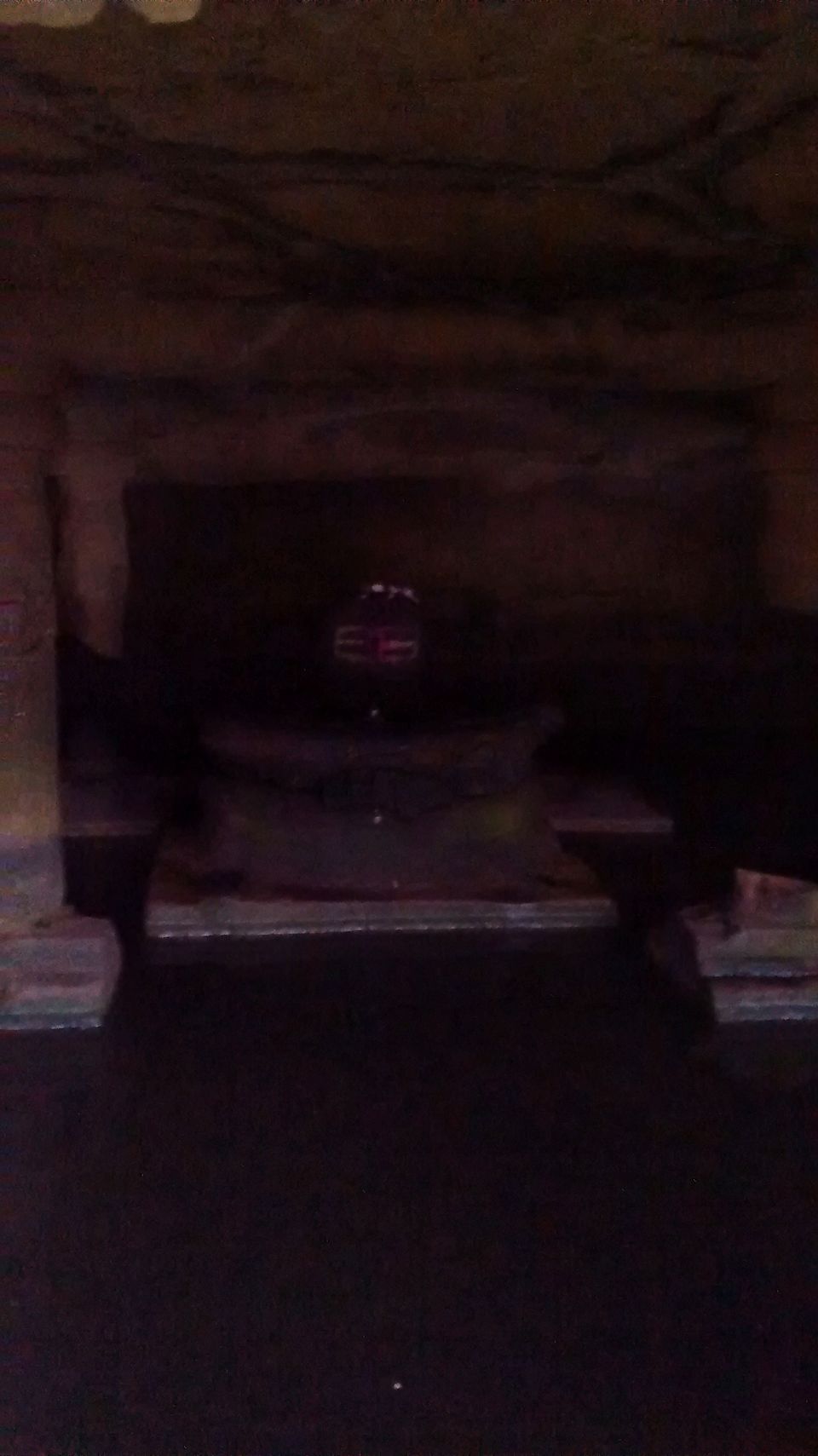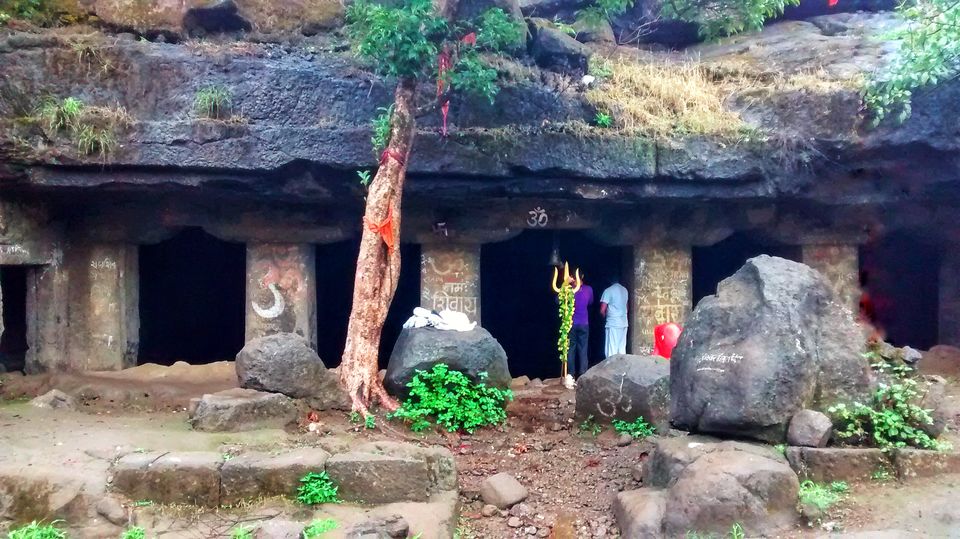 From here starts the trail to Taramati peak, the highest point on Harishchandragad providing a wholly and utterly magnificent glimpse of sahaydri range. Another popular cliff on the fort is Konkan Kada overlooking Konkan region with breathtakingly beautiful panoramic views. The tough ascent to Konkan Kada can reward you with incredible vistas and at-times the picture-perfect shots of circular rainbow phenomenon. Clouds rising from the valley beyond the mountain peaks makes the entire scenario amazingly dramatic.
For return journey, instead of retracing your steps, descend via Balekilla route. This trail navigates through dense forests and a citadel once reigned by various rulers including Mughals and Marathas. Some more caves carved in 11th CE can be seen concealed in Jungle.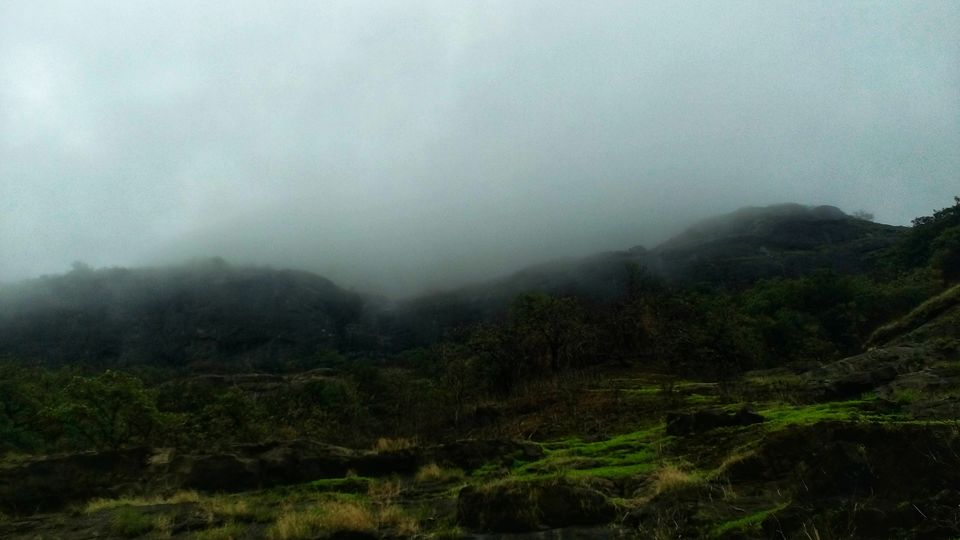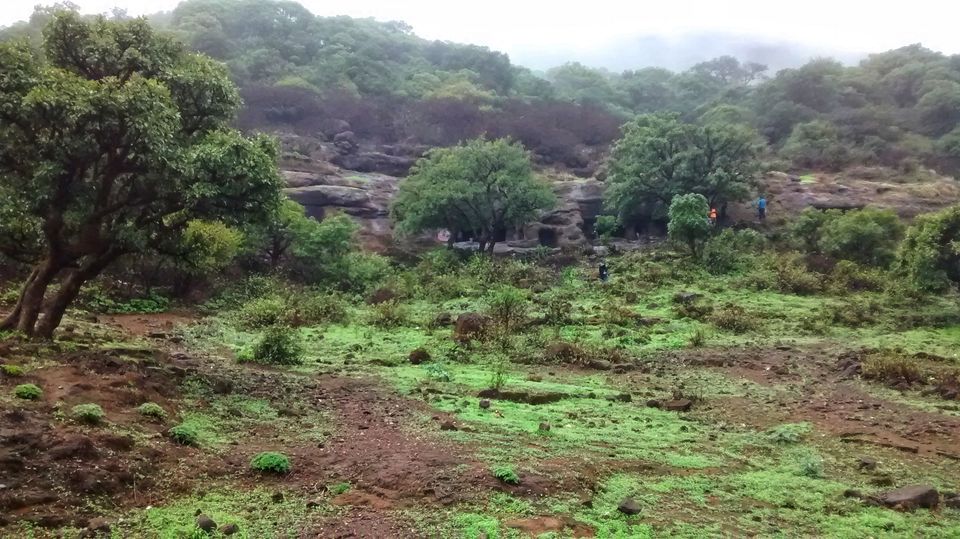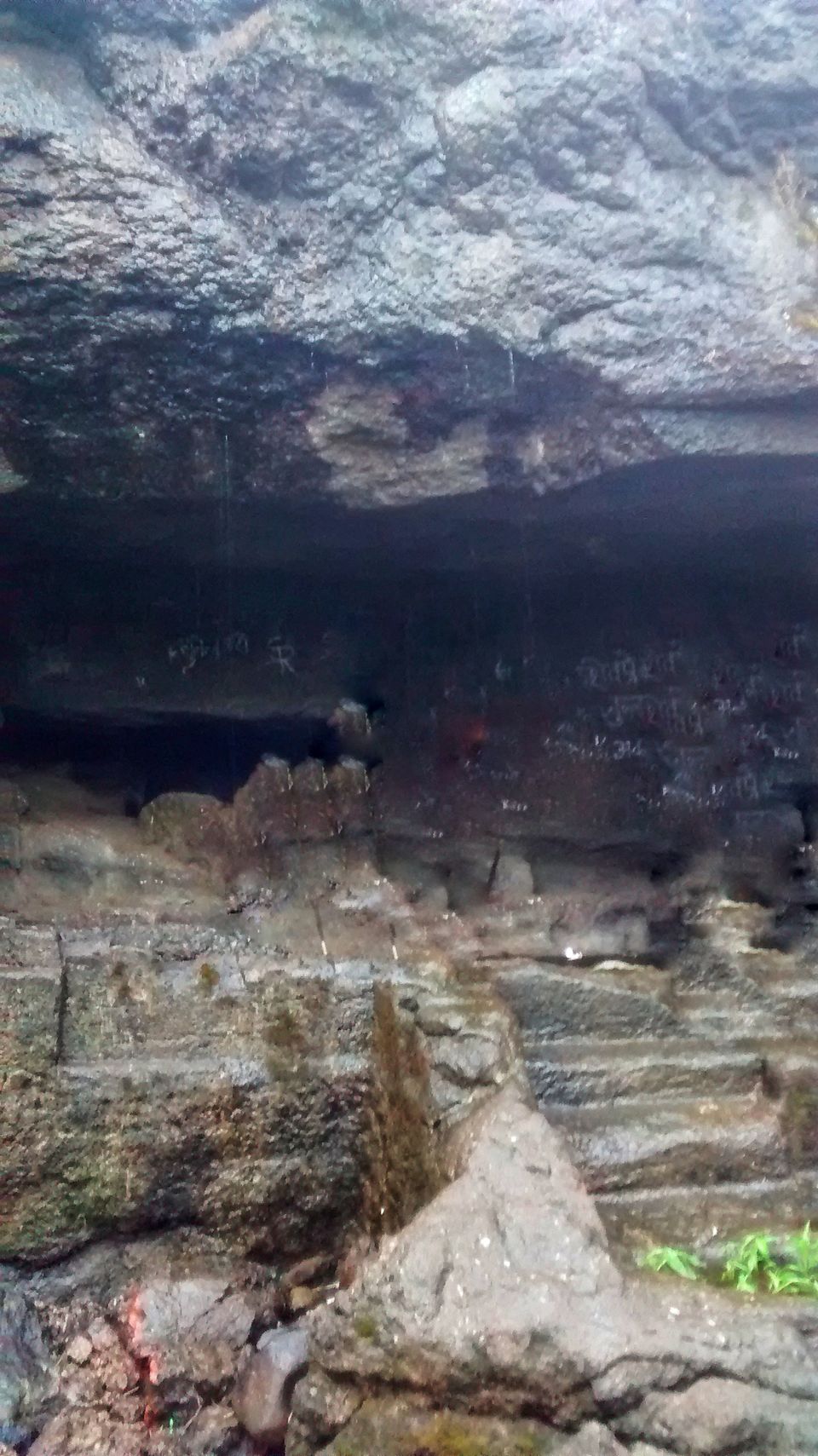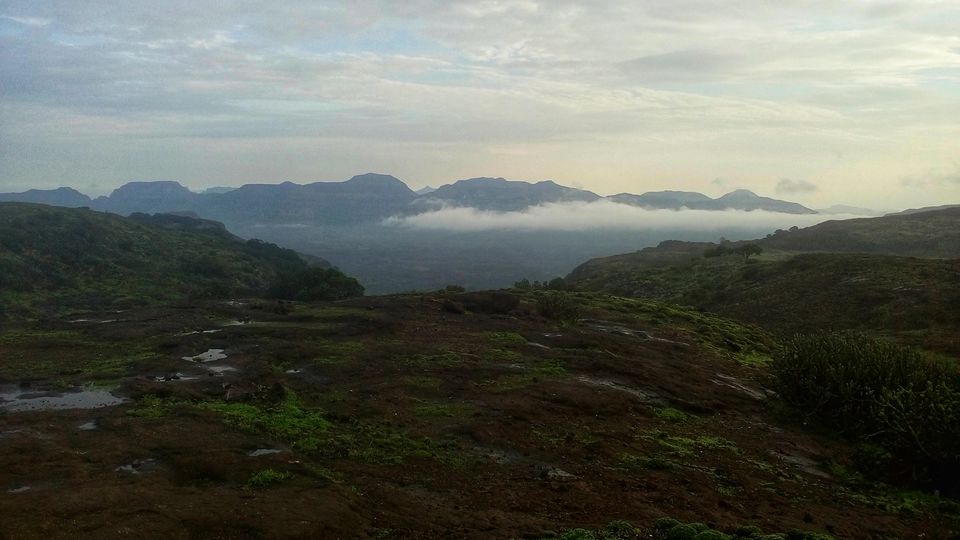 Slowly, I descended the Tolar Khind too and was soon about to complete this trail. Bright Sunlight was penetrating through trees making it whole atmosphere lively to conclude the trail.
Some Useful Additional Information
Hiking Routes & Transportation –
1. Khireshwar Trail – This is the one which we took and is nearest if you're travelling from Pune. A direct State Transport bus from Pune also ply to Khireshwar on daily basis.
2. Pachnai Trail – Probably the simplest way to reach Harishchandragad which is just 3 kms hike from Pachnai village. Pachnai village is connected by State Transport buses as well from various nearby towns. This route is extremely scenic during Monsoons.
3. Belpada Trail – This trail is most difficult amongst all routes and hence very less popular. It's recommended to go if you're experienced trekker as you have to climb various steep rocks with less grips. This route is via Sadhleghat, near Belpada village close to Savarne village on Malshej-Kalyan road
Places to Visit Nearby –
This region is a trekker's paradise with its extremely rugged and rocky hills on which you will come across forts which are great examples of architectural marvel, carved temples and ancient rock-cut caves. Malshej Ghat, in vicinity is a thriving 2300 Ft. Mountain pass with picturesque landscape and gushing waterfalls. The beautiful Pimpalgaon dam and Ajoba Hill fort are other spellbinding attractions here for any traveller.
Which hike was your best trail, tell me in comments or Share with our worldwide community
Frequent searches leading to this page:-
maharashtra tourism packages shirdi, budget tour packages in Maharashtra, low budget tour packages in maharashtra, family holiday packages in maharashtra, maharashtra pilgrimage tour packages, maharashtra tour packages itinerary