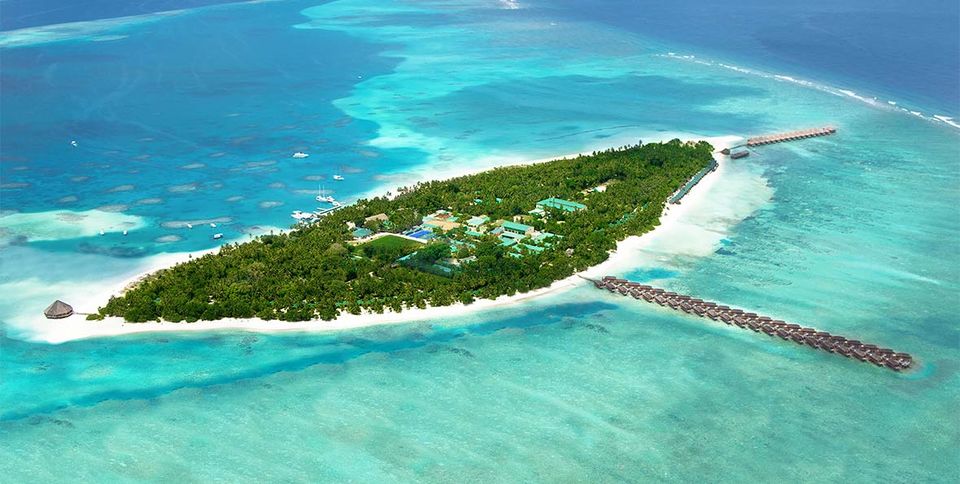 Thinking of a quick beach getaway from India? The best bet is Maldives. The tropical islands with perfect white sand beaches, crystal clear turquoise waters and luxury sums up to it. When planning a holiday to Maldives, choosing a best resort plays an important role and we chose Meeru Island Resort & Spa for our family vacation. Trust me, we didn't regret a bit of it too.
We started our holiday by taking a direct flight to Male from Bangalore in the month of June 2019. It was a quick 2-hour journey where half of the journey on land & the other half on Indian Ocean. We were all excited & boarded our flight on time and here are some views of Indian ocean from 35000 feet,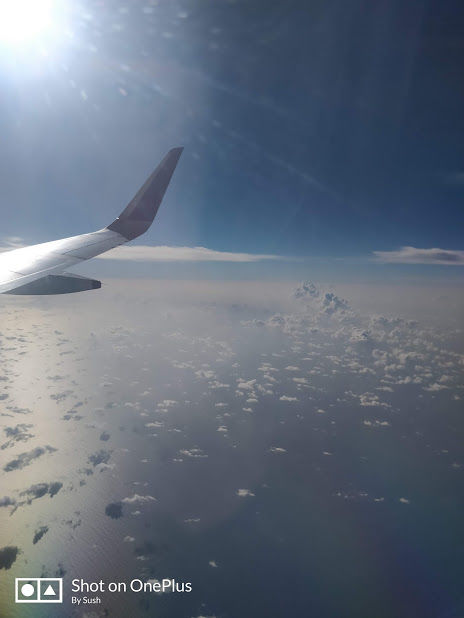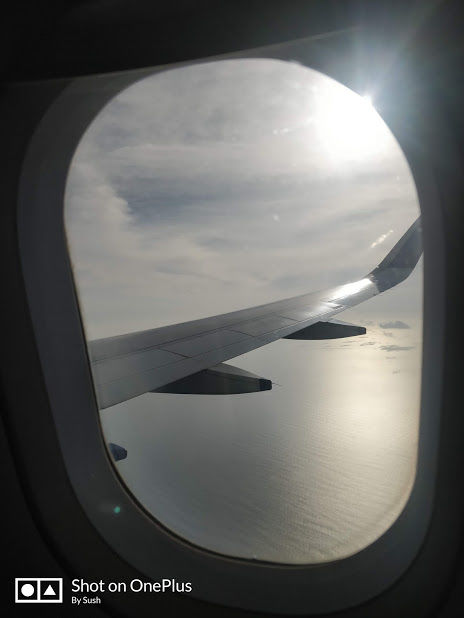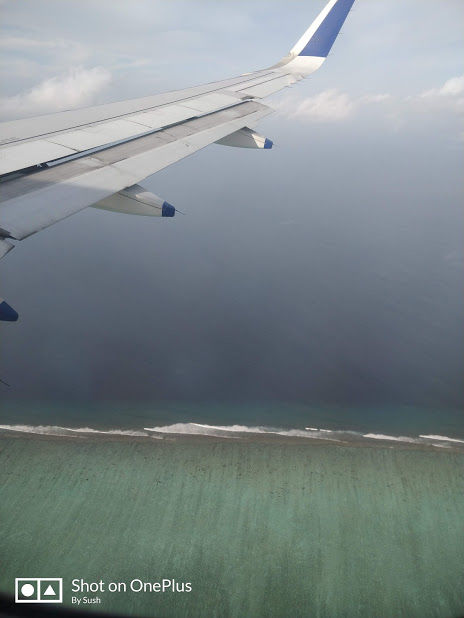 On-board we were given an immigration form to fill up all our details which had to be submitted later at immigration counter. Upon landing, we could see Etihad, Qatar, Maldivian airlines being parked. We de-boarded from our aircraft & proceeded to immigration counter. As there is visa on arrival for Indians, it was such an easy process to walkin to immigration counter & they will scan the passport, stamp on it & you are done! I can say, this is one of the easiest & quickest immigration I have been through so far.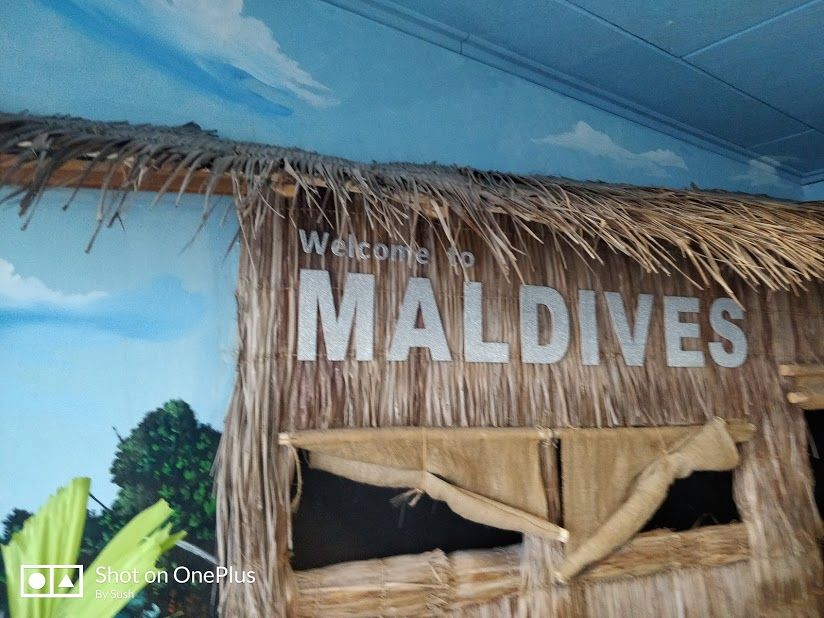 Coming out of arrival hall, there are plenty of hotel/resort boards displayed & we had to reach out to our respective resort counter so that they could arrange for speed boat transfer to the resort. We were asked to wait for 15mins, in the mean time while glancing at surroundings we could see blue waters right in front of airport itself. What a beauty it was!!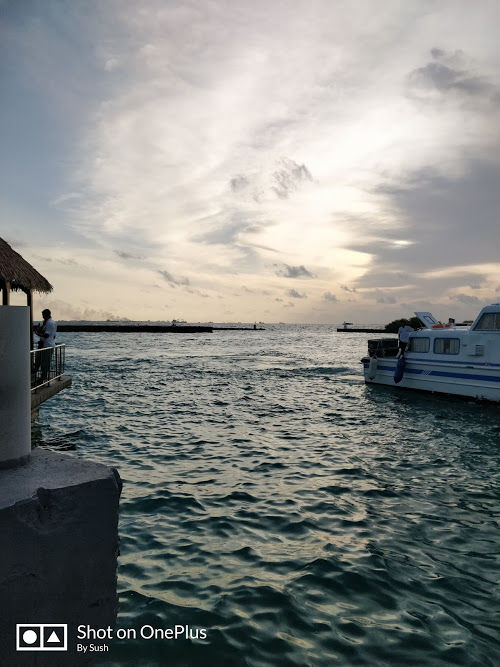 Our speed boat was ready to depart, their staff helped us in boarding. We settled for window seats to view the endless ocean for miles. Our island – Meerufenfushi, in the North Male Atoll is 30 miles from the capital (Male) accessible by speed boat. It took about 50 minutes, although it was bumpy, the guess work of which island would be ours was going on inside each of us. It was sunset time, we could see the perfect sunset all the way.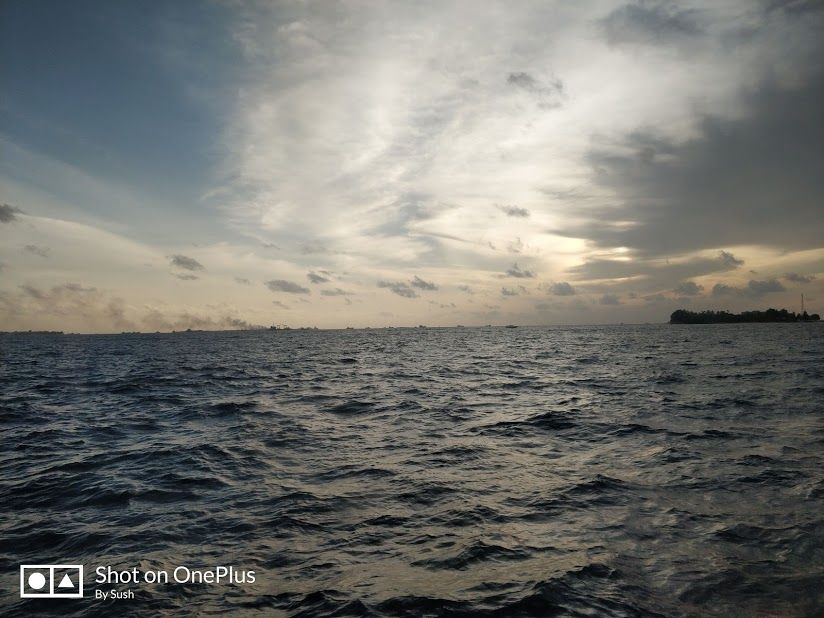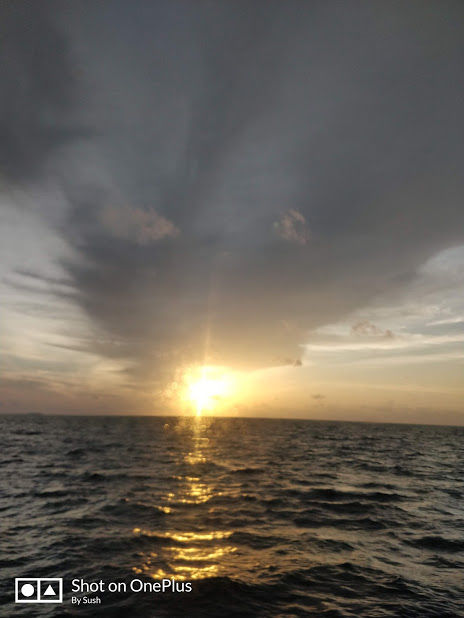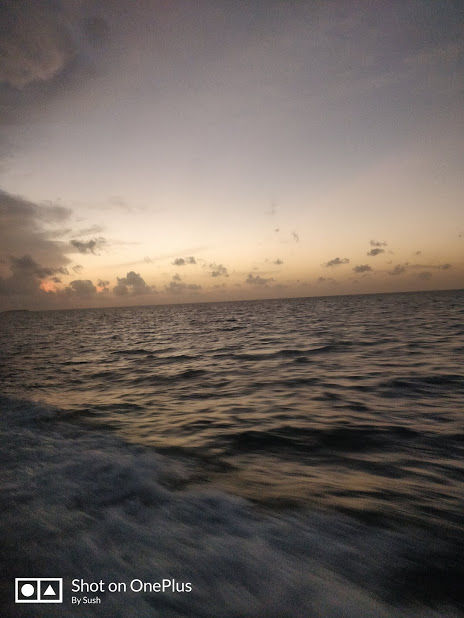 On reaching Meeru, the only word which crossed my mind was "Wooow". The boat parked at a long wooden pier where the staff members greeted us with a warm welcome. The staff made sure our luggage to reach our respective rooms. After disembarking from the boat, there was also a musical welcome which was done by hotel staff in a traditional Maldivian way. Well, at Meeru when you hear drums it means new group of guests has just arrived. Later, we were taken to Kakuni Bar, a welcome drink with a cold towel was awaiting for us to give a refreshing feeling. It was already dark and the ambiance was dim & soothing. We filled all necessary details & they explained the design of the resort and handed over a map to us so that it would be easy for us to explore during our stay.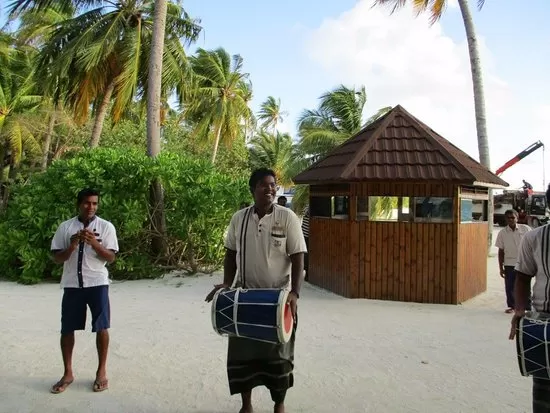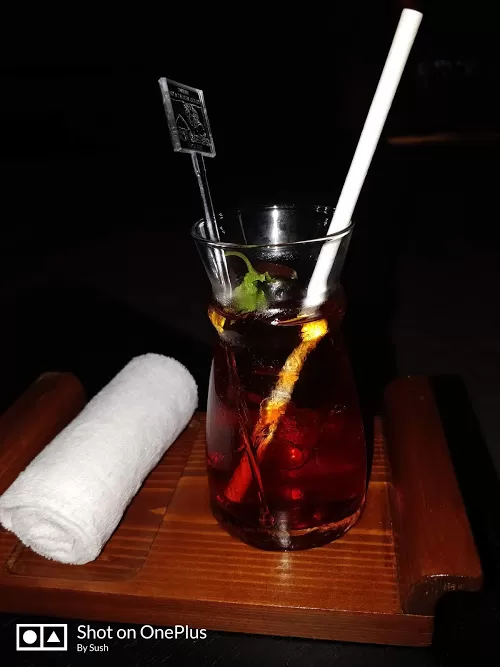 We were asked to sit in lobby area while our rooms are assigned to us & it was done pretty quickly. Then, by a electric golfcart, we were transferred to our villas. We had booked a Beach villa which was sea facing. The villa was spacious with an outside seating area, a bed room area, a private open shower area along with a good number of closets, a mini bar, a study table and coffee/tea maker.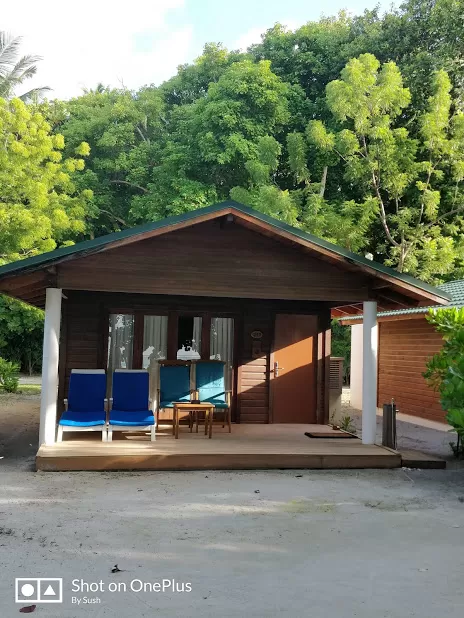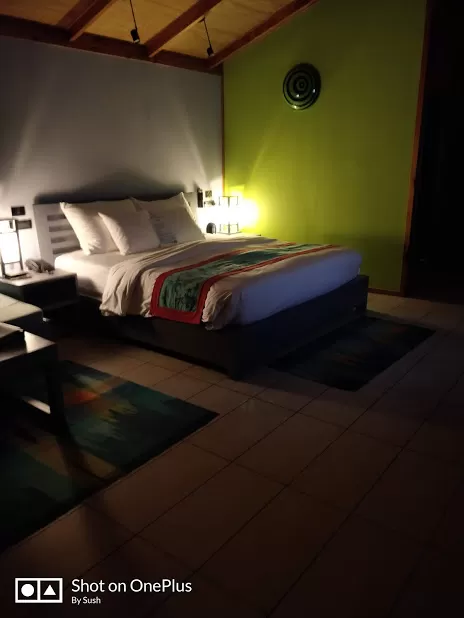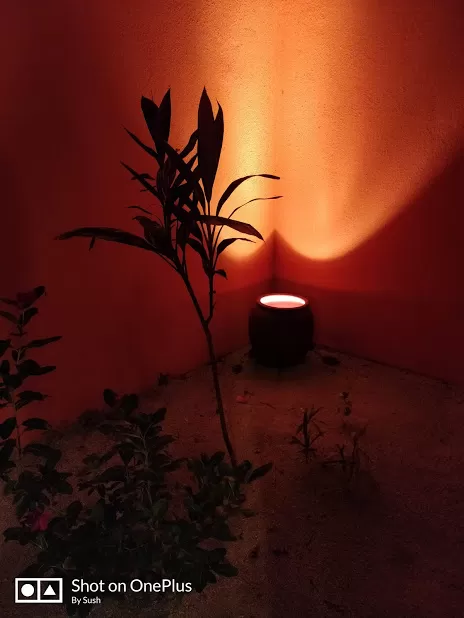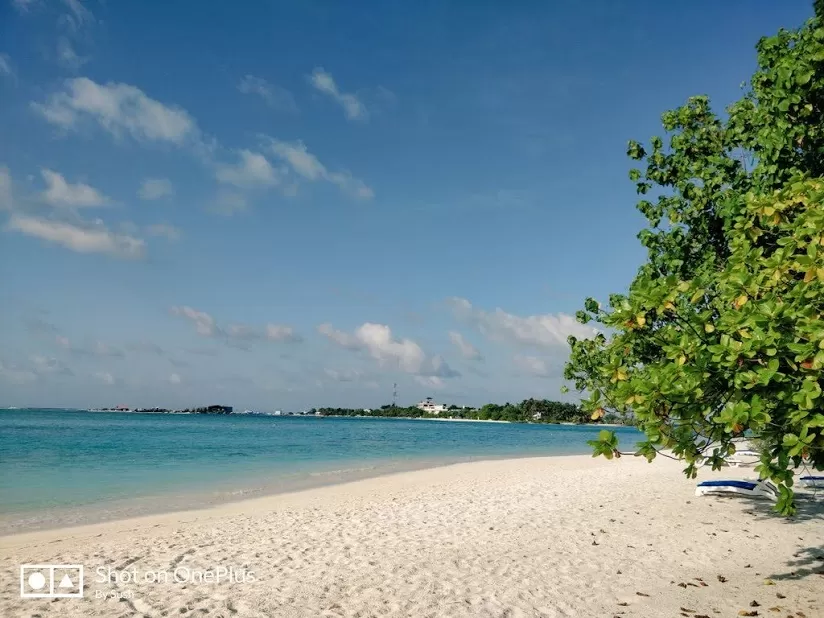 We had opted for All inclusive package, which had all meals included along with the room price. Evening's dinner was at Farivalhu - an All day dining restaurant. The buffet dinner had a huge variety of multiple cuisines as well as vegetarian Indian food too which is an added advantage for vegetarians like us.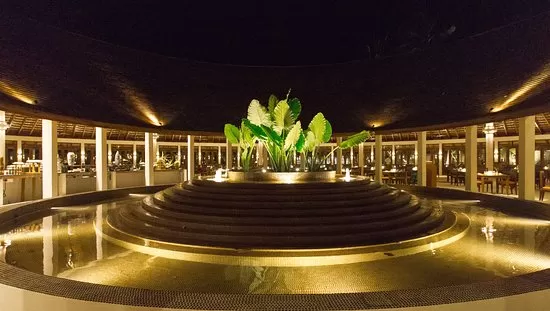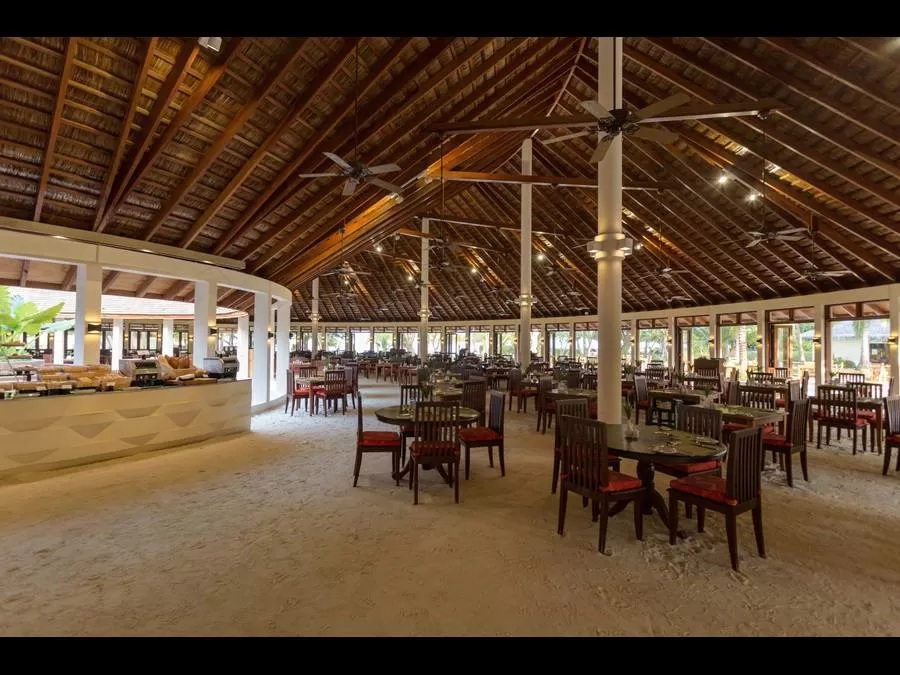 Everything looked new on our first day & we could not enjoy much of sea views because of darkness. We had a peaceful sleep and was energized completely for next day's exploration.
On our second day of our stay, after buffet breakfast, we went on exploring various areas of Meeru by foot. Damn, it's too big. The very first thing we came across is the Meeru Whale skeleton. That's preserved so nicely.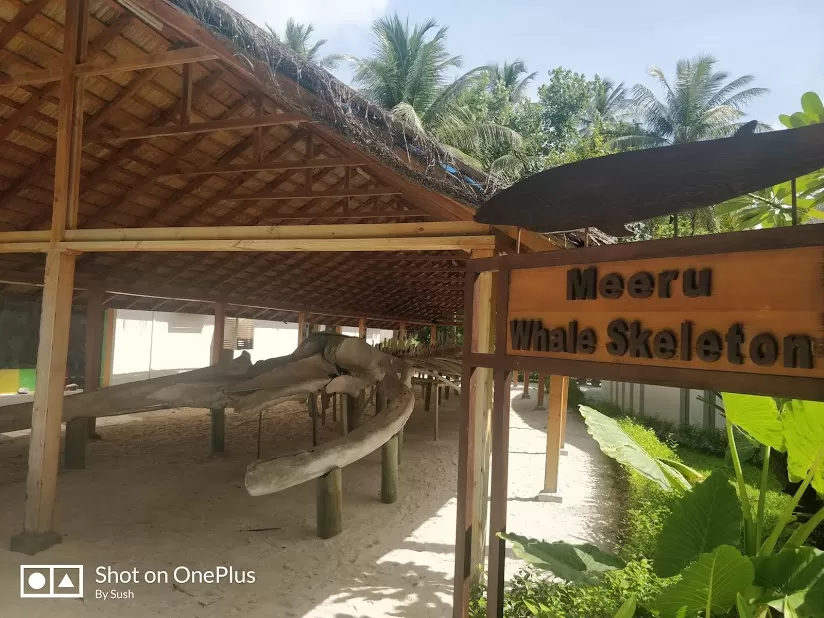 Then we went inside Meeru Museum, one of the iconic spots in Meeru. The history of Maldives is told in a very impressive way.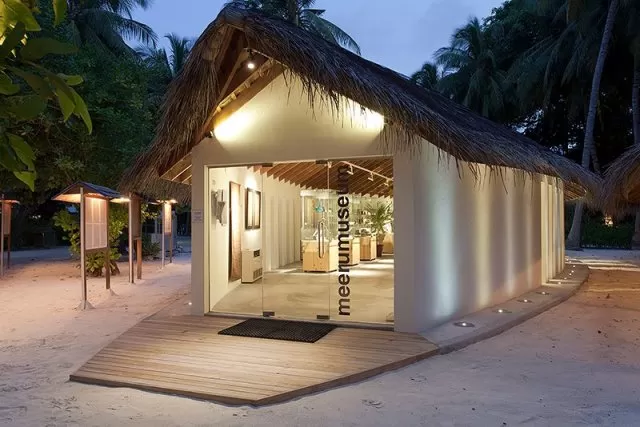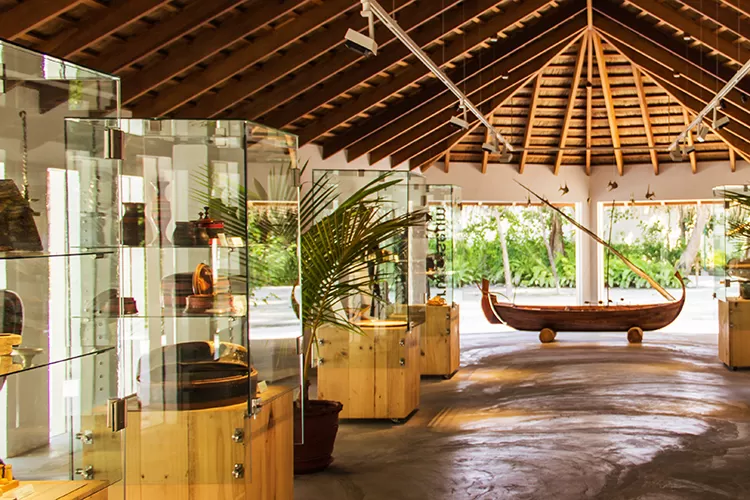 We moved on, took a pit stop in Dhoni Bar and had a fresh coconut water to refresh ourselves. That was a soothing drink to enjoy sip by sip & to gaze at ocean. What a peaceful time it was!! It was hot and humid outside, so we were sweating like anything. The resort is covered with water on all sides and we couldn't get enough of blue waters there.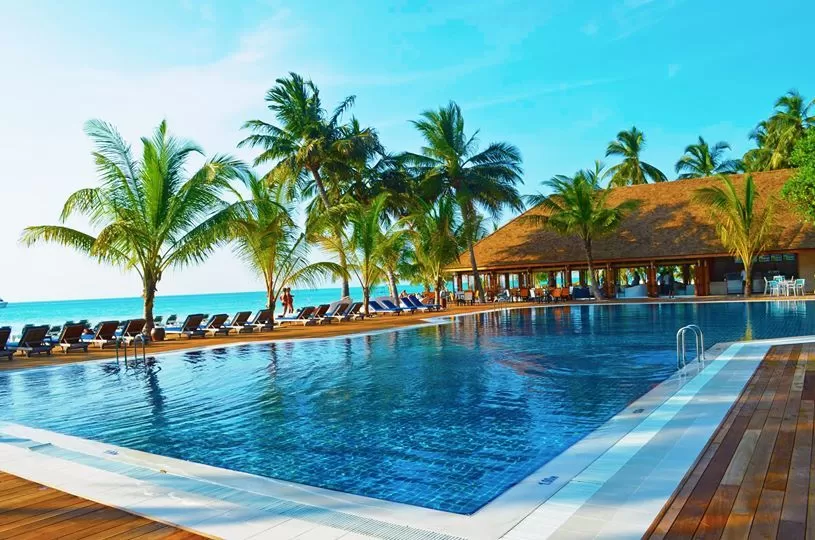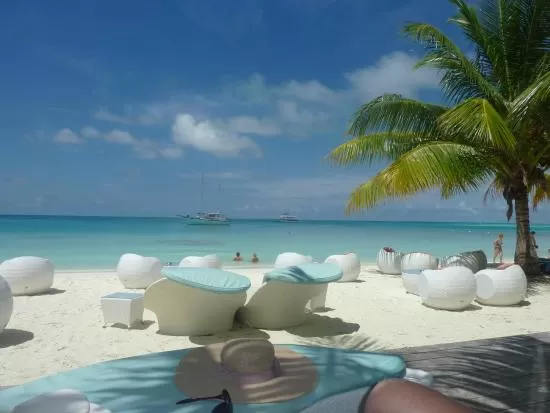 Walking towards north side of the island, we saw luxurious over-water villas built symmetrically and a spa nearby. That was perfect idea for private vacation for all the couples. But what really makes the difference is the sea. You have instant access to the water via stairs from these villas.
We entered North reception which was shaded area & called for a vehicle to drop us back to our villas. We had to pass time till lunch time, hence we decided to hit the pool near our villa and chill out for sometime.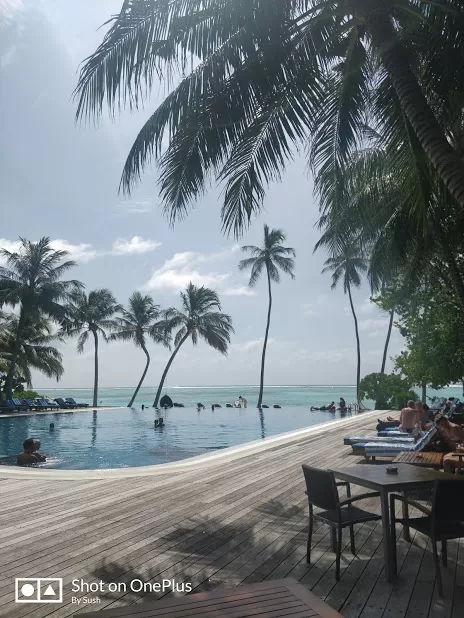 That's Hotrock restaurant & bar which was an adult pool. We jumped into pool, got tanned nicely and relaxed ourselves for few hours. The pool is facing the ocean, couldn't ask for anything more.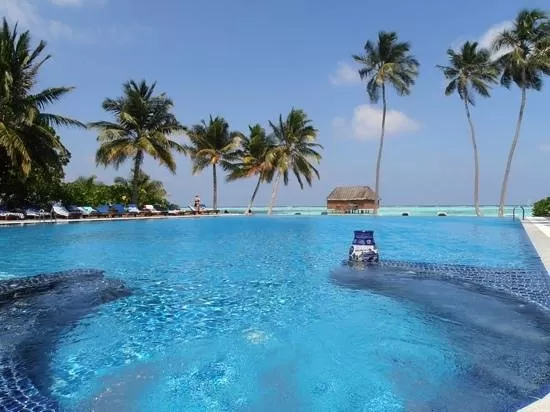 After spending a good amount of time in pool, we had to go back to Farivalhu restaurant as our lunch meal was setup there. Lunch spread was massive, Indian food was an eye-catcher for us. Desserts were endless. Enjoyed our meal and went back to our villas to rest.
Evening we decided to explore south side of the resort. Walking on those white sand was so tire-less. We came across Asian Wok restaurant, the only over water restaurant on this island. It gave us some great sunset views. I must admit that every nook and corner in Meeru is so photographic and just can't resist ourselves from clicking lots of pictures.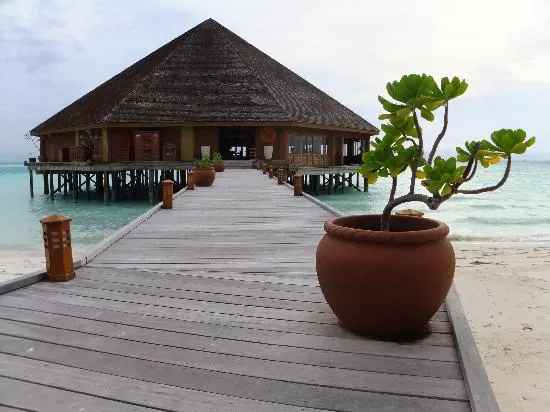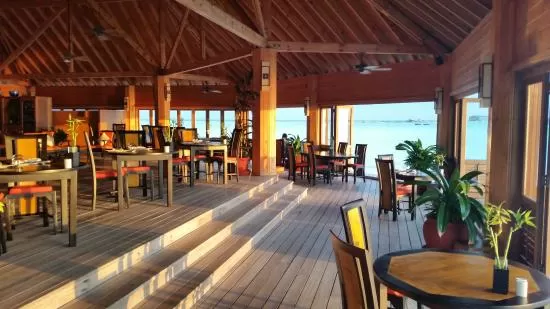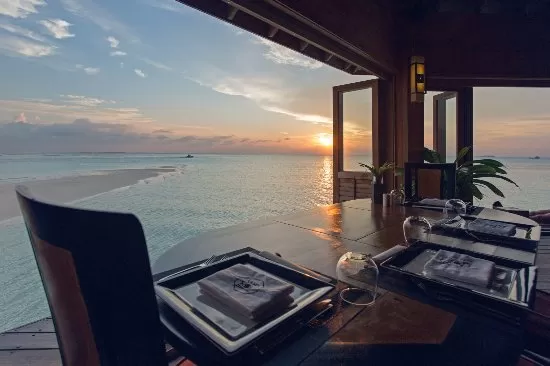 Later, we reached the entrance of Meeru which meant that we had completed walking one full circle of Meeru. Till it gets dark, we spent time in Dhoni Bar with fresh coconut water to enjoy with.
There is a gift store in Meeru which has variety of souvenirs, swimming costumes, Maldivian dress, hats, scarves, hair accessories, soft toys, eye shades and what not!! We visited the store & bought few souvenirs for friends & family, had an ice cream to cool ourselves from the heat.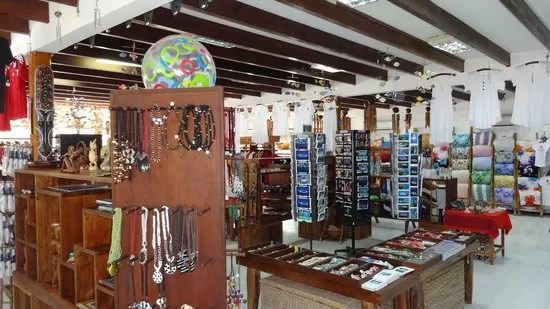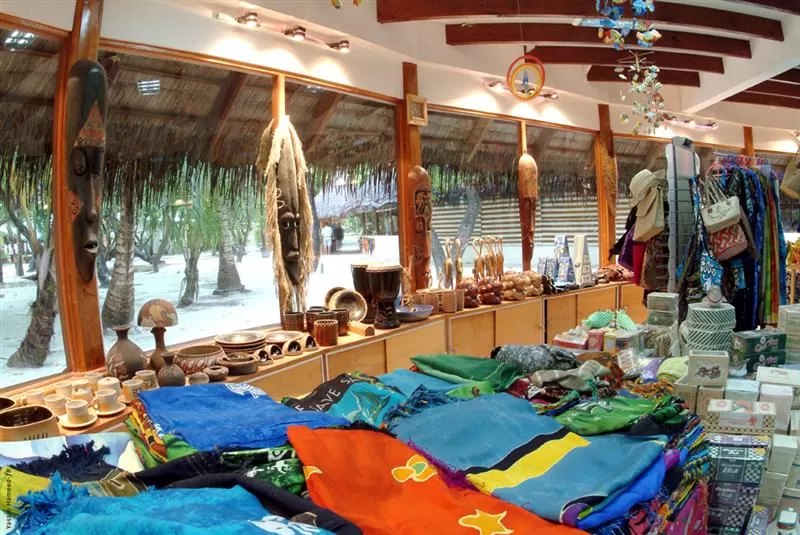 We passed by a photo studio and were curious to know about it. So we entered the studio, there were professional photographers who explained us about the photo package which will be clicked in various locations across Meeru and this is called as "Meeru Moments". This was at extra cost and not included in our package. We opted for a basic photo package, 20 shots to be clicked and 1 among them will be framed for us. We got a slot for next morning and were asked to meet at North Reception at 9am.
We went to games room in the late evening, where they had a 2 pool tables, 1 billiards table, fuss ball, table tennis, chess. We played pool and had so much fun along with the better understanding of the game. Just couldn't get to know how time passed by and it was already dinner time. Since there was restricted time frame for dinner, we had to go in that particular time itself. After enjoying a fulfilling meal, we visited Kakuni Bar. This bar had a theme night every day – karaoke, movie night etc. But we got to watch a live show of Maldivian cultural night and found it to be very interesting. Later on, we walked back to our villa for a good sound sleep. The sea was calm, even though we were very near to sea, we didn't even hear any wave sound from the sea during night time.
It was our photo shoot day, got dressed up accordingly and we went to North Reception by 9am and met a photographer. Soon he took us outside in front of ocean and clicked so many candid pictures. We were taken to all over Meeru to get different angles. I was obsessed with the beauty of Meeru by this time and wanted to get every click so perfectly. The photographer was so friendly, he gave us ample amount of time to get ready for each shot. Photo session continued for an hour and due to hot & humid, we were tired & sweat at the end. We were then called to photo studio to select top 20 photos & 1 photo to be framed. That was the most difficult task at that instance as all the images were breathtakingly beautiful with turquoise waters in the backdrop along with clear blue sky. Finally we selected the best images and were told to collect them by evening.
The same evening we had booked for an Evening Sunset cruise. Till then we could see only handful number of people all over the resort and were surprised to see a lot of guests who had booked for the same excursion. We were divided in 3 yachts. As soon as we boarded, we climbed to sit in the upper deck which was open-top and we were sure to get a better view.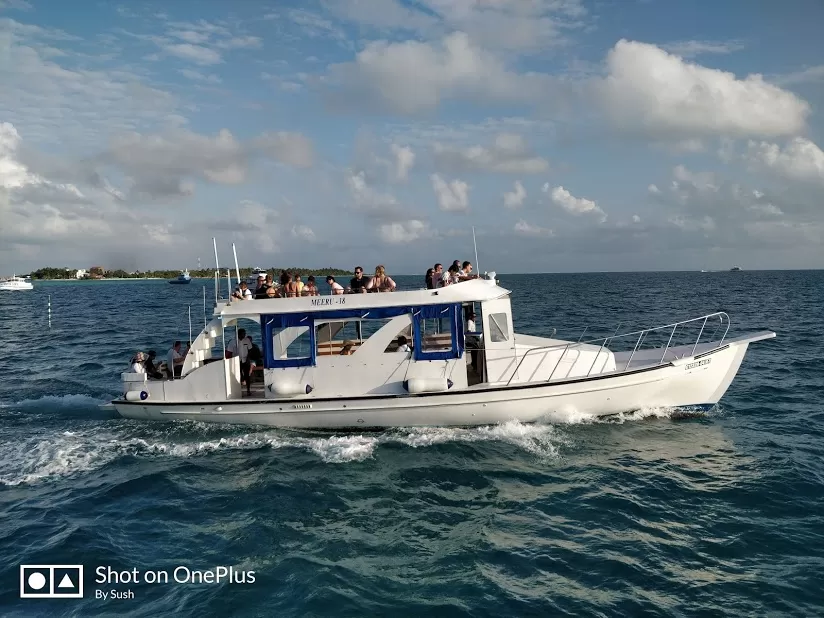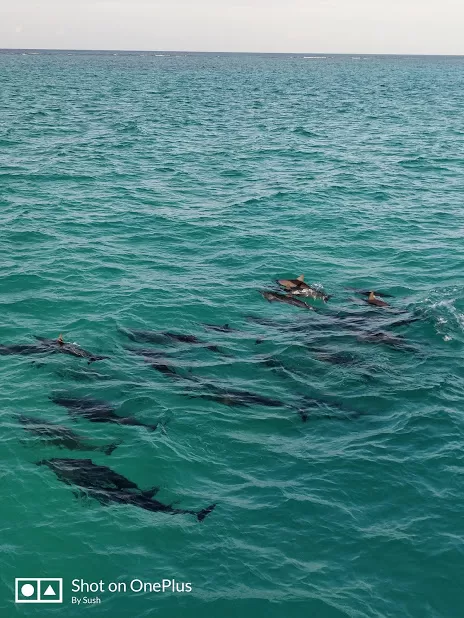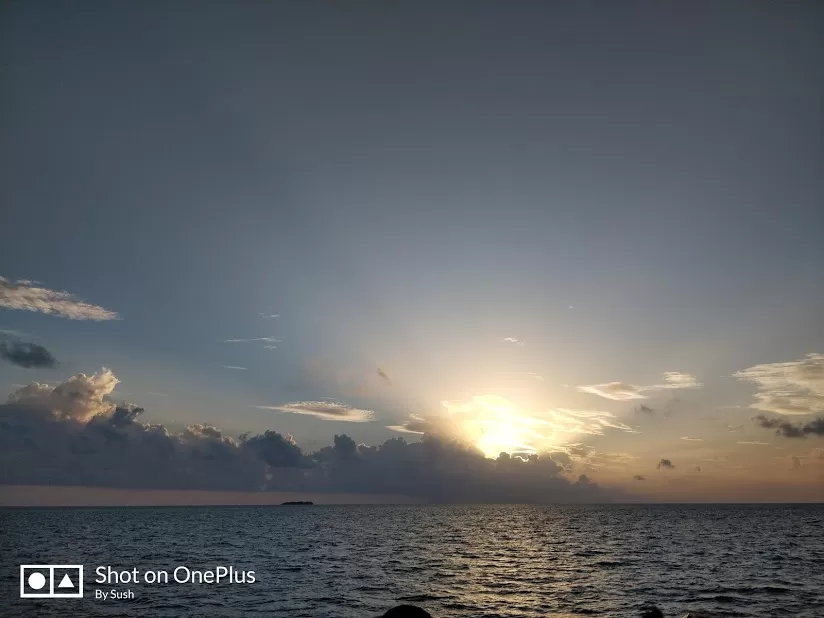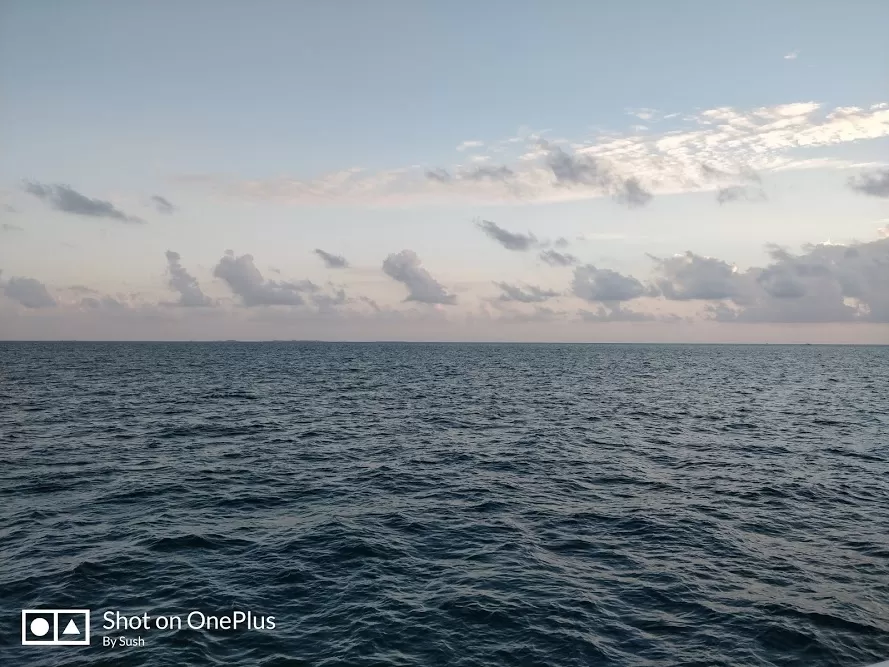 We were offered a complimentary cool drink on-board. It was a breezy and bumpy ride. As we sailed far from Meeru on Indian ocean, we could see Dolphins on our way. Meeru staff knew exact place where it would appear and were sailing on that direction. We were clapping to attract dolphins to come out of sea. We could see a bunch of dolphins jumping together, everybody taking videos & clicking photos of the same. It was a treat for our eyes to watch so many dolphins together. Soon after sunset they disappeared and we returned to resort. Totally the excursion was worth it. There are a large number of excursions available – to near by islands, to Male, fishing, snorkeling and so on. Unfortunately, we didn't get a chance to try all these.
Then we collected our photos from the Photo Studio. We spent our late evening by playing pool for sometime & by sitting on the seashore. It was time to recall all our best moments spent in Meeru.
It was time to bid goodbye to Meeru with a heavy heart. But the memories that we created in Meeru will stay with us forever. The departure process was smooth. A day before departure, our speedboat timing will appear on TV in our respective rooms which was mentioned to us earlier to keep an eye on it. So by that time, all our bills were ready and we boarded speedboat to reach Male airport & took a flight back home.
On the whole, the island is well laid out. Both the North and South side are equipped with similar facilities. We ended up spending our full time inside the resort itself. Being one of the larger islands, Meeru has lots of activities available like wind surfing, kayaking, golf, cricket, jet ski, yoga, etc., to keep their guests occupied.
Best things about Meeru
1. Meeru is the only resort on the island and there is no compromise on privacy.
2. It is not to far from Male airport. Just 1 hour by speedboat. This means that the transfer costs are cheap compared to many other islands.
3. All inclusive package at Meeru is very good value for money. It includes all buffet meals. Overall we felt the offering was good and we didn't feel as if we were missing out on anything.
4. Even though the island is large, we didn't feel busy due to more number of tourists. There were plenty of empty stretches of beach, lot of chairs and loungers everywhere and spaces in all the restaurants.
5. For people who find Maldives to be a very expensive destination, this property surely is value for money, yet luxurious.
6. The staff is excellent and very organized. Hospitality is at its best.
7. Wifi is available in all the places of the resort.
Few clicks of the resort which I couldn't resist to share are below.