There was dance in my step in the Maldives. Time was measured in footprints on the beach and I was drifting with the soft sound of the waves, carrying music in my pocket, enjoying the feeling of being alone—yet not lonely—on the 35-acre private island, JA Manafaru.
By Apeksha Bhateja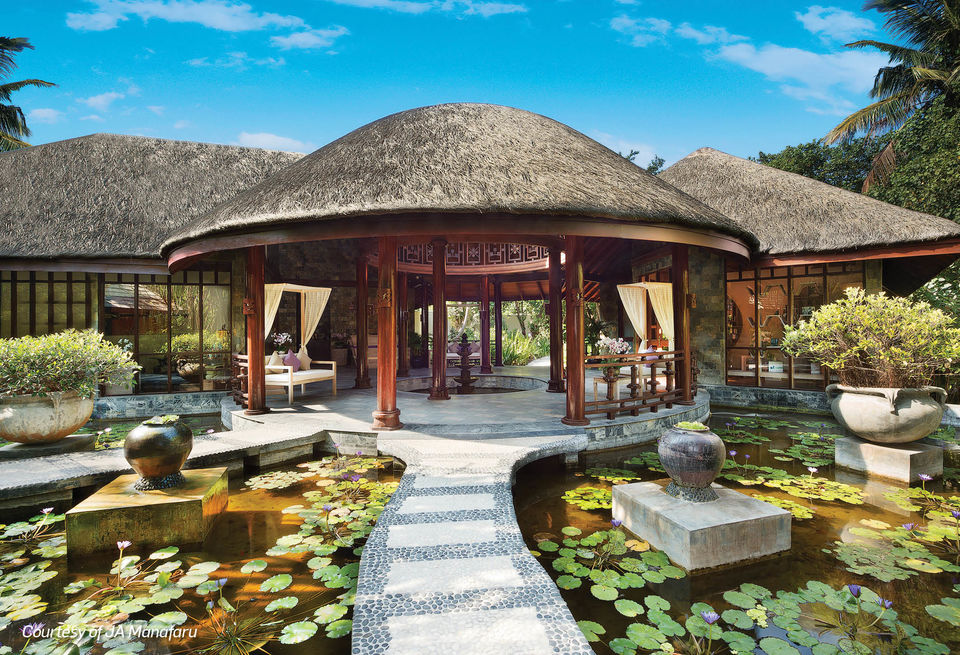 "City of stars, are you shining just for me? City of stars, there is so much that I can't see…"
I remember sitting on the wooden walkway outside my water villa, head raised in reverence to the silvery blackboard of stars, following their rays as they touched the inky ocean. I was most calm, most still that night, not worried about the world outside of this panorama. It's not often that this happens to me; I travel with a vengeance and that can be exhausting sometimes, but the island caught me unawares.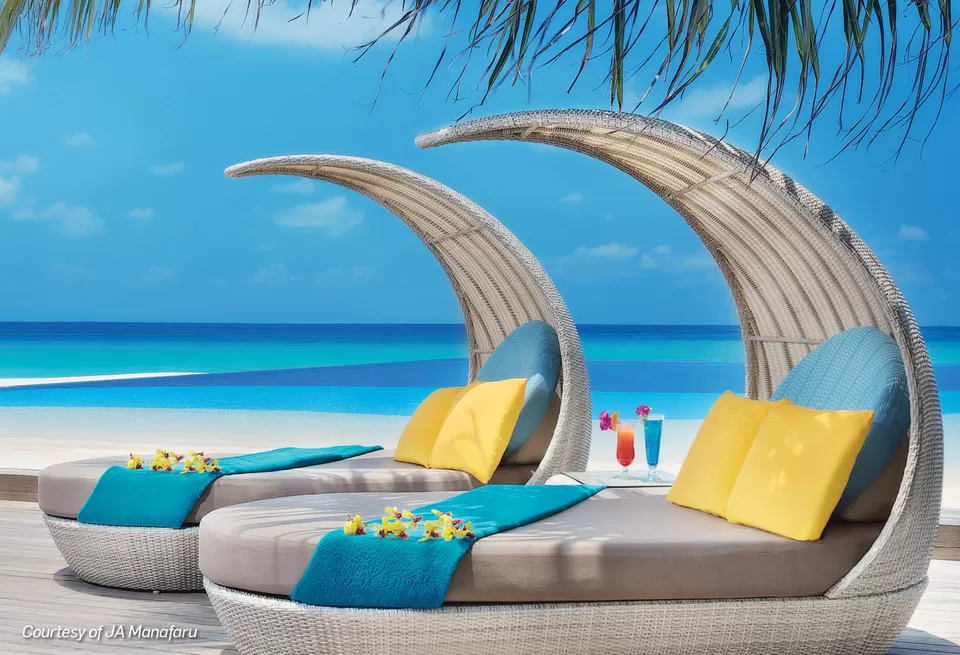 In the Maldives, I finally got a chance to catch my breath and the clocks stopped. An exclusive resort with 84 villas, suites, and bungalows, JA Manafaru is located on the northern most atoll in the Maldives Haa Alif and the seaplane is the fastest way to reach there. (Most resorts have to share seaplane transfers and sit through multiple stops, but JA guests get their exclusive charter.)
I was escorted to the lounge before the flight for light snacks and drinks and very thoughtfully, the staff handed me a sling bag with earplugs, a tablet with information about the Maldives and the resort, and a fan for the airtime. Turned out, I didn't need any diversions; the view was riveting. It was a stunning display of blues and a tinge of green and white, bringing to mind the range of colour shades that paint companies use on their cards— from azure, sapphire, blueberry, violets to forest green and vanilla. After 75 minutes of being snuggled in the clouds, the island spread out its fl uttering wings for us—an arm of water villas on each side.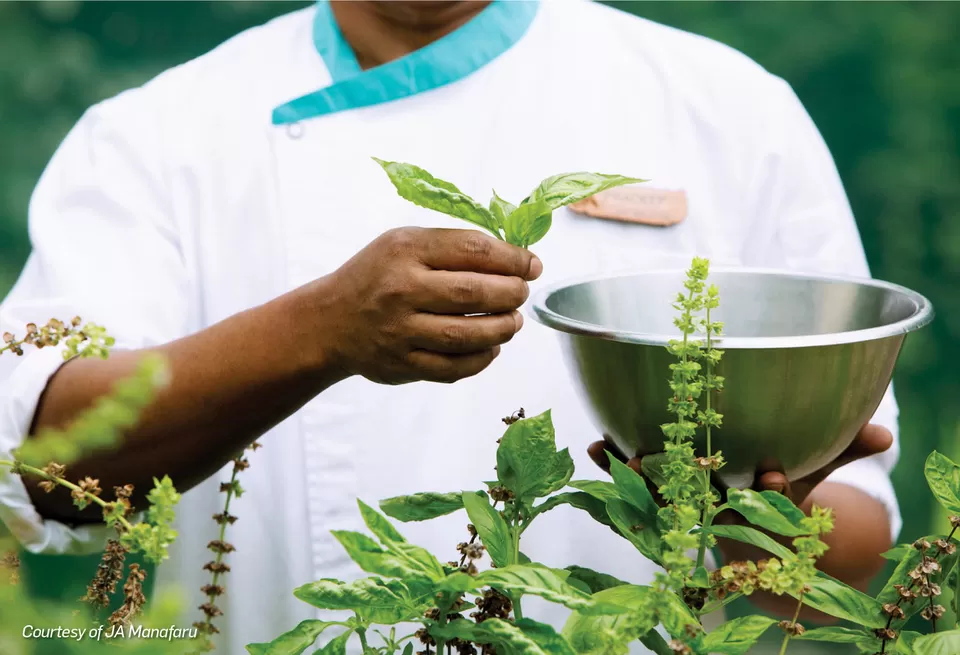 The resort was built in 2006 and opened the next year, but it went through different owners and management until William Harley- Fleming, General Manager of JA Manafaru, discovered it for Dubai-based JA Resorts and Hotels. "The structures were ideal at the property, but we revamped it to give it a fresher, lighter look as well as redesigned the concepts of all outlets," he said.
The brand spent US$15 million on renovation and refurbishment of the property before they reopened in 2014, but their biggest asset, William believes, is their employees. "Good evening, Ms Apeksha," my experience host Mangal beamed as he and more associates, including William, and some drummers welcomed us on landing. My introduction to the resort came from my guide and can-make-anything happen host. Our conversations often started with him asking me how I had been and ended with "No problem, Ms Apeksha. I'll do it," whether it was bringing back my cycle from the restaurant or opening the Chill Zone (entertainment room) for me after dinner.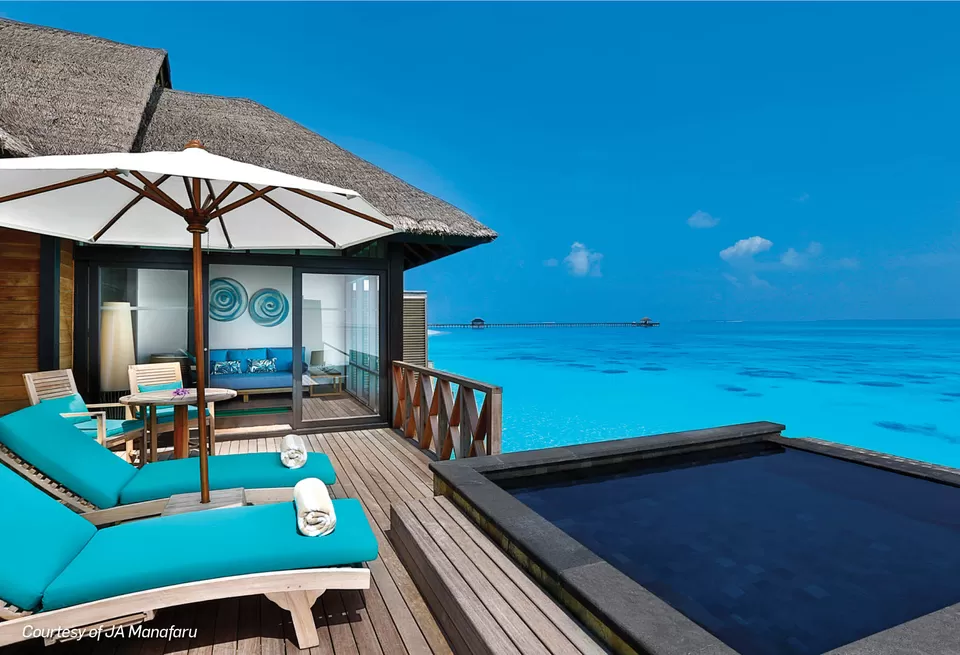 Steering me in a buggy, Mangal mapped out all the areas. It has soft sand around its periphery, so you can actually walk barefoot along its circumference. It's interesting that beaches are fidgety and can actually move around the island—imagine coming back to a beach side villa and finding the shore gone, replaced with waters coming to your doorstep. They always ask repeat guests of their room preference and mention this fact. The design of the property allows you to be one with nature. As per the Maldivian law, a resort can only develop 30 per cent of the land, and JA has used just 18 per cent of it; the rest is natural vegetation and untouched landscape. All restaurants have al fresco dining as well as indoor spaces, and from everywhere, you can hear the faint sound of the waves.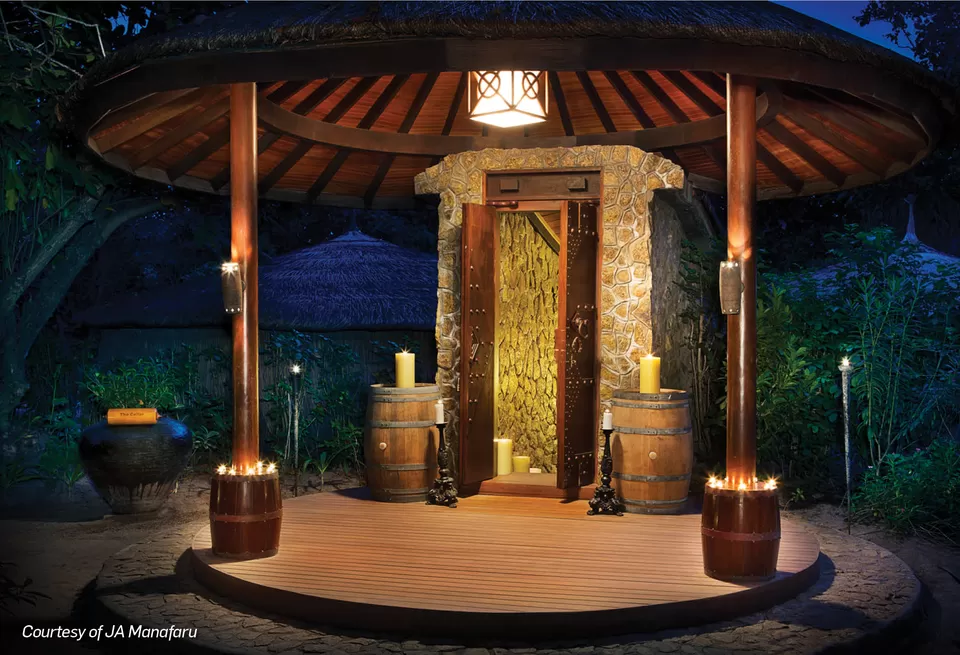 The water villas go one step ahead and bring the ocean inside. I was staying the Sunrise Water Villa that is decorated in aqua colours. From the floor-to-ceiling windows in the bedroom, I had the first glimpse of the sun poking its head above the waters each morning. I was fascinated with the patch of glass floor in my room—a great spot for in-room spa treatments—where sea creatures often circled. In the bathroom too, the plan was open with a Jacuzzi facing the ocean. There was a plunge pool on the sundeck, but for adventurous swimmers, a ladder led to the vast ocean. I found other animals around too: turtles at the door for the housekeeping requests of 'clean my room' and 'do not disturb', a plastic duck beside the Jacuzzi, and fish above his and her sinks. Apart from over-water villas, there are other suites and bungalows on the island, hiding amidst plantation and tucked away for utmost discretion.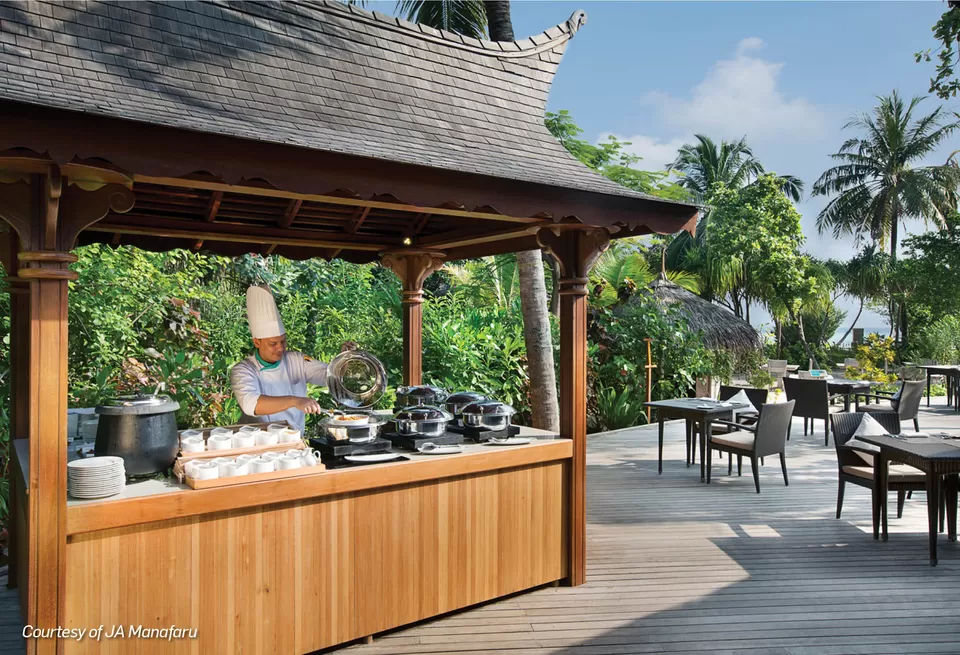 Everyone finds their space on the island and when your path suddenly meets with another guest cycling through the property, you are mildly bewildered, "Where did they come from?" I saw couples and families at the restaurants or near the jetty or by the Infinity Pool, but most times, I was on my own private island. Every evening, I had chocolates on my pillow (there is also a pillow menu for fluff -connoisseurs) and a plan of activities for the next morning. But for that, I had Mangal too, who would call up in the morning and meet me before I retired to confirm my plans and fix my pick-ups. And of course, two bikes were parked outside to help me get around.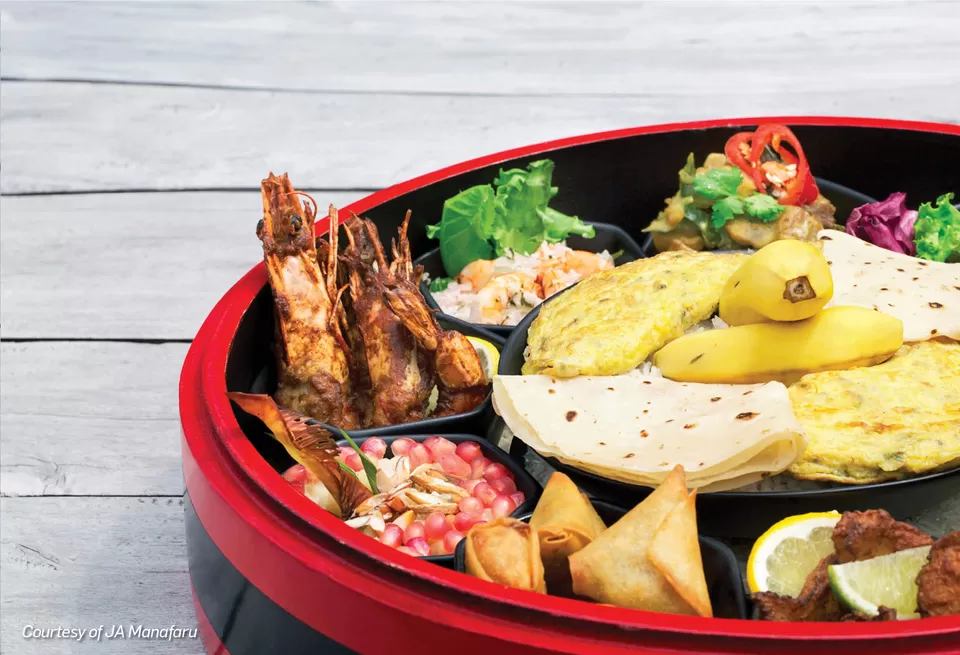 "Maldivian men don't cook," Executive Chef Moosa Nazeeh told us at the main restaurant Kakuni. An exception to that rule himself, Chef Moosa was hosting a cooking class in Maldivian cuisine, his makeshift kitchen setup on a wooden dhoni (a Maldivian boat). "Maldivians eat coconut,fish, chapatti, and rice. Our cuisine is very similar to Sri Lanka and India and we use the same spices," he said as he named all herbs and ingredients. Maldivian chilly, one of the hottest in the world, is not cooked, but used at the end, and the curry paste is a staple in dishes.
We had for lunch what we helped him cook—tuna salad, fish curry, and drumstick soup, a labour of our love. Little is produced in the Maldives, so most things come from countries far away. The resort sources fish, lobster, and crabs locally, but fruits and vegetables are from Thailand, and herbs and meats from Australia. They also have a herb garden, which is still a work-in-progress, but soon it will have plenty of veggies and spices for the restaurants. They may even host cooking classes there, I was told. With Indian chefs in the kitchen, breakfast dishes included sambhar and aloo poori.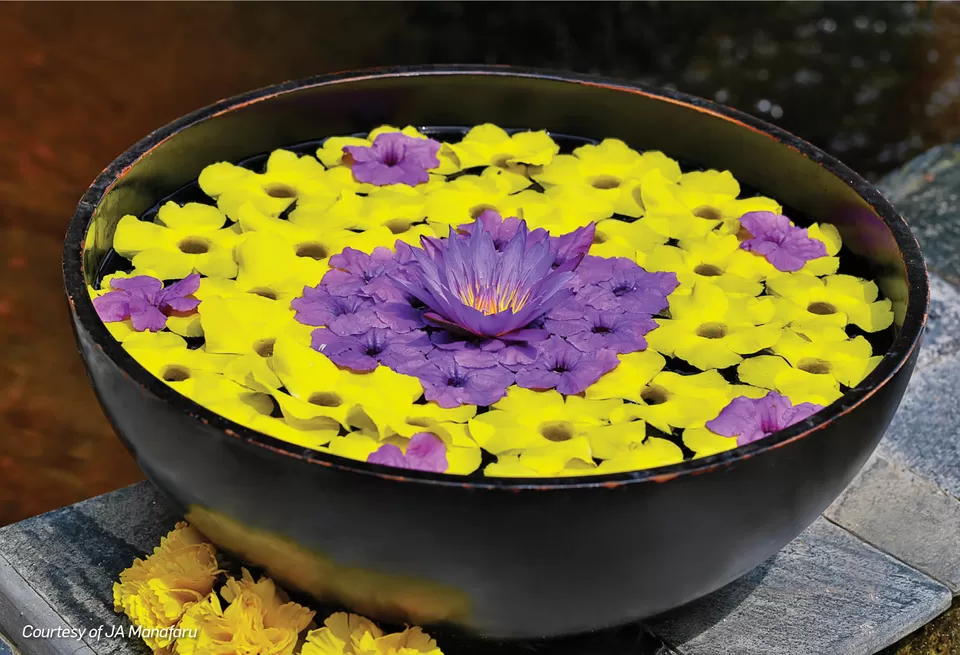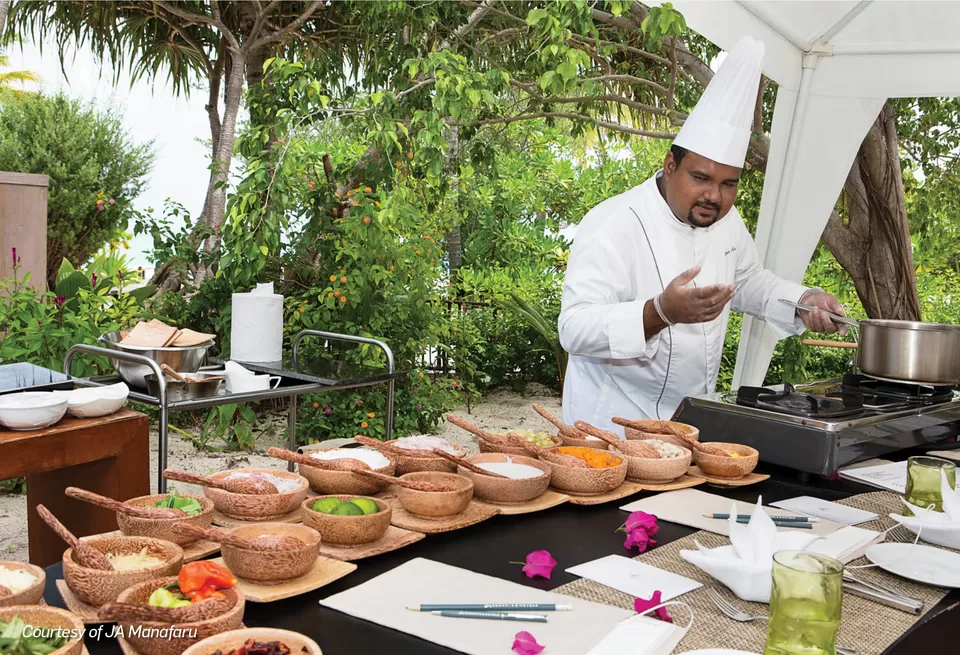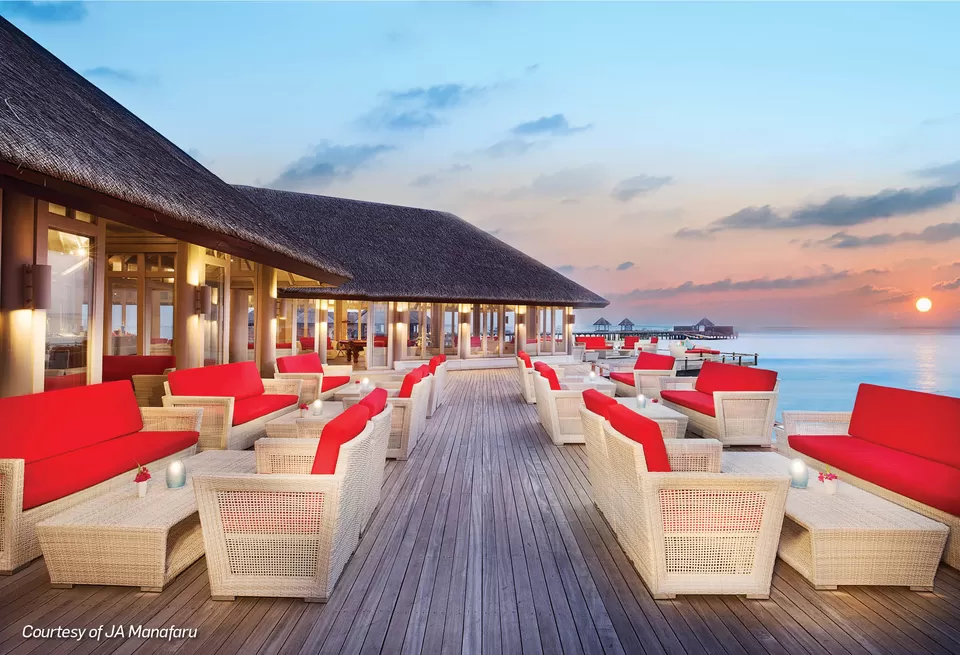 On our last night, the international buffet had a variety of Indian food, along with Asian and Italian. But, the most memorable gastronomic experience was the dinner under the stars, with a dance performance by a local troop on the beach. Another spectacular setting is that of The Cellar at the resort, located two-and-a-half meters below sea level, that displays a stellar wine collection. There are 2,800 bottles here, ensconced within stone walls constructed with materials from Indonesia. Guests can have wine and cheese events in the cellar with tastings hosted by a sommelier.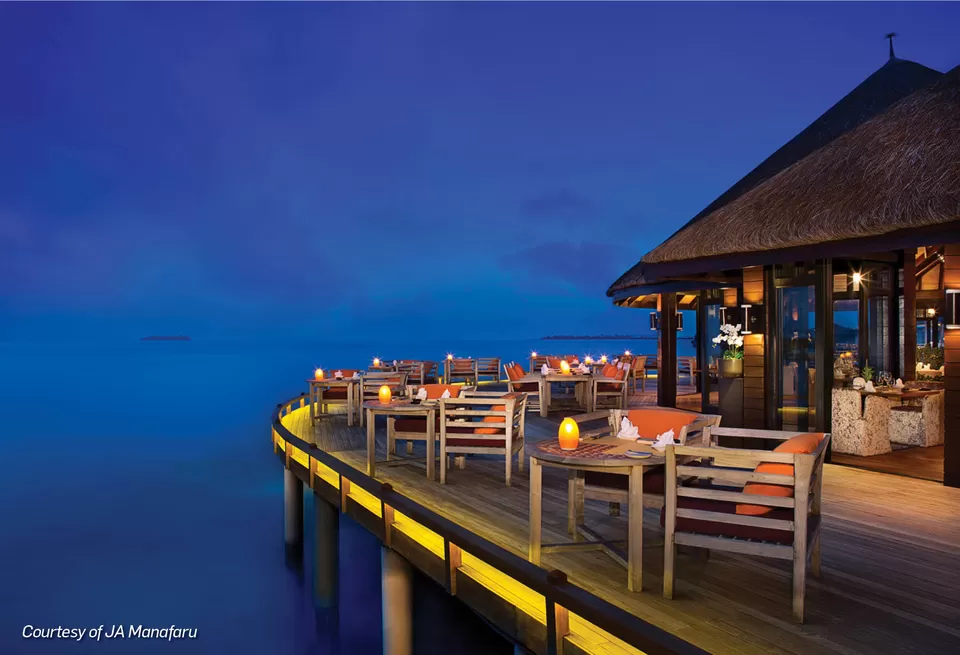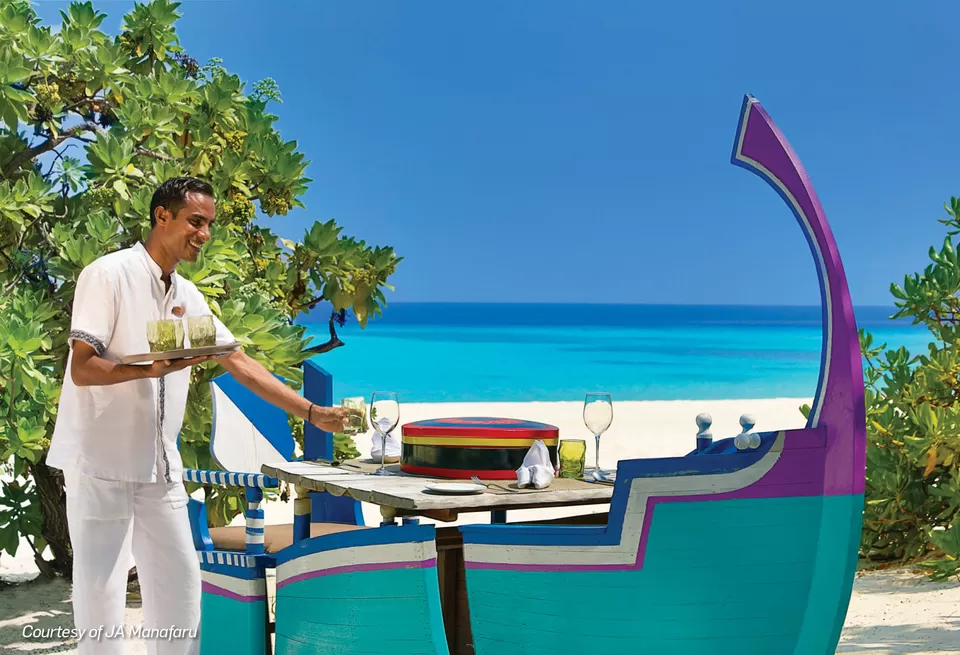 On The Green Front
More than a million visitors come to the Maldives every year—from families to honeymooners to diving enthusiasts to backpackers. It is a bucket list destination, easy to see why, but the environmental changes are hitting it hard. The country with more than 1,000 islands is flat and it is predicted that most of the islands in the Maldives will sink in the next 100 years if the water level continues to rise. Coral reefs, not just in the Maldives but around the world, are dying. The future is unpredictable and beauty vulnerable, but the government has made it a priority to reduce greenhouse gas emission and control the damage.
Visitors may not realise it, but it really is a luxury to drink in the Maldives since alcohol is illegal in the country and the laws are strict—there are heavy taxes levied on resorts importing alcohol and they must report each bottle to the authorities when it arrives after a long journey. A hedonist for experiences, I gathered all that I could fit in my two arms: A tour of the herb garden with chief gardener Tomato; a cooking class with Chef Moosa; an evening 'lucky dolphin cruise'; a painting session with their electrician-turned-artist Shahid Ahmed; and an excursion to Muladhoo island, where we met locals and cooked roshi (chapatti-like bread) and mashuni (tuna) with their help.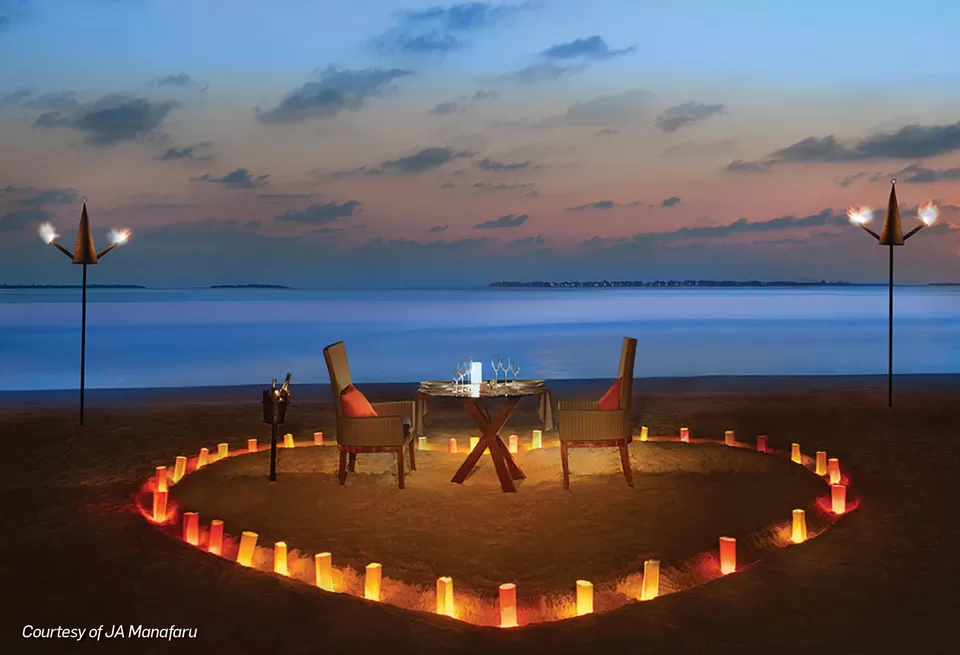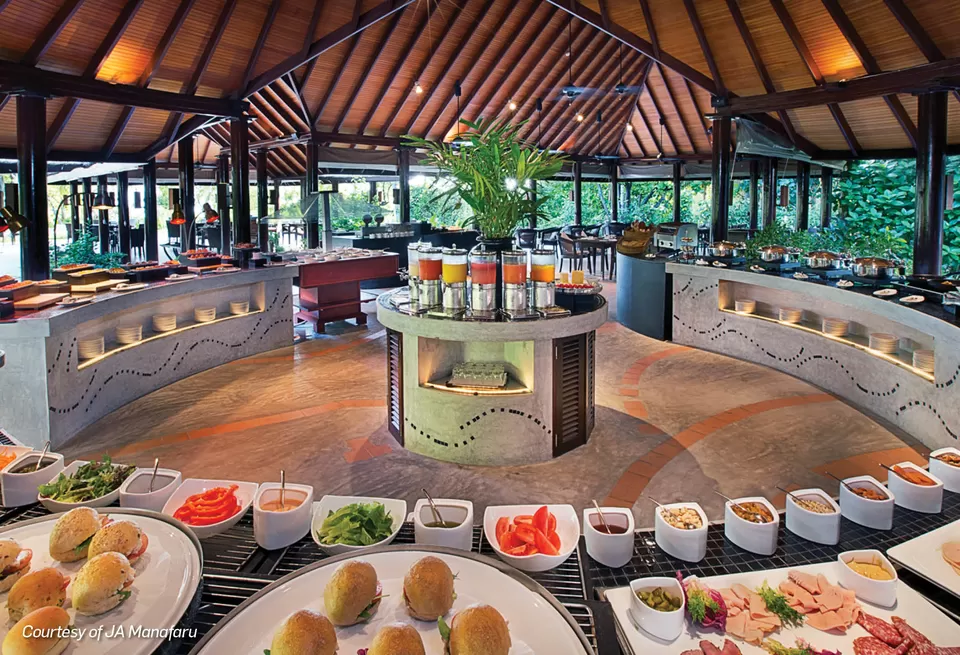 An island far from the capital, the resort has made itself self-sufficient. It generates its own electricity, has a sewage treatment system, and is equipped for all emergencies. They also have a doctor and nurse on call at all times. JA Manafaru has also stretched out their services to their neighbors—they have recently repaired the mosque and built a jetty on the island that we visited. During those four days, I found out that there is strength in knowing how to slow down; that singing karaoke in an empty bar can be heady; that walks on the beach are just as romantic when you're alone.
And, I sang to myself, for myself. "I don't care if I know just where I will go, 'cause all that I need is this crazy feeling. A rat-tat-tat on my heart… Think I want it to stay..." —from the movie La La Land.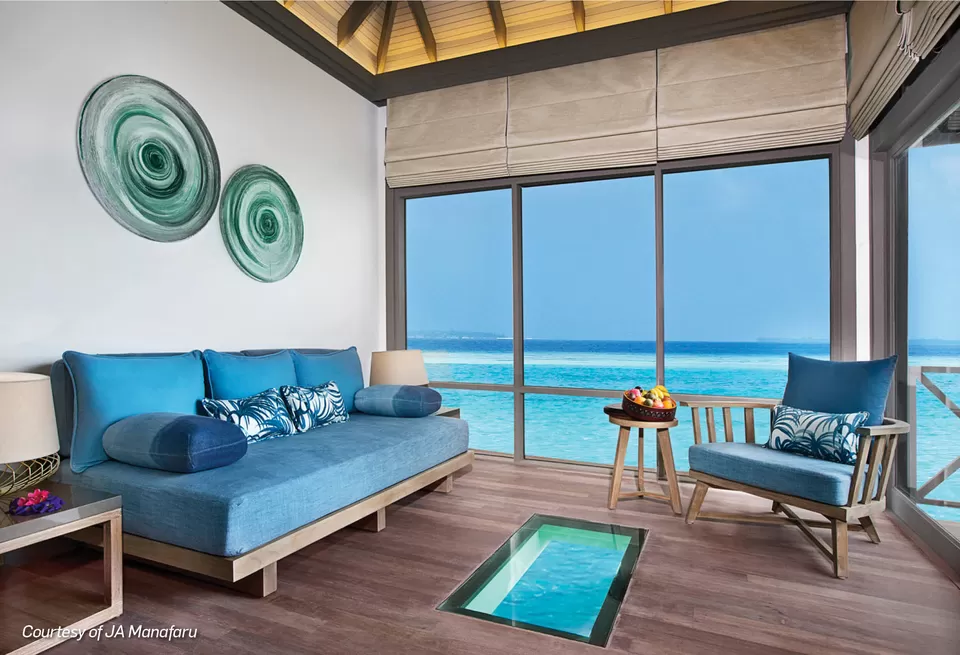 Summer Fun For The Whole Family
Whether it is your baby's first vacation or a summer holiday with your teens—JA Manafaru has a smorgasbord of activities for young guests. They have different clubs for youngsters kids and teenagers. For family time, you can take a painting class together or book a cooking session with Executive Chef Moosa Nazeeh. Diving, snorkeling, water sports, beach sports, and indoor games are aplenty. Additionally, the Maldives can provide an excellent opportunity to you kids to discover more about marine life, coral reefs, and the effect of modernisation on nature—learn from the resident marine biologist Stacy Mallaby at the marine research centre, Seatopia.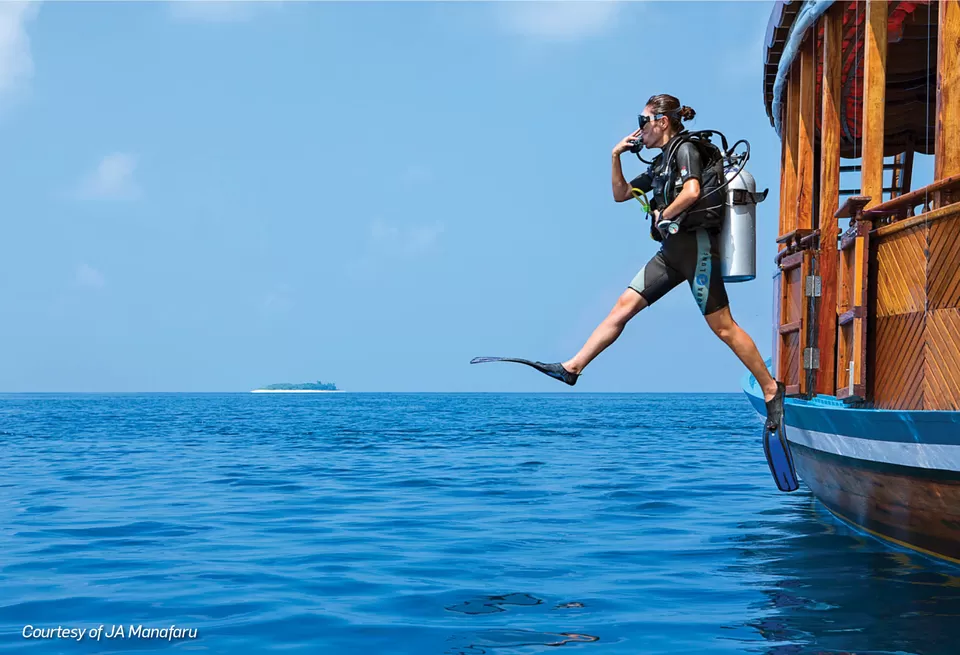 There are fish feeding sessions, local island tours, dolphin cruises, and fishing trips too. If you want some time away from the kids, you can request for babysitting services and take a romantic cruise at sunset. You would also like little touches such as a kids' menu with a colouring sheet at each restaurant, a weekly activity schedule in the clubs, bicycles outside every villa, and an updated daily program list every evening. The resort offers an all-inclusive package that includes all meals, beverages, unlimited non-motorised sports, in-villa minibar, a fruit basket and bottle of wine on arrival.
The Details
Getting There: No visa is required to enter the Maldives. Mega Maldives Airlines operates a direct four-hour flight from Delhi to Male. On landing, JA Manafaru will arrange for a seaplane transfer to the resort (journey is 80 minutes). Alternatively, you can take a domestic flight to the Hamimaadhoo International Airport and arrive at the resort on a speedboat.
Stay: All villas, suites, and bungalows at the resort have private pools. If you're travelling with kids, request for the Beach Suite with a sundeck and direct access to the beach. For honeymooners, the Grand Water Two- Bedroom Suite is perfect. Positioned at the tip of the resort, it has sea-facing bedrooms, an outdoor deck, and an infinity pool. Base category bungalows start at US$720 per night.
Eat: The resort has multiple dining options including the main restaurant, Kakuni, which hosts theme dinners; The Cellar is perfect for private dinners and wine tastings; the ocean-front Ocean Grill serves fresh meats and seafood; The White Orchid is an Asian restaurant with a live teppanyaki station; and Andiamo Bistro is perfect for pizzas and salads. The Infinity Bar serves drinks and light snacks all through the day.
Things To Do: At JA Manafaru, you can snorkel in the house reef or take a speedboat to the colourful reef close to the neighboring island, Muladhoo. The resort also offers excursions to this island to understand local culture. Additionally, there are non-water sports such as biking, beach volleyball, tennis, and football, kids' clubs, a spa, pools, a boutique, and a fitness center.
WOW Club: The trip was organised by the Women on Wanderlust club for the International Women's Day. More on their travels on wowclub.in
Frequent searches leading to this page:-
hotels in maldives island, places to visit in maldives in december, weekend getaways in maldives, maldives trip budget, things to do in maldives for couples