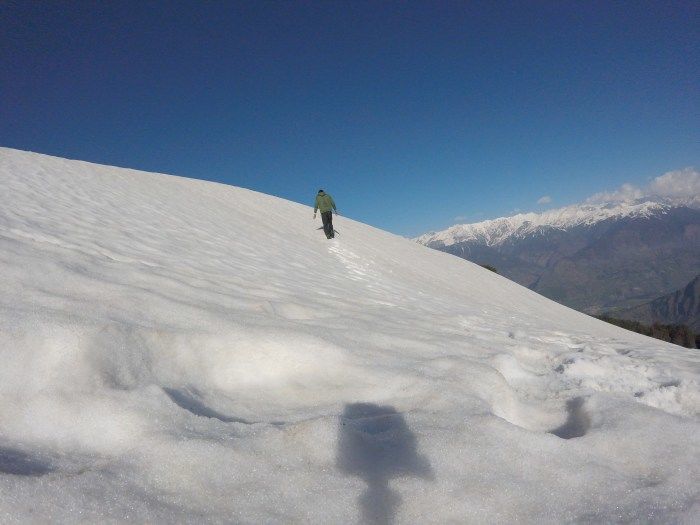 It was a weekend again and a holiday on Tuesday. With a leave on Monday, I would get four days of leisure time. Without any second thought, I decided to go to Rumsu, base village for Chanderkheni Pass trek, and reached Kashmere gate at 8:40 pm. However, for some reason, I has a bad feeling about this. I wanted to get some friends along, but none could join. I was alone again. I went to the ticket counter and stood in the queue to buy a ticket to Manali. Patlikuhal comes 10km before Manali and is just a 5km auto ride from Rumsu village.
The time wasn't good for me. Just as I reached the count's er, tickets were sold out. Disappointed, I started evaluating the pros and cons of going. I thought that this could be a bad omen. However, somehow I stayed there till 9:30 pm and again stood in the line for 10pm bus. The sad part is that they don't give tickets unless the bus arrives, which is 15 minutes before the departure. Again the same thing happened. Tickets sold! By now, I was certain that this is a bad omen and I headed back towards the exit. Somehow, this act of giving up hurt my ego. I had a pile of tangled feelings impossible to separate. Just then, I heard someone shouting "Baijnath!" I quickly turned grabbed a ticket and boarded the bus to Baijnath. I knew that it was going to be a very long journey, but I couldn't care less. And that's how my journey started. With ups and downs, twists and turns and switching buses at Baijnath, I made my way to Patlikuhal. On my way to Patlikuhal, another bus coming our way stopped on the side and its driver leaned out and told our driver that one of our tires is punctured and left with a smile. The conductor got down to check what's wrong, but, he found nothing. All tires were in great condition. Then he shouted, "Arey April fool bana ke gaya wo!" (He made us the April fools) and we all laughed it off. In our ever growing cities, we don't really get the chance to experience such happy moments where there's no stand-up comedian required to bring a smile to our faces. Here, everybody is pissed off at each other's driving skills leaving no room for petty mistakes or even for the others to pass by. All we need to do is just chill! Easier said than done. But up in the mountains, people have patience and also a bit of child in them to live and let live and keep things a little more interesting.
Another funny moment I remember is the bus's honking. Normally, horns of buses are so loud that they could drop a cyclist off his/her cycle. But this horn sounded more like a little girl screaming after seeing a cockroach. The horn sort of scared itself and made me laugh every time it screamed.
As we reach closer to Manali, a guy enters the bus. The conductor asks him,
"Kidhar jana he?" (Where do you want to go?)
Guy replies extending his neck in no particular direction, "Udhar hi." (There itself)
Annoyed conductor replies, "Hum 'udhar hi' nahi jaate." (We don't go 'there itself')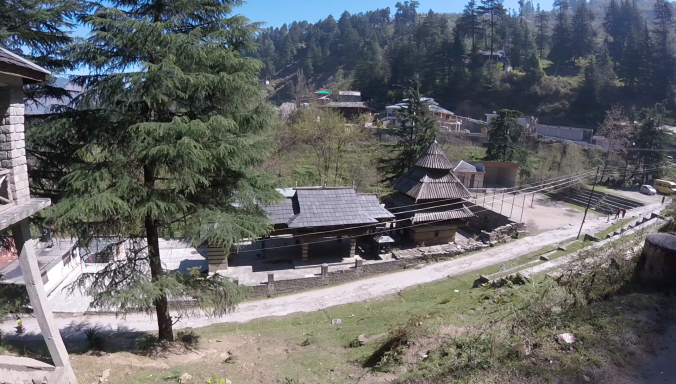 After 16-17 hours of local bus travelling, I reached Patlikuhal, walked 5kms to Naggar and booked a nice room for Rs.400/- It was a hippie kind of place, but nice! Next morning I woke up early and the owner of the place, Sethi bhai, offered me nice hot tea. Surprisingly, I was the only one staying there for the night. Therefore, to give me company, he prepared one for himself and we stood staring at the mighty mountains. However, after a while of silence, it became awkward, so I asked him, "Do you do Yoga?" He said, "Yes", and the silence continued. The after some more time, he asked me, "So you're gonna go to Rumsu today?" I said, "Yes! That's the plan", and the silence prevailed. Trying to end the awkwardness, I quickly finished my tea, so did he, and we went back to doing our own jobs.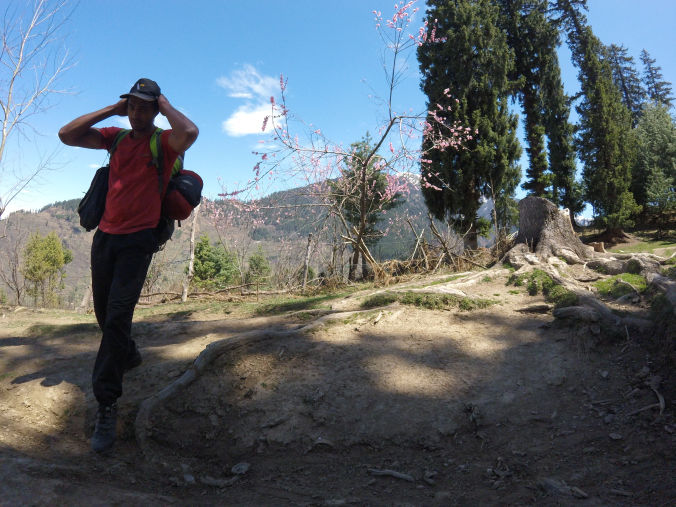 A while later, I started my ascent to Rumsu and then towards Chanderkheni Pass. On the way above Rumsu, I met a group of hikers who were returning from the pass. Surprised to know that I was trekking alone, one of them warned me about a bear and two leopards that they had spotted on their way back. Although these majestic creatures are extremely shy and almost never come across a human track, the risks of their attacks cannot be ignored. They added that there was a group of two hikers and their three helpers just about two hours on the way up. Therefore, I decided to catch up, and, if I don't, return back to Rumsu. Fortunately after a couple of hours of quick climbing, I met this group. This was no ordinary group. One of the two trekkers, Dr. Mishra, had scaled the mighty Mt. Everest in 2008 and the other, Mr. Shyam, had just returned from a 21 days solo backpacking trip in Russia in dead winter. He had been trekking since 30 years and had also served in the army. Both were around 50-60 years old and had a lot of knowledge to share. We camped at a place where the snowline started and spread to vast stretches. The landscape was shining beautifully with white crystals.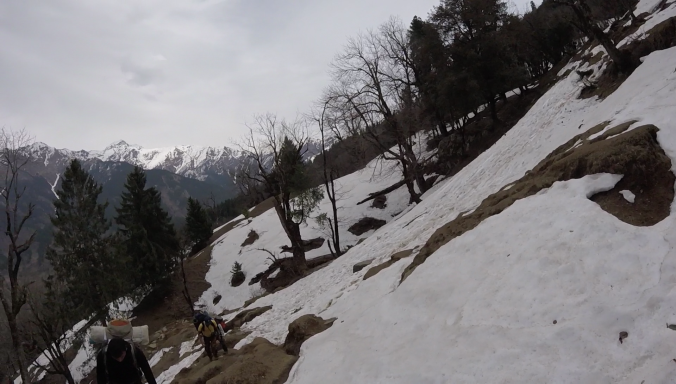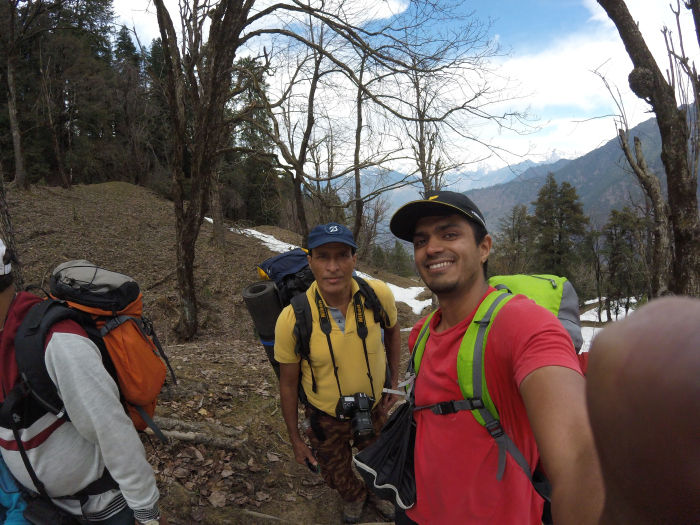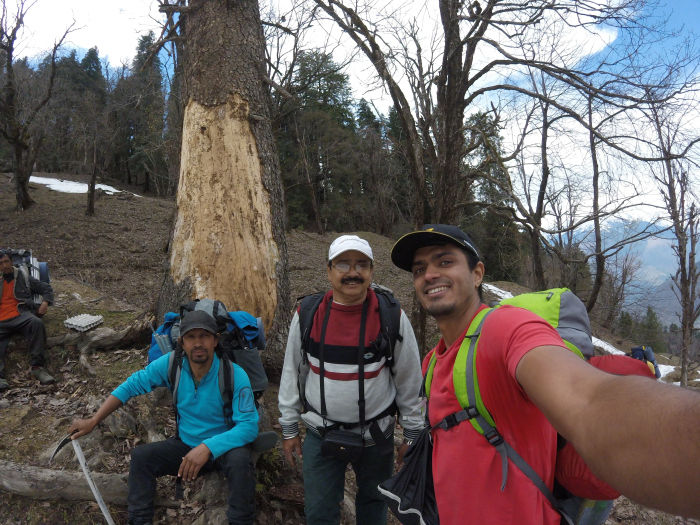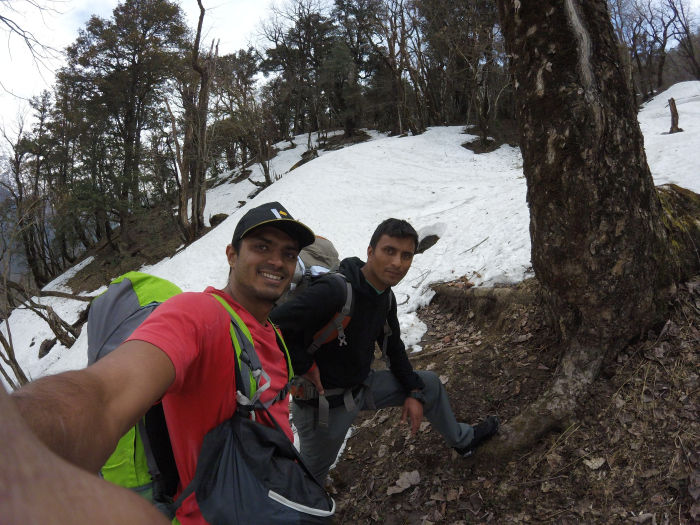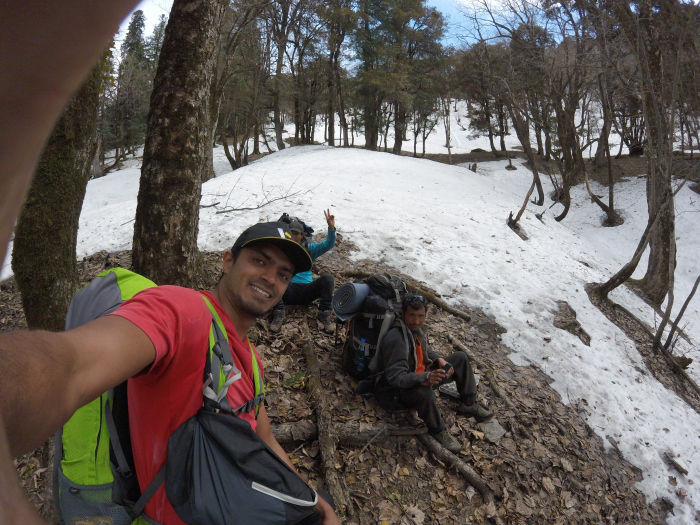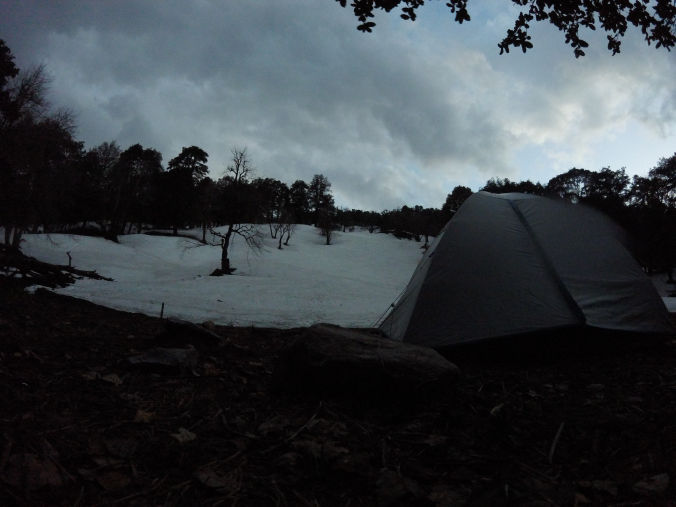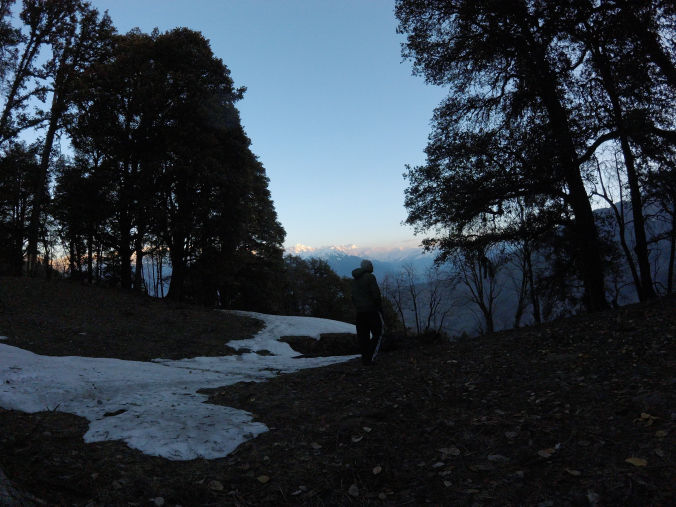 The next morning I woke up early and decided to take a stroll on the white icy land. Climbing up was fun while I took stunning photos and coming down was even better as I just slid down the slope, until I got lost! I was in a jungle and place seemed very different from what I had seen while climbing up. But I was too tired after climbing up for one hour and sliding down was just too much fun. It made me not want to climb up again. Nobody eats a spinach sandwich after hogging a double cheese chicken burger. Therefore, I decided to walk leftward thinking that I may have drifted right. I walked and slipped and walked until I reached a dead end. Now there was no other option than to swallow the spinach sandwich. So I started climbing up again, fortunately found my tracks and relished the leftover sliding back to my camp. By now, everybody was awake and we spent the next couple of hours chatting, strolling and clicking pictures till the time I realized that I should get going. So, I bid them farewell, noted all their numbers and joyfully slid and ran down to Rumsu.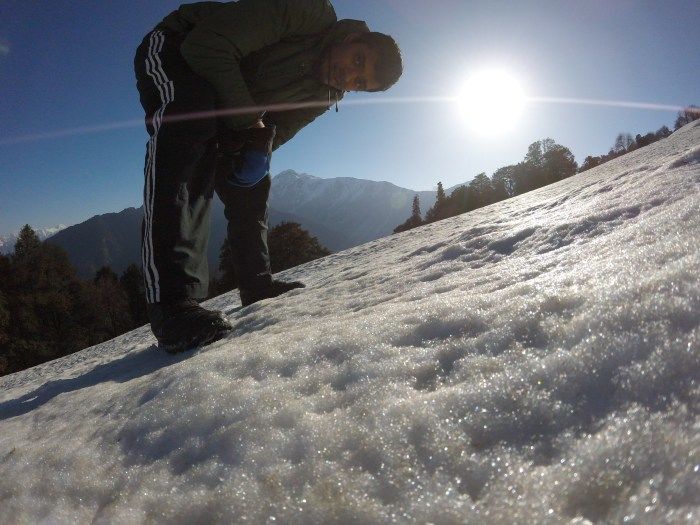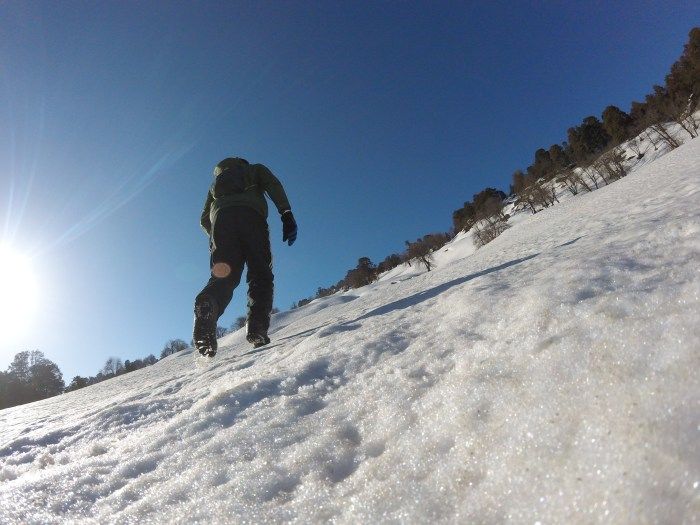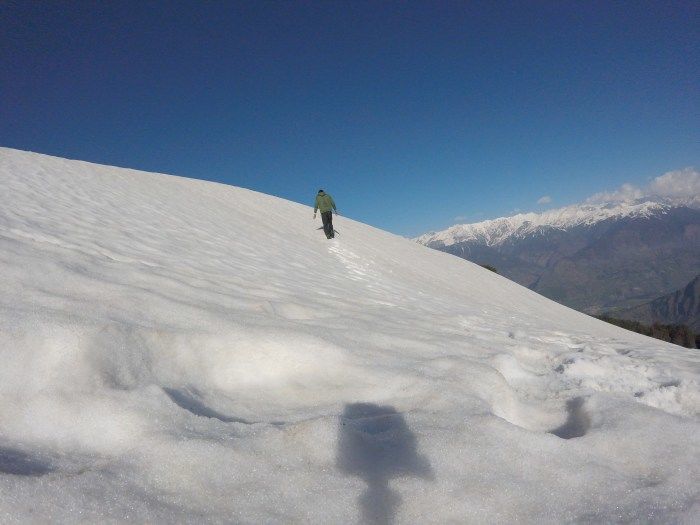 At Rumsu I met a local named Baldev, who invited me for a tea. Happy with the offer, I walked to his house where I met his extremely cute little daughter Lizul. Her running nose was in the middle of a marathon. Baldev had another little one and she looked more like a baby panda than a human doll. She kept smiling at my face all the time. I never knew my face was so funny! These two little sisters had a slightly older cousin sister living next door. She was an upgraded version of Lizul with her nose running in a full-fledged Iron Man! I played with these little Power Puff girls, staying away from their powerful noses, and finally ended up staying at Baldev's place for the night. He introduced me to his cousin Sandeep, with whom I drank beer and stayed up till 2 a.m. telling our stories to each other. Our stories ranged all the way from adventures to break ups. The next day was my day to leave. I had a 6 p.m. bus to catch. Till that time Sandeep showed me around his village. We shared a few more stories about city and village life and the people there. In the meantime, I met many of his friends in the village and spent a few good hours talking and gazing and the mystic mountains.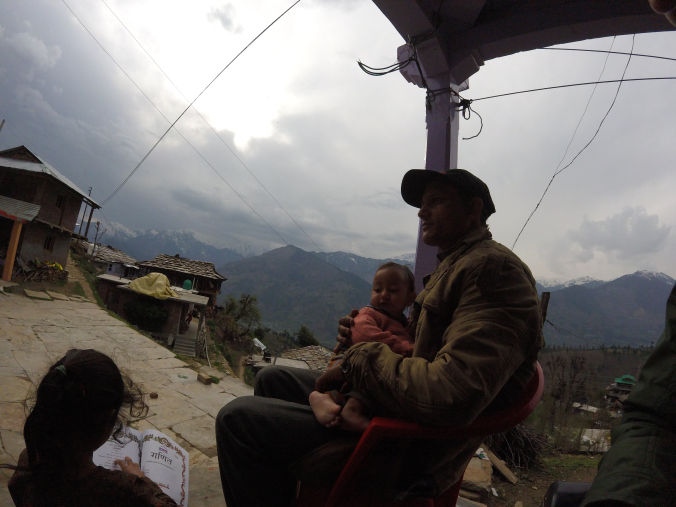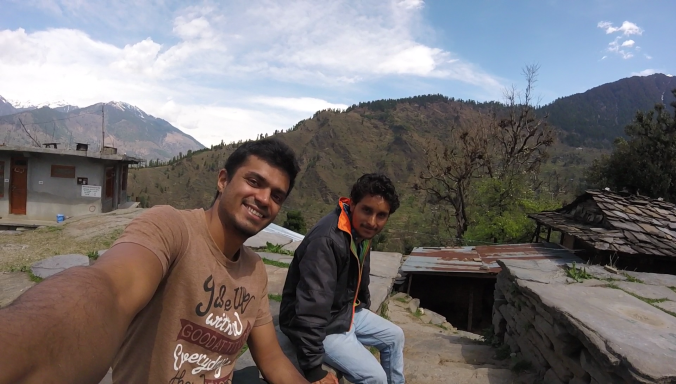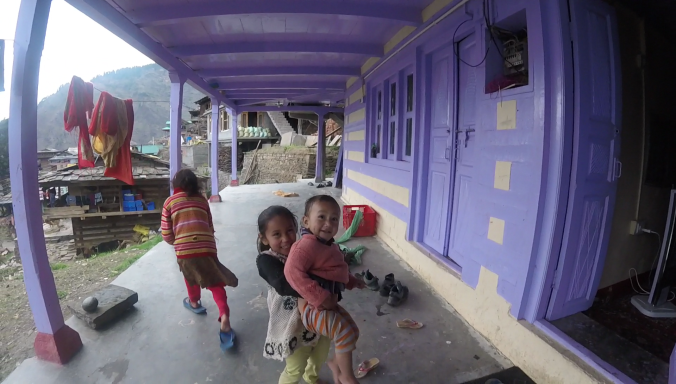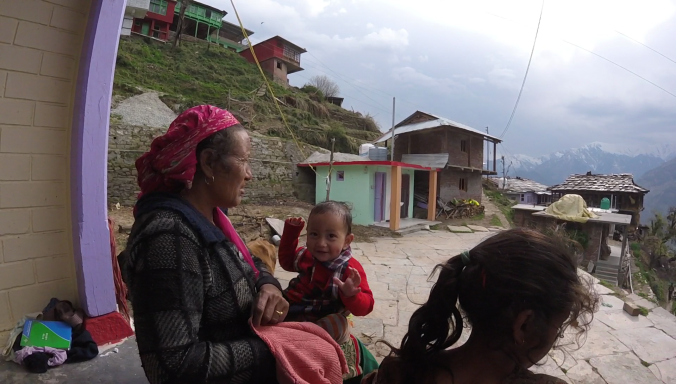 It was then that I had to leave the beautiful place and head back to my monotonous life in the city. What felt like a bad omen before leaving for the long weekend from Kashmere gate, turned out to be one of the most splendid adventures I've had in my life. Sometimes, we just have to keep out intuitions aside and dive in the mysterious pool of opportunities, because, neither we, nor our intuitions and nor the people around us are always right. Relishing the moments I spent adventuring in the mountains, breathing the fresh air of happiness and most importantly, bonding with new and interesting people, I said goodbye to the land of snow and carried back with me, a bunch full of memories that I'll never forget.