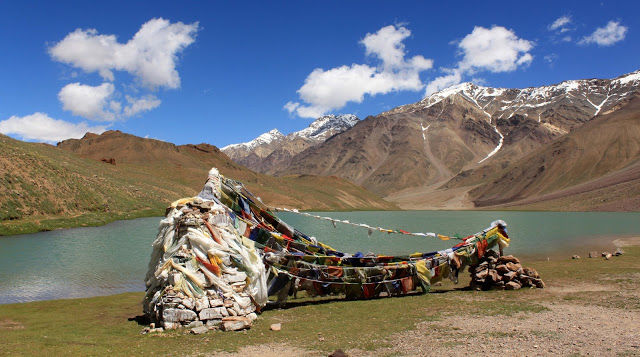 The Decathlon showroom in Carter Road is a happy place. Trekkers, cyclists, joggers and sports enthusiasts throng the outlet. It's high time we Mumbaikars realised that there is much more to life than just hustling and bustling. I mean, this shop felt like a whole new world to me. I stuff my new hiking shoes, poles, gloves and windcheaters into one big orange backpack. I get out of the store with a big smile only to realise that I had forgotten to pick up the cool travel pins I had seen in every corner of the shop. I rush back in and add six multi-coloured travel stickers to my cart. After scribbling my initials, I pin them all to my bulging rucksack.
It was an impromptu decision that I chose a 15,000-ft. pass located in the lap of the mighty Himalayas for my first hiking experience. The trip-reminder mails and a few internet searches about the difficulty level, made me realize how unprepared I was. Frenzied calls to Sir Ranjit Singh, the only professional trekker in my circles was what followed. The very next day, we decided to meet at sunrise and trek up to yogi hills for practice.
Sir Ranjit, my former geometry professor, would narrate incidents justifying his shift of interests from being a math teacher to a K2 aspirer. His experiences with a fiery-eyed leopard, love for rice beer and atheist ideologies were all I heard about. Though I disagreed and argued with him on certain topics, his enthusiastic and persuasive way of narration made me listen to him more. The small hill that he would climb up in 10 minutes took almost an hour for me. A bit of dragging and few motivational lines led to a splendid view of the entire city.
Then suddenly, the D-day is here. I am super excited but slightly nervous too. I would be spending the next two weeks in the hills with complete strangers. God, I couldn't imagine being up there for so long without internet connectivity.
Continuing with my tradition of never reaching places on time, I am the last of the whole lot to board the train from Bandra terminus. To my surprise, we start getting along really well. It feels like a group of people belonging to the same tribe. Travel, psychology, politics-discussions roll over one after the other with ease. Diverse opinions; unifying interests.
Our base camp is in Rumsu, a small village bordering the Northern states of Himachal Pradesh and Kashmir. Having lived in central India all my life, the remote northern mountainous region practically never existed for me. This place is my very first introduction to the Himalayas. Rumsu is small, scarcely populated yet one could find a million things to do in went out exploring. I try my hand at picking strawberries, mind you, they were orange, not red, and the best I have had to date.
While returning from the local market, I lose my way back to the camp. It is dark and there is nobody around. A little brown labrador comes from nowhere and walks me back to my base. He is my first friend in Rumsu. I now call him Shadow because he keeps following me wherever I go.
Although most of the locals have not been formally educated, they are not short of courteousness or civility. Their day-to-day activities are closely connected to nature and the manner in which they revere Mother Earth is something we all must learn from them.
No book or traveller would be able to describe the Himalayan experience fairly. One could fall short of adjectives. To me, it appeared like a great saint meditating in peace; detached yet one with the cosmos. It was huge but not intimidating, powerful yet ego-less. Later, I would realise that during and post the trek, there had been an unmindful change in my attitude towards people and everyday life. My frivolous miseries had hardly mattered in front of the herculean ranges. Now, I had to be punctual if I was to stay with the group. Interacting and conversing with strangers had become easier.
The climb was always going to be a test of one's determination and patience, a lesson to balance our emotions effectively. I left home with no objectives or motives. There were no names on the Himalayan map when I started but I was to return with more than 50 must-visit places and loads of self-confidence.
Covering Chika, Balu ka Ghera, Shia Ghoru and other smaller places on the way, we move towards our target, the awe inspiring Humta. Finding way through the 6ft deep snow is difficult, but the team spirit keeps us motivated. We slide, bruise our knees and relentlessly climb back again. It is the self-learning and experimenting that works.
As I make my way through a long slippery ice patch, I could see Humta clearly. It is only a few metres away. 'The final climb'- I say to myself and muster my leftover strength.
A flock of sheep heading in the opposite direction attract my attention. Suddenly, a fat-tailed female member of the flock slips and rolls over to my side. Shadow is intimidated by furry sheep and starts barking at her. She struggles to look through all the wool covering her face but eventually starts running back towards her family, much to Shadow's relief. If you are still wondering, yes, my little friend from Rumsu is still with me.
As I stay amazed by this little tiff between the sheep and Shadow, I am diverted, yet again by a few people shrieking at a distance. I turn back only to witness the most magical thing ever. I have never seen anything like that before. It appears from nowhere and gradually encompasses the peak in a bubble. What is it? It is a spherical rainbow!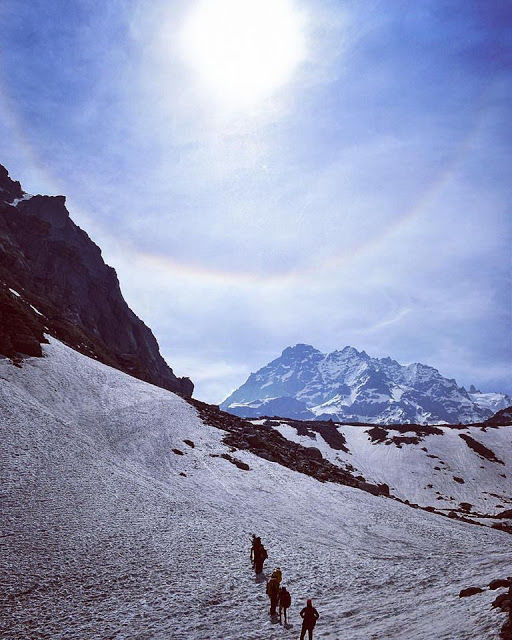 As we keep walking forward, it feels as if we are stepping into one big colourful bubble. Normally, I would have clicked several photographs by now, but now, I just stand still and keep staring at the rainbow. I pinch myself just to make sure that I am not dreaming. This is my utopia!
We start descending after sunrise. But I still have a lot more to look forward to. We are on our way to the world famous Spiti valley which is undoubtedly a paradise on earth. Handsome horses walk around royally. The gurgling brooks, blooming lilies and silent rocks make it a perfect canvas for any painter. Shadow seems to love this place. But he is a little tired after two weeks of climbing and lays on my lap as we watch the sunset together.
The early morning view of the milky way makes us stay up all night even though we are exhausted. The sun, moon and the stars feel so close that they make me want to believe in the stories where the prince would go moon-hunting for his princess.
The Chandrataal lake is the final spot in our itinerary. Reflections on the crystal clear water surface seem to emphasize the importance of introspection. I sit there for a while enjoying the symphony of migratory birds. The colourful prayer flags swing along with the breeze creating a soothing disturbance over the mild ripples underneath. I could stay here all my life and surely, the mountains would have lessons to teach me every single day.