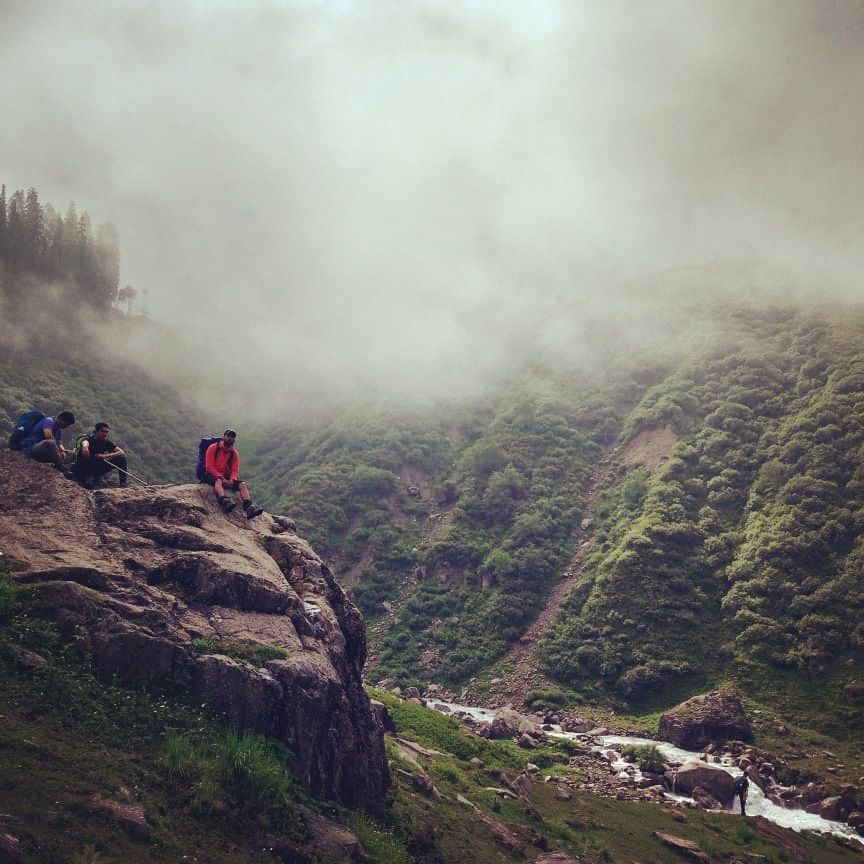 "Travel isn't always pretty. It isn't always comfortable. Sometimes it hurts, it even breaks your heart. But that's okay. The journey changes you; it should change you. It leaves marks on your memory, on your consciousness, on your heart, and on your body. You take something with you. Hopefully, you leave something good behind." – Anthony Bourdain
4 Months ago, I decided to accompany my friends to a High Altitude Himalayan Trek. I know, sounds very exciting. For me, it was more than exciting. It was a step towards the many fears I accommodate. It was a journey which culminated in me embracing all my fears and apprehensions, and evolve.
My childhood has been a very protective and sheltered one. My parents worry for me, more than they should. So I had never really got either the courage or opportunity to overcome the many misgivings I had about adventures and thrills.
So, Going to a High Altitude trek – precisely assent a height of 14010 ft. in a span of 5 days, certainly was an opportunity to be the person I have never been.
To go on any High Altitude trek, the most important thing is fitness, something I didn't pay much attention to, and as a result faced the consequences. So for any future trekkers out there, don't ignore the fitness guidelines suggested before going to any Himalayan trek, or you might be huffing and puffing your way to the peak, and worse still sent back.
So, we were a group of 8 people, and we booked the Hampta Pass trek for 30th June-5 July, with Indiahikes. Indiahikes because one of us had already done the Roopkund trek with them and had wonderful stories to tell.
As I googled Hampta Pass trek, all I could see was monsoons and rivers, plenty of them, which needed to be crossed. Being someone who is as petrified of water bodies as one could be, those adrenaline pumping videos were terrifying. So I saw them every single day, till the time I was okay with them, motivating myself that I was ready to do it, having seen it so many times.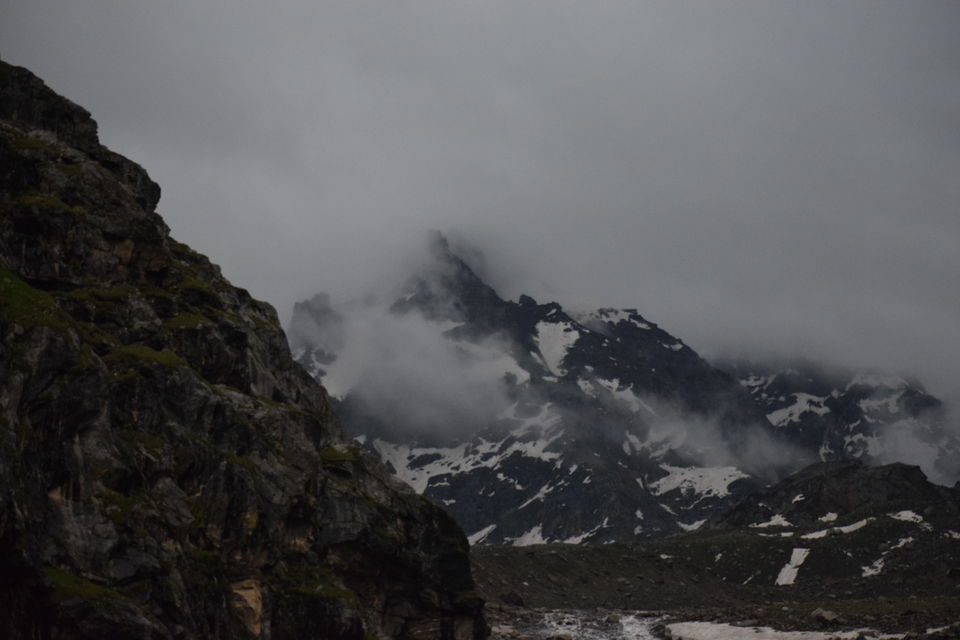 Coming to the fitness part of it, we are supposed to start the preparations at least one month prior to the trek, but procrastination has never really helped anyone, and I was one of its victims. I started around two weeks before the trek, which was a little too late.
If you ask my childhood friends about any trekking experience together, my best friend will tell you the story of Karnala trek, the single hill I had climbed as a part of our school trip in 9th standard, where I was the heaviest girl in the group and one of the last ones to reach the summit. My best friend, on the other hand, was the star of all the sport days, and was called the PT Usha of school. Somehow, her constant motivation and support had helped me reach the top at that time. IF I could do it then, I could definitely do it now, I kept telling myself .I had given my backpack for offloading, so all I had to carry was myself.
We reached Manali on the morning of 30th June, and relished the wonderful locales and mouthwatering breakfast at Cafe Amigos, a quaint little German cafe in the heart of Manali. Five of our friends were still on their way, preferring to take a cab from Delhi to Manali. We three, on the other hand, had taken the bus, and hence had arrived on time.
At around 11.30 am, we assembled at Keylinga Inn, which was the meeting point to start the trek. We met our fellow trekkers, had lunch, locked our excess luggage in the hotel room, and boarded the Jeep, finally starting the journey towards 5 days of bliss, adventure and unwanted digital detox, owing to unavailability of mobile network for the next Five days.
After an hour long ride in the Jeep which consisted of hairpin bends, awful roads and entertaining conversations with fellow trekkers and our trek leader, we reached the starting point at around 4.00 pm. The trek was supposed to be a short one, mostly taking an hour to complete.
After a round of introductions, we started the trek. It was an easy climb, and with a trekking pole with me, I certainly felt that day that I am not going to be that bad at this.
We reached our campsite by 5pm, which was Jobra, at an altitude of 9800 ft., and were awestruck by the scenery. Surrounded by breathtaking mountains, we soaked in the moments joyfully.
Next day, we started around 7 am, energized and pumped up .As we started climbing I could slowly feel my breath creating hurdles for me, more than the actual climb. After liters of water, lots of encouraging and an underlying fear of being sent back on the 1st day, I managed to finish the day's trek, which not only included climbing over steep boulders , but also included crossing a waterfall(sort of) with ice cold water. We finally reached Jwara (11072 ft.) and relished our piping hot lunch, which tasted all the more good because of the long trek.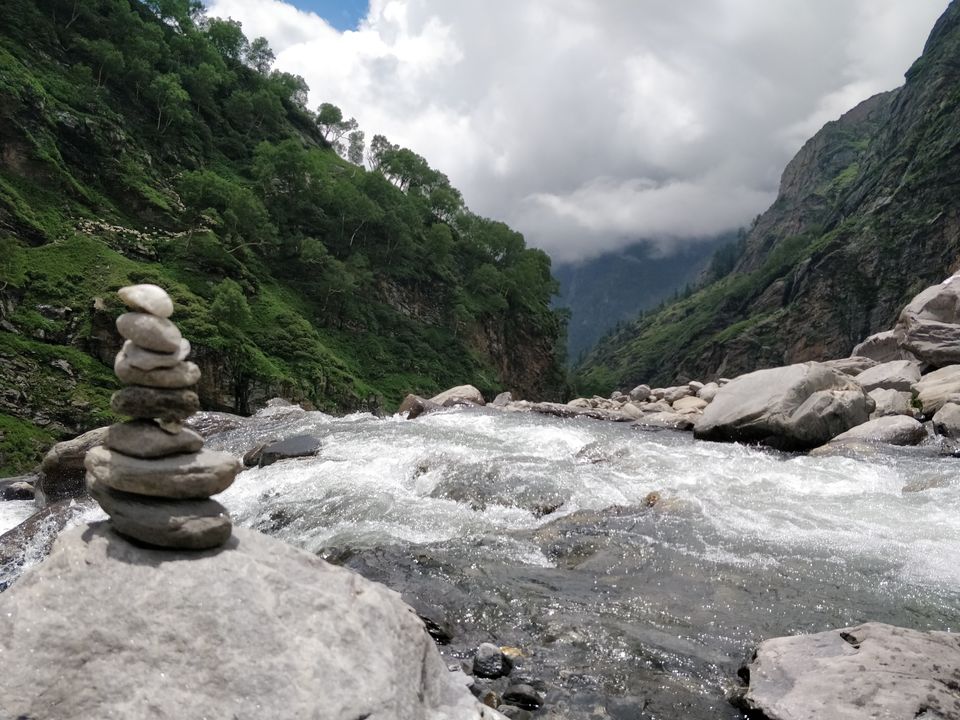 Since there was sunlight till about 7.30 in the evening, we had a lot of time in our hands, to explore the campsite and play games with the rest of the group.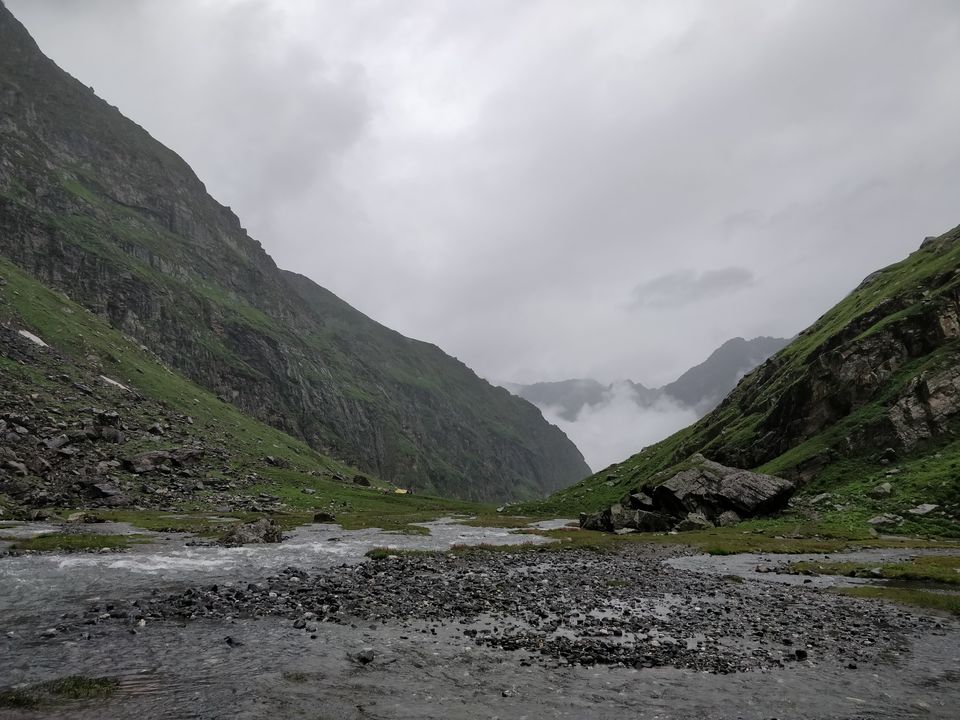 After a relatively sunny day, the next day dawned with the sun completely hidden behind the clouds, and rain drops pelting away mercilessly. The rain coats quickly came out, and we started our accent to Balu ka Ghera (12,411 ft.). It was a relatively easy climb compared to the previous day. We were still dealing with rocks and boulders, but less tiring than the day before. We also stopped over for almost an hour at a small shop selling tea and Maggi, the staple diet in any mountain trek. The rains wouldn't stop at all, and little did we know, the next we would see the sun was 3 days after. The routes has plenty of water sources to refill our bottles, and being hydrated was very important.
It was a short trek for the day, but we faced some challenging climbs in the last hour, owning to the continuous rains and the slippery rocks, with multiple streams to cross. My shoes were wet from the start of the day, and never dried after that. We finally reached Balu ka Ghera by noon, shivering due to the constant rains (atleast me) and spent the day mostly in the tents, as the rains were showing no mercy at all.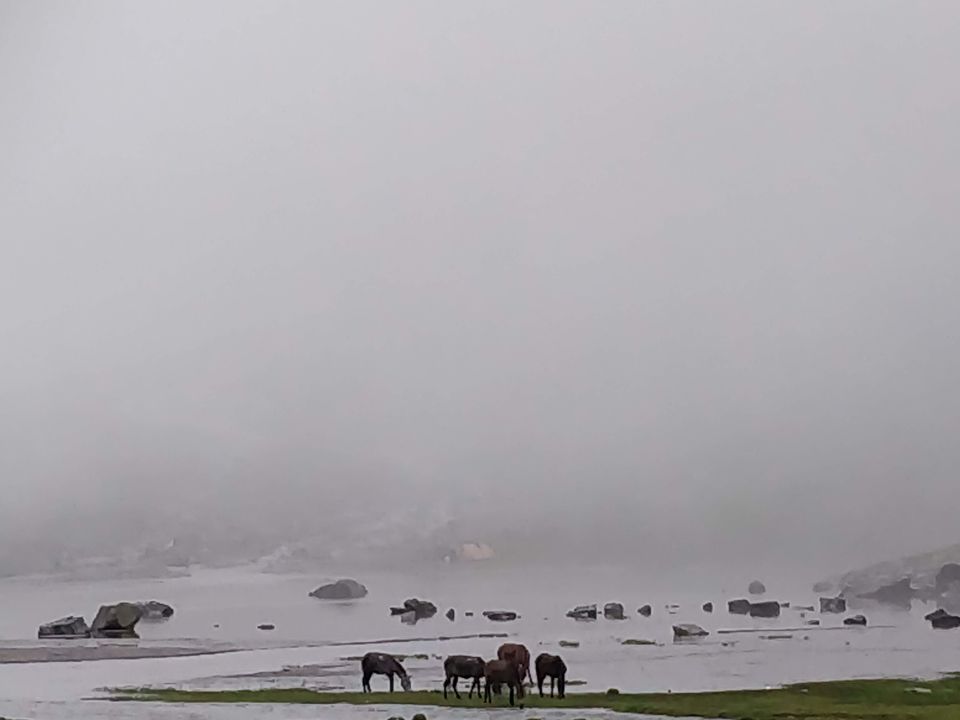 The next day, we started early, as we had to scale our summit, Hampta pass that day. We packed our lunches and set out, with rains and rocks keeping us company. We soon encountered patches of snow in our route, but were told that we are going to see plenty more as we climb. After a challenging hour or two of climbing through loose rocks, boulders and snow, we reached Hampta pass and had our lunch, but it was freezing cold and sitting still for even 5 mins seemed much more difficult than just walking on.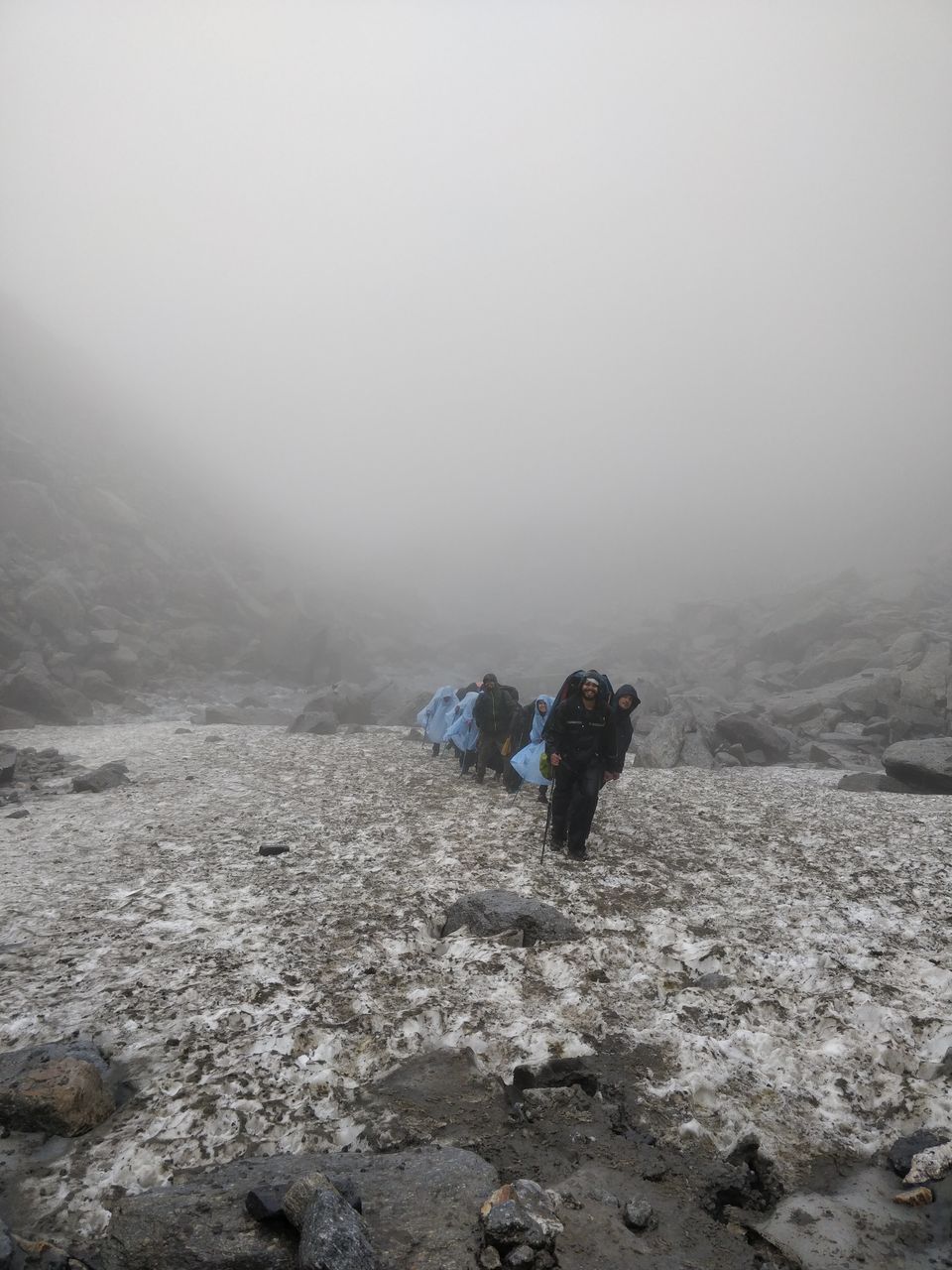 The descent from Hampta pass to Shea Goru (12254 ft.), which was our campsite for the day, would probably be the toughest part for me in the whole 5 days of trek. It involved descending through slippery and muddy rocks, and my shoes, owing to the continuous water exposure had become very uncomfortable and had begun hurting. Ignoring the pain as a minor one , we climbed down the route , mostly helped by my friends and our extremely sweet trek lead, who held my hand and helped me come down after I slipped and fell down at one point of time.
The rains continued to come down, hence all we could do at our campsite was come out for dinner, and shiver in the rains, and run back to the tents. Nights were spent listening to inspiring stories from our trek leads, who had amazing stories to share with us.
The last day of the trek, was from Shea Guru to Chatru (10.898 ft.), our campsite for the day. We started the day by crossing an icy cold river at 7 in the morning, which thinking about it now, seems like a farfetched fantasy. As the day progressed, the pain in my feet started increasing, and a seemingly easy walk became difficult for me. After constant encouragements and scolding's combined from friends and trek leads, we reached the end of our trek, where we could see roads, how unbelievable is that!! We had jeeps which would take us to our camps, from where we would proceed to Chandratal Lake. The Jeep had a heater, and so we enjoyed our ride immensely. The rains were still going strong, and we were still waiting to hear from Sunshine.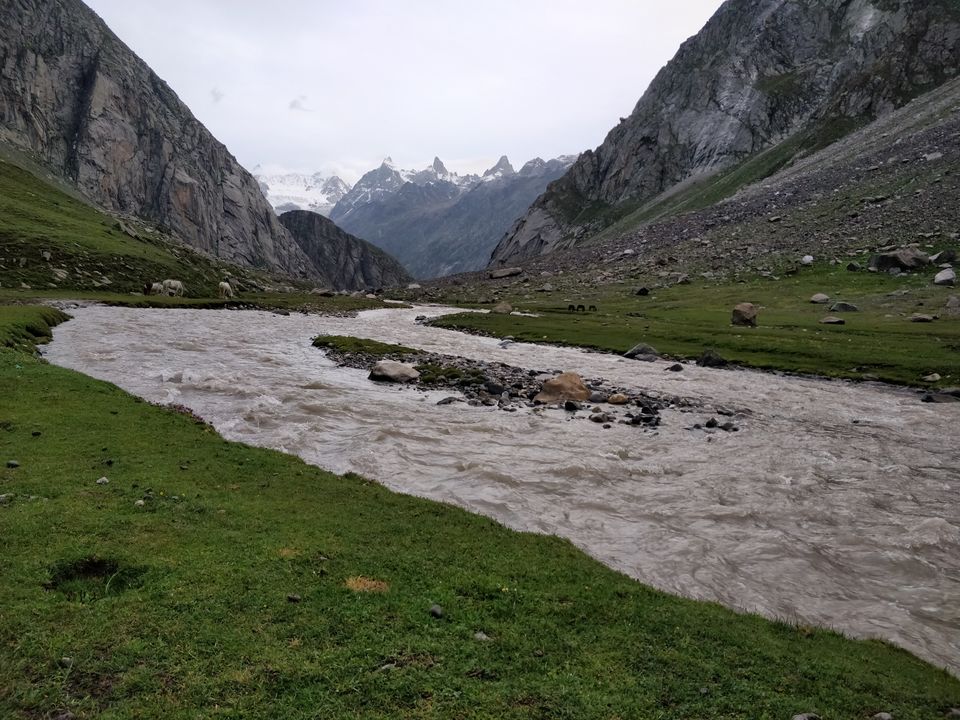 After an extremely windy half an hour in our campsite, we proceeded towards Chandratal, passing through rough roads and driving through waterfalls. It was a 2-3 hour drive till Chandratal, and we went out in the rains to see the lake, and clicked some photographs at our last pit stop of the trek.
On our way back, we stopped at a small shop, where we had everything ranging from Maggi to egg bhurji to Tea. The sun finally had come out, and we also soaked in sunshine after a long time.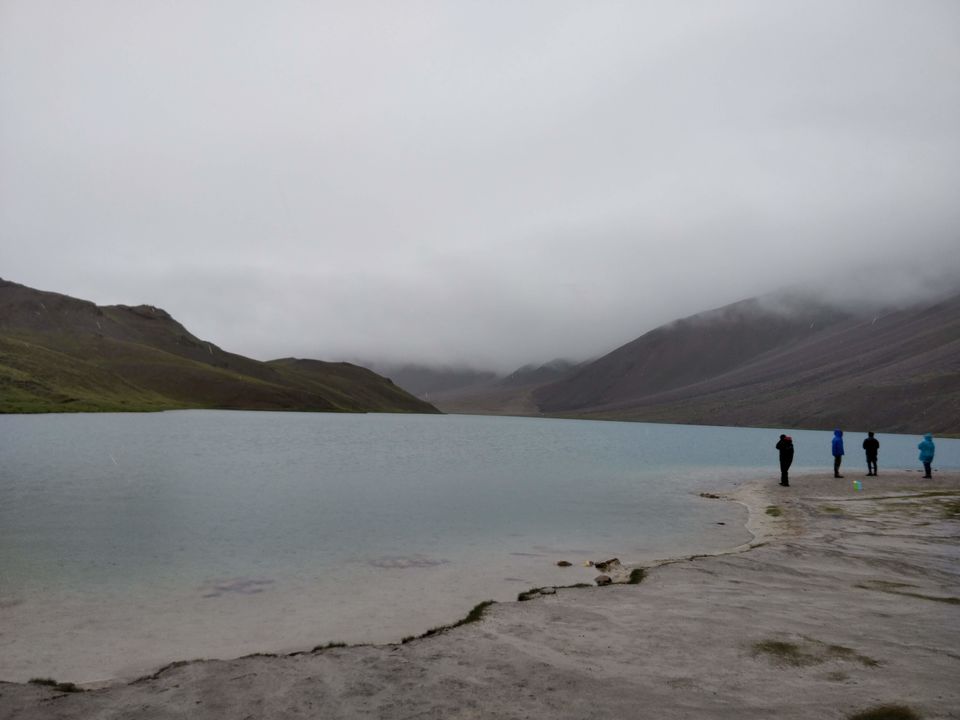 As our trip ended, we spent the last night listening to the stories of our fellow trekkers, cheering for them, cheering for us .Cheering for the experience and the memories which would stay with us for a lifetime.
As I look back, I see myself doing things I would never have thought I am capable of. Sure, I wasn't the best out of the lot, but it was an experience of a life time, bundled with lots of learning and memories .As I look at my feet, and my two relinquished Toenails, finally broken but however constantly reminding me of a million memories ,and making me smile. You have got to sacrifice one or two things in life, after all, nothing comes easy. Next time, a more prepared and fitter version of me will go.