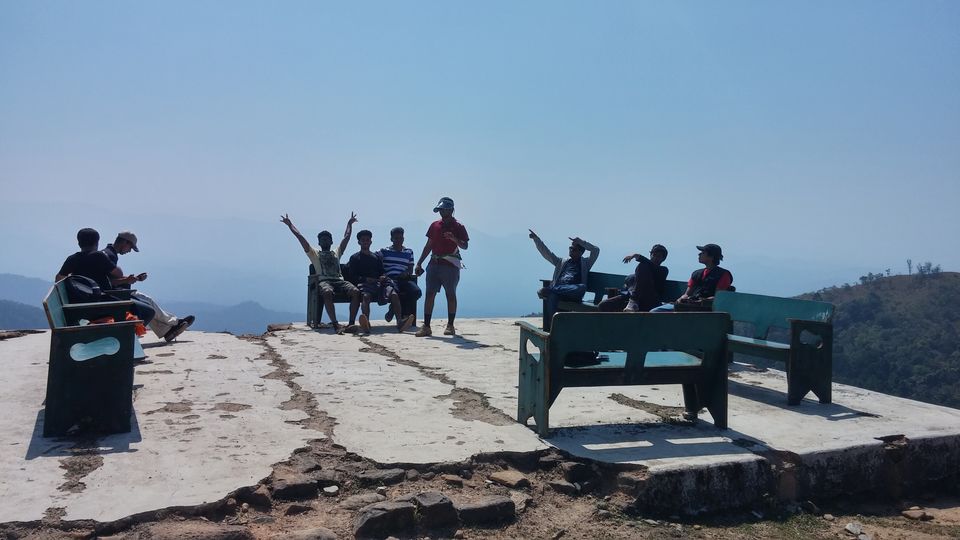 Background
This dates back to 2015 when I along with my friends from engineering college decided to go on a trek to Kumara Parvatha, Karnataka. This trek is considered as the most difficult trek in south India. From what we heard Kumara Parvatha was a must do trek along with friends and also because it is located very close to Mangalore (my hometown). The trek was not easy because none of us had ever done it before anywhere and this trek was for about 13kms. This trek is in Pushpagiri wildlife sanctuary, Karnataka
It was not easy to get permission at all our homes for a trek of this nature, so few of us lied at home that we were visting the kukke subramanya temple located in subramanya, which happens to be the starting point of the trek.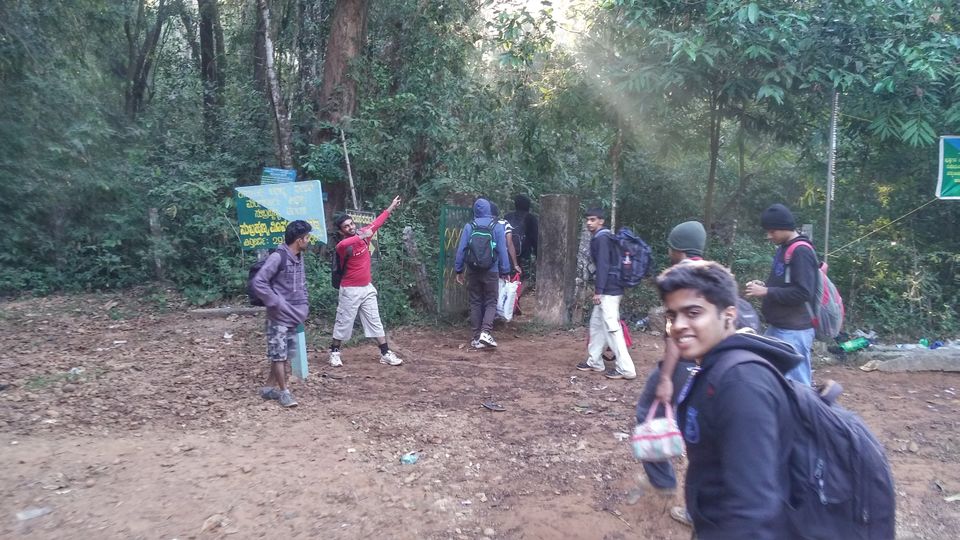 Where it all started
The day of travel was here and we took a KSRTC bus from Mangalore to Subramanya in the afternoon and reached in the evening. Visited the temple, had dinner, checked-in to a hotel and had a nice sleep before the night of the night (little did we know that we were not going to sleep the next night).
The next day, trek began from Kukke temple at 7 AM and by 9 AM we realized that we were not at all prepared for the trek. We were dressed in jeans, brought unnecessary clothes, too many apples, Maggi packets but no utensils and the best part, we did not bring a tent to camp at night.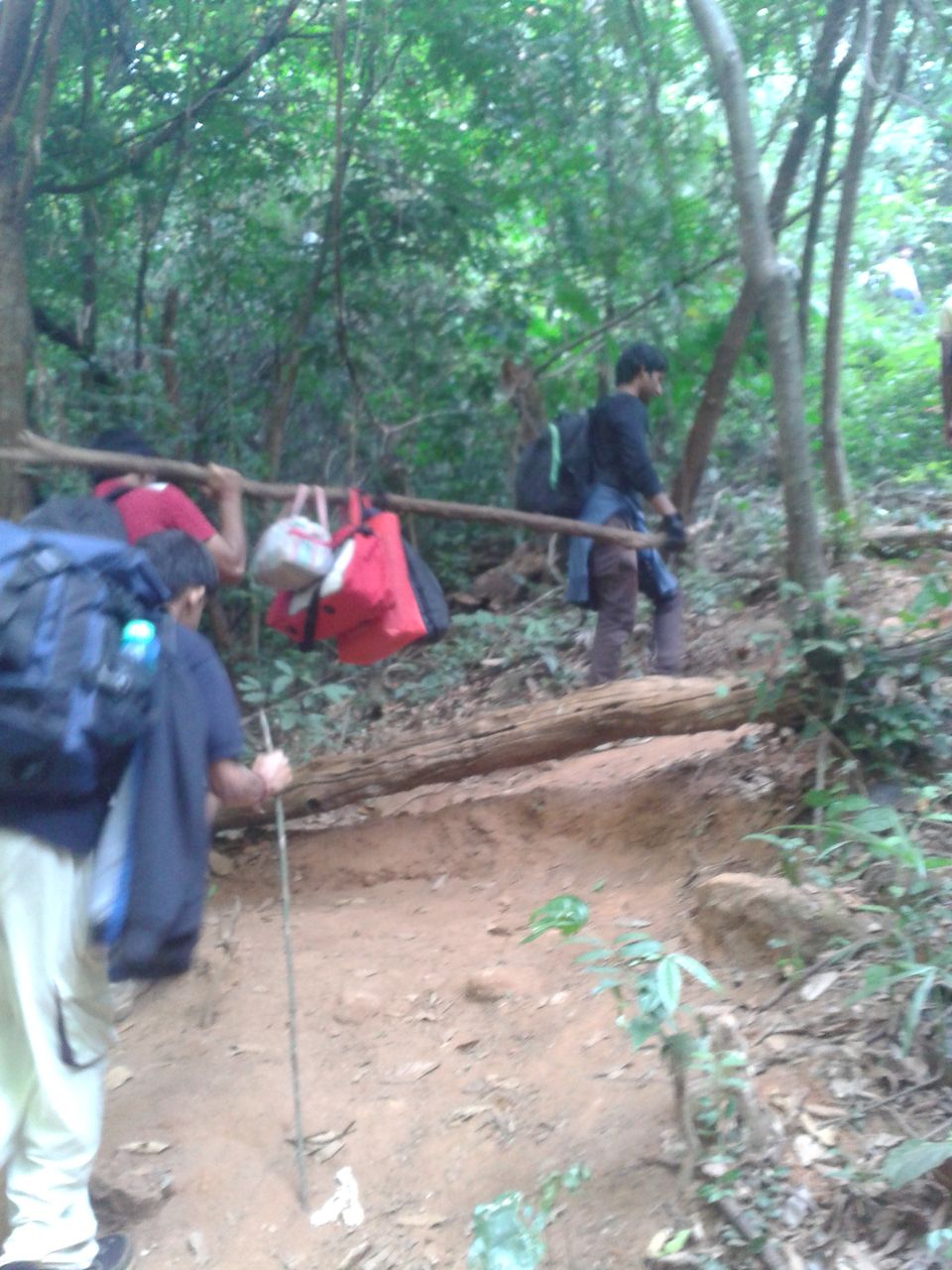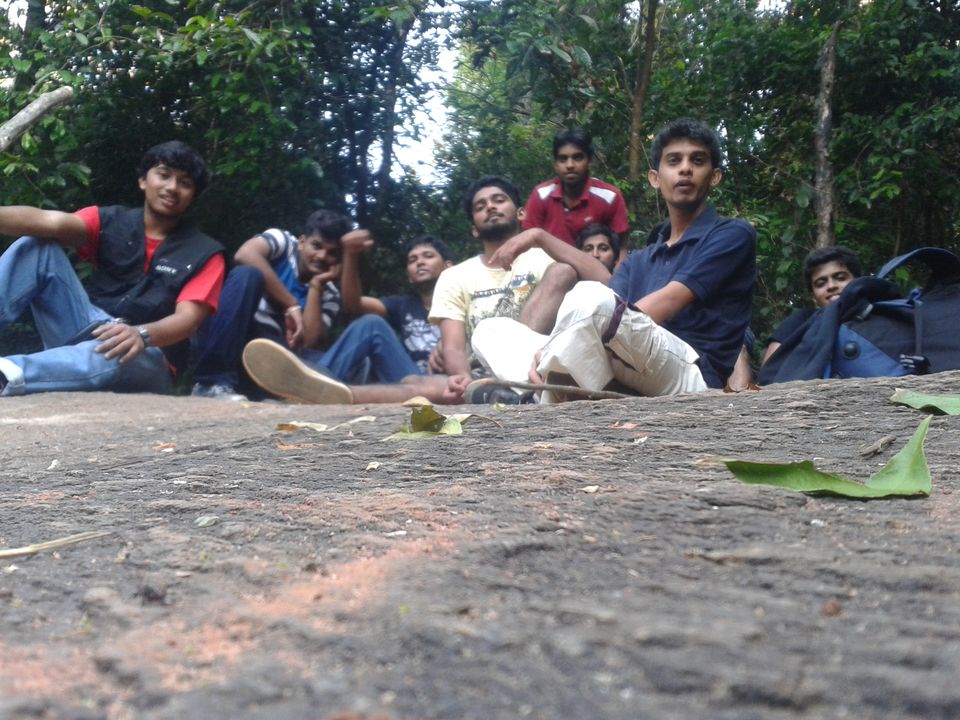 We reached Bhattara mane (25% of trek) around noon, had lunch, refilled our water bottles and relaxed for a while. When we reached the forest office to take permission to trek and pay a fee for the trek, the office was closed (no idea why) and we did not get to meet any forest official nor did we register our names at the office register. By the time we reached Pushpagiri (60%-70% of trek) we knew we were not going to make it to the peak on time whatsoever.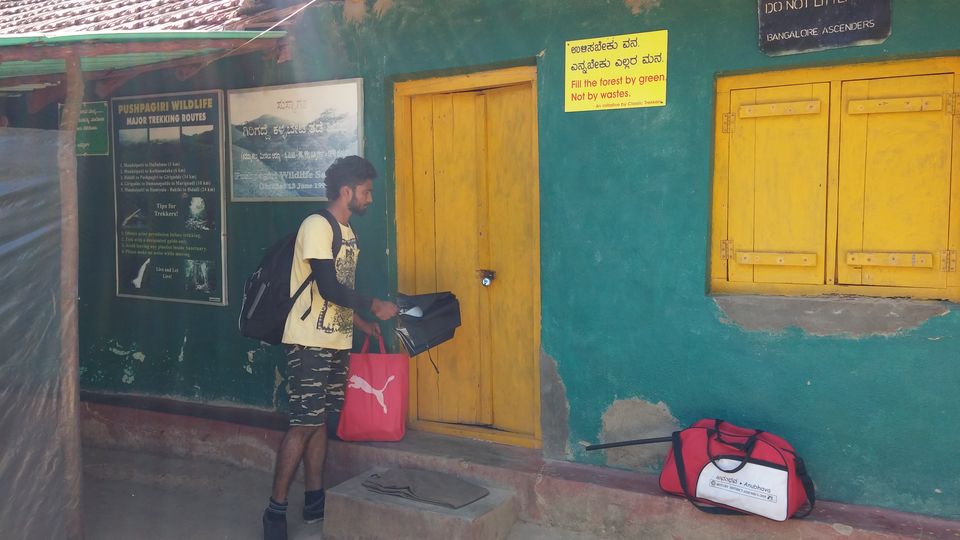 We were sad that we couldn't conquer the peak in a day, but were happy that our struggle came to an end for the day (no, struggle was yet to come).
Note: On the Kumara Parvatha trail you can camp only in designated areas (camping is banned now),
a.Bhattara mane
b.Forest office
c.Kallu Mantapa
d.Kumara parvatha peak
But being the young, amateur, careless tourists/trekkers, we were, we just found a random spot on a hillock next to a huge rock, that was level enough to spread the tarpaulins, yeah, that's right, we brought tarpaulins to make a makeshift tent. Gathered few sticks to make campfire and tied few sticks to the tarpaulin and tied to the huge rock which somehow stayed and provided us shelter from the fog that was forming.
It was hard to light the campfire because the wood we gathered were moist due to the fog, but thank God for that evil genius who planned to get petrol in a bottle. So, after some effort we got the campfire started and began discussing different engineering ways to cook Maggi on campfire without any utensil when all of a sudden one of our friends heard a faint sound nearby. When he took a flashlight and pointed it at the direction of the sound, all he shouted was "Aane maare" (dude! Elephant!). None of us believed him because we often pranked each other. Just to make sure, another friend took the flashlight and checked the area and there it was, a gigantic elephant with full tusks, coming downhill about 30ft from our camp to right, which meant that when my friend pointed the flashlight, it was pointed directly on its face.
We did not know what was going to happen because it was a rogue elephant. We panicked, all ran and gathered on top of the rock which was supporting our makeshift tent and lied down flat, waiting for the "tempest" to pass.
At that moment, from the top of the rock we were only able to see the black outline of this massive creature in the dark moving slowly towards our camp. With every step, our hearts started pounding harder. It just went past us in another direction and all of us were too scared to even switch on the flashlight to see where the elephant went. Hours passed, before any of us got balls to even get off the rock. Some of us fell asleep on the damn rock, others promised to donate Rs.1000 to Ganesha temple if we survived and went back home safe. In the meantime, our campfire had died out, we were cold, wet, groggy and overall shit-scared to even comprehend time.
After gathering a lot of courage (read as a few hours), we used the flashlight to scan the area. There was no sign of that elephant, but we were getting paranoid, what if the elephant has a family and they come looking for him or following him? If there is elephant, there could be other wild animals. What if one of these carnivores shows up and says hi? What if the elephant has reached Bhattara mane and the people from there come looking for us and find us camped here (a place not designated for camping)? We had not even registered our names on the forest office registry we would be unidentified miscreants should the forest office try to investigate. Needless to say, none of us slept well and almost 50% of us didn't sleep at all.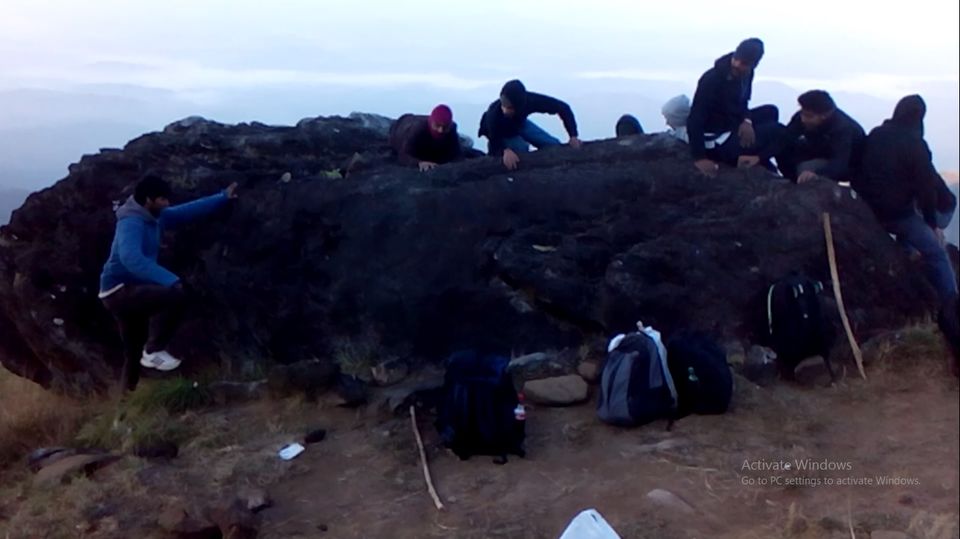 Back to life
Next morning while descending from the mountains, we came across elephant dung, broken stones and huge foot prints which confirmed that our dear elephant friend had definitely paid us a visit. I could say "We had a near tusk experience". (pun intended)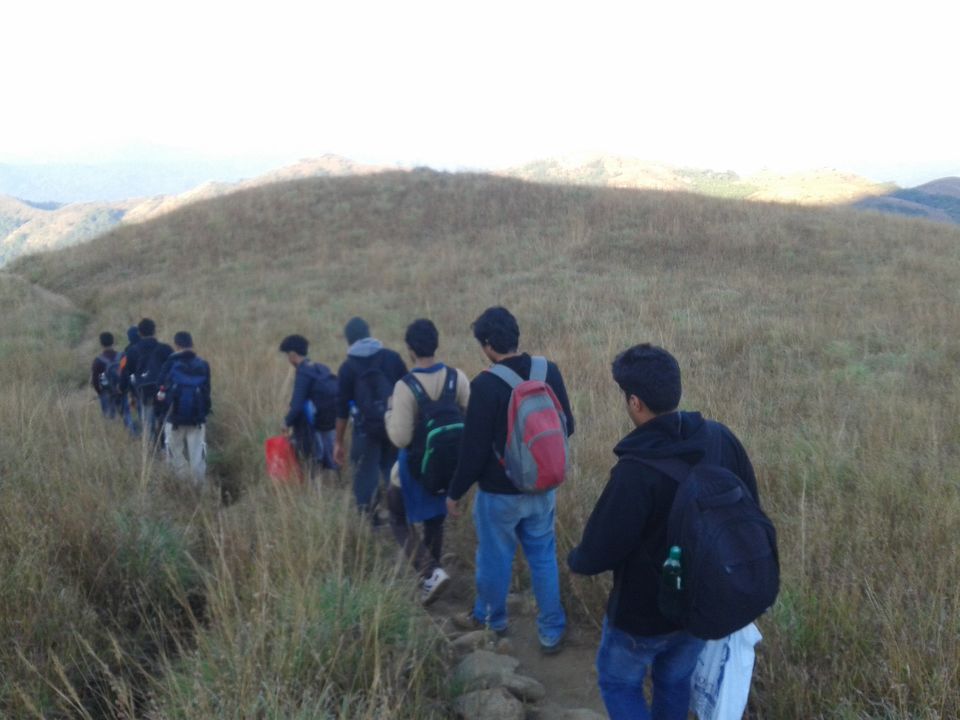 Do not know if it was fate or life teaching us a lesson but we did learn-
1.To respect the nature even more
2.To respect animals, including the ones that cannot hurt us
3.That rules are made for a reason and think before violating any of them
4.To research well about a place before going and be prepared
5.To preferably inform at home of your whereabouts
6.To stay calm and stay together when extreme things are happening around me.
No one was hurt but everyone was tired after the trek. Glad we survived a terrible experience and will remember it for a long time to come.
This was my life changing trip #lifechangingtrip
Here are some pictures from the trek.