Boarded the Bangalore Express from Kacheguda Railway station at 7:00 PM and finished our dinner in the train.
Reached Bangalore Railway Station at 6:45 AM and started to Majestic Bus stand to catch the bus to Kukke Subhramanya.
Freshedup at the bus station and finished our breakfast at Kadamba hotel, and to be frank it was good and then boarded the bus to Kukke Subhramanya.
It was an ordinary bus and the ticket cost to Kukke was 350/- PP and at 10:50 AM the bus stopped for the breakfast and weather was pleasant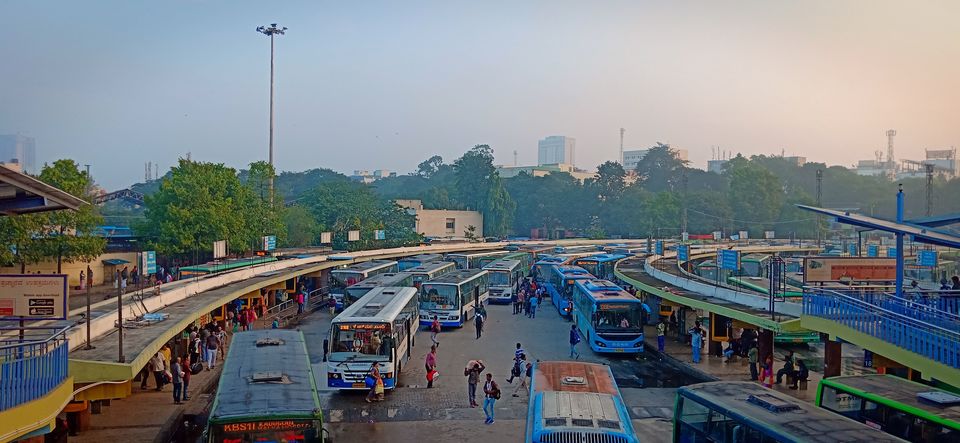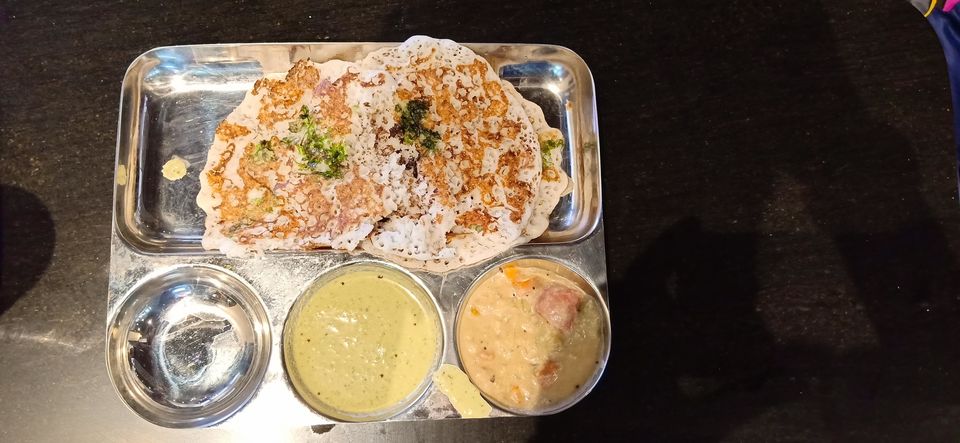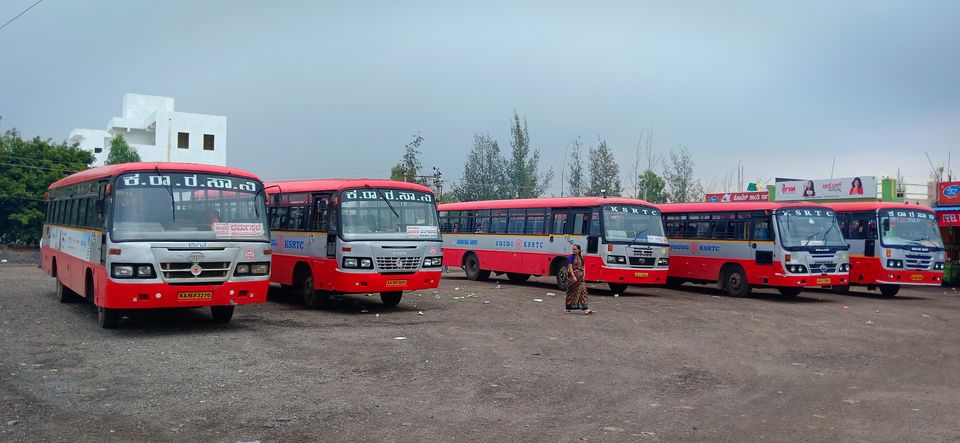 At around 2:30 PM, the bus stopped 15min for the lunch and I ordered besibela bath and it was too good. Once the bus started, from here the ghat road started. The road might be the dangerous one as we found a lorry in reverse and a damaged bike which might happened 2-3 days back and after few kms we found a lorry with a oil/ petrol tanker got crashed on the road and the crane was lifting the lorry.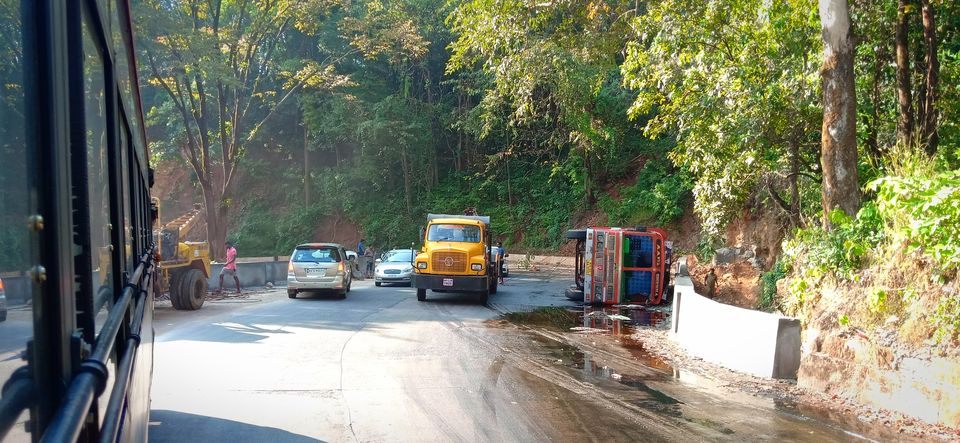 We reached Kukke at 3:45 PM and took the snacks at the bus stand and we started to Kumara Parvatha trek starting point in an auto. For 5 of us he took 80/- Rs and at 4:40 PM we started our trek.
On the way, we asked people about the trek and how far, how much difficulty and all with the fellow trekkers who were returning. After 6:00 PM it became dark and we took our torches and trekked in the dark and it was foggy in the night.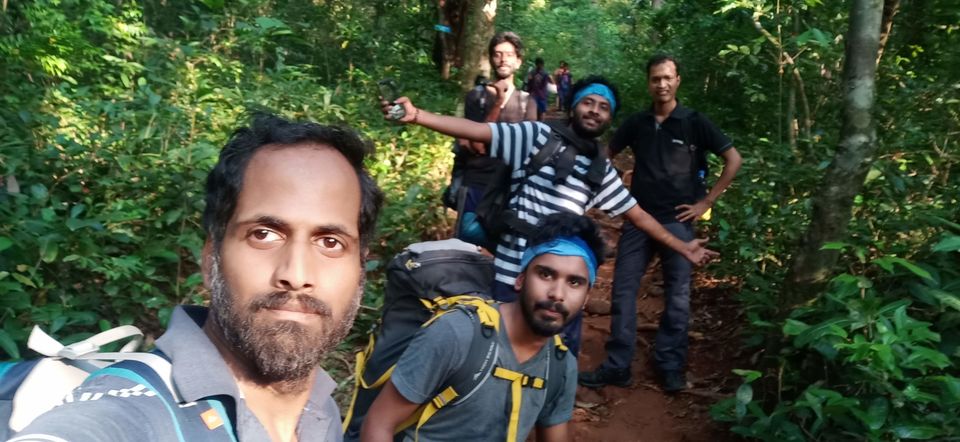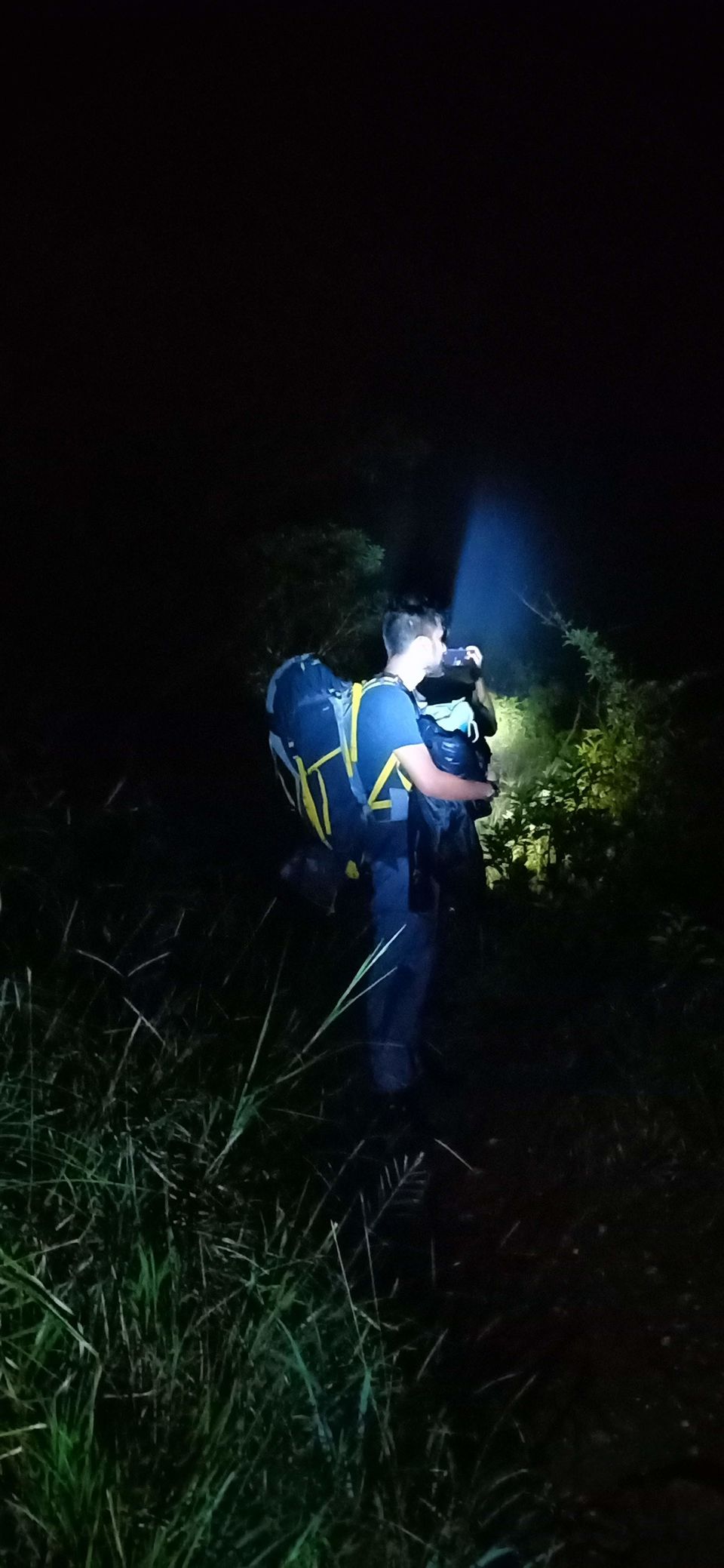 We trekked in the dark and still the weather is quite humid, we did it in fog with torches, taking breaks(so that vasu can cope up with us) and reached forest office at 7:20 PM.
We contacted forest officer and told him that we are 5, by the time we arrive it was late and everyone pitched the tents in the open space so the officer gave the space in front of his office to pitch our 3 tents. After setting up our tents we have gone to Bhattara Mane for the dinner. They are providing dinner 120/- per plate as a buffet and it consists of rice, sambar, curd and a pickle. We finished our dinner by 9:00 PM and came back to the tents and slept.
We took the permission from the forest officer and the trek fee is 350/- per person. If we have any plastic bottles we have to deposit the amount and they will refund the amount after you came back from the trek and show the plastic bottles (so that people wont throw the used plastic bottles in the forest). He added a responsibility for us, there was a girl from Russia who is doing a solo trek and he told us take her along with us. Now we are 6 with our new friend.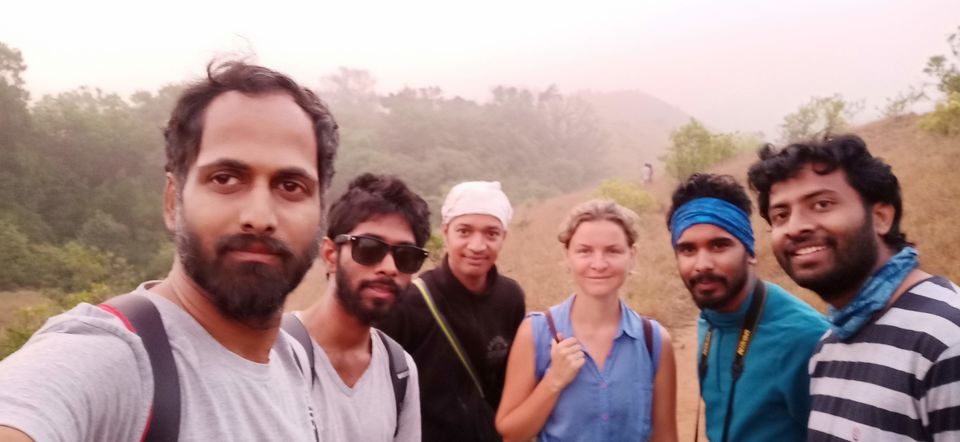 At 6:30 AM we started, this time the ascend was quick and steep, unlike yesterday this is not a forest but it will be a grassland and landscapes are beautiful, last night we couldn't see anything as we did in the dark.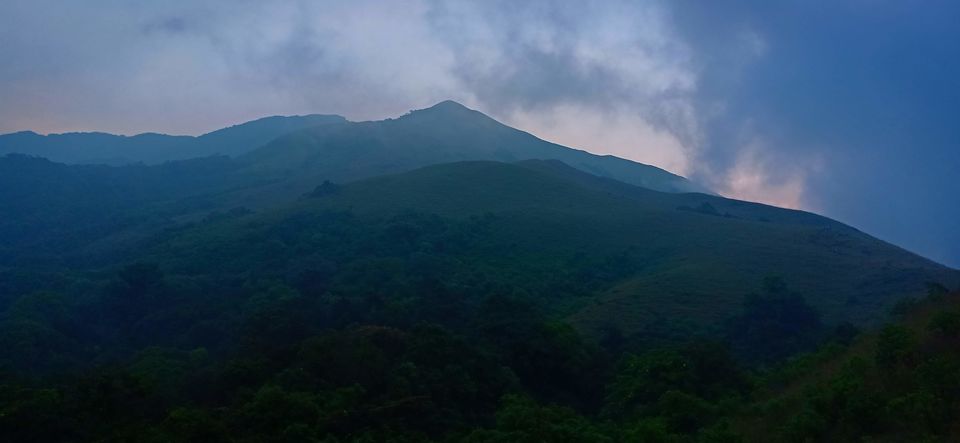 The path became steeper and steeper while ascending to the peak as it was sunday there are lot of people mostly from Bangalore who came to do this trek and trail was looking like a snake as the name depicts Sesha (Snake) Parvatha.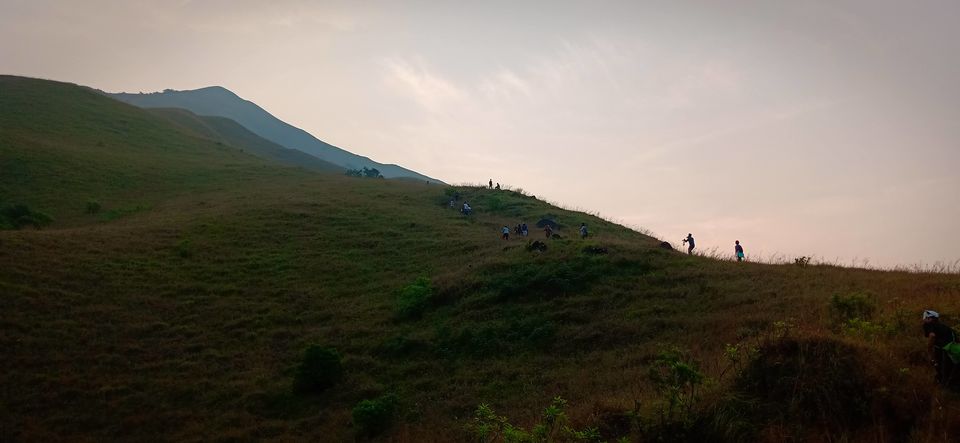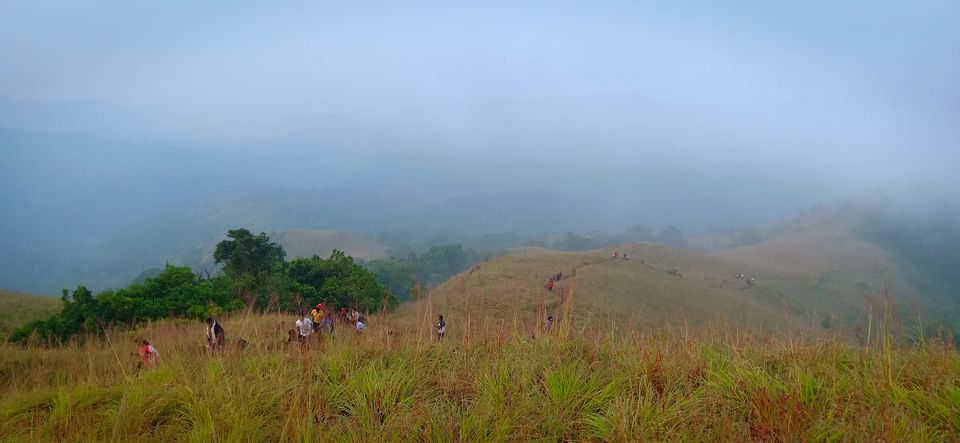 At 7:30 AM we reached Kallu Mantapa, the second milestone of the trek and we took rest for 10min and had few snacks and clicked few pics at that spot. There is a shortcut which skips Kallu Mantapa but we observered it very late.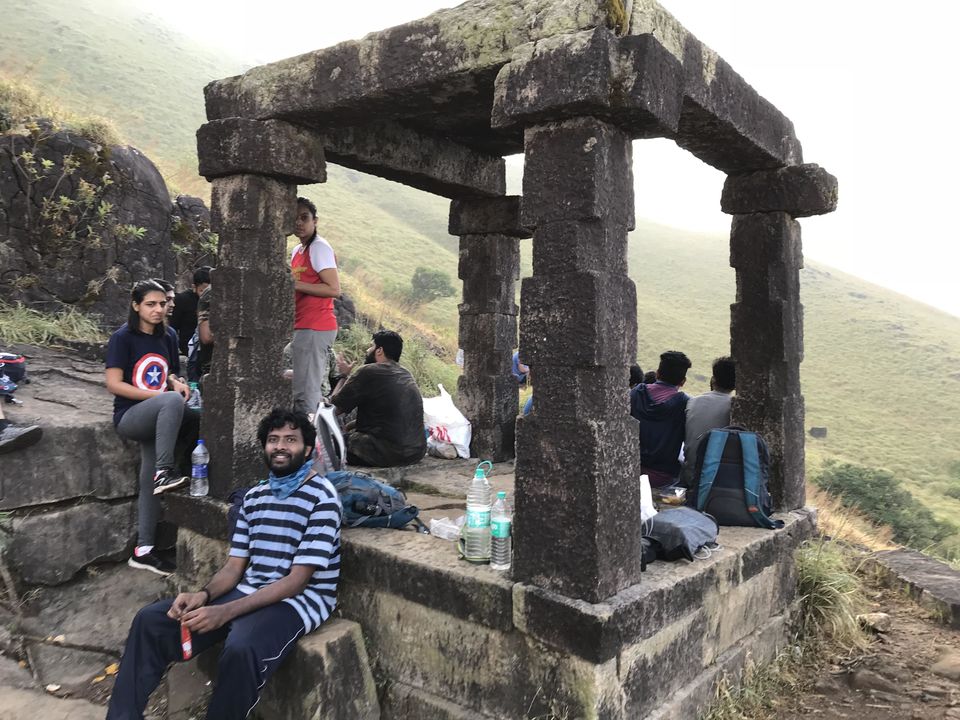 After the Kallu Mantapa the trail will become more steeper and you will gain lot of altitude till the Sesha Parvatha. Meanwhile we were talking with Anna regarding her travel in India and how long her vacation will be and all. We encountered sun at 8:00 AM and it became more beautiful with the sun rays on the green meadows.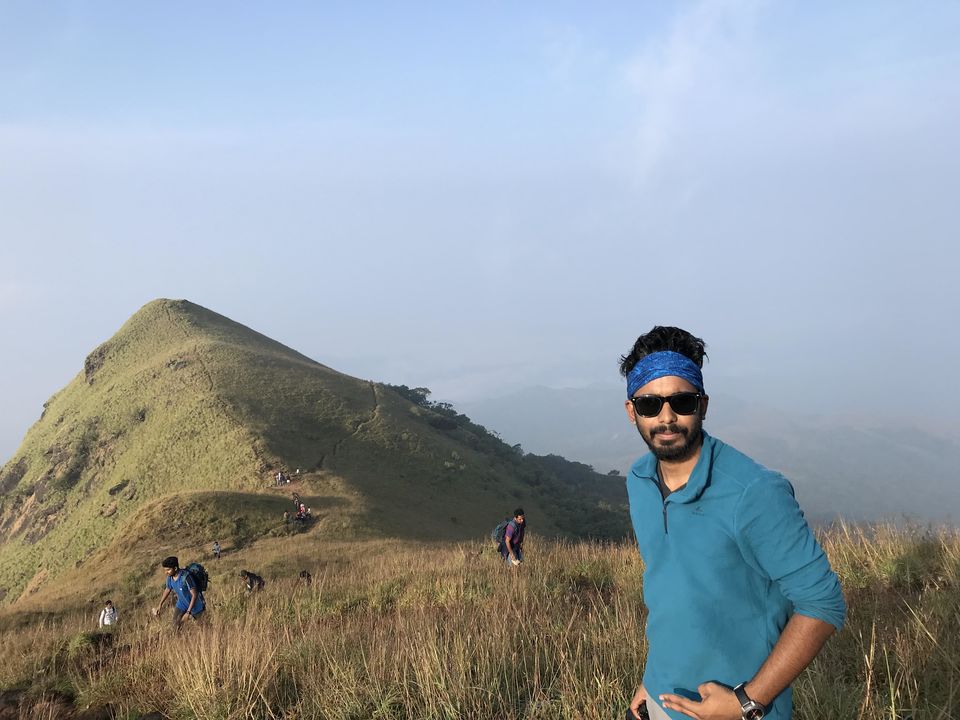 We didn't took much breaks and doing in a good pace at 8:45 AM. We reached Sesha Parvatha and waiting for others to come (Satish, Avinash and Vasu). The location was too good and peaceful, there is a valley and a view point (very dangerous as the rock was broken) and the clouds coming from the valley towards the peak. Its such a beauty.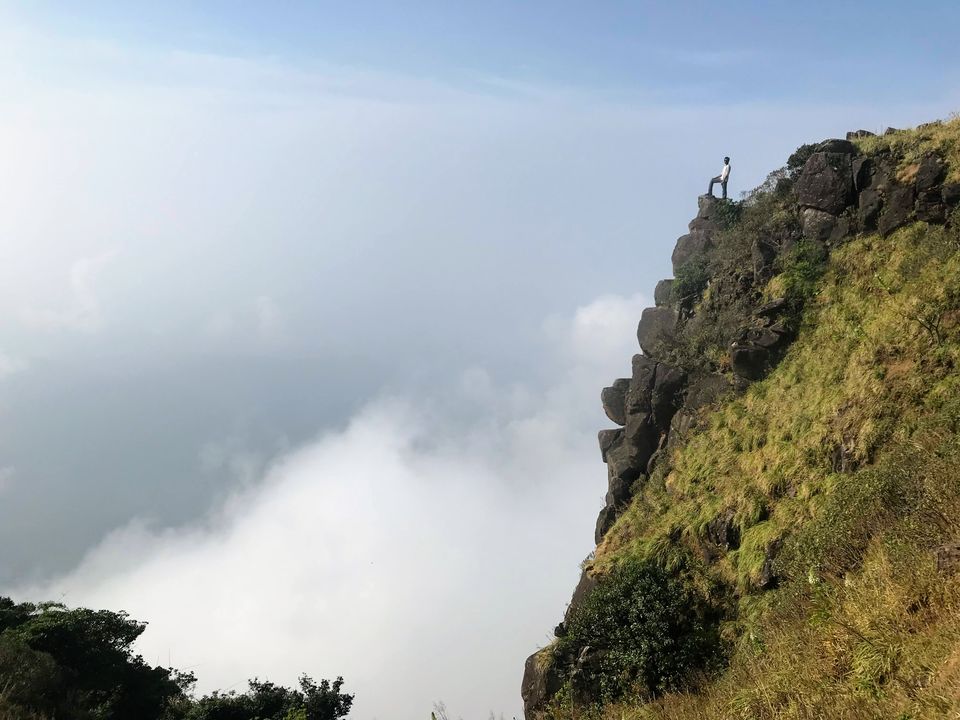 This was the location which i was describing and when i put my both legs on the rock at the edge and when i saw down, it took my breathe away.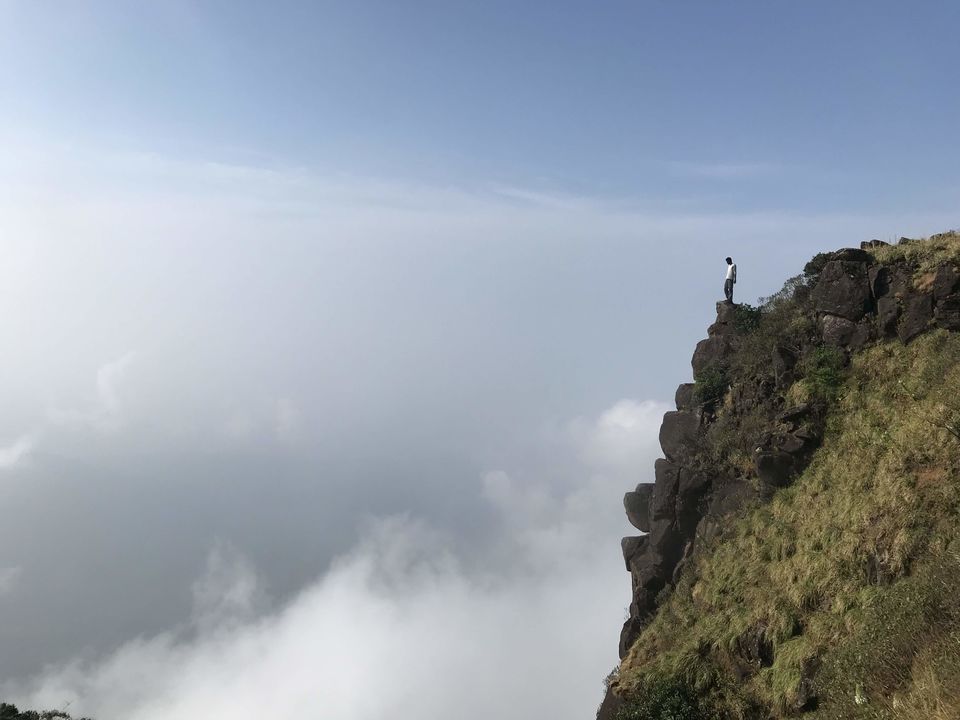 From here we were 5 again, Anna's plan was to sit here and meditate here for few hours, ofcourse there were lot of people with us mostly from the trekking clubs in banglaore.
We started from Sesha Parvatha at 9:30 AM to Kumara Parvatha as soon as we started, it was a descend and again its a thick forest there is a small stream inside this forest, when compared with the Seshaparvatha the ascend was less to Kumara Parvatha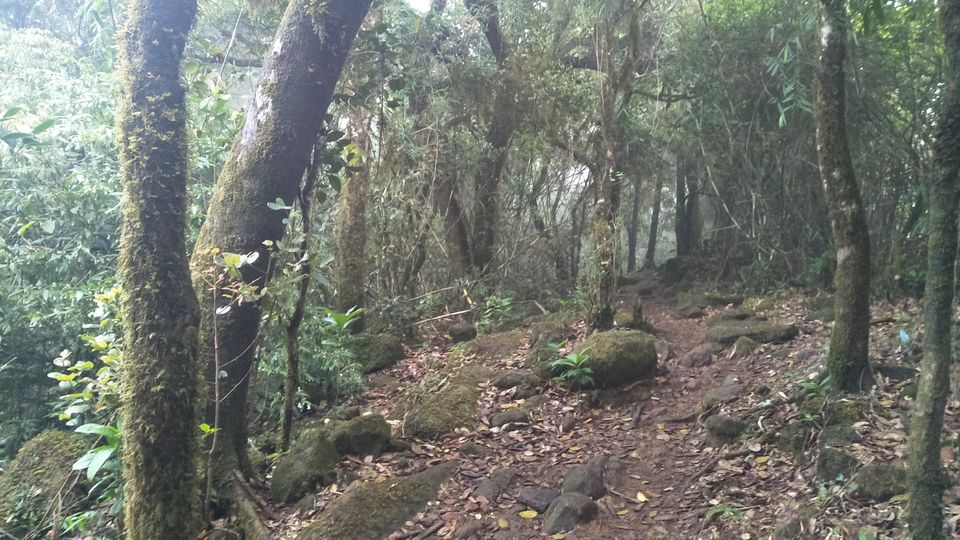 There is one patch to Kumara Parvatha which is steep and when it rains, its gonna be slippery on that way.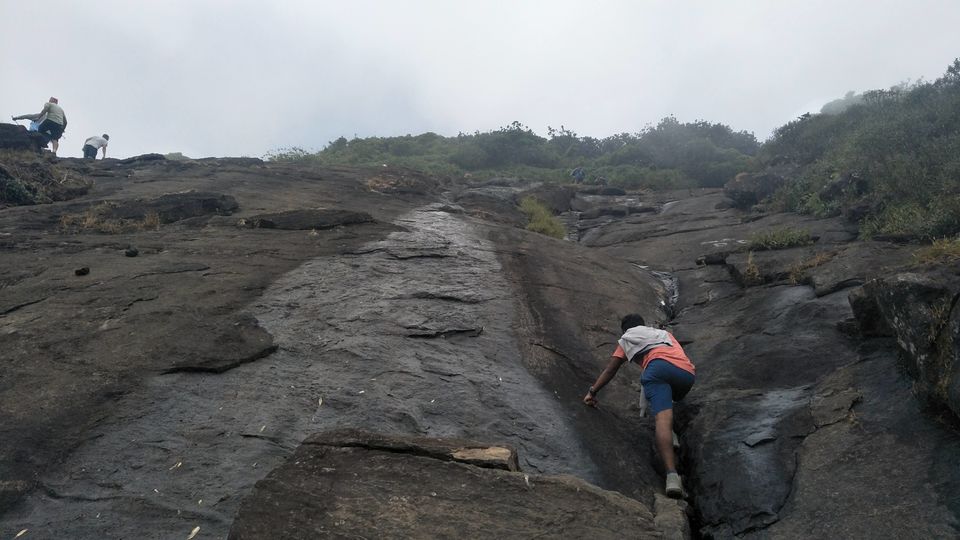 After this steep ascend it was just a 10 min way till the peak and it took 45 minutes for us from Sesha Parvatha to Kumara Parvatha. We reached the peak at 10:15 AM and explored the place, there is a small temple on the top and the other side it has a good view point and we spent some good time over here.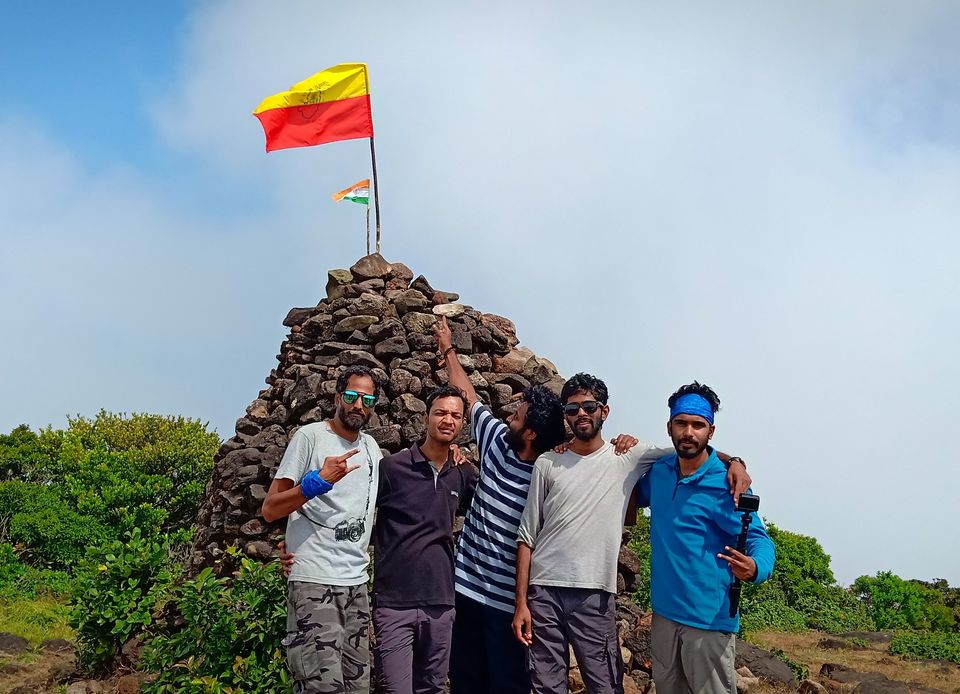 At 11:40 AM we started our descend and it was way long under the sun and this time we skipped Kallina Mantapa and reached to the Forest office at 2:15 PM and packed our luggage and tents. We thought of finishing our lunch at Bhattara Mane but again we changed our mind and do it once we reached Kukke.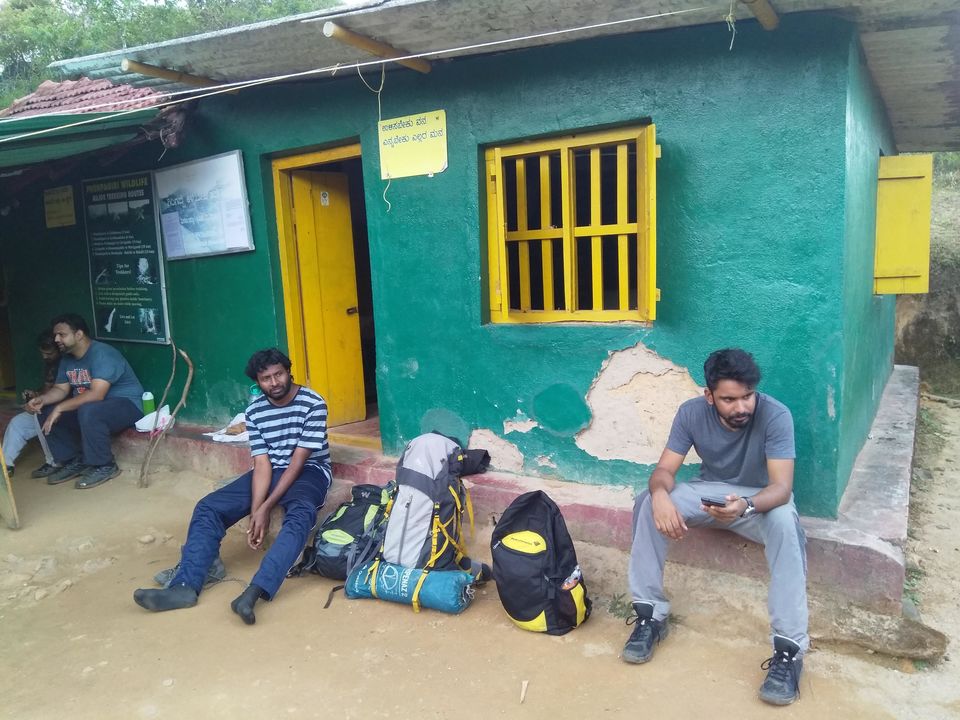 Now at 3:40 PM we started from forest office towards Kukke, we thought that it would take an hour or 90min to finish it of but it was not close and even after 90min we couldn't see the gate / end point. It was much more than what we expected. Finally at 5:40 PM we (Me and Subhra) finished it and at 5:55PM Satish joined us and at 6:15 PM Avinash made it. Now we were waiting for our Vasu to come it became dark but he didn't loose the hope and made it to the end point. After a short gap we started for Kukke Subramanya Temple and done our darshan and boarded the bus to Bangalore at 9:00 PM.
The bus stopped at Sakleshpur when its 10:30 PM, we did our lunch and reached bangalore by 4:00 AM. On this day we have a train to Hyderabad at 6:00 PM. So we roamed few places in bangalore like (Tippu Sultan Museum, Science Museum and Lalbagh) and finished our lunch in the evening then boarded the train and reached Hyderabad on Tuesday morning at 6:30 AM.
So that it for this blog, thankyou for reading my story and please do share it and you can post your queries in the comment section. I would answer it to my knowledge. Ill come up with another new travel story very soon, Bye Bye...
Frequent searches leading to this page:-
weekend getaways from Hyderabad, weekend getaways near Hyderabad, best hyderabad itinerary for 5 days, 4 days trip from Hyderabad, Hyderabad tour package for family, Hyderabad tour plan, 2 nights 3 days package from Hyderabad