MOST IMPORTANT THINGS TO KNOW BEFORE GOING TO HONG KONG AND SOME MONEY SAVING TIPS IN HONG KONG
Hong Kong Macau Holiday Sept 18th to 26th
1. 1 USD is approx 7 HK and 1 HK = APPROX 10 INR and 1 HK = 1 Macau currency
2. Bus ticket in Hong Kong for most places (except Intra island or airport) is HK 7 and in Macau it is HK 6. - Advise - Keep lot of cash and you do not need to buy card
3. Octopus card - No need aste money and time on this. ust keep lot on change
4. Internet sim card - If you are staying in a good hotel with Internet and you read English you dont need internet. + Make good use to google map. Pre load it for the routs that you are going to travel that day.
OBSERVATION – Hong Kongers don't look up while walking, they see phone. So be mindful. People in Hong Kong and Macau are very polite and helpful. Hong Kongers are stressed out and they built this country in just 40 years. Be sympathetic and appreciate their hard work.
I flew from Bangalore to HK on 18th September 2009. It was an overnight non stop flight from Bangalore at 11:30 PM but I had to leave my home at 6 PM to reach airport and have some buffer for boarding and immigration. Thanks to Bangalore Traffic. it was a 6 hour flight, I reached Hong Kong the early next day. I had pre booked my water transfer from Hong Kong to Macau through Turbojet at the cost of HK $300 that's approx. USD 45 one way.
It is important to take ferry from Airport terminal itself to go to Macau instead of entering Hong Kong and than taking a ferry to Macau. This will not only cost extra in terms of transfers, it will also cost extra time.
As soon as I got down I went to the main lobby to Turbo Jet counter and received my hard copy of the ticket after giving them my online ticket number. They transferred my checked in luggage from Bangalore to Hong Kong directly to the ferry departing at 11:00 AM. That was very effective and efficient of them that I need not worry about my baggage.
Finally after reaching Macau which was a 2 hour journey through rough seas, I took a bus to reach hotel – taxi drivers were quoting as if I was a millionaire. Hotel check-in time in Macau is 3 O clock and however they gave me check in at 2:30 and they were acting as if they gave me their kidney. I got fresh and headed straight to SENADO SQUARE which was walking distance from my hotel. SENADO SQUARE is a main market area with a huge square open area with a fountain. I left the road here and entered this area and this cobbled pathway lead me to the RUINS OF ST. PAUL'S CHURCH which is famously known as BROKEN CHURCH. Instead of spending my time here I went straight to MACAU MUSEUM which is on the right of the church if we take the staircase to go up. Remember you need to go up thrice. I spent around 2 hours in the museum and indeed one of the best museums I had visited. It captured the history of Macau in detail with almost real depictions. After Museum I came down back to Broken church and on the left is NA TCHA TEMPLE. NA TCHA TEMPLE is small but beautiful. Next to NA TCHA TEMPLE there is a street going down; this street holds the old Macau look with low height lamps and small white painted houses.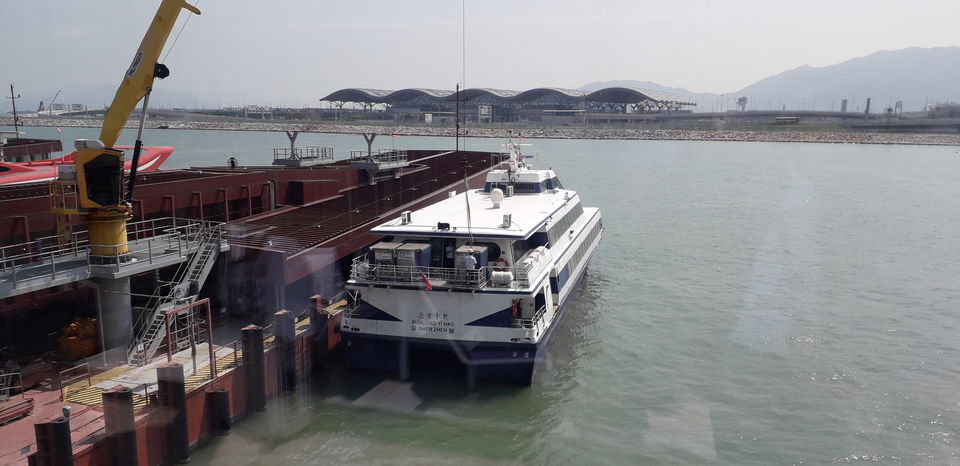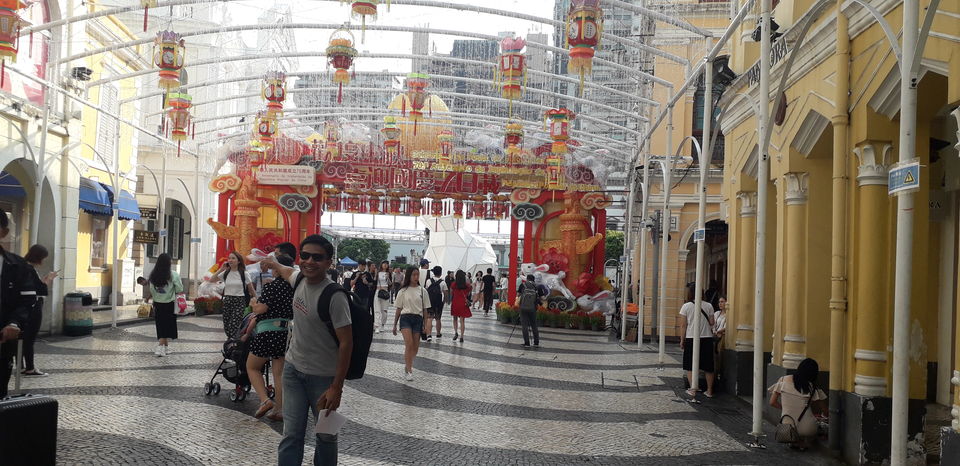 After visiting NA TCHA TEMPLE I spent some time at Broken Church and took a walk back home through the SENADO SQUARE. If you are non vegi than you must try Egg Tart. It is HK$2 a piece and it is amazingly tasty.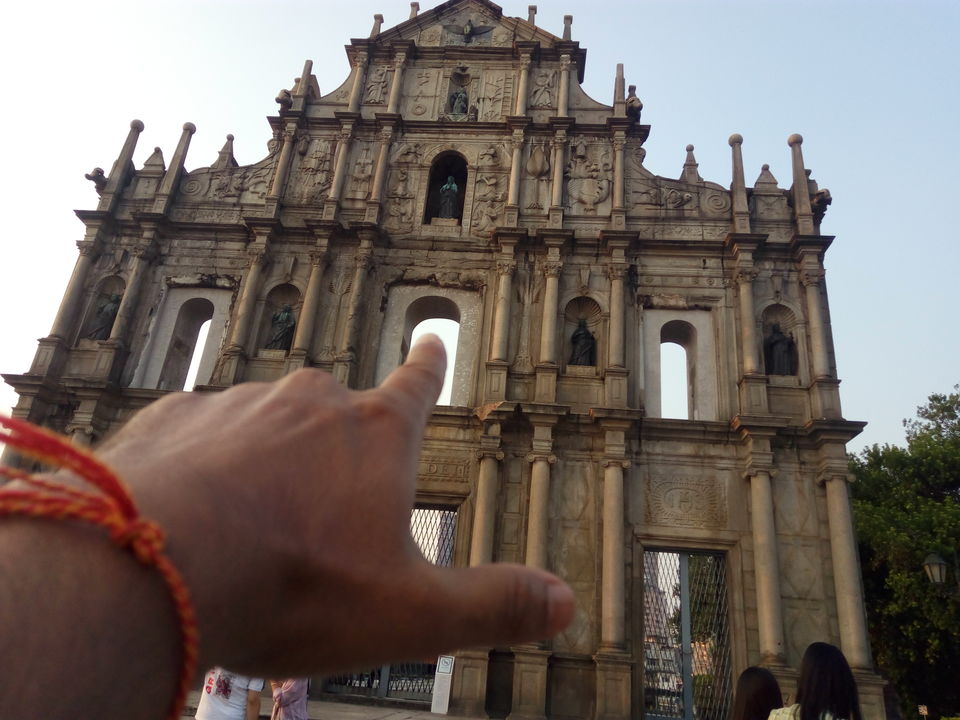 Day 2 – Day 2 I went on the other side of the Macau country which houses all the casinos and Panda Pavilion. I took a bus and got down at the Panda Pavilion. Panda Pavilion is big and they have directional arrows however they are not very accurate. However, after finding the exact spot to see Panda the pain of going around under sun was paid off. The best time to go is in after noon as this time Panda are most active. They are real sweet, extremely naughty animals with real baby instincts. I spent around an hours enjoying these Pandas.
I observed most of the guards in Macau were of Indian origin.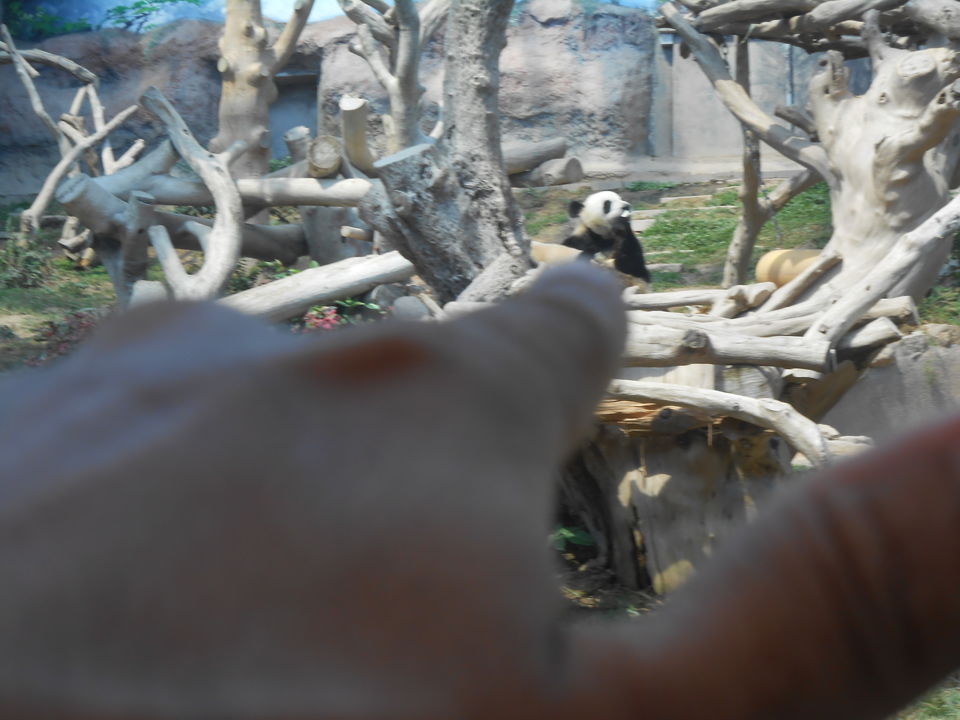 After Panda Pavilion I took the bus again and came back to CITY OF DREAMS or VENETIAN MACAO area. Here almost all the casinos are located Most of the Casinos are clubbed with shopping malls.
Day 3- Went back from Macau to HK through Turbo Jet. I had pre booked the ticket in India. After reaching Hong Kong I took the bus and reached the hotel located at the bay area. After relaxing a little I walked down the bay area which was close to my hotel and walked through the harbour and located Bruce Lee statue and witnessed the mega light show at 8 O clock.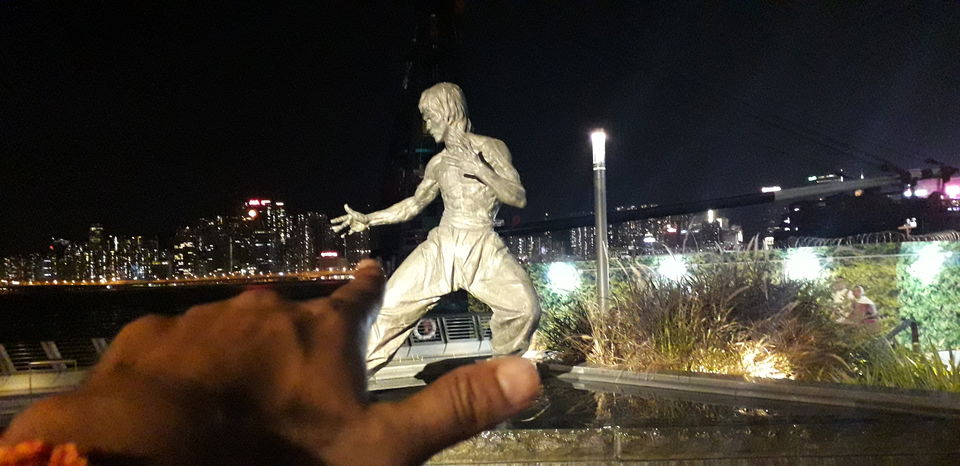 Food in Hong Kong is slightly costly and the taste is different. I tried to understand and develop the taste for the food which was a slow process and at one point I ended up paying hefty sum for three strips of chicken and some boiled rice in ginger water in the name of Portuguese food.
Day 4 – Well today was the first day in Hong Kong and decided to go to TEN THOUSAND BUDDHAS MONASTERY. Took a bus and got down at the desired station and than it was a long way up but it was a nice place to spend half a day. On the entire way up there were buddha statue on both the sides and a huge Buddha temple with a demon on the top. After finishing that I took a bus and got down at LADIES MARKET also called TUNG CHOI STREET in local language. Mind you CHOI means street. Ladies market is a wonderful allay to stroll round few times. Close to Ladies market there is another market in direction of harbour is NIGHT MARKET. Also called TEMPLE STREET NIGHT MARKET. It is more about electronics and clothes but also god if you want to try local food. Make sure you see the picture of the food or have clarity before you try something. Well it was late and I decided to walk back to hotel. Note – In between 10k Buddha and Ladies market there is NAN LIAN GARDEN (also called pavilion of absolute perfection, diamond hill HK) but I decided to give it a pass. I also happened to witness or almost became part of the protest going on against China for freedom. See the pic below -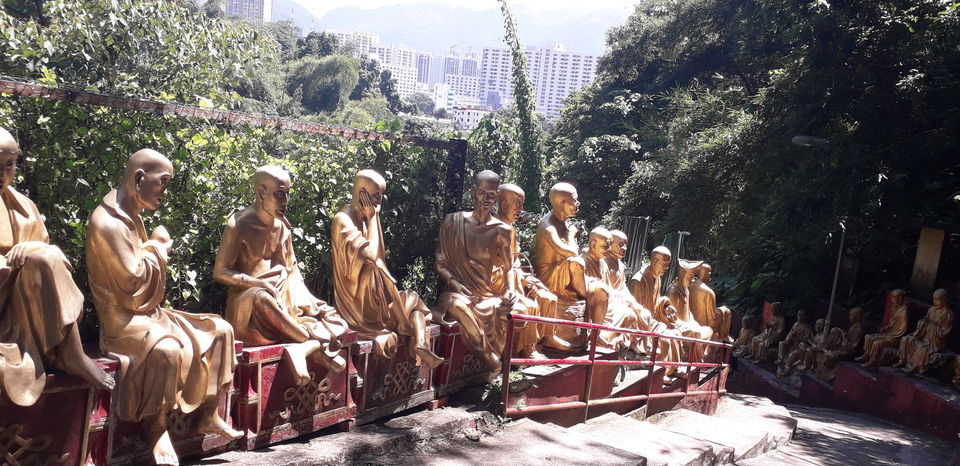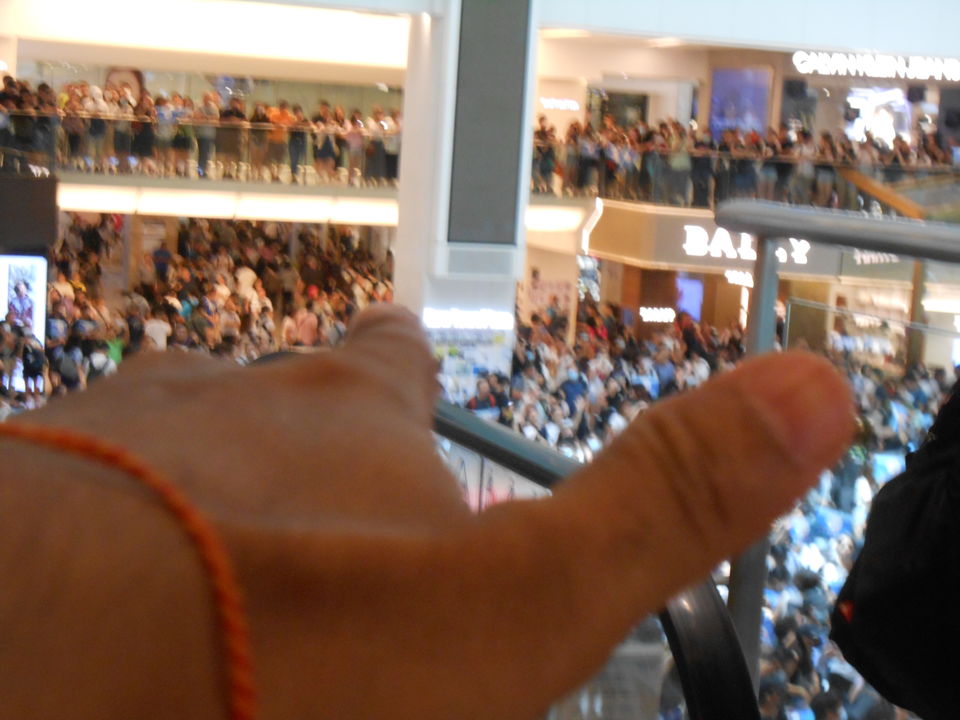 Day 5 – With long yesterdays tiredness I decided to visit Hong Kong Historical Museum and Science museum which was walkable from my hotel – very close to Harbour area. It is big and wonderful depicting Hong Kong's history. It was around 5 hours well spent in the morning and later I moved on walking to AVENUE OF STARS AND SYMPHONY OF LIGHTS to enjoy the night. The harbour area is lined with pubs and bars however it is slightly higher than premium rate but evening spent there is worth overlooking the sky scrapers.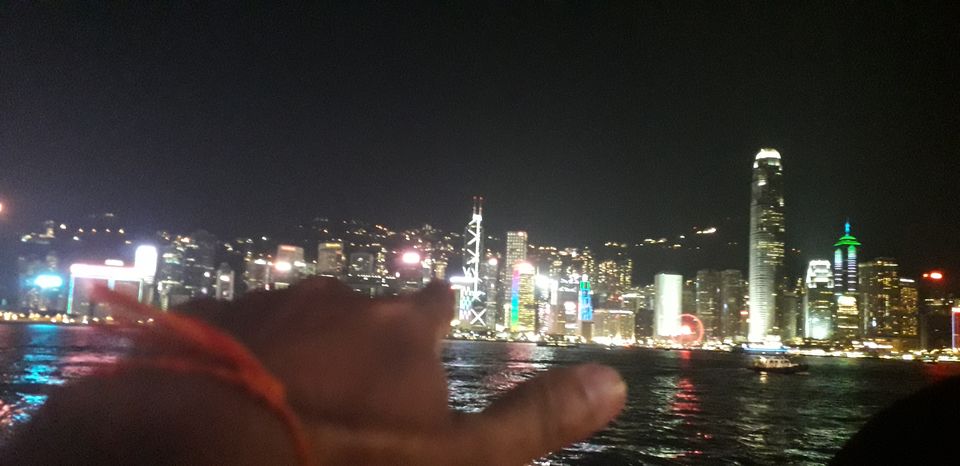 Day 6 – Decided to go on the other side of the country for Disney Land. I had taken e ticket from the Disney Website. It cost me approx. INR 6000 (USD 85) and bus from Harbour to Disney was approx. USD 10 one way. Disney land is amazing but favourite part came at the end when I experienced Iron Man in multiple D's because there were showers, chair tossing, thrust, it was incredibly amazing. I wish I had time to do it multiple times but as I went clock wise in Disney land it was the last attraction.
I suggest everyone looking for this to go anti clock and do it twice or thrice as you wish. After spending an exhilarating day at Disney, I took the bus back and got down at Harbour to spend another night watching SYMPHONY OF LIGHTS.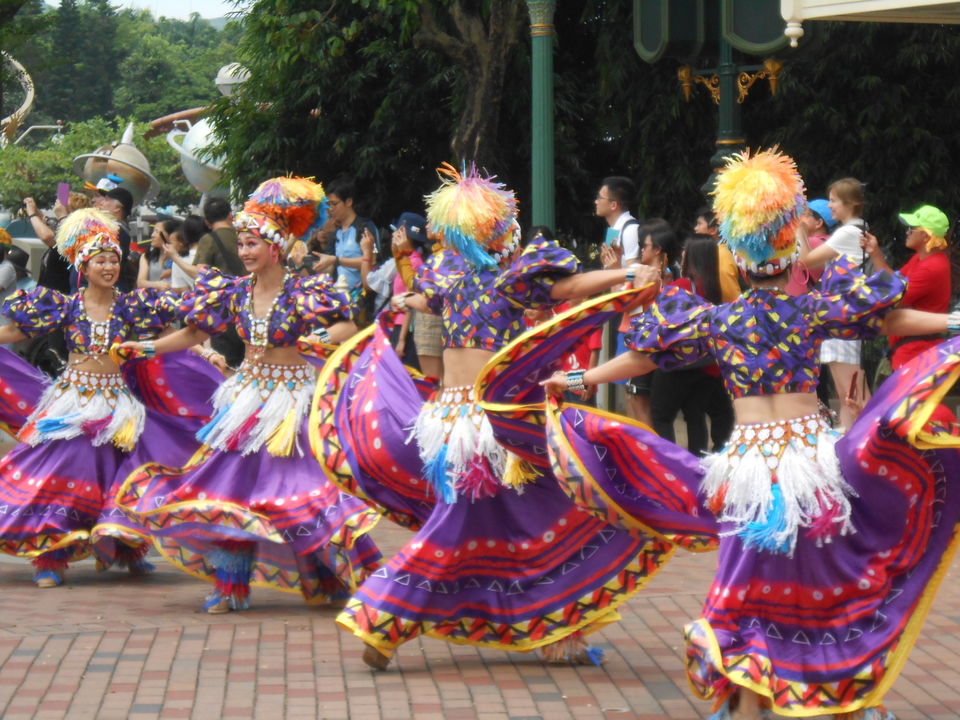 Day 7 – Took a ferry from VICTORIA HARBOUR (STAR FERRY / VICTORIA HARBOUR CRUISE) and went to VICTORIA PEAK. Let me set the expectation correctly, it is nothing more that hiking up the hill. You can take the tram or taxi up. Note taxi is 8 times costlier than Tram and hiking on foot is of zero dollar but price less experience. The best part is seeing the sky line. Evening is amazing when the sun sats down. Do not forget to take water, first aid, food and hat along with you.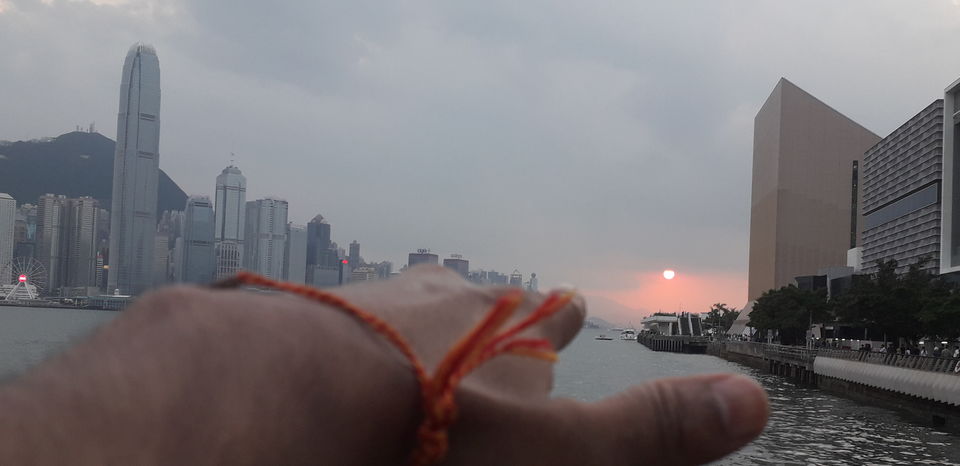 Day 8 – Departure. I had an early morning flight. I just had to drop the key in the fast check out counter – no question asked – and I took the bus that came dot on time and took 70 minutes to reach to the airport. Note – Bus is more reliable, cheaper and safer to go to Airport compared to Taxi in the morning.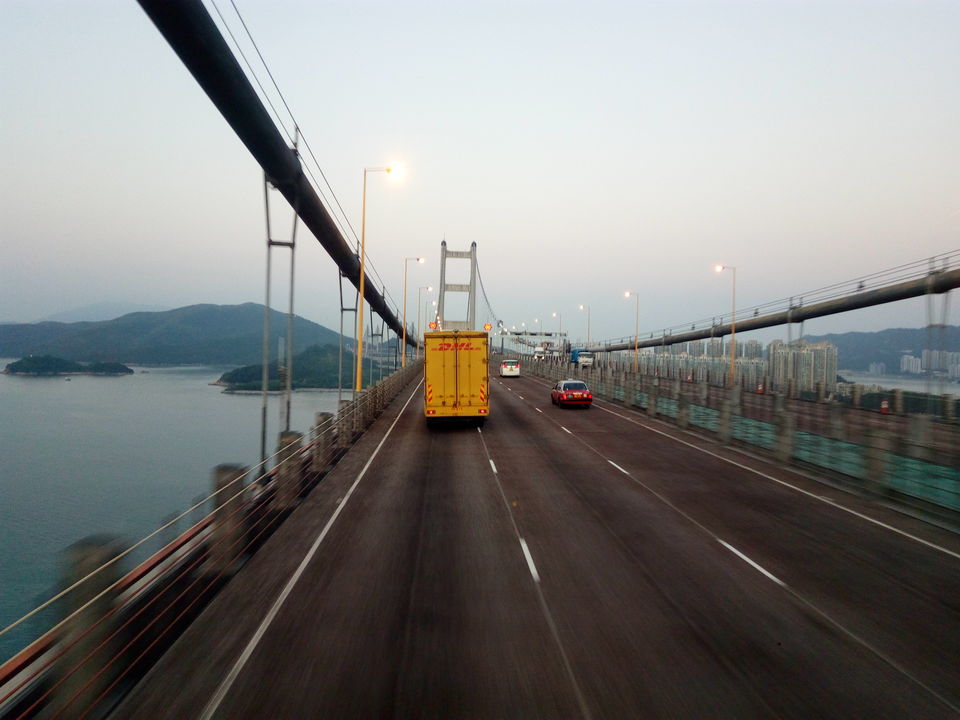 Next holiday – Vietnam to Laos biking or Maldives depending upon how much energy is left.