In March 2019 I finally got a good deal on MMT and booked a round trip to Mumbai for myself. Trust me guys Mumbai was never a priority for me in the first place, but I just had this little curiosity to explore this amazing city which I have always watched in the Bollywood movies since my childhood.
So following my impulse I flew to this amazing city of dreams and in the flight I met a beautiful and young women Entrepreneur whom when i told that this is my first visit to mumbai, she had only one thing to say "You will gonna love this city", after listening to this my anticipation became more positive.
Unplanned visit to Haji Ali Dargah and the ambience was Fantabulous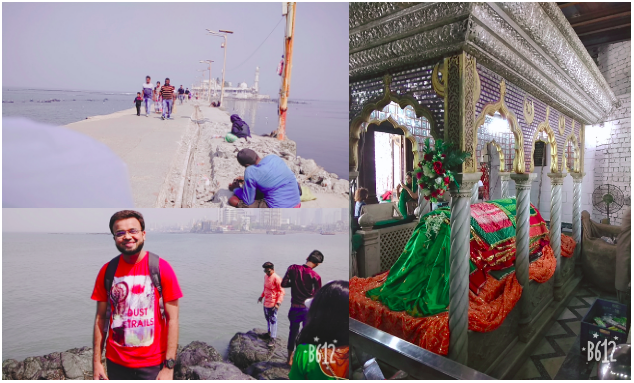 So from the Chatrapati Shivaji Airport I took a cab to Colaba ( South mumbai ) for my hotel and on my way to the hotel via beautiful sealink bridge, the driver told me that we are about to reach Haji ali dargah enroute and when I watched this beautiful dargah situated in between the Arabian sea, I just couldn't stop myself and asked the driver to leave me there only as I wasn't carrying any heavy luggage with me.
On walking through the road to Haji Ali I felt a soothing breeze and a beautiful view of the ocean as well as a group of cute seagulls flying in that area. The ambience and the weather was simply breathtaking. And one thing which I did realize that witnessing an ocean is itself a much bigger deal for a North Indian like me.
After praying there for 15 minutes I went inside the dargah and met some more solo travelers from Switzerland which I believe is the best part of traveling solo. You always get to meet new people.
I met a guy Akshay and discussed with him about the elephanta caves. He told me that the last ferry will be leaving by 3:30 PM. So then I rushed to the hotel.
An incredible visit to Elephanta caves via sea route was marvellous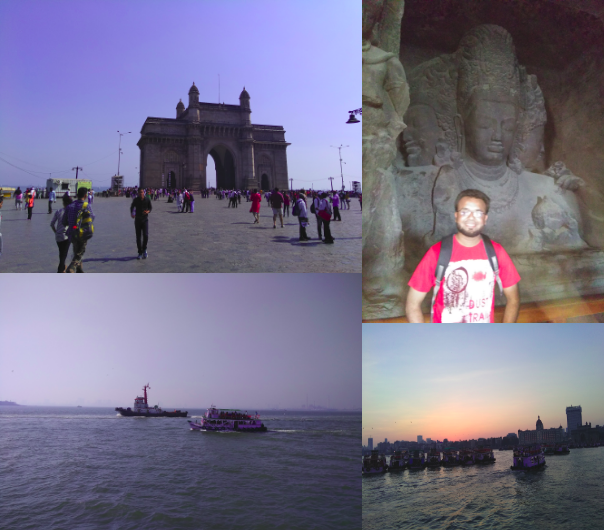 After chilling for a while in the hotel I visited the historical Gateway of India to take a ferry ( around 200 bucks up and down ) and start my journey to this mystical place which is located on an island and to get there we have to take this ferry.
Apart from the amazingly beautiful sea route I also saw a number of seagulls which were accompanying us to our route. People were feeding them and they were looking so adorable that I can't even explain.
After an hour of journey when I got there , I realized that this place is almost in the middle of the ocean and ruins of sculptures were so fascinating to see. These sculptures were somewhat the amalgamation of Buddha and Shiva iconography I was again and again thinking that what is the mystery behind these ancient caves and sculptures and who built all these things here on such an isolated island years back when there were no resources… nothing.. Stange na?
Moving further I also interacted with some shopkeepers who told me that they also leave the island by 6 PM in the evening. I don't know but there were some creepy and adventurous wibes at this place. My overall experience was great and since I love exploring these ancient places I found it really paisa wasool activity.
I never thought that sitting and staring sea on the marine drive will be so fascinating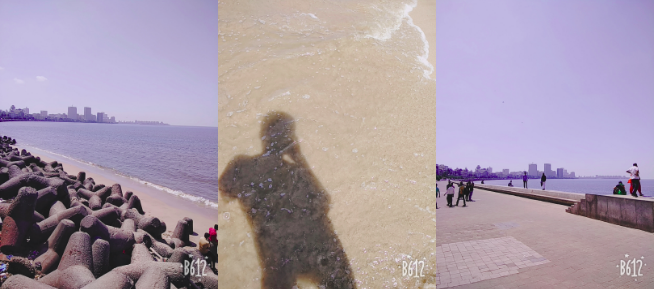 Trust me guys this was absolutely a heavenly experience, when I was sitting on this beautifully laid boulevard I was feeling as if I am sitting on the most peaceful place on this earth. Its deep and perfectly shaped arc is like an ornament which glorifies the beauty of this city even more.
The magnificent view of floating waves of the Arabian sea will make all your anxieties go away and it will also inspire some of us to start over everything after a heartbreak and make us realize that the world has not ended yet. We have the energy to overcome and to rise beyond everything.
Other some must DOs in Mumbai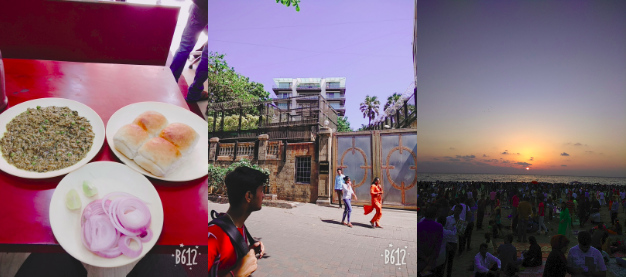 Mumbai is famous for associating almost everything with pao so I tried this amazing Keema Pao in mumbai which was way more delicious than when I have it with Chapati in Delhi. You can find it almost anywhere in mumbai in any muslim restuarant.
Then if you are shahrukh Khan fan than you can visit Mannat, the grand house of the king of Bollywood and you can also check other homes of other Bollywood stars like Salman Khan , Amitabh Bachhan's house in Juhu.
And then I ended my second day by having some delicious Falooda and Pao bhaji on Juhu Chowpatty and witness the sunset on the Juhu beach which was another particularity of this city.
So this was it. I had only 2 days to explore this amazing city but what I realized that insha`Allah i will be visiting again to this place and explore the other things which I dodn't get a chance to do as I am sure that this city has much more to offer.
Signing Off :)
Follow me on insta - @bilalthenomad