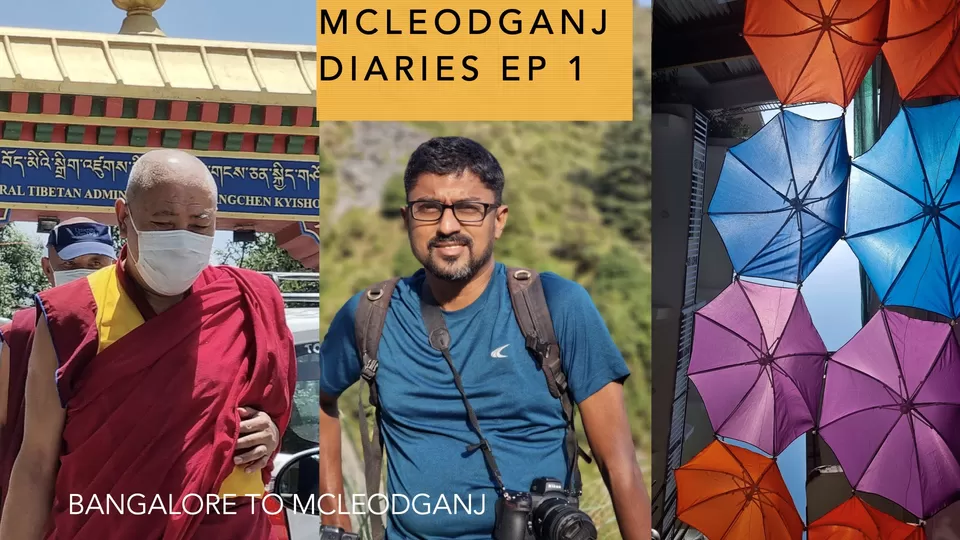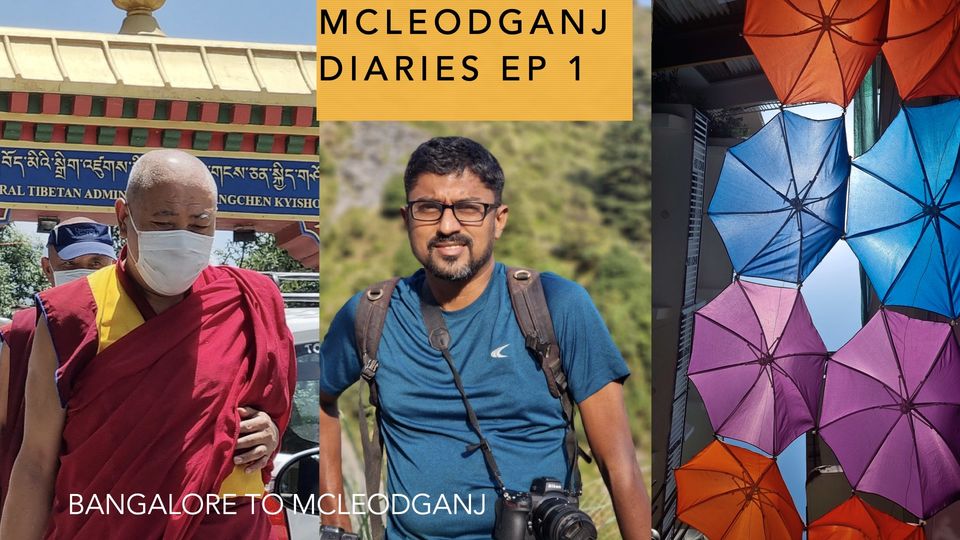 To Bus Or Not To Bus
At 515 PM, I told my colleague that I would be delayed for the 530 PM meeting, since I was on the road and not settled yet. I was waiting for the last 10 minutes for an airport bus to show up, and I was getting tensed not seeing any bus. I had 2 options. I could wait for 10-15 more minutes or board the metro to a place where there are more frequent airport buses. But if I board the metro, I am not sure, I would have signal to attend my office meeting on the go. I chose the latter
I walk into the metro, and realise I don't have the mandatory mask handy enough (required to get in to the metro). I quickly get out of the station, and find a mask seller and buy a mask, since it mentally seemed easier than to turn around, remove the bag, unpack it in the metro station and re-pack it.
As the metro train reaches the epicentre of BMRC's operational route (Kempegowda Bus Terminus), where the green and purple lines merge, I notice that the user research meeting that I am on, has actually gone on without a hitch. The 4G signals along route have been kind. It takes another 15 minutes, before I actually walk and find the Airport bus. Bangalore's leviathan, but stylish Volvo buses have this sleepy feeling inside, owing to the air-conditioner in an already moderately chill weather place. Quite the way of preparing me to acclamatise to the weather conditions in the Himalayas :-)
Working from BMTC
I go in and start attending my work calls, paying scant attention to the route, or where I am. I trust that I would reach the airport before the cut off time of 820 PM (Flight at 920 PM). The trust is intact. I reach the airport at 816 PM, and just as the bus swerves right inside the airport complex, I end the office call, and swoop into action. I get a luggage trolley, dump my bags and move it towards one of the gates, with my travel details print out handy.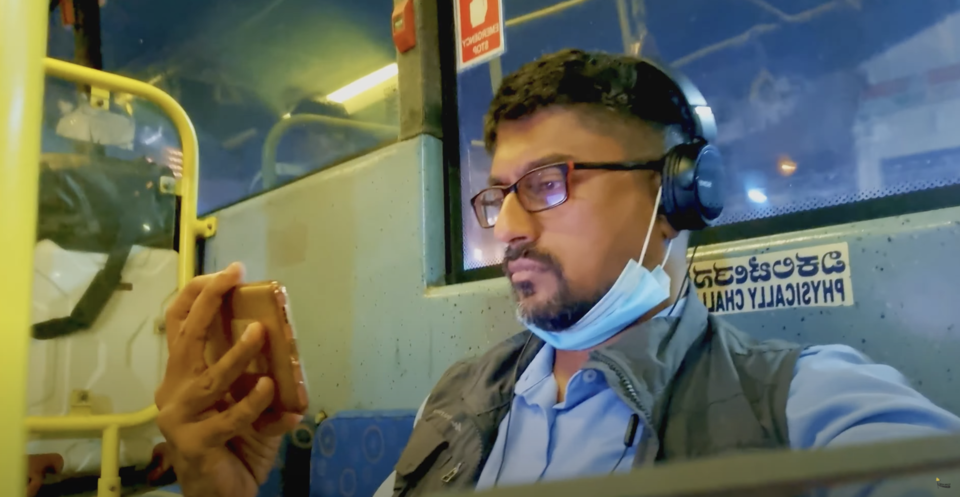 Security Check Nightmare and Hack
While, I convince the security guard that I am indeed the same person as my Aadhar card, I parallely drift into thoughts whether I should have done the web check in from the airport bus. That would have been a little insurance, if ever I get into the danger zone of attempting to check-in with less than 60 minutes to go for take off. The security guard takes a hard look at me and mumbles something, not entirely convinced by my photo, but with a print out of the flight details, he has little reason to hold me up. I pass the turnstiles, and take a look at where Vistara's boarding counters were. Luckily straight down the entrance door that I came in, and in 3 minutes I had my boarding pass. It was 825 PM, and still 55 minutes to go for the flight. I had passed the first 2 minor hurdles with style, but the major hassle of security check was still there.
As a traveller, I tend to be electronics heavy. 2 Mobile Phones, 2 Go Pro cameras, 1 Drone, 1 Mirrorless camera with 2 lenses, 1 Mobile Gimbal, 1 Mac laptop, 1 iPad Pro, 1 mini tripod, 1 mike set up and a power junction box. Now given that all of these come with their own wires, it makes a heavy cocktail of wires, adapters and devices. The way the security situation usually is, there is a lag between you passing through security and your luggage travelling faster than you on the conveyor belt. It could easily mean that in the few seconds that my electronic items are alone, anyone could volunteer to be its new owner. You can't even point this as a problem, as the airport staff is likely to retort that the risk is on you. That's why the security routine in a crowded airport is worrisome for me.
As I climb the escalator to go 1 level up for the security check, I go right instead of left by mistake. I have reached the international gates and I see the guard who looks at my ticket and asks me to get in. I thought he would ask me to go back and turn left to the domestic gates. I was in luck. I had a sum total of 3 people going past security along with me. I had all the time in the world, unpacking and packing my electronic luggage, before getting to my boarding gate. Maybe this is a hack worth noting. At 845 PM, there are very few international flights to fly out in and that's non-peak time for international flights from Bengaluru
I patiently wait for the announcement from Vistara staff that they are closing boarding, and thats when I walk in like Clark Kent, smugly hand over my boarding pass and briskly pace my steps into the walkway separating the airport block. That walkway is where you start getting the feeling that the trip is about to start, as you visually get from the familiarity of the airport zone into the airline filled with people you haven't met.
I find my seat 16F, and perch myself by the window, staring out and wondering when the airline would begin to move. The air hostess has begun her training instructions, and because its all too familiar, I don't even register what she is saying. In my mind, I am imagining them doing a coordinated dance pose with their hands. If I am feeling miserable watching them, how would they feel doing this for 200 people, when no one is watching? As I ponder this, the chill air/vapour from the cabin lulls me into a brief slumber, only to be woken up when the flight makes its movement across the tarmac.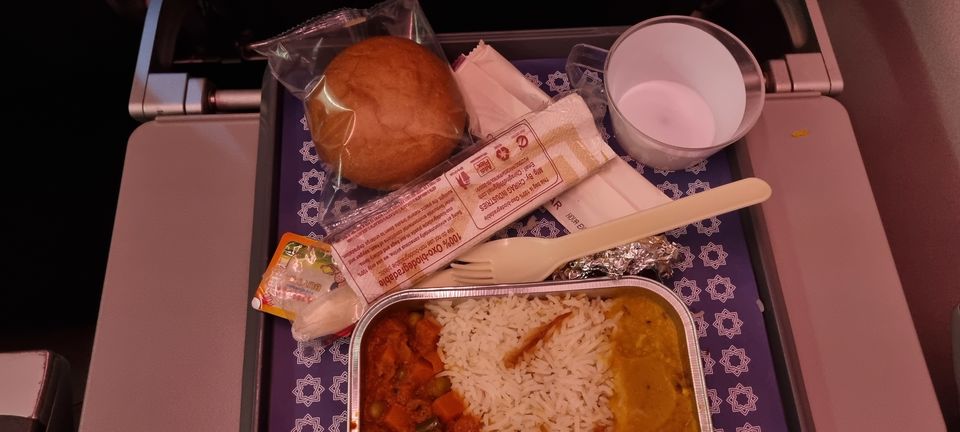 On the flight, I am pleasantly surprised that they have an intranet version of Wifi, which allows you to connect on board to the wifi, and access inflight entertainment on your phone browser instead of accessing it on a unwieldy resistive touch tab fitted behind a seat. While such ideas were doing the rounds in 2016, it feels good to see inflight entertainment coming on a consumer's device. I was boarding a flight after a couple of years, avoiding them in the COVID years, and maybe technology on an airplane had changed for the better.
I decided to watch a few scenes from 'Yeh Jawaani Hain Deewani'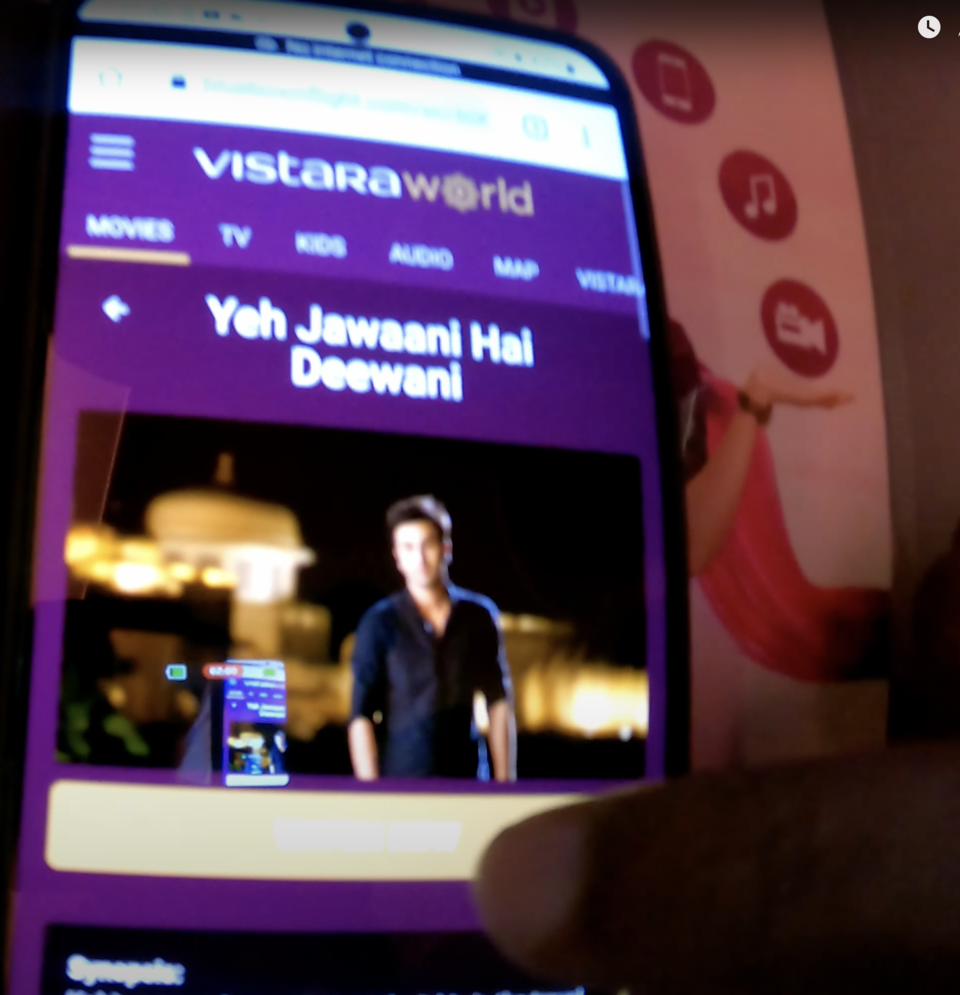 In a little while, the attendant comes and hands over my food, which I gleefully slurp it clean. Vistara had served Jeera Rice, Dal, Veg Curry, A bun, butter and an option for Tea/Coffee. I am not a heavy eater, so such packaged food works beautifully for me
I could rest my back and neck in a straight line, and that worked beautifully for my posture. Its an amazing feeling to not have a bad back when you rest on flat back rest surfaces. I woke up happy, when the airline hit the tarmac again at the Indira Gandhi International Airport in New Delhi. My #MountainsAreCalling moment was just a few hours away!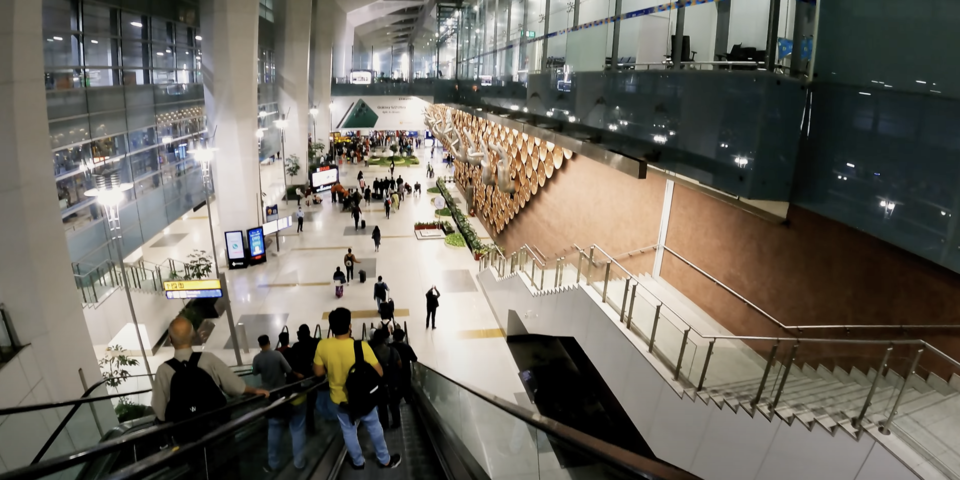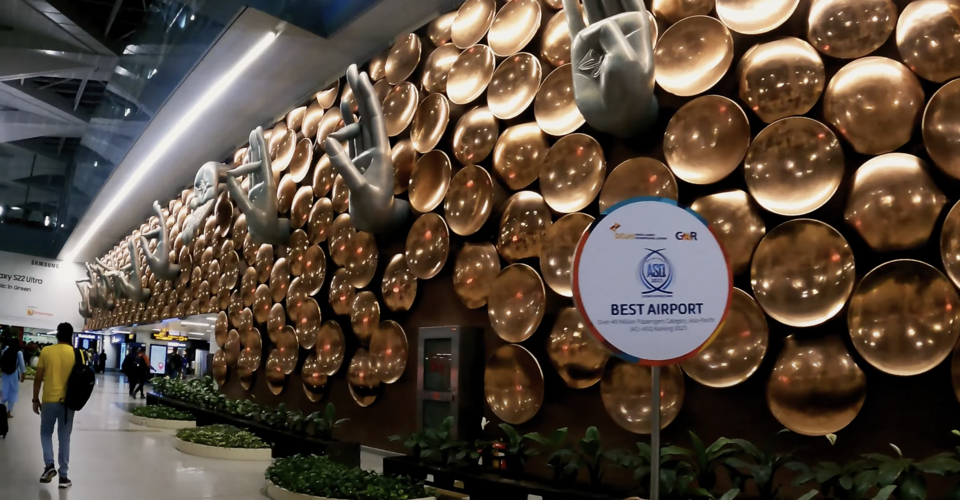 Watch the same blog in a video format