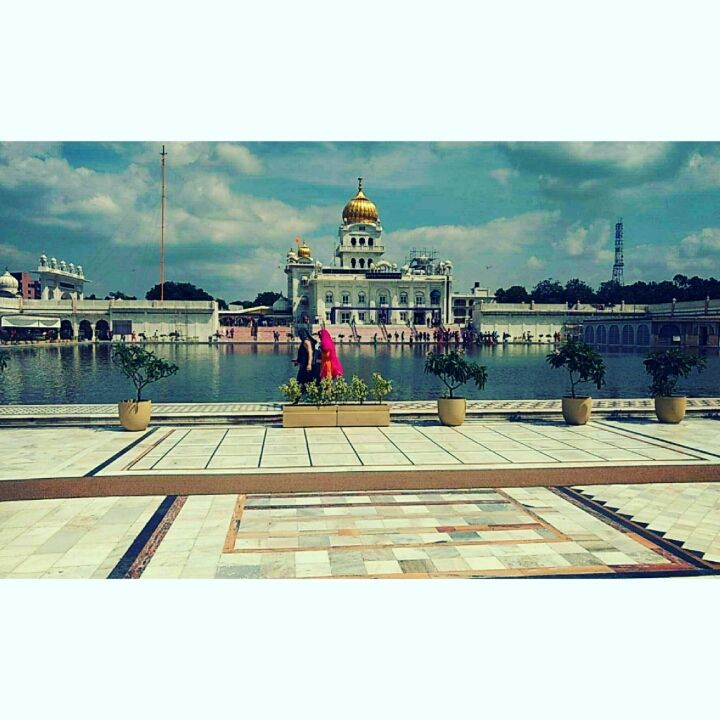 Being a delhihite i have a kink of visiting haunted spots and monuments which are tourist spots in delhi. As being born here i never went to bamglasahib and i cursed  myself on why i hadn't.
Banglasahib is few kms away from rajiv chowk metro station.  You can also take a cab there. But if you try to take metro and you don't feel like walking you can take an auto.
I myself am a walking guy i like to wander off with my legs taking me to the place to discover.
As soon as you drop your shoes off to the small place just on the left side of the enterance of the bamglasahib you'll start to feel "my god these people working here are doing volunteer works and they genuinely sweet"
As being the first timer i had trouble with hair covering cloth. You need to cover your hair before entering.  Trust me its like bandana only it covers your head.
Before taking steps you realise that there is a feet washing pit stops. Wash your feets off and walk towards the holy chants/ bhajans.
After entering inside the gurdwara you'll see the construction is coated with gold. And the Holy man is fanning the almighty and giving life lessons on mic in punjabi.  The peace is so inside the hall that you feel like dropping on your knees and confess all your sins infront of the almighty and ask for forgiveness. 
Move on from the sight of almighty as you see lot of people waiting behind you to pray.
You can sit on the left or right side of the enterance to just dissolve yourself in the peace there is.  I sat there with my eyes close for like an hour. I don't understand much punjabi but i did understand this saying that I'm taking with myself all my life 'don't snatch someone's right, taking someone else's right and hardwork fruit is close to eating flesh.' 
Just outside you see a big pond where you'll definitely see people washing there feet and face. some people also take a dip into the water the water is deep and cold. you might also see fishes there, The water is believe to be holy water. I asked a random person what type of fish are those? He replied "water proof" and his friends started laughing behind him.  That's the thing about punjabi people i like always in fun mood. Moving on.
I went outside and head towards the block which serves langar. Langar is the most popular and good deed in sikh religion.  Its close to reaching god by feeding others. F.y.i they won't let you leave until you finish the food.  Also the people working there are working volunteer and made you realise that humanity isn't dead yet, also you'll curse yourself for stereotyping delhi being the loud city because  actually there is a place exist so peaceful in the most busy and literally filled with noise capital of india.
As you walk of out of the gurdwara you'll find a voice which tells you to run, think and "what you gonna do with your life". Youll realise that voice is silent and just quitely speaking 'I can practically live here'.