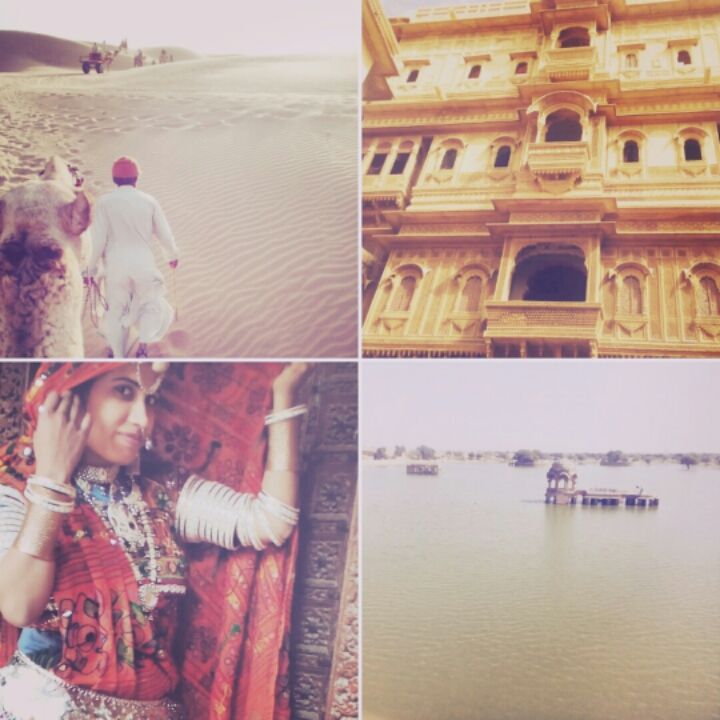 Hey all the already travelers out there! How u doin?
Okay without wasting much time let me begin the journey I just had and yes I am so excited to post something like dis in here for first time. Let's see if am able to do wat oder ppl are already doing here!
Day1 (from Jaipur)
I came all the way from Delhi to Jaipur for some work in here. I still had my two leaves for next two days. So made this sudden plan to go to jaisalmer. I was all solo(well I preferred that way). So first of all I tried booking my journey through RSRTC bus service.. It ws costing around 550/- from Jaipur(9.45 pm) to jaisalmer (around 11.30 am).. I had only one day to explore up everything there, so booked another bus.. so that I can reach early morning. I found one more bus service.. Pooja travels ltd., through paytm, 8.35 pm to 9.30 am was all the time it took to leave me at jaisalmer and costed 600/- bucks.
Day 2
I was not even out of the bus that an autowala came and asked "madam kaha jaana hain?" I said "bhaiya mujhe toh ye pura jaisalmer ghumna hain". He said " okay mam 350/- lagega and poora jaisalmer ghuma denge" except thar desert.. For that, there are agencies who books package. I wasn't aware much about the charges and all there, so I said okay let's go!
He took me to hanuman circle first and there it was 'hotel prince' who also books packages for desert safari.. And there was one uncle goswami who has helped me alot in telling every do's and dont's about jaisalmer traveling and also showed me the packages.. Since I did not have to stay in night there, it costed me 1500/- bucks in which all the desert safari things were included which I will let u know later.
So now after fixing everything up without much hustle.. I was on my way to jaisalmer's roads and forts and watever I saw on net before coming here!
Here is Mr. Goswami n yea dats me :D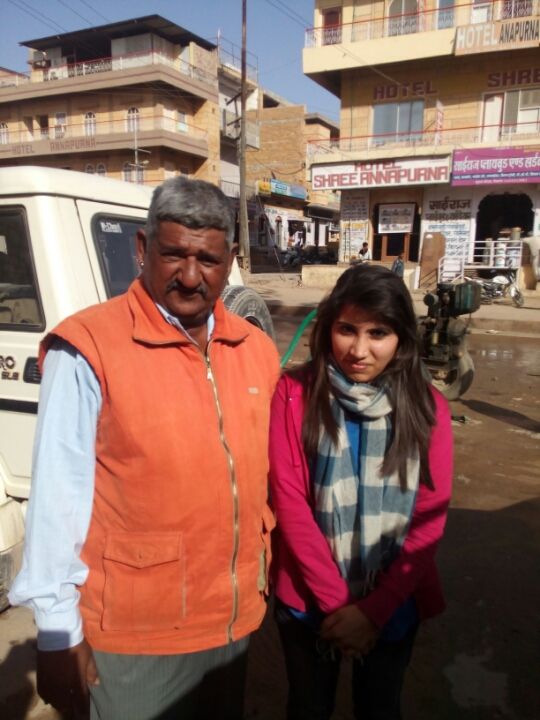 N this is the hotel prince from where I did book my desert safari package.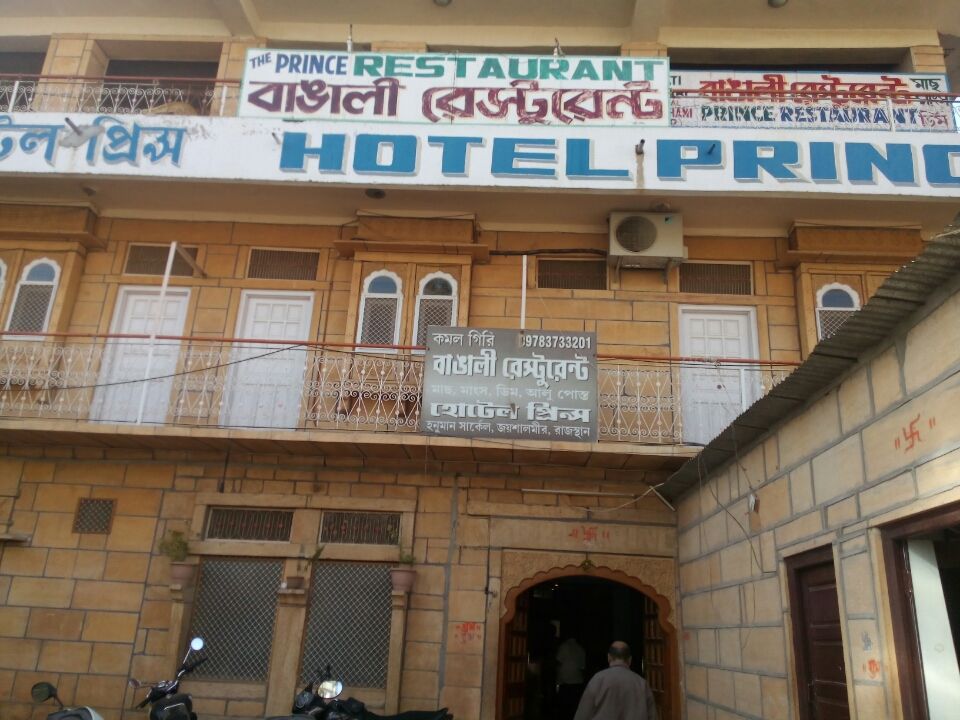 Now let's discuss a little bit about every Journey I had there:
1. Patwon ki haveli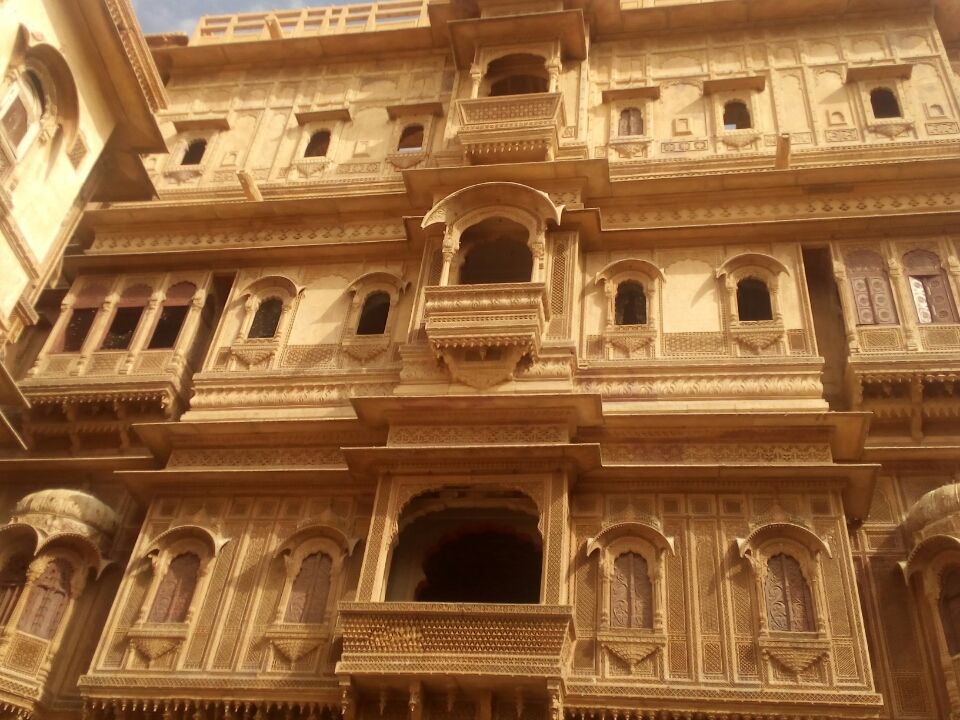 now u see why it is called golden city!
Well you can take guide if u wish, they will charge 100 bucks or so. I denied for the same but when I was going all by myself in da haveli, he said madam 50 bucks, I said okay let's go!
He explained me and showed all the things out der, well do u want me to go on and recite everything same as it is? ;)
I would rather suggest you to go and see by self :)
Also they sell some good quilt made of camel wool, they are very light and as they said 'garmi mein thanda aur thandi mein garam rakhega ye rajai'.. Starting cost 800/- and also there were good silk sarees if you wanna buy you can take some good amount of money with you. The one which I liked was 1500/- bucks. So plan accordingly if you wanna shop.
P.s. I also tried that cultural dress 150/- bucks and they clicked my pic and gave me da hard copy aswell. If u want to take a memory with you of here U may get yourself clicked in that attire!
2. Nathmal ji ki haveli
Well people were already living there.. So there was not much to explore except paintings and all crafts they were selling.
3. Jaisalmer fort
Ahaan! Obvious thing to visit if you are exploring jaisalmer!
At first you will see some raam mandir, if you want you can go in there. And then I headed towards the Jain mandir, opposite to the fort entrance. U must see the detailings of the carvings.. Its amazing!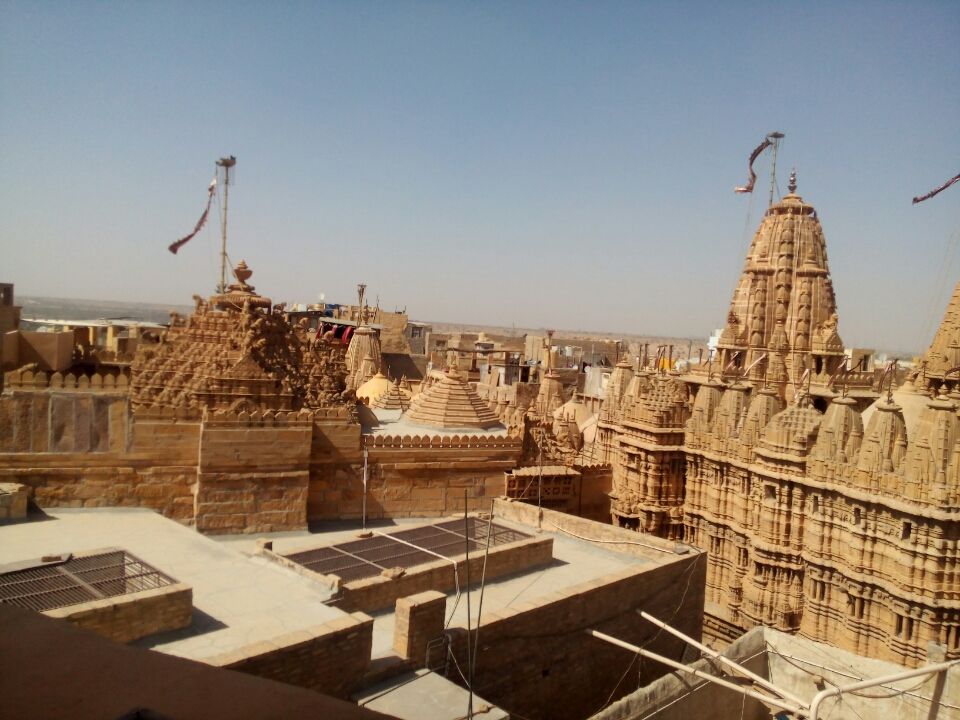 Then I went to jaisalmer fort, the main fort! Rajasthan is all about forts and it is the other one.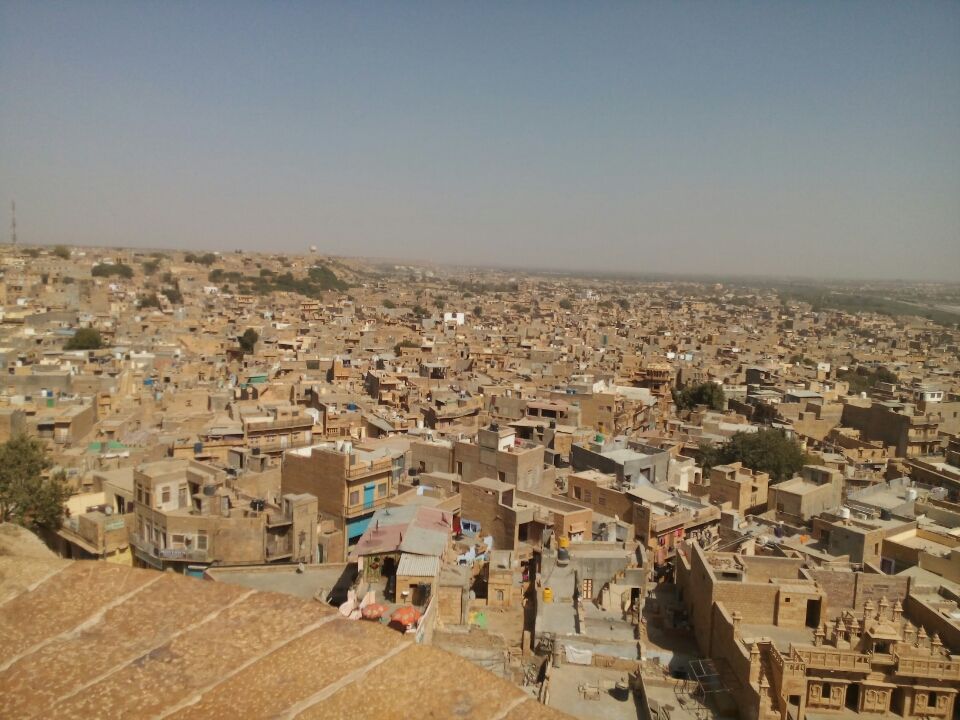 this is the top view from fort and the reason why it is called golden city!

While coming back don't forget to eat something from German bakery and coffee shop. They are very nice to their customers and obviously watever u will choose to eat there, u will like it for sure. I was running out of time and also I am a chai addict so I had this.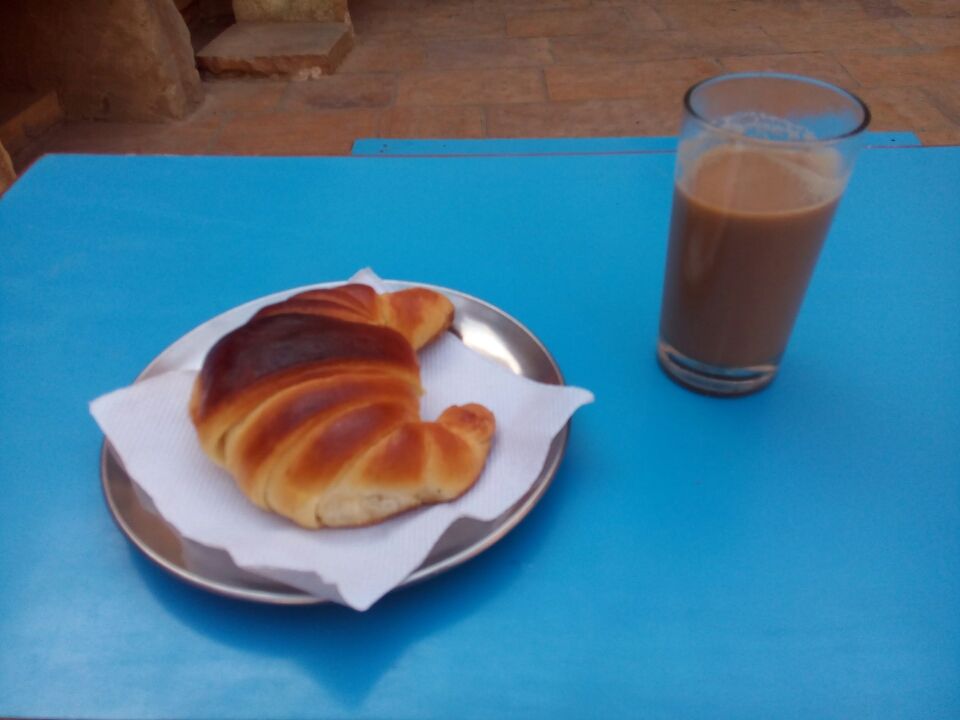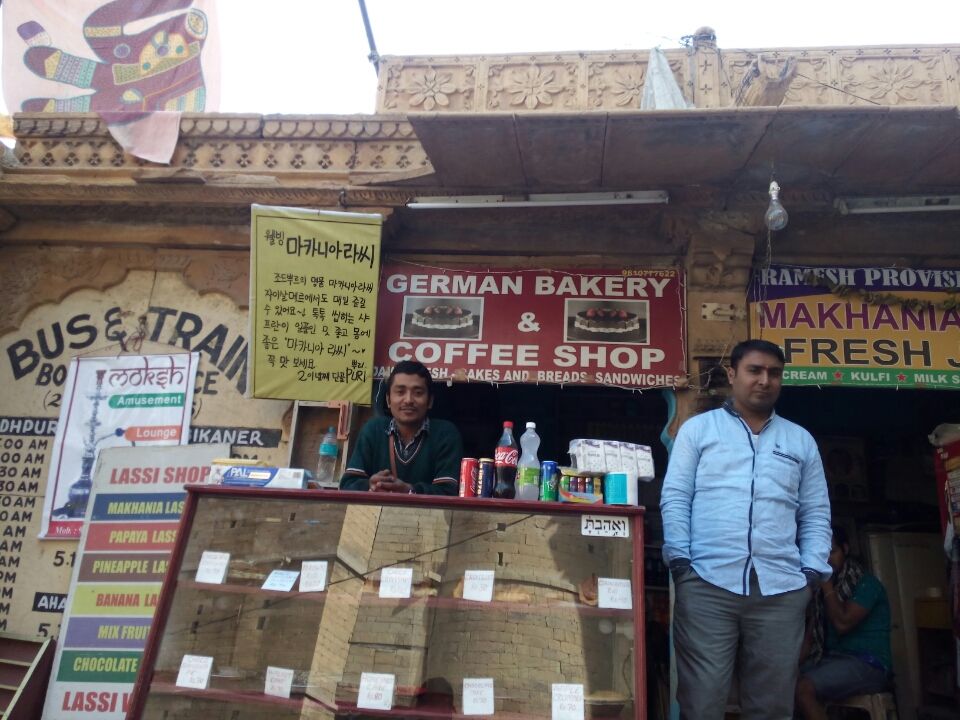 go go and explore!

4. Gadisar lake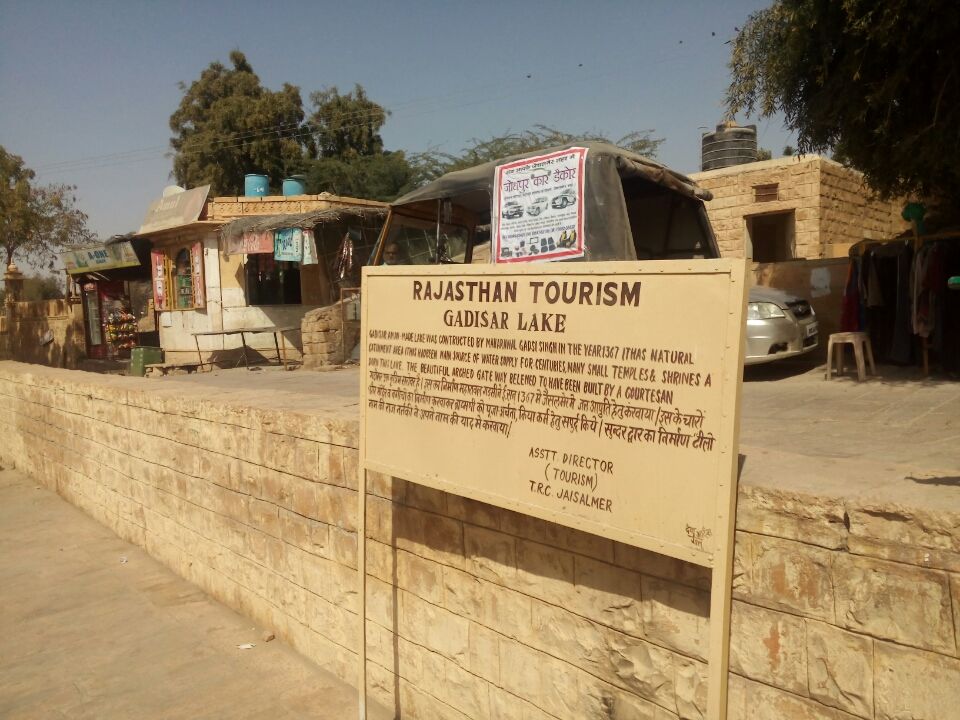 Well you can even do boating here but you have to have in pair at least. The person who book the boating stuff I felt was bit rude.. I was solo and he bluntly said no u can not do boating, I asked him to pair me up with other solo people, he said 'nahi hain yaha koi solo' (gusse mein). Anyway I saw the lake, clicked some pics and went away. If u want to do boating it will cost some 200/- bucks for two people for certain distance. You can choose how much distance you want to paddle up the boats.. Charges will be accordingly.
5. Janana Museum (inside city palace)
Entry charge: 30/-
There was one more museum (as my autowala said this is the only worth museum to explore) also because of less time, I only explored one museum which had old stuffs which Raja maharaja used to use in their daily lives and it was all shanti out there.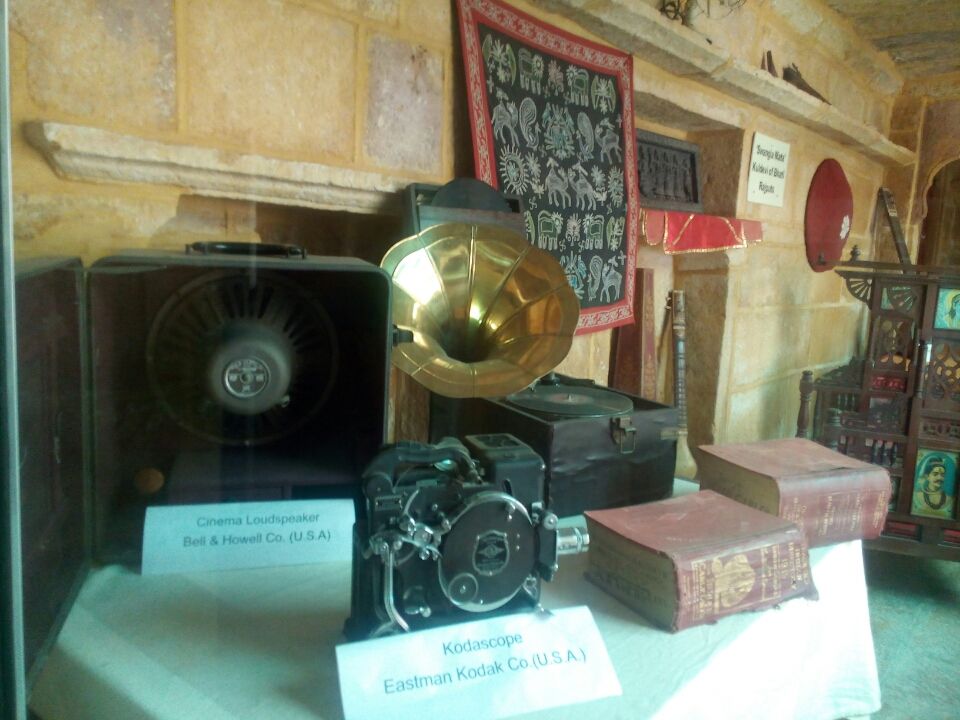 this is one of the things they used to have by that time. And do u know they used to have kerosene operated fridge in dat tym? (W'out electricity :O )
6. Thar desert exploration
As I said earlier I booked my package for desert safari in morning only, so he asked me to come back by 3 pm because that's when they will leave from there for the safari thing. So I reached back even earlier. Had my lunch at the restaurant above that hotel. They were also nice in asking and serving the foods. It was all 'sannaata' out there too. I like peace.. So I played a soothing music and sat near the window, had my lemon tea (I told ya I am addicted) and lunch. After some time, I and other people from hotel who too were going for the safari gathered in the tabera. It was bit hot by then.
On the way there were some other Jain mandirs too. Driver stopped the car in between and I went on for exploring and clicking the moments out there.
Do you wana see?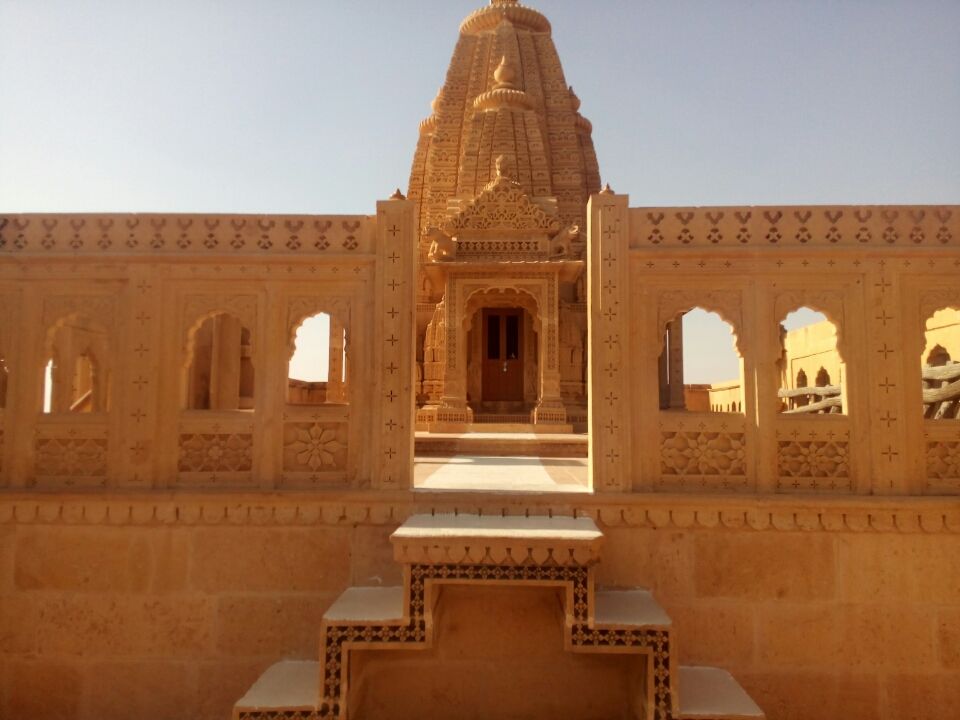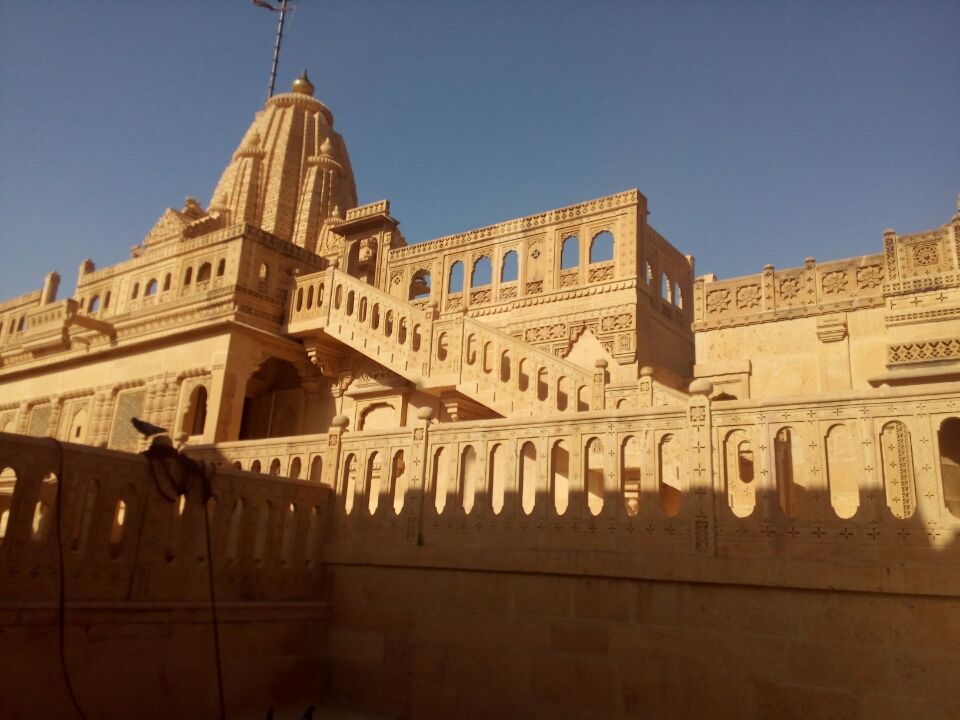 Again the journey resumed to the thar desert. We reached there in around 40 minutes. Then camel ride started. Though I lived in Rajasthan for around 7 years, but this is first time I am riding camel! So yes I loved it.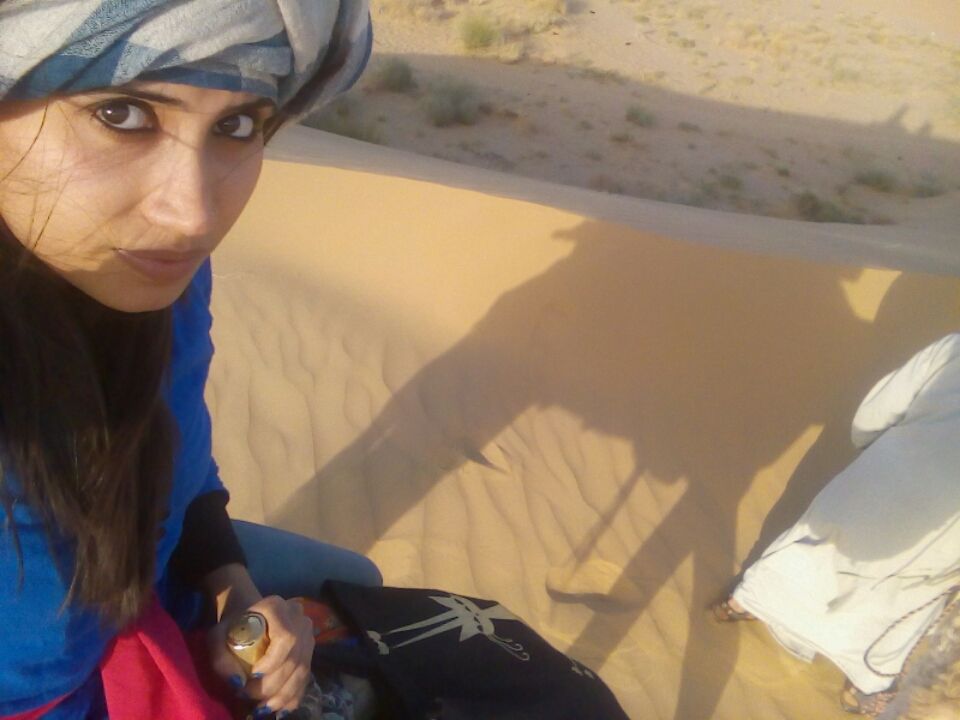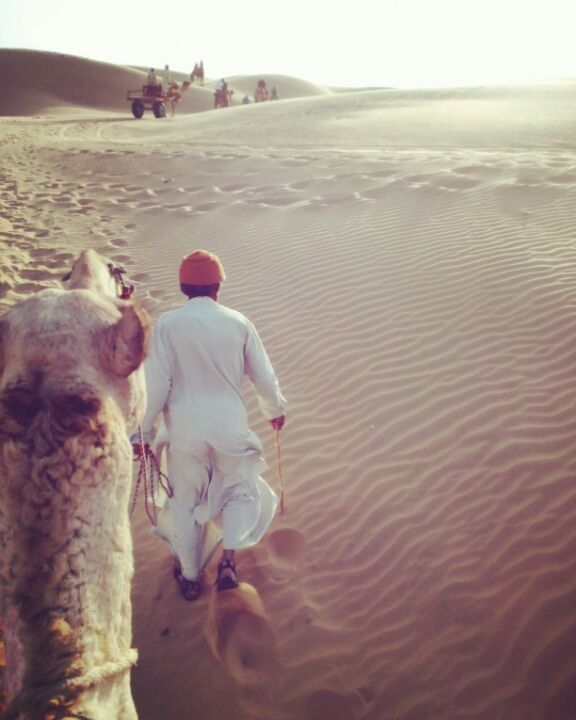 And this is the thar desert ! Yes the one you have studied about in geography subject in childhood! :D

We all stayed there till sunset and here is a click I tried with the view.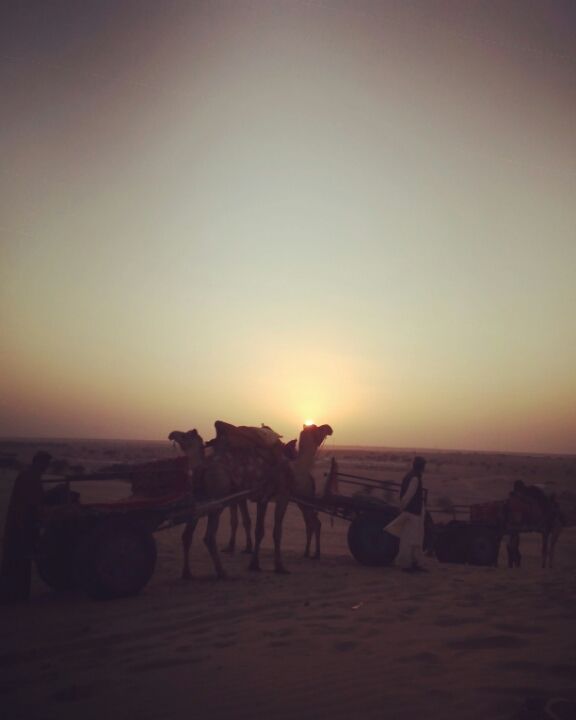 By this time I made four friends.. Two were from Varanasi and one was from Nanital (another attraction for travelers ). So we four headed towards the tent area where there were other things to see and enjoy.
She welcomed people with 'teeka' and there were all nagadas and dhol for the swaagat.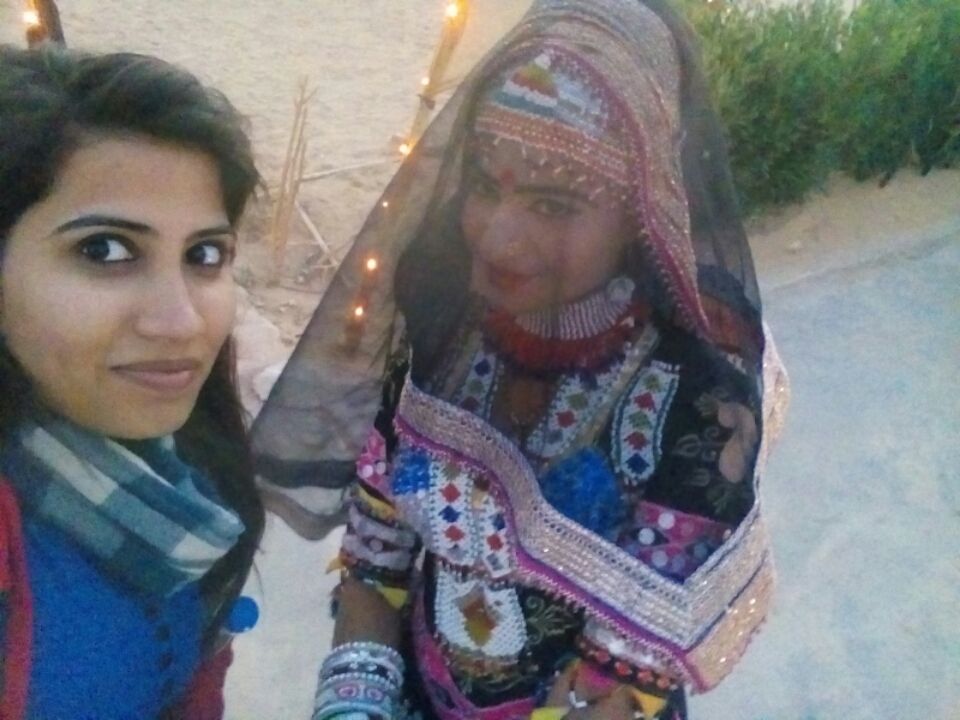 We sat in here like other raja maharajas.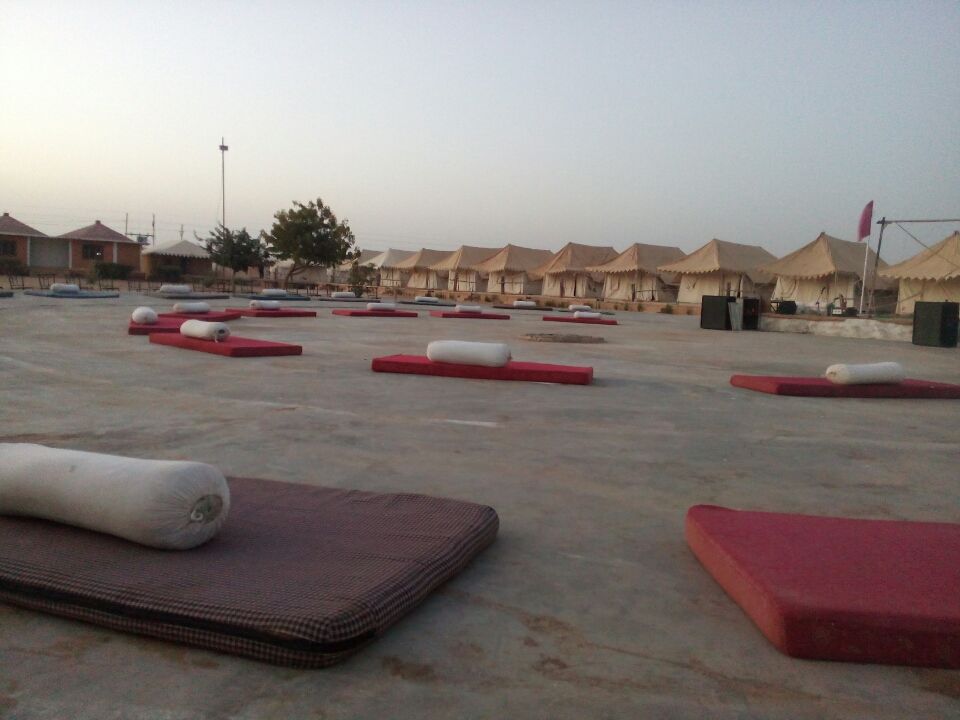 The ladies in black cultural attire danced and showed unimaginable moves. We had snacks. A fire dance, through which the guy lighted the bonfire as well.
After they were done with their performances, they all pulled us for group dance. Yes I tried some funny moves of mine too for sometime. And then went for the dinner. Traditional Rajasthani dinner with 'gutta curry' 'daal bhaati churma' and yes other Indian stuff. It was tasty!!
I needed to catch my train by 00:45 16th Feb early morning. So bid my travelers friend Rahul, Vishal and satyam goodbyes and then the bhaiya who brought us here drove me back to station after leaving other people to their destinations!

Day 3
Waiting at station for 2 hours because bhaiya left me here around 10.30 pm; I sat in Raanikhet express and after a long 19 hrs train journey I reached back Delhi.
Charge: 490/- bucks and seats were all available because I booked just one day before and it was still showing available 145 seats.
A general info: if you are booking in sleeper coach in this train, some 3 hrs before revaari(haryana) station u will see your sleeper changing into all passenger train, it becomes all crowded and you can't help it. So if you want peace all the way till delhi, you can book 3 AC coach which will cost around 950/- or so for one person.
So this is how my journey ended.
One more tip: Its a good way to pass the time; first explore the places and when you are seating in train and you know its gona be a long journey, you can try writing your experience all here! The time will pass and you will be doing something creative too! :)
Will get back after my other journey!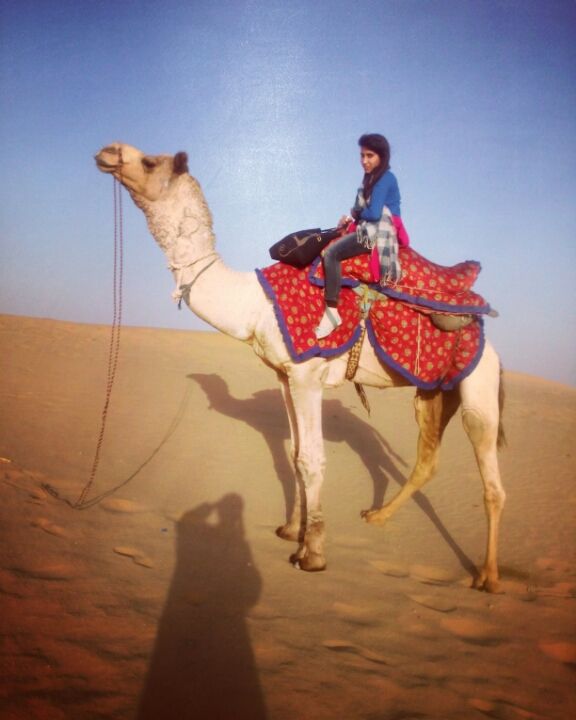 *camel is like very proud of me seating on his back*
P.S.: He is Michal Jackson!
Bye!