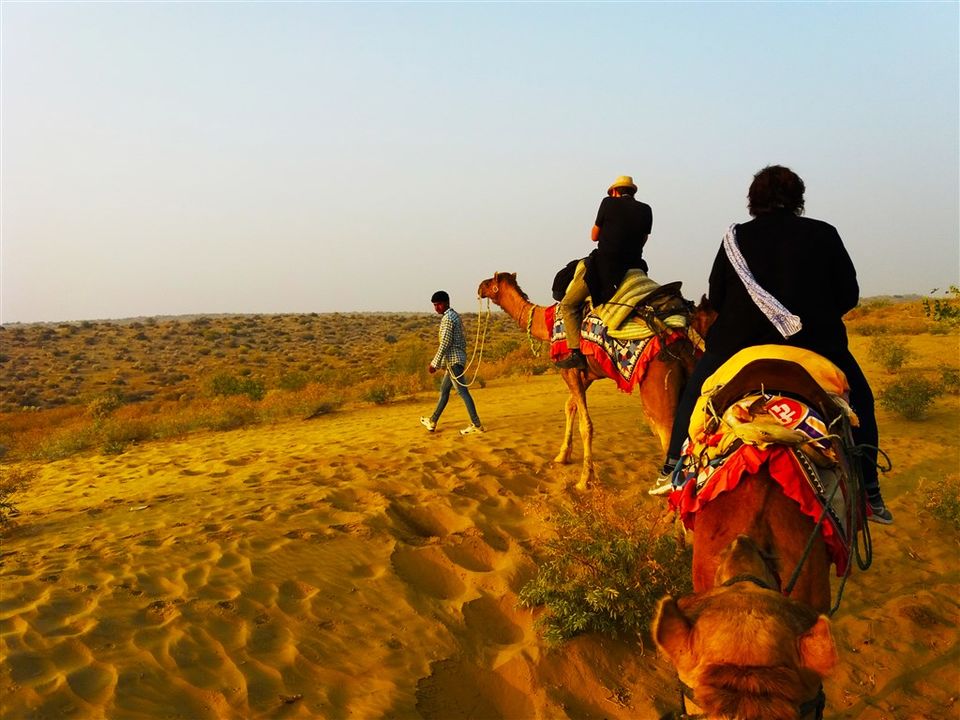 Searching for the Travel Agency for Camel Safari
Jaisalmer desert camp is one of the best places to enjoy camping in India and the best part is that you can sleep under the open sky without tent. That's right folks! You don't even need a tent to sleep there and it is even recommended cause it will enhance your camping experience in the Thar desert.
We reached Jaisalmer early in the morning by train from Jaipur. Our plan was to spend 2 nights there, one in the city of Jaisalmer and another in Jaisalmer desert camp and doing camel safari. There are plenty of travel agents in the city who will organise the camel safari and desert camping experience for you. You can also negotiate the price. We talked with 3/4 agents and decided on taking the Camel Safari organised by 'Sahara Travels', they are located right by the entry gate of the fort on the right side. They charged us 1500 rupees per person but without the lunch cause by the time we were going, lunch time was almost over. But it included dinner and breakfast next morning. It was good deal compared to others and they also promised to take us to the deep desert with no other tourist group around for the camping at night.
So we left out big backpack at their office, packed our day bag with just a sweatshirt and camera. We had 5 minutes to grab something to eat. In that 5 minutes we managed to buy some samosas and kachoris to eat later as lunch as well as bought 2 beers, a bottle of Old Monk rum and a big bottle of coke to go along with it. If you plan to drink in the desert, it's better to buy it in the city and take it with you. You'll find beer in the desert as well if you ask your guide but there are high chances that it will be overpriced and almost double.
Ancient ruins of Kuldhara Village and first ride on the camels
We got onto a jeep started the first part of our journey. The campsite was more than 50 km away from the city. Our guide will take us by Jeep until we reach a village and from there we'll ride on camels for around 2 hours to get to our campsite. That was undoubtedly the most exiting part!
There were 5 of us in the jeep. Me and my friend from Canada Jessie, our guide who was also driving and there were an Italian couple. Later in the evening we're supposed to meet another couple who were already in the desert. It would be six guests, our main guide and few other local guides from the nearby villages where we'll get on the camel.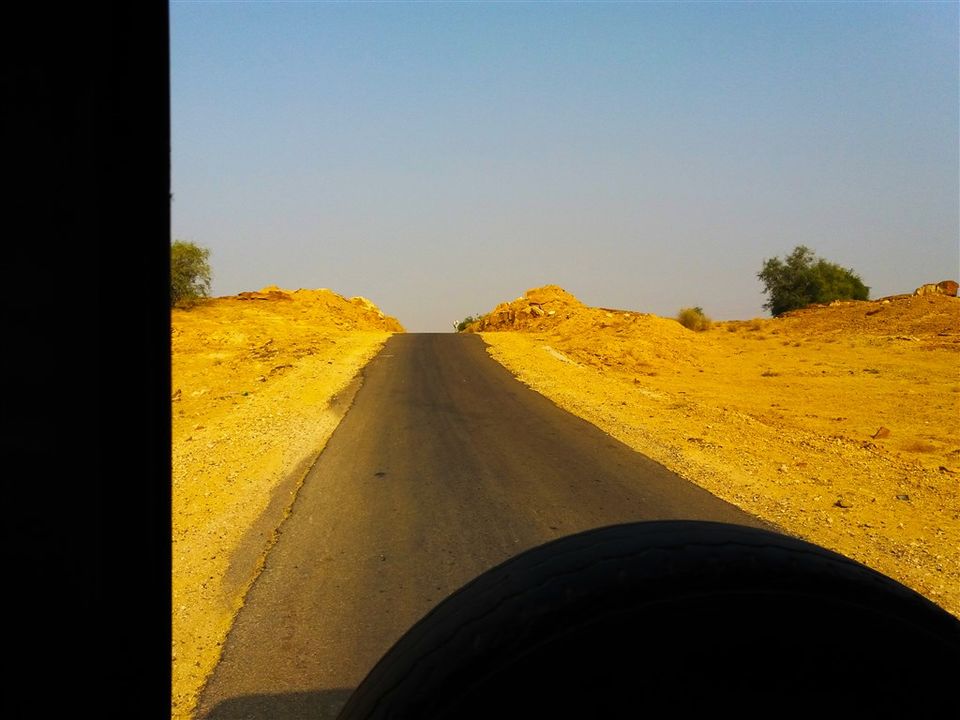 The road was almost straight though a bit bumpy at times. It was a welcoming change after weeks of travelling in mountainous road in Himachal Pradesh. Our first stop was at Kuldhara, an abandoned village near Jailsalmer. Once a prosperous village, it was now in the ruins. Local government started to restore the site as it was hugely popular among the tourists. It was spectacular sight none the less, with old abandoned houses all around made of sandy coloured mud blocks. Our guide told us that this place was also famous to be haunted!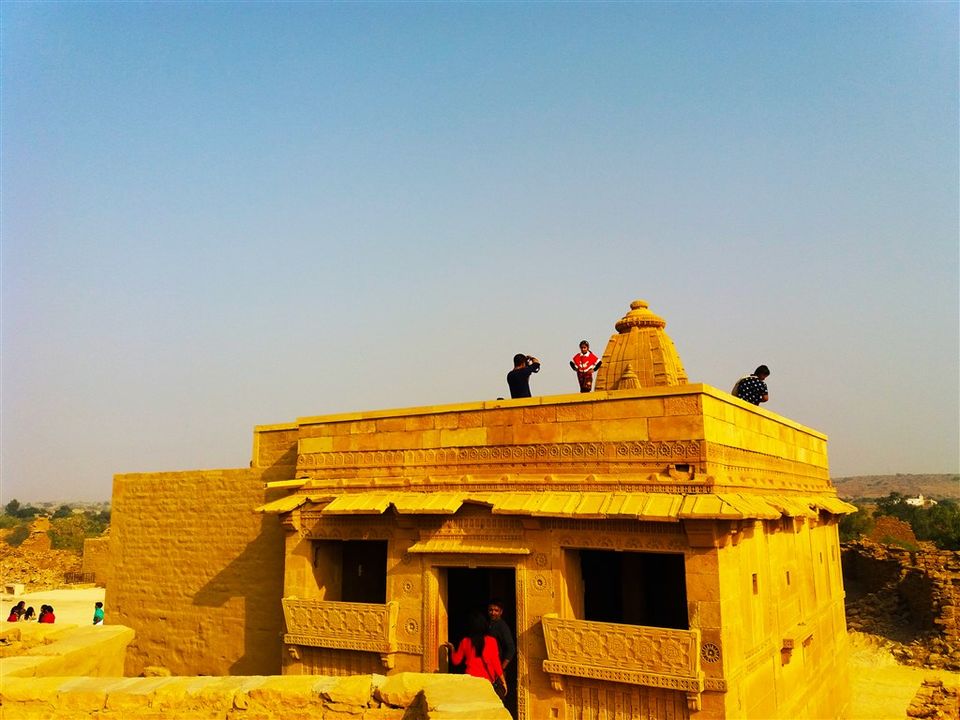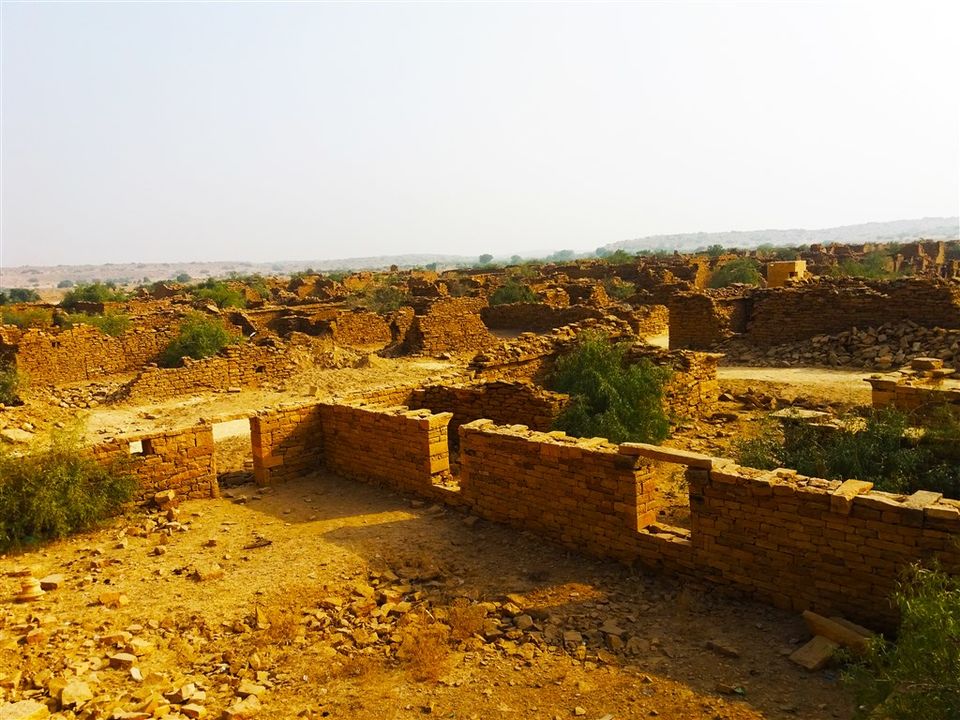 We went inside some of the restored buildings and walked on the dusty road that goes deep inside the village site. On the both sides of the roads, were old abandoned houses in ruins with just their mud brick structure. There was a strange sense of peacefulness at the site and dusty desert wind blowing along that old sandy road.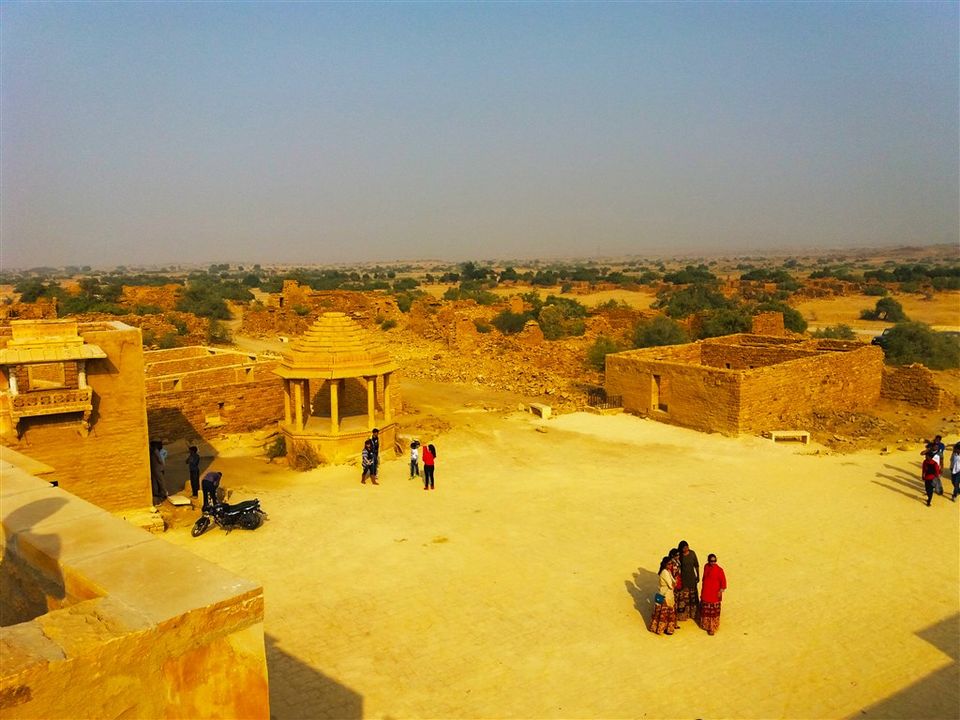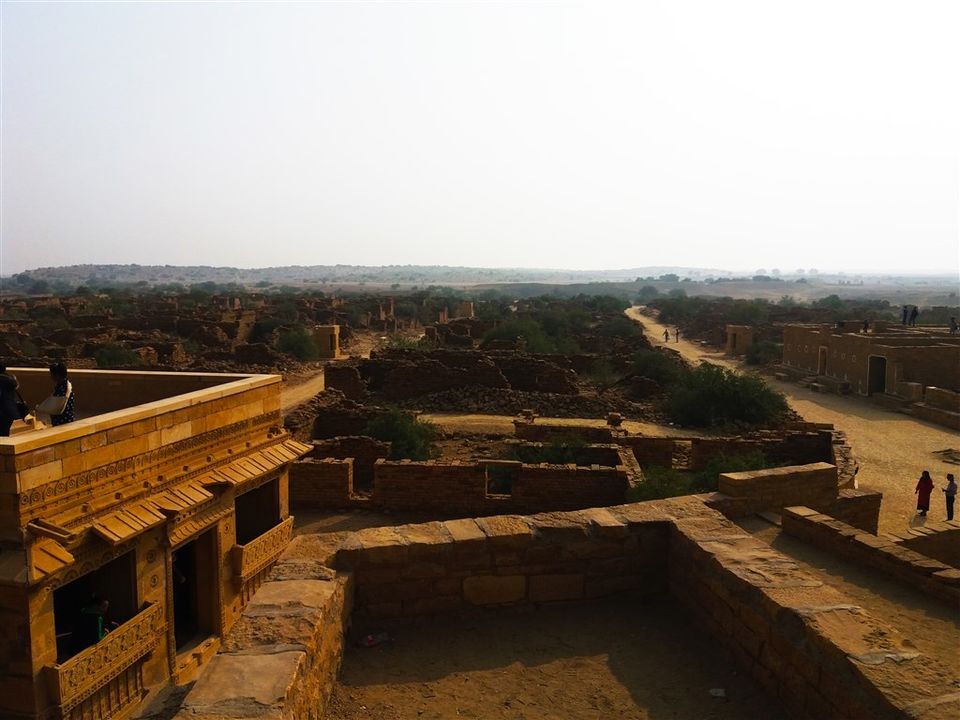 From the roof of the restored buildings you can get a magnificent panoramic view of the whole village and also the main village square. We also noticed that it felt much cooler inside the houses. It was cause of the vernacular architecture and usage of local building materials in such a way that the hot desert temperature has to make real effort to enter inside the building.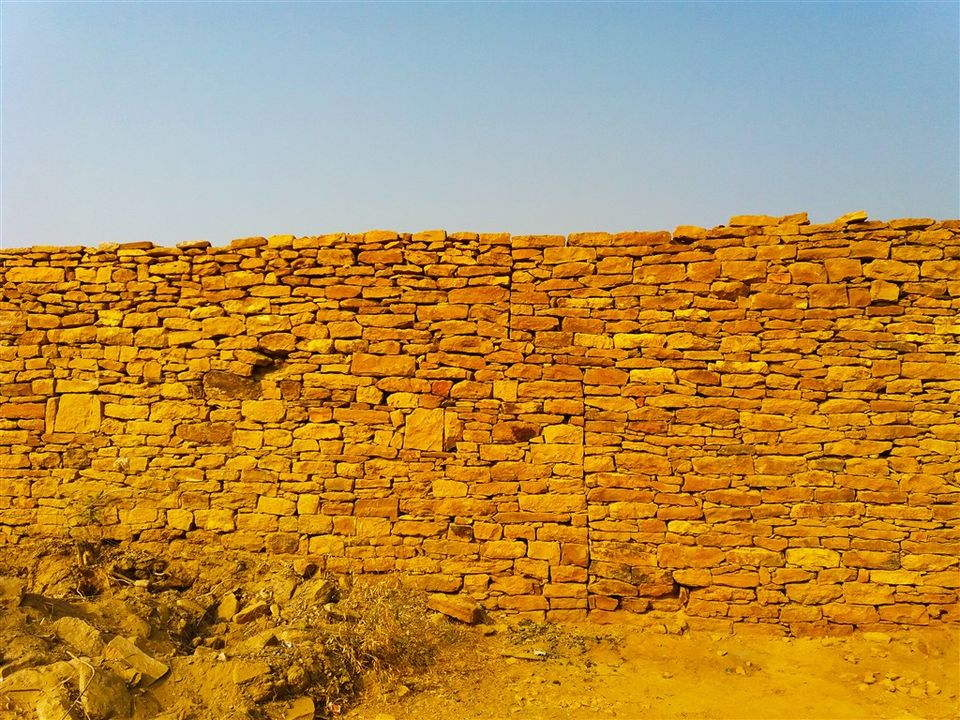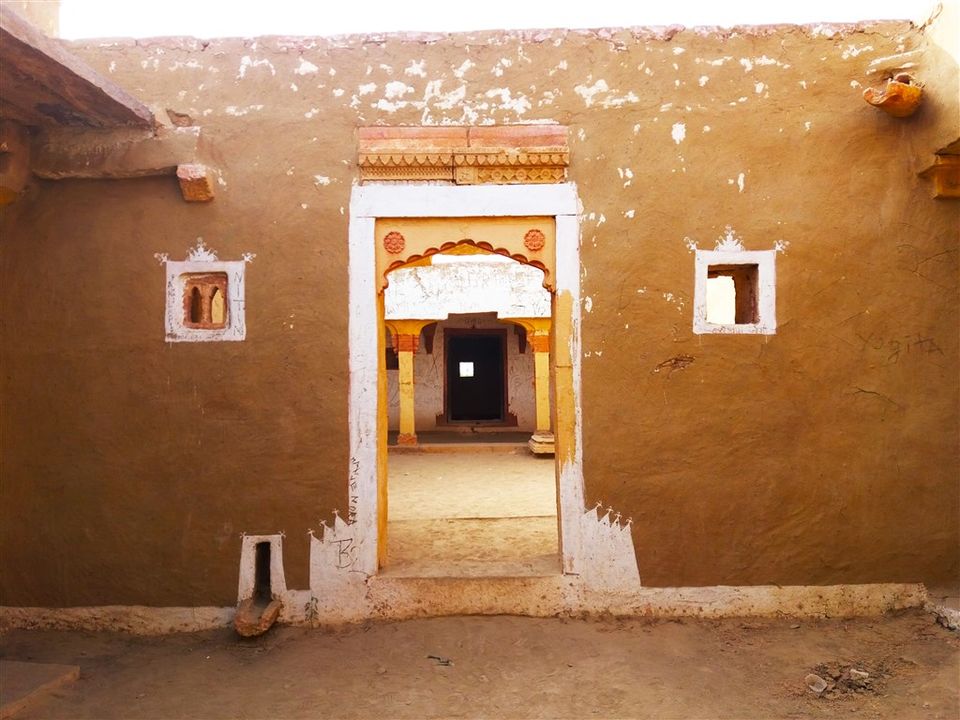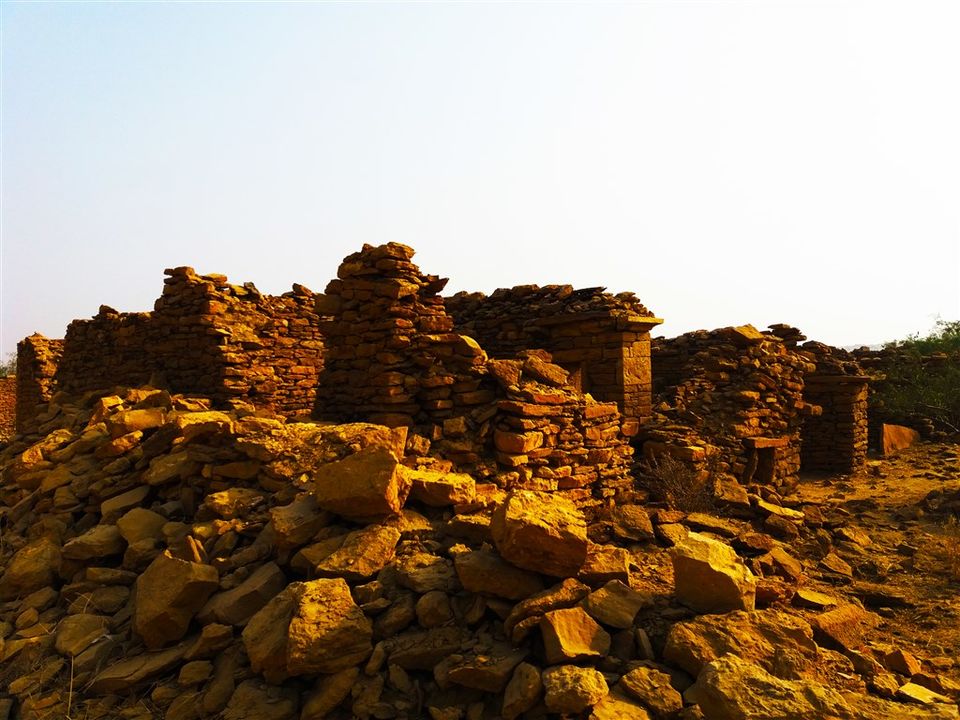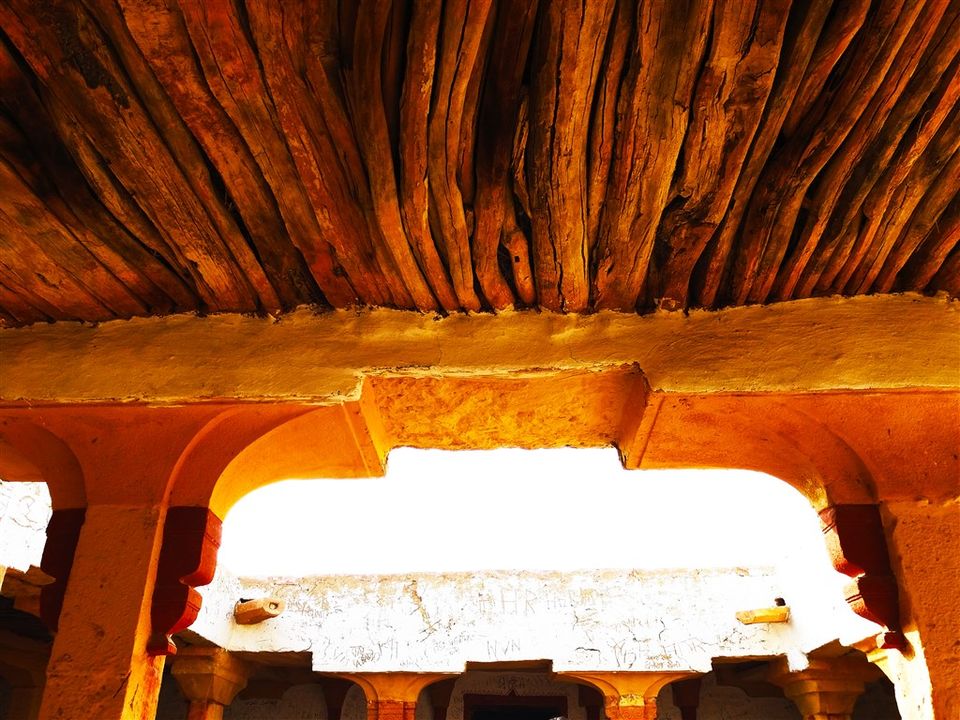 After that our guide took us to a small lake. There were some wild birds around the lake drinking water and some trees as well. Other than that there was nothing much to see there. So off we went crossing villages after villages on our way. Finally we reached to the village from we're gonna start our camel safari.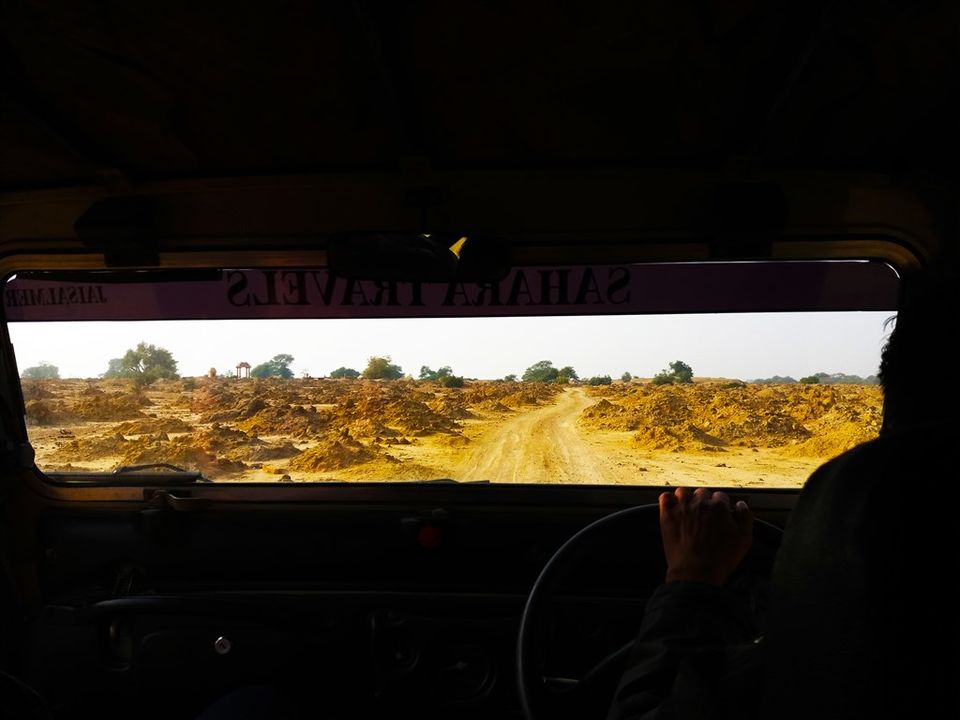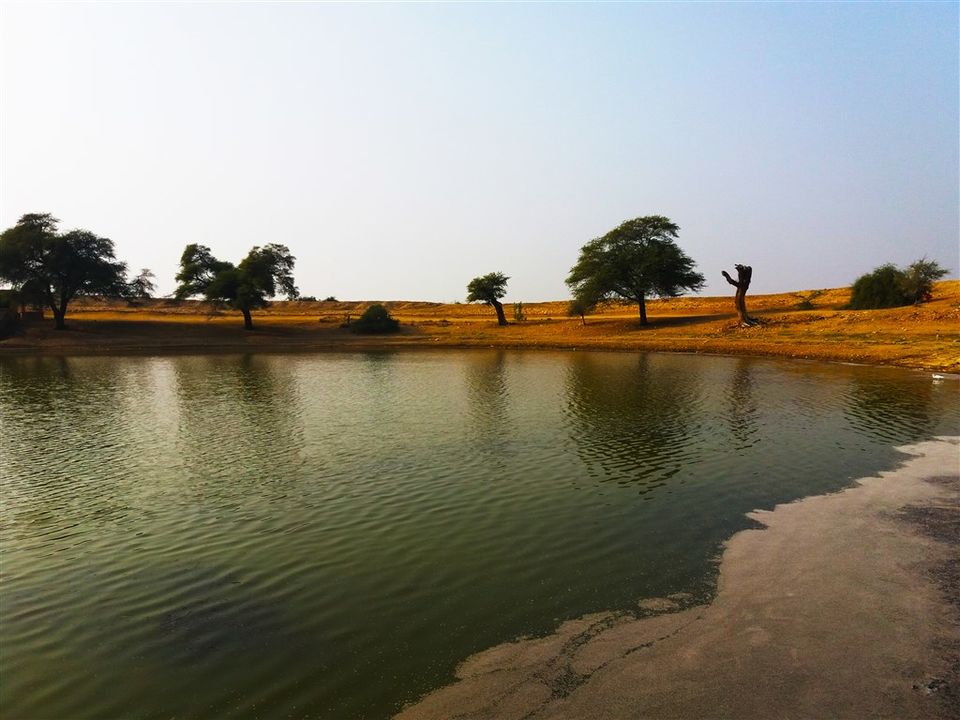 There were four camel waiting for us and two local guides from the village. Those camels looked in jolly mood with colourful saddle son their back, sitting and chewing on their food.
It was my first time riding on a camel. Needless to say I was pretty excited! So was for the other travelers with me. We had to get on the camel while it was sitting, and the after we sat on the saddle, the guide signalled it to stand up. It was really awesome feeling when the camel stood up in a zig-zag motion with me sitting on top.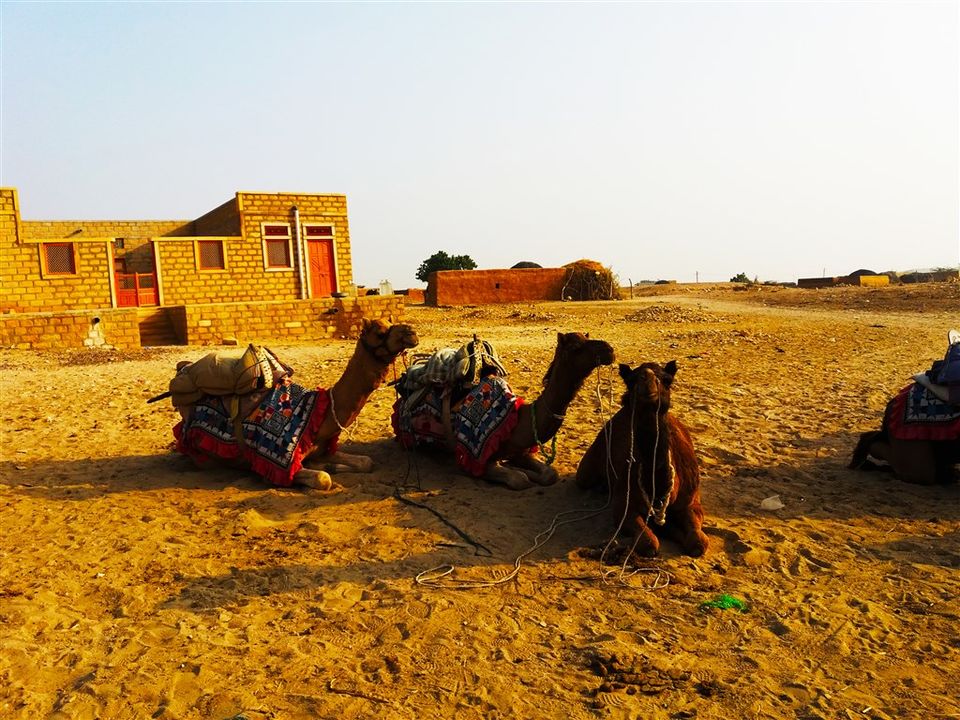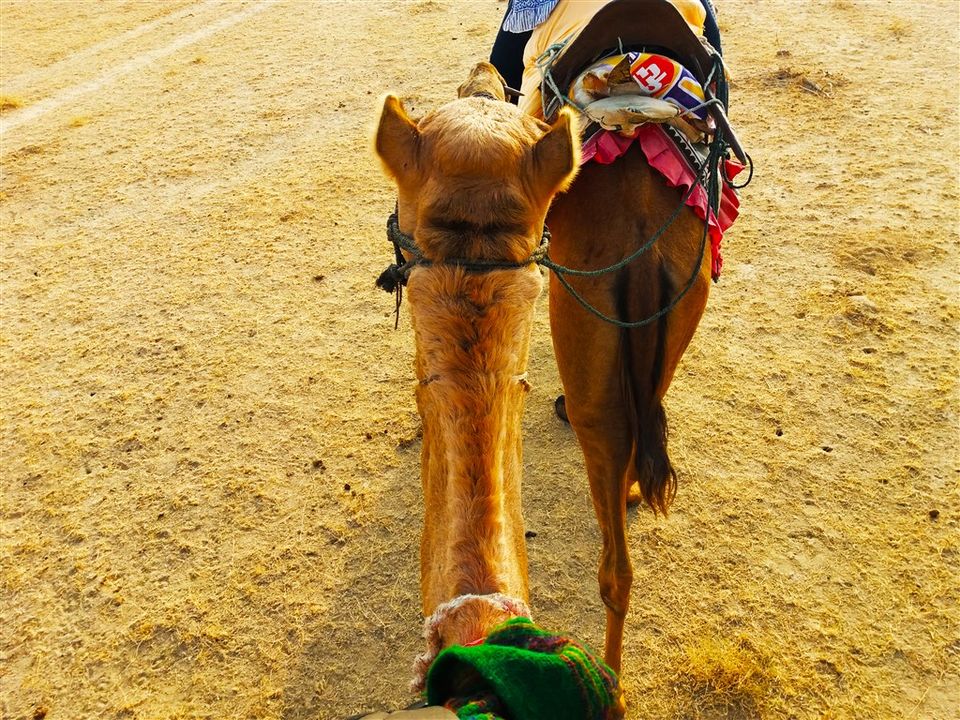 Four camels were tied up one after another like in a marching band and in the lead was our local guide. They also tied up another young camel to the end, he was in the process of learning I suppose.
We went on in up and down motion on top of the camel, crossing small arid hills and all around us were short, dry desert shrubs and bushes of cacti. In the beginning it was particularly sandy but more like a huge never-ending arid landscape with gently rolling hills disappearing into the horizon.
We asked the guide about the local flora and fauna, lifestyle of the people of the desert and joked around a little. Now riding on the camel is not the most comfortable thing on the planet, especially for the first timers. Top part of our bodies were moving rhythmically front and back and it seemed like it will never end. Though after an hour or so you almost get used to it. The beautiful desert landscape we were crossing was also helping in easing the pain.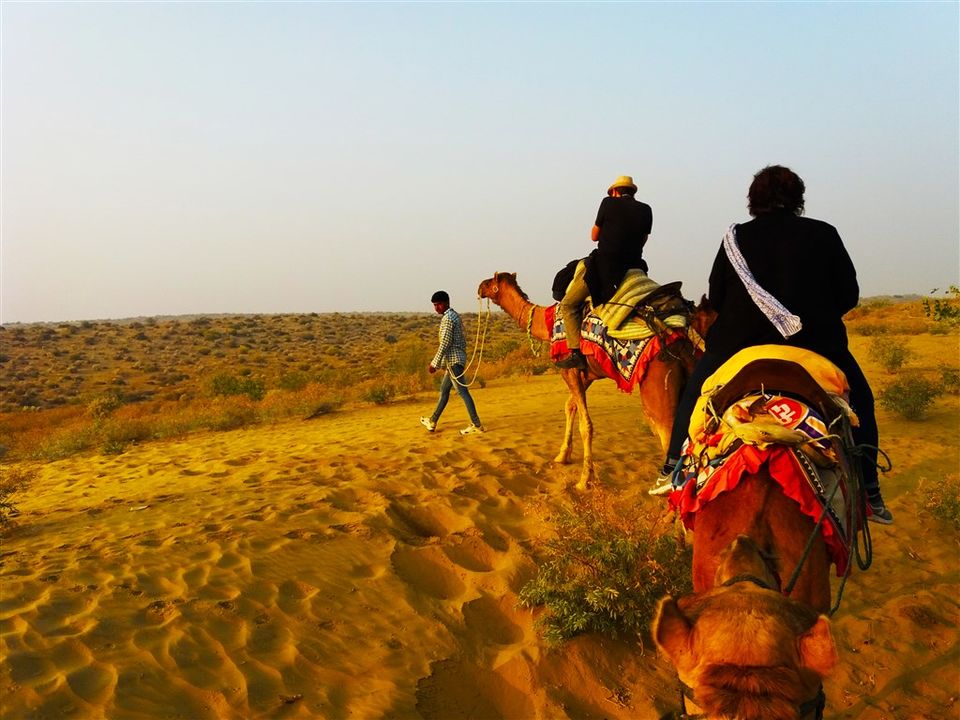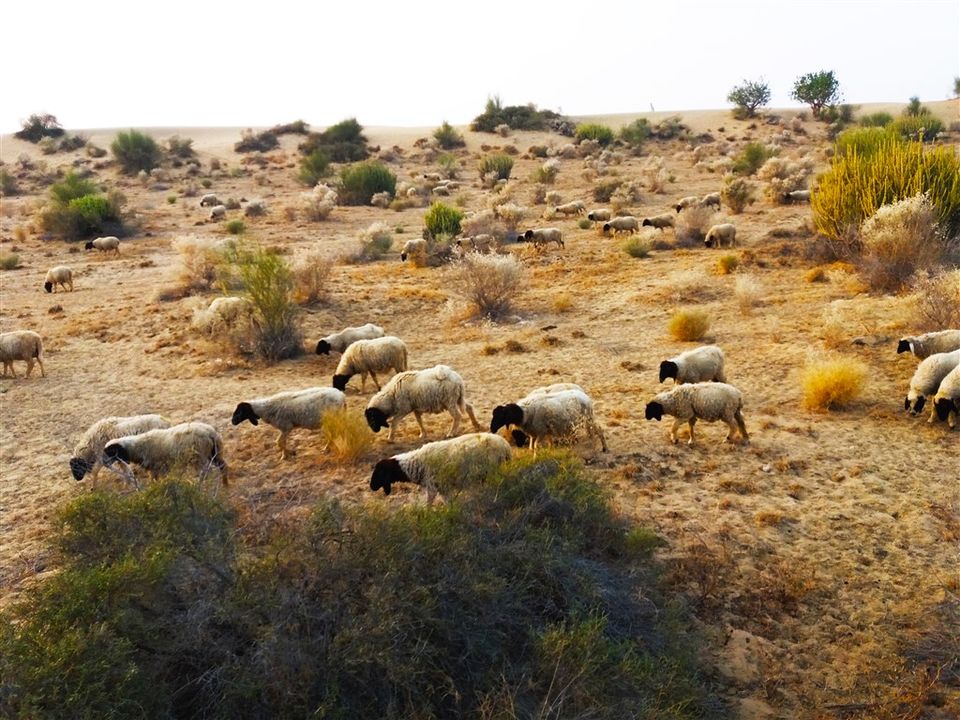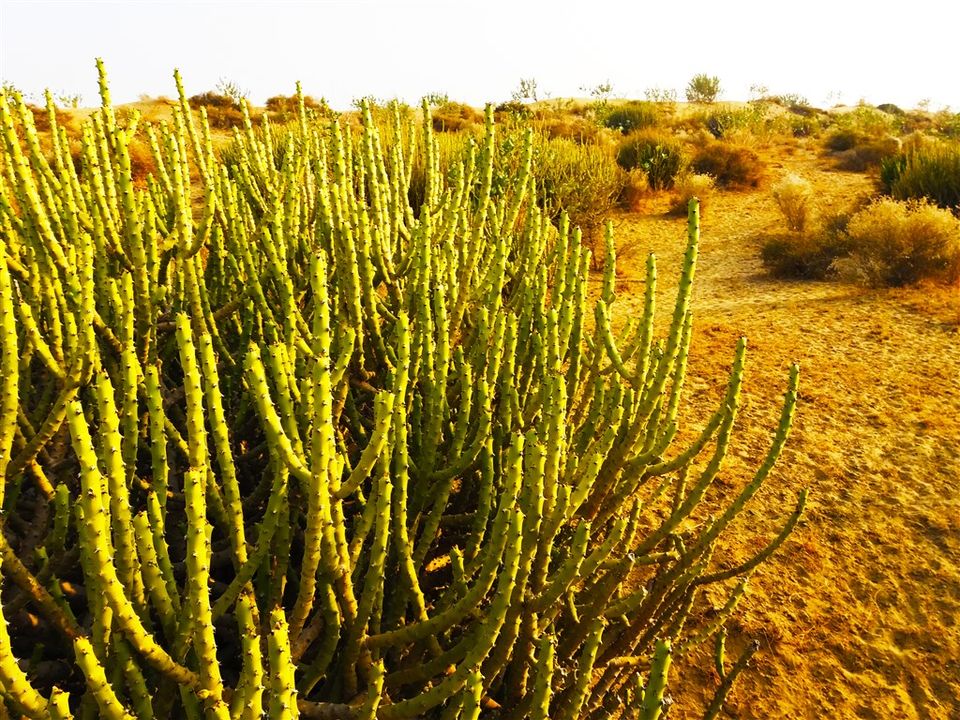 There were numerous rolling small hillocks all around us. And we were crossing one after another. It was a bit slow but comfortable going up but then while descending the camels almost ran down making us come at the edge of our saddles. Though our guide was really good at slowing them down. With every crossing of the small hills the desert seemed more and more arid.
We finally reached a large sand dune, a gently rolling hill just made of sand. The curvy patters on the sand caused by ceaseless desert wind was looking just like we imagine desert to look like in our mind.
Now compared to the big desert of our planet like Sahara and Arabian desert, Thar has a lot more vegetation and human habitation. The vegetation was really desert like- short, rough and arid. Full of cacti bushes and other plants that don't need much water to survive. This gave the whole scenery a different kind of beauty to it, maybe totally unique to Thar.