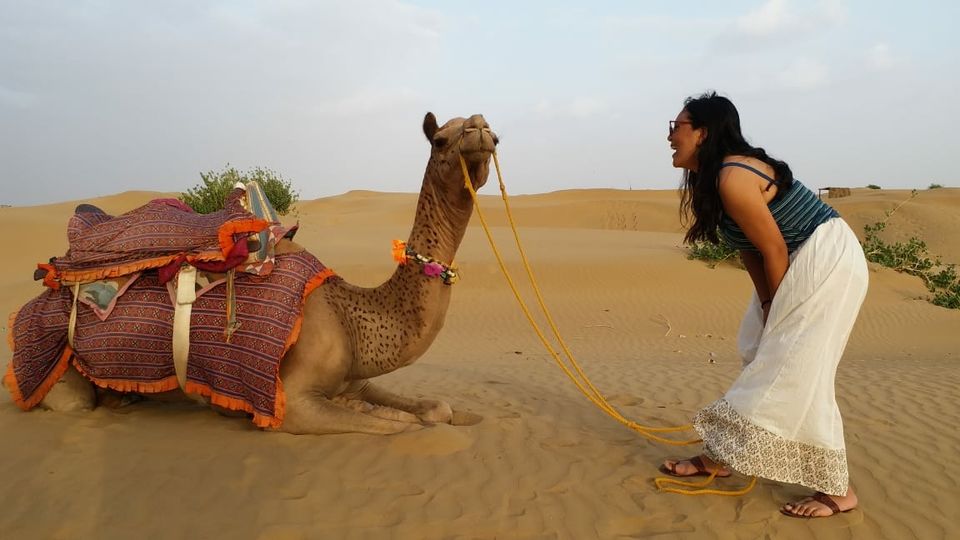 Monsoon Season clearly cuttoff all our option to Hill stations in Himachal and Uttrakhand . So We decided to head to Orcha and Khujrao in Madhya Pradesh which is a UNESCO world heritage site . To reach Orcha , we couldn't find any train Tickets that day . So Yes ! Roadways to Jhansi. This sounds so exciting . At around 9pm me and my best friends ( Three girls) we left for ISBT. After Checking Four ISBT of Delhi ( kashmere gate, Anand Vihar , Sarai Kala , kosambi ) we were disappointed to find no bus to Jhansi . We couldn't postpone our plans, we had to leave for someplace anyhow. At 10:30 pm we hopped on the last available bus to Jaipur. I have been to Jaipur before so we shift the plan to Jaisalmer. We checked the weather forecast and it showed partly cloudy.
Jaisalmer was on with no intentions , no itinerary by three crazy best friends who believes only in the journey and the company.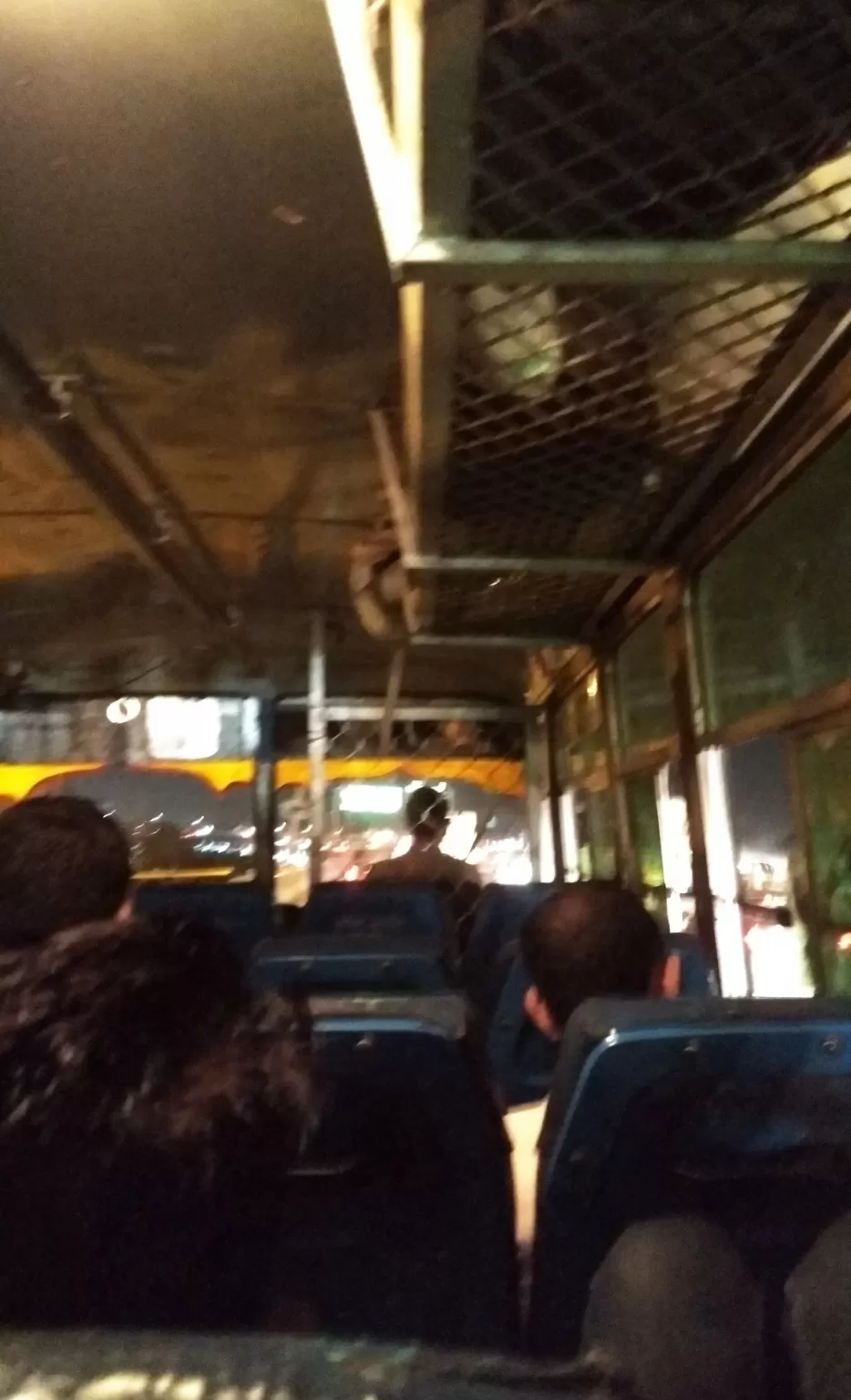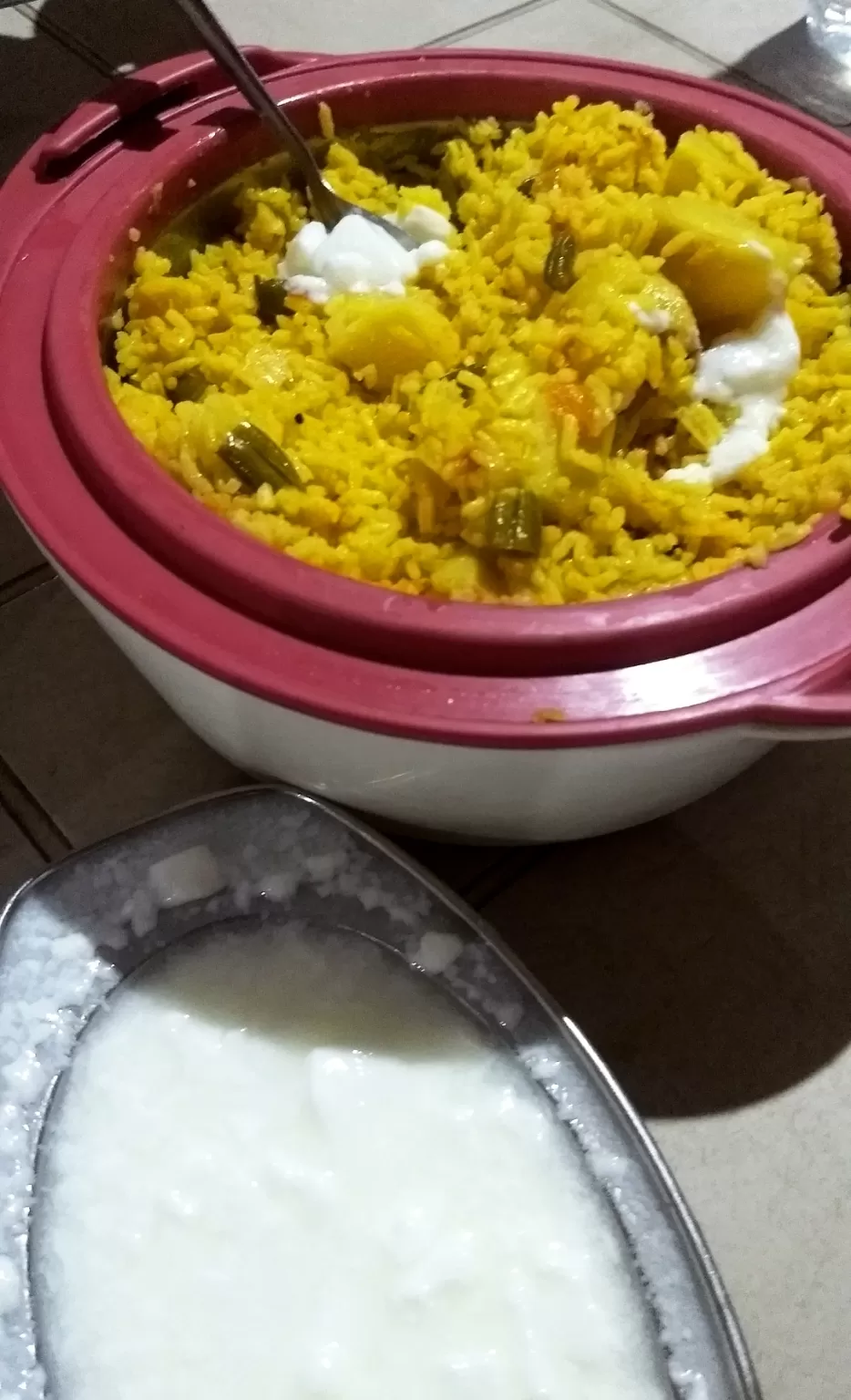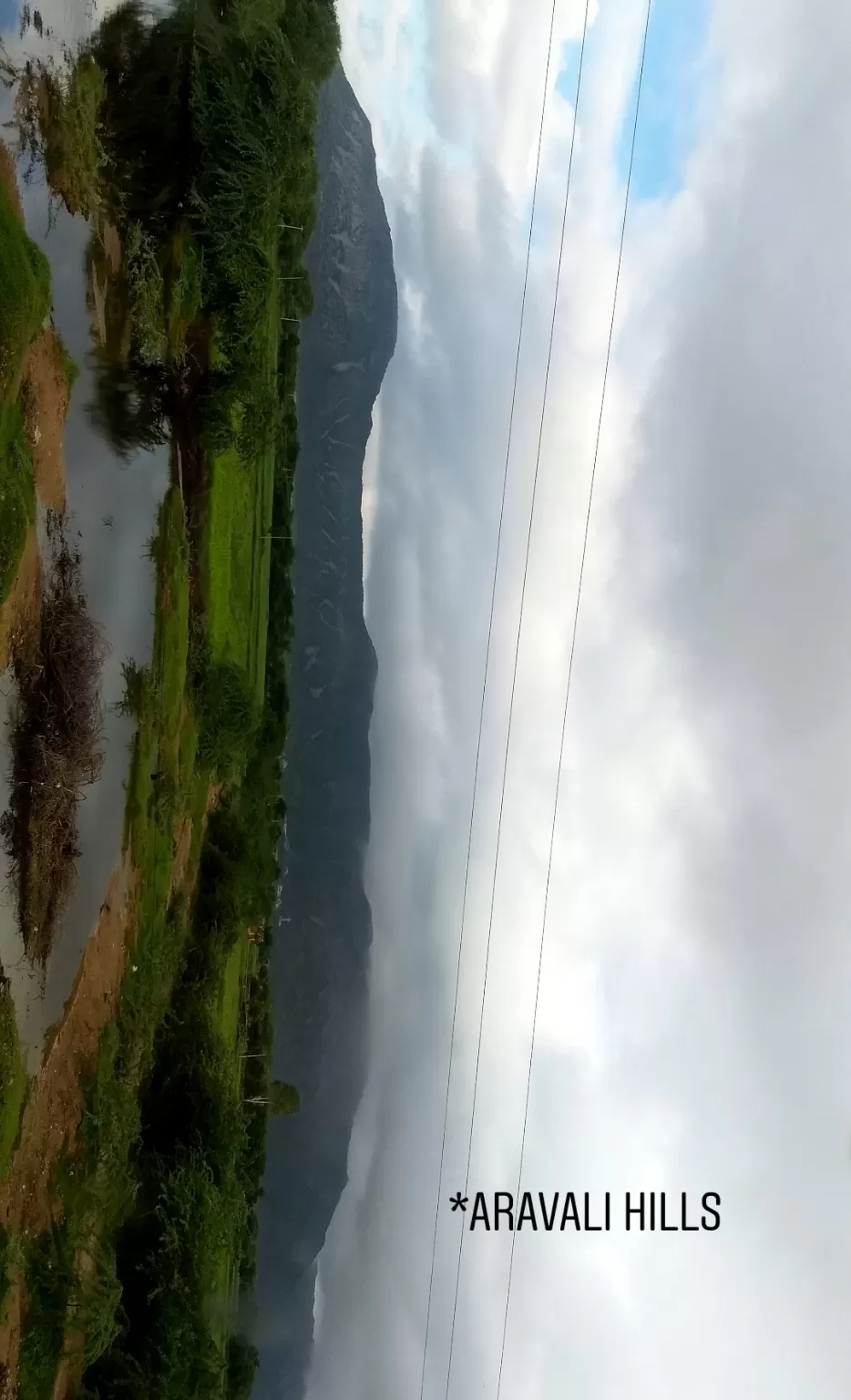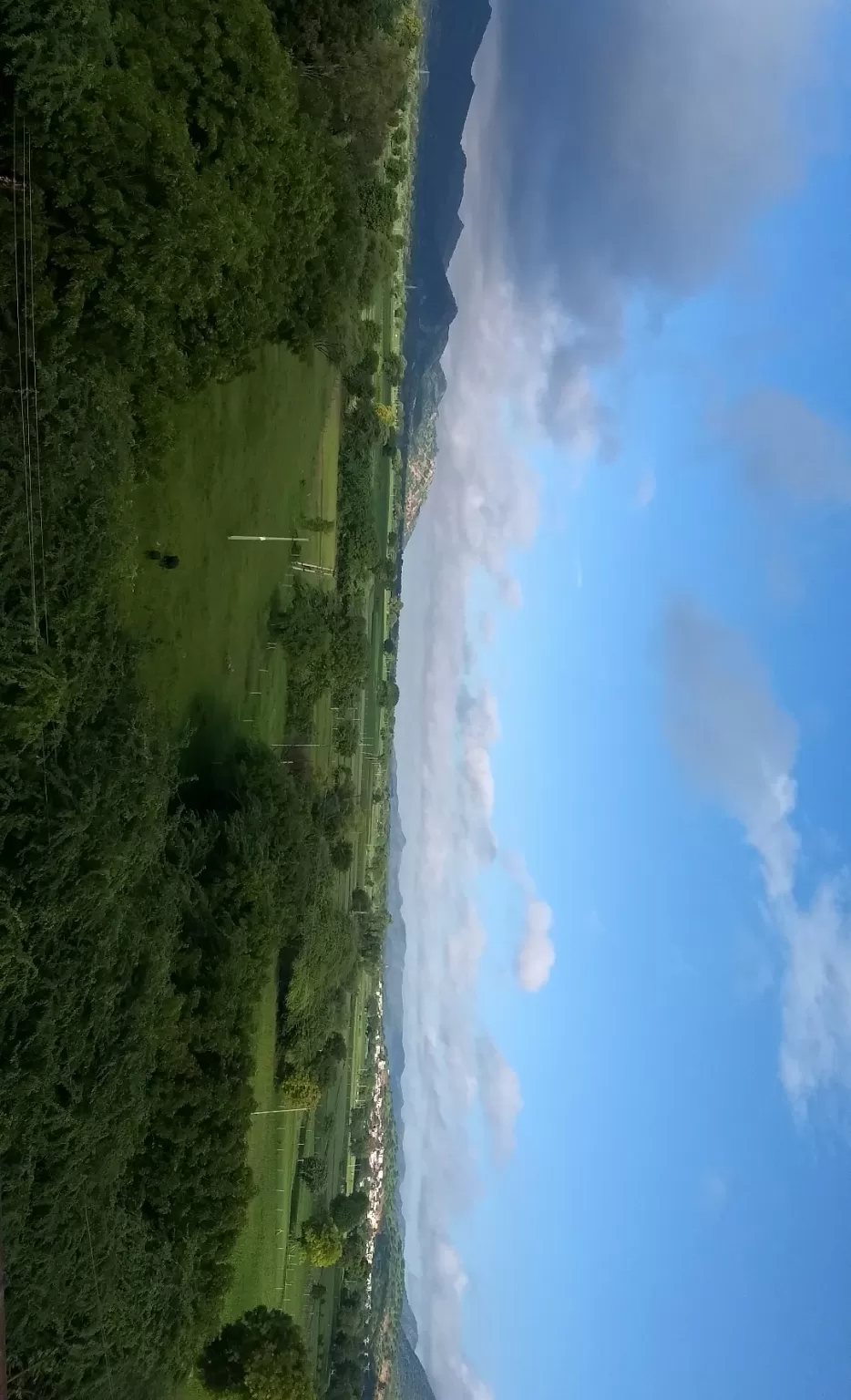 At 4:am we were in Jaipur at a bus station waiting for our next bus to Jaisalmer at 6:00 am. 19 hours of Bus ride from Delhi landed us in Jaisalmer . We met an Uncle who happens to be a guide, he speaks bilingual being in the tourism industry for so long , he took us to his hotel and showed us the camping pacakge. The hotel interior was impressive with traditional designs. We bargain a lot and got settle at 2100 per person which includes ( one night stay at resort / camping , food , cultural evening , Tika dastoori , camel Safari and taxi charge ). After a quick shower we went for a rooftop dinner with a beautiful view of Jaisalmer fort under Eid's Moonlight . It was Eid the next day , and the hotel owner invited us to his place for Eid and it was getting more exciting .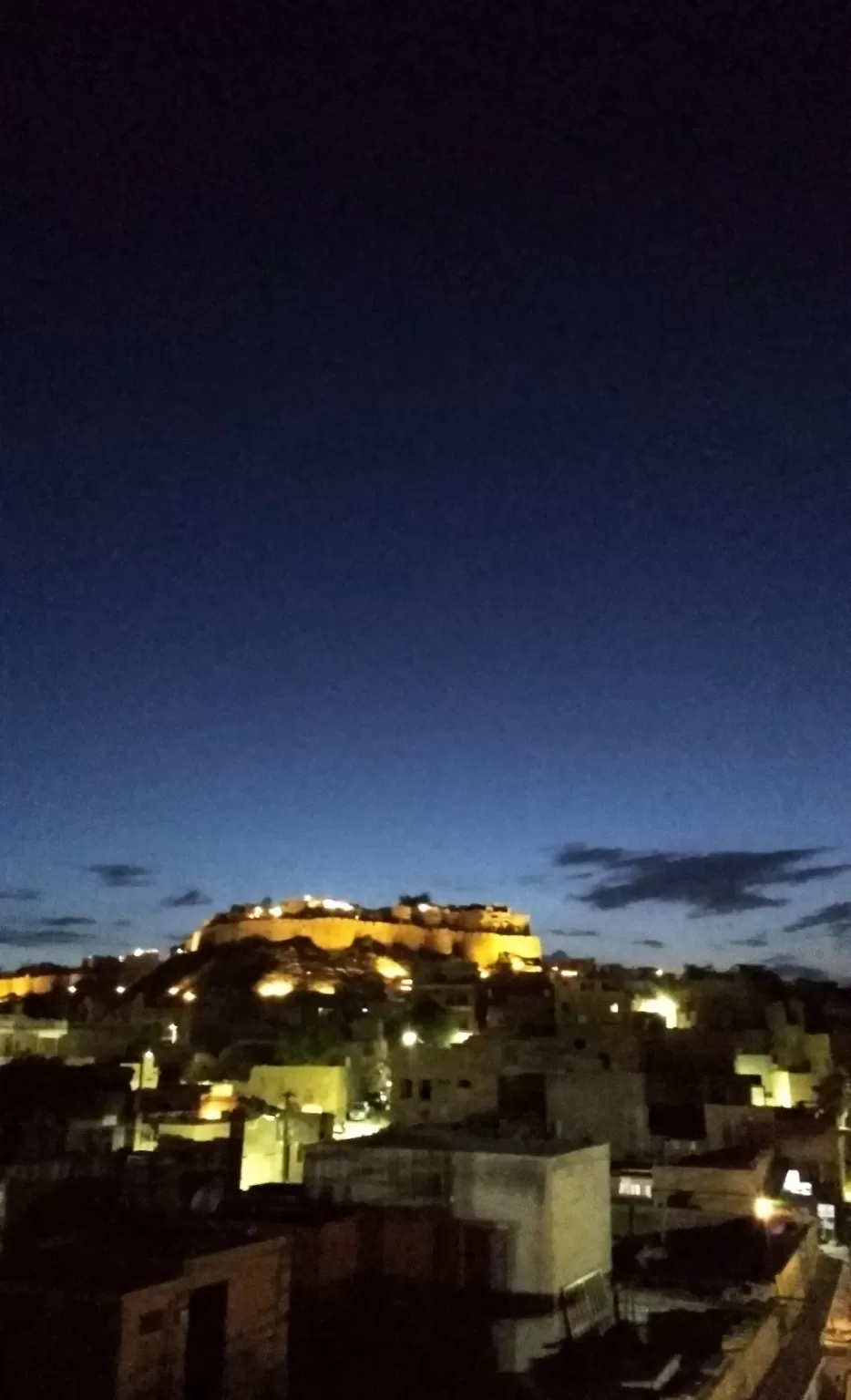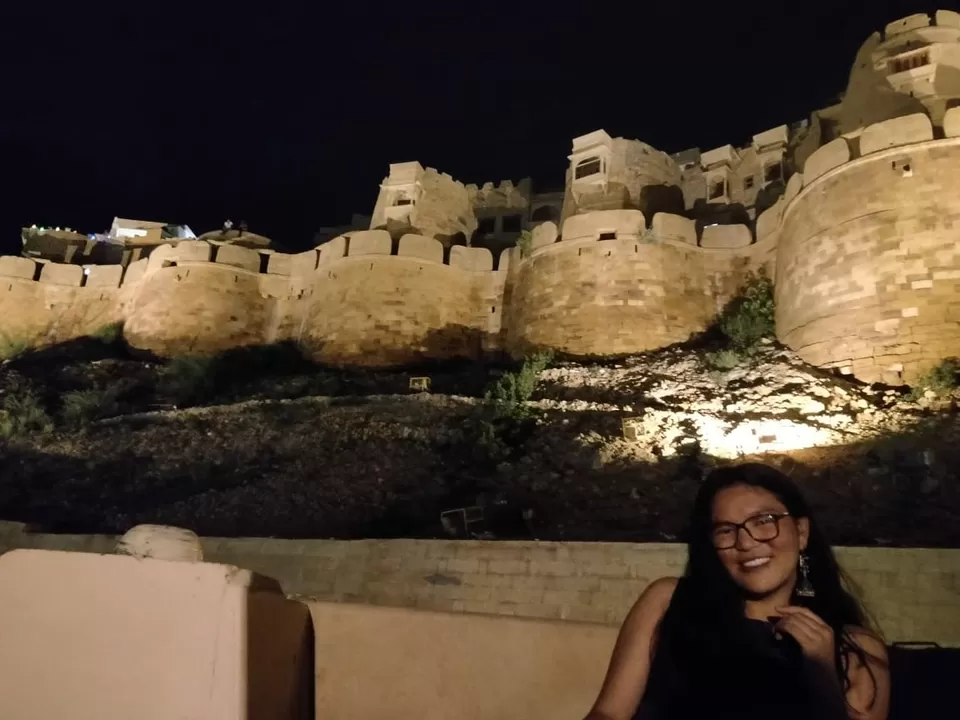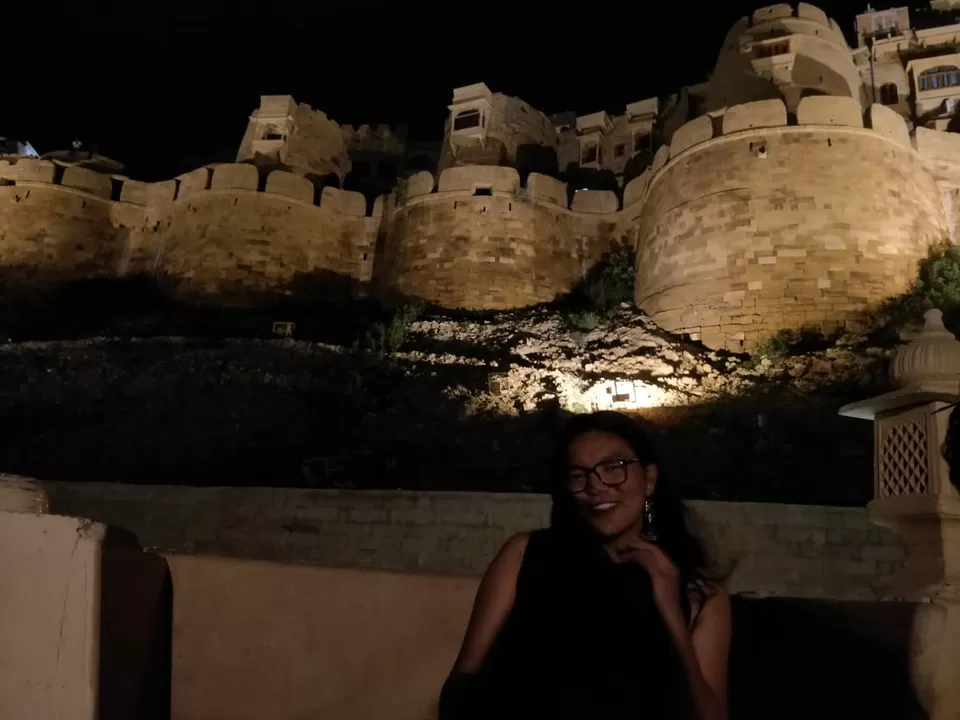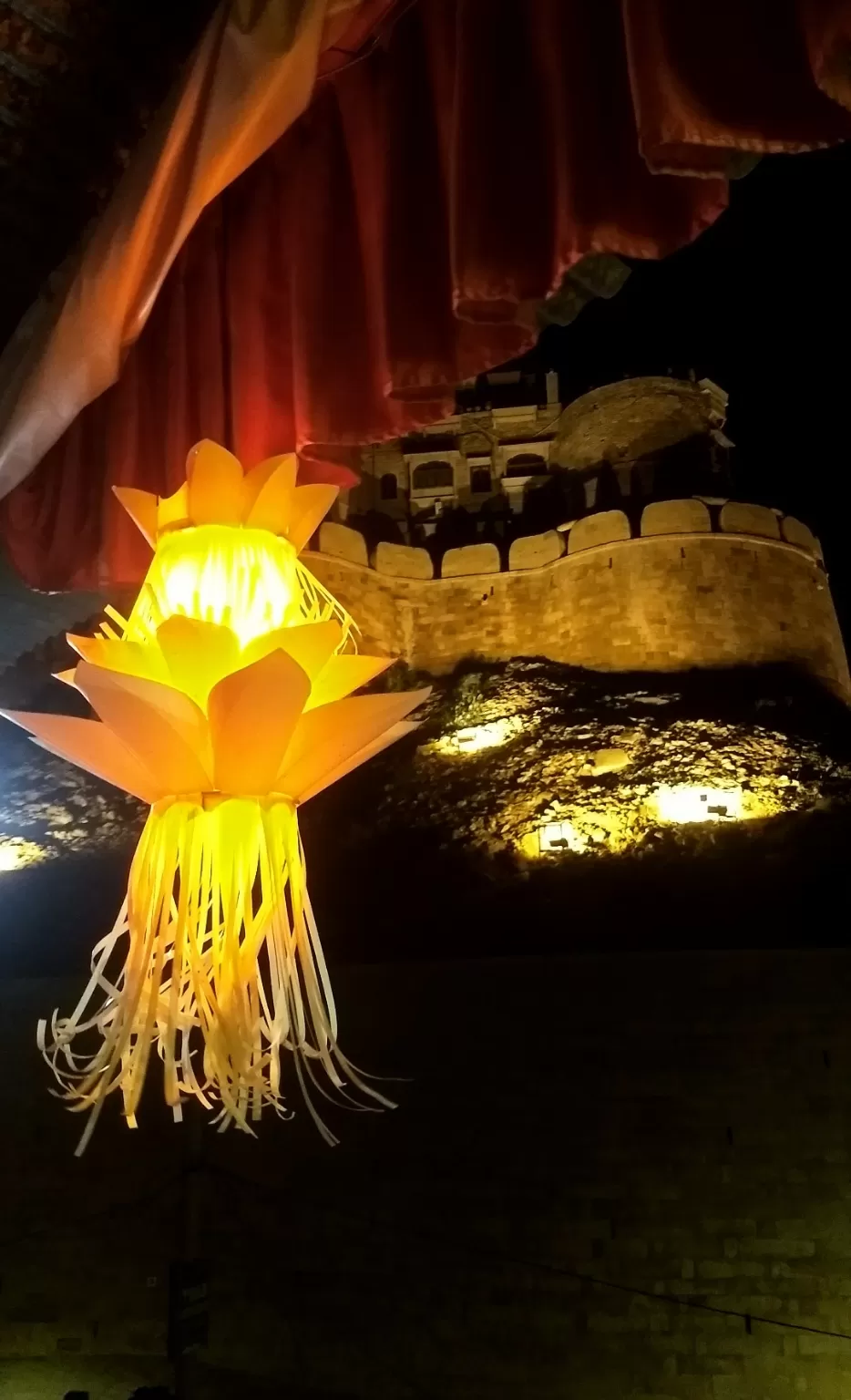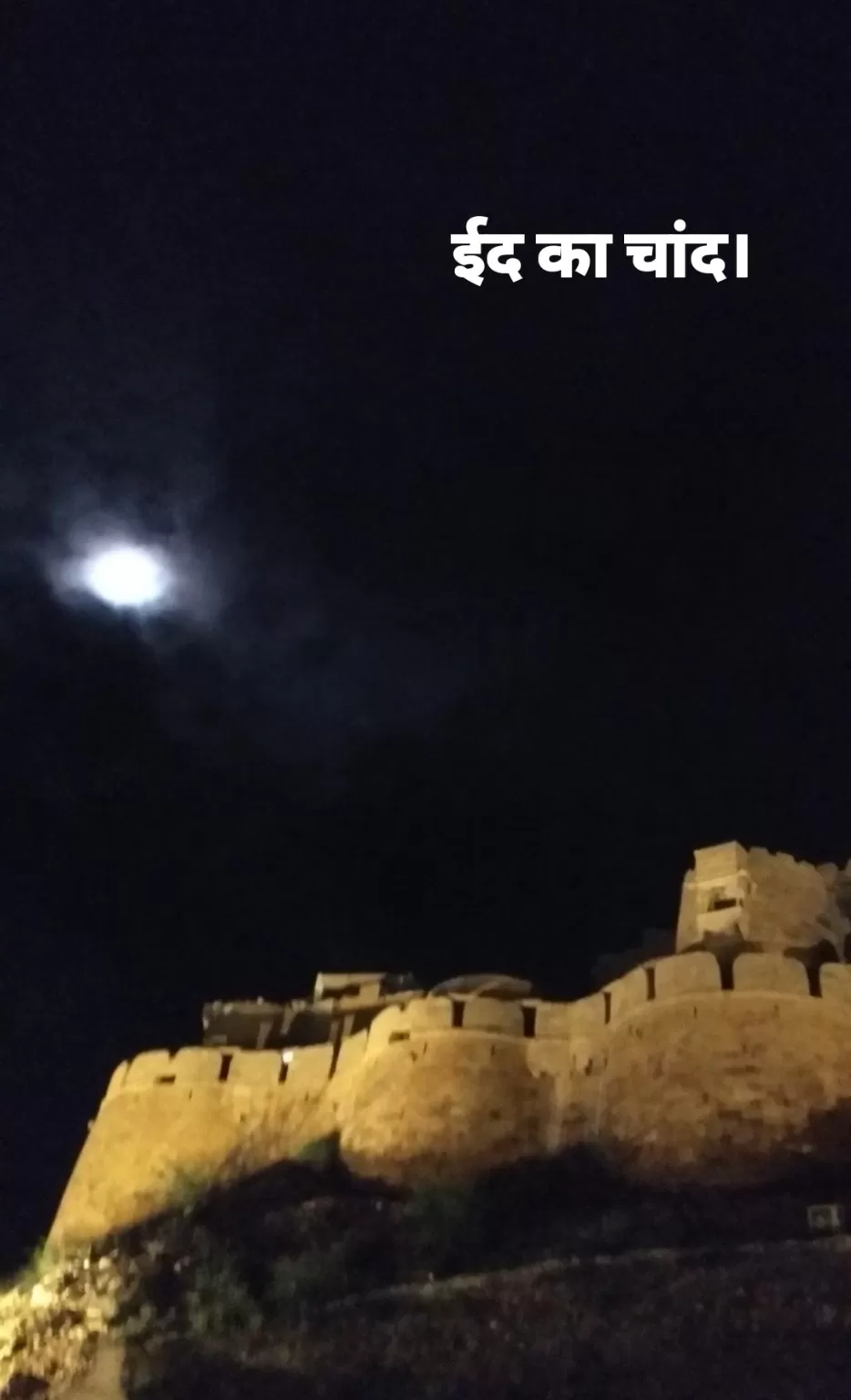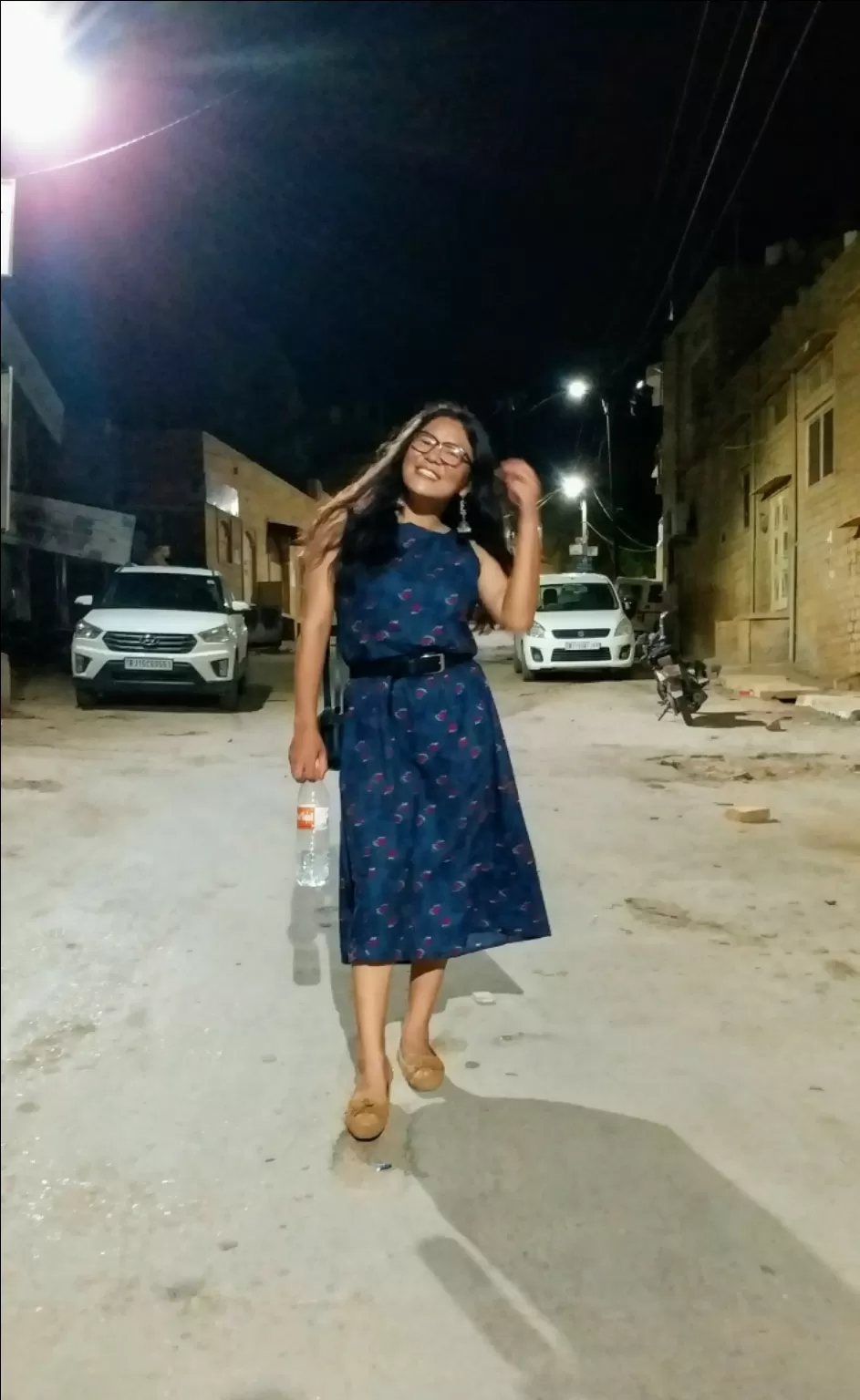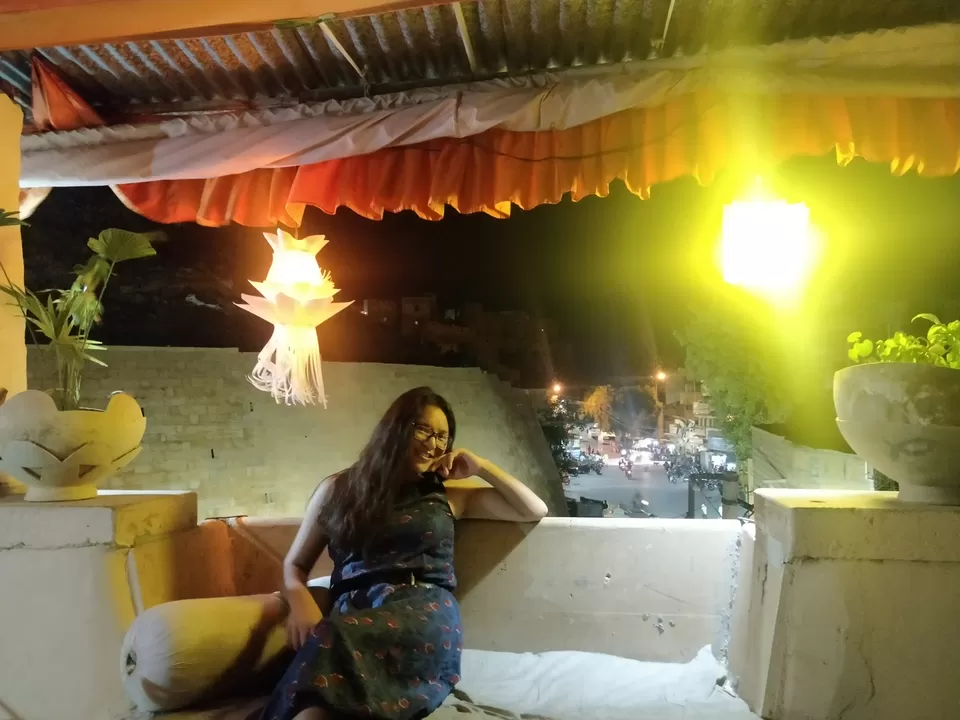 We setoff to explore Jaisalmer City , the fort was at a walking distance from our hotel , we ate breakfast in the fort premises on rooftop restruant. It was Jaisalmer Foundation day that day and they made entry free for all which made us more happier. The fort along with all the other buildings are made up of yellow sandstone which matches with the desert and therefore this fort is also called us " Sonar fort or Golden fort ". The fort premise has The Rajmahal Palace , Jain temples and numerous beautifully carved havelis of merchants with some being 100 years old.
There is a lot to shop too, from antiques to books , postcards , skirts , musical instruments etc. They have cute little cafes with a view of Jaisalmer City ,some of which are open till late midnight.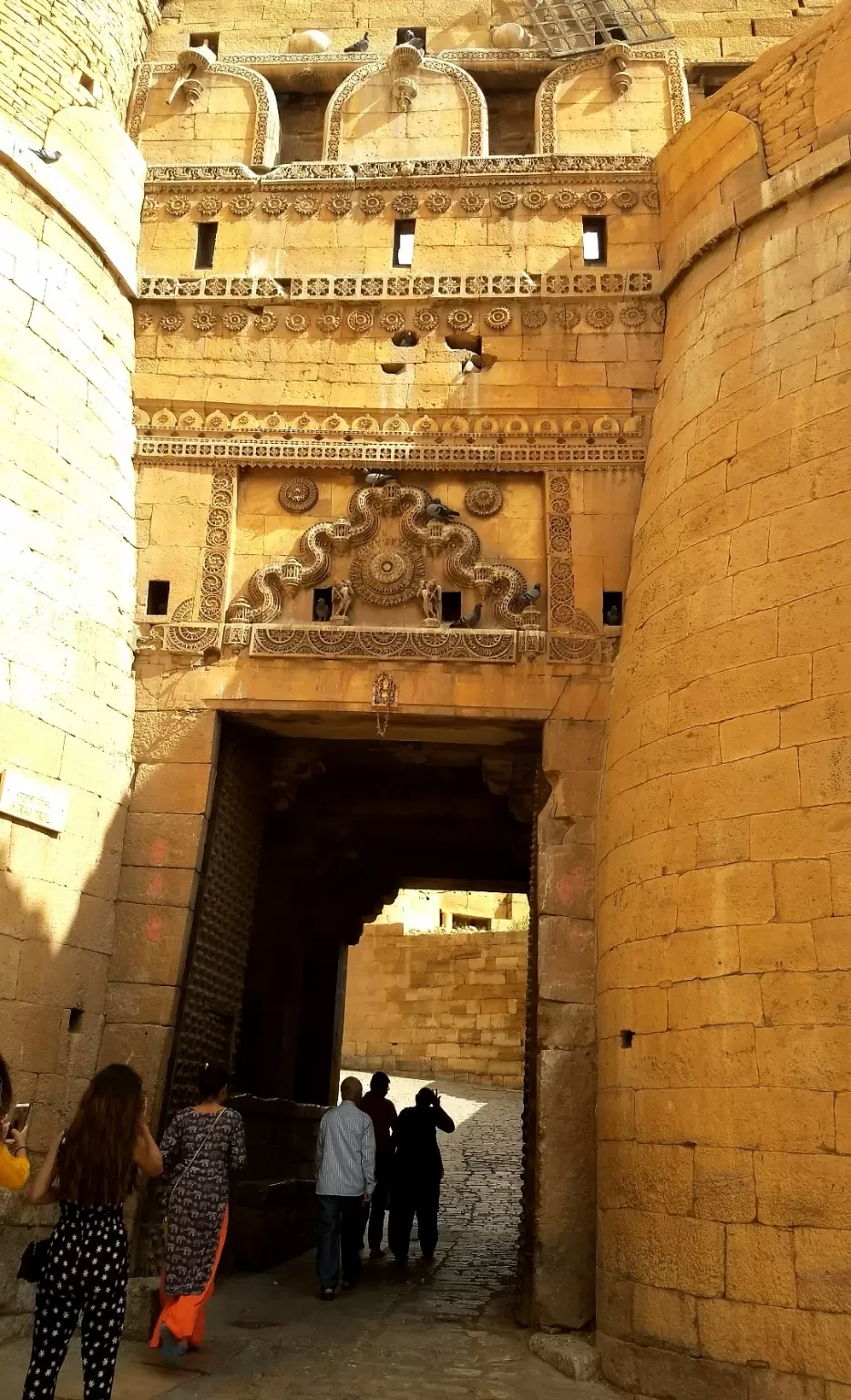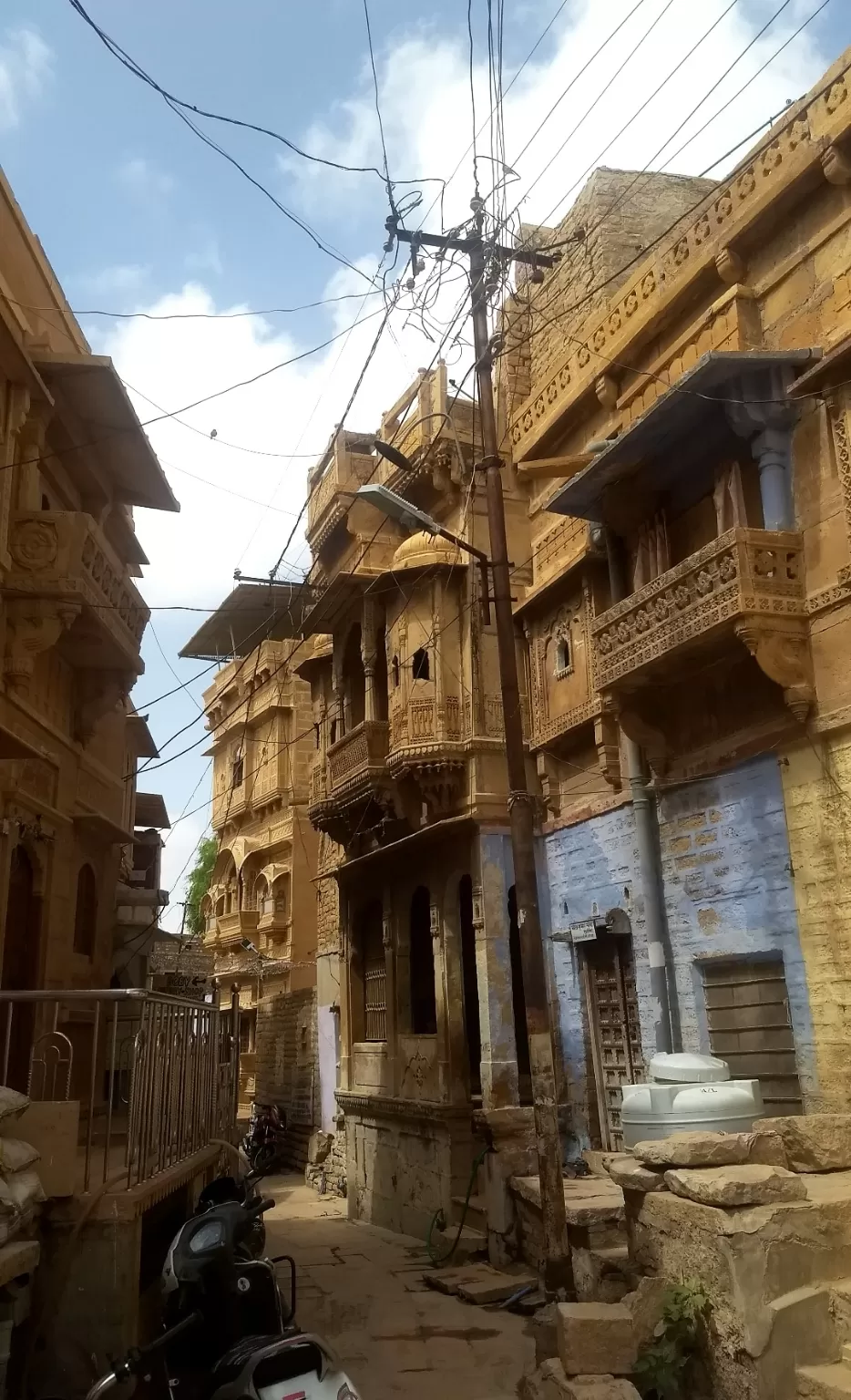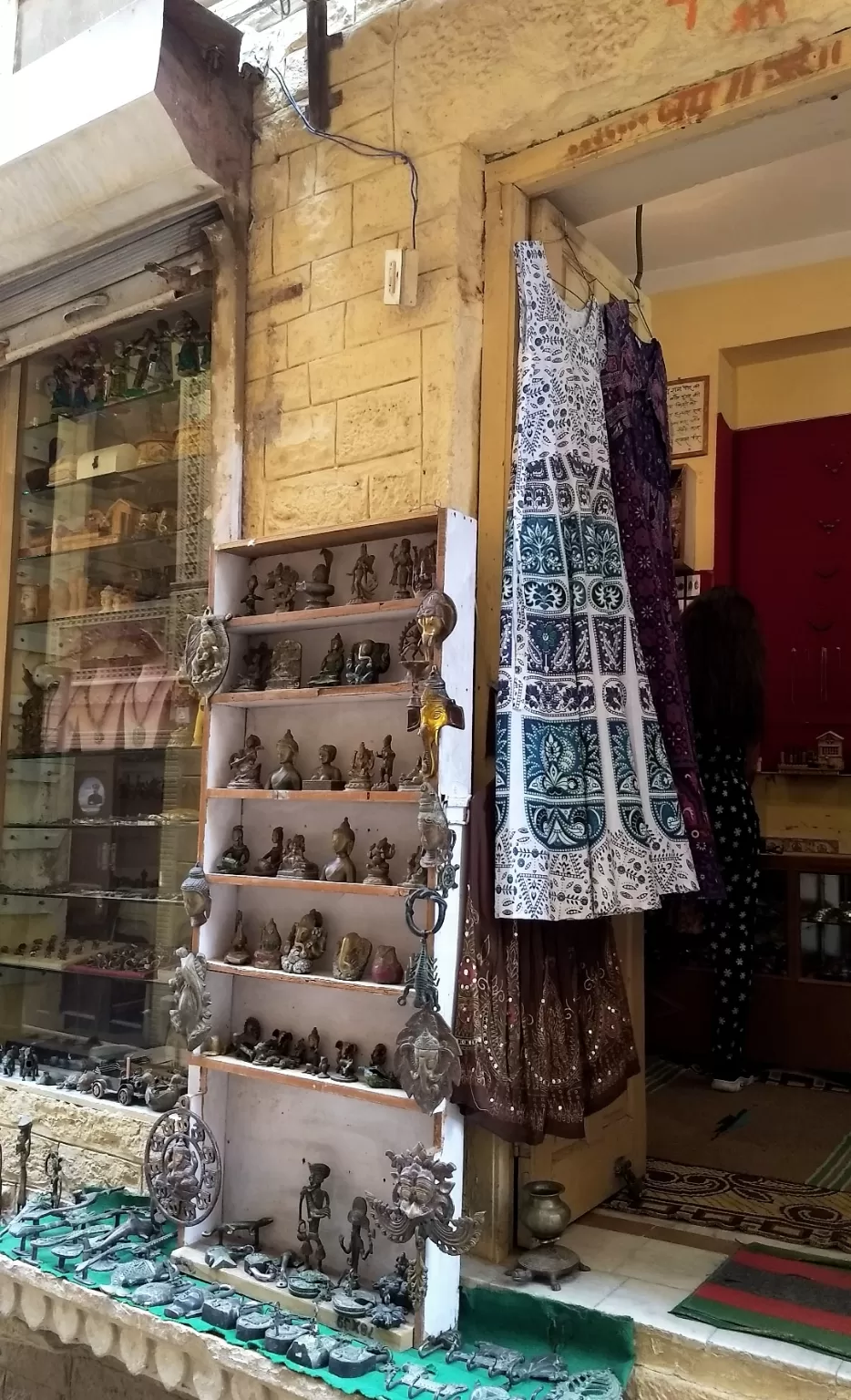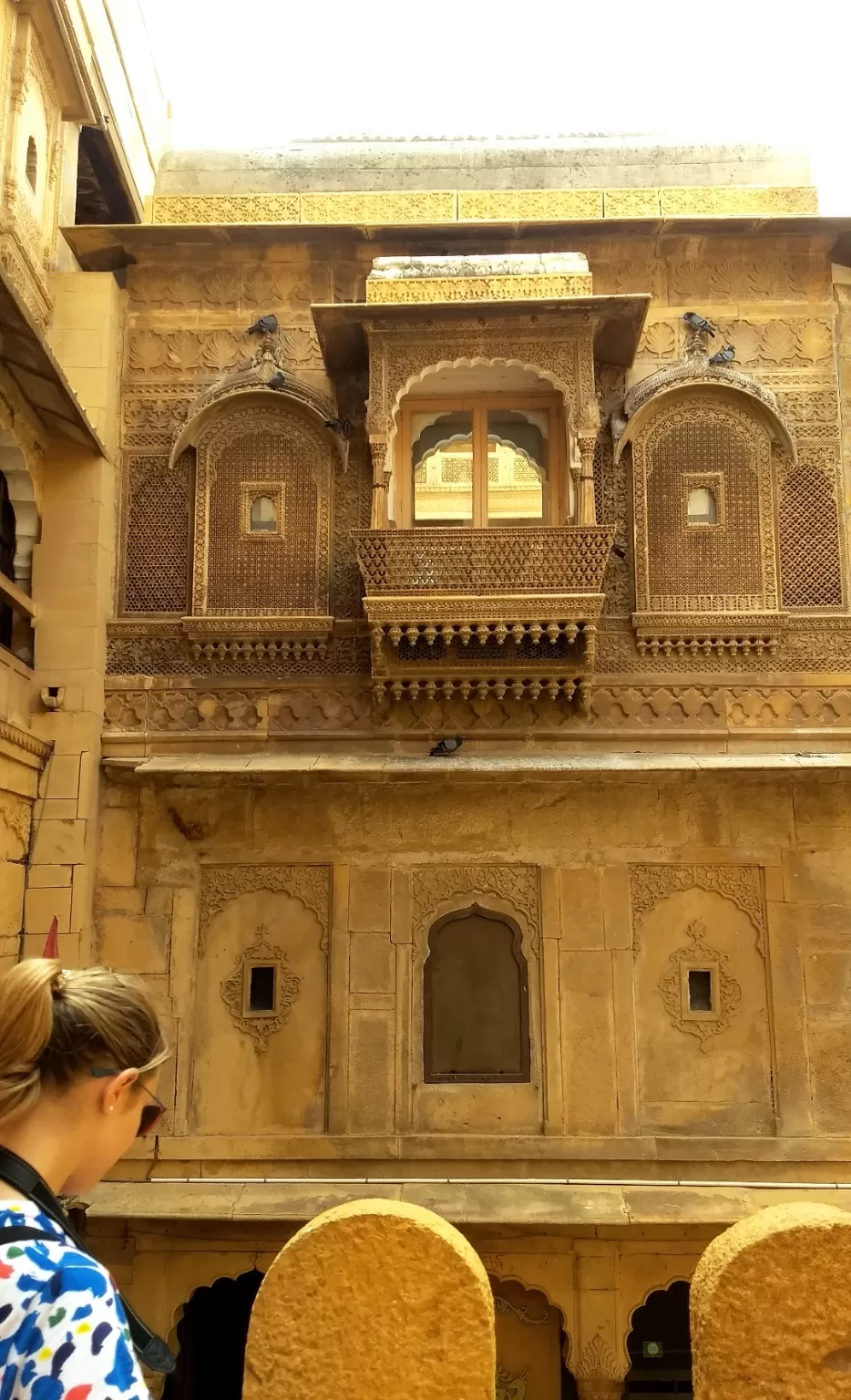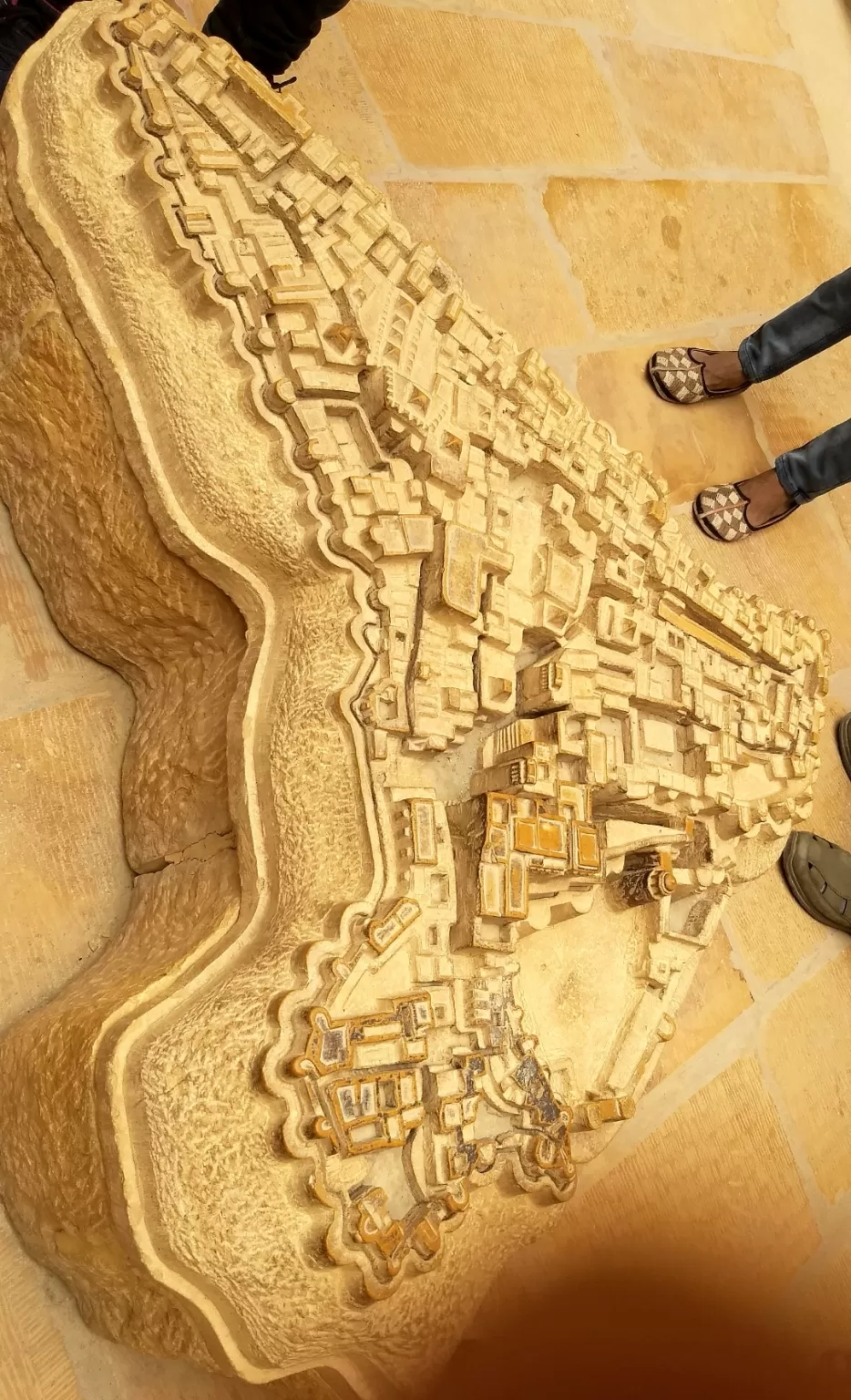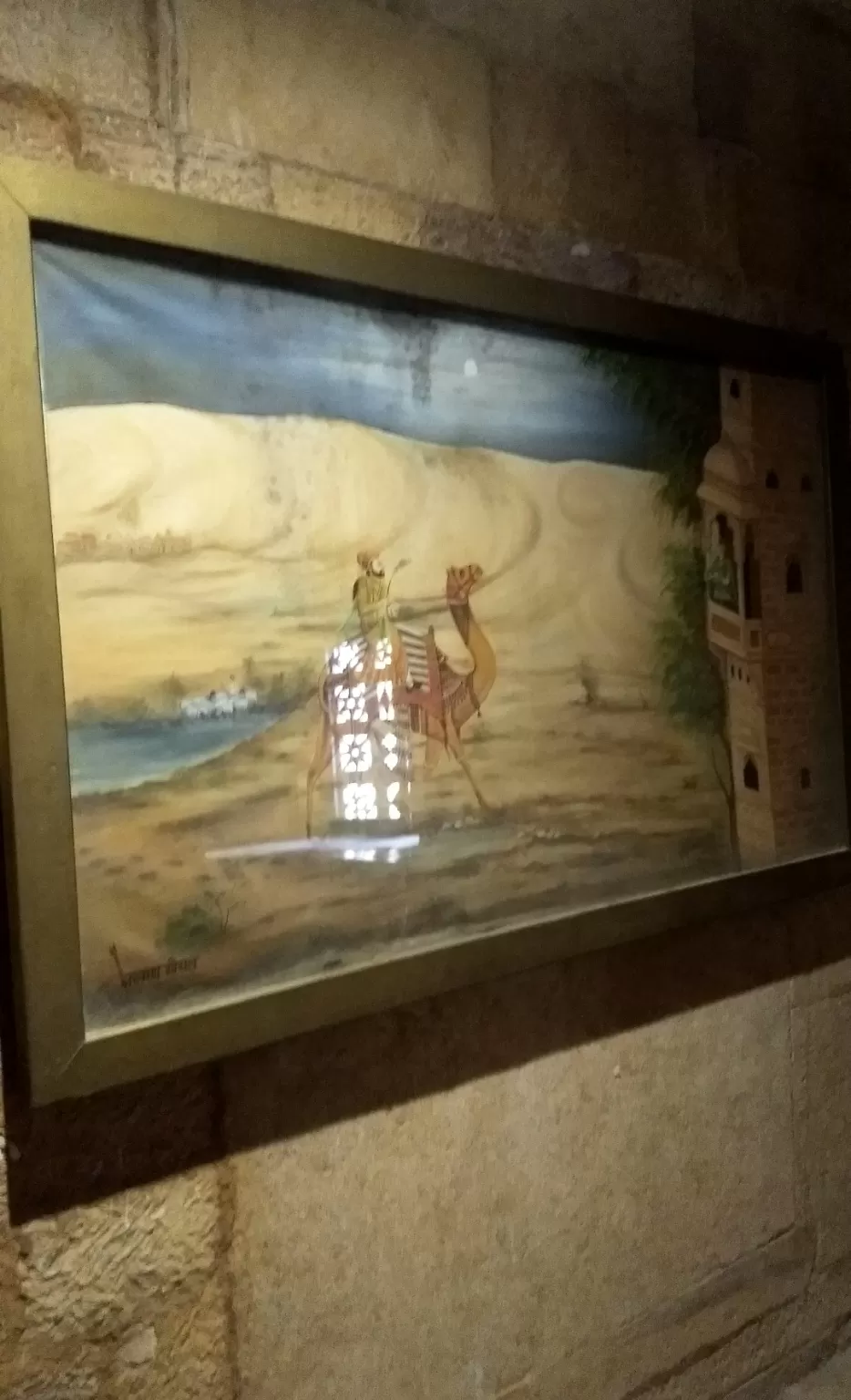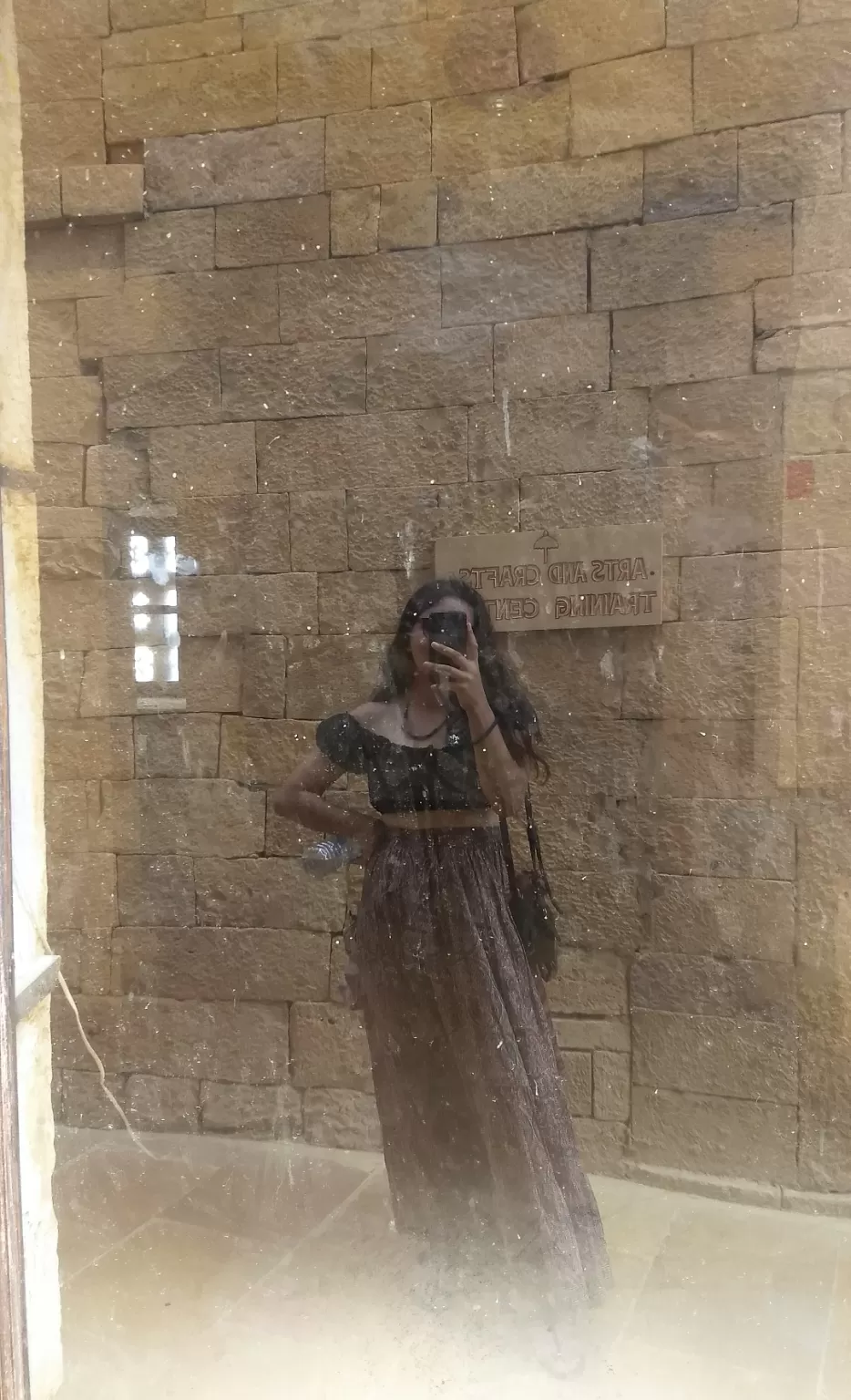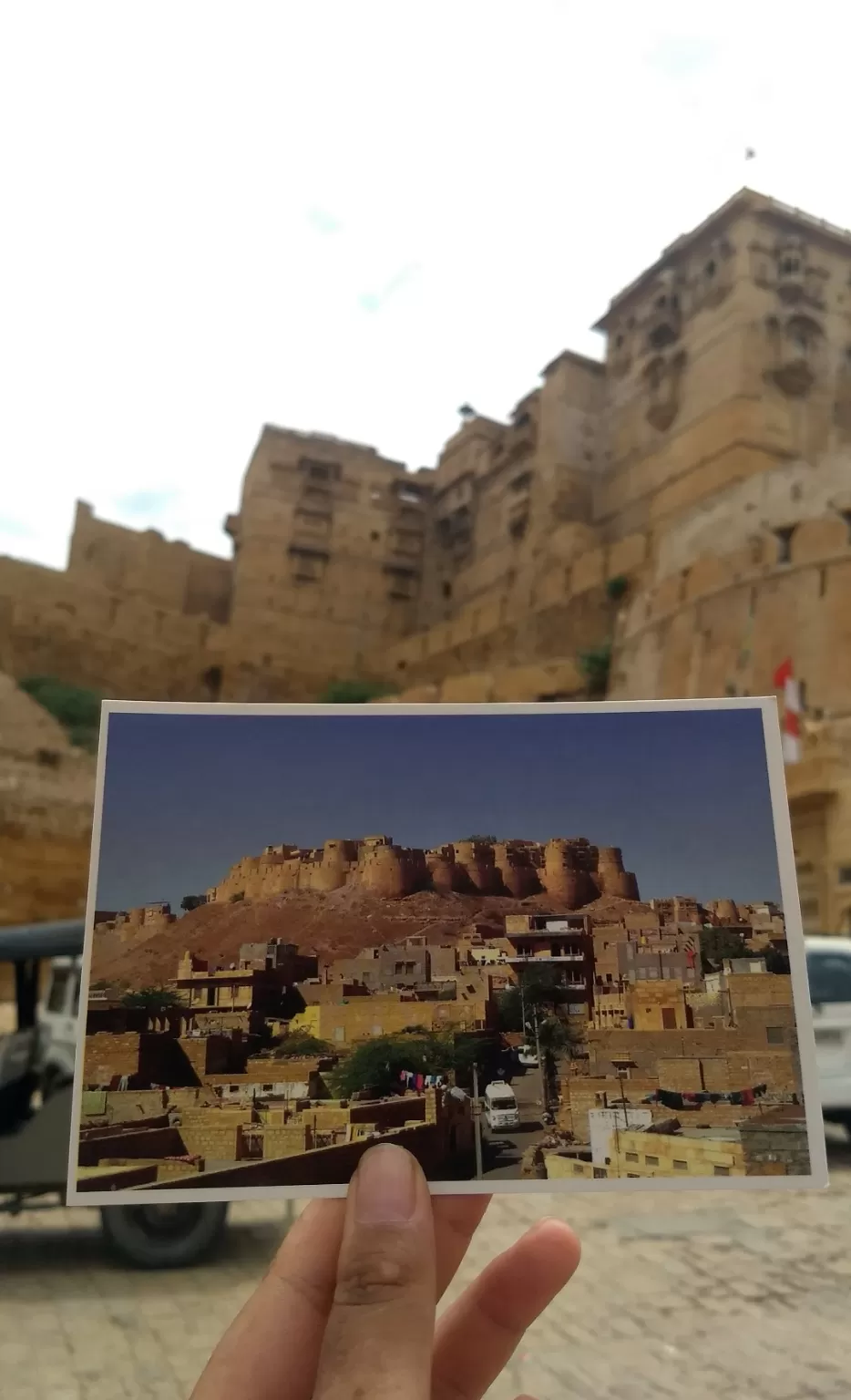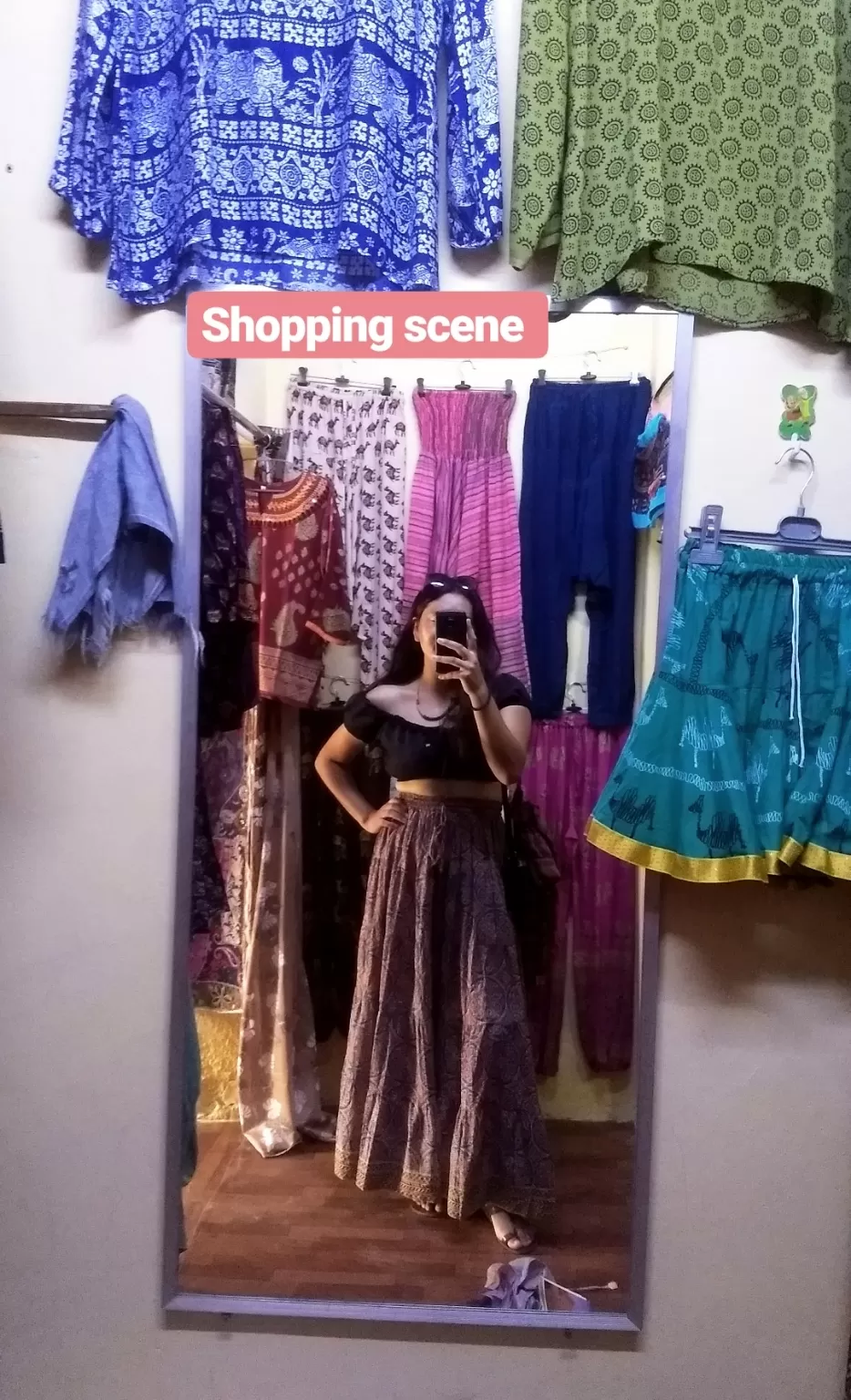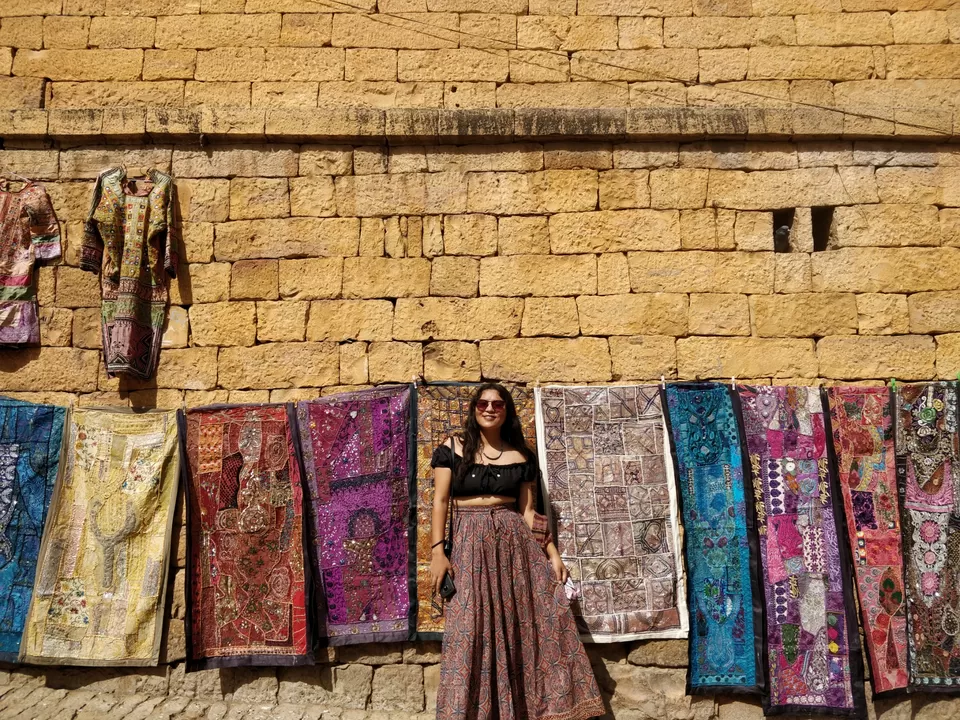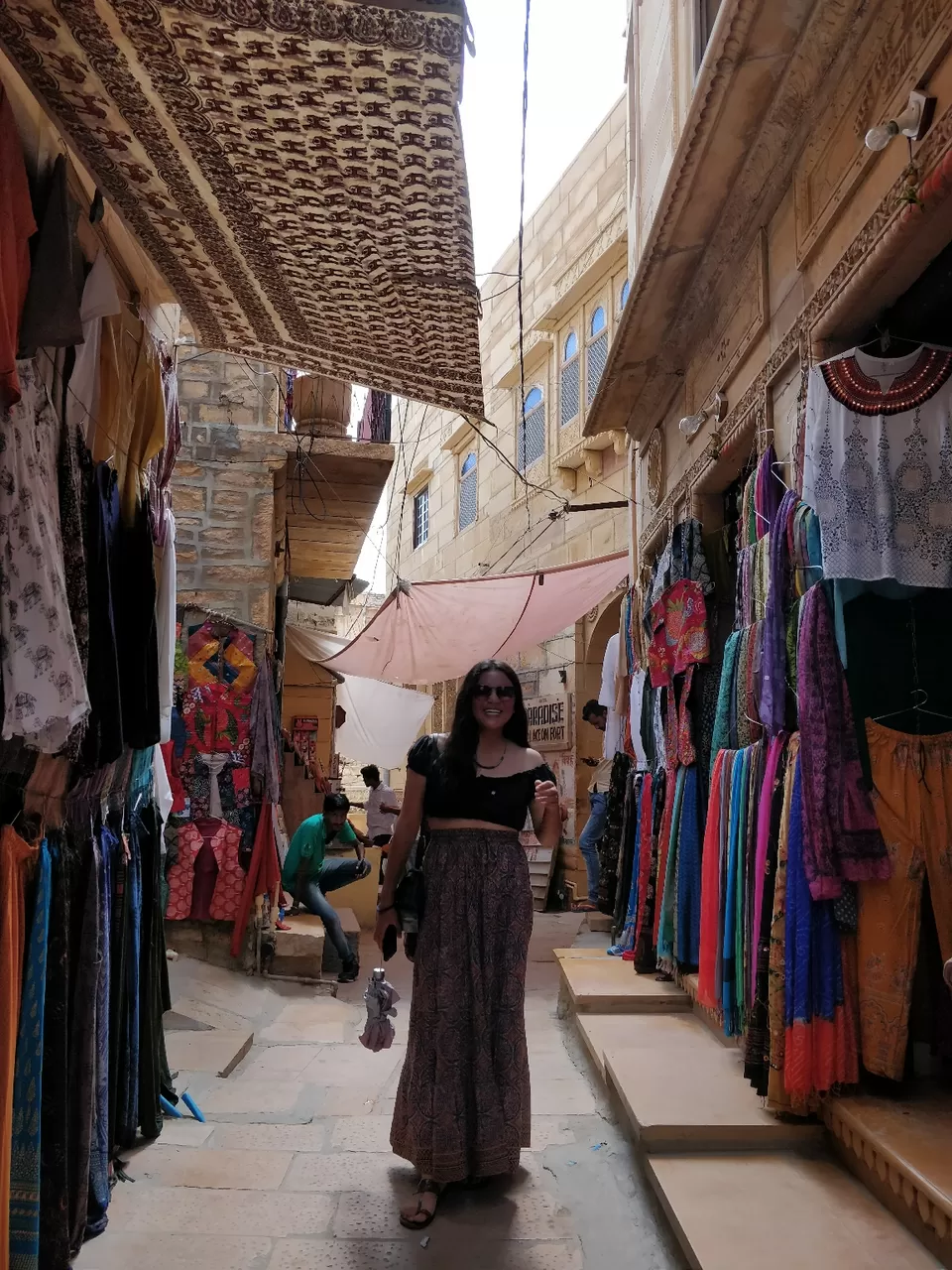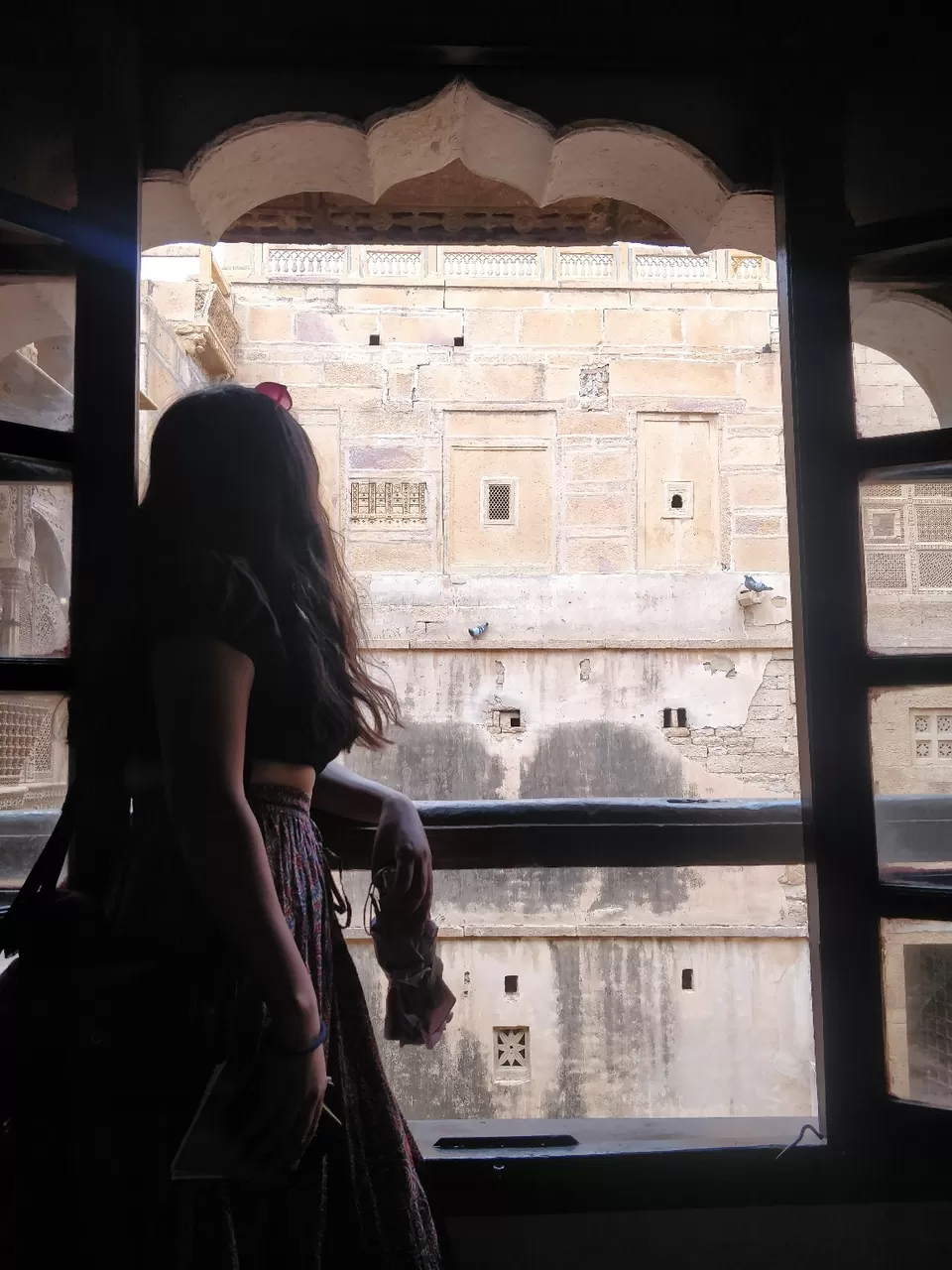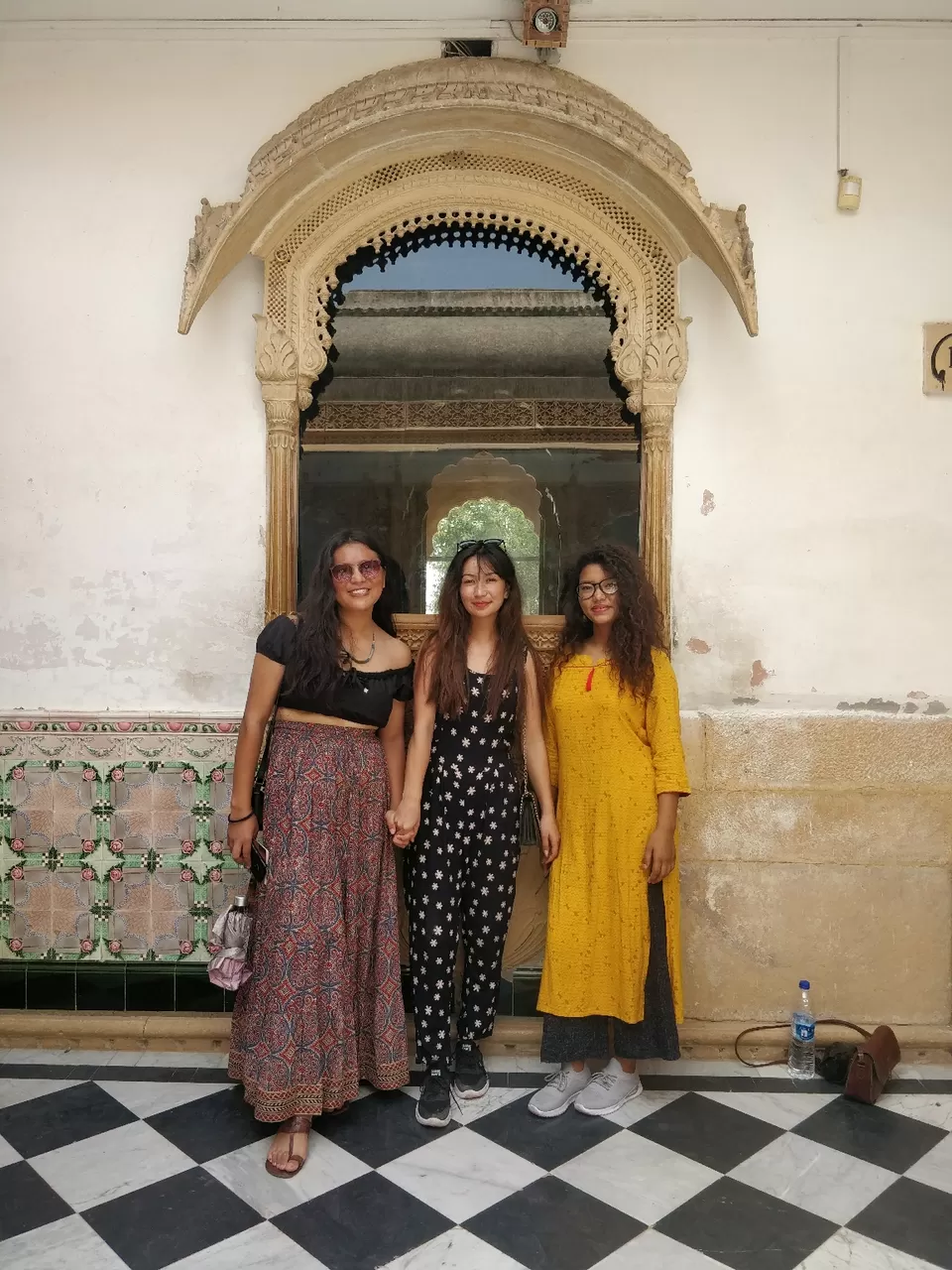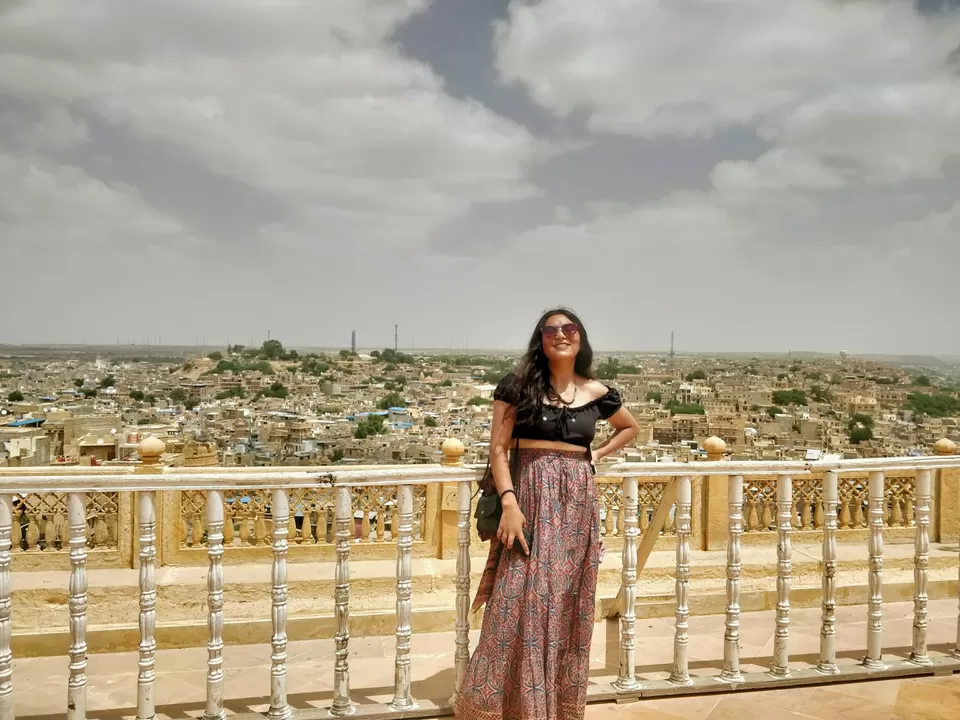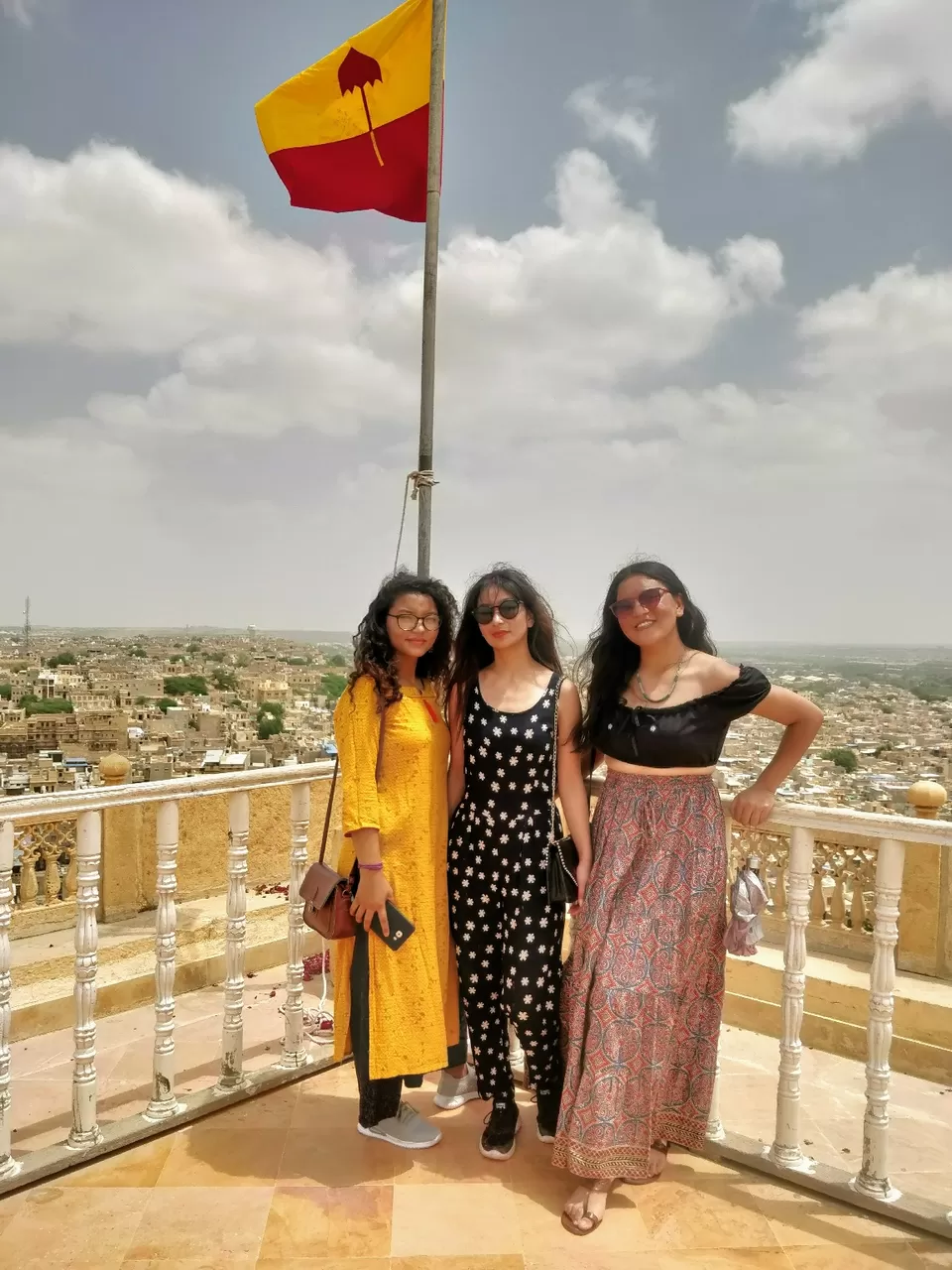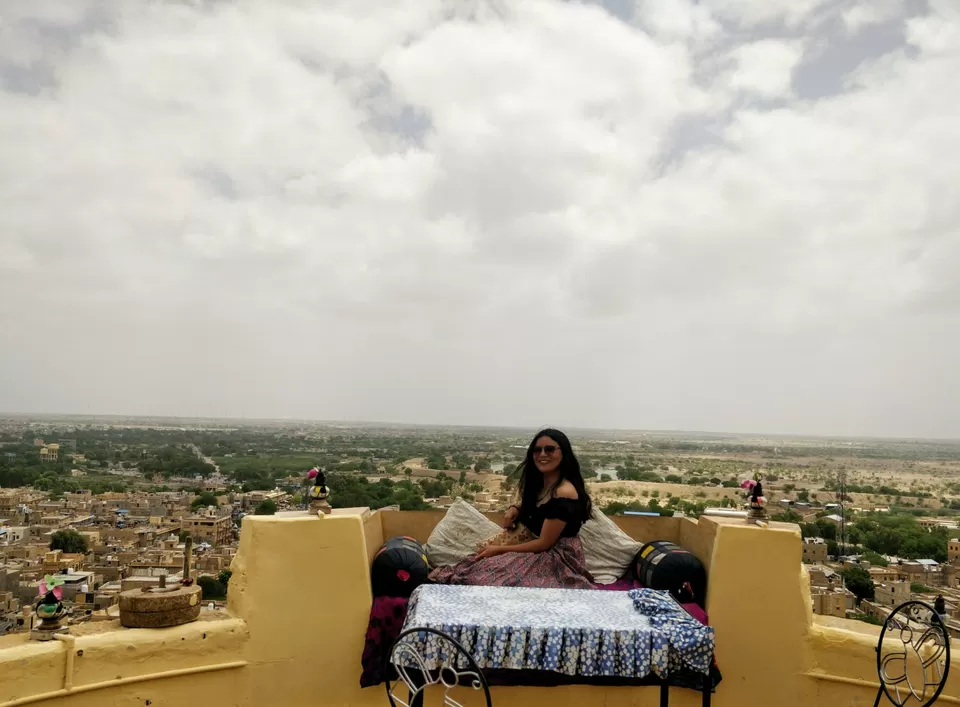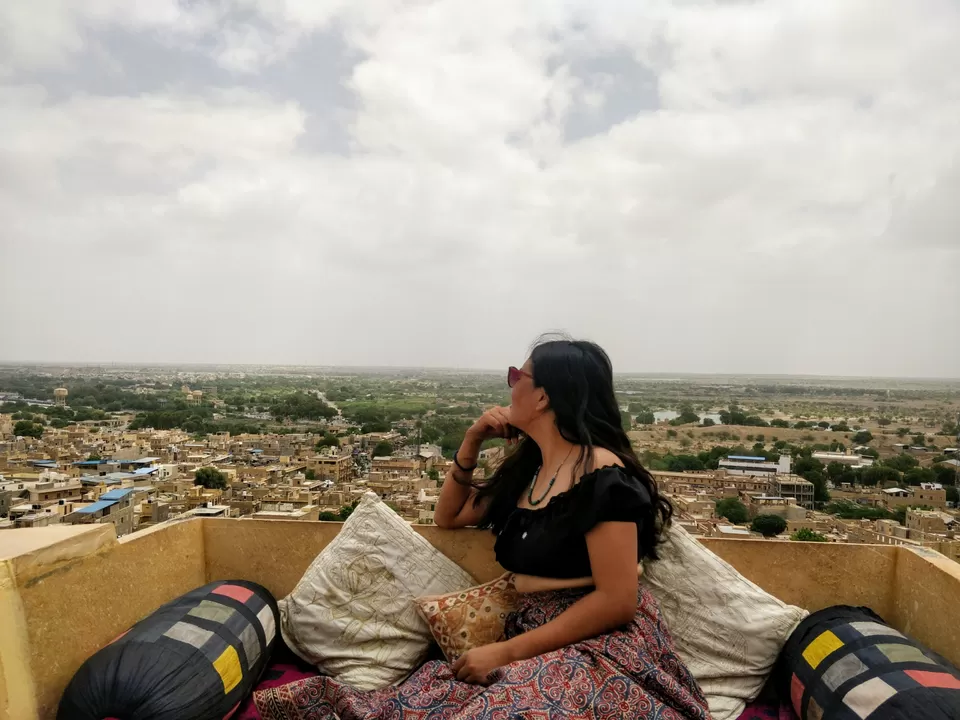 The next stop was Gadisagr lake on the other side of main road which is also at walking distance from the fort. The entrance to the lake is magnificent with carved yellow sandstone archway. The bank of Gadisagr lake is surrounded by artistically carved Chatris , temples , Ghats which makes the lake more beautiful. In the middle of the lake there was a ruined temple with ducks resting on it. The entry is free but for boating they charge. We did paddle boat for Rs 50 per person. The best time to visit is during sunrise and sunset .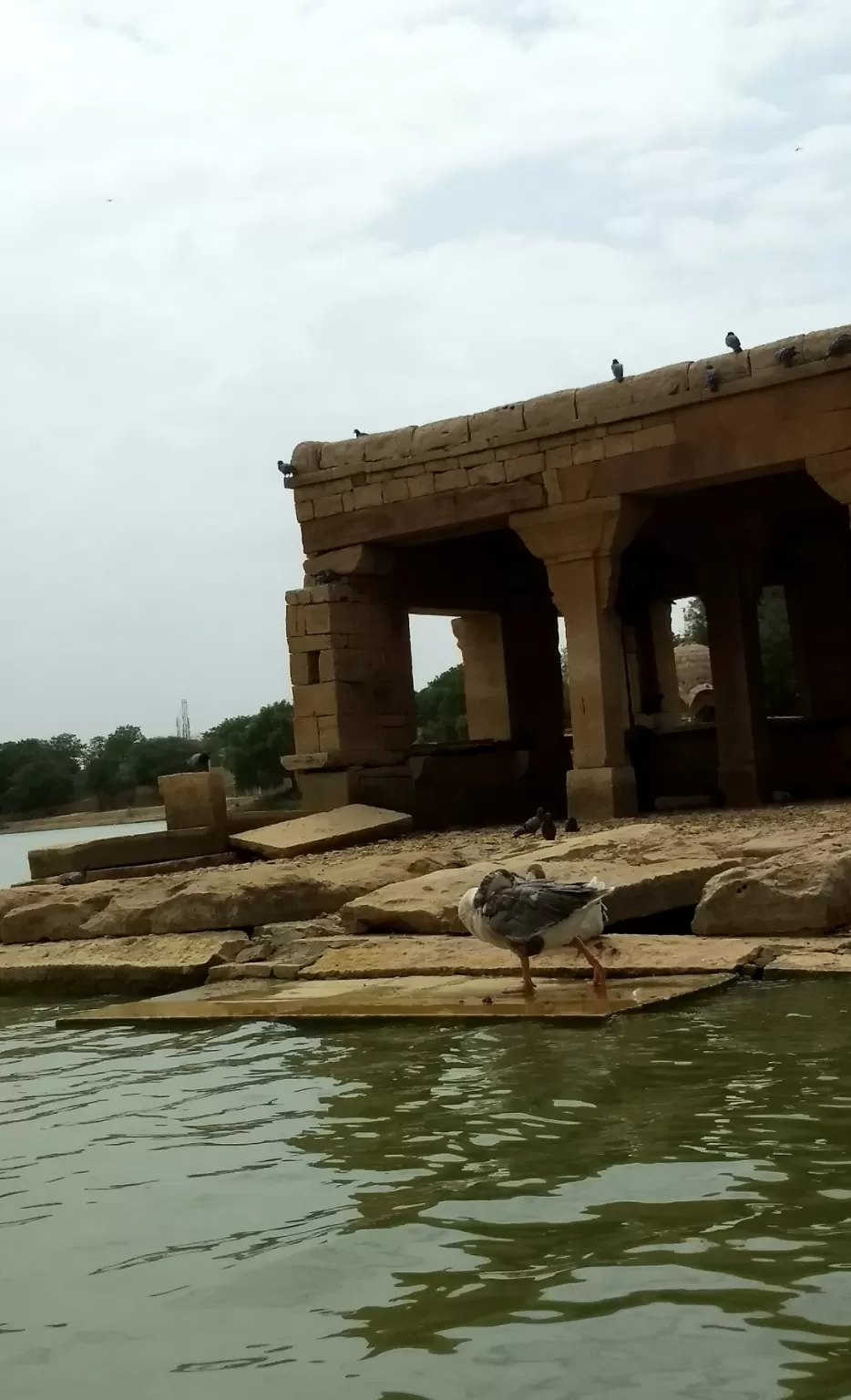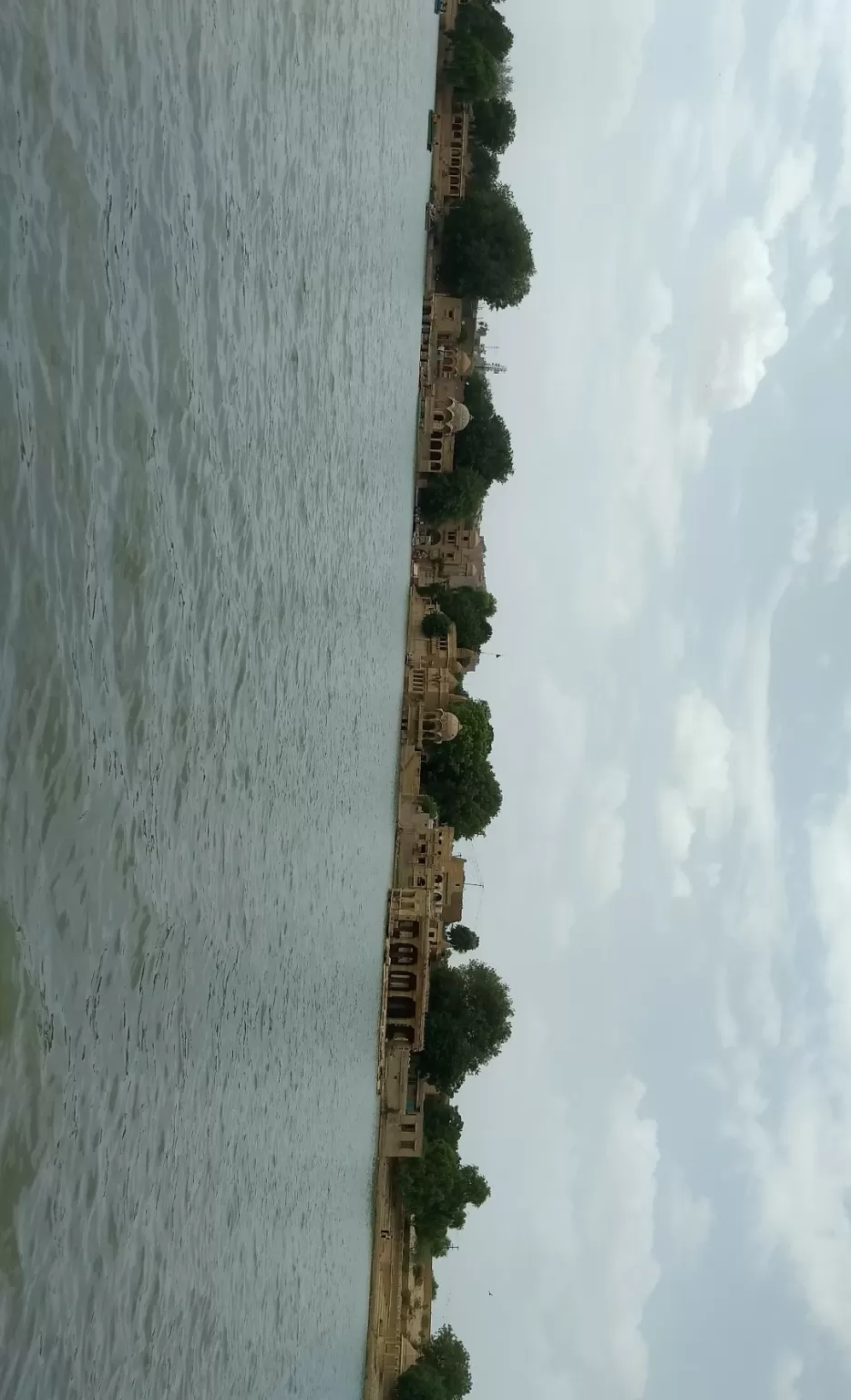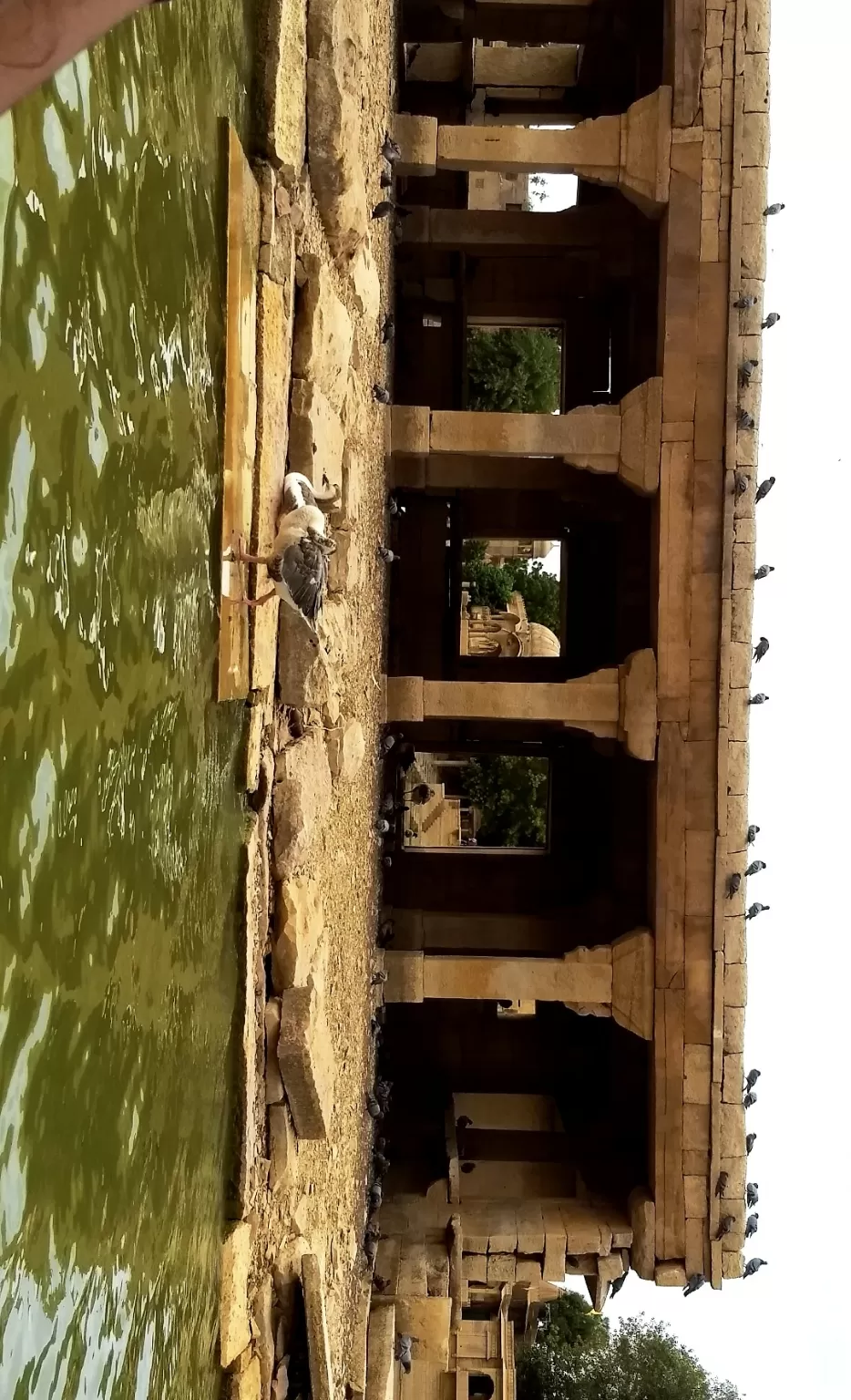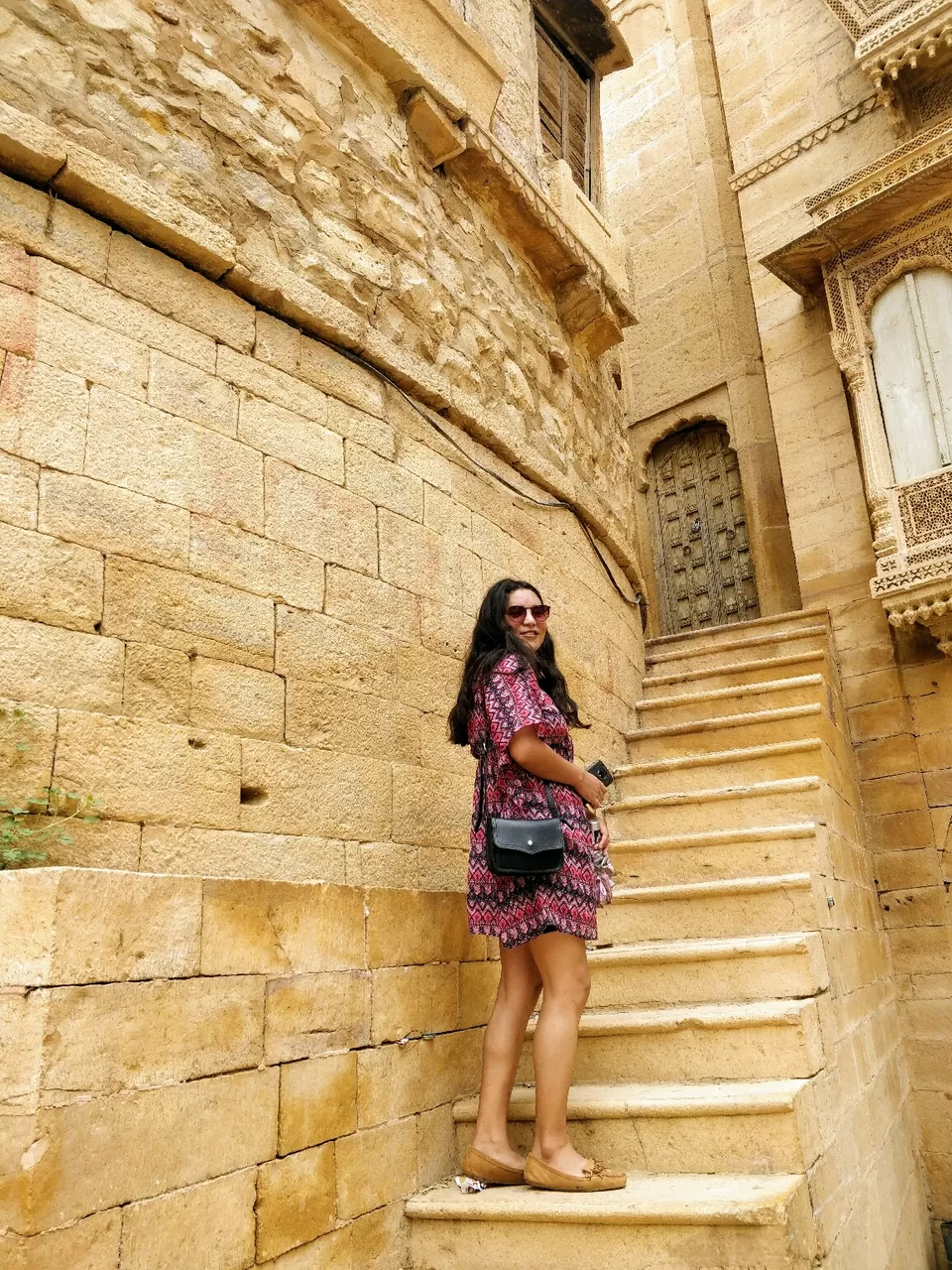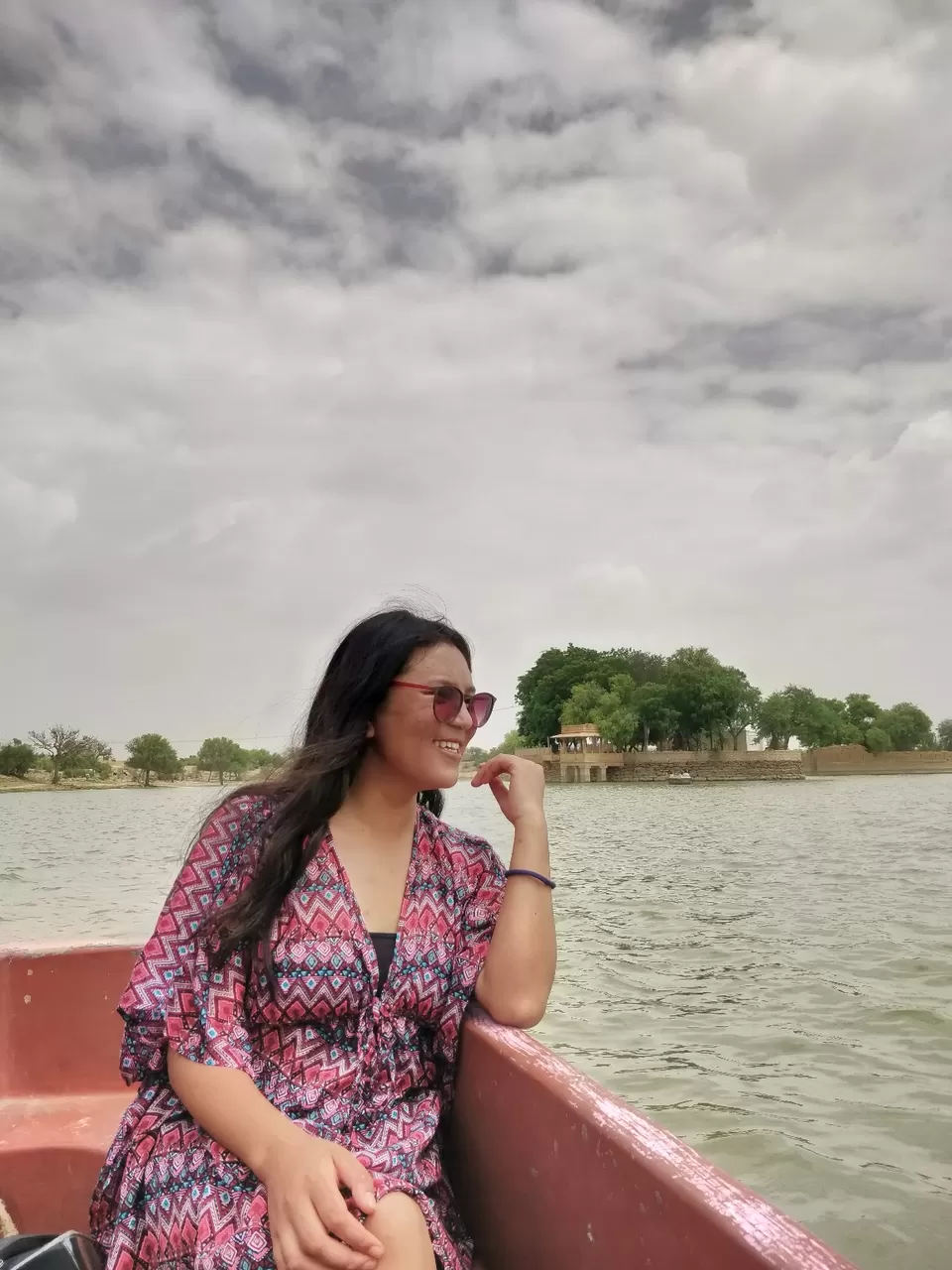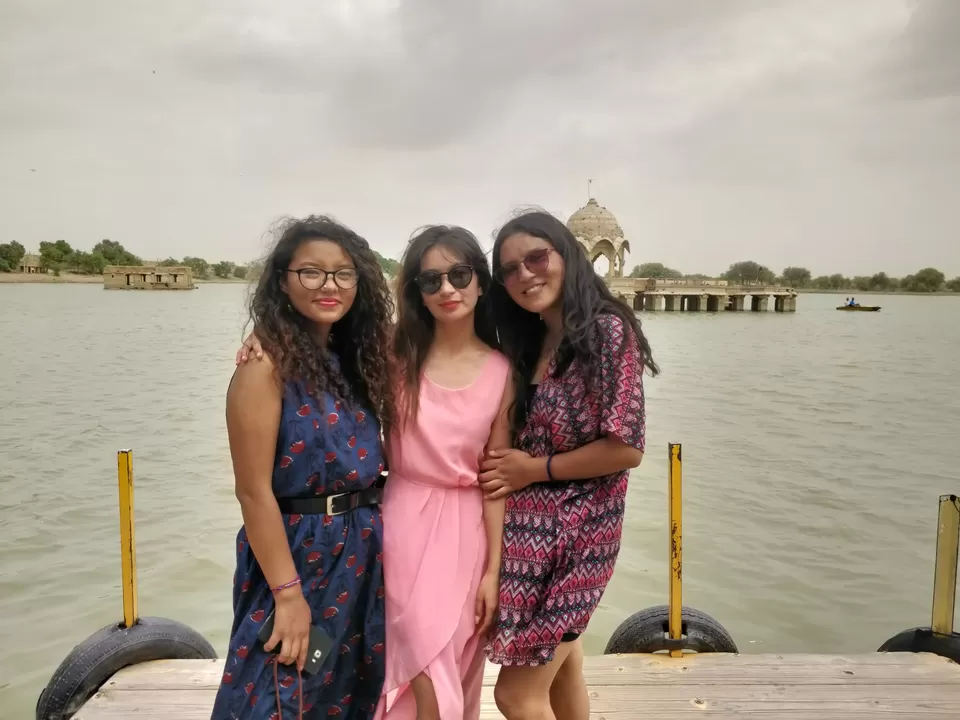 We were so eager for Desert Camping and Camel Safari which was the highlight of our trip. Jaisalmer City is 1 hour and 30 minutes away from the thar desert. The taxi dropped us at our camping resort in the middle of the desert which was a newly constructed one ( Maya resort ) and we were their first few happy customers. After lunch they drove us to camel Safari. We were shit scared when we climbed on the camel back. We were literally screaming and was scaring the camel. The ride was bumpy as he climb on and off on the huge sand dunes . We gave it a rest after a while because we didn't want the camel to get tired . The camel looks so cute , tall and handsome. We then played with the sand , clicked tons of photos and lied down to see one of the beautiful sunset ever. There was very less tourist due to off season. We were so blessed to made it there together and was thankful for everything . After sunset we did Jeep safari and sand bashing. We were singing on top of our voices in the air , free from all bad vibes. We were welcomed back to resort with drums and Tika Dastoori ( a lady applied Tika on our forehead). The cultural night began soon , with local artist beating drums and playing Harmonium , delivering poems , shayari and songs. Two lady dressed in tradional Rajasthani costume with heavy jewellery they started dancing with five pots on thier head and soon we joined them and danced all night. It was a musical evening with Eid's moonlight and happy faces in the middle of that desert having the best time.
The musical evening was followed by Rajasthani traditonal food , Dal bhatti and churma.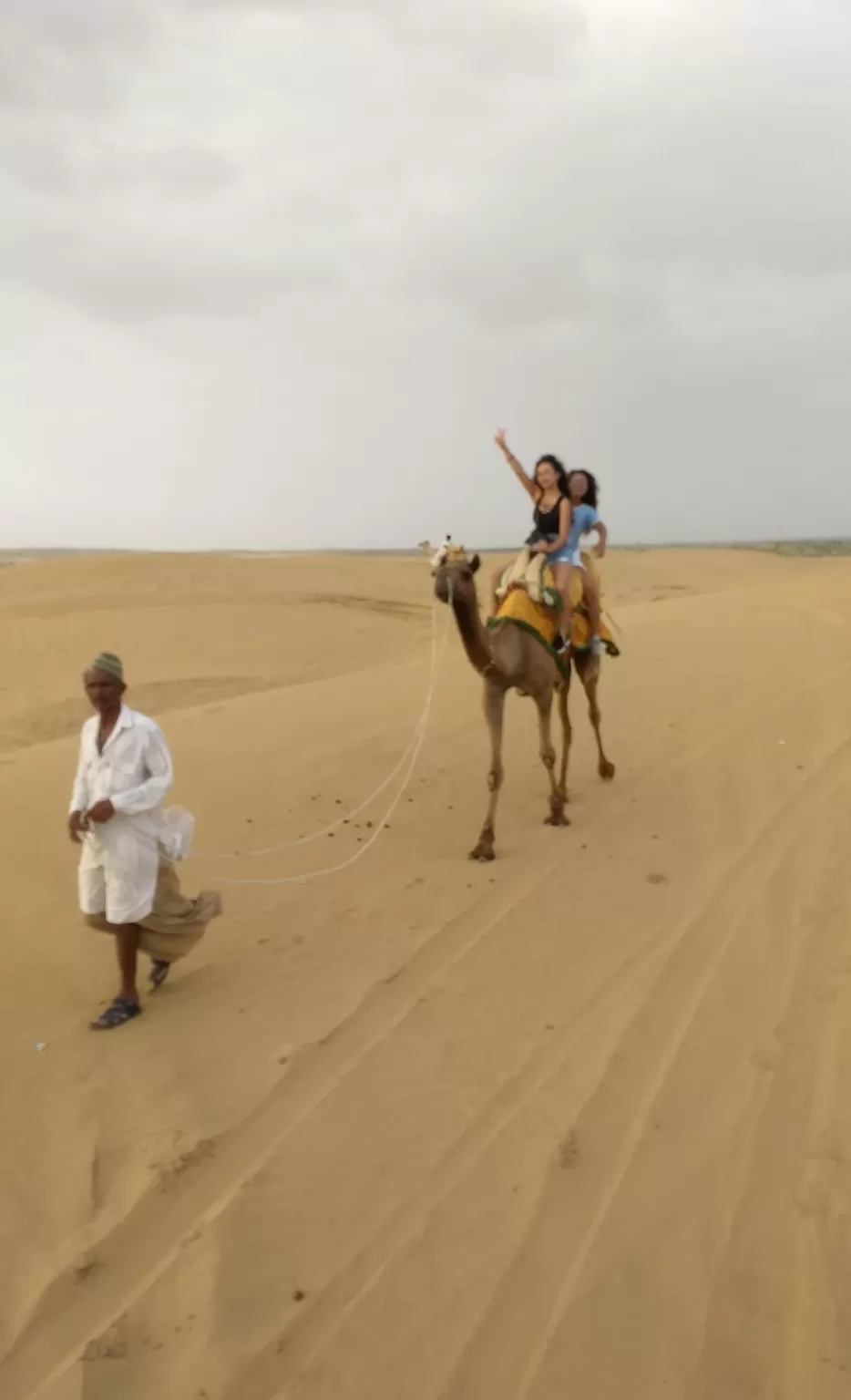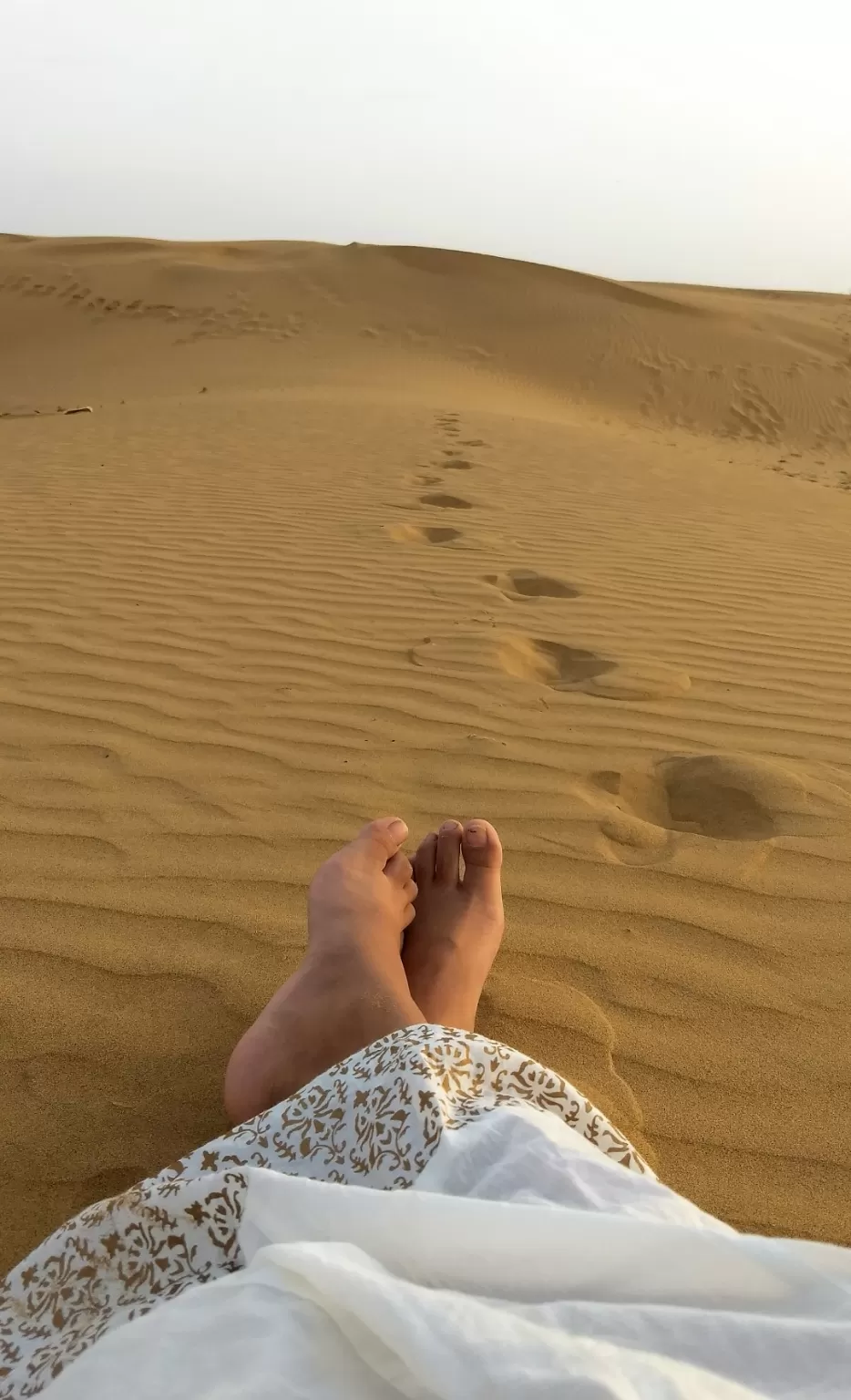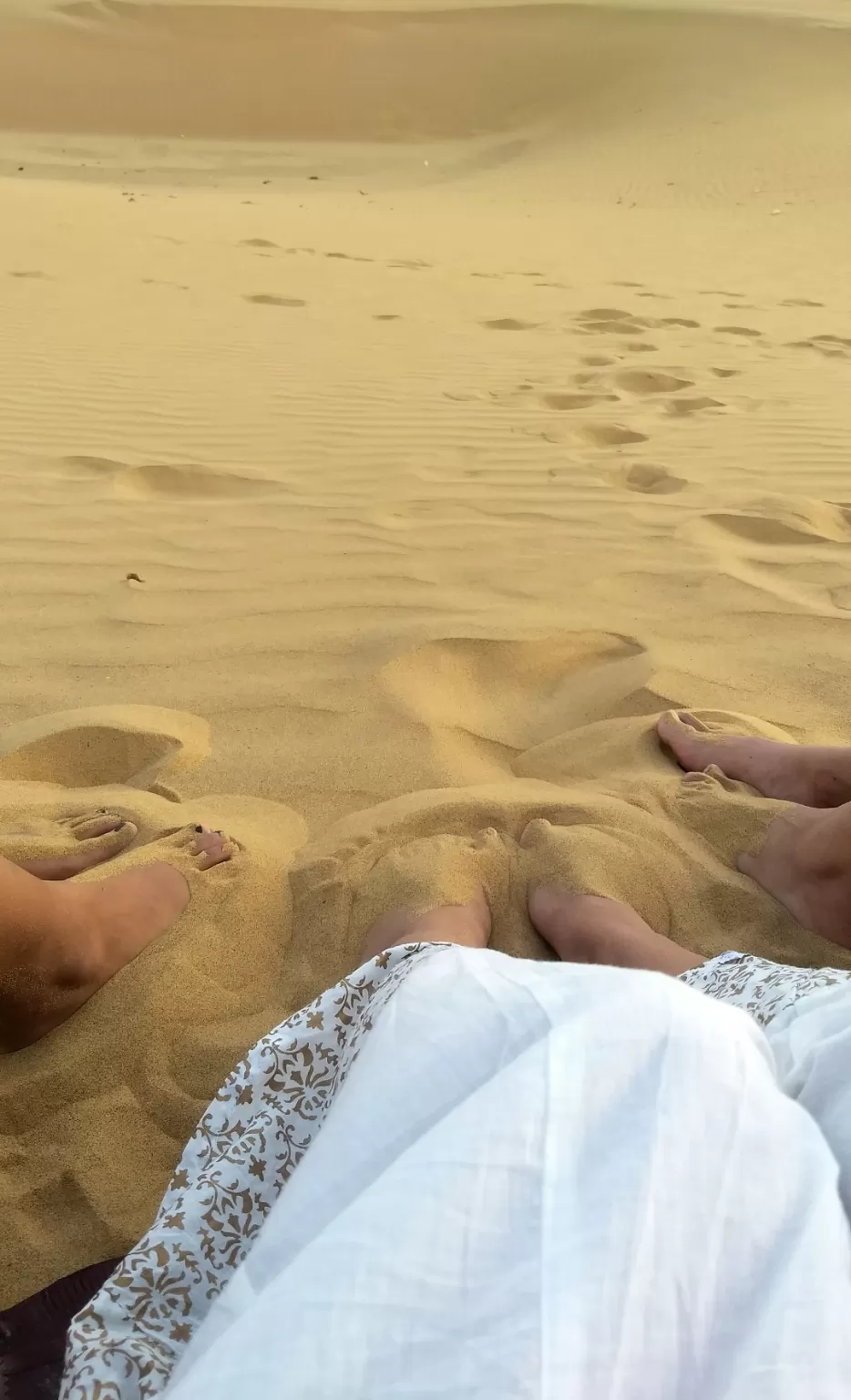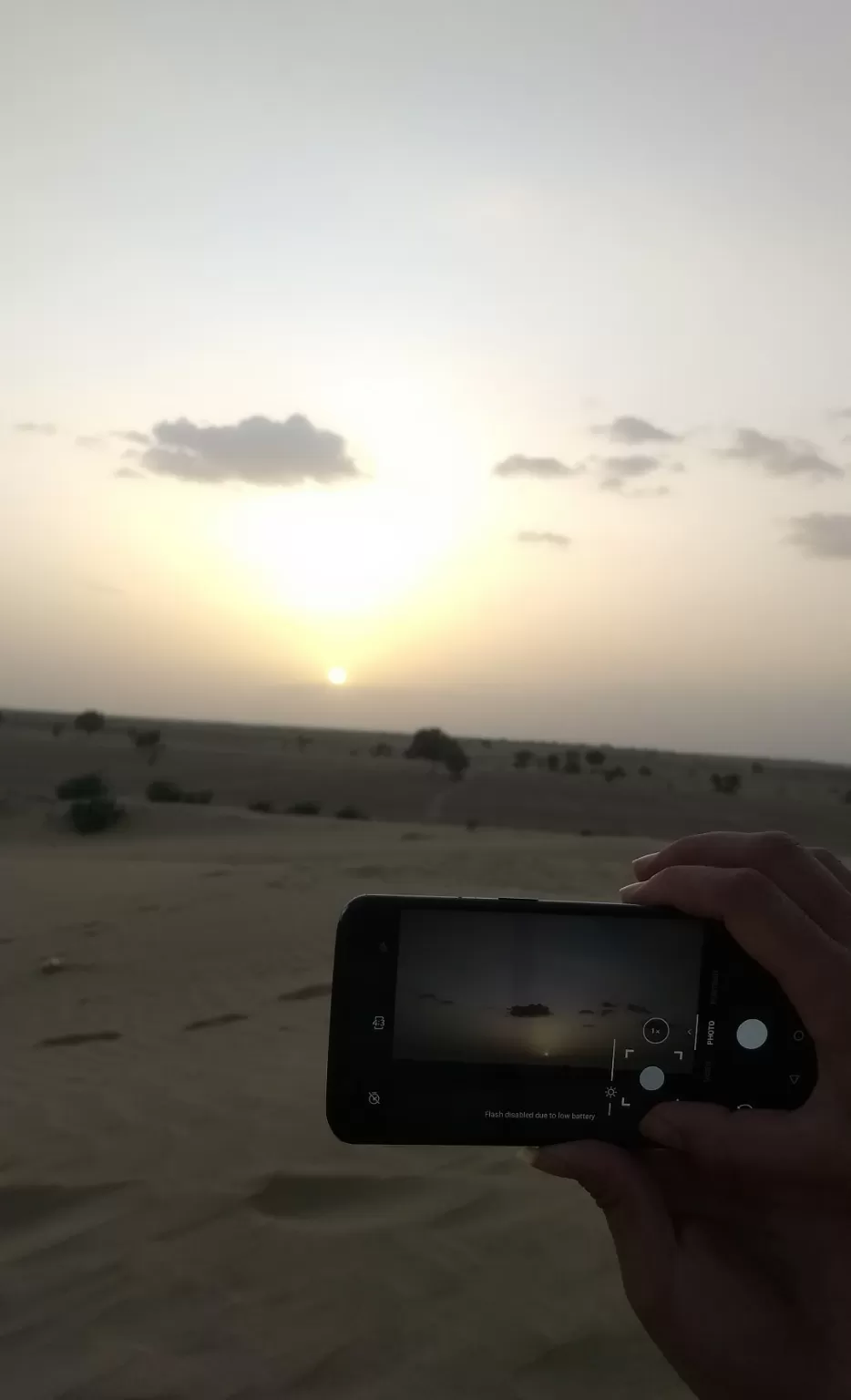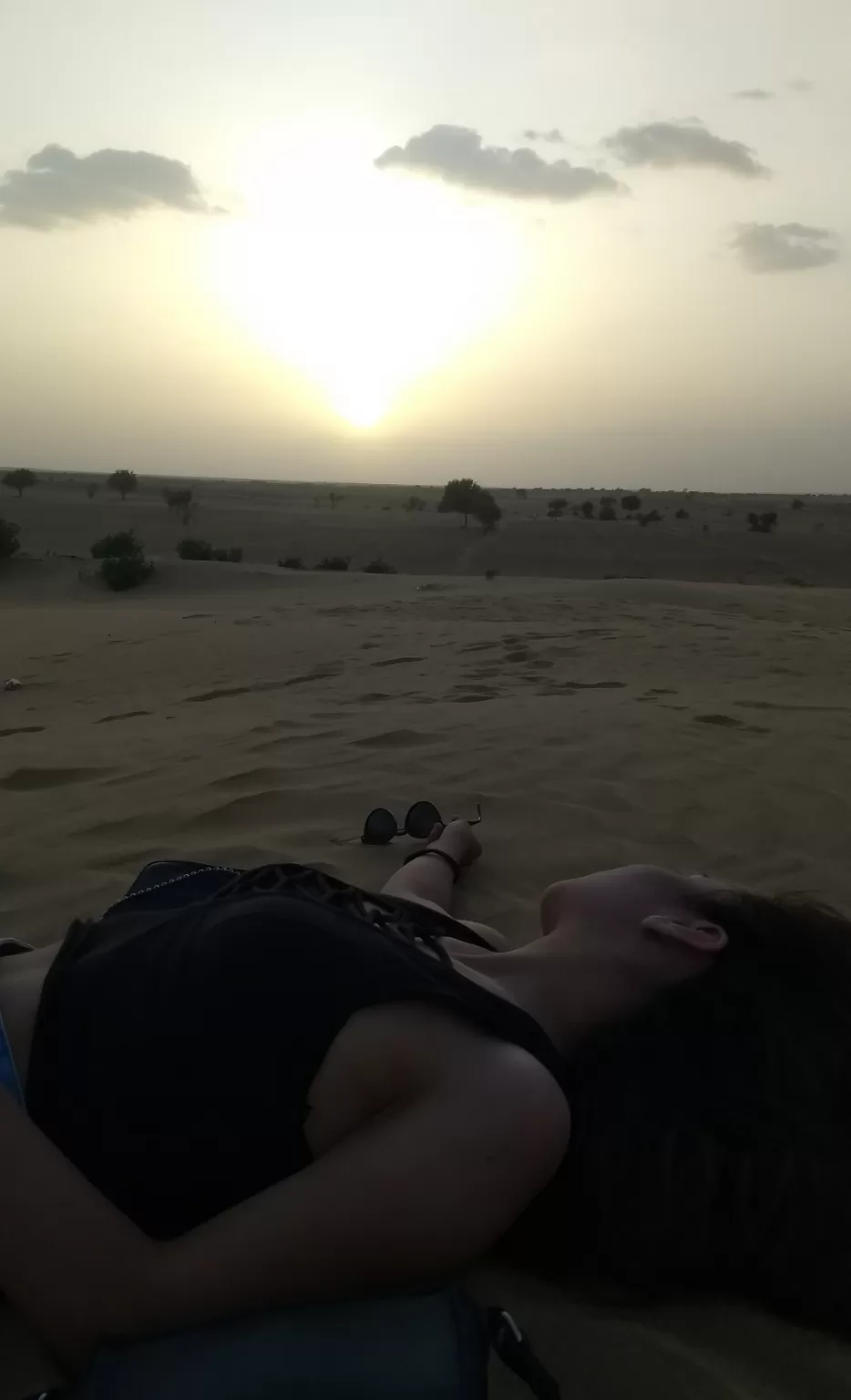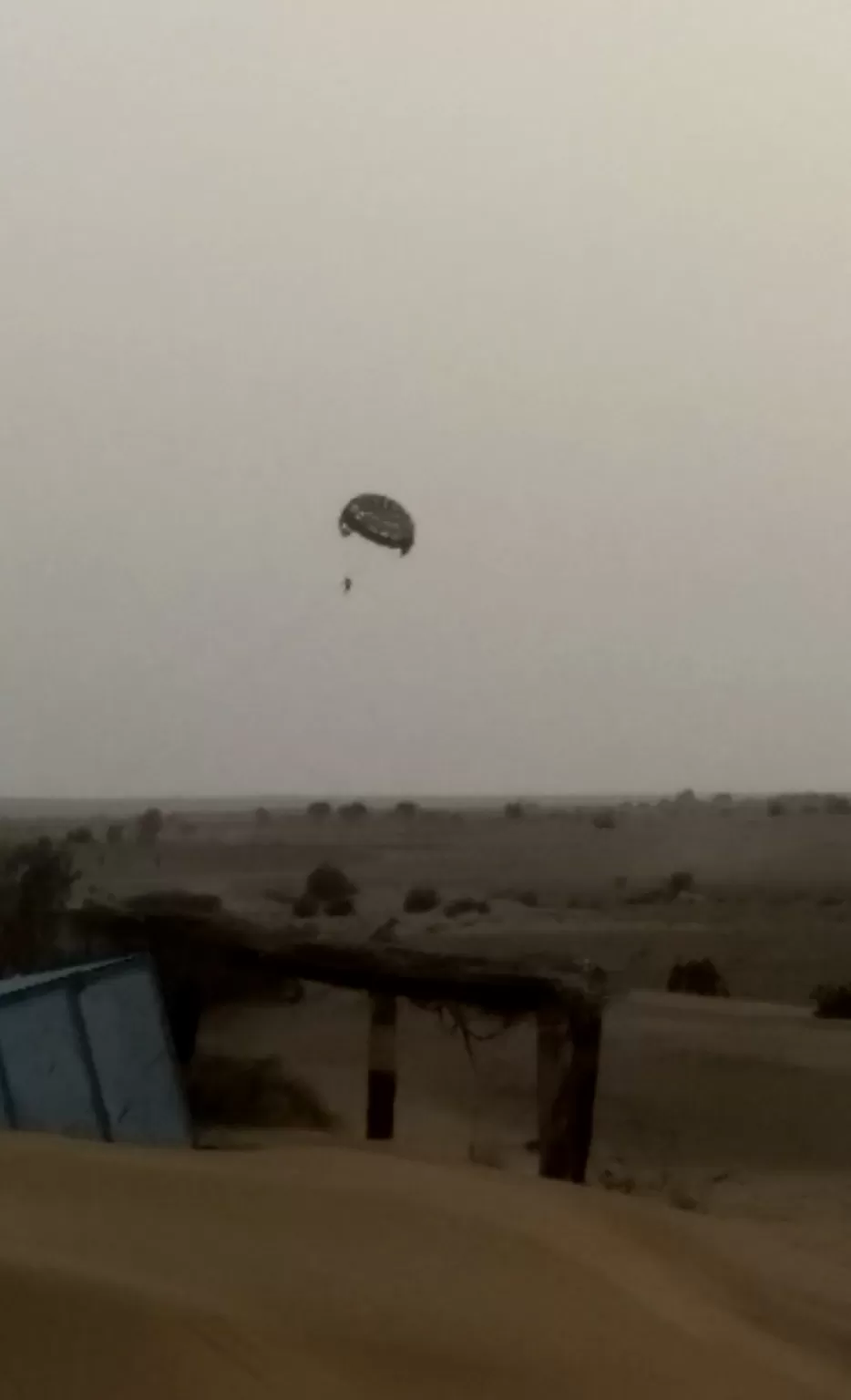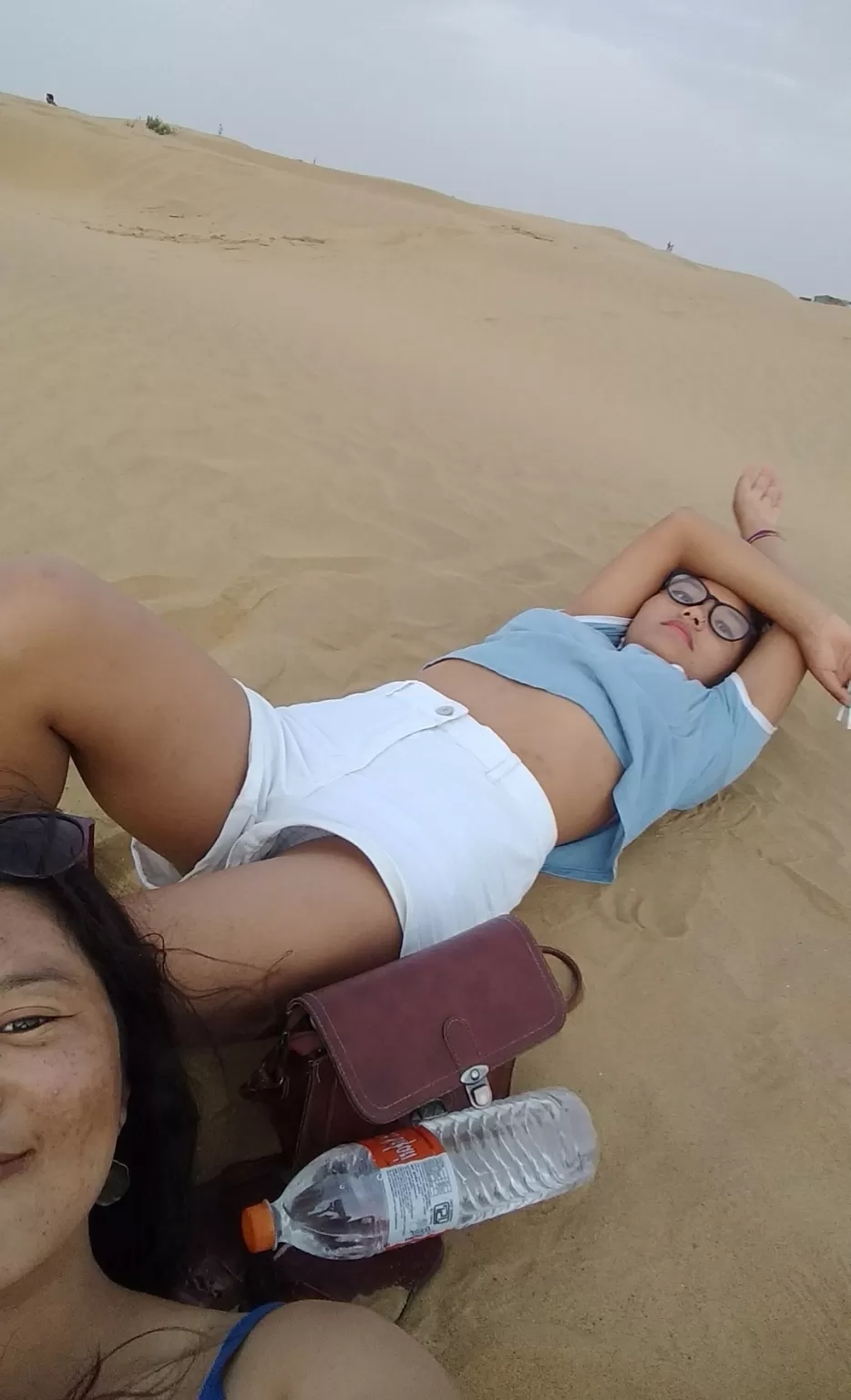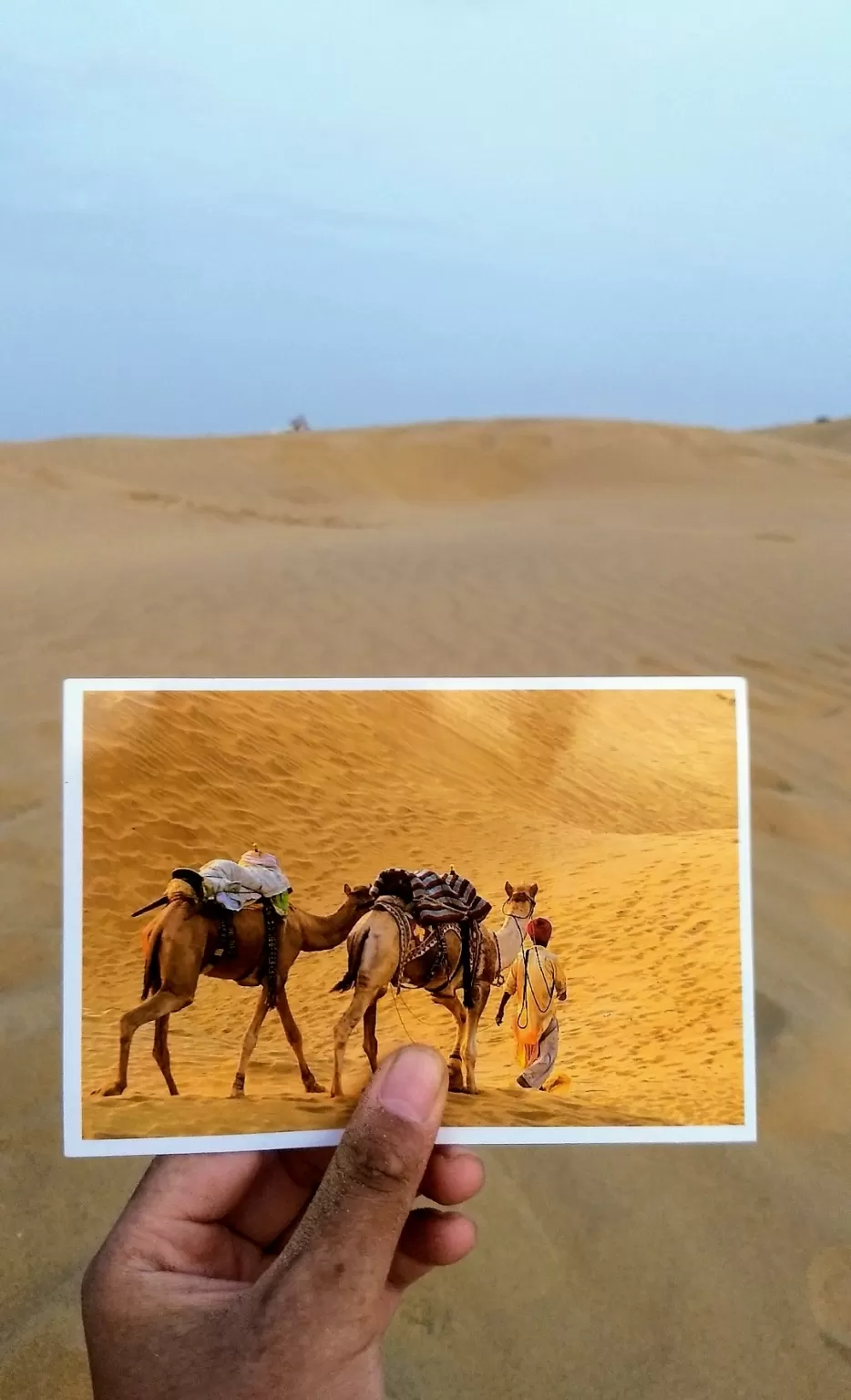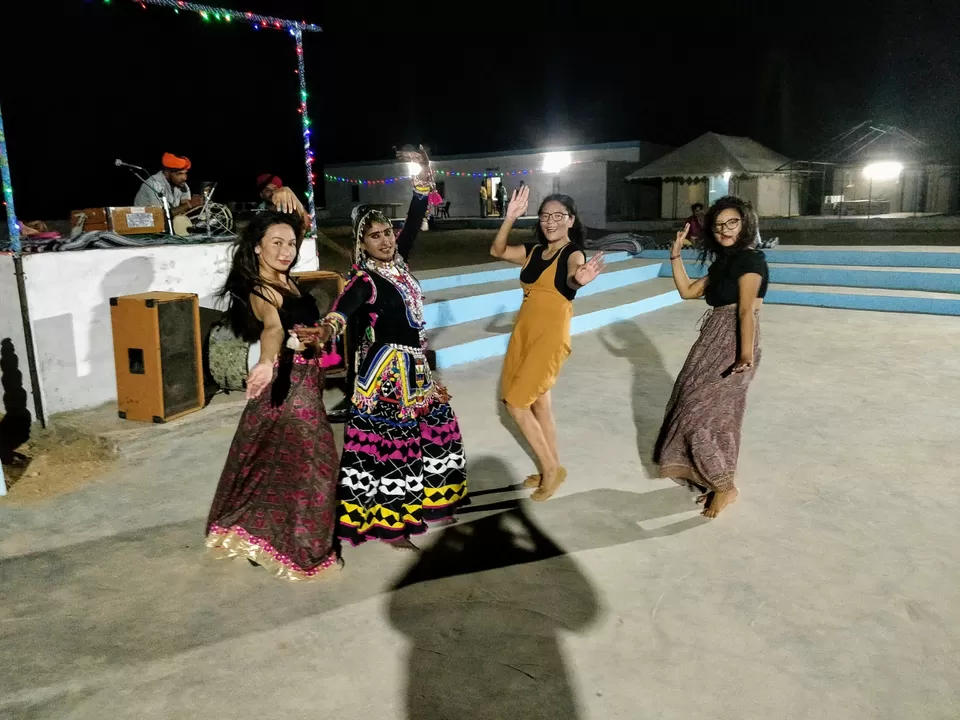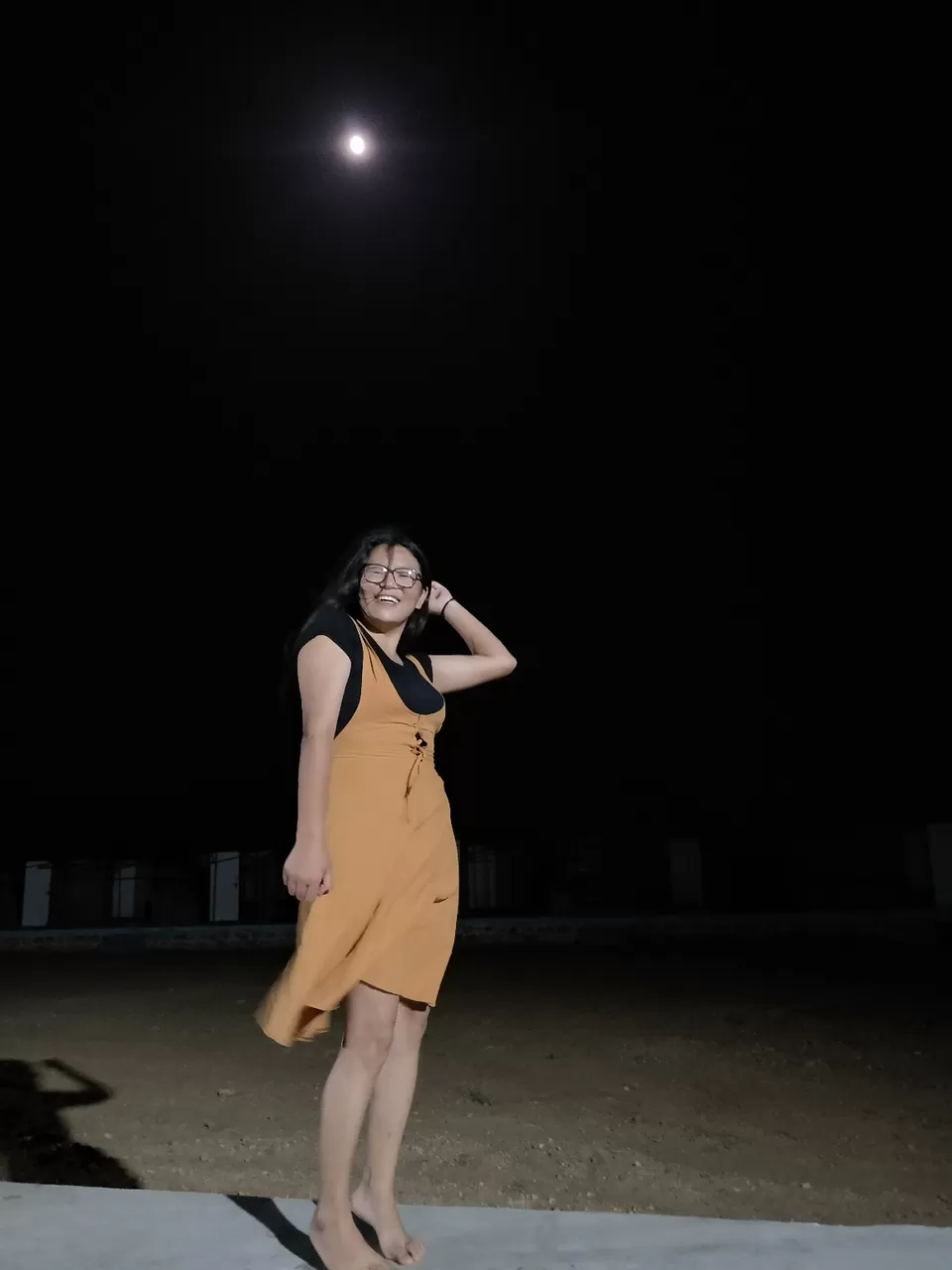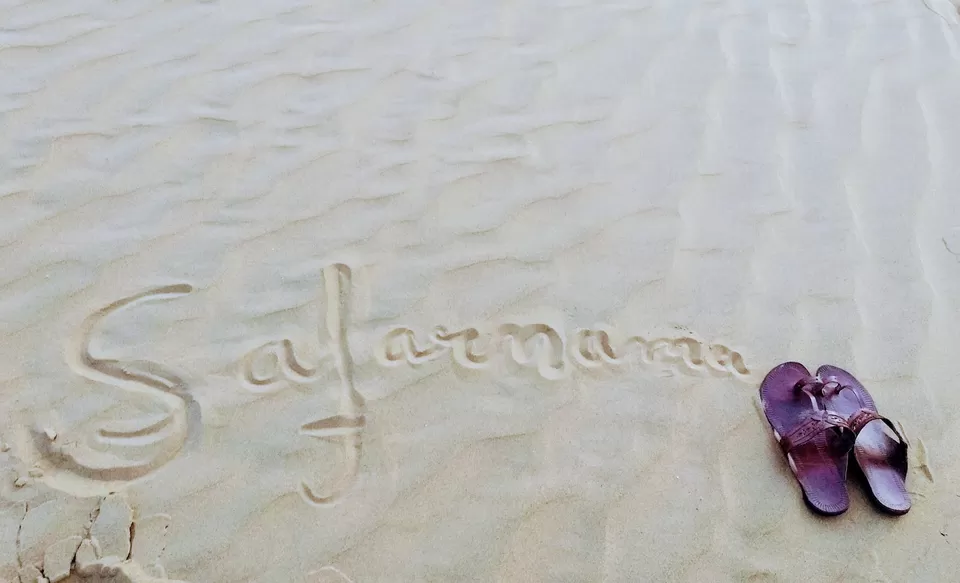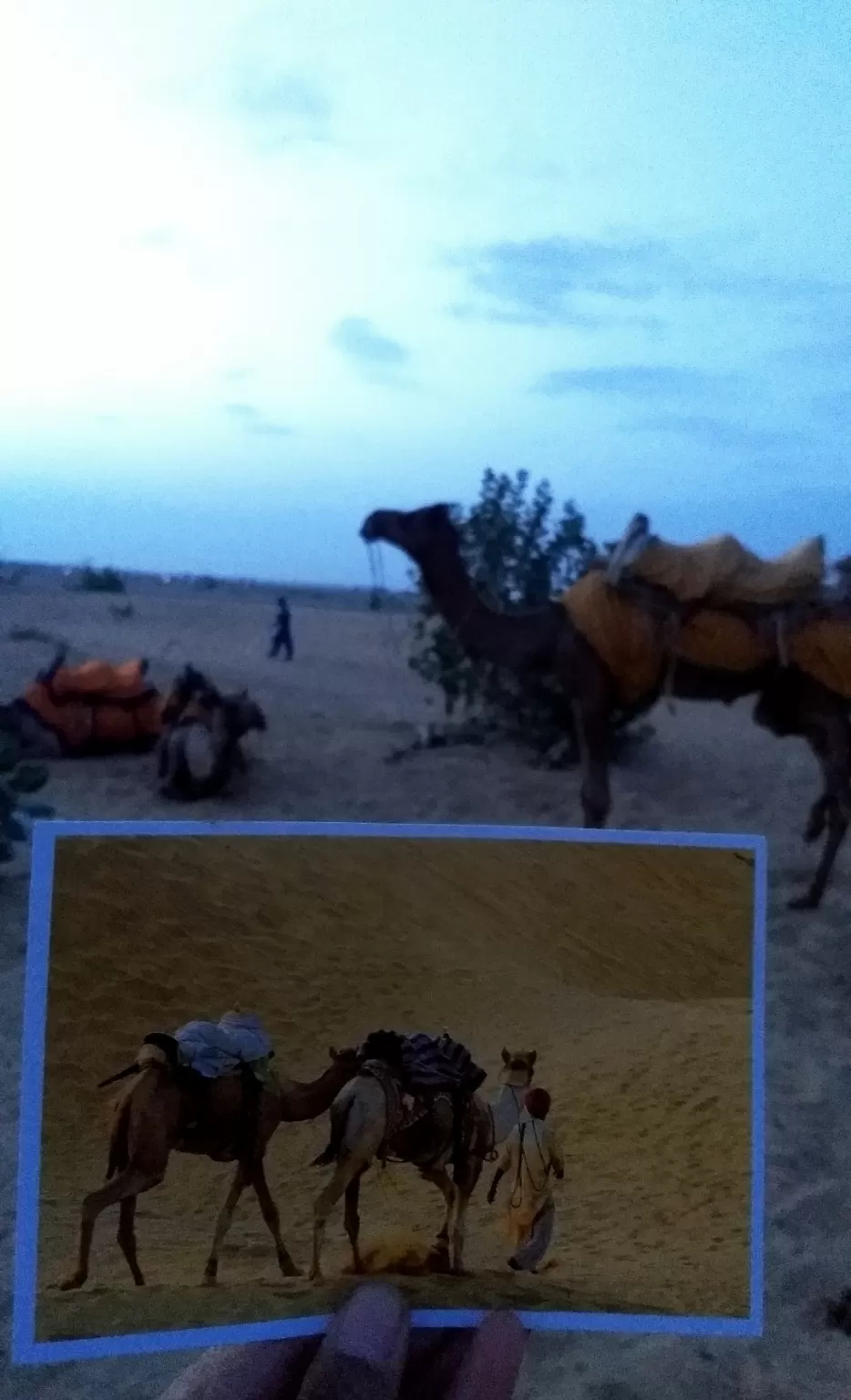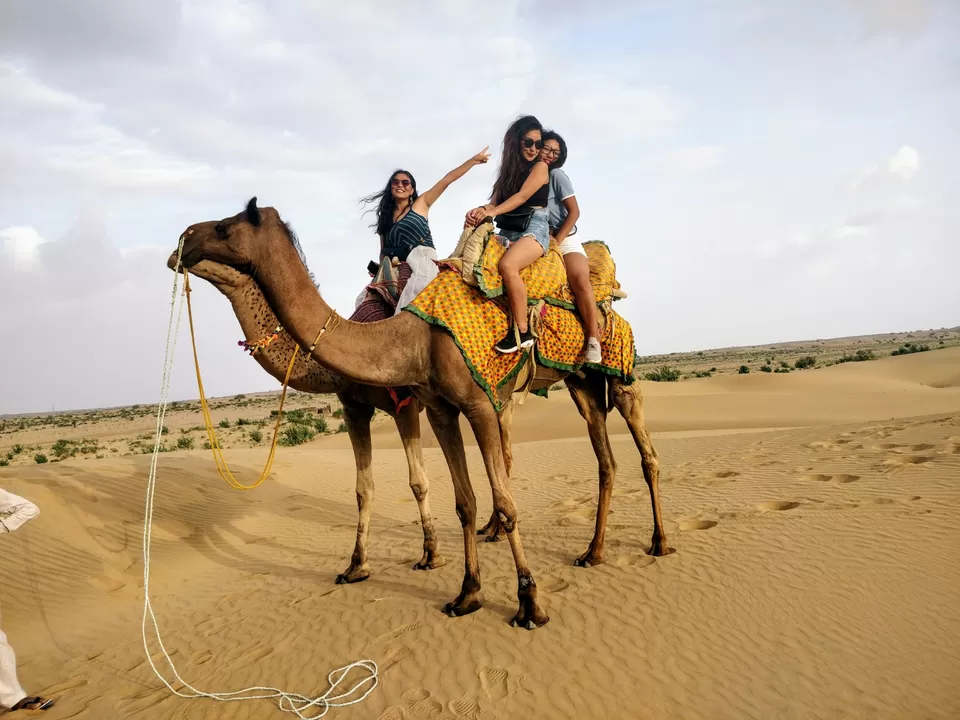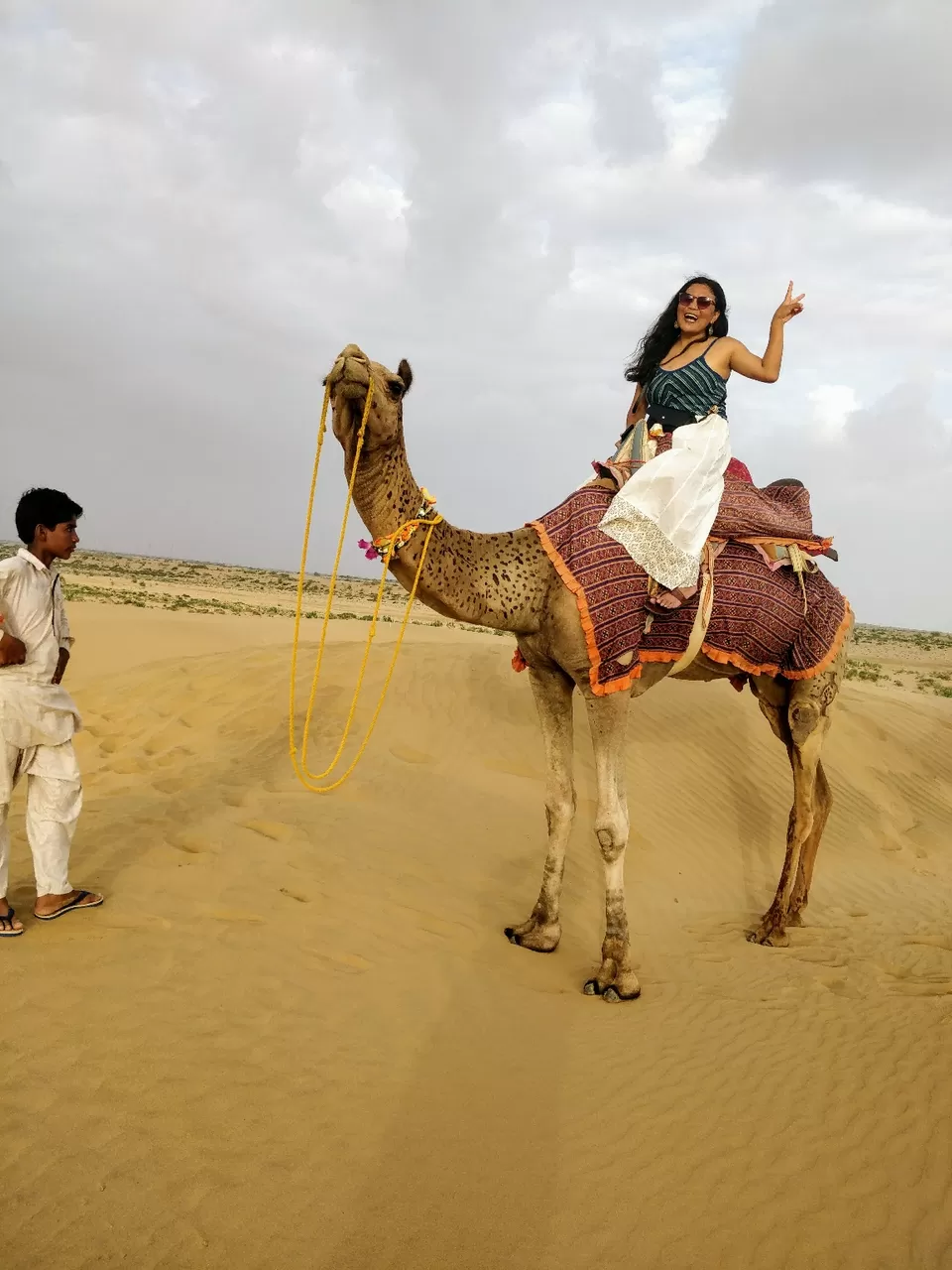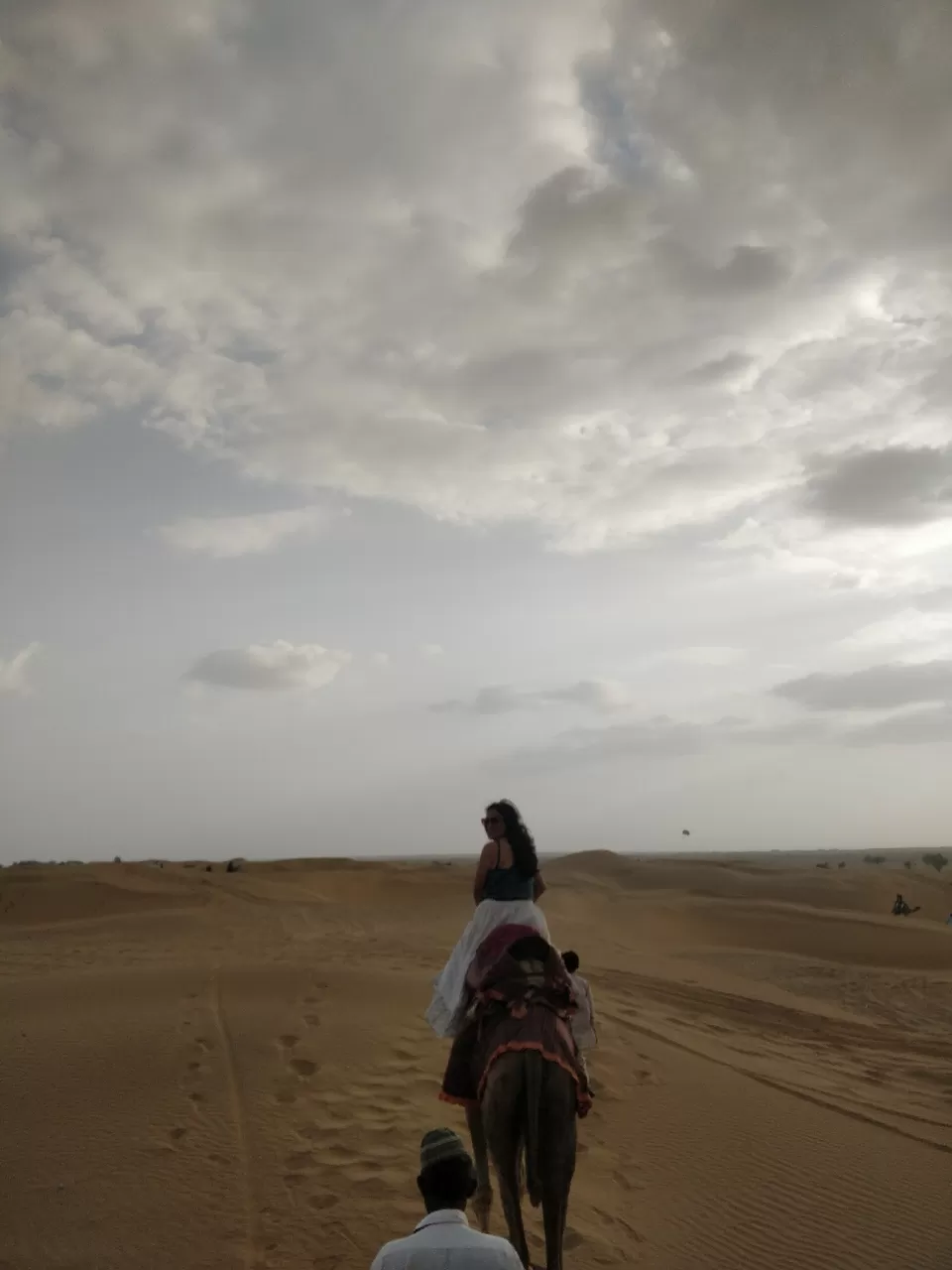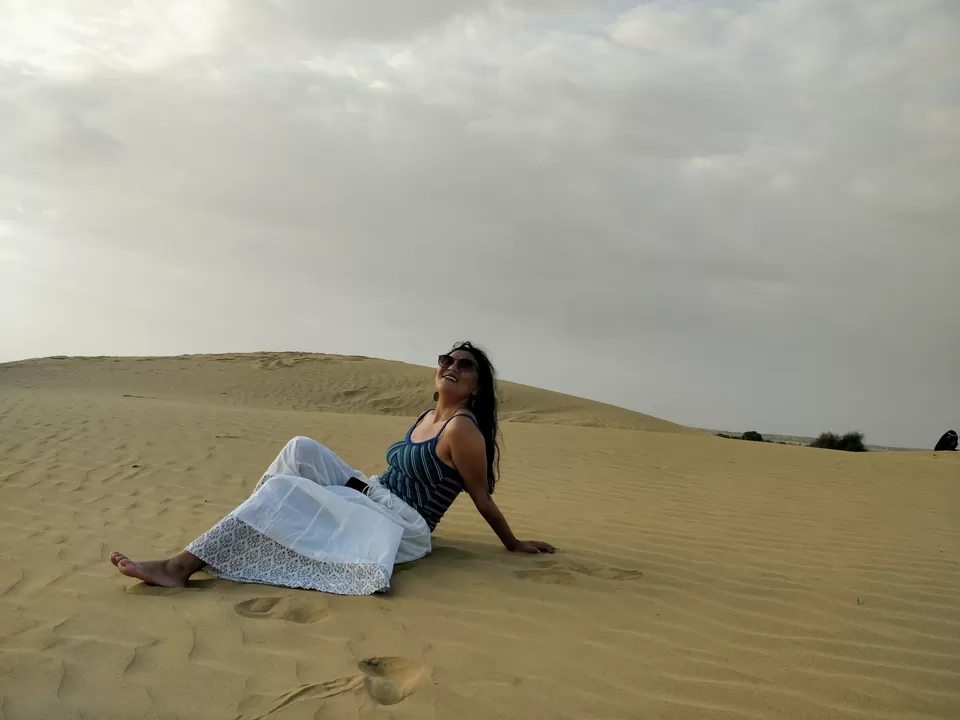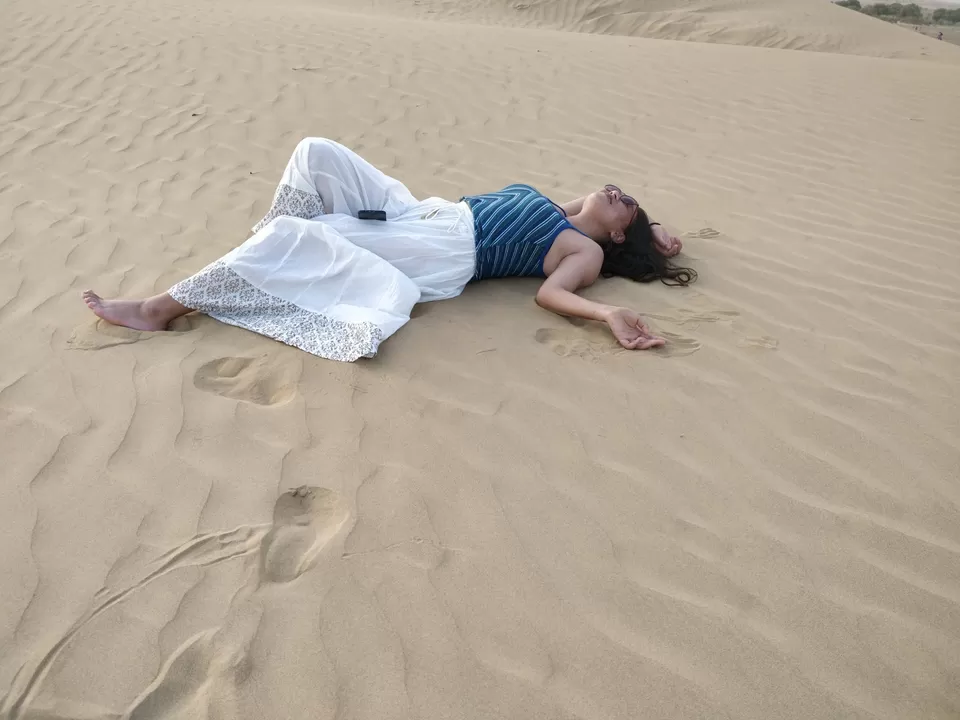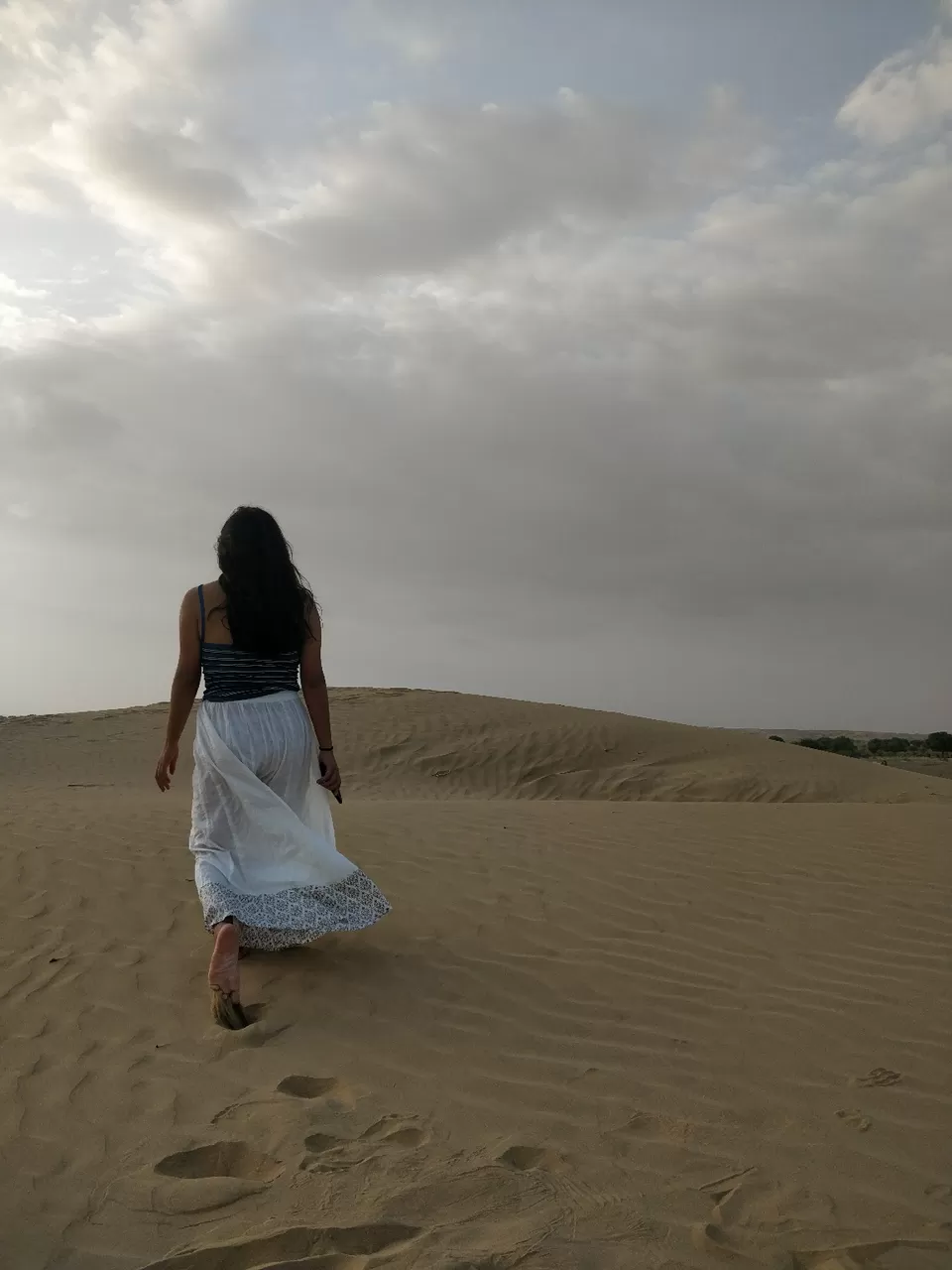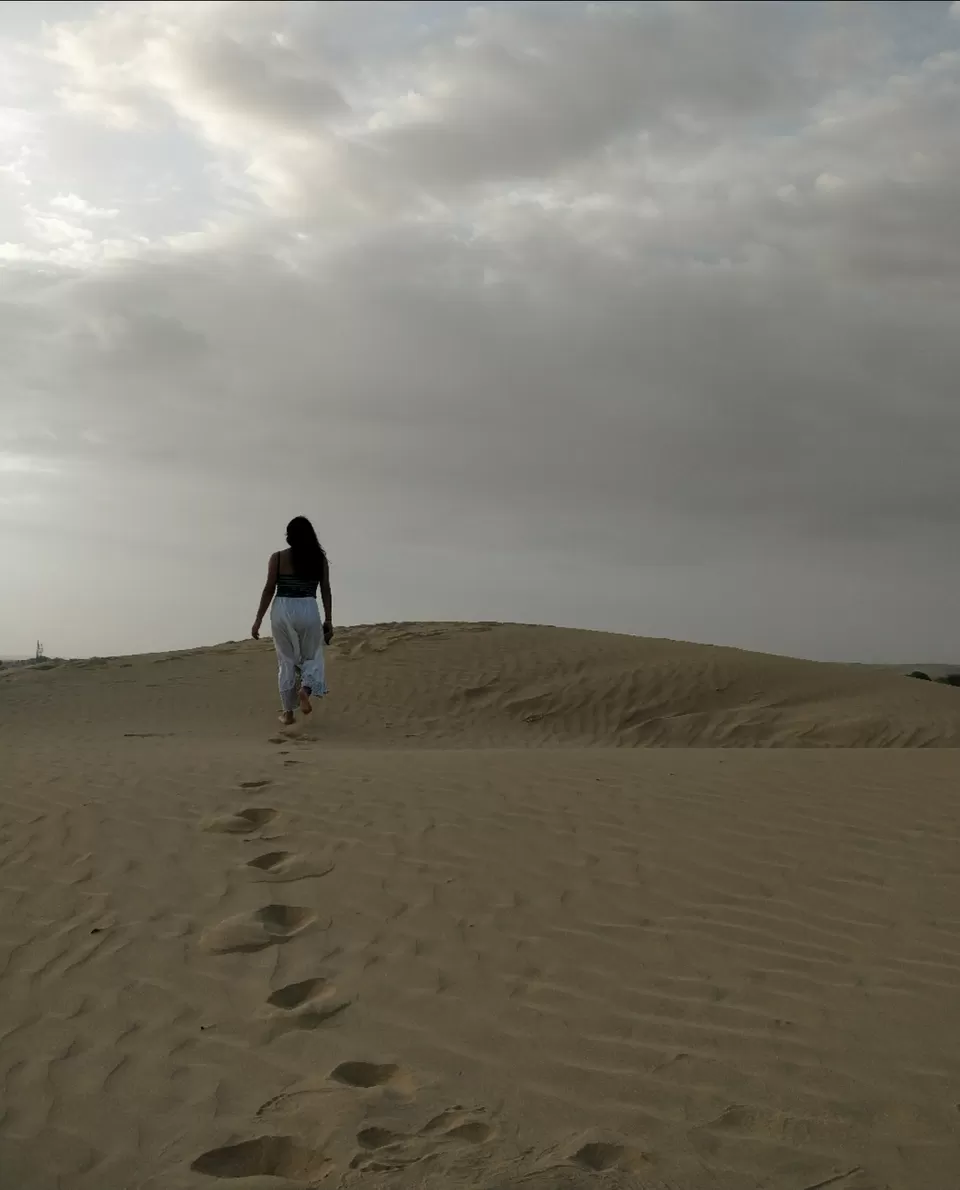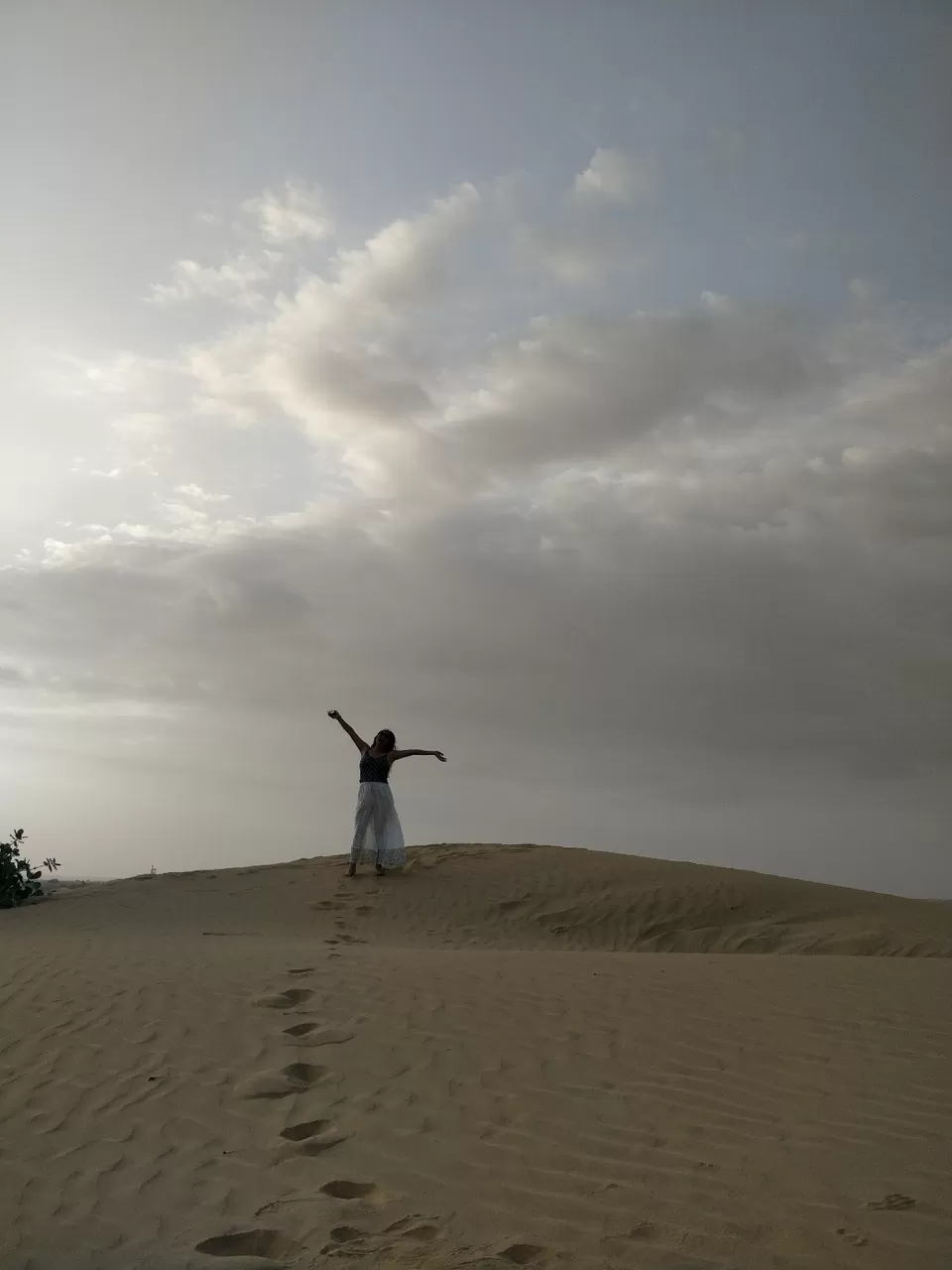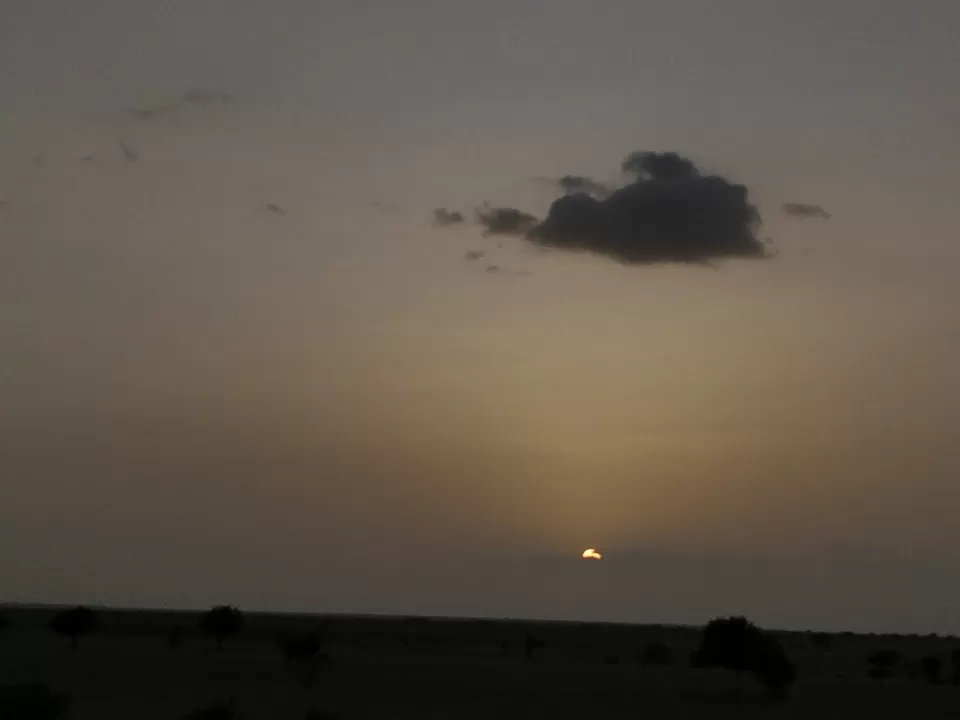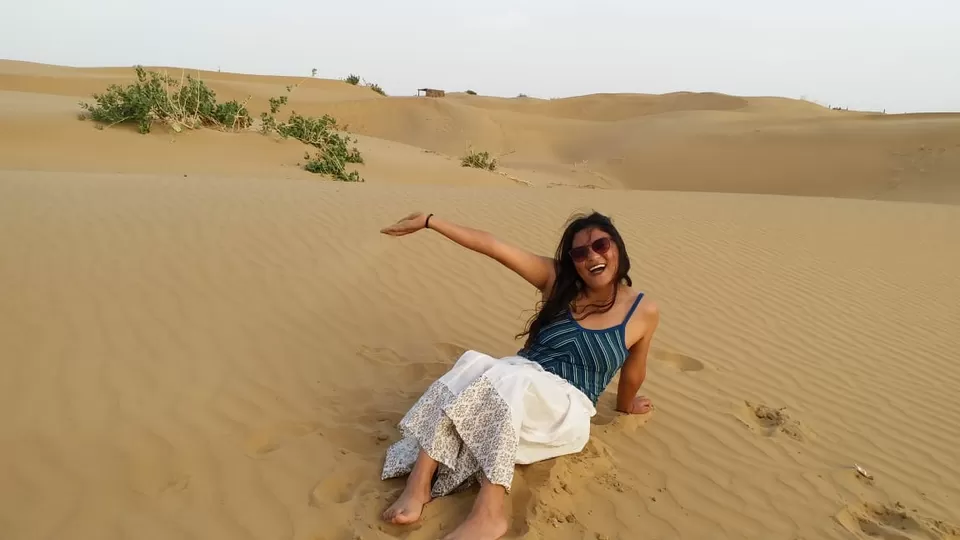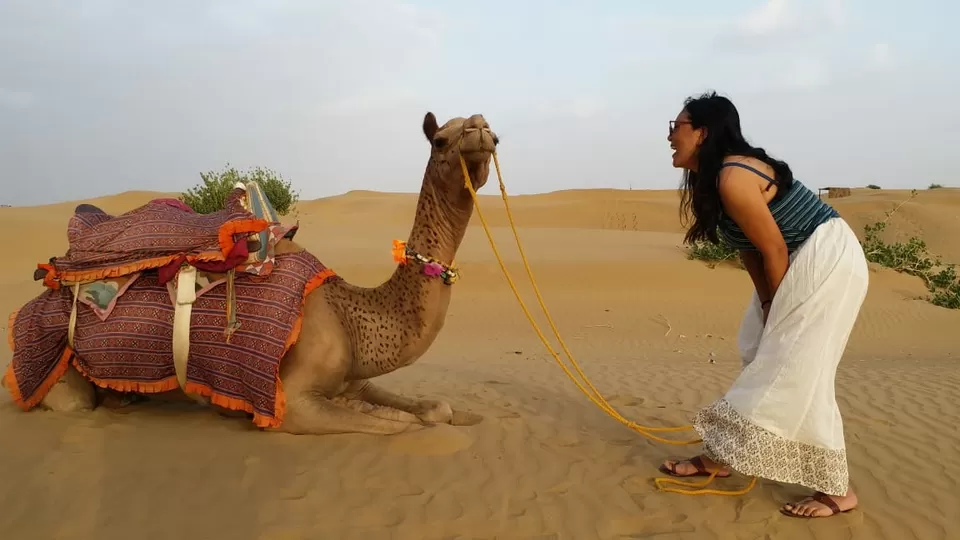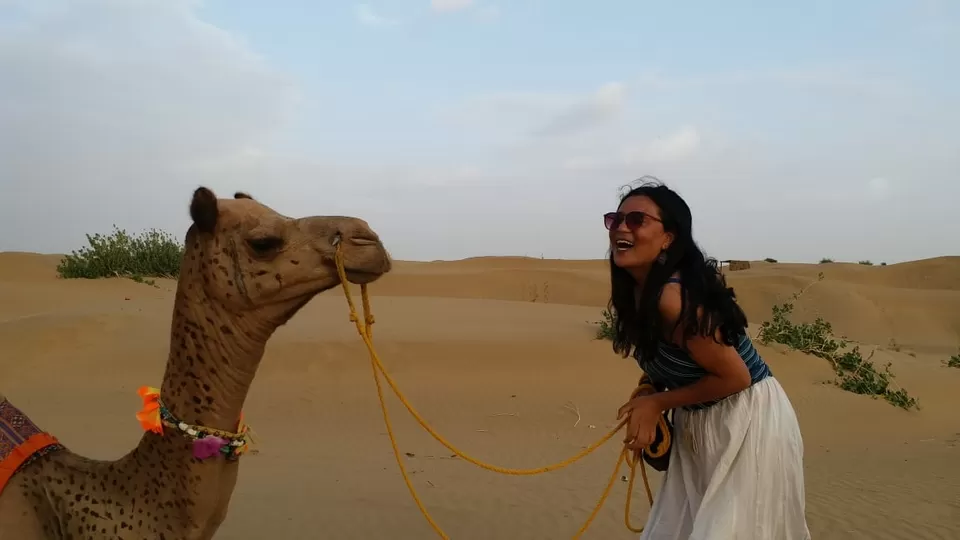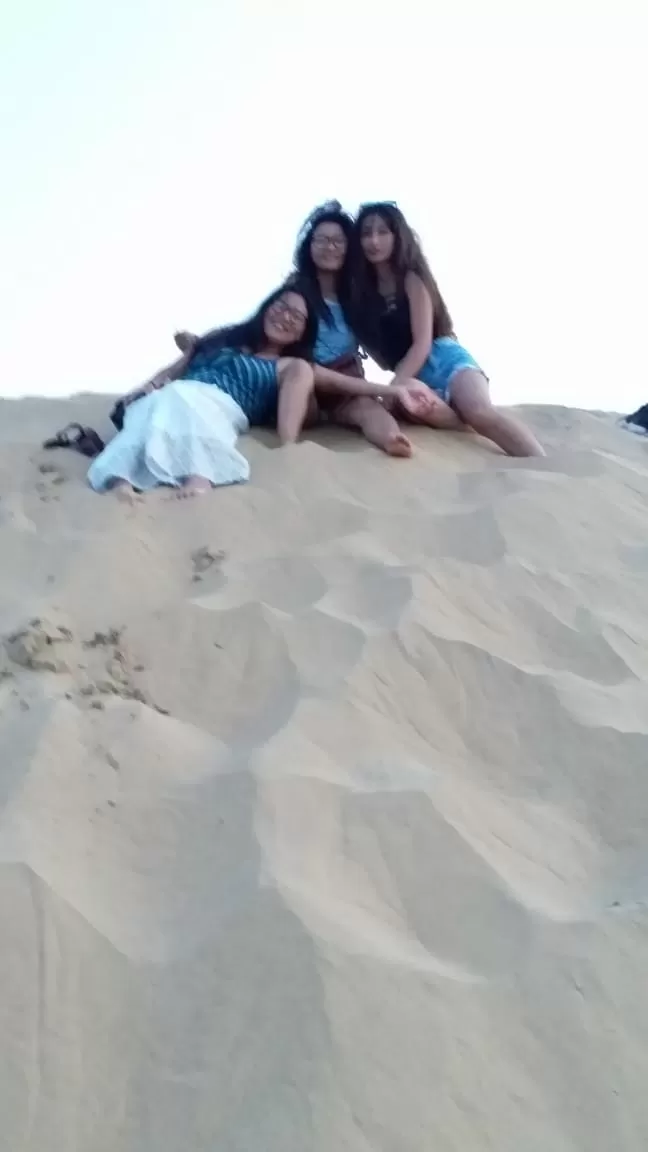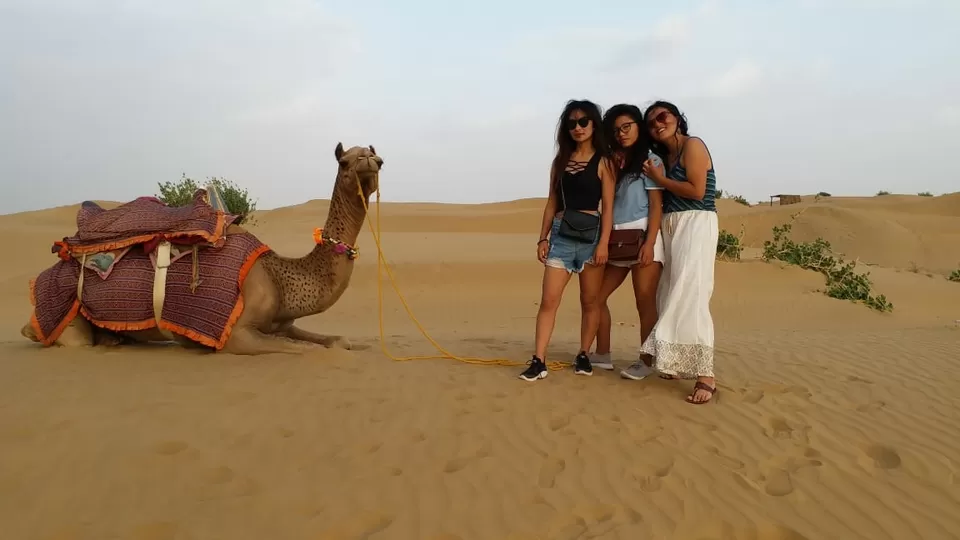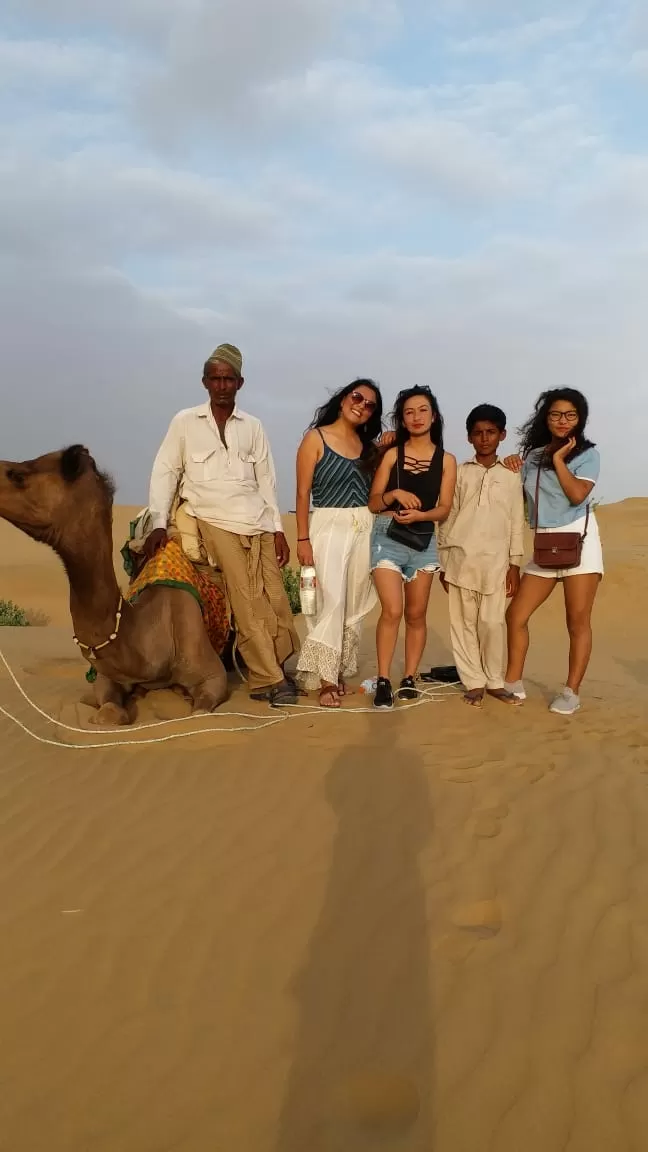 We wanted to camp in the thar desert on the dunes in the moonlight under the stars , it was in our bucket list for so long , so we started packing our bedding and the resort staffs were very helpful , they drove us deep into the desert. Due to tourist off -season , there was no one except us in the whole desert. For three girls it was an adventurous night in the middle of that desert , we were scared of Scorpio , snakes and goons but we stayed there until morning. The night was so peaceful with gentle breeze , we were tucked in our blanket with starry night above us. We kept talking for hours and hours , cried , laughed and had the best time with our forever ones. The next morning we woke up to a amazing sunrise . We were so glad we made it there to the Western border of India.
After a quick breakfast at resort , we setoff back to Ajmer and from Ajmer to Delhi !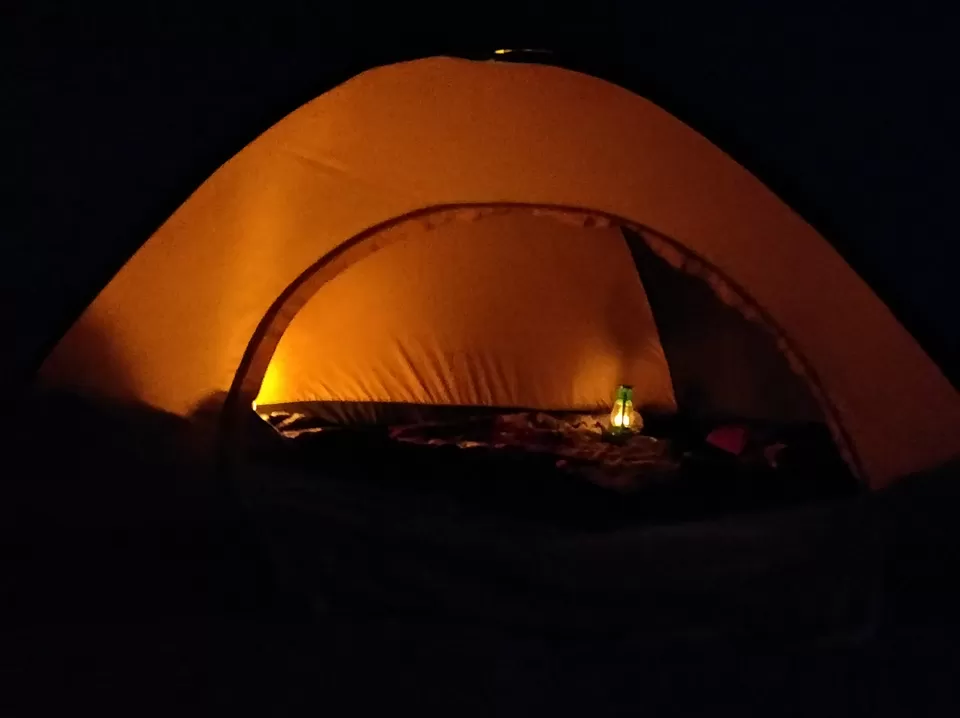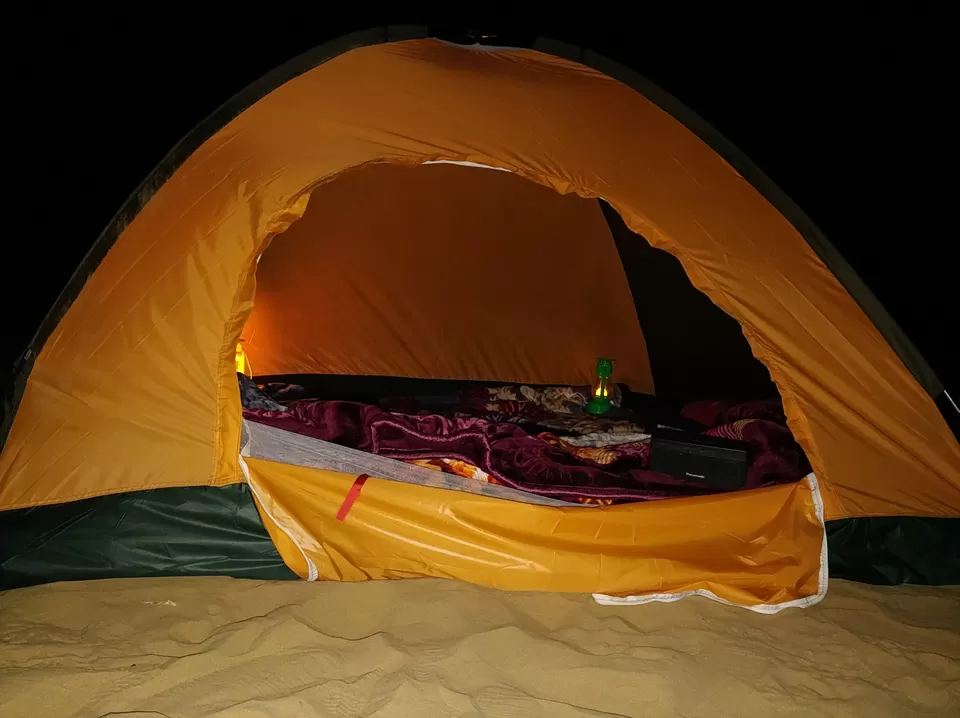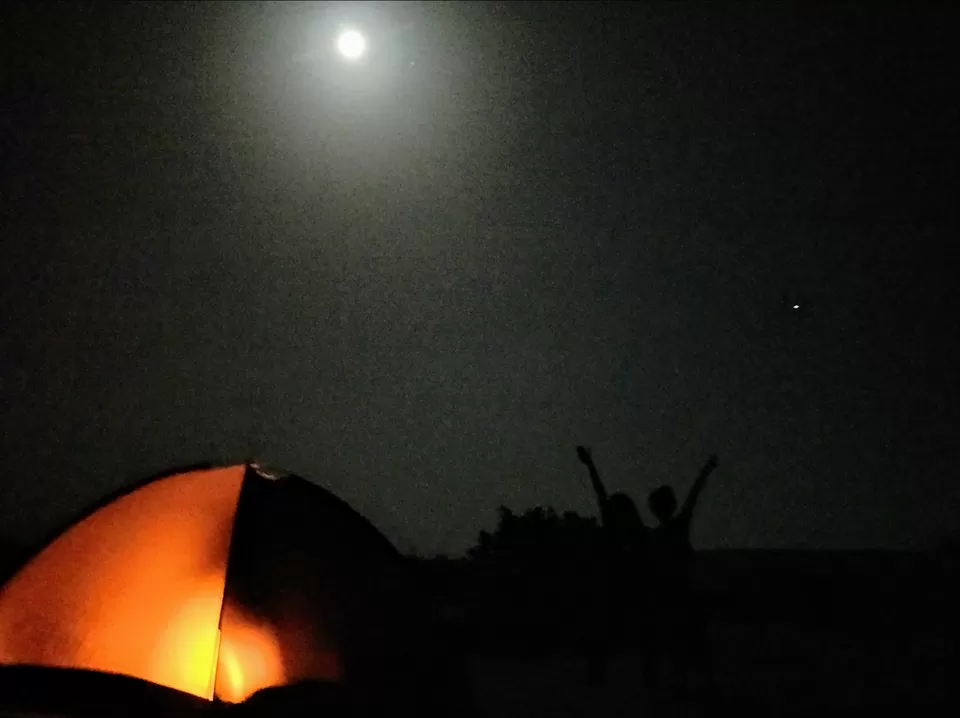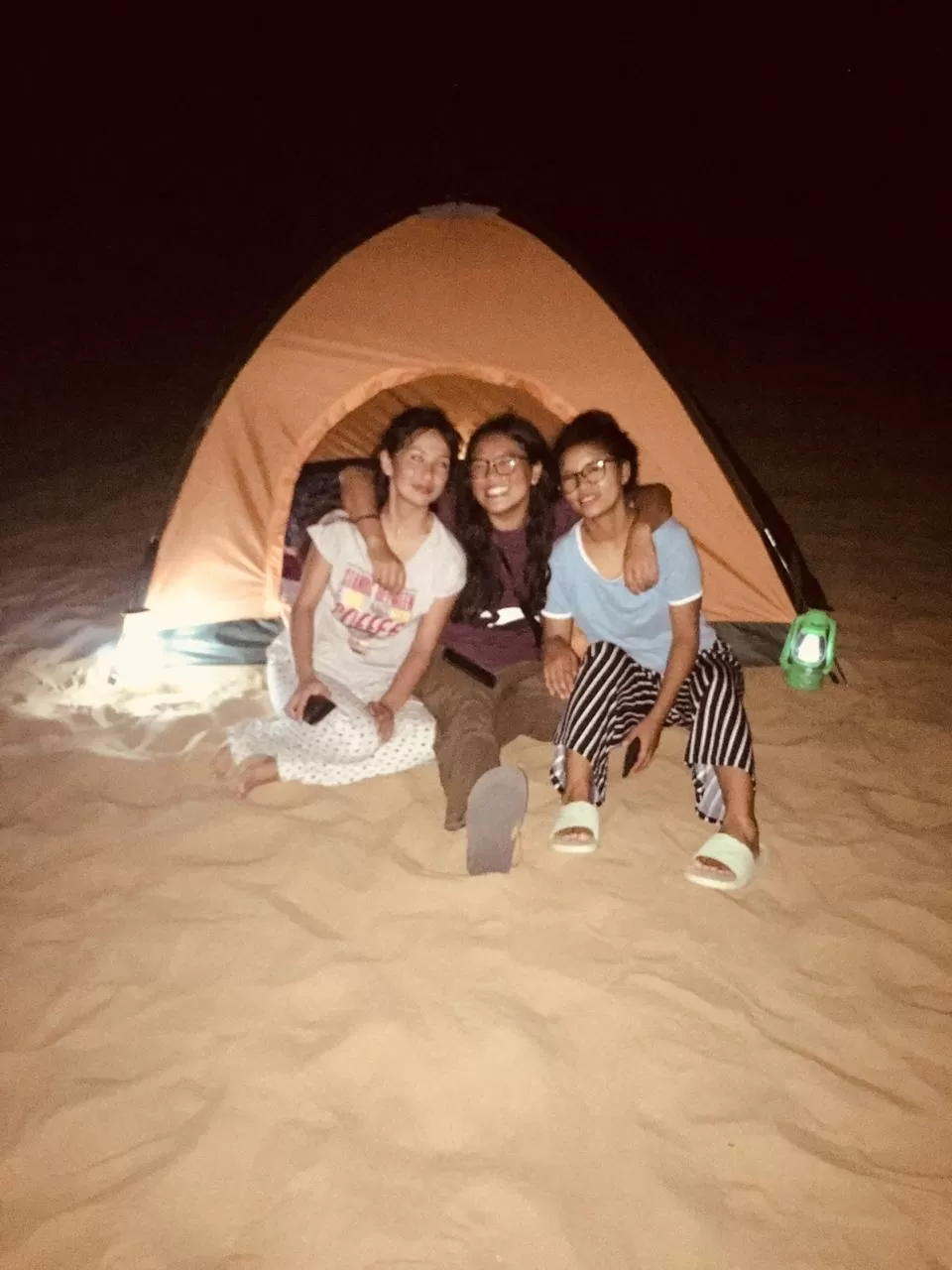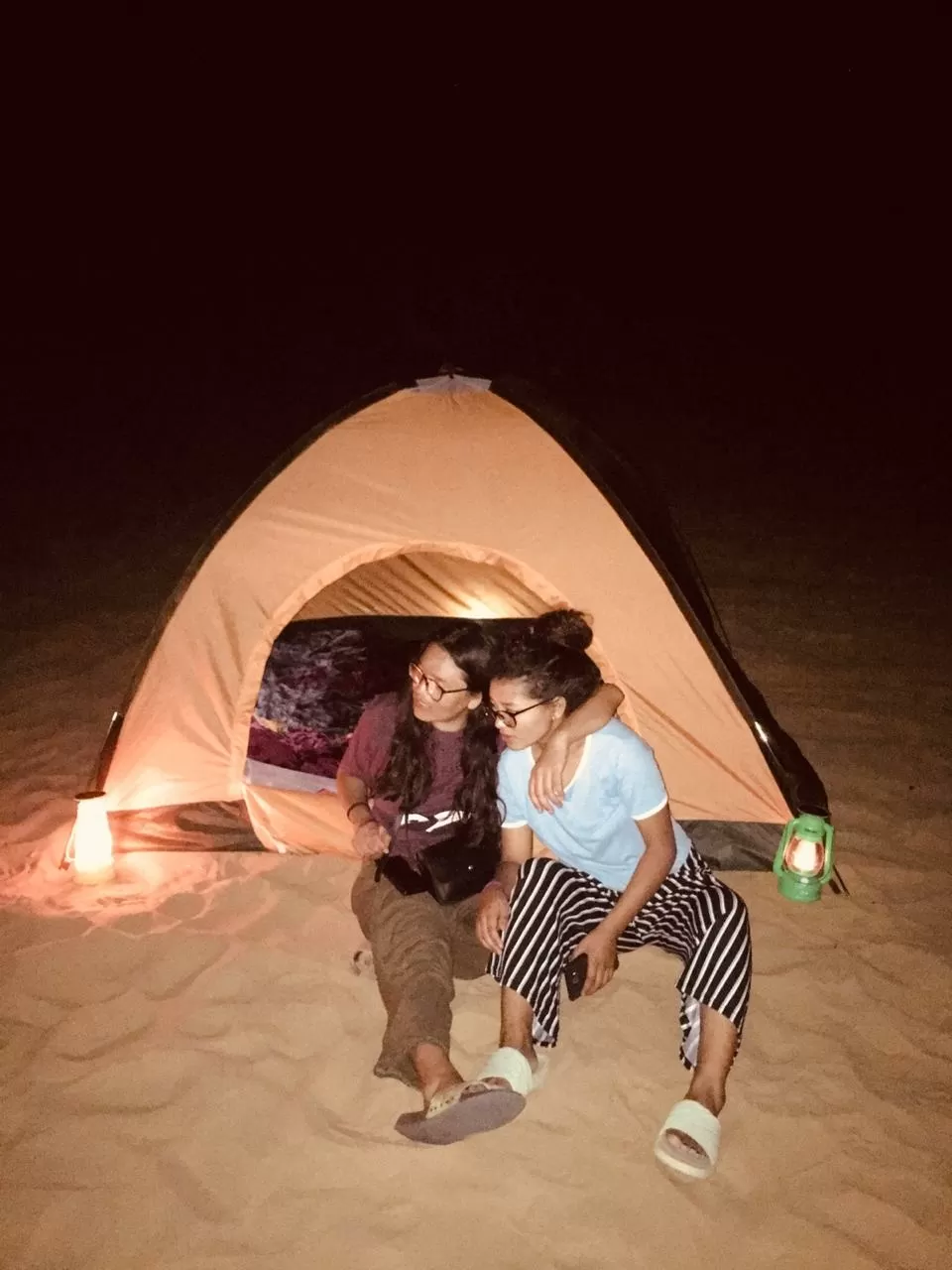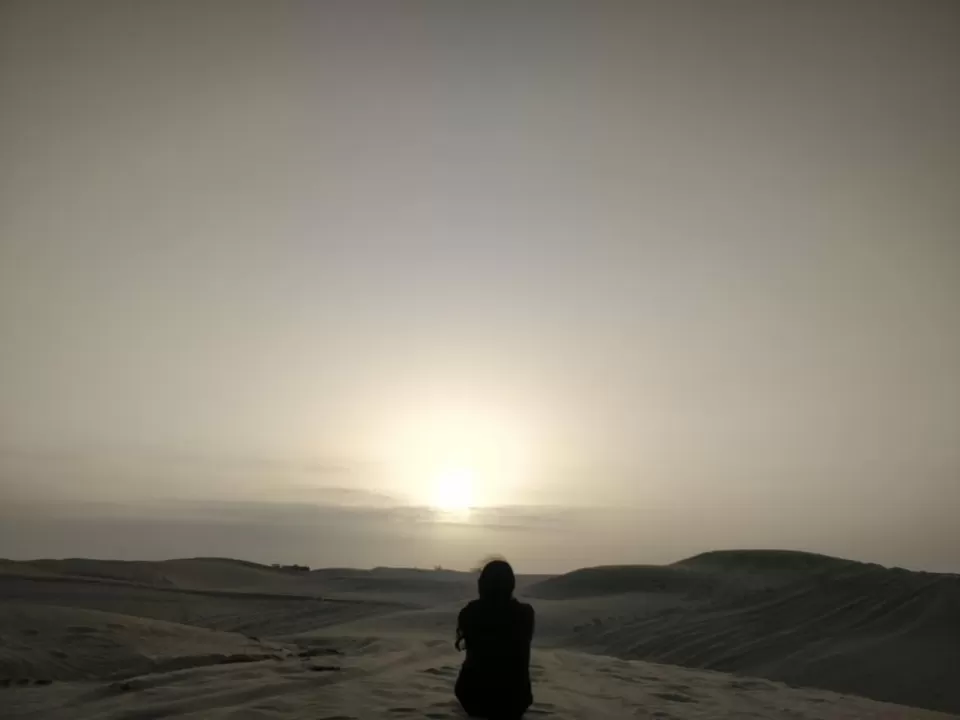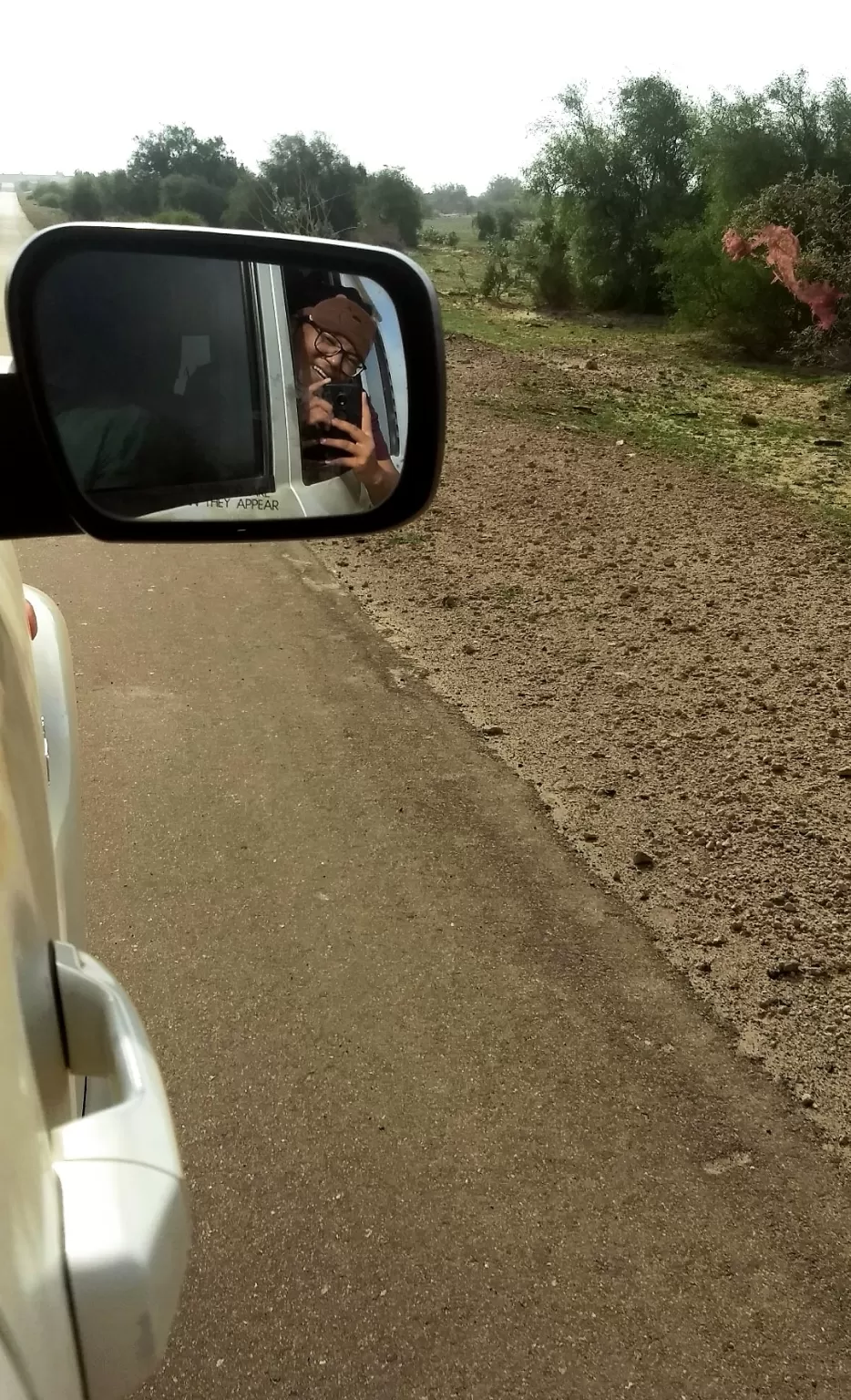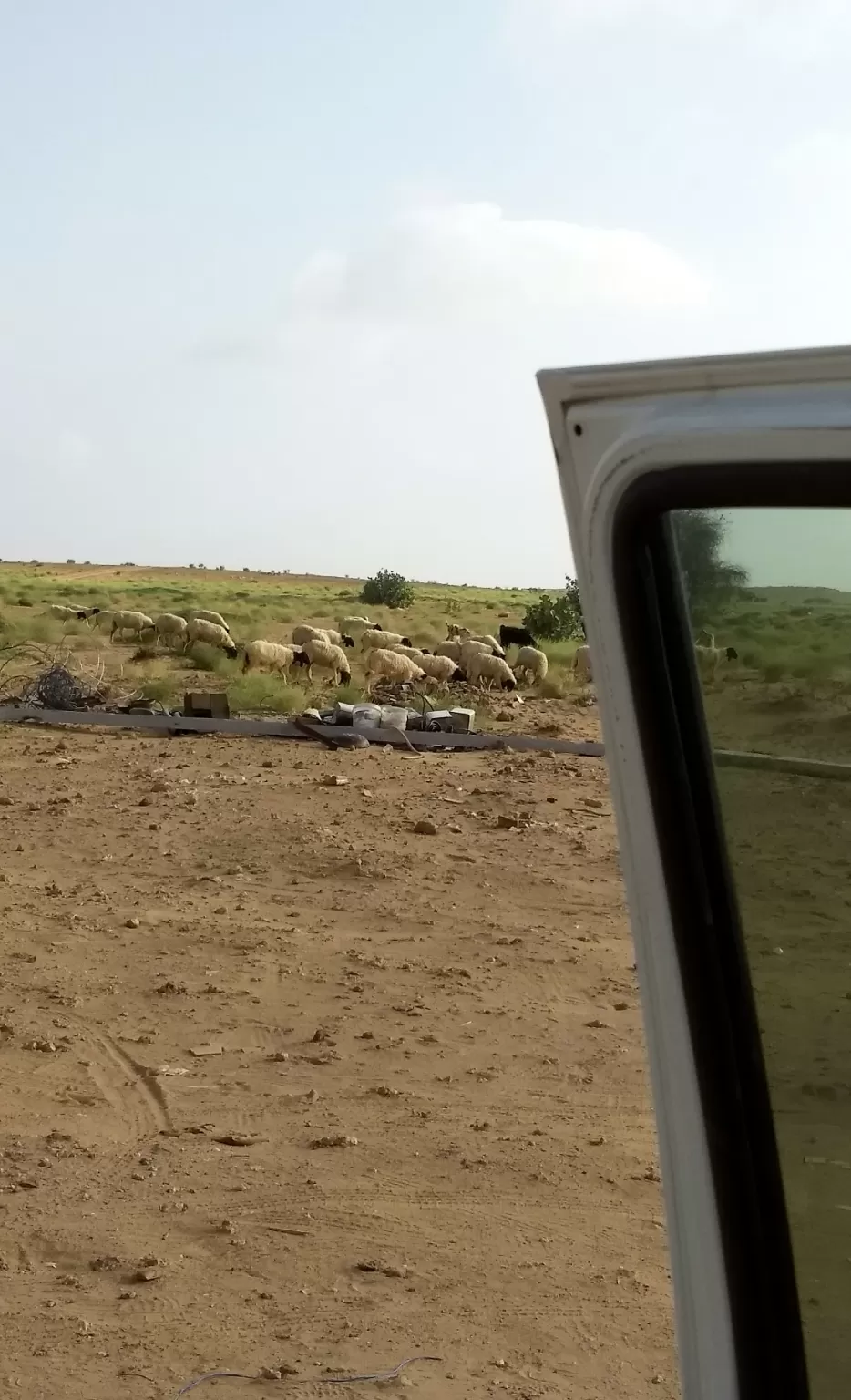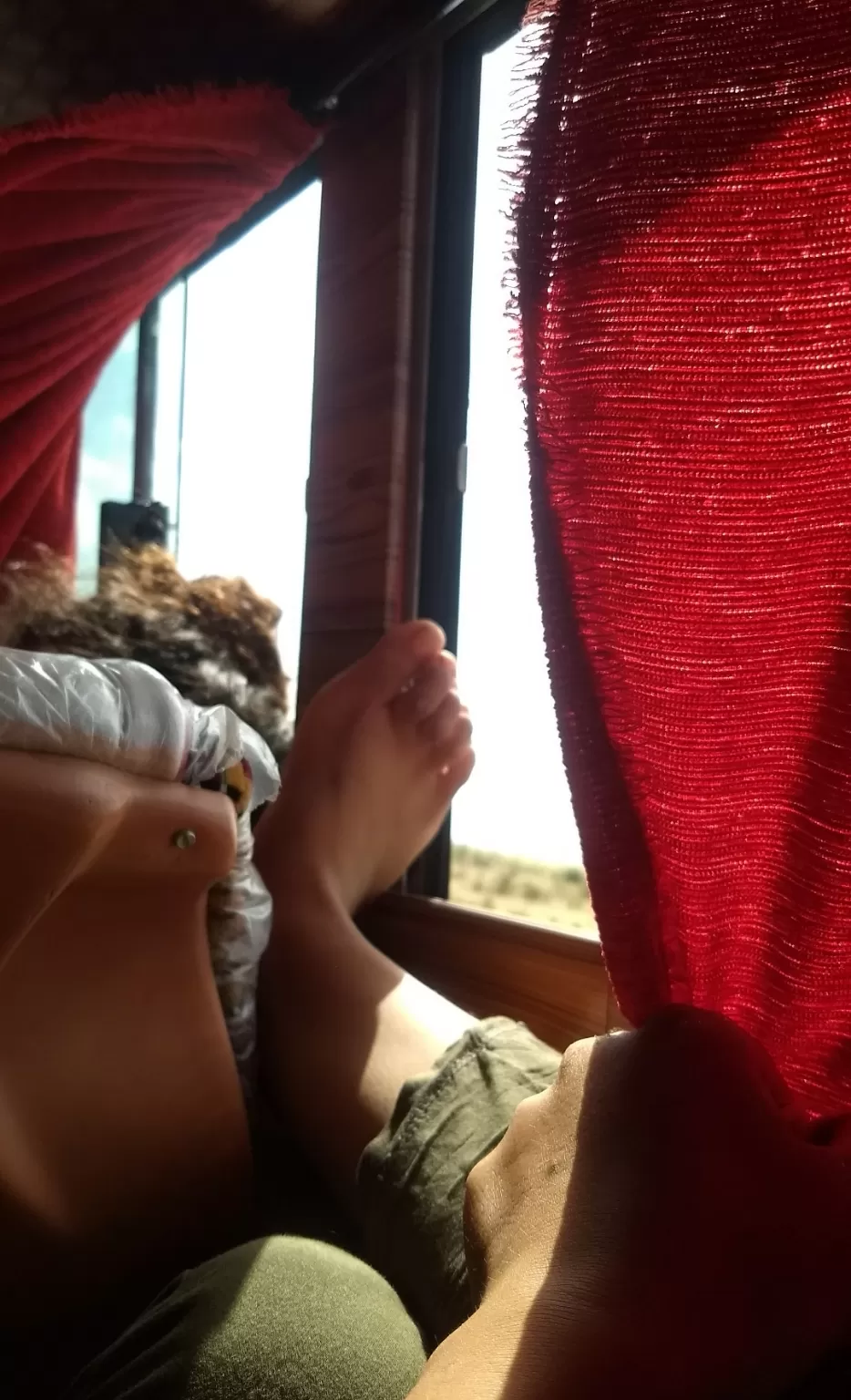 Expenditure per person !
Roadways to Jaipur : 230
Roadways to Jaisalmer : 430
Package ( Hotel, taxi to and fro to thar, camping ,buffet, cultural night , Tika dastoori , camel Safari ) : 2220
Sleeper to Ajmer : 550
Roadways to Delhi : 250
Food and snacks enroute : 820
Total cost : 4500
* Because Jaisalmer is at the westernmost border of India , we had to Change two buses to and fro.