"Dilwalon Ki Delhi" is a heaven for lovers, when it becomes a matter of HEART. All thanks to its myriad Romantic places in Delhi and hangout hubs which makes Delhi a perfect choice who is willing to dig deeper for the excellent dating spots. The capital has lots of beautiful parks, historical places, fantastic pubs and even university campus provide the right ambience to cherish some romantic moments together.

In this post, we have brought together all the cherished and romantic places from parks, restaurants to gardens for spending the best moments with your loved one, and believe us; these spots will never fail you!
SOUNDS INTRIGUING RIGHT!!!!
Follow us to explore the best romantic places in Delhi.

Best Garden and Parks to Bloom Romance
1) The Garden of Five Senses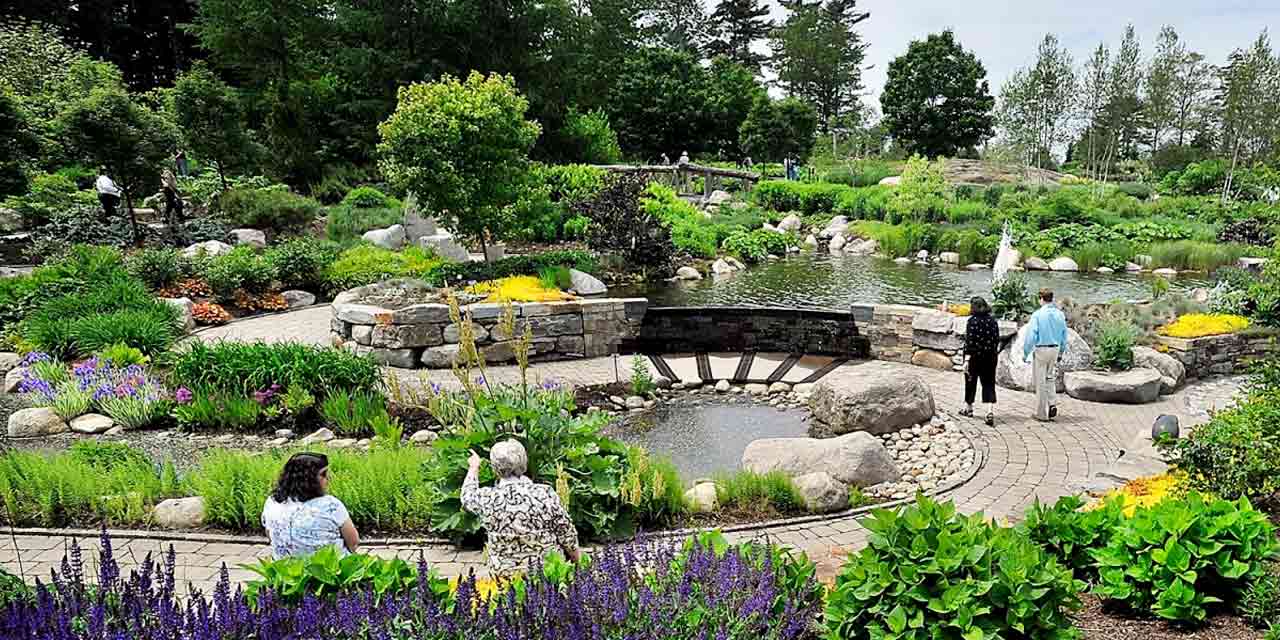 Located in the village of Said-Ul-Azaib in Delhi, this place was opened publicly in the year 2003. Its immaculately designed landscape, fountains and beautiful themes such as a herb garden, bamboo court, Khas Bagh makes it a perfect place to visit in Delhi for couples, primarily because of the unique experiences that the site offers. It is one of the most romantic places in Delhi for any couple.
Location: Western Marg, Said-ul-Ajaib Village, Near Saket Metro Station, 22.5 km from Delhi bus stand. Timings: Everyday 9 AM to 6 PM Entry Fee/charges: Adults - ₹20 Children (up to 12 Years) and Senior Citizens - ₹10 Differently Abled People - Free Entry
2) Millennium Indraprastha Park
As a recent addition in the list of parks, Millennium Indraprastha Park is sprawling over 85 acres and provides the best setting location to snatch a few golden times with someone special. However, if you are planning to visit there, be aware of the crowd.
Location: Ring Road, Sarai Kale Khan Delhi Timings: 5:00 am to 8:00 pm Entry Fee: Free
3) Deer Park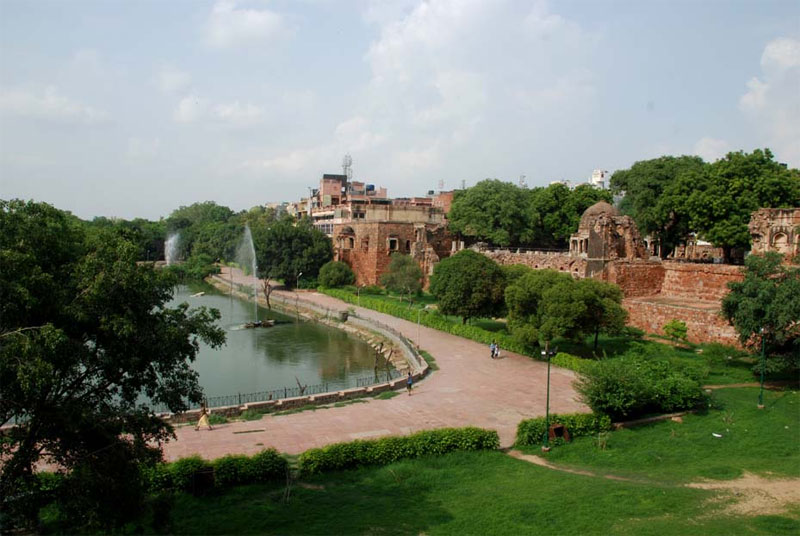 Also known as AN Jha Deer Park, this place has its own place among the ideal hangout places for a young couple. Surrounded by a charming lake, colourful flower beds, lawns and fountains, this place also has structures and tombs which were built in Mughal Era will leave you speechless. You can spot deer, ducks, peacocks, and rabbits here.
Location: Hauz khas, 18.6 km from Delhi bus stand.
Timings: 5:00am-8:00pm- in summer, 5:30am-7:00pm
Entry Fee: Free.
4) Lodhi Garden
Lodhi Garden is a great place to enjoy a romantic walk with your beloved. The architecture and the history of this park with gorgeous flower beds is something which attracts most of the couples to have a hand-in-hand walk.
Location: Lodhi Road, Timings: 6:00 am to 7:30 pm Entry Fee: No entry fee
Best restaurants to visit in Delhi-Satisfy all your cravings
A coffee date is not always enough, take out your beloved to some of the most romantic restaurants to take ahead the happening ahead. The city is filled by amazing restaurants and ensure that you spend some beautiful time with the company of great food and a fantastic ambience.
1) Kylin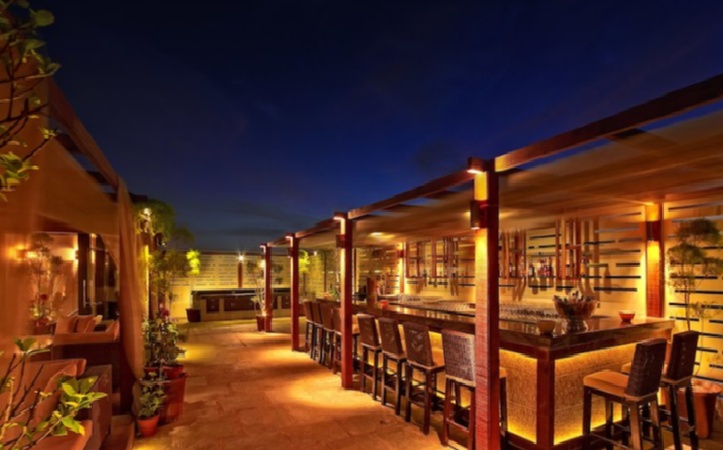 With the charming ambience and mouth-watering food, Kylin is one of the most romantic places in Delhi to visit. The tempting menu with a variety of food options within a pocket-friendly price is enough to make your evening romantic.
Location: Nelson Mandela Marg, Vasant Kunj Timings: 12:00 pm to 12:30 am; every day Cuisine: Asian, Chinese Cost for two: ₹ 1800
2) Sevilla
Sevilla is a perfect place for your dream date. Decorated with Candle-lit Cabanas this place is one of the most romantic restaurants in Delhi for couples. This place will literally make you feel like walking on a dreamland. You can try various Spanish delicacies, and also they provide an option of customization. Champagne served on rose sprinkled tables will lighten up your mood.
Location: 11.9 km from Delhi bus stand.
Timings: every day, 7 PM to 11:45 PM.
Price for two: INR 4500.
3) Tonino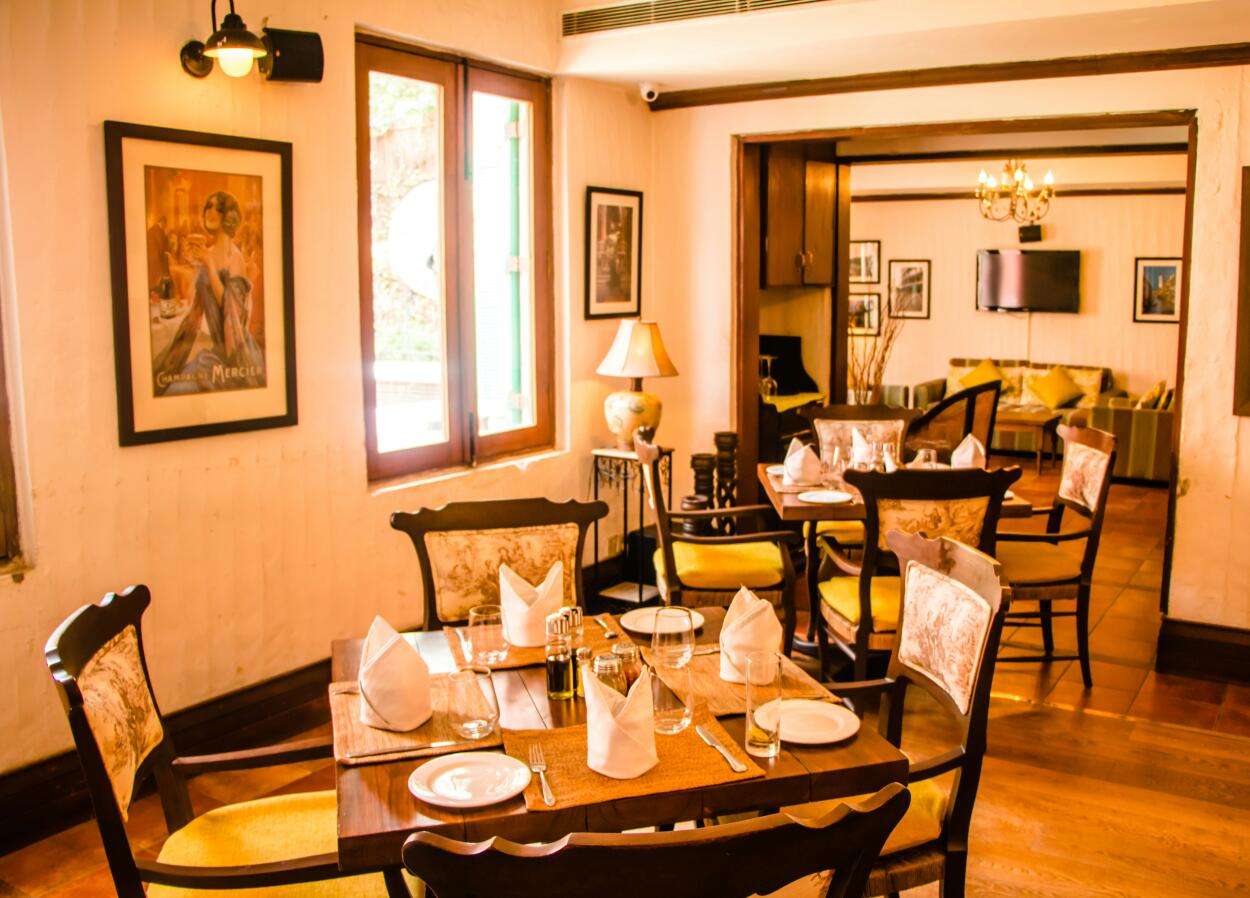 A live Jazz band playing in the background and a romantic ambiance give this place its own definition. This exotic, Italian restaurant has high-quality candlelight dinner to give couples the best dining experience.
Location: Mehrauli Timings: 12:30 pm to 03:30 pm and 07:00 pm to 12:30 am; every day Cuisine: Italian Cost for two: ₹ 3500
4) Ice Lounge, Saket
Nothing can be more thrilling and romantic than being at a place which is completely made and surrounded by Ice, including sofa and floors. The restaurant is built upon Tonnes of crystal clear ice and is one of the cosiest day outings in Delhi for couples.
Location: Metropolitan Mall, Saket, New Delhi
Timings: All day- 12.00 PM - 02.00 AM
Places to HangOut: Have thrill and frill
1) Hauz Khas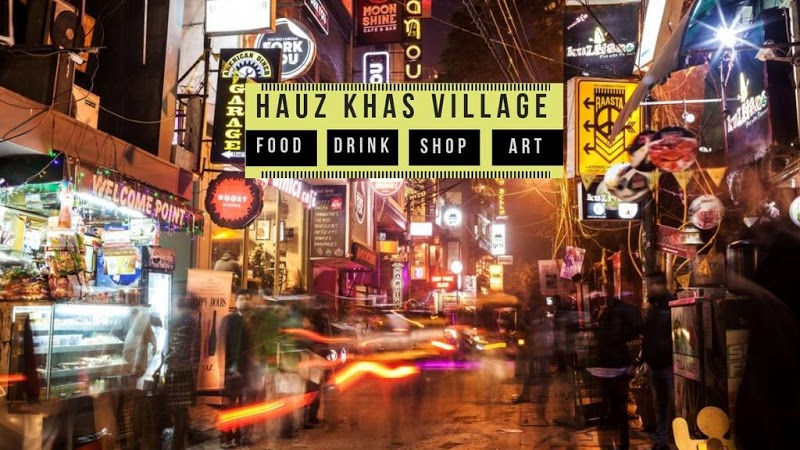 Hauz Khas is the most popular place for couples in the city of New Delhi. The name Hauz Khas means Royal water tank, and the place represents its name by self. A lot of couples flock here and also prefer Hauz Khas a great option for their pre-wedding shoot. Here you can enjoy drinks with crazy music in the urban district and have fun with your partner.
Location: 17.8 km from Delhi bus stand.
Timings: Monday to Saturday - 10:00 am to 07:00 PM. Hauz Khas fort remains open on all days from 10:30 am to 07:00 pm.
2) Connaught Place
An all-time favourite for Delhiites, this oldest and largest financial, commercial and business place, this place is the best spot to visit in Delhi for couples.
Location: 8.7 km from Delhi bus stand.
Timings: Monday to Saturday, from 10 AM to 8:30 PM.
3) Dilli Haat

Dilli Haat is one of the best places for couples to hang out in Delhi. This also can be your ideal destination for a shopping date, and you can explore numerous fabrics, paintings, handicrafts, pottery, and even jewellery.
Location: Opposite INA Market Timings: 11:00 am to 9:00 pm; every day Entry fee: Adults - ₹ 20 per person Children - ₹ 10 per person
4) Adventure Island
Location: Sector-10, Rohini Timings: All day- 11:30 am to 08:30 pm; Entry Fee: Adults - In weekdays- ₹ 800 per person Adults - In weekends - ₹ 900 per person
Are you both adventures!!! Then this can be an exciting escapade to have many hours of non-stop fun and frolic. Z-Force, Sky Rider, SideWinder, Twister, Flip Out, Space Jump will keep your adrenaline high. Also, this place has a great food court where you can enjoy a wide variety of delicacies to satisfy your cravings.