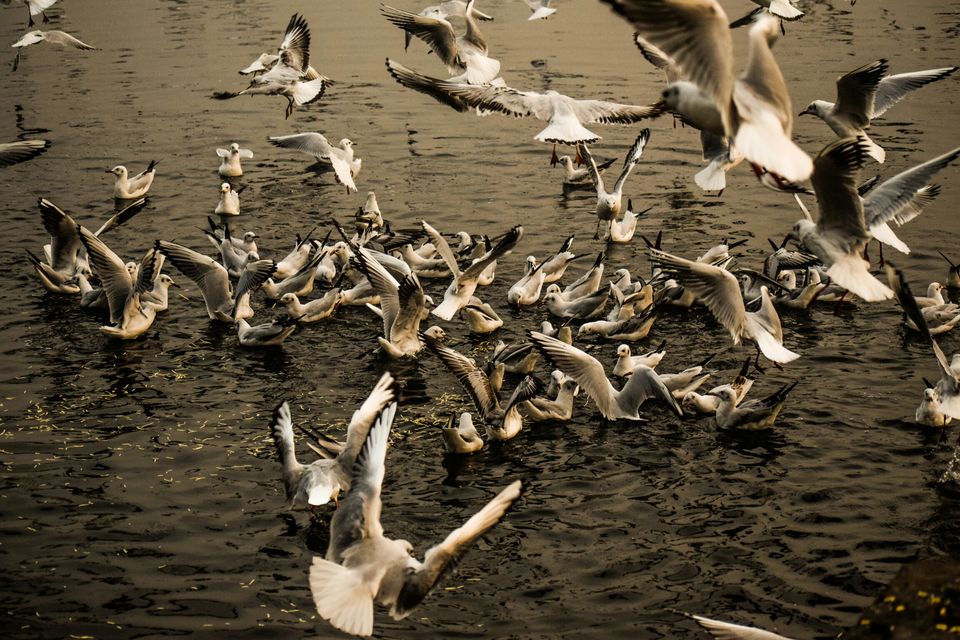 SEAGULLS- When winter arrives you can find the best photographic movement in Delhi. Don't have to go too far, just wait for the sun to illuminate the surface of Yamuna river.
In summers Yamuna's water is clearly blackish. But in winter the the arrival of migratory birds beautifies the whole atmosphere. Delhiites come to feed the birds and also to capture the beauty through their eyes.
It was chilling morning of December, me and my friend Sangam went to yamuna ghat. We woke up at 5 a.m. in the morning, got ready and left for the place. My Activa was covered with dew. As we went there it was something around 10 degree Celsius in the morning and we were shivering. As we reach there, it was dark so there was no spot of migratory birds. After sometime some 10-12 birds appeared in skein formation. Slowly and steadily the whole sky was covered with Seagulls. It was so amazing to see them, some orange duck footed birds cawing, the only sound we could hear. Boatman started feeding birds to greet all the photographers to hire their boat. A group of photographers hired one boat and went in between the Yamuna river to capture some good shots. Sangam started capturing the movement with his camera. I was sitting in a corner and enjoying the movement and cawing made by Seagulls. Slowly and steadily fog started disappearing and sun begins to appear, the view was much clearer then, I started clicking the pictures. I met some well known photographers we had tea and bun there, they invited us to have breakfast with them at Connaught place.
As any other metropolitan city, Delhiites are so busy in their life that they don't have enough time to enjoy these magical moments. People should take some break and start enjoying these movements. Life is not just about making money, people should also get out and start enjoying the beautiful spectacles.