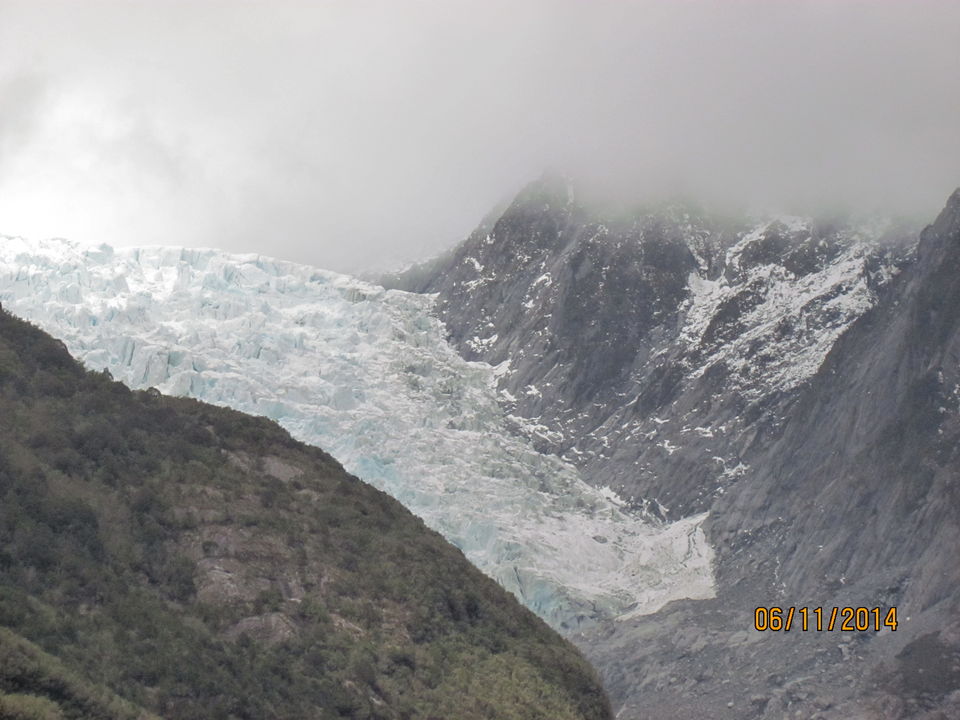 PRELOGUE..
Don't we all have a dream destination or probably destinations... Well, I certainly do and NZ had been right on top of the list.. I had heard from people, read the articles and seen the pics - of the incomparable and untouched natural virgin beauty that this country has to offer which is still at its purest and serene best!! I have always been the type who loves to go around the beautiful places across the world, experience the local culture, mainly food even though I am a eggatarian.. Some of the others with similar demographics might want to save for the latter days but thts not me! I planned for a holiday to NZ few years back but found it a bit too steep and had settled for a Far East trip...
All those who know me know that my annual vacations are really long ones... 15 to 20 days and my family-friends really wonder how do I manage to go on such sabbaticals (of course not literally) .. Actually speaking I hv been lucky to hv found bosses and now biz partner who bears thru my whims.. So coming back to this trip - I started planning around 4 mths back and the good thing is my cousin bro agreed to join me... So my princess was overjoyed and thrilled and ditto for my kid niece.. Booked the flights, visas and hotels one after the other by Aug end.. Of course, needless to say that when the trip is a long one, the itenerary needs to be really well planned and detailed ... Still it goes thru lots of alterations and aberrations.. We covered almost all of NZ in our plan barring some of the locns like Wellington, Napier, etc and not-to-be-missed-things-to-do like crossing the Cook Strait in their Interislander Cruise for travelling from North Island to South.. Even 17 days of stay in NZ was not enough for us to cover it in totallity and we had to compromise since if i had planned a day more and Shilpa would hv backed out of the trip for sure..
THE JOURNEY... Inside view of Airbus A380
On entering inside , it was like 2 jumbos combined to make one hell of a plane!!! 3-4-3 seatng seen first time I think and tht too 90 rows! Thts not all - it had an upper deck which ran all thru - from nose to tail. I could not get over the overwhelming feelng soon - till I got the food and the Asian Veg Meal was one of the worst I hv had in ages on an intl flight!!! But the servers were damn good and offered to help by givng some omelletes etc. Any ways, rchd AKL at 2 pm local time.. Again quite a simple airport ... One piece of advice... Pl rush to the immigration since they hv 20+ counters but for general visitors only 5 were functioning and the zigzag queue was a big letdown ... Not a gr8 entry into AKL ... spent around 30 mins for the process and then after collecting the bags - went for customs check. Again a word of advice - pl be truthful totally on the form u fill on the plane and also declare everythng u r carryng to the officers. If tbey find it you r in trouble ... This process took another 40 odd mins .. Huge waste of time - short-staffed and still too detailed a check. They open all bags which u say has food or shoes or medicines etc. Rest of them are put for screening or dogs sniff around. Got thru safey thru this hurdle and what was awaitng was the shoppng around for cars and SIMs ... The informatn desk is really helpful and they make calls to car rentals etc on your behalf etc - obviously its not for free- the charges are higher amd they do make a margin on the deal if v book thru them... But still quite time consuming to decide which SIM to take - data, calls?! Selected Sprint ... $29 for 1.5g if data and $10 for intl callng - around 50 mins ... Good deal! The mistake I made based on suggestn of my travel agent was tht I did not book the car from India - online.. Deals were far better and avblty was ensured.. .here at the airport, they only had good brands like Avis Europcar etc whxh were out of stock and prices were almost double.... so eventually I decided to take the shuttle which dropped us directly to the hotel for $17 per person... Good deal. For $51 v rchd the hotel in 30 odd mins by 615pm local timeAUCKLAND
Auckland City Hotel was right on Hobson Street. Hobson street is in the city centre and proximity to places like Quay street from where we take the ferries, Queen Street which has lots of hotels and good shops, then there are other streets with lots of good eateries and pastries etc. Coming back to the hotel, the entry is not grand or anythng like tht.. But the room we got was very nice ... Chkin process was very quick and efficient... We just chilled tht night... Relaxed and then went for dinner to a place called Mexicali - its a chain around AKL... till the time the girls got ready I went around for a quick reccee... I found a few options but I m glad we settled for this joint.. very good Mexican food and cant say cheap but still VFM - a dinner for $30 for 3 ... 1500 rs... Not bad!! There are lots of options to eat within a 1km radius of this hotel - subways, burger kings, italian, Mediterranean, Japanese, McD, of course Indian too... Immediaely on reaching the hotel around 9 pm we crashed and within a fraction of a second all of us dozed off like logs... Woke up straight next morning at 945 am.... Wow!!Day 2 in AKL It was yet to be decided - the plan of action for tht day - so like yday till the girls got ready I went around chkng out things... Went to Fullers - by the Quay Street.. they were damn helpful in deciding when to go for the nearby islands and how etc. Few blocks away was a NZ info centre - city branch and again spoke to them for hirng car etc... But as it turned out it was too expensive to do that for a day only.. Since I was planning 3 island tours on 2 days where car would not be needed...I had to move around the city only on 1 day ... I am not a very sight seeing type of a guy and nor is my family ... Things like zoos or museums or aquariums dont excite us. So finally plan was chalked out for our 3 days in NZ... First day - move around the city - Mission Bay and Sky Tower 2nd Day - Devonport and Waiheke island 3rd day - Rangitotu island
We went for lunch to the nearby place called Char & Grill... Served the Arabic hummus falafel etc... Nice and filling.. We then proceeded to the Britomart bus stop to take a ride to Mission Bay...
Mission Bay....
10$ for 3 of us and same for return.. It was a quaint place with cafes lined across the opp side. of the beach. Not much activity except walkng around on the shore in cold water and seeing some beautiful birds ... Had coffee and dessert in one of the cafes and it was great to hang around in one of the European style cafe.. Walked almost a km & 1/2 b4 takng the bus and once again needless to say the walk was very calming.. Reached skytower and enquired fees, timing etc.. It was $61 for a family of 4 ... Then we checked the Orbit 360 fine dining restaurant on 52nd floor with 45 mins of viewing complementary ... Condition was to have a tab of at least $40 per person... Bargain deal... !! Trouble was tht they only had a table avbl at 615 pm- cutting it too short! But decided to give it a shot... Since the hotel was very closeby and I was the only 1 among us who was not dressed for it.... Ran to the hotel, changed and came back JIT!!Views from the Skytower...
The ambience was just amazing and the view breath-taking.. The revolutions were also slightly faster as compared to The Ambassadors in Bbay... Food was just about Ok and not worthy of the price but who had come for the food!! Didnt realise when the permitted 2 hrs of meal time flew by and it was time to go to the Observation decks on 51st floor and then on 60th floor... Nothing more impressive than what we had already seen for last 2 hrs - exactly the same... !!
DAY 3 IN AKL
Today was a day for the islands - Devonport and Waiheke .. Got up early and went for my run - ran 12 kms on one of the most scenic tracks.. Came back and it was time to leave .. The ferries are avbl from Quay Street... Tickets to Waiheke are $36 return and for Devonport is $30 return per person ... But since I was doing both simultaneously I got a combo at $95 for all 3 of us.. There are ferry every 30 mins to Waiheke and every hr to Devonport.
Devonport was hardly 10 mins and it a part of the mainland connected by road as well. .. Ferry I guess is a faster option - bit of sight seeing here but nothng gr8 ... Again a quaint place like any other, beautiful villas etc.. My God, I m so gettng used to all this - wht will I do back in Bbay!!! Finished it within an hour and took an 11.10am ferry to Waiheke.... Its around 30 mins ride and immediately on steppng onto the island you knw it was worth the exorbitant cost to reach here... Lots of activities here for the enthusiasts like wine tasting, forest walk, biking, beach, ziplining etc. We wanted to do only 1 vineyard and then go to the beach.. There is a bus avbl every hour who wants to tour the entire island for $10 per person. The taxis avbl as well.. We decided to take the cab and the driver recommended Mudbrick Vineyard... She did some amount of guide job for us about the island ... Things like the official population of the island was 8262 and tht it would swell to 30k odd in summer. She offered the entire island tour for $130 which would cover waitng for Eco tour - the ziplining activity. .. But eventually we decided agst it since no. 1 it was no point exploring the beauty of this place by car and no.2 it was pretty steep an amt. Of course by foot we would not cover even 10% of the island but still it would be a gr8 experience walkng around. It was some sight this place..and along with Wine tasting, it also had a nice cafe to eat - though veg options were ltd or NIL. The wine tasting was a different experience with the server first giving complete info about each Wine... The charges were - $10 for white wine, $15 for red and $20 for premium. I selected the red and we had 5 wines to taste - starting with Rose, Merlot, etc... I wanted to buy a bottle but carryng it around for another 2 weeks would hv been tough... So hard luck! On finishing the tasting we went up and had a most amazing view of the island with the ocean and the skyline... We just could not get over the sight and kept clickng the snaps.. As mentnd above the options were not many for Veggy guys and also it was quite exorbitant. very soon into the trip we learnt tht it was no point convereturng the dollars and keep whining.. It was going to be an over the budget trip for us ... So lets get used to it and enjoy!! Have we all not heard - " When ... is inevitable, lay back and enjoy it!!" We were damn hungry by then and decided to head to the market for some food .. It was a 2 kms walk but was absolutely worth it .. we saw some mind blowing villas enroute... On reaching the market we started scouting for a good restaurant... There was an awesome looking restaurant with a very nice seatng on 1st floor but was hardcore seafood ... So no use.. There was couple of other options - both italian type and we liked one out of tht a lot in terms of ambience and food choice for us... Pricing was a bit steep but the food was worth it.. Especially the pizza was super - rissotto was ok.. We finished the grub and headed for the beach which was bang opposite and it was a nice small stretch of shore with fine white sand and blue waters
... Benches around and some exotic villas right on the sea. Hung around the beach for some time and then moved ahead to the ferry.. It was a nice 2km walk. The ferry back to Auckland city departed every 30 mins .. We got the 4 pm ferry and on landing there went to Movenpick which is right opp the Ferry Bldg. There is also an 'I' site for info next to Ferry Bldg .. The informatn centres managed by the tourism division are very user friendly and do all they can to help every tourist visiting them...including things like calling up car rental companies for booking etc and / or hotels depending on your need. Coming back to Movenpick this place has some fabulous desserts and ice creams and the $10.90 price for 3 scoops is a steal...of course compared to NZ stds. We headed to the hotel where we relaxed and then in the evg we were to meet my friend Rohit.. We decided that we will first go to some pub and chat over ... and then call Shilpa Mahek to join for dinner... We went to a Spanish pub below the Sky Tower on Elcott Street .... Good place - gr8 cocktails and Tapas ... Post that we went to Mai Thai - as name suggests a Thai joint - a very decent place in terms of traditional decor and food as well - includng the Veg stuff. Day well spent!!!
DAY 4 IN AKL
Next day we had planned to go to Rangitotu island - it is basically an island which is known for its crater like surface formed due to 3 volcanoes.. It is again a ferry ride to this island costing around 7500 for 2 adults and 1 kid. One word of caution is that there is nothing available on the island in terms of food or water.... So everything needs to be carried along with us... But all prep was for nothing since we got up at 930!! We were supposed to leave at 730... So finally decided to skip the tour and instead explore the city ... We got ready and left for doing some local sight-seeing ... Checked with the hotel for some good places to go to around the city... The city has quite a good network of buses... There is a red line, green line and yellow line. These are like shuttle buses moving in a loop on diff routes. Apart from that there are buses which run to & fro to lots of routes. There is a place called Vineyard Quarter which was around 10-15 mins walk from hotel... Its a beautiful place by the bay with lots of hotels lined up serving varied cuisines. We decided to try Urban Turban since the menu had some good fusion dishes ..
A restaurant owned and run by Indians... As it was one of the highlight of this trip that the moment we enter a shop and if the owner / manager is an Indian, they would invariably get into a lengthy conversation with us.. as if they were longing to talk to someone from back home!! This place was no different, the Manager, Sachin Deshpande, came upto us and after helping us with the ordering, spoke of how he landed up here and where he was earlier etc... It feels good!!
Post lunch we walked over to the other side of the bay where the Quay Street was thru the bridge which was being raised up whenever there is a ferry / boat passing by and after that brought down for pedestrians..
Nirav, my cousin was expected to reach Auckland that day by evg so we decided to kill sometime shopping around on Queen Street... Recommended is the Tea shop - T2 (brand from Australia) .. humungous choice of teas and other related merchandise.. Did lot of shopping from there..
Nirav reached around 5 pm and after he settled we went for a quick dinner since next day was expected to be an early start for the drive to Rotorua..
DAY 5 - DRIVE TO ROTORUA
Since Nirav did not get the room on the day in my hotel, he was staying in Hotel Copthorne (not the one opp the bay) - it was not an issue since it was just a matter of spending the night. We had booked the vehicle from this day since it was not making sense to have one while I was alone (I mean only my family) in Auckland. The car first picked us up and then we had to go and get the paperwork done at their office from where then we took off!!! Driving holiday in NZ - finally a reality!!
Getting out of the city - travelling down South, we got the first taste of the beauty of this country.. lush green expanse of land - stretching as far as our eyes can reach of either side of the road, trees lining up on the side - surprisingly all are so well maintained that they are of the same height..
Rotorua was around 228 kms which means approx. 4 hrs with stops etc but we stretched it too far and reached only by around 5.30 only instead of 2pm. Also enroute is a place of interest known as Waitomo Glowworm caves...
So, we reached there around 12ish after leaving from Auckland at around 10am. We searched for a place to grab our meal - there were 2 restaurants at Waitomo and both served very ltd options for veggies.. obviously we went to a place with max choice....... It served awesome burger, wedges, and nachos to us.. Top that with the local brand of wheat beer!! Day was made!!
The Glow worm caves by itself took around an hour or so and it was a very beautiful sight inside the caves watching millions of worms glowing in the dark, hanging by the ceiling...We got out of there and drove down with no hault to Rotorua and on seeing the town we were really pleased since it looked like a postcard picture! Went straight to the hotel, checked in and got fresh. We got two rooms with interconnecting doors so the kids had a ball running around from one room to another. The size of the rooms was also very good and the view was right opp the lake. Left quickly to check out the town but all we could check was the shop near the hotel... spent a good hour there shopping for souvenirs etc...... Finally scouted for an Indian restaurant - there were 2-3 options available. We went to a place called Indian Star... completely packed at 9pm in the night in a teeny-weeny town of Rotorua!!! Amazed and that too most of them were firangs over there..... Good food and all but the team at the hotel had a lot of attitude... not fit for hospitality industry!!
Anyways, by the time we finished food it had become damn chilly ... so we decided to let girls wait with kids while we get the car from the hotel..
DAY 6 - THERMAL RESERVE AND TAUPO
Next morning I went for a run with weather being on a slightly tougher side - temperature running low at around 8 degrees and the wind blowing quite heavily. Managed to do 7kms only but what a site it was all thru this beautiful town. Something that we shall be missing for a long time to come...
Got back to the hotel and we checked out to leave for Taupo.
Before heading to Taupo we went to chk out the Thermal Reserve at Waiotapu. It had some dormant volcanoes and hot thermal springs... Unique experience since had not seen anythng like this earlier. The Sulphuric acid-like stench is quite strong but can be managed. It would take around 45 mins to walk thru all but before that they have a thermal spring which is activated every day at 1030am. Since it was almost 10 we decided to go for that first. It is a dead volcano which if left untouched would erupt every 24 to 72 hrs.. So what they do is stimulate it everyday at this time. It is again somethng which we would not get to see in India and hence worth it. so the 45 mins tour got over and then had coffee etc and moved ahead. Decided to go for a place called Mamaku Blueberry Farms - had gone previous day on the way to Rotorua but was closed by 5... And ww really wanted to chk it out so went backwards towards Rotorua around 25kms ... Luckily was open this time around. They were havng blueberry icecream freshly made, blueberries, goosenberry jams, chutney etc. They also had wine for tasting and buying .. Good place - we bought jams chutneys etc ..too bad i kept it in the checkin baggage and hence was removed at the airport!! What a waste ?! By the time we finished from there, it was almost 130 so decided to have lunch in Rotorua before headng to Taupo. Went to the same place where we had gone previous night - Indian Star but there were many other options around it though most of them operated durng dinner time only.. One Italian place was open and decided to try that .. amazing pizzas, pastas and a very nice service since we were the only customer at that hour... Finished the lunch and headed to Taupo ... halted on the way for what had now become a routine - coffee at one of the cafes!! Maybe grab a muffin too ????
Reached Taupo and were completely amazed at the calmness that ruled the town .. it was among the most peaceful town I have been to. We had booked Hukka Falls Resort and it was a fantastic place with independent cottages for all their customers. These cottages were 2 bedroom ones with hall kitchen and porch ... superb!
We checked-in, got fresh and headed to the Hukka falls - one of the scenic places not to miss.. It was a much prettier sight than what we had in mind and once again the colour palette at display was beyond imagination.
Took snaps and headed to the centre of town for food which was on the banks of another huge river... Couple of teams were kayaking out there and the place looked amazing too..... one side was this river shore and the opp side lined up with restaurants, shops and couple of large departmental stores. There were 2 huge liquor store as well and what amazed us was the fact that the number of bottles on display in that massive area far far outnumbered the no. of people living in and around that town!! We took a Wine bottle and a quarter of Vodka as our quota for the next 2-3 days. Time for dinner then! There were 2-3 Indian restaurants and we had a good time having dal rice once again!!
Went back to the hotel - drank till late - suddenly realized that we had to get up early morning for a very long drive up North that was in store for us - close to 500 kms!!
DAY 7 DRIVE TO BAY OF ISLANDS - PAIHIA
Had planned to leave by 730 but it was almost 830 before we could get on the road. There was a place "Craters of the Moon' which we had decided to checkout in the morning but in the hush-hush of leaving and travelling a long distance, completely missed it out..... Sigh!!!
Anyways, the route passes through the outskirts of Auckland, which is half the distance. We took a coffee and breakfast halt ahead of Rotorua and then at Auckland on the e-way, took the lunch break at one of the food court. Spent around an hour & half which meant our scheduled arrival got pushed further ahead and reached the hotel in Paihia only by 530 pm or so... Scenic Hotels, Bay of Islands - not the best of hotels but yes quite a decent value for money offering....... Quickly checked with the manager who was an Indian about the things to do since we were here for 2 nights... He recommended a host of activities like visit to a town called Russell, going to Cape Reinga which is the northern most point of New Zealand and also famous for a drive on the 90 mile beach - guess not all vehicles are allowed so one had to take the designated tour to experience that, then there was a Hole in the Rock (in the middle of the ocean - a ferry would take us there), then whale watching, there are 144 islands to go and check out (hence the name Bay of Islands) - so there are cruises which take you to some of these islands etc. Apart from these, for the adventure seekers, every town of NZ has bungy, sky diving, jet rides in the river etc. So all that was here as well... Cape Reinga was one way 200+ kms and that was a huge challenge since we had just spent an entire day driving 500 kms and now another 400 odd next day - Hmm - seemed unlikely!
We decided to go to Russell that night itself so that we can have the next day completely at our disposal..
Paihia - just near the jetty Quaint town of Russell
Russell is a small, very small town on the opp bank of the place where we were - so it could either be a 10 min ferry ride or an hour plus drive.. No marks for guessing what option we took.. There are ferries available every 30 mins to & fro to Russell. We reached there around 7 and everything (whatever little that town had) was closed. 2-3 restaurants were open and it seemed as though those restaurants were quite well known - one was a sea food joint, another pub and lastly a Thai restaurant.. All were totally packed.. While there were hardly few shops and restaurants, there were houses uphill where people stayed.. What a view they would have from their houses!!! We walked around the place for a while and decided to finish the dinner since the last ferry was at 930 and there was no way we could miss that!!
We went to the Thai place and checked out if Veg food was avbl .. - yes it was! The owner took the order himself - he suggested all the dishes we had... best of the lot was sticky rice and stir fried veg in a diff kind of sauce then what I have had in the past..... Also, this was a start to my or rather our affair with Jim Beam - never tasted it so far but now it has become a part of my bar. So far, I have been a single malt person but Jim Beam ranks right up there ... For the rest of the trip as well, we picked up a bottle - post or pre-dinner.
Finished dinner a little too late at the Thai joint for 9pm ferry & bit too early for 930 one!! No choice but to wait in open bearing the sub-10 temp and winds blowing from the river till the ferry came and we all rushed in..
No one else on the ferry apart from us - but that was ok..
DAY 8 - RELAX IN PAIHIA
Next day we did what one shd ideally do when on holiday!! Roam around, relax, spend the day without any agenda!! We drove around searching for cheese factory, we did find 1 but before that stumbled upon beautiful water falls with a nice little pond.. Had breakfast at a cafe run by a very sweet old couple.. We tasted & bought some exotic types of cheese though we were not allowed the factory tour... It was raining so could not walk around but the drive was very scenic (apologies for repeating this for the nth time). We had decided not to go to Cape Reinga - the northern most point of NZ - did not want to drive another 500 kms to & fro after havng done a long drive the previous day. Not sure if it was a big miss !! Anyways we did some local shopping like souvenirs, kiwis etc.. and then did what we have been doing the entire tour - EAT!! Lunch time!! Kebabulous was the unianimous choice - awesome falafal dishes and fresh fruit smoothies and ice creams .. Awesome!! Came back to the room and chilled for the rest of the evg before havng a session of drinks and then headng for an Indian dinner.
DAY 9 - BACK TO AUCKLAND DAY 10 - CHRISTCHURCH - SOUTH ISLAND BECKONS
Landed in CHC by 1030 and was expectng to be in town latest by noon ... But it was not to be.. On landng we had a task of arrangng the car for this leg of the tour.. I had enquired for this with Go Rentals as well (whose car v availed in North). Had taken the quote and categorically informed them that if i wish to go ahead then i will get back. Pl be careful since out here in NZ the quote taken is considered as bookng so one shd be really specific. The challenge for not confirming with them was the fact that they did not hv a drop office in Greymouth ...from where we were to take the Trans Alpine train to CHC to take the flt to Bbay. We tried couple of others but they were too exorbitant.. Nikki had cfmd with Apex which was the cheapest of the lot and giving good car. Since we were still undecided about wht to do, i thght of checkng up once again with Go - to my shock they said the car was waitng outside the airport for me!! We had an argument over the fact that i had not cfmd the backng etc and he was not willng to budge - sayng my card would be charged - they had my cc dtls since i had done the north part thru them. I got really wild and asked them to chk the phone recordngs to find kut wht i had exactly said. Thats when he got a little sensible and said he will check ... He took around 45 mins to get back that i was right and hence there would be no charge if i want to cancel .- i did cancel. We closed the deal with Apex ...went to theie Airport hub and were happy with the choice since v got a better car than wht v had used in North. The guy tried to sell us the child seat citing law etc and we like seasoned travellers turned him down.. Finally by 1ish we were on the road - the next task on hand was our all time favourite - scout for food!!! We tried to test the GPS and typed 'chinese vegfood' and we got a few options in frnt of us.. One of them was Welcome - we decided to check it on the app Nikki had - it said one of the best fully Veg Chinese restaurant in CHC! So Welcome it was by majority choice - followed the direction of the GPS to restaurant. It was around 7k from airport. On reachng there we found a very tiny winy restaurant run by a Chinese uncle (later v found he actually was a Singaporean). Checked the menu and everything sounded like a non-veg dish but prepared with veg ingredients only. Soya tofu etc... And at the end of it, we were so happy with our choice that we decided to come again when we were supposed to be there for our flt to Bbay. Our hotel Southwark Apts was another 5 odd kms from there. The roads were quite narrow compared to Auckland and the landscape quite different. Also quite a dead city. Lot of construction and lots of broken down bldgs - since its an Earthquake prone city. On reachng there we were not quite happy since it was one of the very small low profile place and did not inspire confidence.. Our better halves gave us a very nasty look and our little ones went a step further - they said 'We are not staying here!' we decided to ignore both and went to the reception. Some more bad news in store - they had 5 rooms only totally and all on first floor in a bldg without the elevator!! Amazing! How would v manage our baggage thru that narrow staircase- obviously u would hv realised by now they did not hv Bell Desk!!! Anyways while me and Nikki were trying to figure out the logistics, kids went up the room and to our surprise they were dancing with joy on checkng out a very posh duplex waitng for us!! Finally- some good news!!! We got the luggage up and i did a recce of what shd we do with the remaining day we had in this city. The guy at the reception recommended going to places like Container Mall (which would close at 5 pm - it was already 330), then to a beach which was around 8 to 10 kms. Ideally we wanted to go to Kaikoura which again was a very scenic drive along the beach and had activities like whale watching etc but our planning was wrong - it was approx 180 kms one way so there was no way we cd go there - v had to give it a miss since next day we were leavng for Queenstown!!! Went to the container mall - had some trouble locating it though. Out of our entire tour, it was only in CHC that the GPS really troubled us with wrong directions or takng us to a particular place only to find that there was no sign of that place at that location. Anyways, this mall was actually made of ship containers - colourful 20 and 49 footers kept in an open ground - creative right? No constructn reqd and looked also very nice. We went in - did some window shopping and then there was Greek food being served in one of the vans.. Obviously i had to try it. On seeing the menu Mahek too was excited to have it - they has falafels and Soulvakis. We took a Veg Soulvaki and believe me it was a monster of a size!! It took the 3 of us around 20 mins to finish it....too filling, nicely stuffed with veggies sauced etc. One of the best v hv had so far... from there we drove down to the beach - that place was quite happening and also scenic.
Before the beach was a small hill on the way on which people had beautiful villas and looked amazing. The beach area had 2 Indian restaurants, few cafes, and 3-4 very nice pubs. But with kids we were not allowed in....!! And so we clicked some pics and decided to move- it was too early for dinner. We drove around the city checking out the city - what struck me was the no of old and new car dealers. Many - literally many of them - as if this town was the Car-Shoppers Capital of the world!! All of them had huge places where lots of cars were parked. I could not understand that with such a low population density who were buying so many cars!!! For dinner, we decided to go for a place called Arjee Bhaji - indian restaurant named after their trademark dish - Veg bhaji or pakoras... Almost all were firangs in there relishing Indian food... I ordered my staple - yellow dal and rice. To my surprise the guy says we do not have yellow dal .. They had dal palak so i asked them to not put palak and he can bring me yellow dal that way. The chef refused - ridiculous!!! I decided to walk. Nikki and family wanted to eat Indian so they decided to stay put. So 3 of us decided to go for a Mexican joint which had come up as an option when we were searching for lunch earlier. We reached the address as per GPS and there was no trace of this joint anywhere around. Shit!! What do v do??? Arjee Bhaji toh nahi jana tha .. So v scouted for few more restaurants but the choices were ltd there for Veggies. We were worried that Nikki might finish eating and then v had to pick up so we had to quickly decide what we wanted to eat.. So we decided to go to that area (Riccarton) where Arjee was located and search for some option. I recollected that i had seen one authentic Thai restaurant near Arjee itself ... Checked with Shilpa and Mahek - they were fine.. So we went there and enjoyed the food.. We had a long drive the next day to Queenstown- around 480 kms.. So we decided to wind up the day as early as possible. But before that we had to decide on what to do with our baggage which we didn't want to carry around for the rest of the South Island tour since we were anyways coming back to CHC - In Auckland it was an easy decision since we were checking in back at the same hotel - so we left our excess baggage there. Here it was not the case, since we had not got the booking at this hotel. We had to scout for one!! We did surf around and then finally zeroed in on a place called Roma on Riccarton ... .The basis of our decision apart from cost (was important since we needed something only to sleep for 5-6 hrs) was the fact that he offered us pick up from CHC station (where we would alight from TransAlpine Express). So, we were sorted!
DAY 11 - CHC TO QUEENSTOWN
The next morning we checked out and drove down first to Roma on Riccarton. We were around an hour behind schedule already. We left our luggage with the reception quickly and got on the road for a long drive. The drive from CHC to Queenstown was quite different than the North island... Terrain was largely plains and saw lot of farming activities (automated though). More than half the journey passed and the landscape was the same beautiful plains... Suddenly the scenes changed and we could see the snow clad mountains - Mount Cook, right on the opposite banks of the blue crystal like Lake Tekapo and Lake Pukaki - .what an awe-inspiring sight!!
ON reaching Queenstown, we started hunting for Spinnaker Bay - the service apts which we had booked. It was not too far from the start of the town and saw its sign on the LHS of the road. We took that left and were shocked to see the descent!! I mean no wonder this place is called the Adventure Capital of the World - and adventure started for us right from this moment!! Getting the car down the twists and turns of that sharp steep descent. And the kind of appetite we have for adventure, this was already too much!! Imagine climbing this back up and what if there is a vehicle coming downwards at the same very moment!!!!! Gone..
We were wondering where the hell will there be Lake view Villas in here??!! But we were wrong, on reaching down we saw few villas lined up. Before we could get a glimpse of what was in store for us, there was one final hurdle which we had to cross - in this narrow space parking the car inside the garage allotted to us!!! Gosh - it was a killer!! Anyways while I was doing it, the rest of the gang went inside and came exhilarated back, especially both the kids - shouting and wanting me to go have a look at it!!
The main door opened into a nice passage to keep umbrellas, remove shoes, a closet etc... Then there was a nice big room with sofa-set and TV on one side and open space with hearth on the other. This side also opened into a balcony. The entire wall of this room was of glass, providing a mesmerizing view of the Lake Wakatipu and right behind that the snow-capped mountains. We were told at the reception that it had snowed previous night on the mountains.... Coming back to the layout of this villa, the other side of the initial passage opened into a dining area which further led to a self-sufficient kitchen... From the passage itself, the steps took us down to the 2 master bedrooms ... Really nice!!
While it took us a while to get used to this luxury, it was already 630pm and every one was very hungry. We looked up on the Queenstown informative magazine lying in the room and found 2-3 places for Indian food. Since everyone was tired, we decided that myself & Nikki shall drive down to the market and pick up dal rice for all. We went to the city marketplace & found couple of joints - Tandoori Palace and another called Bombay Palace. We saw lot of crowould in Bombay Palace and felt that this might be a better bet. It did turn out to be - awesome food... Slept early that night and had kept the next day for relaxation.. wanted to move around the town and check it out.
DAY 12 - QUEENSTOWN
I started the day with a good 12km run and then we got ready and hit the market. The central area is very well planned with nice shops and cafes and restaurants located along the lanes & by-lanes. One part of this area is for the adrenalin junkies - the ones who are here to experience adventures of their lives ..Some shops were specific to a particular adventure like Bungee or Lord of the Rings Tour while others were kind of agents - booking whatever you wanted to do. We just gathered info about various places to go to like Milford etc and decided on how were we going to do it. Basically, we kept moving around that day without doing anything specific.
Shopped some clothes for Mahek & Shilpa from a place called Glasson - the only affordable store in Queenstown.
It was lunch time soon and we went to a Mexican place - Sombreros!! Nice décor which was apt for this cuisince. One lady took the order, served water, helped one chef as well, then served the food, made the bill, collected cash, cleaned the table ... uff!! I got tired just listing it down here....... Imagine she was actually doing it all!!
For dinner we went to a place called FergBurger... I mean that place seemed like a mecca of burgers!!! Not just the crowould there, but if we visit any info site or food site or any other damn site whicih spoke of what to do in NZ, they all spoke so highly of this place.. And then when we saw the crowould, the graffiti, the pictures - it really was a landmark place! It was a very small place compared to the hype about it but definitely very orderly and process driver.. People had to queue up, pay for their order and then wait for their token no. to be displayed. During this time they either had the option of searching and occupying a place to sit or stand infront of the 'assembly-line like' system of these guys making various burgers... I preferred watching this process.. 4-5 guys non-stop were busy putting diff patties on different buns with different toppings and not making any mistake (supposedly) depending on the orders reflecting on each of their screens!! Of course, this place is not for the purists since what I saw was that the guy made a beef patty burger, cutting the bun with a knife and then next order was ours for which he used the same knife!! So, pure veggies, avoid this place! I & Nikki didn't mind it and we made sure that we didn't tell our better halves about this. The burgers were quite different to what we have been having so far.. juicy, tastier and worth all the hype and effort!
DAY 13 - MILFORD SOUND
Milford Sound was at quite a distance around 250 kms one way from Queenstown and we were really contemplating taking one of the tours where u go in a very comfortable bus, do the cruise and come back easy... We spoke to multiple companies who were doing it and all had diff prices dependng on the comfort of their buses, glass roof or no glass roof on their buses and duration of cruise....starting from around 25k for us 6 people to about 40k I guess. After lot of thought we eventually decided to drive down ourselves and believe me it was a wise decision .. While the distance was long but it was not at all tiring. Couple of spots where self-drive was once in a lifetime experience (which v would hv missed if v had gone in a bus). And the usual perks of self-drive like stopping wherever we felt like and also not hvng to follow someone else's schedule to depart or get back... And ofcourse the best part - turned out to be half as expensive - so saved some $$$. There is a place enroute where everyone halts - the mirror lake - the water somehow shows a distinct reflection of treet shrubs etc growing on it. While this did not excite me much but the short walk from the car park to the spot was very picturesque.
Drive to Milford Walk to Mirror Lake We reached the Milford Sound in less than 4 hrs with some 45 mins for departure of the cruise which v had decided to book.. So while i went to get the tkts booked these guys ordered lunch at the only cafe. Very ltd options and even lesser for us.. V had some potato soup and croissant and some pasta salad. Soon it was time for departure of the cruise. The boat was double deckered with very luxuriously laid out sofas on the top deck and nice open space as well. The weather was superb and the scenic beauty amazing - it was cloudy and with waterfalls between some of the gorges made for an awesome viewing. The lake was huge and hence various boats on them at various distances appeared like toy replicas ... . The cruise was of around 1.45 hrs. At some spots they took us very near the forceful water fall ... in a manner that the sprinkles / drizzles out of the fall would reach us on the boat. The attendant asked us all who wanted to, to step out on the open deck and experience chilled water and that too at quite a force falling on you!! At one end Milford Sound opens up into the Tasman Sea and that could be a 8 hour cruise to Australia as per the attendant. We returned back to the jetty and decided to drive back asap to Queenstown since there was nothing much here to do.. Once again the drive was amazing - certain spots which we missed in the morning while driving to Miford Sound caught our eye now... especially once we were nearing Queenstown and the lake drove along with the road to make it a very picturesque setting. Reached hotel by around 6 pm and that night went again to that Mexican joint for food...
DAY 14 - Parasailing and Wineries
Our last day in Queenstown - Nikki wanted to do some adventure ride at least - nothing fancy but something. SO he zeroed on the parasailing! I said C'mon ... go all the way to NZ to do this! And that too at an exorbitant price compared to what we did in Bangkok or Goa.. With lot of convincing I agreed to do the same. It was just ok with the only exciting part about it was that the family of 3 could do it together at one time - so finally gave into the pressure and went for it. OK.. good fun...
From there we went on the tour to wineries on our own. We went to 2-3 of them, tasted at one of them - GIBSTON. Shopped souvenirs, soaps etc from there as well. Drove around the place and finally got back home.. had dinner at Bombay Palace again.
DAY 15
Next morning was a time to bid adieu to Queenstown - but before we did that, we all decided that next NZ trip would be only to Queenstown.
We were to drive up to Franz Josep Glacier where we had decided to spend 2 nights - and had not done our bookings from India... We did that on the last day of our stay in Queenstown. Spoke to couple of places and decided on JAG Escape Retreat... Looked nice - once again cottage based living.
Drive from here to Franzjosef was around 5-6 hrs long. The journey was thru a town called Waiheke which was around 70-80 kms from Queentown. We started going uphill and in no time we reached a very good height and it was beautiful to look at the road below... Narrow roads, twists and turns, upward and downward slopes and in no time we hit the town of Waiheke... very peaceful with an array of hotels, cafes etc lined up on the opp side of beautiful lake. We were hungry (as usual) ... some of us had subway and others the Turkish roll (Falafal) .. There was also an amazing designer cake shop - really super
designs... some pics attached.. that is a cake
We took a red velvet pastry from there and hogged away in no time. Moved around the town took some snaps and then we were back on our journey. The road now was not all that scenic for another 60 odd kms and that was making me sleepy!!
Kept on at it till it was lunch time - but the sad part was there was no town in sight. We got one finally but even that had only one café with literally nothing to eat!!
We saw a board saying "The road ahead at about 30 kms from here could be jammed due to work in progress" That was the last thing we wanted and especially when we were hungry!!
Anyways got out of that place and kept driving - the road work was not all that bad, it hardly took us 2-3 mins to move past that. But that's what amazes me!! The planning they do and the care they take is amazing! They could have not put this board 30 kms away and we would hv not complained or even realized since we, in Bombay hv massive jams or digging 2-3 kms away and no one bothers to inform people about the same - it could save so much time and hassle if we know of a jam so we can take alternate routes!! But that's not going to be - its India we are talking about!!
Soon after, we saw a town approaching and decided to get into it... there was a restaurant. We immediately got in and checked out - veg food was available though ltd options - but yes, it was. Nice place - again lot of local people gathered mostly in 2s for a quick beer - yes, in the afternoon!!
The town had some history of well known hunters of land and sea - their pics (with their prized catch) hanging on one of the wall and all around were heads of antelopes, deers etc!!
Finished lunch and headed to Franz Josef.. we were told Fox glacier and Franz Josef are absolutely close - around 20 kms or less. But we were in for an unpleasant surprise!!
Reached fox glacier and believe me (as we had heard) - this town was smaller than the housing society I live in. Yes, I mean it. And I don't live in a big hsg society!! IT comprised of 4-5 shops, couple of hotels and that's it - that was the centre of town and then few hotels far and wide.
The drive from Fox Glacier to Franz Josef was expected to be quick but this was the unpleasant part I was referring to- it took us almost 1.20 hrs!! We even had trouble locating the hotel! It was almost at the far end of the town .. again this town too was not very big.
But we were once again happy with the place...
Right side of our cottage
beautiful cottage from where we could see the glaciers on one side as soon as we stepped out of the main door on to the porch and lush green fields on the other! This retreat was being run by 4 people - husband wife son and daughter in law! We were too tired that day and hence decided to eat our ready-to-eat stuff and call it a day.
DAY 16 - FRANZ JOSEF
Next day morning we visited the Franz Josef glacier... actually there was hardly glacier at the foothills and going on top was an expensive affair - we didn't want to spend 35000 on a 15 min helicopter ride!! That included the time to get down on the glacier to play in the snow! The lack of snow on foothills was due to onset of summer and at the same time the glacier had receded in the last few decades - thanks to global warming.
So we took a healthier option - a walk to the glacier- I mean as close as we could get but still at the foothills!
It looked quite majestic standing there and had a very good time. Came back and had awesome lunch at The Landing. Before that we had a few muffins and a small pizza at a nice little bakery - both these places are right in the middle of the town.
Came back to the hotel by around 330 and I went for my last run in NZ at arnf 430. Had a great time - first time ran on the National Highway and did 19 kms in about 2 hrs. Came back and sat for a round of drinks and snacks -did some tp before going for dinner - King Tiger it was.. .the Asian food joint. The manager was a young Indian - infact from Bombay. Good food and definitely recommended.
Day 17 - Greymouth to Christchurch - TransAlpine Experience!
Next day we were to leave for Greymouth and from there take the TransAlpine Express to CHC... late night we got a msg from them saying that there was some problem on the track between Grey Mouth and Arthur's Pass and hence they would take us in a bus to Arthur's Pass and from there we could hop on to the train. Nothing changed in terms of timing etc. But only thing we missed was part of scenic journey.. couldn't help!! So we started around 9am to reach Greymouth by 1130 and drop the car there.. did it on time and left the car, drop our bags and waited for the bus! The journey started and it took us around 1.30 hrs to reach Arthur's Pass. It was not something that we could really admire - or nothing great to talk about... The train was waiting there for us and it was a unique experience ...
I mean I had not been on this kind of a train before. Once it started, the beauty all around was also quite amazing.. Did not realize when we reached CHC..
We called up the hotel and the guy came to pick us up... reached hotel and settled. We went to a mall which was around 1.5 kms walk from the hotel and it was quite a huge one. Moved around for an hour or so and then went to Arjee for food.
DAY 18 - BACK TO WHERE WE BELONG!!!
Next morning we had to leave by 5 am for the flight to Bombay... which we did. Inspite of 19 days of holiday, I was not happy going back - I never am! It was the end to one of the most memorable holidays I have had - in fact it probably is the best! But, yes, all things, good or bad, do come with an expiry date!! CHC to Sydney to Singapore was quite smooth but on reaching the gate of departure of our flight to Bombay from Spore - I literally was in 2 minds of skipping the flight!! I mean first of all I knew it was going to be one of those small 737s and then I saw the crowould all around - seemed like it had reached lalbaug or bhuleshwar suddenly!! One of the worst 5-6 hrs of my life!! Anyways, even this, like the good things, did end and we landed safely in Bombay!! End of the sojourn!! To close this really long log account of the trip, lets summarise the highs and the lows of this amazing holiday i have had since African sojourn...
HIGHS...(in chronological sequence) 1. T2 terminal 2. Flying aboard the Emirates A380 from Brisbane to Auckland 3. Amazing villas, houses all around 4. Runs in various cities 5. Nice cold weather 6. Clean well-planned beautiful serene small towns 7. Drive all thru.. the most picturesque experience 8. Queenstown 9. Queenstown & Franz Josef stay in villas 10. TransAlpine 11. Walks around the AKL city 12. Vineyard Quarter ... By the bay! 13. Impromptu halts enroute for coffees, wineries, snacks or to just soak in the beauty 14. Milford Sound - the drive to the place and cruise itself.. 15. Hukka falls at Taupo 16. Souvenir shopping!! 17. The high altitude drive from Queenstown to Fox Glacier 18. View from a 'Lookout point' at Piha beach and the wind which was literally blowing us away!! 19. Getting caught by Police on a drive from Christchurch to Queenstown for swerving towrds the right side of the road!! Of course a high ... Got some adrenalin pumping since we did not do any adventure rides!! 19. Pizzas at Waiheke, Shortys at Twizel, The Landing at Franz Josef , falafel at Chargrill Auckland, Kebabulous at Paihia, Turkish kebabs Queenstown, Greek food serving van in Container Mall Christchurch 20. Indian food at Bombay Palace Queenstown 21. Thai food at Russell 22. Pastries Icecreams ... Yummmmm!!!
Journey back home, especially the CHR-SYD sector and worse was the Spore-Bom sector
Now let me summarise the itenarary itself ... Day 1 - 950am flight from Bom-Spore-Brisbane-Auckland .. Total of 21 hrs Day 2 - Reach Auckland hotel (Auckland City Centre) by 530pm- 6pm AKL time Day 3,4,5 - stay in AKL. I had to since my cousin joined us later... But had lot to do in AKL itself Day 6 - drive to Rotorua ( 4 hrs)- stay at Sudima Lakeview Day 7 - to Taupo (under 2 hrs) - stay at Hukka Falls resort Day 8 - drive up North to Paihia, Bay of Islands (8-9 hrs).. Stay at Scenic Hotels Day 9 - stay in Paihia Day 10 - back to AKL .. (4 hrs) Day 11 - flight to Christchurch .. 1.3 hrs - stay at Southwark Apts Day 12 - drive to Queenstown (8hrs) - stay at Spinnaker Bay Apts Day 13,14,15 - stay at Queenstown Day 16 - drive to Fox/Franz Josef Glacier (4-5 hrs) - stay at Franz Alpine Retreat Day 17 - stay in FZ Day 18 - drive to Greymouth .. Drop the car. Take Tranz Alpine train to Chrstchrch.. 4 hrs - stay at Roma on Riccarton Day 19 - flight at 720 am to Bombay via Sydney Spore...