Have you ever starred at a postcard that has this amazing picturesque landscape and wondered if it's real? Well, you will get the answer in this blog! Keep reading!!!
The idea of a road trip is always exciting isn't it? A car of your own, music of your choice, breeze hitting your hair Lush greenery on either side of the road, cattle's grazing to their hearts content and iced mountain peaks. Doesn't it sound like a picturesque landscape? Well, it's a reality in New-Zealand. They say NZ has more cattle's than people!! What!!
When we wanted an epic road trip experience we couldn't think of any other place than NZ. They say a road trip in New Zealand shouldn't be the first one you go on because it spoils you rotten. It offers so much that any other road trips you might take in the future just leave you hankering for more. But still we decided to take this risk! ;)
We ventured into this journey from Australia. More on our Australia travel please visit my blog on tripoto. We decided to cover 2 major cities, Auckland and Queenstown in NZ. We flew into Auckland from Melbourne through Air New- Zealand, which is around 4.5 hrs and since NZ is 2 hrs ahead of Australia you kinda lose time on hand literally. Being an Indian we need visa to enter NZ which is an easy process to apply for.
The flight entertainment has useful videos on driving tips in NZ which is worth looking into as it provides lots of information on driving in NZ roads. PS: you drive on the left side of the road just like in India.
Few imp tips:
-Do buy a sim-card as it helps to venture on your own.
-Try to exchange currency in the city than at the airport as city exchange centers offer better rates.
- Buy travel insurance beforehand that will cover you for the entire trip. We opted for 1 cover travel insurance.
We landed in Auckland late evening. There is lot of options to reach the city like Sky-Bus that costs around 18$ PP, taxis and discounted taxis that really works out cheaper (cost us round 35$).
We had booked 2 days stay in IBIS Budget. Though the rooms are very small, its budget friendly and centrally located. Being Indian food lovers we found many Indian restaurants to opt for. Saving tip: They provide a free bowl of rice with every curry you order making it cost effective. The lunch combos are also money's worth.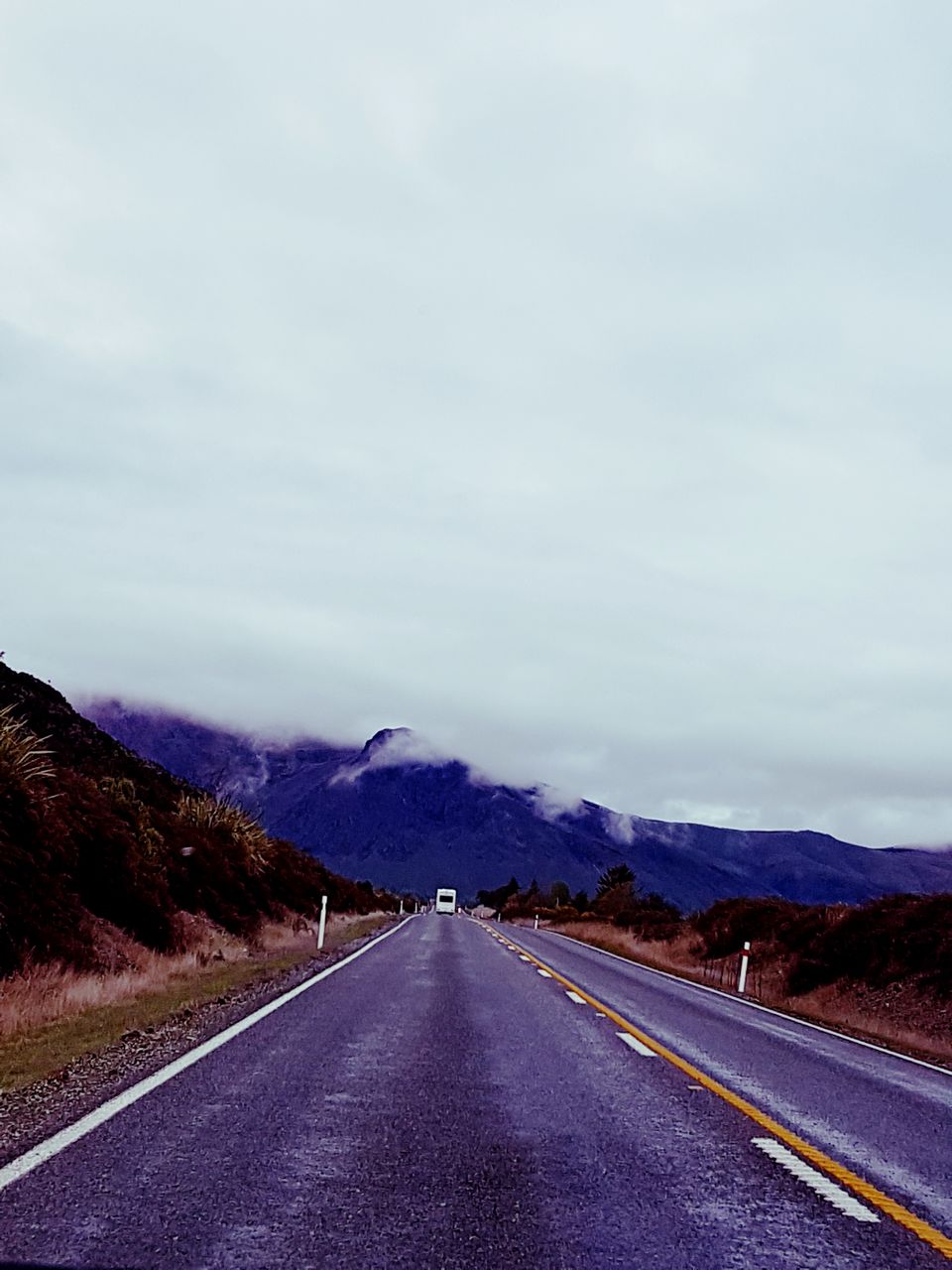 DAY1: We decided to conquer Auckland by foot as that's the best way to know the city. Known for its Polynesian population and Maori language, Auckland is situated in the north side of Nz. Home to beautiful harbor, volcanic hills, beautiful views, hilly roads, food streets it brings out the vibrant side of life.
The iconic Sky Tower standing tall in the city center is an exciting hub to many adrenaline activities. We decided to do the Sky-walk which was a life-time experience for us. To walk on a 2mtr walkway (on a full body harness) with spectacular Auckland view at a dizzying 600 ft high is all money's worth. The guide was really sweet who made us do few challenges that really got my blood rushing to all my body!
We rented a car from thrifty Auckland for the rest of our journey. We had booked it online prior our travel
DAY2: Finally the road trip started! We checked out of IBIS and headed towards Rotorua. Since we started our journey early, we took a stop-over at Hamilton town and visited the beautiful Hamilton Garden, home to verdant greenery themed garden, walking tracks and beautiful mirror lakes. A must visit if you are a garden lover!
Before reaching Rotorua we took a detour to Matamata, in the Waikato region where the Lord of the Rings movie set is based. If you are a Lord of the Ring fan like us, then you better not miss this guided tour which gives you a real time feel of the movie. With interesting facts and hobbit homes, you will definitely re-live the movie again. Don't miss the Butter beer!! Lot of information is given about the movie that really astonishes you.
Finally we headed towards Rotorua and checked into the Four-Canoes hotel for 2 nights stay. Locals joke that you can smell Rotorua before you see it and it's true. The town is famous for its sulphur pools and bubbling geothermal areas and you can smell the sulphur EVERYWHERE!! Checked into the hotel went for a small walk exploring the beautiful small city and relaxed for the day.
DAY3: We headed towards the Wai-o-tapu Geo Thermal Park. It's a stunning wonderland of geo-thermal activity. Though the weather wasn't that supportive with rain showers we still managed a guided tour that gave us amazing information on the volcanic eruptions caused due to movement in tectonic plates. A pool of different color manifestation alongside the steaming geysers is a delight to watch. Don't miss the champagne pool with orange, green and metallic outlines which looks unrealistic but true. Then there is a devils bath, a cloudy green color lake that changes color with the wear. All in all a visit you will not forget for a long-long time. We were also lucky to get a live demonstration on how the eruption occur using artificial substances.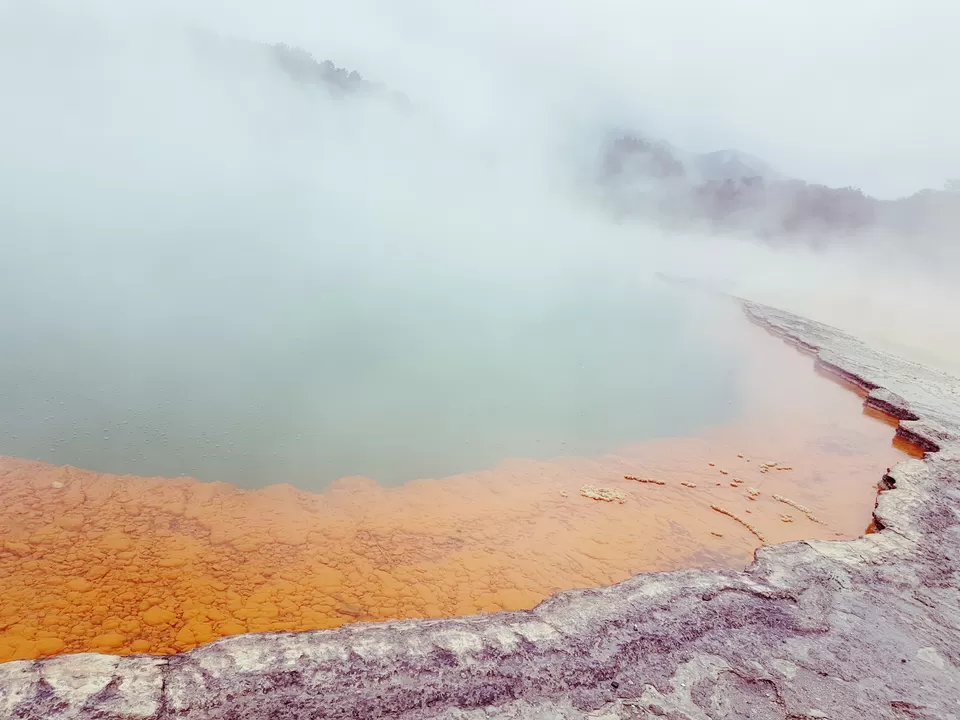 After satisfying our hunger with some Indian tadka, we decided to spend the rest of the afternoon walking around the absolutely dreamy Redwood Forest. The Redwoods are home to tall trees and boast of dozens of walking trails. Trees always give some positive vibe and these being some 1000 years old were giving so much life to that area, literally. There are as well plenty of mirror lakes around like the blue lake, green lakes that are really breath-taking and free to explore!!
All this driving wanted us to taste some wine and what better than a Wine tasting session @ the Volcanic Hills Winery that goes via a gondola with a stunning Rotorua views and different wines for our taste buds. Thanks to Mr. Johnny Rainbow for taking us through the wine culture and 5 different wines to taste from. With Rain God happy we decided to head back to our hotel after a good dinner and rest.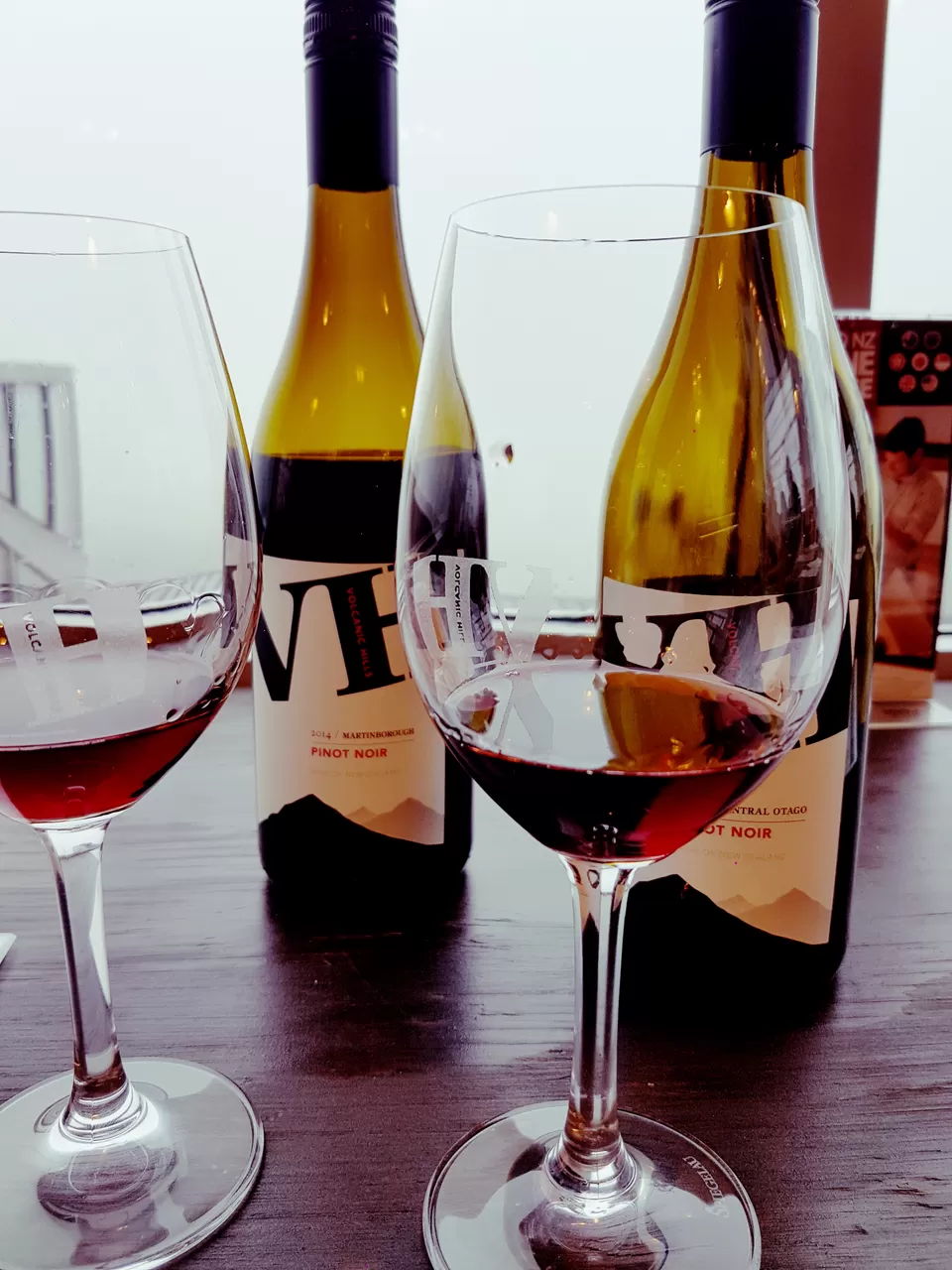 DAY4: With a flight to Queens-town we decided to spend the morning at the Polynesian spa for a healing mineral water spa told to be an elixir for ageless beauty. With various options of pools-we opted for a tiny private pool overlooking the panoramic lake Rotorua at a reasonable rate of NZD29 for 30 minutes.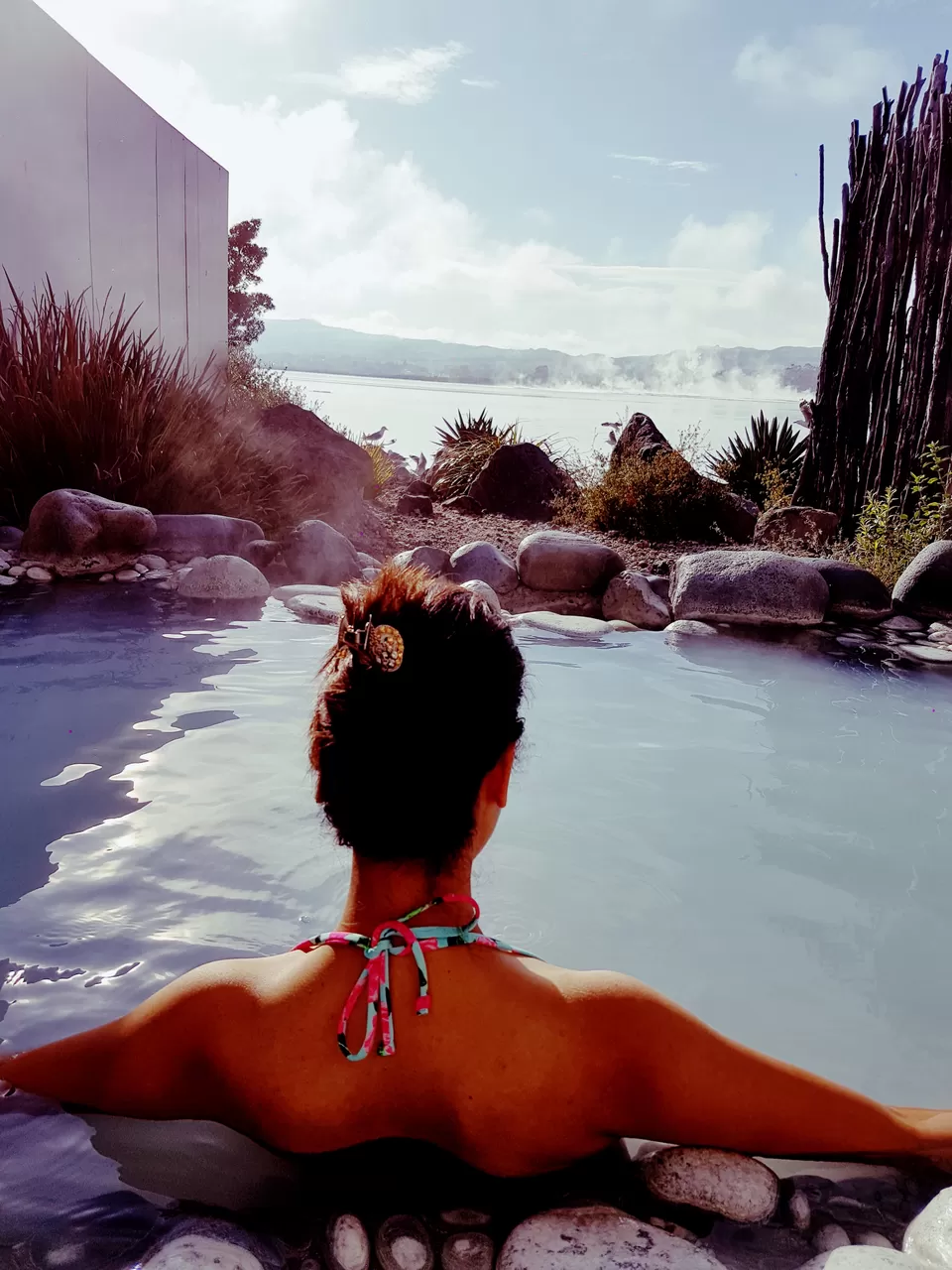 Headed back to Auckland airport to fly to Queenstown set against the dramatic Southern Alps. View from the flight is enough to get a head start on what is stored for you in Queenstown. Known as the most beautiful place and place for all the adventure junky, your NZ visit is not complete until you visit this heaven on earth.
We rented the car from airport so that we can start our journey immediately. The drive from the airport to hotel was just breathtaking. The Wakatipu Lake on the way to the hotel and the Alps behind it will keep you hankering for more. We reached our hotel Revear's Lodge and checked in. Evening we decided to go for stroll as the weather was really chilly and binged on some beer and yummy Indian food.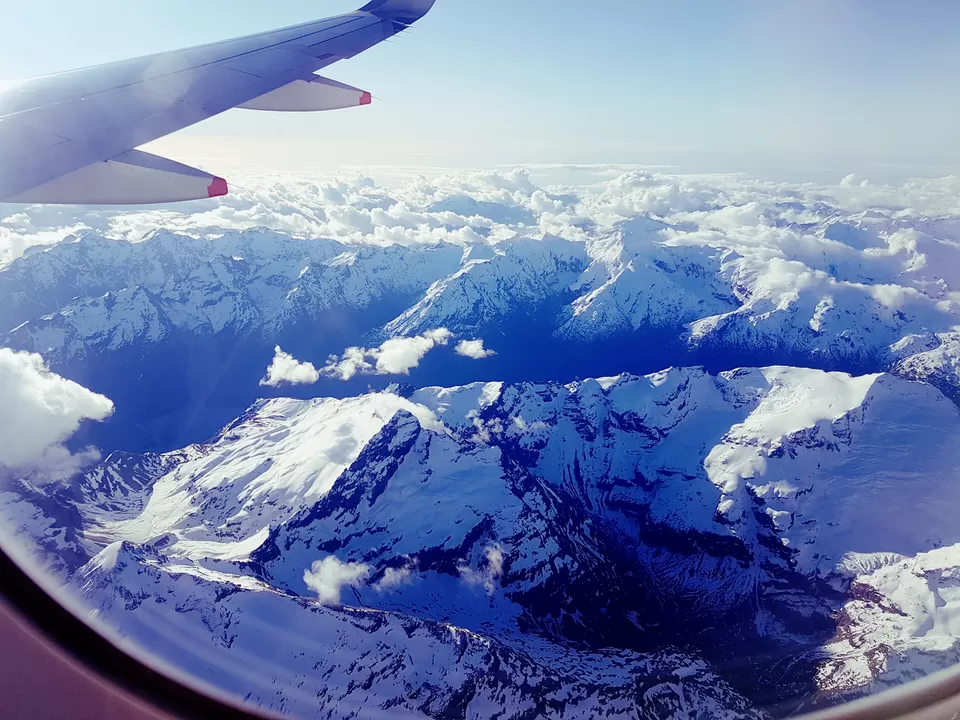 DAY5: Another gorgeous day, another city of NZ. We had our breakfast in the hotel as it was complimentary and headed towards Glenorchy Lake. It's one such drive that shouldn't be missed. One of the best scenic drives you will experience. The grand landscape you will encounter and you will know why! We had coffee in one of the cute cafes there and it was worth all the drive. In return we took a detour towards Lake Moke and had our lunch there which we had parceled. Best picnic spot for a nice quite lunch.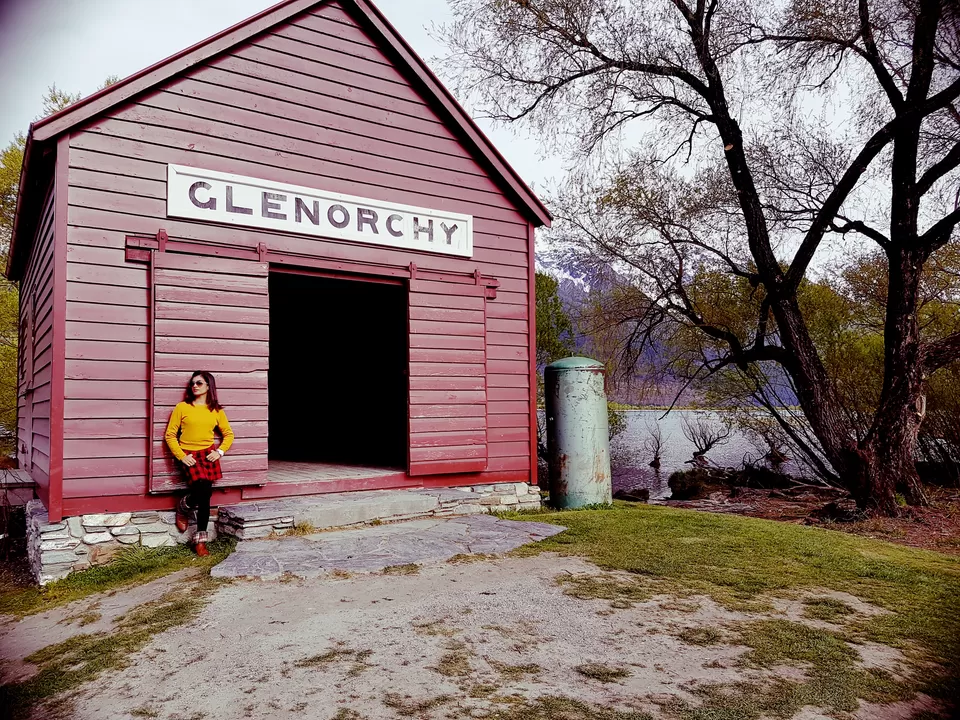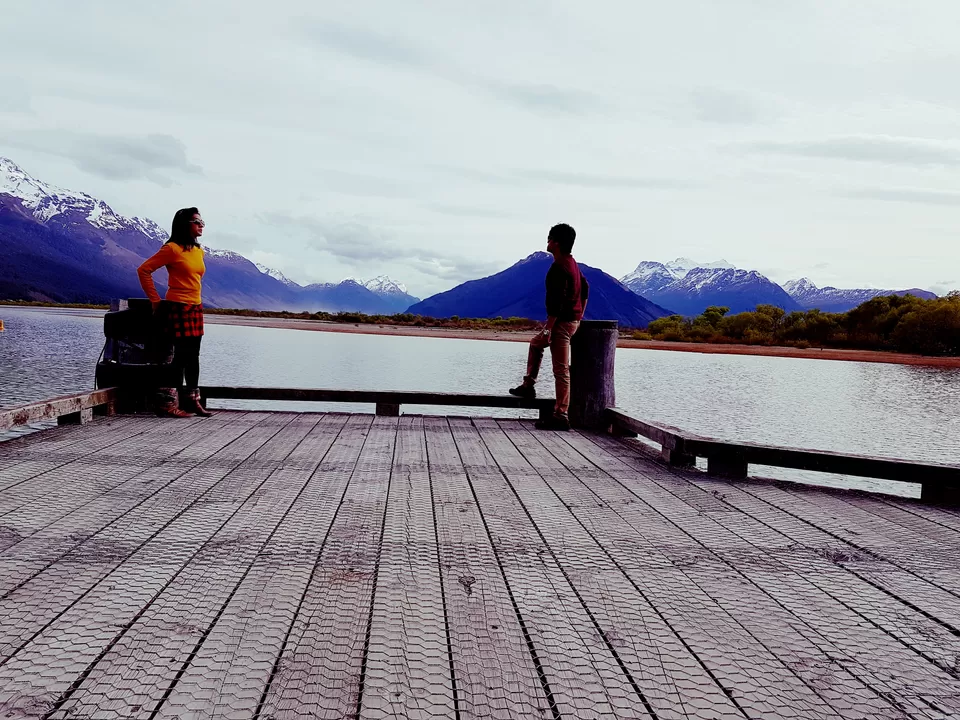 Evening we headed for a unique bar called minus 5 Ice bar. They maintain a very cold temperature where you are given 3 drinks and can stay max for 20mins. They also provide the entire required clothing accessory to keep us warm. It was indeed a unique bar experience. We also tried our luck in one of the casino's, though wasn't that lucky there. We took a nice evening stroll along the small lanes of the town that has its own charm to offer
DAY6: Another beautiful day, more places to explore. We took a breath-taking drive on gorge road up to Coronet peak, which is a detour before heading towards Arrowtown. The drive up to the peak is really beautiful. Need to be careful because as and when we move up towards the peak, the clouds covering the roads give a very little vision to drive. But once you reach it's all worth it. Since we were visiting NZ in spring, we didn't get complete Ice-covered Mountains but still we did get to play around a bit with the snow. It's really cold and windy up there so make sure you are well covered.
On the return journey we just drove along the scenic road towards arrow town with cattle's gracing to their hearts content and enjoying the view along the journey. We returned back to Queenstown, took some rest and in the evening headed towards Lake Wanaka.
Queenstown to Wanaka is a small drive, but that's the one that will take ages as you will be compelled to stop everywhere to take pictures. Make sure you take the crown range route as it offers a beautiful view. Wanaka is a small town easy to explore on foot. Lot of restaurants and bars along the lake provides a good time to spend. The lake is quite huge which offers glistening waters and ice-capped peak views. There are also a lot of trek tracks which you can definitely try for. We drove back to Queenstown and rested after a long drive.
Day 7: For the most awaited destination, we saved the best for the last. The Milford Sound experience is a must visit for all the travelers to NZ. Since it's a long scenic drive , leave early so that all the pit-stops can be enjoyed. Milford Sound was referred to as the Eighth Wonder of the World by Rudyard Kipling, so we had high expectations from it. As with everything else in New Zealand, it delivered!!
TIP: Get your fuel filled up at Te Anau it being half way to Milford sound as there is no gas station after Te-Anau. As you closer into Milford sound, you can see the jaw-dropping views of the Fjordland. We had booked for a after-noon cruise which allowed us to get up-close and personal with the water-falls, sea lions, and the undoubted scenery around. We had booked a stay in Te-Anau in Fiordland national park Lodge. There are many pakes around which can be checked out. We visited the mistle-toe lake and drove down to the town to get some food and relaxed for the day.
Day 8: we took the return road towards queenstown as we had a flight to catch for Sydney and back to our home in Abu Dhabi.
New-Zealand was a special trip for us for many reasons. It was our 1st road trip, exploring every bit of the country by ourselves was really an over-whelming experience. Due to time and budget constraint we could cover only this much but we have promised ourselves to be back here and explore every bit of NZ.