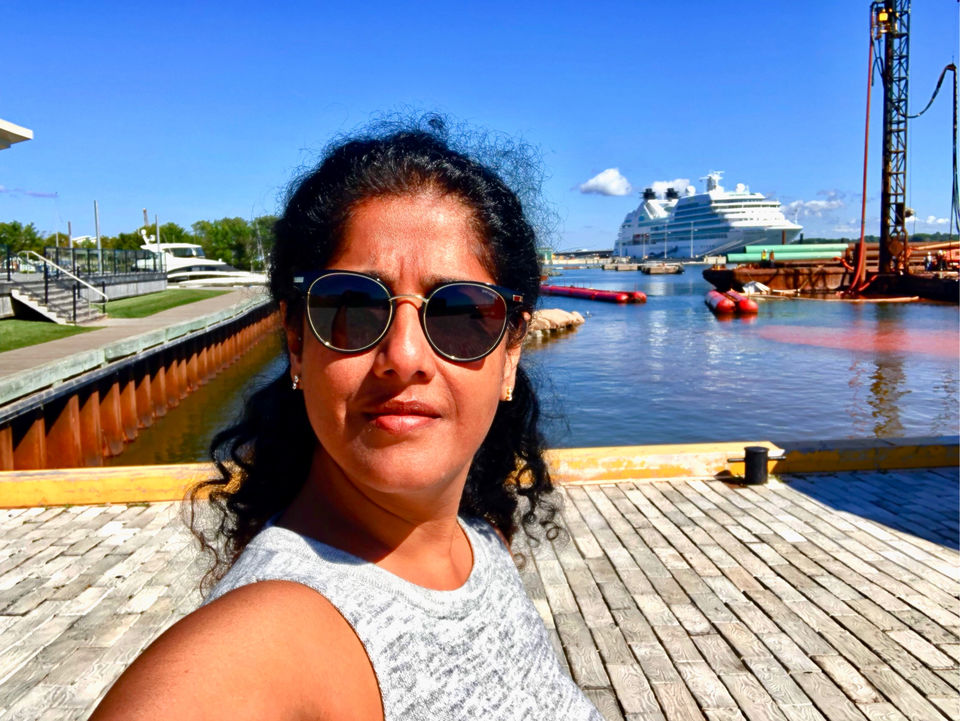 Day 1 .
244 kms from Bronxville( New York ) to Albany .
Pleasant drive to Albany to visit Gayathri Naidu.. she just got back from China last evening but took the day to show me around Albany .. I can imagine how exhausted she must be .
So Albany just happened and I didn't really do any reading up like I usually do .
So when Gaya said that we ll do lunch at downtown and then see some sights , I didn't know what to expect ..
The State Capitol building came as a surprise . It's grand and subtle at the same time . When I saw the Great Western Staircase my jaw dropped . Pink stone and intricately carved . It's just stunning .
Dinner at Saratoga Springs at the golf club with Rajesh and Meg ..
Need to come back again . There's so much to do around here ..
September 2018
#goldfishtrails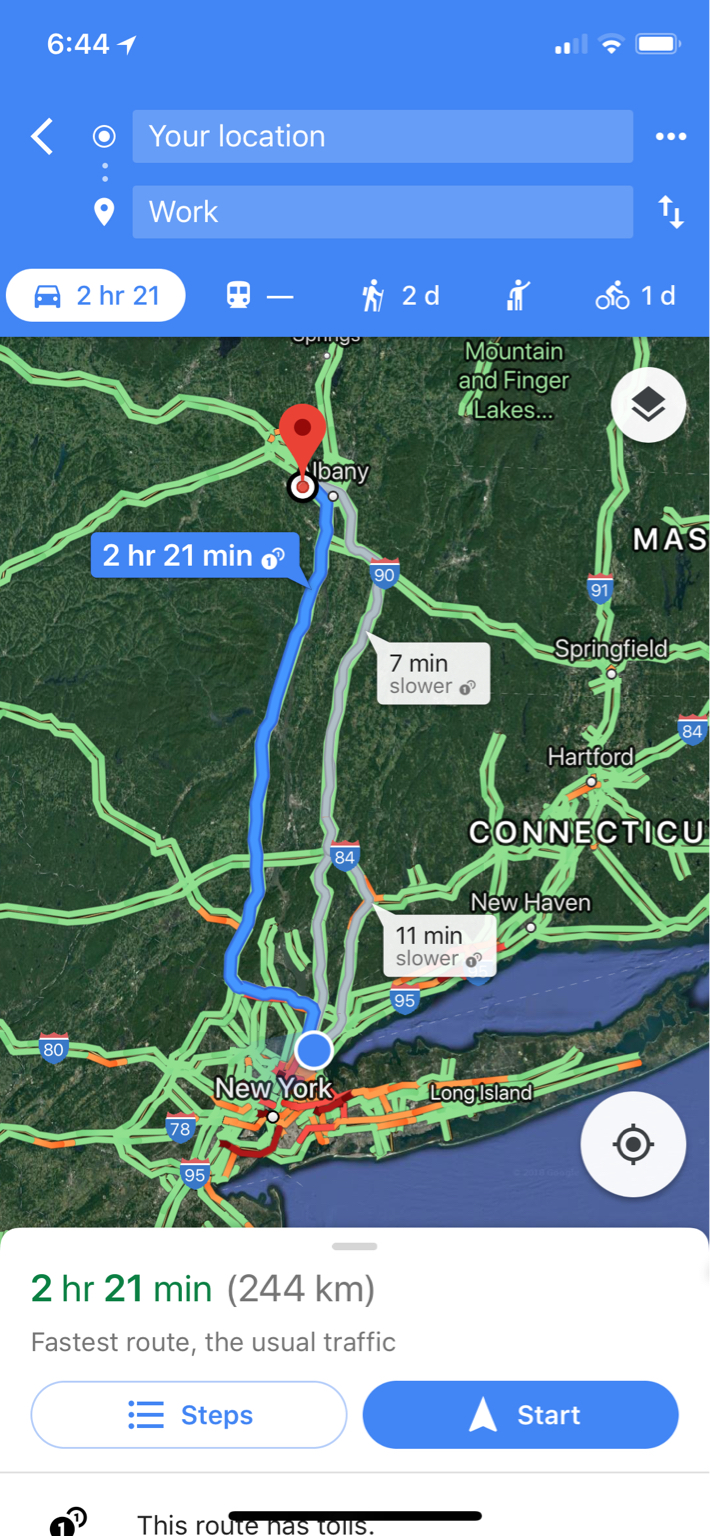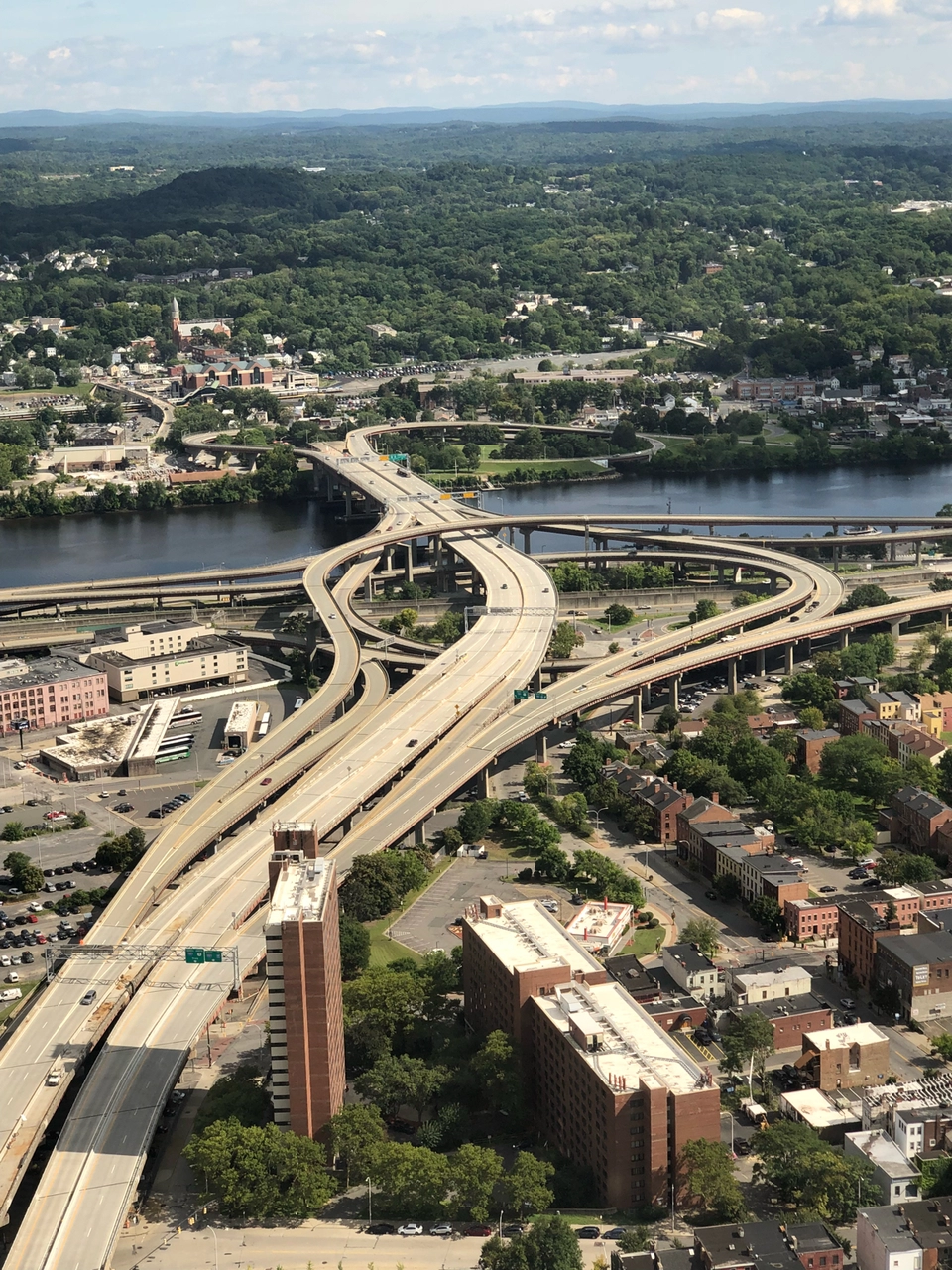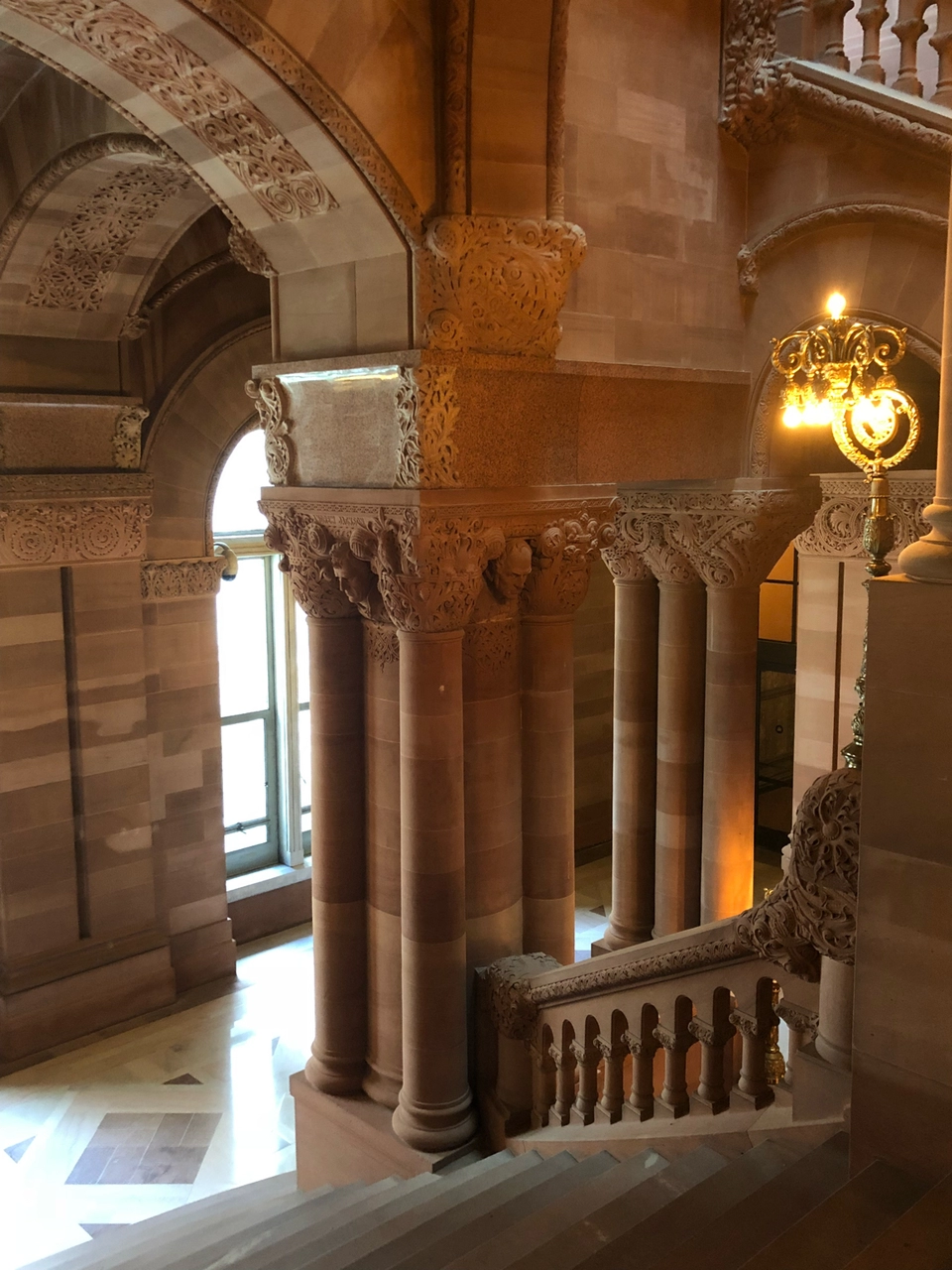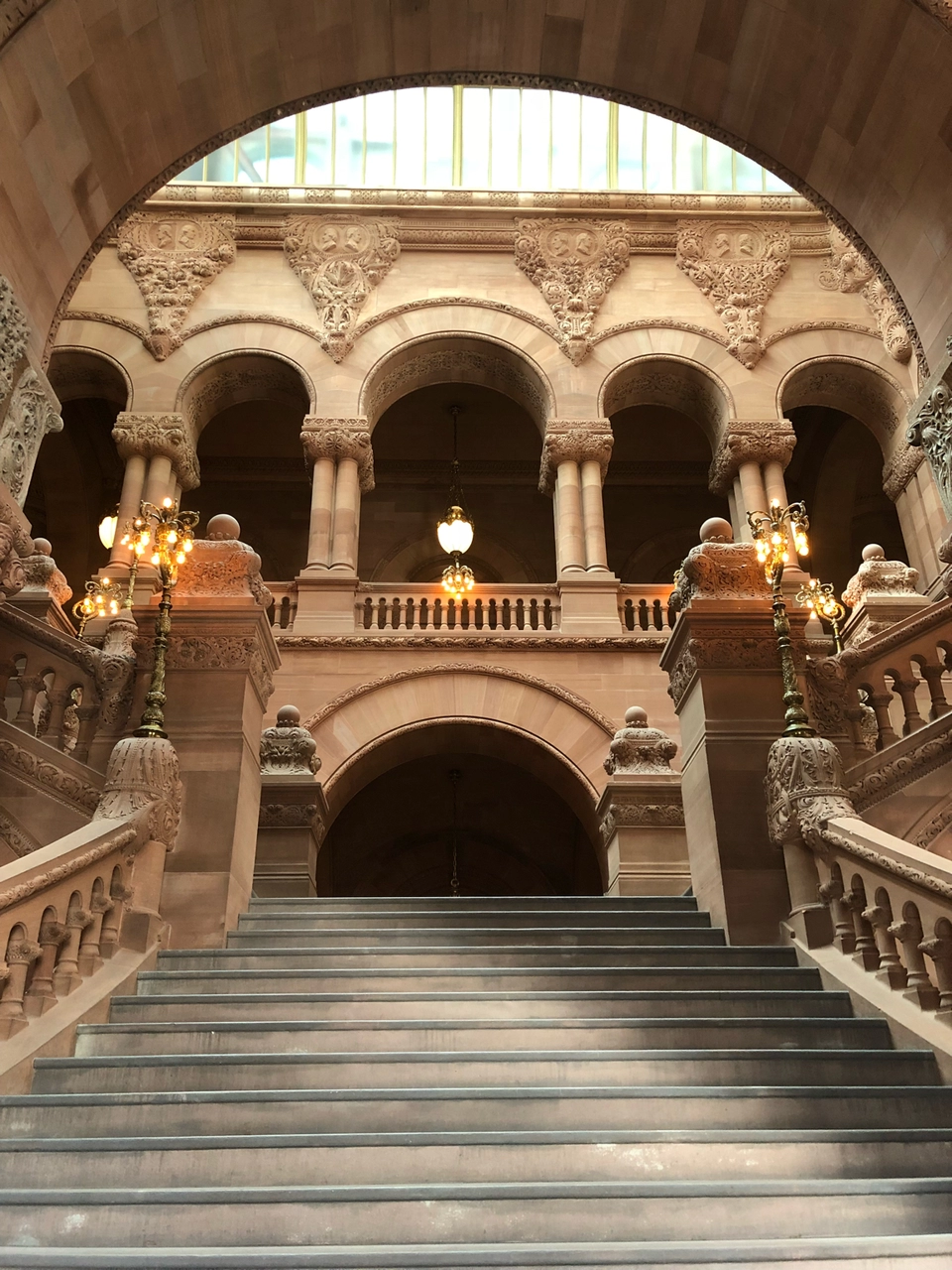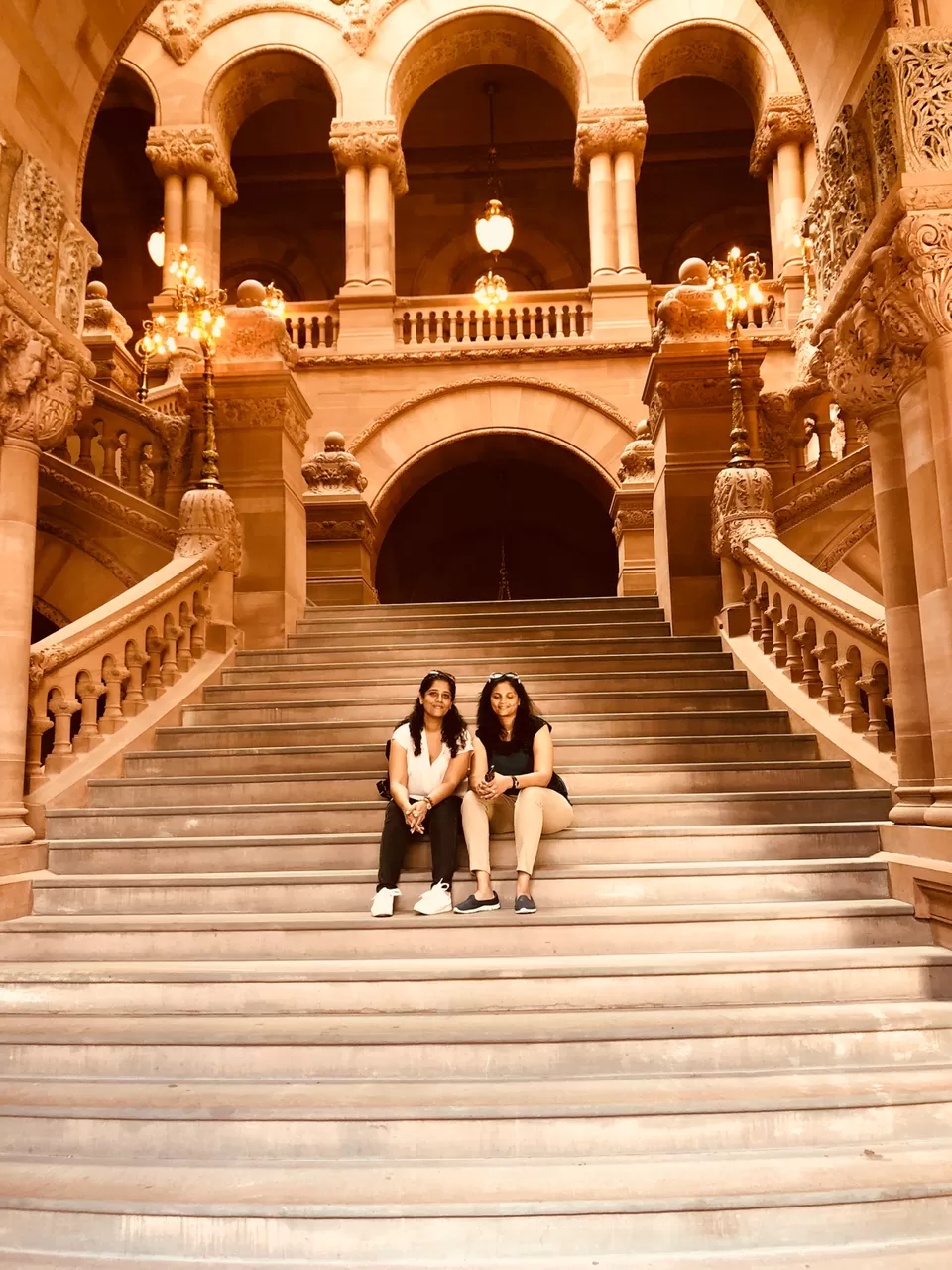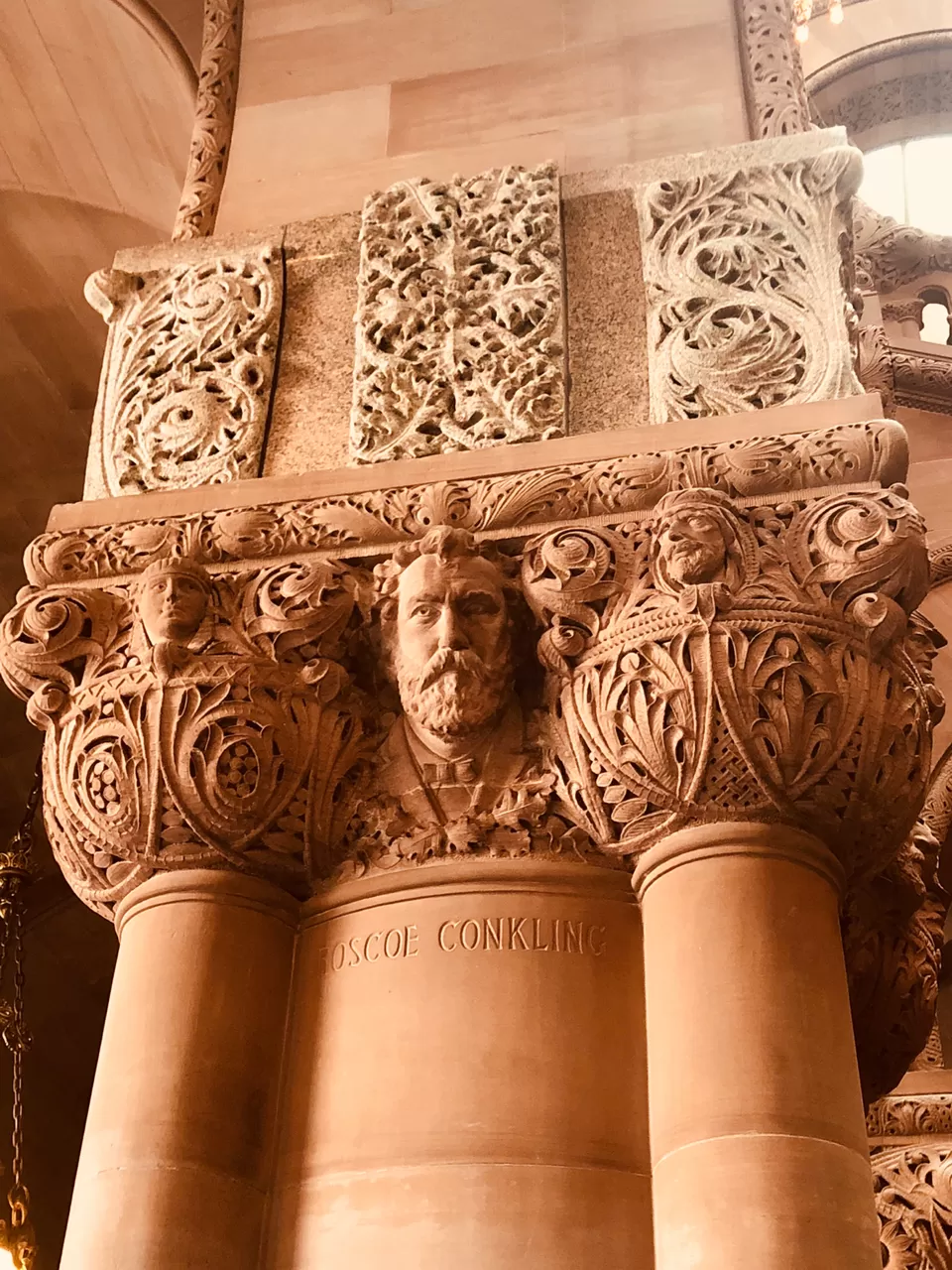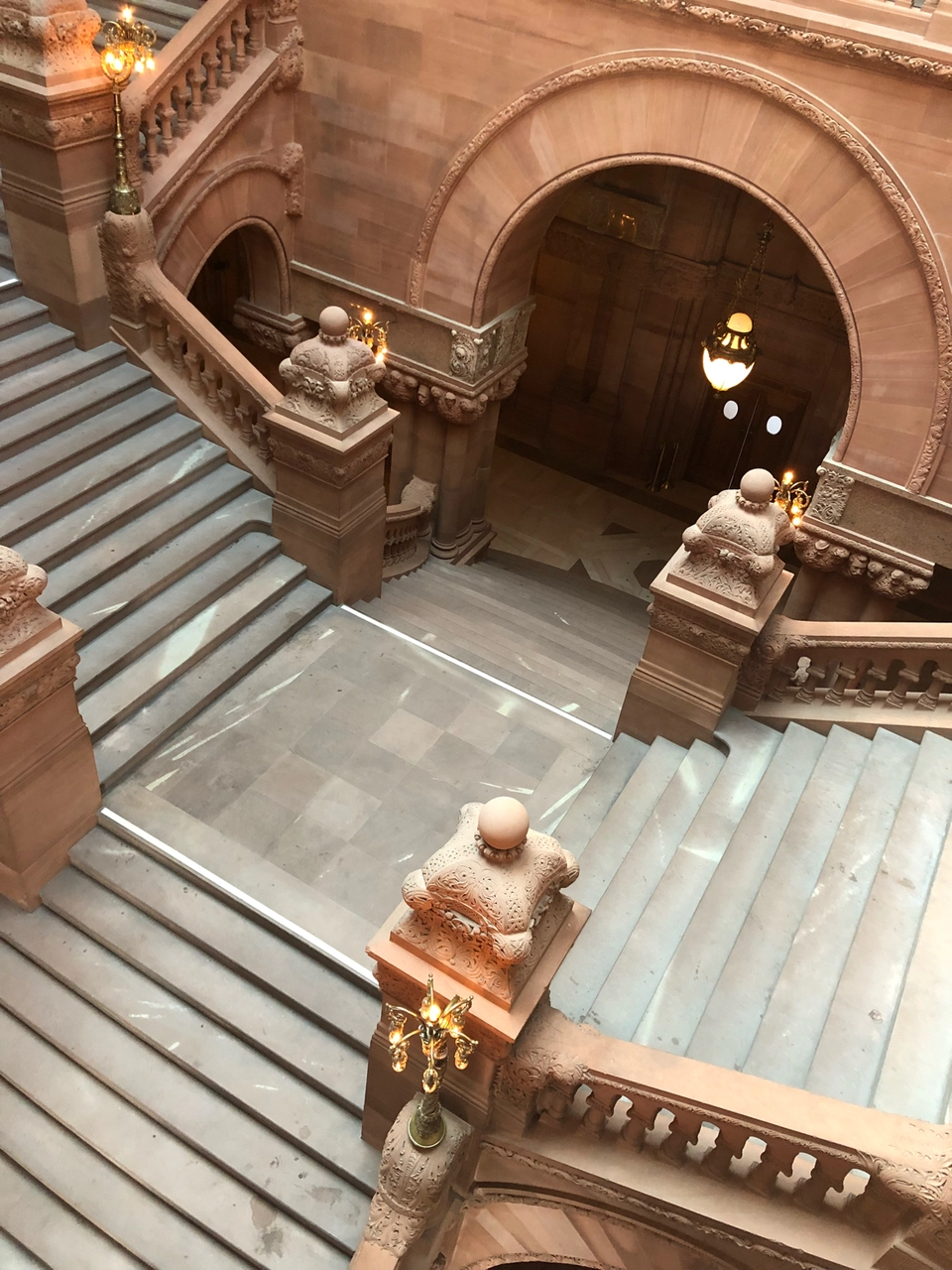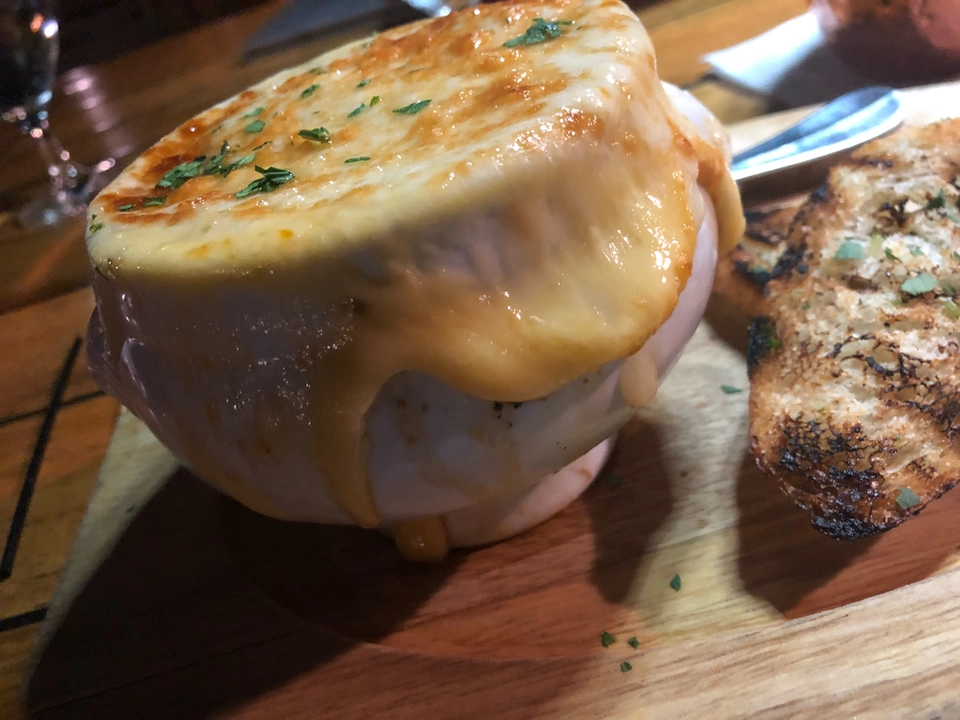 Day 1 .
244 kms from Bronxville( New York ) to Albany .
Pleasant drive to Albany to visit Gayathri Naidu.. she just got back from China last evening but took the day to show me around Albany .. I can imagine how exhausted she must be .
So Albany just happened and I didn't really do any reading up like I usually do .
So when Gaya said that we ll do lunch at downtown and then see some sights , I didn't know what to expect ..
The State Capitol building came as a surprise . It's grand and subtle at the same time . When I saw the Great Western Staircase my jaw dropped . Pink stone and intricately carved . It's just stunning .
Dinner at Saratoga Springs at the golf club with Rajesh and Meg ..
Need to come back again . There's so much to do around here ..
September 2018
#goldfishtrails
Day 2 ..
Got cracking and left Albany at 7.30 am towards Lake Placid and Montreal ..
Glorious day to be driving and in the outdoors ..
September 2018 ..
Day 2 ..
Albany - Lake Placid- Montreal
408 kms ..
It has been such a satisfying drive today . I have to come back to the Adirondacks another time ... A drive through is just not enough . There is so much to see and do here. The vistas are spectacular and you keep wanting to stop to take pictures . On one such stop near a lake , I asked someone to take a pic of me . That's another thing about Solo travel , you ll have to keep requesting people take photos of you ????‍♀️????‍♀️..that is if you like being in pictures . I do .. it's ok to be vain . I want to be able to show my grandchildren the places that I've been to and seen ..
Anyways this gentleman turned out to be a police officer from Georgia.. He's driving with his girlfriend around the area for a few days .. What I like about Solo travel is that you have no one to talk to and so you make an attempt to talk to other travellers .But when you are with a friend or a group , you clearly don't make that effort .. sometimes you end up having interesting conversations with people you'll never speak to again, which is fine. Some people can remain fond memories.
Other times we make friends—like-minded creatures.. people with backgrounds and experiences so different to my own, only travel could have crossed our paths.
Traveling solo has taught me things I couldn't learn anywhere else. I learned how I like to spend my time, self-reliance, self confidence and also how to enjoy being by myself ..It's freedom.
Traveling also turns you into a storyteller . I can ramble endlessly till someone will bleed in their ears . Hahaha ..
Anyways Lake Placid was gorgeous . Lunch by the Mirror lake . Delicious bean burger ..
Driving into Canada ,towards Montreal was just flat boring landscapes . The border was a breeze ..
I hit bad traffic into Montreal . My Airbnb apt is in the lively Gay Village in Montreal ..
Sigh it has been such a satisfying drive today ..
#goldfishtrails
September 2018..
#goldfishtrails
Day 3 ..
Montreal ..
Congratulations India .. it's a huge milestone for India ...Mera Bharat Mahaan .. truly heading in the right direction ..
JAI HIND ..
I am staying in an Airbnb right in the middle of the GAY VILLAGE in Montreal . Montreal has the second largest Gay community in the world , the first is SFO...
I'm going to be going out tonight to Rue Sainte-Catherine which is the street to celebrate our Supreme Court ruling back home on India ..It's a pedestrian street closed to traffic and has a whole lot of bars, shops etc . Most happening place in Montreal . Beautifully decorated and pulsation ...
#goldfishtrails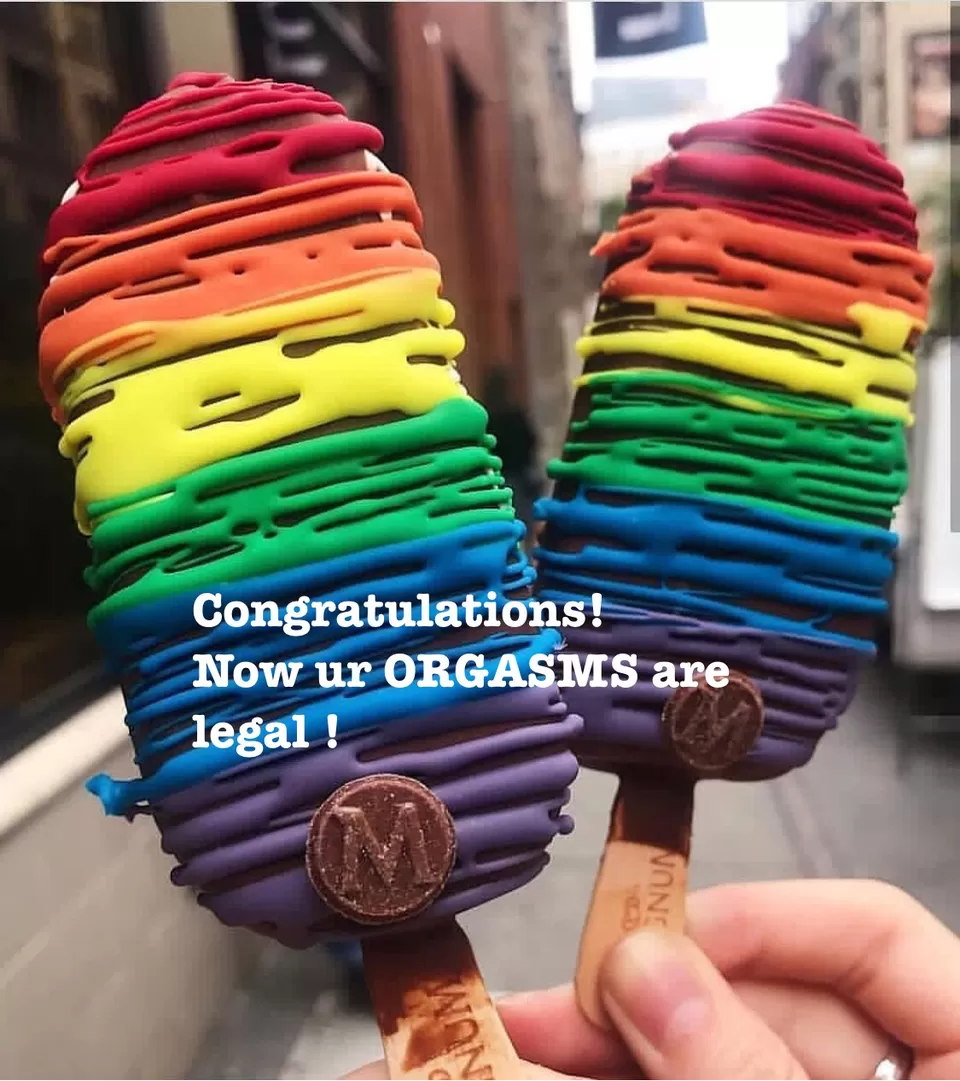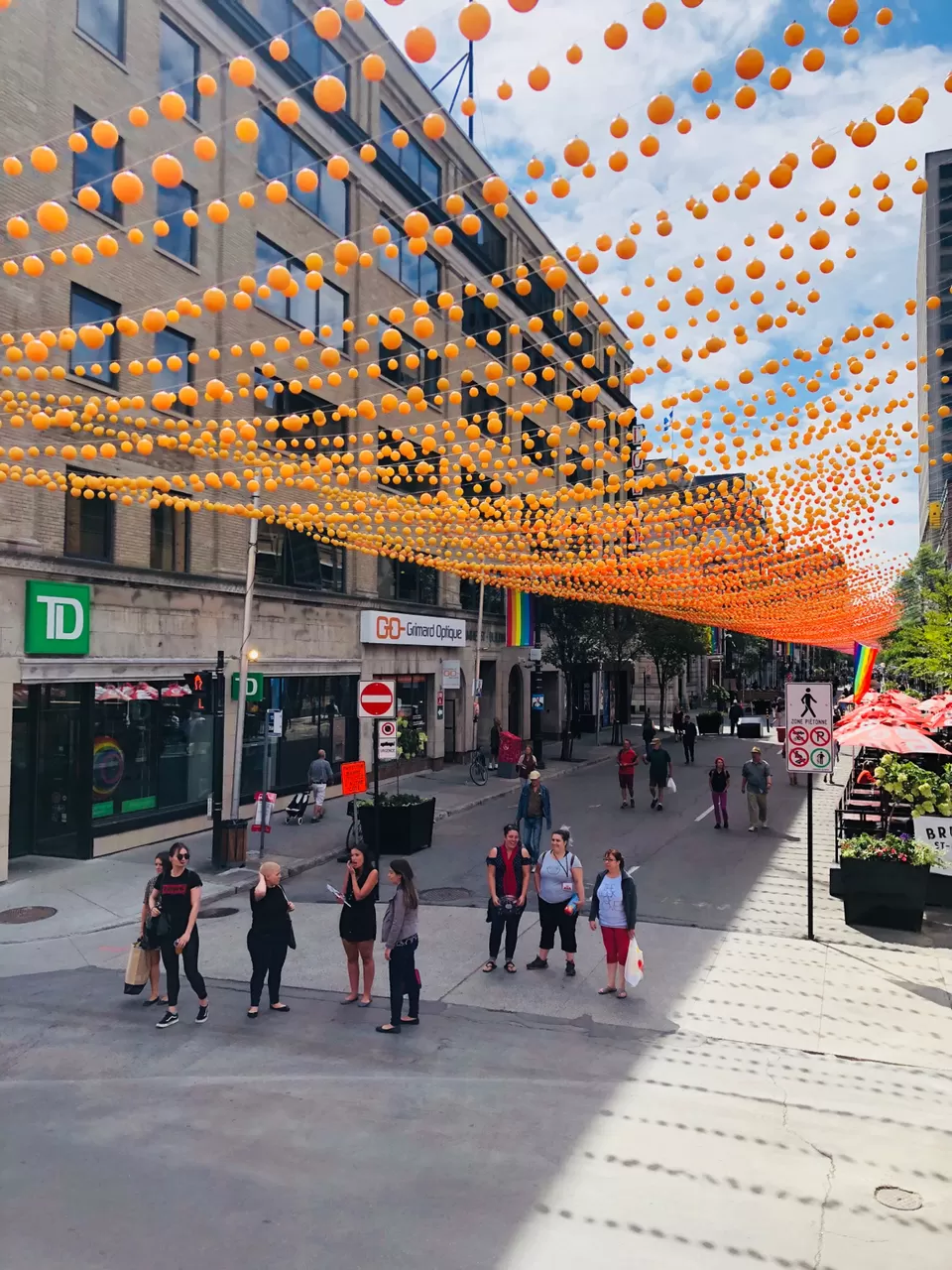 Day 3 & 4
Montreal..
Two days in this vibrant city has been anything but perfect .. Glorious weather . I decided to jump on the Hop on Hop off bus to take me around the city . There is no way I'm taking my car into the city and suffer from finding parking . Traffic is not so bad for most parts, but parking is a nightmare ..
The Basilique Notre-Dame de Montréal was on the top of my list for many years , and once I'm here that was the first thing I headed out to see .. man , it is Surreal ..I've seen so many pictures of this place , but nothing that you see or read will be close to your experience . Much like the TAJ MAHAL .. you have to see it to believe it .. While the church's façade is a work of grandeur, it's the multi-colored interior that really amazed me ..it is the most visited spot in Montreal and tourists come in busloads to view its beautiful stained glass windows, the Casavant Frères pipe organ and the Gothic Revival architecture...started to be built in 1824 and completed in 1843,but the interior took longer to complete .. It was completed in 1888.. .
Trivia : Celine Dion got married here to René Angélil where his funeral also was eventually held !! .
I found myself an eclectic Airbnb apartment in the heart of the Gay Village . Montreal has the second largest gay community after San Francisco ..the next street is St Catherine , a pedestrian street lined with bistros, cafes, quirky shops , , comes alive at night ... pulsating with tourists and locals at the same time ..
Montreal is one of the safest cities in the world . No need to worry . It's safe and friendly , but I've never heard so much French being spoken , not even in France ... lol ...
After 2 days of exploring the China town , Jewish quarter , the underground city , I feel like I know the back of my palm ..
Must try food in Montreal .. it is a dish natuve to Quebec, consisting of French fries and cheese curds topped with a brown gravy. My Airbnb host gave me the top three places or get Poutine ..
Top is the list is La Banquise and I made a beeline there .. believe it or not for breakfast . The place is open 24 hrs and very quiet when I went .. I got the Classic with a veggie gravy .. there is one with guacamole as well .. 20 other choices for meat eaters .. it's DIVINE ..
The other 2 recommendations are
PATATI- PATATA ( super pricey )
And POUTUNEVILLE .. very run on the mill ,very average chain food type place found all over Montreal ..
Art is everywhere .. streets , Rue St. Paul's is full of galleries , museums , buildings .. it's everywhere ...
Yet to try the famous Bagels and a couple more things to see tmrw before I head out ..
#goldfishtrails
Quebec City beckoning ...
#September 2018
#goldfishtrails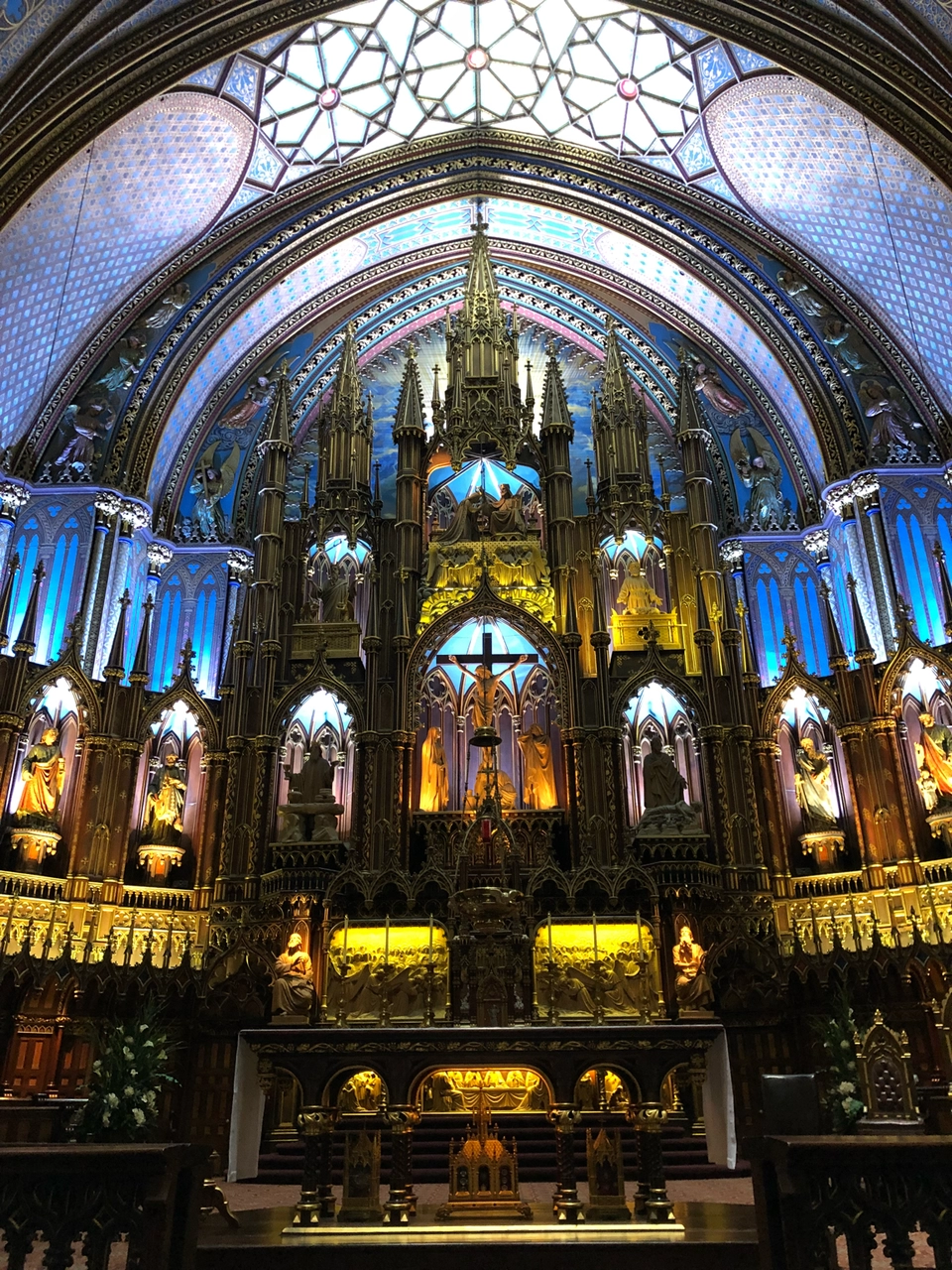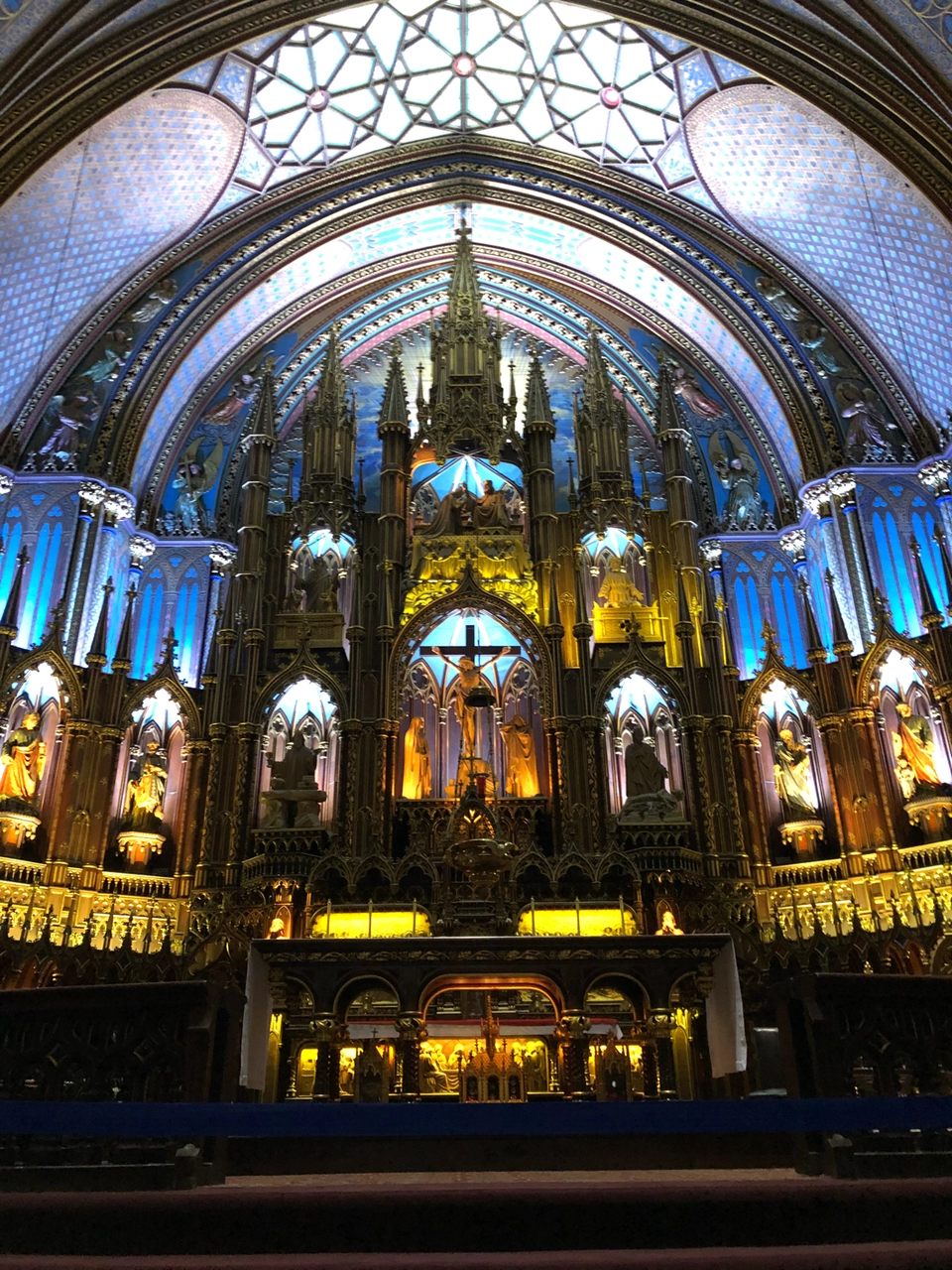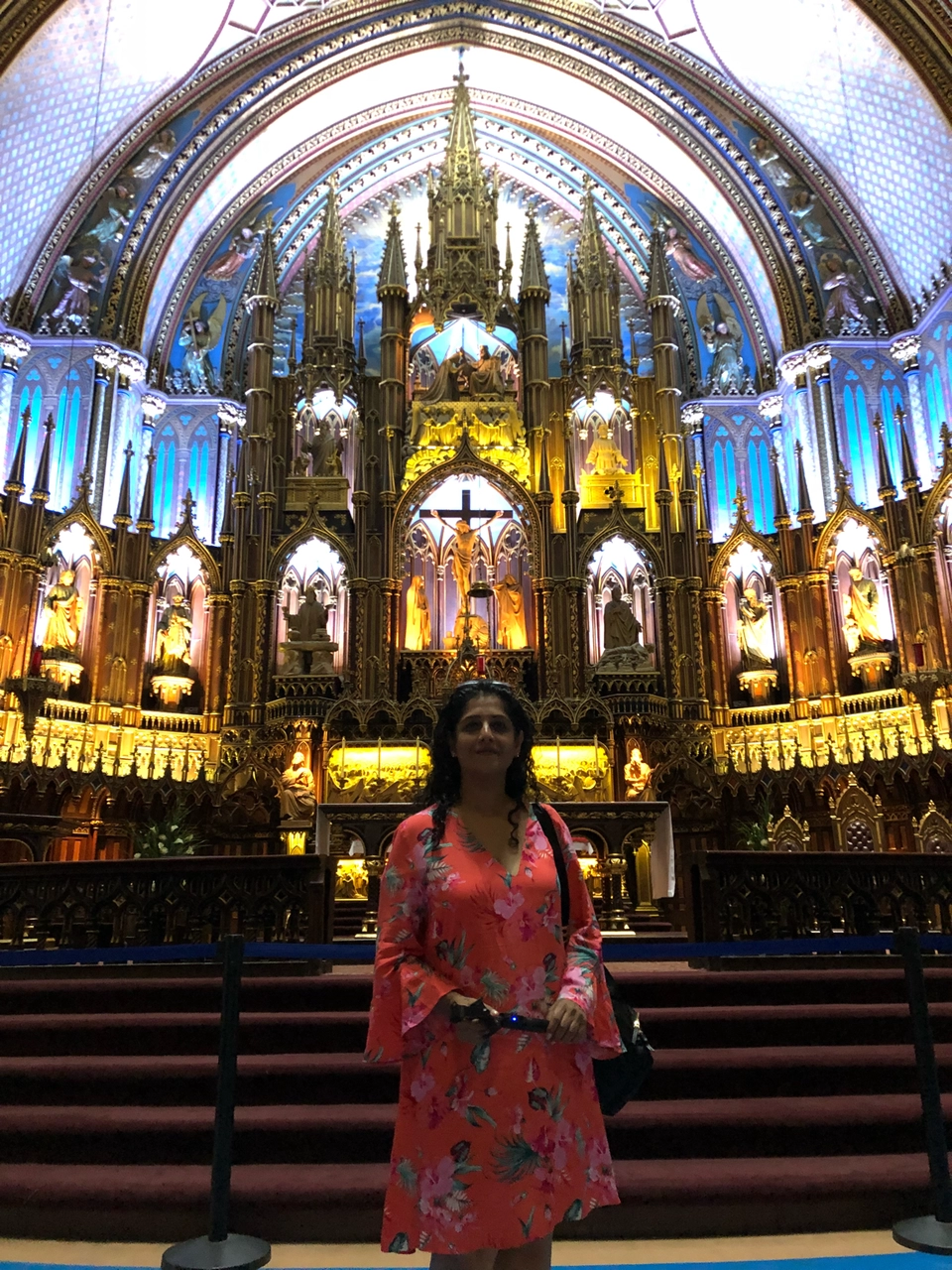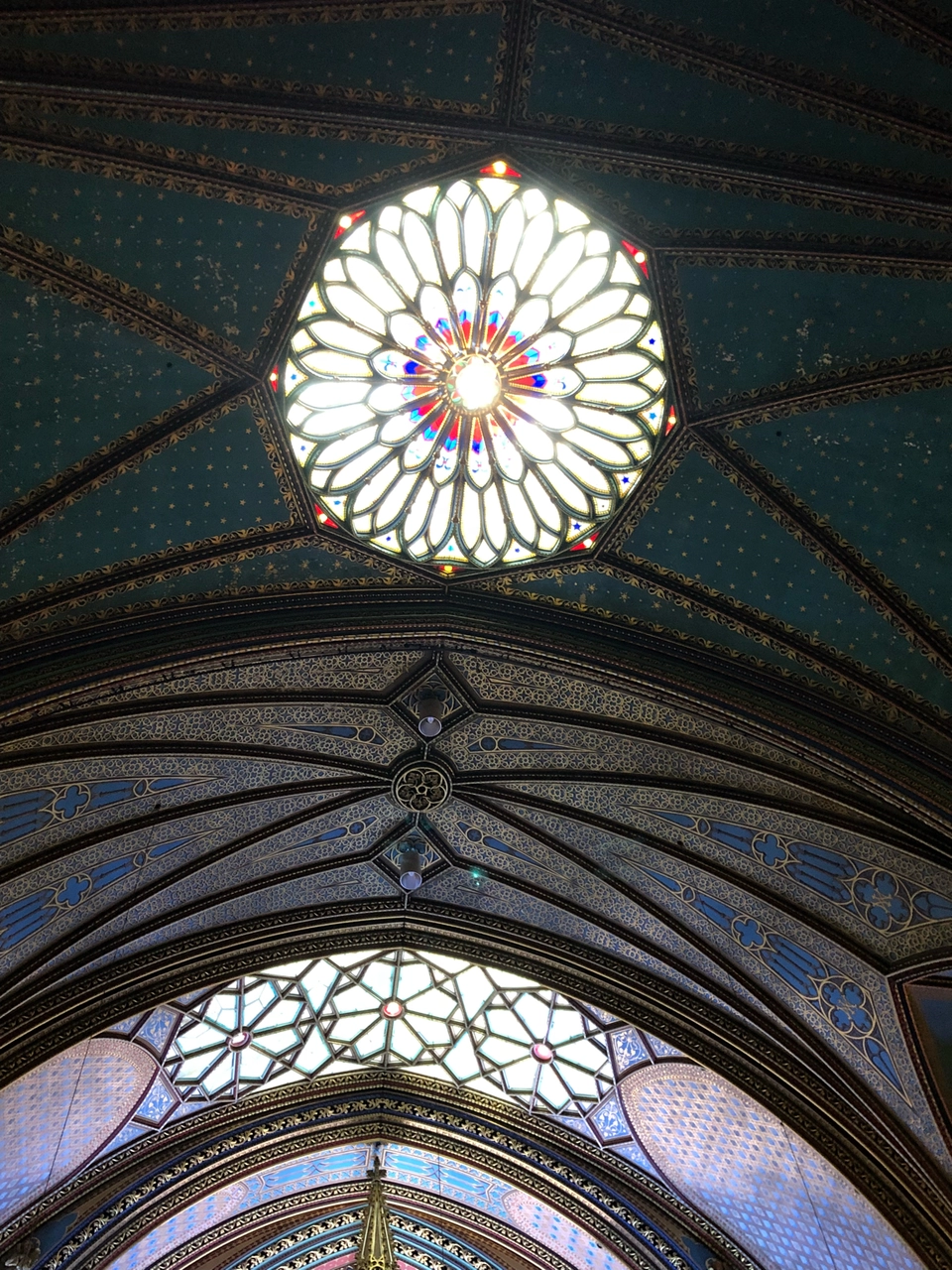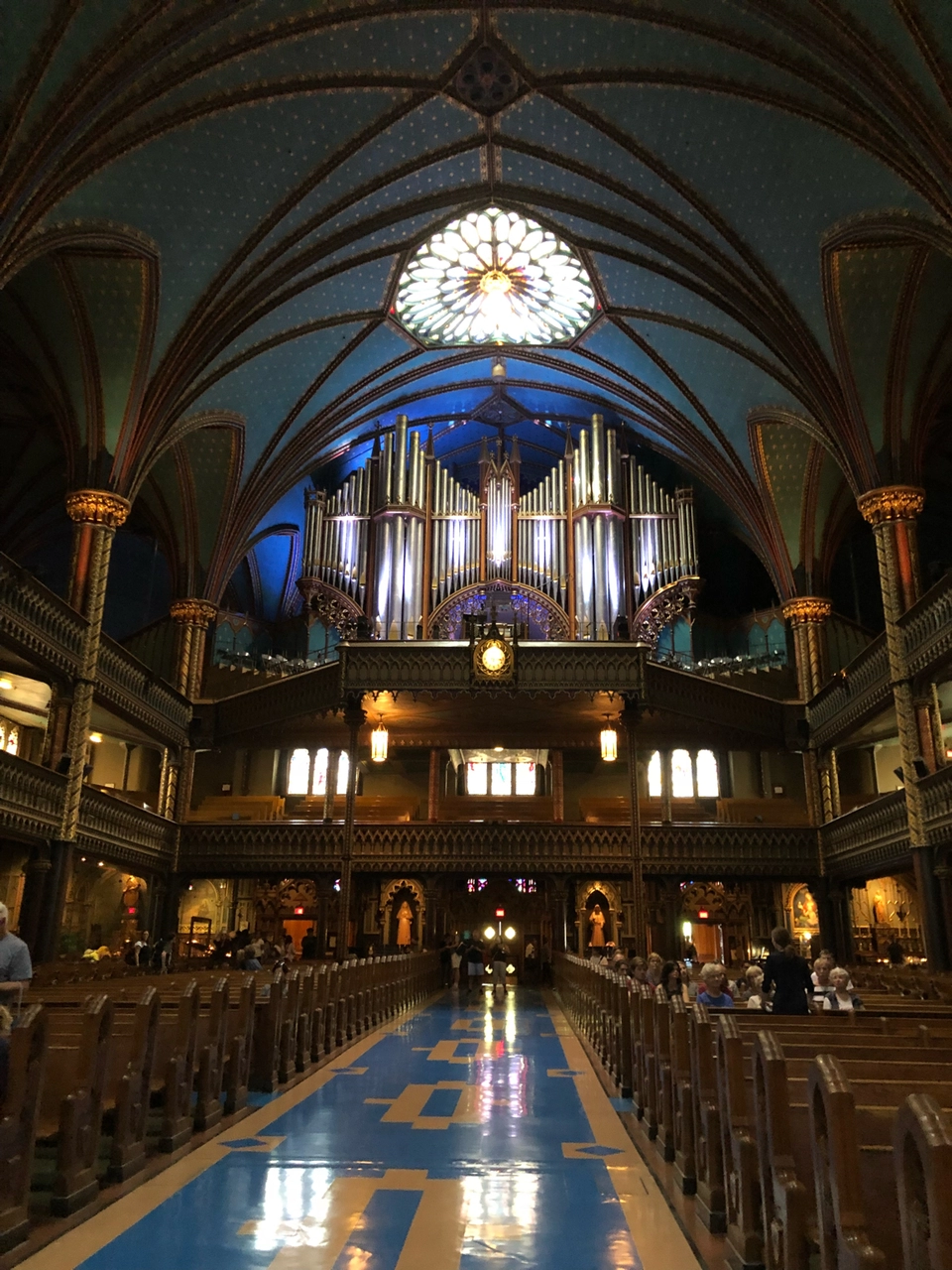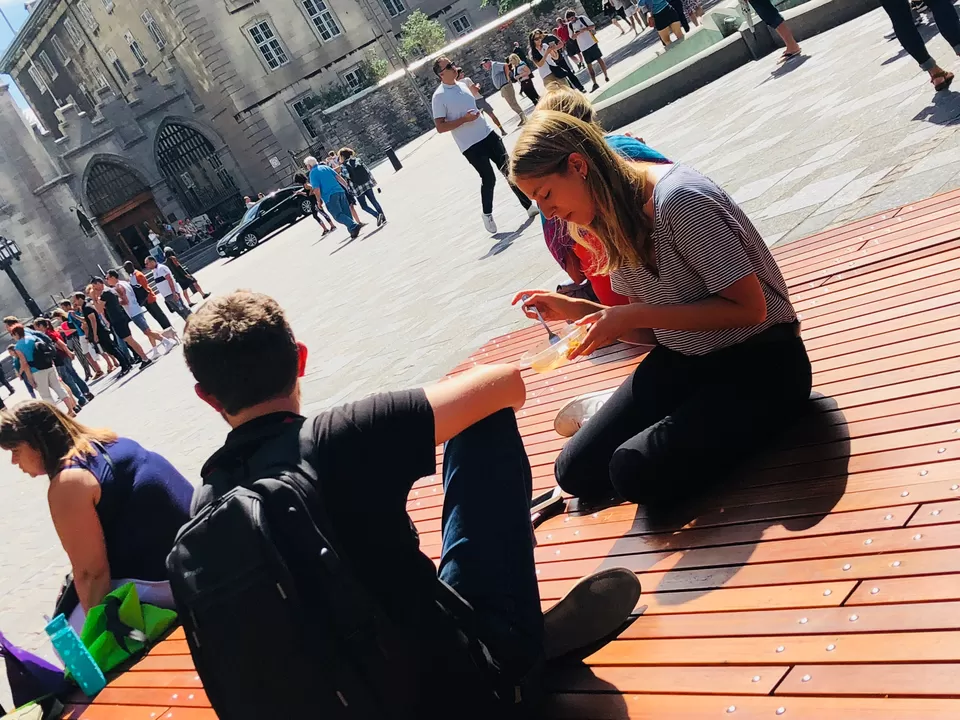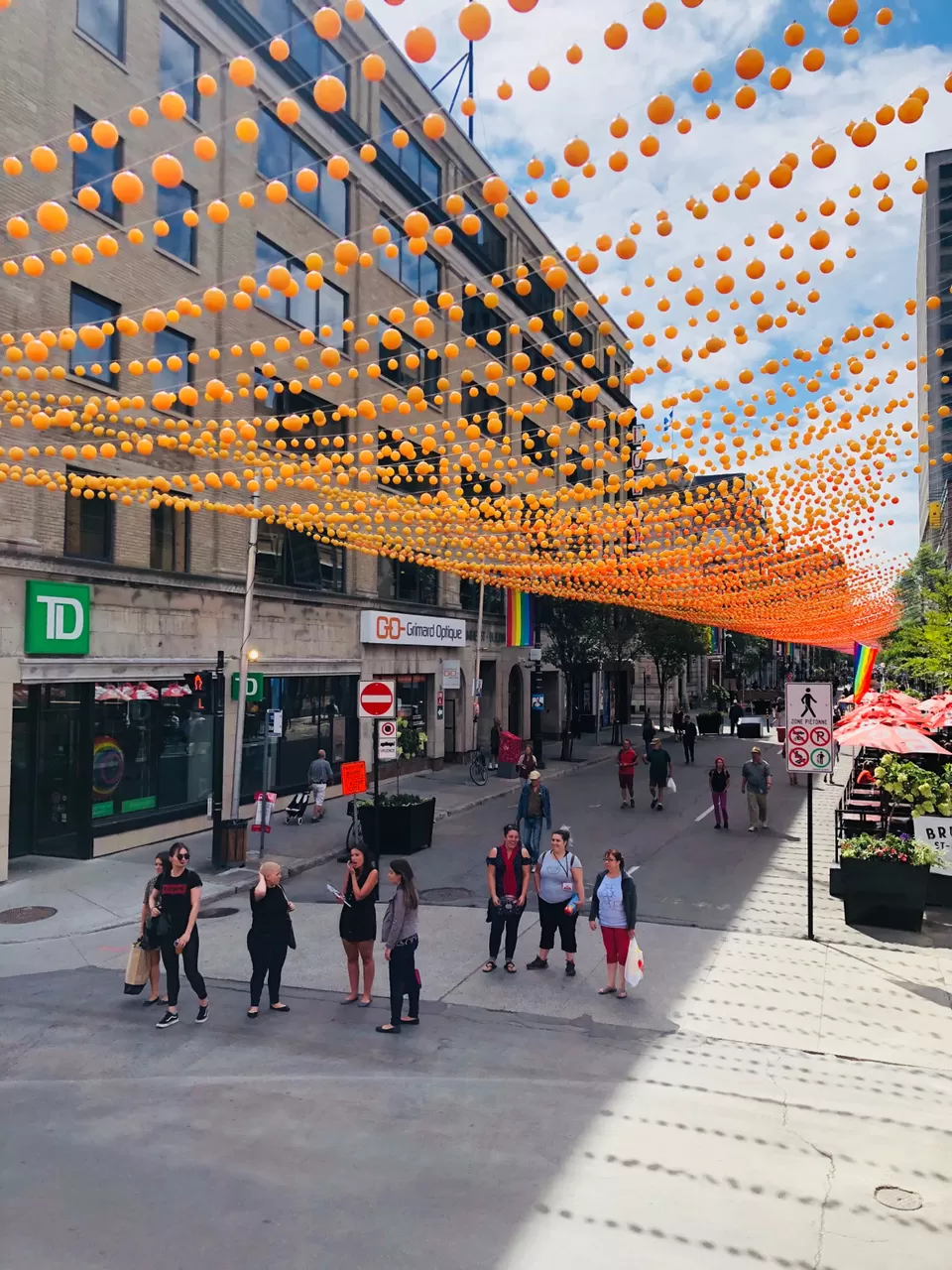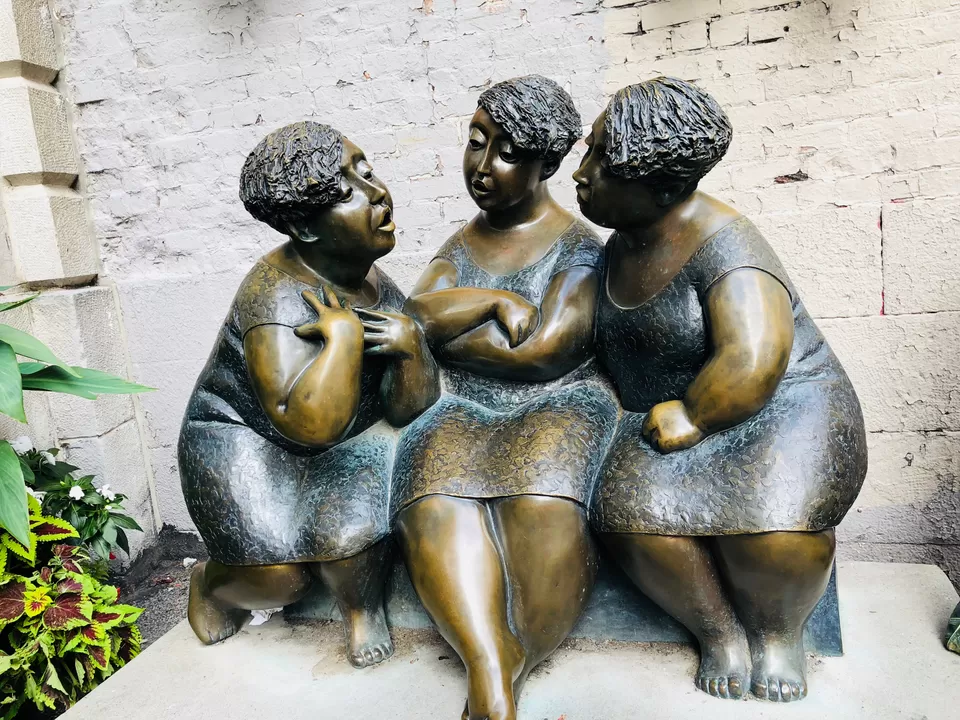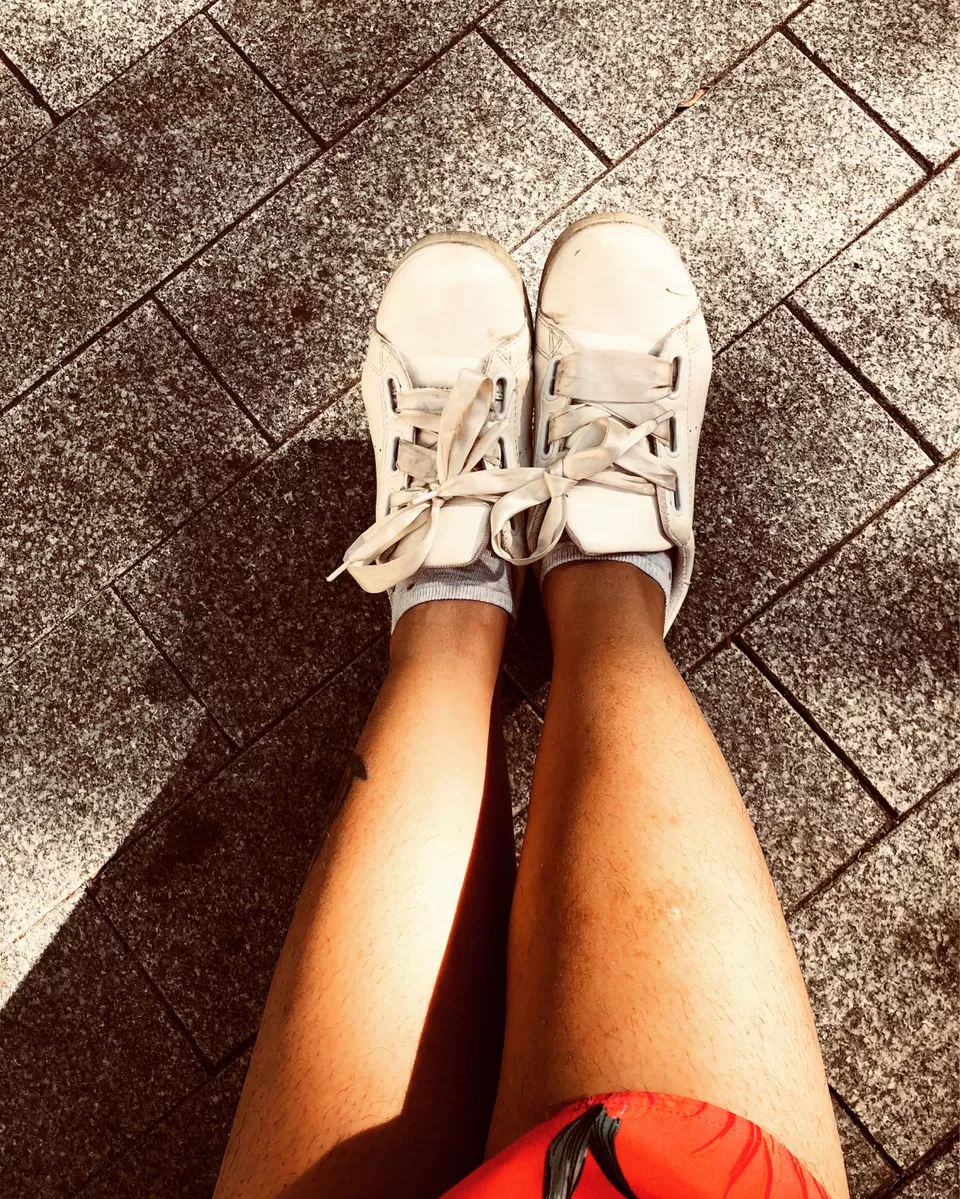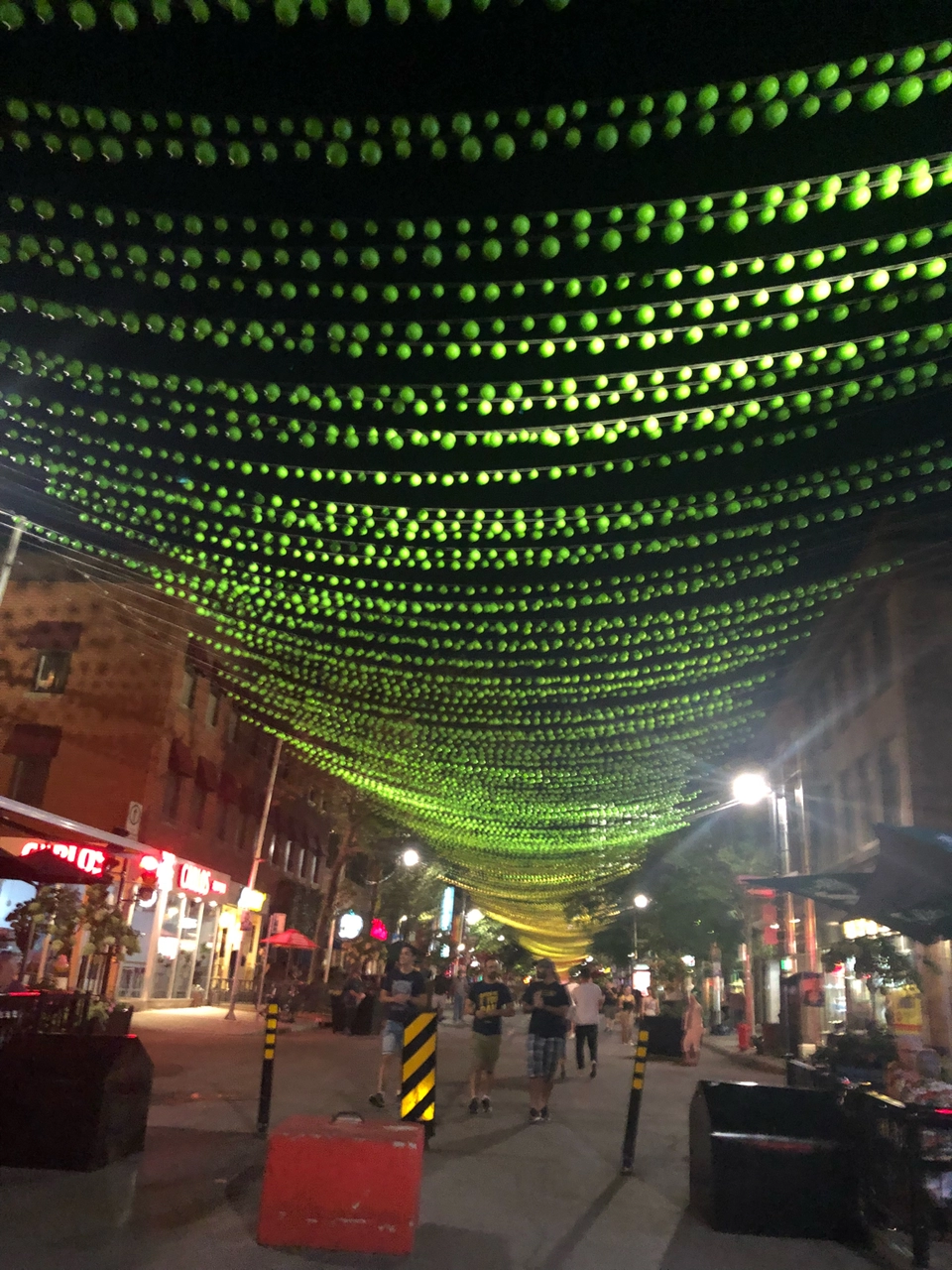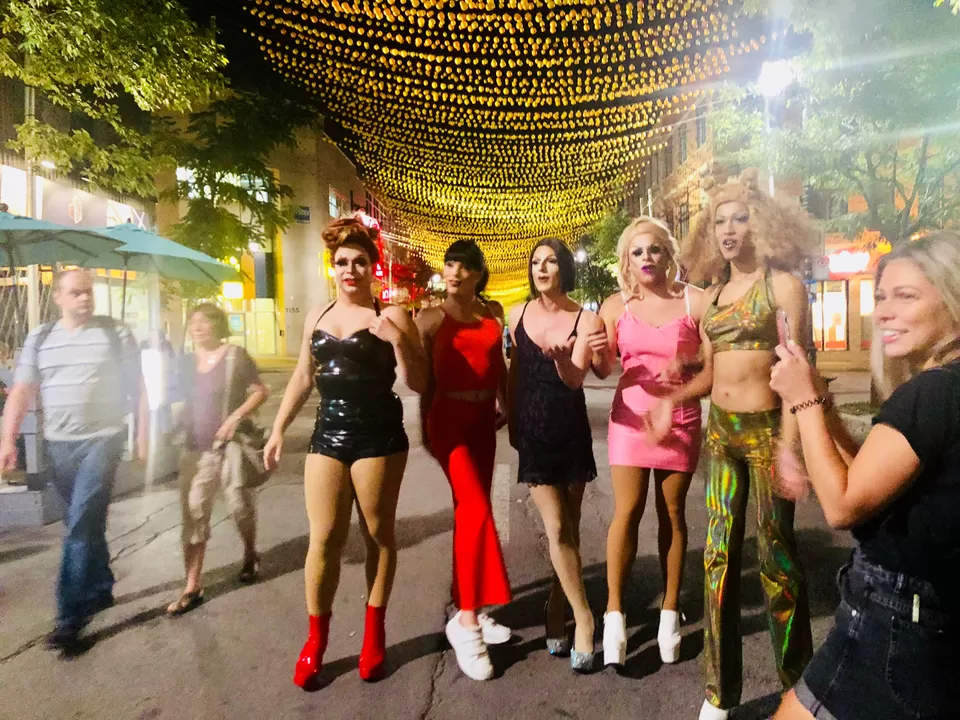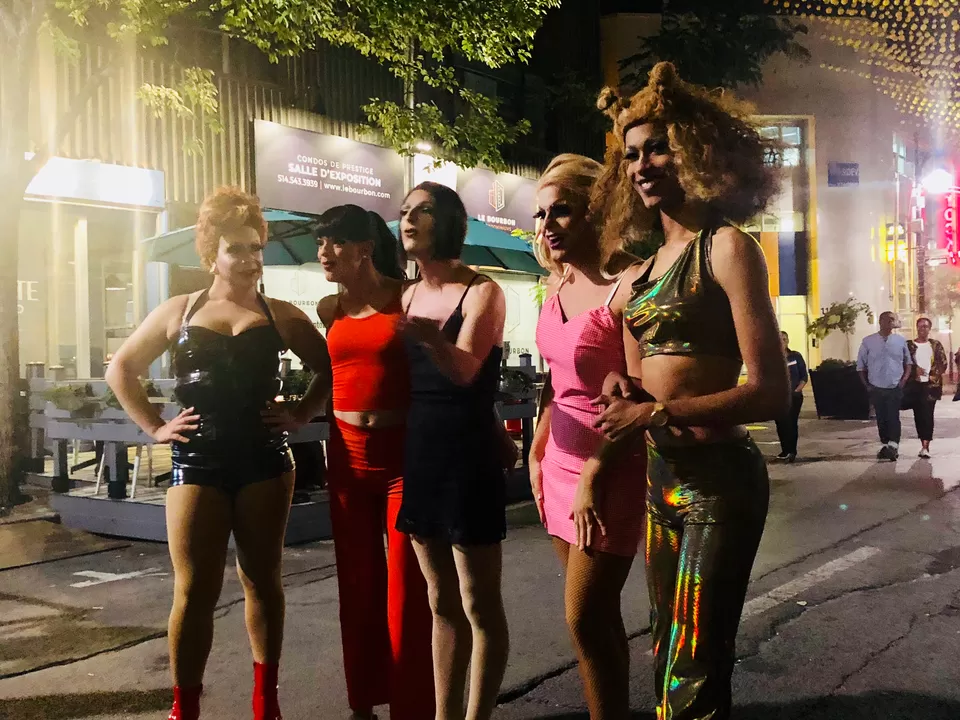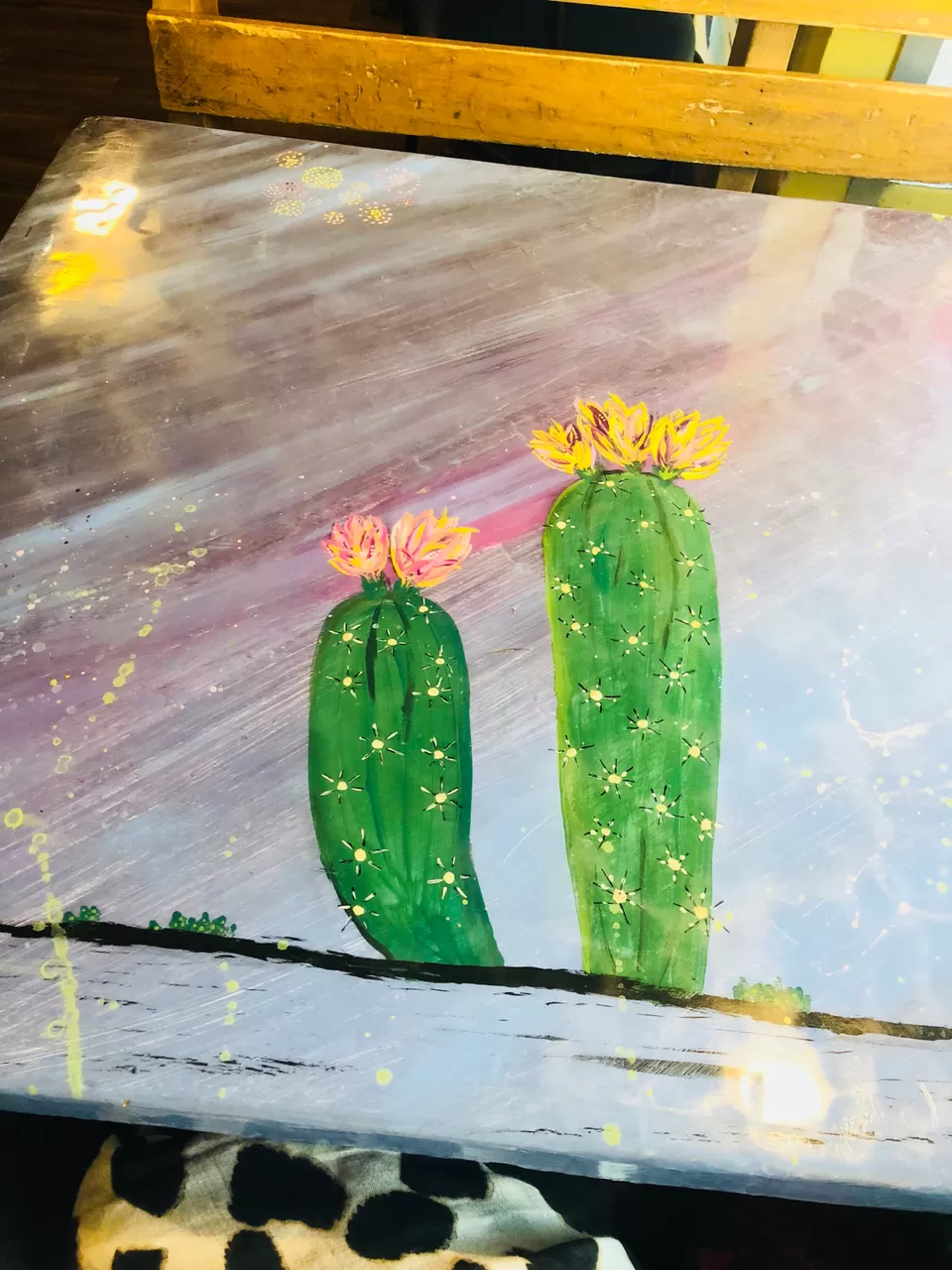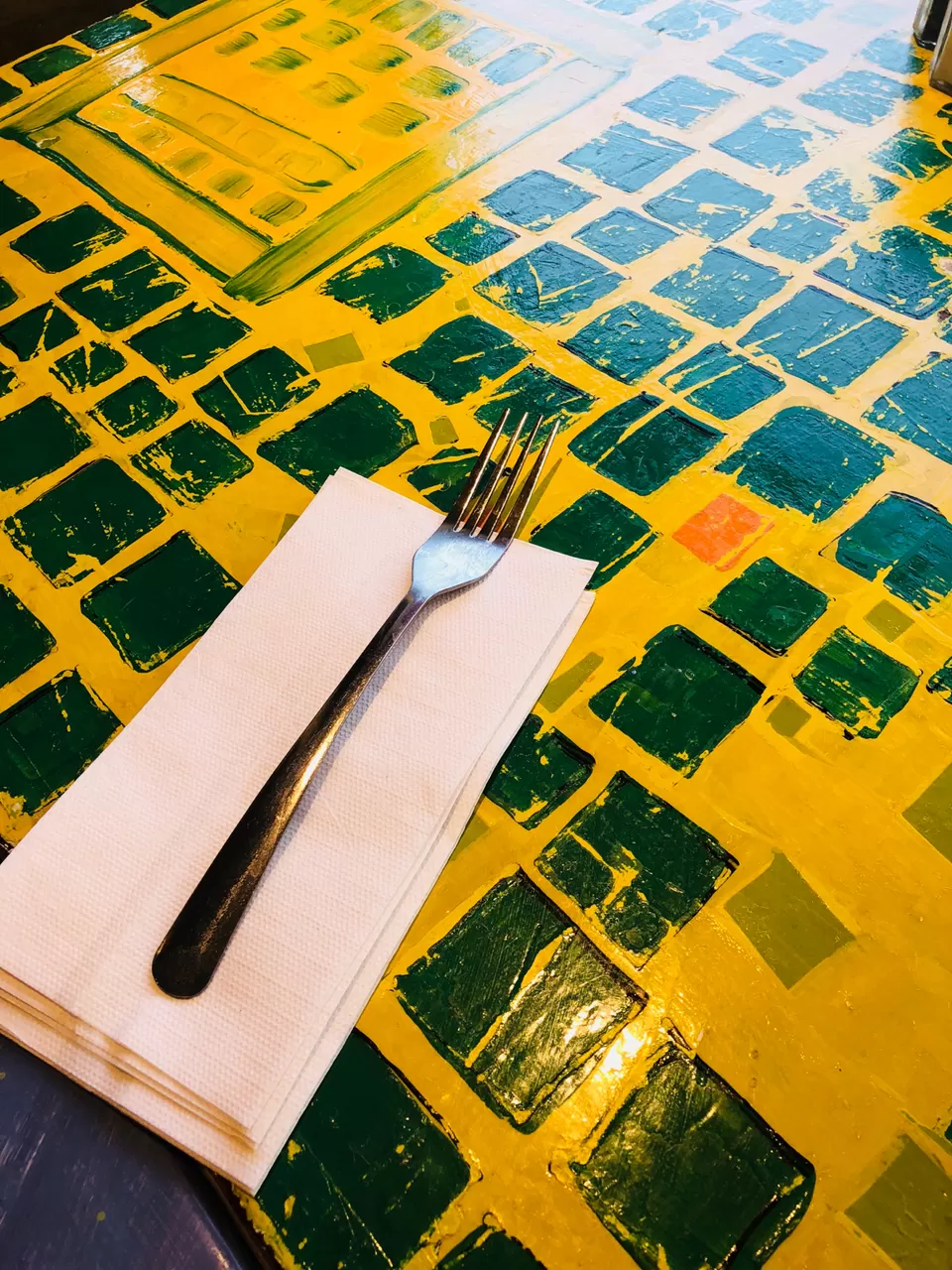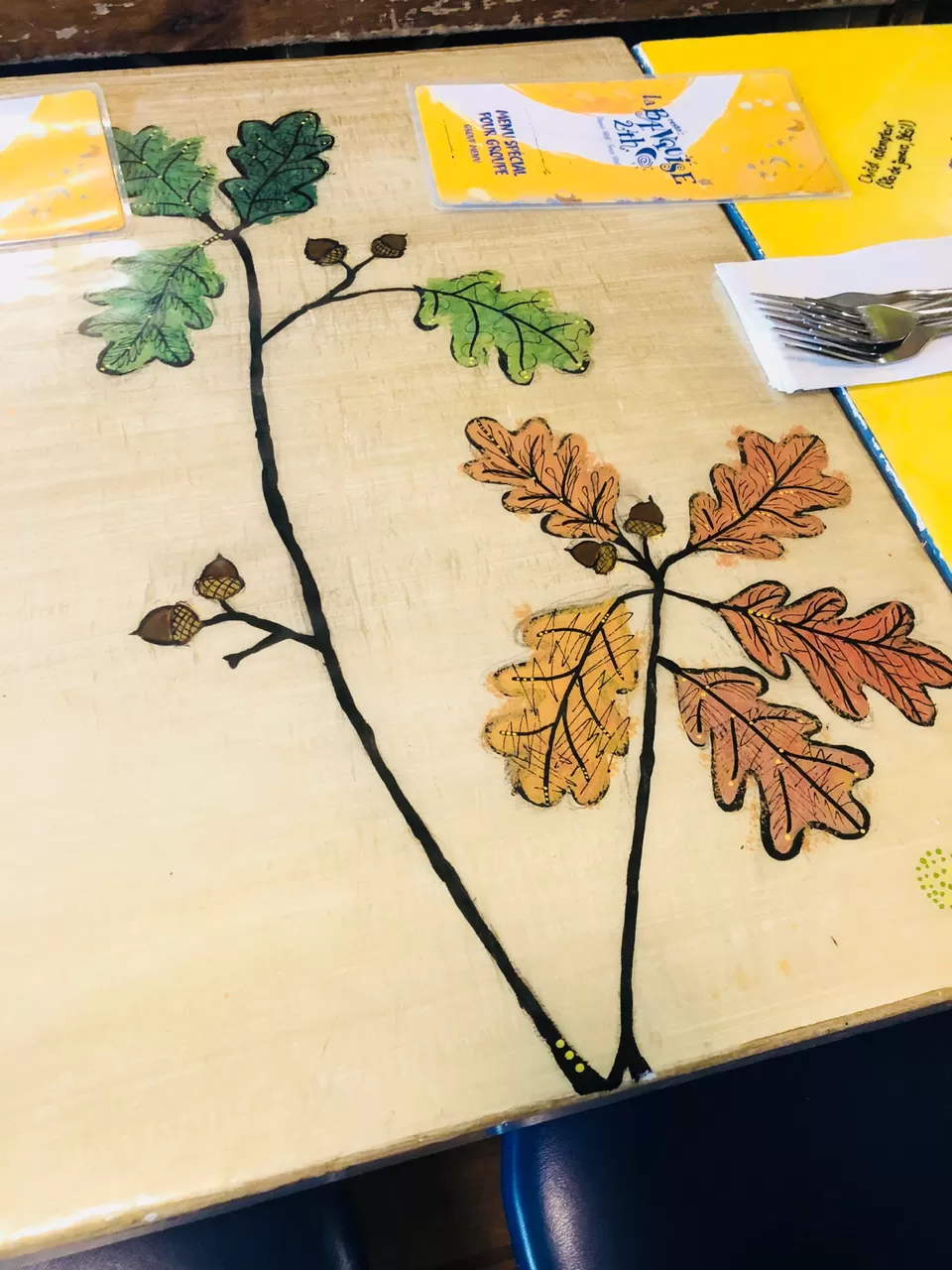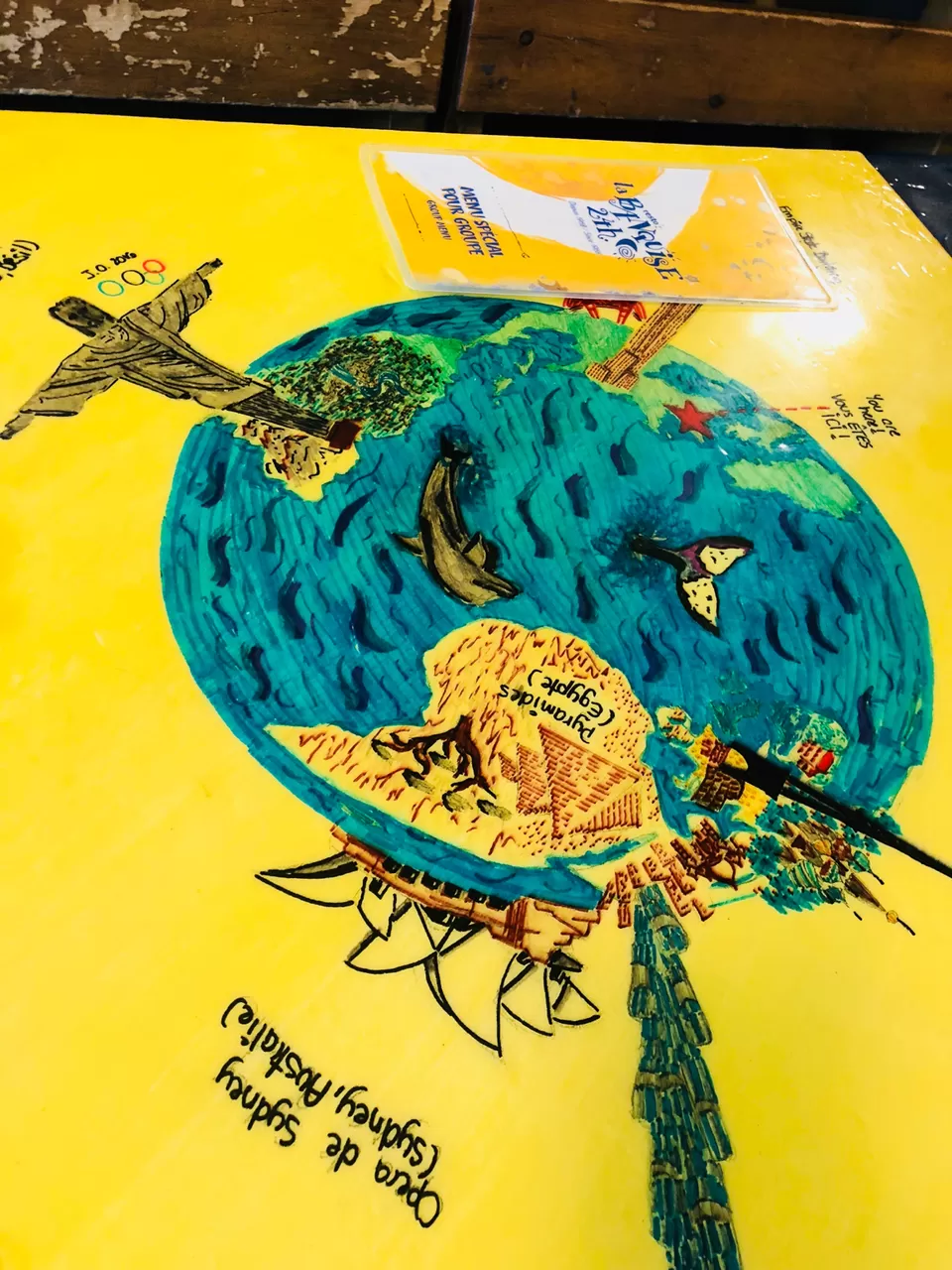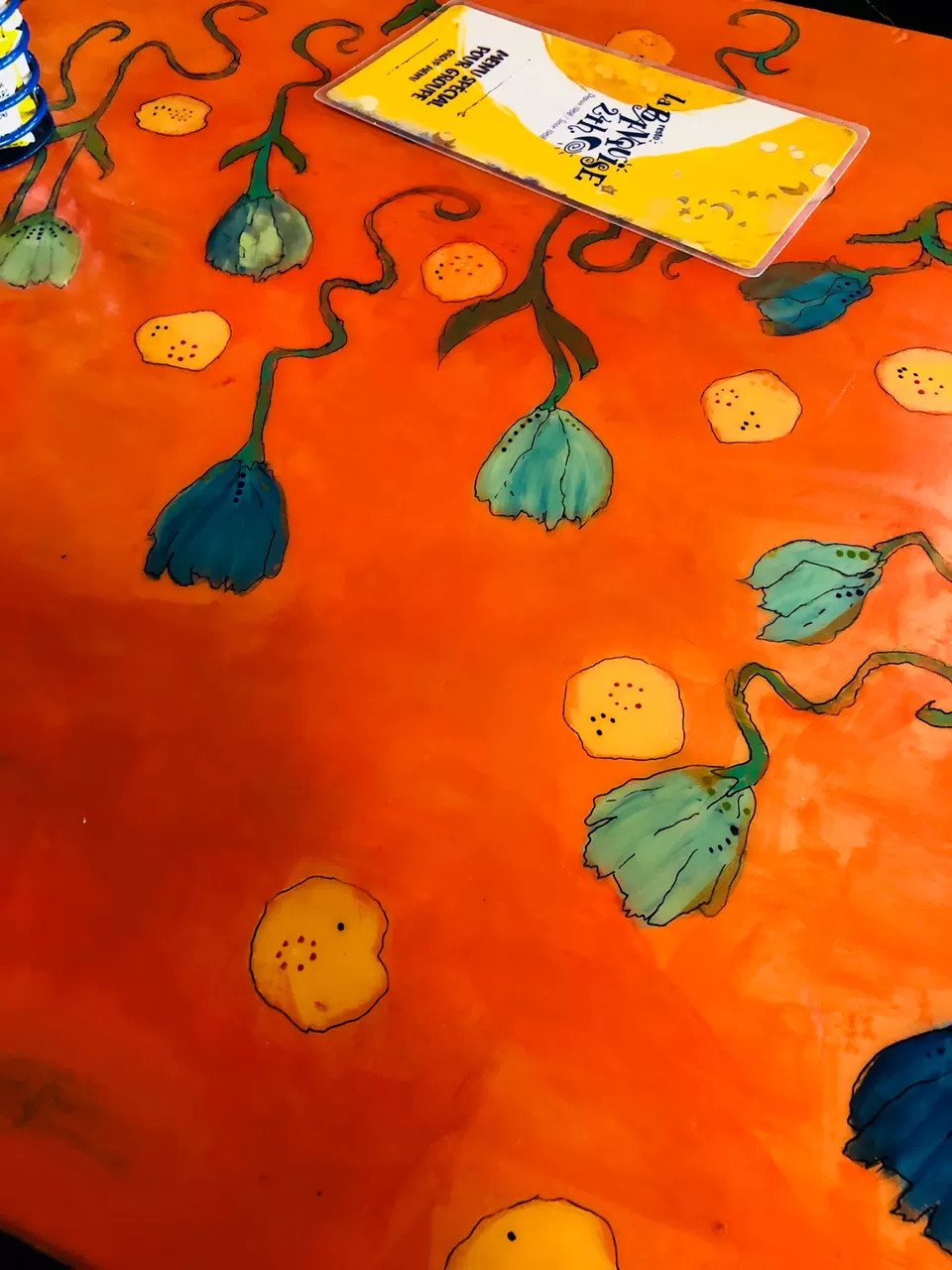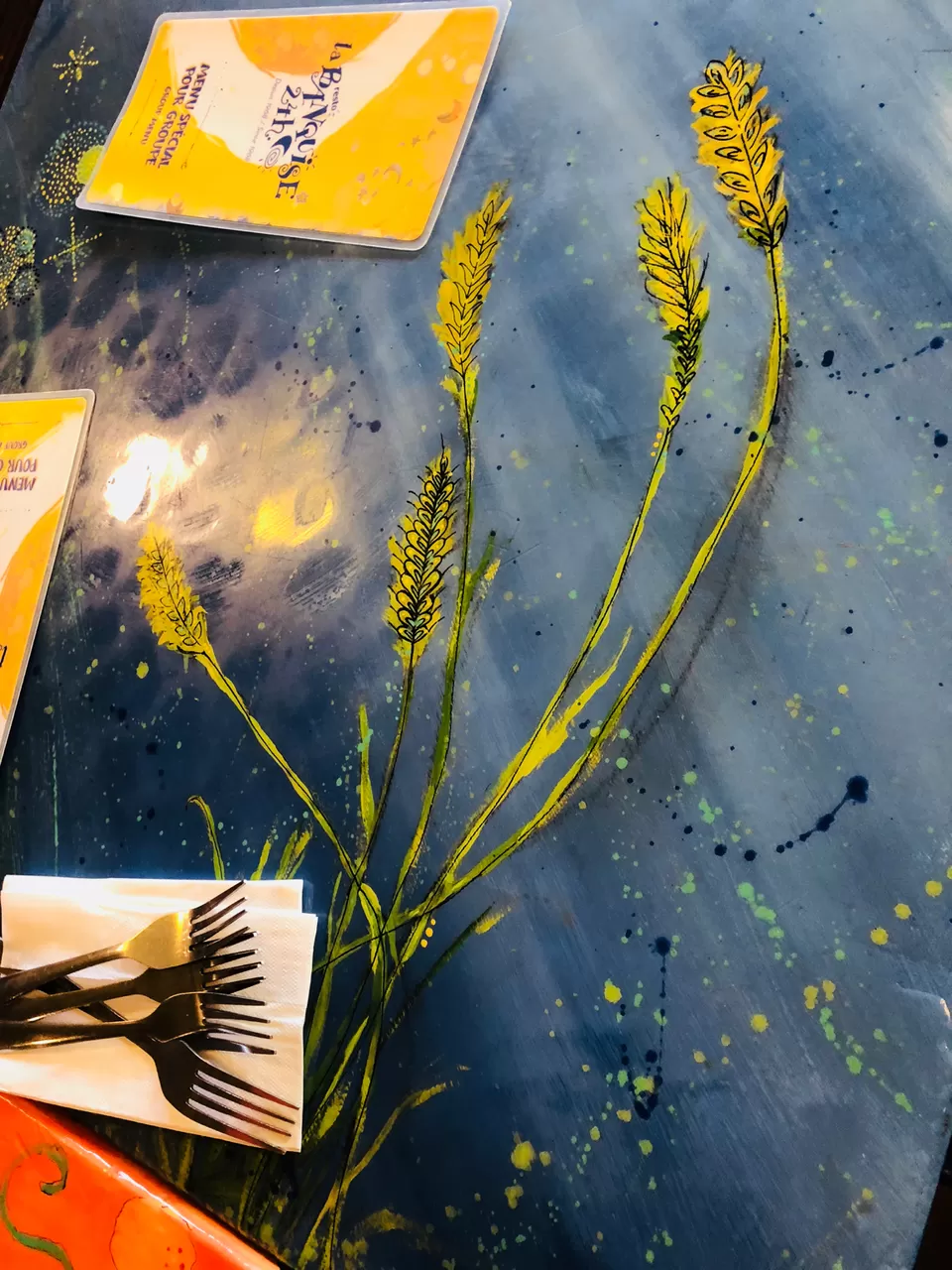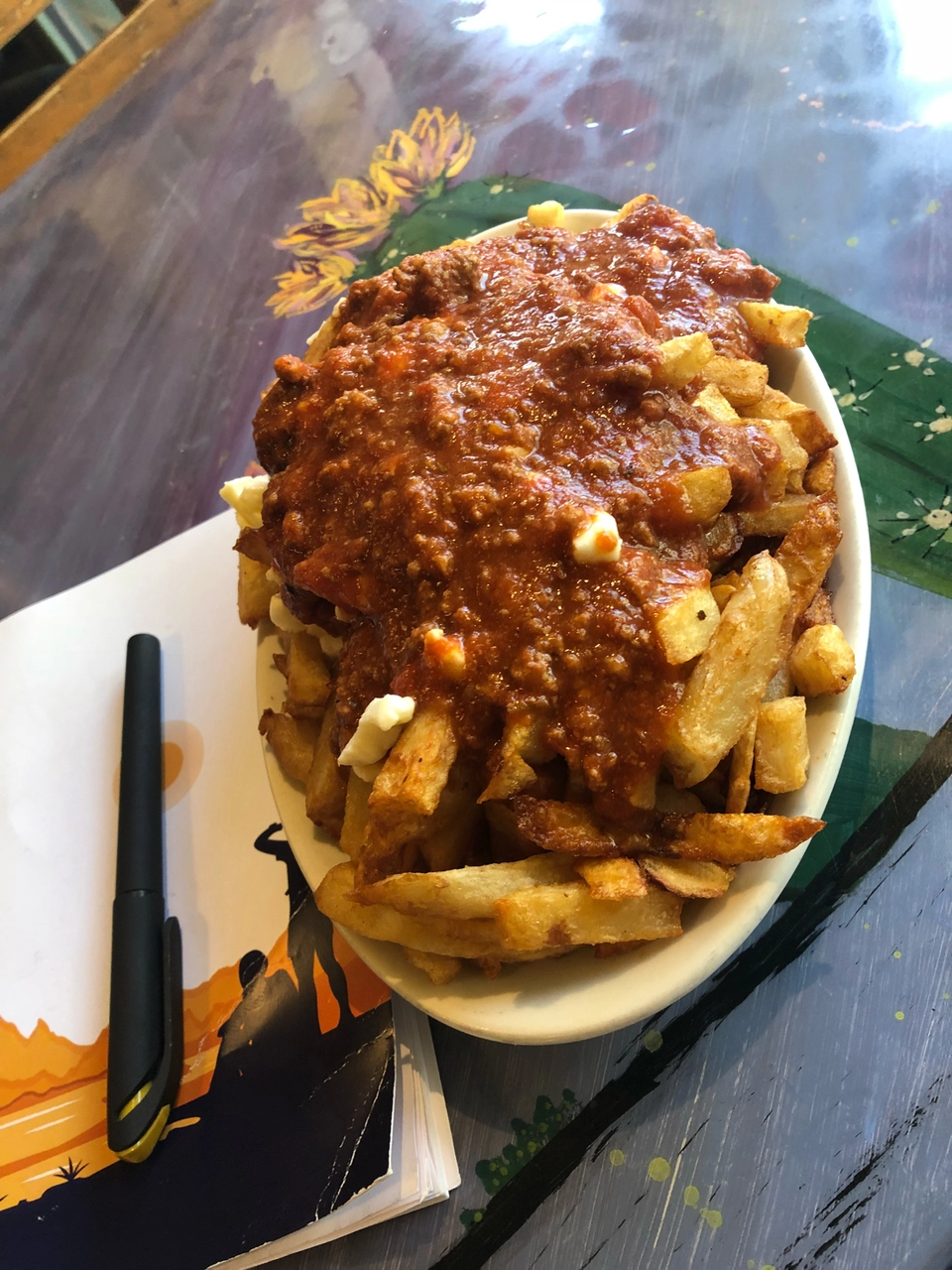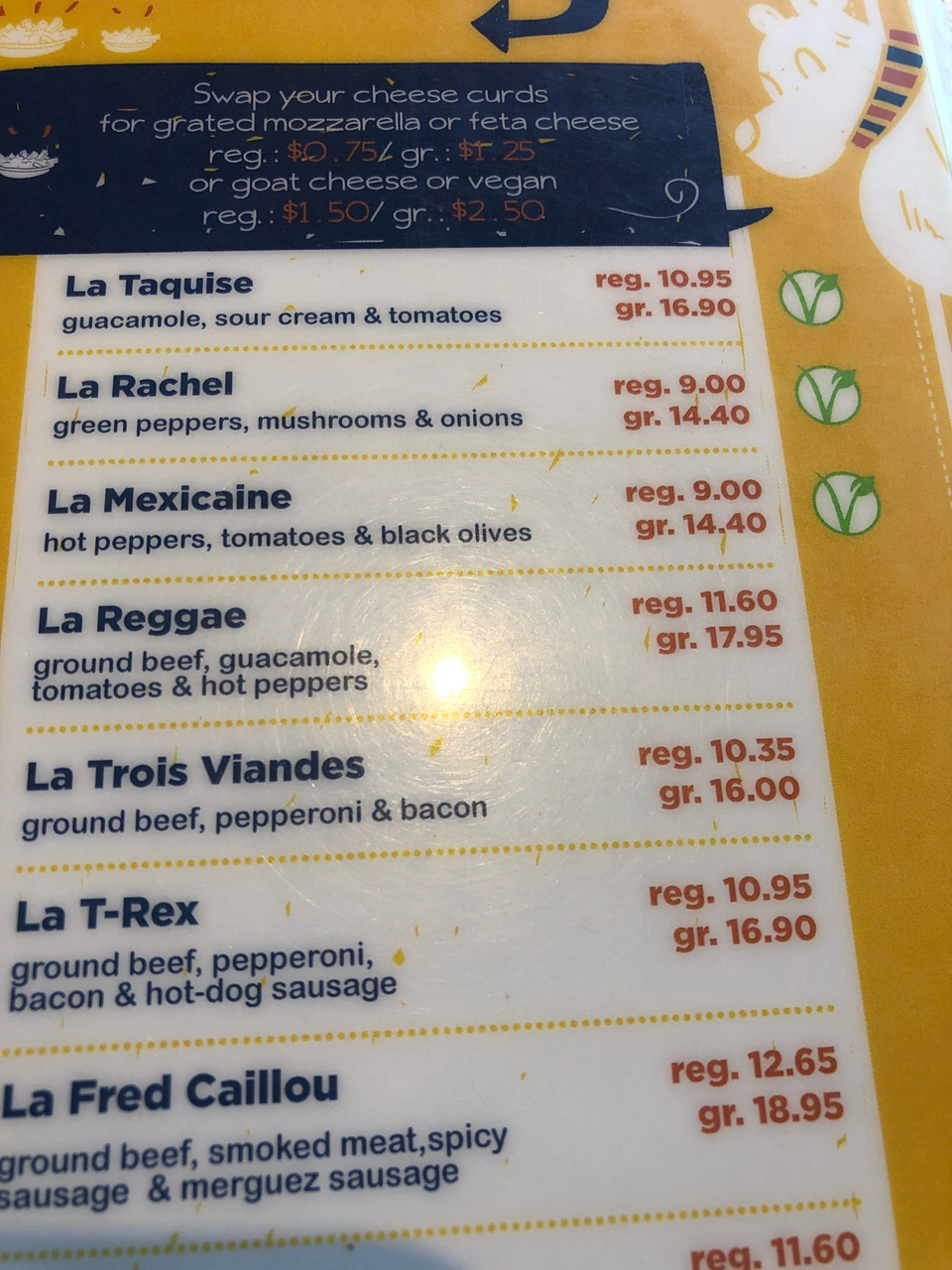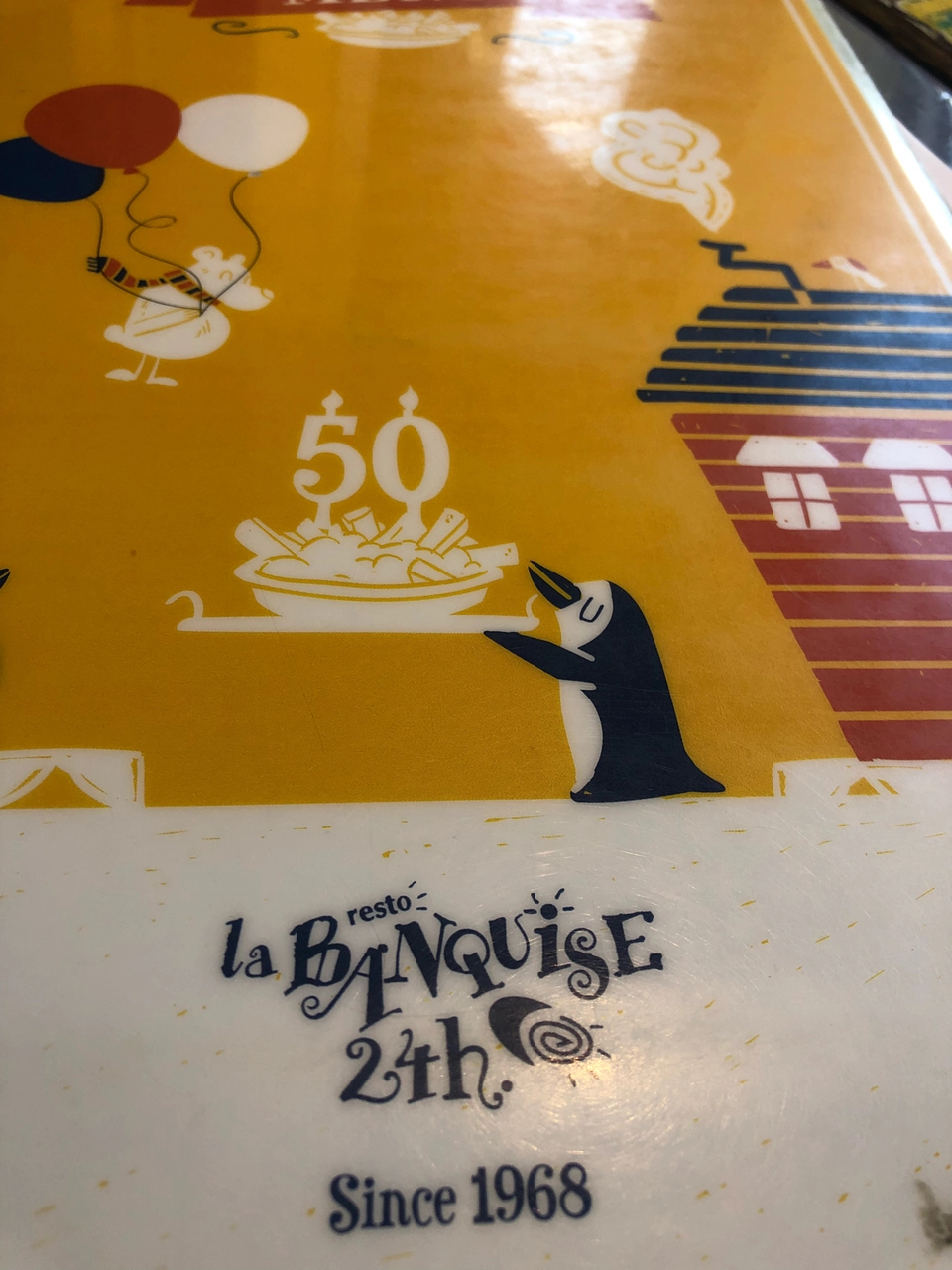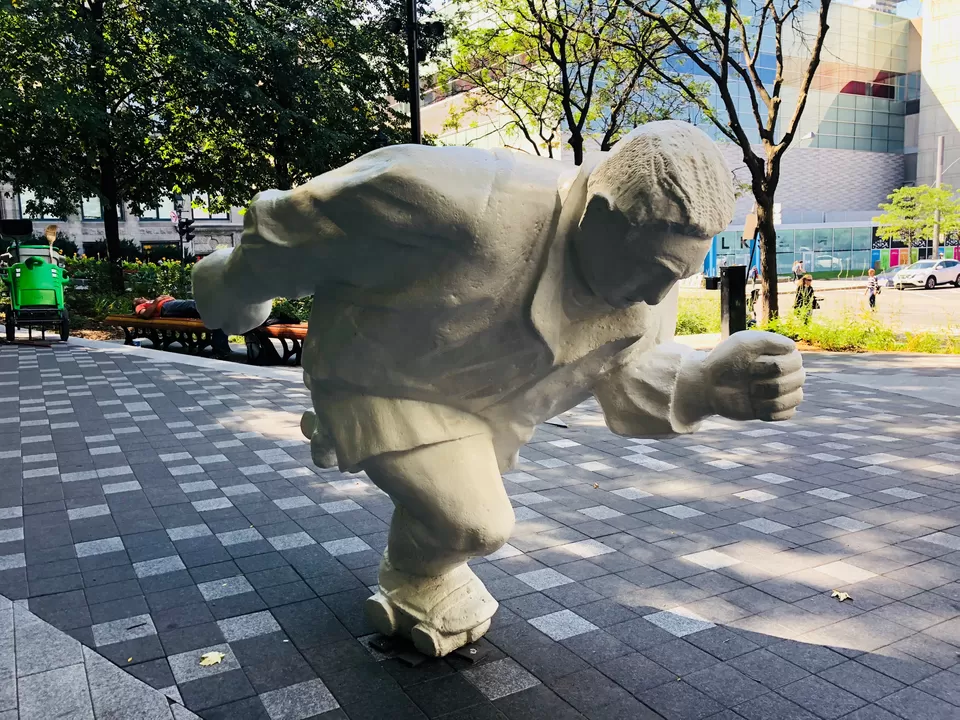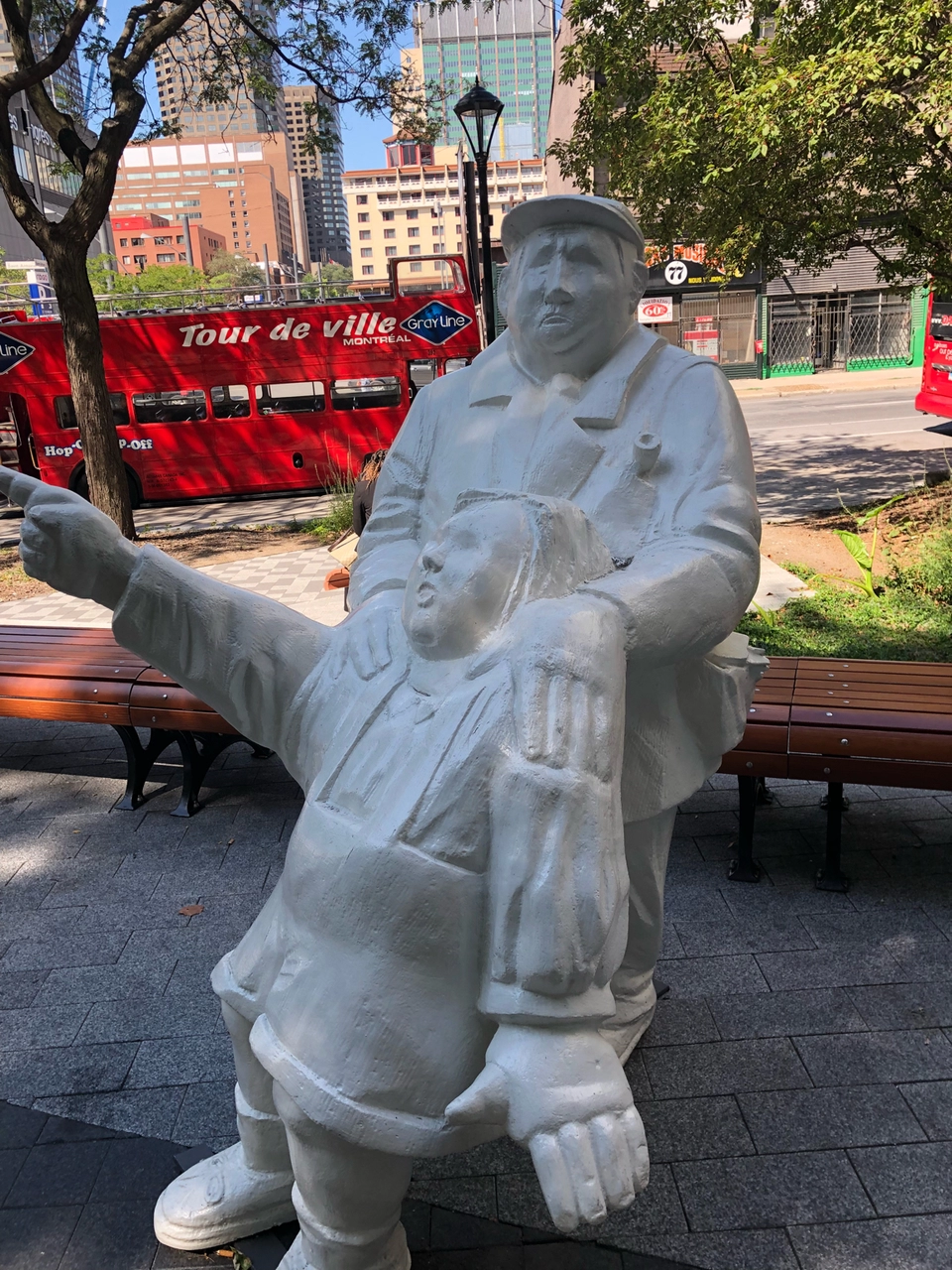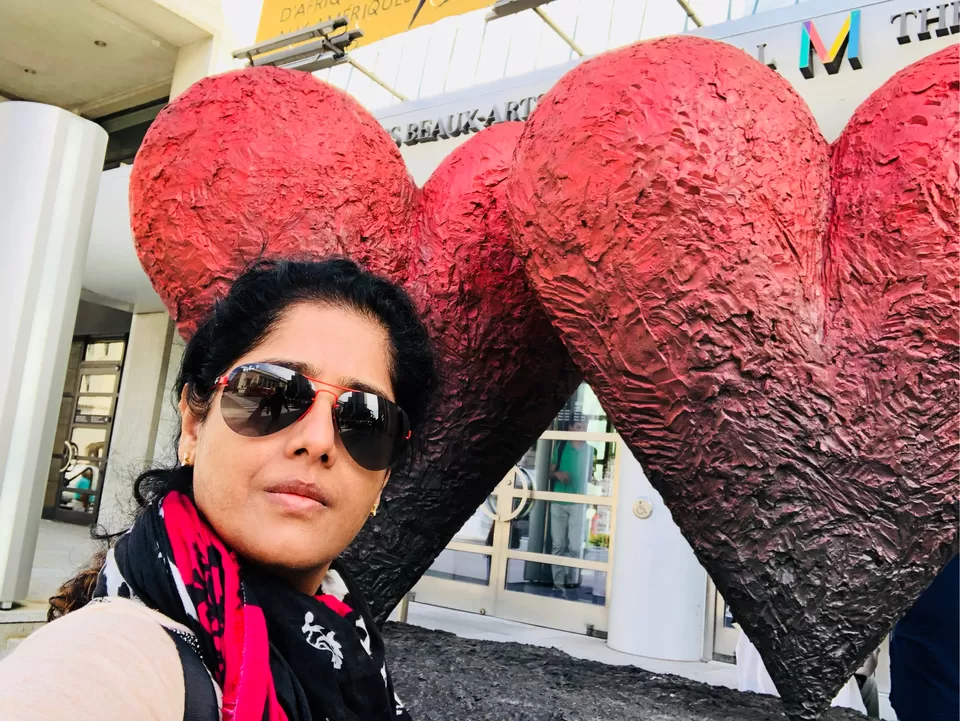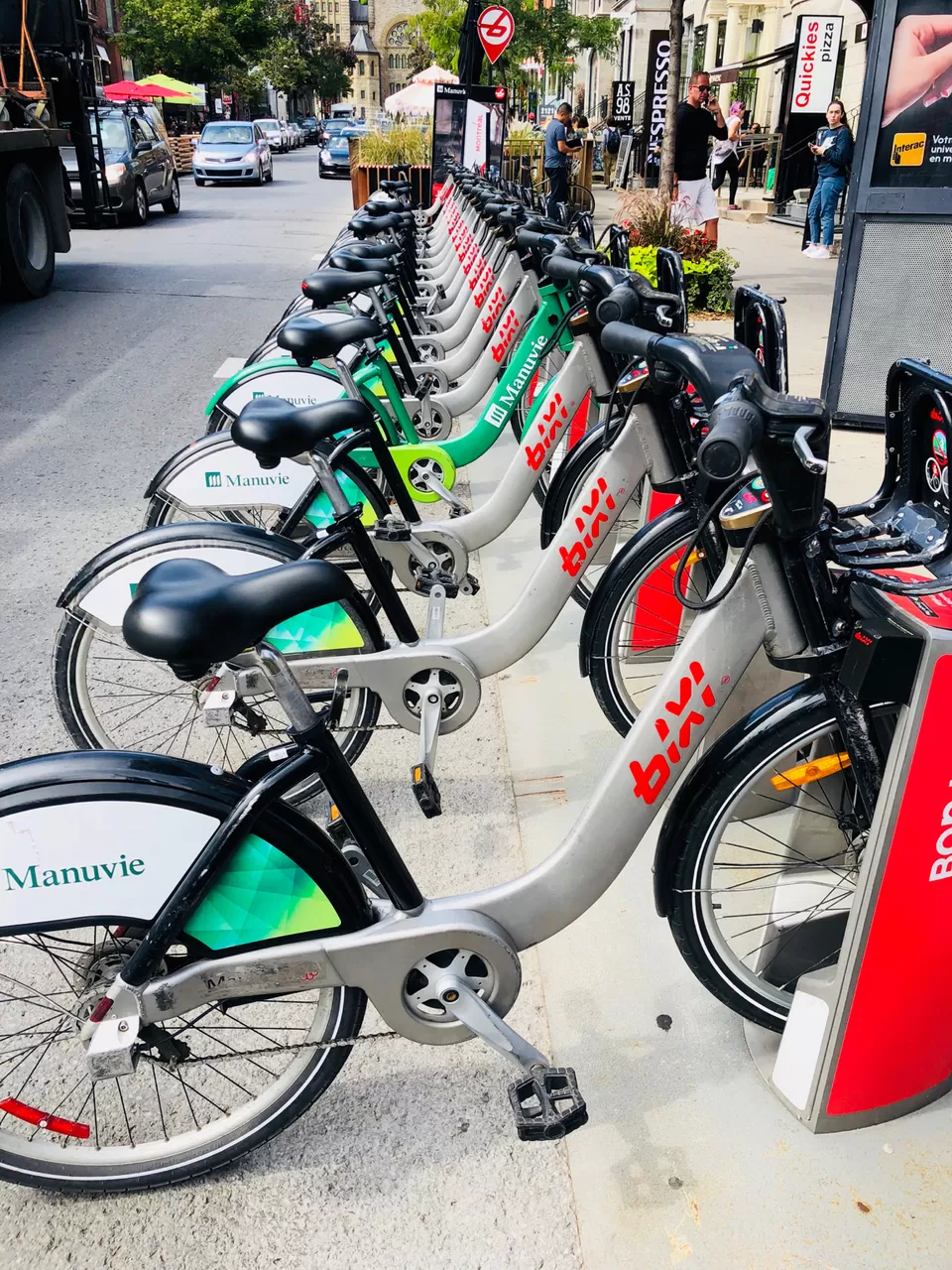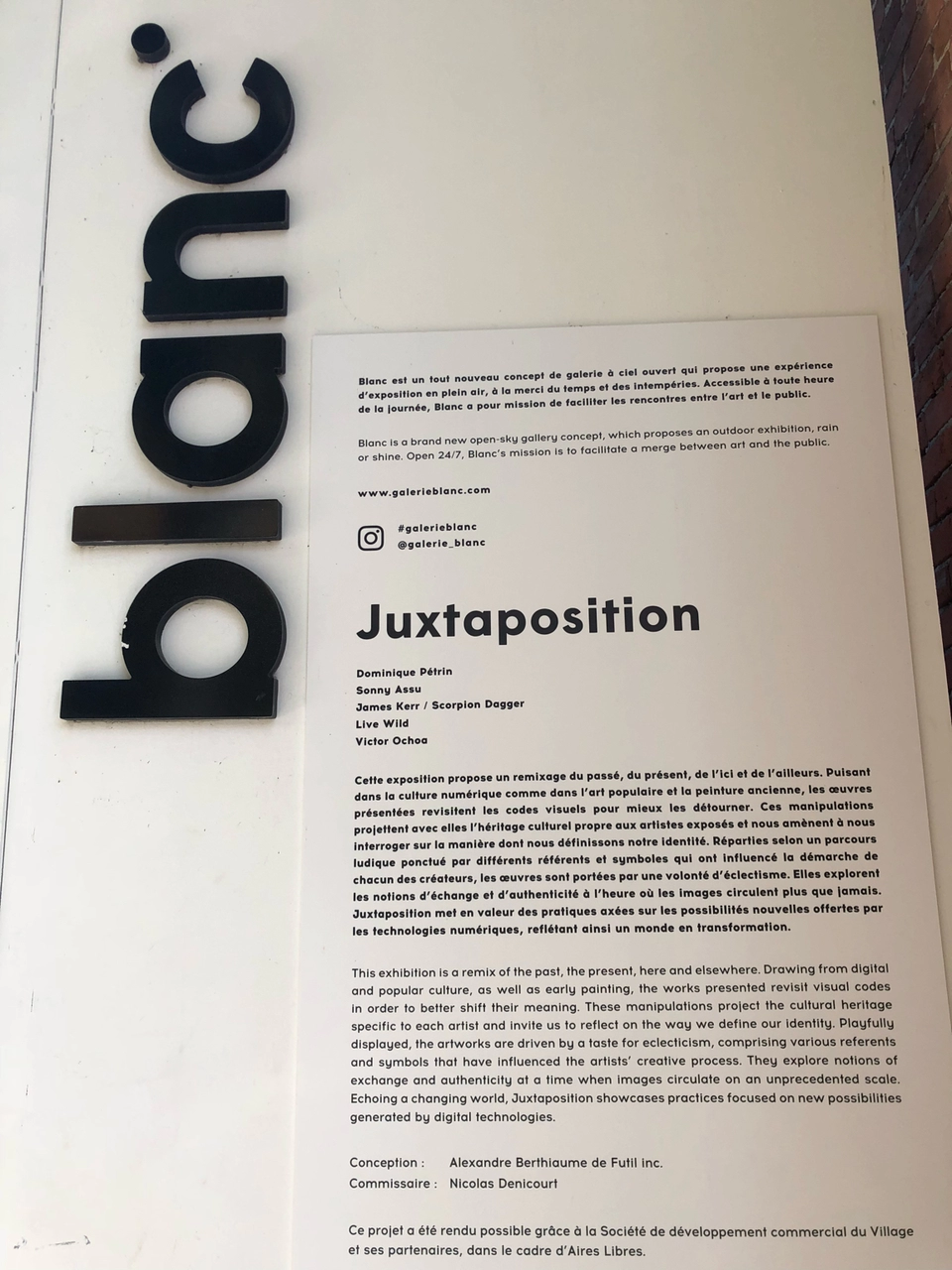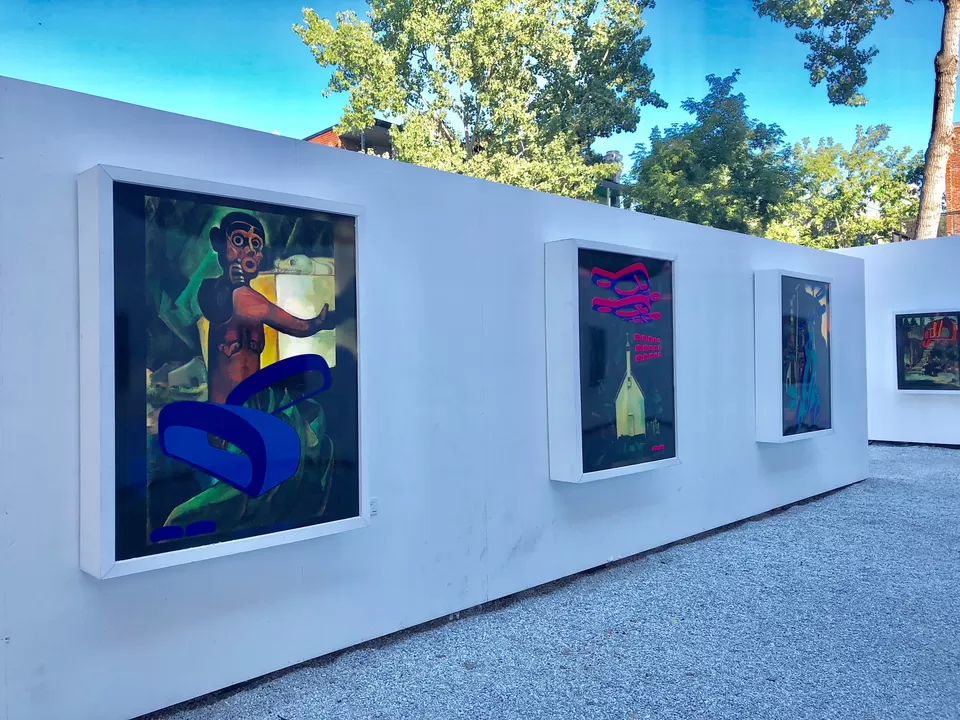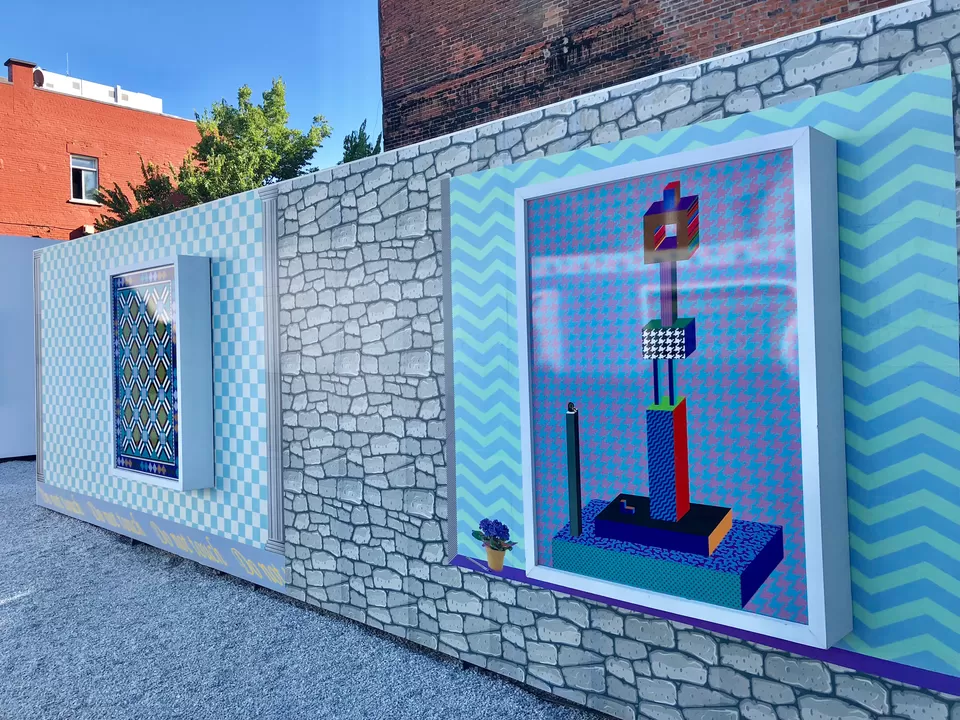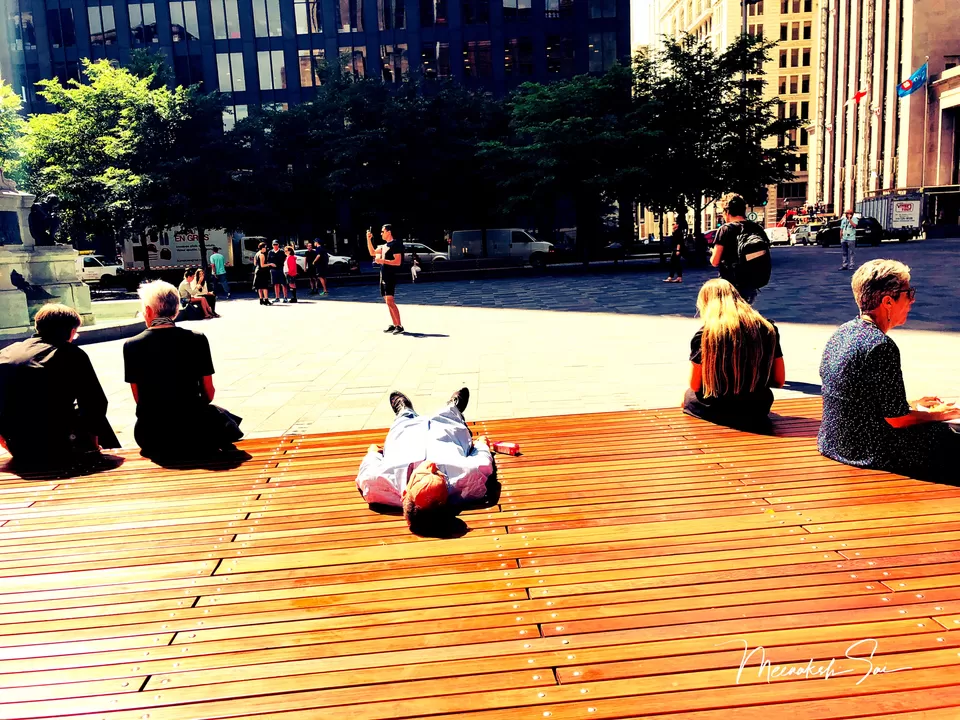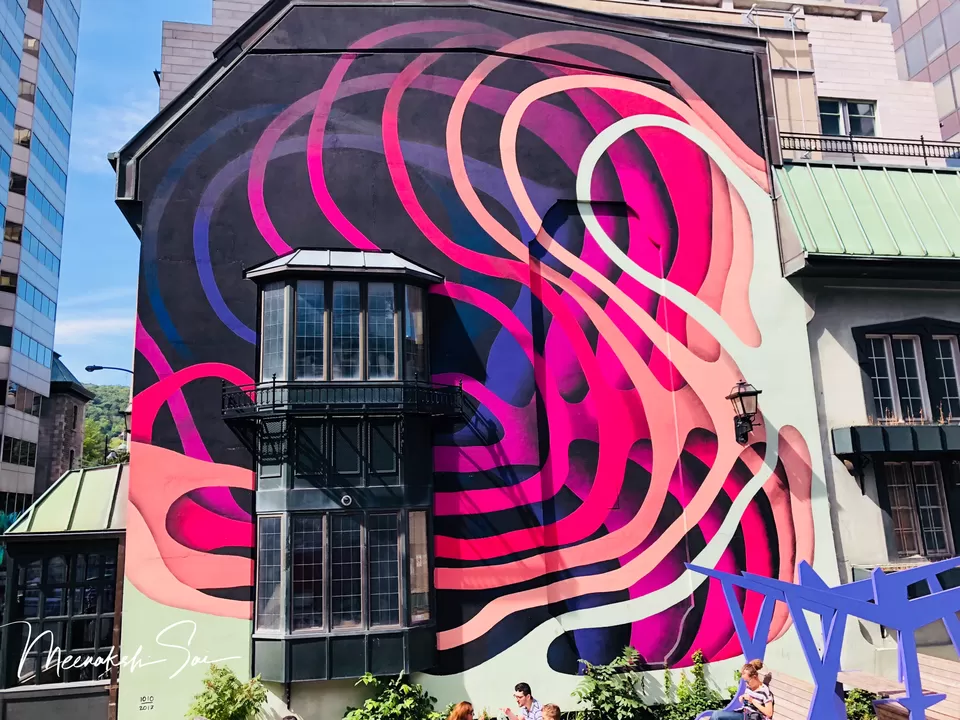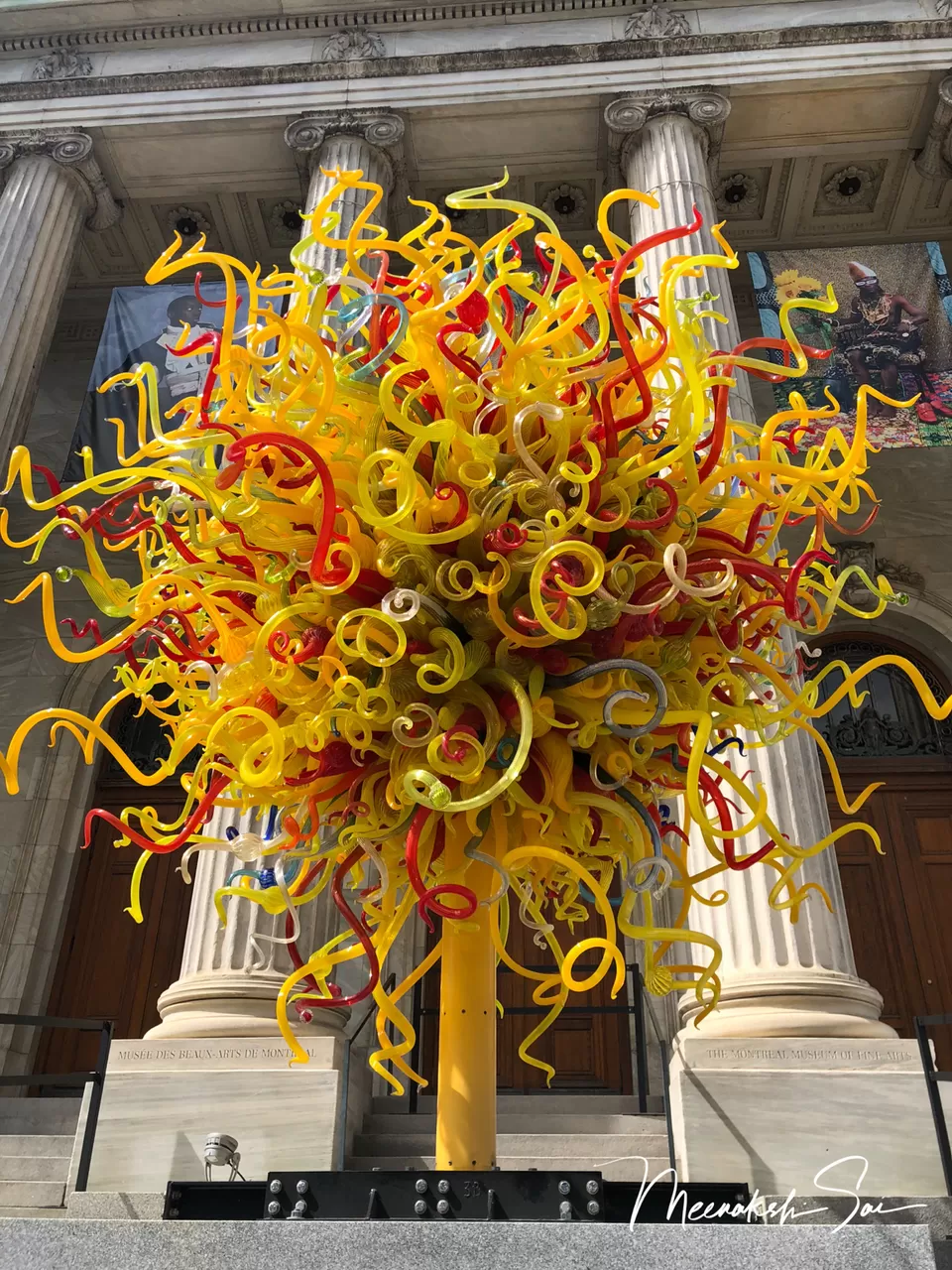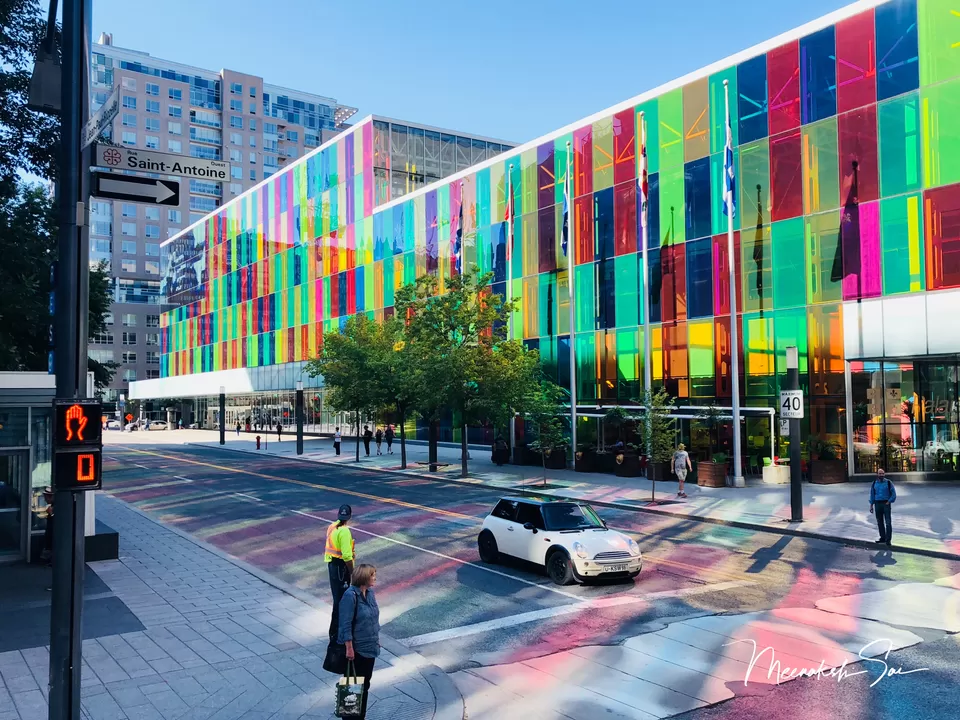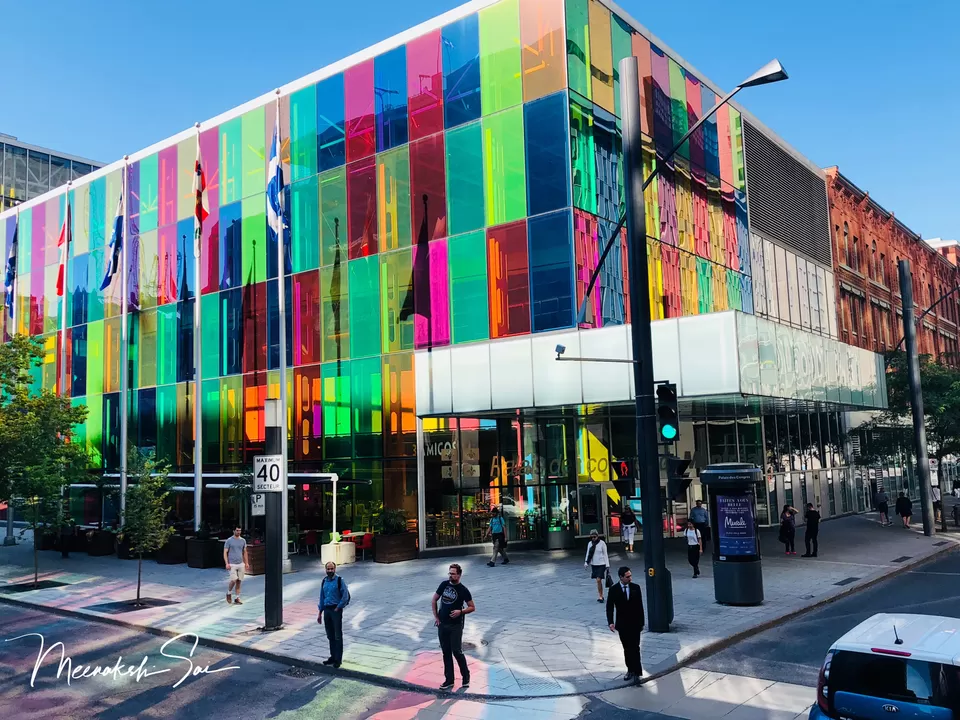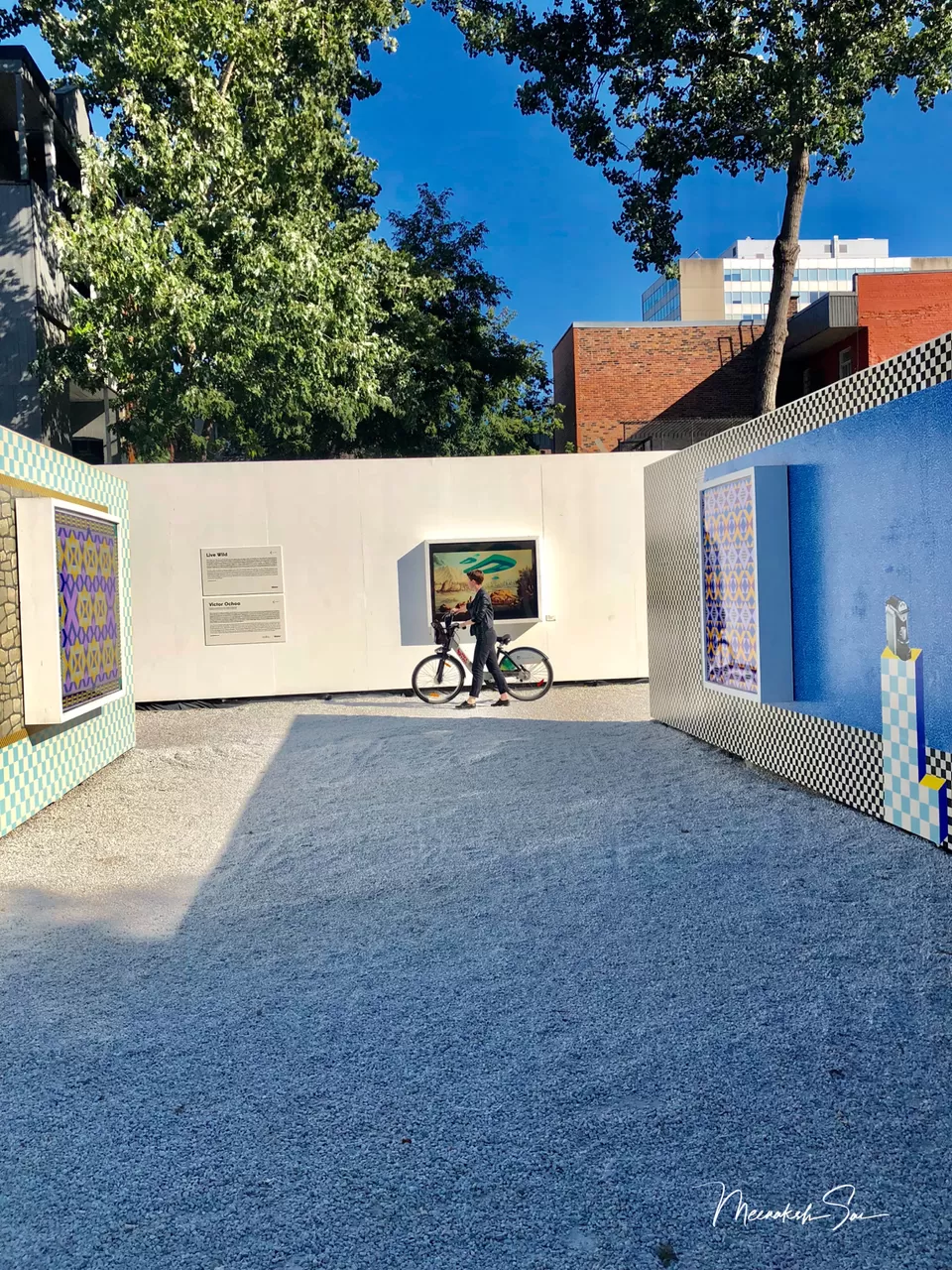 Day 5 ..
250 kms from Montreal to Quebec City ..
Surprise ..
a friend from Coimbatore who lives in Brussels landed this morning in Montreal and we decided to get breakfast together before I headed on my way to Quebec City ..
So Manuj Khanna and I headed to the best Bagel place in Montreal , where the locals buy them by the dozen .. Small place called Fairmont Bagles.
The Montreal Bagels are a little different front the New York ones.. Both cities claim that they make the best Bagels . I have tried a number of Bagels all over New York and the best one there is Kossar's ..they originally made bialy and then in the 90s they also started making Bagels . Kossar's bagels are hand-rolled and to die for ..
So Fairmont Bagels are very good too . I was impressed . Slightly smaller than their New York buddies .. this store dishes out Bagels by the hundreds . There is no place to sit and eat . A steady stream of local people come and take them away by the dozens . We sat out in the crispy morning , it was rather early , eightish I think and downed the best spongy sesame coated bagels in the world .. there are a few others in Montreal , but Fairmont is where the locals go .. and Fairmont is open 24 hrs ..Montrealers eat their Bagels au naturel when they get them fresh right out of the oven.. you can't beat that smokey taste ..
I know that is a loooooong story for a humble bagel but I love them ... I could go on to tell you that it's origins are from the Jewish quarter at Vilnius , Lithuania , opposed to some people saying it's from Poland ..
Dropping Manuj off at his Airbnb in the middle of downtown .. I headed to the second thing on my list . HABITAT 67 ..Well , this building is historical and I've been wanting to see it for many years now .. Moshe Sadie's is the architect of this powerful iconic residential complex of buildings .. His work somehow reminds me of the works of Rowark in Fountainhead ..
Habitat 67 is Zen , Habitat is monochromatic art , a sculpture ..a guide on the bus said yesterday that they might have tours but I couldn't find one . Would have loved to see it up close . So I stopped the car and gawked at it .. drove past it 3 times to take it all in .. beauty ... it's been featured in Leonard Cohen's " in my secret life video as well ..
I wasn't ready to leave the city yet and so I found myself at the Nespresso Bar and looking up at this huuuuge Leonard Cohen s mural .. had to get my favourite caffeine fix before I left Montreal .
Drive to Quebec City was uninspiring and bland after the Habitat experience ..
Will take it easy today and explore the city tmrw ..
September 2018 ..
#goldfishtrails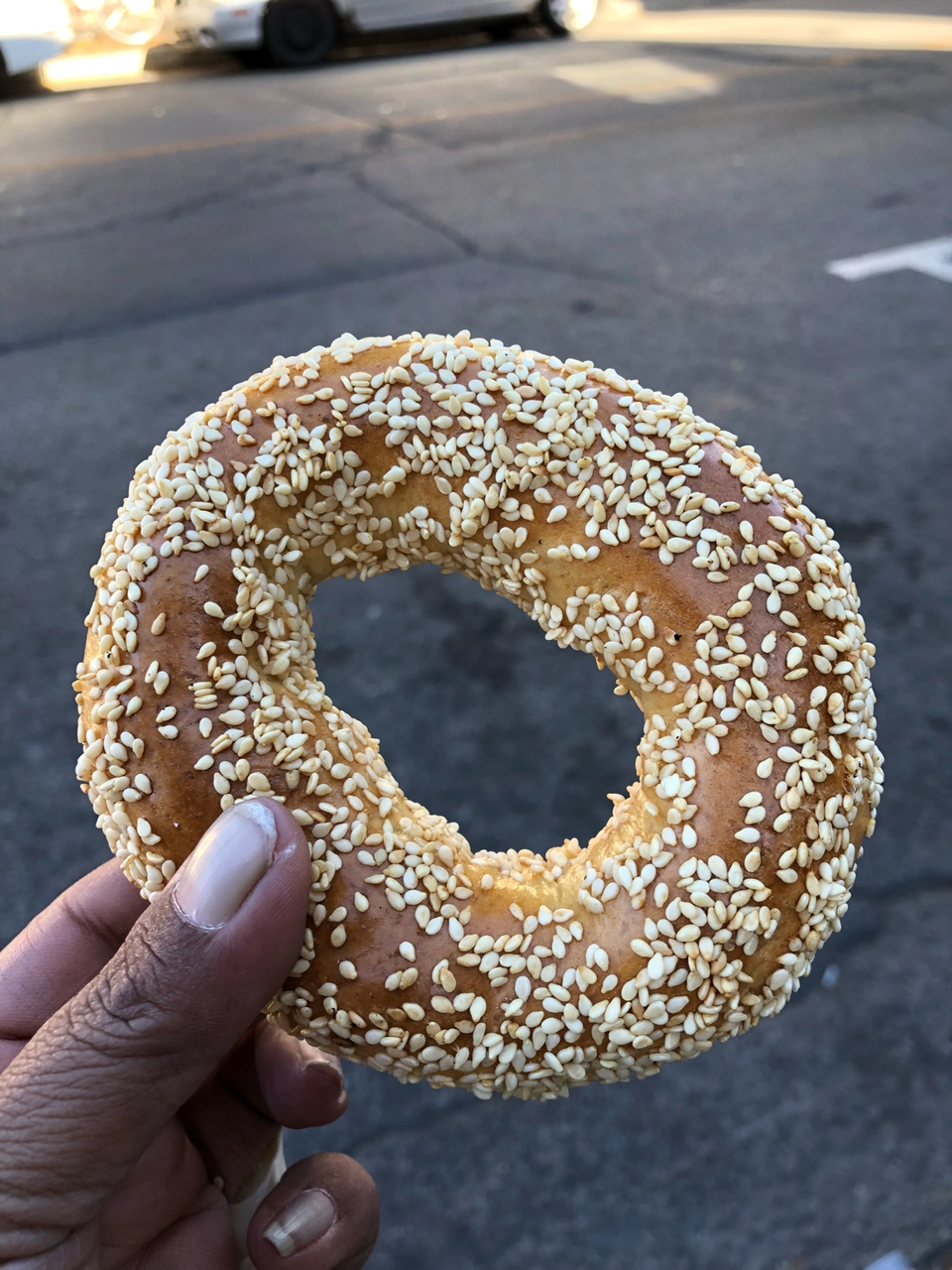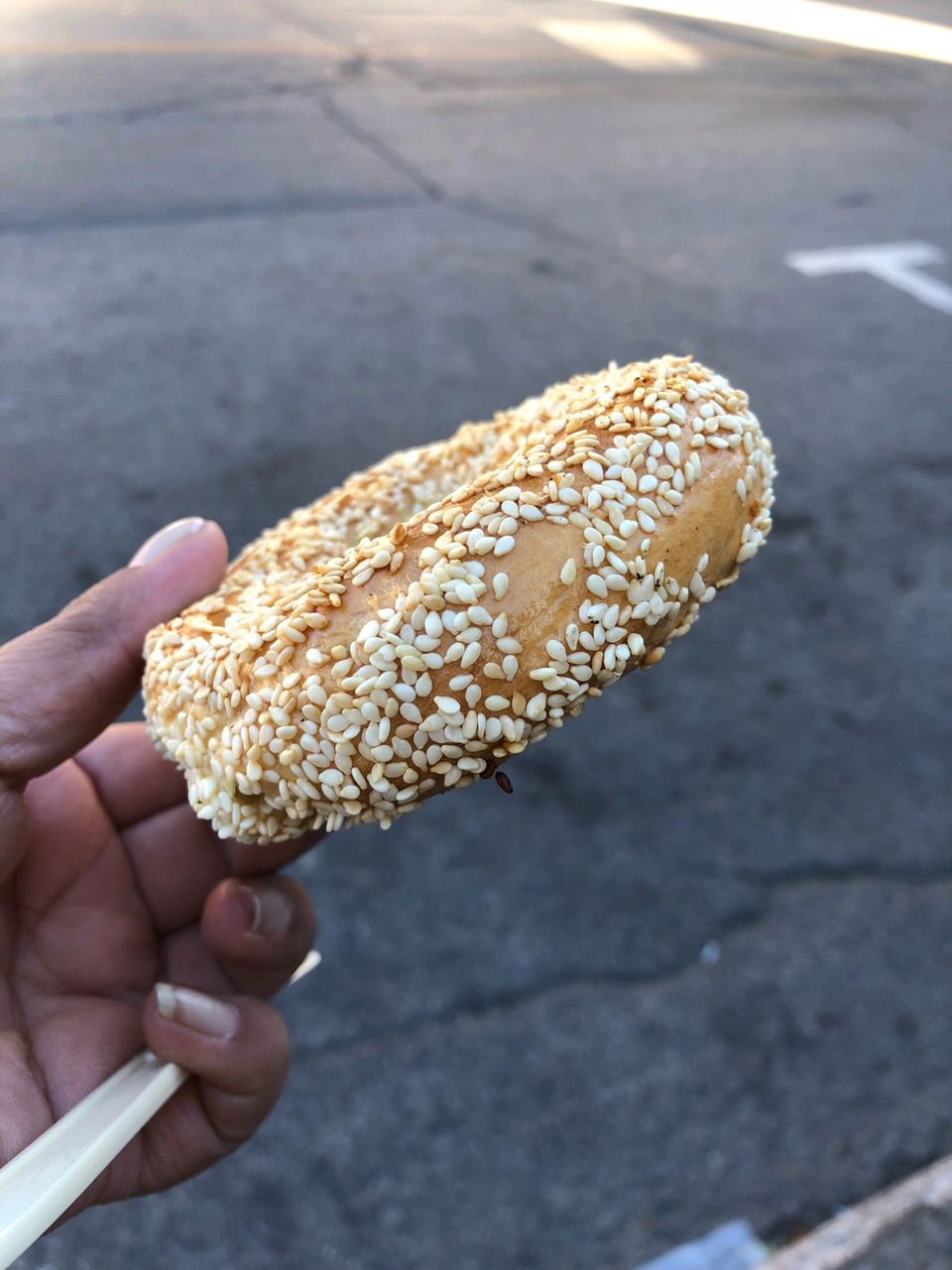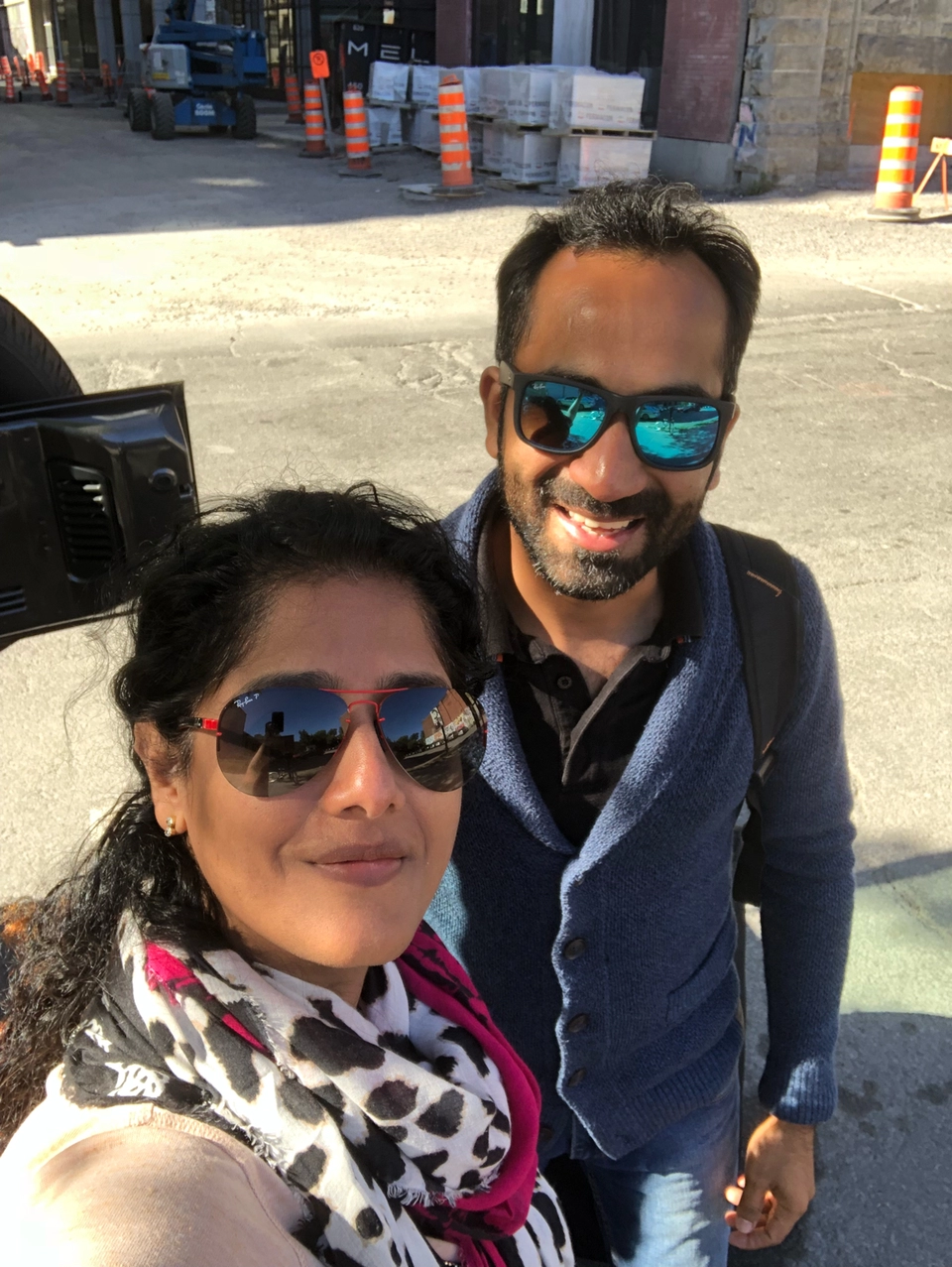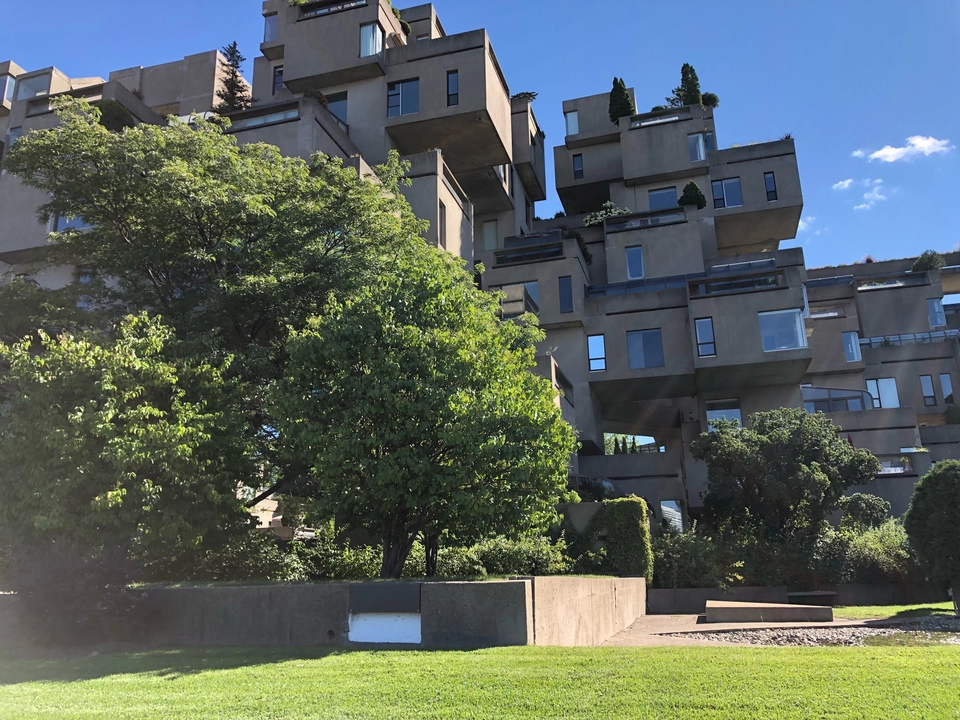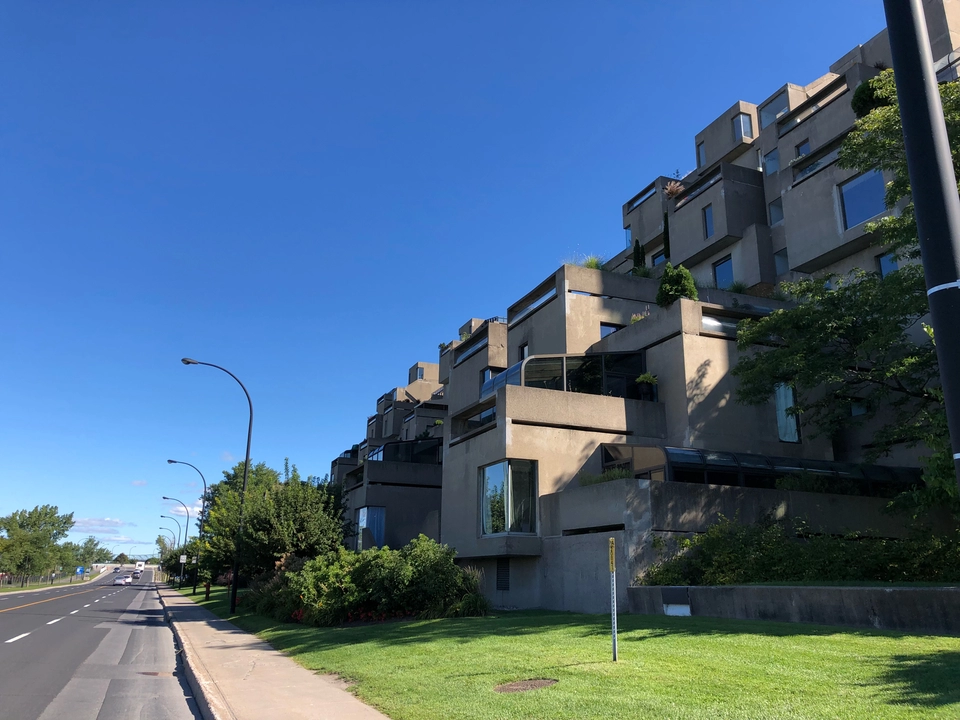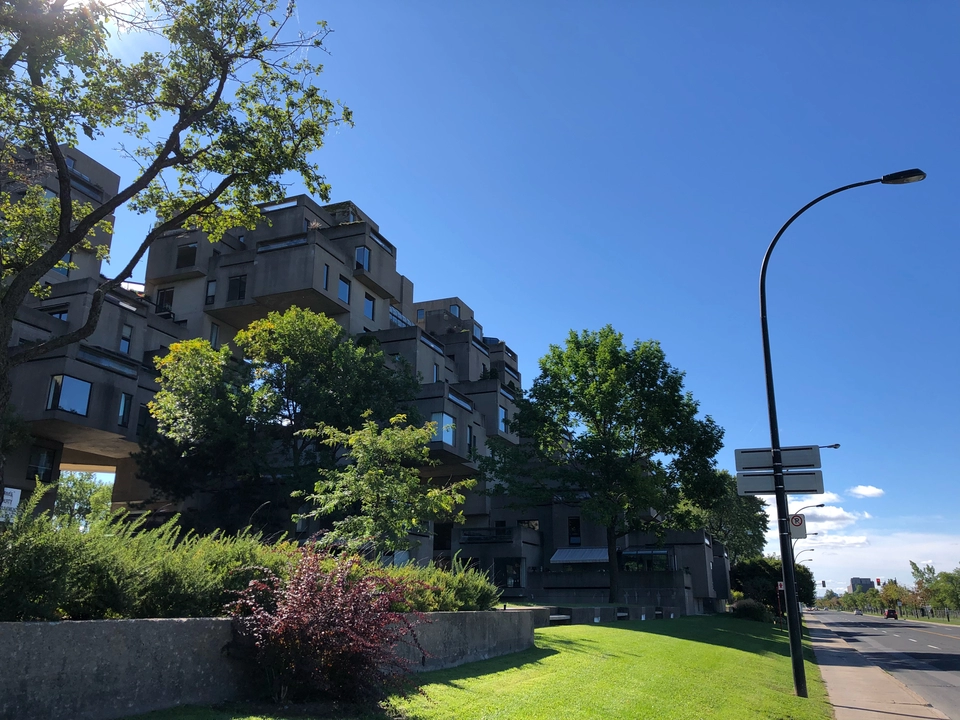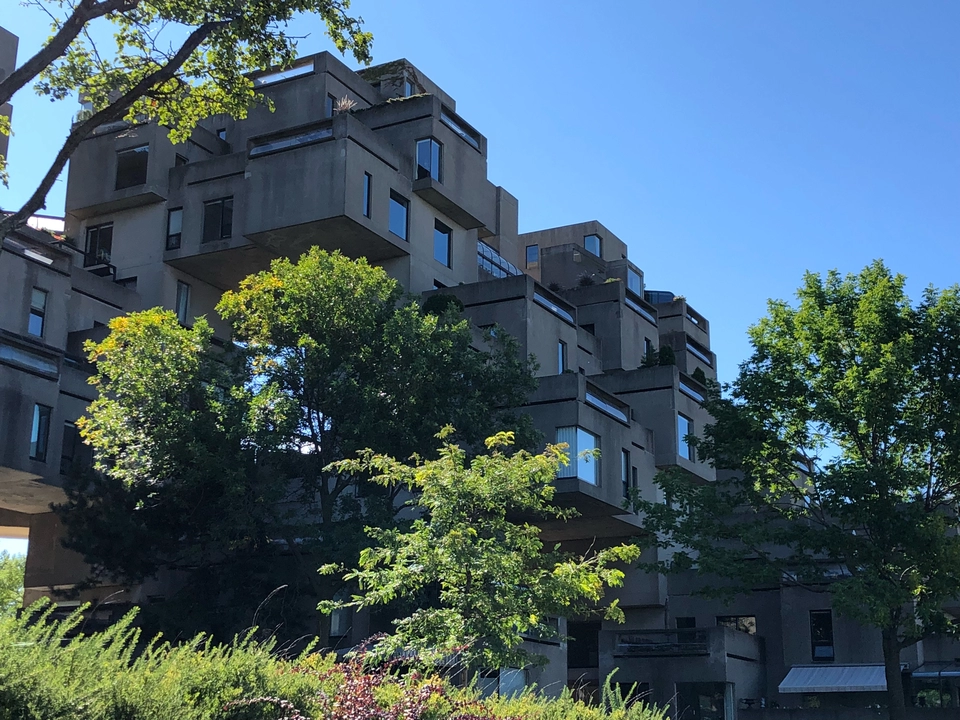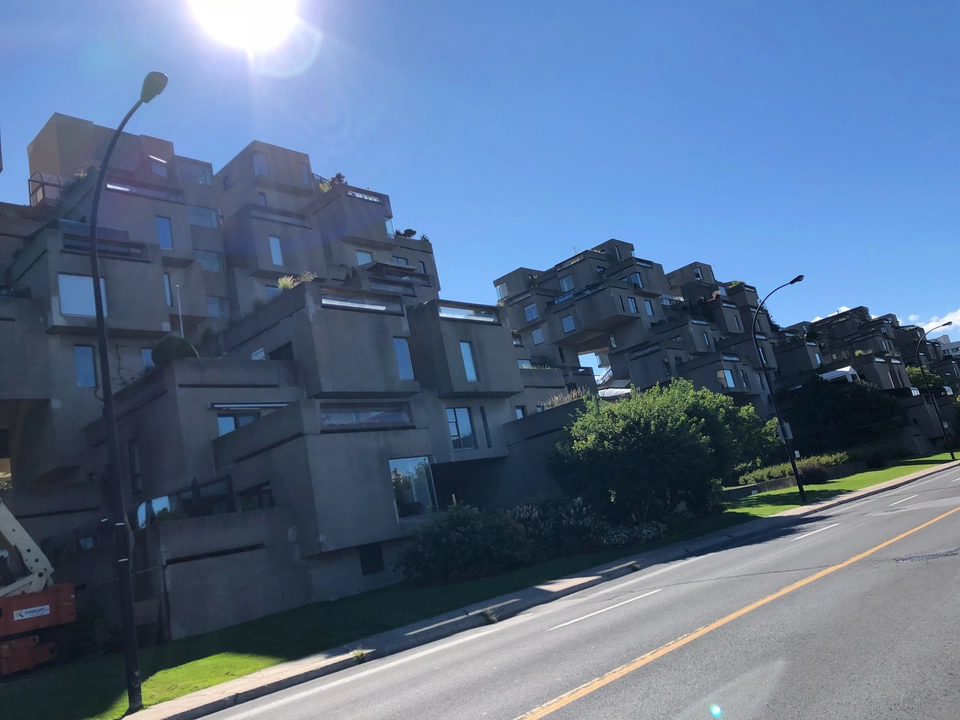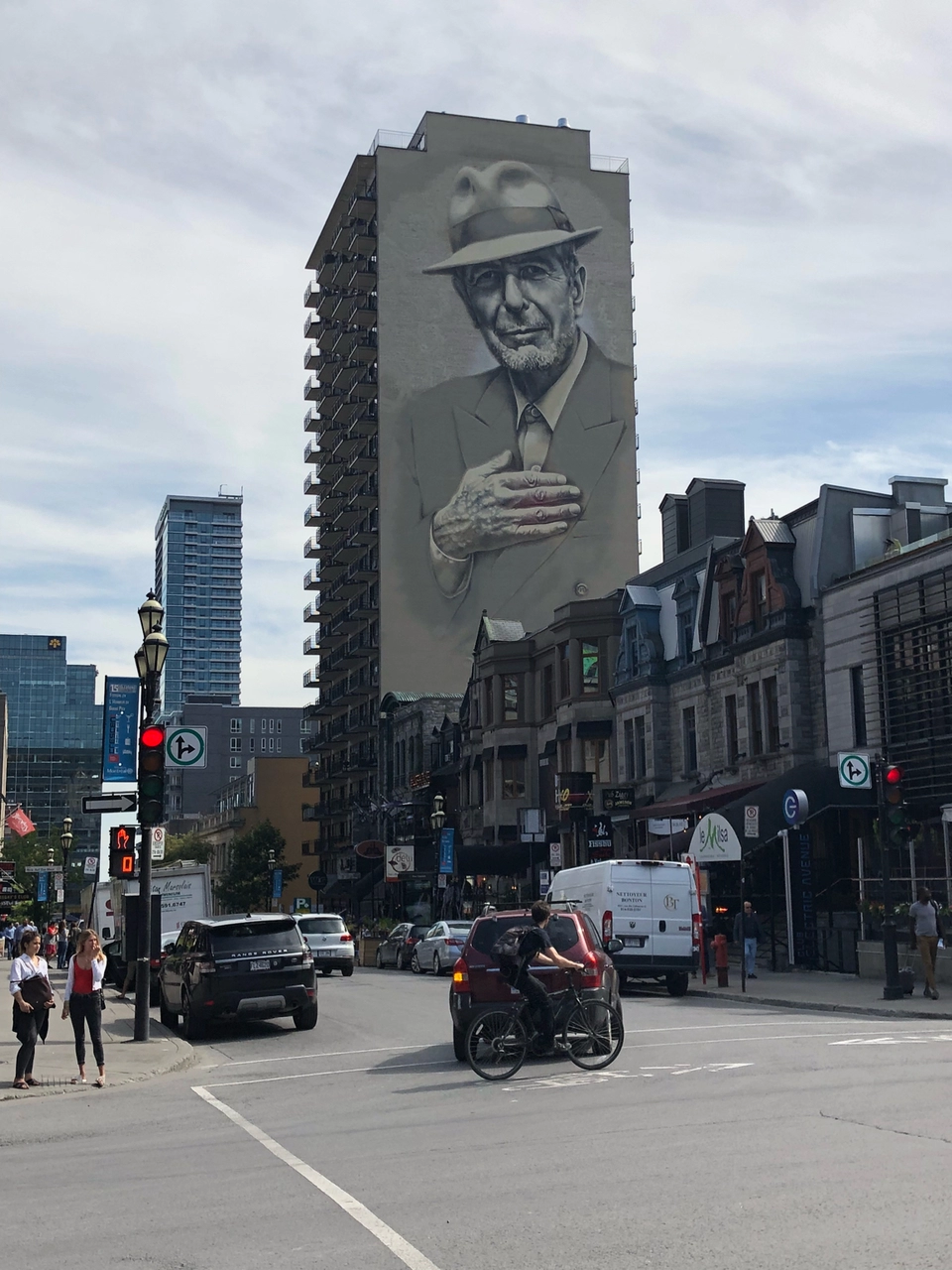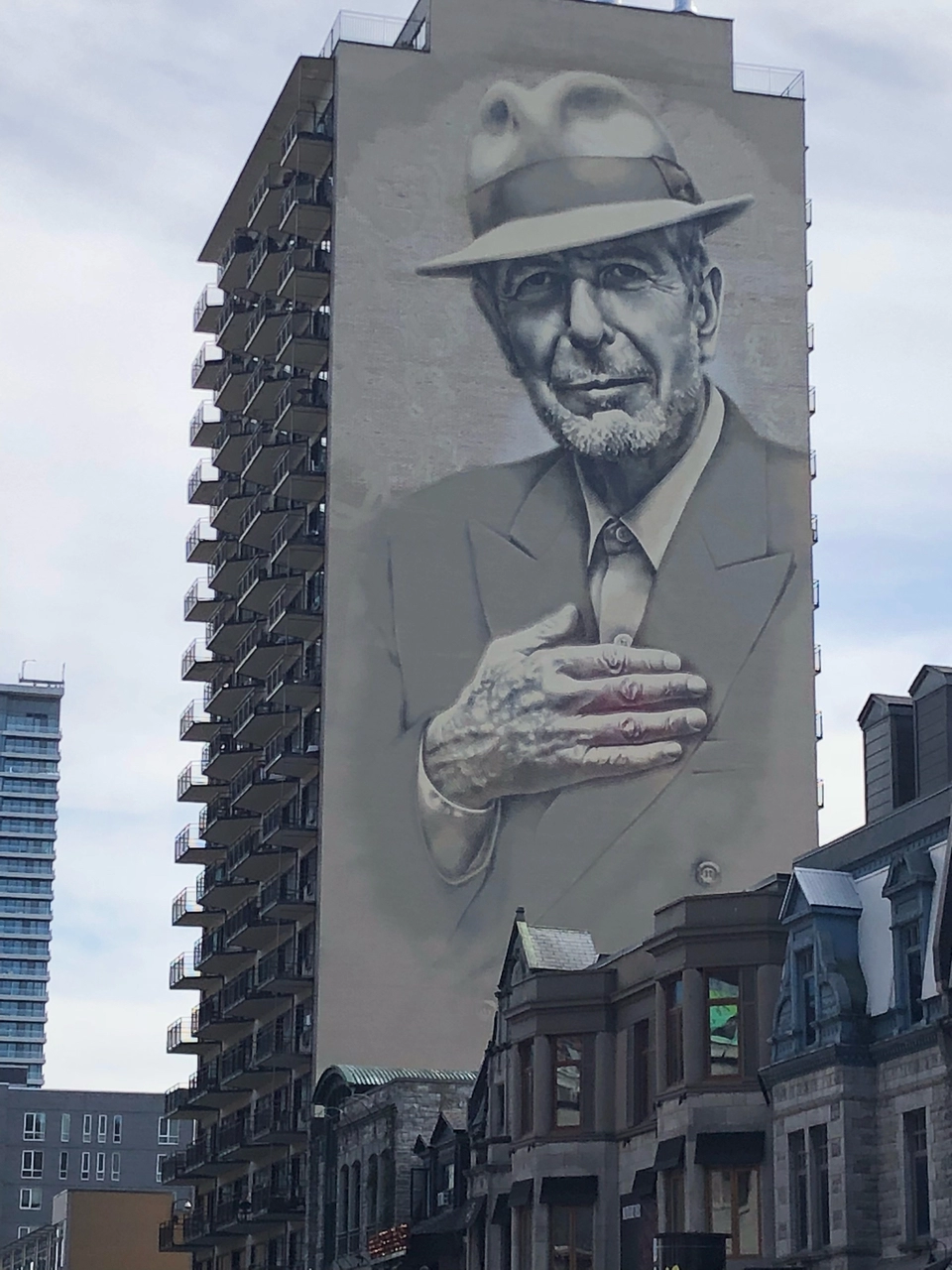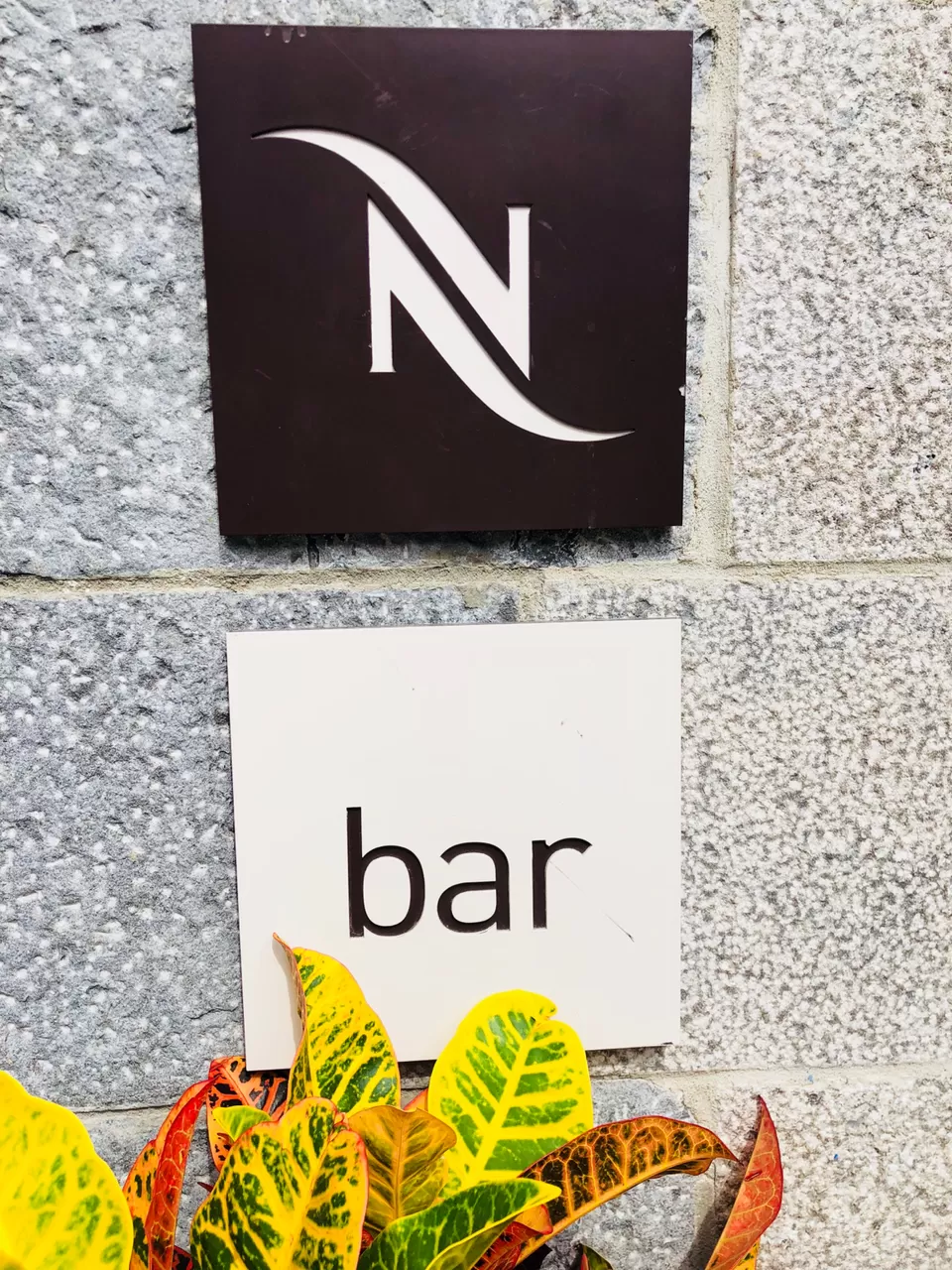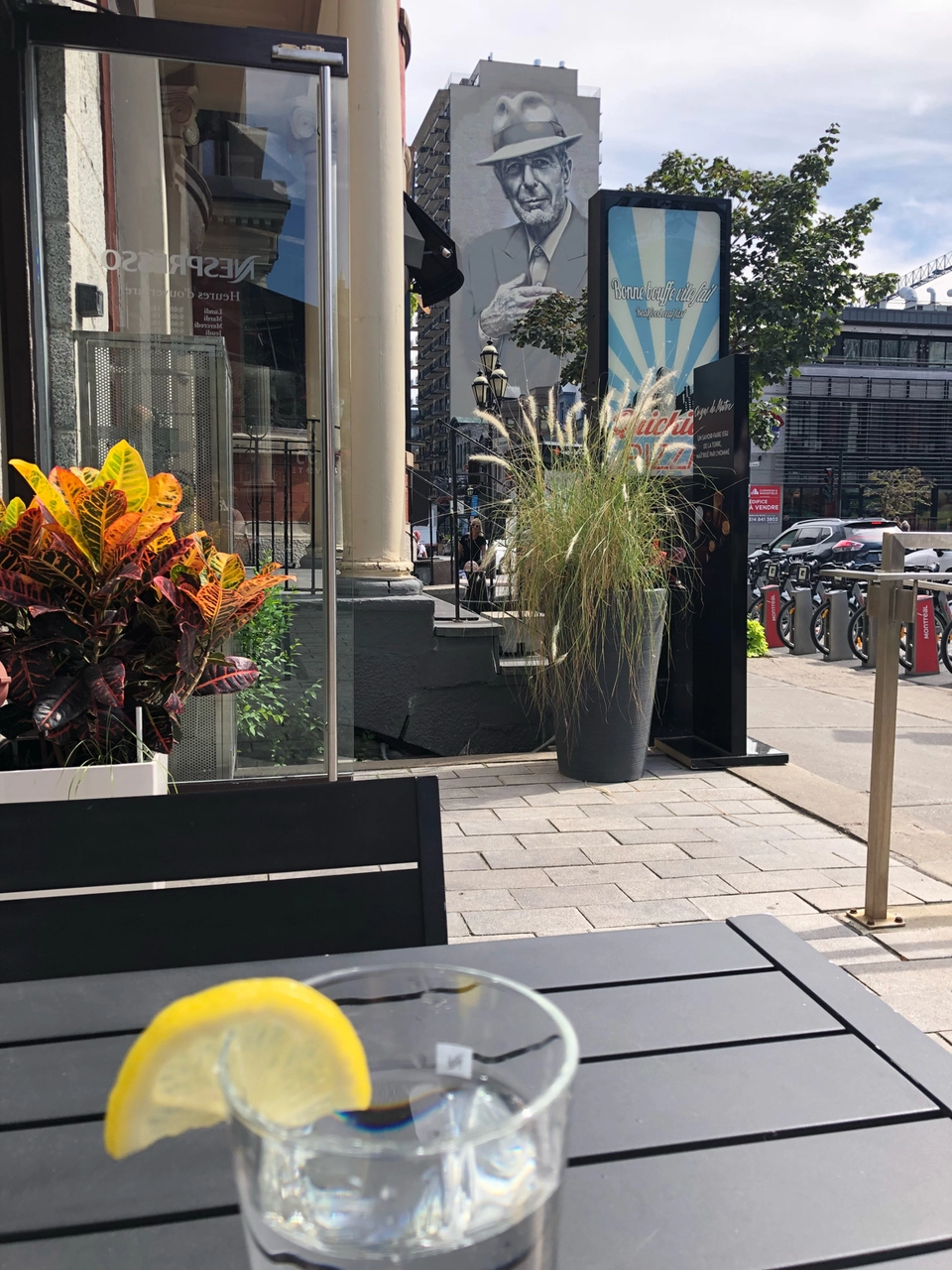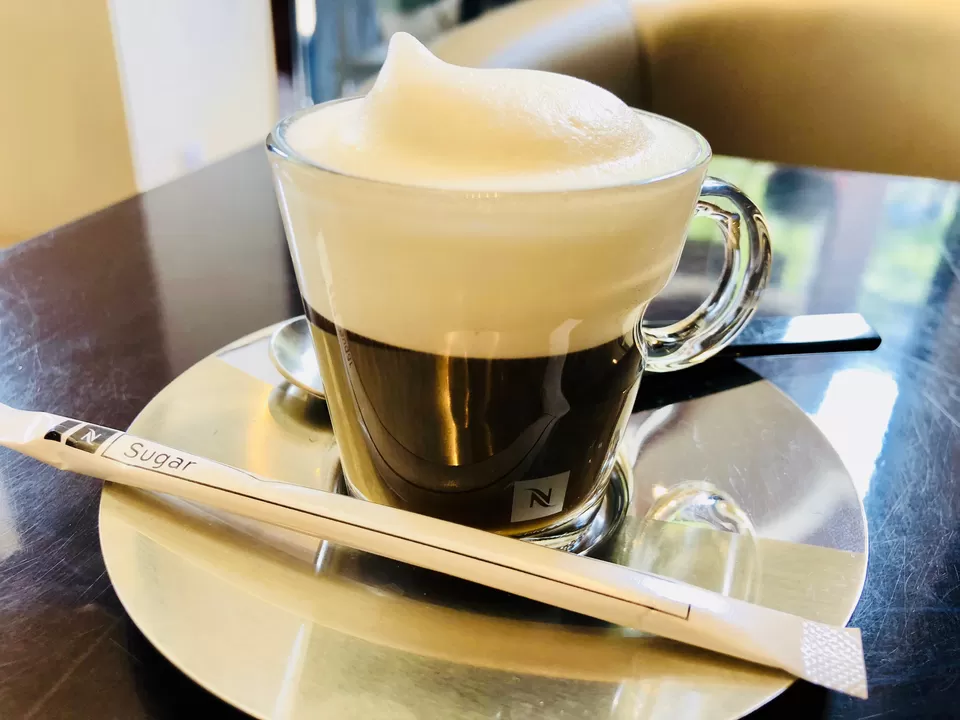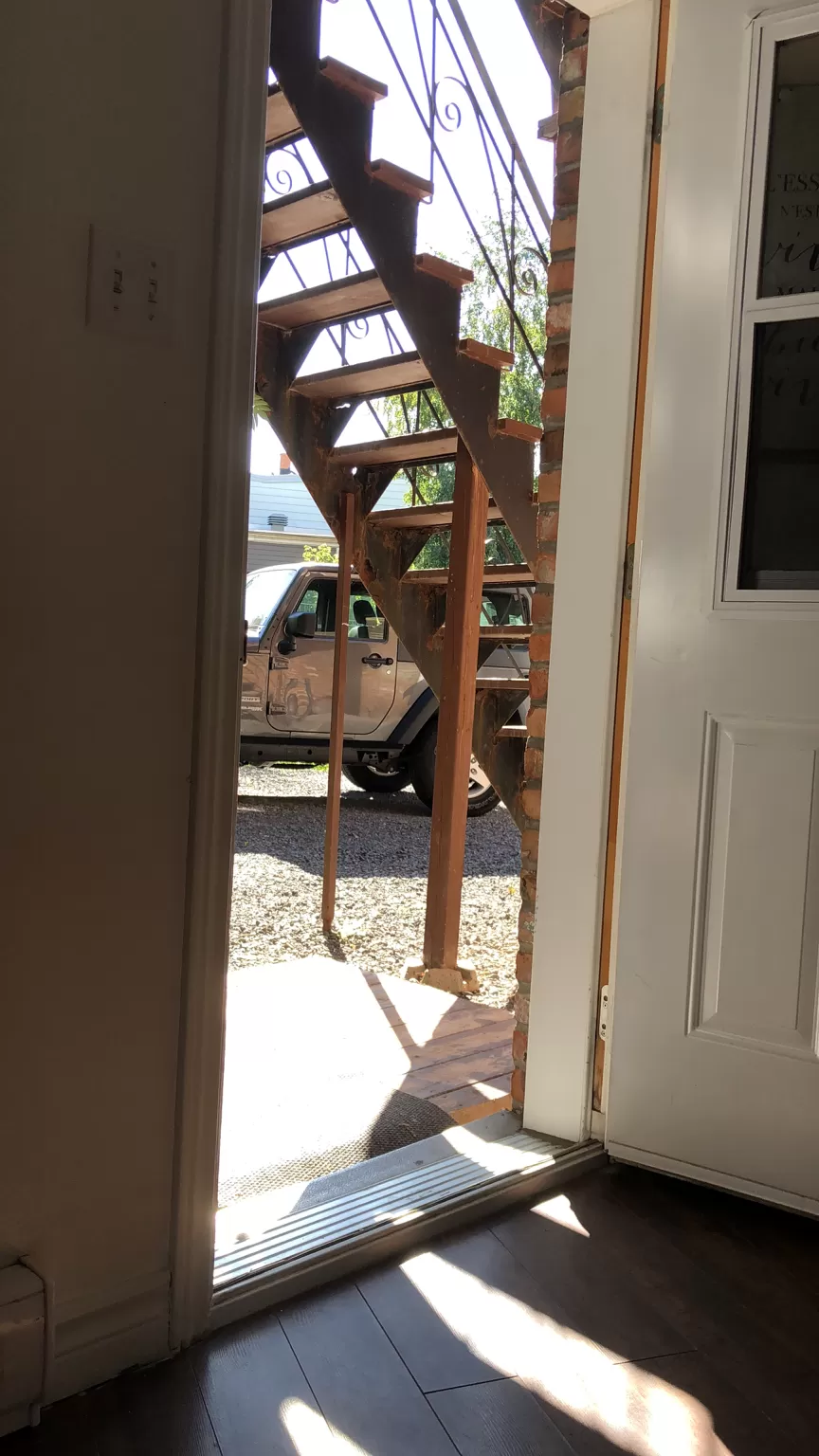 Day 6
Leave the car behind and Uber it to the city centre..
I took a walking tour . Super sweet guide and 15 other people , quite entertaining .. No Indians .. so when asked to introduce ourselves, this lady from Oklahoma said she's come to Canada to escape Trump for a few days and she wanted Trudeau as their President ... ooops ..
A two and half hour walk through Old Quebec , pretty much tells you about the entire history of the country , on how it was discovered and then the British came , wars that were fought ,blah blah .. it's a UNESCO world heritage treasure site etc etc ..
CHÂTEAU FRONTENAC is the most photographed hotel in the world ..was never a Chateau , was always a Hôtel .. imposing and grand..
Old Québec offers a food tour which is very popular , but being a veggie .. no no for me .. my cabbie suggested it to me ! Must do for carnivores..
The Citadel , Plains of Abraham are other popular sites ..
Founded in 1663, Séminaire de Québec is the oldest educational institution in Canada. French architecture ..now a private school ..
You see a mix of French , English , Scottish architecture in the city . Bricks were brought from England to build some of the houses . Art Deco style buildings are also seen , somehow it all fuses together in this quaint city and doesn't seem like a mishmash ..
I loved the lower town or the Basse-Ville ..
PLACE ROYALE - It is the cradle of French Canadian civilisation ..Quebec City was founded in 1608 by Samuel de Champlain after having opened the very first trading post here .The small square is full of history and there used to be a Fort here as well.. A huge Mural recounts the heritage of Quebec City ..
Petit Champlain - super sweeeeeet street , lovely stores , eateries , colourful shutters, planter boxes bursting with flowers .. There is so much to discover in this street ..this place seems to have been stuck in time ..
Old Québec city does not feel like North America... feels like Europe ..
Posting some pics and videos from today , in no particular order or importance..
The highlight of today of course , was the lady singing on the square behind the Château .. Marvelous .. the song that really impressed me was Bocelli's Con te partirò ... I had to go and hug her for that song .. she also sang " Raise me up " and "Ave Marie " ..
#goldfishtrails
September 2018
#goldfishtrails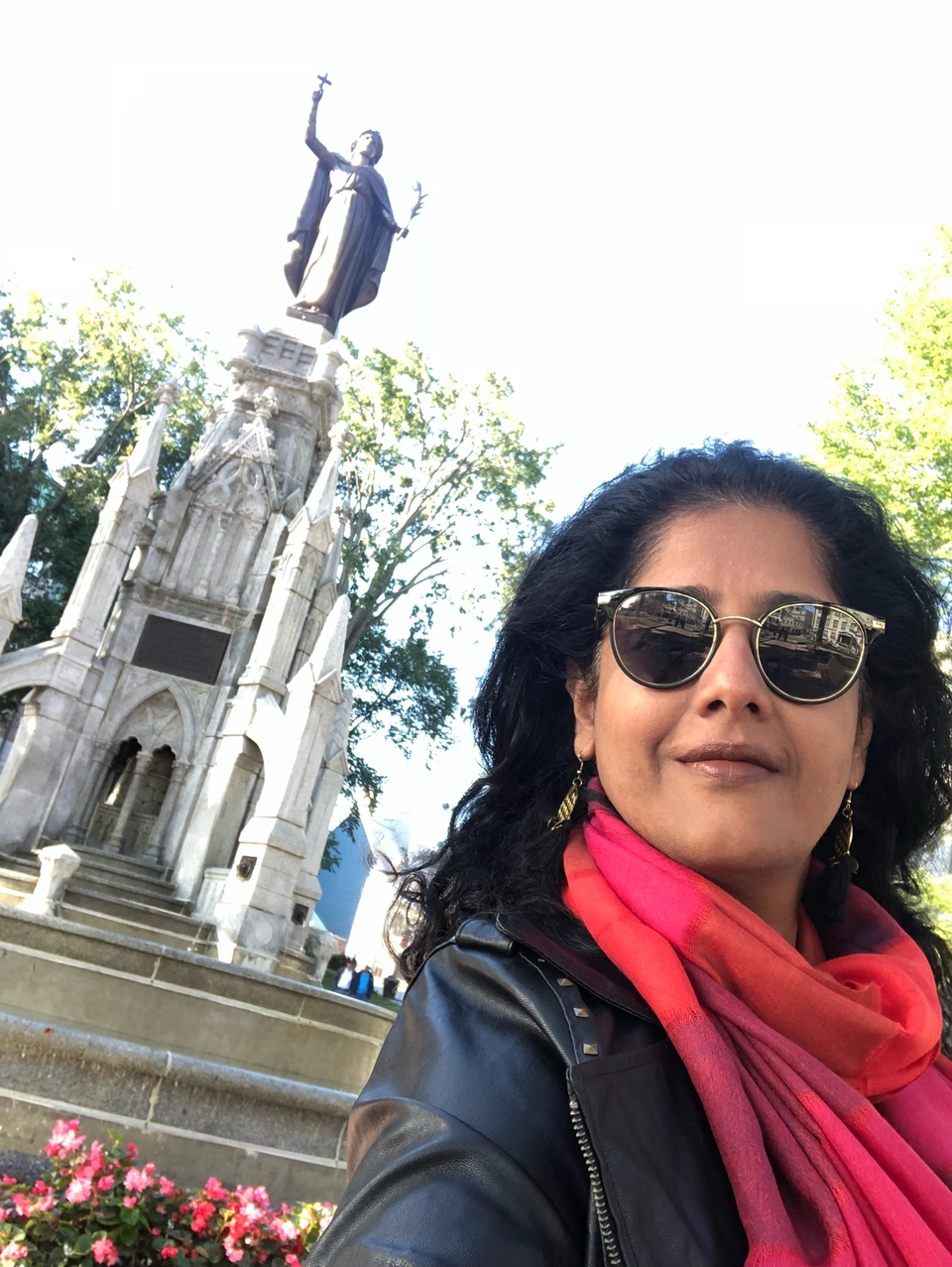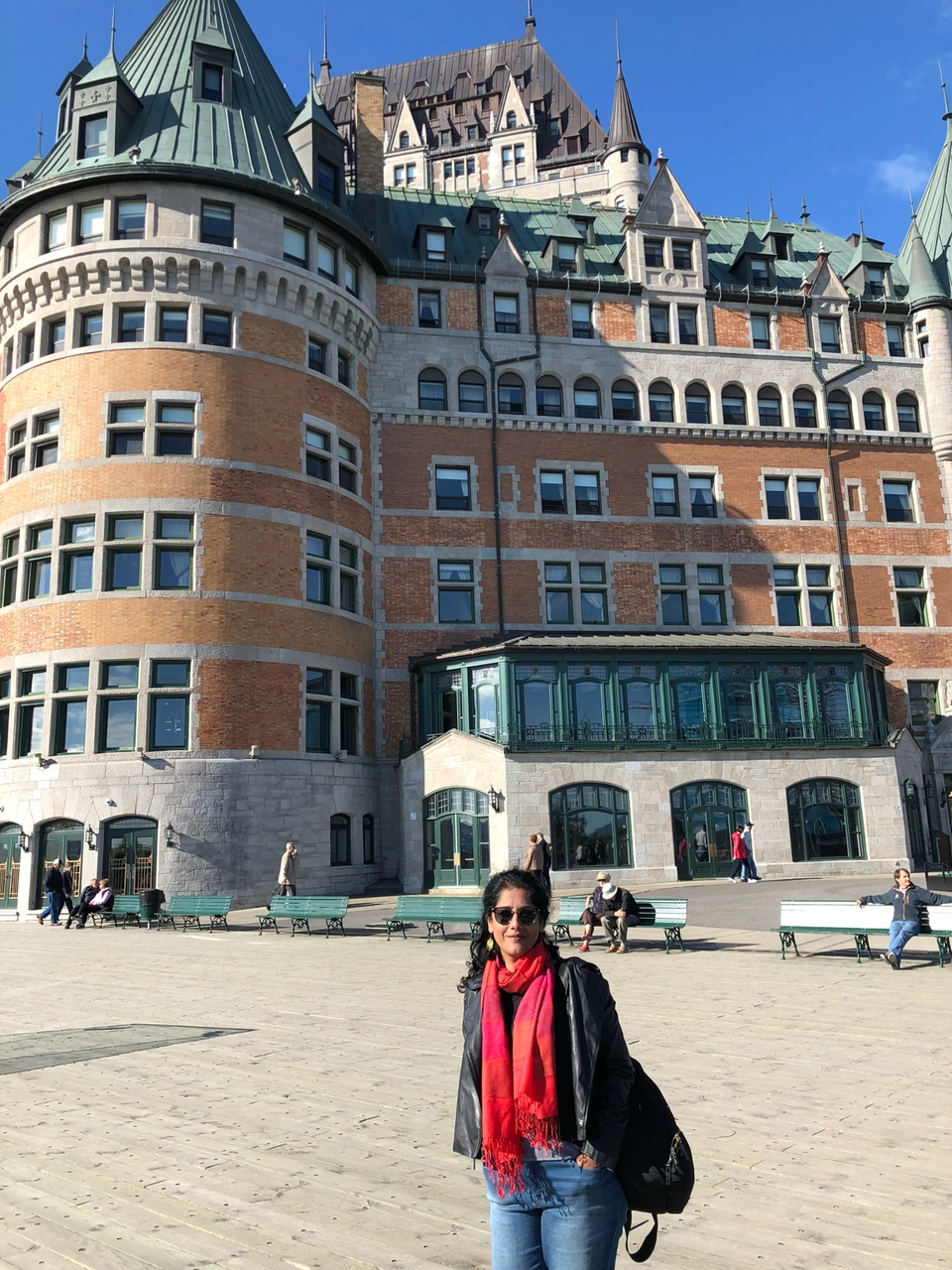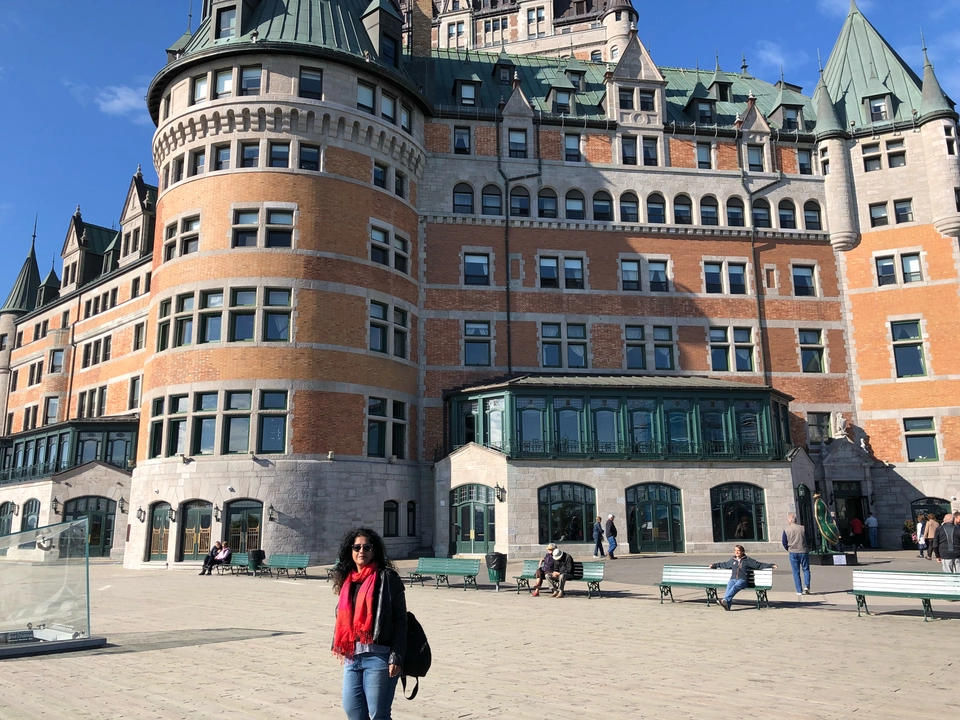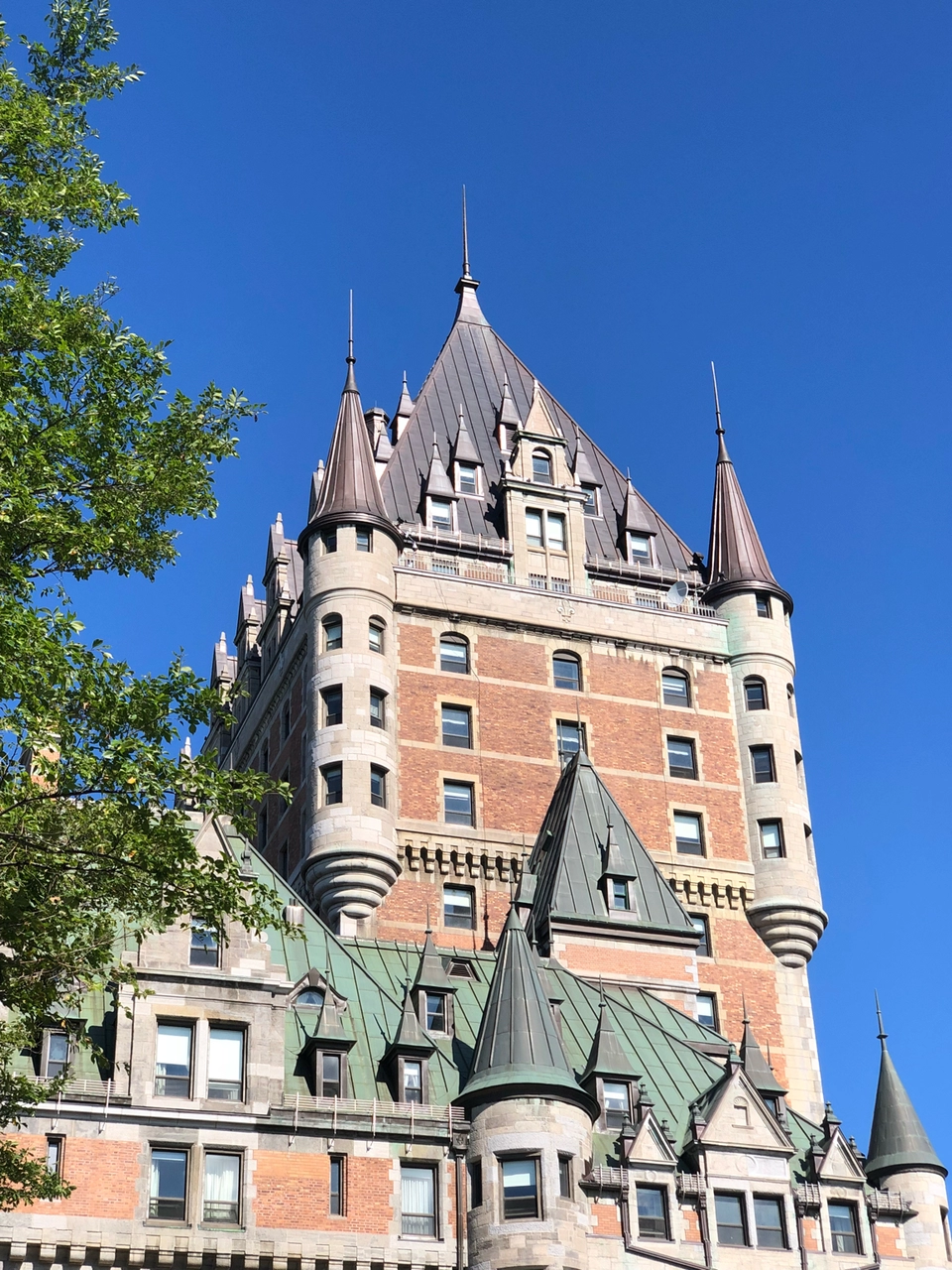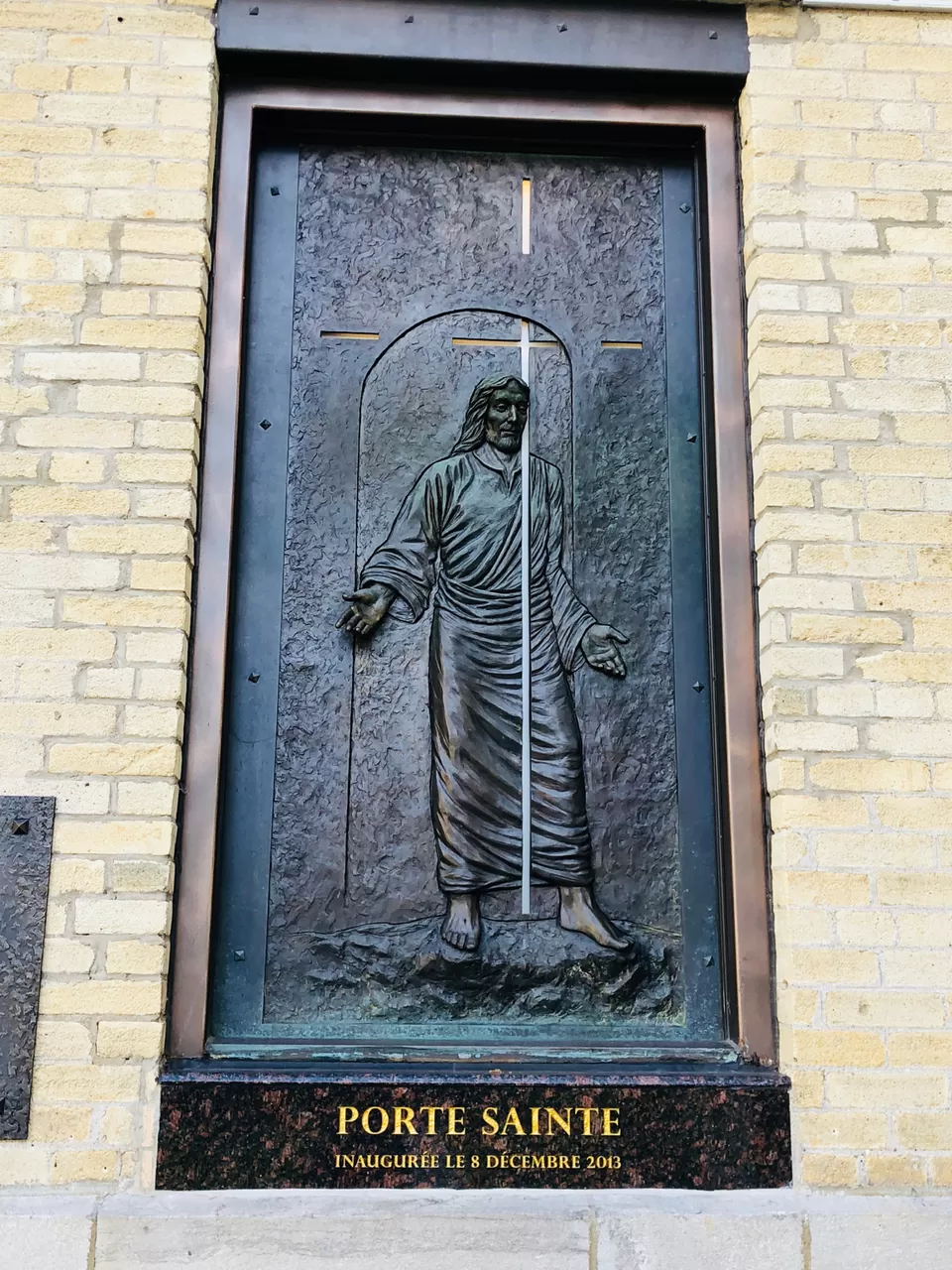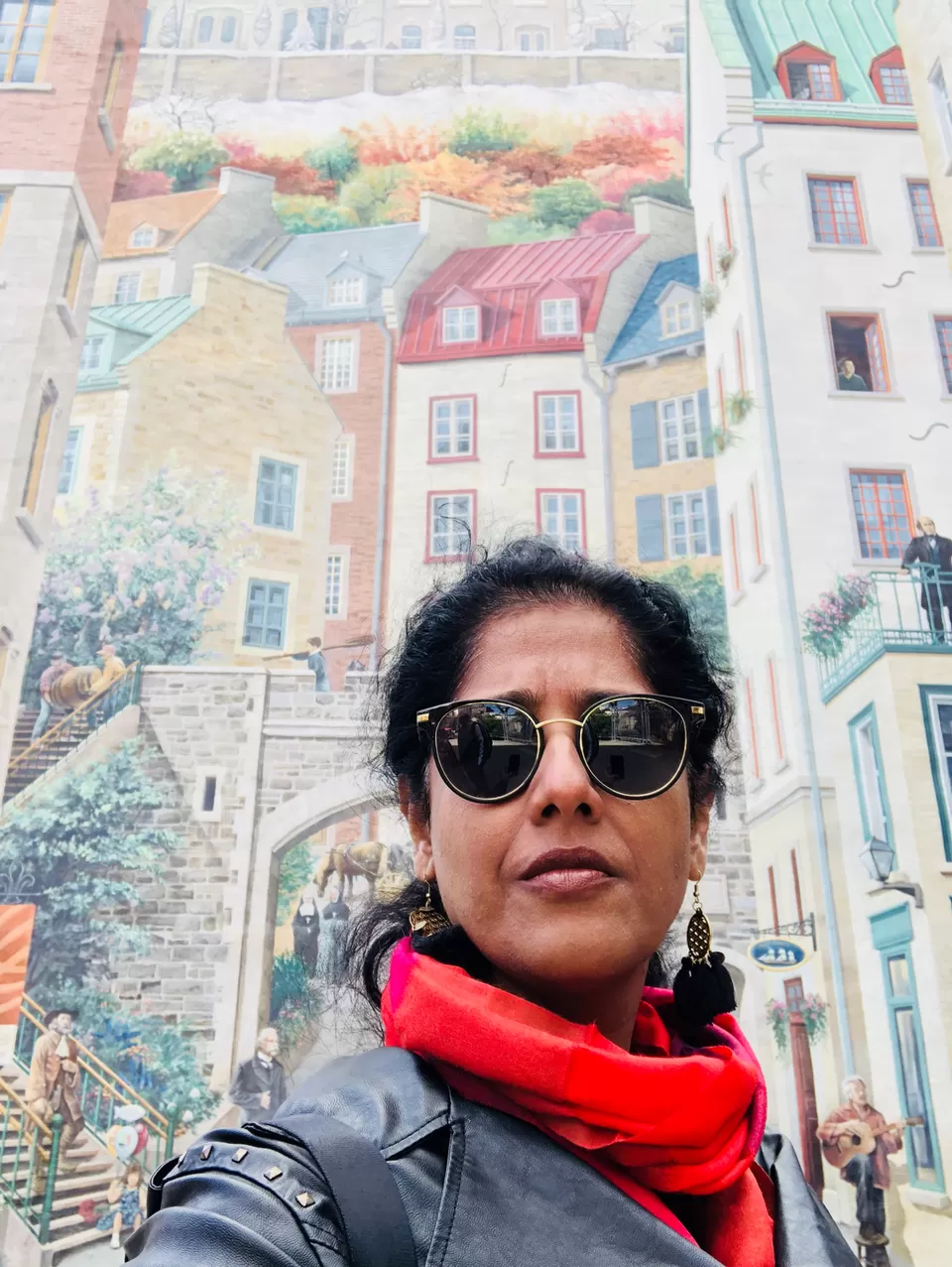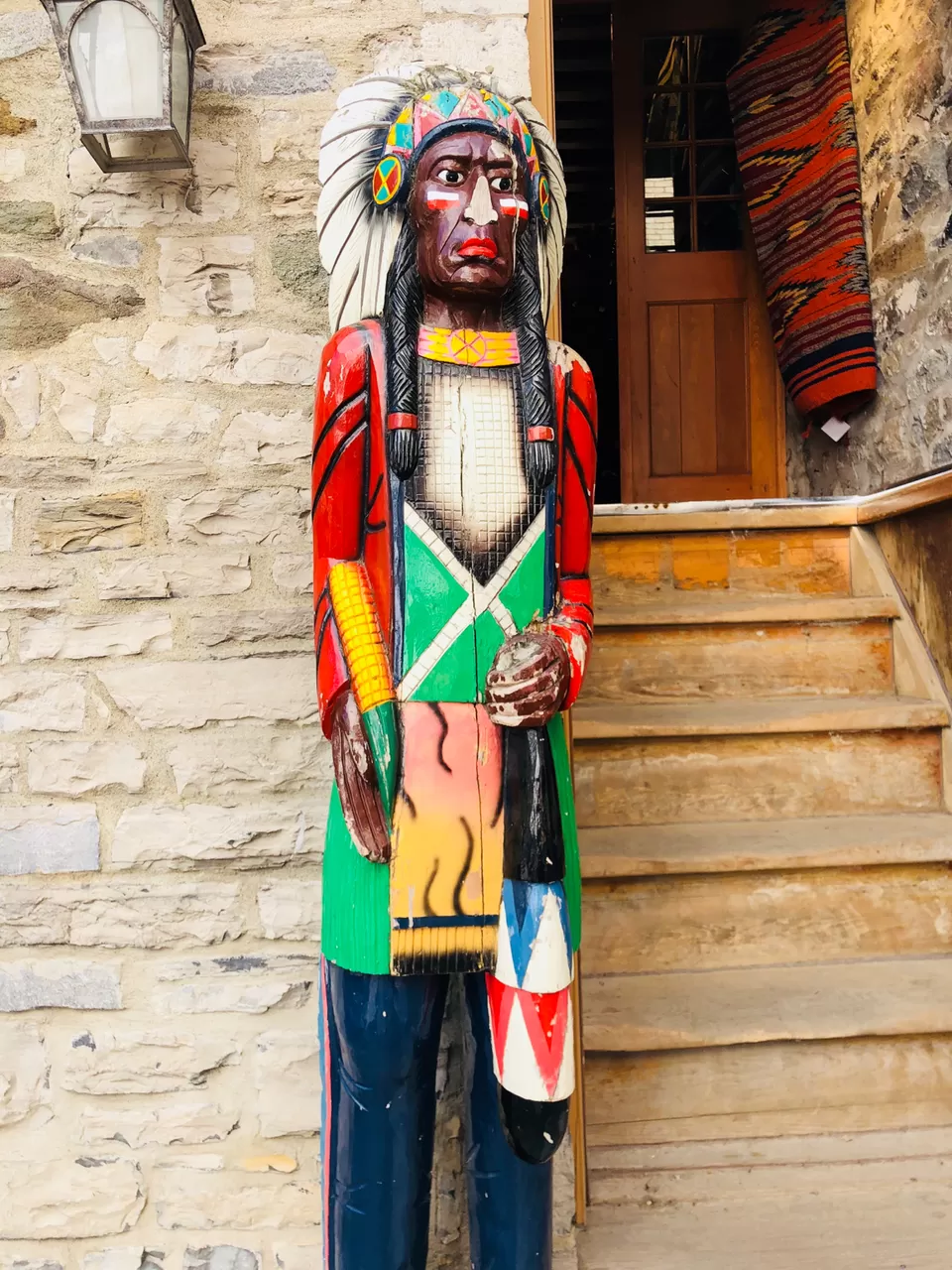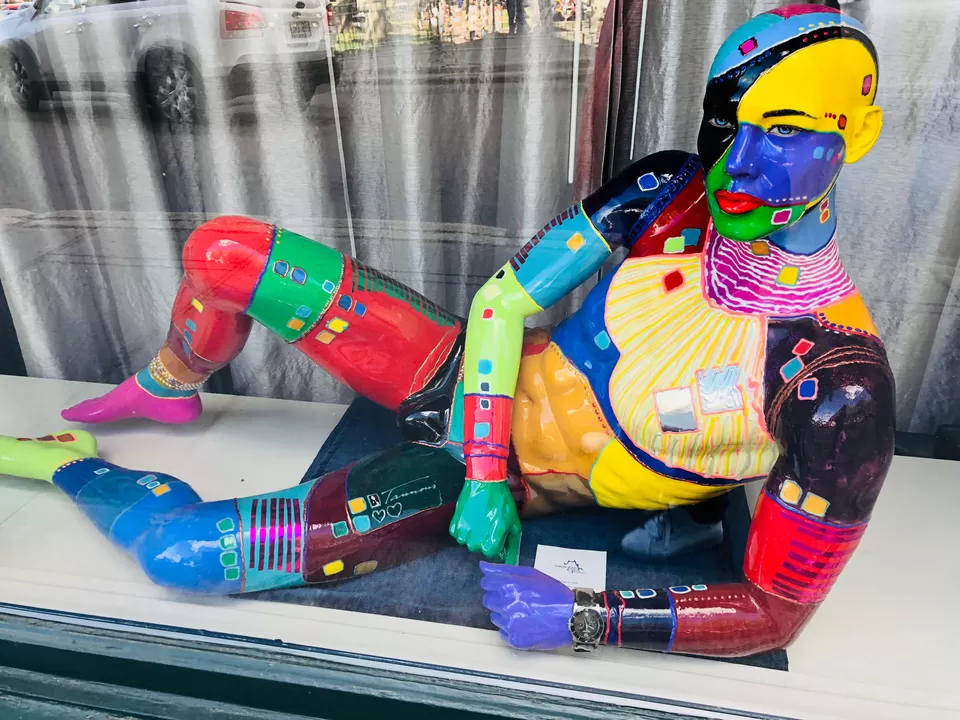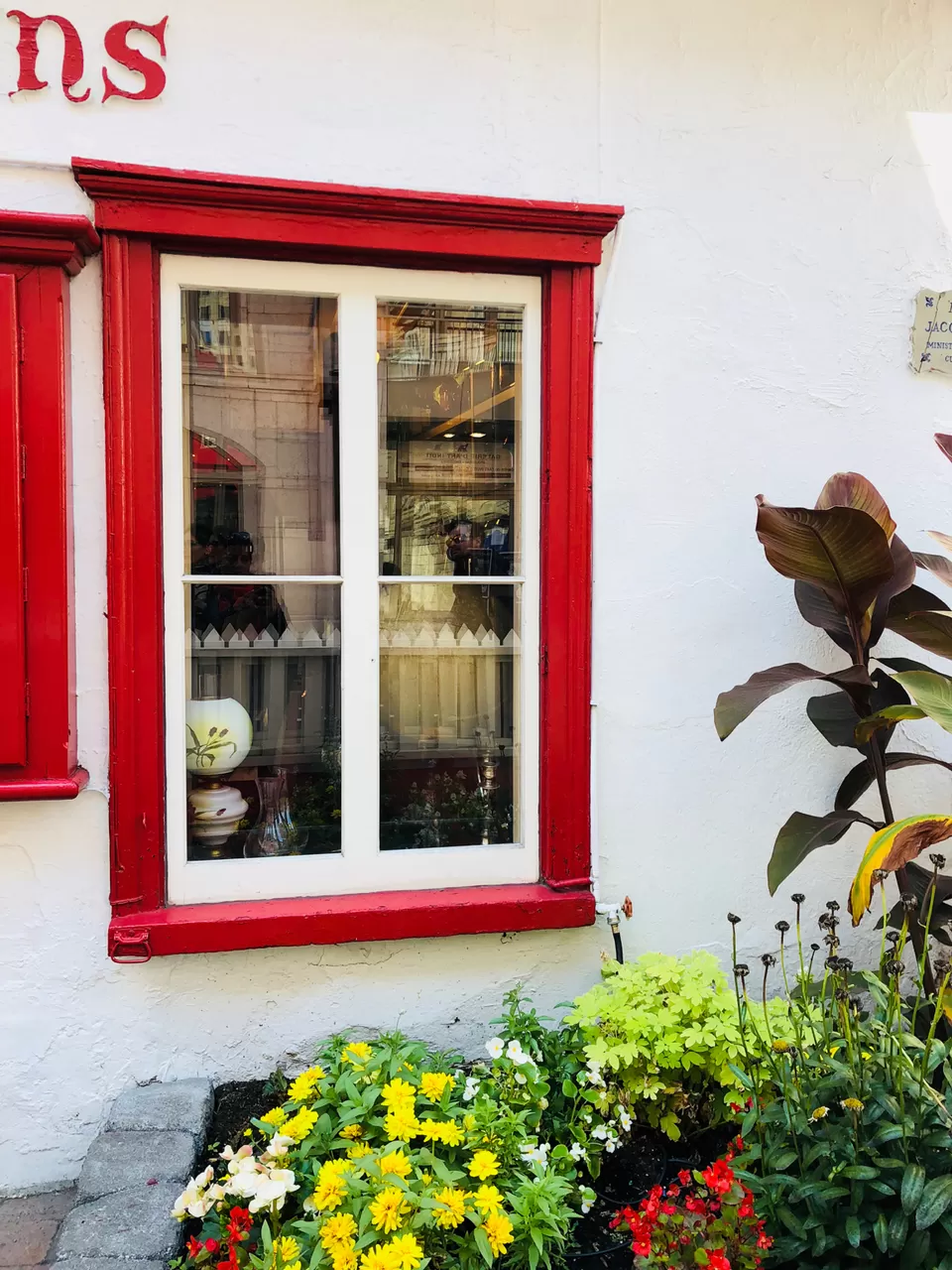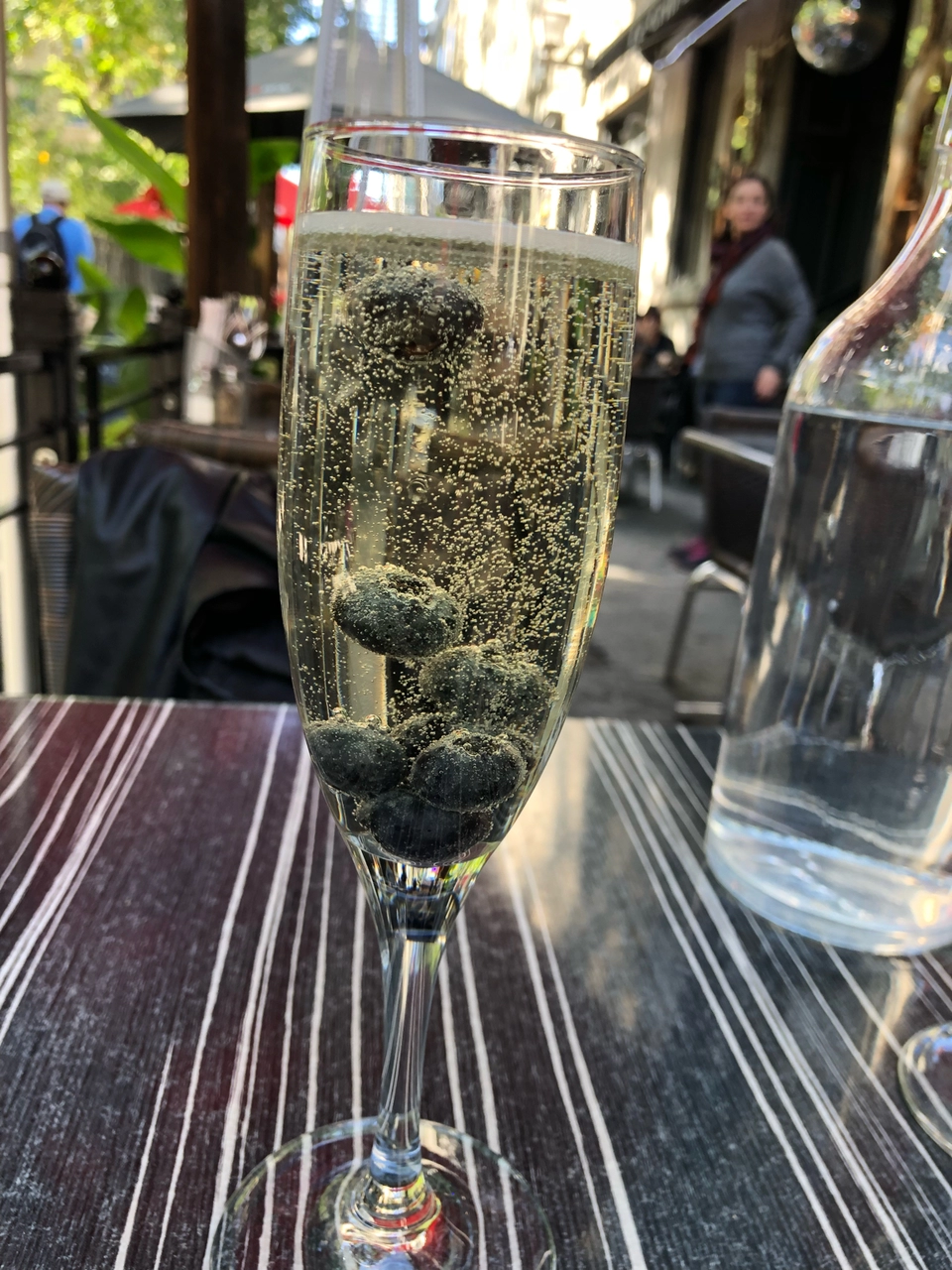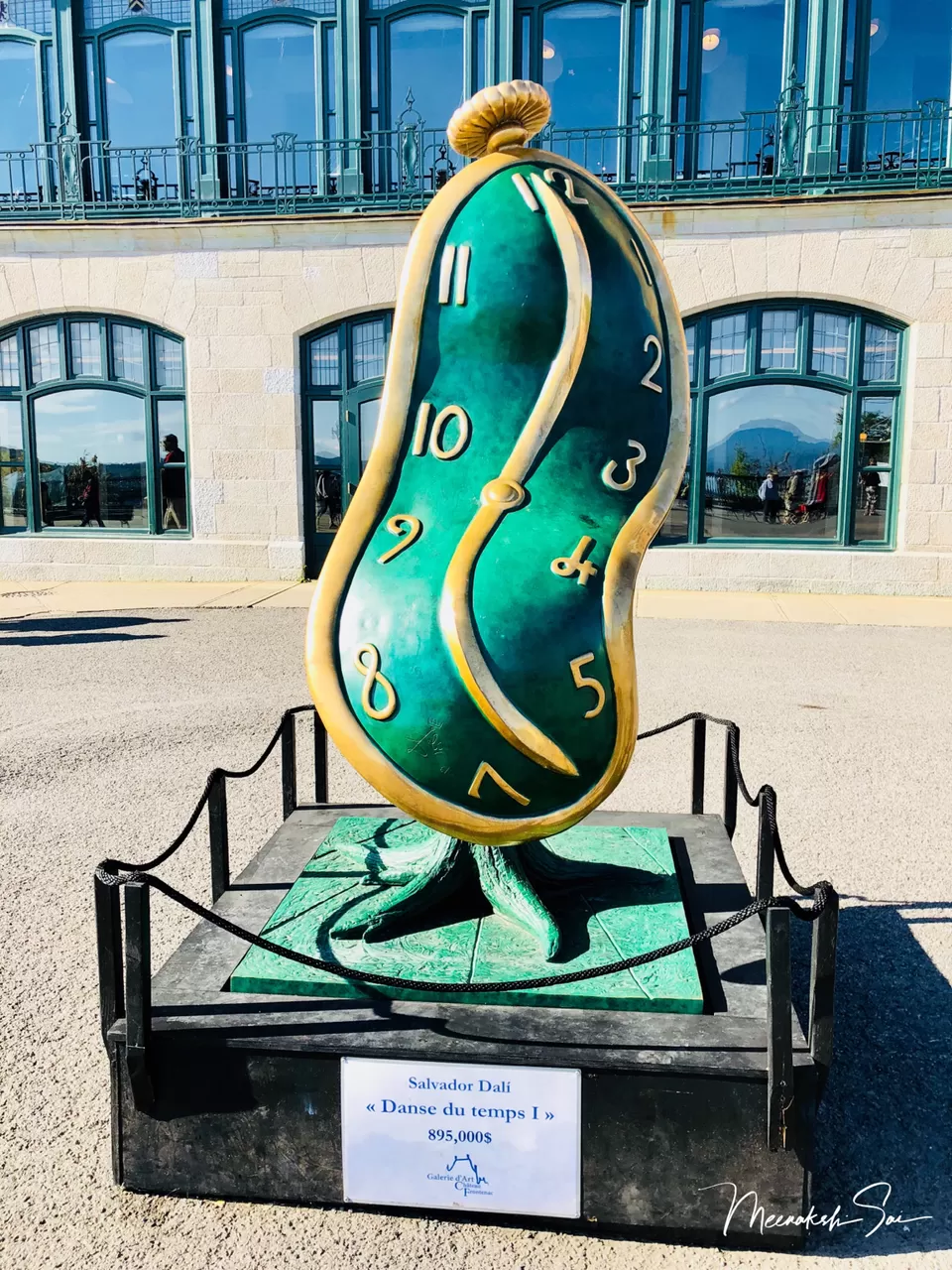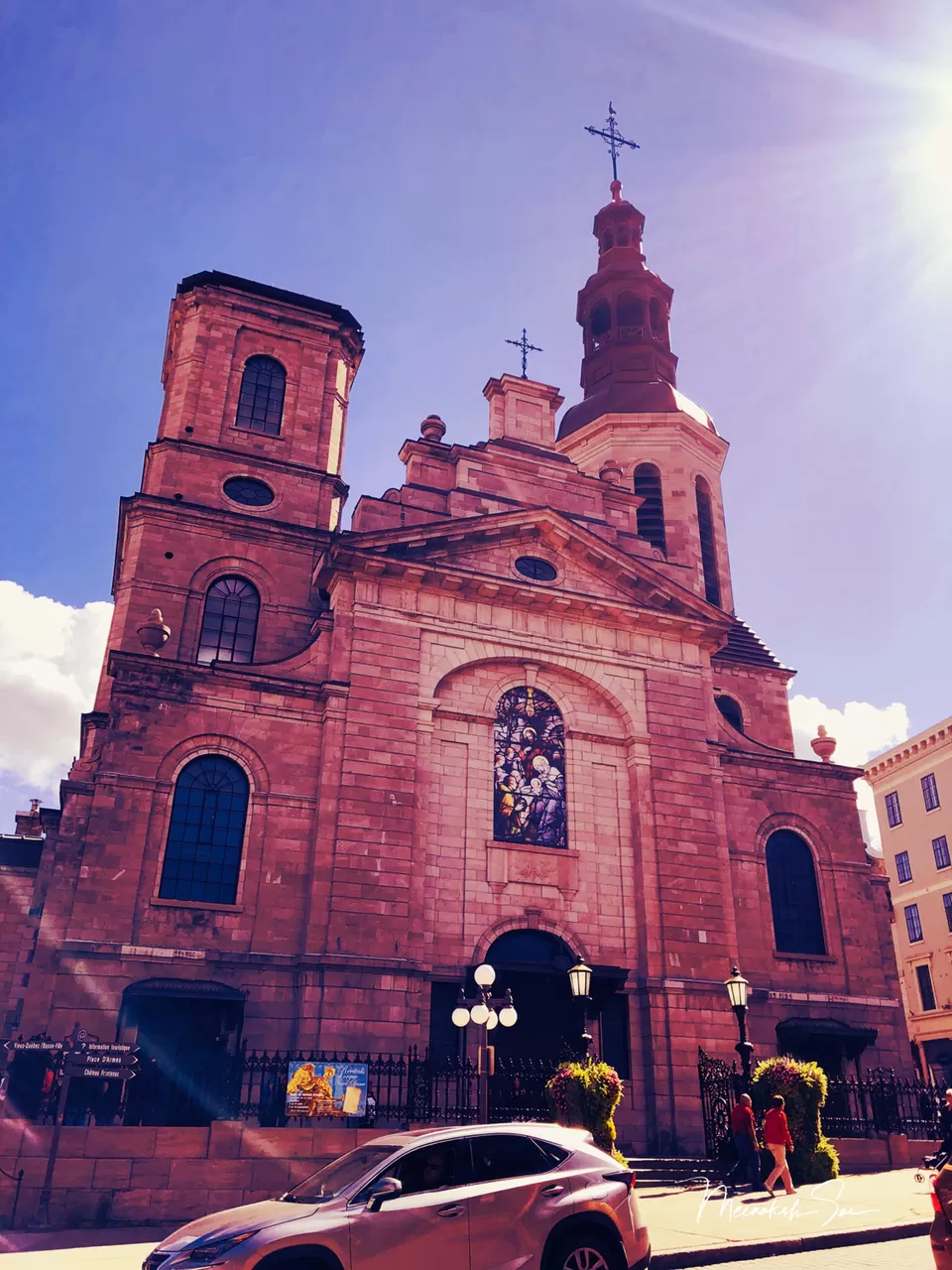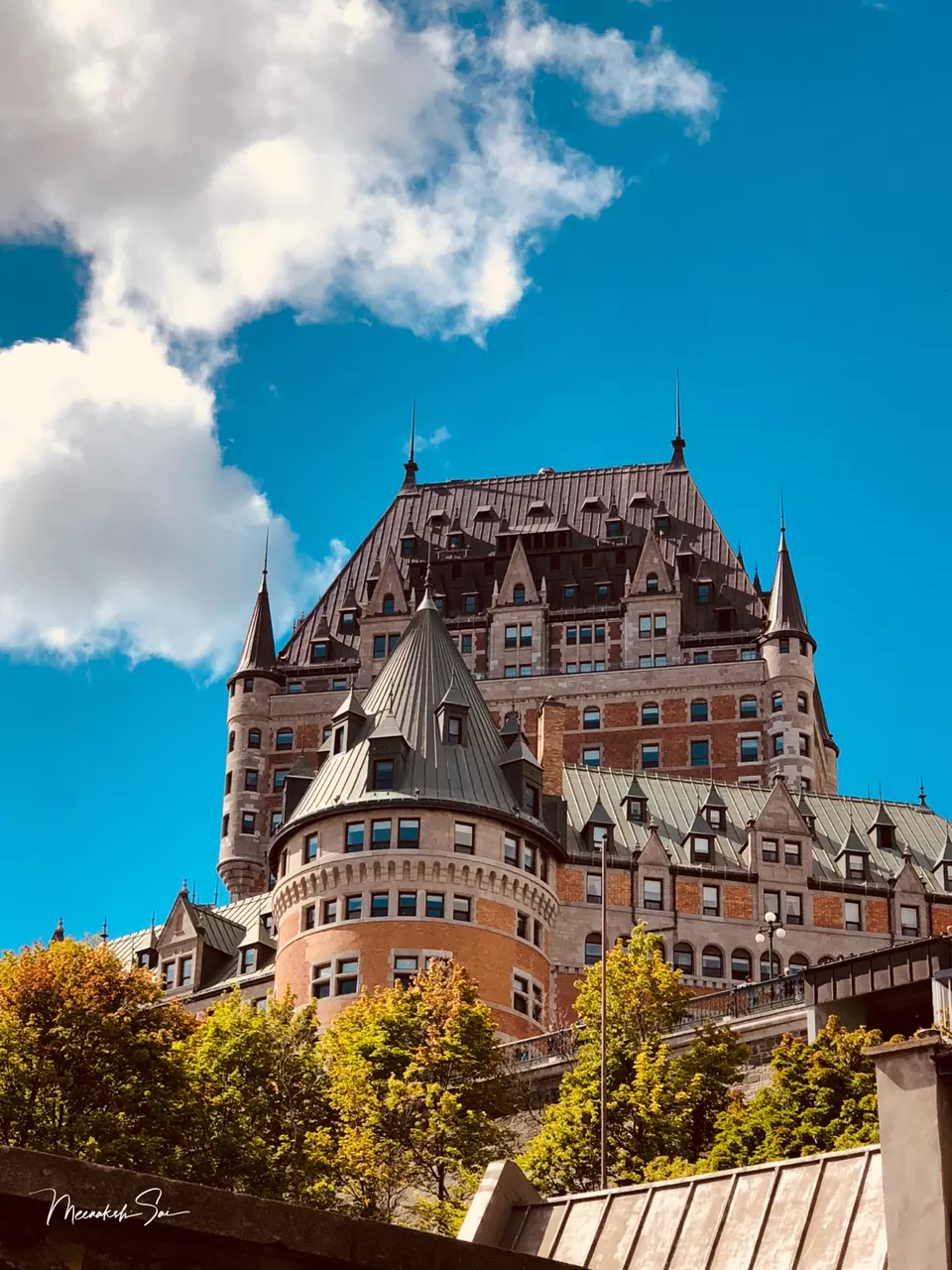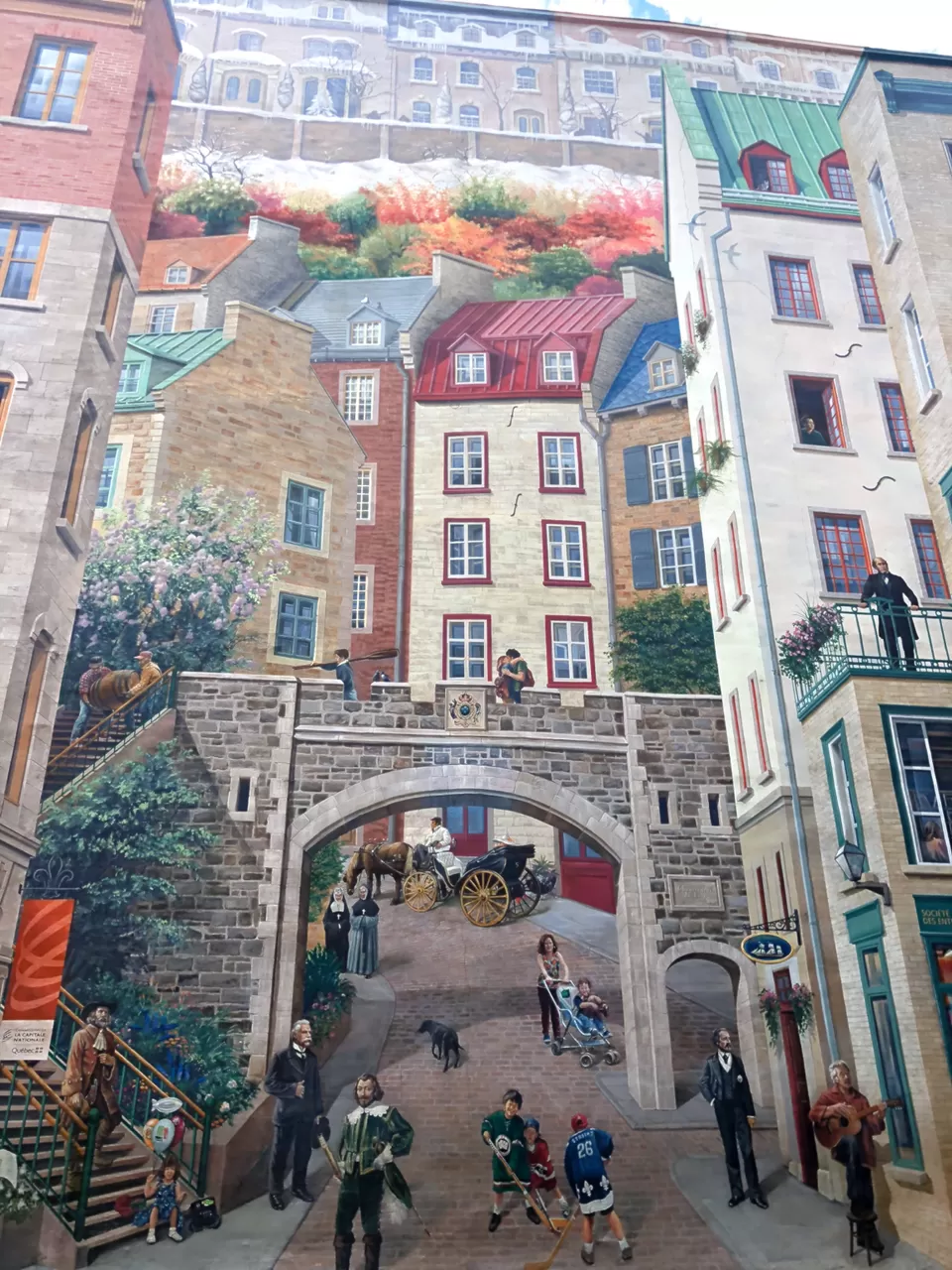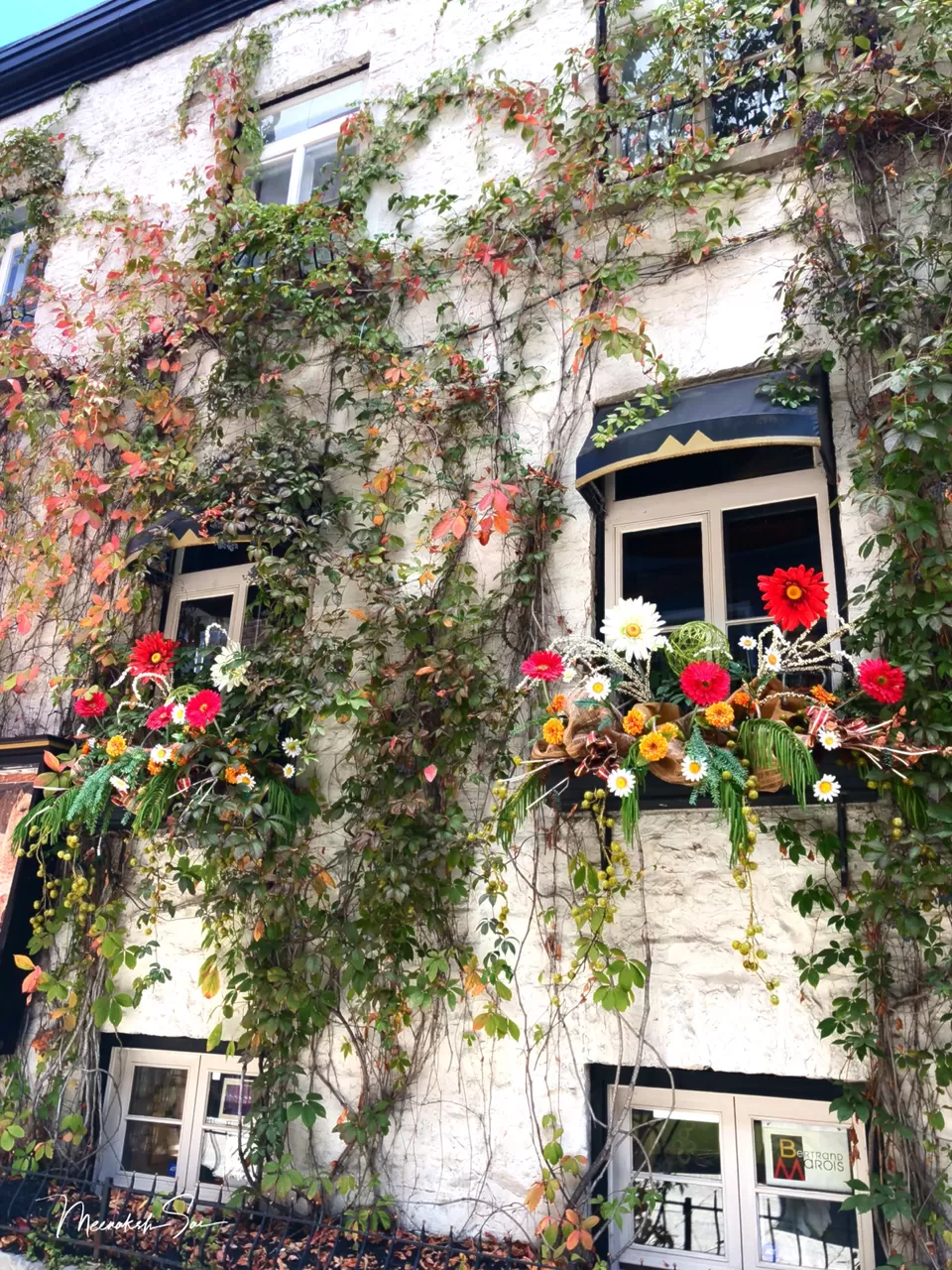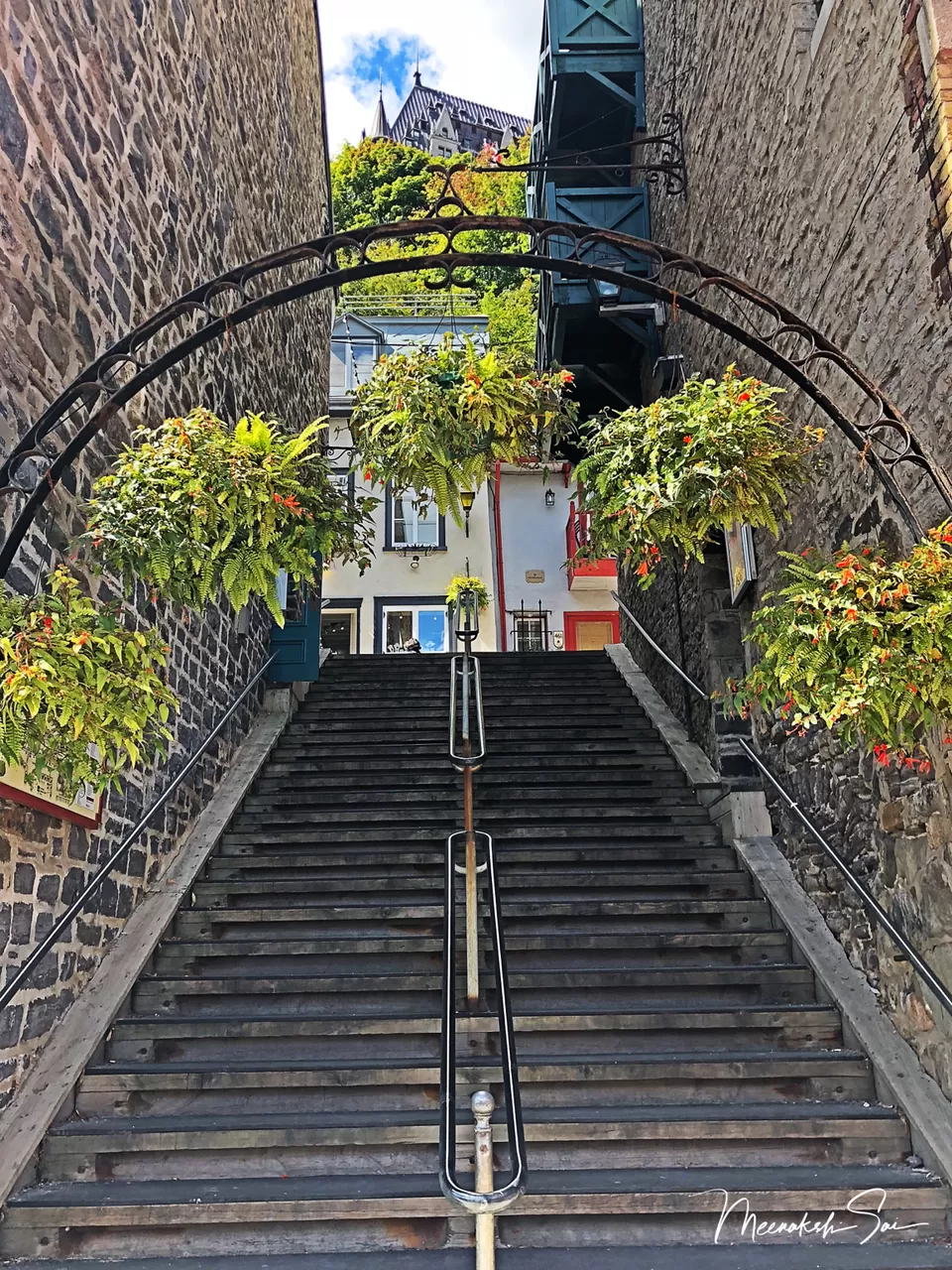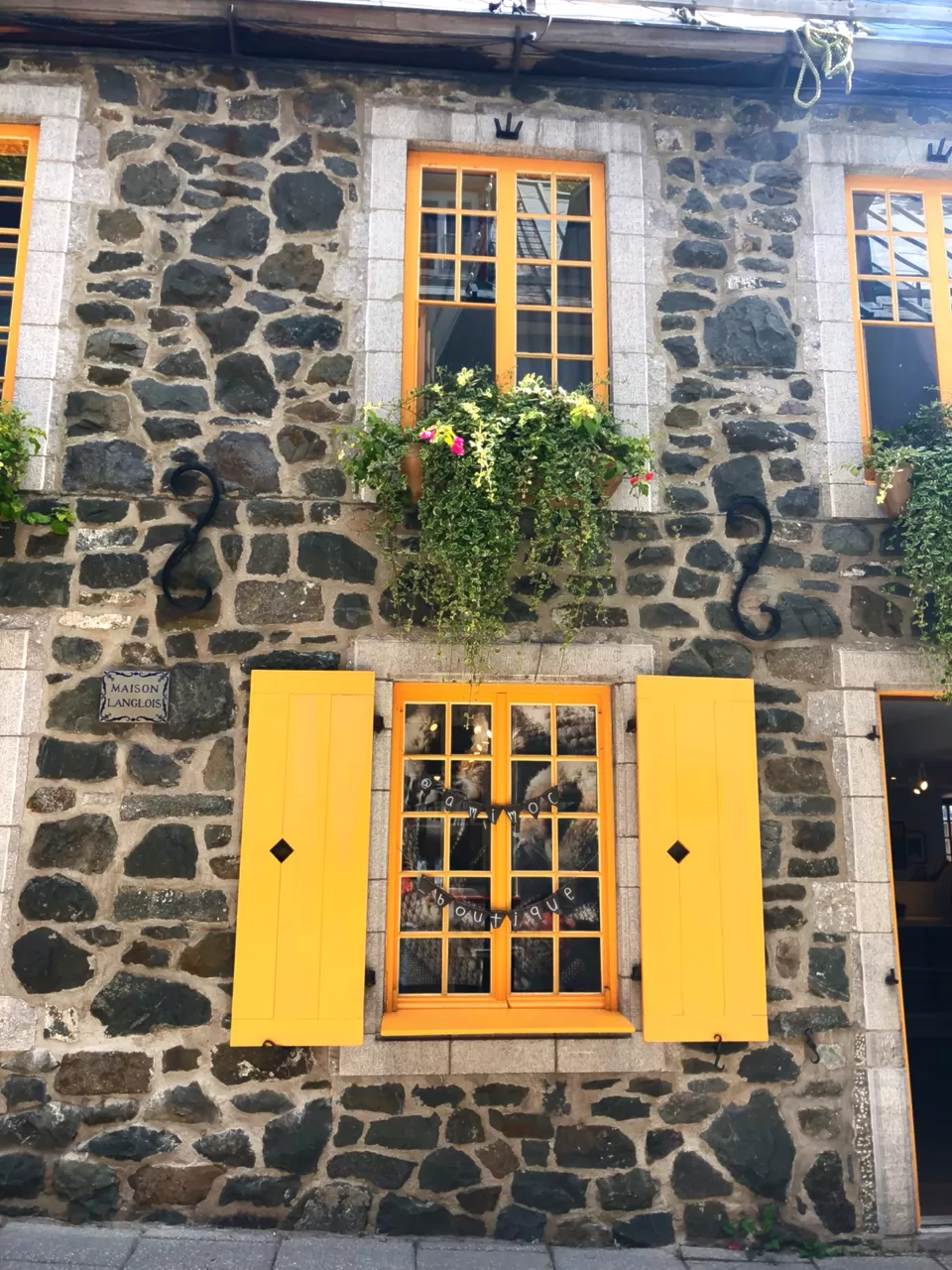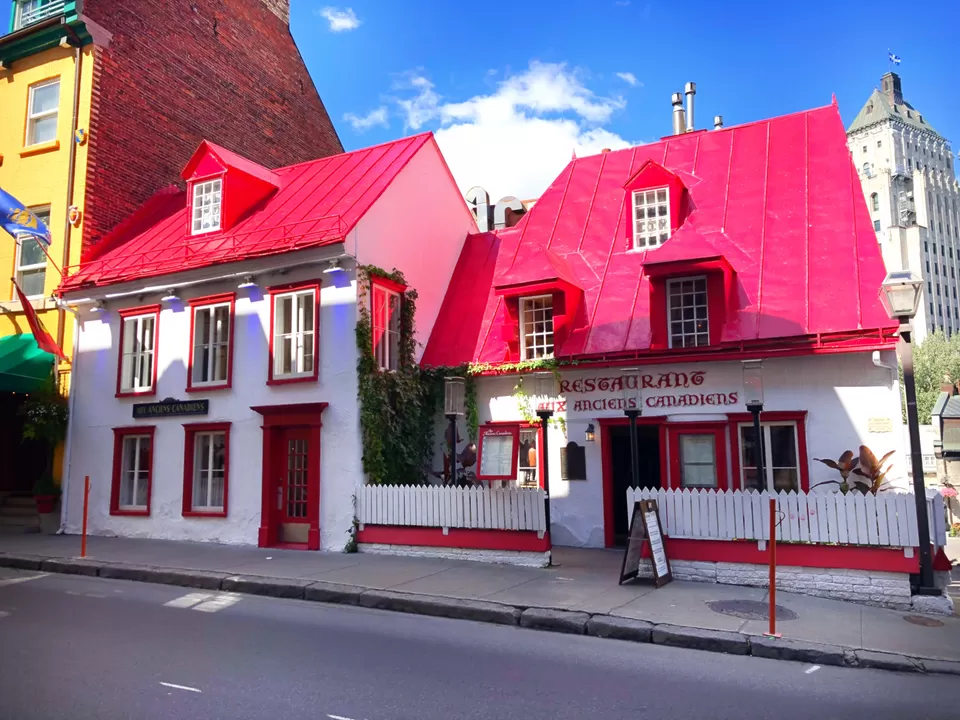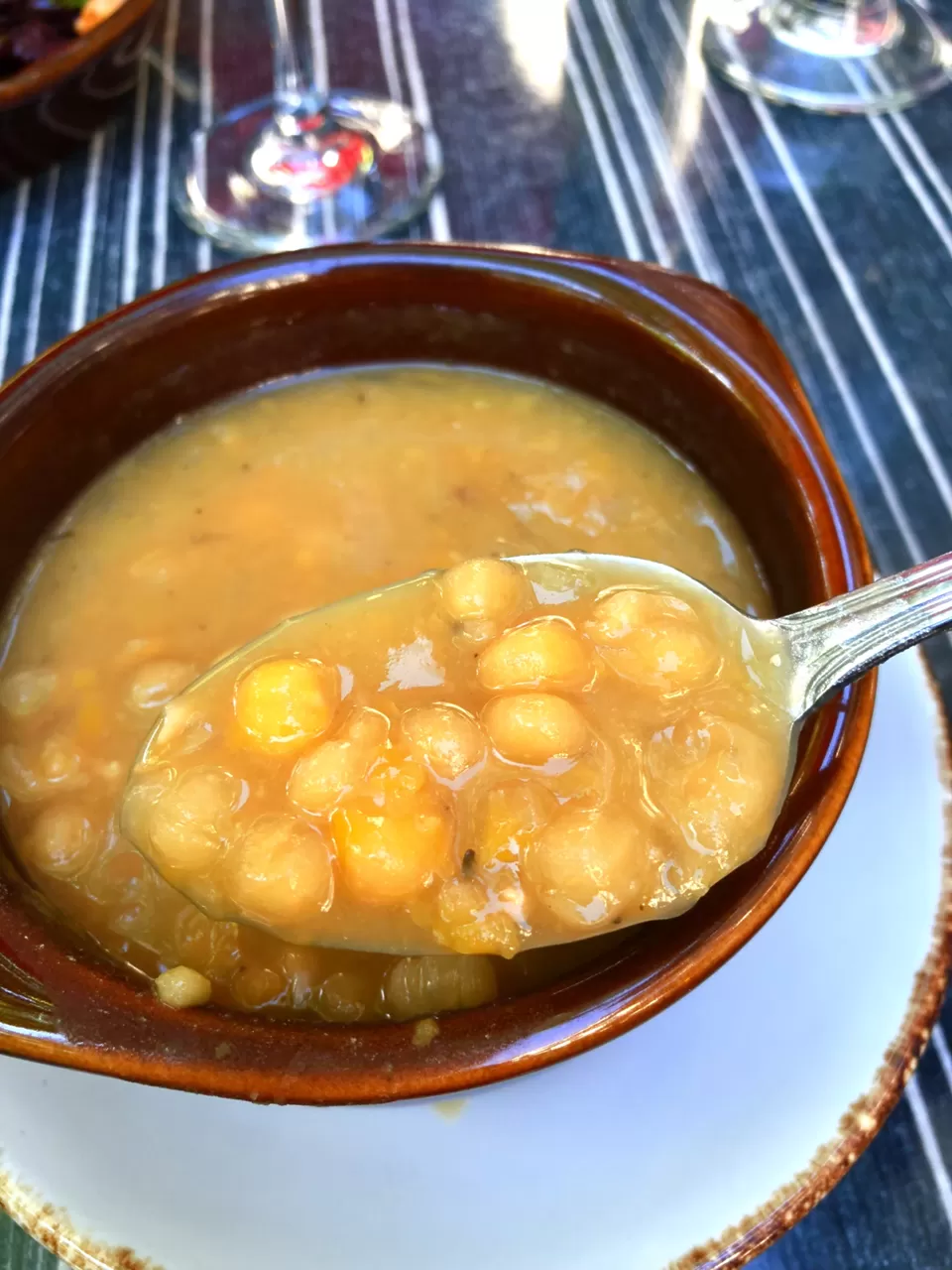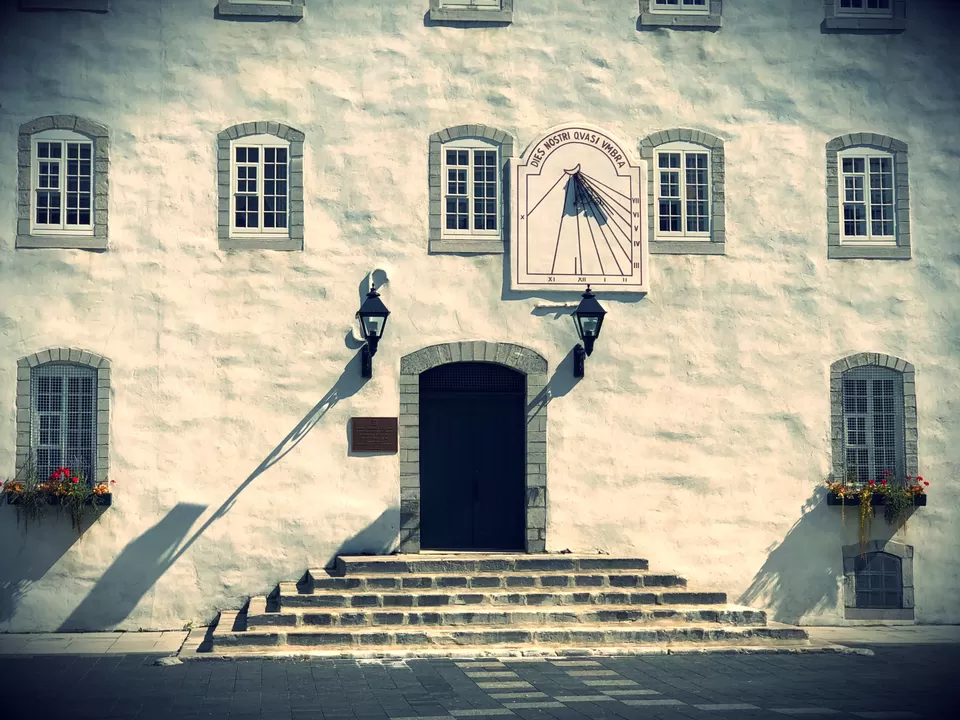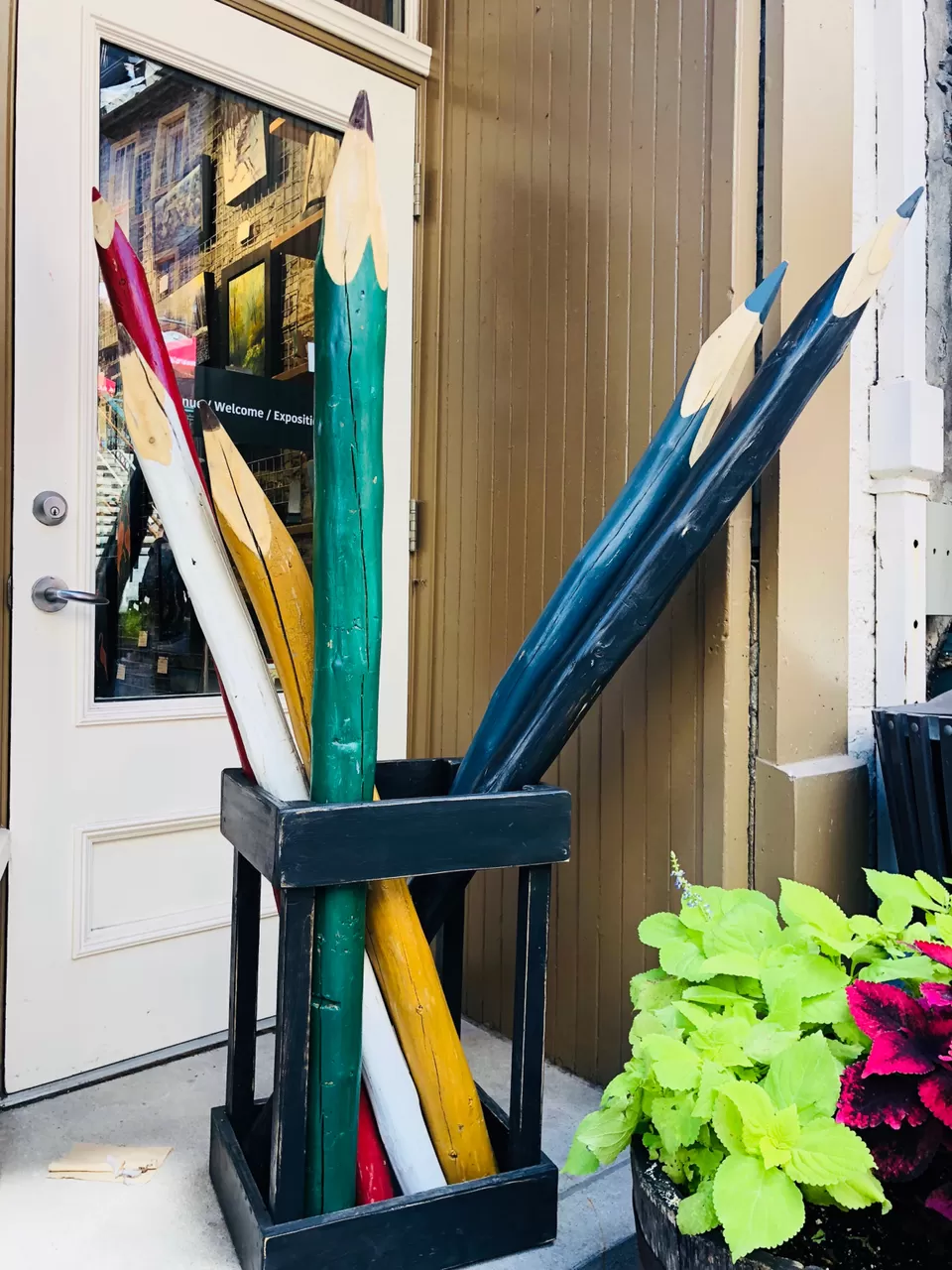 Day 7
A day of tlc to myself ...
I'm on an island on the St Lawrence River , I'll de Orleans ( accent and all ) only about 20 mins from Quebec City ..
They make wine , cheese , famous for strawberries ( out of season now ) , real maple syrup ,artisan bread ,potatoes , legumes and lots of local produce to try ..
A drive around the island takes about 2 hrs , with lots of stops to make though .. I'm sure ..
Life is goooood ...puravida
Day 7
Quebec City - Île d'Orléans..
Île d'Orléans is an island on the St. Lawrence river , only about 20 mins from Quebec City , but I had 2 other places to see before I come on the island and enjoy it .
First stop is about 35 Kms from Quebec City , Sainte-Anne-de-Beaupré Basilique .. It's a church renowned to curing of the sick and disabled. You can see many crutches and walking sticks left there after people have been cured . The church itself is humongous , high vaulted ceilings with mosaic and stained glasses . Beautiful .
My second stop was Montmorency Falls , I had passed it on the way to the Basilique . It's beautiful, but nothing compared to the Niagara if you've seen it . It's higher than the Niagara though . I walked right up to the bottom and got drenched with the spray from the falls.
A bridge takes you on the Île d'Orléans quickly and everything is transformed . The only mode of transport is car , you can see an occasional tourist bus , there is no public transport . The island is delightful ...
There is a road that circumvents the island , would take a hour but I look like 3 , stopping at wineries . ... all along the drive are beautiful views of the river...there is no where along the drive where you cannot see the water ...I just driven more than 100 kms today..
Ice wine and Apple cider is famous on the island .. Chocolaterie de l'Île d'Orléans produces high-quality chocolates with ingredients important from Belgium and France .. lots of goodies .. apple butter , cheese ,pear and raspberry butter, maple syrup . You see apple trees every laden with
red juicy apples ..
There is also a micro brewery which makes a maple syrup beer . It's delicious .. must try !!!
I managed to find strawberries , even though they are at the end of the season .. so fresh . It's ultimate .. from the farm to be sold in a few hours ..
Local produce is sold along the road in little barns and kiosks .. pumpkins and butter nut squashes are everywhere ..I stopped at a pumpkin farm and checked out all the types of pumpkins ..
the famous McCain fries comes from here as well ..
The Vignobles Saint-Pétronille is easily the best winery . I had one too many glasses and quite happy high .. with the radio blabbering in French I drive around the island , lunch was a hearty legume soup and no surprise French fries ..
The island is dotted with quaint B&B s . Most people make day trips , but I recommend staying on the island . Everything closes early , supper is over at 8 pm and all restaurants close ..
I found a small tiny cottage , more like a garden shed on Airbnb, it's perfect .. have a video hope it goes up ..
Wi-Fi is slow , everything slows down on the island , it's much like being home in Dindigul ???? .. this is my second post of Day 7 , the first one disappeared last night when I tried to post more pics .
Bear with me , pics will come later ..
This is one of those places that lingers in your soul long after you have left...beautiful views that leave you breathless...
#september2018
#goldfishtrails
#puravida
#September2018
#goldfishtrails
#puravida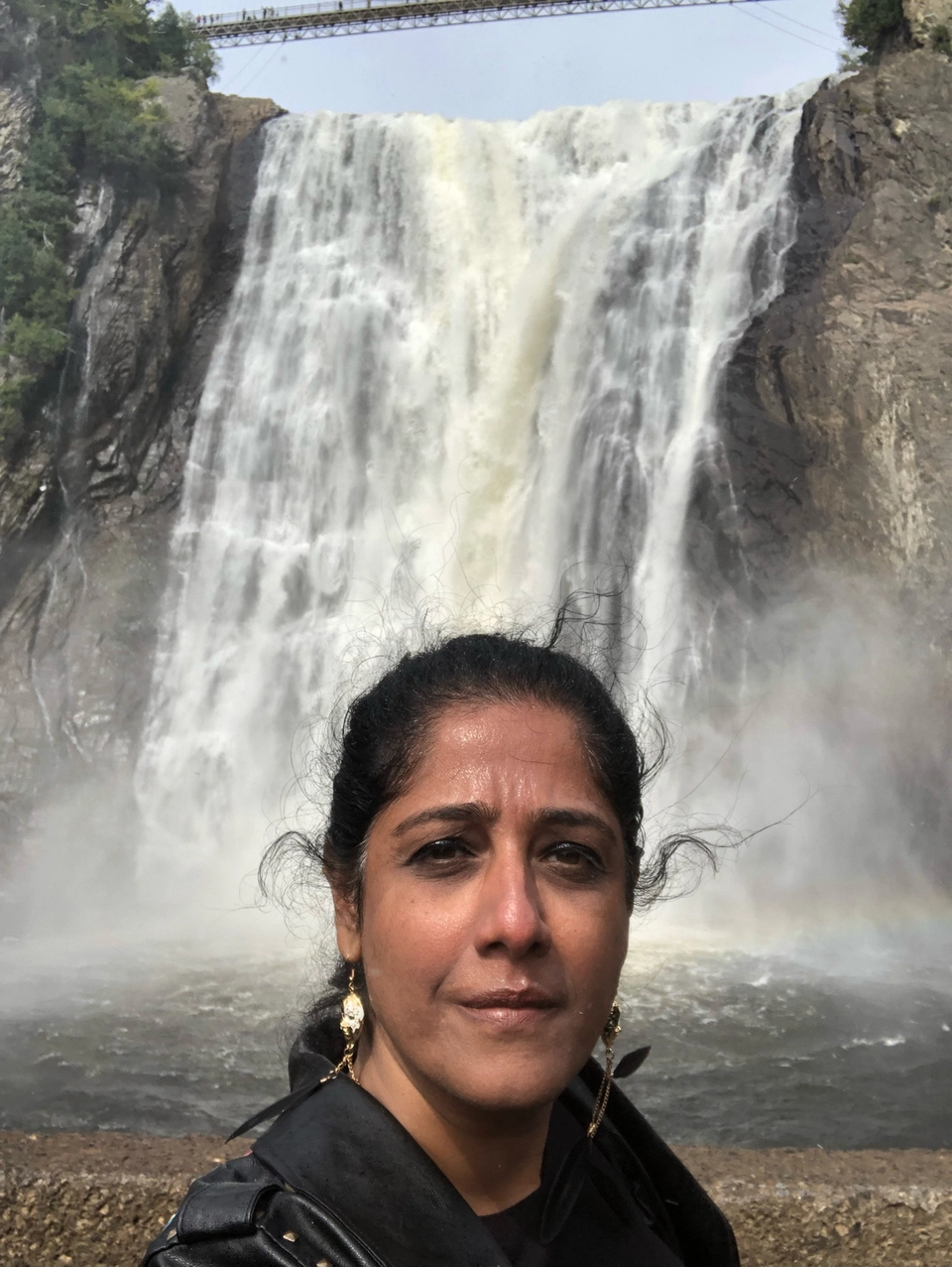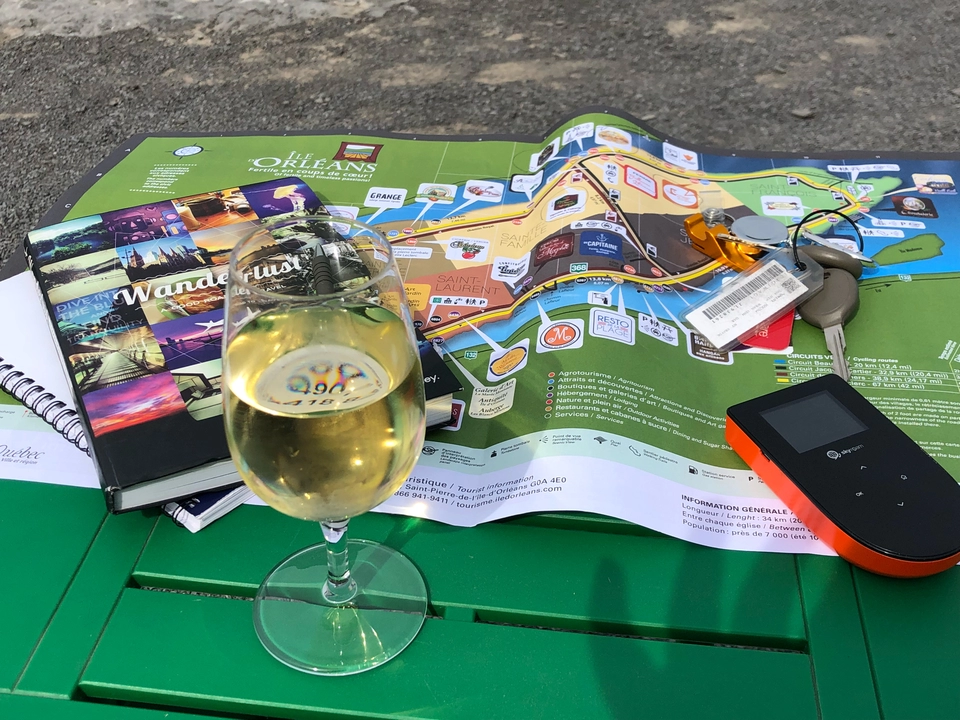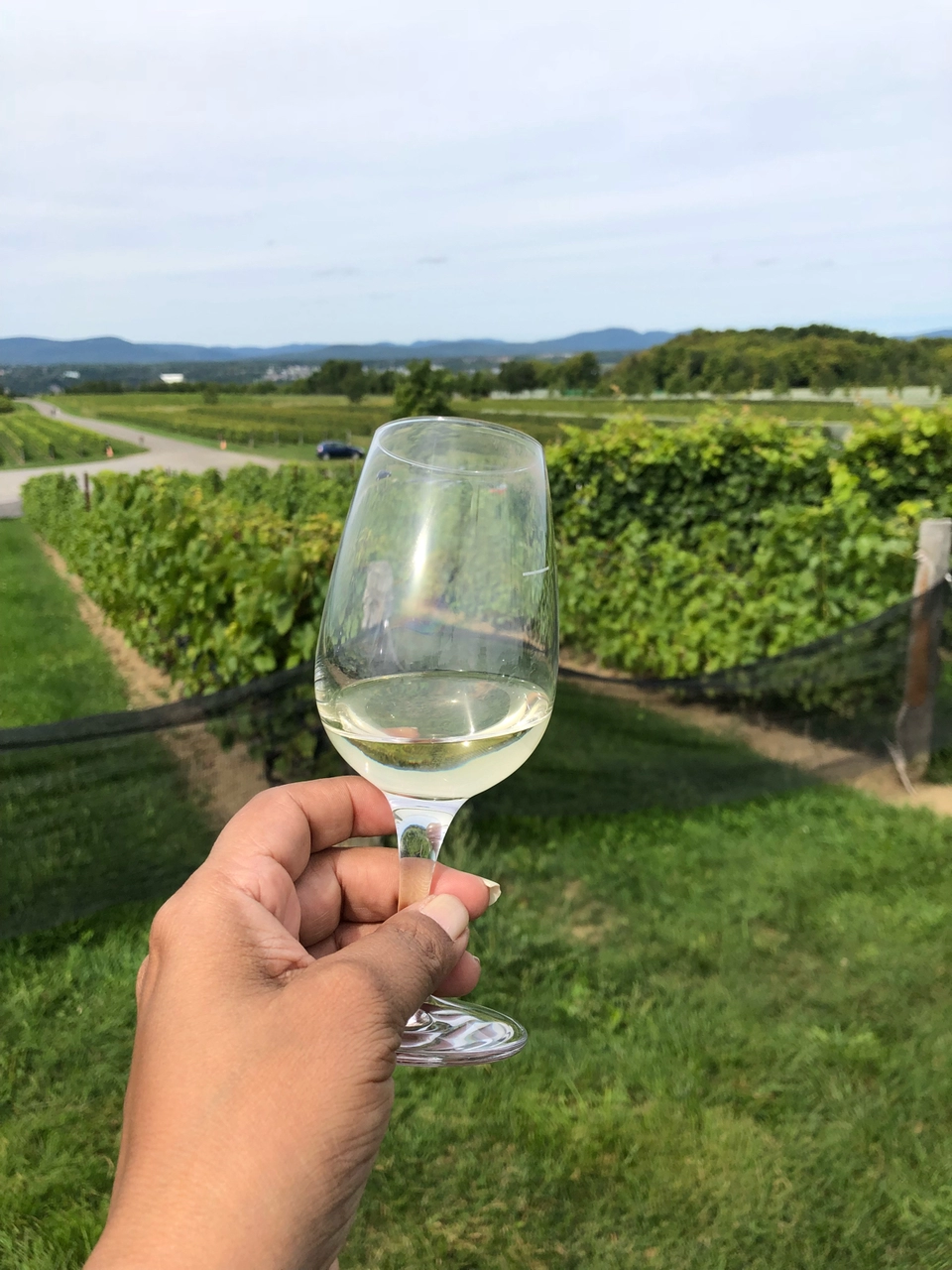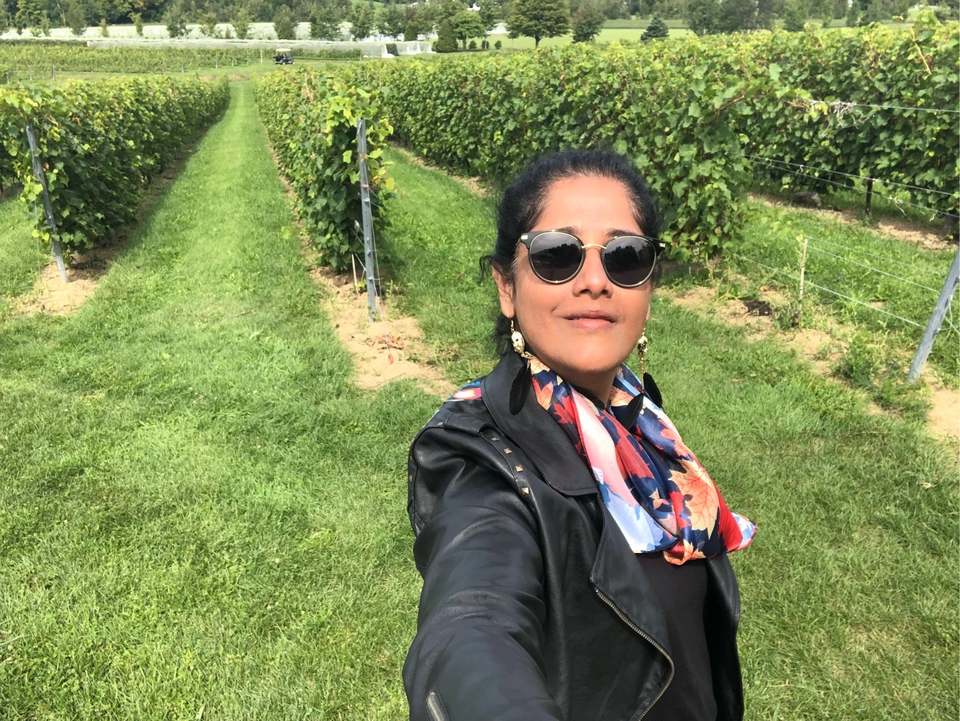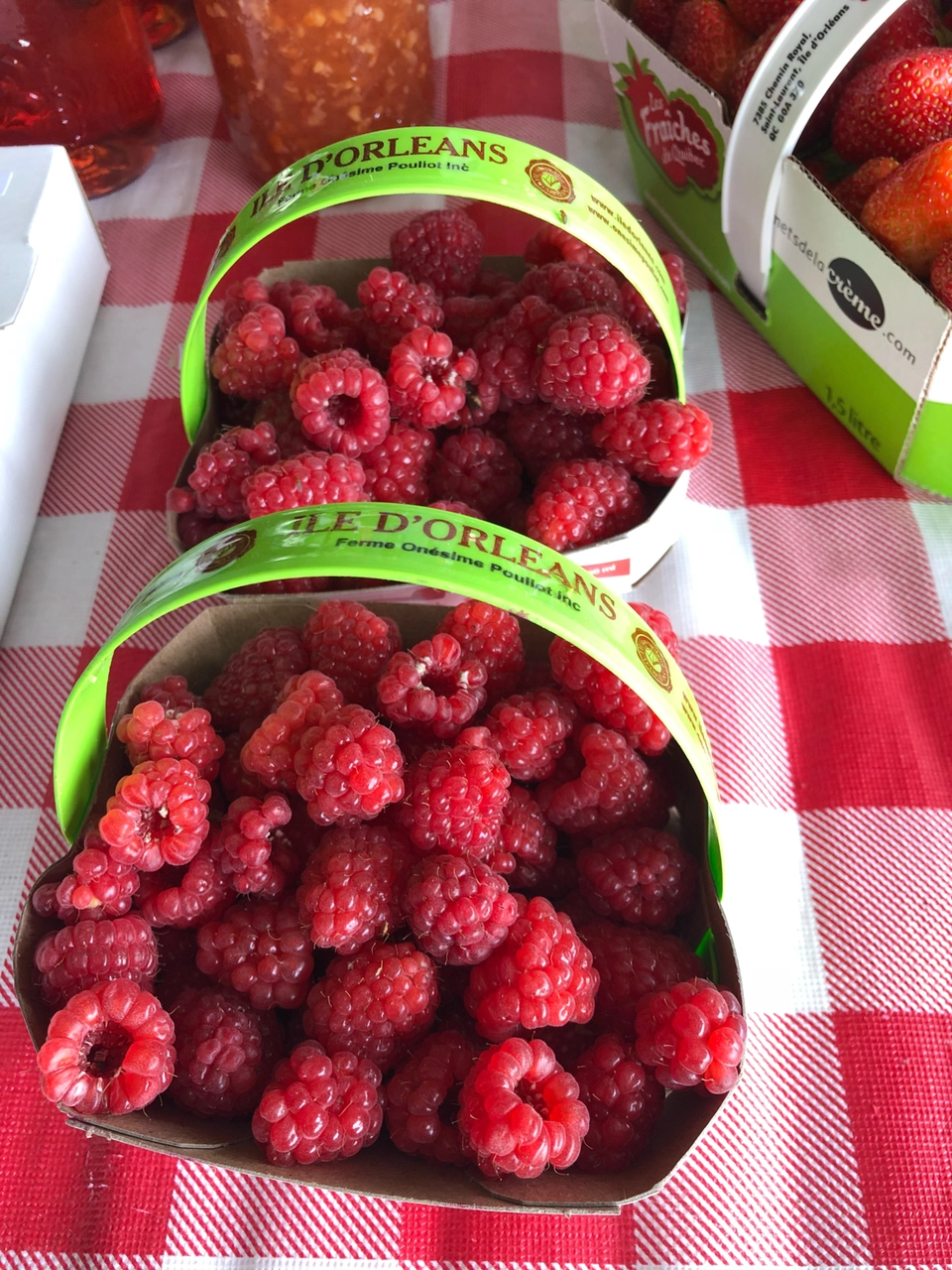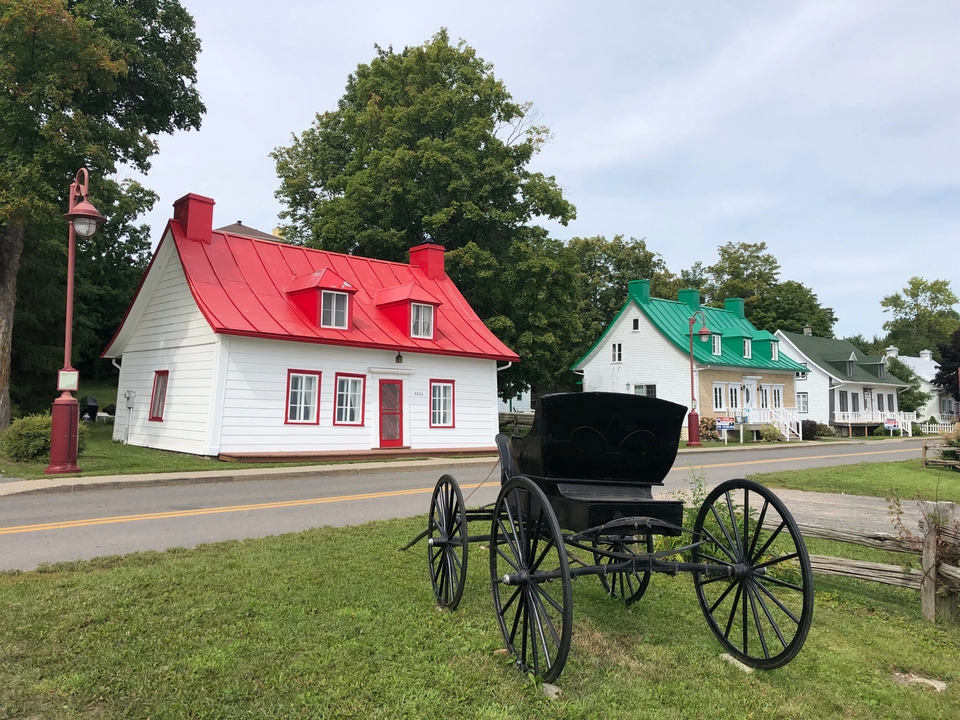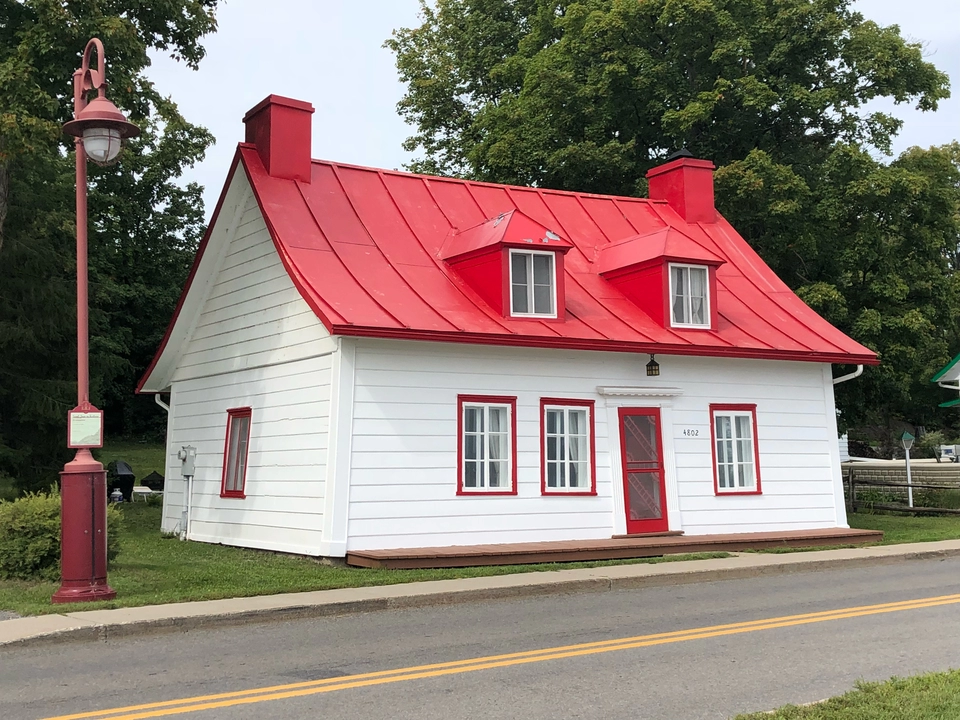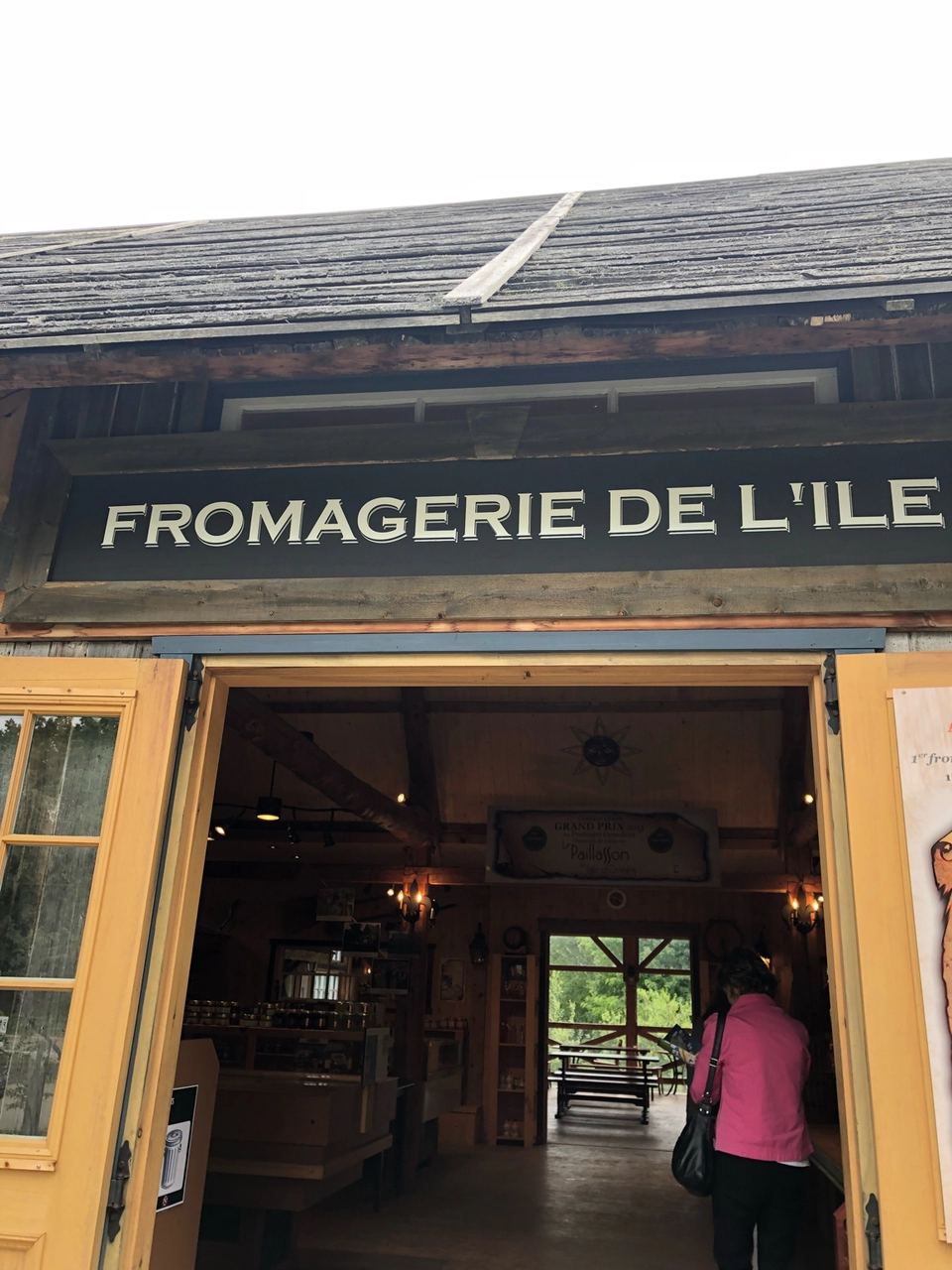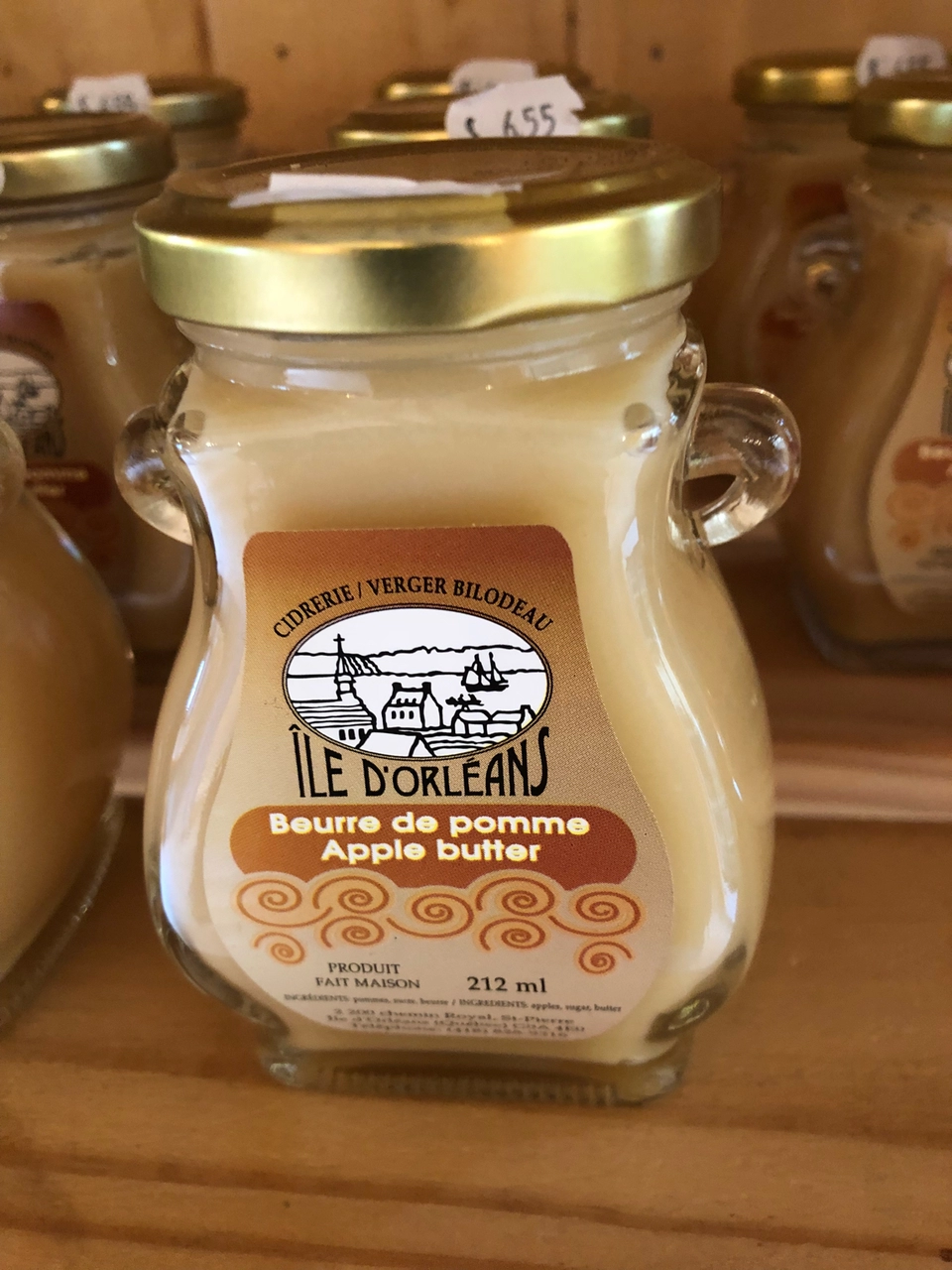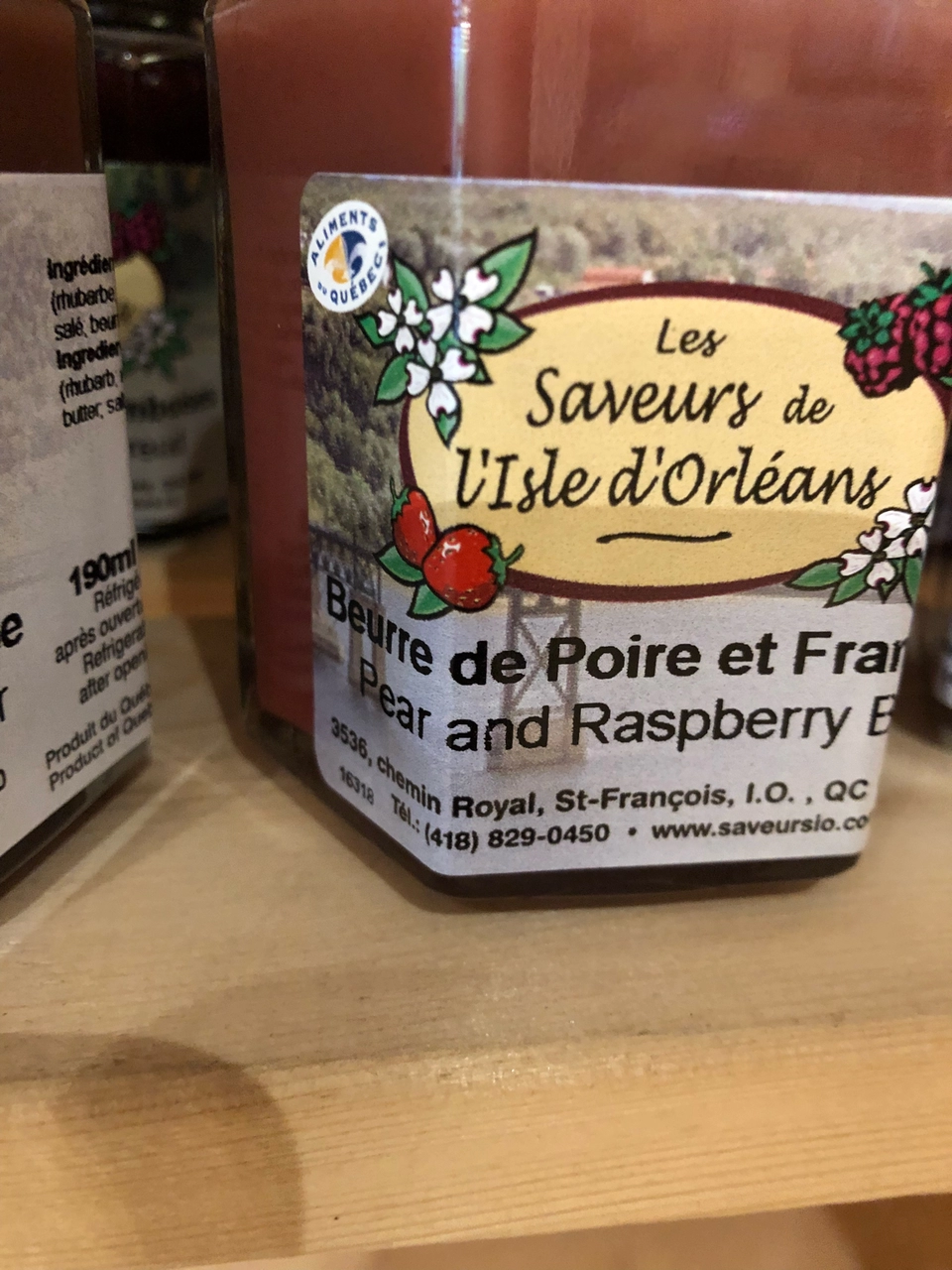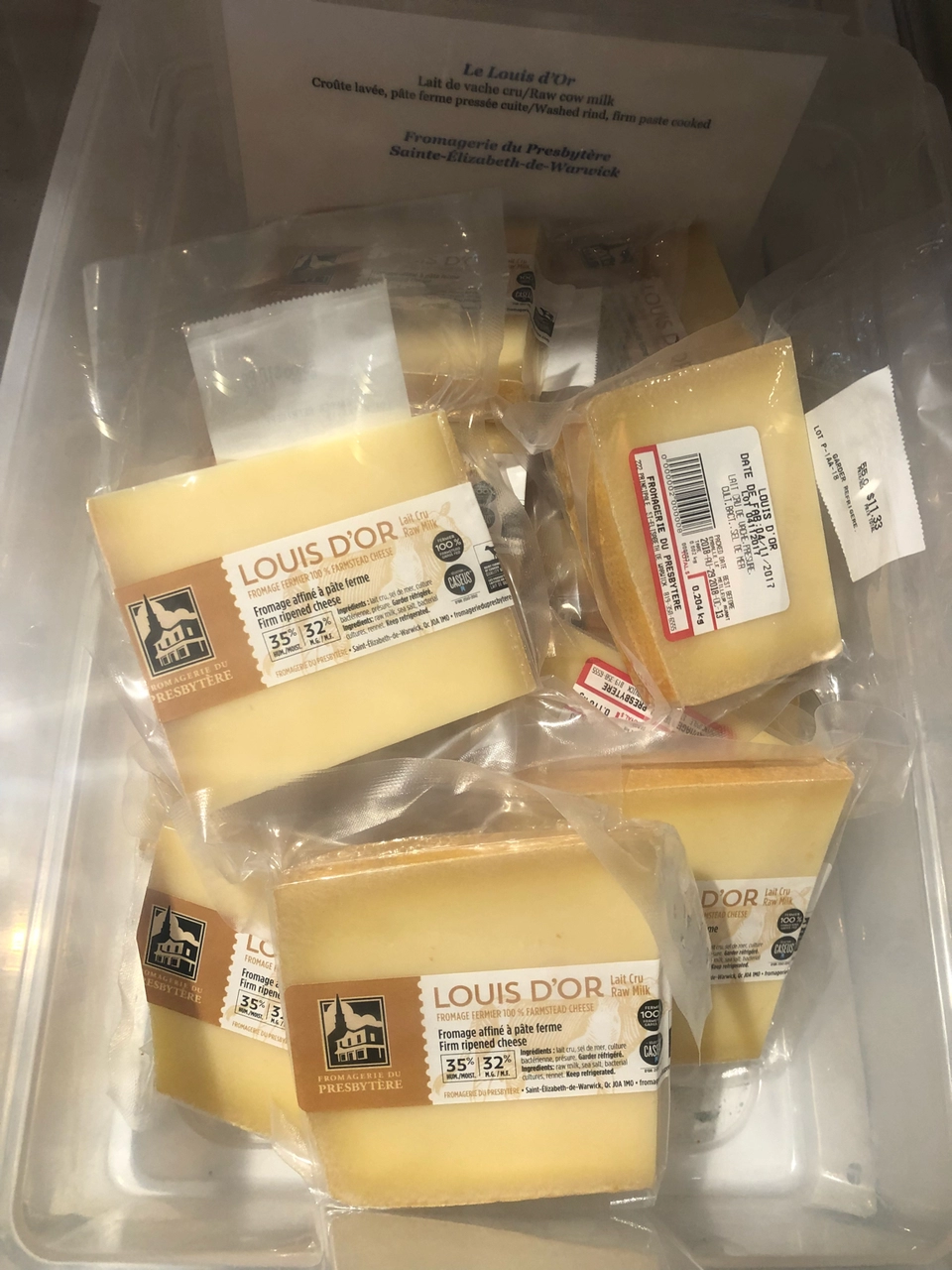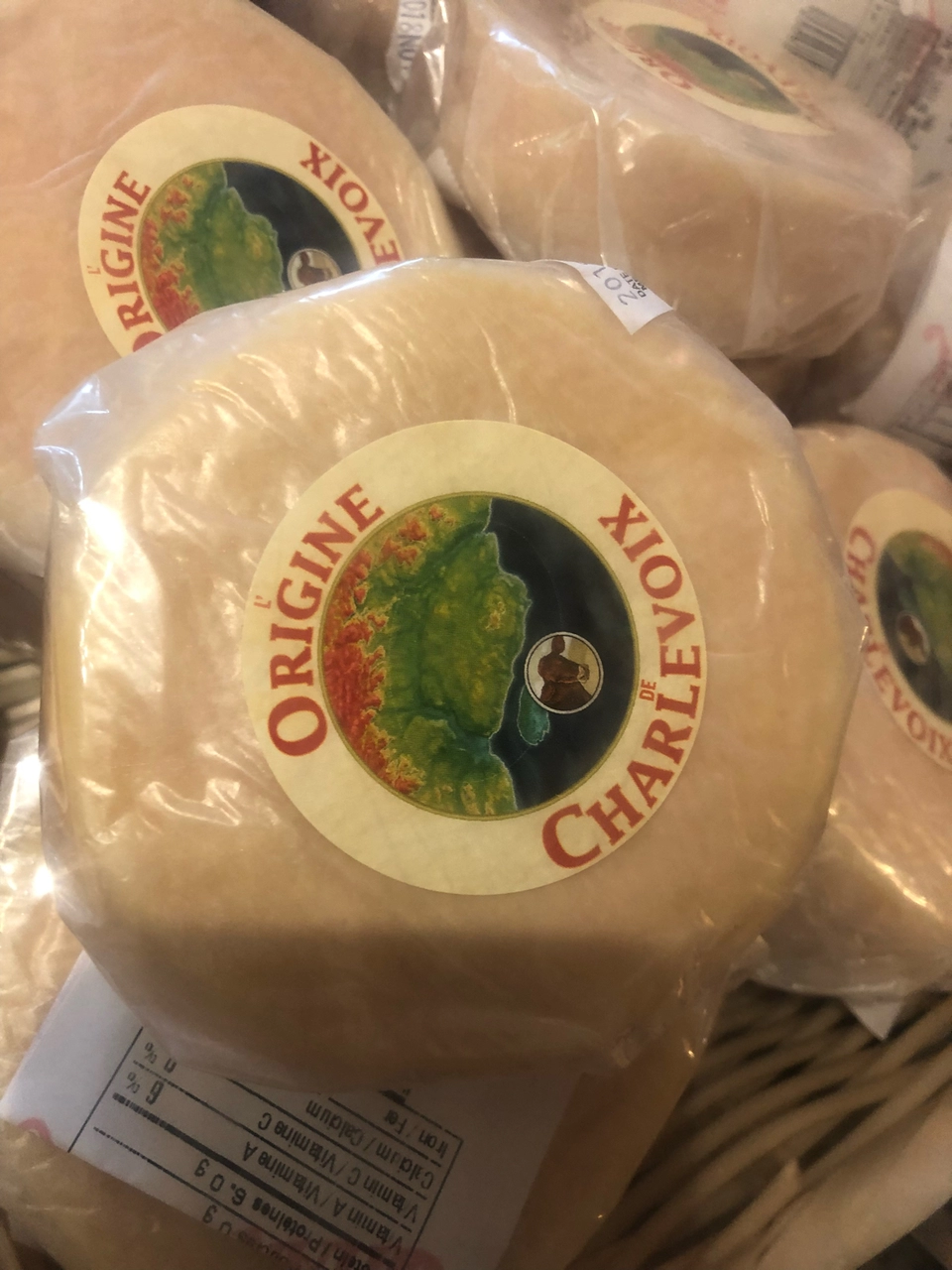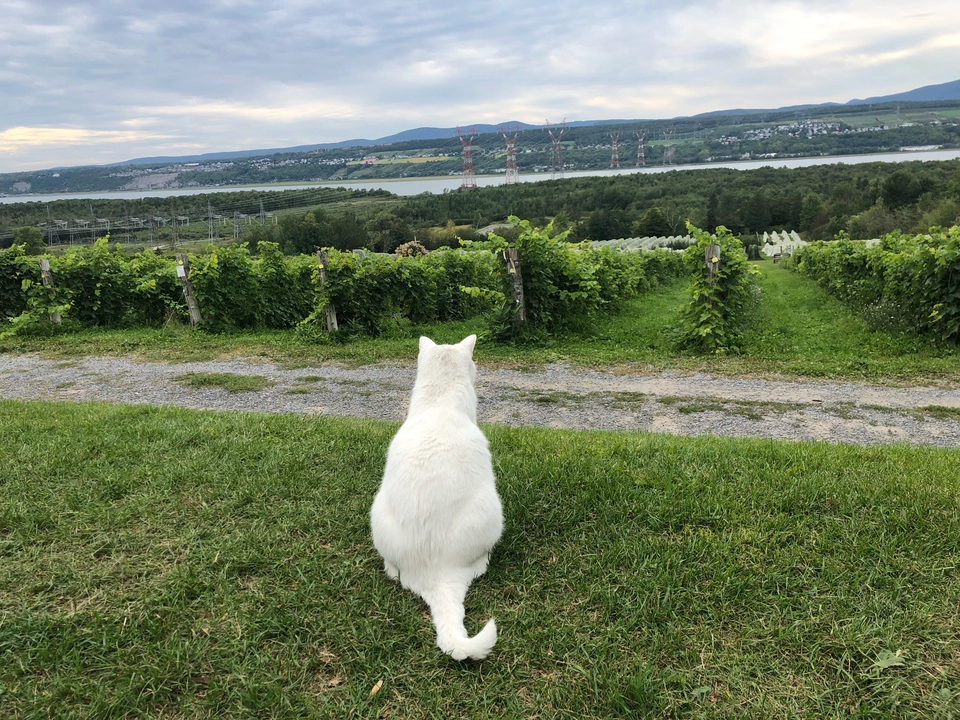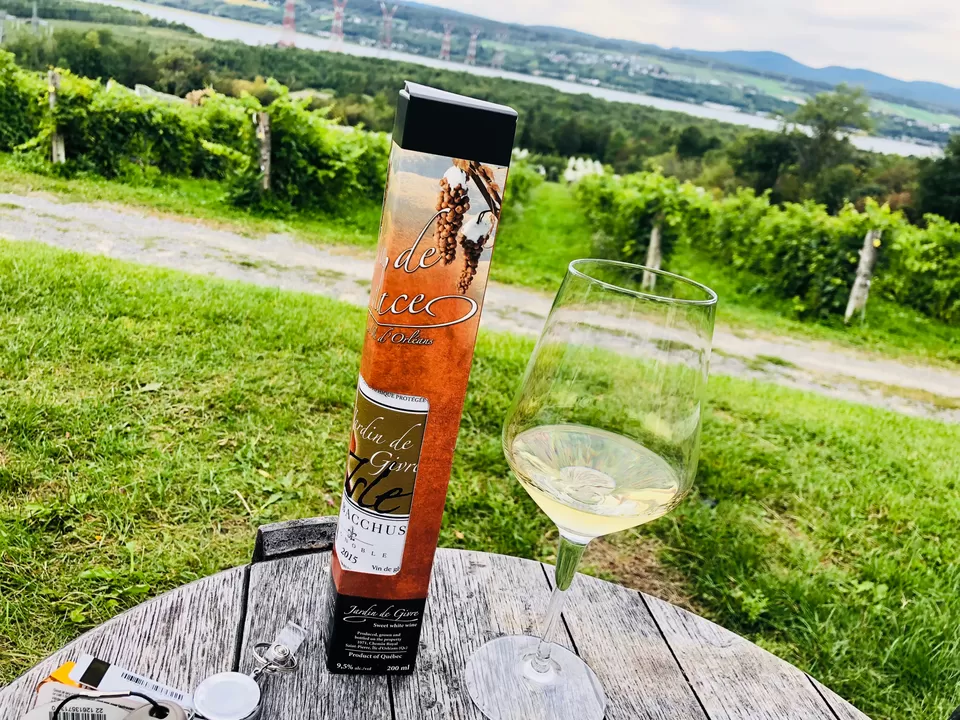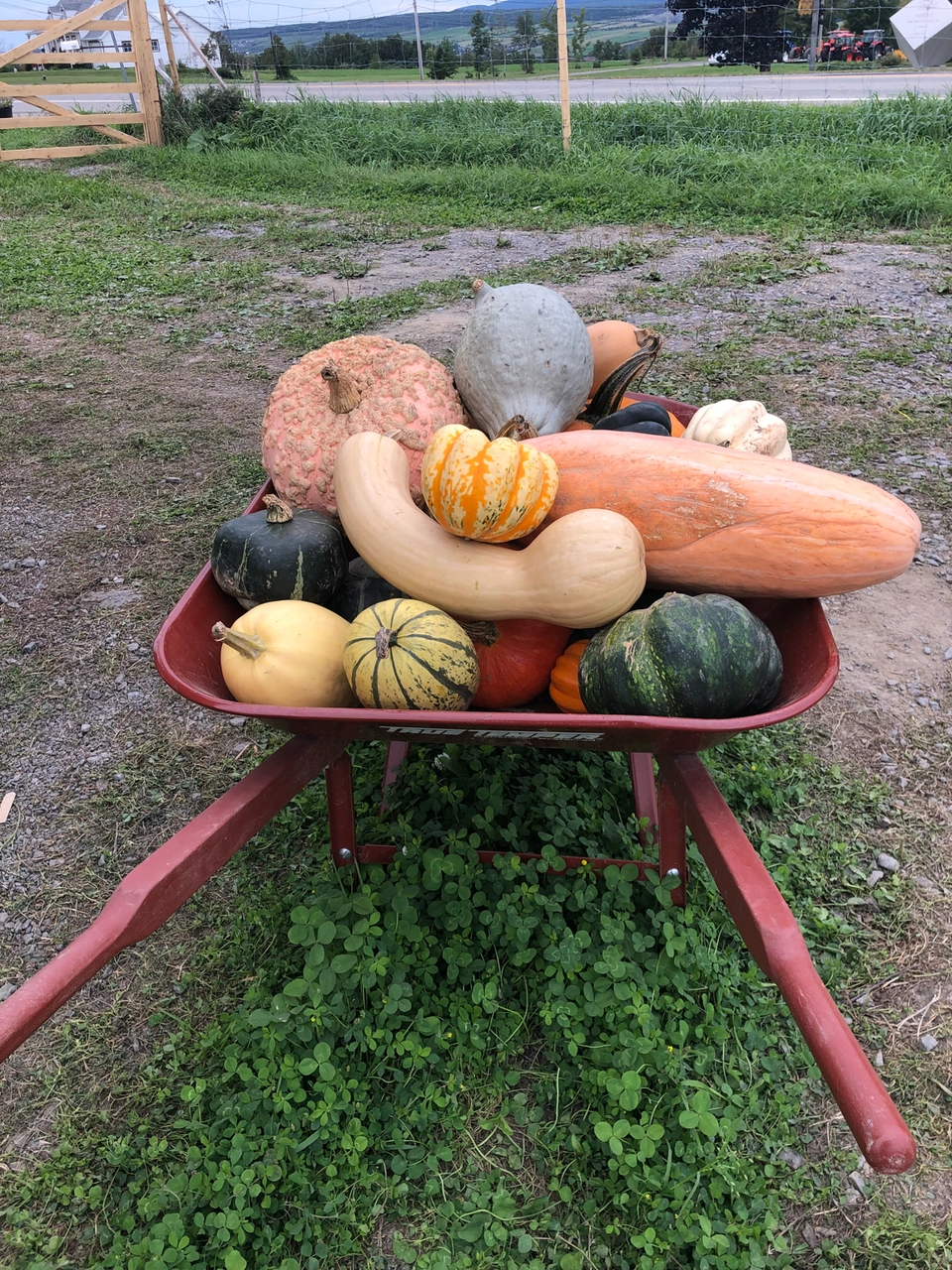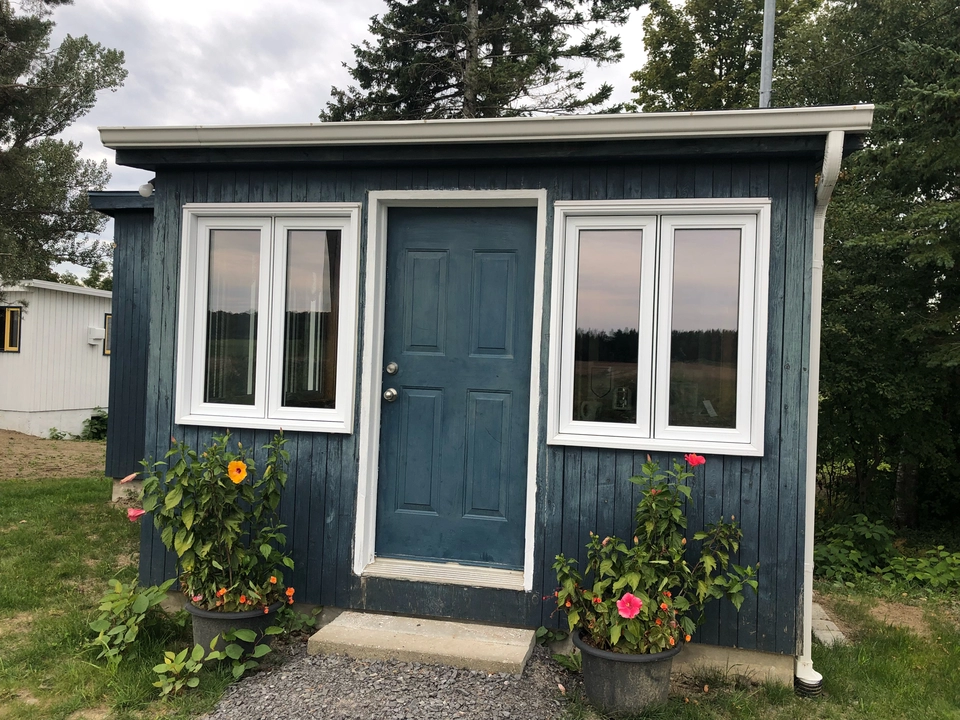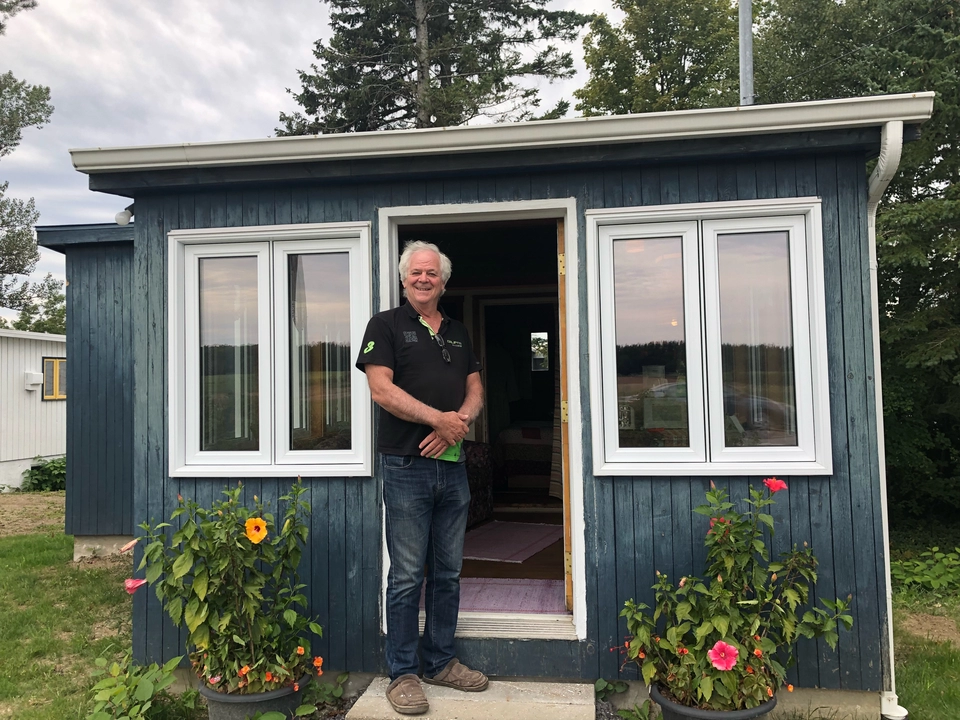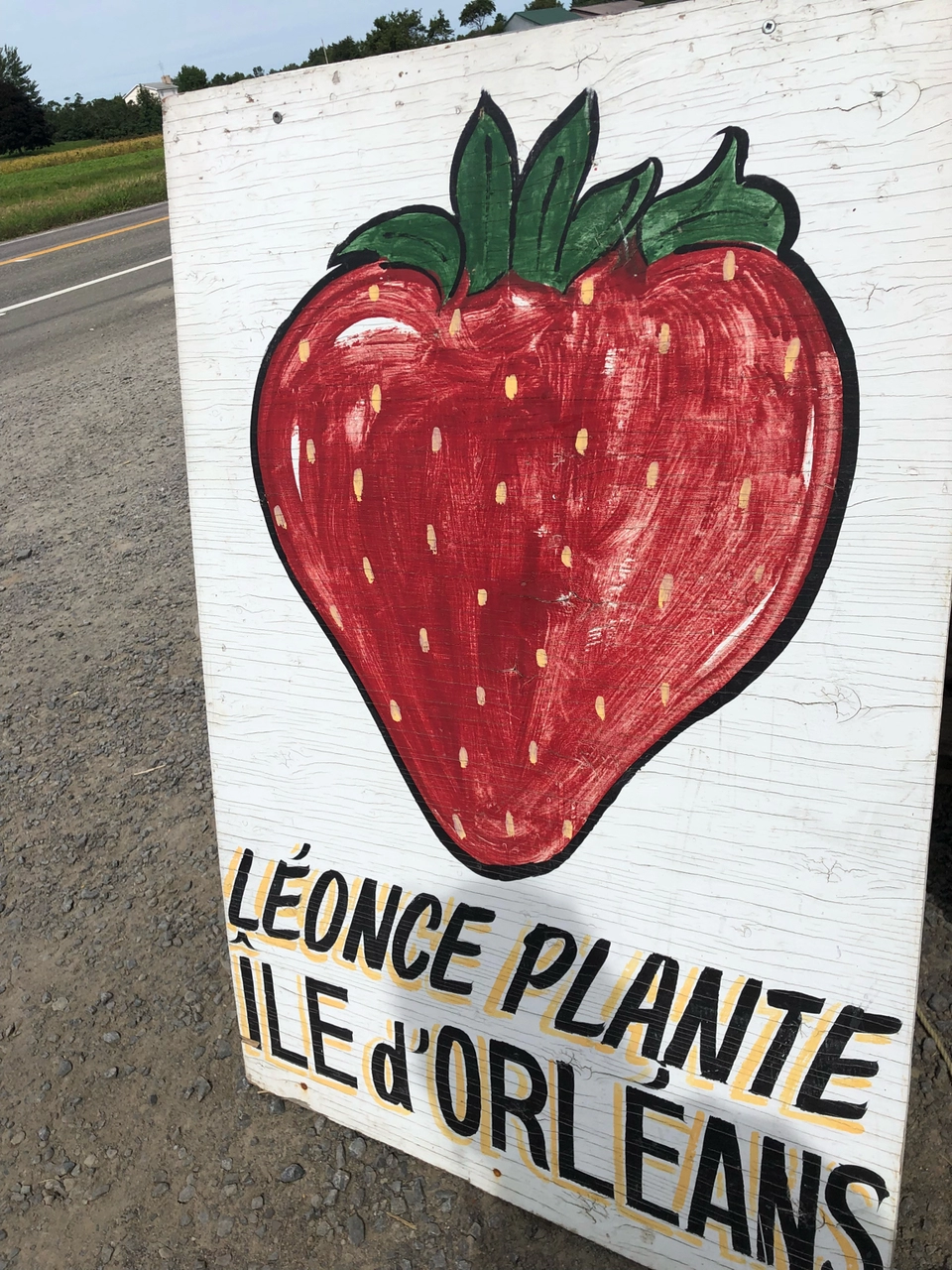 Day 8
Île d'Orleans to Edmundston ( New Brunswick)
359 kms
I am in a different province of Canada and in a different time zone as well. Just an hour ahead from Quebec and New York time ..
Had a great nights sleep in my cabin .. it's so snug and cozy ..
Daniel my host invited me to breakfast up at his house and he had 2 more guests from California . An elderly couple . The gentleman has his roots in Île d'Orleans and has come to see if he can get some information about his ancestors .. conversation steered from politics to culture to music to weather to gun control blah blah ..very interesting . Well our 65 year old Building inspector , been in the Navy American gentleman had some strong opinions about immigrants and them taking US jobs . He said he lived in a place there were too many Indians and he felt like minority and outnumbered in his own country .. I gently told them that he should move them .. the wife was a nice lady . She apologised for her husbands rudeness . Also he felt that housing in California has gone up and you can't buy anything less than a million dollars because we Indians are buying up homes and hiking the price up . Now I laughingly tell him that we are contributing to the US economy and he should be happy .. He is so typically American .. thinks everyone is beneath them ..Daniel meanwhile is trying to ease the awkwardness .. it was a very interesting morning .. Daniel is this well traveled French Canadian . That's what it is .. Travel does that to you .. it opens up your mind and you see beyond yourself and your country . You embrace other cultures and learn from everything .. Travel eliminates small mindedness !!
So it was a two and a half hours of very interesting break fast conversation .. I did learn a lot .. ultimately for me it's all learning .. Travel is learning ..
Daniel wants to come to India and I hope to see him back home soon ..
It dawned raining and it continued raining all the way to Edmundston ..staid highways , nothing inspiring on the way and the weather did not help .
Edmundston is a small city . Nothing much to do . I'm in an excellent suite Airbnb again ..5 start so inverse to my stay yesterday ..
Just chill and write a bit . Tmrw is another long drive ..
#september2018
#goldfishtrails
#puravida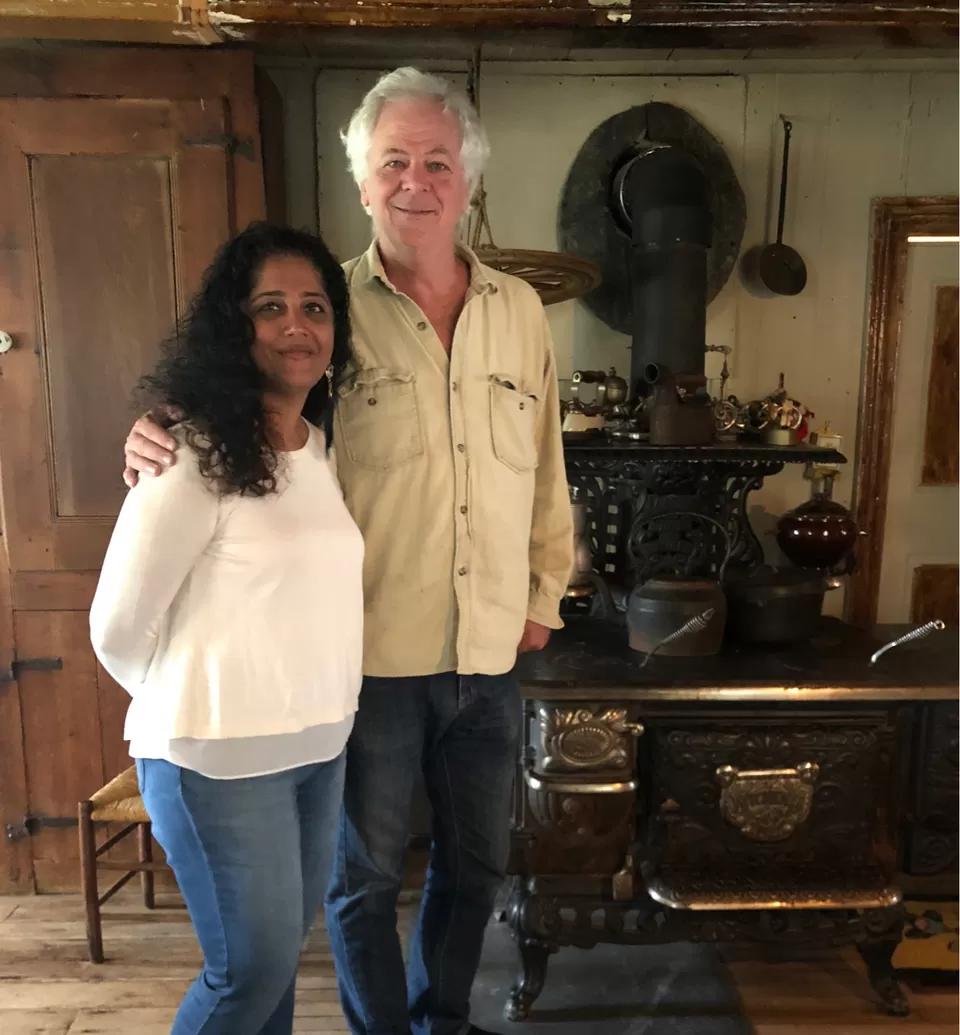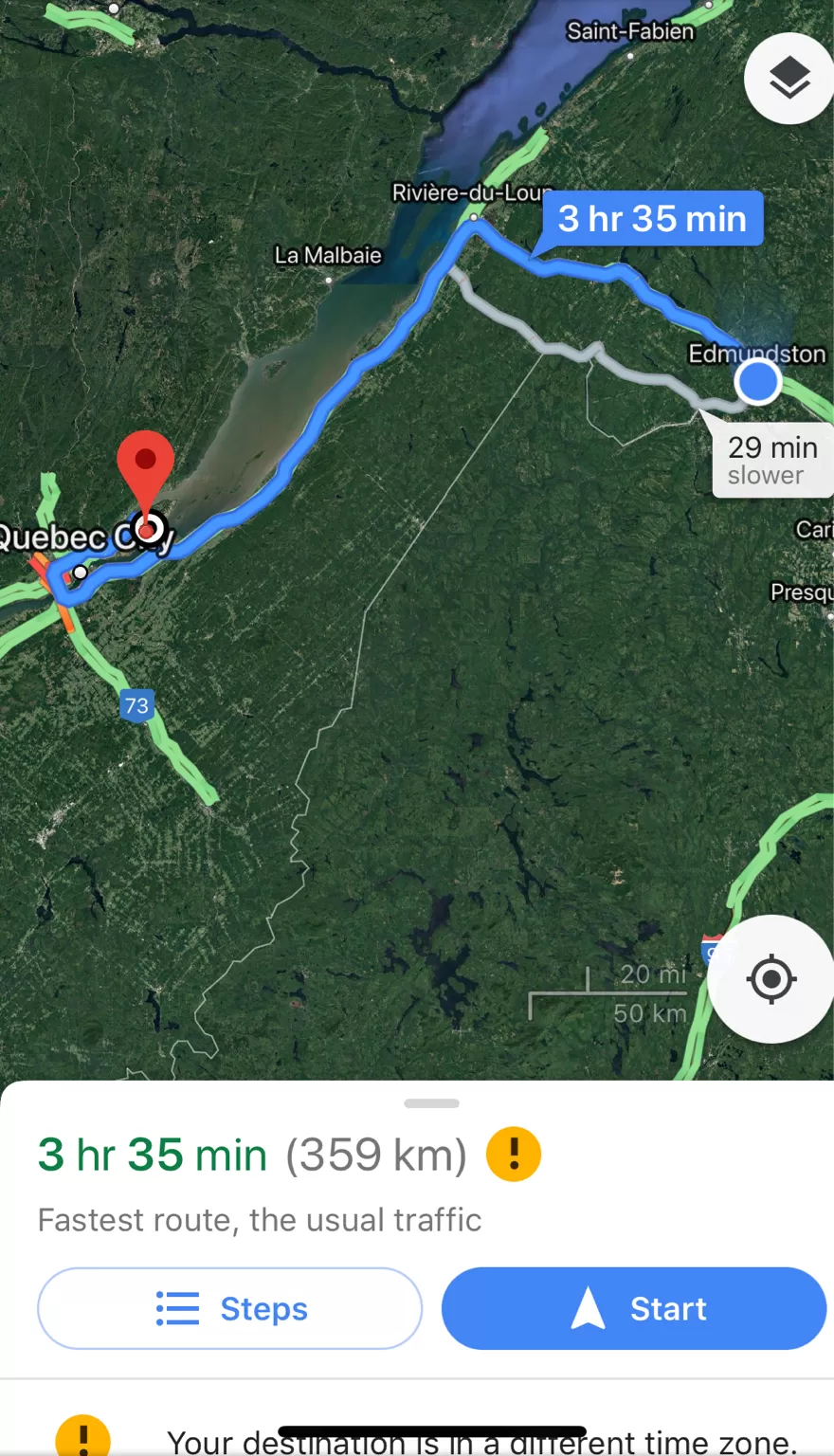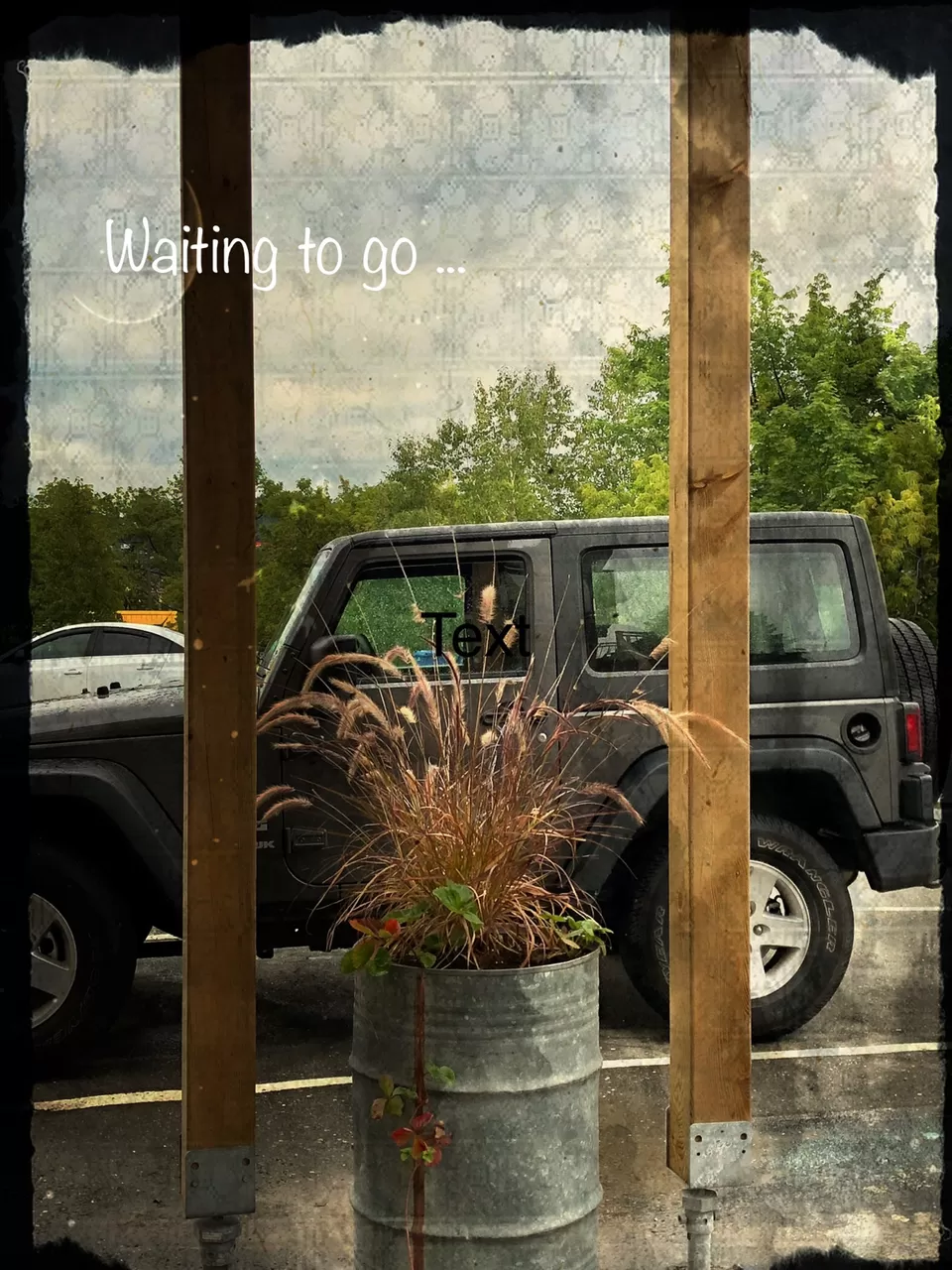 Day 9
Edmundston- to Moncton ( New Brunswick)
438 kms
A little bit more to Sackville and back ,twice over ..another 100 kms
I'm missing home and home food .. hence the poha , had carried some for such moments ..
Nothing can take away the desi in me ..????????????
I left hurriedly around 9 as I had along drive ahead and I wanted to reach Moncton before 1.24 in the afternoon in time to watch the Tidal bore come in . It's a natural phenomenon that occurs twice a day on Petitcodiac River.. it's Caused by the Bay of Fundy tides. The river roll back upstream in one wave that can go up to 60 cm in height! But unfortunately I arrived 10 mins late and the tide had already come in .. super disappointed but C'est la vie.. some hits and some misses ..the second one happens at night ..
So the drive was majorly woods on either side, less traffic and the road was endless .. thank god for the radio , I had decent music and quite a few interviews on CBC ..
I stopped on the way at Hartland to see the worlds longest covered bridge ..
when I saw there was a covered bridge in the area , I had to see it . It reminded me of the covered bridges in " Bridges of Madison county ) . Kincaid and that book is etched in my mind . Hartland is nothing like Iowa but the bridge is so like Roseman Covered Bridge ..
Like the Roseman bridge , the Hartland bridge is also from the the late 1800s ..The bridge was closed but I did take a walk on the side ..
Hadn't I stopped at the Bridge , I would have seen the Tidal bore .. damn ..
But then I did get to spend some time with Varun Kuppu .. Varun and Vedhika are no different.. they have grown up together since kindergarten and then graduate from KIS .. and looks like they will both graduate together next year as well ! When I see this serious adult sitting in front of me and we talk over dinner , I realise how time has flown and how long his mother and I have been friends ..
Seeing Kuppu made up for that disappointment of not seeing the Tidal Bore . I might not stick around tmrw to see it in the afternoon . Another day and it will lead me to another city and destination ..
It won't be long before I head home to NewYork now ..
#september2018
#goldfishtrails
#puravida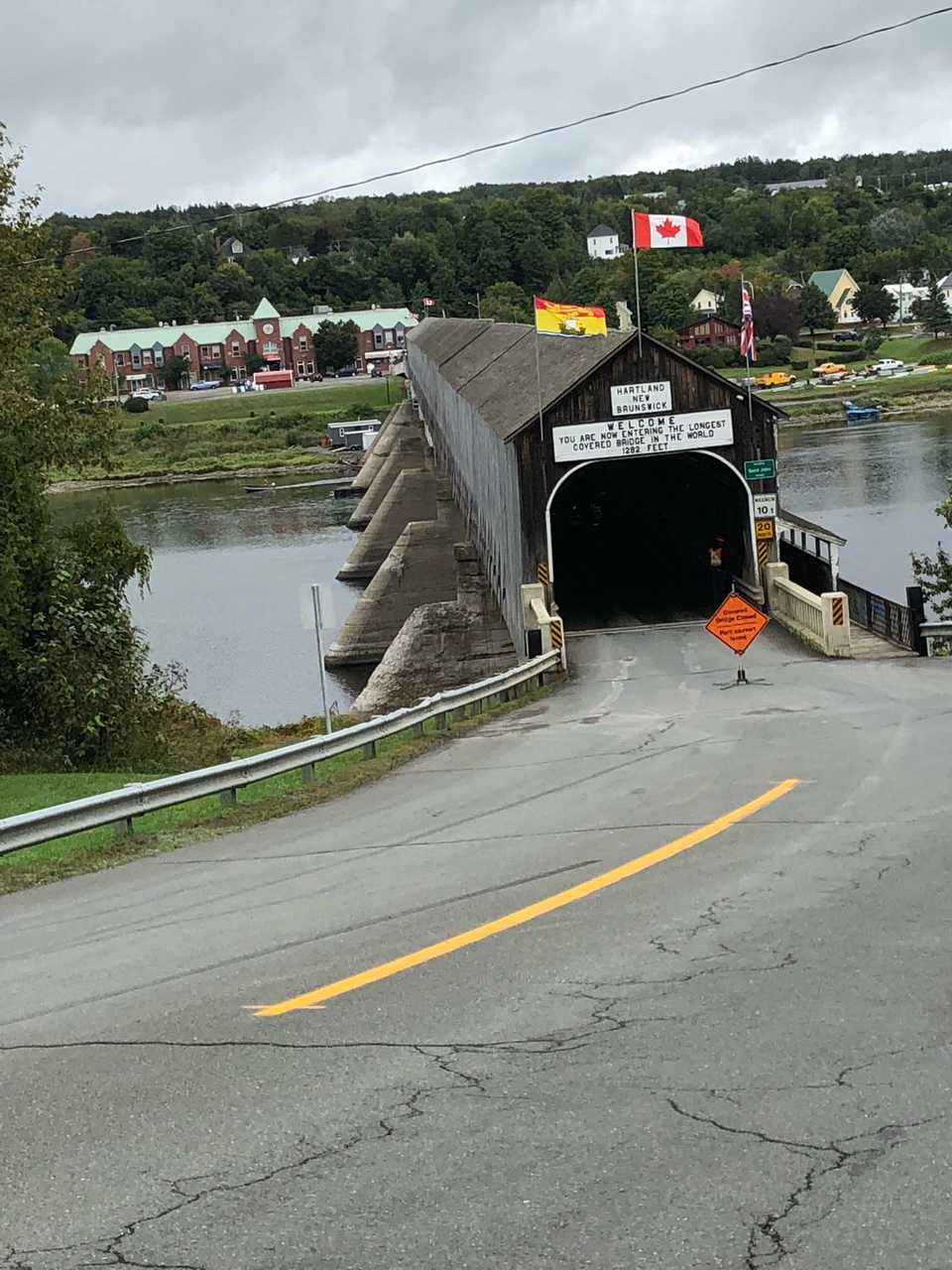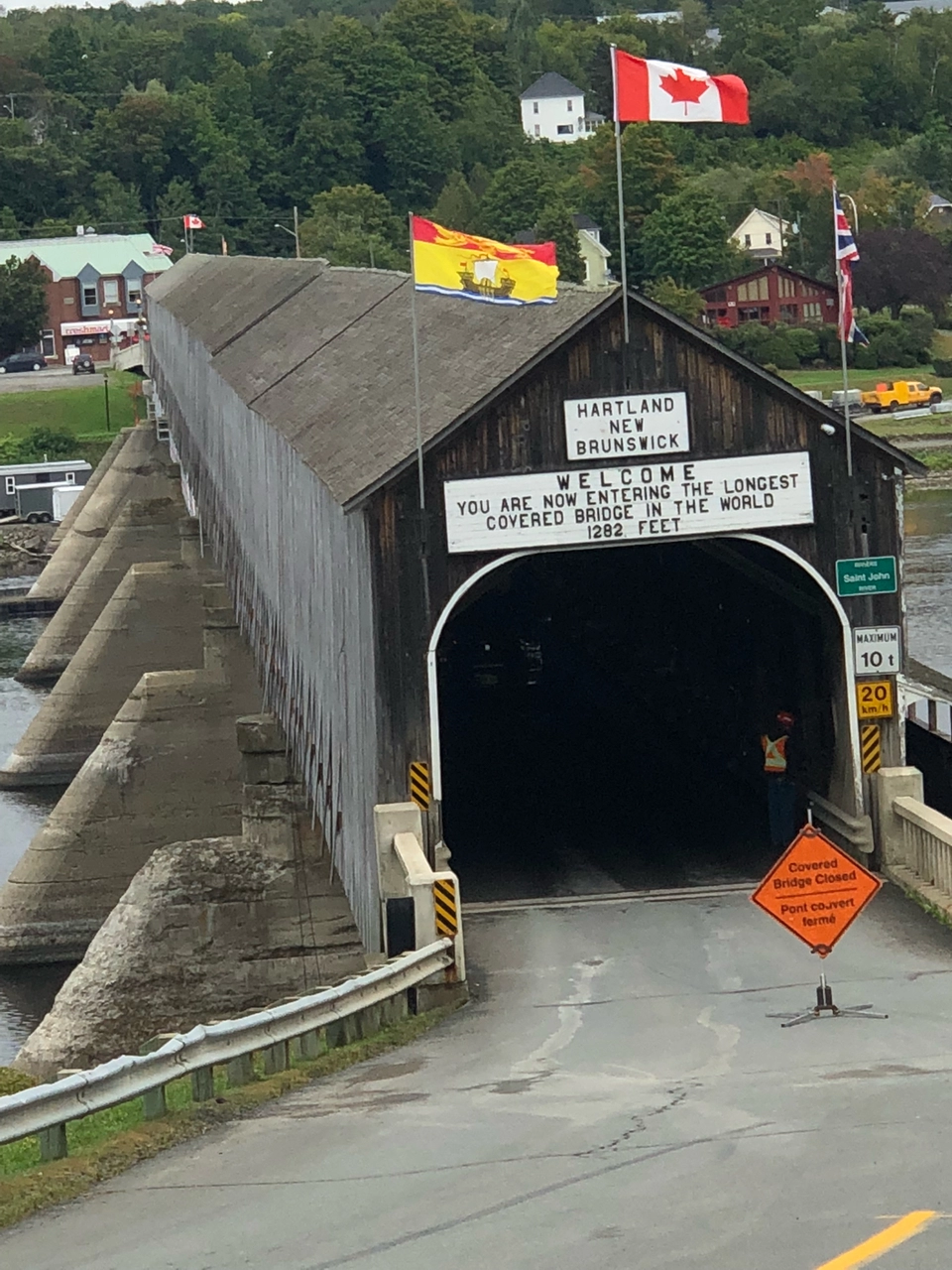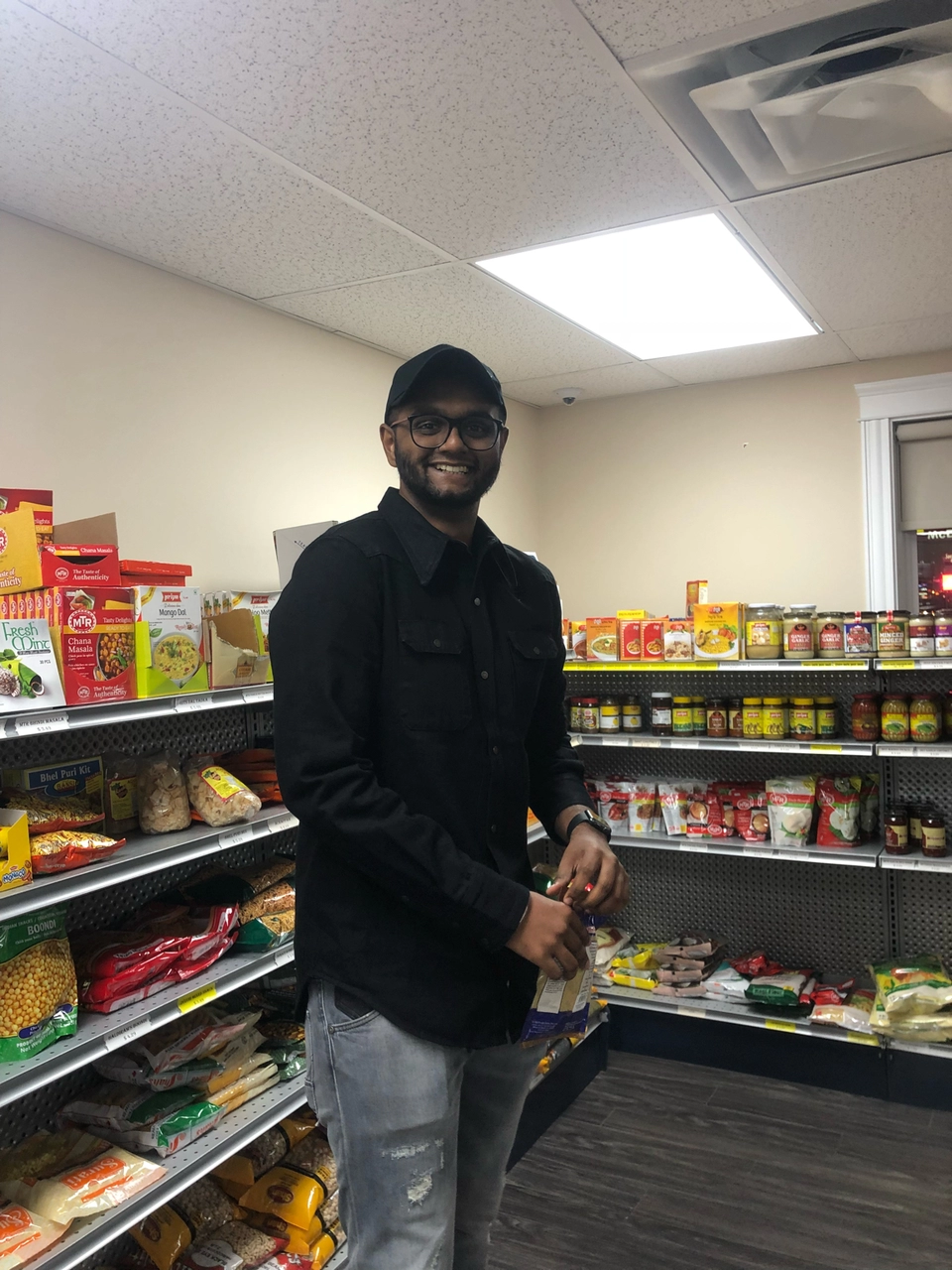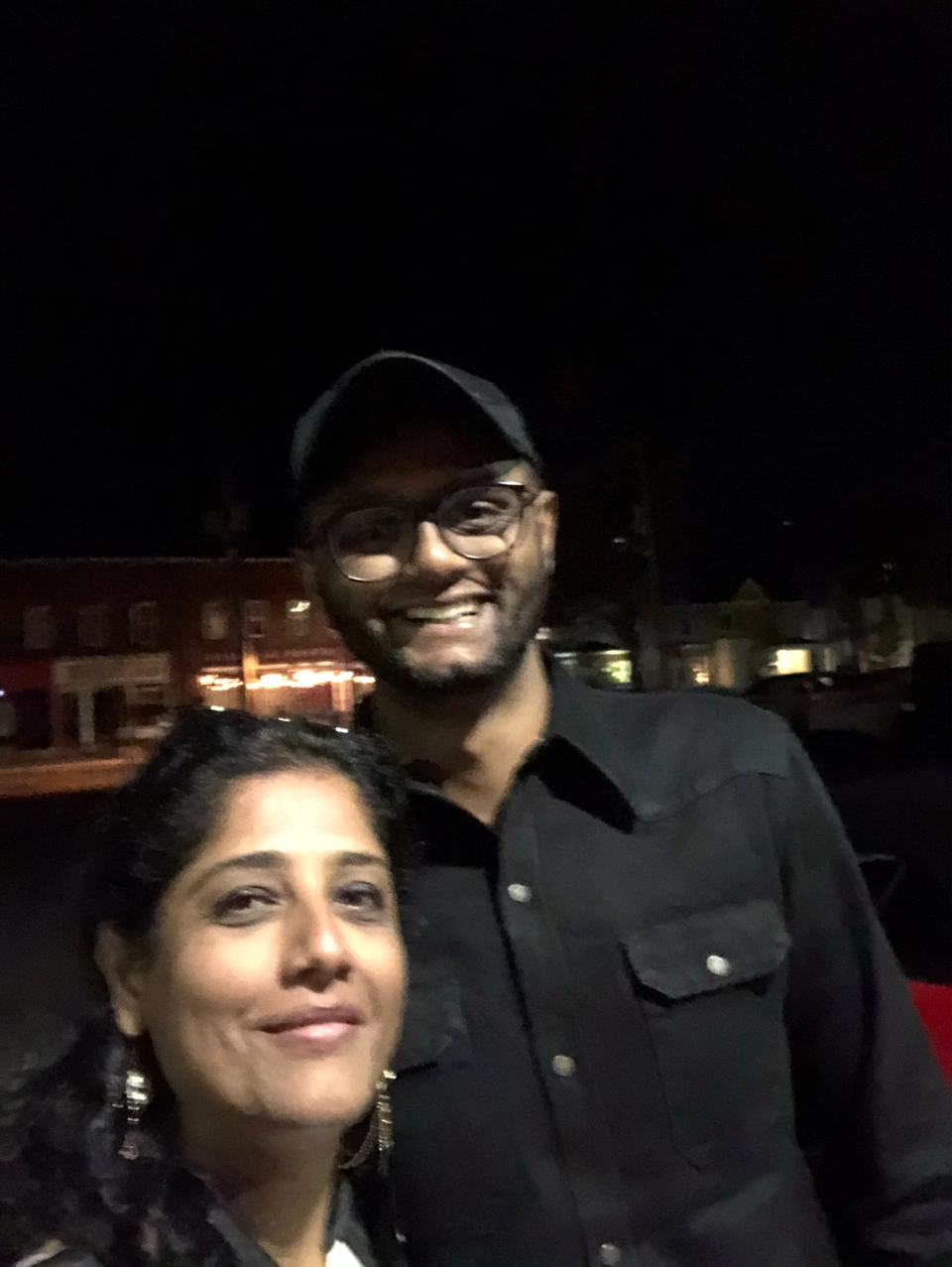 Day 10
Moncton ( New Brunswick ) - Prince Edward Island
182 kms to get here and another over 100 kms going around the island ..
Prince Edward Island or P.E.I , is a friendly, welcoming place. It's a island-province on Canada's East coast known for its potatoes , lobster , sandy beaches , it has a very distinctive red soil and also the famed "Anna of Green Gables ".. the house is there for the interested but I am really not interested in seeing a " house " I've read the book way back ,I had no idea where Prince Edward Island was .. little did I know I would actually step foot on it . Even when I see out in this road trip I had no clue .. I've been planning it as i go .. this has been a no destination roadtrip ..
PEI is connected to the mainland by this spectacular bridge , Confederation Bridge .. 13 kms long . It is the longest bridge over ice-covered waters in the world...the two way toll is 47 $ for a car ! Slightly steep I thought .
The island is also a popular Cruise Ship stop .. the waterfront reminded me a lot of the Caribbean , but the water is no where close to it !!
There is loop road that can be done at a brisk or relaxed pace. I kinda just drove not stopping much .
Charlottetown though is buzzing with activity . Lots of people from the cruise ship . It has the typical island town vibes and people and making the most of the last few days of good weather before it starts getting cold and freezing soon ..
I just hung around the wharf watching the energy , The PEI international shellfish festival is on and Oysters, mussels, lobster, clams take centre stage. It's food haven for a fish lover ..
Local Craft beer is really good and I tried a blueberry ale .. lip smacking ..
It's been an easy day .. lovely digs by the lake .. I've been very fortunate with finding excellent Airbnb homes , so far so good !!
#september2018
#goldfishtrails
#puravida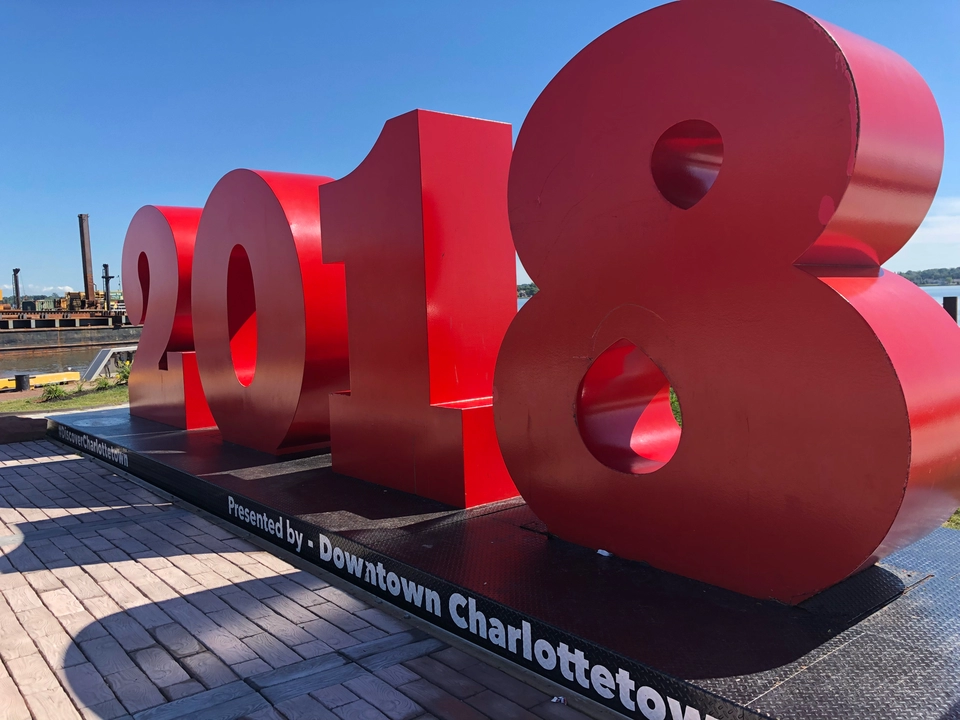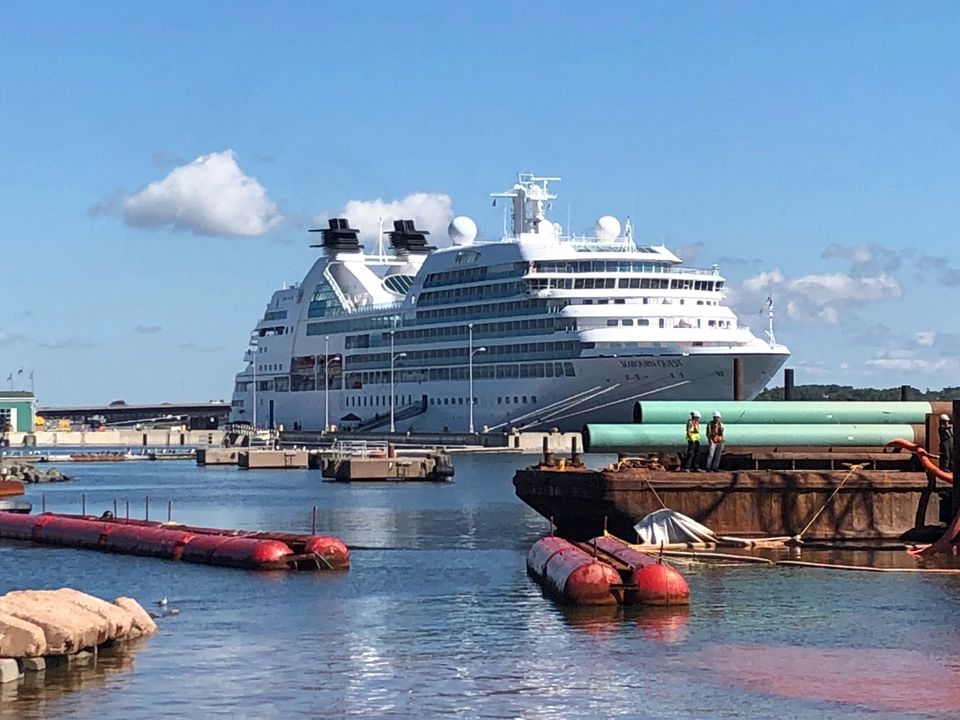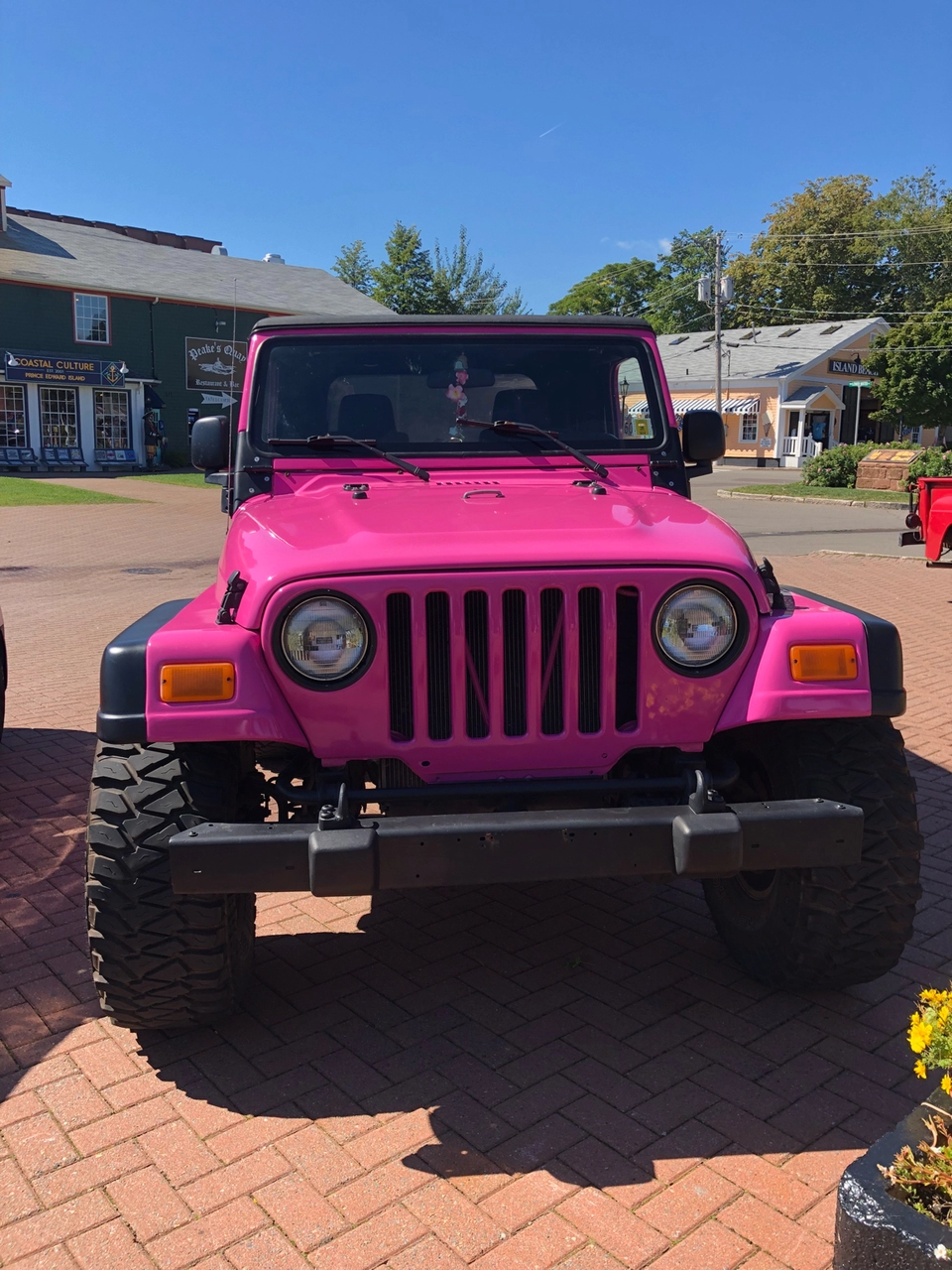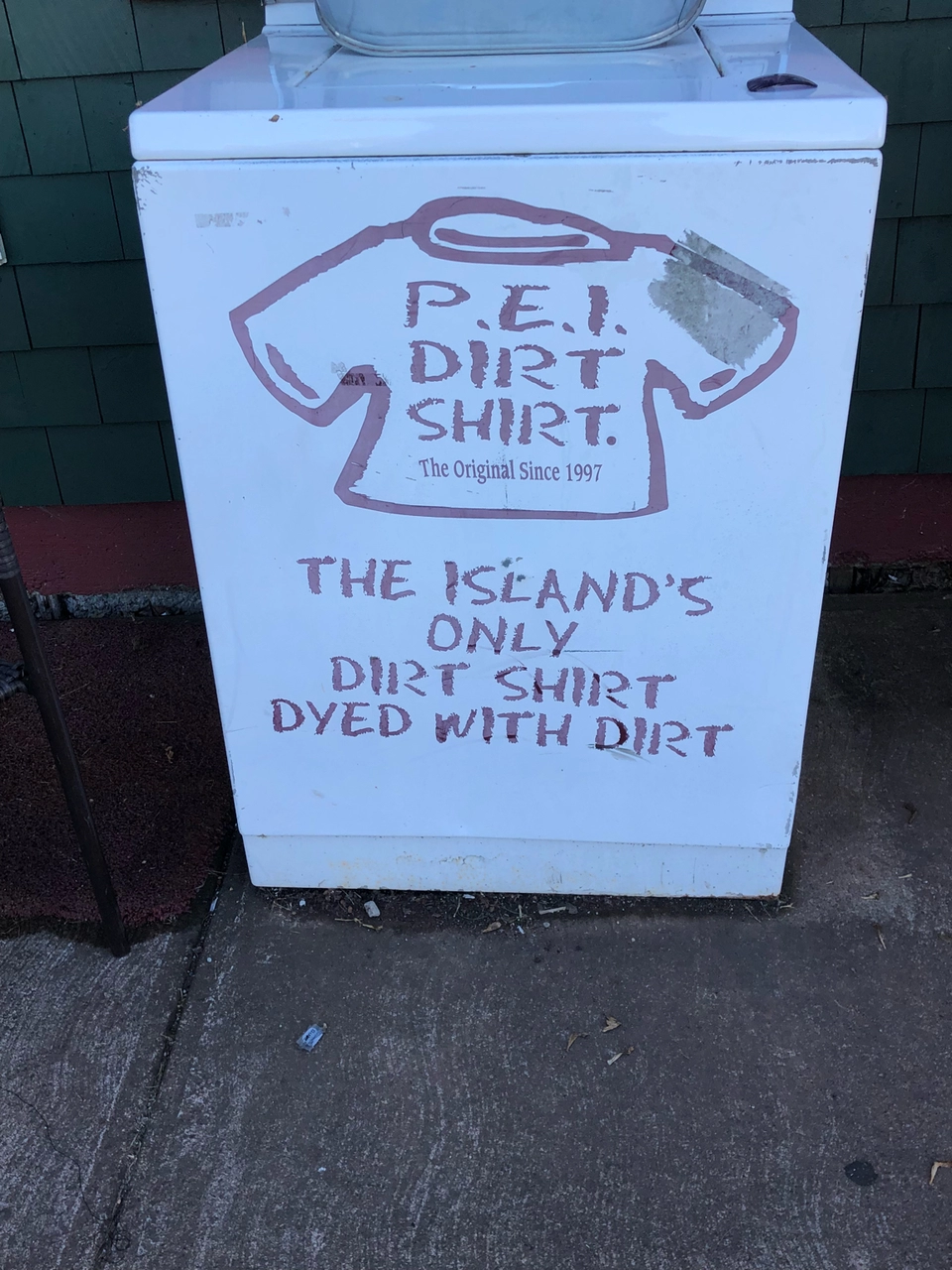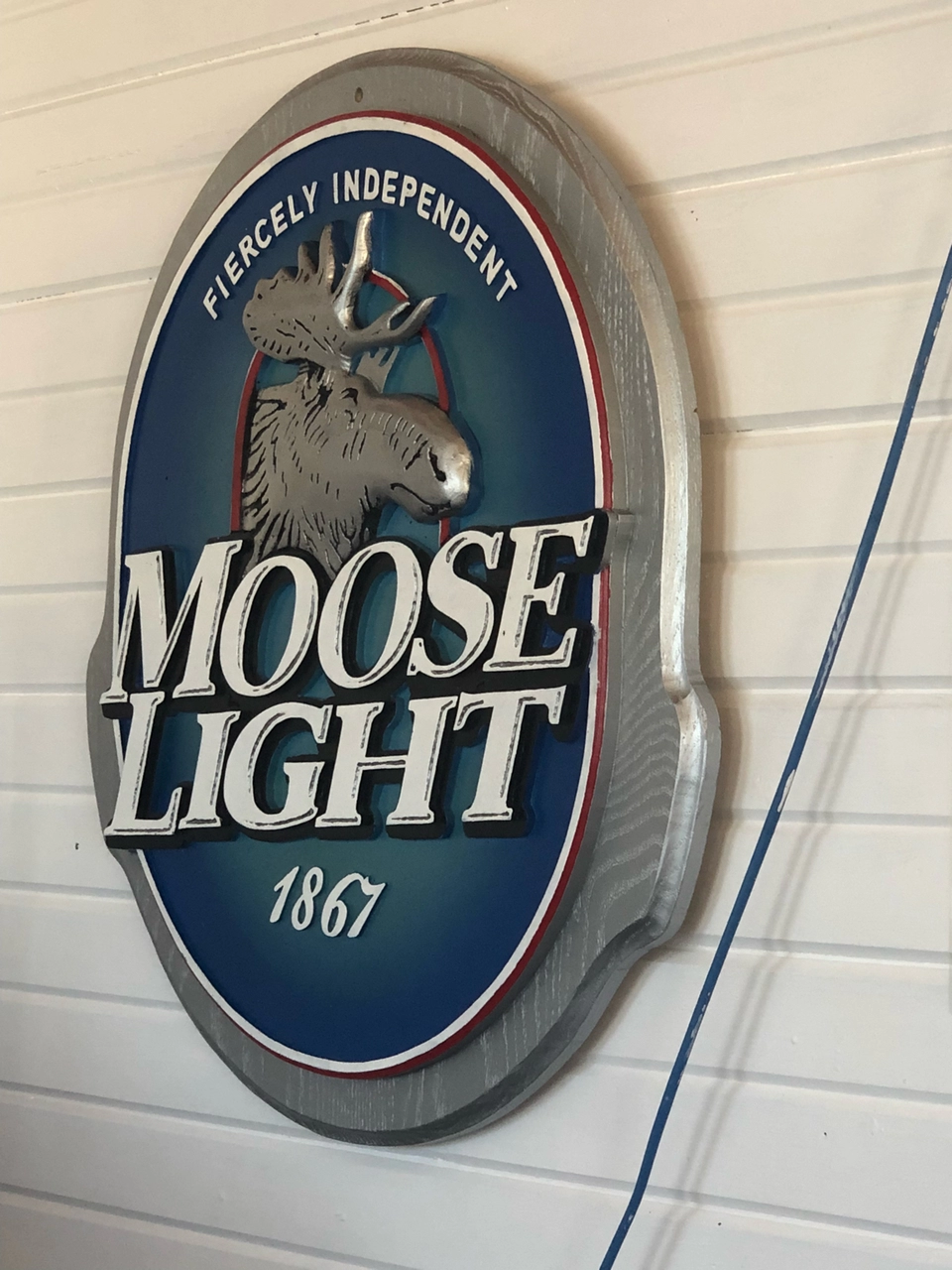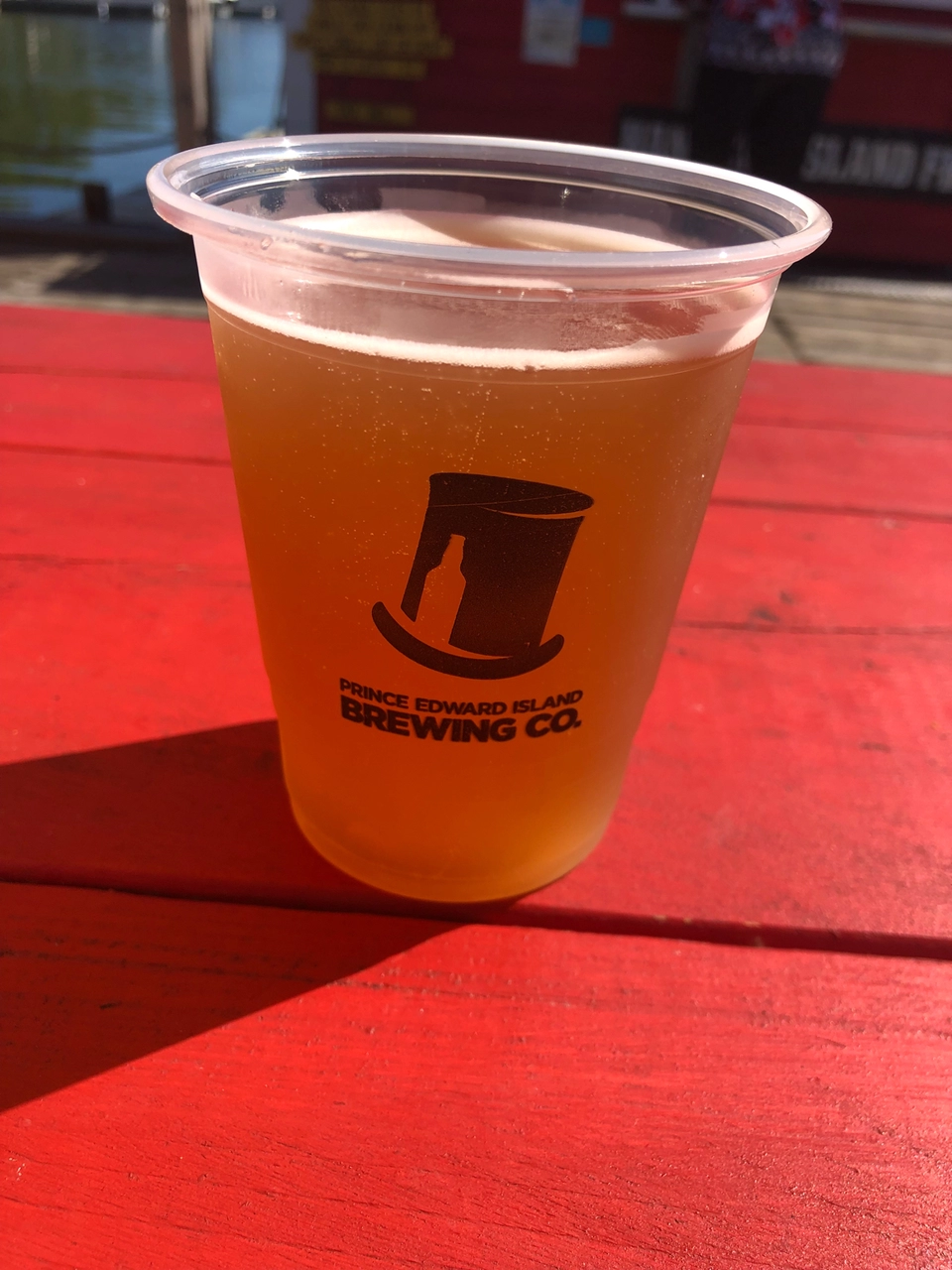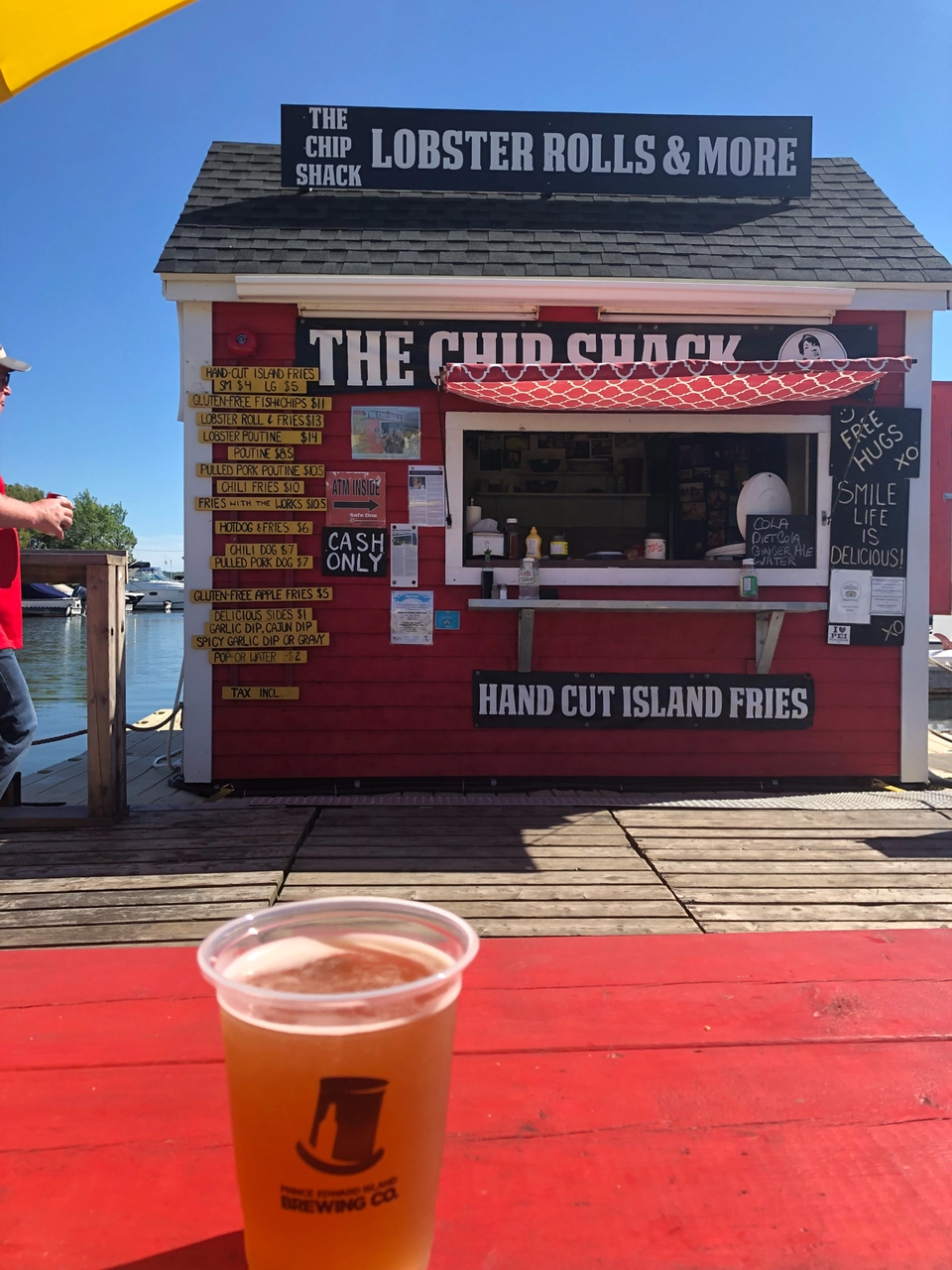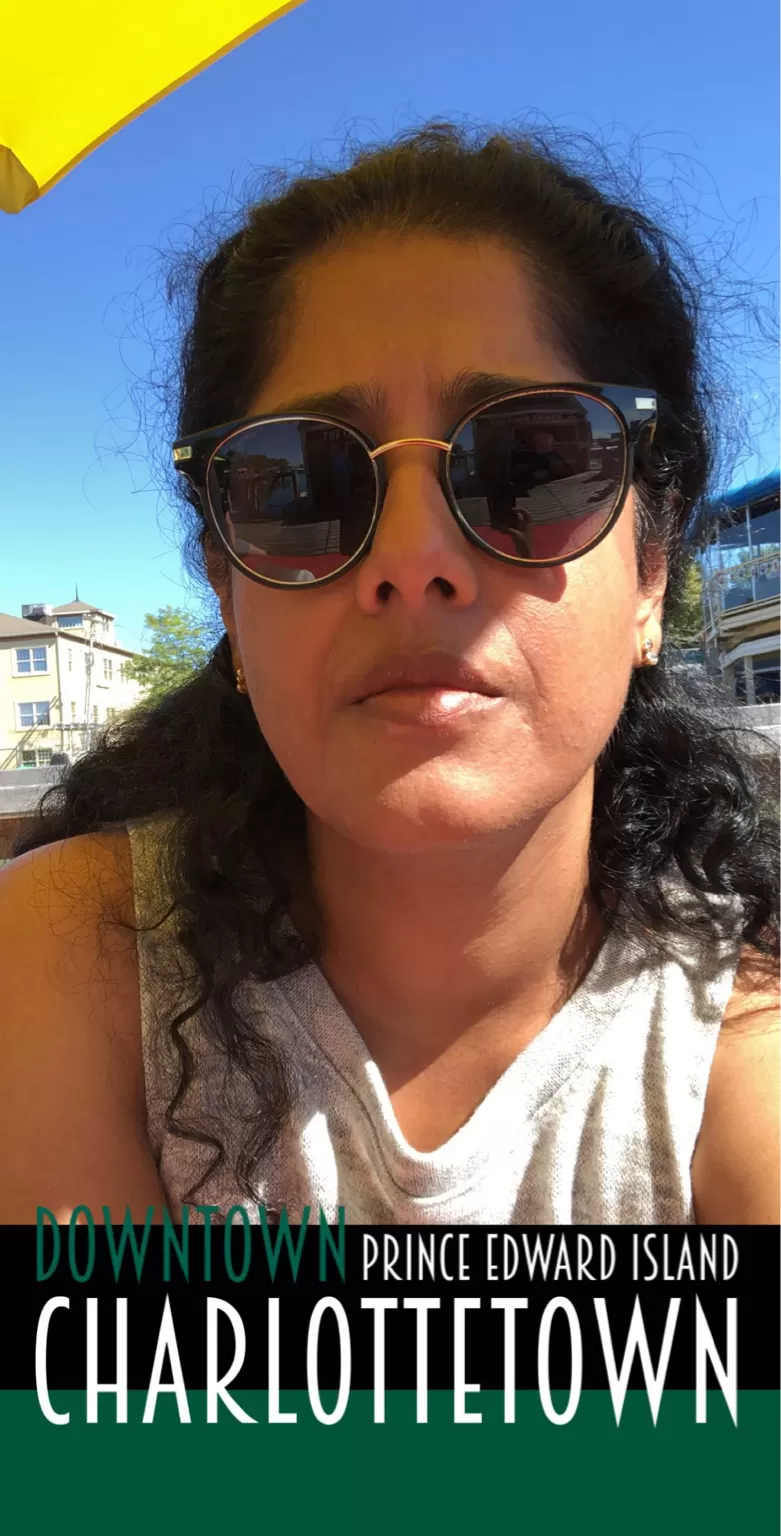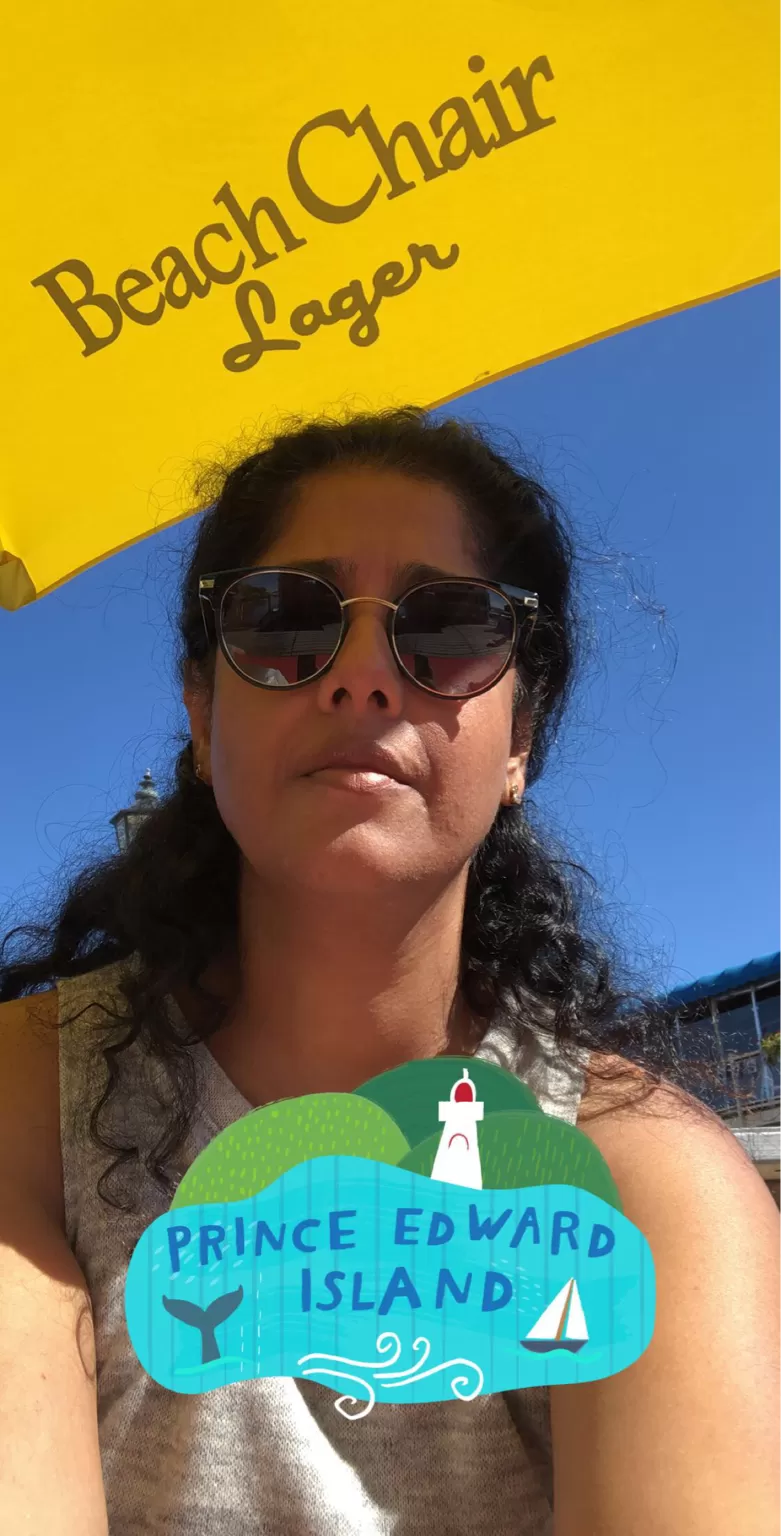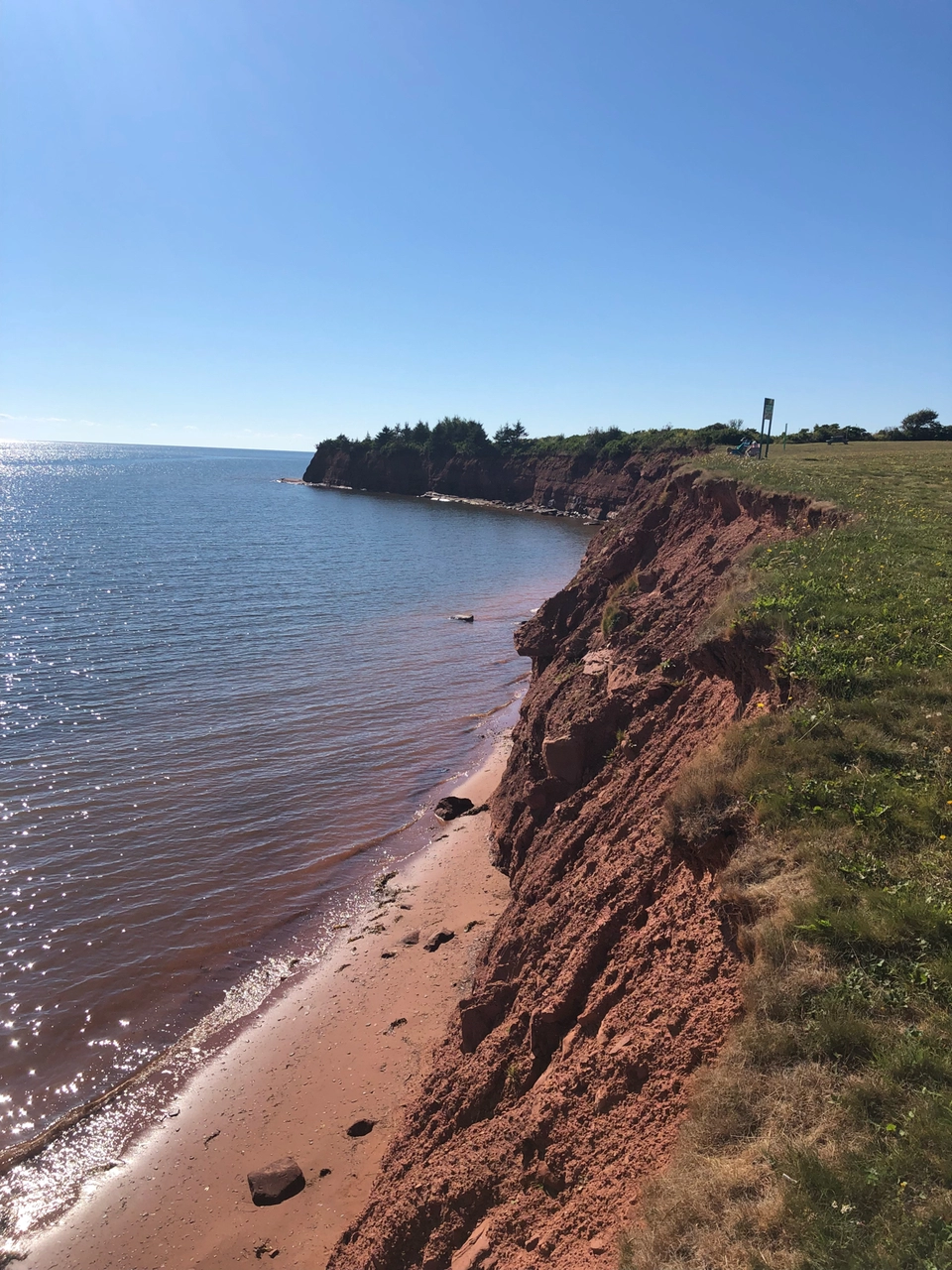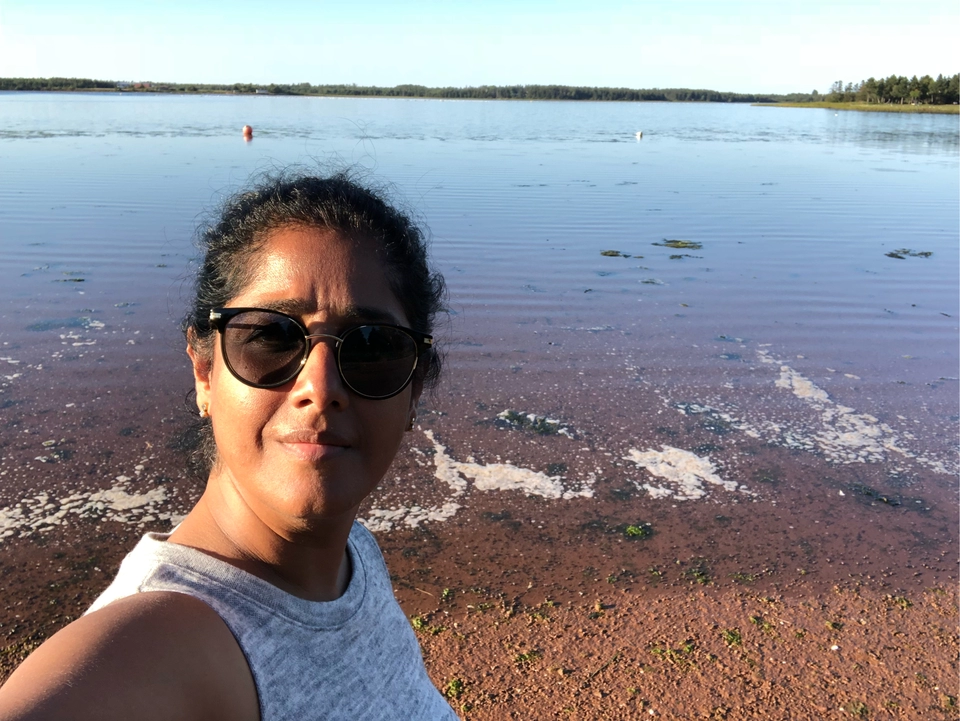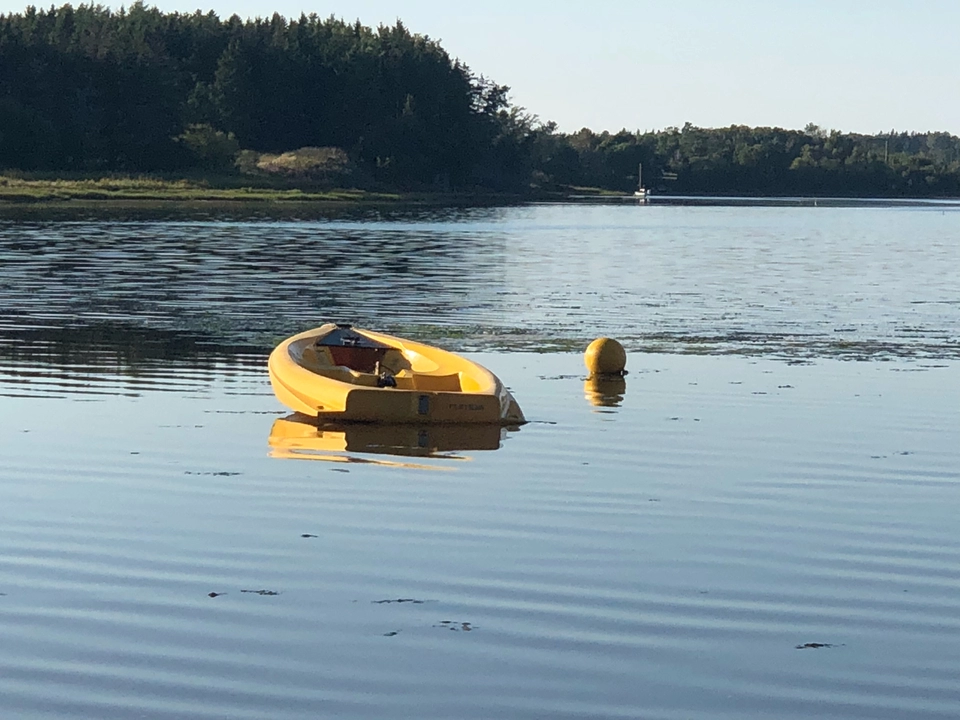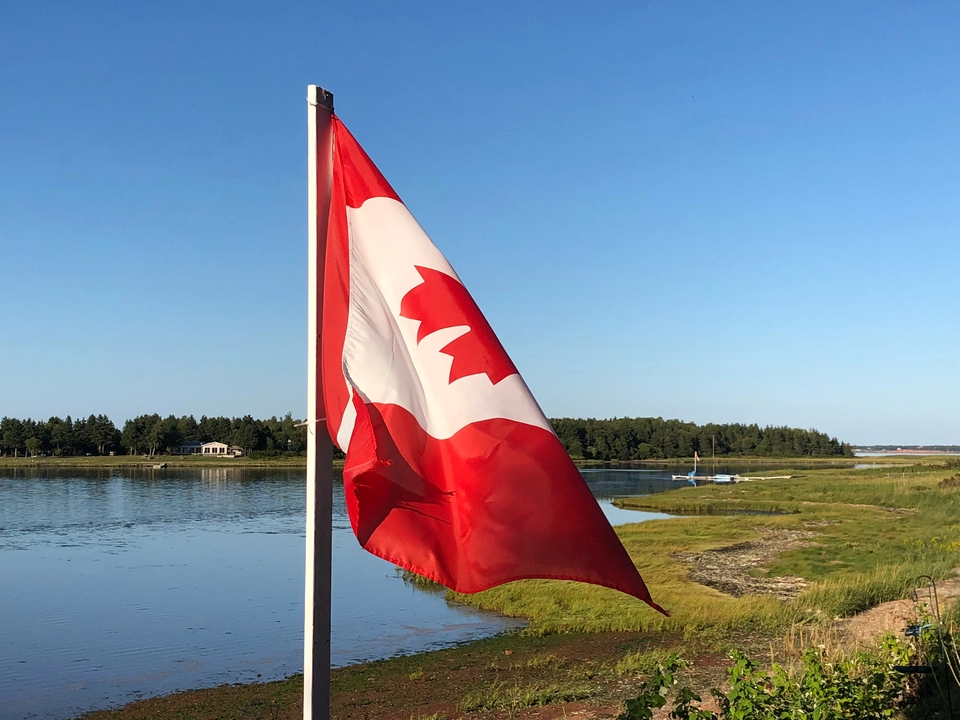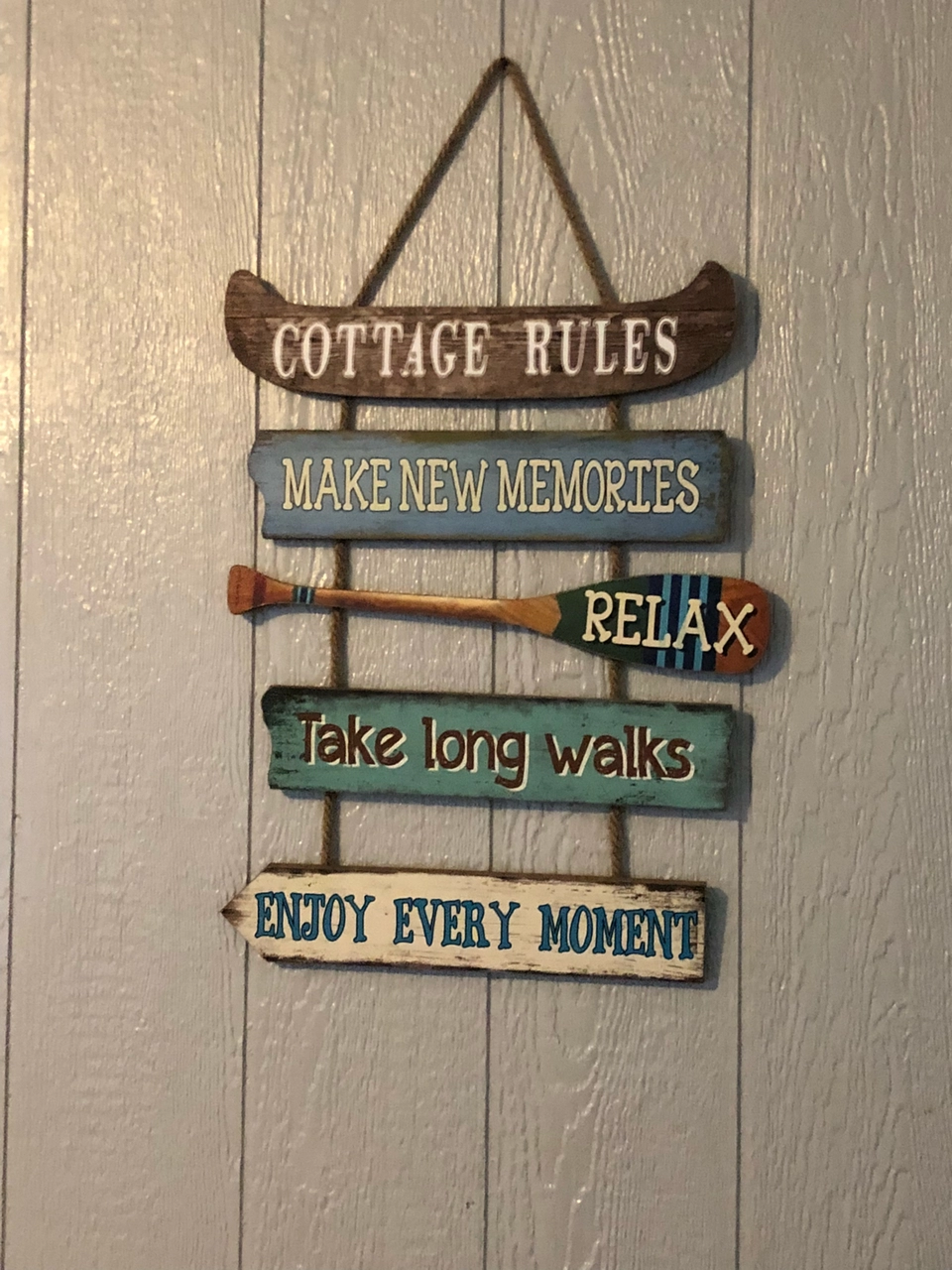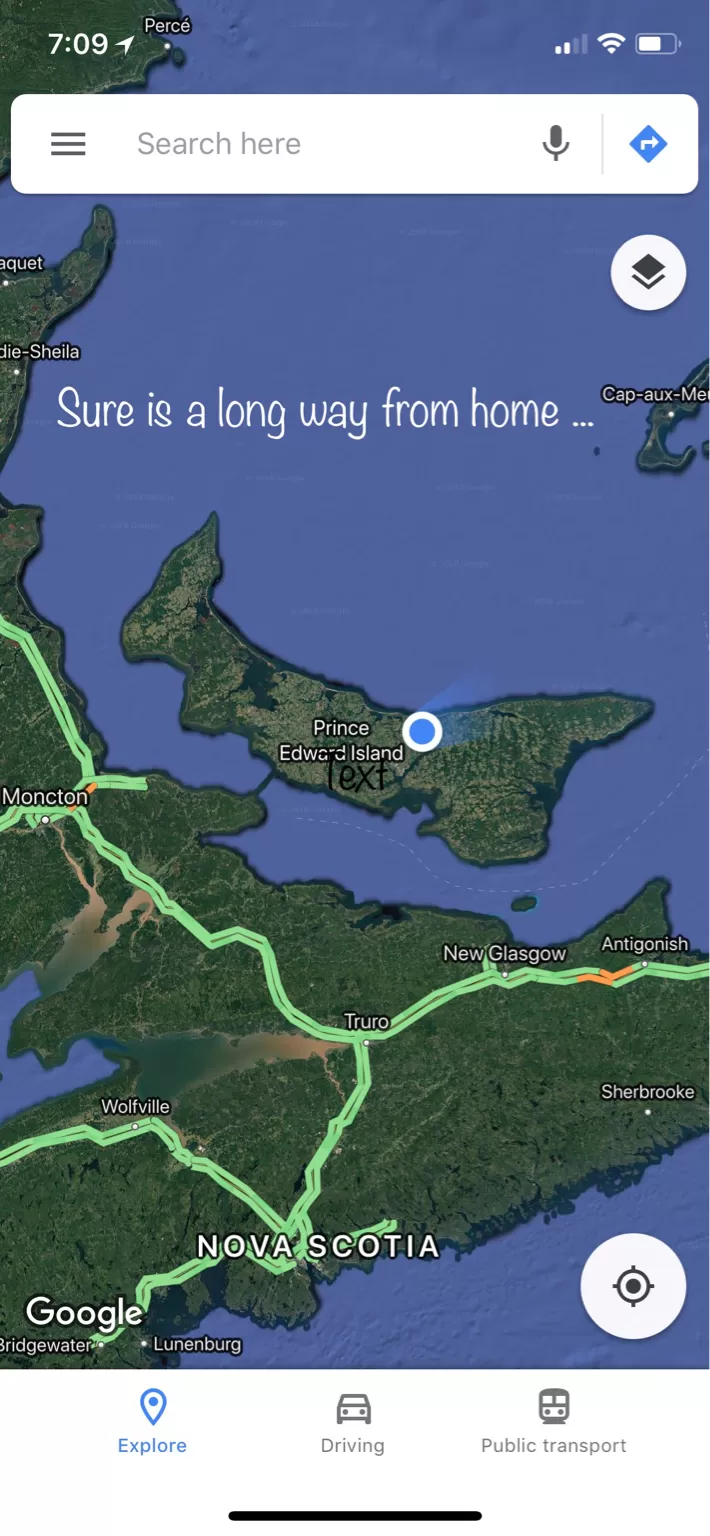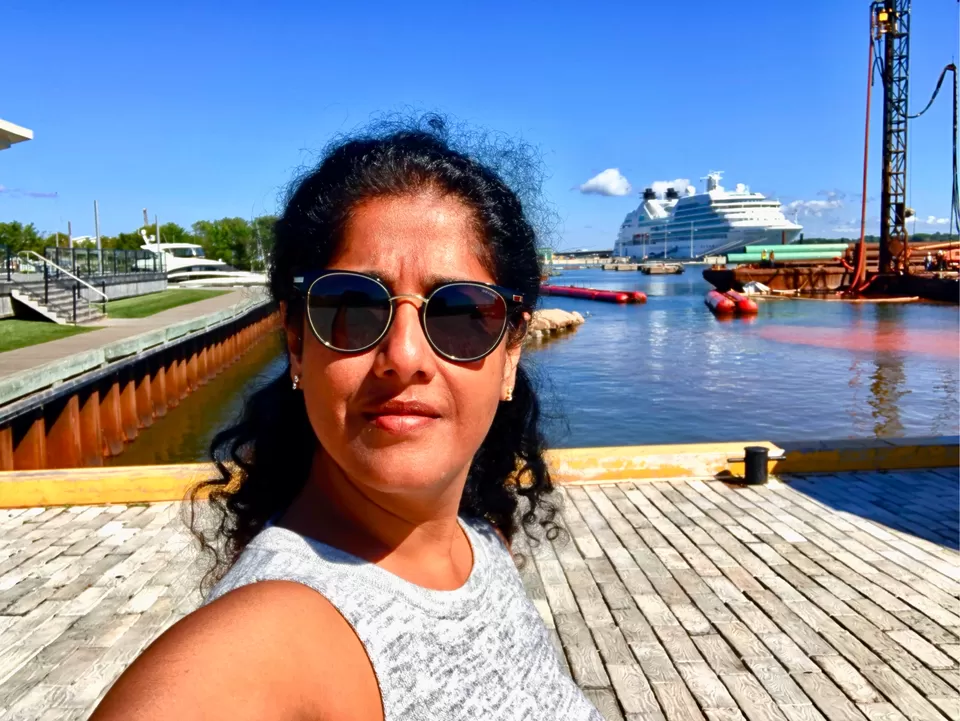 Day 11
PEI via New Brunswick - Halifax ( Nova Scotia ) 345 kms plus another 75 kms .
Leaving PEI was hard , the island is addictive . But I have to be on my way home soon .. back on the Confederation Bridge into New Brunswick and on to Nova Scotia . I drove straight to the waterfront in Halifax .. Halifax is this busy town with lot of modern high rises and concrete . Although the waterfront is charming , I didn't last long there .. it was quite touristy , Segway tours etc .. I raaaaan ...
The only quirky thing in the Waterfront of Halifax thats really worth seeing are the Drunken Lampposts .. The pieces, entitled 'Fountain' and 'Get Drunk, Fall Down .. quite cheeky I thought ..they represent Drunkenness .. One of them is so drunk that it fell to the ground while his (or her) pal is peering over it. A third one near the water's edge has a water jet coming out of the base and into the harbour as though it was peeing...was supposed to be a temporary exhibit , because of its popularity its been made a permanent one !!
I quickly made my way to my accommodation , which is a Camper Van on Marina's property and sitting on the edge of the woods .. its beautiful .. adding to that they have 2 adorable dogs Evie and Muddy .. such darlings . Marina and I got chatting and she said she's never had an Indian guest before , leave alone a solo woman roadtripper.. These parts of Canada are non touristy and remote ..lots of camping and RV Culture ..
I told Marina about my Halifax experience and she said I should go to couple of nearby beaches and coves .
I did go to the nearby Lawrence beach .. exactly what I wanted .. locals surfing and chilling .. water is too cold for me to go in .. so I just hung around on the beach . The sunset was stunning..
I come back to find Evie and Muddy waiting for me .. they are only a year and 2 yr old dogs .. missing my babies back home ..
Sitting out , sipping a glass of wine in this perfect setting ..
Wi-Fi is poor and I'm definite the pics won't go up ...will try nevertheless !!
long drive tmrw plus a ferry crossing .. looking forward ..
#september2018
#goldfishtrails
#puravida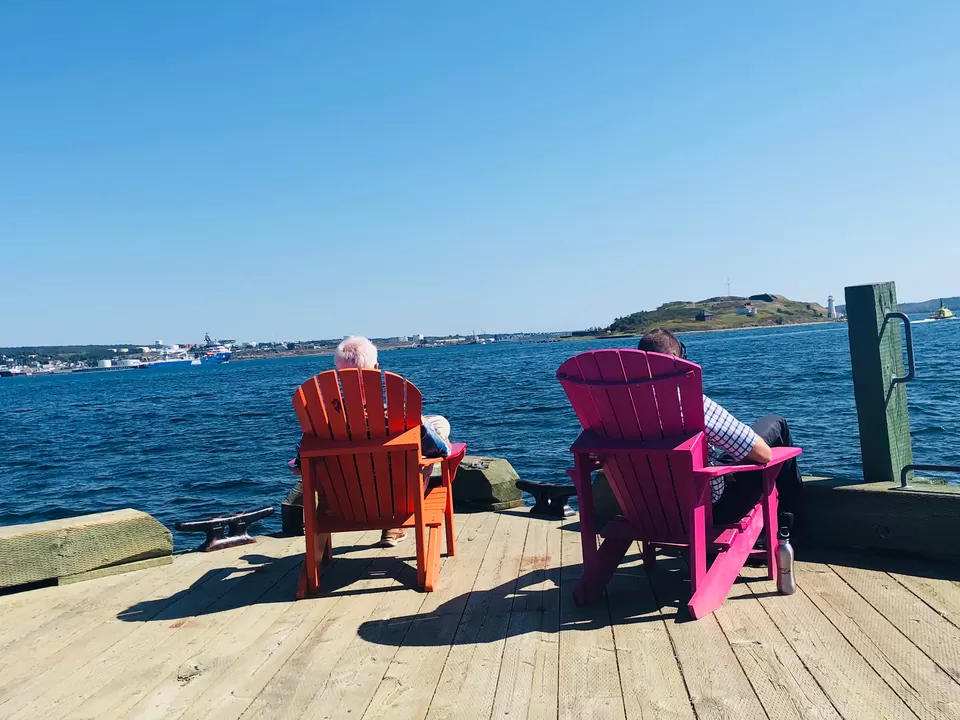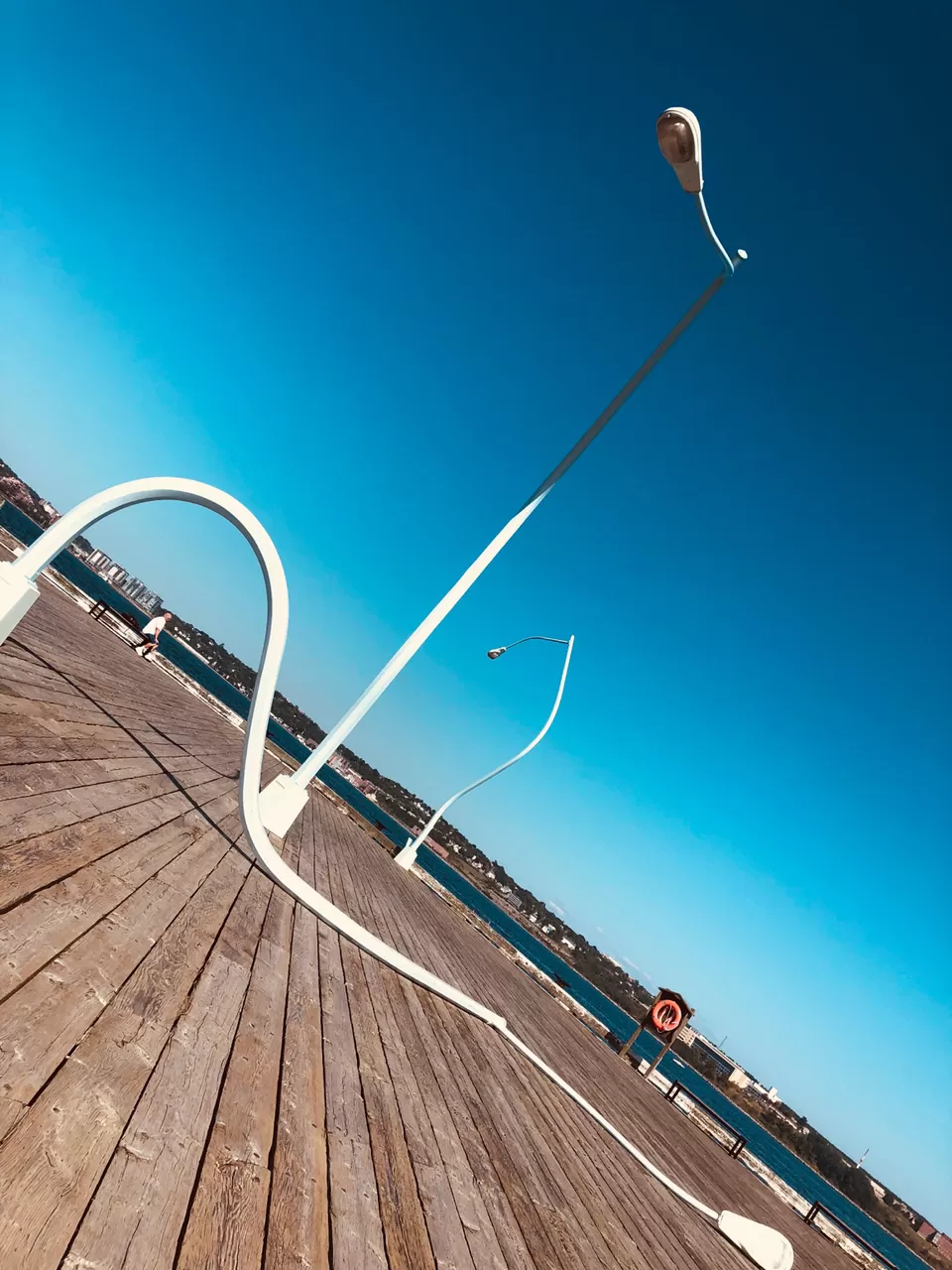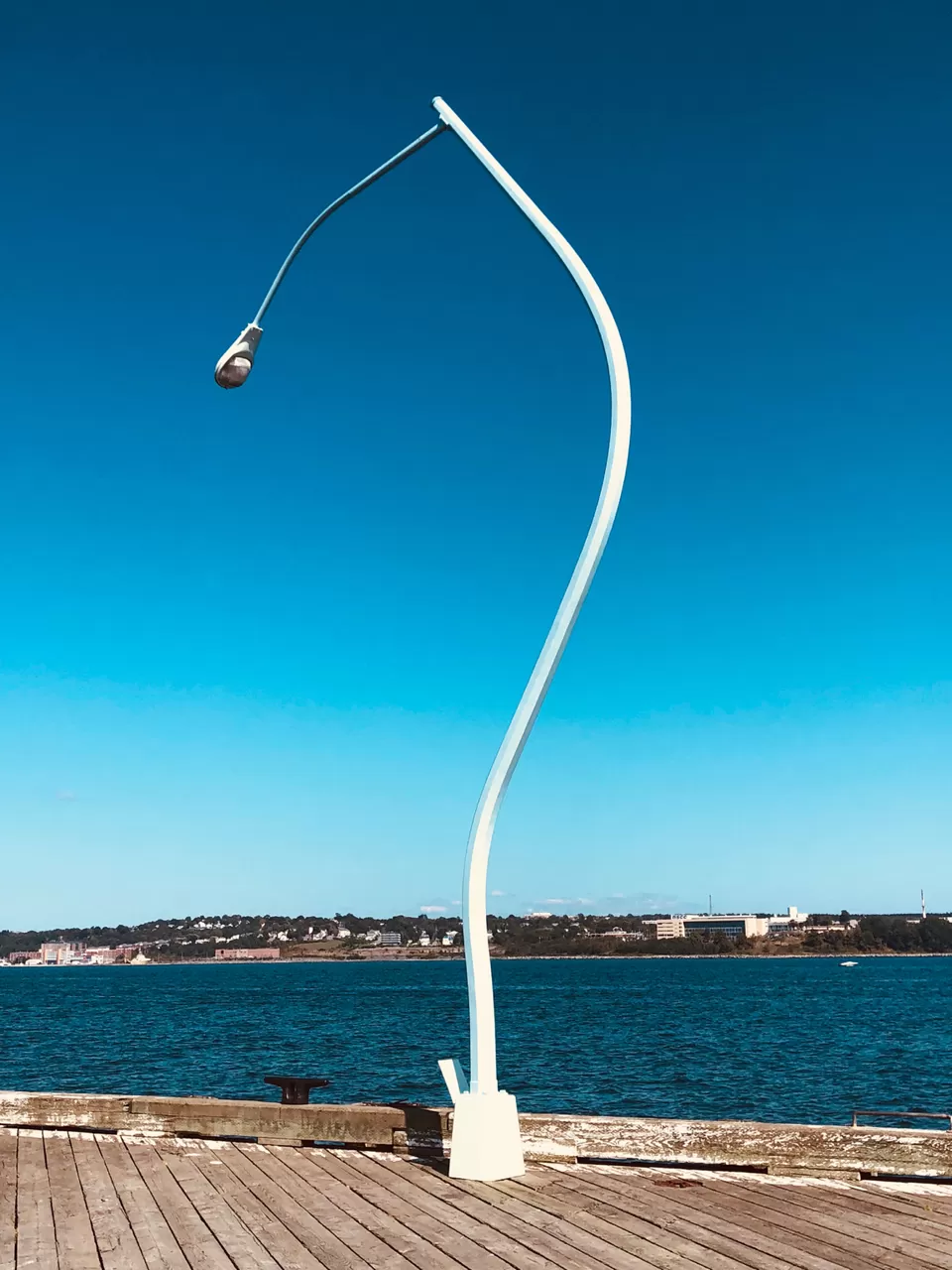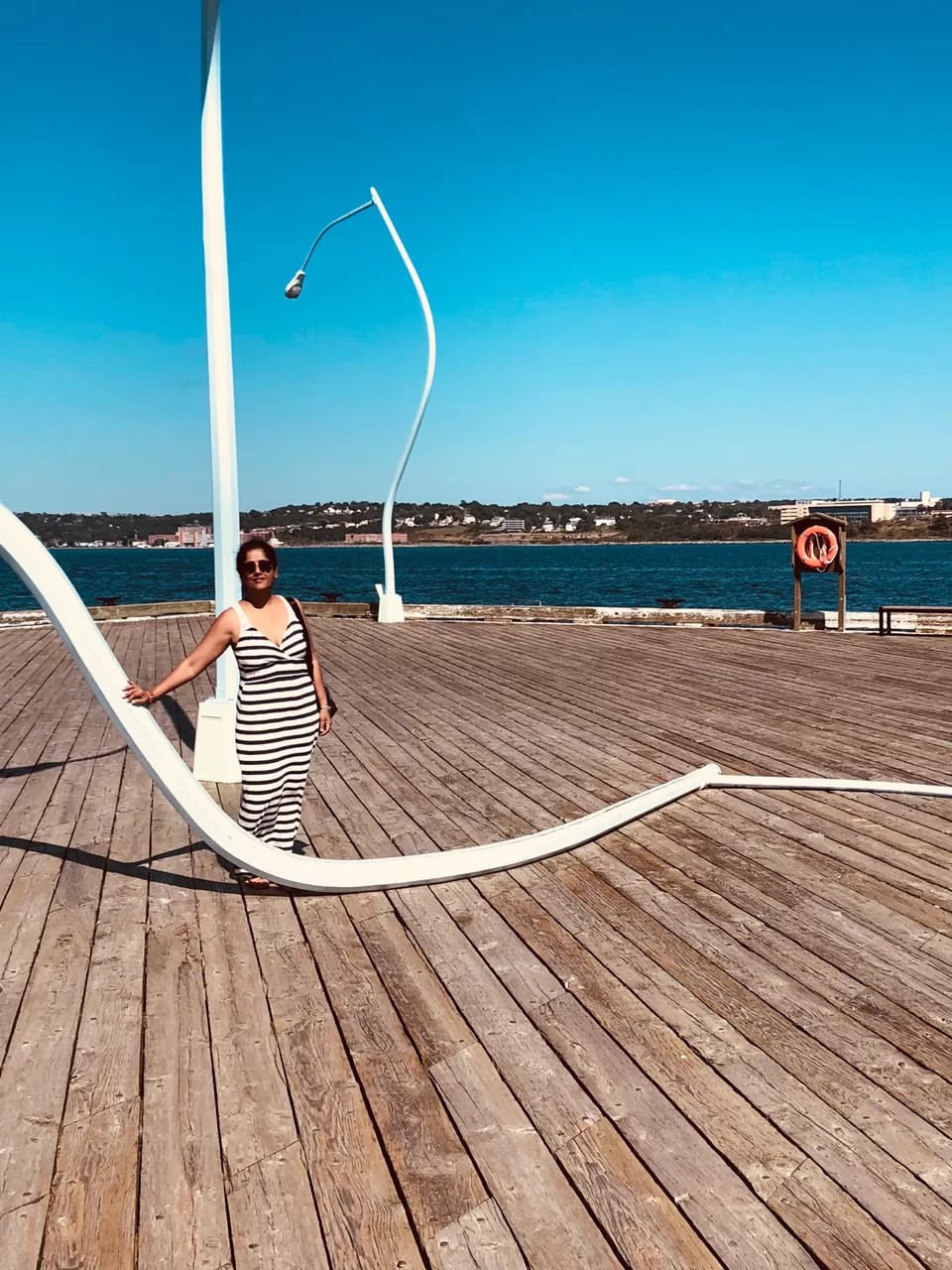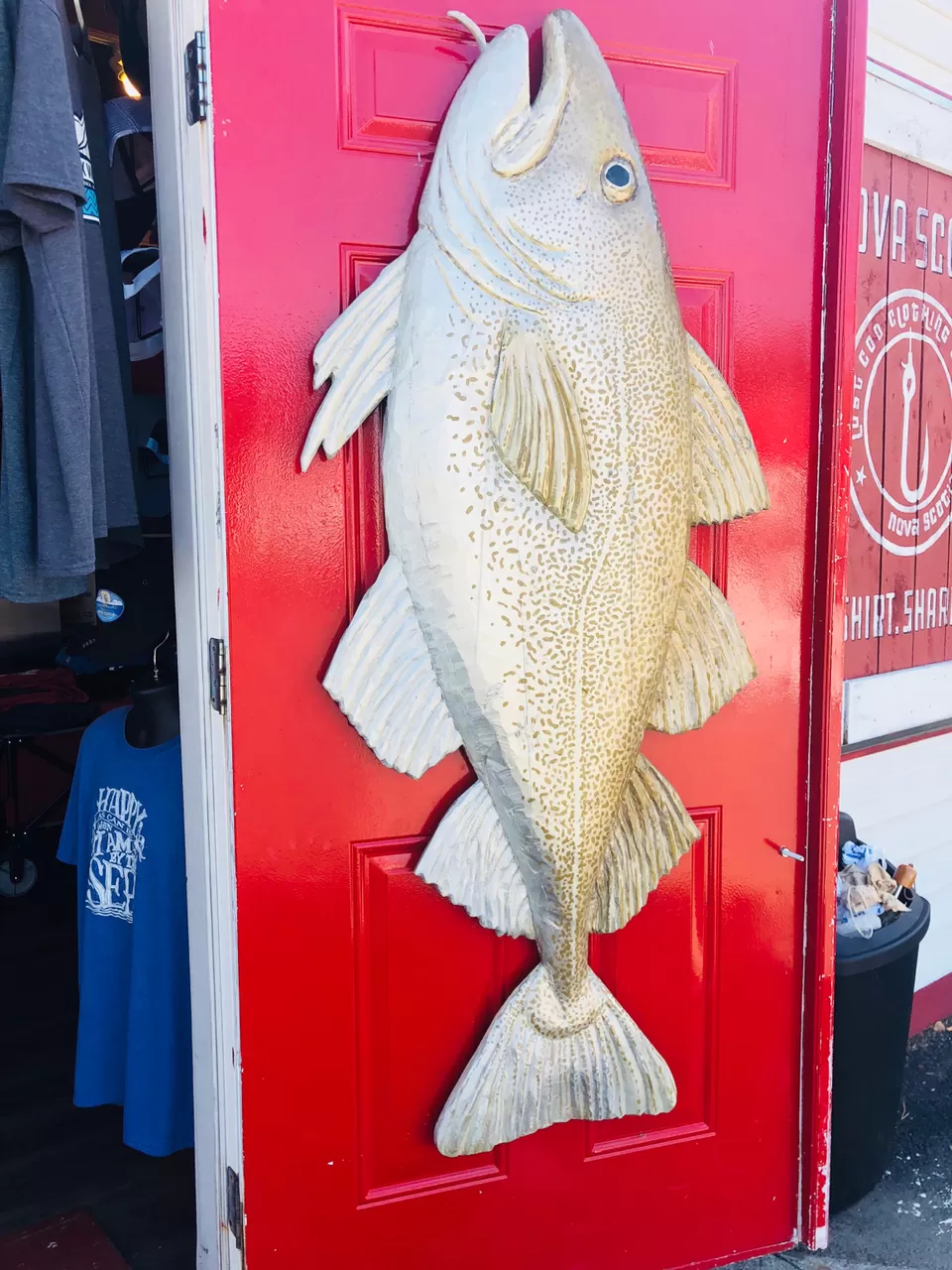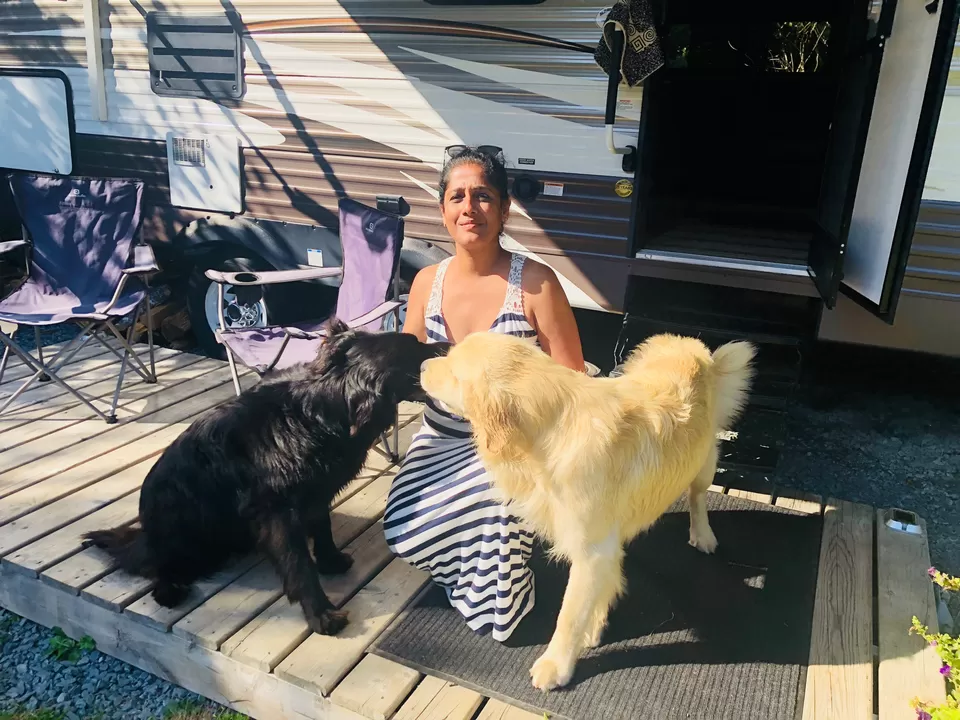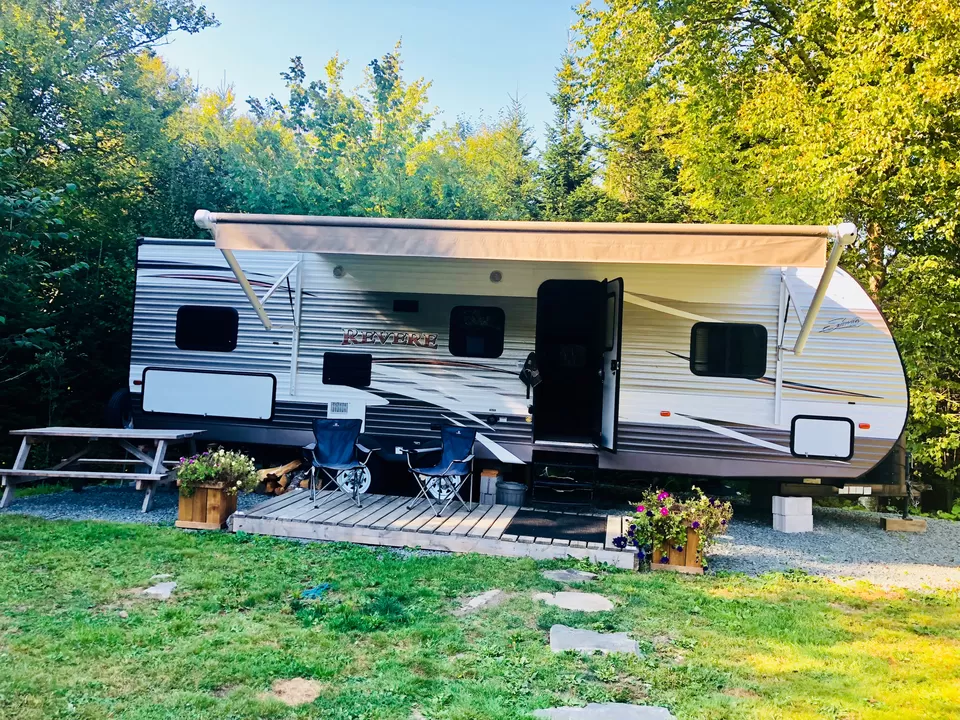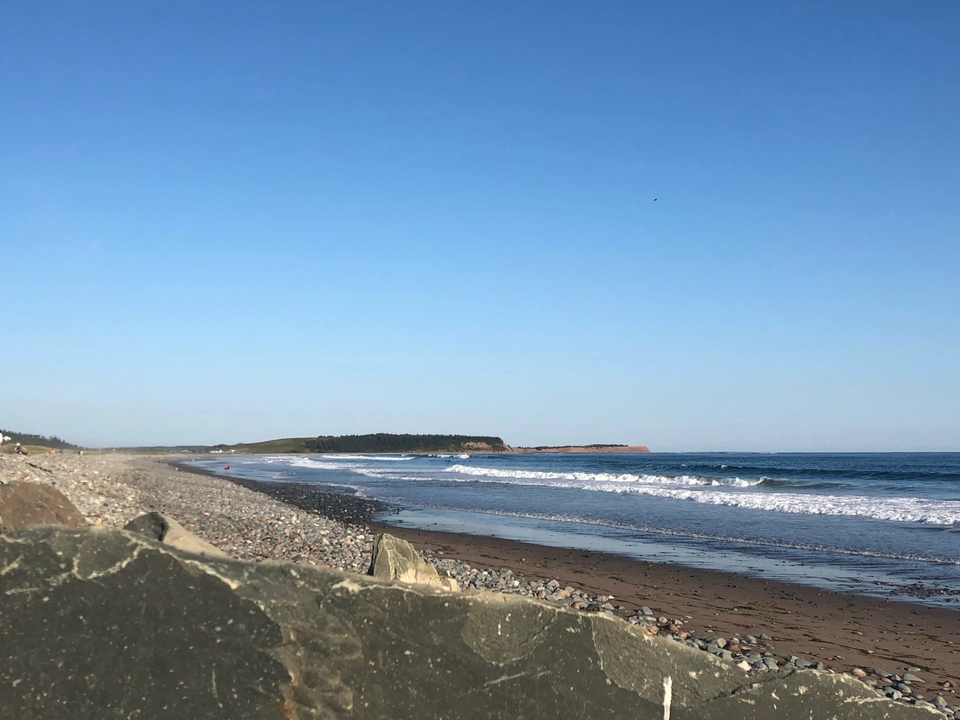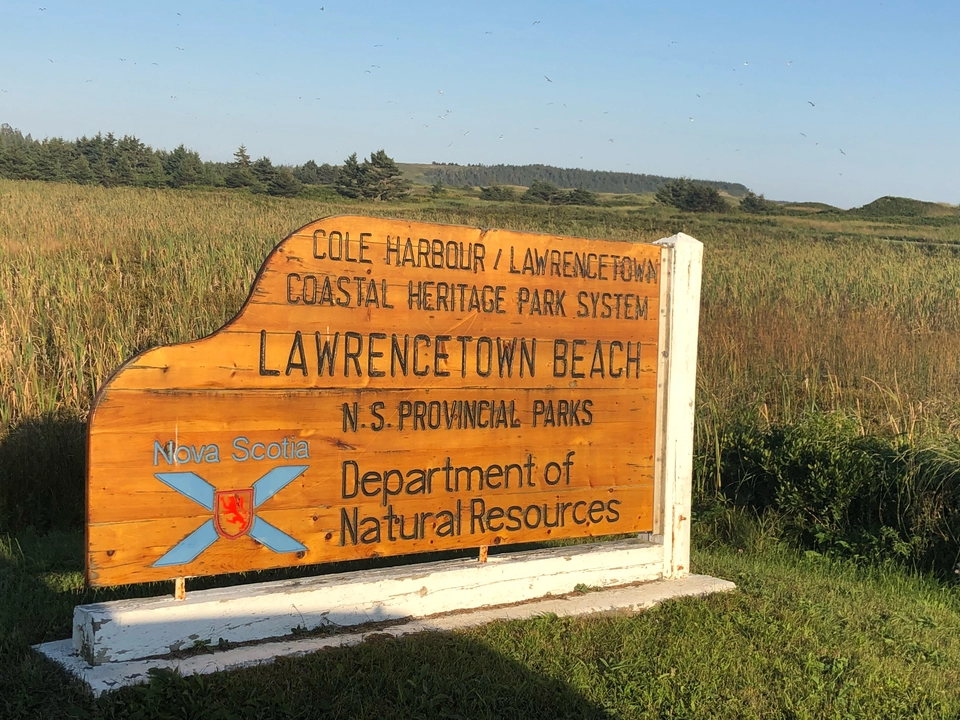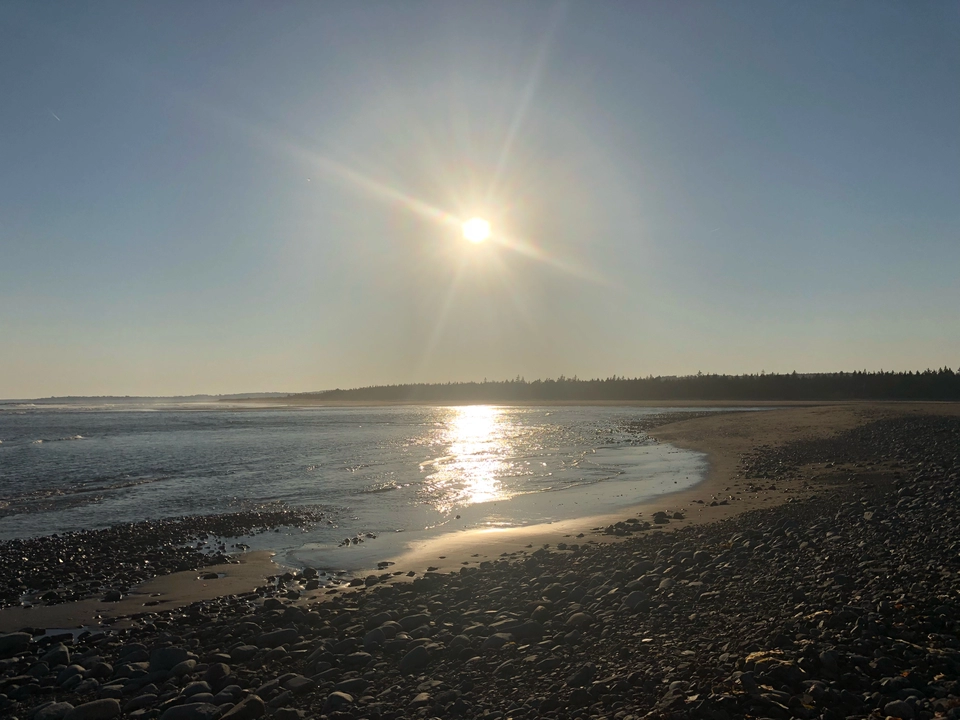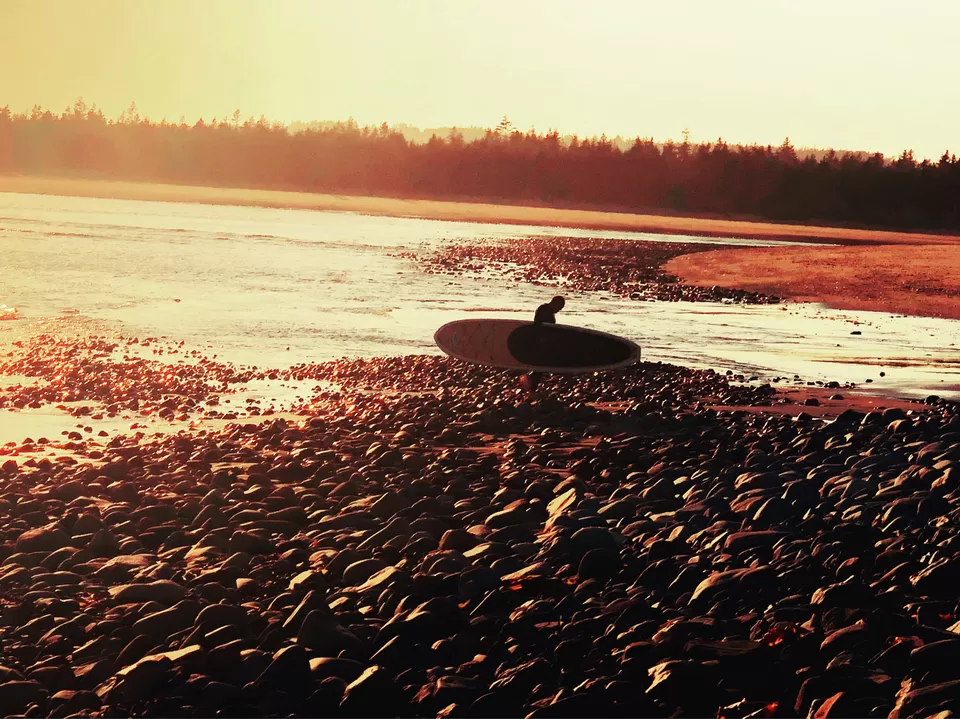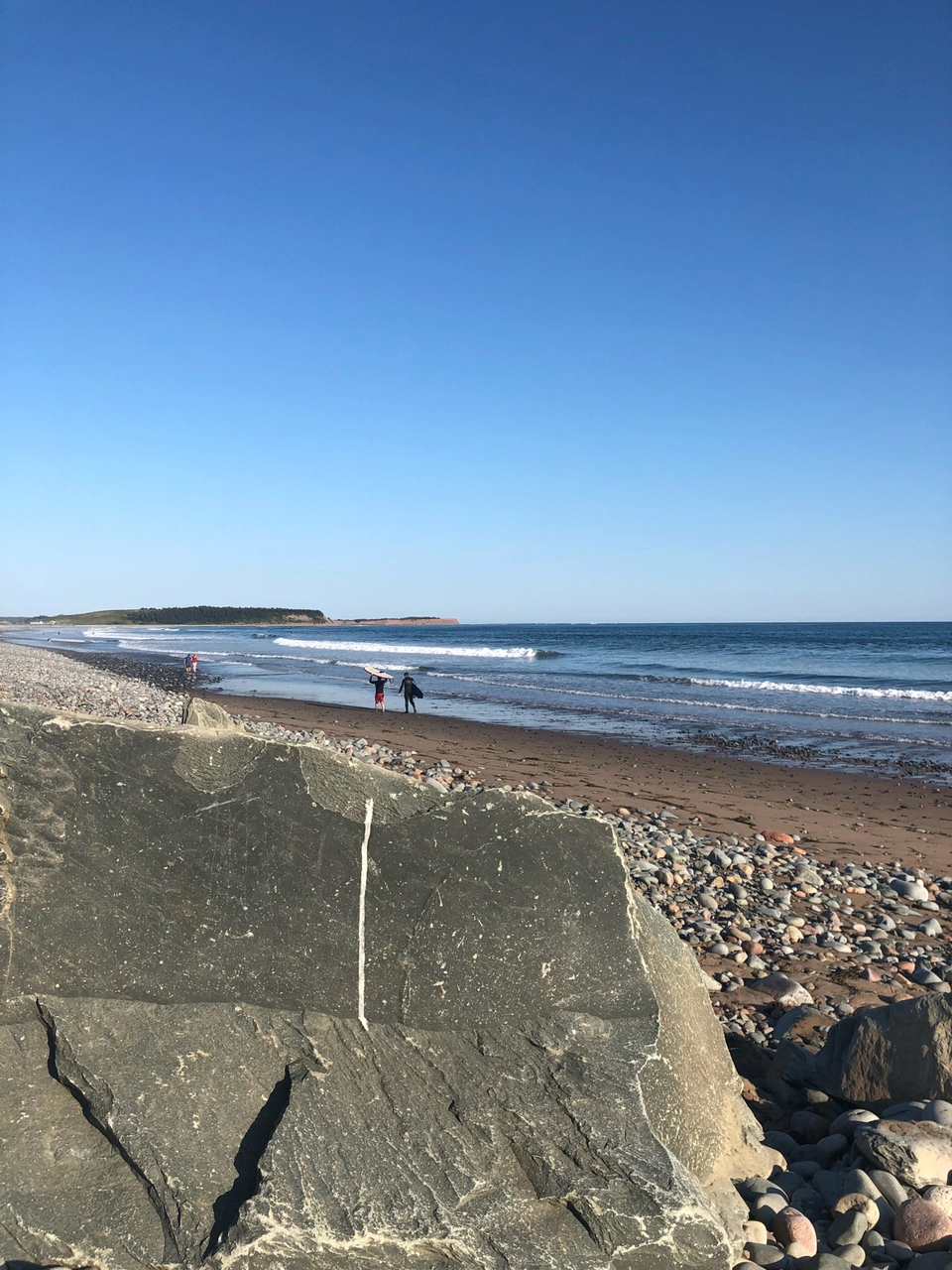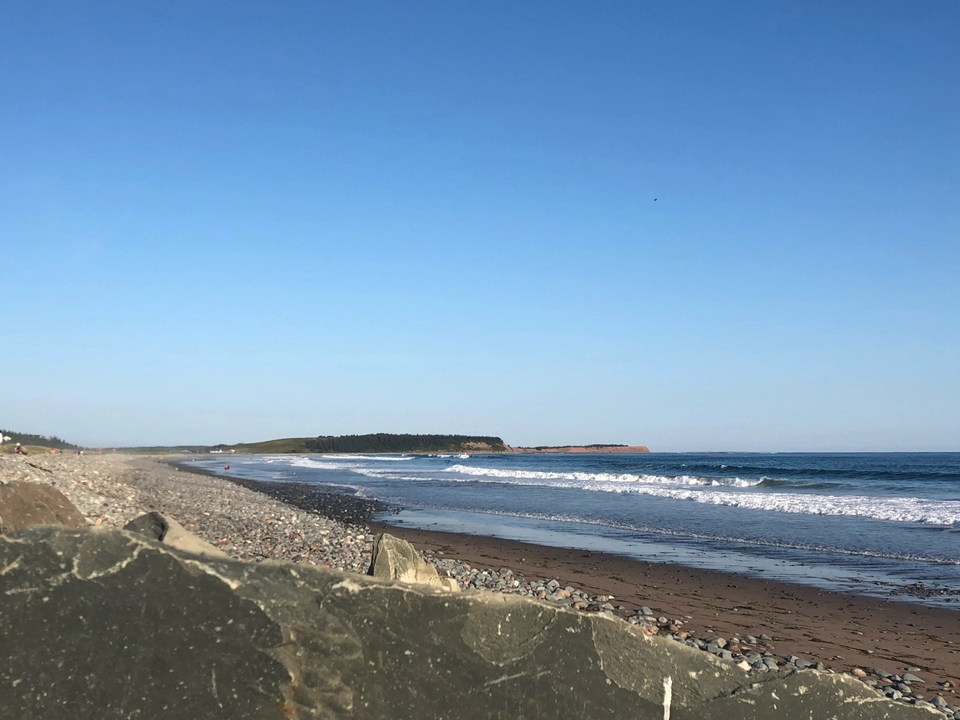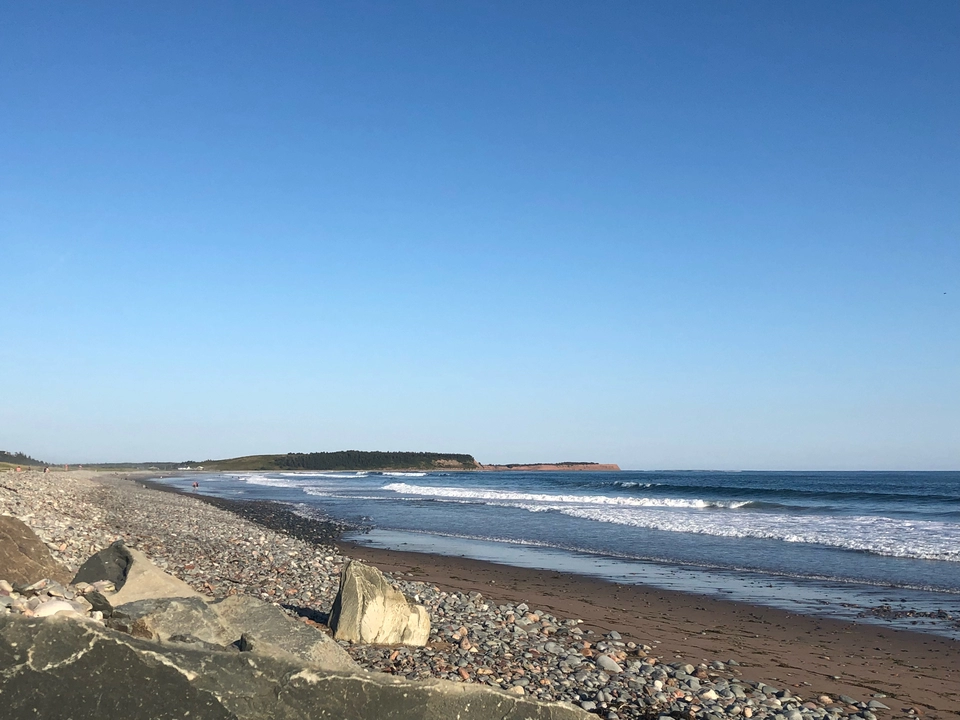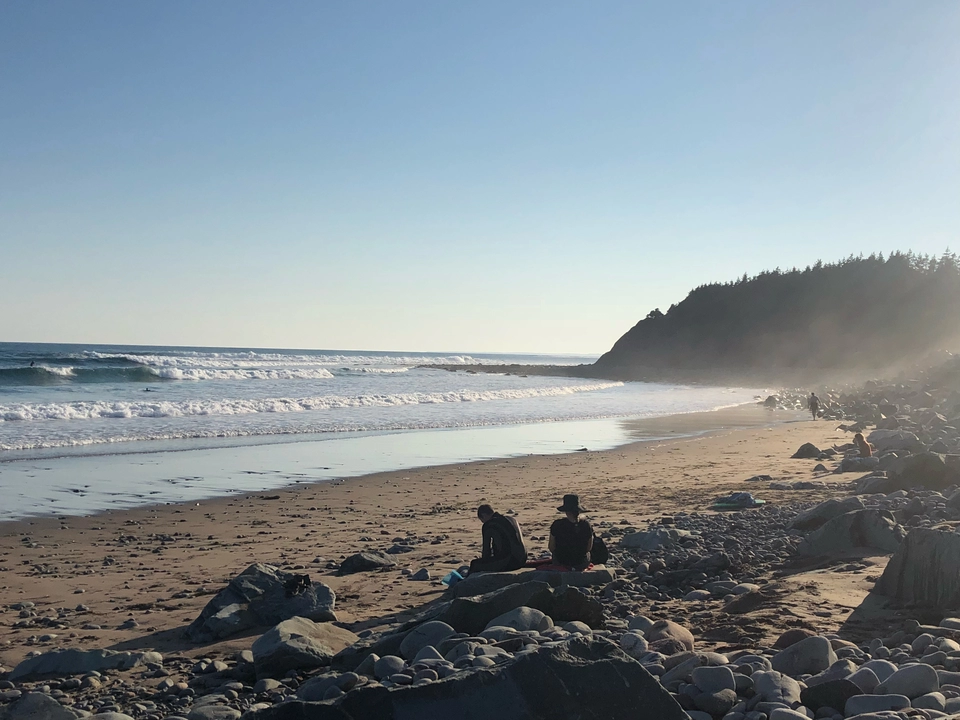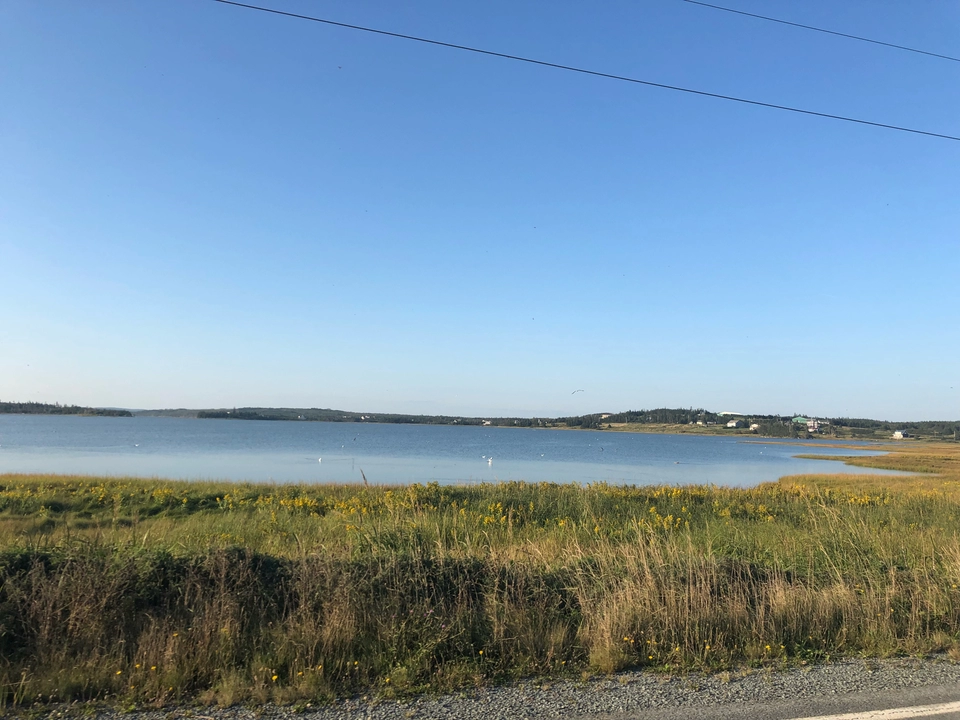 Day 12
St Lawrence town - Peggy's Cove - Digby ferry Terminal - Crossing to St. John ( New Brunswick)
A small drive up the Digby neck and islands - scenic drive
390 kms
I had such a good nights sleep in Marina's Trailer woke up to cold and crispy weather .. it did get chill at night but the bedding was exquisitely warm and cosy !!
8 am I was ready to leave . I open the door to step out and see Muddy standing there wanting to play with a log at his feet .. what a cutie ..
Had to indulge him .. spent a few minutes with him and left .. roads were foggy and I have a long way to go ..its really getting chilly already at night .. think about 10 C ..
When I was researching Nova Scotia , the first thing that showed up was Peggy's Cove .. it's a little way out but that's why I'm heading out early so that I can make it on time to my ferry at 5.30 pm .
The drive to Peggy's cove was stunning .. 69 kms from my place .. Coastal drive and I lost count of how many times I stopped to take pics... Nova Scotia is a beauty ..
As I reached Peggy's cove I realised that I was really low on gas .. the lights been on for a while . I was hoping to find a gas station at Peggy's cove but alas no such luck .. I asked this guy at the information centre to where the closest gas station was and he said 27 kms .. I was dismayed . I won't make it . I told him that I won't make it back . He asked me to wait and then came back with a can of gas . He walked me to my car , put the gas in and when I asked him how much I owe him , he said nothing .. he said that this will get me to the next gas station . I insisted that I pay but Angous refused to take any money .. I'm like what can I do for you and he says " be nice to people" .. he said it's quite common that this happens and he always keep gas to help people, you are not the first and won't be the last , he says ..
He asked where I was from and when I say India , he asks what part and I say South India and he says " where they speak Tamil ? " .. i was mighty surprised , the whole world thinks Indians only speak Hindi and here was this young man who knew "TAMIL ".. seeing me surprised , he says laughingly " I am a student of the world "
He then tells me what to do in Peggy's cove and gives me a map as well .. I'm just so overwhelmed with this guy ..he helped someone who he knows he ll never see again in his life .. so unconditionally .. Every day on this road trip I've met and seen people who are so selfless and giving .. it's not always about money .. btw he gave me 5 litres of gas , that quite a bit of money for someone like him , I'm sure .. gas is more expensive in Canada than the US . Almost as expensive as India ..
I walk around Peggy's Cove with a very happy grin plastered on my face ..it's a small fishing village ,
it's so charming , it's not funny ..
Idyllic ..color fully painted chairs every where .. Stunning views of the sea and the Light house just stumped me .. Nova Scotia is peppered with over 160 lighthouses but this one is the most famous and arguably the most recognizable image of Nova Scotia, one that is on many a postcard,brochure and magnet..
Peggy's cove is touristy but very beautiful .. I was one of the first few to arrive but as I was leaving people started pouring in .. excellent photo ops.. that village is hypnotising..
I bought a bunch of Lobster rolls for Angous , it's probably something he's sick of eating everyday but I had to get him something .. I left him my card as well , hoping that he ll make it to India some day .. the world never stops surprising me everyday ..
Lobster fishing is huge in Peggy's cove . You can take tours to go on a boat and catch some yourself and come back and cook It as well ..
Leaving Peggy's cove , I came across the the Swiss Air plane crash site in September 1998 .. all 229 passengers and crew were killed there .. they have a memorial and I stopped a few mins to say a quick prayer for the dead ..
I tanked up in about 30 kms .. what a relief !!
The drive to Digby ferry terminal is beautiful .. mostly along the coast , i stopped taking pics and videos .. There is beauty everywhere you look ..
I was going to be early to the terminal so my eyes involuntarily found a Winery and my car just followed the signs and took me there ..they are everywhere and I had time to kill .. so a nice glass of Chardonnay and got chatting with two lovely local ladies .. so now I have a lot of info on what more to do in Nova Scotia , but I'm on my way out .. next time ...
Leisure drive to Digby ..I booked my ferry ticket last night and I never got a confirmation mail ..luckily I had taken a screen shot of the reservation number and so when I went up to the terminal , they were able to pull up my reservation and I got my boarding pass
I still had some 2 hrs to kill and so I headed out again to where I saw a sign that said Digby neck and Island scenic drive .. Spectacular drive with water on either side .. it was too much beauty for even my eyes to take in ..
Returning I drove into downtown Digby, typical store lined water front ..
But ..Digby is the scallop capital of the world and it home to the worlds largest scallop fishing fleet This small Nova Scotian town isn't so obscure after all. Huh .. well all those Scallops wasted on me .. I miss Arvind who loves scallops and lobster . He would have eaten them for 3 meals a day .. at least ..
Boarding the ferry was easy and smooth .. the top decks have nice views , but really I've had enough ..no more ..
A local brew kept me company for the 2 and half hour crossing to St John where another Airbnb awaits me ..
With mossy, green hills and huge jutting boulders dotting the landscape, lakes and coves everywhere, I could almost imagine myself to be on another planet, Nova Scotia is beautiful .. and thanks to Priya Rajpal who said I suggested that I go there ..
Some videos from yesterday as well coming up ..
#september2018
#goldfishtrails
#puravida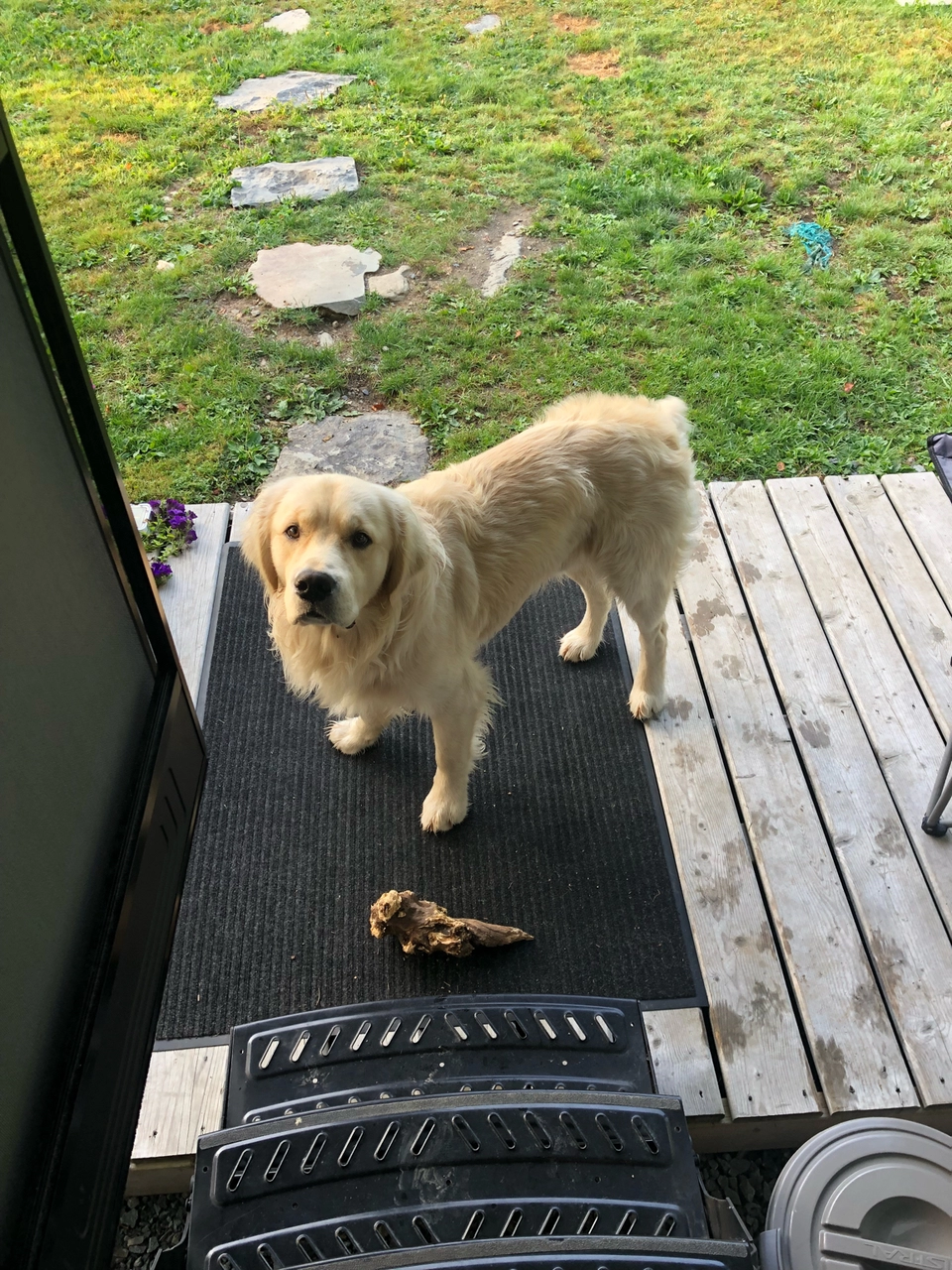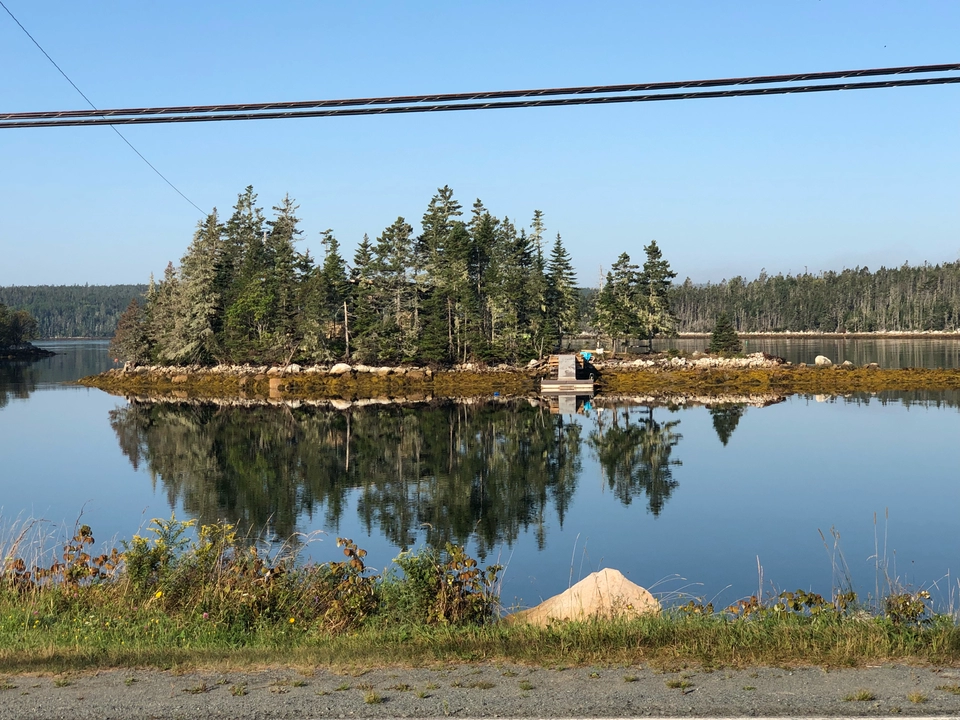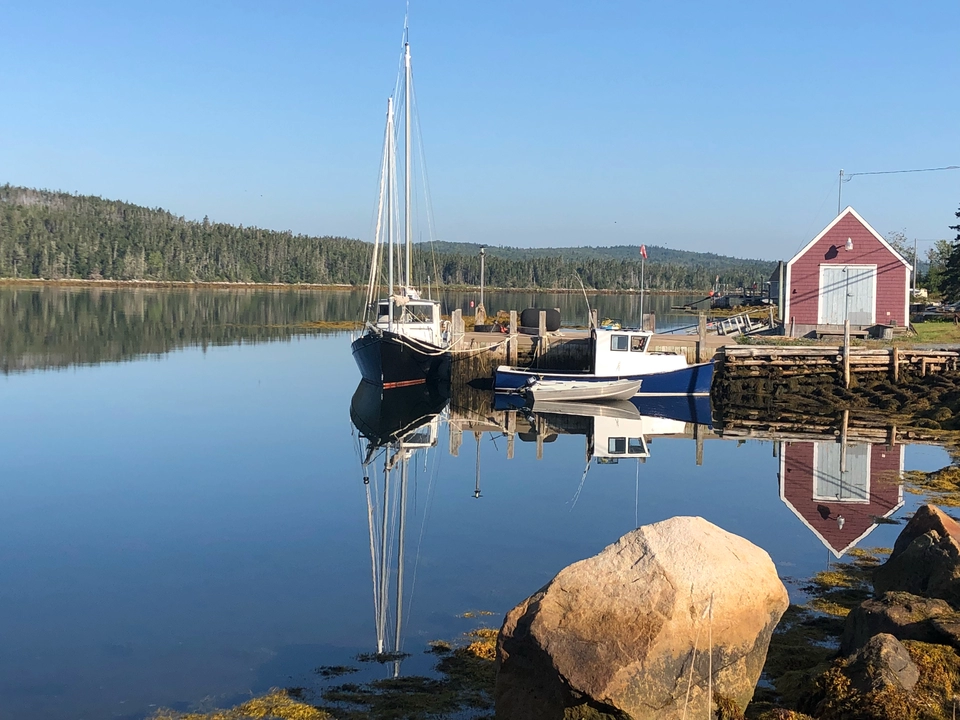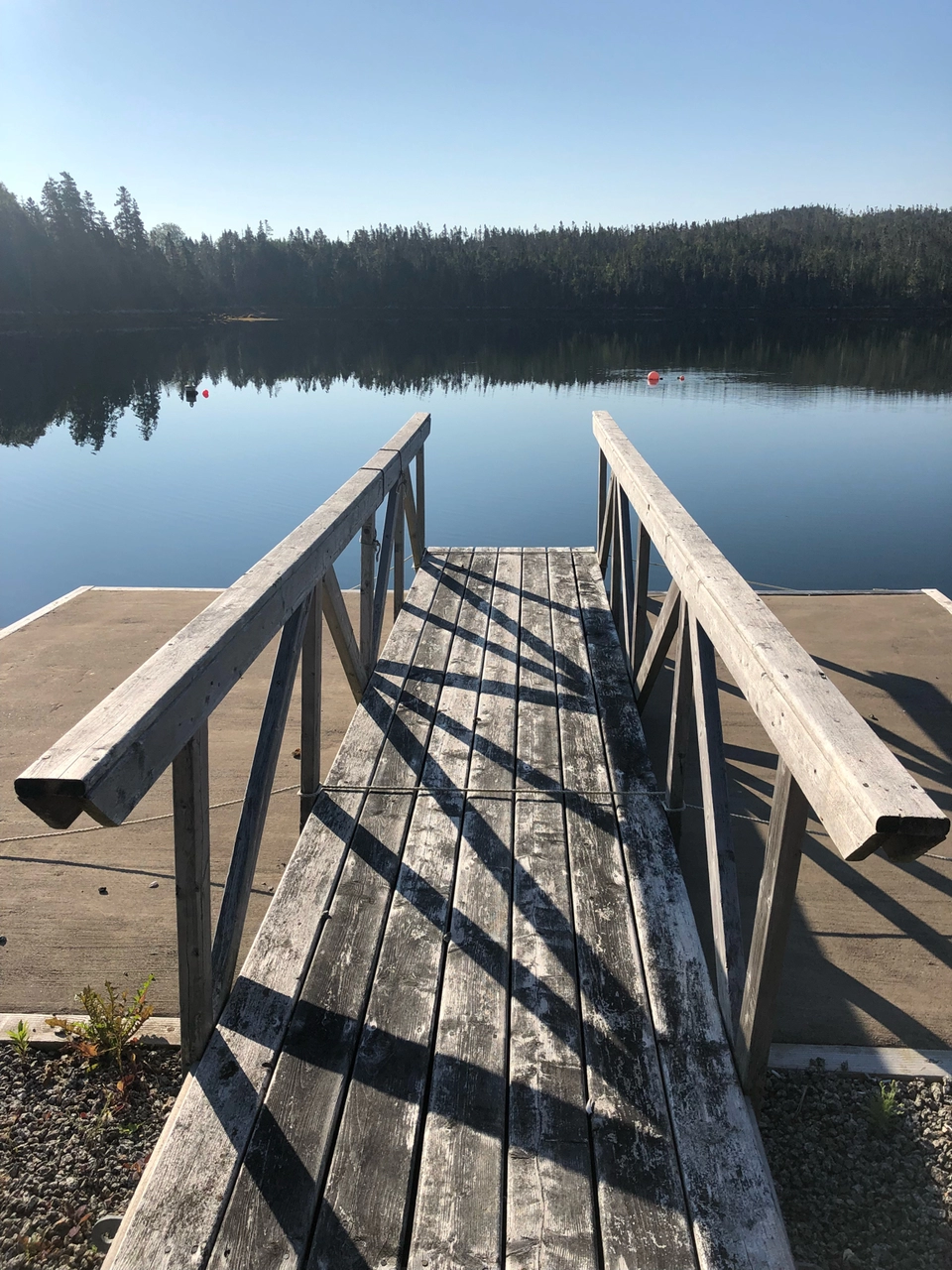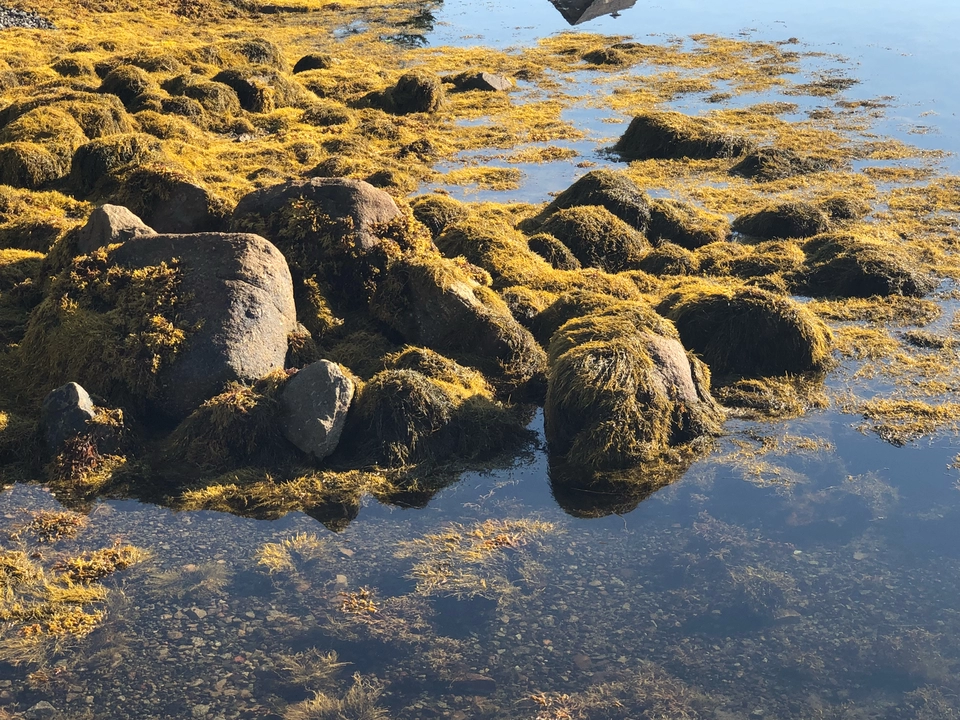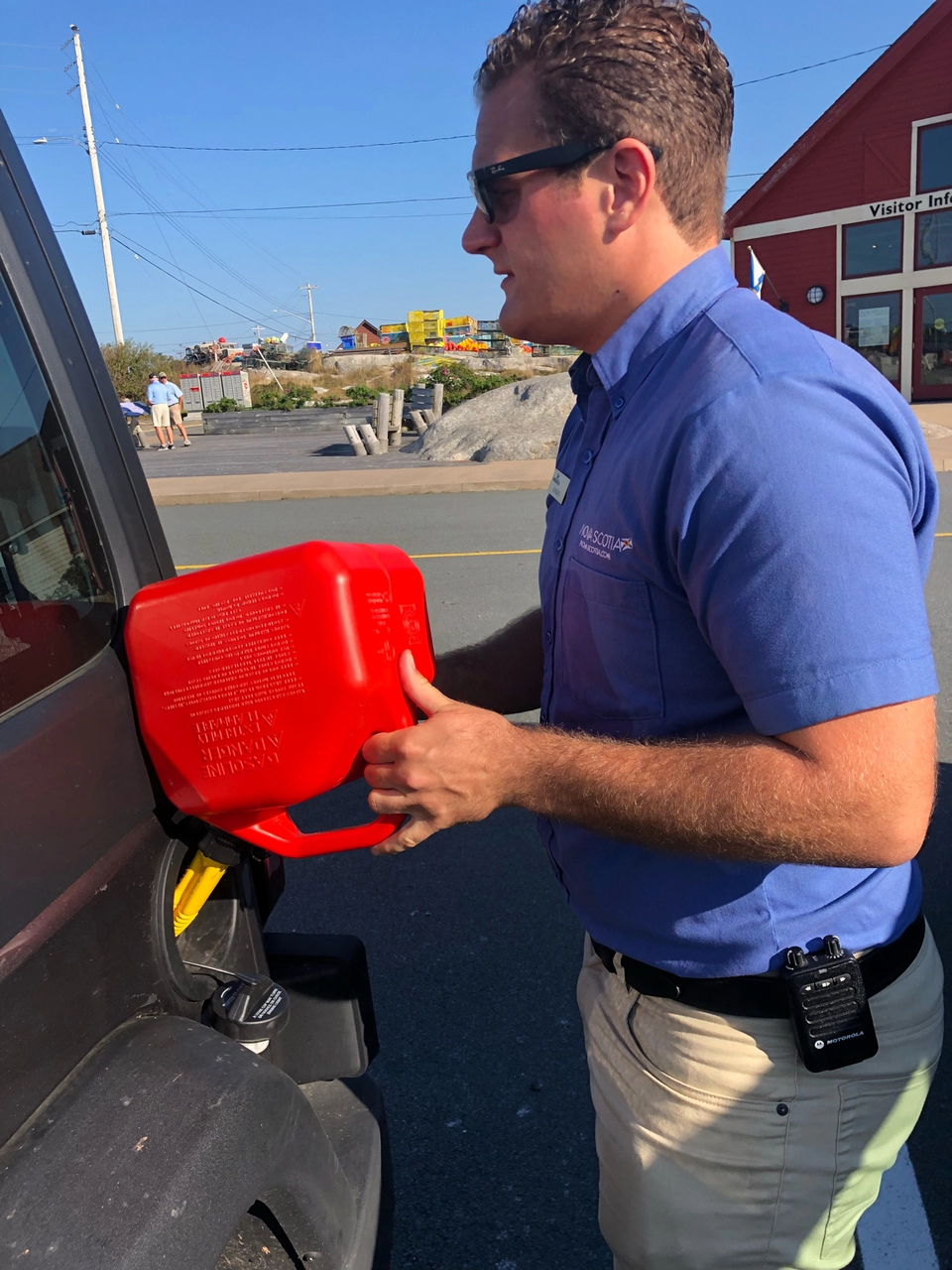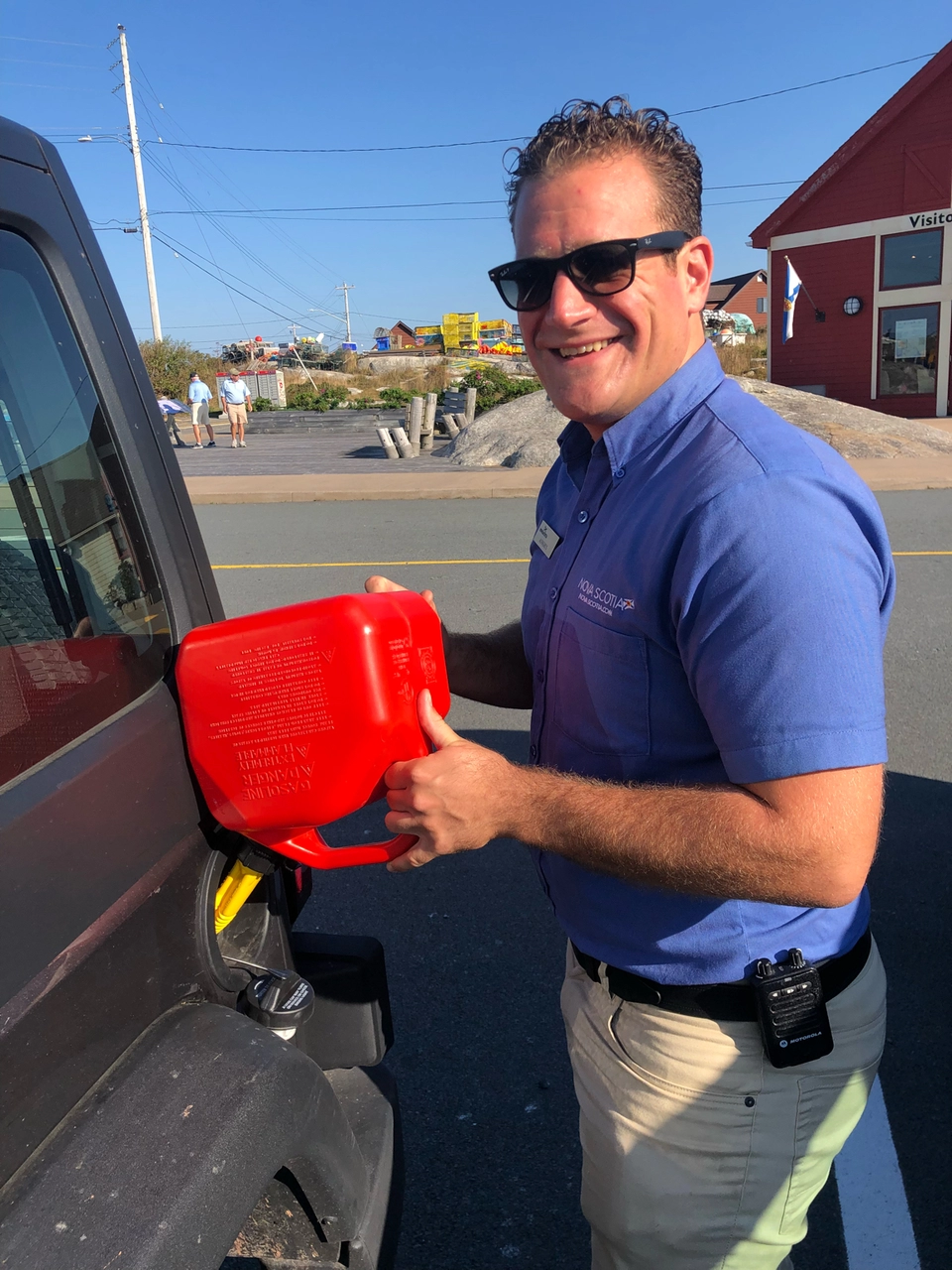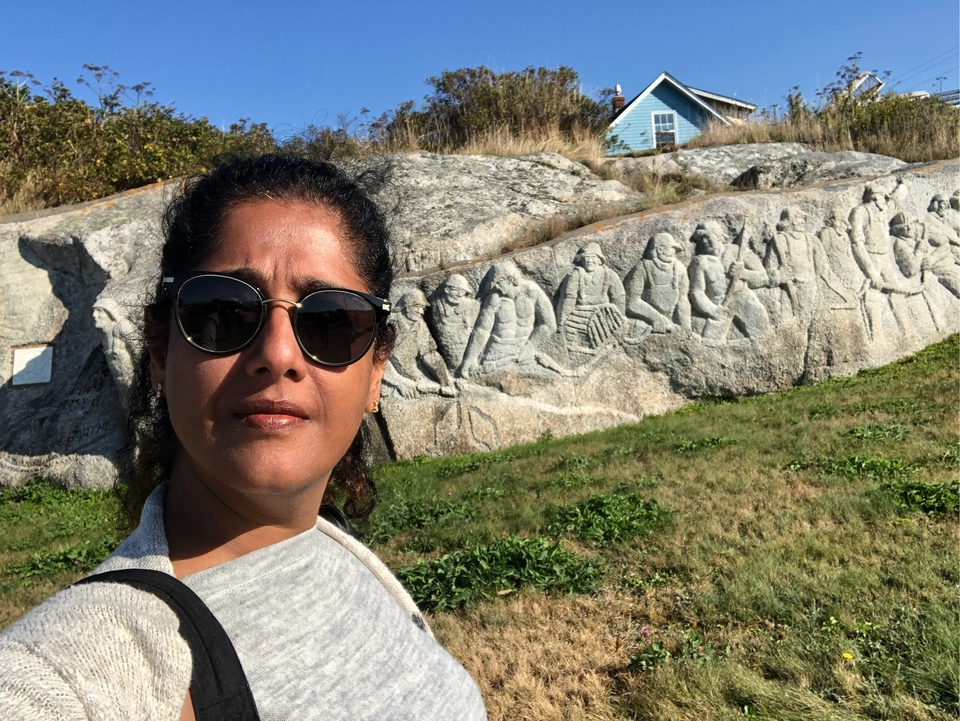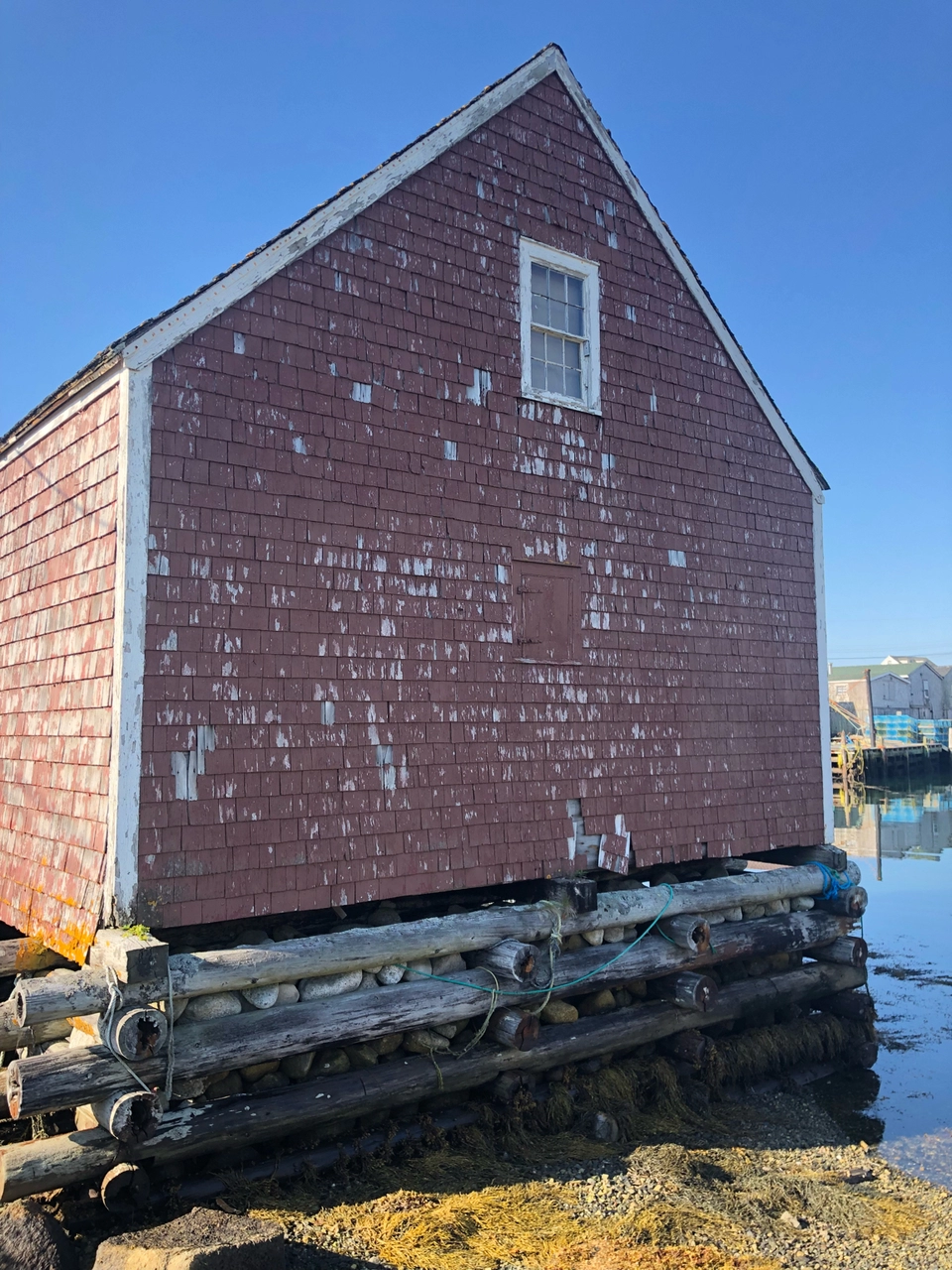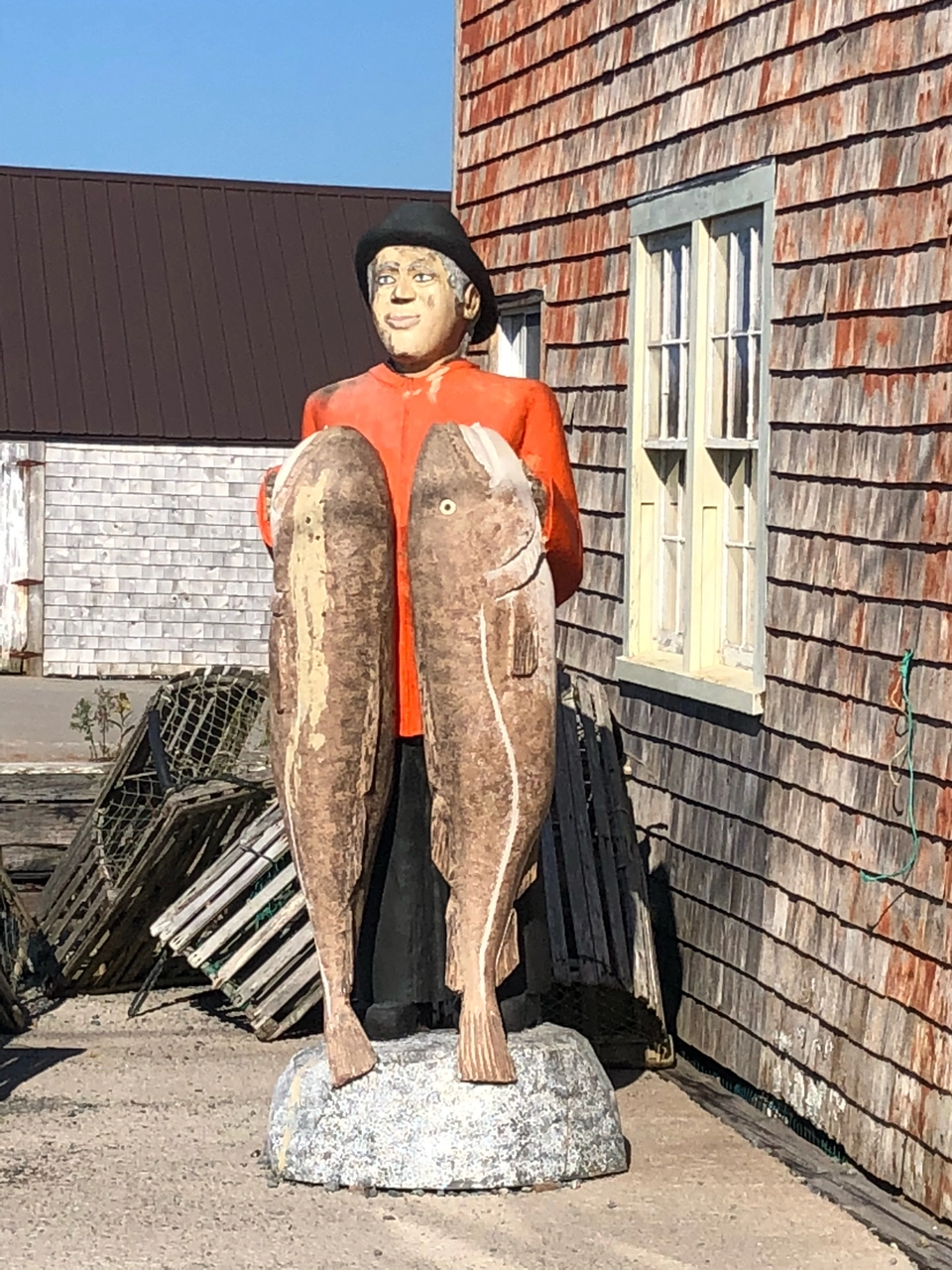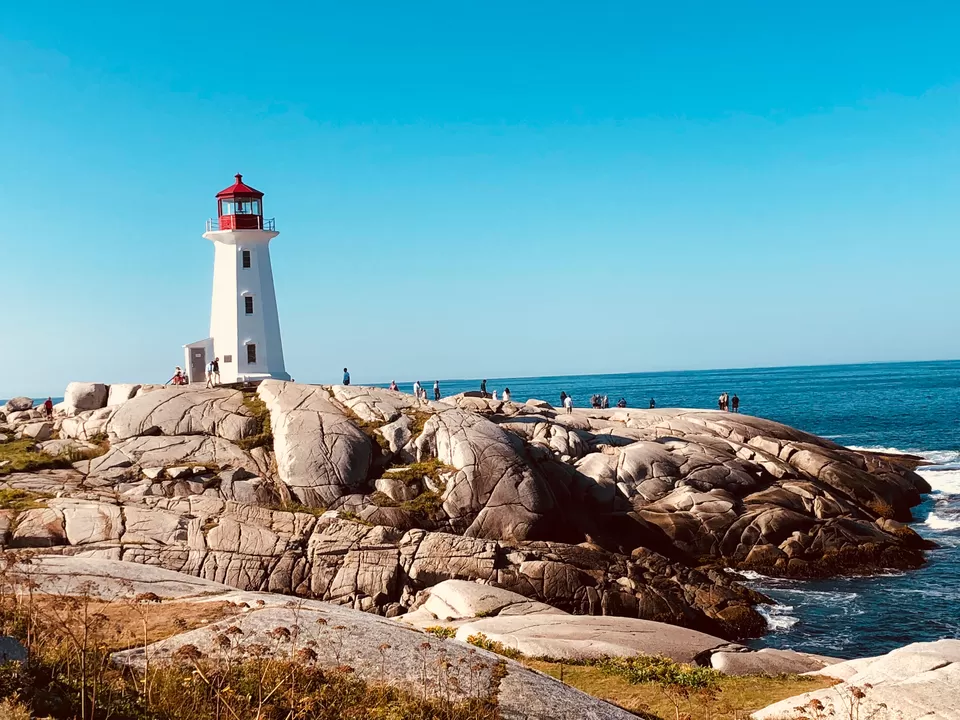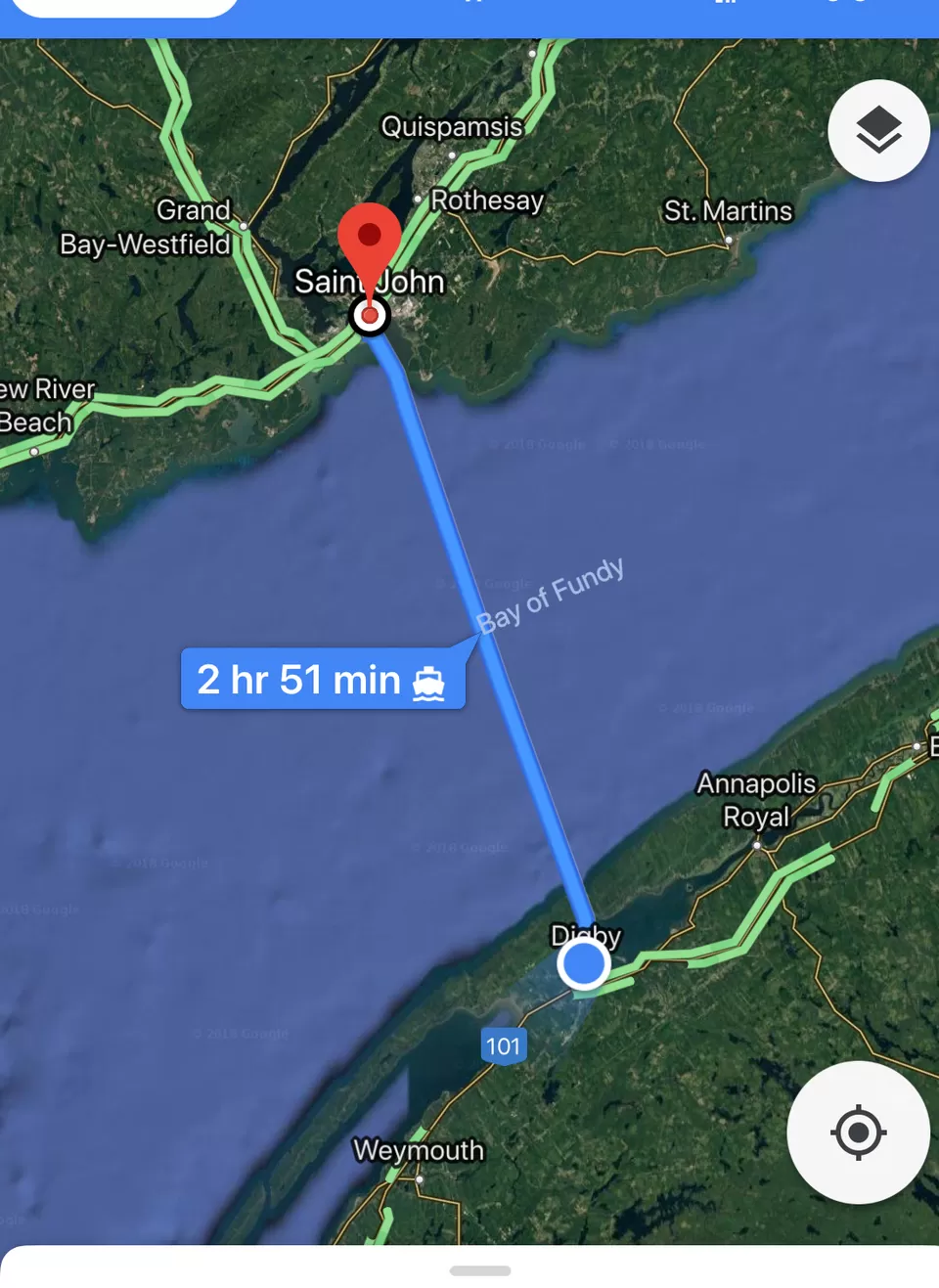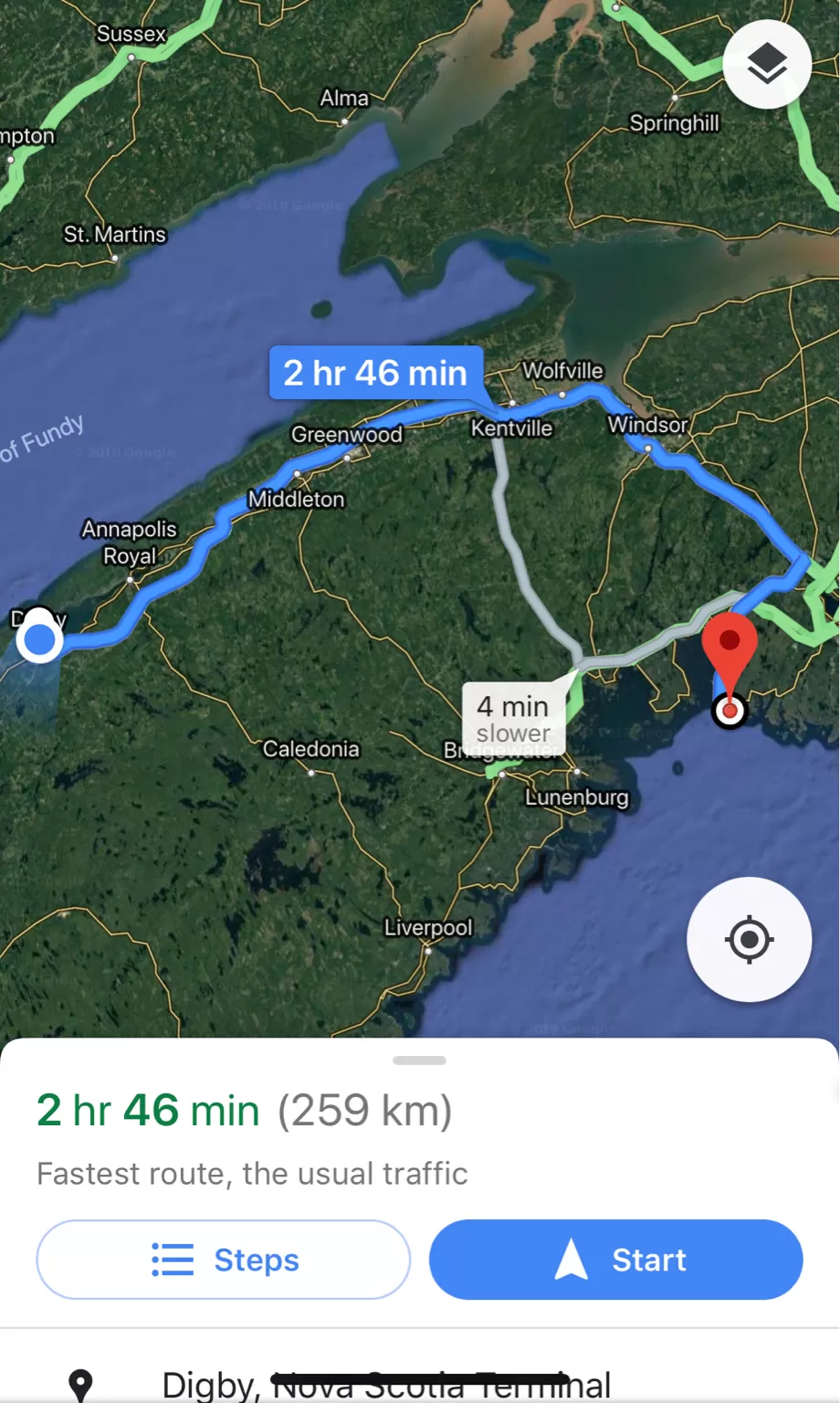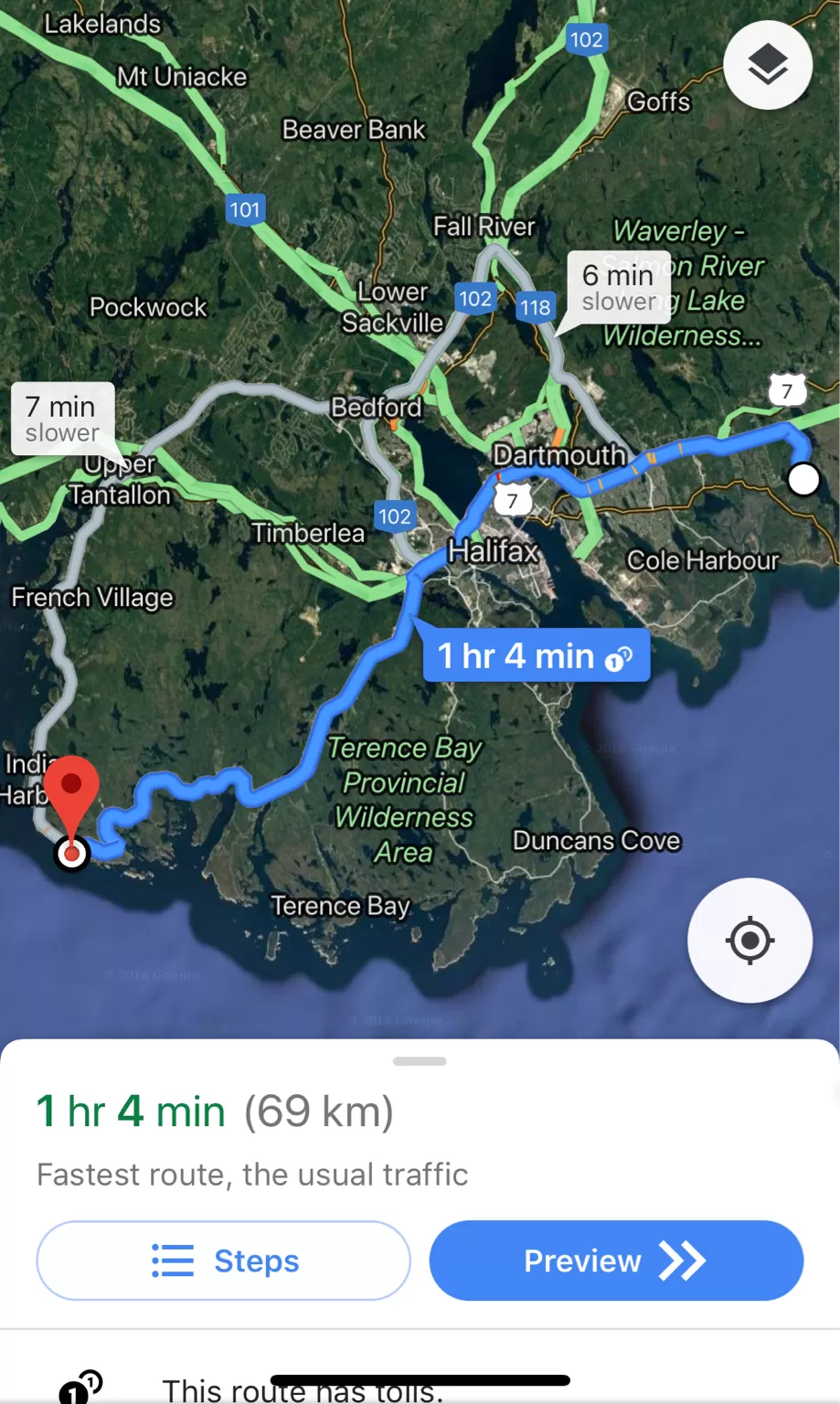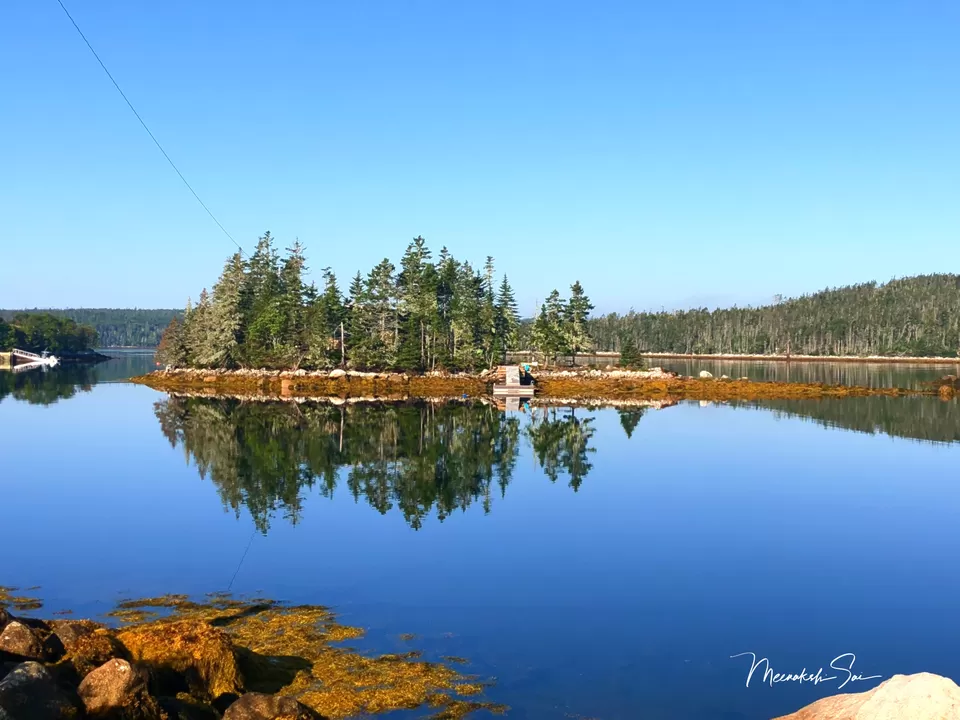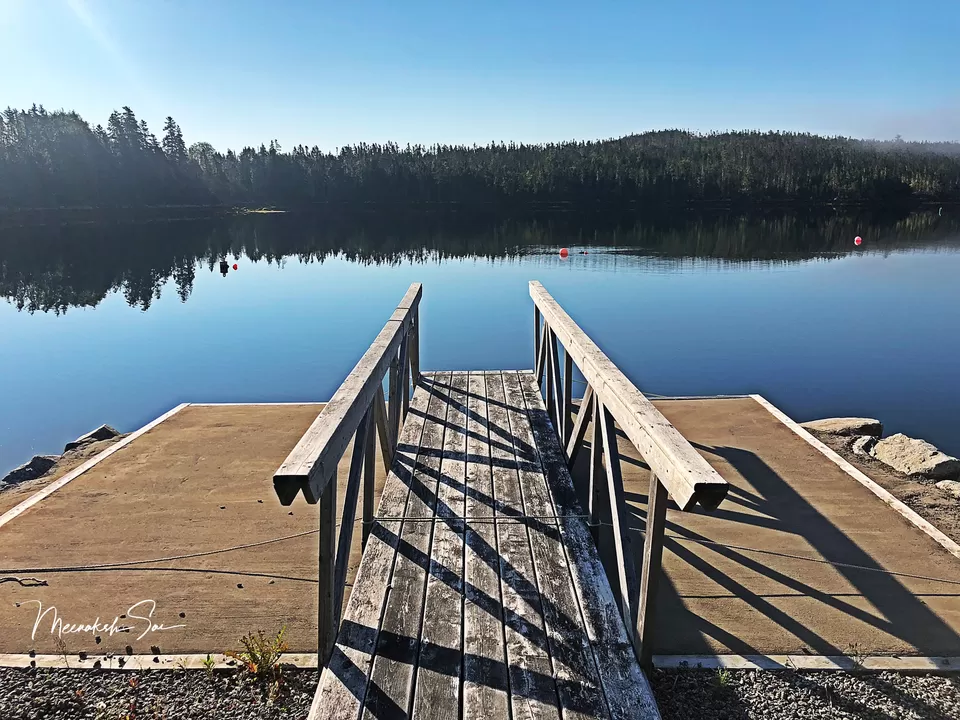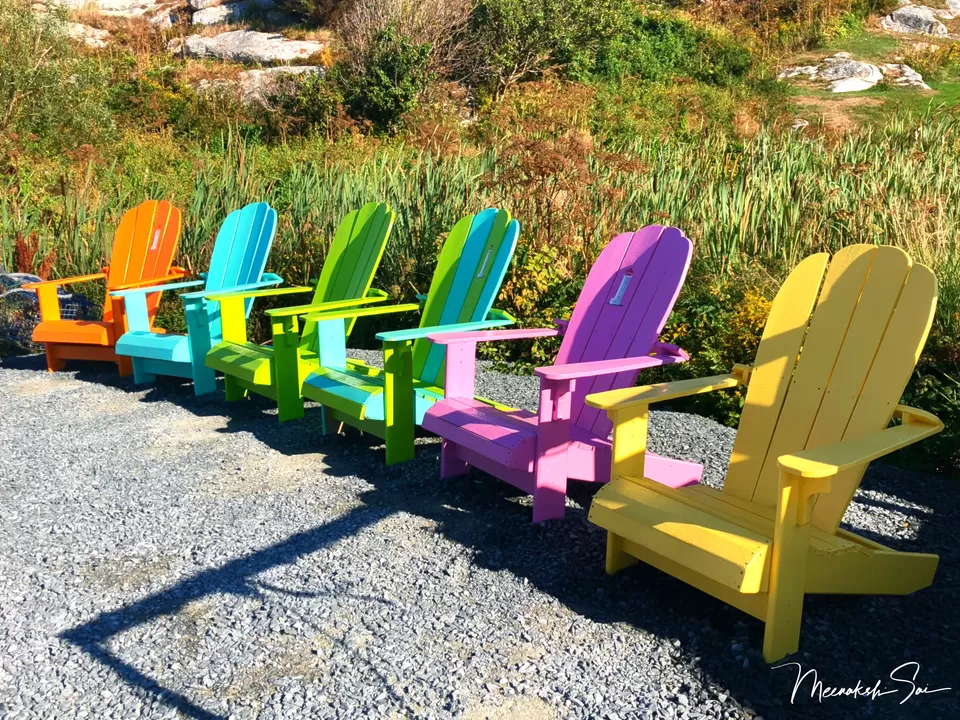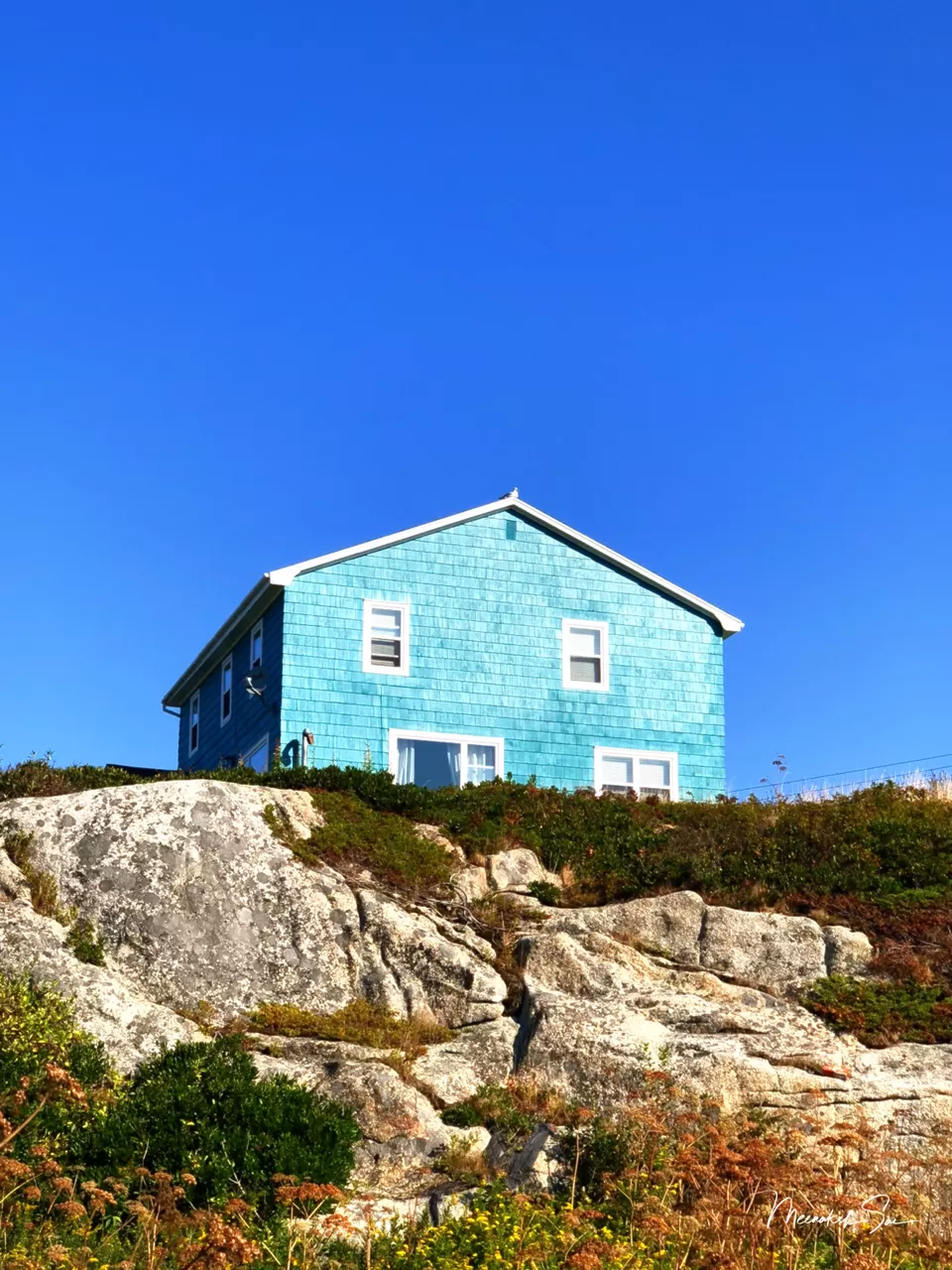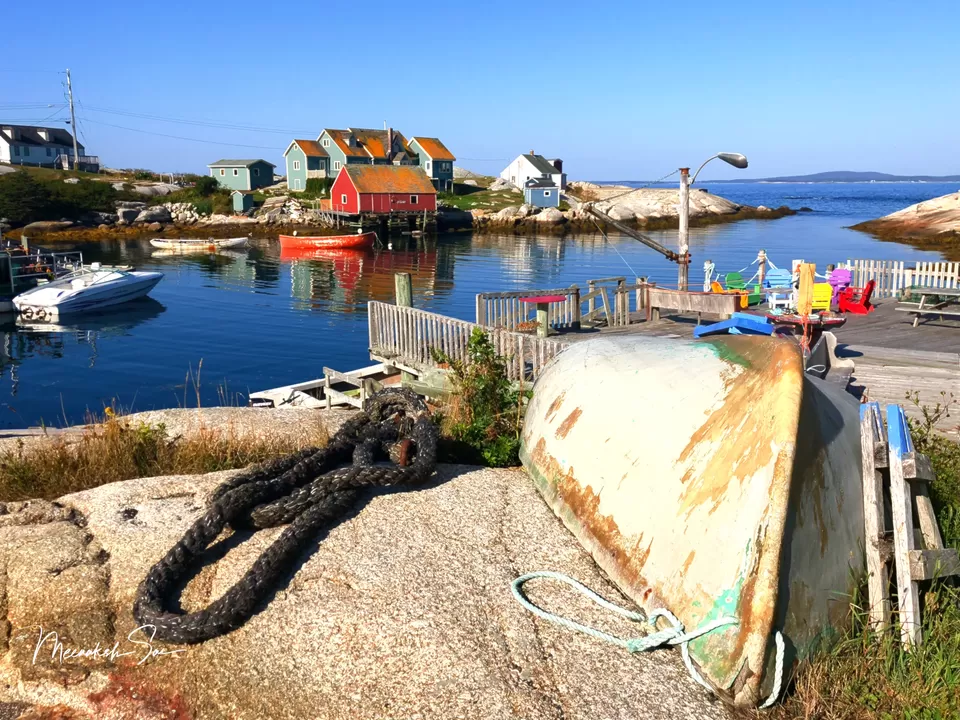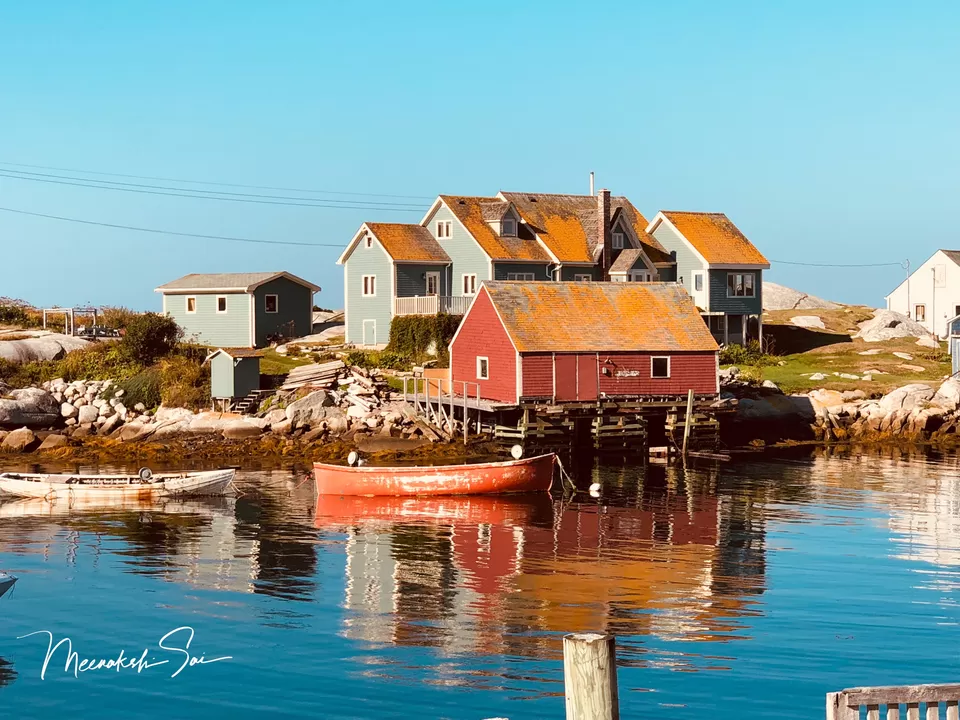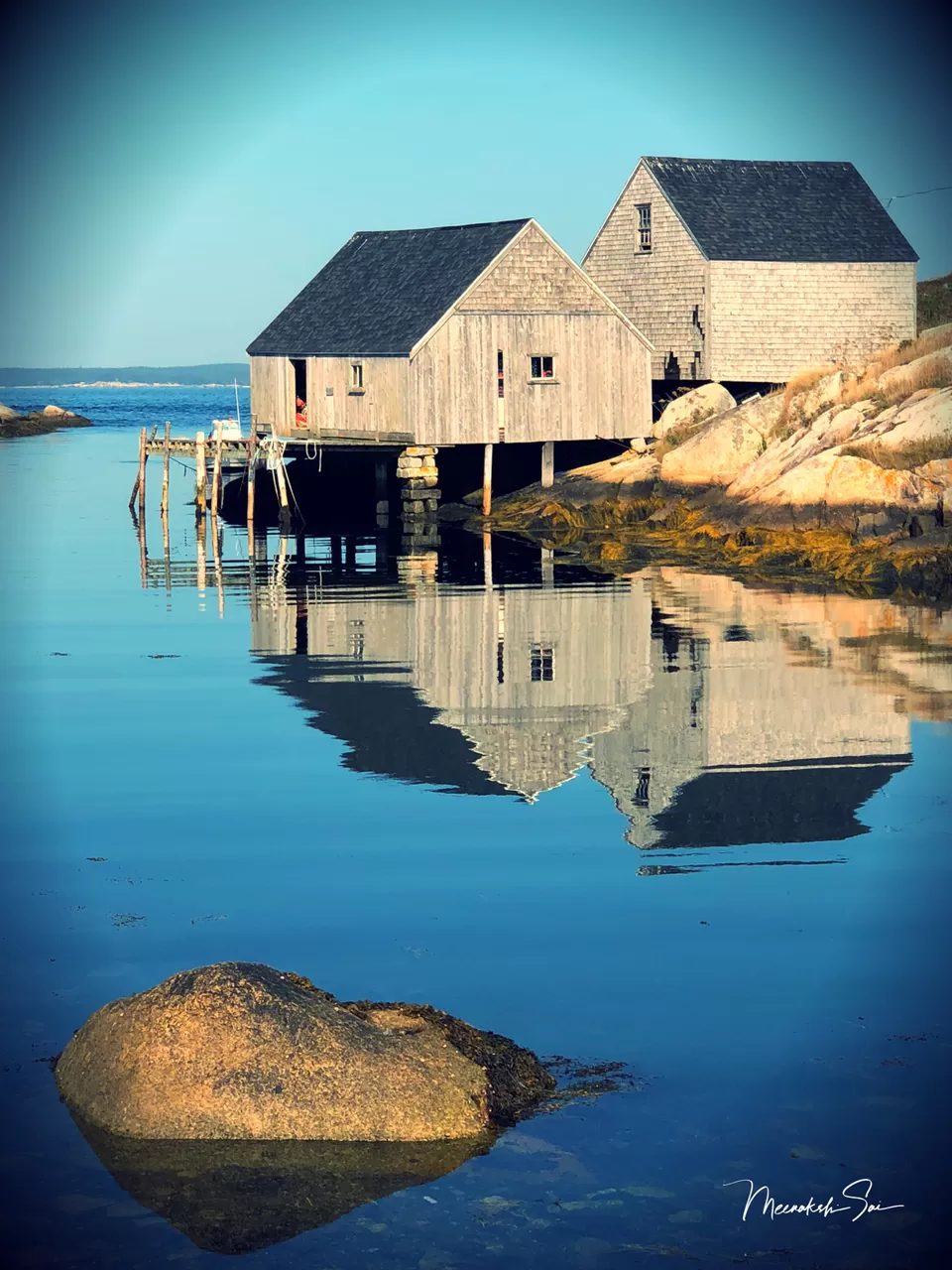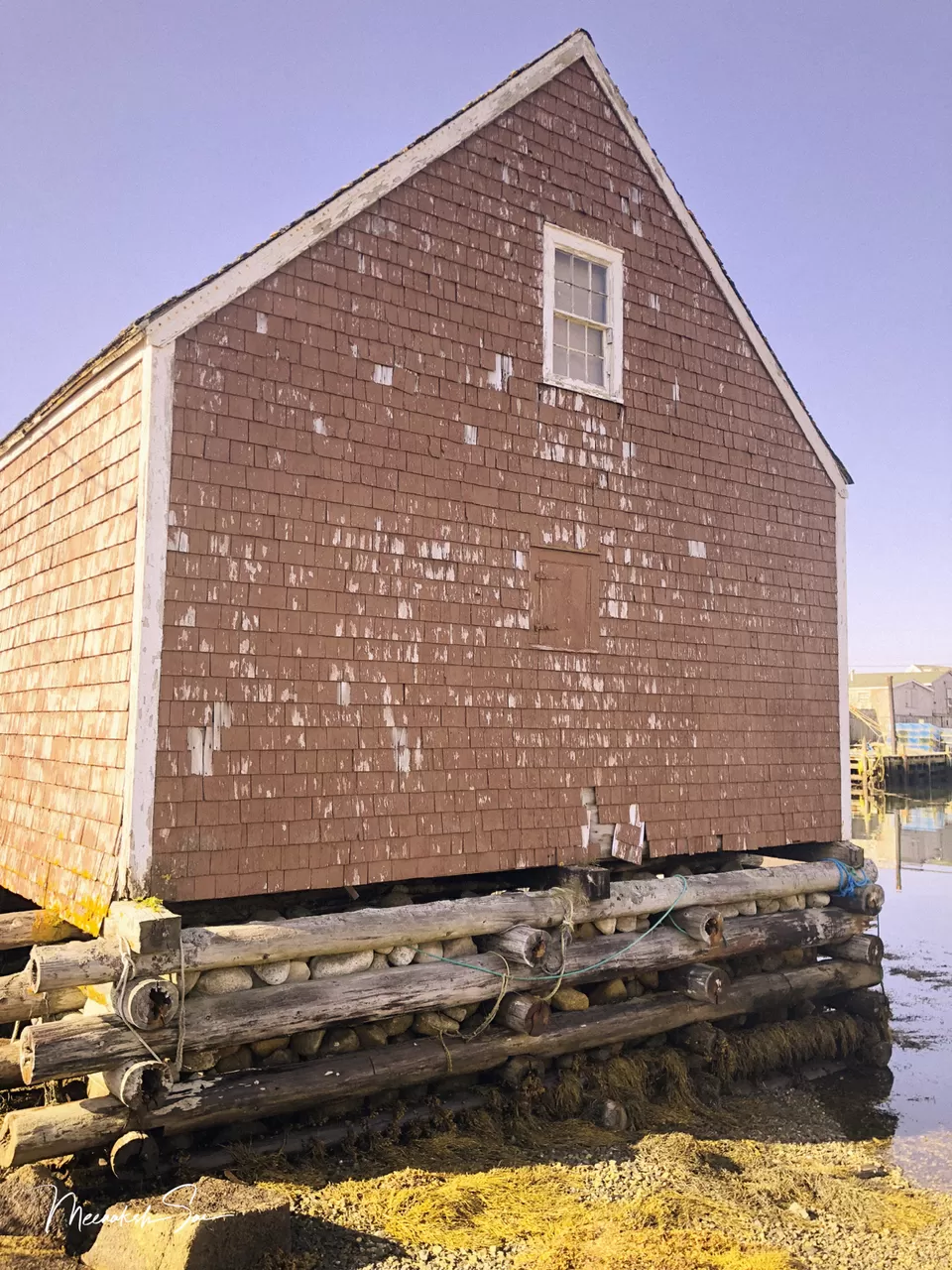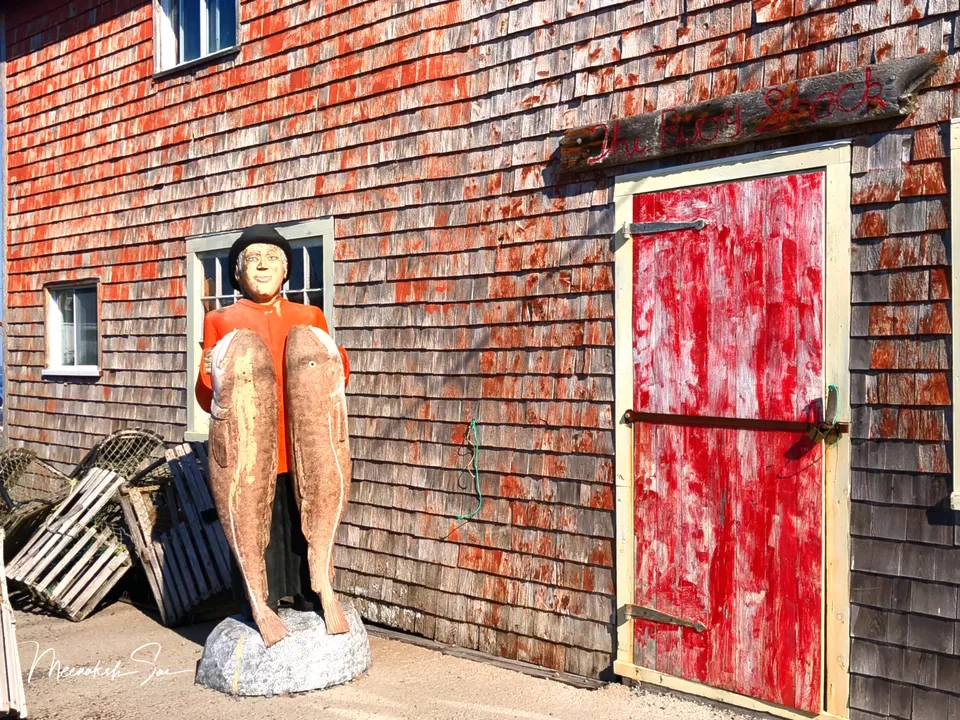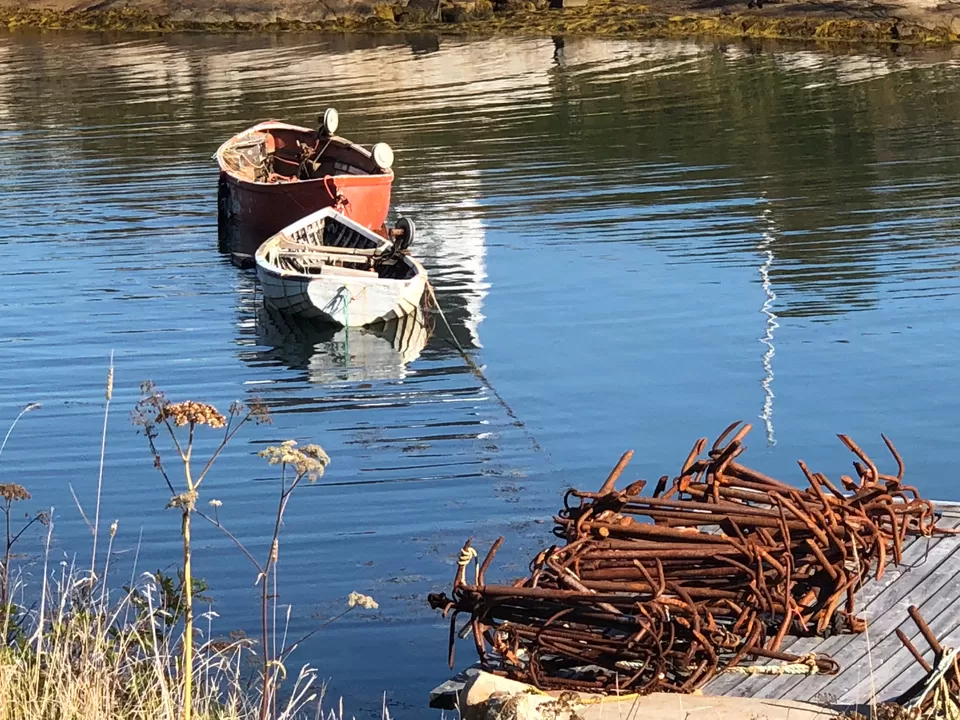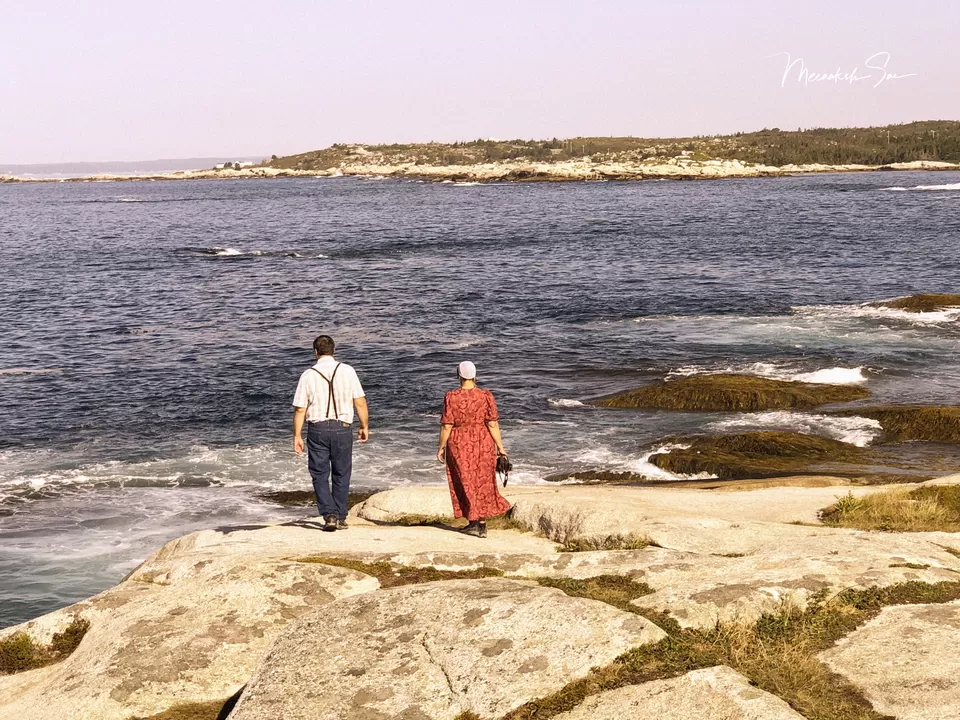 Day 13
Saint John..
Saint John is Canada's oldest incorporated city on the Bay of Fundy .. there is not much to see , but the uptown as they call ,it is the place to just hang and walk around. All the streets are named after King George III s family and relatives .. It's all Prince and princesses ..
Last night as I arrived Mike , my Airbnb host and his other tenant Denisa who is from Slovakia , invited me for dinner and we stayed up late talking . Denisa has just migrated to Canada and it's only been 5 months , but she has really integrated well into the local crowd . In so many ways, she knew a lot more of the city than Mike , who's lived all his life in and around St John..
Taking their advice I drove to the waterfront , and there was this huge ship coming from Germany . The town is pretty much empty on Sundays ..St John is also a popular Cruise port . In the parking lot I asked an elderly gentleman if it was ok to park there .Parking is free on weekends and we got talking .. he asked me to come over in an hour and he ll put me on the tour bus that takes the cruise ship passengers for freeeee.. why are people so nice .. is it because I'm traveling alone and feel sad for me or what ?? Or are they just nice ..
I wander around and I stumble on an stone sculpture exhibit being put up . Sculptor 's were sculpting away and I watched them grind and chisel away for a while until it was time to go meet this gentleman for the bus ride .. I never got to know his name .. we chatted a little bit more and he told his brother is married to a Malaysian who is Tamil ..So then he gave a sticker and put me on the bus ..
90 minutes I rode on the bus , saw most of the small city . We rode through the very beautiful Rockwood Park , designed by Calvert Vaux, one of the landscapists of Central Park .. the bus brought me to the Cruise Terminal and I said bye to the kind gentleman , who said to me " they don't do these things in New York " gingerly I agreed ..
Made a beeline to Picaroons, serving traditional ales and brew ..it's a unique Brewtique and social space .. local people chilling over their fav brew .. you can buy growlers and you can fill them up too . I bought an empty one to take home .. Growlers are glass kegs to take home craft beer in .. super cool containers ..
I walked some interesting streets that Mike and Denisa had mentioned last night .. Also went to the city market ..Built in 1876, oldest city market in North America, with an original ship's hull roof design. They have artwork by children hung from the roof. Lots of fruit , local produce ,meat ,fish ,apparel,linen,restaurants, dulse,cafes cheese , some international stuff as well , handicrafts, embroidery , art work, pottery , an eclectic mix of food and craft .. a very unique shopping experience..
The only thing I really wanted to see was the Reversing river . I missed seeing the Tidal bore in Moncton and I made sure I was at the St John viewing point at 5 pm . High tide today was at 5.34 pm ..
In the morning on the bus ride I saw the St John river at low tide flowing into the bay .
It's a unique phenomenon .Bay of Fundy has the highest tides in the world and when they collide with the Saint John River in a rocky gorge, this reversing happens ..
At high tide, however, the Bay of Fundy rises above the Saint John River and the power of the tides actually reverses the flow of the river, creating huge waves. The St John river is no small river , one of the largest rivers of North America . It such a spectacular sight ..
It's like the river has just started flowing in the opposite direction suddenly .. the high tide I'm told rises 24-27 feet twice a day ..tired to make a video but the reversing is quite not visible .. have to see it to believe it !! It's like a tug of war between the river and the tide ..
I've not touched Bay of Fundy and all the activities on it , whale watching etc etc . Have to save it to for another time ..
Time to get back to the Big Apple ..
Not many pics from today..a few videos, but they never upload anyways ..been having crappy internet connection for the last couple of days ..
#september2018
#goldfishtrails
#puravida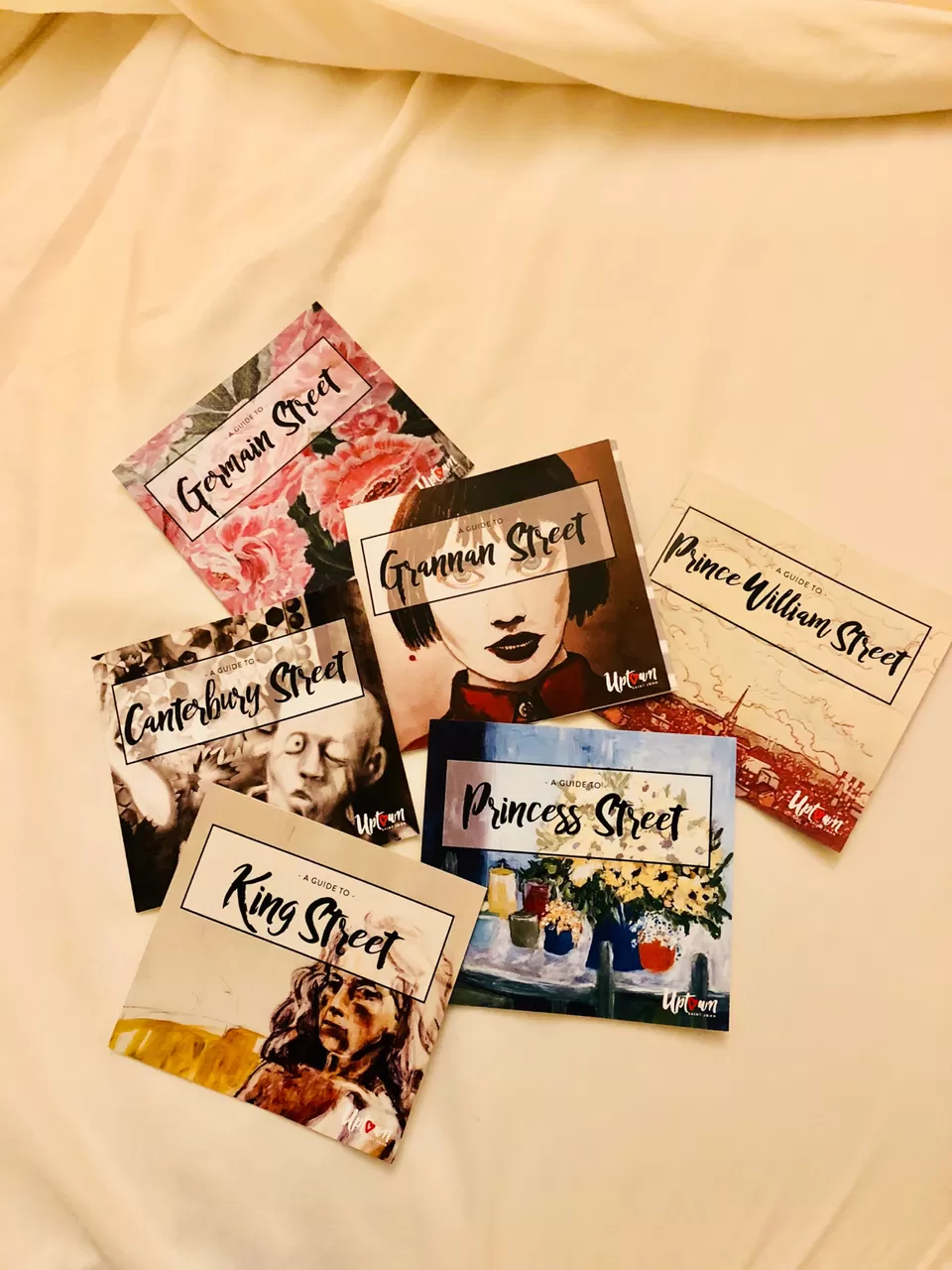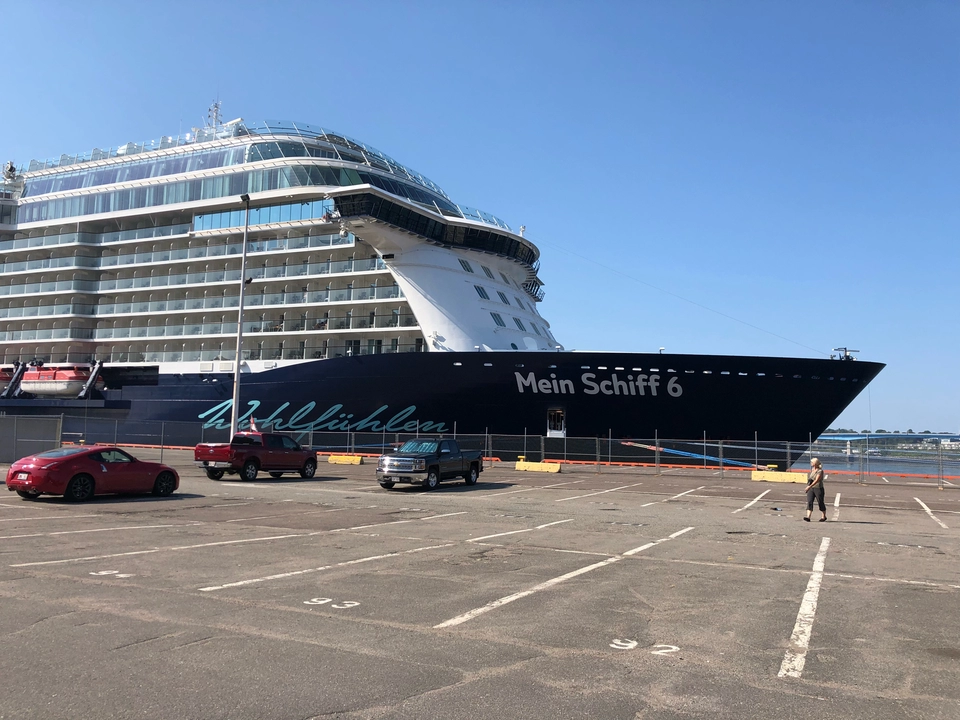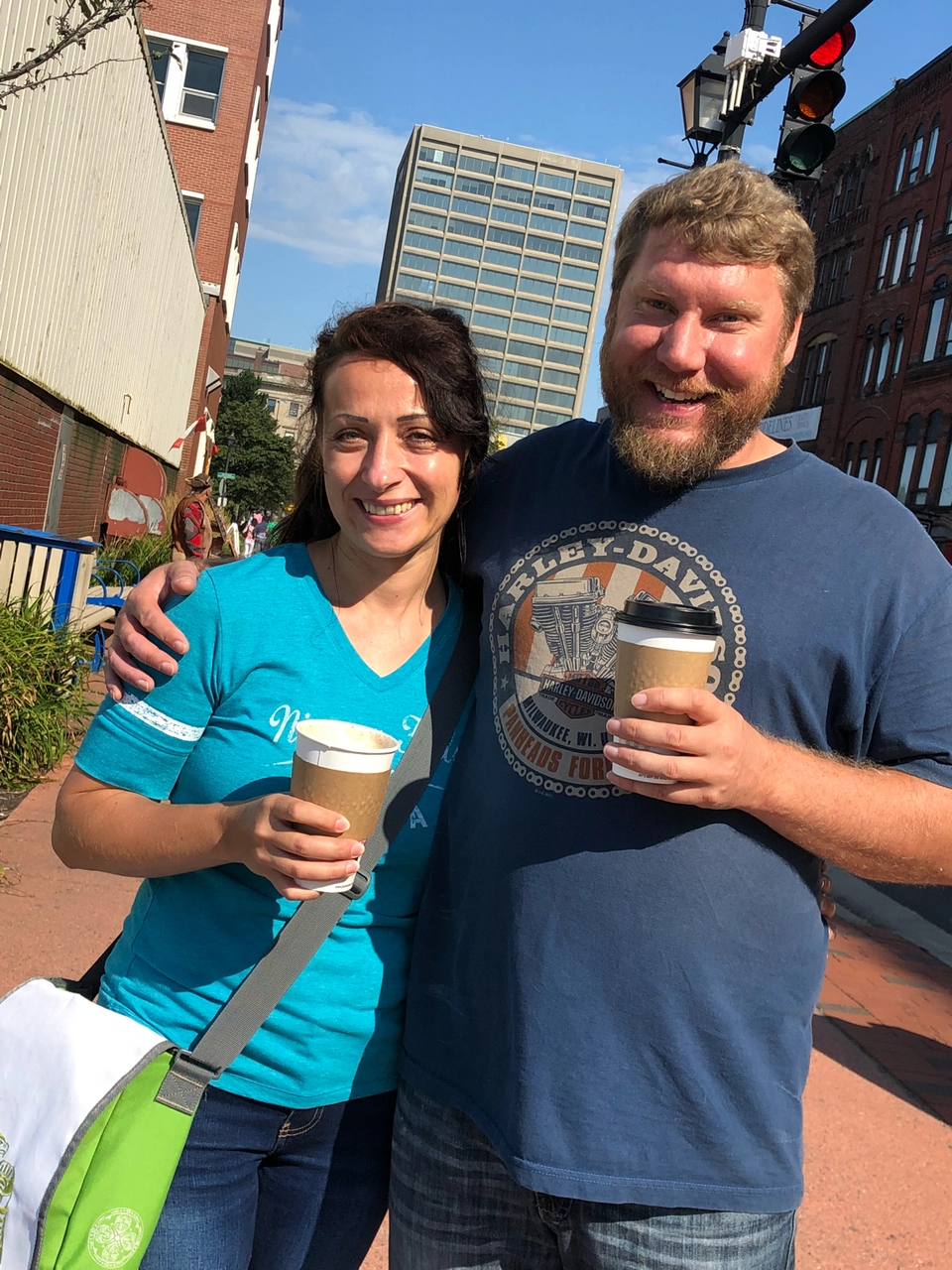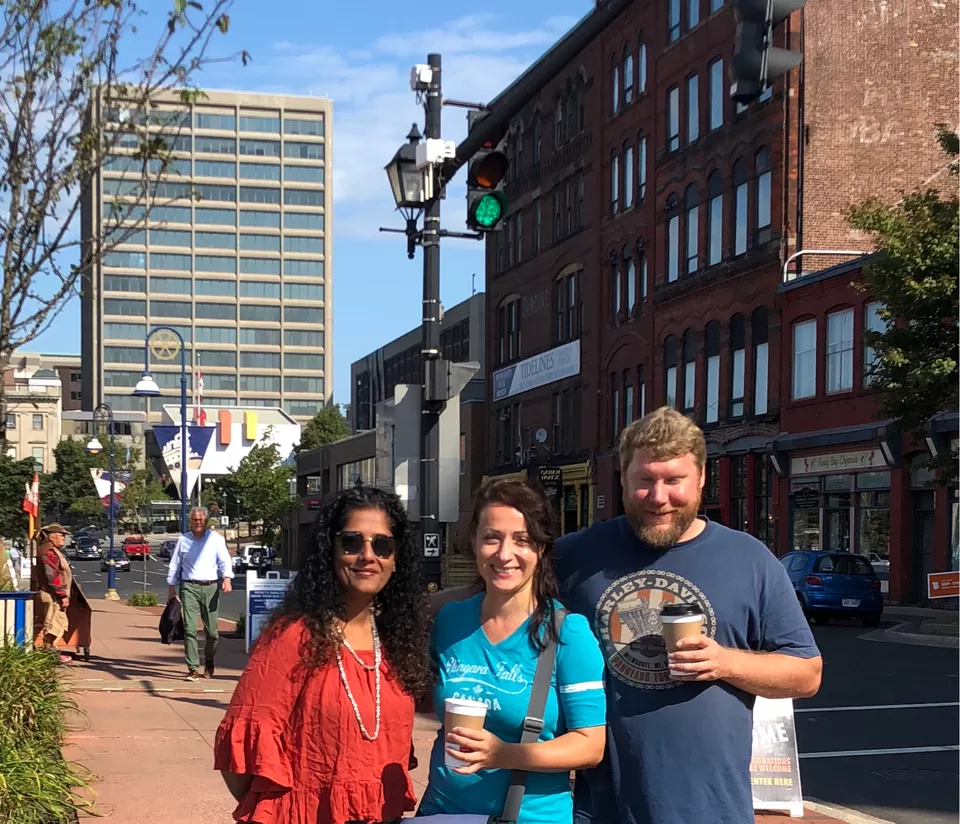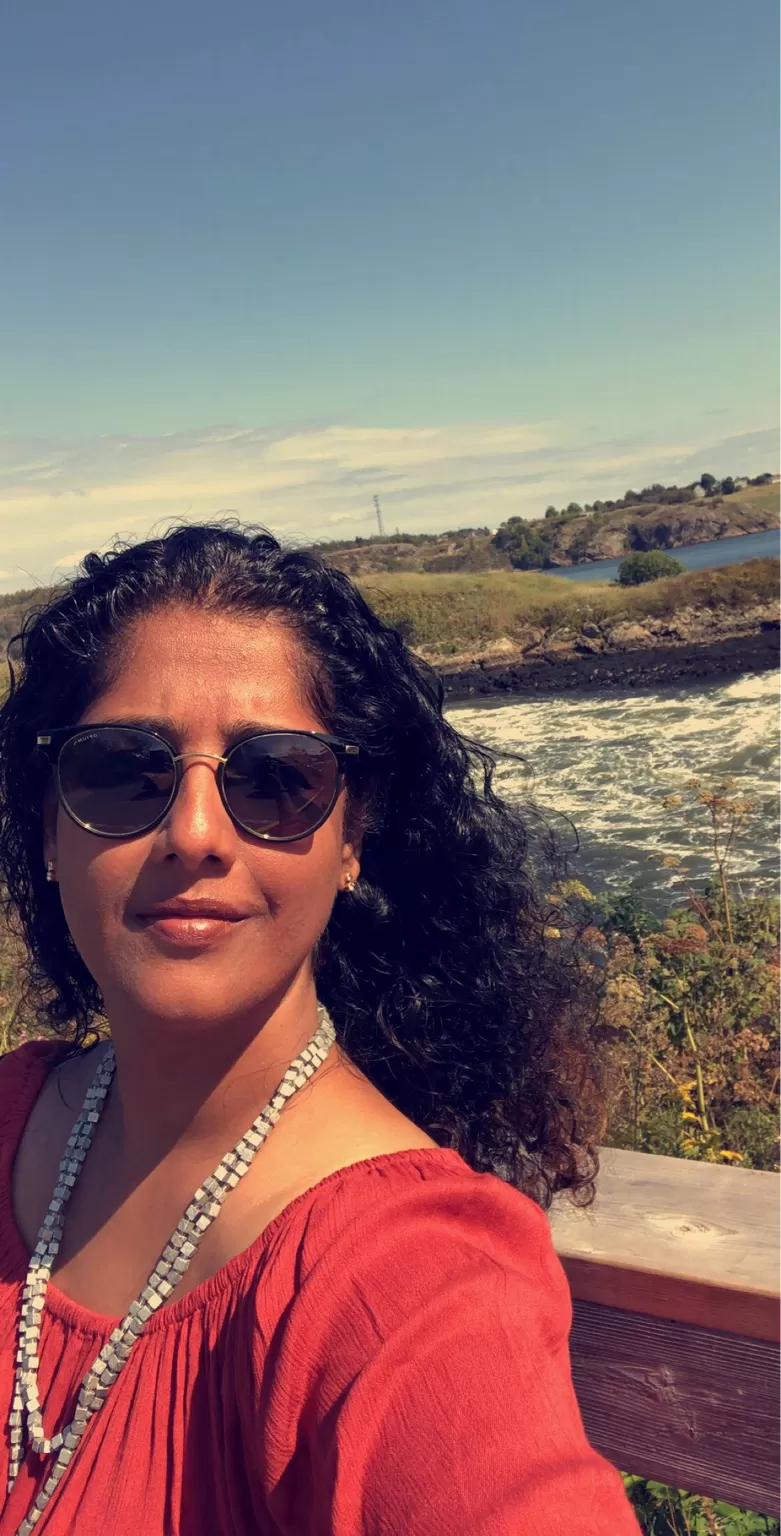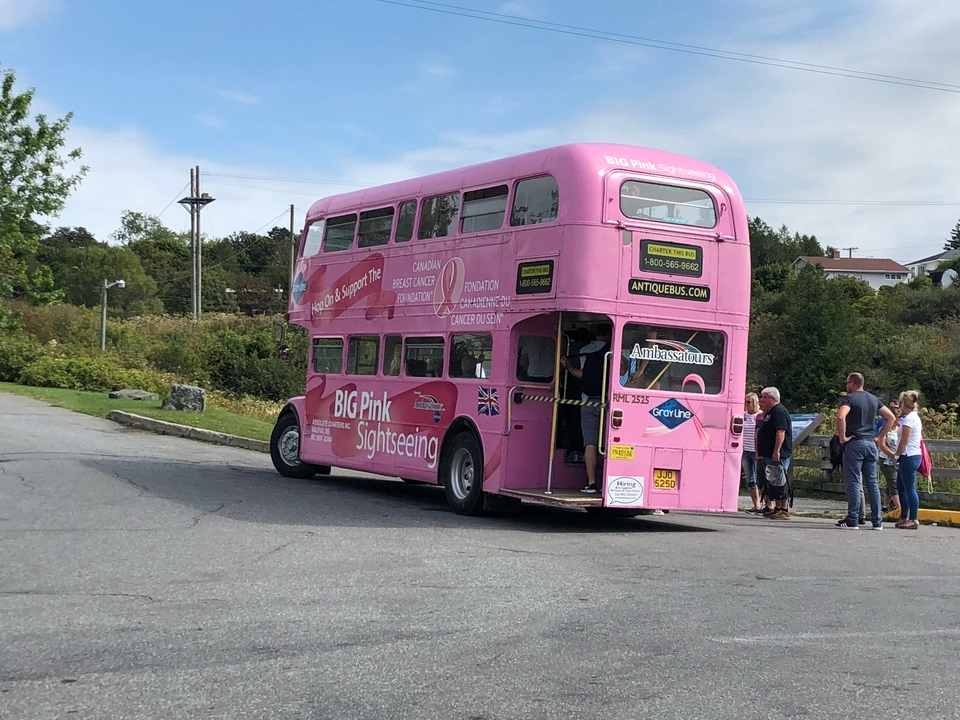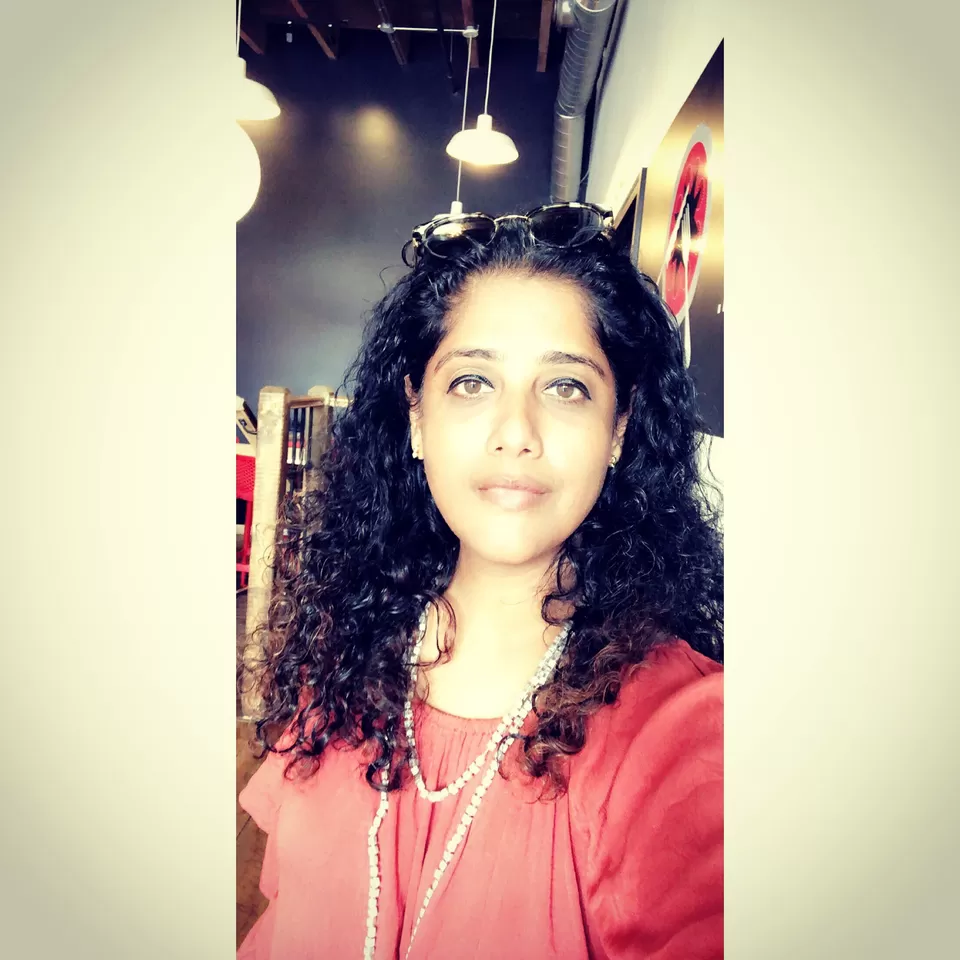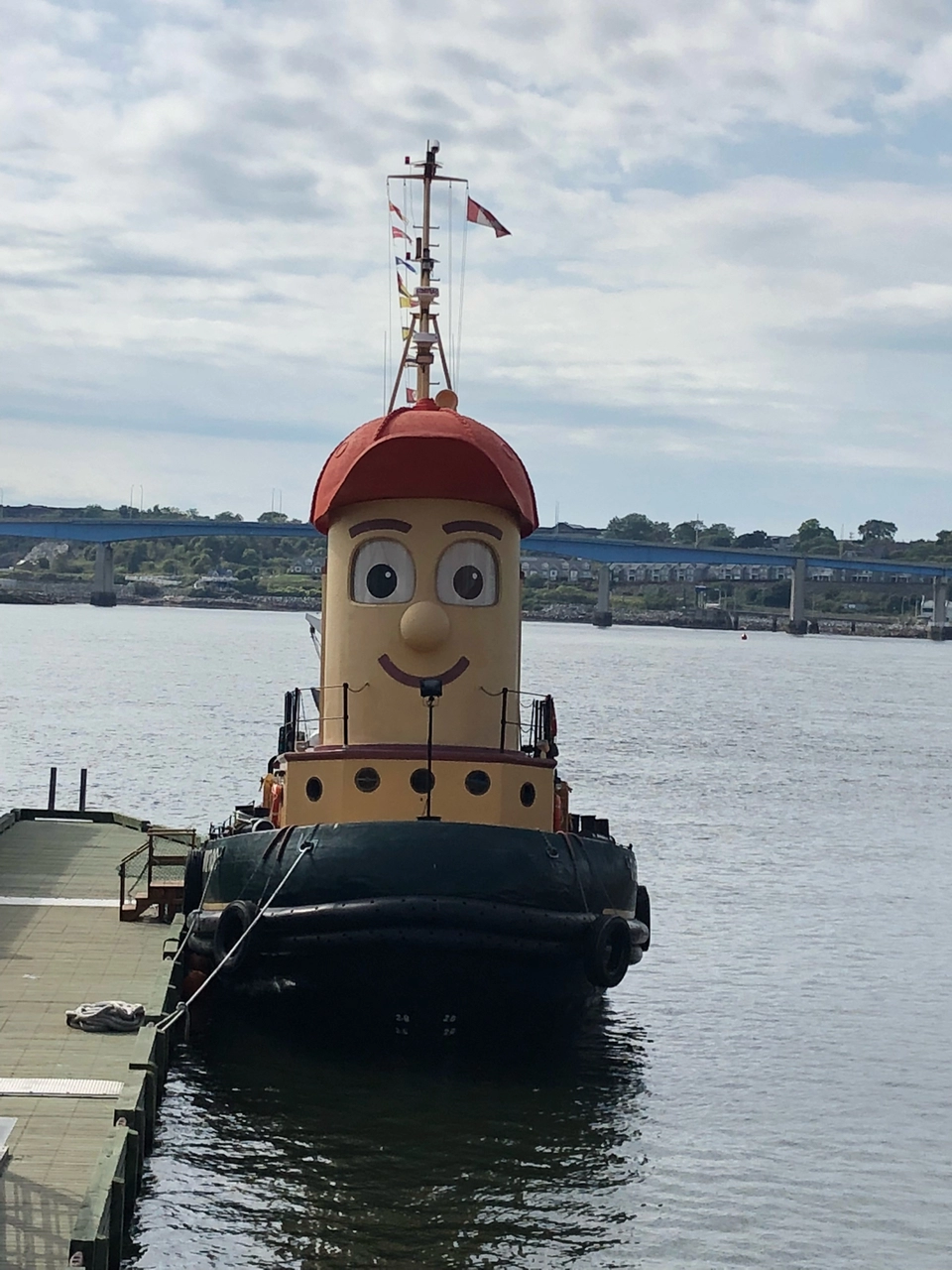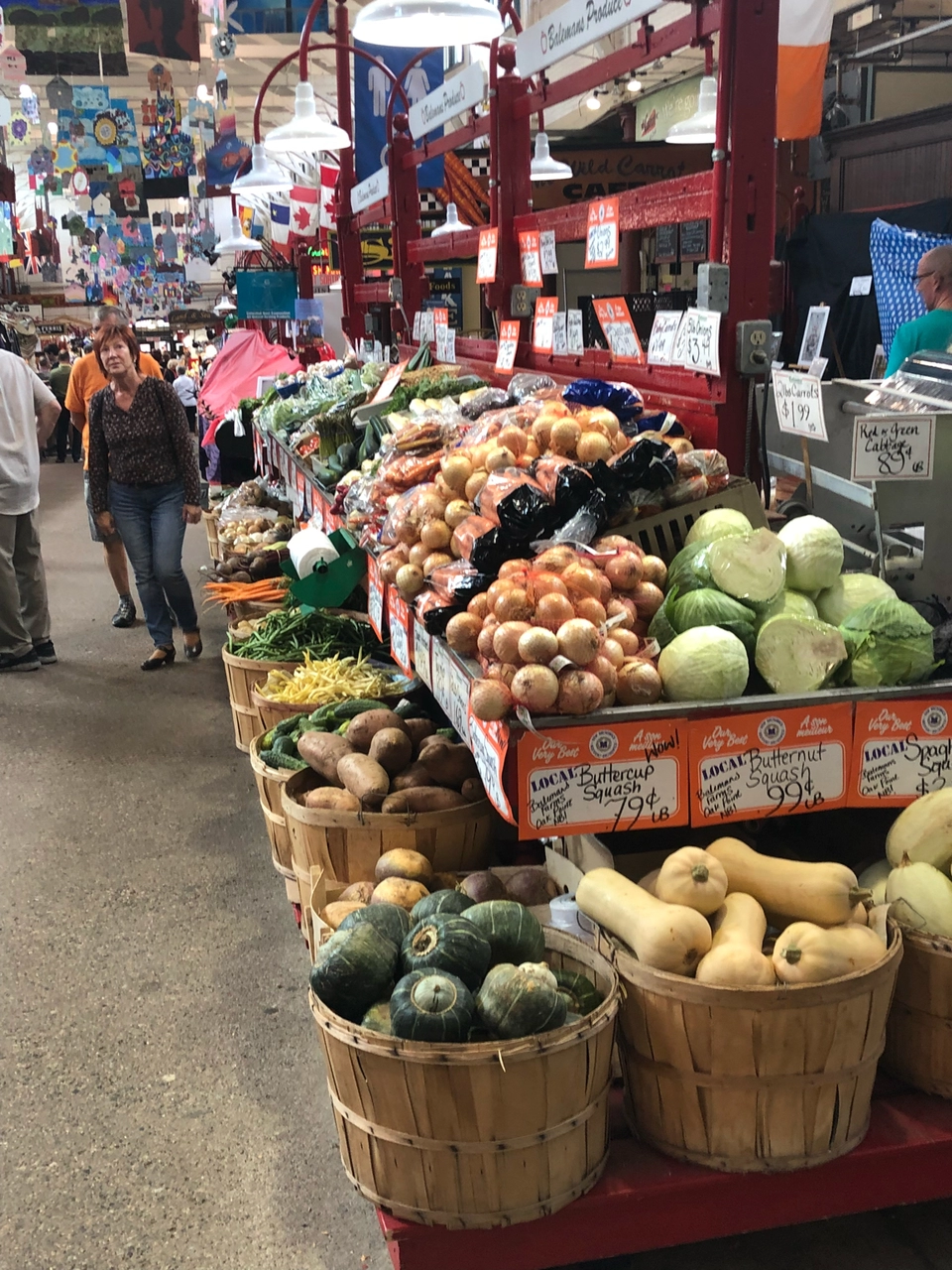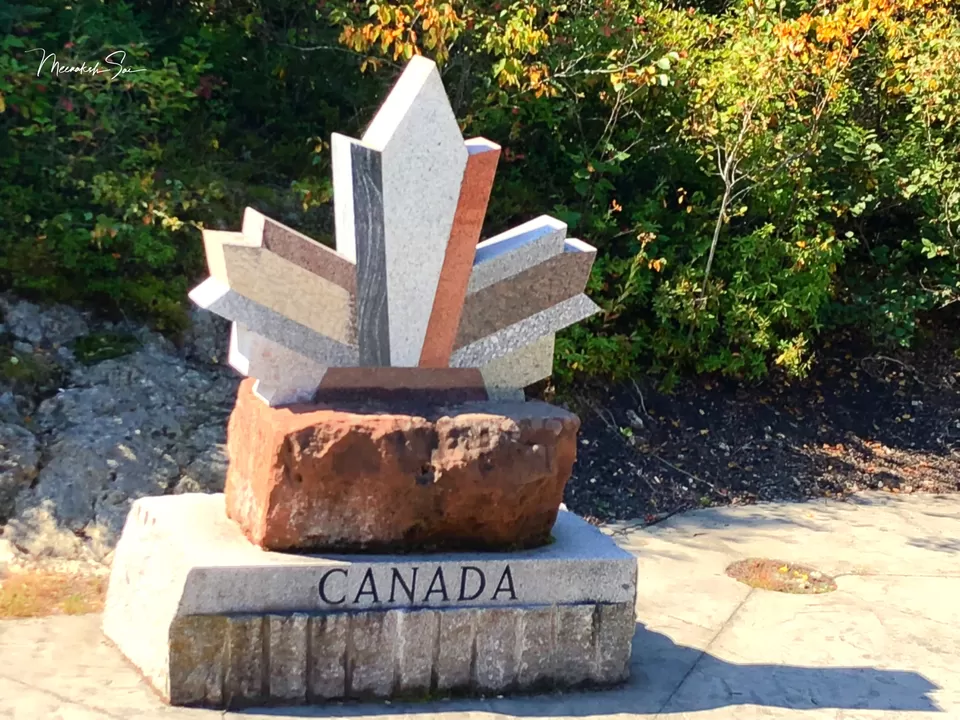 Day 14
St John ( New Brunswick) - Maine (US)
481 kms
Long post warning peeps , but it sure is interesting !!
Well I'm almost on the last leg of my journey .. the drive through the rest of Canada and back into the United States was rather smooth ..
Border Control was over in a jiffy ..
The officer looked into the back of the JEEP and said " I hope you don't have a body under that blanket " and I said NO , but was thinking in my mind ,how he'd react if I said " Not a body , just a bomb , Officer"
Hahahaha .. I sure would like to see his face then ..
So when I was Albany with my friend , her husband said that there was a desert in Maine and I should see it on the way back ..I was surprised , I hadn't heard of a desert this side of the country , so I looked it up and decided to stop by there today .. and I'm so glad I did ..
It's simply called the Maine Desert ..
So why is there a Desert in Maine ??
It's astonishing ..
When you think of Maine , lush green pine forests and colourful Fall is what comes to mind ..but there is a Desert ..
I've copied the following from a website : too much to write myself ..
Ten thousand years ago, during the last ice age, large glaciers covered what is now Maine. These glaciers scraped rocks and soil as they expanded, grinding rocks into pebbles, and grinding those pebbles down into what is known as glacial silt—a granular material with a texture somewhere between sand and clay. Layers of glacial silt piled up as high as 80 feet in some parts of southern Maine. Over time, topsoil began to cover the silt, hiding the sandy substance beneath a layer of organic matter that encouraged the growth of Maine's iconic coniferous forests.
Native American tribes, including the Abenaki, took advantage of the fertile topsoil, farming the land long before European settlers claimed it as their own. But the late 1700s saw an expansion of Maine's agricultural business, as settlers and colonists moved northward from Massachusetts (or sailed from Europe) in search of land. One such farmer was William Tuttle, who bought a 300-acre plot of land next to Freeport in 1797. On that land, Tuttle founded a successful agricultural enterprise, growing crops and raising cattle in the shadow of a small post-and-beam barn he built. His descendants diversified the business, adding sheep in order to sell their wool at textile mills.
But there was trouble on the horizon for the farm. The Tuttle family wasn't properly rotating their crops, depleting the soil of its nutrients. The Tuttle's sheep enterprise also wreaked havoc on the soil as the livestock pulled vegetation out at the roots, causing soil erosion. One day, the family noticed a patch of silt the size of a dinner plate—their poor land management had caused the topsoil to completely erode, revealing the glacial mixture below their land. The Tuttles didn't immediately give up on the farm, but eventually that patch of sand grew to cover over 40 acres, swallowing farming equipment—and even entire buildings—in the process. By the early 20th century, the Tuttles had completely abandoned the land.
In 1919, a man named Henry Goldrup bought the property for $300 and opened it as a public tourist attraction six years later. Today, most visitors chose to explore the grounds via a 30-minute tram tour, which takes visitors around the perimeter of the desert and explains the history and geology of the desert.
In 1919, a man named Henry Goldrup bought the property for $300 and opened it as a public tourist attraction six years later. Today, most visitors chose to explore the grounds via a 30-minute tram tour, which takes visitors around the perimeter of the desert and explains the history and geology of the desert.
In 1919, a man named Henry Goldrup bought the property for $300 and opened it as a public tourist attraction six years later. Today, most visitors chose to explore the grounds via a 30-minute tram tour, which takes visitors around the perimeter of the desert and explains the history and geology of the desert.
While the Desert of Maine is certainly an intriguing tourist attraction, it's also a reminder of what can happen to farmland that isn't properly cared for .
The guide told me that Tuttle's step son only grew potatoes without rotating the crop , and eventually only grass grew there , and the goats came and ate the grass ripping them from the roots and the Top soil was lost completely ..
I took the Tram and it's so intriguing to see the desert in the middle of lush green pine woods ..
Now some trees are growing but they get buried in the silt .. the sand in really really fine with a lot of Mica content .. the temp difference from outside the desert to inside the desert is atleast 15 degrees Fahrenheit...
The good news is the desert might be gone in another 100 years , when the top soil eventually comes back because of the trees that are still there !!!
Lots of interesting stories the guide Anita had to say ..it was a very interesting hour , well spent ..
Now I'm camped in a camper again on a farm , somewhere in Portland , Maine ..
Lovely farm with horses and whole bunch of lolovely adorable dogs ..
Quiet evening and I hope to Prep for my talk in Westfield University on Wednesday ..
#september2018
#goldfishtrails
#puravida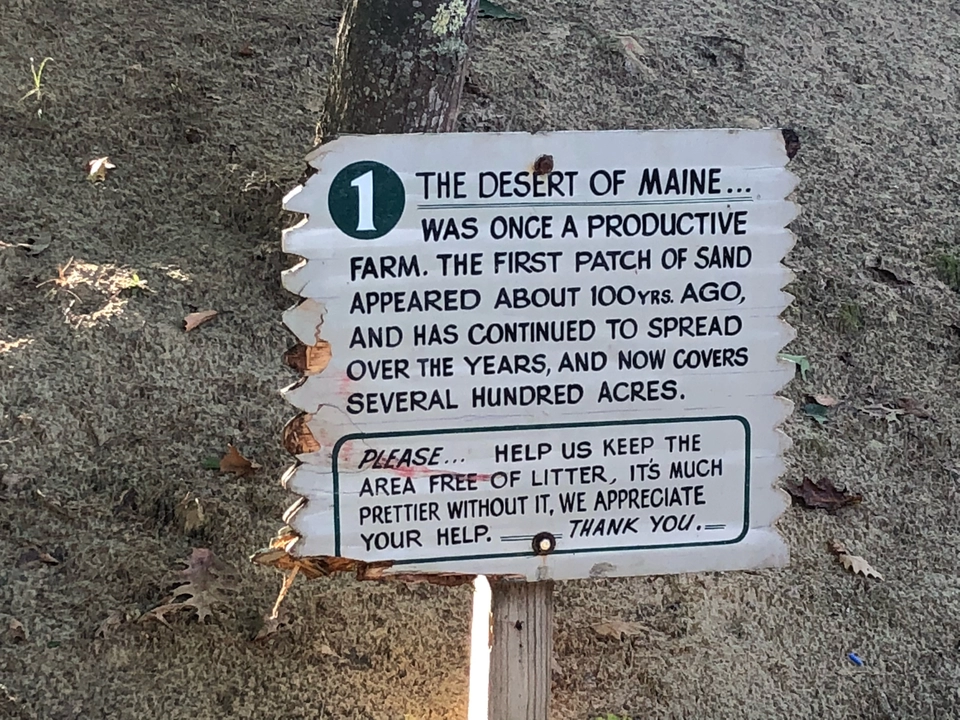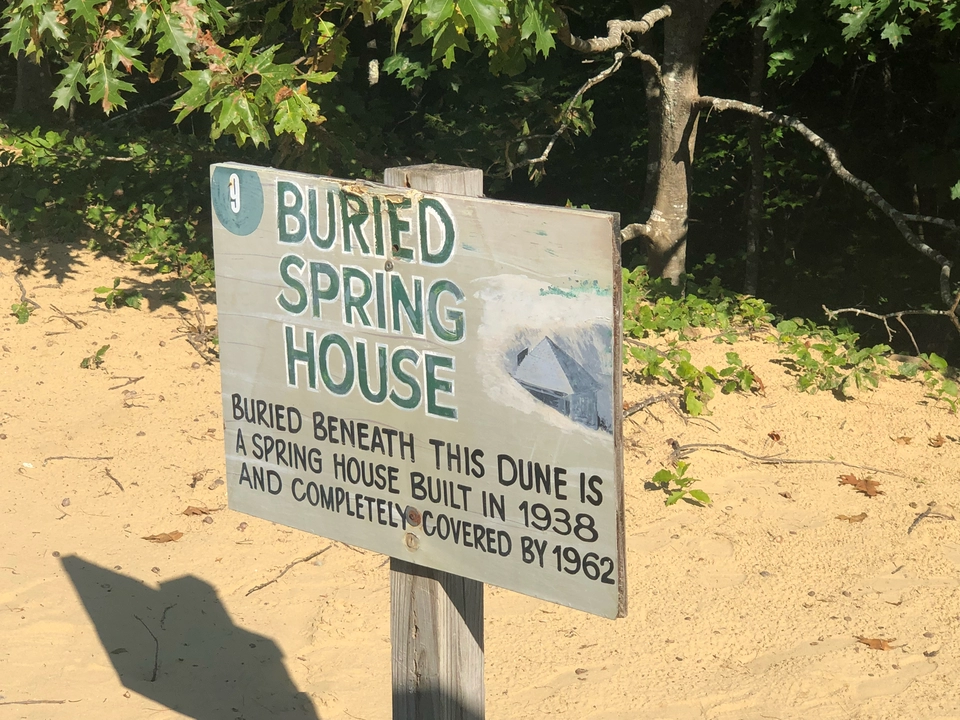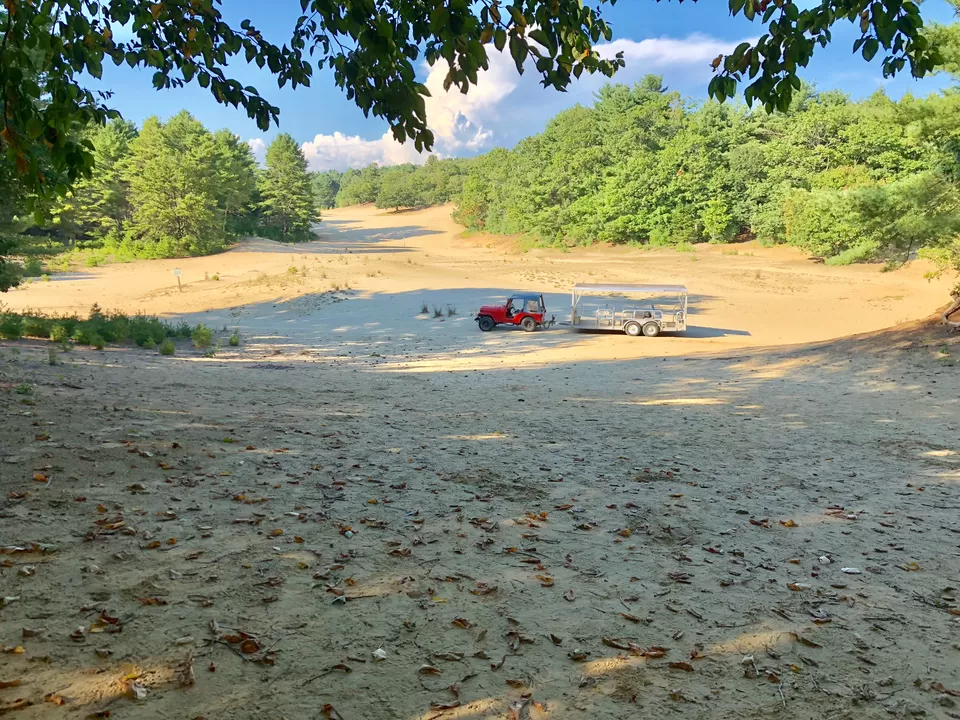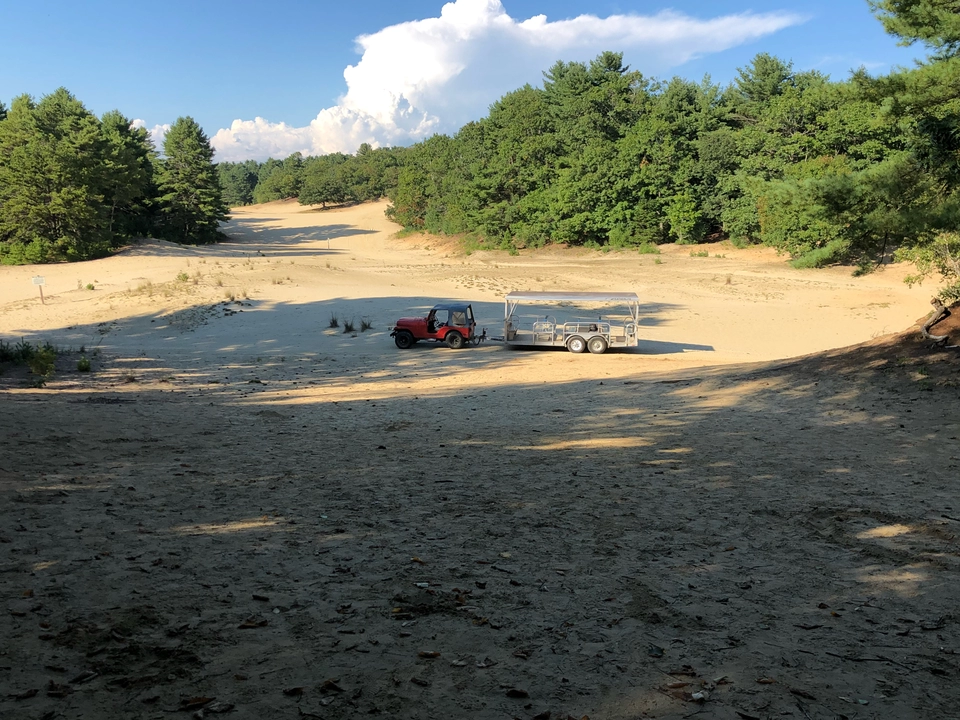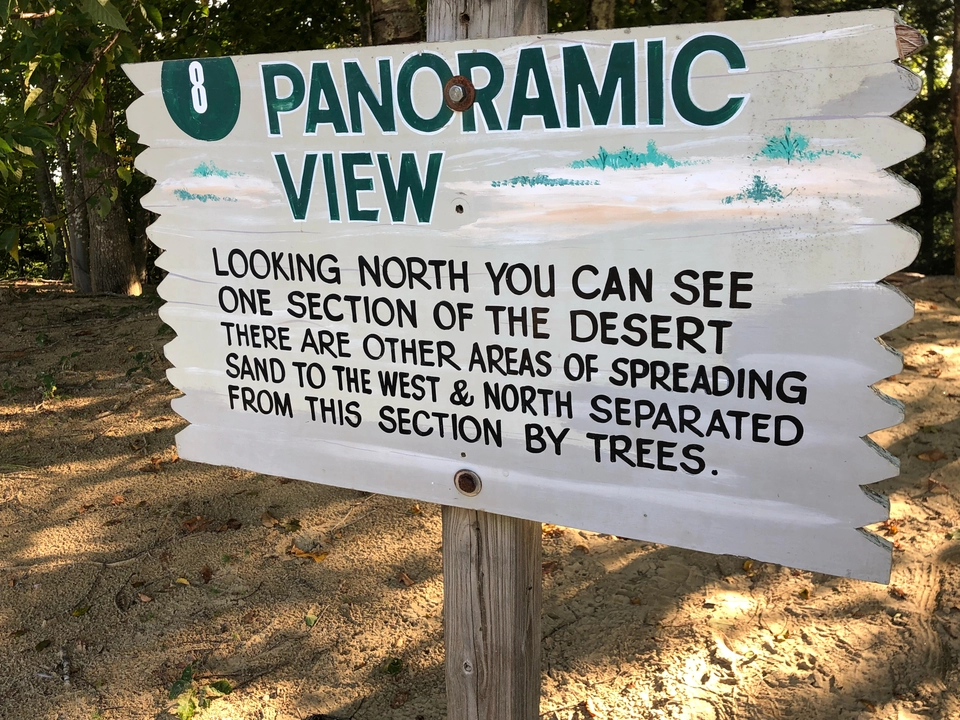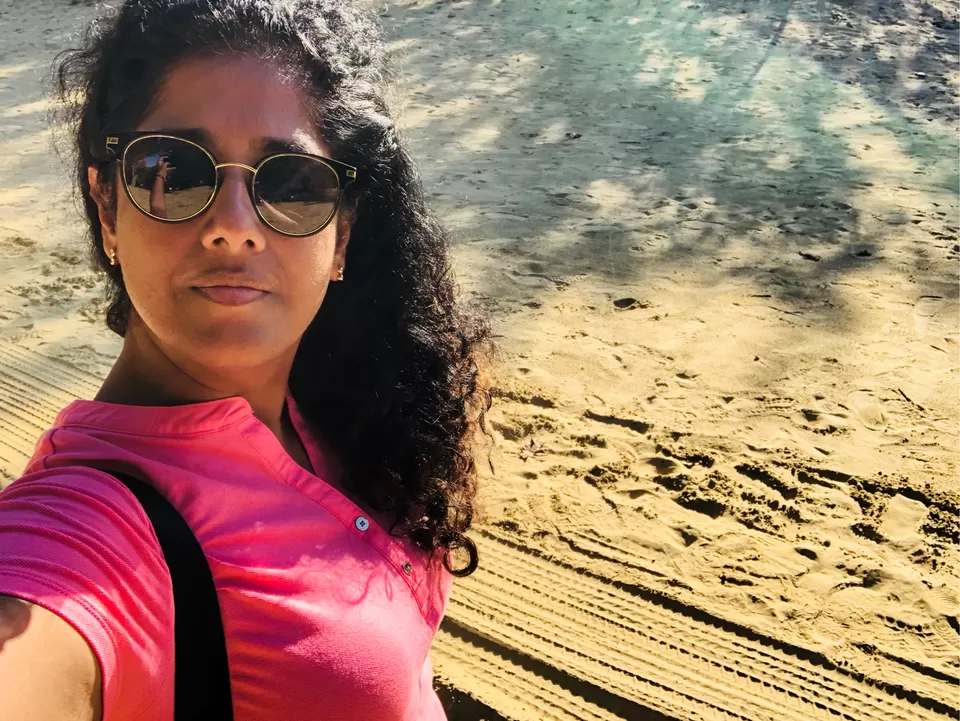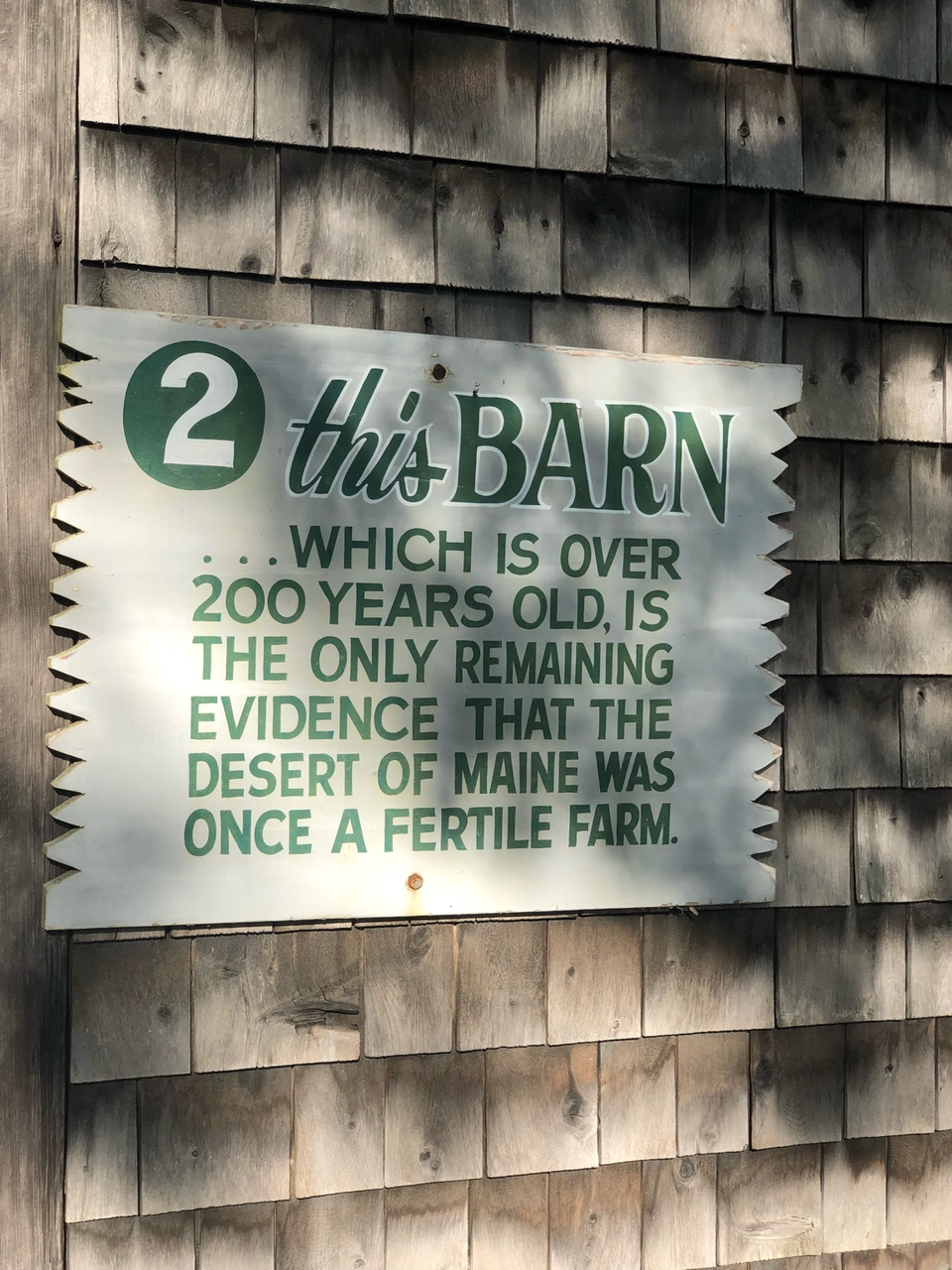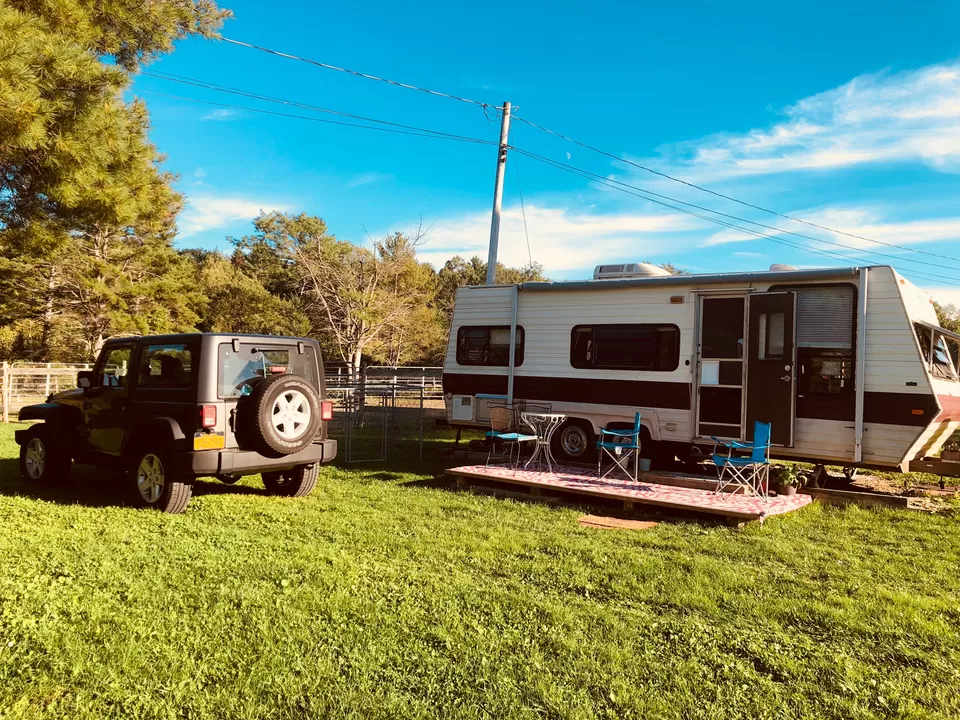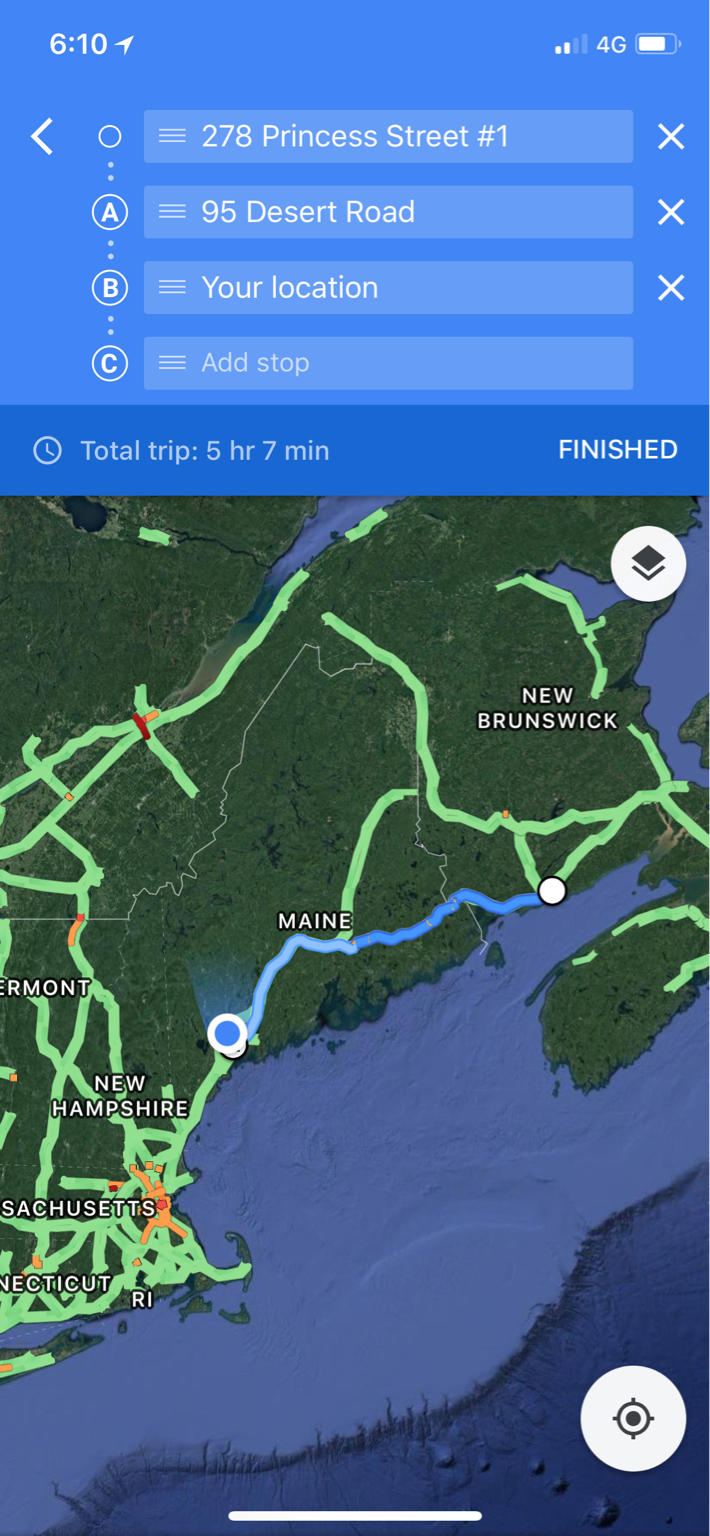 Day 15
New Gloucester ( Maine ) - Westfield ( Massachusetts )
354 kms
The day dawned wet and foggy on the farm .. I heard the rain at night , but the camper was so comfortable, I had a real good night sleep ..
Met Susan the owner of the Camper and the farm ,when she left for work at 7 am .. she's a nurse and just started letting out this Camper on Airbnb to see how it goes , and she's been busy all summer !! Good for them . Also it's a fun way of meeting people ..
So Ellen , her daughter , this lovely lovely person showed me around the farm , and I even saw how the hoofs of the miniature horses are cut and filed .. I've forgotten what she called it .. but it was interesting to see the guy do it .. they have 2 miniature horses and Griffin the grey one , is super friendly and wants to be petted .. they are the cutest animals..
I got such an insight on farm life in Maine , never been on a farm in the US, Ellen told me so many things about her horses .. enjoyed the time chatting with her .. she's lovely !
And then they have 10 dogs , most of them poodles .. had a real good time playing with them and talking to Ellen .. I love her .. she works as a 911 dispatcher, how interesting is that ? I was in no mood to leave the farm ,but I have to be in Westfield to meet Shoba by 3 pm.
It rained through out the drive and foggy too . Visibility was poor too . Couple of car crashes along the way and slight delays ..
Spent the evening with Shoba and her very lovely colleagues Vanessa and Tammy .. dinner at a very nice Italian restaurant .. excellent food and service . Food coma , don't think there is any prep happening now , for my talk tmrw ..
So Shoba has gone to so much trouble to put up this event tmrw , making the flyers , informing departments and inviting people ,etc .
She is taking such good care of me and the University has put me up at their very chic VIP suite .. she made sure they did !! Thank youShoba S Rajgopal ..
Looking forward to sitting in her class tmrw and also the event in the evening .
#september2018
#goldfishtrails
#puravida
Day 16
Westfield State University
I've had a fabulous day with Shoba at her University . Dr Raj as she's fondly known is very popular and she lugged me around introducing me to her colleagues . I sat in her "Women in Modern organisations " class and was able to interact with her students . Initially I found them a bit withdrawn but they opened up slowly ..I was quite surprised to hear some of their experiences here in the United States when it came to being stereotyped and sexualised ...hmmmmm ..
My talk was fabulous too .. full turn out and a packed house .. A lot of questions ...lots of curious young minds out there .. and I had kids come up and say that I inspired them and would like to keep track of my travels in the future .. I met some very interesting folks as well and it's been a learning for me as always .. They taped the whole talk and I ll be able to share the link very soon .. it was refreshing to talk to a whole new audience.
I was also able to talk about Uzbekistaal , how it happened and Small Differences too .
There was also a Professor who is from Uzbekistan and Shoba insisted I show a video of HAVAS performing as well .the crowd was zapped ..
My life has changed so much since XPD2470 and I am able to connect with so many fantastic people from all over .. like I always say , if I am able to touch a few lives and inspire a few souls , my job is done ..
I'm absolutely elated that my talk went very well and it was well received by the entire audience. I do hope I have made my dear friend Shoba S Rajgopal ( Dr Raj ) proud and happy ,to have brought me to her campus . It's a new , huge huge experience for me .. Thank you WestField State University ..
Thank you Ashiah Richeme-Alcide, Director of Diversity and Inclusion Program , The International Program office and Department of Ethnic and Gender Studies ..it's been a pleasure and honour to be here ..
It's past midnight and just retiring ..
I'm cosy and comfortable in Shoba's house in Easthampton , Chinese take out and a great bottle of Italian red to celebrate . Wonderful conversations with her husband Evan and neighbor .
And top it all she has these 2 most adorable cats , Kuttan and Kunju .. they are thoroughly spoilt babies ..what an end to such a prefect day .
#september2018
#goldfishtrails
#puravida
Day 17
Staying up late and chatting with Shoba was so fun . We had a pleasant morning walk around the neighbourhood in Easthampton. Shoba's house is full of interesting stuff , lots of books and also an ancient cassette player , which actually works . She said she had bought it in a thrift shop ! So as we had a hearty breakfast of Oatmeal with cocoa, we listened to old Hindi music and chatted away . It was quickly ,time for her to get to work and for me to head back home to New York too ..
It was a wistful drive ! 2 weeks has flown away in a jiffy . Boom it's gone . So many experiences along the way . It's been a wonderful solo Roadtrip but I was anxious to get home and be with Vedhika..
The road from Massachusetts to New York was busy , as always , specially the I- 95 . A crash delayed a bit longer and I got home just before 2 pm ..
Napping in the afternoon I heard police sirens .. and I think in my mind .. "welcome to New York" .. I hadn't heard very many sirens for these entire 2 weeks !!
Happy to be home and with Ved. All good things come to an end and All is well that ends well . God has been kind as always ..
Need to do some math now and see what the actual distance covered in these 2 weeks are ..
Lots to do .. Laundry and all ..I've been on the road two weeks .. it's crazy how much has piled up !!
And we have a special friend visiting us tmrw from Florida !!
Looking forward to a spectacular weekend !!
#september2018
#goldfishtrails
#puravida