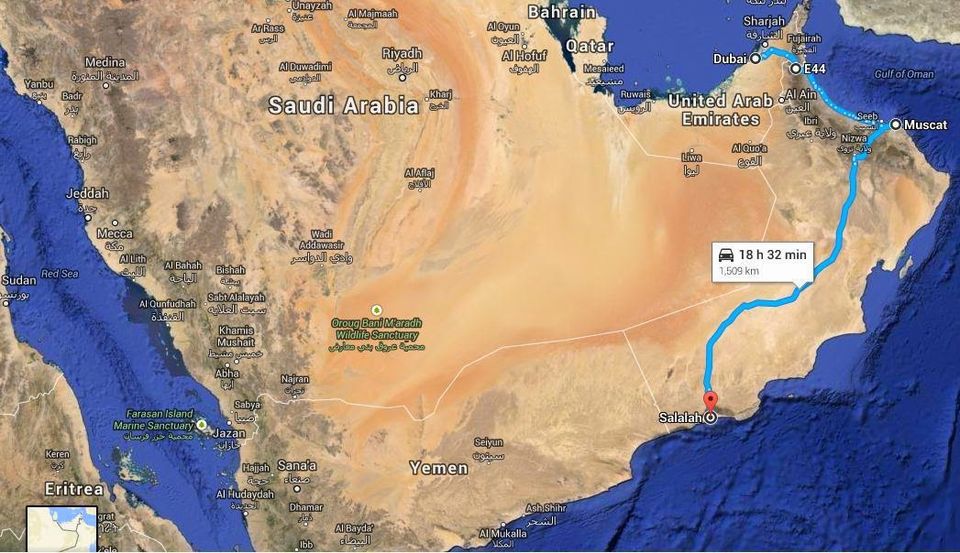 Salalah The Jewel of Arabia
1.Initiation
Dubai- one of the fastest growing cities in the world, is a land where concrete structures dominate. There are few natural and picturesque places to hangout and most of these are crowded during holidays. While the rest of the world is browsing through a Dubai travel guide, as the Eid al-Adha vacation approaches all of us want to escape Dubai & go someplace where we haven't been before. One of the first places that we thought of was Salalah, as it had been in our bucket list for so long. Whoever we had talked to, had only positive things to say about this unbelievable place in the middle of the desert. We found out that the best time to visit Salalah was during Khareef festival ( Usually June to August) which was held to celebrate the monsoon season. Salalah witnesses the highest tourist rush during this time. The festival was already over but we all still decided to go and check out Salalah for ourselves. The first phase of the trip planning ended in high spirit as always. This stage always goes by smoothly for us as we do it regularly and usually don't proceed beyond this point.

After fixing the location, we now started planning for the next stage. We needed to decide how many days we could all spare from our eid holidays, and also whether all of us had days off at the same time. Due to each of our companies scheduling holidays at different times, we were sure that all of us would not be able to make it. The duration of the trip is fixed for three days from Oct 3rd to 5th- including the drive on Thursday night to muscat. Four of us friends(Me, Sidhu, Gokul & Shan) confirmed that we would be making the trip.
The next part was deciding what vehicle we would be driving to get to Salalah. It's one hell of a journey from Dubai, where we would have to cross 700kms of the deserted empty quarter. The total distance that needs to be covered is more than 3000Kms(over 3 days), so choosing a good vehicle was very important. Luckily, one of our friends has a 4x4, which is what we need for a comfortable journey. There was one problem though, he was not going to be able to come on the journey with us, due to some visa processing delay. We were not sure how to ask him to lend his vehicle as the trip is a long one & it needs border crossing also. This is when we realized why friends are the best part of your life- because without us even asking him, he offered his vehicle without any hesitation, for the trip! A very big thanks to my friend Mr.SHAHEEN for allowing us to take his vehicle for this trip.
2. Visa Process
Traveling to Oman requires a visa to be issued by all passageways and Sultanate embassies in GCC for the expatriates residing in GCC who are interested in visiting the country for tourism purposes and from approved professionals without sponsors. It also issued to their relatives accompanying them as follows:
Valid for use: for a period of four weeks extendable for one week.
Fees: R.O. 5.
The visa is granted free for dependants below 18 years.
Delay fines R.O. 10 for every day .
For more about profession and other details you can visit this site: http://www.rop.gov.om/english/dg_pr_visas_agcc.asp
Note: If your are planning to visit Oman during any public holidays, i highly recommend you get the visa from consulate of Oman in Dubai beforehand to avoid standing long hours in the queues at the immigration office at the border. If you are panning to get visa from embassy do it at least one week before date of journey. For our trip we contacted embassy on Monday and they informed us that it was the final operational day for them before holidays.
3. Route plan, Food & Accommodation
DUBAI - HATTA - SUHAR - MUSCAT - NIZWA - ADAM - HAIMA - THUMRAIT - SALALAH
Thursday is a weekday in Dubai so we all had work in the morning. For this reason, we fixed 8.00 PM as our departure time. After the long working hours no one will be enjoying such a long ride especially when we have to wait & get visa at the checkpoint, so we opted to drive till Muscat and stay the night there. We planned not to drive through the night as being well rested would make the trip more enjoyable & driving through daytime, we can cover more distance in a shorter time.
A cousin of mine is working in muscat, and I checked with him about the possibility of arranging a hotel for us for the night. On hearing of our plan though, he invited us to stay with him for the night.
For the stay in Salalah we did some research and most of the information online indicated that renting apartments was better than staying at a hotel there. Through agoda.com we found a good deal for a Two BHK apartment near new Salalah area and booked the room for 2 days. We also bought a lot of food for the journey. Most of the travel blogs we had checked suggested carrying packed food & water as the route we would be covering has very few stops where we can find all that we need. We bought water cans, packed foods and fruits to fill our belly in case we didn't find any good deals on the road.
4. Vehicle Checkup
An important thing to is to do all the basic checkups before leaving if you don't want to get into trouble during the trip. Engine oil, Break fluid, Radiator water top up, Viper Blade, Battery condition, Tyre Pressure checking ( including Backup), washing your vehicle- are some of the basic thing you can do. I recommend you also carry Wire rope or a towing belt, a Tyre puncture kit and hand pump.
Note: The vehicle needs to have Oman insurance, if don't have you can get it from border paying 150-200AED. It will delay the trip a bit more but its worth the time for some peace of mind. Most of the Dubai insurance's covers Oman also so do check the insurance documents to see the coverage area.
5.Journey Day- 02/10/2014
All of us met at Gokul's place around 7.30PM on Thursday and we decided to have our dinner before starting to avoid stopping in between. After food all luggage & food items got loaded in the car and we cross checked all documents ( passport, emirates id, vehicle registration & insurance) . Finally by 9.00 PM we left Satwa, Dubai towards Hatta border, by 10.00PM we reach first Military checkpoint. A long queue of vehicles was before us- everyone seemed to be escaping Dubai to spend the holidays elsewhere. It took us 25 min to cross the check post where they may check your vehicle if they found any suspicious objects. Otherwise it's a smooth ride through. Just take out your emirates id and hand it over to the officials when they ask . Officials will do a face check with the id , and that's it. Now we were in Oman and just after the check point there was an Oman patrol team stopping vehicles & checking randomly.
Petrol is cheaper in Oman compared to Dubai (1.2 to 1.7 AED) so we opted to fill our tank when we entered Oman. Right after the Oman check point at, at the right side there is one Oman oil petrol station, where we stopped for filling. Technically we are in Oman but that doesn't mean we have left Dubai completely... This is somewhat confusing for first time travelers to grasp but after first check point a 10 min journey through Oman will take you to the second Dubai military check point, where you have to produce emirates id again. If you have traveled earlier through hatta border, everyone know there is a portacabin on the right side after second checkpoint where you have to park your vehicle and get a stamp on your passport. Few months back dubai opened a drive through checkpoint ahead of this portacabin, where you can directly drive to & get your passport stamped (except Trucks -they have to follow the old procedure). At the final checkpoint takeout all passports and arrange all with visa page showing, as this will reduce the time ( good for group travelers) handover to the official to get the exit stamp. After this point you are officially exiting dubai & entering oman. It took 2.30hrs to cross the border from dubai, this time will vary depending on the traffic and rush at checkpoints.
Note: At the first Oman military checkpoint, they will give you a slip that's the proof for vehicle finished military checking. Don't lose it.
By 12.00AM, we reached Oman immigration office (Al Wajaja Border Post). By that time, the whole parking lot was full which meant a big queue is waiting for us inside. The big hall was packed with tourists & residents and we waited almost 1 hr in the queue to get to the front. You have to give your passport, vehicle insurance copy along with the slip you got from the first checkpoint & AED 50 each as the visa charge. Don't forget to get the slip back from the officer as it will be asked for again at the final checkpoint.
After all that was done, we were ready to enter oman. After you leave the parking lot you will see a big queue of vehicles on the right side trying to get past the immigration checkpoint. As we had already gotten the visa stamped, we got to pass the queue to cross the check point ( Make sure you still have the slip ). Just after the border post, there will be a small cabin on the left side where you have to give the slip to enter Oman .It took us 4 hrs to cross all the border formalities. Later we found out that we were luckier as one of our friend had to spend 5 hrs in Oman immigration office to get his visa on Friday morning.
As planned earlier we were staying at my cousin's place. It's a 3hrs journey away from the border point. Most of Oman roads are two way so be careful when traveling at night. Just after Sohar, we got the first flash for speeding as our speedometer was just above 140Km. We were relieved later when my friend told us that its only a 100MR (100DHS) fine for overs speeding in Oman. Around 3.30AM we reached my cousin's place and everyone else hurried off to get some sleep except me. As I was meeting my cousin after sometime, we talked for a bit. As he had been to Salalah before, I was grateful to get info about road conditions & other basic information from him. Finally, after having our chat, it was time to get some sleep as we had planned to start by 8.00AM the next day.
Distance Covered - 390Kms (06.30hrs)
Frequent searches leading to this page:-
places to see in Dubai, Dubai honeymoon packages from India price, Dubai holidays deals December 2020, Dubai trip from Delhi for couples, Dubai travel packages