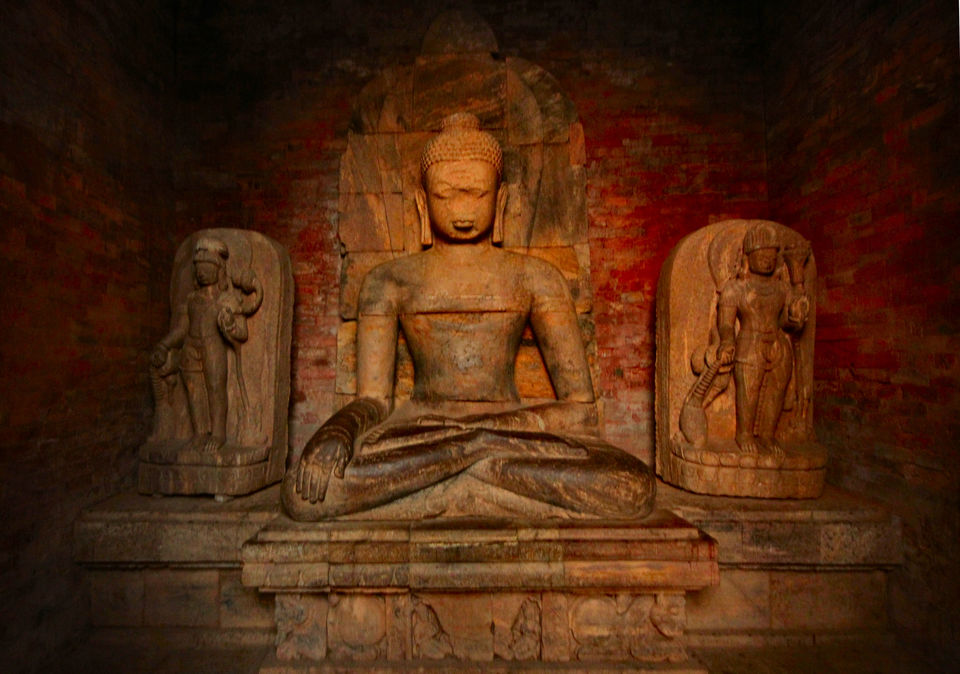 Renunciation of worldly desires, freedom from vexation and liberation from ignorance are the three pillars of "Nirvana" – a term which is commonly used in Buddhism referring to a state of bliss which liberates the soul from the cycle of rebirth. My visit to the excavated Buddhist sites of Odisha did not promise such alluring prospect, but it offered a visceral experience of the rich Buddhist heritage in the state.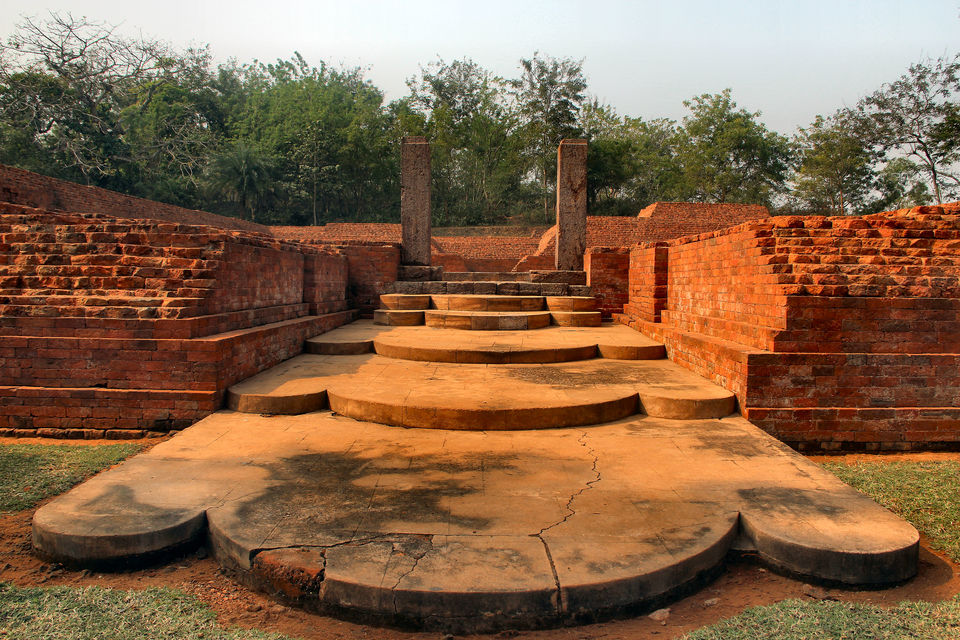 As per Buddhism, "three things cannot be long hidden: the sun, the moon, and the truth." Excavation of centuries old settlements which opened windows to an ancient world during the 1st – 12th century AD, give validity to the statement.
Unknown to many Odisha boasts not only of the 'Golden Triangle' of Bhubaneswar-Puri-Konark, but also prides itself of being home to the 'Diamond Triangle' of the ancient and flourishing Buddhist settlements of Lalitgiri, Ratnagiri and Udaygiri.
The legendary Kalinga War (261 BC) was fought on the banks of river Daya (outskirts of Bhubaneswar). The monumental bloodshed in the war had an adverse effect on Emperor Ashoka. He embraced Buddhism as a religion of peace which led to its subsequent patronage and propagation, especially in Odisha and neighbouring states.
Lalitgiri – The Oldest Settlement
Located 90 km from Bhubaneswar, it is the oldest Buddhist complex of the state dating back to 1st century AD. Prominent structures excavated here are a huge brick monastery, remnant of a chaitya (prayer) hall and a renovated stone stupa on top of a rugged sandstone hillock.
In 1985, during excavation, golden caskets were found from the stone stupa containing sacred bone relics. It is believed that these were of Lord Buddha himself. Hiuen Tsang, the legendary Chinese Buddhist monk, scholar and traveler has mentioned in his accounts the presence of a Mahavihara (stone stupa) on top of a hill emitting bright light owing to its sacredness.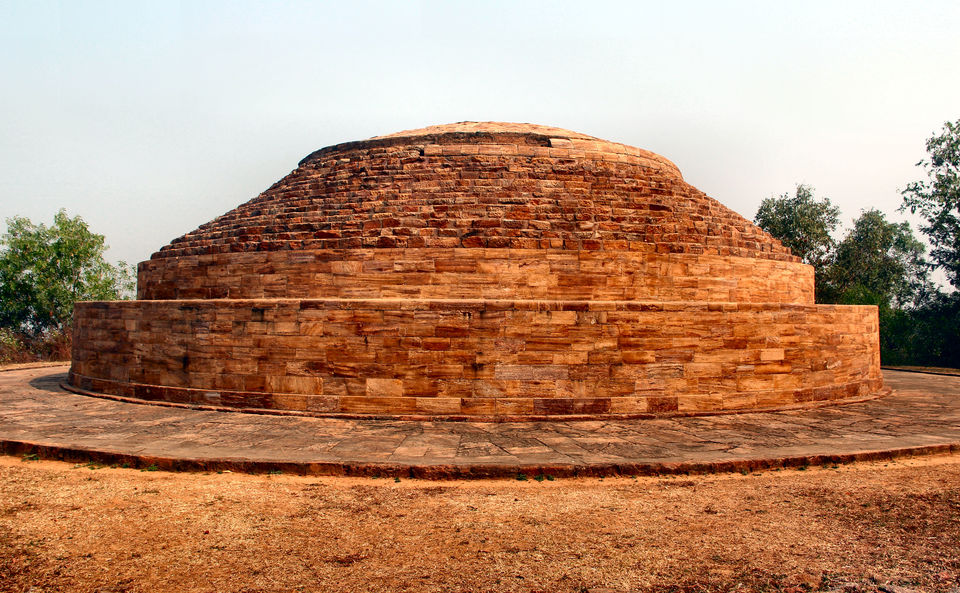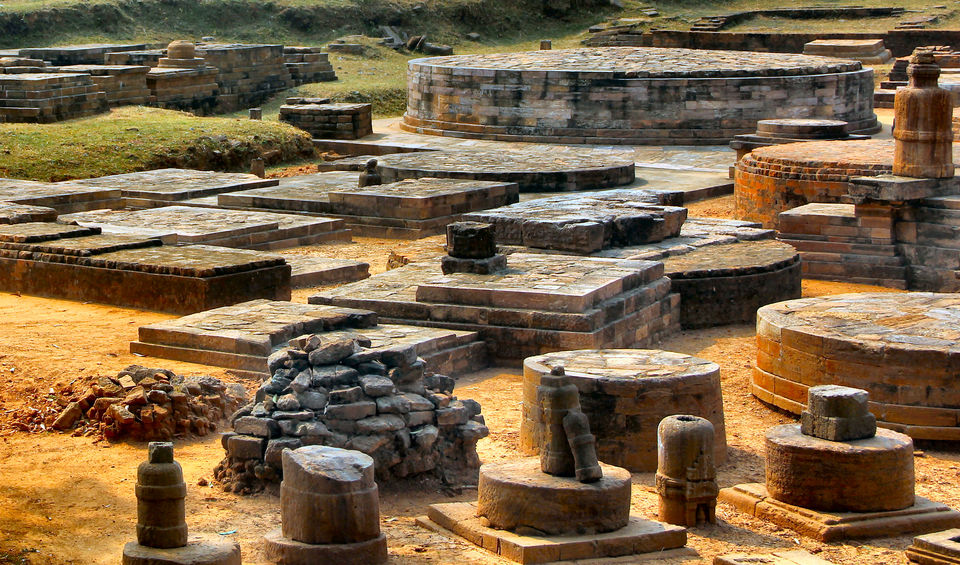 Ratnagiri – The Origin of Tantric Buddhism
Probably the grandest of all excavated Buddhist sites in Odisha is Ratnagiri (Hill of Jewels when translated in Odia).
Located 13 kms from Lalitgiri, it was indeed the crowned jewel of the Buddhist settlements in the state. Two large magnificent monasteries have been earthed with innumerable sculptures, architectural fragment and a large number of votive stupas.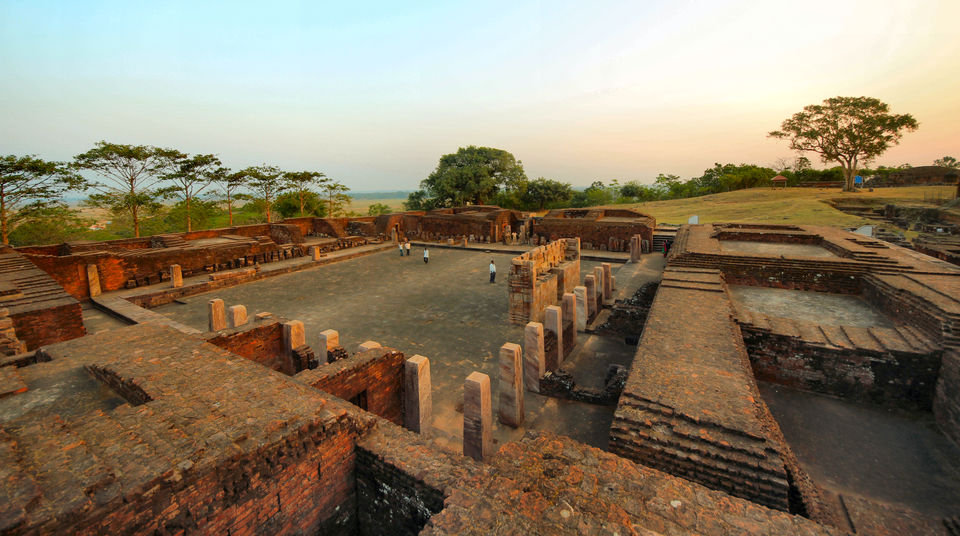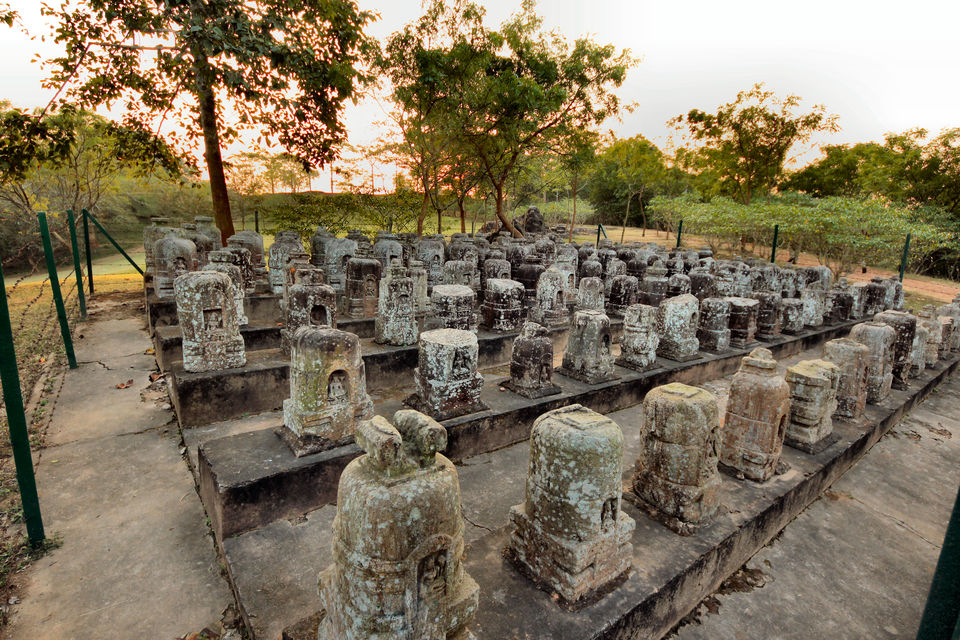 Constructional activities started in 6th century AD as an important center of Mahayana form of Buddhism and flourished until the 12th century AD. Pag Sam Jon Zang, a Tibetan author indicates that Ratnagiri played an important role in the emergence of Tantric Buddhism and Kalachakratantra (a term used in Vajrayana Buddhism relating to 'wheels of time') during 8th - 10th century AD. Incidentally Tantric form of Buddhism has more than 18 million followers across Mongolia, Tibet and India (Himalayan Belt). Thus, presumably, Odisha is the seat of Tantric Buddhism from which it propagated to the rest of the Indian sub-continent.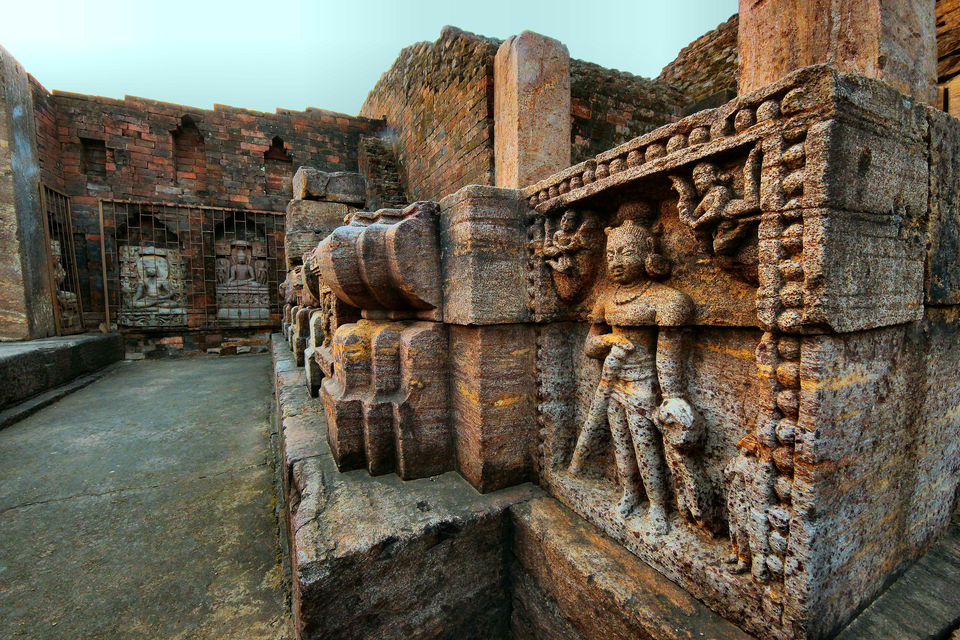 The highlights of the excavation are the intricately carved beautiful entrance at the first brick monastery and more than two dozen colossal heads of Buddha in various dimensions.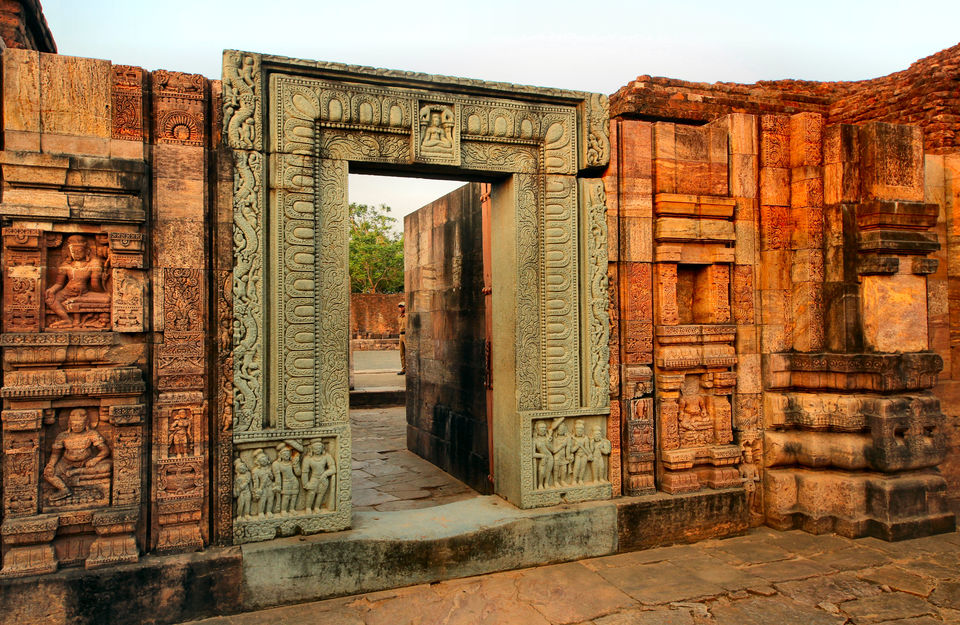 Walking amidst the ruins, I wonder how serene the place would have been during its days of glory. With closed eyes, I imagined array of lamps lighting the monastery, the euphony of Buddhist chants emanating from the prayer halls and child monks playing in the huge courtyard. Even with eyes opened, the amazing peace and stillness that permeated everything seemed surreal.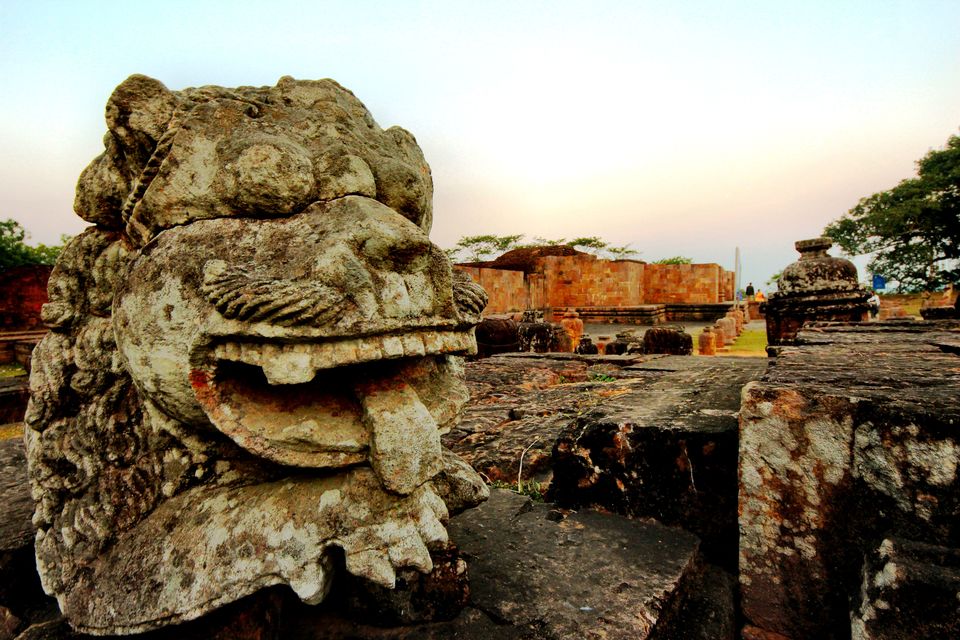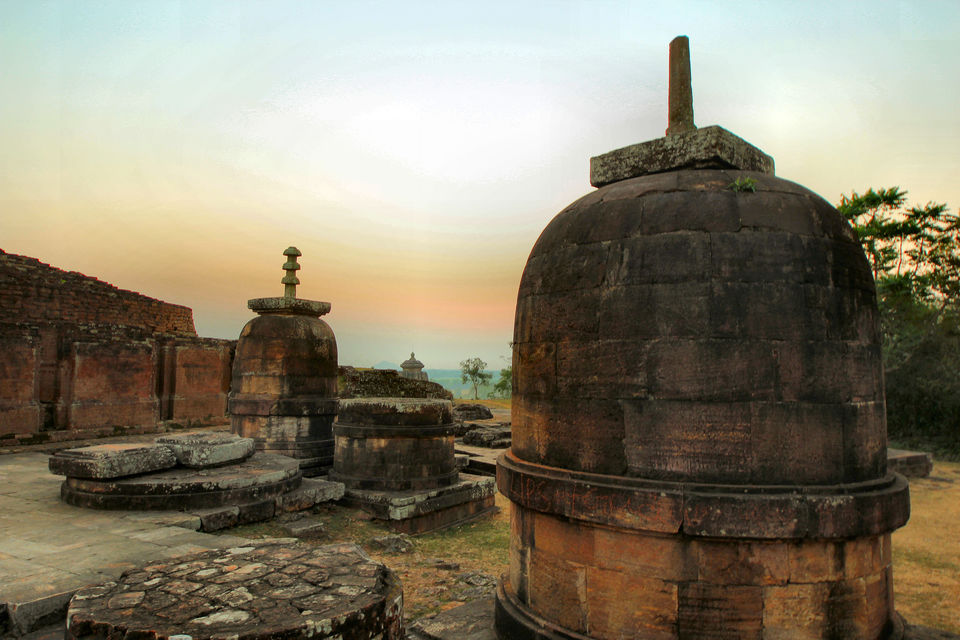 Udaygiri – A Massive Complex
Situated on the right bank of river Birupa, a tributary of Mahanadi, Udayagiri is 10 kms from Ratnagiri. Located in the basin of a U-shaped hill, the remains consist of a huge monastic complex, a brick Mahastupa, two brick monasteries, a massive shrine complex, a beautiful stone stepped well and various rock cut sculptures.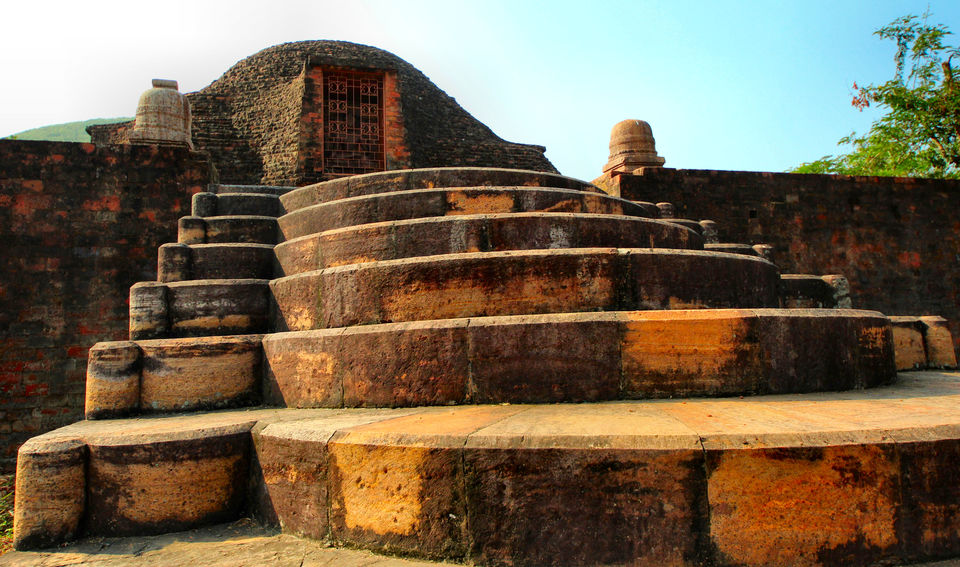 The edges of the U shaped valley look like perfectly shaped giant sized tools with the landscape exhibiting a roughly hewn, stunted look about it. Field work started in the south eastern half of the foothill during 1997-2000 revealing an impressive brick built double storied monastic complex against the inclined terrain.
It comprises of a spacious courtyard on its northern side, a large figure of seated Buddha, thirteen cells, vaulted windows, an inner secret chamber, existence of an upper shrine chamber on the first floor and a brick built water reservoir on the rear south west corner apparently used in the dry season.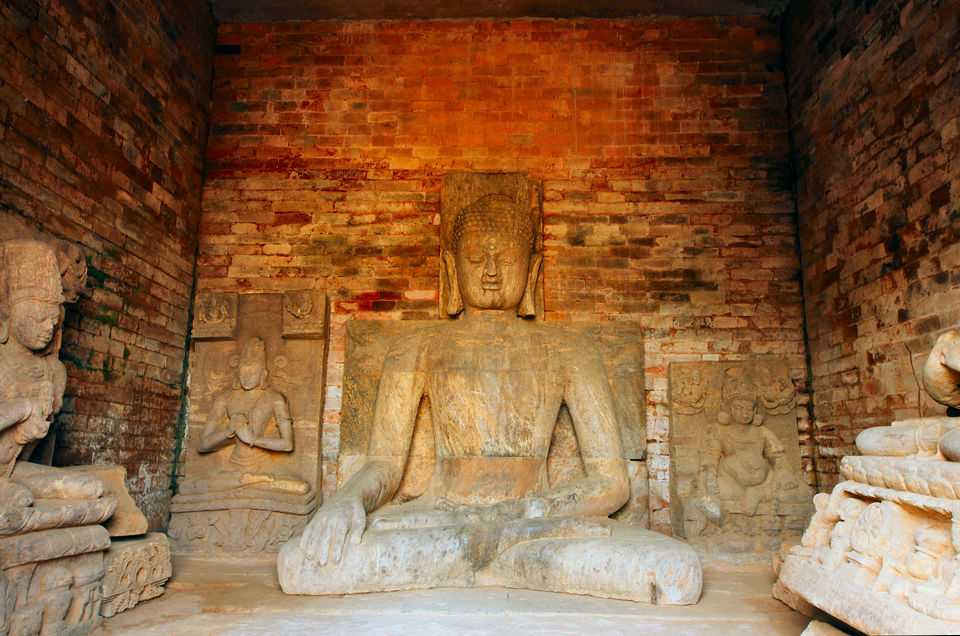 Several inscriptions and architectural style indicate that this monastery was flourishing between 7th – 12th centuries AD. Several pots (mostly wheel thrown and well-fired) have been found. These are made up of sandy clay found near river Birupa. Other specimens include handmade or molded pots, corrugated bowls, spouted vessels, lamps, storage jars, pans, basins and troughs with plain and decorated lids.
It is evident that the rope and bucket technique was not known to civilization in those days. May be the reason why steps were constructed till the level of water in all the wells constructed during that period.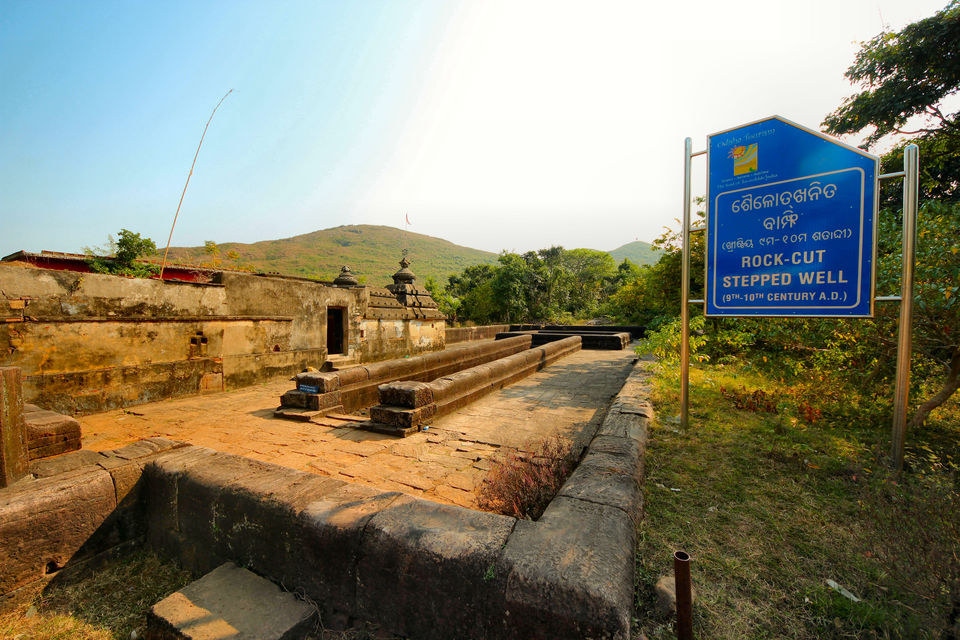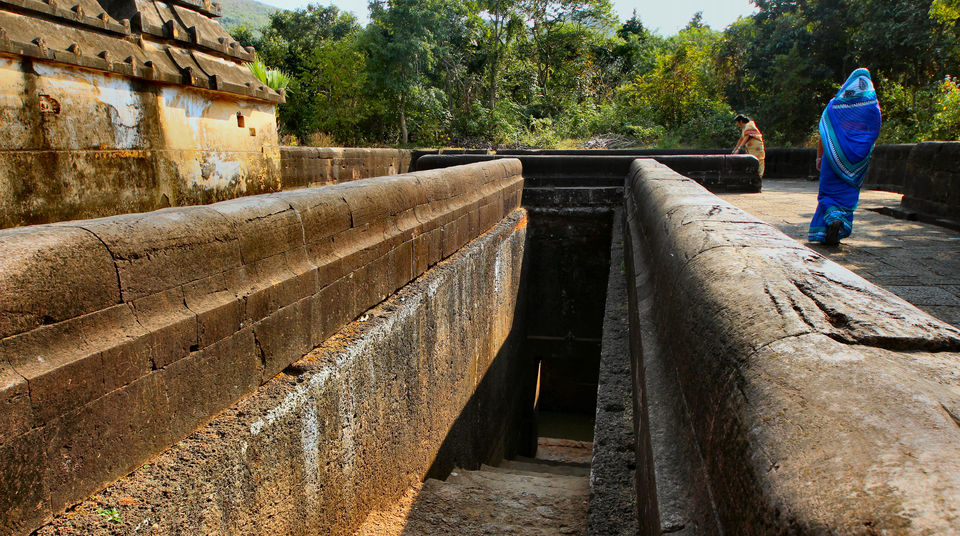 It is said that the water in this well never dries up. A remarkable fact considering the well dates back to 10th century AD. Effect of Bodhisattva? May be!
Langudi Hill - Home of the Rock Cut Sculptures
Not part of the famous Buddhist triad, Langudi Hills is presumed to be the place of the Buddhist monks who actually met Emperor Ashoka and were responsible for his incredible transformation. Unlike many other sites, this is the place where numerous stone inscriptions are found believed to written and set up by Ashoka himself.
In 2001, two inscribed images of Emperor Ashoka (one single and another with his two queens) were discovered. This further strengthened the theory of the Emperor being closely associated with Langudi Hill.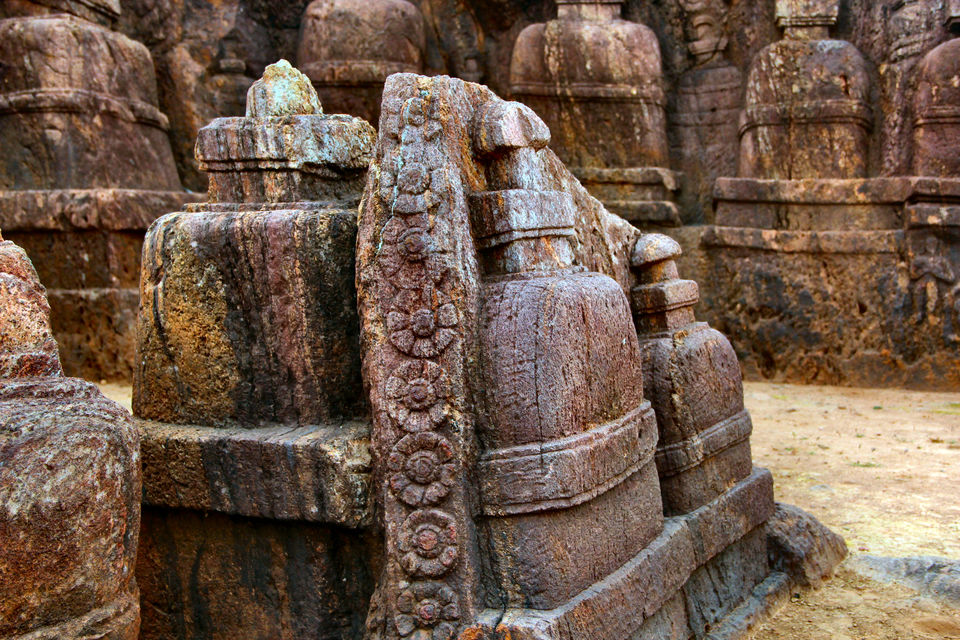 Rock cut stupas and sculptures are the most important feature here. Ruins of a monastery, terracotta figurines, seals and sealing and different types of potsherds have also been unearthed here. Langudi Hill is 20 km from Udaygiri and 80 kms from Bhubaneswar.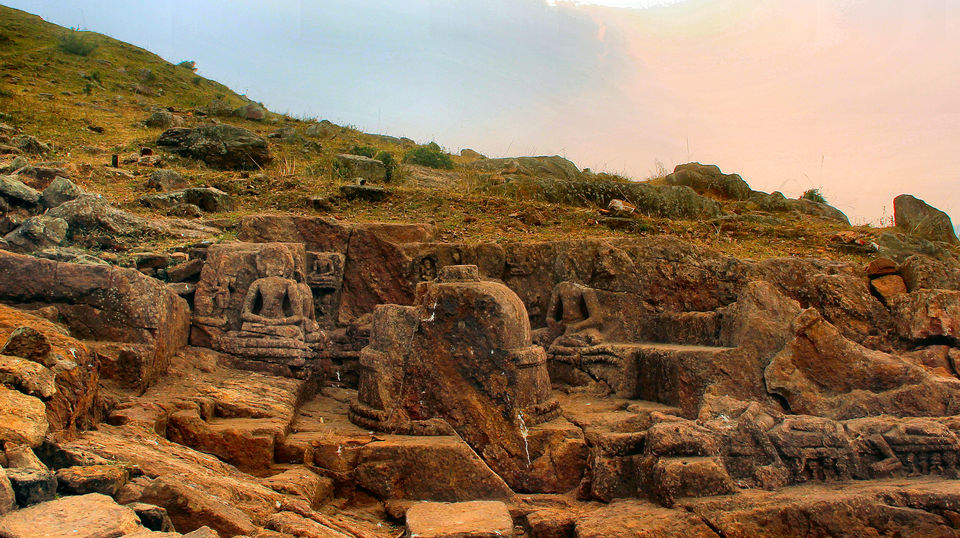 A peculiar thing to note is that all the important settlements and monasteries were built on hills. It seemed like a deliberate strategy to ensure the required seclusion for monks to reside, study and meditate.
Rich Buddhist Heritage
The Diamond Triangle is an integral part of the Buddhist treasure trove of the country. The excavations may be the tip of an iceberg, but what has been unearthed is stunning. The numerous relics, sculptures, artifacts, temples, monasteries and inscriptions serve as a testament to the worlds and lifestyles of those we had little knowledge or experience. With so much to explore and understand, I felt that a two day trip wasn't enough to appreciate the significance of the ancient sites. I wanted to know more. Like the Buddhists who believe in many lifetimes, I am sure I will return to this spot another time.
FACT FILE
Getting There: Located in Jajpur district, Lalitgiri is 90 kms from Bhubaneswar through NH-5A (via Chandikhole). All the other sites are within 20 kms from Lalitgiri. Daily flights fly from all major cities to Bhubaneswar.
Best Time to Visit: October to February
Transport: Private cab service is the best option to visit these settlements. Packaged tours can also be arranged by Government of Odisha tourist office. (Paryatan Bhavan, Lewis Road, 751014, Tel: (0674)2431299)
Accommodation:
• Toshali Ratnagiri Resort, Opposite Archaeological Museum, Govt. of India, Distt.: Jajpur , Toll Free :1800 123 4555
For Reservation : bhubaneswar@toshaliresort.com
Call 24*7 - (+91) 7894456444
www.toshaliresort.com/toshali-ratnagiri
• Toshali Pushpagiri Resort, At Pathrajpur, Post - Bali Chandrapur
Distt.: Jajpur , Toll Free :1800 123 4555
For Reservation : bhubaneswar@toshaliresort.com
Call 24*7 - (+91) 7894456444
www.toshaliresort.com/toshali-pushpagiri
• Panthanivas, At-Po - Paradeep, Ph.(06722) 222275
email: otdc@panthanivas.com
The port town of Paradeep is approximately 60 kms from these settlements.
Frequent Searches Leading To This Page:-
discount honeymoon packages on odisha holidays, cheap odisha holiday packages, best of (Orissa)Odisha Tour Packages, Odisha Tours & Holiday Packages, offers on Odisha holiday packages