Odisha is known for its temples and beaches. But this time in our visit to Odisha we ditched them to explore the other side of the state. Daringbadi, popularly known as 'Kashmir of Odisha', a cute little hill station was our first destination. Our journey started from kharagpur station. The train was at 2.25 p.m. and it reached Berhampur station (nearest Railway station to Daringbadi) at 11 p.m. We had to spent the night at a hotel in Berhampur and the next morning we started our journey to Daringbadi by car. On the way we stopped at a local sweet shop. There were so many different types of sweets at a reasonably lower price. (There were super big super soft rosogollas, the Bengali inside me was drooling 🤤). After sometime we escaped the hustle bustle and entered into the hilly region. Nature welcomed us into her laps. Let me share a roadside photo of our journey to Daringbadi. (If we have booked the train tickets earlier, we could have reached Berhampur in the morning and start moving towards Daringbadi avoiding the night stay at Berhampur). We had a booking in 'Daringbadi Nature Camp' run by OFDC. It was at a top of a hill providing a mesmerizing view of the valley. All the greenery captivated our mind. Reaching there, we had our lunch (the package provided complimentary breakfast, lunch, dinner and evening/morning tea.) It was raining heavily when we reached there and the rain provided us the essence of Daringbadi. We went to visit Midubanda waterfalls in the afternoon and we saw rain-soaked pine forests beside the roads while coming back to the resort. As we are a bit late due to rain-fall we ditched coffee gardens.
Next morning, me and my cousin brother went for a cycling trip. (a little white lie here! It was a cycling trip for my brother only. I was just walking. I can't ride a cycle. Sigh!! A very big disadvantage for a travel enthusiast.) Those cycles were provided by the resort (one cycle per room). We saw lots of flowers and butterflies there amidst the greenery. The morning was heavenly. We started for Mandasaru (also called "silent valley") after visiting the tourist spots nearby eg. Nature Park, Hill view Park, Emu breeding center and Lovers' point. The last was a beautiful small stream flowing amongst the rocks. We reached Mandasuru Valley Nature Camp by OFDC around 2 p.m. The canteen there is probably only option for food nearby. So, people coming there for a day trip were gathered and we had a huge delay in getting lunch in spite of our booking there. I will advice not to book the watch-tower room which was a COMPLETE MESS. But the wooden cottages were very nice and spacious accommodation. The view from the watchtower was breath taking. We could see a vast area of green hills, a river was flowing underneath we could hear the sound of it. As it was a cloudy day, sometimes the clouds were covering the hills some times they were flying away. It was a memorable view.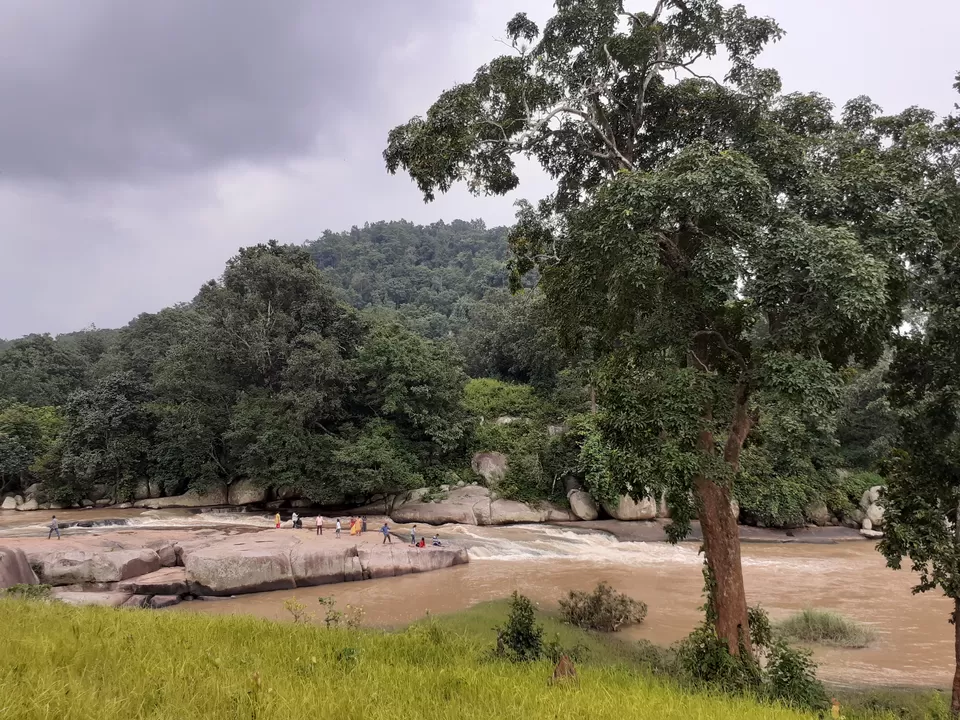 Next day, we went to Mandasuru waterfalls with our resort guide Purna Da who was a very charming and enthusiastic fellow. We had to trek a little bit into the forest to reach there. Then we also saw a beautiful small mountain stream and started our journey towards Rambha, the south most point of Chilka lake. In the afternoon, we visited Chilka, the vast water body surrounded by small hills. Before sunset, the sky was so full of colours adding a lot to the beauty of the lake. We stayed in OTDC panthanivas, Rambha which was just beside the lake. We could see the lake from our spacious room balcony. We booked our boat ride for the next morning (provided by OTDC) from the hotel.
Next morning, we experienced Chilka in its full glory with some little lands present within it (eg, breakfast island, birds' island e.t.c.). After having lunch, we were off to Gopalpur which was just 15 km away from Berhampur from where we were to catch the train. As our train was at night and we did not want to waist a full day we chose Gopalpur. We had a beautiful sunny beach experience there and finally took a train at Berhampur and returned home.
Overall, it was a nice short trip. Kashmir or not, Daringbadi was mesmerising. Rambha was also a unique experience. I truly recommend it to those living in the nearby states. As I have mentioned earlier that we have stayed in OFDC resorts in Daringbadi and Mandasaru and OTDC hotel in Rambha, those were the best options. We pre-booked vehicles for the whole trip. Another thing I want to add is that the road journeys were very beautiful in that cloudy weather as some would love to say, "Journey is as important as the destination "😊. My last photo will prove you that.