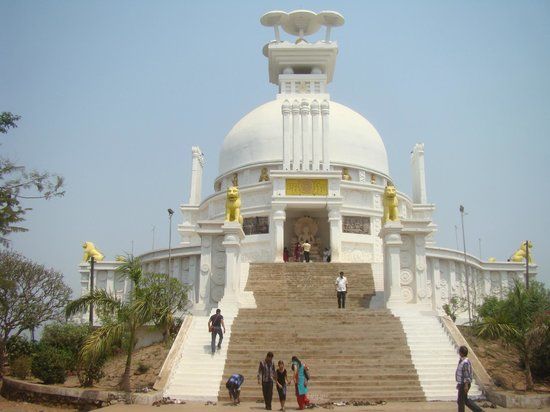 However, the sun's rays scorch the dust every day with the glow of a new day, but they look different in the morning. All the cities of Sara are painted in the color of spirituality and everyone seems to be loosened with spiritual juices !! It is natural to be like this, now if the capital of Orissa comes to Bhubaneswar, then where else will it be? Complimentary breakfasts are being started at 7 am in our hotel, and soon the restaurant gets ready soon! Today early hasten a bit also important, as is a lot to see in this day and also learn a lot if the late here will be missed their view that places !! This is probably a buggy bug that once someone bites, then that poor person can not live anywhere! Poor day's rest and night's sleep is sure to disappear !! These incurable diseases have become our own, so now life is going to get out with it !!
Ate enough food for breakfast or say, that may not get stuffed What to eat in the day taken and who will go in Bevfuf eat !! Food is eaten every day, sometimes it happens !! After settling the food, he called the taxi and got out of check by the hotel !! The luggage filled in the taxi, because now it is going back to the night train !! Take a look at today's program !! Well, I feel like a great hectic plan !! However, the number of days it takes to roam seems less, but at the same time it is less time. Now come on Kalinga soil is so important to Dhauli stupa, Peepli can also leave the Konark happened and then go Dham Jagnath G came from so far away !! So, today it is seven kilometers to go and it is about 60 km away! Let's move on in this way, move towards exciting and spiritual journey !!
The first stop on the journey is Dhauli, Dhauli where white color is Stupa !! Due to being made of this white / white color is called Dhauli !! Fourteen kilometers from the hotel, it took us half an hour! In Orissa, parking lot of money is so strong, so forty rupees went here !! This is the only land on which Kalinga war was destroyed! This place is looking cool now! Just like never happened! What would have been dangerous is the person who saw Ashoka's heart changed! Everywhere will be hit! This river of kindness, which is looking so exhausting, blood will be flowing in place of water. A different discomfort is experienced in such places! Well made of white color, this gives great peace to the eyes, a little yellowish aura is also scattered !! Like other tourist sites, there were a lot of photographers who were photographed !! Going up, there are statues of Buddha made in different currencies !! If you do not have much idea about this, then we look good at seeing the nearby scenes !!