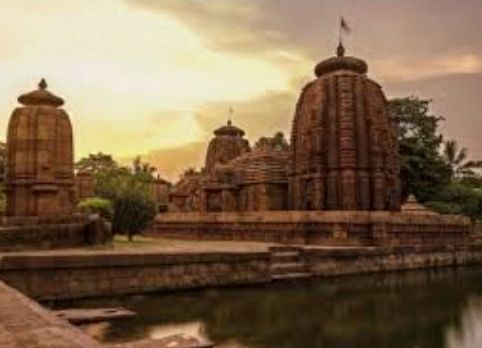 Well Hello to All my lovely Readers over here. I am Onzum Upsana , a small dreamer ,dreaming to travel the big world. I own a Instagram account name @Zokekrelish where I share travel and food journey of mine. Feel free to connect on your free time.
.
When I said exploring world my first priority is my own city. Cause if you don't love your own place then you can't love the whole world. Isn't it?
On this note of Introduction , I would love to share that ,all my travel dreams started from exploring my own city first. Since this started at very child age, when I have to attend school, tutions & different activities in life , I always get bound to make plan of my trips only on weekends i.e. Saturday and Sunday Later on even now as a working lady the same practice is still continued. So putting that on purview once I thought of exploring all possible beautiful place of Bhuabneswar just in two days which you can do may be in weekend or in holidays. So here sharing my that journey.
.
Before starting, if you want to explore Bhubaneswar in two days then the first thing I would suggest you is to stay at some place (Hotel/Lodge) near by Mastercanteen location within a radius of 8 to 10km. Since it's the center area of Bhuabneswar and all transport system i.e Bus, Auto, Ola are super active over here which ultimately makes easier to explore more place in very short time. Then let's get started.
.
For Day 1 :
Sightseeing of Lingaraj, Kedar Gauri, Mukteshwar Temple: When you are at Temple city, the first thing you should visit is the famous Temples ofcourse. So keeping that in mind I started my journey towards Famous Lord Shiva temple , Lingaraj temple. To reach this place you can take any local auto or ola service. I reached early morning around 6am to witness the beautiful Aarti(worship offerings) of the beautiful temple. The architectural work on the wall of the temples are really interesting to watch out. The ringing bells , the chanting hymns , natural park and the religious spirit of the place will make you fall in love with the religion itself. After spending good enough 3 hour in the different temples located near by areas in Old Town like mukteswar, kedargauri , Annanta vasudev temple I finally take a leave towards Khandagiri. I opt for an local auto which takes Rs. 120/- to take me to Khandagiri in less than half an hour.
Sightseeing of Khandagiri and Udayagiri:.
Khandagiri and Udayagiri are called as twin hill sister located side by side and are very famous for its mesmerizing natural view, beautiful historical caves showing Buddhism excavation architecture and finally the view of whole city from the top of the hill . Ticket for the place is available online or you can pay Rs.25/- for Indian and Rs.300/- for foreigners at counter , children below 5 are free to explore. To explore both the place perfecfly it will take minimum 3hours. Fun like trekking, monkey feeding , sightseeing of garden and khanadagiri temple are some of its high points. There after I took my lunch at nearby local restro named Shreelal Food Plaza nearby who serves different food options with a local taste in reasonable price. Then again I reserve a auto back to the Kalpana square for which I have to pay Rs. 150/- then I visit the state museum. Incase you didn't take you lunch over there you can have yours at kalpana since you will get all sort of Restro,hotel even local foods over here starting from low to high range.
.
Visiting the State Museum- Odisha State Museum established in 1932 and is divided into eleven sections, like Archaeology, Epigraphy, Numismatics, Armoury, Mining & Geology, Natural History, Art & Craft, Contemporary Art, Patta Painting, Anthropology and Palmleaf Manuscripts. The museum will give you a complete knowledge about the proud history of Odisha . So don't forget to ever miss the place. Ticket cost for Rs. 10/- for Indians and Rs.50/- for foreigners. After spending a good amount of time till 4-4.30pm I left the place and book a ola for Dhauligri which is nearly 9km away from there and I booked it in rental as I know transportation over there is not so good enough to depend on. Well that's it. I booked ola for 4hour in rental and reach the place in 20min max.
.
Witnessing the beautiful Dhauli stupa:
One of the popular landmarks of Odisha's Buddhist heritage is Dhauli International Peace Pagoda (Shanti Stupa), located 8 km south on the outskirts of Bhubaneswar and is on the bank of Daya river. The major attractions of Dhauli Hills are the various rock edicts, which are a living testimony of emperor Ashoka's change of heart, the remarkable ashok sthamb and the most seneric view of the city from the top of the hill. At evening nearly 7pm you can enjoy the light and music show for 35mins dedicated to the glory of ancient king Ashoka and it's heart changing moment after winning the kalinga War. So that's it for the day I am heading back to my place to have my delicious dinner and a quite lovely sleep. So Goodnight😇
Good Morning Everyone... well I wake up early today, had my breakfast and get ready even I am on my way. Surprise?? Well since I have to travel almost 20km far from the Mastercanteen area. I have to do that.. Never mind you guess Where?
.
If you guessed it right then yes I am now travelling towards Nandankanan zoo. India's one of the largest zoo. This is the only zoo to be a part of WAZA association also first to breed white tiger and melanstic tiger . Moreover Indian pongolians breeding is also done only at this zoo of India. If you able to each before 8am then you can jump in to 3 safari of white tiger, lion and bear worth rupees 30, 30 &15/- Ticket price would be 60 per person. Time for safari will be 45 minutes. Well after safari ride you can explore butterfly park, orchid garden , botanical garden known as Garden of heaven above all , there are almost 1660 animals having almost 166 species including mammals, birds, reptiles to explore. What more we need to make our trip much special. Wait I still need more. I know I can't travel more after a long 5hour walking. But have to since today is my last day to explore. So I don't get discouraged and planned for my next place to visit. Well it's on Acharya Vihar. To reach the place all I have to do is go to the main gate of Nandan Kanan and take a City Bus. That's it. Rs. 30/- you are all set to reach at Acharya Vihar. Here I get a lot of option to take my lunch from. Starring from normal restro to nice hotels. I quickly took my lunch at a very special place called Micheals Kitchen right situated at Acharya Vihar Sainik school area. This place is highly recommended as they serve continental, chinese, Mexican, Indian even fusion and odia cuisine also. So if you want to have a great food hop on to the place and Thanks me later.
.
Now when you had a great food the next good news come arround that the two more place that are in my list is situated next to each other and that to very close to the Restro. Hai na Achi Baat?? Is n't is make you feel more excited and less stressed? If yes then join me on my next stop.
2.Pathani samanta Planetorium & Regional museum of Natural History: Honestly this places are my personal favourite. If you are at Bhubaneswar you should give a visit to the place just to see the beautiful historical museum and the witnesses the space research .It will take good three hours to make a tour of the both. First I proceed to Regional museum of Natural History where I see the largest skeleton of Balen whale, other toothed whale, elephant, rhinoceros & tigers. Also watch the display of egg of extinct elephant bird which is an exciting othing to watch on. Well after giving a complete tour in 1 and half hour of the place I headed towards Pathani samanta Planetorium which is situated next to it. There I watched audio visual program, poster show in regional language and get aware of fundamental theory of calander system done by Patani samanta. Also get to know the functioning of stars, galaxy , planets. It's really a good time to spent over there. and that it's both the place covered so well till 5pm. and I left the place by sharp 5 and been proceed to one of highly recommended and most pleasant place i.e Iskon Temple which is just near By in 10/15min walking distance. After a long tired full journey I just wanted to calm myself ,reboost myself so I opt for the place to give a beautiful ending to my tour. Spend some good hour over there.
Trip end at Iskon Temple: This is the alternative of Jagannath Temple , puri as here Jagannath, Baladeva, Subhadra Devi are worshipped sitting on three altars it's initially known as Sri Krishna Balaram Temple later on its popularly know among the people as Iskon Temple. It also has Gour Govinda Maharaja's Samadhi Mandir and Srila Prabhupada's Bhajan Kutir. At the back of the temple, there is a brahmachari ashram which can house 150 brahmacharis. The ashram complex includes four rooms for sanyasis, a conference hall for 150 devotees, a library, prasadam hall for 300 and an office. The temple has fifteen acres of farmland which is used for growing vegetables. The temple runs with the aim to deliver and propagate spiritual knowledge and learning, guiding people about the spiritual way of life, which claim to emerge from the Bhagavad Gita and Drimad Bhagavatam. The architectural beauty of the temple depicts it in the shape of a half open lotus, built in white marble. Social events like kirtans, bhajans, and different religious chanting are fairly frequent at the temple. Finally getting myself indulge in the spiritual thoughts I am a bit relaxed and sorted. Hope you all will let me know if you ever attempt my journey in your life. Also if you ever tried and at this point you have more power left I would also suggest you to take a small tour to maket building, the local bazar where you can shop some odisha famous silver jewellery, Sambalpur saree, Odisha handloom Dupattas , bags even you will get handmade food items like badi, Pampad , Achar. So that's it . Hope you all find it helpful. See you on my next trip. Bye-bye take care.