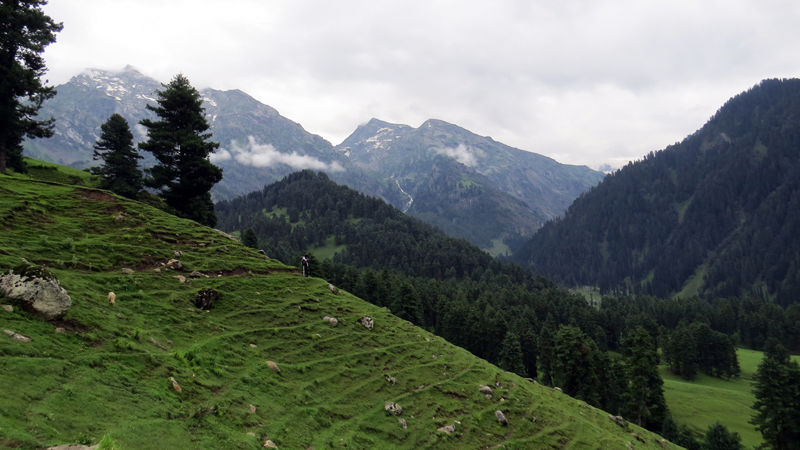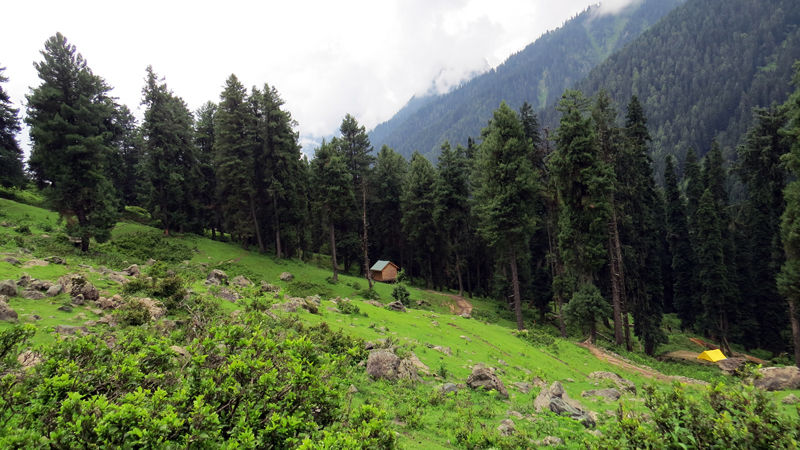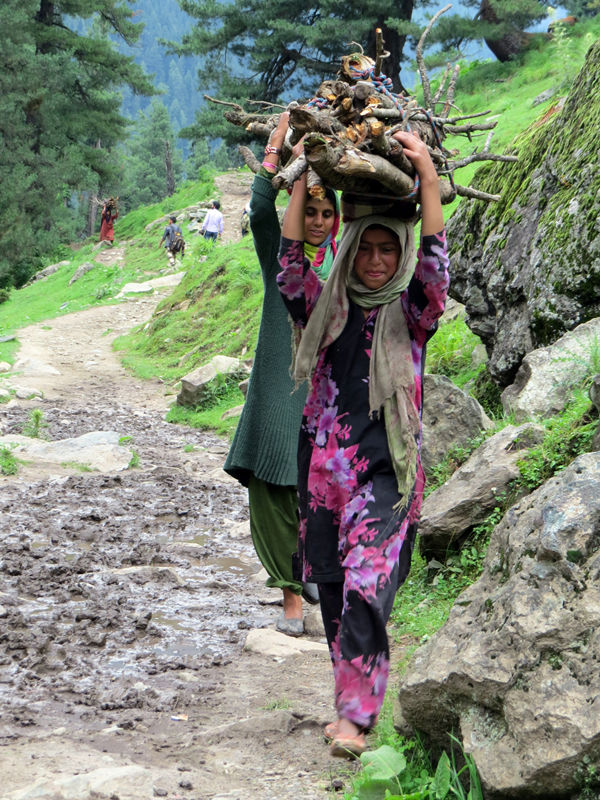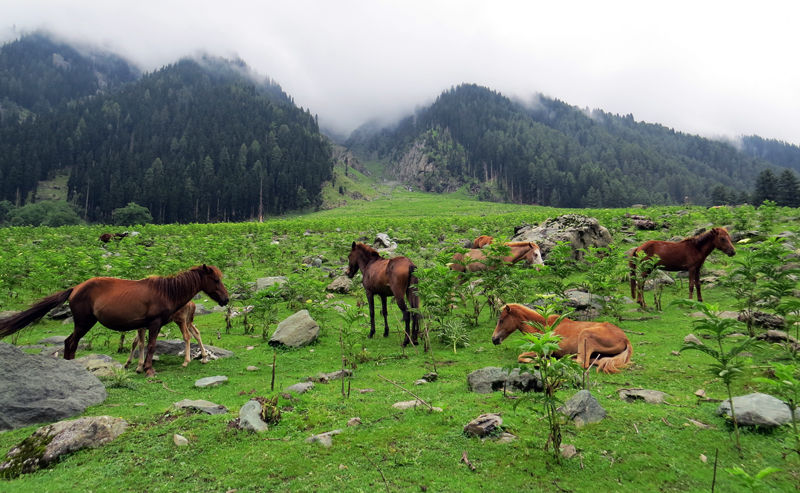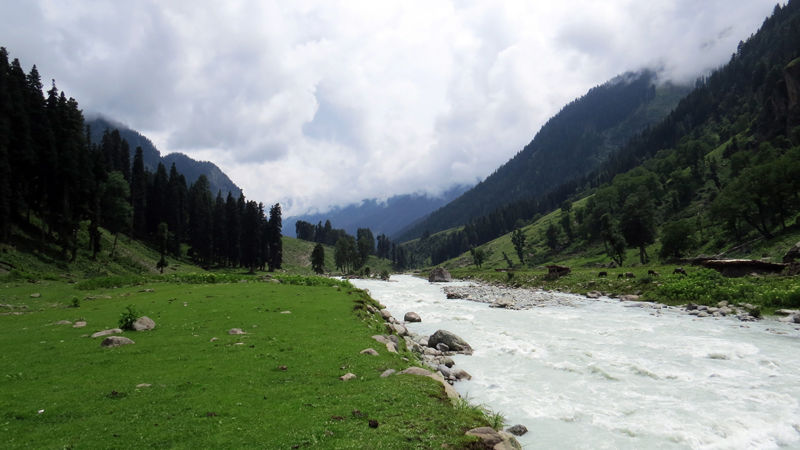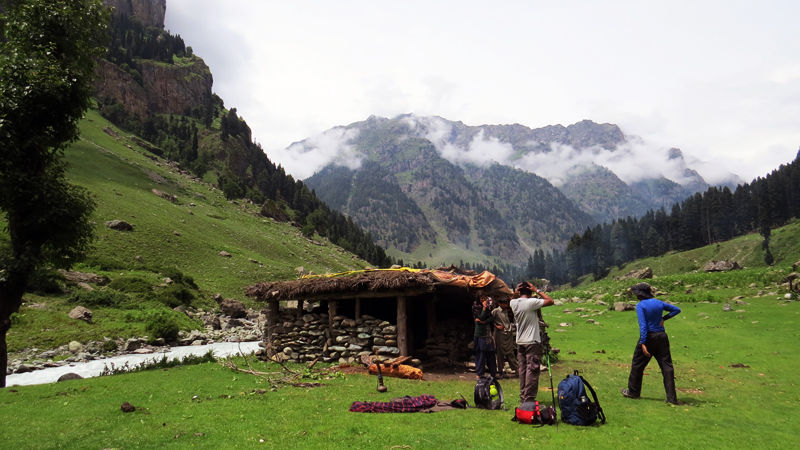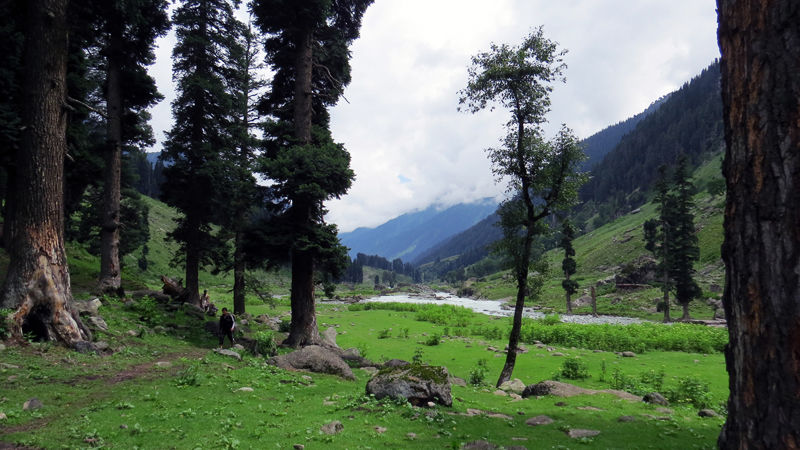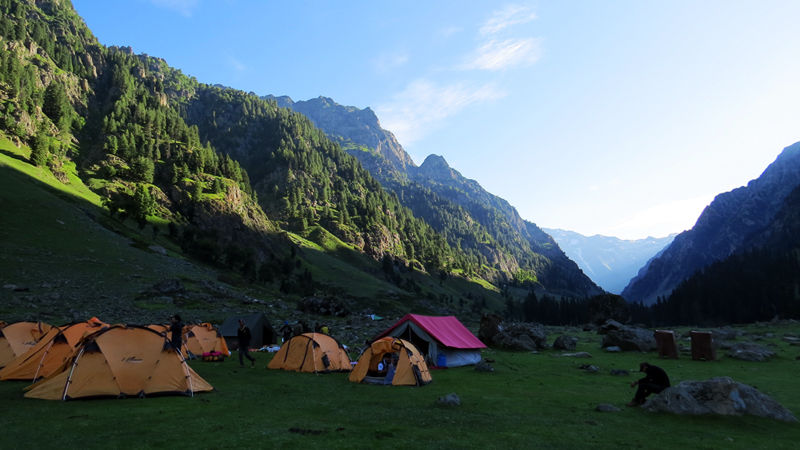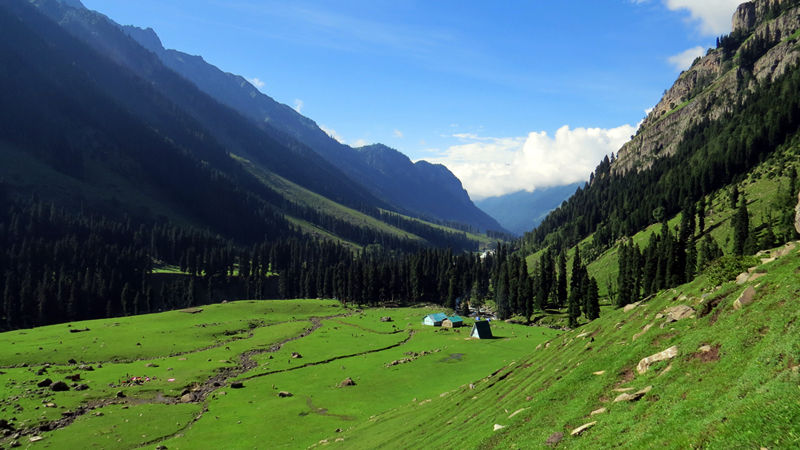 Imagine a vast open verdant meadow surrounded by hills, the latter's slopes shrouded in bottle-green firs and deodars, grazing sheep and horses, and a pretty young river dancing past under Kashmir's deep blue sky. Now throw in a tent or a hut somewhere in this dreamland and imagine spending a night under the stars, listening to the music of the water and the chirping of crickets.
Sounds romantic? If it does, be ready to do a 10-km trek to Lidderwat from Aru, about which I have already posted earlier (click here). Ten kilometres may sound terrifying, but trust me, someone with a reasonable level of fitness—and more importantly, a willingness to walk—can do it fairly easily.
The trail is not too difficult, though during the monsoon a few stretches can be a little slushy. After an initial gentle climb from Aru, the trail mostly passes through level ground, winding through a fir forest for about an hour and then following the beautiful River Lidder upstream. It's perhaps one of the most beautiful walks in the world.
Shortly after entering the firs, you will start meeting the Gujjars and Bakarwals—the two semi-nomadic communities of the region. I have also posted about the Gujjar huts earlier (click here) and you can stop at one of them for a taste of their milk-rotis and salt-tea.
There is only one stall on the way where you'll get familiar foodstuff like chips and bhujia packets—if you have a liking for that kind of stuff, that is. So, remember to carry some food to last you for two days. And if it's monsoon, do carry raincoats.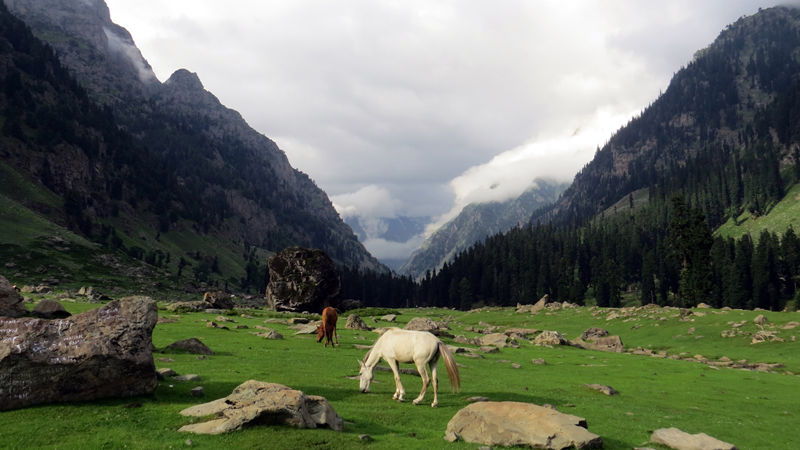 The trek can be done without a guide because the trail is quite well marked and you will find lots of villagers and herdsmen on the way, unless you decide to go during winter, which is not advisable anyway. So, you can ask for directions if you feel confused. Personally, I wouldn't even mind being lost in a place like that!
There are a couple of Pahalgam Development Authority (PDA) huts at Lidderwat and do remember to take its permission if you choose to stay in the hut. When I went in end-July, the huts were closed. So it's better to hire a tent from Srinagar (I'm not sure if it can be done in Pahalgam). A tent-stay is a more appealing idea in any case.
Lidderwat makes a campsite for two very popular treks in Kashmir—Tarsar-Marsar, which I did, and Kolahoi Glacier, the source of the Lidder. But if you are not inclined to do big treks, a hike to Lidderwat and back to Aru is not such a bad idea. For all you know, it may actually inspire you to go on to do either of these two bigger treks or both!
Now, a little info on the pretty Lidder. The name, which most Indian travellers are surely familiar with, is actually a corruption of the word 'Lambodari', as Lidderwat is of 'Lambodarwat' (Lambodar's stone). The connection to Lord Ganesha, who is also called Lambodar, is clear, but there's no temple or anything else to suggest this any longer. Maybe the valley belonged to his worshippers once upon a time.
The trek from Aru to Lidderwat may take you something between 5 and 7 hours, depending on your level of fitness, speed and how many breaks you take on the way. But then, to see the best of the world, you have to pay a little price. Trust me, it's worth it.