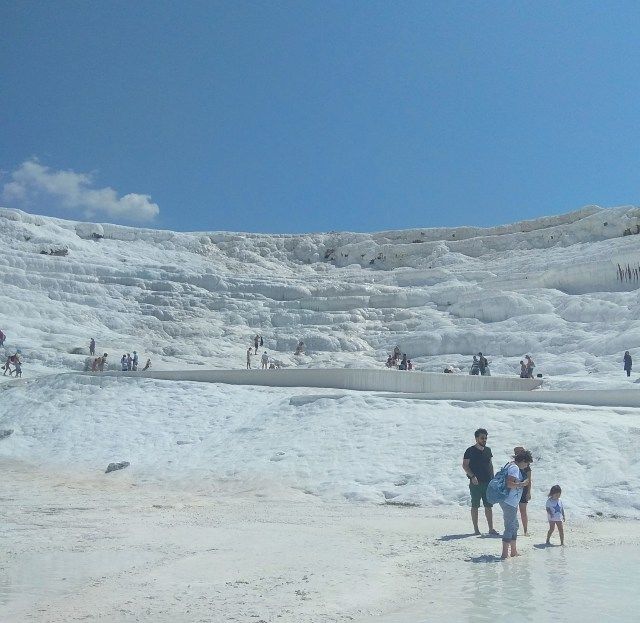 The first things that comes to our mind when we hear about Pamukkale is a series of radiant white travertine terraces and shallow thermal pools picturesquely placed along a steep valley side.
But what often goes unnoticed is the remarkably well-preserved ruins of the ancient city of Hierapolis ("Sacred City") that sits atop the travertines. In its heyday, Hierapolis served as the health and beauty centre for visitors who flocked the city to receive Balneal Treatment. Even today, visitors from all around the world make sure to take a dip in the therapeutic spring water of this sacred city.
Today, the combination of striking natural formations and the Greco-Roman town of Hierapolis, with its grand theatre and Antique Pool attracts over 2 million visitors annually.
Now that you know on a high level what Pamukkale is famous for, scroll down for my "Complete Guide to Pamukkale" where I have tried to cover all the necessary details to help you plan a hassle free trip.
Top Things To Do In Pamukkale:
Pamukkale Travertines:
Pamukkale is one of the most awe-inspiring Natural Wonder that is crafted by Mother Nature herself. The geological phenomenon resulted when Calcium Carbonate from calcite-laden water of numerous hot springs got deposited for thousands of years, thus forming an extraordinary series of travertine terraces and pools that epitomize "Pamukkale" - literally "Cotton Castle" in Turkish.
During my first trip to Pamukkale, the sheer beauty and breath-taking sights of snow white travertine terraces, pools filled with the cleanest water from the hot springs and the sound of water gushing down its channels gave me Goosebumps. Had I not experienced it for myself, I would have never believed that such a natural beauty can really exist.
We carefully walked down the terraced pools enjoying the sight of people (both young and old) taking a dip in the shallow pools while others were happy by just soaking their feet.
Some of the kids sat inside the channel as warm water gushed fiercely past them while their parents watched over them. Beauty seekers didn't shy away and smeared their face and other body parts with the clay/mud as it is believed to possess beautifying properties.
Not to forget the posers trying hard to get some of the best (insta worthy) shots. Some even went the extra mile and rented out colourful parrots for that perfect prop shot.
White travertines are surely the highlight of every Pamukkale itinerary, we strongly suggest that you take out some time to explore the Hierapolis ruins (not just the theatre), that sits atop the travertines.
Hierapolis:
Hierapolis ("Sacred City or Holy City" in Turkish) served as the centre for health and beauty treatment for many years. The water from the hot springs here was believed to possess healing power and hydrotherapy was accompanied by religious practices to cure the patients.
As a result, thousands of visitors flocked in search of health and beauty. The town flourished very quickly and reached its peak in the 2 nd and 3 rd Century A.D.. But it was destroyed by a powerful earthquake that hit the region in early 7 th Century A.D.
The Greco-Roman Ruins consists of a Necropolis that extends over 2 kms, a remarkably well-preserved Theatre, Monumental Arch, Colonnaded streets, Baths, Temple ruins and numerous other structures.
The Antique Pool/Cleopatra's pool:
Cleopatra's Pool (or the Antique Pool) provides you with a unique opportunity to swim between the marble columns and other Roman artefacts (from 2 nd and 3 rd Century A.D.) in the naturally heated spring water of the pool.
It is believed that the pool was a gift from Marc Anthony to Cleopatra. Overlooking the pool was the Temple of Apollo. In early 7 th Century AD, a powerful earthquake hit the area and destroyed most of the town. Ornate structures and Doric columns, which once graced the temple, toppled into the pool and had been lying there ever since.
The water is believed to have Therapeutic properties and is effective in curing many cardiovascular, skin, rheumatic and stomach related diseases.
The idea of swimming with the roman artefacts excites some, while others wants to absorb the maximum health benefits from the mineral rich water. Some people visit for that perfect picture of "swimming with the roman artefacts" while others feel elated by the fact that it's the same pool in which, once upon a time, Cleopatra swam. Whatever be the reason, people of all age groups and ethnicity make sure to take a dip in the pool during their visit.
Best Time to visit Pamukkale:
Summer (June-Aug) is not the best time to visit Pamukkale because temperature may rise to 40° C (104° F) and the crowd is overwhelming (peak tourist season). So, you may prefer to skip these months.
Winter (Dec-Feb) in Pamukkale can be harsh with temperature that often drops to sub-zero levels. You might end up having a frostbite because footwear is forbidden while visiting the travertines (as a precautionary measure to protect the natural site). Hence, winter is not the best time to visit Pamukkale.
This leaves us with the shoulder seasons i.e. Spring (Mar-May) or Autumn (Sep-Nov) being the best time to visit as the weather is mild and the crowd is manageable.
Tip: Most visitors to the site are either a part of organized tour groups or day trippers (from nearby resort towns). They often reach the site by mid -day and spend most of their time near the travertine terraces, the antique pool or at the grand theatre. So, plan your day to accordingly, either visit early in the morning (to empty pools and gentle sunrays) or arrive by evening when the crowds have left and the place looks surreal, soaked in thousands of sunset colours.
How to get to Pamukkale:
Pamukkale is located in the province of Denizli, around 600 km from Istanbul by road. Denizli (18 km from Pamukkale) is the district's main transportation hub, with an Airport, a train station and a big new Bus Station (Otogar).
Turkish Airlines and Pegasus both have several daily flights from Istanbul to Denizli's Cardak Airport (65 km from Denizli City-Centre). Alternatively, comfortable inter-city buses connect Denizli to almost all major cities in Turkey. Hiring a car, which takes almost the same time as bus, is another option for people visiting from Mediterranean or Aegean Resorts. Rail buffs might be interested in taking the four-time daily service between Izmir and Denizli.
From Airport, Shuttle Service (by Bay-Tur, timed to flight's arrival time) to Denizli Bus Station (Otogar) or Pamukkale is available outside the airport. From Denizli Bus Station, minibus (Dolmus) with a seating capacity of around 15 people runs in every 15-20 minutes and costs around 5 TL per person for a one way trip. If you are travelling directly to Pamukkale, you will have to switch from airport shuttle bus to a minibus (arranged by shuttle provider) at Denizli City Centre, which will then take you to Pamukkale.
I hope you liked it. Please let us know your feedback and queries through comments.