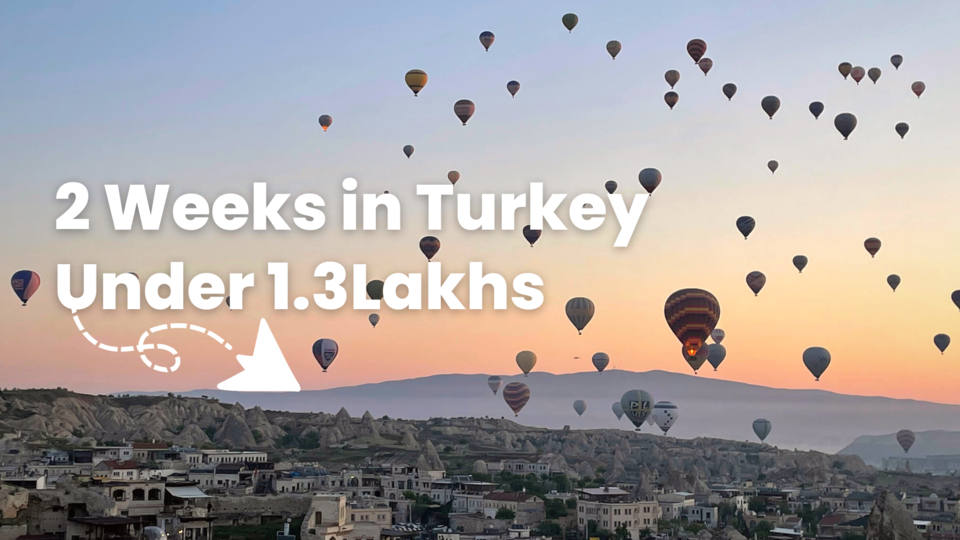 In May 2022, I visited Turkey with my wife for an amazing 15-day vacation which costed us ONLY INR 1.3 LAKH EACH (click here for cost breakdown). I was determined to plan it all by myself so I did the research to create this perfect budget travel guide. Our journey begins from Istanbul where we landed at 1:30 pm local time on 10th May 2022. The agenda for the day was to settle in. Our hotel was in Karakoy, so we boarded Hava Bus which took us to Taksim Square, and then walked 20 mins to Karakoy. Hava buses are the most cost-effective way to reach city centers from any airport in Turkey. On our way, we bought prepaid sims and used ATM to get some cash. I recommend Turkcell sim as it has the best network and in the case of ATMs, we found that Ziraat, ING, or AK ATMs did not charge any fees, so you should only use them. We spent the evening on Galata Bride enjoying the sunset and eating delicious street food.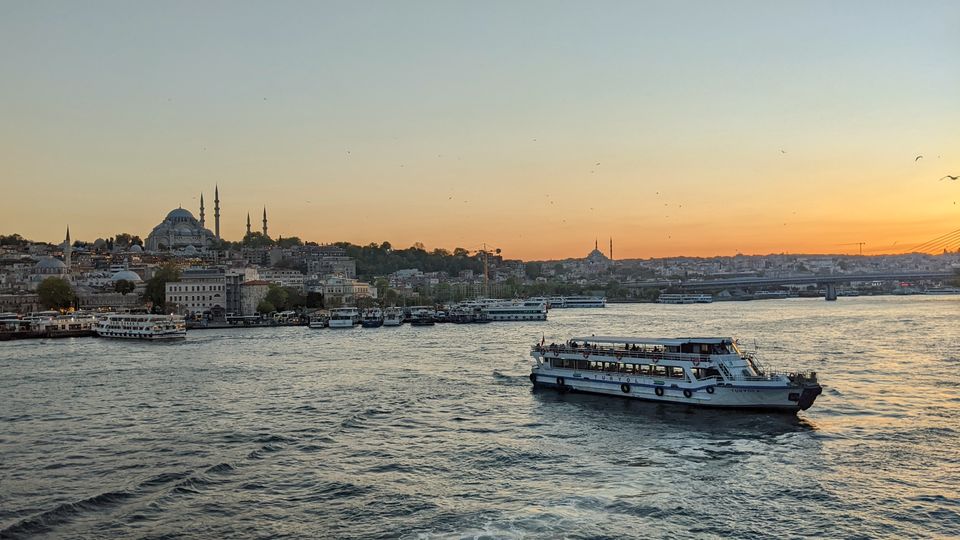 Mosques & Markets - The first full day in Istanbul was dedicated to all the historic places. We started early by walking to the Karakoy metro station and bought an Istanbul card. It costs 25 Liras and if you top it up with 75 Liras, it gives you 10 rides on any public transport. We went to Gülhane station by metro from where all the popular historic places are within a walking distance. We visited Topkapi Palace, Aya Irini - Byzantine Church, Ayasofya Mosque, and Blue Mosque. When entering a mosque, a woman must cover her head. So, do carry a scarf and avoid wearing shorts or skirts on this day. The popular Grand Bazaar is just 10 mins away from Blue Mosque. It has many shops with a unique collection of ceramics, carpets, hamam accessories, and lamps. A street from the bazaar leads to Spice Bazaar. Most shops there offered a variety of spices and teas, Turkish delights, and other sweets. I encourage you to bargain fiercely when shopping in Istanbul and always compare rates in other shops. Spice Bazaar is next to Galata Bridge, so if you are staying in Karakoy, it's another 10 mins walk to your hotel. Spend the rest of the evening, trying street food and desserts like baklava or kunefe.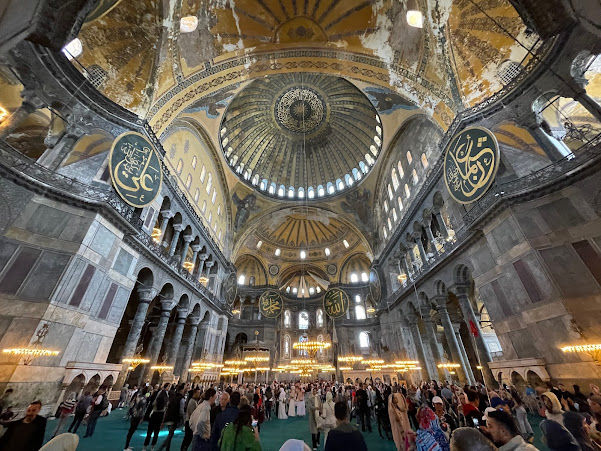 Fener, Galata Tower & Taksim Square - In the morning, we explored the streets of Fener. Narrow lanes with colorful houses make it the perfect spot for some insta-worthy snaps. To reach there, you can catch a bus from Eminonu Bus Terminal. We came back to Eminonu by lunchtime. There are a lot of street food options here. Post lunch we walked up to the historic Galata Tower. It offers a panoramic view of the entire city. One can even choose to go here later to witness the sunset, but I have heard it gets too crowded then. Istiklal street was right next to the tower, so we walked all the way up to Taksim Square where we had our dinner. This is the most buzzing street in Istanbul and has all the popular brands and the best eateries, making it the perfect place to spend the evening.
Bosphorus Ferry & Street Food Tour - We wanted to do a ferry tour which is very popular here. So, we went to Kadikoy Ferry Terminal by metro from where Bosphorus Ferry Tours are operated. You can choose to go there in the daytime or during sunset. We chose to do this fun 2-hour tour in the morning and spend the rest of the day trying popular street food like Tantuni (mince beef roll), Adana Kebab (beef kebabs with roti and salad), Islak Burger (wet hamburger), and Doner. I will be writing a detailed blog on street food in Turkey. So, stay tuned for that.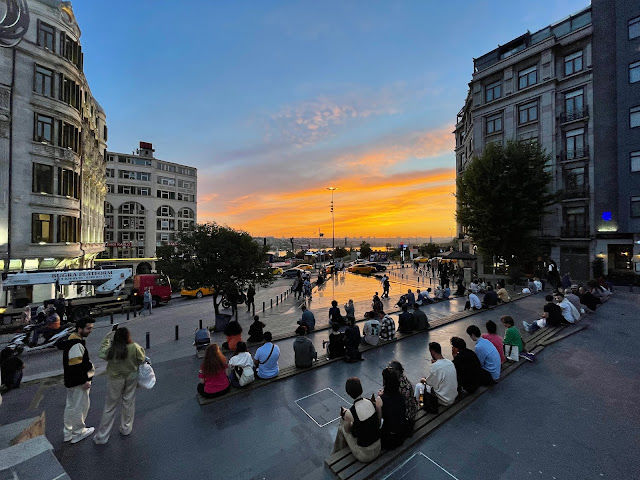 Travel to Cappadocia, ATV Sunset Tour - Our flight for Kayseri was scheduled for 8am from IST. One can either take the Hava bus, which leaves every 30 mins from Taksim Square to go to SAW and IST or choose to go directly by cab. We chose the bus as cabs were costing twice the amount. But that meant we had to sacrifice our sleep. Thankfully could catch up on it during the bus journey and flight. Traveler's Cave Hotel in Cappadocia arranged for a free pick up as we booked Hot Air Balloon via them. But as we checked in, we got a piece of sad news. Our Hot Air Balloon flight the next day (15th May) was canceled due to an expected thunderstorm. The manager quickly arranged for a flight on the 16th. For anyone keen on flying, I would recommend at least 3 mornings in Cappadocia to ensure you don't miss out due to bad weather.
Later that day went on a sunset ATV tour. It was a fun and adventurous drive on the scenic roads of Cappadocia. We visited Love valley, a monastery, and finally Rose Valley from where we saw the sunset. I believe Cappadocia is best witnessed by such tours and hikes around the valleys, so I recommend adding either of them to your itinerary.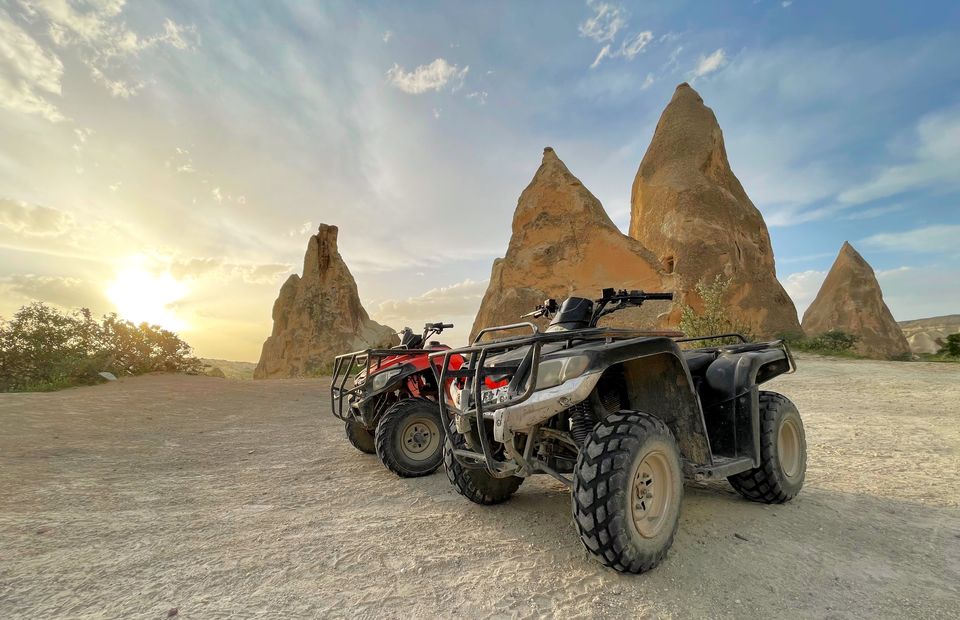 Avanos and Open-Air Museum - As the hot air balloon flight was canceled, we decided to do some local sightseeing. There are hourly buses to Avanos, a village well known for its pottery, from Goreme. As soon as we got off the bus, we saw pottery shops and workshops. We tried our hands on pottery at one such workshop and it was fun. If you are planning on buying ceramic or magnets, this is the best place. You will find the cheapest rates here. But only buy from shops that are not begging you to walk in, they are usually the genuine ones and don't overprize their items.
Once we returned to Goreme, we walked all the way to the open-air museum. This place is good for history enthusiasts as it tells us a lot about Goreme and its neighboring villages. But if you do not wish to go there, you can hike in nearby valleys like Love valley or Rose valley. It was highly recommended by locals. and you can easily get a map of different trails nearby. On our way back from the museum we got caught up in the hailstorm. The weather in Cappadocia changes rapidly so keep an eye on the forecast.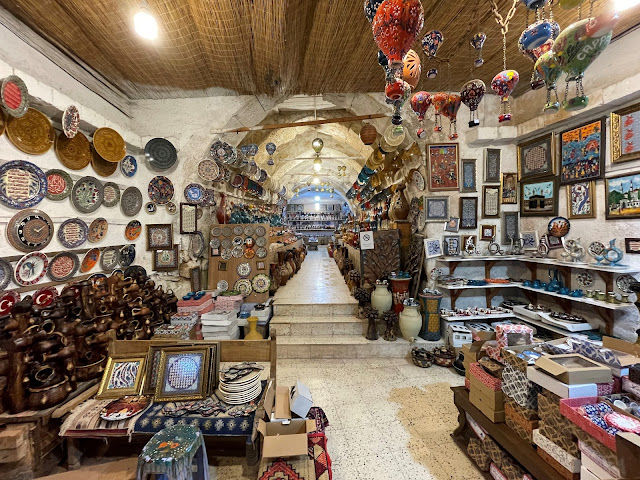 Hot Air Balloon and Green Tour - The most awaited day was finally here. The excitement was so high, that I barely slept. A minibus picked us up at 4am from the hotel and dropped us at the take-off point. The sky was still cloudy due to yesterday's storm, but the forecast said it will clear up by 6am, so we had our fingers crossed as we jumped into the basket. Our balloon took off with hundreds of other balloons and so the magic began. Every second was like a dream come true. The sky did clear up and the sun soon started shining on the beautiful valleys of Cappadocia. It was a breath taking experience!
Once we landed, we were taken back to the hotel where we had breakfast and geared up for our next activity - Green Tour. The Green tour took up the entire day. We visited - Panorama Spot, Underground City, Ihlara Valley, Selime Monastery, and Pigeon Valley. Of all these places, Ihlara Valley was our favorite. We walked through the valley for an hour and had our lunch on the banks of the river which flows through it. As the trail was flat, it was a very easy and calming walk. Do not miss out on this! The place has a different aura that can't be explained in the words.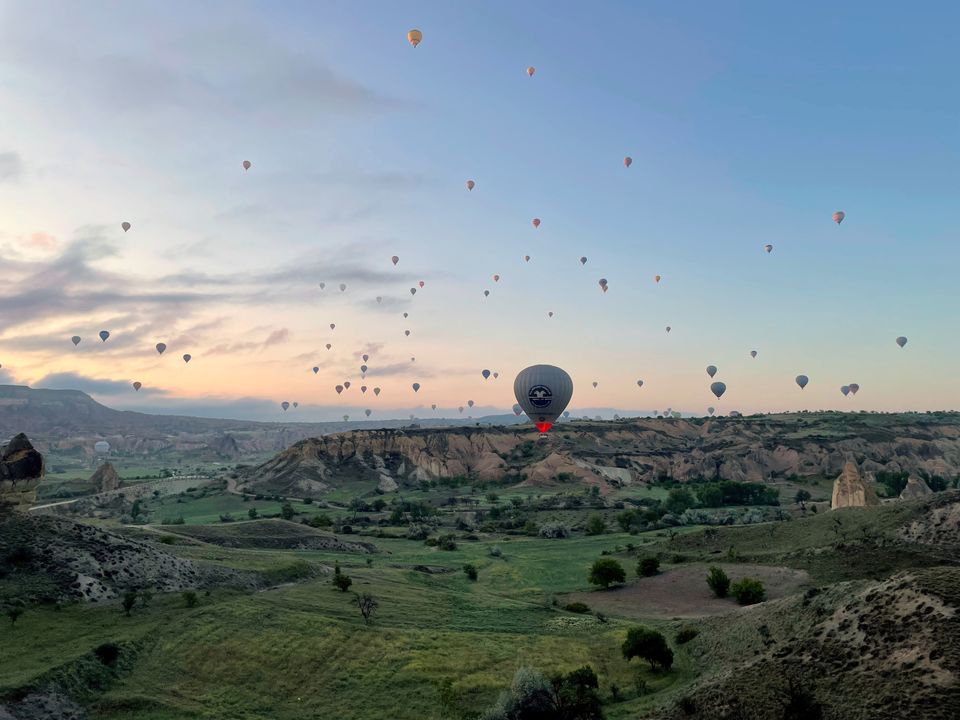 Sunrise View and Uchisar Castle - The next two mornings we woke up early to catch the sunrise and watch balloons fly above Goreme. It is the most wonderful sight, and we got some amazing pictures. If you can, try to hike up to a higher spot in the valley for a better view. During the day, we went to Uchisar castle which is just 10 mins away by public bus. This castle appears to have been made of Fairy Chimneys which makes it more special. One can choose to hike up the castle or around it as there are several trails. The landscapes here are picture perfect so it's easy to get lost in their beauty but don't forget to keep an eye on the weather. We got stuck in a shop for 30 mins due to a sudden hailstorm. Once the sky was clear we headed back to Goreme and spent the rest of the day exploring the market and munching on local delicacies.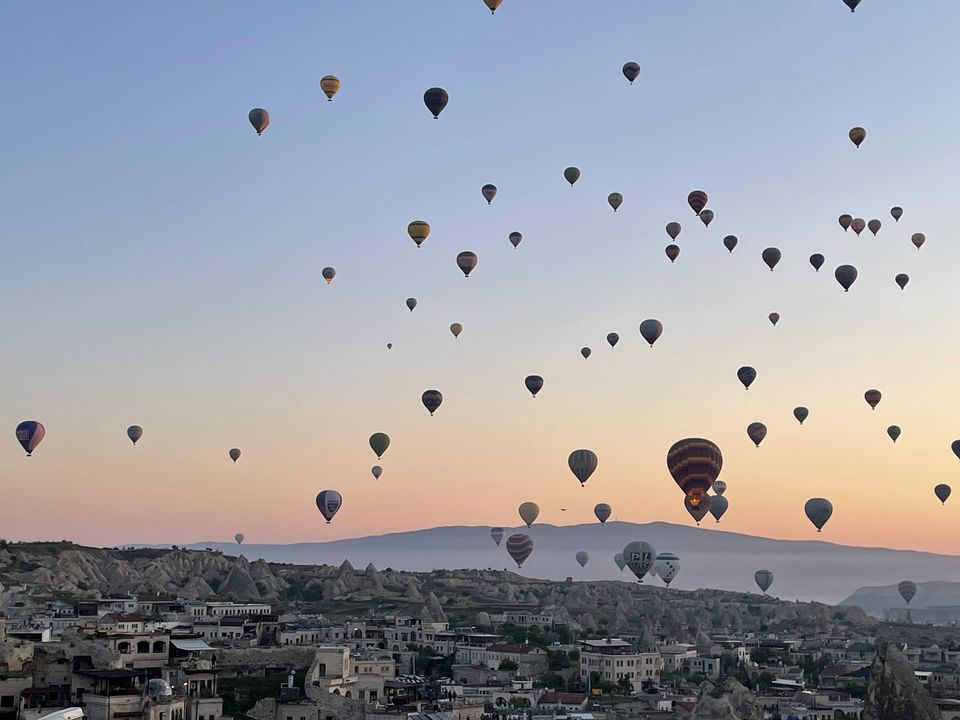 Old City Walk, Duden Falls, and Konyaalti Beach - An early morning flight took us from Kayseri to Antalya but, I'll recommend you cover the distance by an overnight bus. That way, you reach Antalya early morning which gives you more time to explore the city. We could only start post-lunch and hence missed the daily 12 pm ferry which takes you from old city port to Duden waterfall and back. Nevertheless, we still went there by bus, and it was even from the cliff. The first couple of hours we spent walking around the pretty streets of the old Antalya city. And after visiting, Duden falls we decided to spend the rest of the evening on a beach, watching the sunset. One can choose one of the 2 beaches in Antalya - Lara Beach or Konyaalti beach. We went to Konyaalti as it was closer to our hotel in the old city.
Red Springs at Karahayit - Antalya bus terminal is probably the busiest hub on the Mediterranean coast so you will find a bus at any given time to your desired destination. Our next stop was Pamukkale, so we got on a bus for Denizli, as there are no direct buses. It was a 4-hr. journey to Denizli and from there it was another 15 minutes mini-bus ride to Pamukkale. The weather decided to play a spoilsport, so we did not tour the famous cotton world. Instead, we went to see Red Springs in a nearby village called Karahayit. This happened repeatedly as it was still spring season in Turkey, and we were aware of it. The best time to visit usually starts from May as rainy days are few but if you want to avoid it completely then you can visit between June to August. But these are also the peak tourist months, so choose the lesser devil out of two - some rainy days or extremely crowded places.
Pamukkale & Fethiye - Cotton World, Hierapolis Tour and Çaliş beach - With only a few hours in our hands before we left for Fethiye, we started exploring Pamukkale. It is so small, that you can reach the entrance of Cotton world within 5 mins regardless of where you stay. But sadly, it did not live up to the hype created by social media. The travertine terraces were dry, unlike the pictures we see. The locals said that this has been the case for the last 7 years. Tourism has increased so much that the springs which once fill those pools, now supply water to the village. You can see a passage dug up taking this steaming hot water down the mountain. So, next time you see a picture of pools filled with water, know that it was either clicked before 2015 or photoshopped.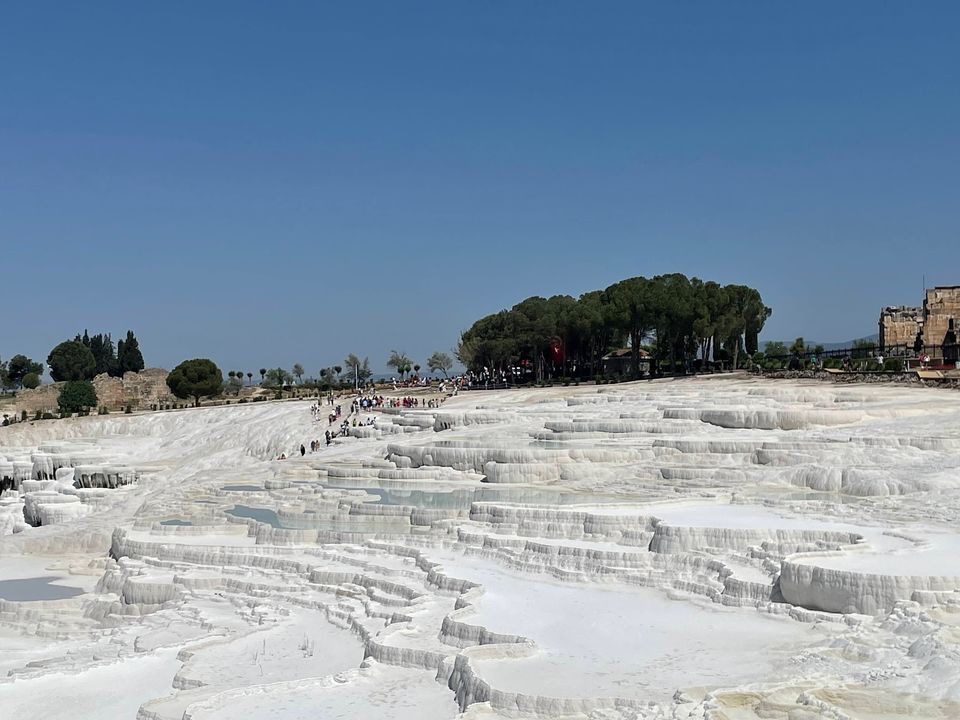 The only good reason to visit Pamukkale is Hierapolis ruins with the Roman theatre. I am assuming a dip in the Cleopatra thermal pool would also be fun, but we skipped it so that we don't miss our bus. You might give it a shot though. A good alternative to Pamukkale would be Kas which is en route to Fethiye. It is a very popular coastal city, and you will love the beaches around it. If you go there, do not miss the Kekova Island Sunken City Ferry tour.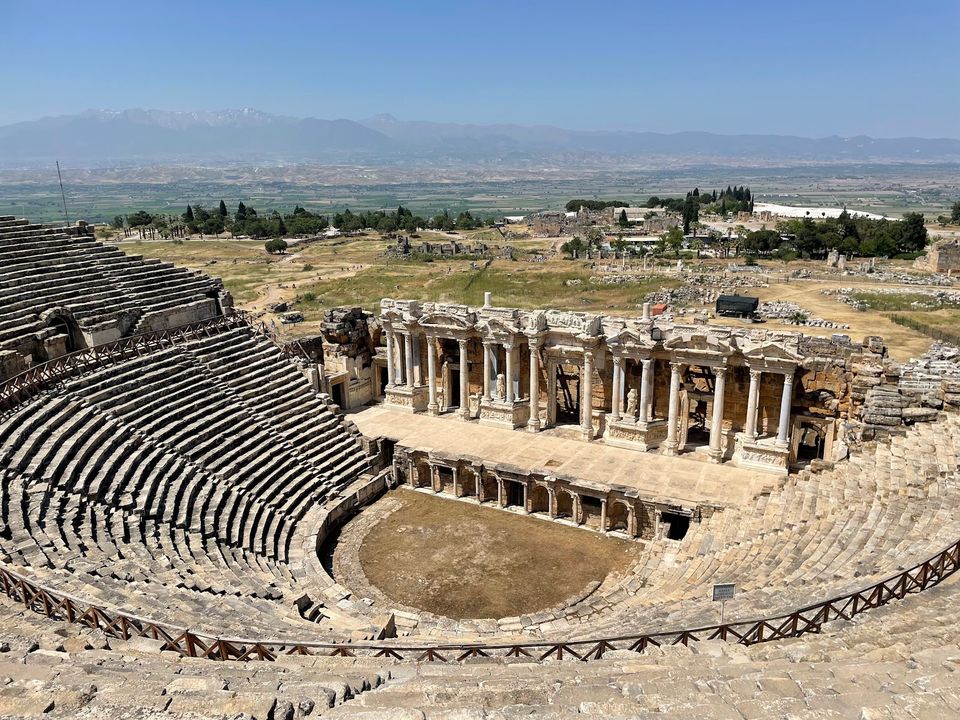 We reached Fethiye at 5pm and after checking into our hotel which was right next to the bus terminal, we went to Çaliş beach for a calming walk while watching the sunset.
Oludeniz Ferry Tour - Oludeniz beach is just 30 mins away from Fethiye and it is one of the most beautiful beaches I have ever seen. You will notice a lot of Ferries anchored here and they all operate daily tours which take you to some of the most beautiful islands and beaches nearby. We hopped on one such ferry which set sail at 11am and took us to Coldwater Bay, St. Nicholas Island, Butterfly Valley beach, and a few other spots. The boat stopped for around 30 mins at every point to allow us to swim in the freezing but crystal-clear seawater. I had seen a lot of videos of these tours in Oludeniz and Kas, so I was very excited. While we were there, we took every chance to jump into the seawater and spend as much time in it as possible. This was truly a wonderful experience and if you are going to Turkey, you just can't miss this. It does not matter if you can swim or not, just ask for a float and dive in!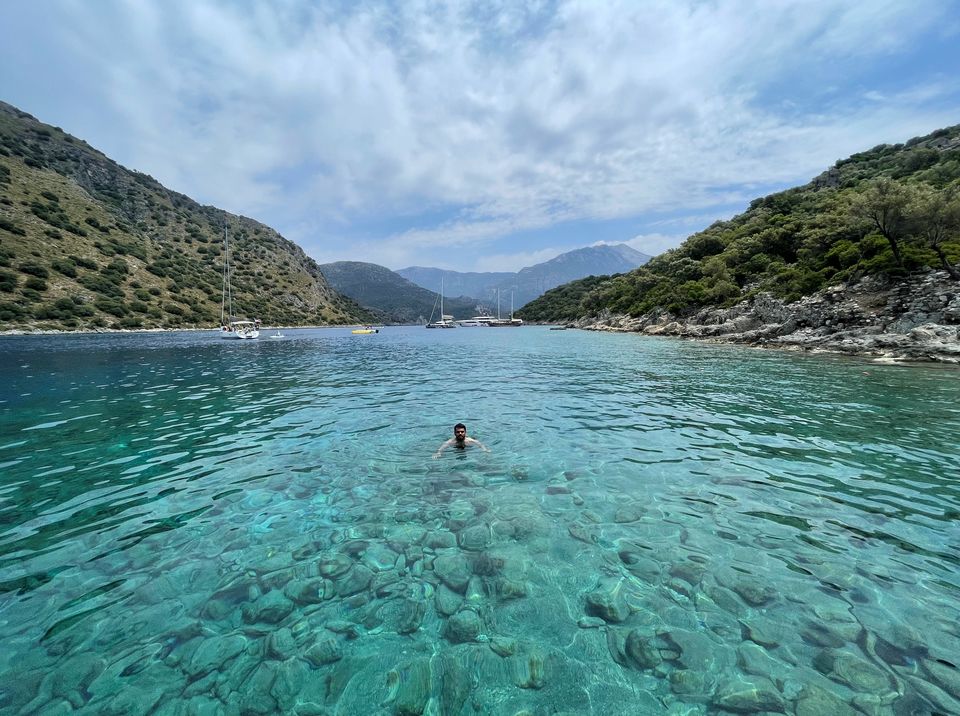 Fethiye - Saklikent Canyon - Saklikent Canyon is a 300m deep and 18km long Canyon in the mountains near Fethiye. Only 4 km of the canyon are walkable during the summer months, when the water levels in the river, which flows through it, are low. Walking in the freezing cold water of the river through this deep narrow canyon was a unique experience. Once you are back, you can spend the rest of the day on the beach in Fethiye or Oludeniz.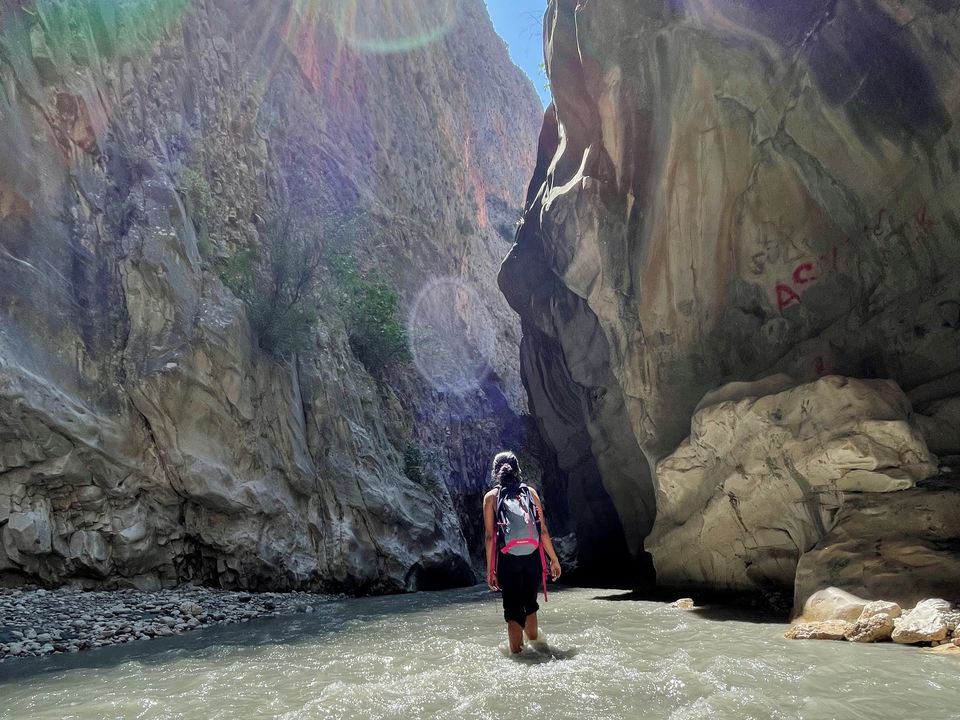 Street Food and Shopping - Another early morning flight took us from Dalaman airport to Istanbul. We reached the airport by hava bus which leaves every 30 mins from the Fethiye bus terminal. Staying near the bus terminal made our commute easier.
In Istanbul, we spent the day eating street food, shopping, and spending the evening at our sunset point. From our first few days in Istanbul, we had chosen a few restaurants where we wanted to eat again once before we left for India and wet hamburgers topped that list. I wish we got to them in India too.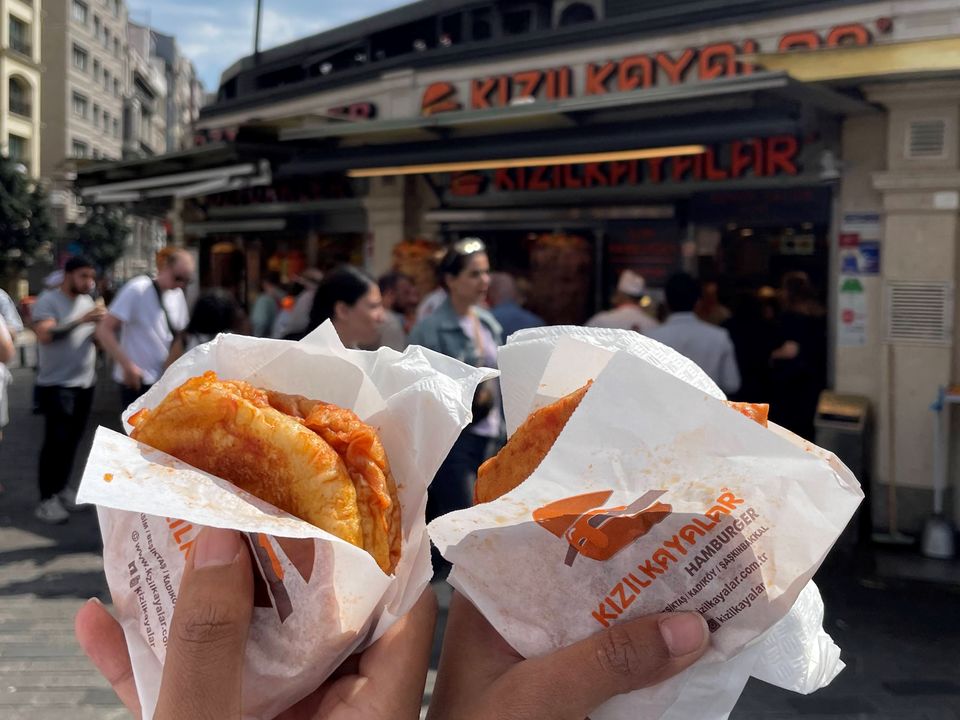 Last Day - Flight to Mumbai - The amazing 2-week trip was finally coming to an end. But, before we left for the airport, we did the most important thing, bought a whole lot of BAKLAVAS for our friends and family :)
Thank you for patiently reading this blog. I hope it helps plan your trip. Happy Journey! If you have any questions, reach out to me on Instagram at @chinmay_st