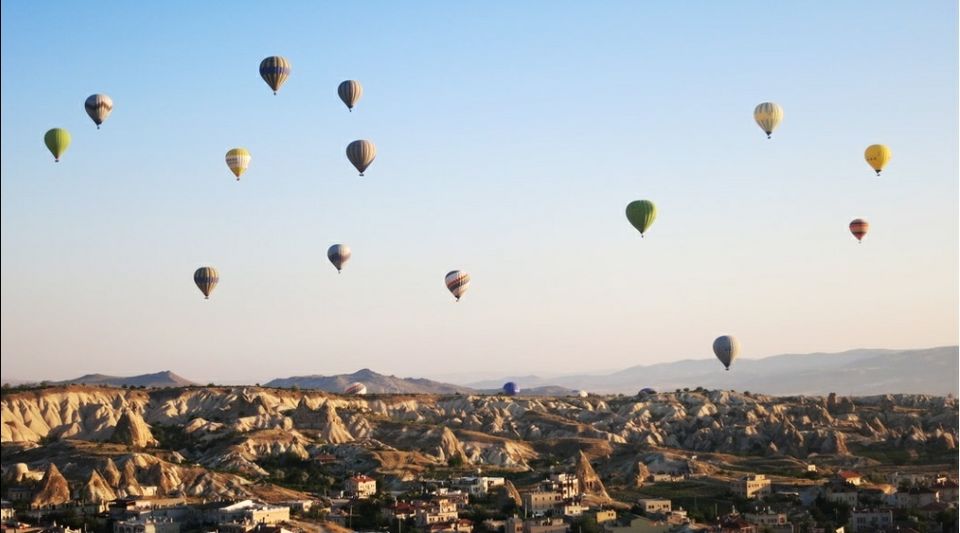 Why Go to Turkey?
Being on the edge of the Islamic world and the European Union, it is a very easy and touristic way to experience Islamic culture and architecture. It really is a unique country with some of the most spectacular
and different landscapes have experienced around the world.
Must Do in Turkey :
-The ferry chimneys in the rock valley of Cappadocia is a photographer's dream This surreal, lunar landscape is difficult to explain, you have to see it yourself!
-The pure white travertine terraces of Pamukkale's "Cotton Castle" are a highlight of Turkey.
-Ephesus is Europe's most complete classical metropolis, this well preserved large archaeological site includes the massive Theater, the Temple of Hadrian and the magnificent Celsus Library.
- Istanbul is the only city in the world spanning two continents. Impressive architecture and historic sites including the Hagia Sophia, Blue Mosque and Topkapi Palace.
-Go to the beach! withcoastlines along the Aegean and Mediterranean seas Turkey has plenty of amazing beaches not to miss.
How much will it cost?
Currency Turkish Lira (TRY) R4 TRY1
You can get by as a backpacker on TRY90 (₹1680) per day and double that for a comfortable holiday style travel.
Hostel dorm rooms start at TRY25 (₹450) per night. Private double rooms start around TRY 90(₹1680) per night. You can get private rooms on AirBnB starting at TRY 75(₹1400).
Cappadocia
Turkey has many amazing, distinct landscapes, but the arid valleys of Cappadocia with its unique cone-shaped rock formations or "fairy chimneys", located in central Turkey, are my favorite! The open air museums, large rock cones and underground cities can keep you busy for days exploring this fascinating area.
Things to see in Cappadocia :
There are so many fascinating things to see in Cappadocia that you could spend weeks here discovering new places. The main 'must-see' attractions are the two open-air museums and the underground cities. Don't miss Goreme Open Air Museum with it's cave churches and Zelve Open Air
Museum a cave town with churches. The underground cities are another must see. Kaymakli Underground City, the largest underground city and Derinkuyu
underground city are spectacular. We really enjoyed this, it was a fantastic tour!
Cappadocia is known around the world as one of the best places to fly with hot air balloons. This Cappadocia hot air balloon flight is definitely a bucket list adventure! The spectacular surrealistic landscapes
combined with excellent flying conditions allow hundreds of balloons to take off every morning!
Accommodation in Cappadocia (in budget):
Ali's.guesthouse very nice is a social place, the rooms are in a cave house which is kind of awesome but dark inside the dorm. Ali's Guest House is located in Göreme, just 3.2km from capadokya.₹630 for a dormitory bed or ₹2170 for a double room breakfast and all day coffee and tea included.
We enjoyed staying at Kose Pension a nice family run hostel with a great swimming pool, super friendly staff, awesome location and a good breakfast. Double room was ₹1680.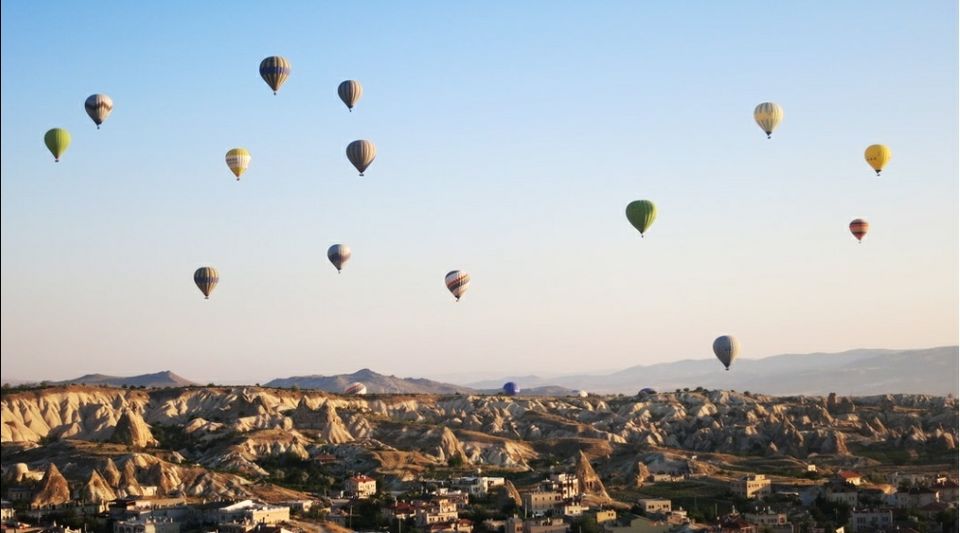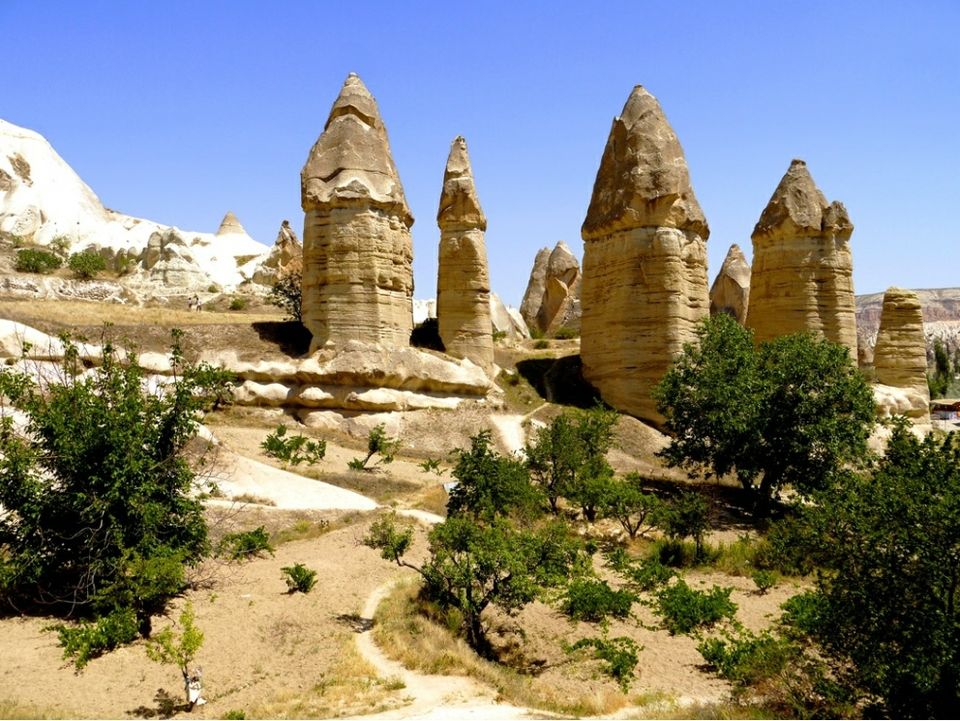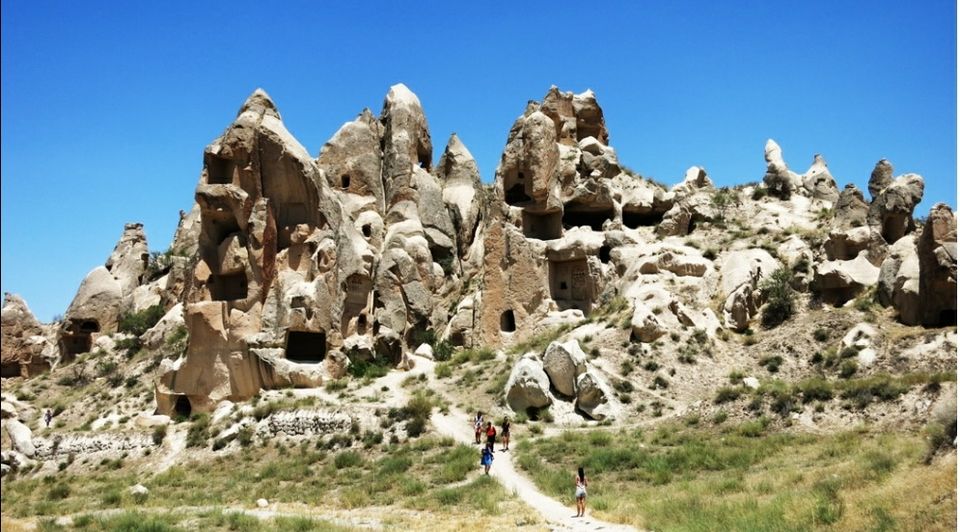 Pamukkale
Pamukkale is a town in western Turkey known for the mineral-rich thermal waters flowing down white travertines (terraces) on a nearby hillside. The gleaming white calcite terraces look like snowy slopes on photos and the warm mineral rich waters form gleaming blue pools that you can swim in. Pamukkalemeans cotton castle in Turkish and the name is self explanatory if you look at photos. The terraces neighbors Hierapolis, an ancient Roman spa city founded around 190 B.C. Ruins there include a well-preserved theater and a necropolis with sarcophagi that stretch for 2km.
Accommodation in Pamukkale:
We stayed in Hotel _Dort Mevsim, nice budget hotel with dormitories and private rooms, breakfast swimming pool, walking distance from the travertines, good deal at ₹1120 for a double room, Venus Suite Hotel - Neat, new hotel with big rooms, plenty of facilities, excellent food, free shuttle to the travertines, great breakfast. Good deal for about ₹2100
buffet included.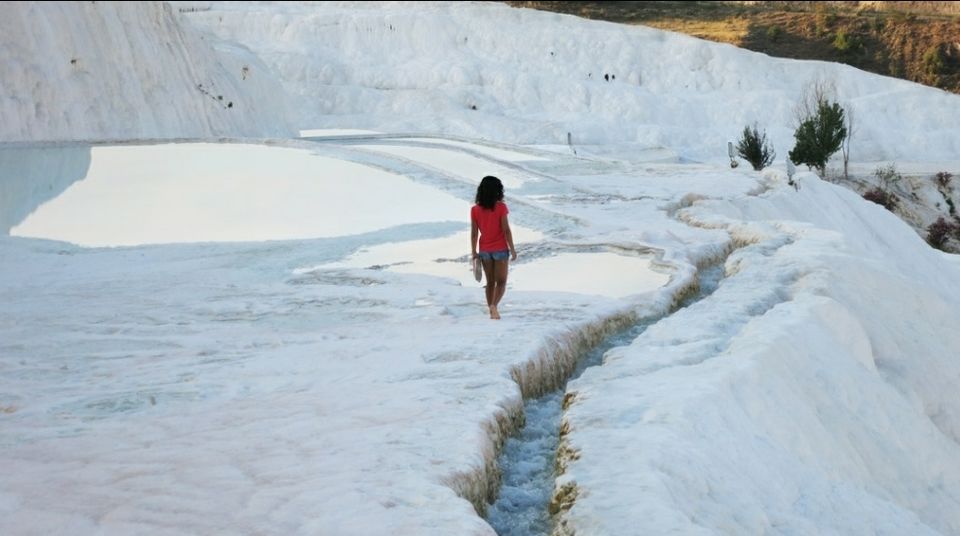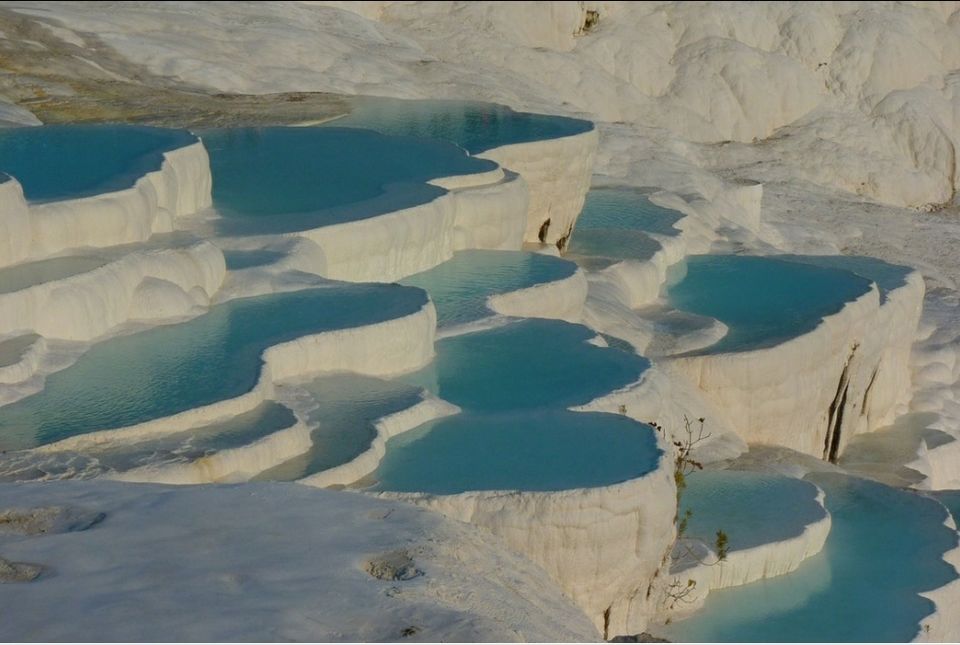 Ephesus
Ephesus was an ancient Greek city on the coast of Ionia. Today what remains of the best-preserved Roman city in the Mediterranean region is close to the city Selçuk in Izmir Province. The spectacular city was built in the 10th century BC during the Classical Greek era and began to flourish after it came under the control of the Roman Republic in 129BC.
Some of the highlights of this city:
-Temple of Artemis - once the biggest temple on Earth and one of the Seven Wonders of the Ancient World.
-Library of Celsus -one of the most impressive buldings in the Roman Empire this Inbrary stored over 12,000 scrolls, destroyed by an earth quake and
set on fire by the goths.
-odeion (used for music performances).
- Temple of Hadrian,-Varius Baths, State Agora, Temple o Domitian Hercules Gate and many more.
Tip :
Stay late! At 18:00 the last tour guides started leading out their flocks of tourists and we had the whole ancient city to ourselves, the light was soft and perfect for photos. Walking alone in that ancient city really felt like you were part of the Roman world.
Accomodation close to Ephesus:
Amazon Petite is located in Selcuk, close to to Basilica of St John and the Temple of Artemis It offers air-conditioned rooms with a minibar, flat-screen TV and free Wi-Fi, nice breakfast and friendly helpful staff. Good deal at about ₹2800 for a double room.
Ephesus Palace, good value for money, friendly host, car and bicycle hire available, Located 3 km irom Great Theatre of Ephesus. Rooms from about ₹1400, economy triples and family rooms available.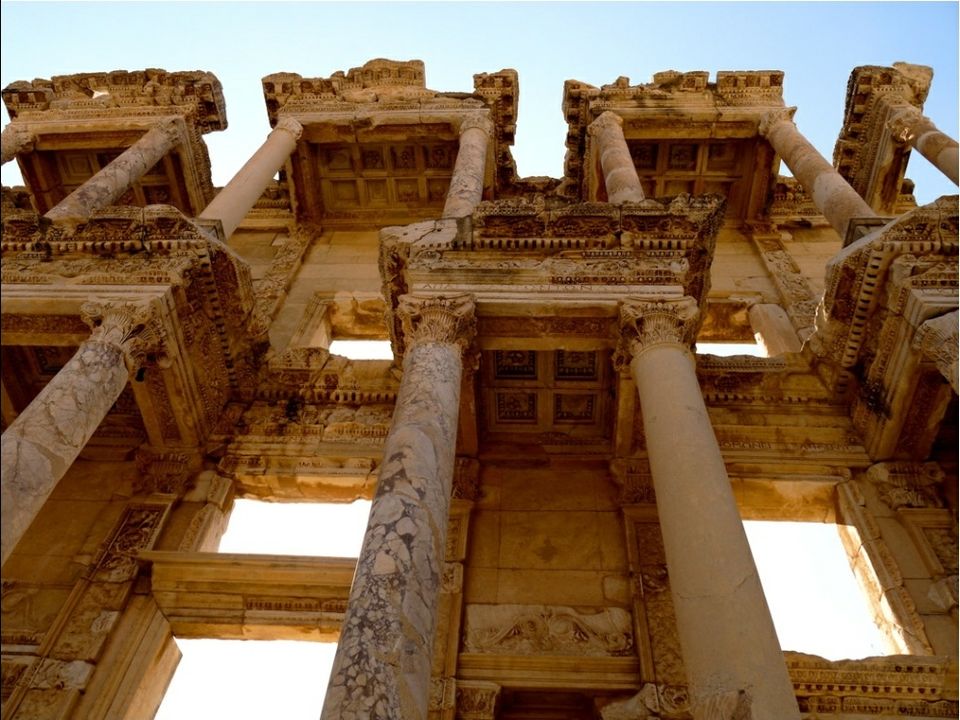 Istanbul
Split between east and west this ancient, culturally rich city has a crazy amount to see and do. Many travelers never get further than Istanbul when visiting Turkey, with such a huge variety of highlights I can
understand why. After about 10 days in Istanbul we only scratched the surface of what one of the world's great cities has to offer.
1- Hagia Sofia
Turkey's most famous domed monument went from church to mosque to museum. It is filled with Christian and Muslim artifacts. Over the years under various rulers it served as temple or mosque until it was converted to a museum.You can not miss this spectacular building that is said to have changed the history of architecture. One site not to miss! Buy tickets for Blue Mosque and Hagia Sophia here! get picked up by a driver, skip the long lines do a morning
tour with a local guide.
2-The Basilica Cistern
This was my favorite site in Istanbul. The Basillca was a huge underground water storage facility that was fed by aquaducts to the Black Sea 20 km away. It is made
spectacular by 336 stone columns and two enormous stone Medusa heads.
3-Istanbul Whirling Devishes
Looking for some evening entertainment you are only going to see in Istanbul? Don't miss the famous Mevlevei Sema ceremony in Istanbul. Known for its whirling dervishes and dances, enjoy a complex
musical repertoire called ayin and go on a mystical journey representing man's spiritual ascent through mind and love to perfection.
4-The Grand Bazaar
The colorful and chaotic Grand Bazaar has
been at the center of Istanbul for centuries
The Grand Bazaar is one of the largest and
oldest covered markets in the world. The
Bazaar covers 61 streets andt has up to
400,000 visitors daily! Something not to
miss if you visit Istanbul.
Buying some Turkish delicacies at The Grand
Bazaar, Instanbul.