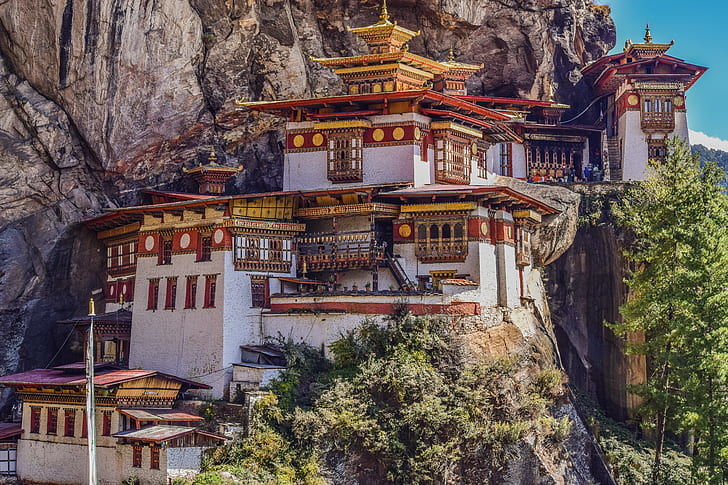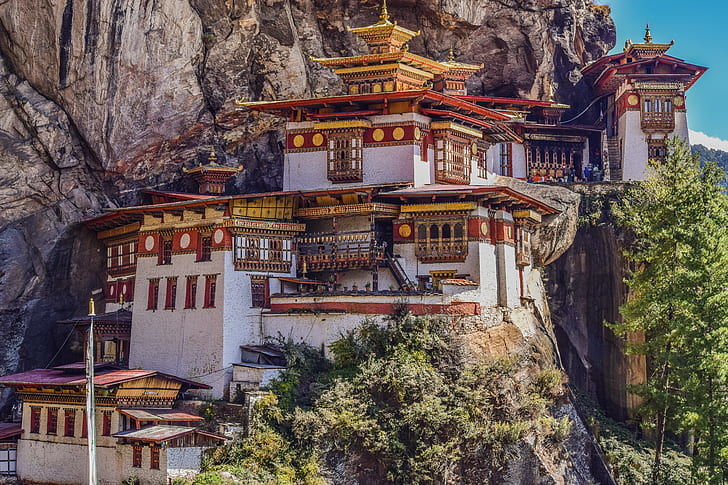 Starting off the trek
Away from home, on my own for the first time, a long distance all the way from Pune to the Tiger Nest in Paro, Bhutan.
"This is it, and here I am" I murmured to myself standing at the first footstep of the Tiger Nest-Takhtsang,- my eyes measuring a great distance until the end. I was over covered in weird sized layers of clothes to stay warm in the penetrating cold winds.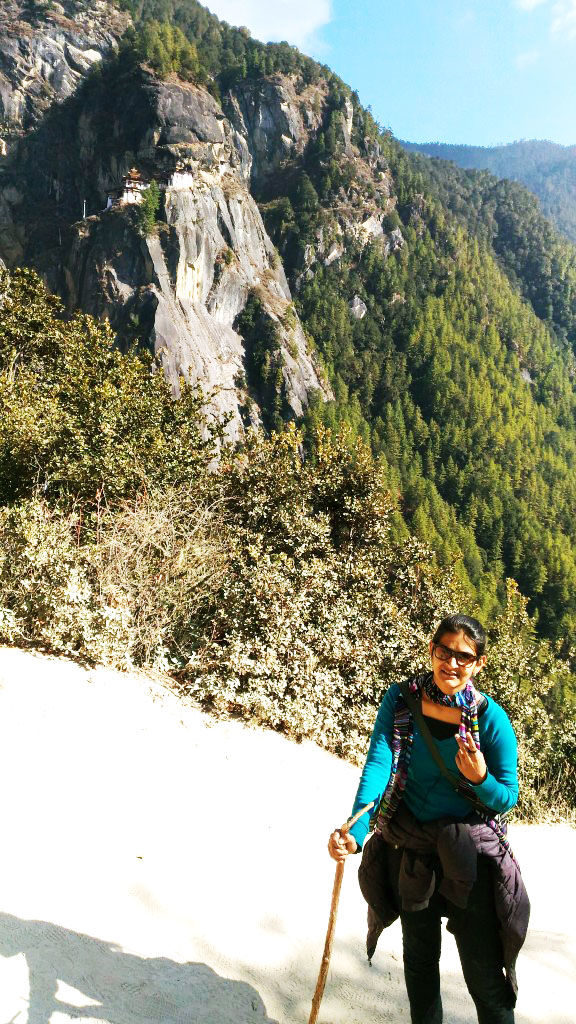 Foot of the Tiger Nest Takhtsang
I knew, had read the trek was only a day long trek, but looking at the distance ahead and the far away visible Takhtsang building, I wondered how many days will I need to keep walking to reach!!! Phewww!!!
First, I had never trekked before, and second I wasn't ever an exercise freak to work on my stamina.
First few steps
It was a pleasant cold day when we started. It was 8 am, the cool wind clinged onto us, making me go weak in the knees all the more. I looked here and there blankly, wishing to break a self-promise to climb it all alone without using any Horses.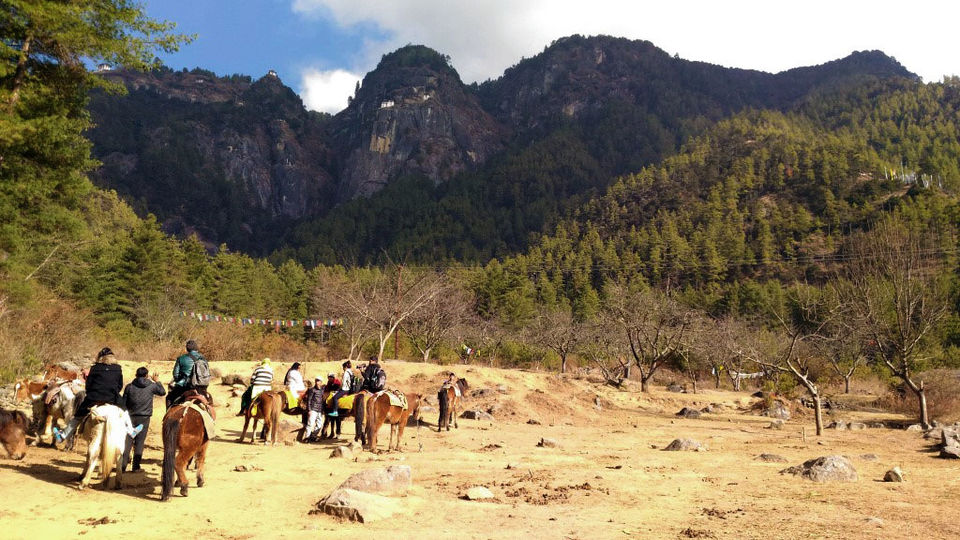 Horses at the Tiger's Nest Takhtsang
Few old ladies were also selling bamboo sticks, and me, dumb enough to underestimate its usage (totally acceptable as this was my first trek, remember?)
A moment of betrayal passed my mind, where I asked the price of a horse ride. But when I saw the horseman beating the horse with his stick to stay still, I made up my mind - I can do this, I will not have the man paid a penny from my pocket for this behavior with the poor animal.
One last glance across before I start, and a jolt of excitement hits me. I start striding uphill.....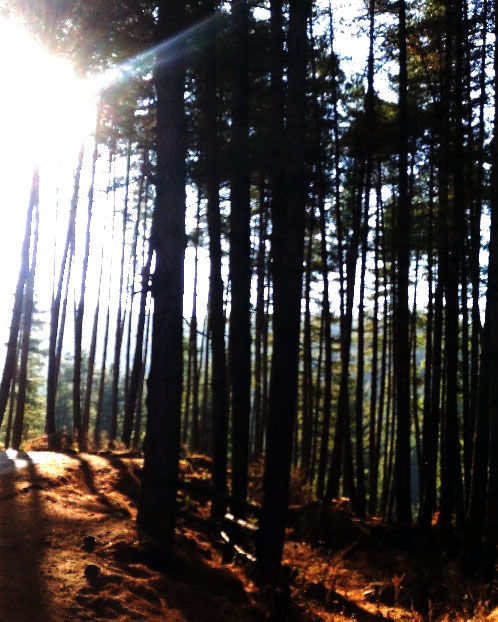 The view, keeping me spellbound, I heard the mountains calling out, the Sun in a tough competition to the cool breeze, shining as warm as it could but effortless as compared to the winds. The first few steps were an uphill climb on a slightly rocky road.
The quicker I upwelled, the more layers of clothes I pulled off. At one point the rocks were so dense and steep, that I found myself scrambling through the rocks instead of walking. Each step I took, I was thankful to the smiling sun shown after continuous days of burning cold, and to the newly bought sports shoes for the good grip they gave me.
The place was clean, meeting new people, flashing some gorgeous smiles made it easier to climb. I was walking at a very slow pace, the reason quite surprising to me wasn't because of my low stamina, but the mesmerizing views.
Mid way Cafeteria- The View Point
Soon I was further up huffing and puffing, there was a cafeteria, and the end point where the horses wouldn't go further. I decided not to visit the cafeteria, as the heavier my stomach becomes, the difficult it would be for me to climb. I kept on, even while some others couldn't make it, I saw them giving up and returning.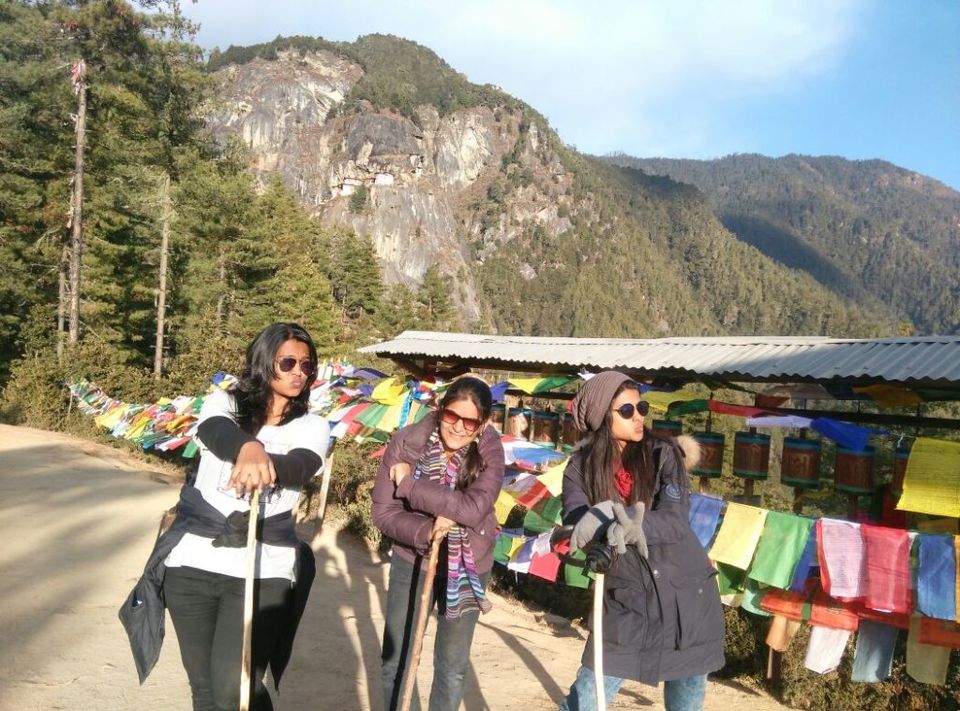 The Takhtsang Behind us.
Trying to create an influence on people
I always wanted to be an influencer, the only part I wasn't sure and kept changing was on was what to inspire people for. So this was my moment!!! I tried my luck as hard as I could, slapping an attitude up on people, I almost managed to convince 7 of them for continuing to the top.
Half way up, there was a huge wheel of prayer and colorful flags with a view now crystal clear- THE TIGER'S NEST!!! HERE I AM!!!! YAAAYYYYY!!!!
The higher I climbed, the more flags I could see, The Bhutanese people believed, that hanging stings of these colored flags across the winds, the winds would carry their prayers across heaven.
Continuing up, I now had to focus on my breath, with each breath becoming heavier to breathe with the air thinning with the rise in altitude, but then I was accompanied with Pine forests, revealing a spectacular views of the Paro valley beneath- Pine and Oak I think they were, helping with a fresh lot of oxygen to inhale.
Look Out before You Step Out
The most dangerous part of my trek was here. I was so flown away by the beauty of the ice dews newly formed on the plants in the valley, the sun making them gleam as diamonds, shining bright and beaming rainbows that I missed my focus on my footsteps and with one stupid move, I slipped my foot and boom...... within no time I was tumbling down the valley side. I felt all the feelings at once, horrified, my blood froze, my brain started re-playing an action sequence of my life until now, I could also see all my loved ones in a single glance.
Keeling Down a Mountain
I was keeling down through the mountain dust descending towards the valley, finding no grip to hold on to. The ice on the surface making it all the more slippery. I thought of all my sins of the past, and probably this was the repayment!!!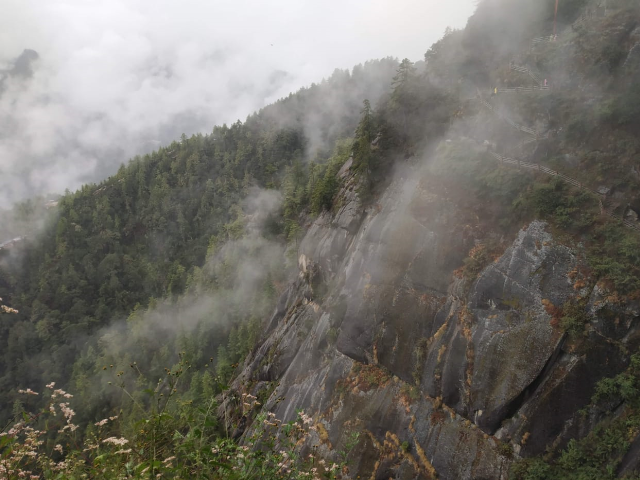 This is not the exact spot, but yes this is the same deep valley
To my luck, this visual sequence was brought to a stop as I banged my head on to a majestic Pine tree. If at all I could have been thankful to the most in my life, it could be this tree at the moment.
The life saving tree
So, by now, I had my head banged to this tree, had my gloves tucked and stuck badly in the rough branch and some blood on my forehead to get through with a trembling body, and fog all around me, with lessened visibility. I kept wondering if at all not for the tree, if at all I would have collapsed in the valley, anyone would ever even find my body? Would my body ever have any respectable cremations?
I was petrified to move, with the fear that one more careless foot would spoil the efforts of the tree. I dared not to move, the only thing I could now hear was my heartbeat, which was the loudest I had ever heard, also being the only thing that soothed me from stiffness caused out of fear.
I decided not to move at least until I am back in my senses. I kept still dead for almost 10 minutes, with a vacuumed mind. Yes, this does have an effect, there is a moment when each and every possible thought crosses your mind, the next moment it's all vacuum.
Rescuing Hands
Then this time, probably the GOOD- KARMA hits me, probably I haven't sinned as much as I thought I did. I hear a voice of a man calling out "Missy!!! You alright!!!" and he comes to my rescue. An Australian traveler, I had smiled at in the base, the relief I had, cannot be explained in words!! I somehow find courage to move, and head towards his out held hand.
This is why i call it The One Gloved Trek
I notice one of my glove was totally damaged, dirty with dust, and blood stained, stuck in the branch so badly that I pull it hard, but again tend to loose my balance, going weak in the knees again. So I decided to leave it there, I remove my hand carefully from the glove avoiding disturbing the bruises I had. The moment I pull out my hand, it goes numb, cutting through the cold, and my mind hits me back realizing that I no more have a glove in that hand, and that i would have to be Okay with the cold biting it.
I plant my foot very carefully this time, and slowly step by step I try climbing towards the rescue hand. Once within reach, the Australian man, with all his firmness pulls me up towards safety again.
A moment of Relief after the near death experience
This was a moment of relief!!! A moment of life!!!
I felt all my senses returning in my body, now the blood felt warmer, and the heartbeats more musical. A heart so filled with gratitude that I hugged the Australian right away.
The later part was a bit fussy where he offered me water, and noticing my shaky voice, offered to walk with me for a while.
The Foot of the Waterfall
Now on here the muddy, dusty part ended and there were steep steps making it exhausting to climb, and descend. Each descend felt easier, but heavier at the thought of the climb on return.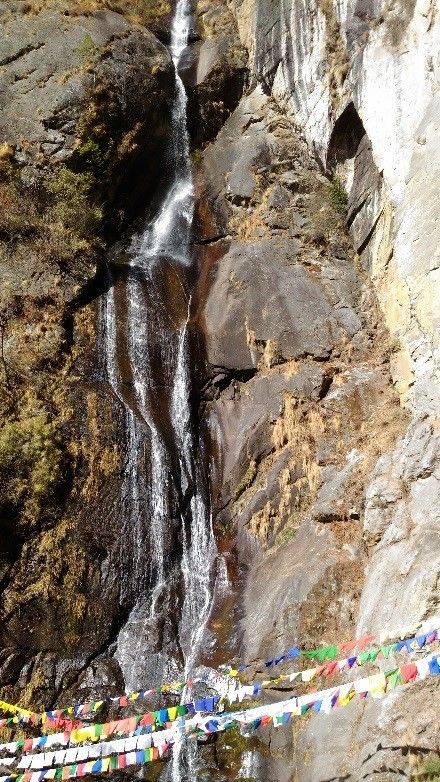 1000 Ft waterfall just before the Takhtsang
There is a wooden bridge, and an icy cold waterfall. But the sun in perfect direction with the water, created 2 rainbows. Never had I seen this before, two beauties in a frame.....I could not capture the rainbows though as I wasn't carrying a good quality camera.
This waterfall, a 1000 Ft tall sung through the way ahead, echoing the tall majestic mountains.
This is it, and finally, here I am- The Tiger's Nest!!!
I arrive at the steps of the formidable Tiger's Nest, This was a steep climb, but the reward was getting closer and closer and closer, and there we were!!! Husshhhh!!! It was now time for some gratitude, keeping our belongings in the allocated locker, removing our shoes, walking silently, brushing our feet against ice formed on the stone floors, we made our way inside. As no cameras were allowed, I decided to cease the moment to fully utilize my senses, to capture everything in the moment.
And THIS WAS THE MOMENT!!! Passing through the doors of the Takhtsang, were several temples, huge halls, and then, my eyes fall on n the shimmering golden Buddha Statue in one of the interconnected 4 temples, this sight filled my eyes instantly, and before knowing I fell on my knees bowing to his Majesty. This feeling, the sacred place, echoing with the monk's prayers, incense smell, echoes murmuring the walls, and the good energy vibes, afternoon light invading through the windows of otherwise dark room- a feeling no words would ever be enough to justify!!!
Lessons learnt the hard way!!
I sit down here with life's most amazing teachings learnt the hard way today.
There will never be a possibility without a risk. Everything happens for a reason, live it, Love it, Learn from it!! Your present is not your final destination, the best it yet to come. Life is a blessing, never take it for granted. Trust in the universe, it responds to you always.
Informatics
What is the Tiger's Nest?
The Tiger's Nest is a Buddhist Monastery located near Paro city in Bhutan. It was constructed in 1692, around a cave where Guru Rinpoche first medicated, the start of Buddhism in Bhutan.
Bhutanese legends states that Guru Rinpoche was carried from Tibet to this cave on a back of a tigress, hence the name-Tiger's nest. It contains of 4 temples with accommodation of the monks. Despite the daily visits of the tourists, Paro Takhtsang still continues to function as the sacred monastery.
There is a ticket to the Takhtsang which costs 500 Rs, to enter the monastery.
How to get here?
We has stayed in the main city center in a decent hotel, if you want you can check out the hotel booking link below.
https://www.goibibo.com/hotels/paro-hotel-in-paro-8228716511569683063/
Tiger's nest Monastery is located almost 10 miles north of the city center in Paro.
You can get a taxi to get here, not more than a half hour's drive.
To Know about more places to visit in Bhutan follow my blog: 7 days on the land of the Thunder Dragon- Bhutan
Time required to do the round trip?
The monastery visit requires a full day, taxis leave you at the basement. On an average it takes 4 hours to do a climb at an average speed, an hour inside the monastery, and an hour and half more to descend.
Therefore, plan leaving early morning around 7- 8 and you can be back around 3. It has a break from 1-2 and no visitors are allowed during the time, so plan to start accordingly
Facts
Distance: 4-5 miles round way
Elevation gain: around 1700ft approx.
Highest elevation: 10230ft approx.
Best time around the year?
I would suggest October to January, as the weather remains clear, although it can get quite cold. Avoid the rains, as the way becomes slippery, and foggy.
Fitness levels?
Any person (came across even 10 and 60 yr olds) with average fitness can complete this hike with his/her own time without haste, only if you get it fixed in your will power.
Things to Carry
A hiking pole can be brought from the base of the Tiger Nest, there are few vendors Lots of warm water to keep your body warm in the frosting cold winds Hiking shoes to help your grip Some light nutritive snacks, can be brought from the mid-way cafeteria as well, but it's always good to keep handy few dry fruits, and nutrition bars. Your camera and its equipment's of course!! Though photographing inside the monastery is not allowed, but you will go clicking along the way. A box of camphor, just in case you feel like you are losing on your breath, smelling camphor works wonders. A nose covering face mask, though not a compulsion, but it will be easier to breathe through the cold air. Googles, looking across the white monastery building would be easier when you don't have your eyes strained.
~Author
Narita Mahajan